"Chadar Badni puppetry has a deep connection with our ancestors. When I play this…," says Tapan Murmu, "I feel surrounded by them."
It's early January 2023, and the Bandna harvest festival is underway in Sarpukurdanga, a hamlet in Khanjanpur village of West Bengal's Birbhum district. Tapan is a farmer in his late twenties and feels strongly about his Santhal Adivasi community's rich traditions, specifically the captivating puppetry performance called Chadar Badni.

While speaking to PARI, Tapan is holding a dome-shaped cage, draped in vivid red fabric. In it are numerous small, wooden human figures – puppets that will be manoeuvred by a complex system of levers, bamboo sticks, and a rope.

"Look at my feet and see how I make these dolls dance." The farmer's feet gather momentum as he starts humming a song in Santhali, his mother tongue.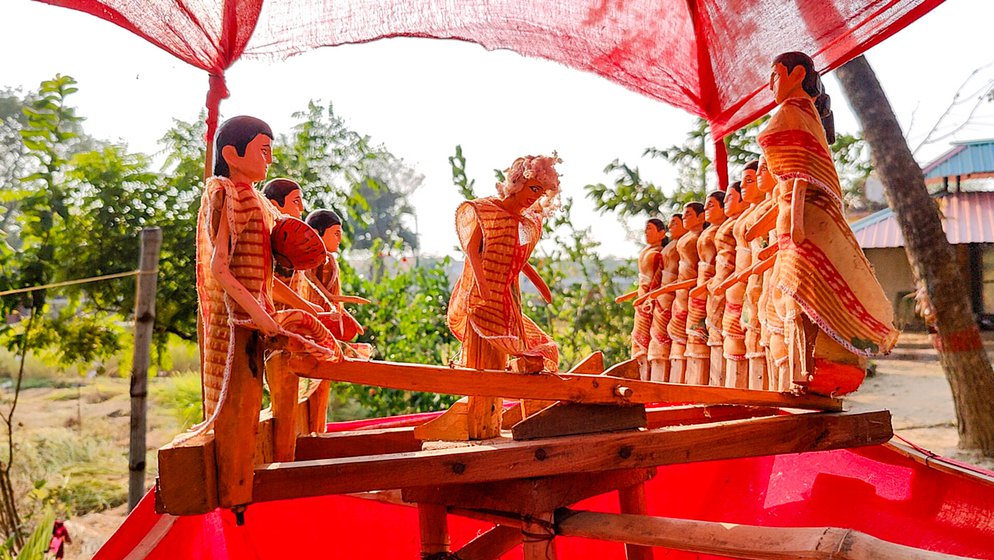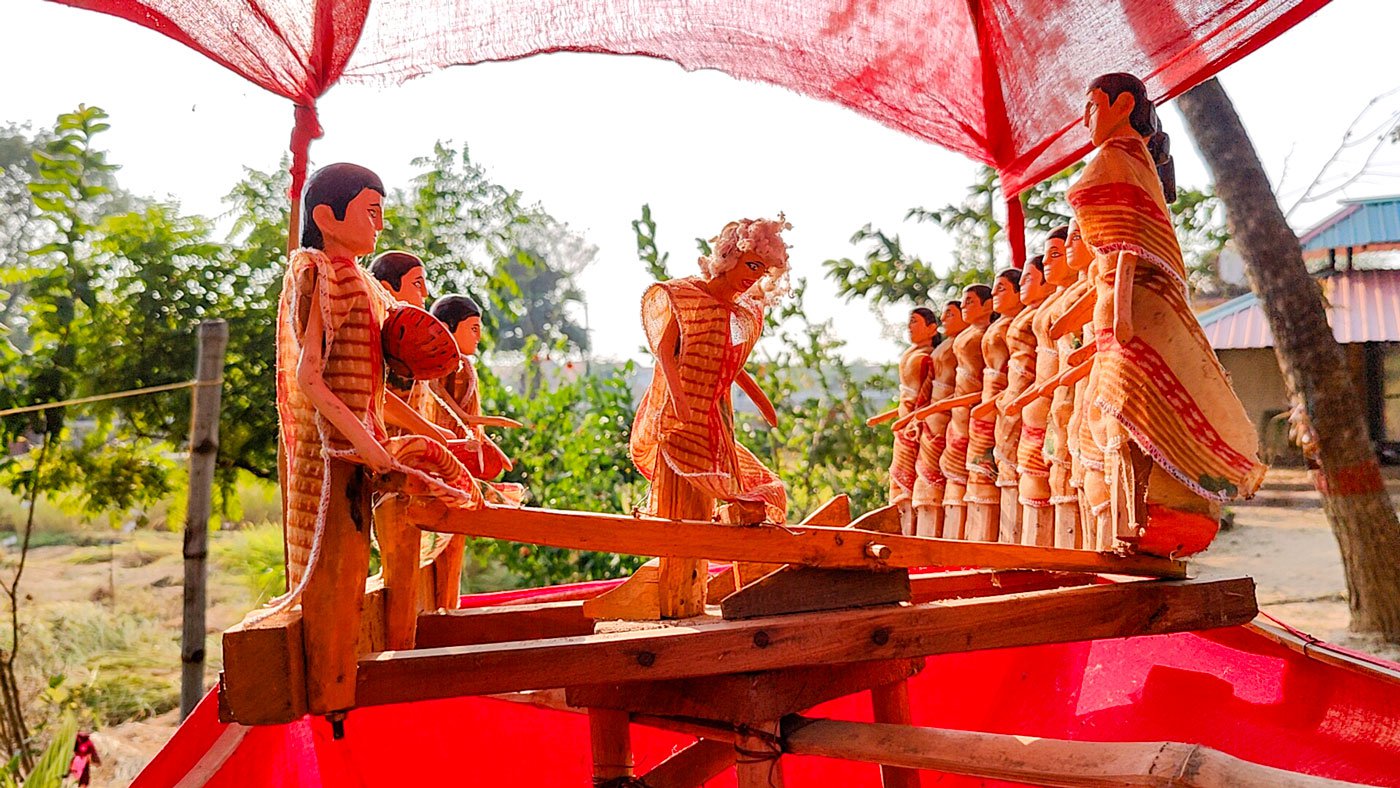 PHOTO • Smita Khator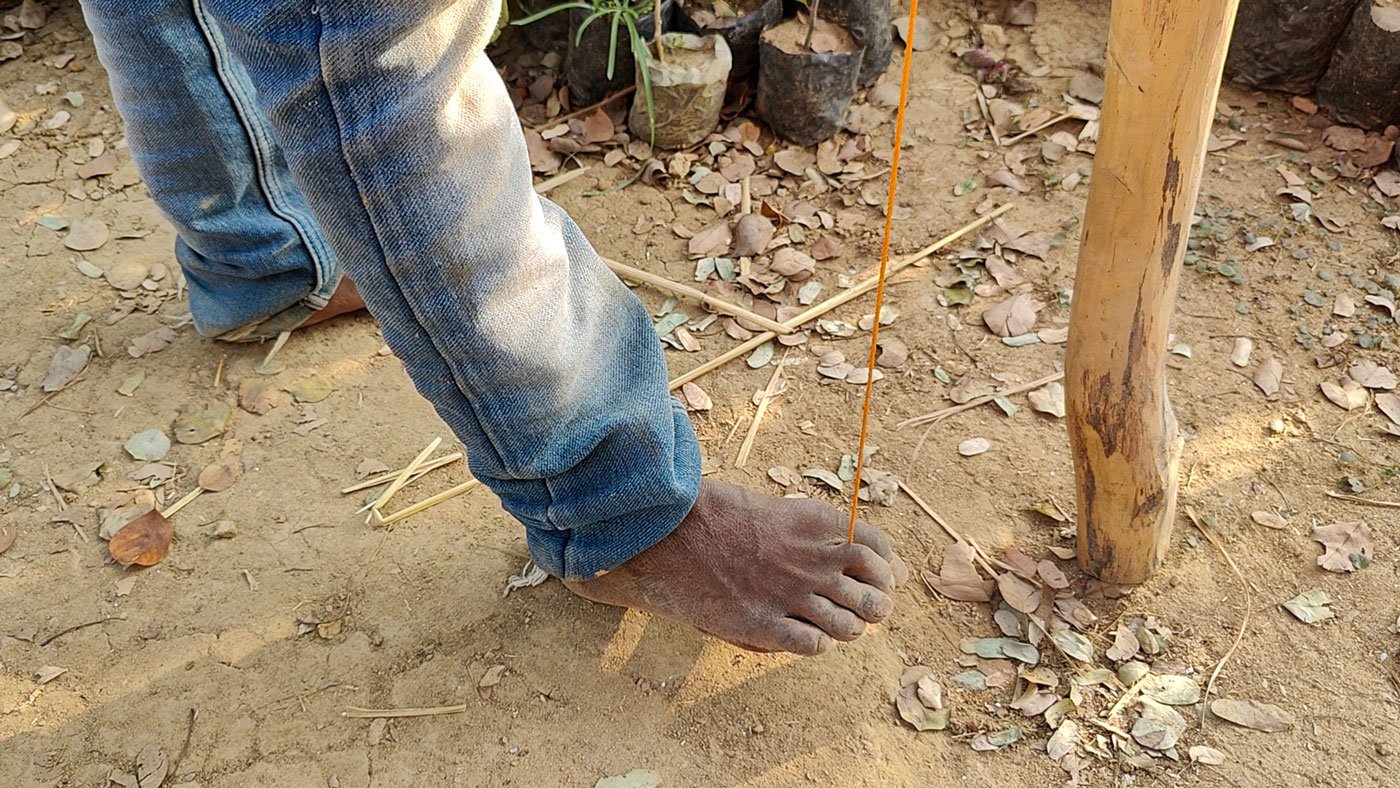 PHOTO • Smita Khator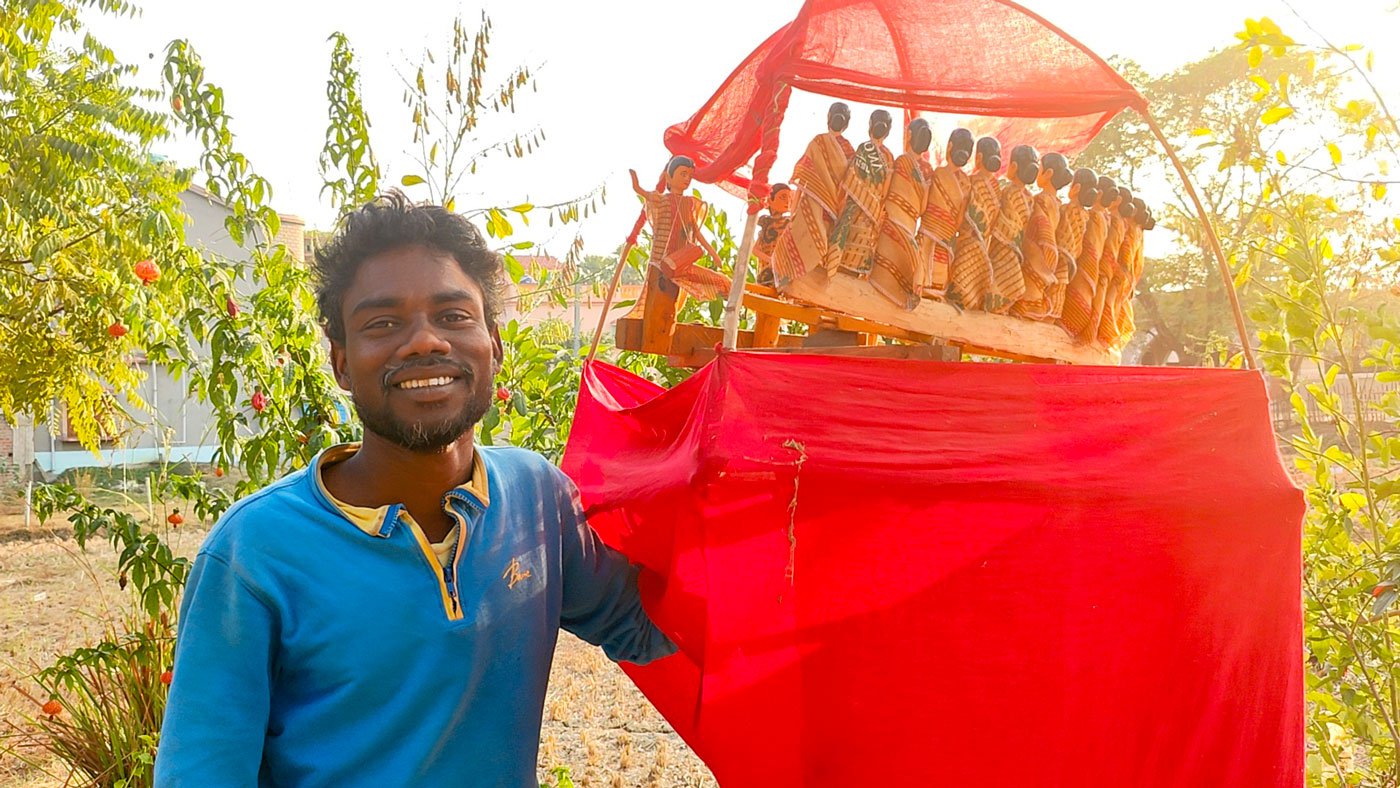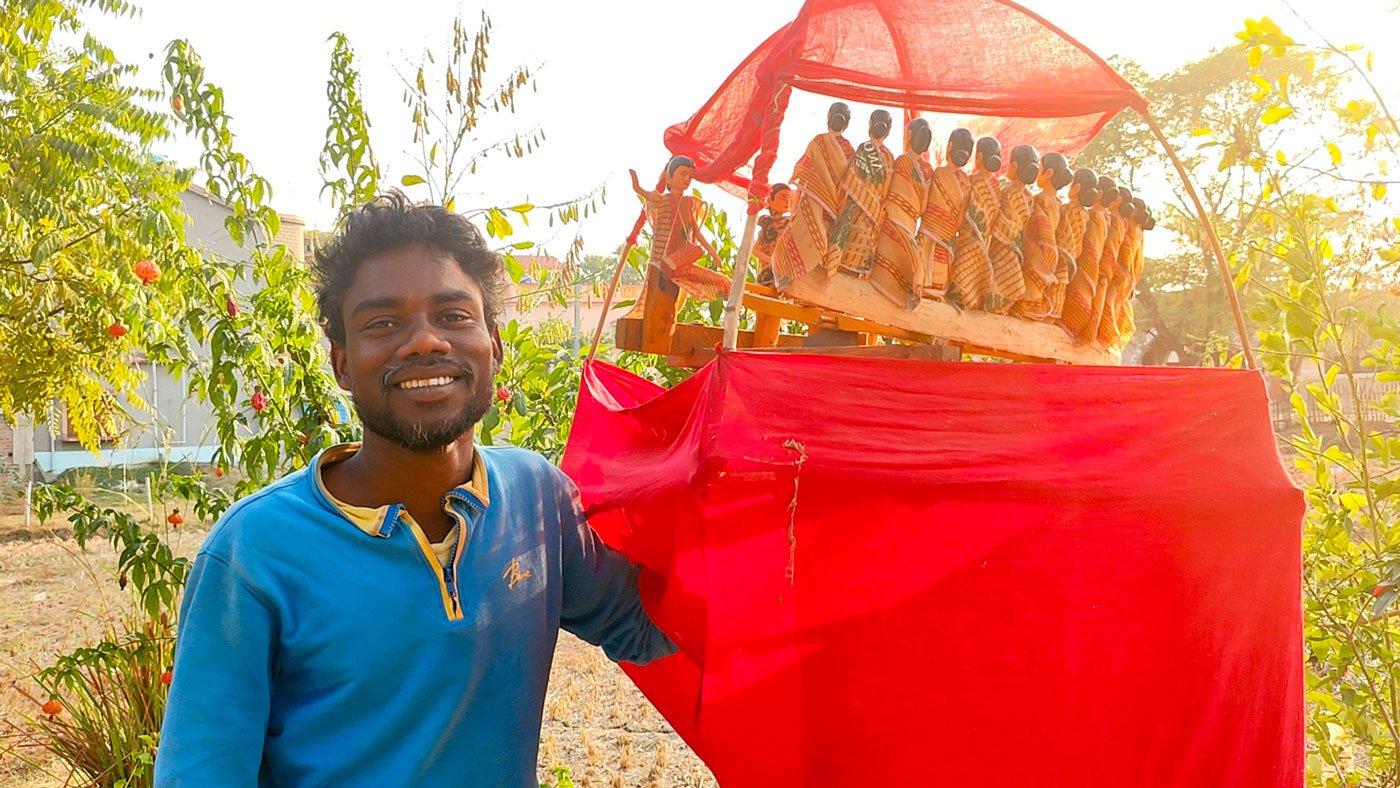 PHOTO • Smita Khator
"What you are seeing in the Chadar Badni is the celebratory dance. This puppetry is part of our festivities and is performed during Bandna [harvest festival], marriage ceremonies, Dasain [a festival celebrated by the Santhal Adivasis] during Durga Puja," says Tapan.
He points to the puppets, "This is the morol [village head] in the middle. He claps and plays instruments like banam [single-string wooden lute] and traditional flute. Women dance on one side, facing men who are playing dhamsa and madol [Adivasi percussion devices].''
Bandna (also known as Sohrai) is the biggest harvest festival of Birbhum's Santhal Adivasis, where different kinds of performances and celebrations take place.

The puppets used in this practice are typically made of bamboo or wood and are about nine inches in height. They are put on a small stage with a canopy. The chadar or wrap conceals the strings, levers, and sticks beneath the stage. By pulling the strings, the puppeteer activates the lever, which causes the puppet's limbs to move.

Community elders say the name Chadar Badni comes from the cloth covering ( chadar/chador ) that is tied ( bandhan ) around the structure where the puppets are placed.

Tapan's puppetry performance depicts a typical Santhali dance. Later in the day we watch the inspiration behind the performance – a real-life dance

Tapan says only a few older people in the village know the songs that accompany this practice. Women sing in their respective villages, while men travel with the Chadar Badni puppets to neighbouring areas. "Seven or eight of us travel through this area's Adivasi villages with instruments like dhamsa and madol . Many instruments are required for the performance of this puppetry."
Tapan also paints a picture of the community's mood during this festival season, celebrated over 10 days in early January and ending before Paus Sankranti in mid-January.

"It's a joyous occasion when our homes are full of freshly harvested paddy – the time to celebrate Bandna . There are many rituals associated with the festivities. Everyone wears new clothes," he says.

The Santhal Adivasis make offerings to the stones and trees that symbolise their ancestors. "Special food is made; we brew our traditional liquor Hanriya, made with freshly harvested rice; we go for ritual hunting and clean our homes and decorate them. We repair and wash our farming tools. We worship our cows and bulls."

During this season, the entire community gets together and prays to them for blessing the village with a good harvest. "Everything that helps us sustain [ourselves] is sacred and worshipped during this parab [festival]," says Tapan.  In the evening the community gather at the majhir than (holy seat of their ancestors) located in the centre of the village. "Men, women, boys and girls, little children, and elders all participate," he adds.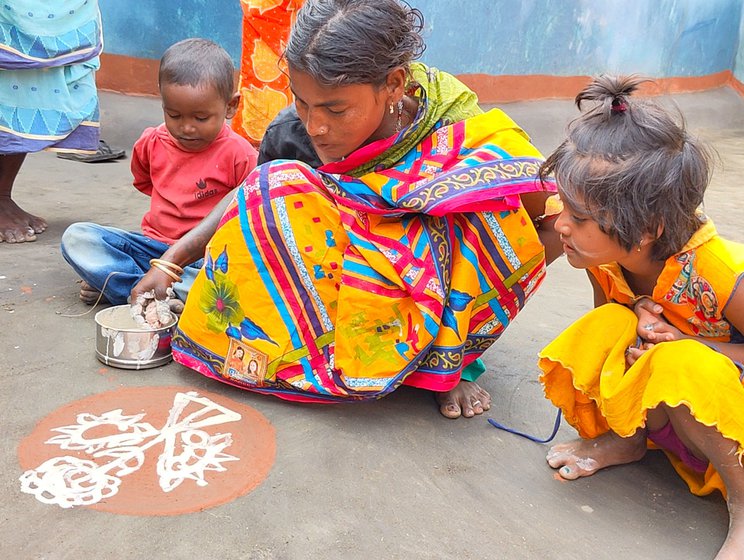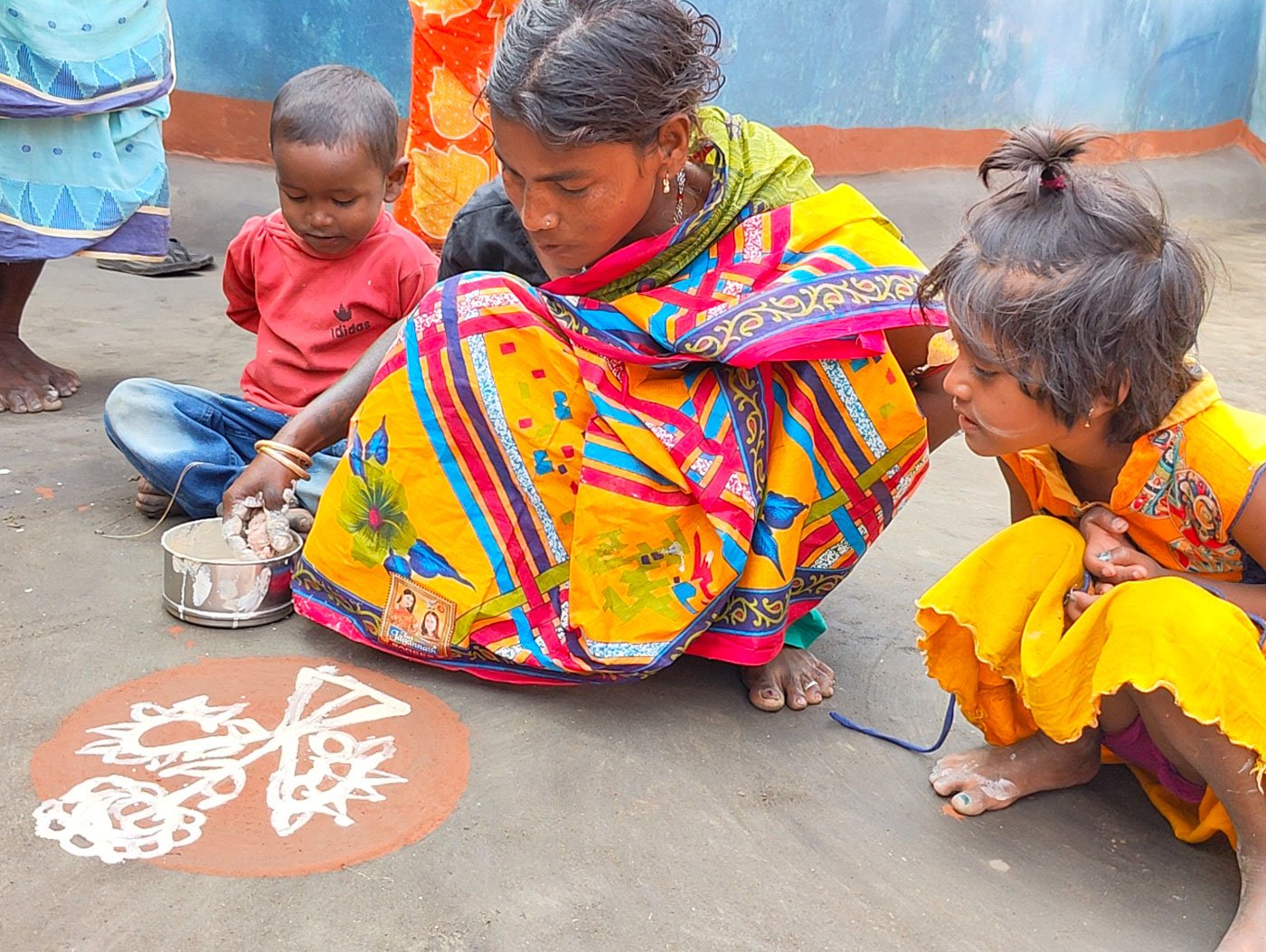 PHOTO • Smita Khator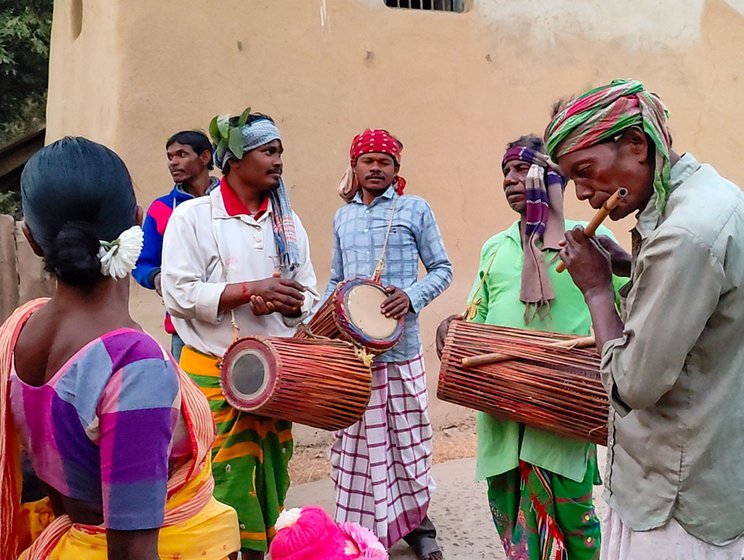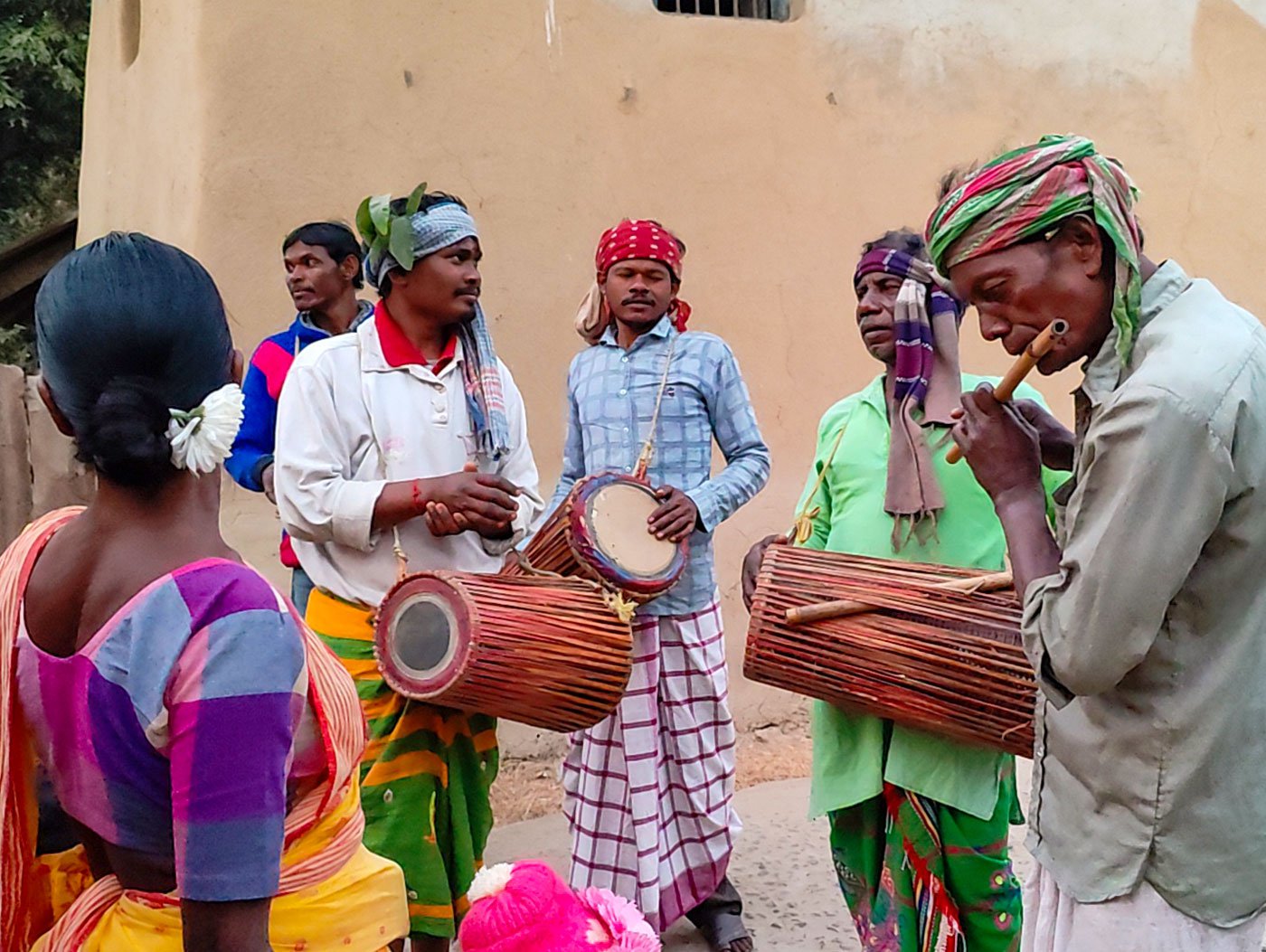 PHOTO • Smita Khator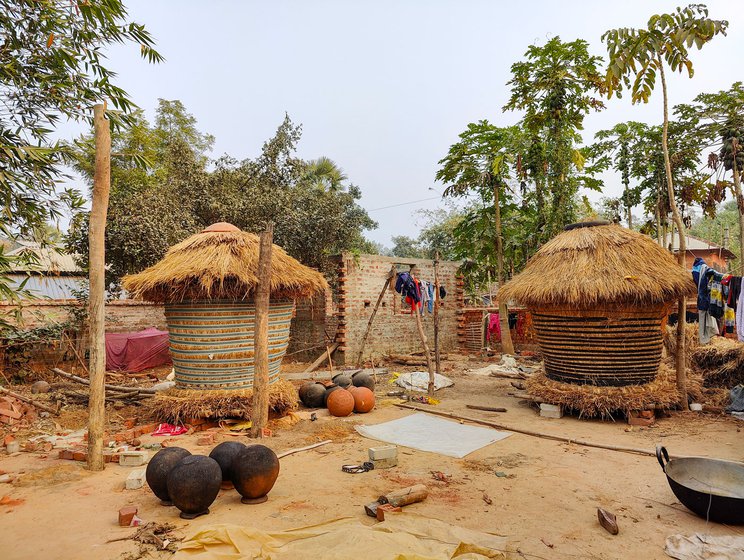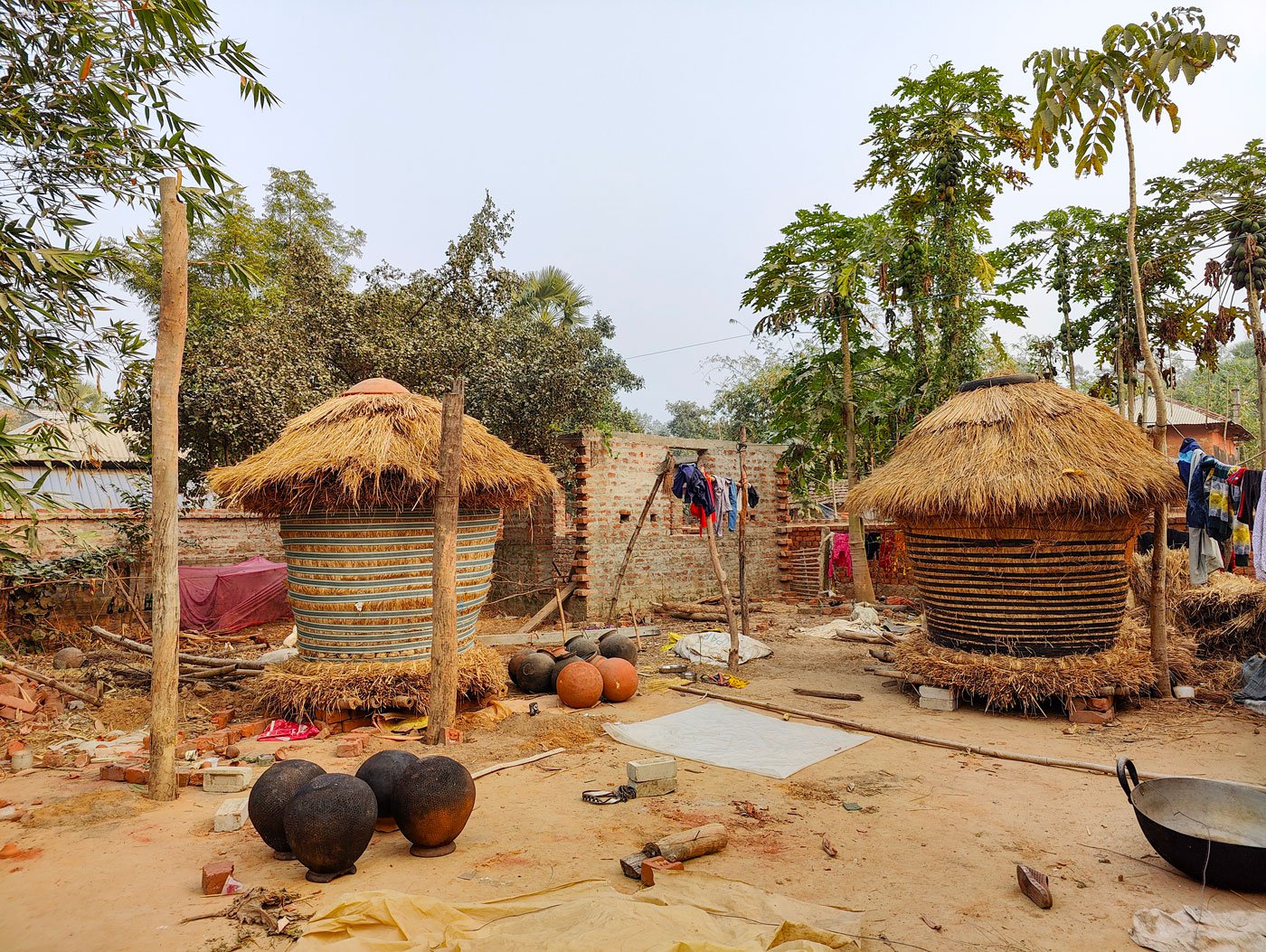 PHOTO • Smita Khator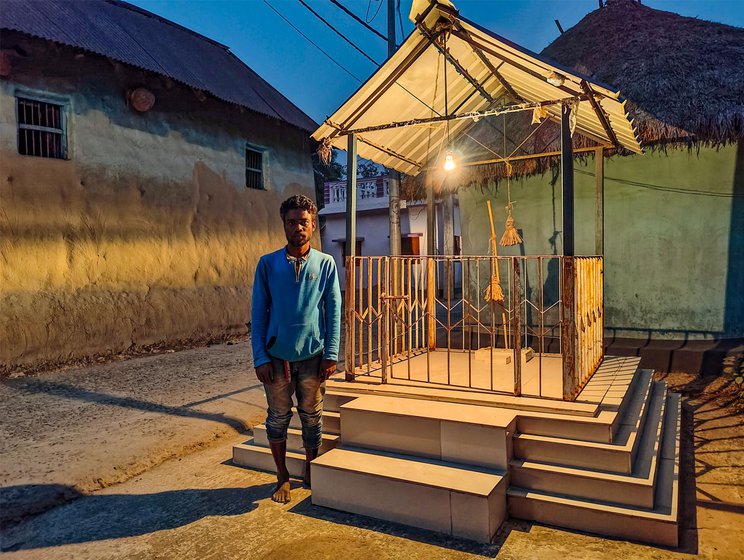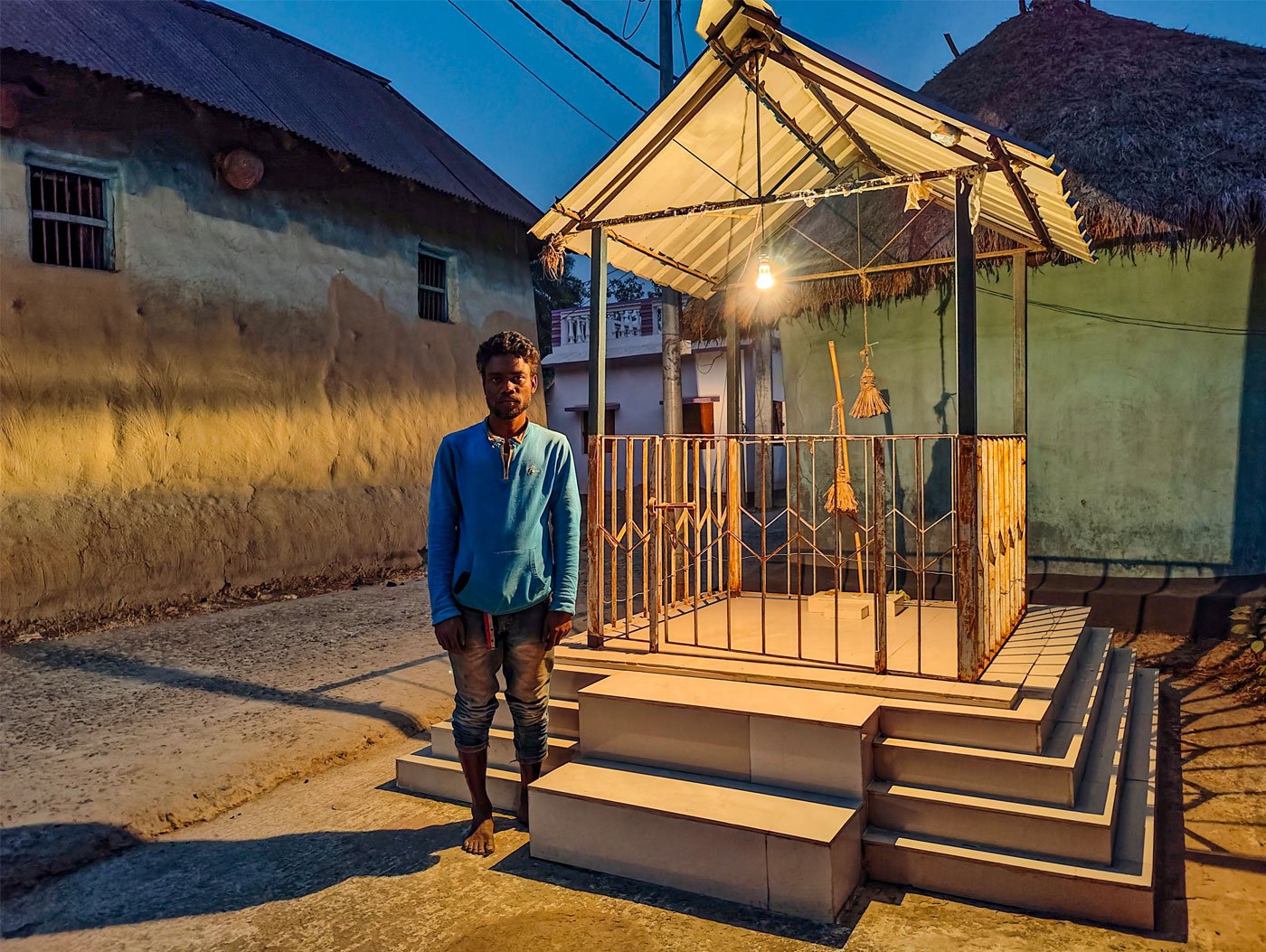 PHOTO • Smita Khator
Tapan's puppetry performance, which depicts a typical Santhali dance, is only the first act.  Later in the day he invites us to watch the inspiration behind the performance – a real-life dance.
The wooden puppets, adorned in colourful clothing with intricate headpieces and flowers, are replaced by living, breathing, swaying humans dressed in traditional Santhali attire. The men wear pagdis on their heads while the women pin fresh flowers in their hair buns. The evening energy is electric as the dancers sway to the beat of dhamsa and madol.

Community elders share a legend about the puppets, passed down through generations. The story goes like this: A dance Guru once asked the village head to gather dancers who could perform with him in nearby areas. While the Santhal clan men refused to send their wives and daughters, they agreed to play instruments. Left with no other option, the Guru memorised the women's faces and carved them onto the Chadar Badni dolls.

"These days, people of my generation are totally unaware of our ways of living," says Tapan. "They don't know much about this puppetry, lost paddy seeds, decorative art, stories, or songs and more."

Careful not to say more that may dampen the festive spirit he adds, "The point is to save these [traditions]. I am doing my bit."