It's a postcard moment in Pavagada. At least at first glimpse. Bougainvillea clusters on the streets, colourful homes, ornate shrines and their hum of music reaching the ears of walkers in this rural town of Karnataka's Tumkur district. It's almost pretty, but not quite. Because we are talking s**t here.
It's a word that needs to be asterisked because of privileged middle class sensitivities. Ramanjanappa, however, does not have that luxury. "I clean faeces with my bare hands," says the safai karmachari from Kannamedi village in Pavagada taluka . If that isn't bad enough, the only factor that could possibly mitigate this dehumanising work is also missing from the picture: the last time Ramanjanappa was paid his salary was in October, 2017.
Art makes an appearance on the walls of the town hall with murals of waste segregation, as it should. But that's an officially-sanctioned façade in more ways than one, as we learnt from 20 manual scavengers, all Dalits of the Madiga community, who spoke of their desperation during a meeting in Ambedkar Bhavan, which is hardly 10 metres from the murals on the town hall.
The Rs. 3,400 Ramanjanappa used to receive every month could barely feed his family of five – his wife and three school-going children – for 30 days. He has now been without his salary for nine months.
While some have not received their wages, others haven't got the increment they were promised months ago.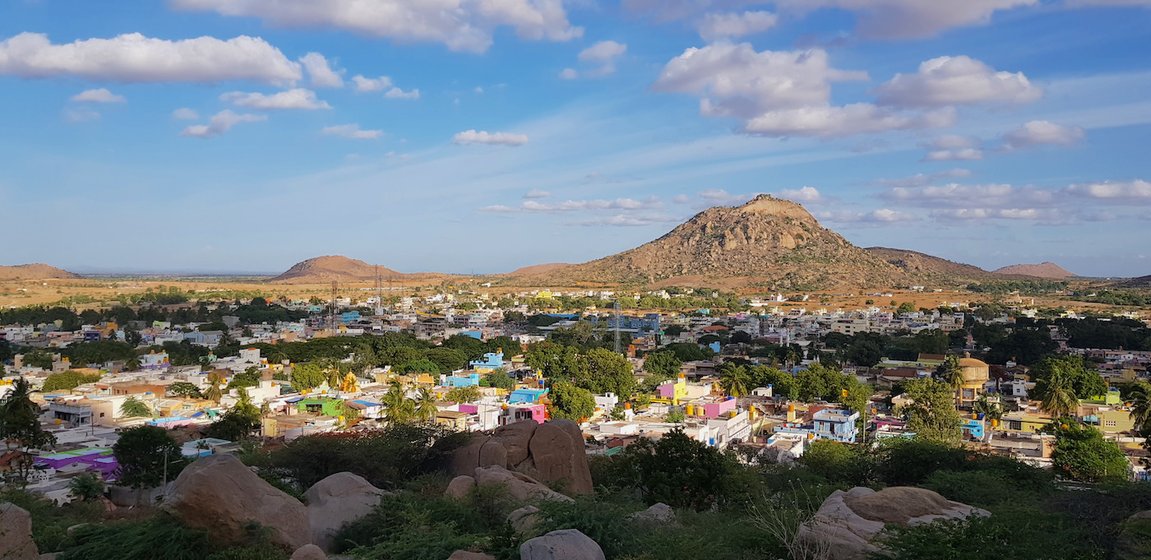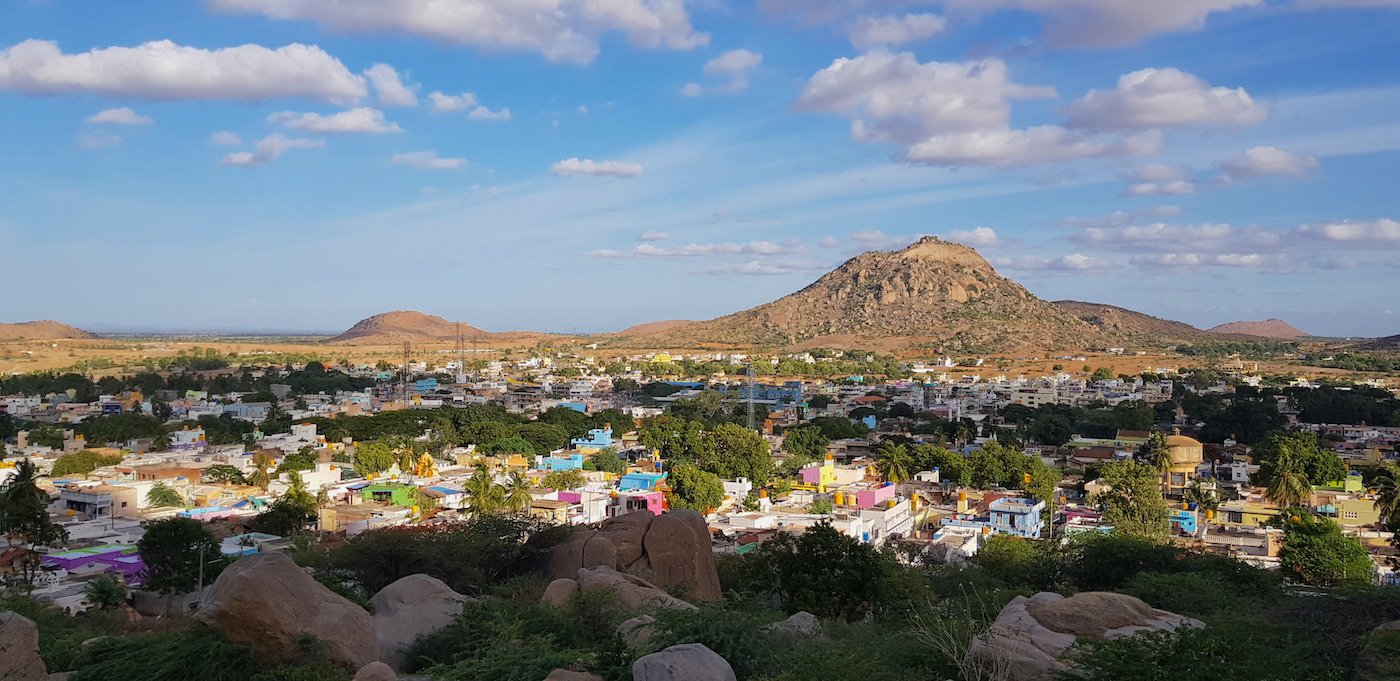 PHOTO • Vishaka George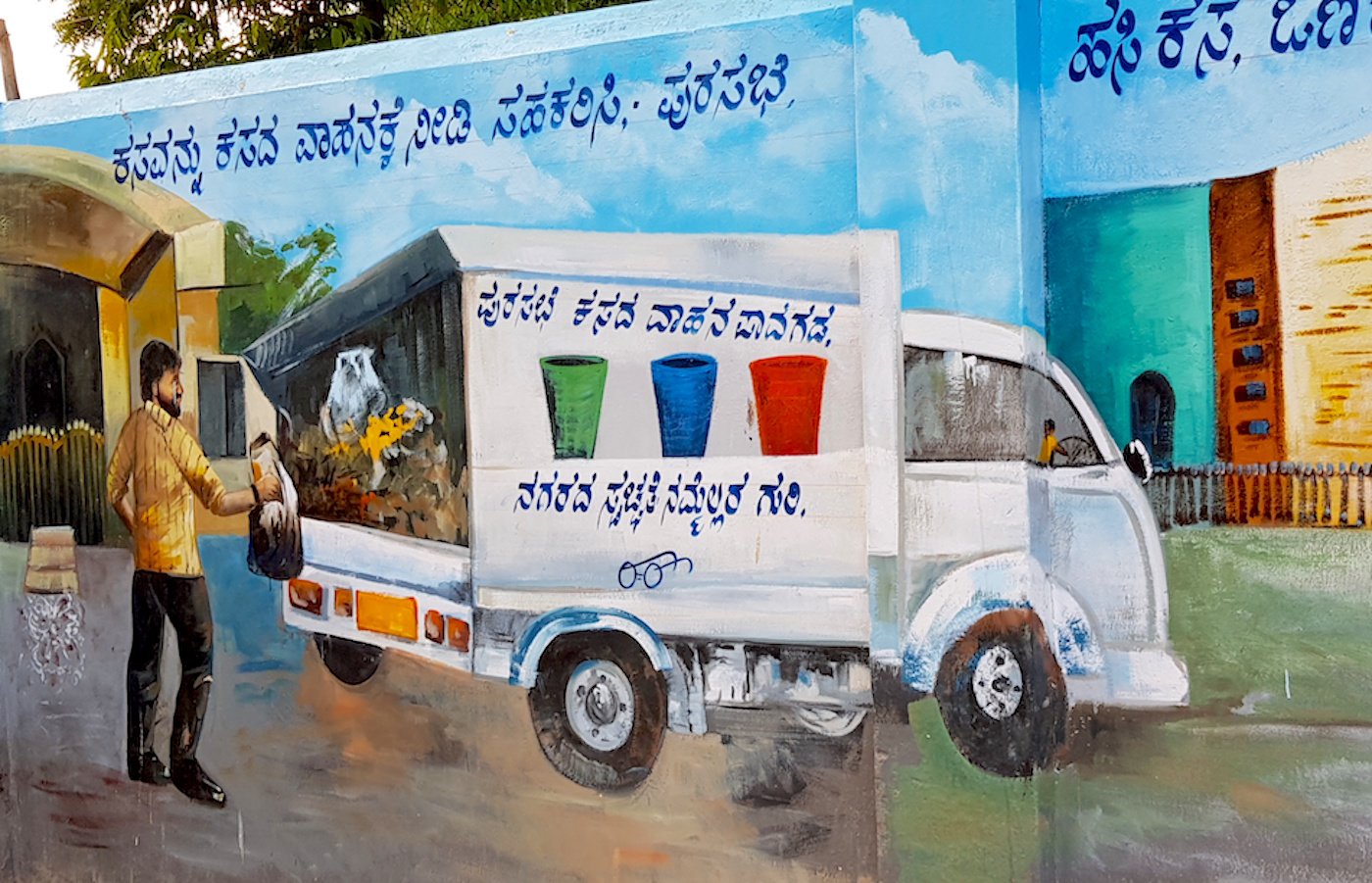 PHOTO • Vishaka George
"I sweep roads, clean public toilets, school toilets, and even open drains every day of the week. I was told four months ago I'd get a salary of Rs. 13,400 per month for this work, but my salary of Rs. 3,400 has never changed," says Narayanappa from Kodamadagu village in the same taluka . He's marginally better off than Ramanjanappa – since in his panchayat the safai karmacharis still receive their pathetic salaries.

Karnataka has the highest number of manual scavengers in all of south India, according to the Socio Economic and Caste Census 2011. And Tumkur is the frontrunner among the 30 districts in the state, says a new study commissioned by the Karnataka State Commission for Safai Karmacharis.
The Prohibition of Employment as Manual Scavengers and their Rehabilitation Act, 2013 is a successor to the 1993 law, which focused solely on prohibition. The 2013 Act states that patrons of such services can be prosecuted and imprisoned for up to two years. It also mandates the constituting of vigilance committees consisting of members of panchayats, municipalities, the police and even of legislative assemblies, among other bodies.
Ramanjanappa and his fellow workers have been hired to do illegal work by the very people meant to uphold this law.
"There are hierarchies within the panchayat and municipal cleaners," says Chetan Singai, Assistant Director at the Ramaiah Public Policy Center, Bengaluru, "Individuals whose families have a history of cleaning septic tanks or people who are (alcohol or drug) addicts are identified and employed as manual scavengers. The socio-welfare departments are doing nothing but taking advantage of these social hierarchies," says Singai. He is working on a study ordered by the Karnataka State Commission for safai karmacharis to identify the number of manual scavengers in the state. Until that study is out, we will not know their real number in even Pavagada, or Tumkur.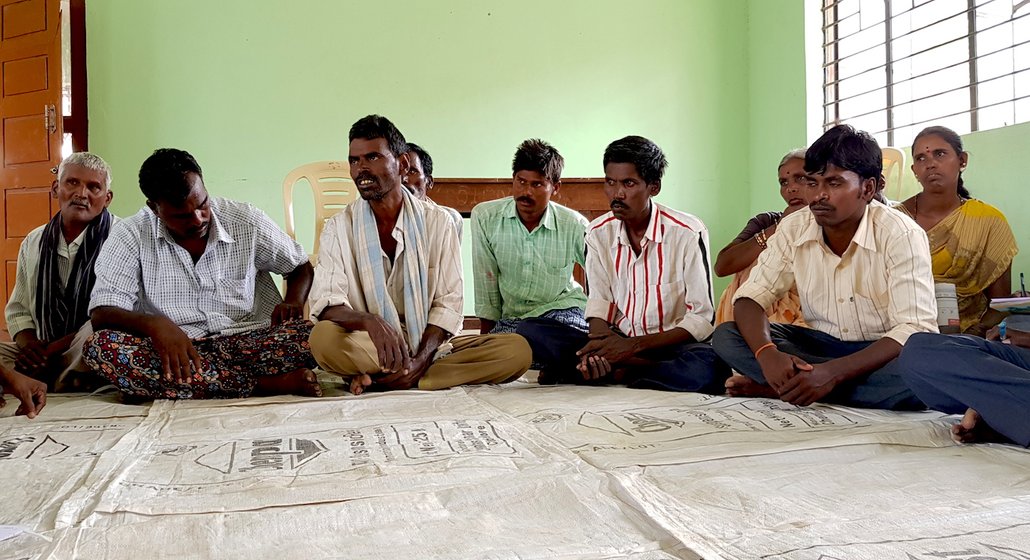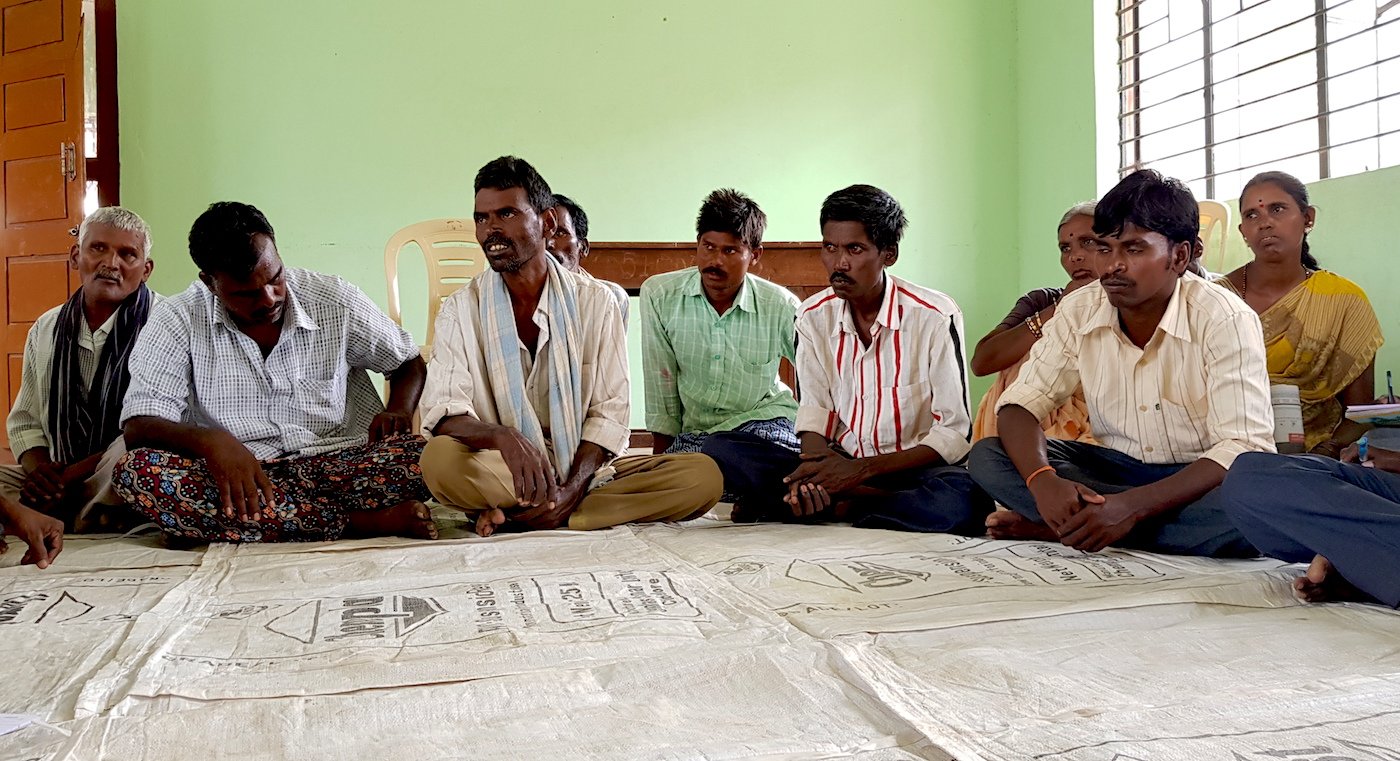 PHOTO • Vishaka George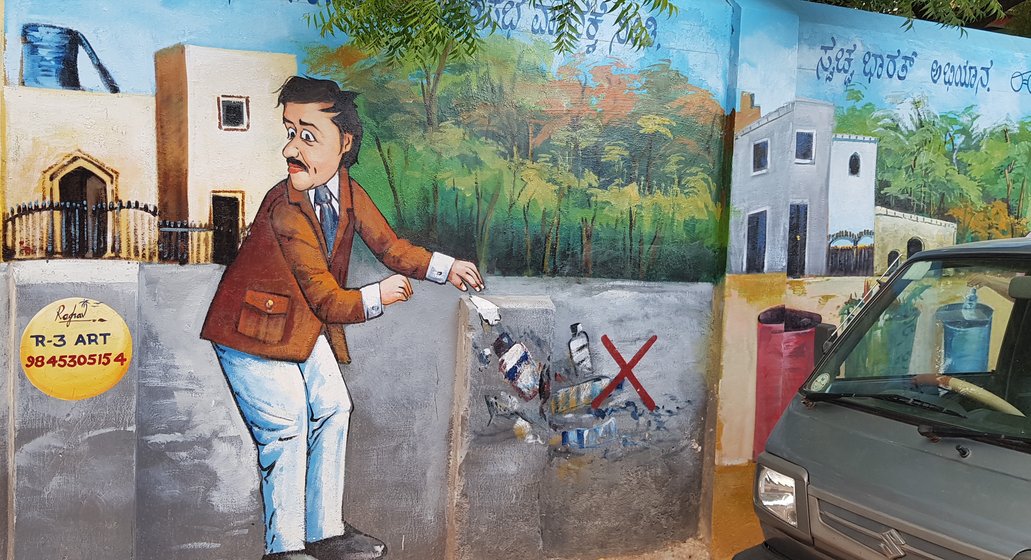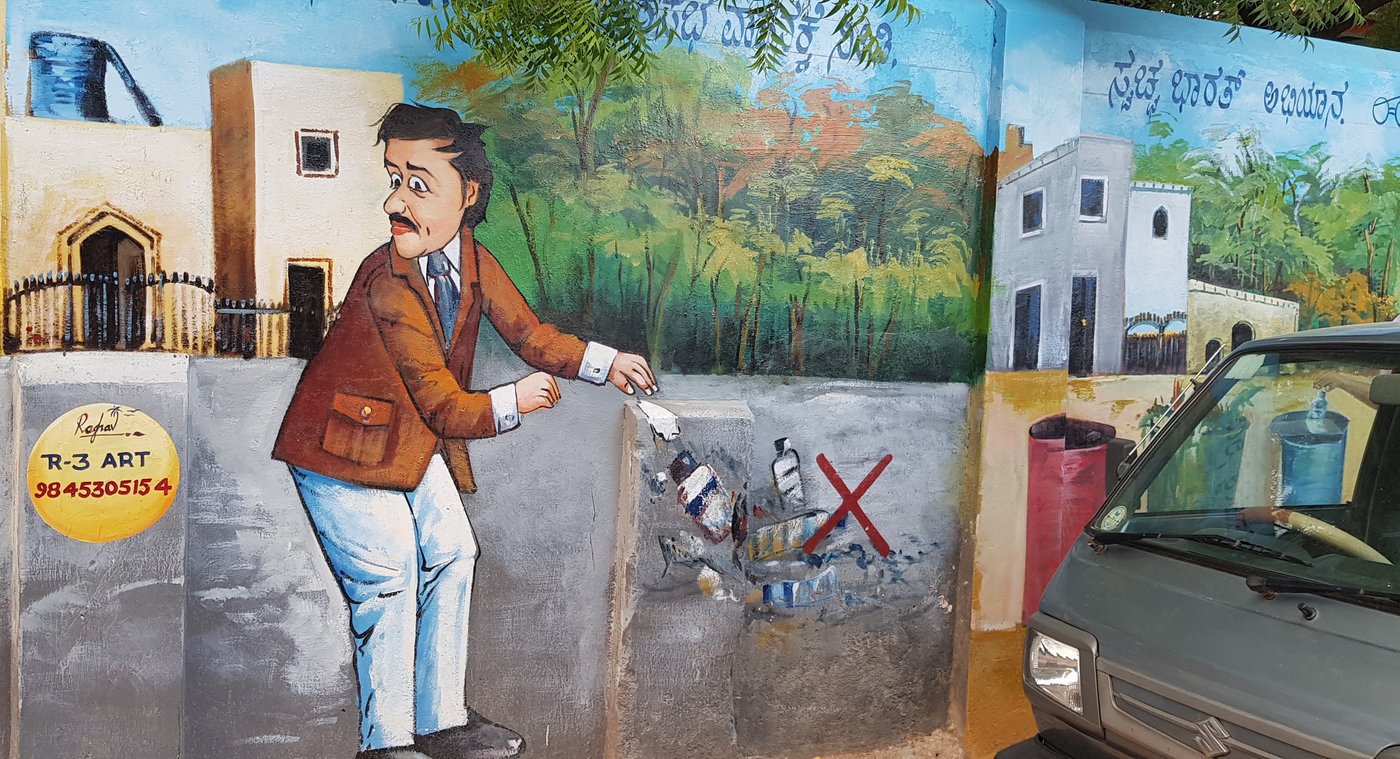 PHOTO • Vishaka George
The Kodamadagu panchayat office did not respond on both, illegal employment and lack of pay, despite multiple attempts. The Kannamedi panchayat office's response was aggressive, even hostile.

In the panchayats , unlike at the municipality level, workers are supposedly 'permanent' employees. Yet they have none of the benefits that come with that status – like a provident fund or insurance.
"Who will insure people who must regularly inhale toxic fumes and be susceptible to some of the most deadly diseases?" asks K.B. Oblesh. He is the founder of the Thamate: Centre for Rural Empowerment, an organisation that works for the rights of Dalit communities.
If you think safai karmacharis at the gram panchayat level have it bad, just look at the municipality contract cleaners. Their plight is one that will soon befall workers across the state.
An attempt to regularise sanitation jobs in Karnataka has resulted in the government mandating only one safai karmachari for every 700 people. Regularising jobs, or permanent employment, would mean paying the workers more. So workers are being laid off, and not rehabilitated.
So far, "close to 30 people in Pavagada have lost their jobs thanks to an arbitrary [1:700]  number," says Oblesh.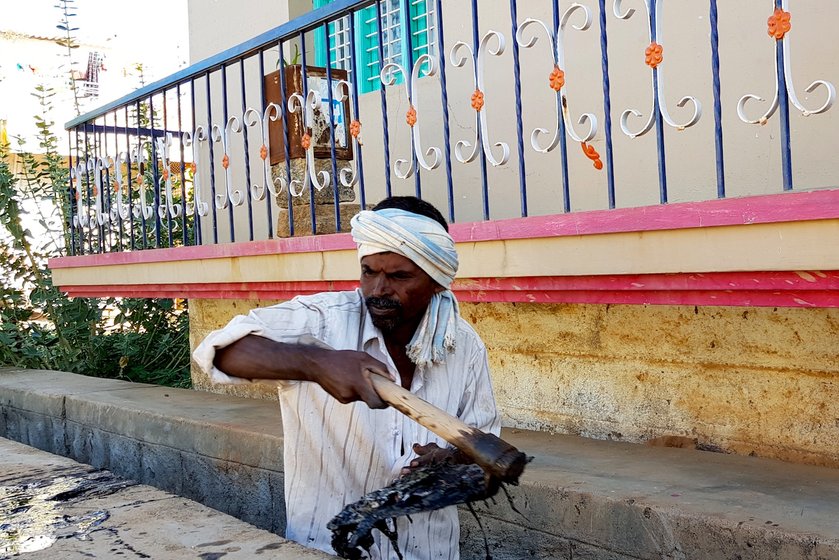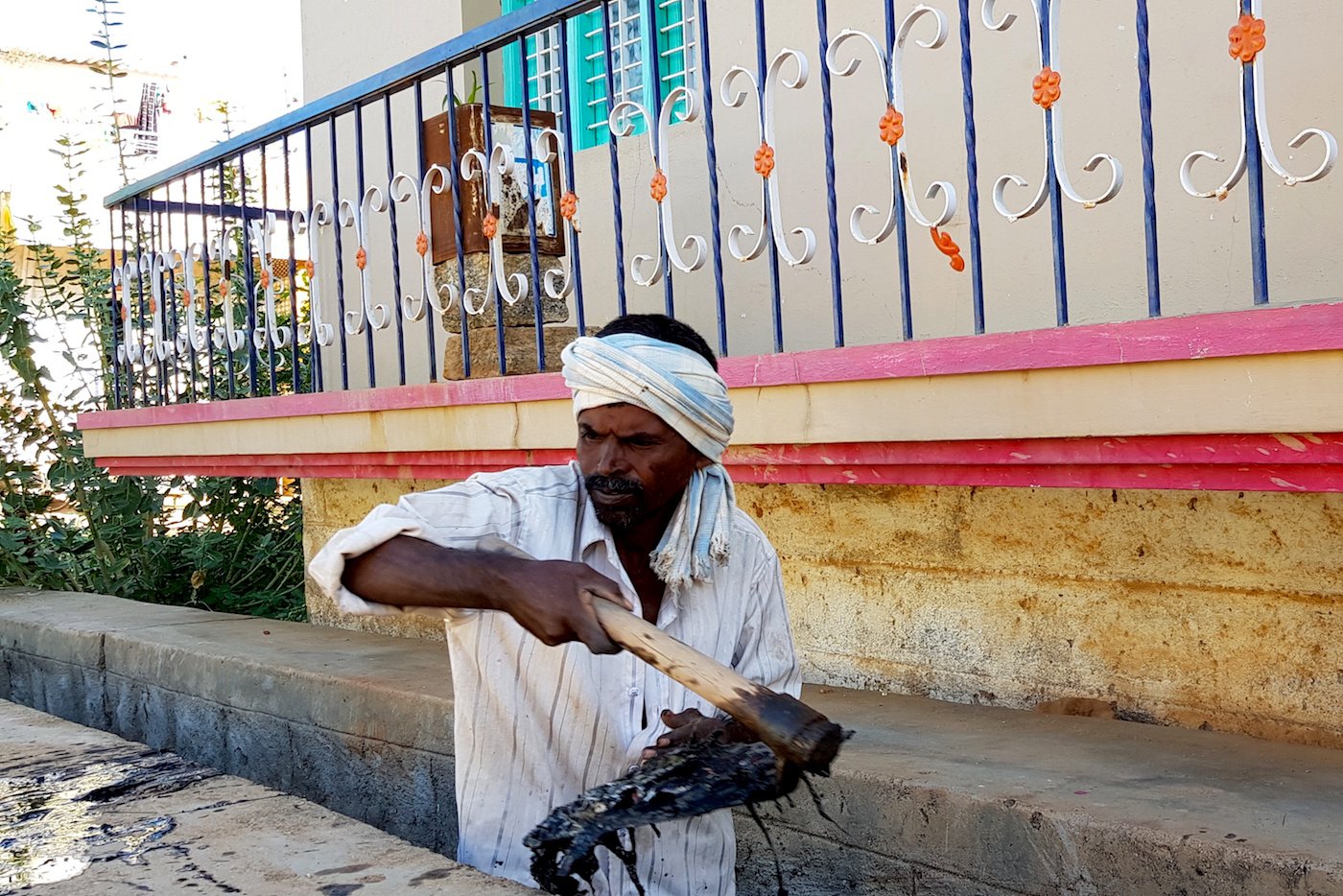 PHOTO • Vishaka George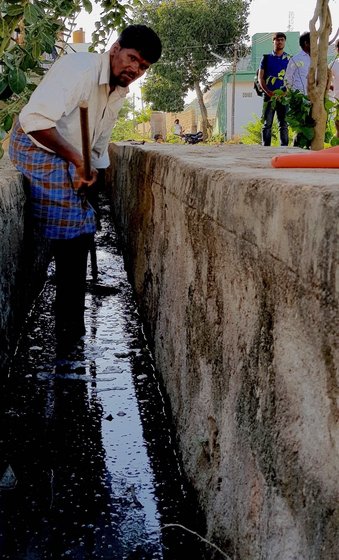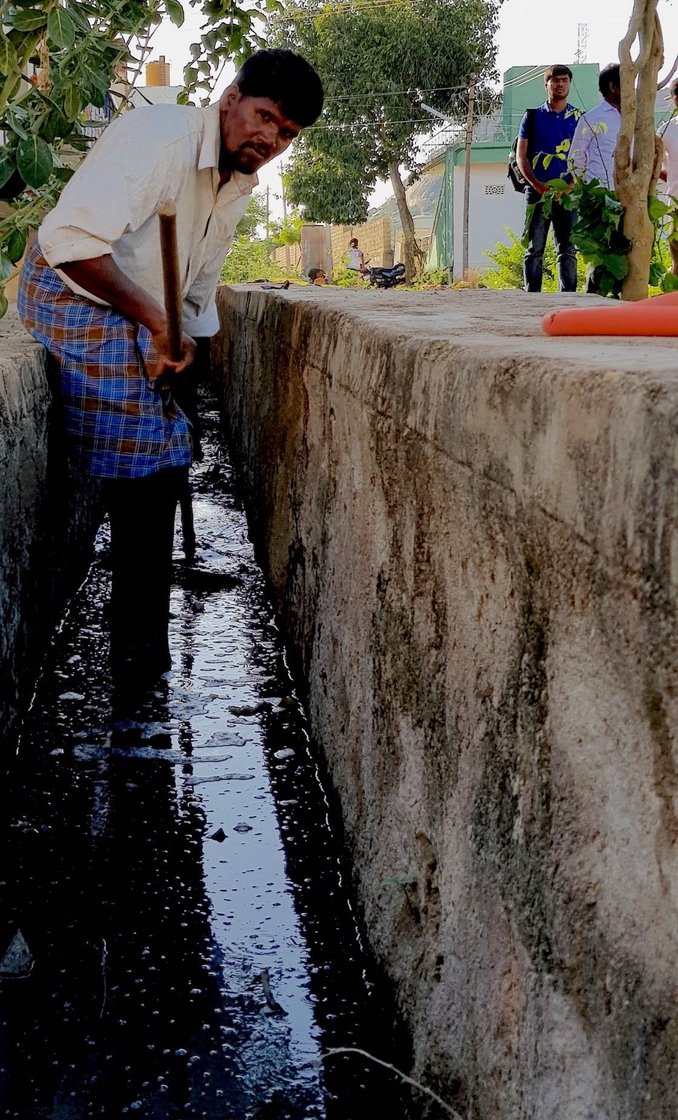 PHOTO • Vishaka George
Mani is a worker who was laid off. Her husband, a pourakarmika or a contract labourer, was fired, too. "How do I take care of my kids? How do I pay my rent?" she asks.
In Bengaluru, on July 11, the Bruhat Bengaluru Mahanagara Palike (BBMP) released Rs. 27 crores towards the payment of dues to pourakarmikas . This was after the death of 40-year-old Subramani T., a pourakarmika , driven to end his life after not getting any pay for seven months. The Joint Commissioner for Health in the BBMP, Sarfaraz Khan, told me Bengaluru has 18,000 pourakarmikas, and all of them  have received their payments. "We have disbursed payment after conducting biometric verification of the workers."
But, says Oblesh, only "aound 50 per cent of the pourakarmikas in Bengaluru have received their long overdue salaries after the BBMP released 27 crores." He estimates that there are about 32,000 pourakarmikas in Bengaluru, but the recorded number has come down after the biometric verification process was introduced.
The health inspector in Pavagada town, S. Shamshudeen, whom the municipality workers report to, said "budget constraints" and the problem of regularising jobs prevented them from disbursing salaries, but claimed the issue would be sorted out in a month. Fortunately for Shamshudeen, these problems have not affected him and he continues to draw his own salary. Someone at his level usually gets close to Rs. 30,000 a month, according to Oblesh.

In 2013, when mechanisation arrived as an ostensible answer to Pavagada's drainage problem, municipal workers at first thought their country and their government were finally seeing them as human beings who could lead productive, happy lives.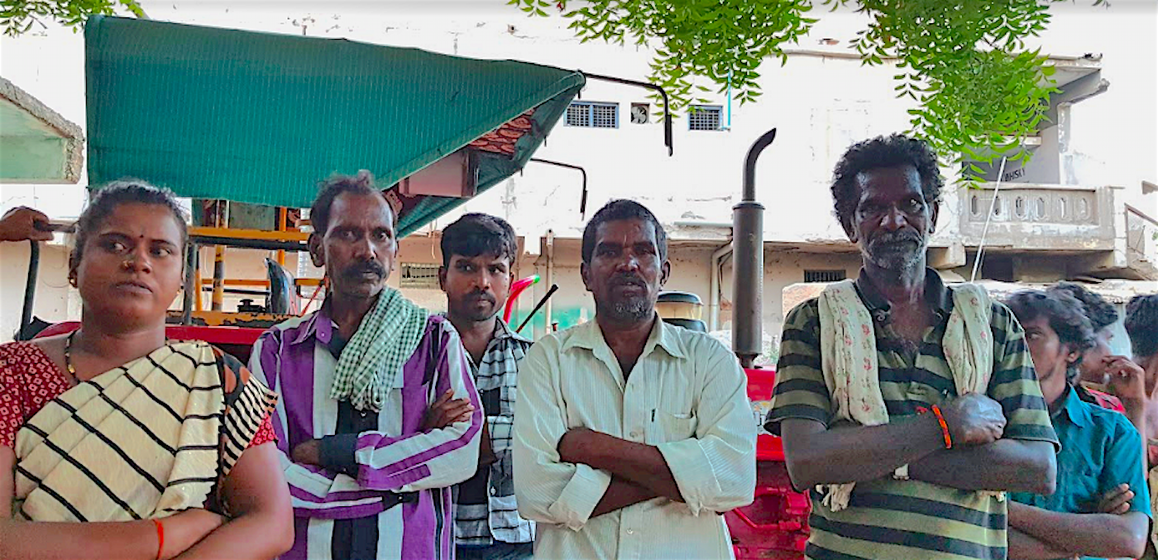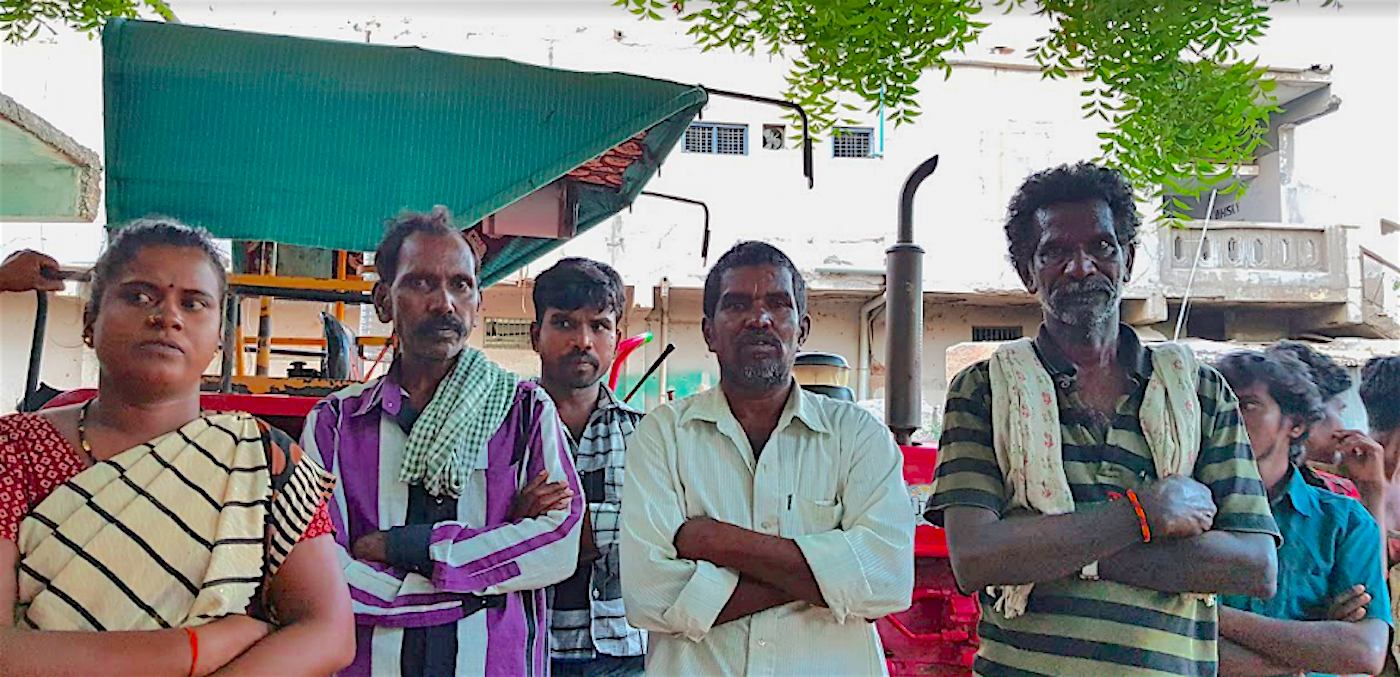 PHOTO • Vishaka George
It turned out the machines can only suck out semi-liquid matter from the open drains. When it isn't liquefied enough, a person must jump in and mix the matter, as well as remove rocks and other large sediments that may be blocking the pipe. So the worker becomes a s**t-stirrer, and not in a good way. Certainly not in terms of fighting for the right to live.

In the last 10 years, 69 people have reportedly died in Karnataka while working as manual scavengers. The majority of those, says Oblesh, lost their lives in septic tanks.
Prior to jumping into the tanks, "we strip down to our underwear. But before that we have 90 millilitres of alcohol, and that helps us work," says Narayanappa.
If they want to eat the same day or in the days that follow, then they need more alcohol.
"You've got to do what it takes to forget that stench," says Ramanjanappa.
At Rs. 50 for each 90 ml drink, some can even spend upwards of Rs. 200 a day on alcohol, on a meagre salary that isn't regular.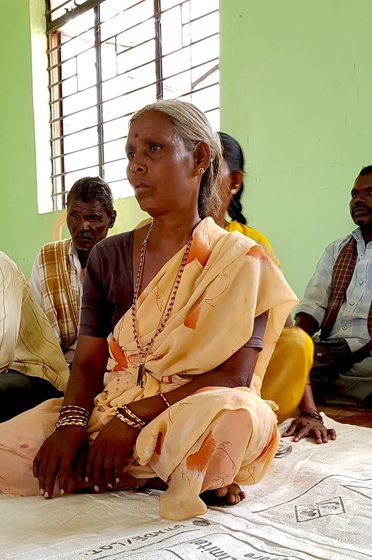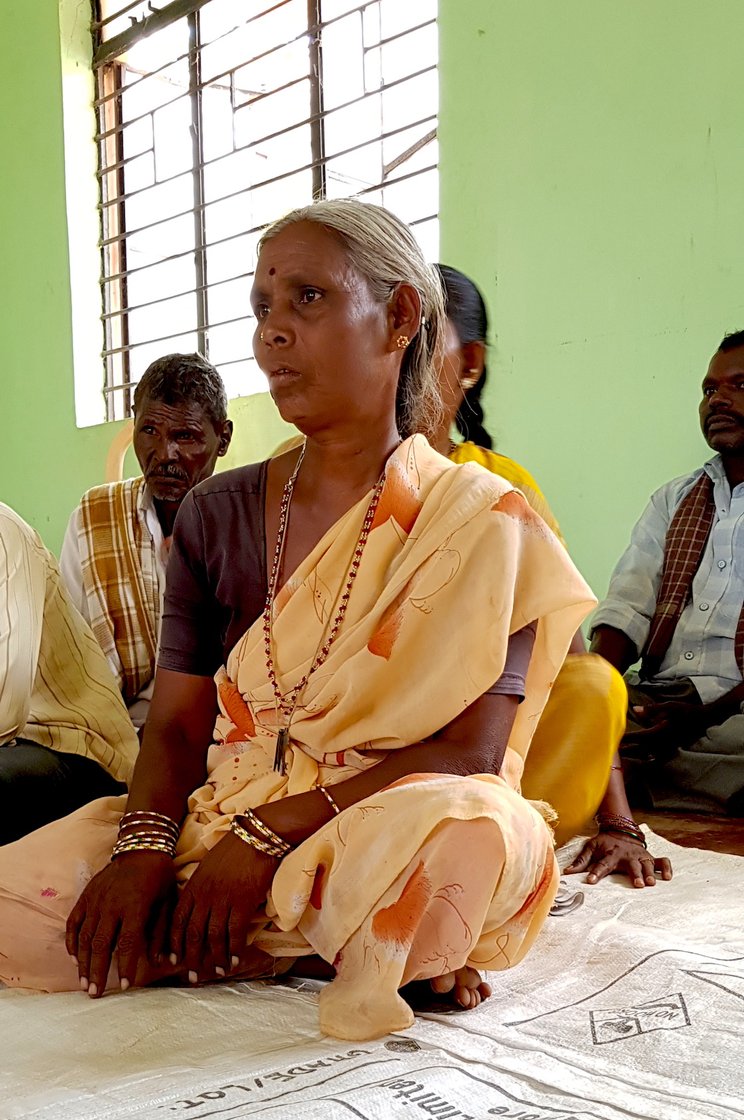 PHOTO • Vishaka George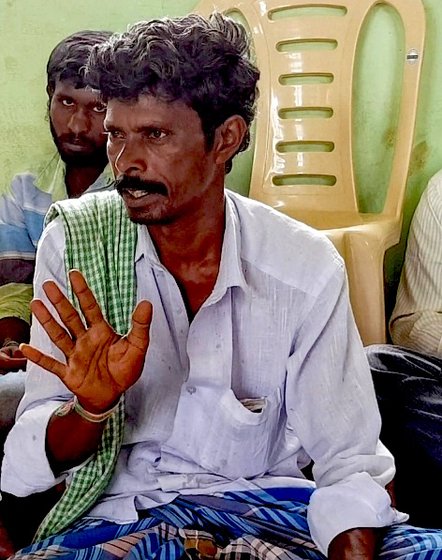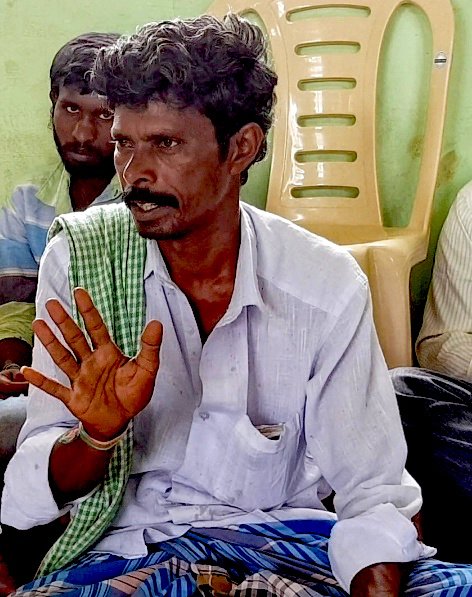 PHOTO • Vishaka George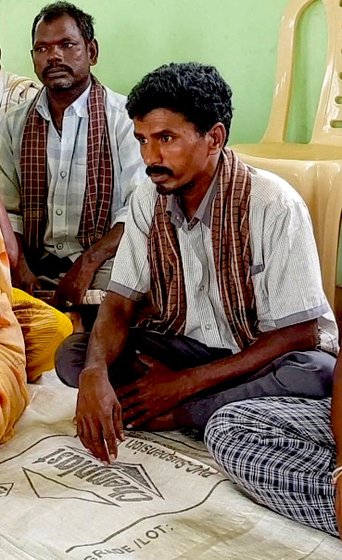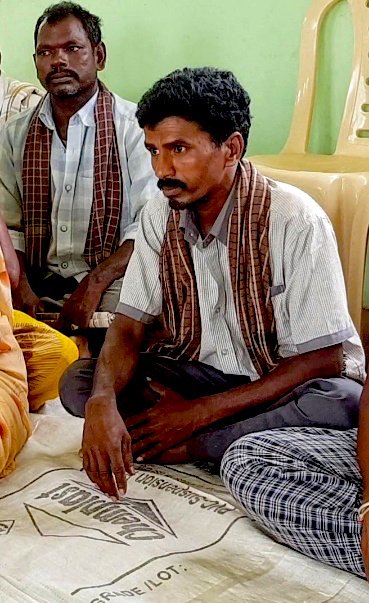 PHOTO • Vishaka George
Their survival is contingent on borrowing from family and neighbours. "The last resort is taking loans from moneylenders. Banks do not lend to us because we have no land, no collateral," says Ramanjanappa.
Are there no other, paying, decent jobs? "People tell us that this is what we are supposed to do. We have a social obligation. If we do not do it, who will? This is what our families have been doing for generations," says Gangamma, a safai karmachari in Dommathamari panchayat, Pavagada.
"This is the danger of caste. It makes you believe that this is what you were born to do," says Oblesh. "You can do no better and you will do no better. These are submissive people engaged in a form of slavery. They do not get paid, but authorities promise them a better wage if they work more. It's a trap.
On getting the death penalty in 1989, American serial killer Richard Ramirez said dismissively: "Big deal. Death always went with the territory."  And so it does in Pavagada taluka too, where death is no big deal. It goes with their territory, but the safai karmacharis are serial victims. Minimum protective gear, maximum risk, no holidays and no pay. Welcome to what's behind the postcard.
The sanitation workers interviewed for this story wanted only their first names to be used.
The author would like to thank researcher Noel Benno for his time and generous help in doing this story.