Rajeshwari  C. N. is no ordinary multi-tasker – six days a week, from 9 a.m. to 4 p.m., she teaches 20 kids, ages ranging from 3 to 6 years. Most of them are children of municipal sweepers, daily wage labourers, porters, street vendors and factory helpers – many of them from families who have migrated from other parts of Karnataka, or from Andhra Pradesh and Tamil Nadu.
She cooks lunch for them too, as well as for the pregnant and lactating mothers in her area – around 3-5 women at any given time. She feeds fussy babies brought by parents for the free meal and babysitting when they go to work. Makes sure the mothers' and children's immunisation is on schedule. Maintains detailed records of all this and finds the time to visit at least one of their homes to check on general well-being.
She can reel off government schemes meant to benefit the 355 families in her jurisdiction of Vyayam Shala colony off Bengaluru's busy J. C. Road, fill forms and liaise with government officials – which, she says, especially helps migrant families negotiate health services and government schemes.
And still, she says, many see her as a domestic worker. "Private school teachers think that all we do is cook and clean. I don't have 'experience' in teaching according to them," 40-year-old Rajeshwari says, wryly.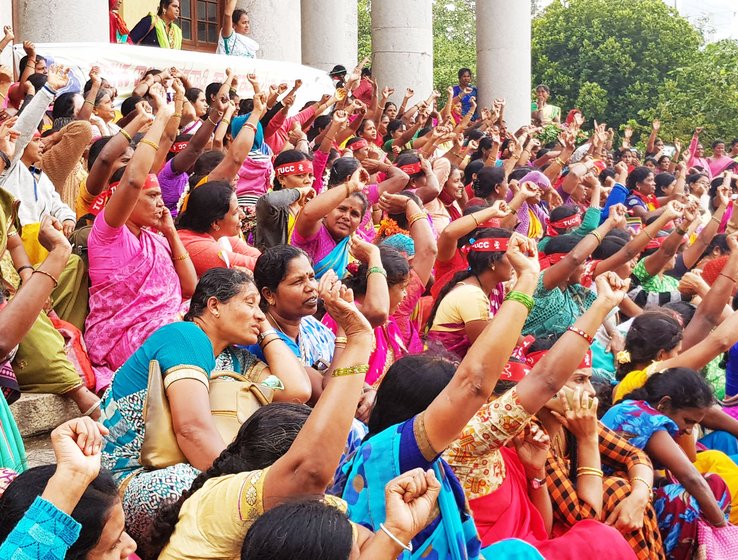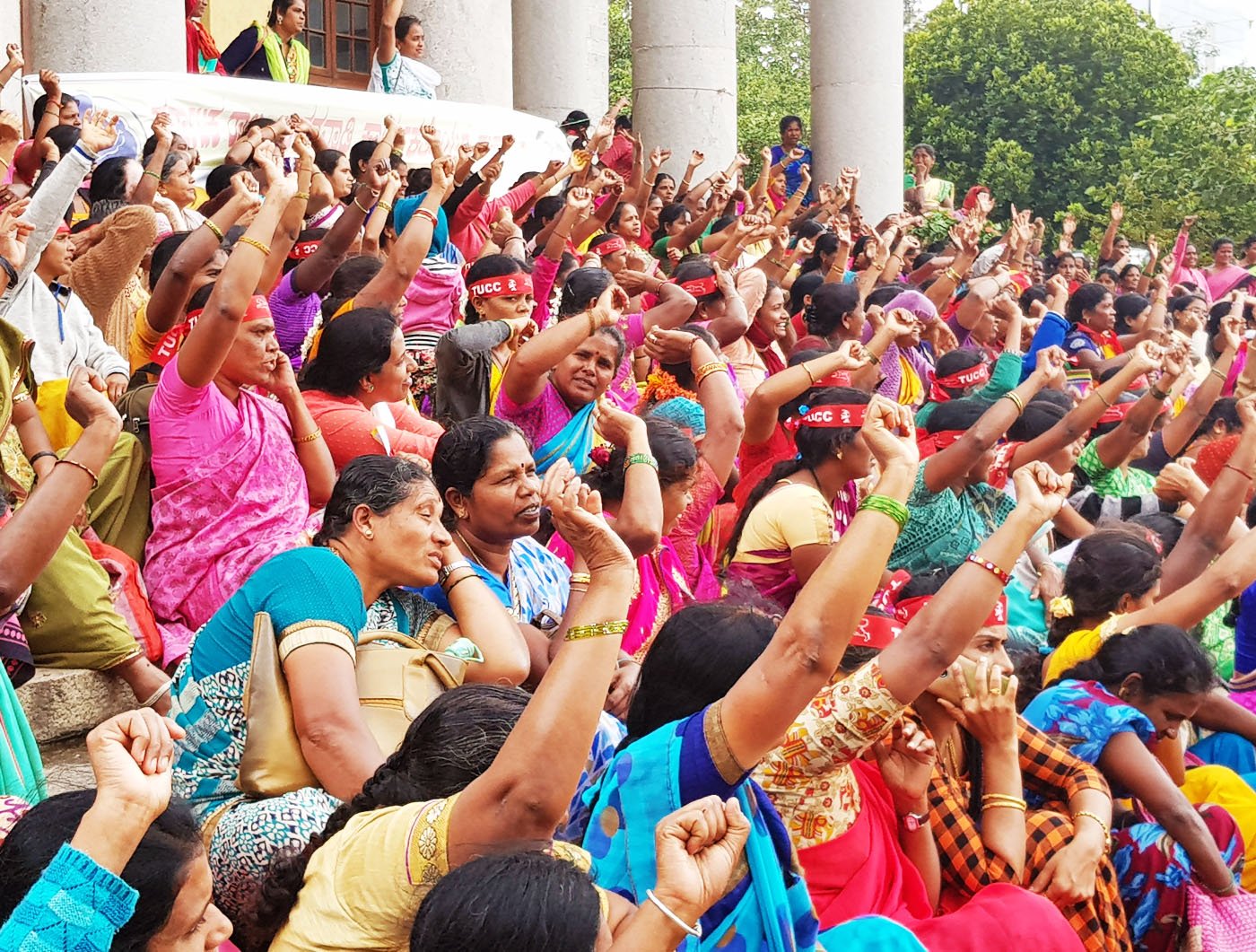 PHOTO • Priti David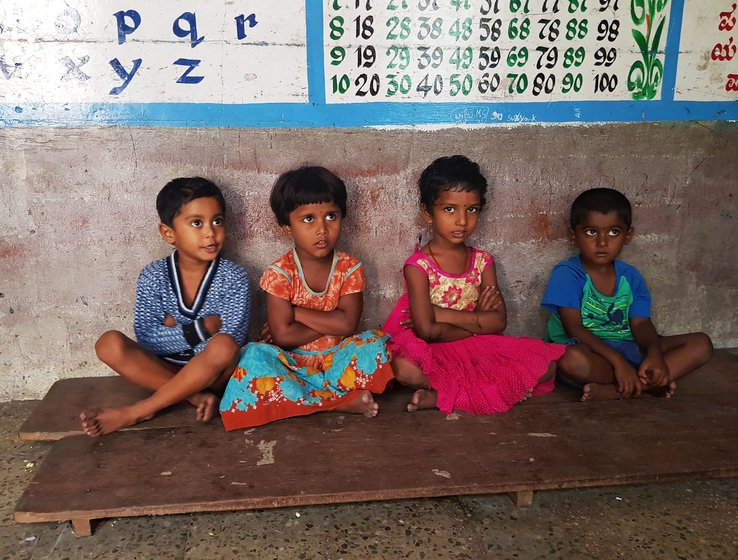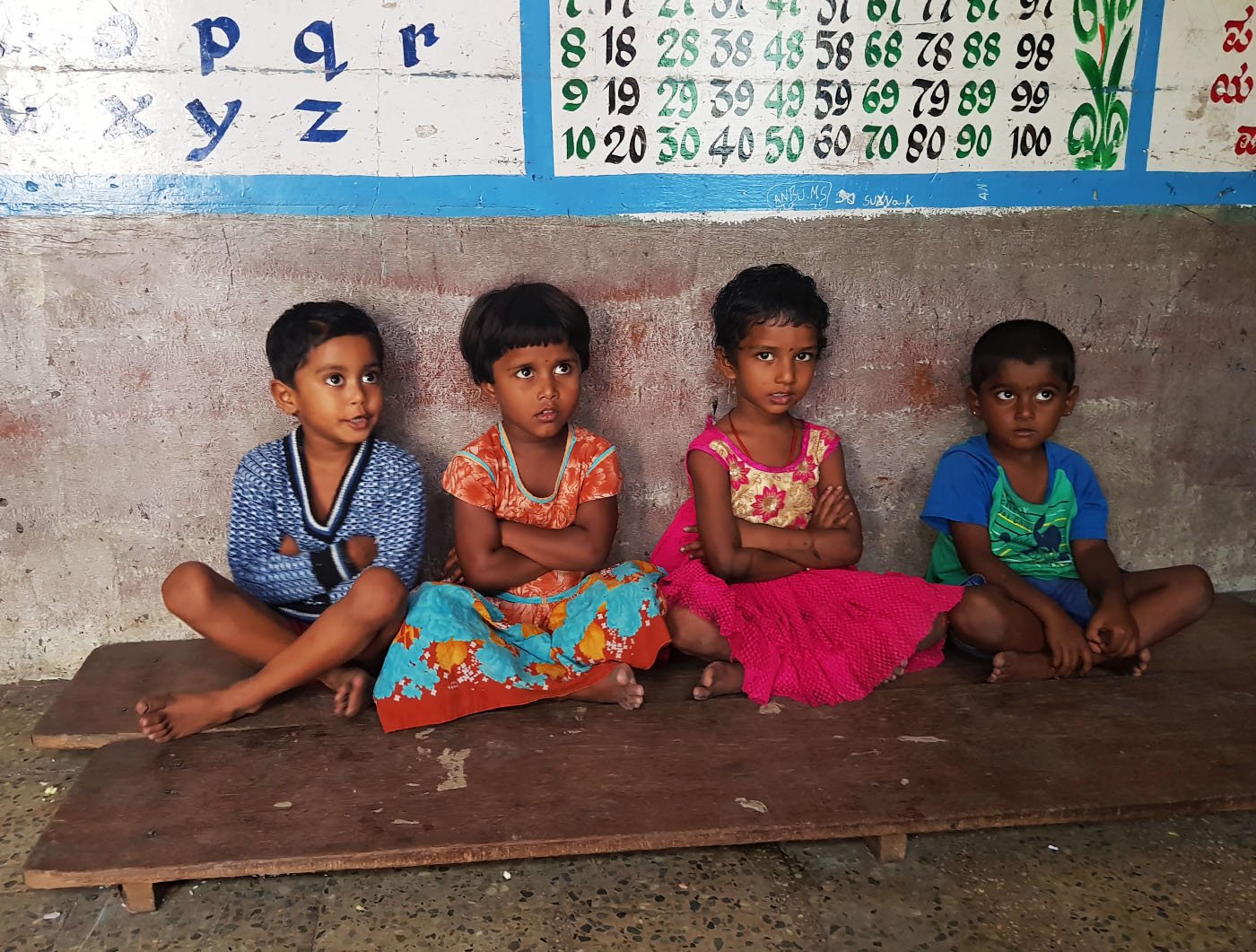 PHOTO • Vishaka George
The state too refers to her as an anganwadi 'worker' (AWW) though teaching is Rajeshwari's principal role.  In the three years that children are with AWWs, they must learn basic literacy, which is a prerequisite for joining any primary school.

"I can't afford to send my children anywhere else. They give free eggs  and lunch [at the anganwadi ]," says Hemavathy, 30, a garland-seller in Vyayam Shala colony, whose husband is a fruit vendor. "I prefer anganwadis to private kindergartens," adds M. Sumathi, a 26-year-old homemaker in the same colony. "The teacher here knows my child from even before birth!"
Bengaluru ha s 3,649 anganwadis and across Karnataka there are 65,911 such centres. Of the state's over 7 million kids in the 0-6 age bracket, 57 per cent (aged 3-6 years) come to anganwadis every day of the week except Sunday.  This is well above the national average of 38.7 per cent. Anganwadis throughout India are run under the Integrated Child Development Services (ICDS) of the Ministry of Women and Child Development.
All AWWs are women, who must have at least cleared Class 10. They receive an initial month of training, and a week-long training every five years.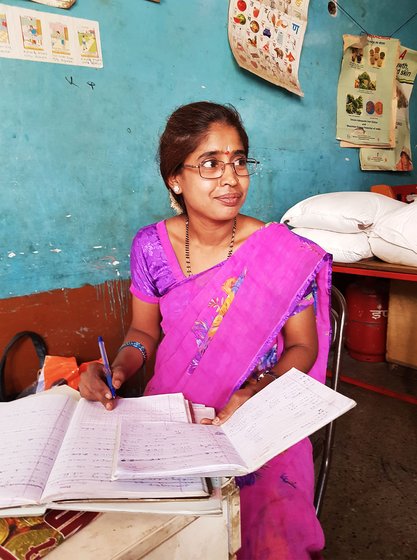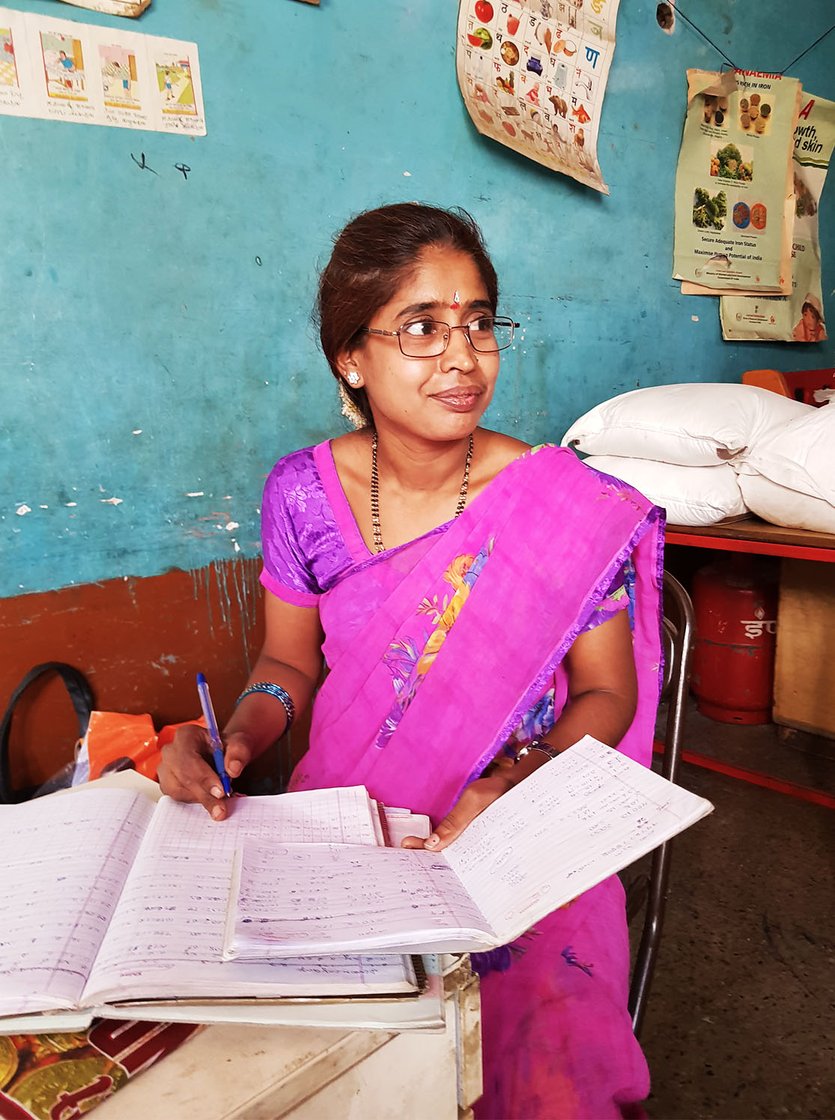 PHOTO • Vishaka George
But for all the work she does, 'teacher' Rajeshwari's 'honorarium' is merely Rs. 8,150 per month – and it was, she says, just Rs. 4,000 until three years ago. So from the anganwadi she takes a bus to a vocational training centre in Chamrajpet, where she teaches school management and craft, and earns another Rs. 5,000 per month. She gets back home only at 10 p.m.  "It's a long day, but I need the money," she says. Rajeshwari's husband works in a packaging unit for Rs. 5000 a month. With two children – a  son in college and a daughter in high school – it's a tight financial squeeze for the family every month.

To add to their financial juggling, since December 2017, Rajeshwari has not received even her modest AWW honorarium – along with 1,800 other anganwadi workers, says G.S. Shivashankar of the Trade Union Coordination Centre (TUCC). The state's Department of Women and Child Development (with a total outlay of Rs. 5,371 crores in 2018-19) claims that the budget has not been sanctioned for AWW salaries as well as food supplies and other expenses  for anganwadis . While this has happened before, it's the first time the delay has lasted so long.
After months of waiting for the government to release their dues, on August 16, around 2,300 members of the Anganwadi KaryaKarte Sahayaki Maha Mandali (Anganwadi Workers and Helpers' Trade Union, affiliated to TUCC) held a peaceful protest outside Town Hall in Bengaluru to voice their desperation. The union has 21,800 members across the state, and protests were held in other parts of Karnataka too. They were asking for their long-pending dues. And the AWWs also want to be eligible for pensions from the age of 60 instead of 65; the pension increased from Rs. 1,000 to Rs. 5,000; and fewer working hours.  Many of them did not want to be quoted, named or photographed, fearing repercussions.
Leading from the front, and fearless in her protest, is Lingarajamma, 56, an AWW for 30 years, who is hoping for a generous pay revision. "We are asking for our honorarium to be converted to a salary [which will bring additional benefits like a provident fund] and we want it to be raised to 20,000 rupees because we do much more than just teach," she points out, firmly. Lingarajamma  has managed these months without pay on her husband's pension as a retired bank employee, and her children are doing well – her son is studying to qualify as an oncology surgeon and her daughter is a journalist.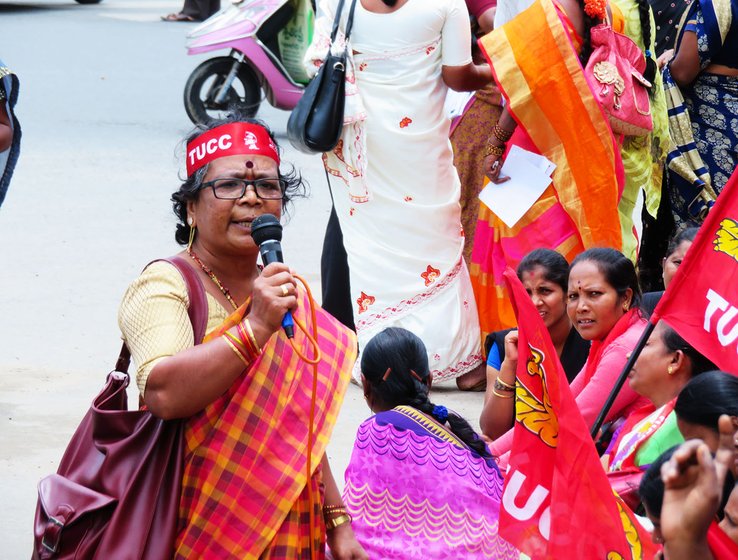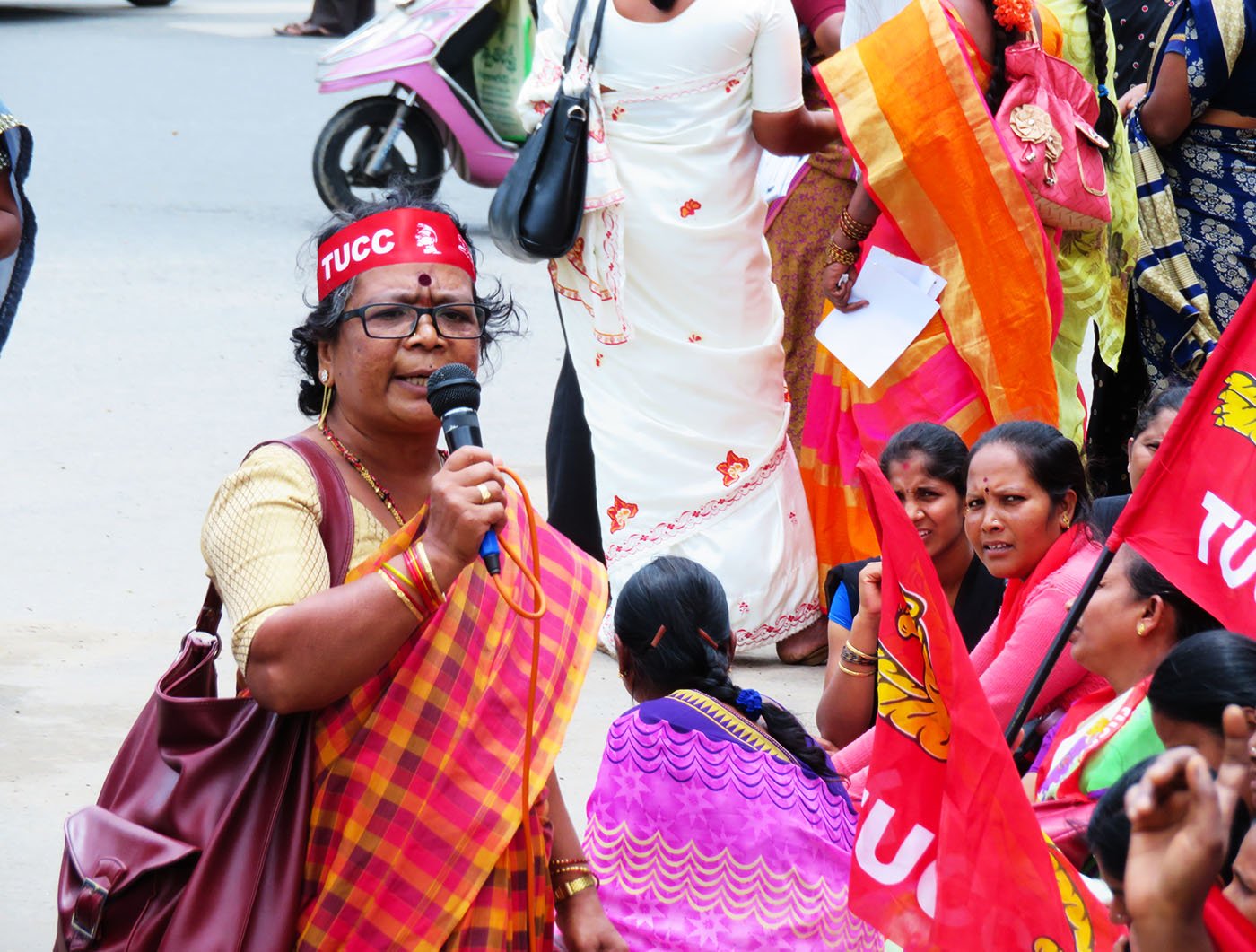 PHOTO • Priti David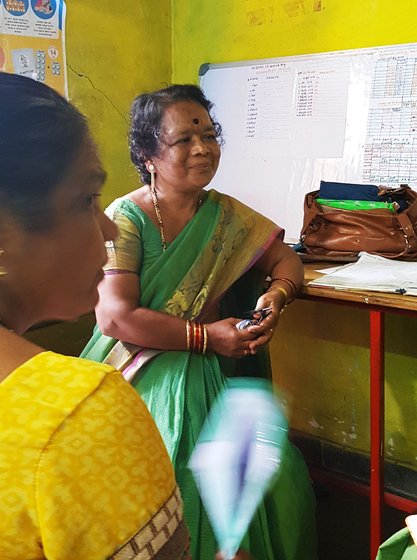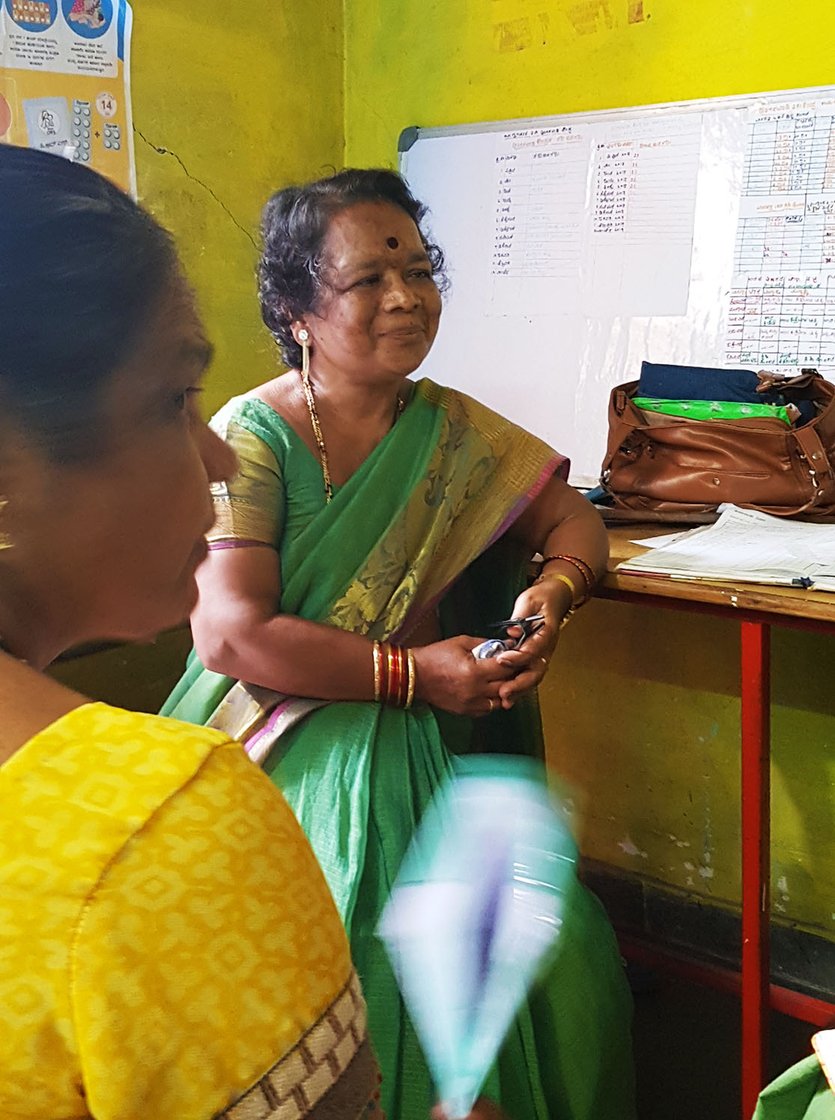 PHOTO • Vishaka George
But many of the other AWWs don't have such buffers and are forced to do extra jobs. Some also work as maids, sell home-made spice mixtures, work in tailoring shops and give tuitions.
Among them is Radhika ( name changed on request ). In her 12 by 10 feet anganwadi , she is hemmed in by 15 toddlers, a pregnant mother consoling her wailing child, a helper cooking sambhar and rice for lunch in the corner and large sacks of dal and rice stacked on tables. Amid rocking horses, plastic toys, posters of the alphabet and a number chart, Radhika's desk is piled with neatly-covered registers for all the multiple records she must maintain.
We stand at the door and watch her recite a poem in Kannada that teaches children the names of parts of the human body. She flails her arms and legs, and her exaggerated gestures are gleefully mimicked. A year ago, Radhika lost her husband to kidney cancer after a prolonged illness, and she is trying to pay back a loan of Rs. 2 lakhs, borrowed from friends and family for his treatment. An irregular salary adds to her financial difficulties. "I walk 45 minutes one way [six days a week] as I don't have money for the bus fare," she says. Radhika pulls in Rs. 3,000 per month by giving two-hour tuitions to 30 children in her area. Most of it goes in repaying her loans.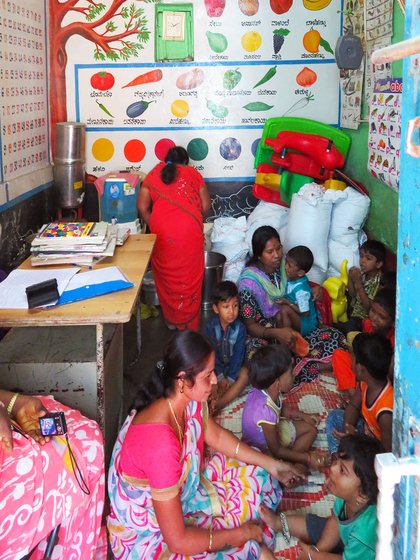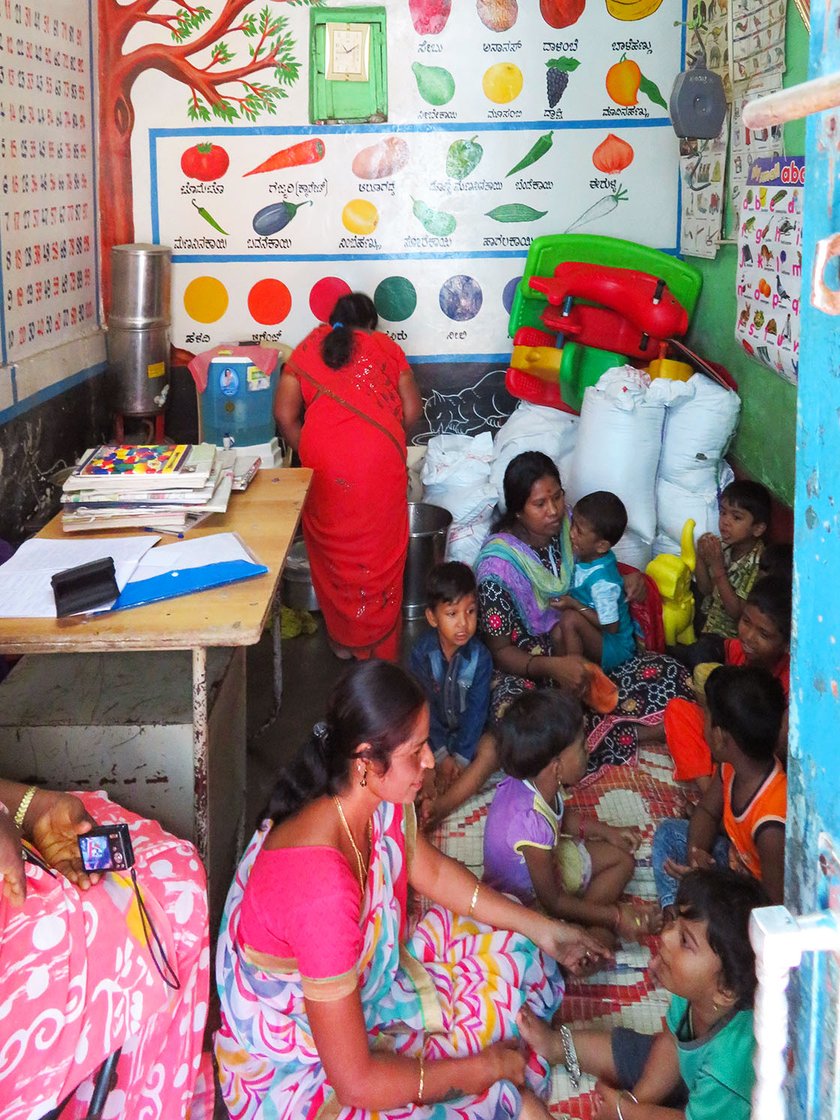 PHOTO • Priti David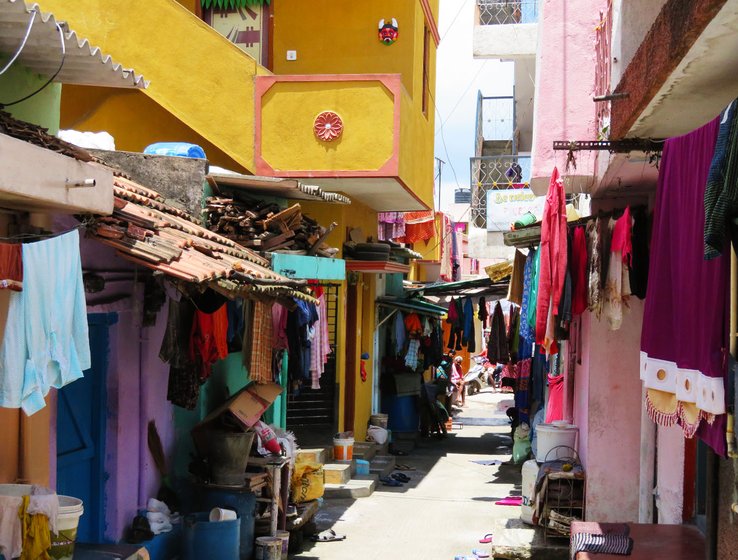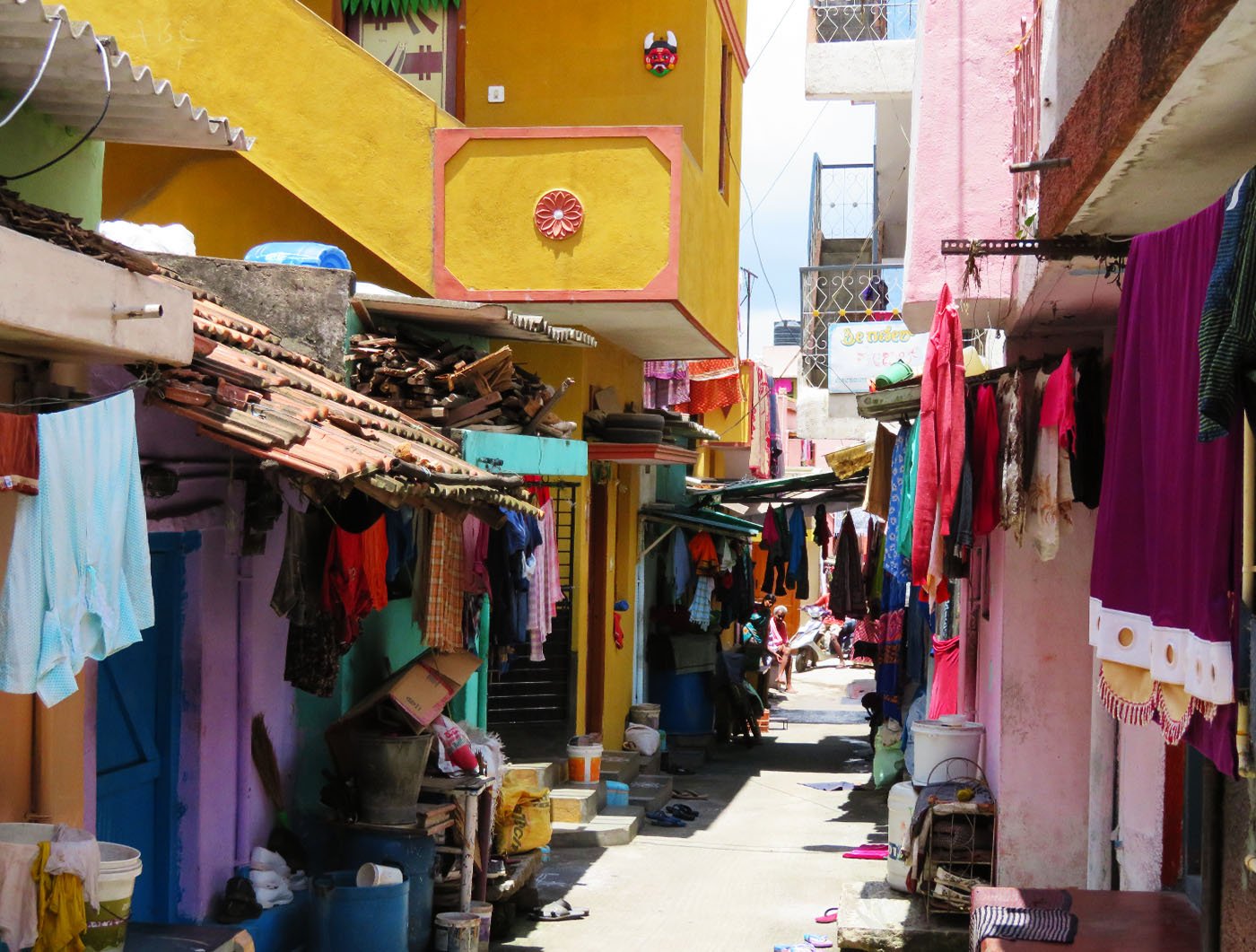 PHOTO • Priti David
Meanwhile, multiple policies in the country extol the benefits of early learning. The National Policy for Children, 1974, spoke of comprehensive facilities for both education and health during early childhood (0-6 years). The anganwadi was created around 1975 under the Ministry of Women and Child Development, while primary education upwards is handled by the Ministry of Human Resource Development. National policies on nutrition, education and, more recently, the Early Childhood Care and Education Policy, 2013, promise "care, health, nutrition, play and early learning within a protective and enabling environment... [to] remove inequity and  lead to long term social and economic benefits."
Still, many anganwadi centres lack even basic facilities. The India Rapid Survey on Children 2013-2014 (of the Ministry of Women and Child Development)  found that only 52 per cent have a separate kitchen and only 43 per cent have a toilet.  "It is very stressful for such small children to hold out till we can send them home after lunch to visit the toilet; and then in many families both parents are away working. Even we adults have to manage somehow," points out one AWW who does not wish to be named.
'No budget' also means there are no funds to buy supplies to run the anganwadi . Food – a big incentive for parents to send children to these centres – is also the teacher's responsibility under such circumstances – the AWWs we spoke to told us how they seek credit for buying eggs, rice and vegetables, and even rent for the centre space.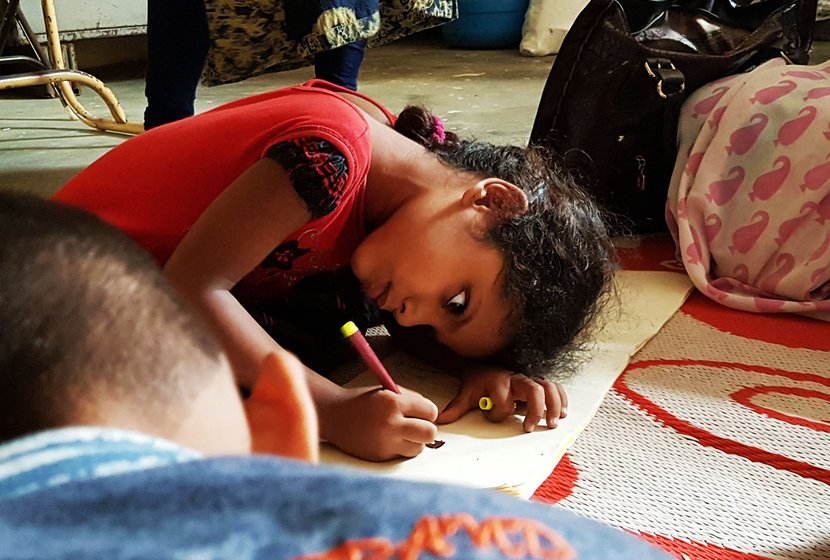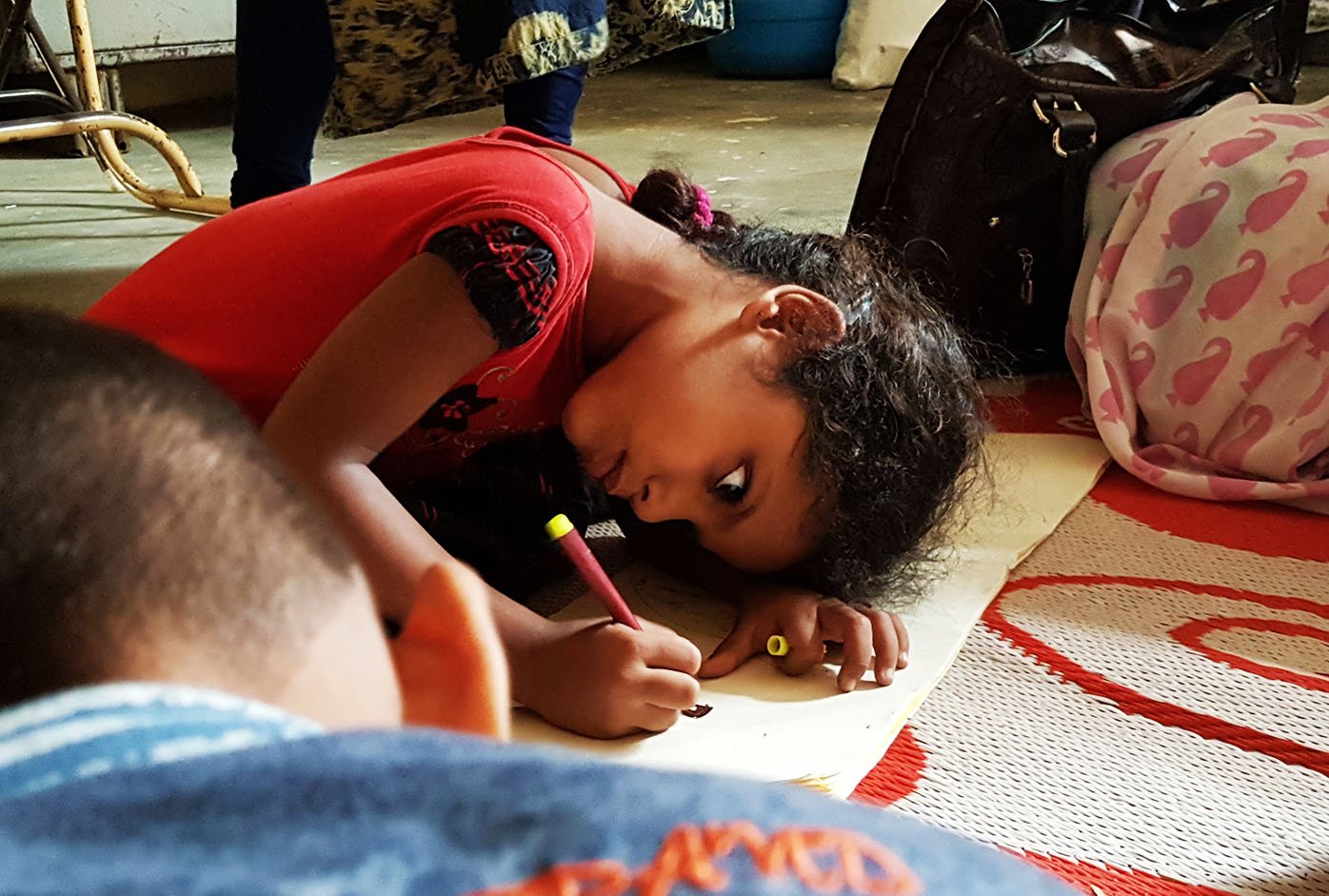 PHOTO • Vishaka George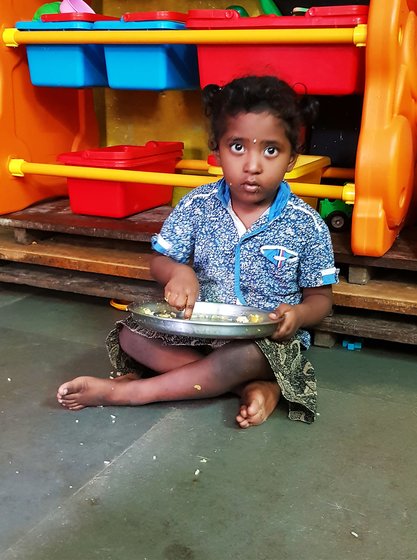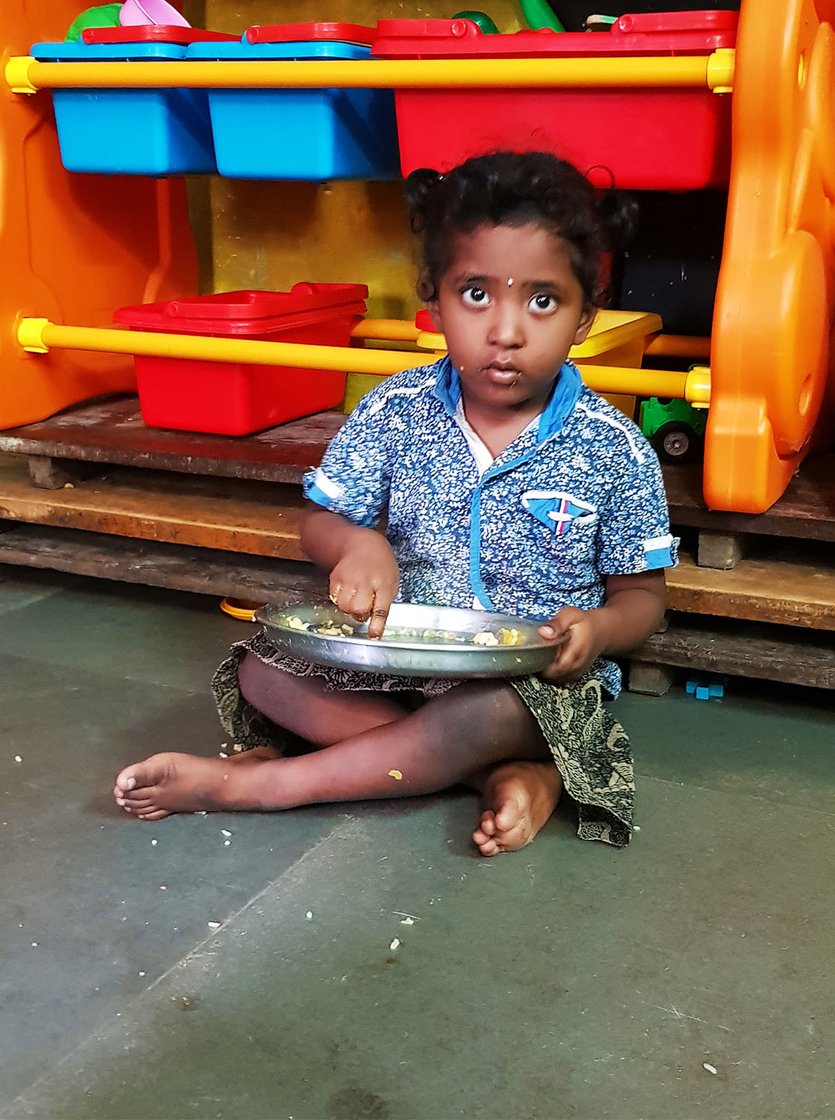 PHOTO • Vishaka George
For the financially inscure AWW, it's a daily challenge to feed all the children. "I sometimes  ask the parents to send one vegetable like a brinjal, a radish or a potato to make sambhar for their lunch," says Rajeshwari.
Many of India's poor depend on angandwadis – 70 per cent of Scheduled Caste and Scheduled Tribe families send their children to these centres across the country.
India's has 158.7 million children under the age of six years (Census 2011) and the multiple polices assure them all a pre-school education, a meal with eggs at least twice a week and supplements. Along with pre and post natal check-ups for mothers, vaccinations for the babies, and various other services.
It's the AWW who runs all this – struggling every day.  But the anganwadi workers say the respect they receive in the community and the laughter of the children makes them stay on. "When I enter the area, the word spreads and my students come running to greet me with ' namaste Miss',"  an AWW tells us.  "And when they grow older and go away to primary school, they point at me and tell their friends 'that is my Miss'. "