The lane to her house is an upward slope, one which Aadhilakshmi, 72, finds hard to climb after a leg surgery last year.  The home in a slum colony in Bhavani Nagar, in the Suddagunte Palya area of south Bengaluru, is a single room that she shares with six other family members.
Aadhilakshmi and her husband Kunnaiah Ram, 83, migrated to Bengaluru around 30 years ago from a village in Madurai district, Tamil Nadu, in search of work. While he found a job as a carpenter, she raised their two sons and two daughters.

"Just because I am old does that mean I do not need to eat?" she asks. It's a question she has repeated an unfortunate number of times in the last six months when she and her husband were denied their rations – seven kilos of free rice per person per month.  The subsidised salt, sugar, palm oil and soap they got in addition to the rice, for which they had to pay Rs. 150, has also stopped.

Why was the elderly couple denied their rations? For both, fingerprint authentication failed at the PDS outlet they regularly visit around two kilometres from their home. Small machines that are supposed to do the job have been installed in these ration shops in Bengaluru – there are around 1,800 such outlets in the city.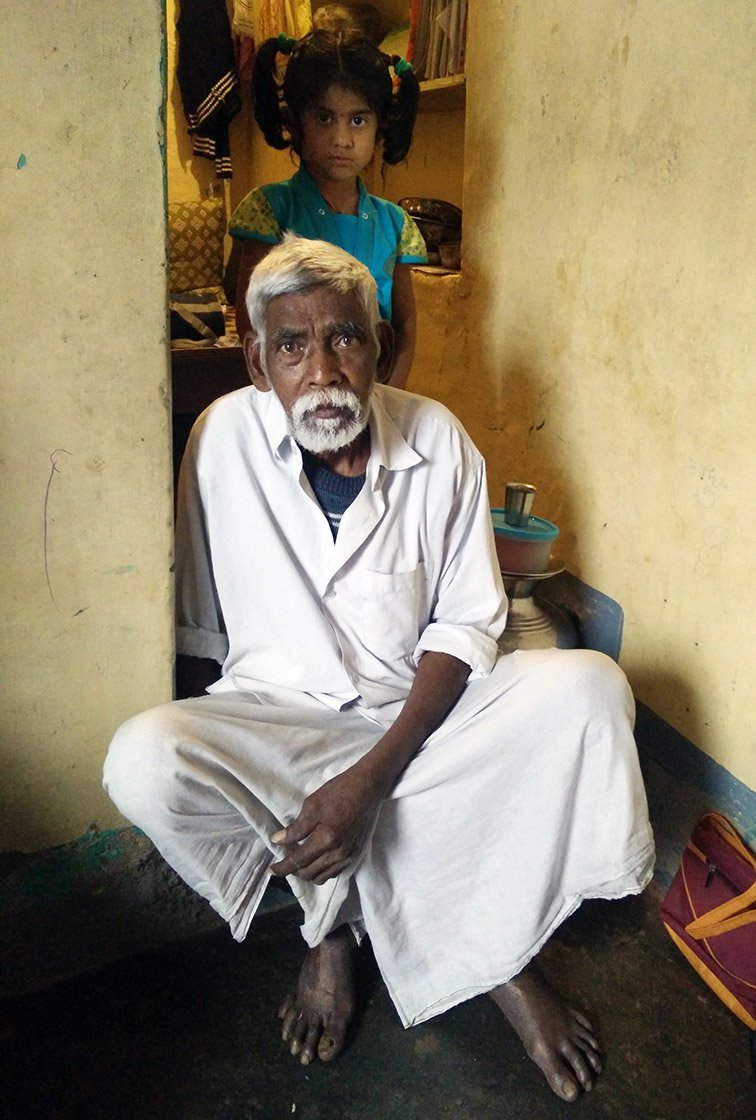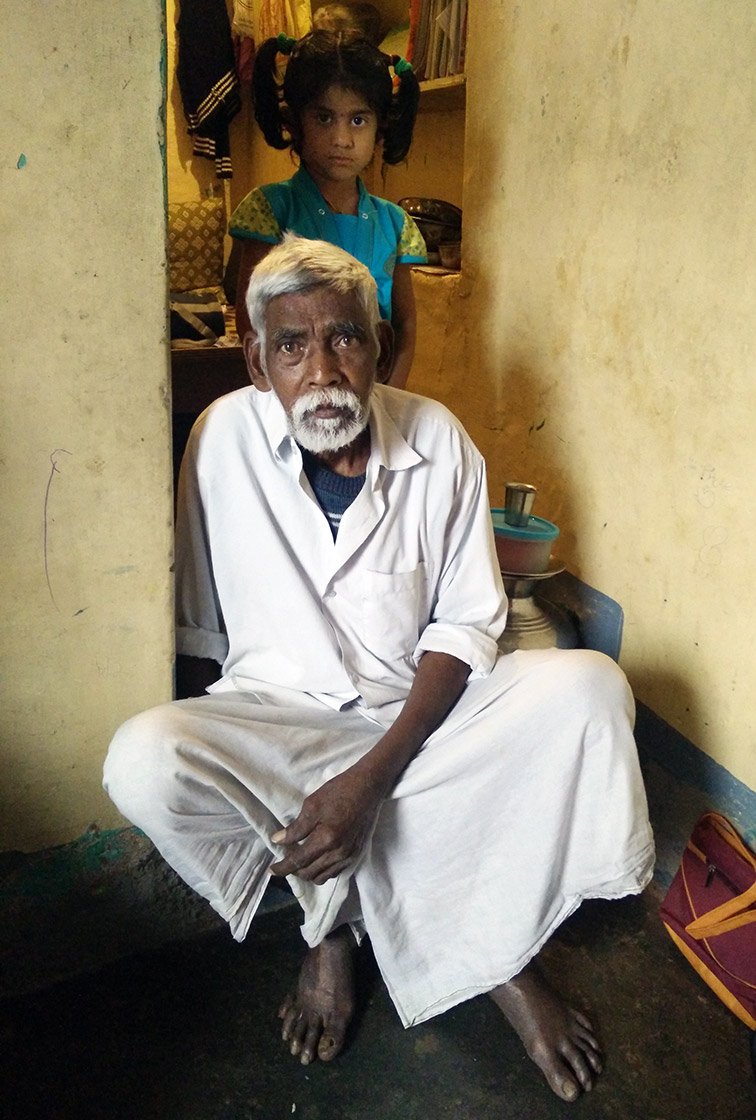 PHOTO • Vishaka George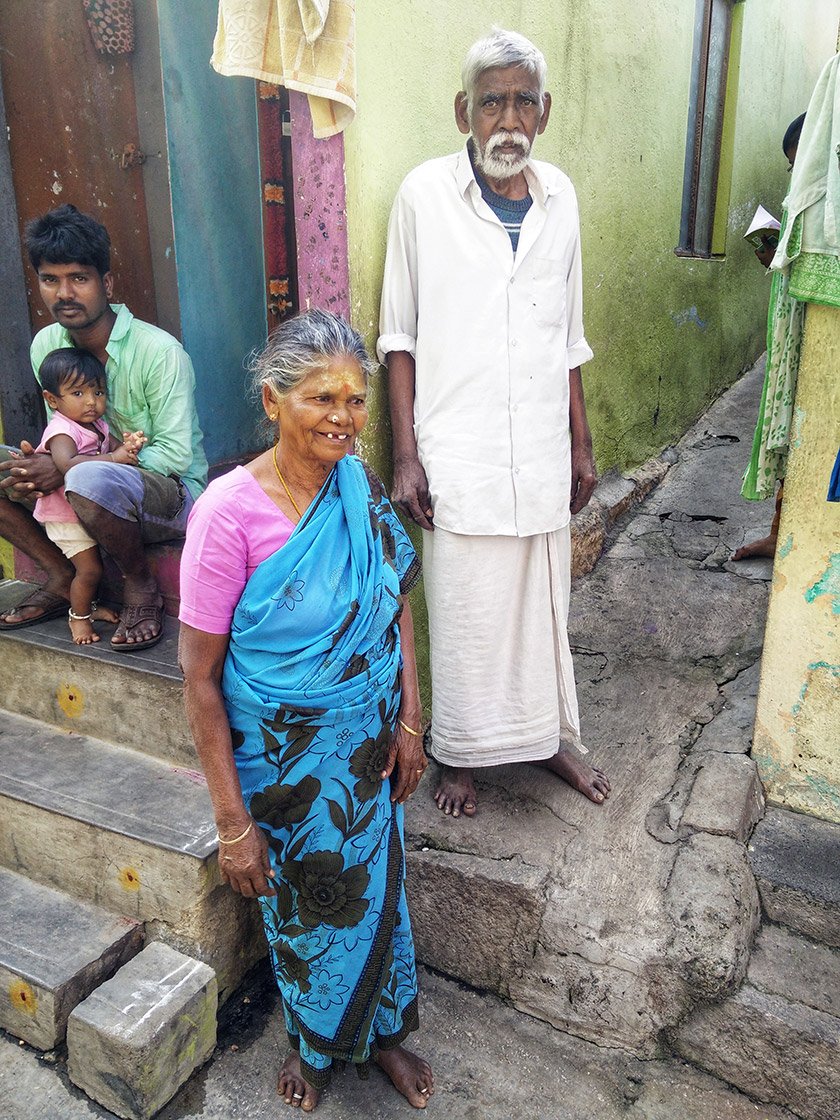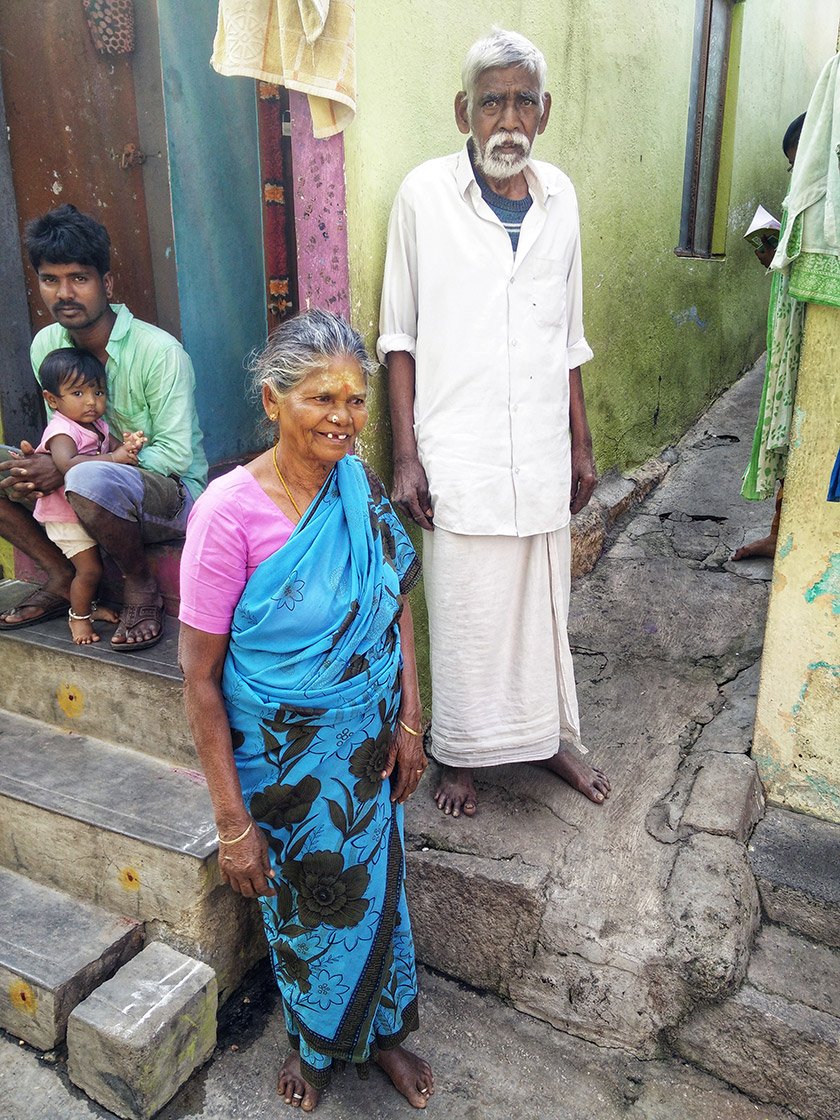 PHOTO • Vishaka George
In the city and across India, Aadhaar details have been linked or "seeded" into ration cards, and every time people go to collect their monthly rations, they must submit their fingerprints as proof of identity. Reports vary about when linking below the poverty line (BPL) ration cards with Aadhaar became mandatory in Karnataka, though the deadline seems to have been June 2017. This potentially impacts around 8 million (estimates vary) BPL card holders in the state. Karnataka's minister for Food and Public Distribution, U.T. Khader, has reportedly told presspersons that ration cards not linked to Aadhaar would be treated as 'bogus'.

However, when the Aadhaar identity system was launched in 2009, it was meant to be an "optional" programme to help streamline the PDS. Over time though, linkages to Aadhaar have been made mandatory to avail various government schemes such as LPG connections and scholarships. The Aadhaar ID number is also being linked to multiple services, including bank accounts and mobile phone connections provided even by private operators. The flaws in such a system, and the potential for fraud and for massive state surveillance of Indian citizens are only some of the growing criticisms, and the Supreme Court of India is presently hearing  a slew of petitions that challenge the constitutional validity of Aadhaar.
Meanwhile, despite managing to get their Aadhaar cards in early 2016,  Kunnaiah Ram and Aadhilakshmi  are at a loss. "We were told to go back and get enrolled again [repeat the fingerprinting process at an Aadhaar centre] because we are old and our fingerprints do not match [with the machine in the ration shop]," says Kunnaiah Ram.

But here is another problem: "You are supposed to use your fingerprint to enrol. That fingerprint then becomes your password to authenticate yourself to access benefits. However, the technology does not recognise that manual labourers have flawed fingerprints by virtue of the work they do, or that ageing can result in fingerprint changes," explains Vidushi Marda, a legal researcher with Article 19, a global human rights organisation, who previously worked with The Centre for Internet and Society in Bengaluru. "The Aadhaar system uses an inherently problematic technology for the very set of people it claims to save."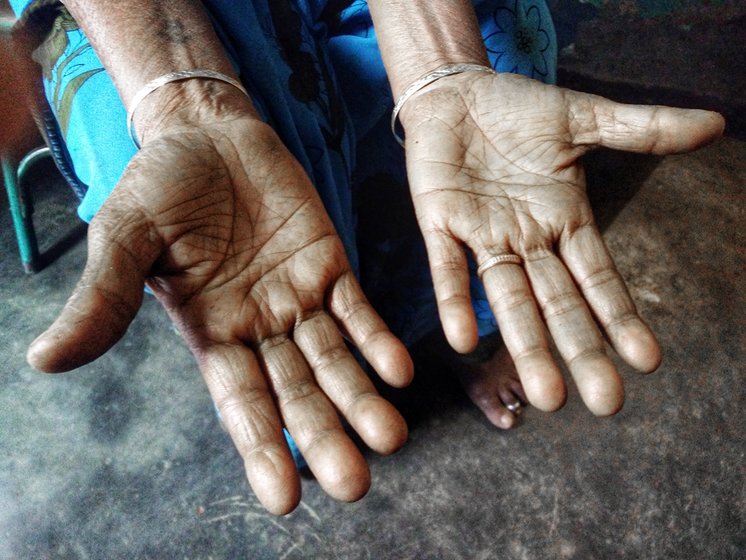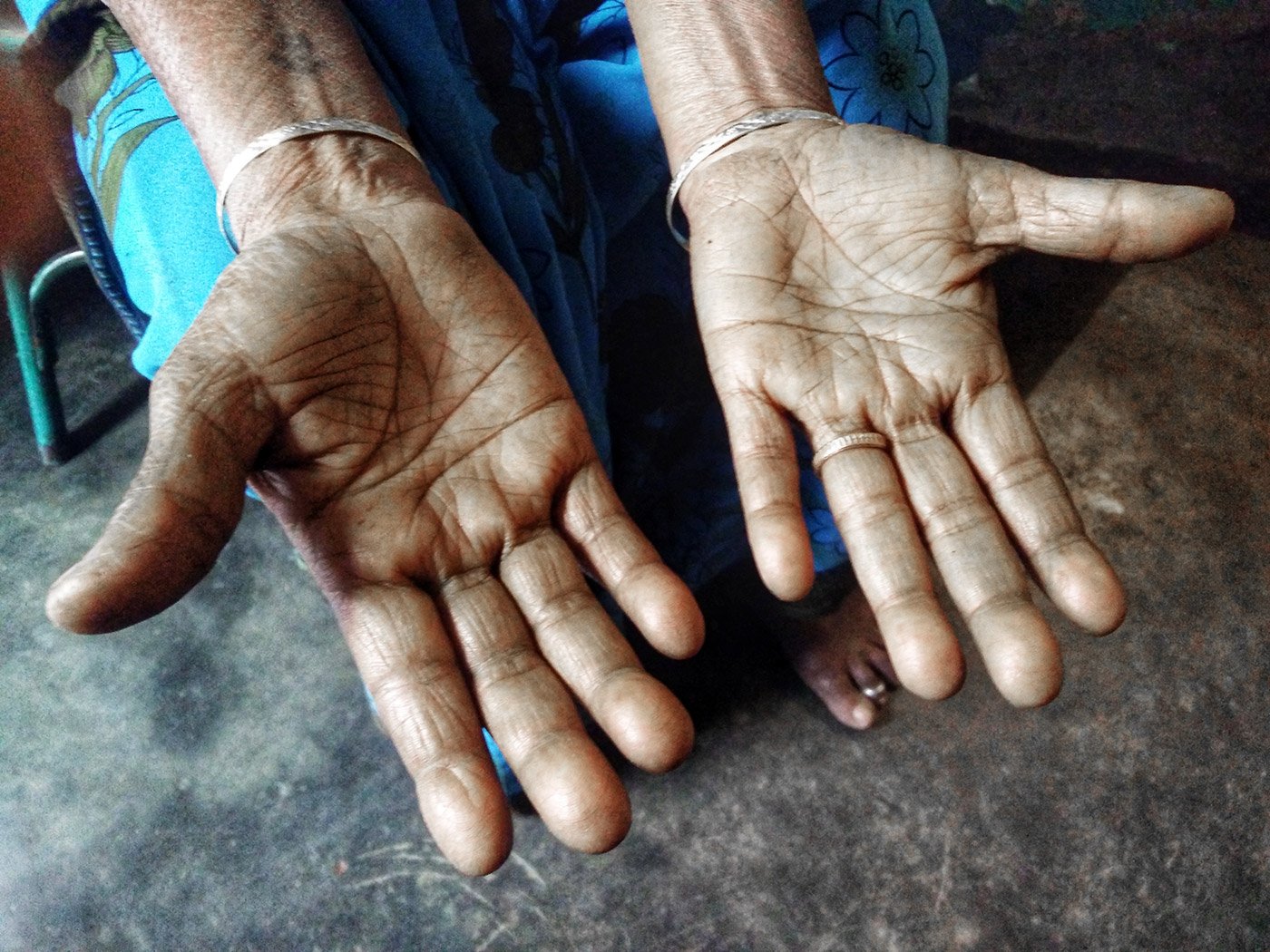 PHOTO • Vishaka George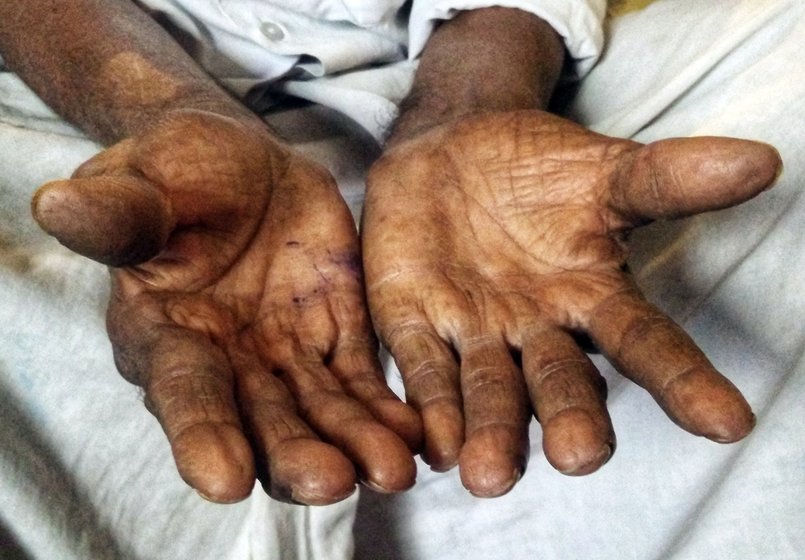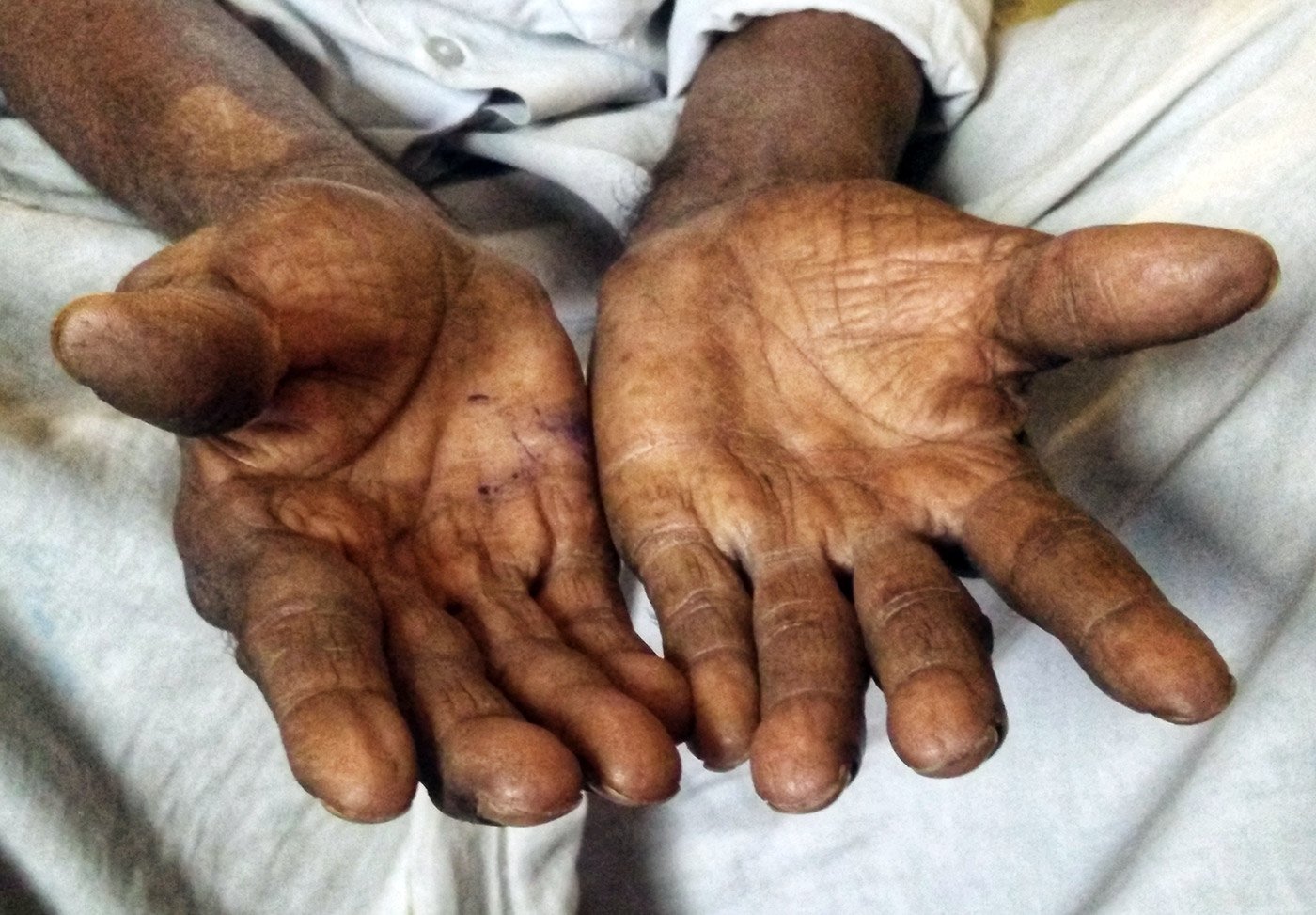 PHOTO • Vishaka George
Aadhilakshmi and Kunnaiah Ram live with their eldest son, a construction worker, who has a wife and three children (their younger son is a carpenter who lives separately).
"It's a loss of dignity for us to still rely on our son. He has three children to feed and educate. Why should they have to split their share of rations with us?" asks a helpless Aadhilakshmi.
Their old age pensions of Rs. 500 each get swallowed every month by health-related expenses.  Aadhilakshmi recently had a cataract surgery and is recovering from an accident that broke her leg. Kunnaiah Ram has a heart ailment, weak knees, and often suffers dizzy spells.

A ration shop attendant I spoke to, who asked to not be named, said that the BPL card should suffice in the case of very old people. However, one member of the family must authenticate his or her fingerprints.  So what happens when both, husband and wife, do not have matched biometrics?

"Even if I have known them for a long time, I cannot issue them rations if they fail the machine test," says the attendant. "They just have to get re-enrolled and the fingerprints must match. They must go to government offices such as the Food and Civil Supplies department, the Bangalore Development Authority or other enrolment centres and re-enrol," she says.  No one has a clue about what should be done if, as almost inevitable, the fingerprint failure repeats itself. It's the same fingers, after all.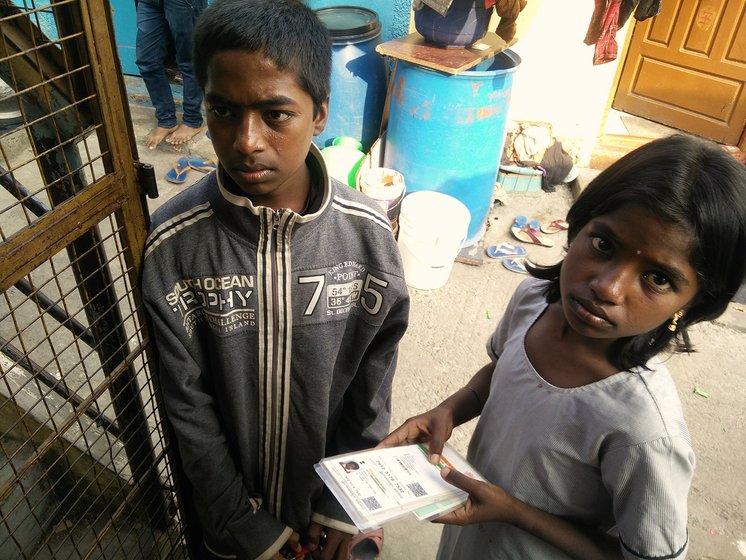 PHOTO • Vishaka George
Aadhilakshmi struggles to walk up a less than 10-foot slope to her home. How does the state expect such citizens to then run around the city just to authenticate themselves?

"Millions of Indians with Aadhaar numbers – senior citizens, children, the disabled and those who do physical labour, are forced to live with the grim reality of their biometrics not being recognised by the machines. This technocratic system has no idea of how to set the problem right. So the affected must run to different offices to prove who they are," says Kshithij Urs, a Right to Food activist and professor at the National Law College, Bengaluru.
Less than 200 metres away from Aadhilakshmi's home, Vijaylakshmi, once a construction worker and now an elderly vegetable vendor, has also not got her rations for over a year: another blotched biometric test. "I have tried to sort out the problem twice, but with no luck," she says. The Rs. 150 Vijaylakshmi earns daily selling vegetables helps her make ends meet.

It's not just the elderly and manual labourers paying the price for Aadhaar's technological incompetence.  Children do, too.
At a home in a slum situated in the hustle of Cottonpet bazaar, west Bengaluru, siblings Kishore, 14, and Keerthana, 13, have not received their share of rations for two years because of non-matching biometric data. If a child is enrolled before 15, she/he must repeat the process when they reach that age. What if the biometrics do not match in the interim though? Well, you don't get your rations. Their parents are municipal corporation sweepers, whose combined salaries total Rs. 12,000 a month.

Kishore, a bright student, joined a private English medium school two years ago, but mounting expenses and the ration denial forced his parents to pull him out and enrol him in a government school. He now helps with the family income by delivering milk in his neighbourhood.  He wakes up at 4 a.m. and leaves home at 6 a.m. to deliver morning supplies.  He then rushes to school at 9 a.m. After school closes at 4 p.m., he darts off to make the evening milk deliveries. His work day ends at 8 p.m.

But what about homework? "I try to finish as much of it as I can in school," says Kishore. The roughly eight hours of work he clocks in every day earns him Rs. 3,500, all of which he gives to his parents. With the added income, they can handle the family's provisions.  Often, they buy rice from their neighbours at Rs. 15 a kilogram. But if the two children could also get their rations, seven kilos of rice would have been free for each of them.

It hardly matters that they have been going to the same ration shop for years because, says Reshma, an activist with the Right to Food campaign, "the dealer may know you, but the machine does not."