In a land known best for its scarcity of rain and water, here is a folk song that celebrates 'sweet waters' – the enormous cultural diversity of the Kutch (also spelt Kachchh) region and its people.
Lakho Fulani (born in 920 AD) lived and ruled the regions of Kutch, Sindh and Saurashtra a thousand years ago. He earned a reputation for being a very loving king, devoted to his people. Remembering his generous rule people even today say, " Lakha to Lakho malashe pan Fulani e pher [There will be lakhs of people named Lakho but there will be only one like Fulani]."
This song refers to him and also expresses the sentiments of religious harmony that are at the heart of the culture of this region. There are many places of worship in Kutch visited by both Hindus and Muslims, like the dargah of Hajipir vali and the temple of Ashapura in Deshdevi. The song uses historical references like Kerakot, the fort in the village of Kera built by Fulani.
This song, like others in the collection, touches upon an array of themes from love, longing, loss, marriage, motherland to gender awareness, democratic rights and more.
PARI will house the Kutchi folksongs multimedia archive with 341 songs from Kutch. The audio file is the rendition of the song by local artists in the original language. The folksong is presented to readers in the Gujarati script along with a translation in English and 14 other languages in which PARI is now published.

Kutch covers an area of  45,612 square kilometres of a fragile ecosystem; the sea to the south and a desert to the north. One of the largest district in India, it falls in a semi-arid zone that regularly struggles with issues of water scarcity and drought.
Many different castes, religions and communities live in Kutch, most of them descendants of people who have migrated to the region over the last 1,000 years. There are Hindus, Muslims and Jains, with sub-groups such as Rabari, Gadhvi, Jat, Meghwal, Mutwa, Sodha Rajput, Koli, Sindhi and Darbar.  The rich and pluralistic heritage of Kutch is reflected in its unique clothes, embroidery, music and other cultural traditions. The Kutch Mahila Vikas Sangathan (KMVS) founded in 1989 has been engaged in organising and supporting the communities and their traditions in the region.
PARI in collaboration with KMVS presents this rich archive of Kutchi folk songs. The songs presented here were recorded as part of the Soorvani initiative by KMVS. Starting as a grassroot initiative to facilitate women's empowerment and equipping them to become the agents of social change, the organisation evolved its own dedicated media cell.  They started Soorvani, a regular community-run radio broadcasts promoting the rich musical culture of Kutch.  As an informal organization of 305 musicians represented 38 different musical forms.  Soorvani tried to improve the status and situation of Kutchi folk musicians by striving to preserve, sustain, revive, energize and promote the region's folk music traditions.

કરછી
મિઠો મિઠો પાંજે કચ્છડે જો પાણી રે, મિઠો મિઠો પાંજે કચ્છડે જો પાણી રે
મિઠો આય માડૂએ  જો માન, મિઠો મિઠો પાંજે કચ્છડે જો પાણી.
પાંજે તે કચ્છડે મેં હાજીપીર ઓલિયા, જેજા નીલા ફરકે નિસાન.
મિઠો મિઠો પાંજે કચ્છડે જો પાણી રે. મિઠો મિઠો પાંજે કચ્છડે જો પાણી રે
પાંજે તે કચ્છડે મેં મઢ ગામ વારી, ઉતે વસેતા આશાપુરા માડી.
મિઠો મિઠો પાંજે કચ્છડે જો પાણી. મિઠો મિઠો પાંજે કચ્છડે જો પાણી રે
પાંજે તે કચ્છડે મેં કેરો કોટ પાણી, ઉતે રાજ કરીએ લાખો ફુલાણી.
મિઠો મિઠો પાંજે કચ્છડે જો પાણી રે. મિઠો મિઠો પાંજે કચ્છડે જો પાણી રે
English Translation
Sweet waters of Kutch. Oh! sweet waters of Kutch
People so loving and warm. Oh! sweet waters of Kutch
A dargah of Hajipir, with its flying green signs.
Sweet, sweet are waters of Kutch
In the village Madh, Ma Ashapura's shrine.
Sweet, sweet are waters of Kutch
Remains of a fort in Kera, Where once ruled Lakha Phulani.
Sweet, sweet are waters of Kutch
Where people are loving and warm, and the water tastes like honey.
Sweet waters of Kutch. Oh, sweet waters of Kutch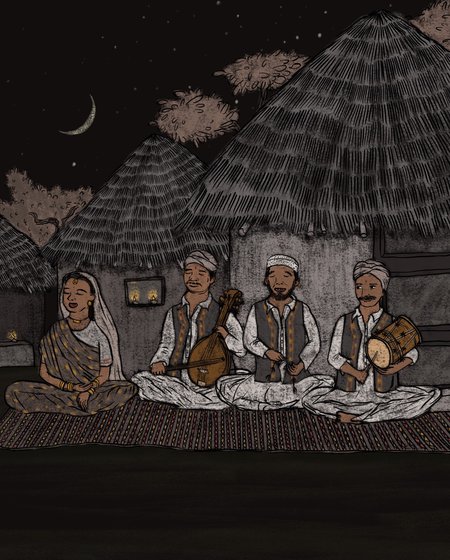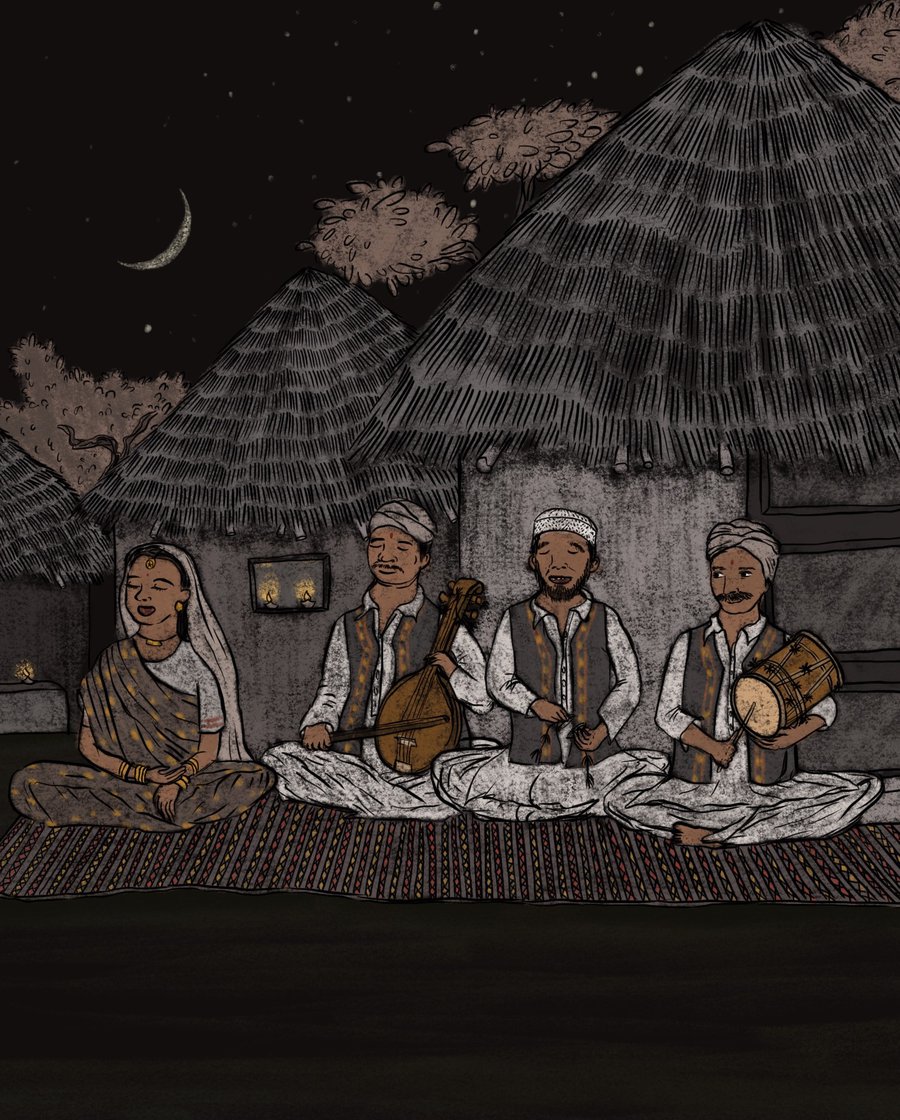 PHOTO • Antara Raman
Type of song: Folk song
Cluster : Songs of the land, places, and people
Song : 1
Title of the song : Mitho mitho panje kachhade jo paani re
Writer: Naseem Sheikh
Composer: Deval Mehta

Singer: Naseem Sheikh from Anjar

Instruments used: Harmonium, banjo, drum, tambourine

Recording year: 2008, KMVS studio

Gujarati translation: Amad Sameja, Bharati Gor

English translation: Pratishtha Pandya
A special thanks to Preeti Soni, Aruna Dholakia, secretary, KMVS, Amad Sameja, project coordinator KMVS for their support and to Bhartiben Gor for her invaluable help with Gujarati translation.