Her forehead creases when she speaks, the lines prominent against the sickly pallor of her face. She limps, slow and hunched over, halting to gather her breath after every few hundred metres. A gentle breeze rustles wisps of grey hair framing her face.
It is impossible to believe that Indravati Jadhav is only 31 years old.
Resident of a slum located on the outskirts of Nagpur city in Maharashtra, Jadhav suffers from Chronic Obstructive Pulmonary Disease (COPD), a potentially fatal condition causing restricted airflow in the lungs, breathing difficulties and, most often, a chronic cough that may eventually damage the lungs. Often called 'smoker's disease', nearly 30 per cent to 40 per cent of COPD cases in low and middle income countries are patients with a history of tobacco-smoking, says the World Health Organisation (WHO).
Jadhav has never touched a cigarette, but her left lung is severely damaged. The WHO says a direct result of household air pollution is caused by cooking on a wood or coal-fired hearth.
Jadhav has never had access to clean cooking fuel. "We always use firewood or coal on an open stove to cook food or heat water. " Chulivar jevan banvun majhi phuppusa nikaami jhaali ahet [My lungs have become useless by cooking food on the open stove]," she says, repeating what the doctors told her. The pollution from her biomass-burning stove has damaged her lungs.
Around six lakh Indians die prematurely every year due to air pollution, a 2019 Lancet study estimated, and household air pollution is a significant factor in ambient air quality.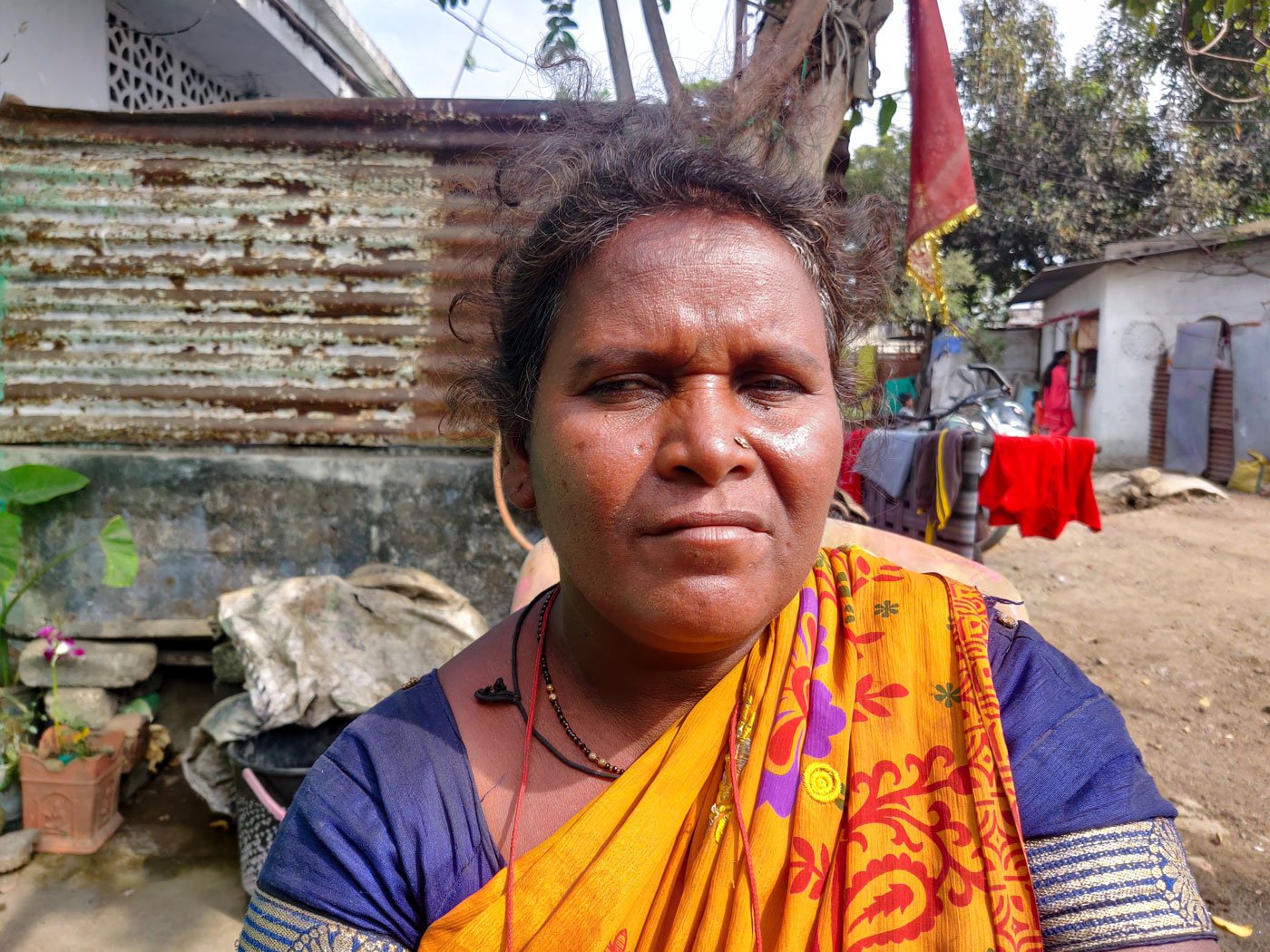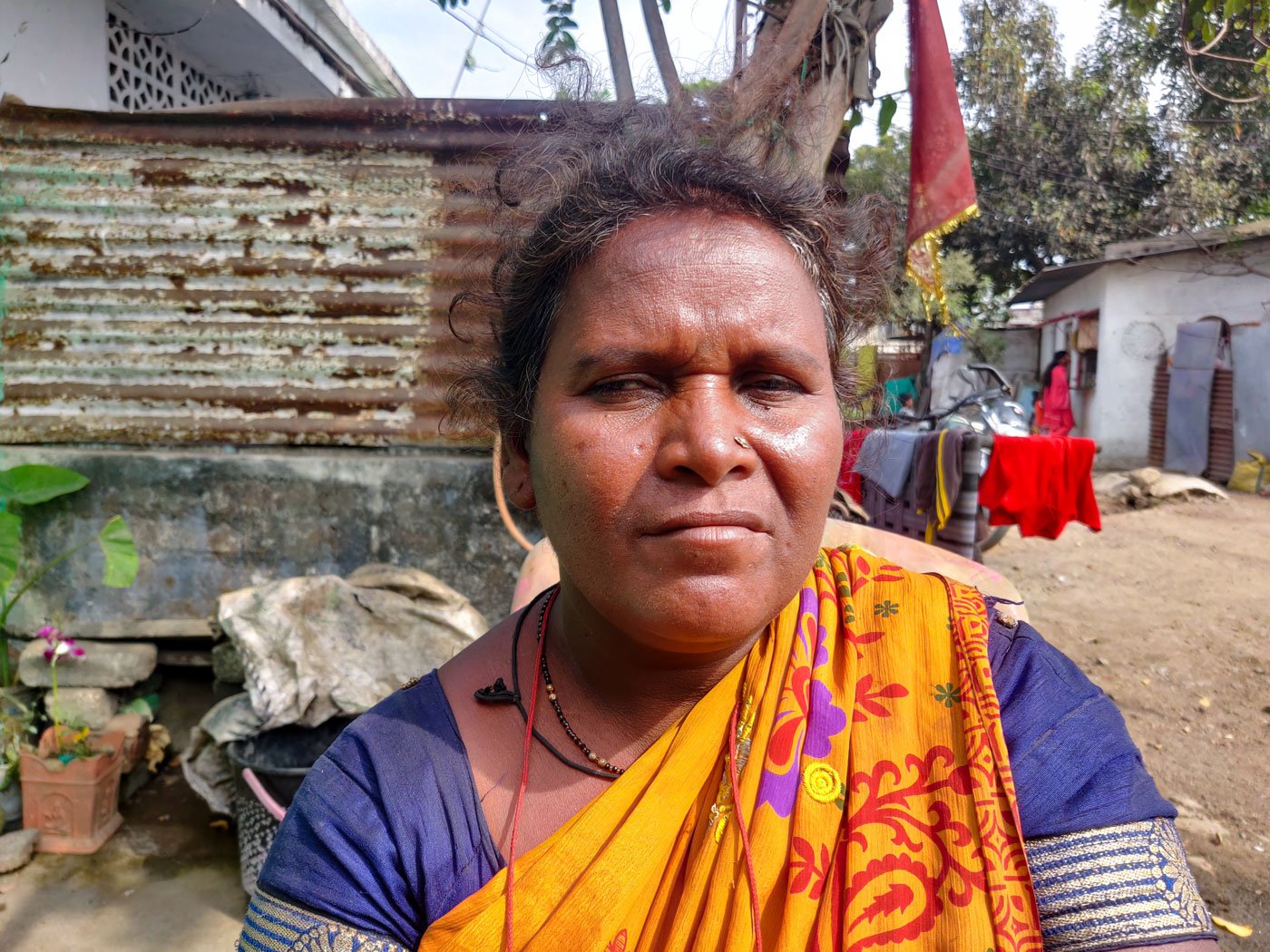 PHOTO • Parth M.N.
Seated on a plastic chair outside her single room hut in Pangul mohalla in the Chikhali slum, Jadhav discusses her health wearily.
She needs surgery if she hopes to get better, but it is risky. Her husband is often in an inebriated state, and shows up at the house every 10-15 days.
Jadhav is most fearful for her children – Kartik, 13, and Anu, 12. "I have no clue what my husband does, where he eats or sleeps when he is not here," she says, pausing to suck in a long breath that sounds like a sigh. "I don't have the energy to check if my kids go to school or not. We have put off the surgery because if something happens to me, my kids would, in a way, be orphans."
Jadhav used to work as a waste-picker, sifting through heaps of garbage to locate reusable or recyclable materials. Selling the salvaged material earned her about Rs. 2,500 a month. A little over a year ago, her health deteriorated considerably, rendering her unfit to earn even her frugal living.
"I could never afford to fill a gas cylinder," she says. Every refill of the commonly used Liquefied Petroleum Gas (LPG) household cylinder costs over Rs. 1,000. "I would have to spend half my income on cooking gas. How do I run the household after that?"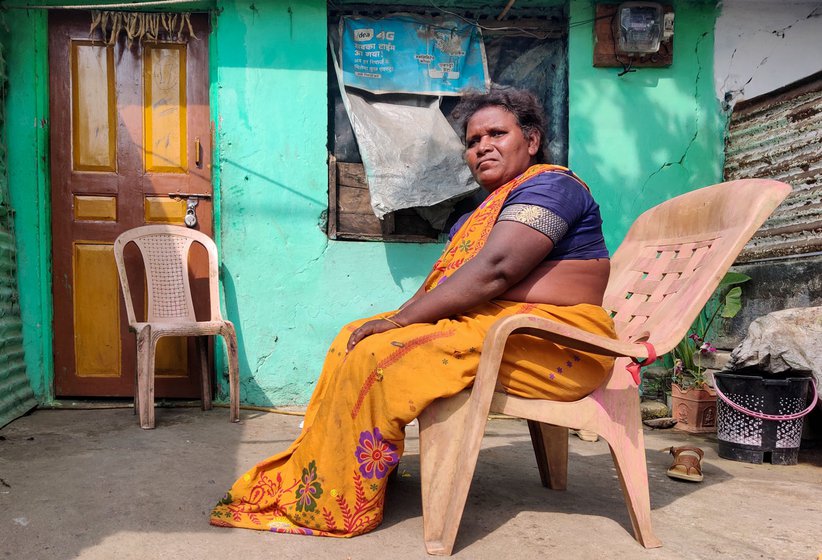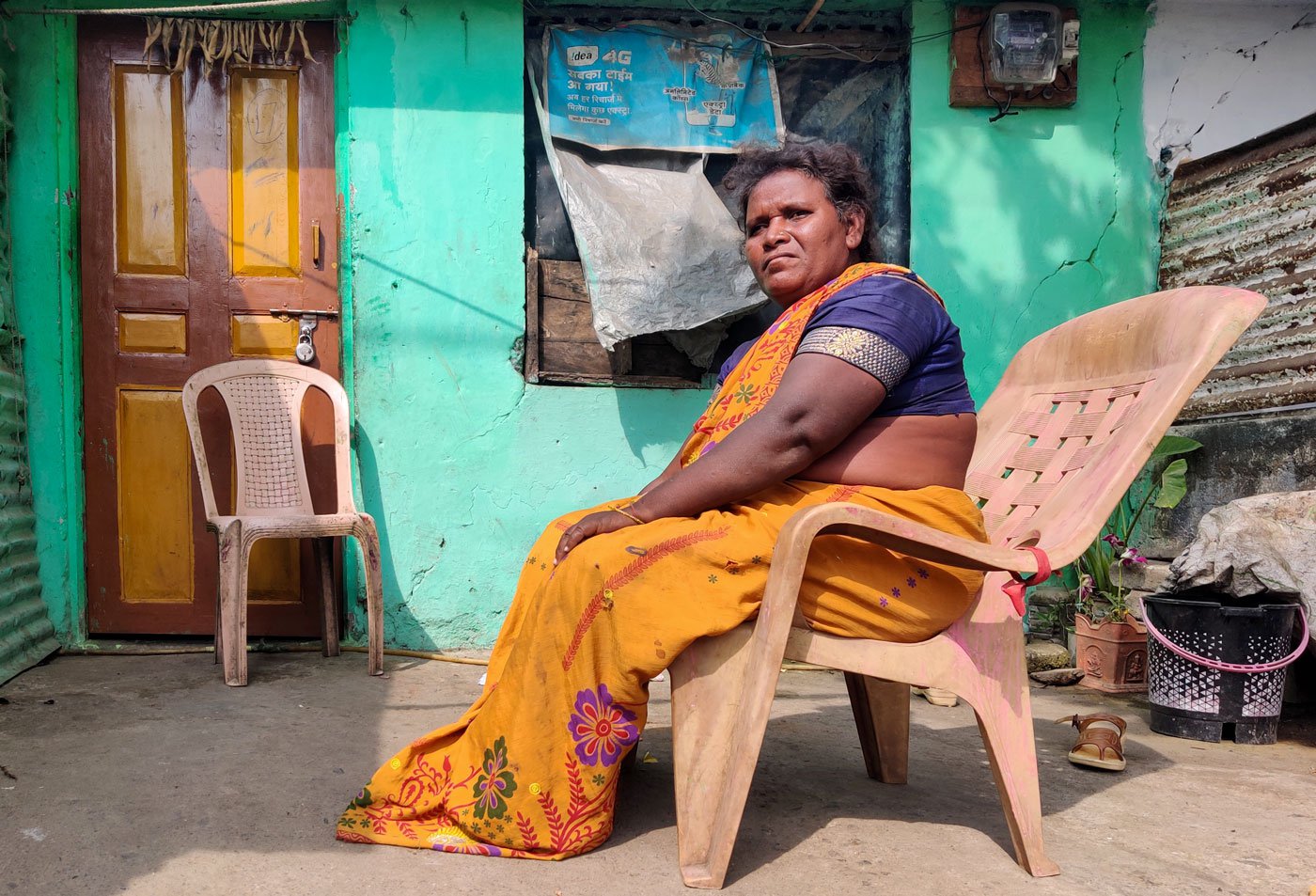 PHOTO • Parth M.N.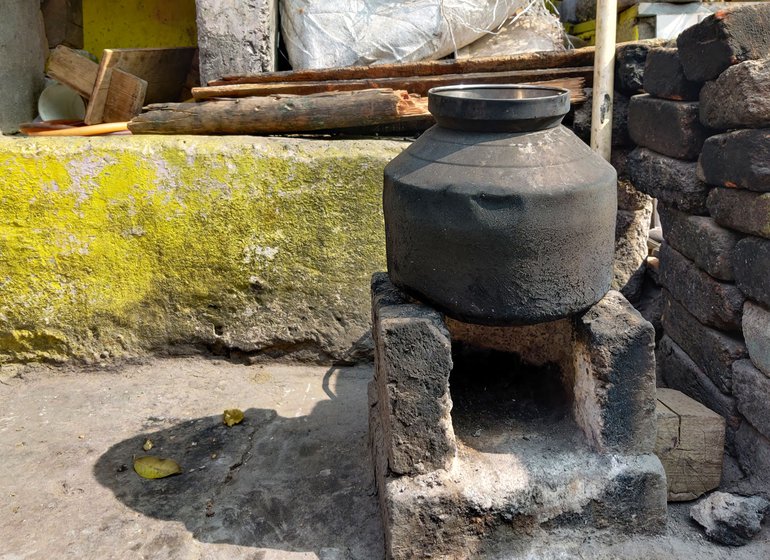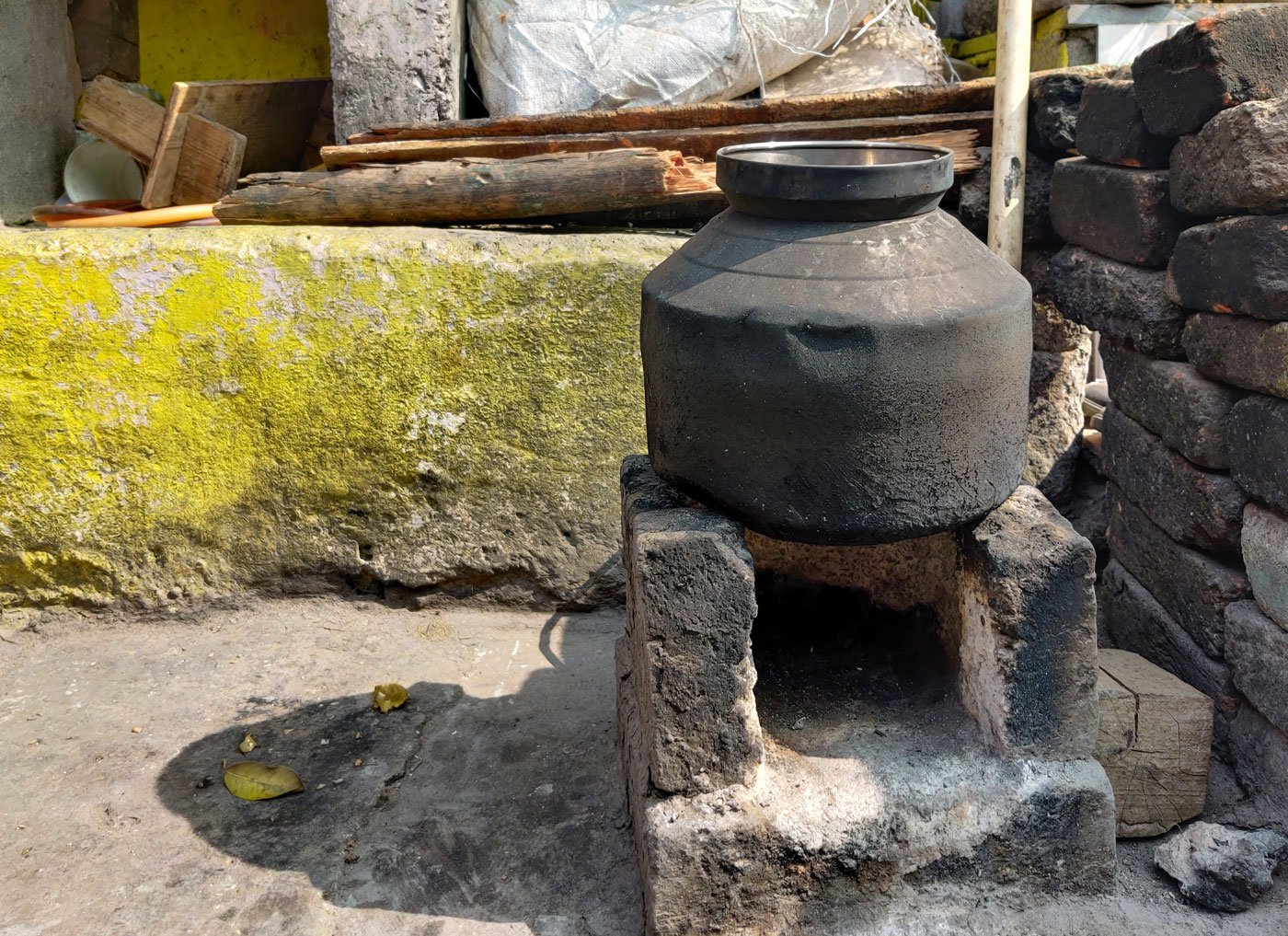 PHOTO • Parth M.N.
According to a 2021 report by the International Energy Agency, developing Asian countries make up 60 per cent of the global population that does not have access to clean cooking fuels due to economic reasons.
In other words, 1.5 billion people in Asia are exposed to high levels of toxic pollutants in household air from biomass burning, which makes them vulnerable to COPD, lung cancer, tuberculosis and other respiratory diseases.
Chikhali slum outside Nagpur city in central India is a microcosm of this continuing tragedy. Here almost every woman suffers from watery eyes, shortness of breath and cough.
A settlement of shacks and cement-and-tin-sheet shanties, nearly every house has a small stack of bricks arranged in an inverted C-shape serves as a stove, brushwood or hay neatly packed into the opening.
The most difficult task is to get the stove running, for a match-stick and some kerosene do not do the trick. Consistent, forceful expirations into a narrow pipe are necessary, for a good minute or so, to kindle a fire and keep it going. Healthy lungs are a prerequisite.
Jadhav can no longer fire up her stove. She cannot forcefully blow air into the pipe. She gets free food grains through the government's Public Distribution System that reaches more than 800 million poor Indians. To cook a meal, however, Jadhav has to request a neighbour's help with the stove. "Sometimes my brothers cook food at their house and bring it to me," she says.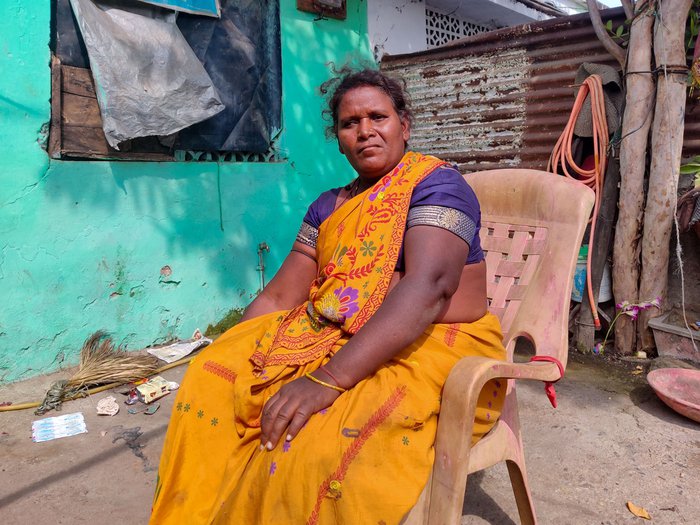 PHOTO • Parth M.N.
In Asia, 1.5 billion people are exposed to high levels of toxic pollutants in household air from biomass burning, which makes them vulnerable to COPD, lung cancer, tuberculosis and other respiratory diseases

The process of firing up the hearth in these conditions is a major contributor to COPD and other respiratory diseases, says Dr. Sameer Arbat, a pulmonologist based in Nagpur. "Immediately after the forceful expiration into the pipe, there is an involuntary inspiration in order to repeat the action," he says. "Whatever soot and carbon material exists at the other end of the pipe is involuntarily inhaled."
In 2004, the WHO predicted that COPD would become the third leading cause of death globally by the year 2030. The disease reached that milestone in 2019 .
"Air pollution is a pandemic we already have. In the last 10 years, half of the COPD patients we have seen are non-smokers," says Dr. Arbat. "It is mostly caused due to indoor pollution in slums in and around the cities, where firewood is burnt for cooking inside a house without much ventilation. Women are disproportionately affected because they are the ones cooking for the family."
Shakuntala Londhe, 65, who has a speech impairment, says she spends two to three hours a day inhaling smoke generated by the stove. "I have to cook two meals a day for me and my grandson," she adds. "I have to heat water in order to take a bath. We don't have a gas connection."
Londhe's son died 15 years ago following a prolonged illness. Her daughter-in-law walked out of the house one day soon after, and didn't return.
Londhe's grandson, Sumit, 18, works as a drum washer, earning Rs. 1,800 a week. He doesn't, however, give any money to his grandmother. "Whenever I need money, I beg on the streets," she says. "So there is no chance of getting a gas connection."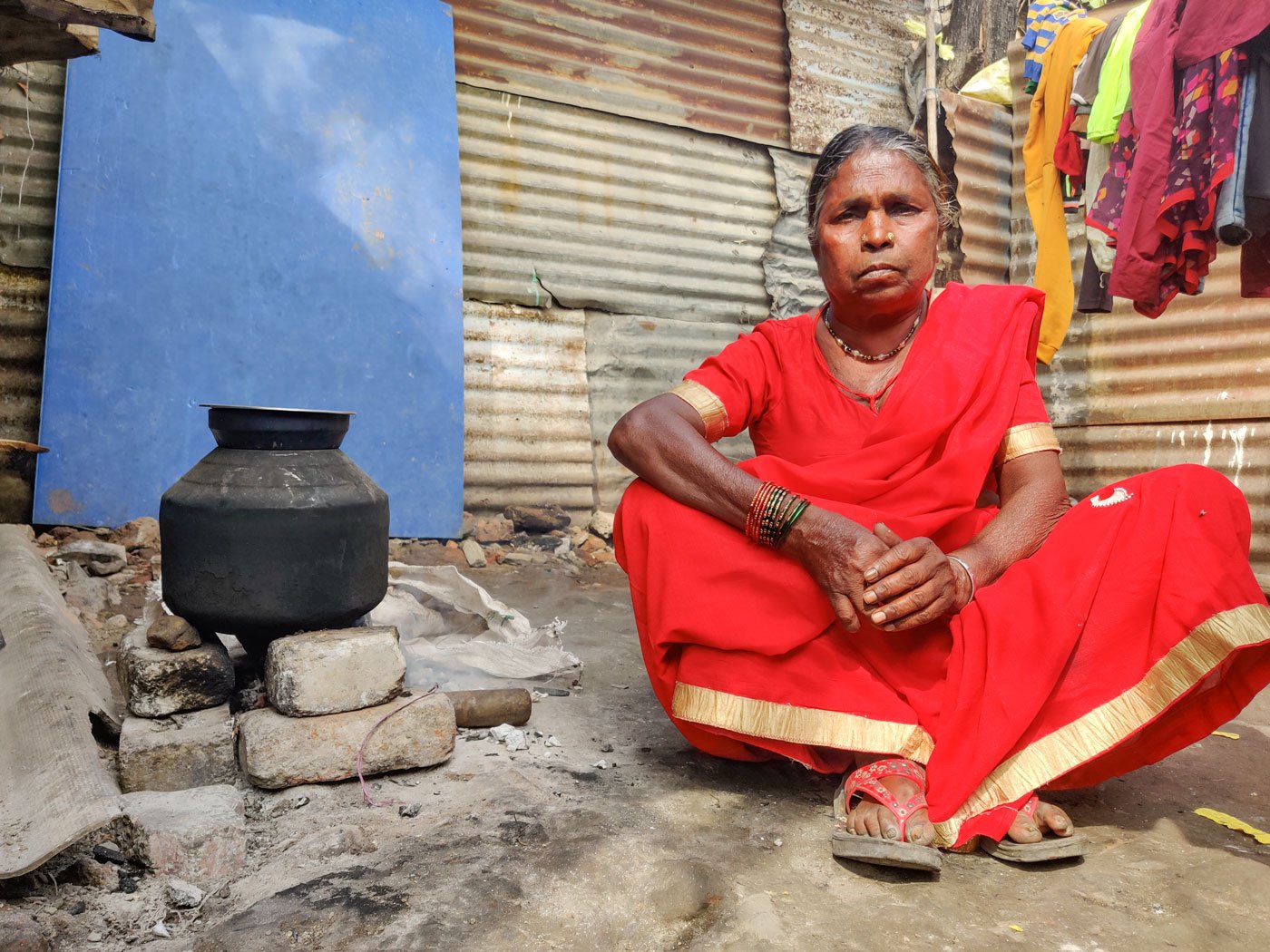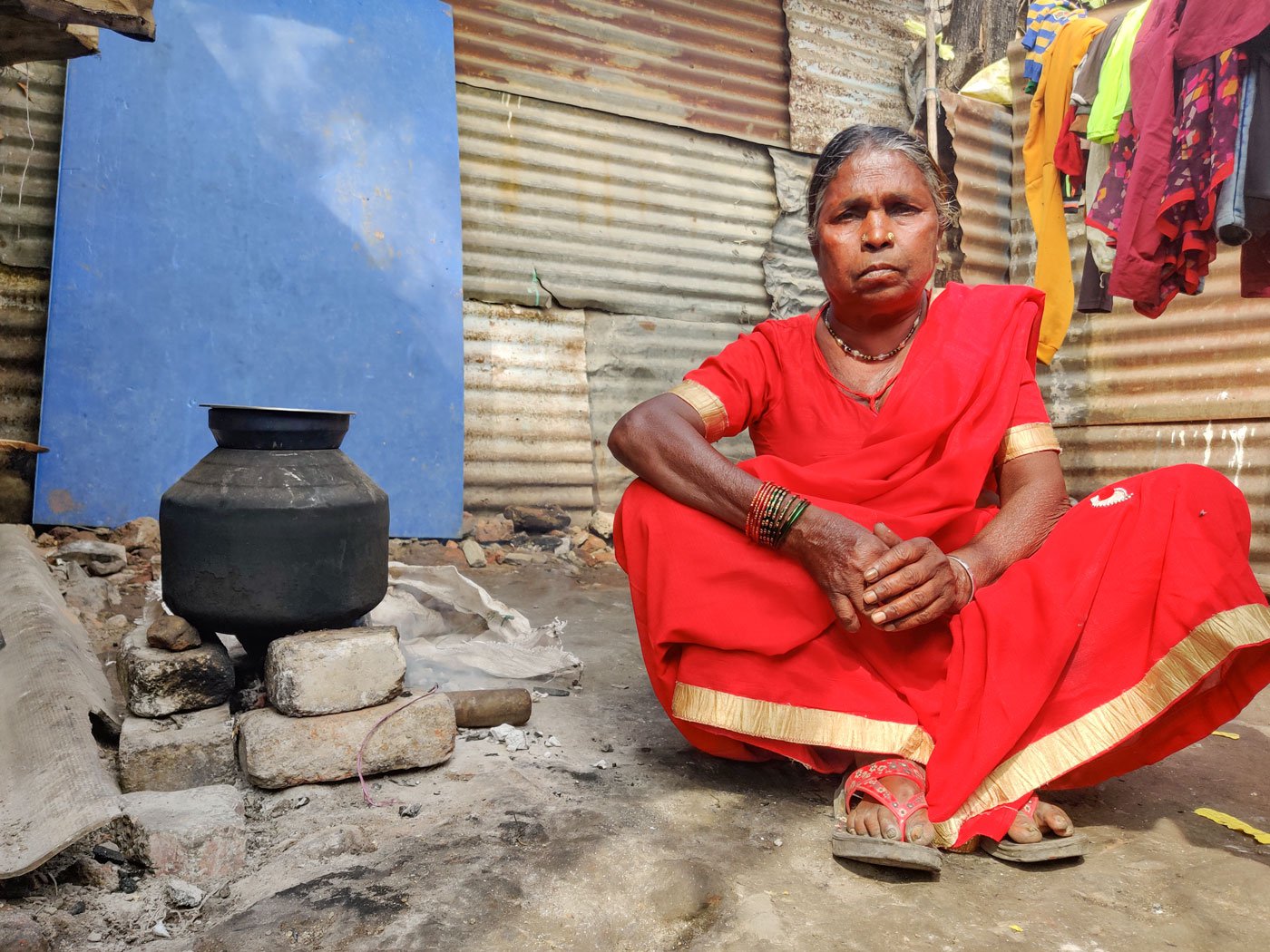 PHOTO • Parth M.N.
Helpful neighbours give her some of the chopped firewood they bring from villages nearby, walking over an hour everyday with the load on their heads.
Londhe feels lightheaded and drowsy each time she fires up the stove, but has never sought sustained treatment. "I go to the doctor and get pills to feel better temporarily," she says.
In August 2022, Warrior Moms, a pan-India collective of mothers fighting for children's right to breathe clean air; the Center for Sustainable Development, a non-profit based in Nagpur; and the Nagpur Municipal Corporation collaborated for a survey and health camp. In Chikhali, they examined the peak expiratory flow rates (PEFR), a measure of lung health.
A score of 350 or more denotes healthy lungs. In Chikhali, 34 out of 41 women screened  had scores lower than 350. Eleven had scores below 200, indicative of lung impairment.
At 150, Londhe's score was less than half the ideal.
The survey, which covered 1,500 households in slums across Nagpur city, found that 43 per cent of them used firewood stoves. Many cooked in the open to protect children at home. The air pollution from the stoves, however, affected the entire slum as the shanties are located in close proximity to one another.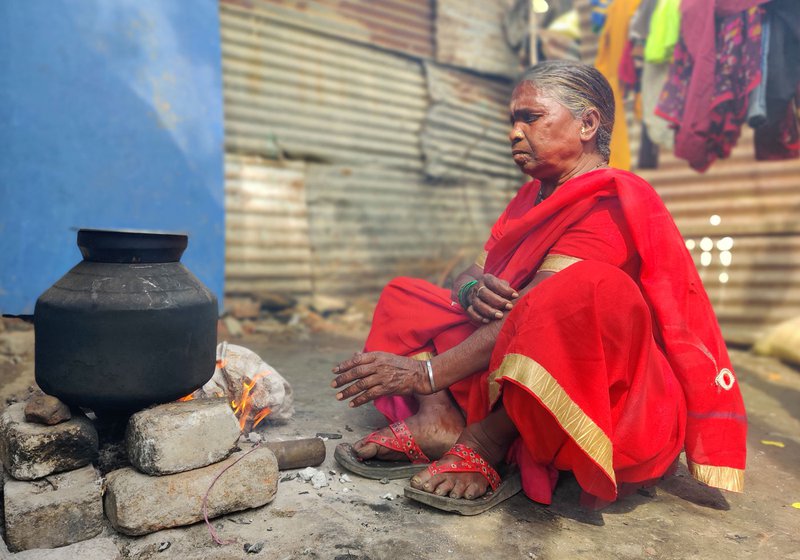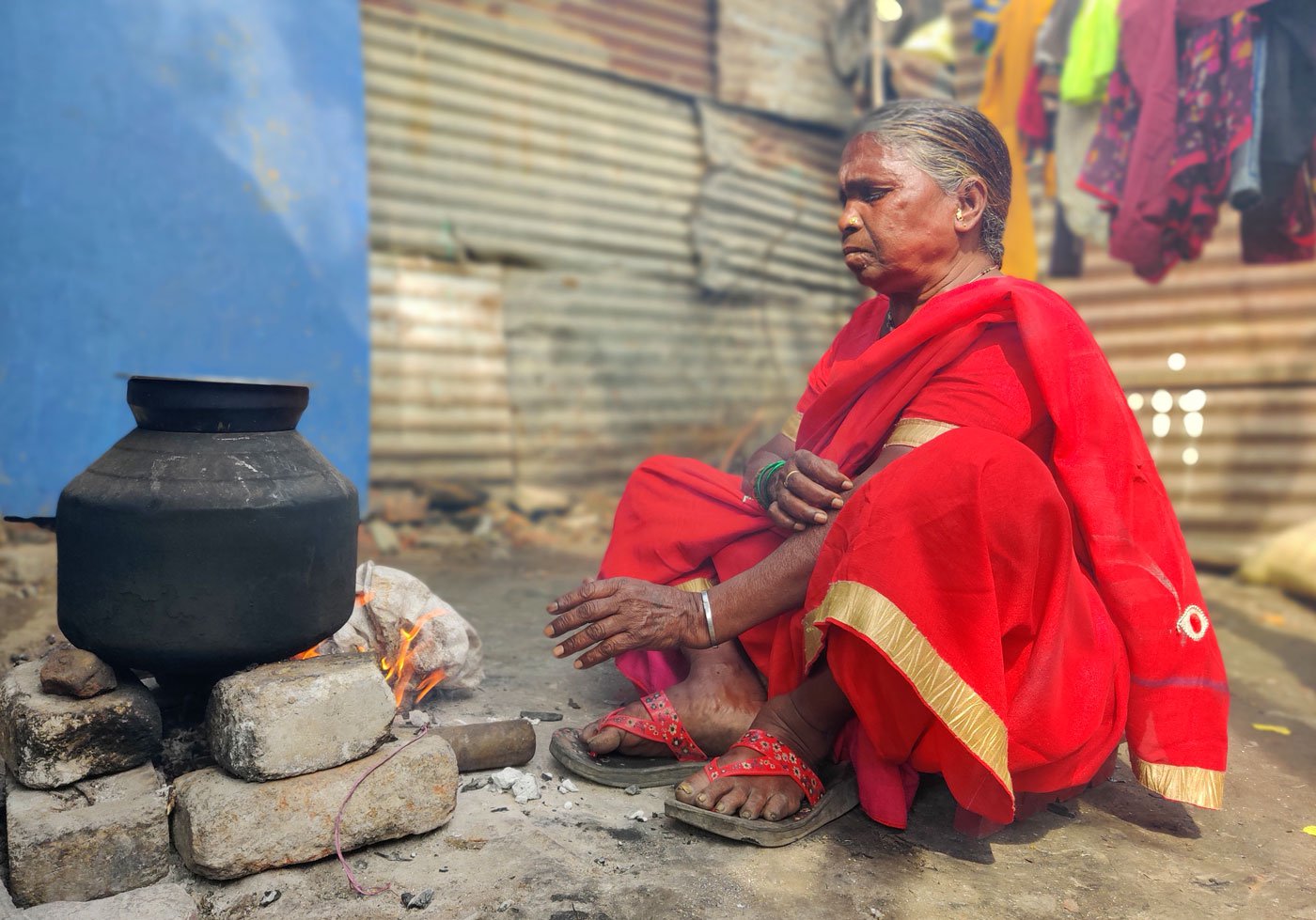 PHOTO • Parth M.N.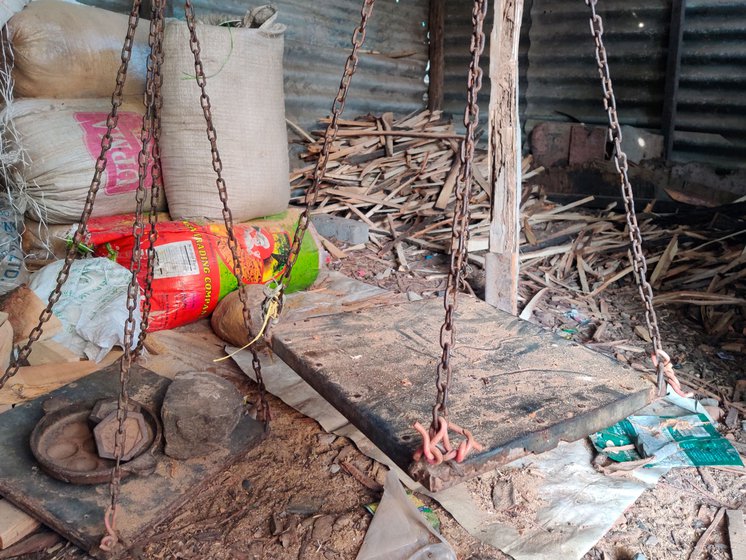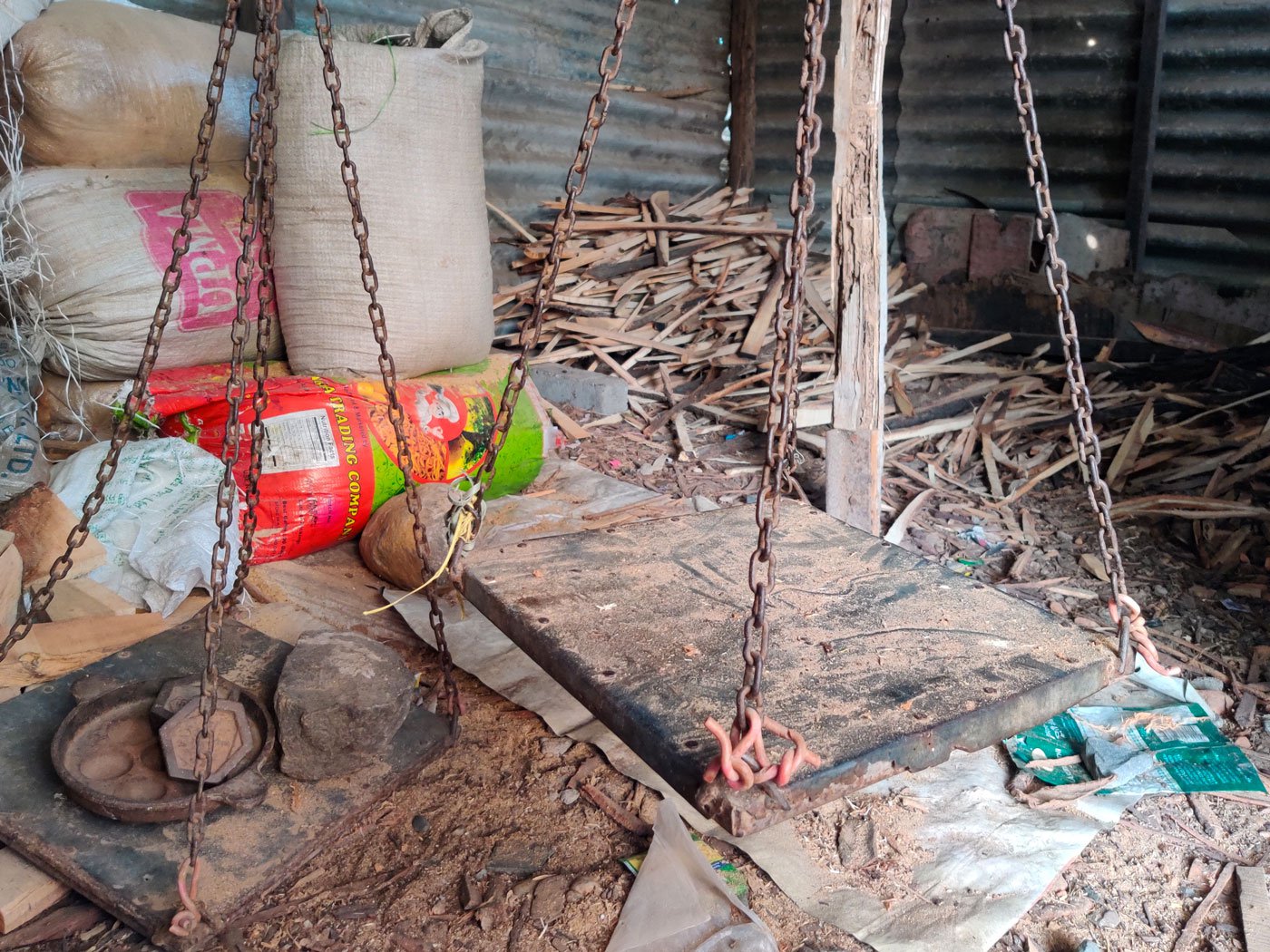 PHOTO • Parth M.N.
In order to tackle the environmental and public health concerns arising from poor Indians' lack of access to clean cooking fuel, Prime Minister Narendra Modi launched the Pradhan Mantri Ujjwala Yojana (PMUY) in May 2016, under which LPG cylinder connections were granted to poor families. The scheme aimed to provide clean cooking fuel to 8 crore households, a target achieved in September 2019, according to the project website .
However, the National Family Health Survey-5 (2019-21) found that over 41 per cent of India still lacks access to clean cooking fuel.
Additionally, those who have access may not use LPG as their primary choice of fuel. A 14.2 kg cylinder costs between Rs. 1,100 and 1,120 to refill in Maharashtra, and it has been widely reported that only a small percentage of the 93.4 million PMUY beneficiaries are able to afford regular refills.
Parvati Kakade, 55, who got an LPG connection in Chikhali under the government scheme, explains why. "If I completely stop using the stove, I would need a refill every month," she explains. "I can't afford that. So I stretch it out for six months or so by using it only when we have guests over or when it is raining heavily."
During the monsoon, the damp firewood requires a stronger and more prolonged expiration into the pipe to start the fire. As soon as the flame catches, her grandchildren begin to scratch their eyes and cry. Kakade is aware of the dangers of respiratory health problems, but is helpless.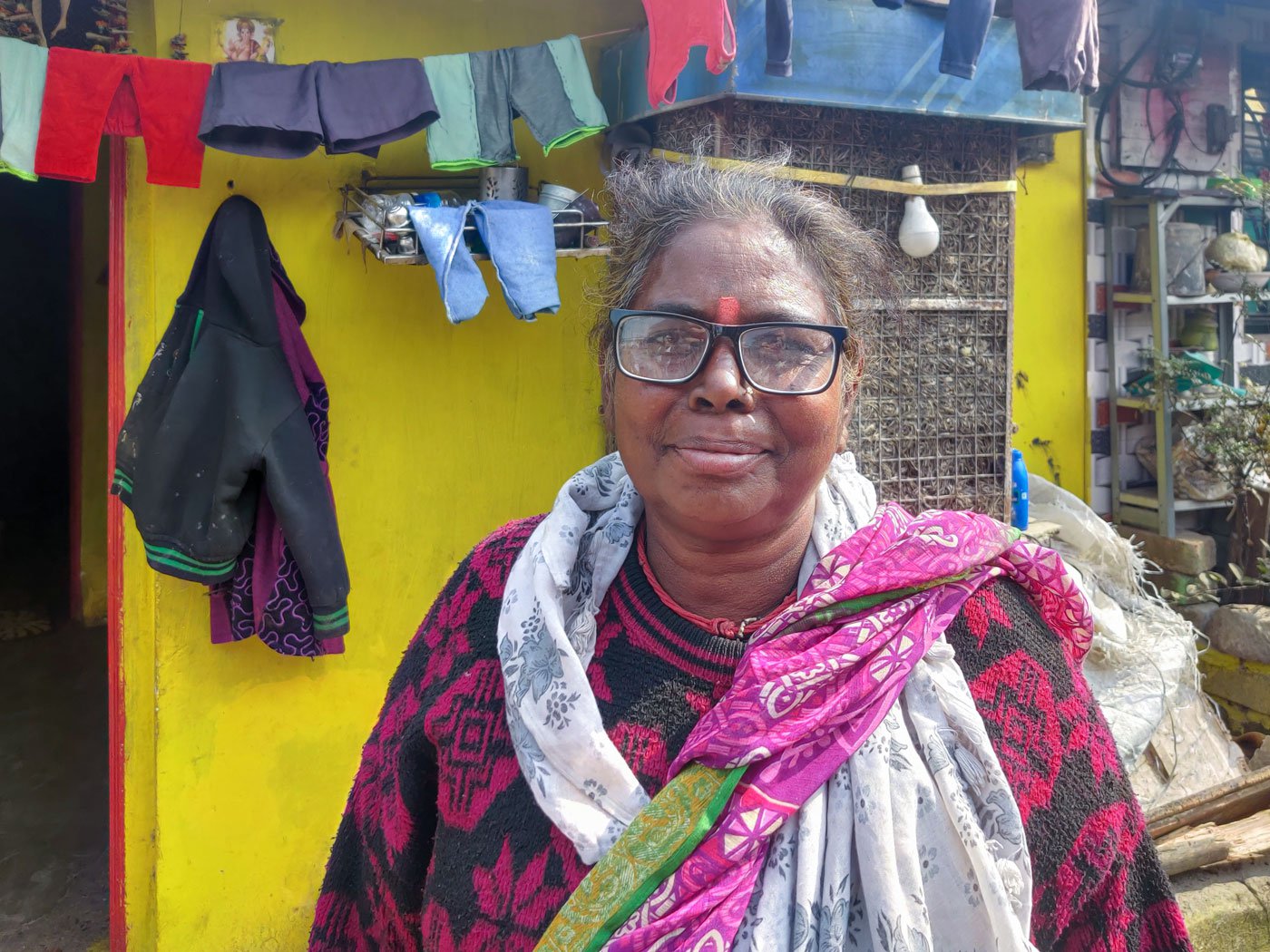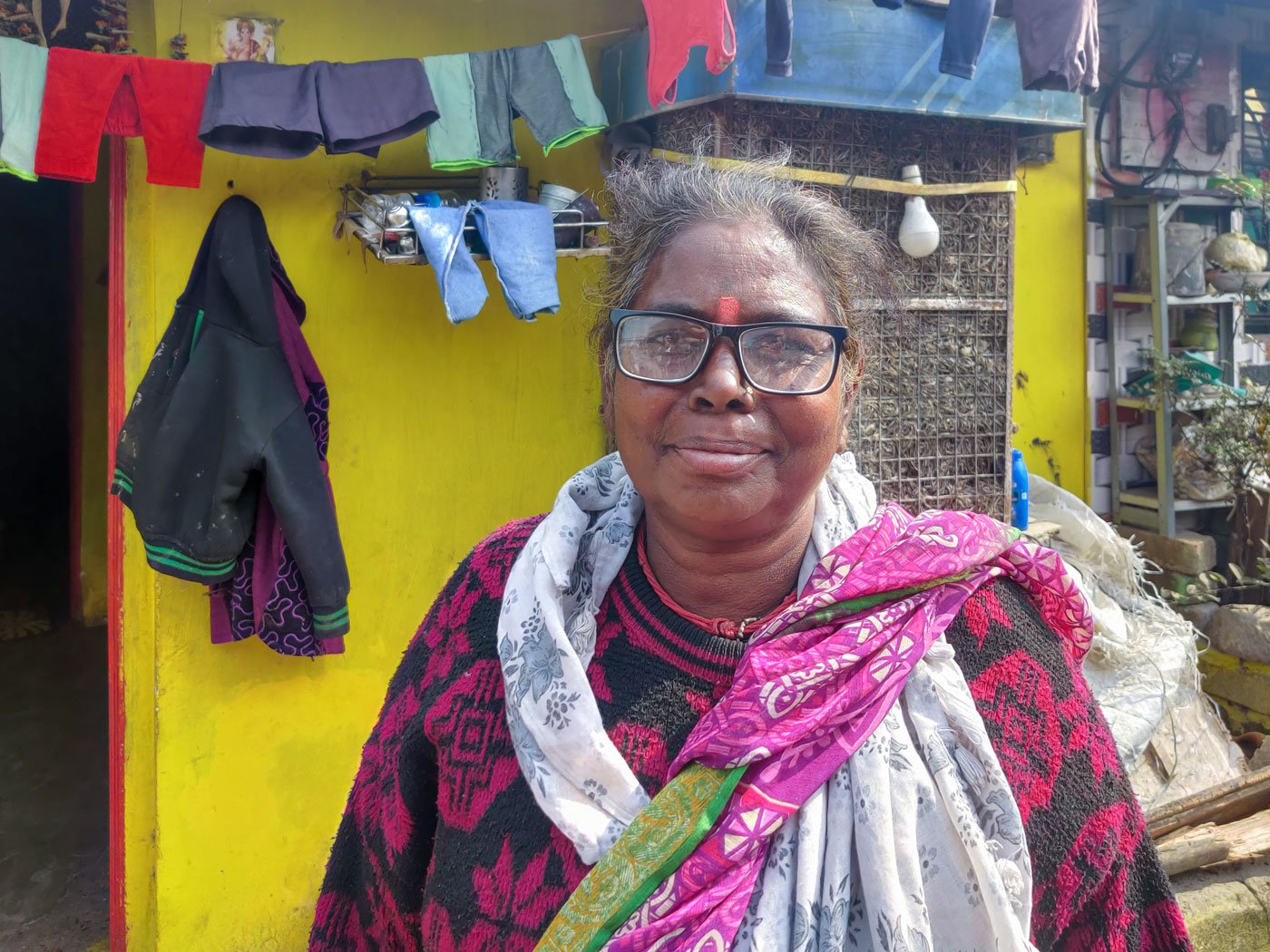 PHOTO • Parth M.N.
"There is nothing I can do about it," Kakade says. "We barely make ends meet."
Kakade's son-in-law, Baliram, 35, is the only earning member in the family. A waste-picker, he earns Rs. 2,500 a month. The family continues to use firewood as their primary cooking fuel and are staring at the prospect of suffering from asthma, weakened lungs, compromised immunity and respiratory infections.
"Any chronic lung disease tends to cause muscle dystrophy and muscle wasting, leading to premature ageing," says Dr. Arbat. "The patients tend to shrink… Because of breathing difficulties, they prefer to stay indoors and that could lead to loss of confidence and depression as well."
Arbat's comments describe Jadhav perfectly.
Her tone is unsure and she doesn't make eye contact when she speaks. Her brothers and their wives are away attending a wedding outside the state. She has decided to stay back so that the others wouldn't have to be occupied looking after her."Nobody said it in as many words, but why would anyone waste money on a ticket for someone like me?" she asks with a wistful smile. "I am useless."
Parth M.N. reports on public health and civil liberties through an independent journalism grant from the Thakur Family Foundation. The Thakur Family Foundation has not exercised any editorial control over the contents of this reportage.