When Devendra Fadnavis, the chief minister of Maharashtra, promised a farm loan waiver on June 6, he told the media it would be "the biggest in history." What has turned out to be the biggest however is the number of conditions to qualify for the 'waiver'.
So Bappasaheb Irkal, who was eagerly waiting for some respite in the parched village of Parundi in Aurangabad district, did not know whether to laugh or cry when he heard of these multiple conditions. "The upper limit [of the waiver] is 1.5 lakh rupees," says the 41-year-old farmer, while weeding on his 16-acre farmland along with his wife Radha and father Bhanudas. "I have a loan of 9 lakhs. If I repay 7.5 lakhs, only then will I get the benefit of 1.5 lakh rupees."
Their bank loan, Radha says, piled up during the 2012-2015 drought years, when successive crops failed. In 2014, the family built a four-kilometre pipeline connecting a nearby lake to the well they had sunk. "But the rains have been uneven this year too," she says. "Tur and cotton dried up completely. When Fadnavis said he would waive off the loans of the farmers in need, it gave us hope. But this is a mockery of us. If we had money to repay, would we have a debt on our head in the first place?"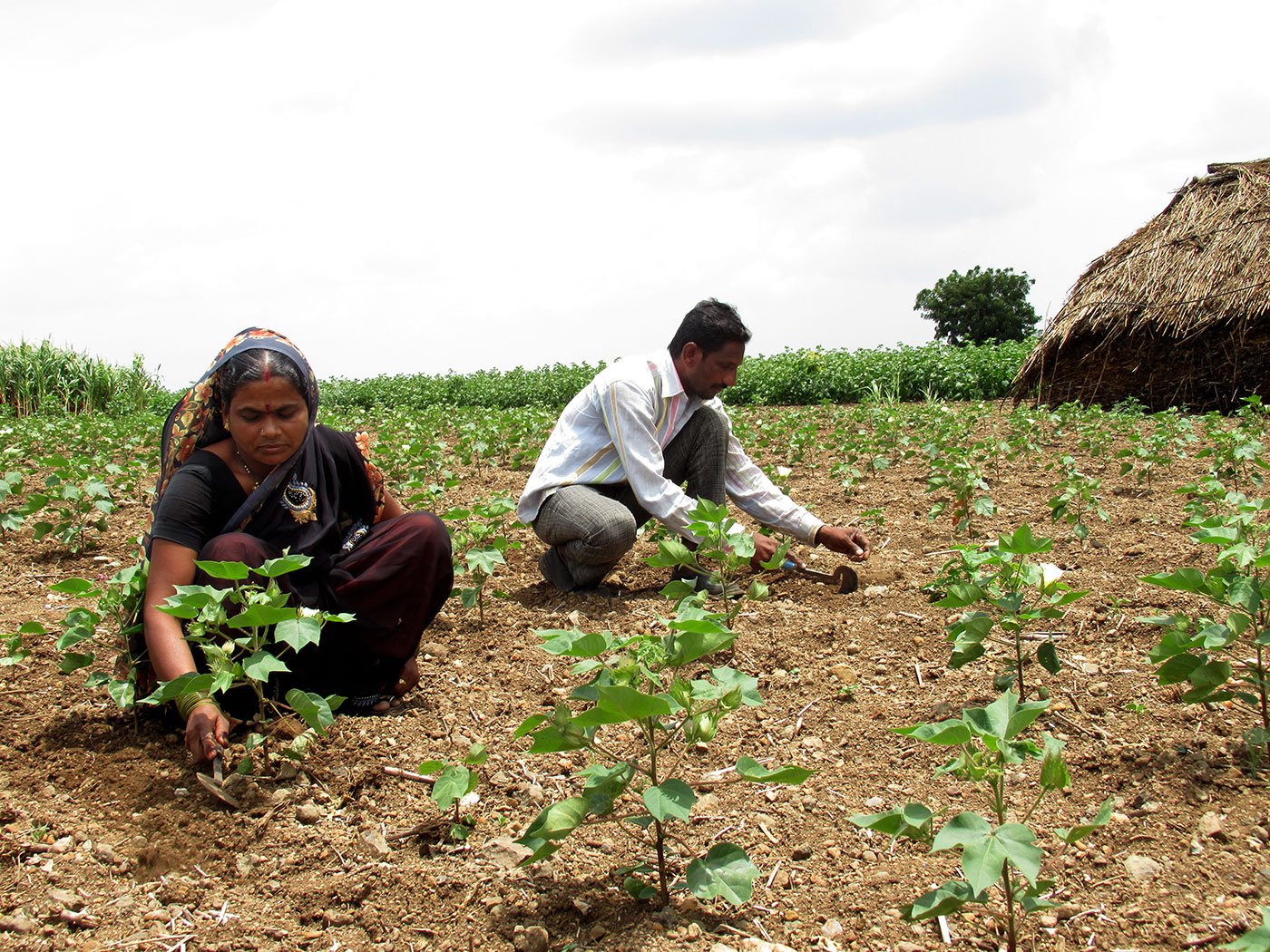 PHOTO • Parth M.N.
The chief minister made the promise amid an unprecedented farm strike in Maharashtra on June 1. The farmers' most important demands were the enforcement of the Swaminathan Commission's long-pending recommendation that they must get a minimum support price that covers the cost of production plus 50 per cent, and a blanket loan waiver. To placate the angry farmers, Fadnavis promised the waiver. But when the online application process for the waiver was launched on July 24, the caveats that emerged have infuriated farmers in the agrarian region of Marathwada.
The cap of Rs. 1.5 lakh has excluded many farmers who require the relief  the most. But those with bank loans under, or around, Rs. 1.5 lakhs do not have an easy ride either.
Mangal Jambhre, 50, from Matefal village in Latur district, has a loan of Rs. 2 lakhs from the Bank of Maharashtra. She thought if she raised Rs. 50,000, she would become eligible for the waiver. But then a caveat struck. "My son is [a jawan ] in the army, posted in Assam," she says. "Having a government servant in the family disqualifies farmers from availing the waiver."
Mangal lost her husband in an accident 15 years ago. Since then, she has run the household, and brought up two sons and a daughter while working tirelessly on a four-acre farmland, where she cultivates
tur
and soyabean. Because the unpaid bank loan of Rs. 2 lakhs makes her ineligible for a new loan, in February she borrowed Rs. 1.5 lakhs from a private micro-financing firm for the June sowing season. "When I heard of the loan waiver, I thought I would soon be eligible for a new bank loan that would help me pay off this loan," she says. "The interest rates are far higher than the bank's rates. I will pay some 70,000-80,000 rupees more [than the principal amount] at the end of four years. And banks do not harass you either."
Mangal is being humiliated by micro-finance recovery agents, who incessantly call and intimidate her – she has been unable to repay the first six-monthly instalment of Rs. 28,800. "They threaten to take over the house," she says. "They visit 4-5 times a month. At times, I end up hiding at the neighbour's house if I see them coming. Had the state loan waiver worked out, I could have got rid of them permanently."
At a tea stall in the village, Digambar Khose, 62, is distraught too. He has three acres of farmland in his name, five acres each in the names of two sons, and three acres in the name of his daughter-in-law. "I owe one lakh rupees to the bank," he explains. "My daughter-in-law owes 1.5 lakh rupees, one son owes 4-5 lakhs, and another around 2 lakhs. We filled up the [loan waiver application] forms by travelling to an online kendra 15 kilometres from the village. Provided all the documents. And last night I received an SMS saying only one person in the family would get the loan waiver."
Khose believes the state government is playing a cruel joke on farmers. "Their intentions are to fool people," he says, furious. Other farmers gathered at the tin-roofed tea stall nod in agreement. "If we have separate land and separate accounts, why shouldn't we be eligible? The government raised our hopes only to shatter them."
Raje Desle, a farm leader associated with the Communist Party of India (Marxist), says the exclusions of the waiver will sideline a majority of Maharashtra's farmers. Desle was a member of the sukanu (core or steering) committee that was formed to negotiate with the state government during the June strike "It seems the state will not even have to waive off the Rs. 34,000 crores," he says. (This amount was Fadnavis' estimate of the total waiver). "The number of caveats makes us wonder if they really want to address farm distress."
The numbers show this to be true: till the waiver application deadline of September 22, the state government had received around 57 lakh applications, minister of state for cooperatives Subhash Deshmukh told this reporter. Not all of these will be eligible. And this number, a report in the Times of India says, is 31 lakhs short of the original target of 89 lakh beneficiaries – a figure drawn from the State Level Bankers Committee that did not foresee the numerous eligibility norms.
Fadnavis had also said that 'non-performing assets' (NPAs) as of June 2016 would get a waiver. An NPA indicates an account that has remained dormant, when the account-holder has not repaid the loan within a stipulated time But there is a catch, says Devidas Tuljapurkar, joint secretary of the All India Bank Employees Association: "Every year, banks review potential NPA accounts, and convert them into term loans so their NPAs remain in check on paper. The account then becomes a 'performing asset'. It is an en-masse process. A large number of farm accounts will, therefore, miss out on a loan waiver."
In Jawala Zute village in Parbhani district, Suresh Zute's bank loan had been renewed, marking the 45-year-old farmer out of the bank's NPAs. He owes the Parbhani District Cooperative Bank over Rs. 1 lakh, and his wife's account too shows a loan of Rs. 1.20 lakhs. "My elder brother, Chandikadas, had a loan of over 6 lakh rupees," says Suresh. "His did fall in the NPA category, but the cap of 1.5 lakh rupees ensured he could not do anything about the loan."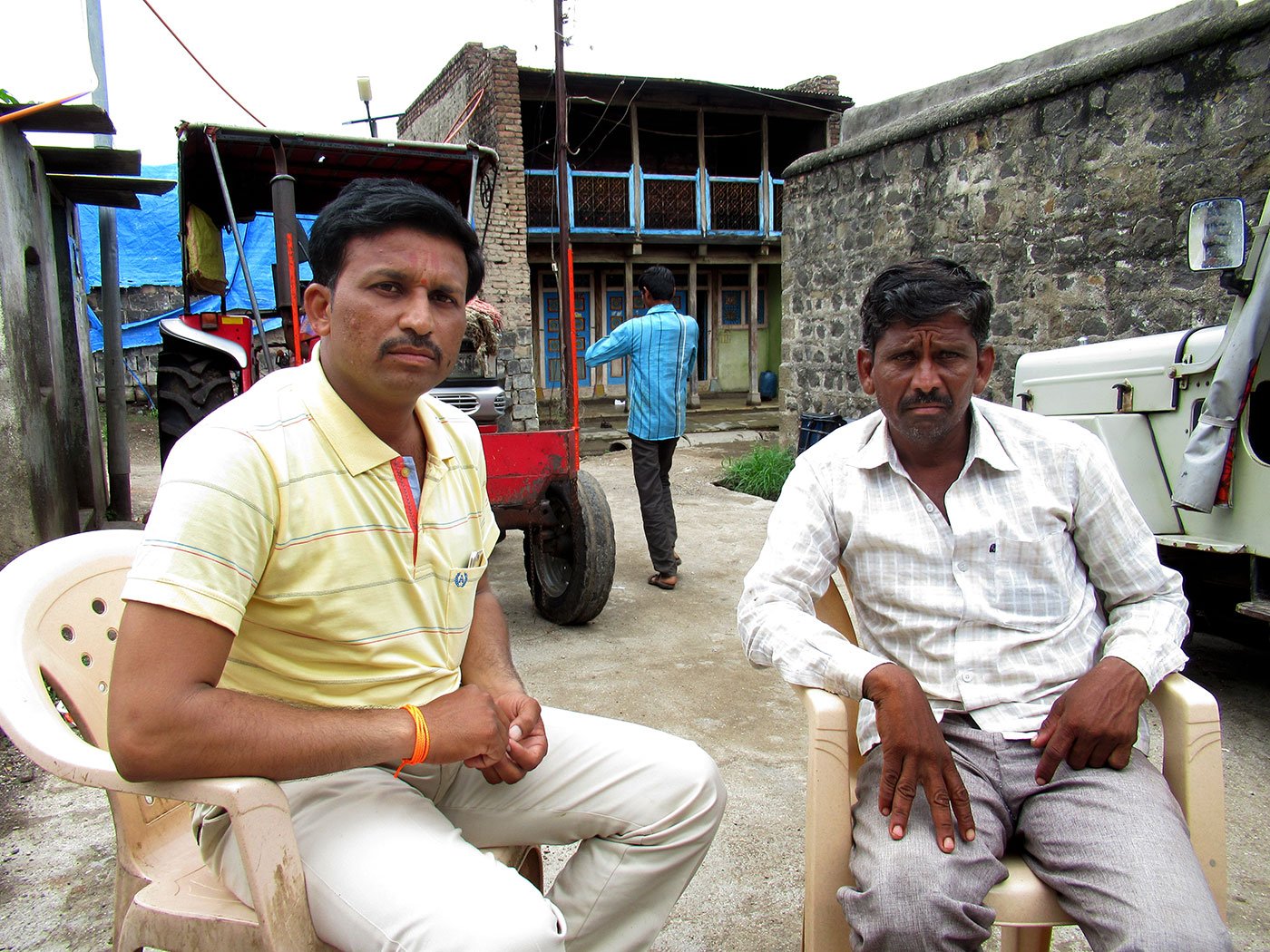 PHOTO • Parth M.N.
On August 3, after realising the cotton crop has dried up, Chandikadas committed suicide by consuming poison. Suresh's extended family and relatives visited the Zutes' home in Jawala Zute. So did his two sons – studying in Selu and Beed – and his daughter, Sarika, 18, who was also studying in Beed.
On the morning of August 8, Sarika made a cup of tea for the visitors who had arrived to pay their respects. Then she went into an inside room. When she did not come out for some time, a cousin knocked on the door. And when Sarika did not respond, they broke down the door and found her hanging from the ceiling.
In a suicide note in Marathi left in the room she said: "Dear father, uncle committed suicide due to crop failure. Our crops have also dried up. You had borrowed money to sow those crops. I can't see your financial hardship. Didi got married last year and you have still not been able to repay that debt. I am afraid my marriage will add to your tensions. Therefore, I am ending my life so you won't have to."
Reeling from the shock of losing two family members within a week, Suresh says he had never imagined Sarika would take such a drastic step. "We had visited the farm two days before, where she saw the condition of the crops," he recalls, tears in his eyes. "I am uneducated. She would often help me keep accounts. She knew how much we had to spend on her sister's marriage. Daughters are sensitive. They care for their parents like nobody else does."
If he had been eligible for a loan waiver, Suresh says, perhaps Sarika would not have panicked. Her suicide shook the entire village. The tragedy compelled the tehsildar to visit the family and get the details of their bank loans. Even though he is technically not eligible for a waiver, the tehsildar has verbally told Suresh not to worry about his debt.
Suresh's loan may well be waived off – unlike that of many other farmers in Marathwada. But it has come at a crushing cost.