M. Karuppiah wants to die while playing the kombu . Well, historically, it was a wind instrument trumpeted aloud across battlefields to announce the start of hostilities. Almost literally, music to die for. But that's not Karuppiah's reason for wanting to exit the world playing this horn made of brass or bronze and shaped like an elephant's trunk.
For Karuppiah, 49, kombu is a great artform. And he's a fourth-generation player, far more attached to the instrument than to the autorickshaw he's forced to drive to earn a living in his village in Madurai.

Until about three decades ago, the art was in "top" form, says Karuppiah. He remembers playing for Chief Minister J. Jayalalithaa in 1991. "She asked us to play it again, she was so impressed!"

But these days, work is patchy for him and the other kombu artistes in his village, Melakuyilkudi, in Thiruparankundram block. The rhythmic artform, which was already languishing and being replaced by current pop culture, has suffered greatly during the Covid lockdowns since March 2020. The artistes are out of work – and money.
When Karuppiah does get some work – playing the kombu at temples, public functions or funerals – it earns him Rs. 700-1000 for a performance. "Since last year, because of the lockdown, we have not played for the Alagar Koil Thiruvizha. We would get eight days of work during that time." The kombu artistes perform during the annual festival (in April-May), when lakhs of devotees gather at the Alagar Koil temple, 20 kilometres from Madurai city.
"Not everybody can play the kombu . It calls for a lot of skill," says R. Kaleeswaran, founder of Alternative Media Centre (AMC), an organisation in Chennai that supports folk artistes and the arts. The instrument is played in the beginning of an event, and then in between, but not continuously. So the artistes usually play for 15 minutes, rest for five and then play again for another 15 minutes. "Typically, the artiste draws a very deep breath and blows into it [the kombu ]." It is thanks to their mastery over breathing, Kaleeswaran points out, that artistes who are nearly 100 years old are still around.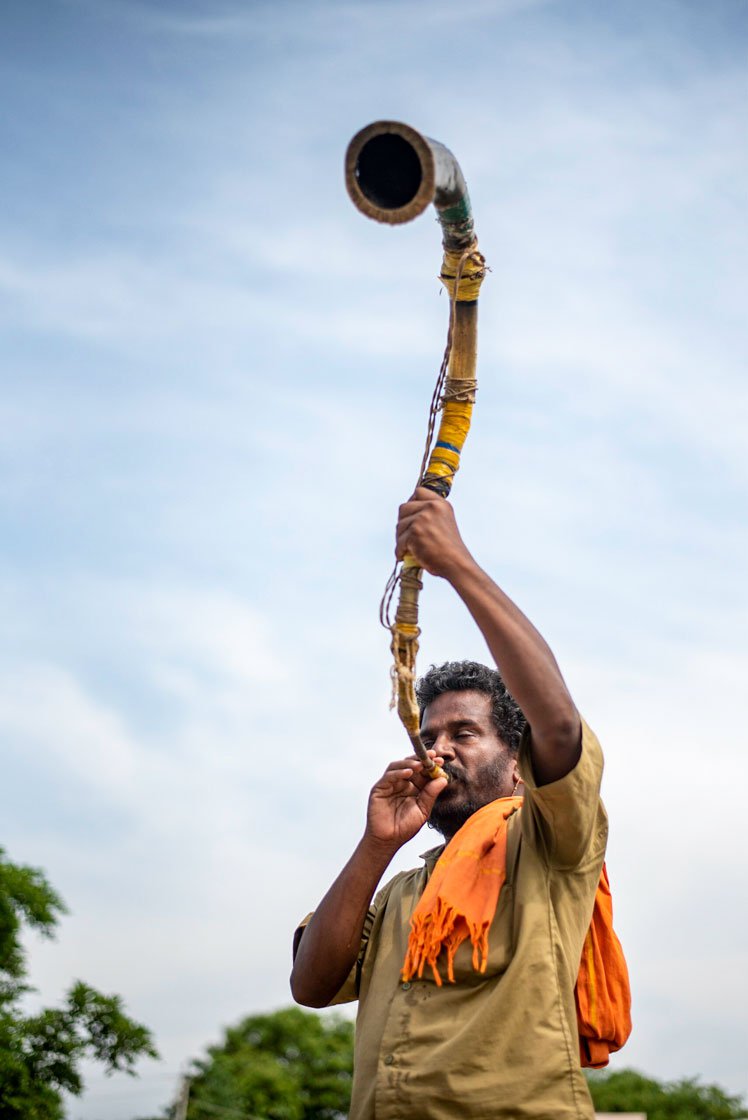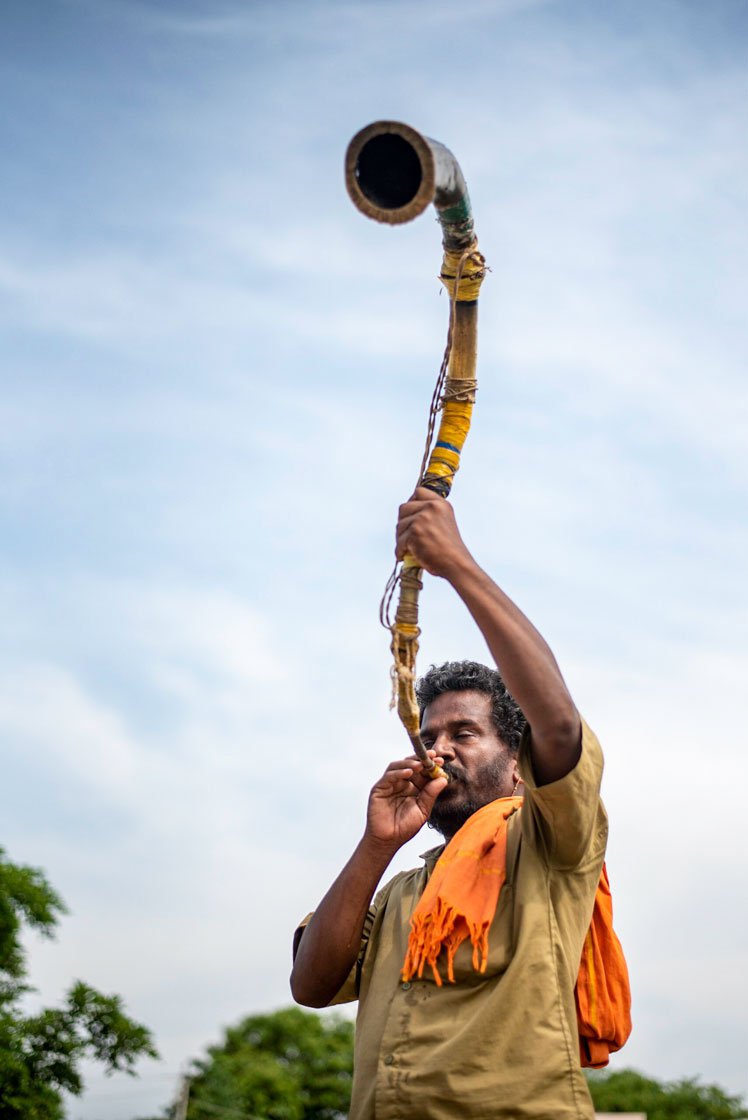 PHOTO • M. Palani Kumar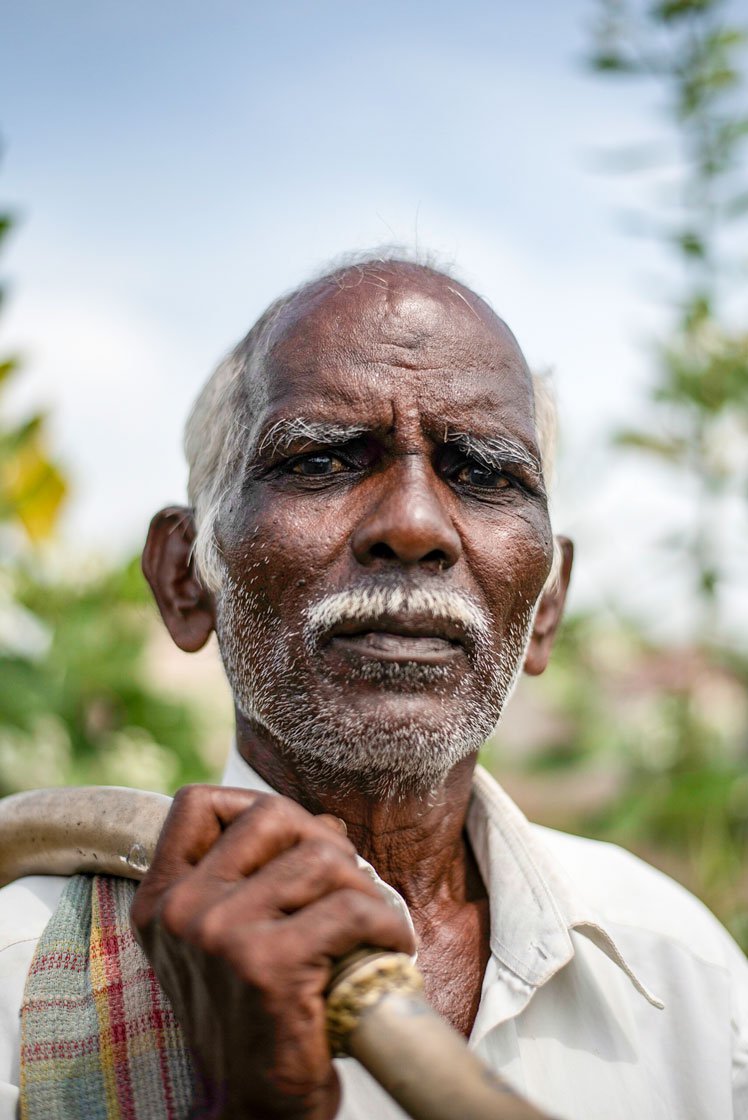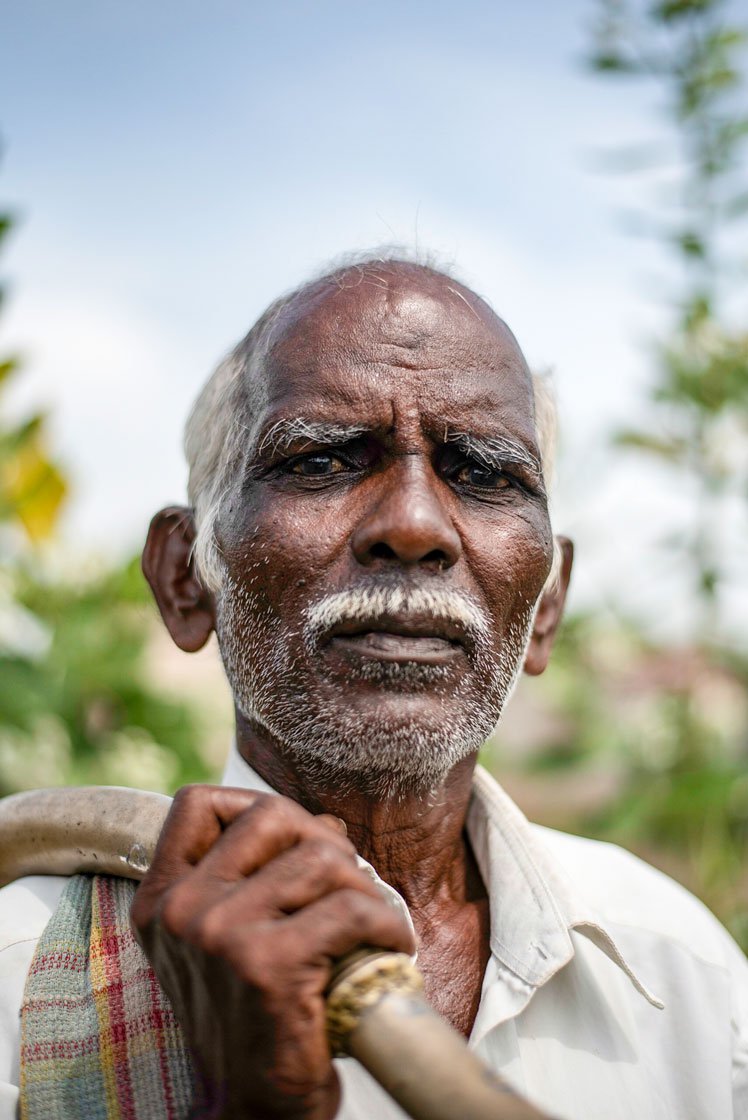 PHOTO • M. Palani Kumar
K. Periasamy, 65, is the head of the Kombu Kalai Kuzhu, the artistes' group in Melakuyilkudi. All he knows is to play the kombu . He has taught many others, and most of the current crop of players are men between the ages of 30 and 65. "We can't find any other work. All we have is ration arisi [rice], which is of poor quality. How will we sustain ourselves?" says Periasamy.
Every thing of value in his home – a stainless steel pot, a bronze rice vessel, his wife's thali (bridal ornament) – has been pledged. "All we have now are plastic pots to fetch water," Periasamy says with a sigh. But his worries are about the artform – will the government do something for the art and artists? If not, will kombu -playing end with him?
Melakuyilkudi's 20 odd kombu players have 15 instruments between them. The horns have been with the community for over 40 years. The old kombu, which are heirloom instruments, are carefully patched together with insulation tape. When times are bad, the players pawn or sell their kombu . New instruments are expensive, costing Rs. 20,000-25,000, and available only in Kumbakonam, 250 kilometres away.
P. Magarajan and G. Palpandi, in their 30s, started playing the kombu much before they turned 10. They have both grown with the artform, and so has the remuneration they receive. "When I was 10, I got 50 rupees as my share for playing. I would be thrilled. Now I get 700," Magarajan says.
Palpandi earns Rs. 700 a day doing masonry work. The income is steady and work is assured. But it is the kombu that he loves ­– something he learnt to play from his grandfather. "When thatha was alive, I didn't realise how important this art is," he says. The lockdown has been a double blow for him. Construction work has dried up and so have opportunities to play kombu . "I'm waiting for help," he says.
"Help came from Kaleeswaran sir," says Karuppiah. Kaleeswaran's AMC gave each artiste family 10 kilos of rice when Tamil Nadu went into lockdown in May. With four daughters and one son, Karuppiah's is a big household. But they will manage, he says. "We can forage for some vegetables from the field. Brinjals and onions maybe. But what will people in the cities do?"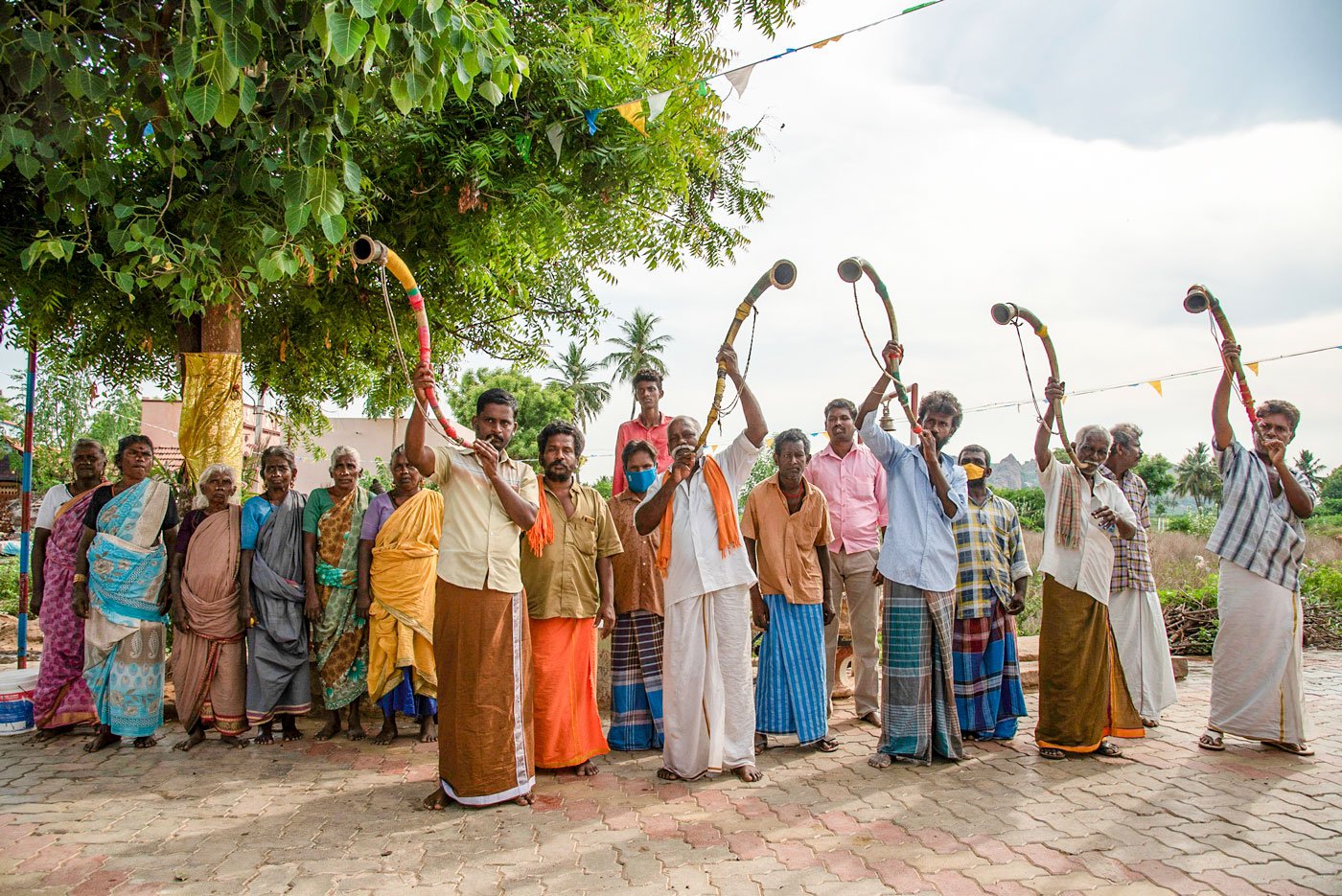 PHOTO • M. Palani Kumar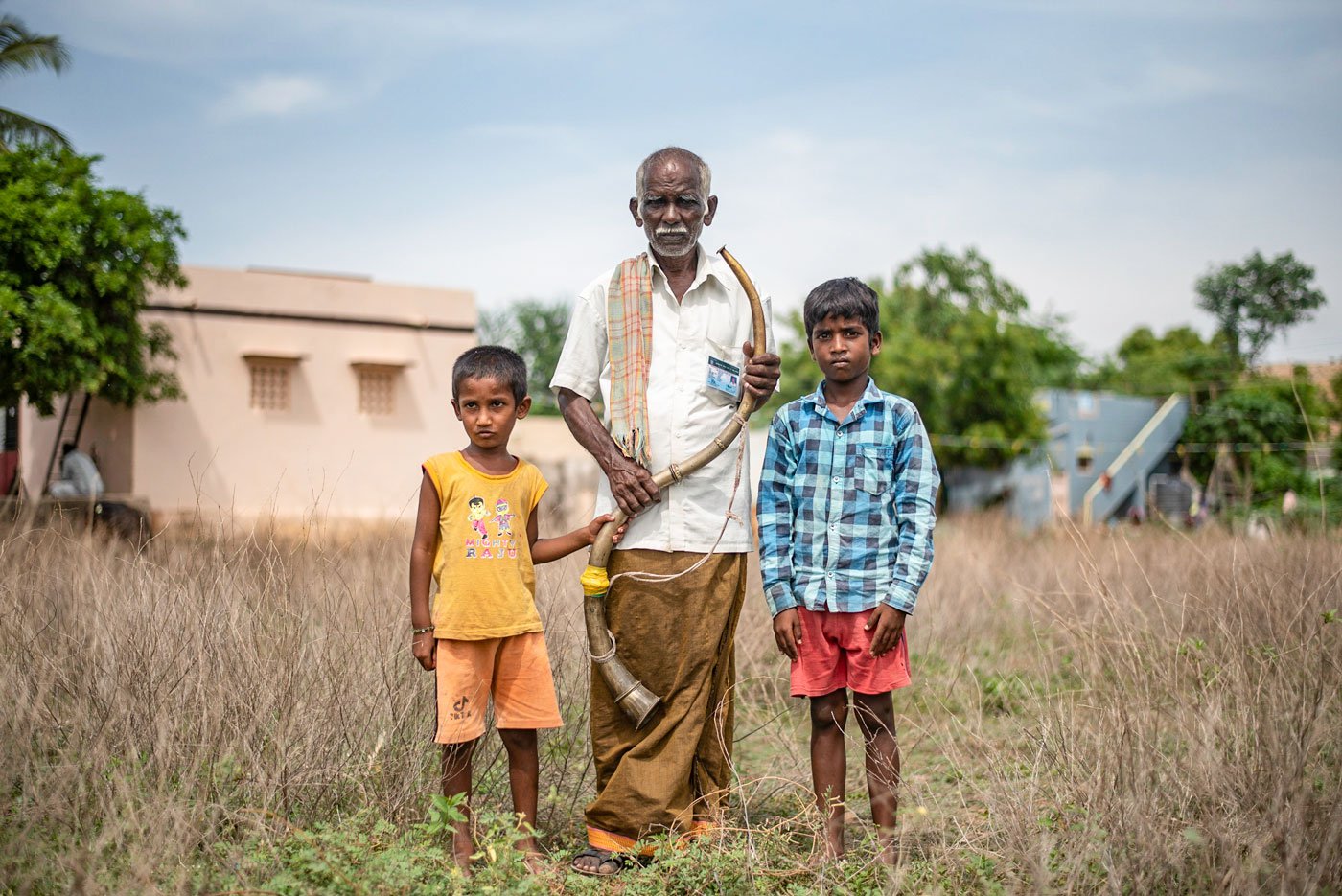 PHOTO • M. Palani Kumar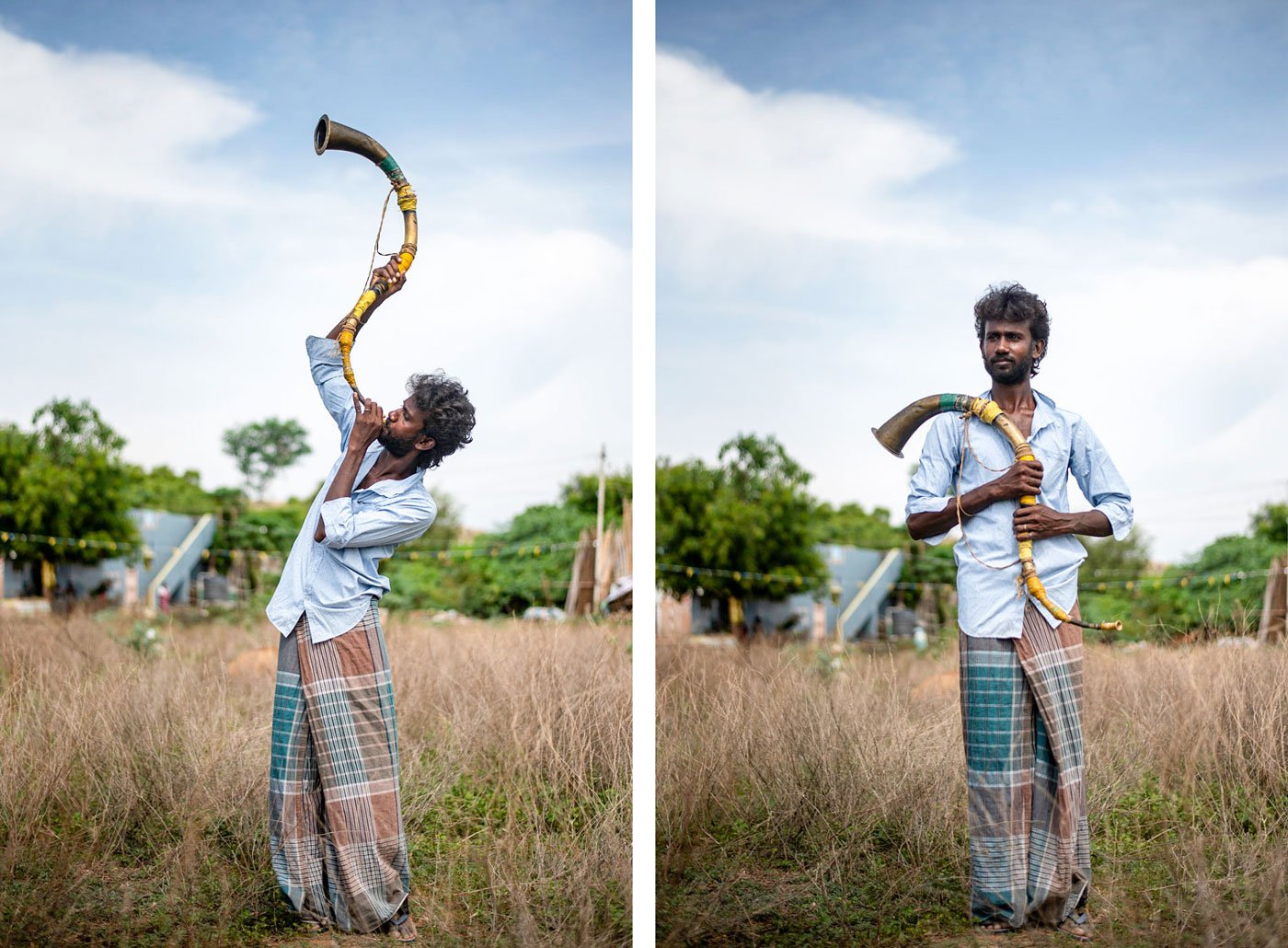 PHOTO • M. Palani Kumar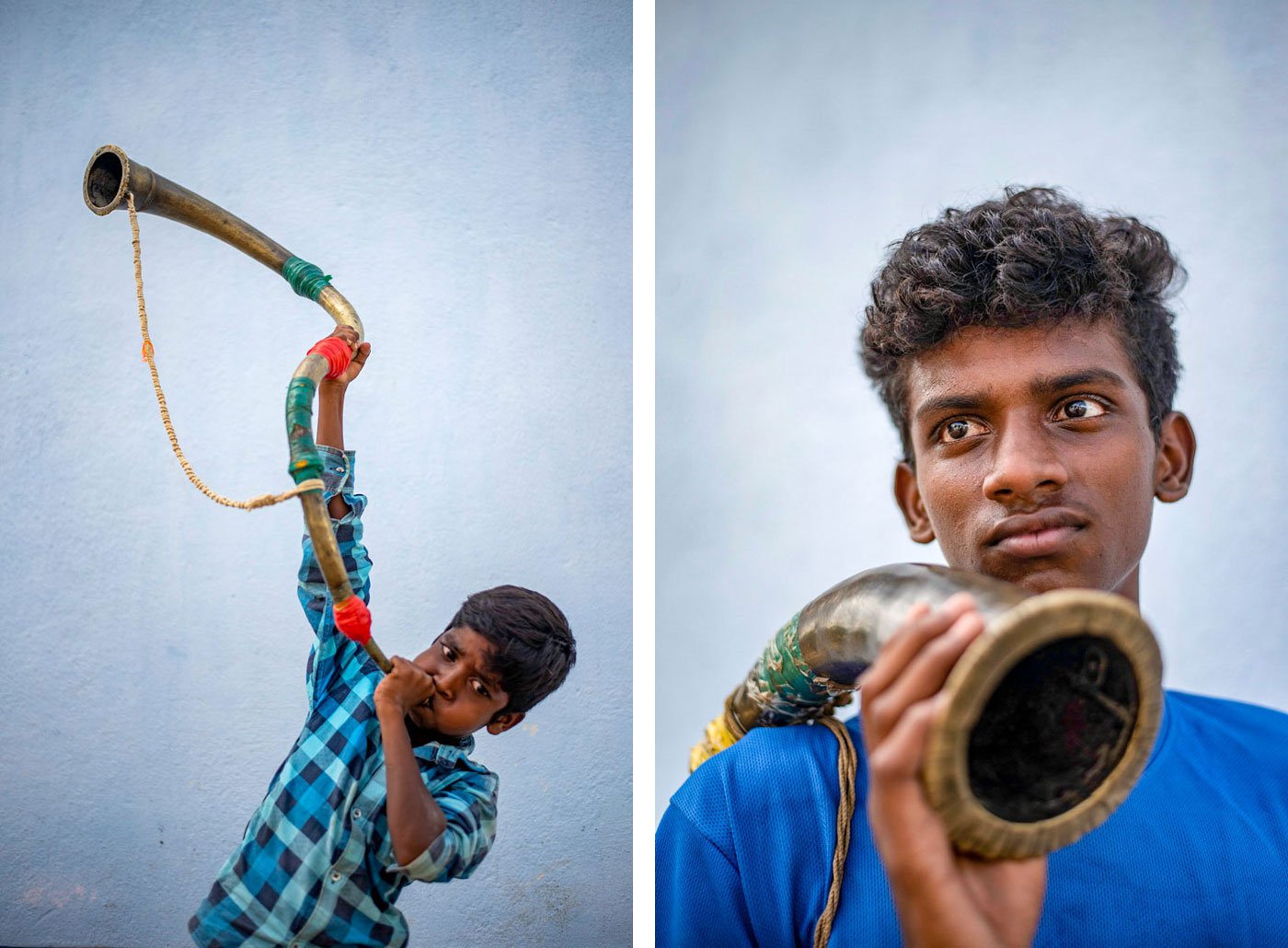 PHOTO • M. Palani Kumar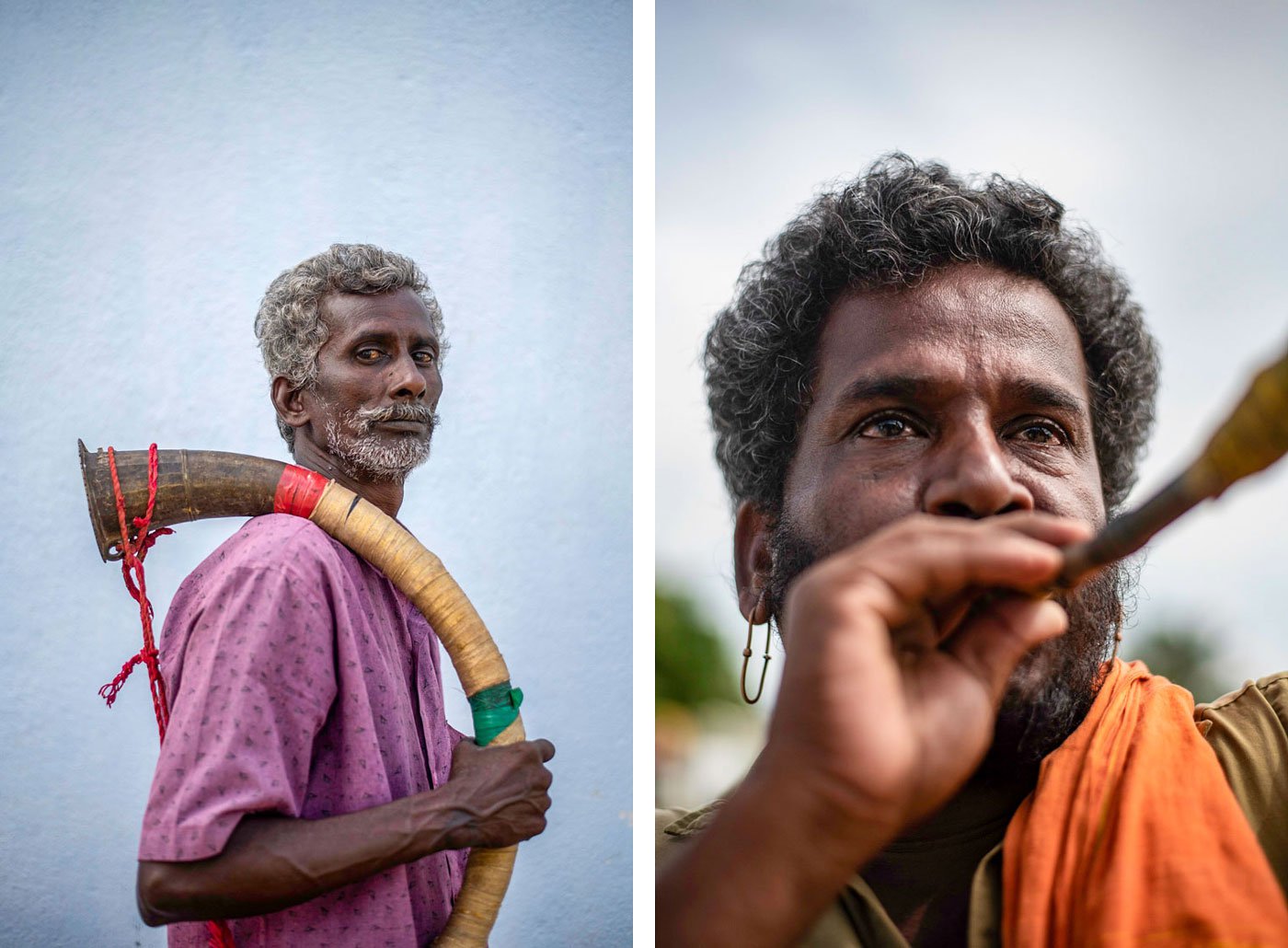 PHOTO • M. Palani Kumar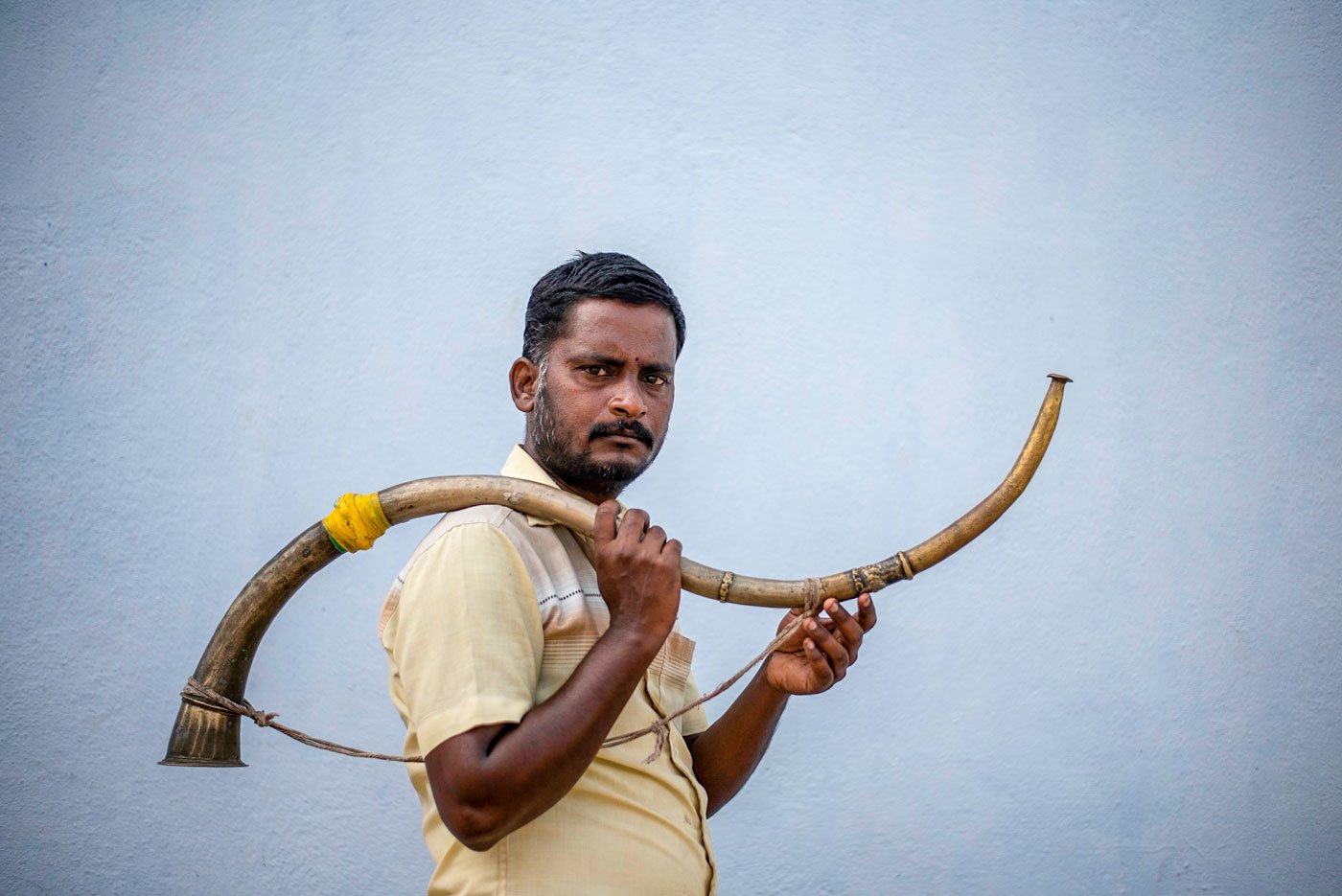 PHOTO • M. Palani Kumar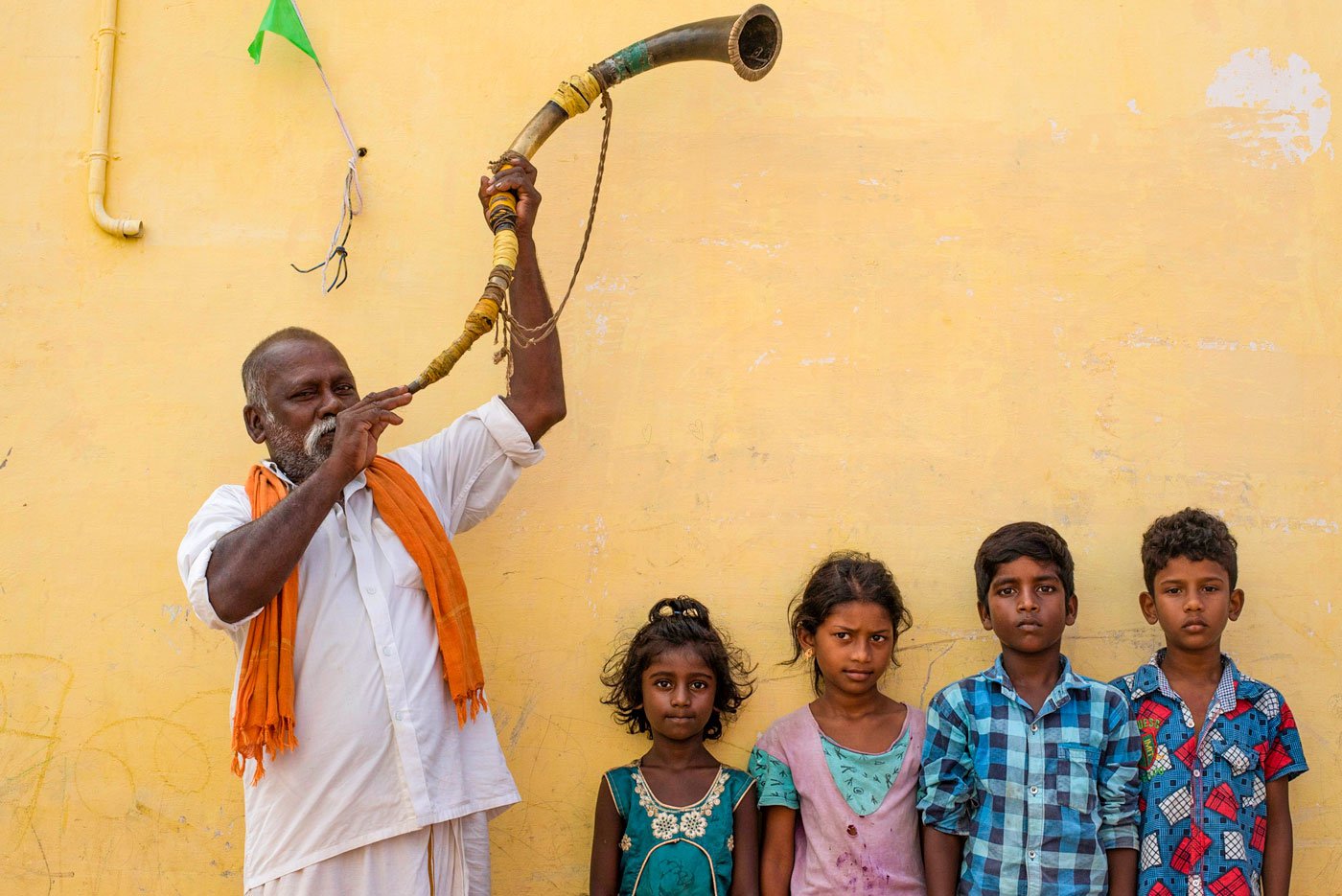 PHOTO • M. Palani Kumar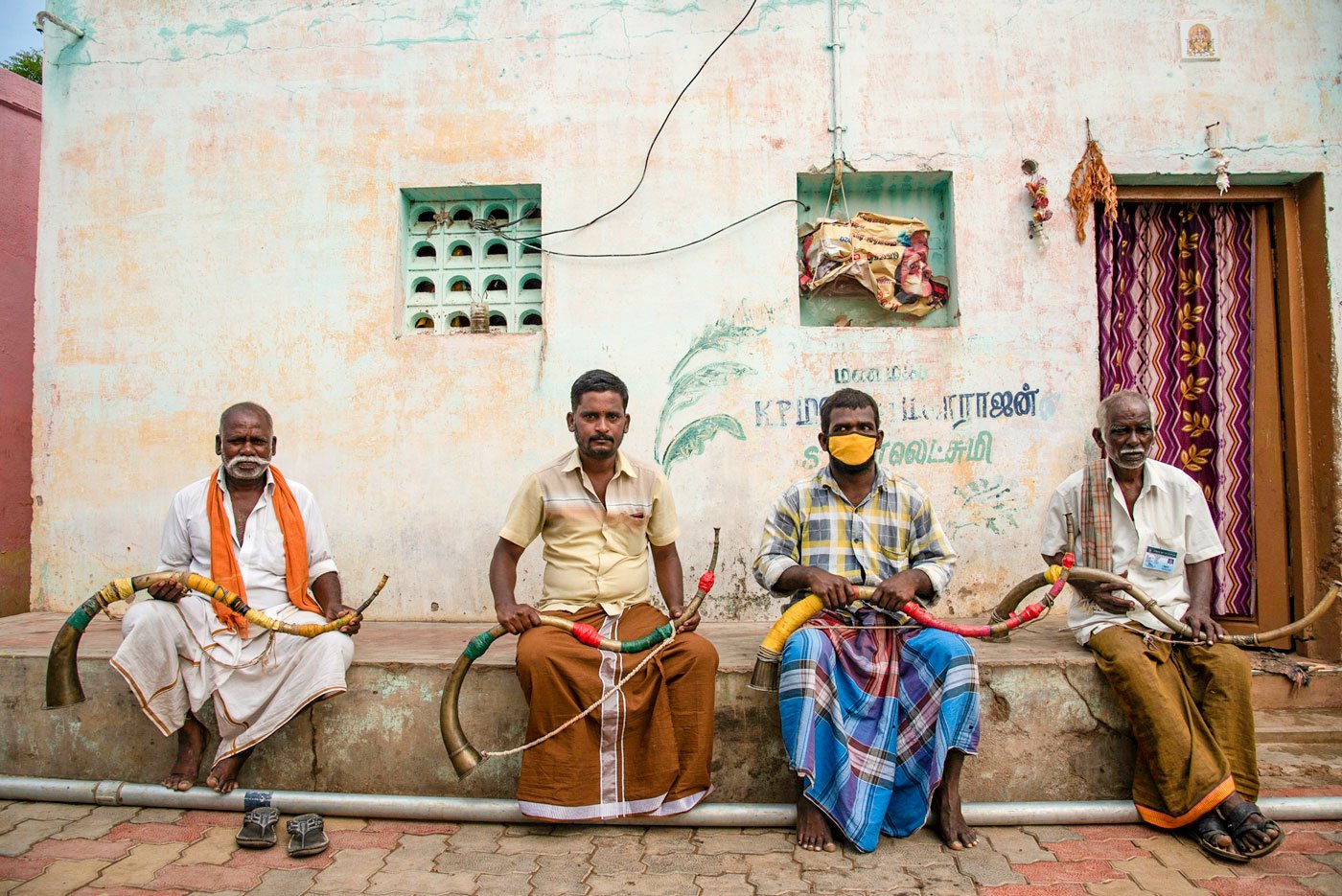 PHOTO • M. Palani Kumar
The text of this story has been written by Aparna Karthikeyan in collaboration with the reporter.