"Get someone to read out these songs, and then I will compose and sing them for you again," Dadu Salve tells us.
In his seventies, the ageing but still committed soldier of the Ambedkarite movement is ready to use his voice and play his harmonium to fight inequality and usher in decisive social change.
In his one-room house in Ahmednagar city, a lifetime of musical tributes to Ambedkar unfolds before us. A framed photo of his guru, the legendary Bhim Shahir Wamandada Kardak is placed on the top most shelf alongwith his faithful companions: his harmonium, tabla and dholaki.
Dadu Salve settles down to narrate his journey of singing Bhim songs for over six decades.

Salve was born on January 9, 1952, in Nalegaon (also known as Gautamnagar) in Ahmadnagar town (also spelt Ahmednagar) district of Maharashtra. His father Nana Yadav Salve served in the army and mother Tulasabai managed the house and went for wage work.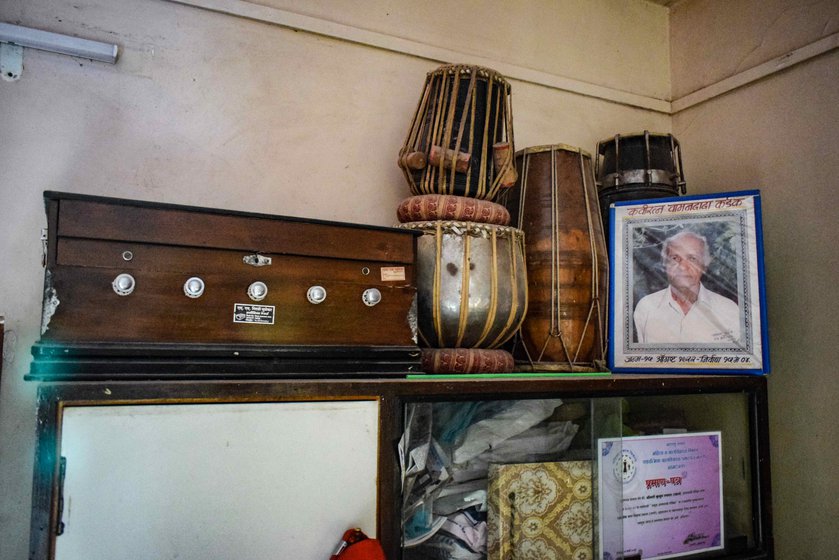 PHOTO • Amandeep Singh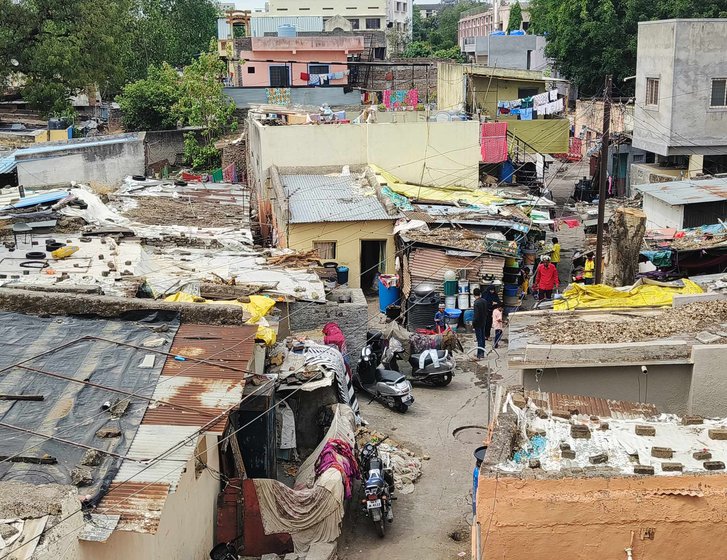 PHOTO • Raitesh Ghate
Men like his father who were serving in the British Army were instrumental in bringing change to the Dalit psyche. The steady job with secure wages and proper meals also gave them access to formal education that served as a window to the world. It changed their outlook, and they were better equipped and inspired to fight and resist oppression.

Dadu's father retired from the Army and joined the Indian Postal service as a postman. He was quite active in the Ambedkarite movement which was at a peak in those days. Dadu could experience and observe the movement from within because of his father's involvement.
Apart from his parents, Dadu was influenced by one more person in the family, his grandfather, Yadav Salve, known as Kadubaba.
He tells us the story of an old man with a flowing beard who was asked by a researcher from a foreign land, "Why do you grow such a long beard?" The 80-year-old started weeping. Later the man calmed down and told her his story.
"Babasaheb Ambedkar was visiting Ahmadnagar district. I requested him to come and visit our village, Haregaon where a large crowd was waiting eagerly to see him." But Babasaheb did not have time and so he promised the old man that he would visit his village another time. The man took a vow that he would shave his beard only when Babasaheb visited his village.
He waited many years; his beard kept growing. In 1956 Babasaheb passed away. "The beard continued growing. It will be like this till I die," the old man said. The researcher was Eleanor Zelliot, renowned scholar of the Ambedkarite movement and the old man was Kadubaba, Dadu Salve's grandfather.
Dadu lost his eyesight when he was just five days old. Someone put drops in both eyes that caused grievous damage to his sight. No treatment worked and he could never see again. Confined to home, a school education was out of question.

He joined the singers of ektari bhajans in his neighbourhood, playing dimdi, a percussion instrument made of wood, leather and metal.
"I remember someone came and announced that Babasaheb had passed away. I did not know who he was but when I heard people crying, I understood that he must have been someone great," Dadu recalls.
Babasaheb Dikshit ran a music school called Datta Gayan Mandir in Ahmednagar, but Dadu could not afford the fees. That time, an MLA from the Republican Party, R.D. Pawar offered financial help and Dadu could be enrolled. Pawar also bought him a brand-new harmonium and Dadu would go on to pass the Sangeet Visharad exam in 1971.

After that he went on to join Mehmood Qawwal Nizami, a renowned qawwali musician of those times. He began singing in his programmes and that was the only source of income for Dadu. He then moved to another group – Kala Pathak – started by comrade Datta Deshmukh of Sangamner. He also composed songs for Vasudevacha Daura, a play directed by another comrade, Bhaskar Jadhav.

Dadu would also listen to Keshav Sukha Aher, known as lok-kavi or the people's poet. Aher had accompanied a group of students who were agitating against the ban on entry to Kalaram Mandir in Nashik. He supported Ambedkar's movement through his songs and when Aher heard Bhimrao Kardak's jalsa, he was inspired to write a few songs.
Later, Aher would devote himself full-time to the jalsa and raising Dalit consciousness through his songs.
In 1952, Ambedkar fought the general elections from Mumbai as a candidate of the Scheduled Caste Federation. Aher started the 'Nav Bharat Jalsa Mandal', wrote new songs for the jalsa and campaigned for Dr. Ambedkar. Dadu Salve heard the programmes organised by this mandal.
Around Independence, Ahmednagar was a bastion on the Left movement. Dadu Salve says, "Many of the leaders often came to our house and my father worked with them. In that period, the likes of Dadasaheb Rupawate, R. D. Pawar were quite active in the Ambedkarite movement. They led the movement in Ahmednagar."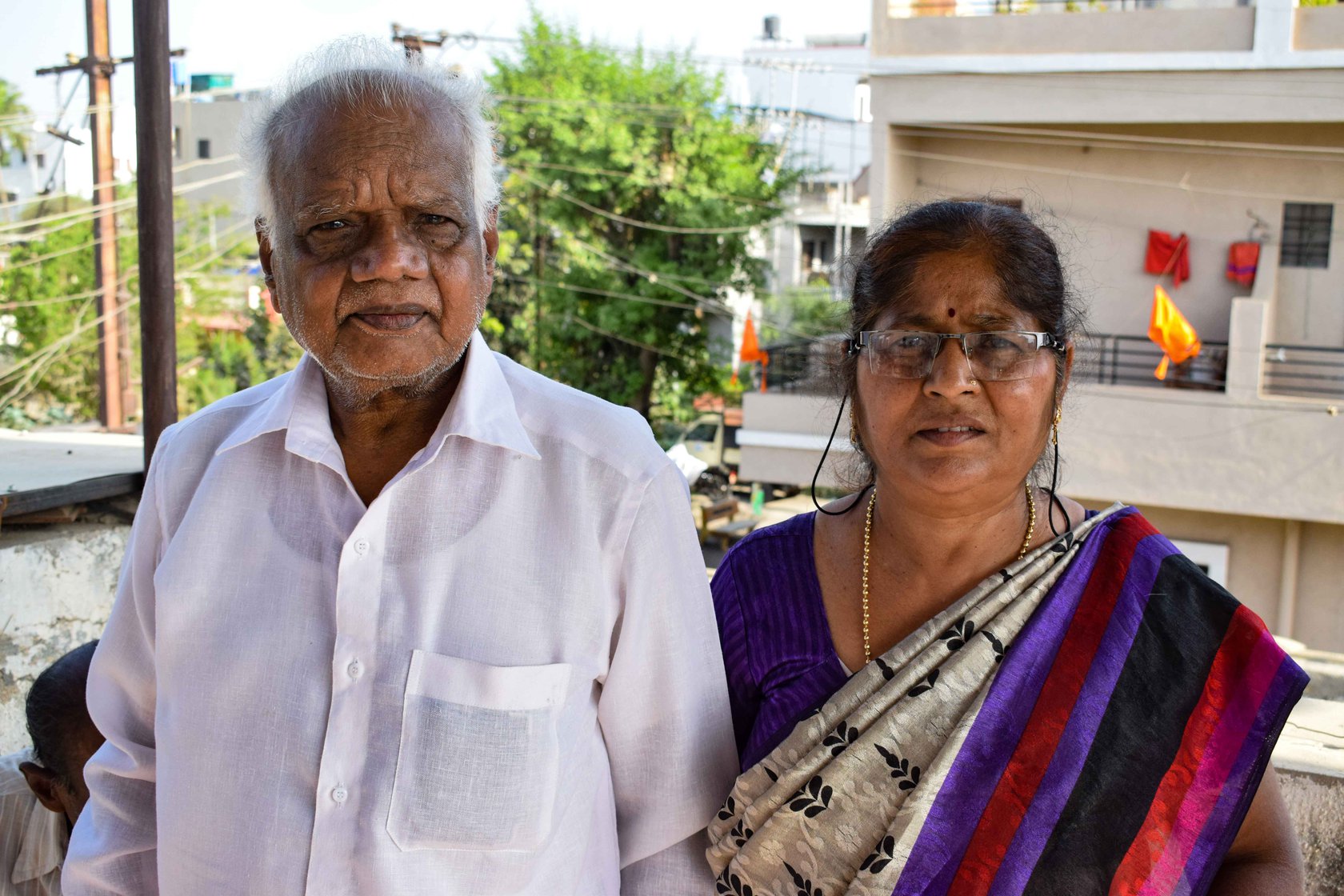 PHOTO • Amandeep Singh
Dadu also attended public gatherings and listened to the speeches by B. C. Kamble and Dadasaheb Rupawate. Later Both these stalwarts had differences which led to the rise of two factions in the Ambedkarite movement. This political event inspired many songs. Dadu says, "Both the factions were good at the kalgi-tura [songs where one groups poses a question or makes a statement and other answers / counters the statement]."
नार म्हातारपणी फसली!
लालजीच्या घरात घुसली!!
The woman is waylaid in her old age,
And has entered Lalji's house!
Implying that Dadasaheb has lost his mind and joined the communists.
The Dadasaheb faction answered back:
तू पण असली कसली?
पिवळी टिकली लावून बसली!
Look at you, you woman!
And that yellow bindi on your forehead!
Dadu explains: "B. C. Kamble had replaced the blue Ashok Chakra on the party flag with a yellow full moon. This was the reference."
Dadasaheb Rupawate was with the B. C. Kamble's faction. Later he joined the Congress party. He was also criticised through a song,
अशी होती एक नार गुलजार
अहमदनगर गाव तिचे मशहूर
टोप्या बदलण्याचा छंद तिला फार
काय वर्तमान घडलं म्होरं S....S....S
ध्यान देऊन ऐका सारं
A woman sweet and young
Comes from the famous Ahmadnagar town
She loves to change her camp
Want to know what happened later?
Pay heed and know all…
"I have grown up listening to this kalgi-tura of the Ambedkarite movement," Dadu says.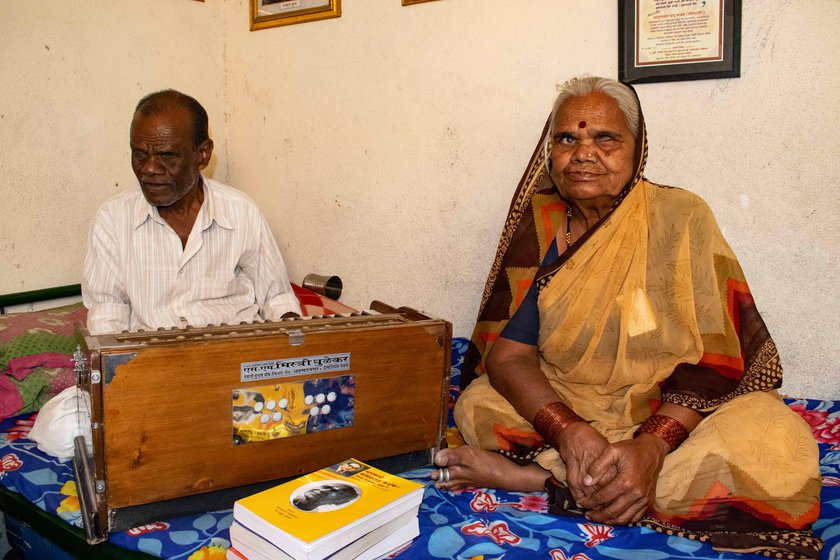 PHOTO • Amandeep Singh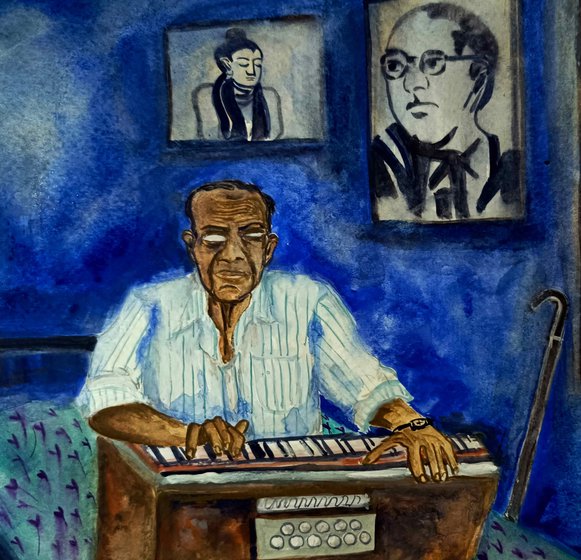 PHOTO • Labani Jangi
The year 1970 was a turning point in Dadu Salve's life. He met the singer Wamandada Kardak who was taking the social, cultural and political movement of Dr. Ambedkar to the remotest corners of Maharashtra and beyond. He did it till his last breath.

Madhavrao Gaikwad, 75, collects material around Wamandada Kardak. He was the one who took Dadu Salve to meet Wamandada. Madhavrao and his wife, Sumitra, 61, have collected more than 5,000 songs written by hand by Wamandada himself.
Madhavrao says, "He came to Nagar in 1970. He was very keen to start a gayan [singing] party to promote Ambedkar's work and message. Dadu Salve used to sing about Ambedkar, but he did not have too many good songs. So, we went and met Wamandada and told him, 'We need your songs'."
Wamandada responded saying he never really kept his work in one place: "I write, I perform, and I leave it there."
Madhavrao recalls that, "we were disheartened to see such a treasure going waste. He [Wamandada] had devoted his whole life to the Ambedkarite movement."
Keen to capture his work, Madhavrao started taking Dadu Salve to wherever Wamandada was performing: "Dadu accompanied him on the harmonium, and I transcribed the songs as he sang them. It was live."
He went on to publish more than 5,000 songs. Despite that, there are almost 3,000 songs which have not seen the light of the day. "I could not do it because of monetary constraints. But I must say, I could preserve this knowledge and wisdom of the Ambedkarite movement only because of Dadu Salve," he adds.
Dadu Salve was so inspired by Wamandada's work that he decided to start a new group, also called Kala Pathak. He brought together Shankar Tabaji Gaikwad, Sanjay Natha Jadhav, Raghu Gangaram Salve, and Milind Shinde. The group was called Bhim Sandesh Gayan Party, meaning a musical group spreading Ambedkar's message.
They sang to fulfil a mission and so their performances were straightforward without any malice towards anyone.
Dadu sings this song for us:
उभ्या विश्वास ह्या सांगू तुझा संदेश भिमराया
तुझ्या तत्वाकडे वळवू आता हा देश भिमराया || धृ ||
जळूनी विश्व उजळीले असा तू भक्त भूमीचा
आम्ही चढवीला आता तुझा गणवेश भिमराया || १ ||
मनुने माणसाला माणसाचा द्वेष शिकविला
तयाचा ना ठेवू आता लवलेश भिमराया || २ ||
दिला तू मंत्र बुद्धाचा पवित्र बंधुप्रेमाचा
आणू समता हरू दीनांचे क्लेश भिमराया || ३ ||
कुणी होऊ इथे बघती पुन्हा सुलतान ह्या भूचे
तयासी झुंजते राहू आणुनी त्वेष भिमराया || ४ ||
कुणाच्या रागलोभाची आम्हाला ना तमा काही
खऱ्यास्तव आज पत्करला तयांचा रोष भिमराया || ५ ||
करील उत्कर्ष सर्वांचा अशा ह्या लोकशाहीचा
सदा कोटी मुखांनी ह्या करू जयघोष भिमराया || ६ ||
कुणाच्या कच्छपी लागून तुझा वामन खुळा होता
तयाला दाखवित राहू तयाचे दोष भिमराया || ७ ||
Let us take your message to the world, Bhimraya
Let us turn them all to your principles, Bhimraya ||1||
You burnt and so enlightened the universe, O son of the soil
Here we follow you and put on your dress [ disciple's uniform] , Bhimraya ||2||
Manu taught us to hate other men
We vow to eradicate him now Bhimraya ||3||
You taught us Buddha's teaching of brotherhood
We will bring in equality and free the poor of their pain, Bhimraya ||4||
Some people are trying to rule this land again
With all our might we will fight, Bhimraya ||5||
Let them be happy or angry, we care not
To assert our truth we [are ready to] invite their wrath, Bhimraya ||6||
Was Waman [Kardak] a fool to get trapped in their words?
We will keep showing them the mirror, Bhimraya ||7||
Whenever Dadu was called for a performance he would sing Wamandada's songs. People called his group, Kala Pathak to sing Ambedkarite songs for all family functions and events such as the birth of a child or the passing away of the old and infirm.
People like Dadu sang to contribute to the Ambedkarite movement. The singing troupe did not expect any money. As a token of appreciation people gave a coconut to the main performer and served tea for the artists. That's all. "I could sing, so I chose that as my contribution to this movement. I try and carry forward the legacy of Wamandada," says Dadu.
Wamandada is a guru for many singers in Maharashtra, but for Dadu he holds a special place in his life. Unable to see, Dadu's only way of preserving his songs was listening and learning them by heart. He knows more than 2,000 songs. And not just the song, but everything about that song – when it was written, its context, the original tune… Dadu can tell you everything. He also composed Wamandada's anti-caste songs that are widely sung in Maharashtra.
Trained in music, Dadu was one step ahead of Wamandada – he knew the technicalities of tunes, rhythm, beats and metre of a poem or song. He would often discuss these with his guru; he composed the tunes for many songs after his death, and also redid some of the old tunes.
To show us he first sang Wamandada's original composition and then his tune and showed us the difference.
भीमा तुझ्या मताचे जरी पाच लोक असते
तलवारीचे तयांच्या न्यारेच टोक असते
O Bhim! Even if there were just five who agreed with you
Their arsenal would be much sharper than the rest
He was such a trusted aide of Wamandada that his guru even gave him a song about his own death.
राहील विश्व सारे, जाईन मी उद्याला
निर्वाण गौतमाचे, पाहीन मी उद्याला
The world remains, but I leave
And I witness Gautama's nirvana
Dadu composed this in a soothing tune and performed it in his jalsa .
Music is an integral part of Dadu's life and politics.
He sang during a period when popular folklore and songs on Ambedkar were gaining ground. Bhimrao Kardak, lok-kavi Arjun Bhalerao, Kedar brothers from Buldana, Rajanand Gadpayale from Pune, Shravan Yashwante and Wamandada Kardak were masters of these popular songs.
Dadu lent his musical talent and his voice to many of these songs and toured the countryside with this musical treasure. The generation born after Ambedkar's passing learnt about his life, his work and his message only through these songs. Dadu played a significant role in nurturing the movement among this generation and building their commitment.
Many poets verbalised the struggles of a farmer toiling in the fields and the Dalit fighting for a life of dignity. They strived to write songs conveying the messages of Tathagat Buddha, Kabir, Jotiba Phule and of Dr. Ambedkar's life and persona. For those who could not read and write, these songs were their education. Dadu Salve used his music and his harmonium to take these to more and more people. These songs became an integral part of peoples' consciousness.
The messages in these songs and their powerful rendering by the shahirs helped spread the anti-caste movement to the countryside. These songs are the positive life force of Ambedkar's movement and Dadu considers oneself as a small soldier in this fight for equality.
He never looked at these songs as a way of earning money. For him it was his mission. But, today, at the age of 72, he has lost most of that vigour and drive. He took care of his daughter-in-law and three grandchildren after his only son died in an accident in 2005. Later, when she decided to remarry, Dadu respected her wishes and he and his wife Devbai, shifted out to this small one-room house. Devbai is 65 years old, ailing and bedridden. The couple manage on the meagre pension given by the state government to folk artists. Despite these hardships, his commitment to the Ambedkarite movement and his music are still the same.
Dadu does not approve of the current wave of songs. "Today's artists have put these songs on sale. They are interested in their bidagi [honorarium] and fame. It is painful to watch this," he says with a sad voice.
For those of us who get to watch Dadu Salve recollect the songs he knows by heart and play them on his harmonium as he talks about Ambedkar and Wamandada, fills us with hope and  helps us tide over gloom and despair.
Through the immortal words of shahirs and his own tunes, Dadu ushered in the new consciousness that Babashaeb Ambedkar had brought. In later years this very Dalit shahiri took on many other social evils and fought injustice and prejudice. Dadu Salve's voice shines all through.
As we come to the end of our interview, Dadu looks tired and leans back on his bed. When I enquire about any new songs, he becomes attentive and says, "Get someone to read out these songs, and I will compose and sing them for you again."
This soldier of the Ambedkarite movement is still willing to use his voice and harmonium to fight inequality and bring the lasting social change.
This story was originally written in Marathi by the author and translated into English by Medha Kale.
This multimedia story is part of a collection titled 'Influential Shahirs, Narratives from Marathwada', a project implemented by India Foundation for the Arts under their Archives and Museums Programme in collaboration with People's Archive of Rural India. This has been made possible with part support from Goethe-Institut/Max Muller Bhavan New Delhi.