For long, B. Kista had wanted to try his luck with cultivating fruits. "There is no way I could clear my debts with wages from farm labour," he says. Last year, he finally took the plunge – and leased four acres of land. "I paid Rs. 20,000 per acre as [annual] tenancy on four acres," says Kista, who lives in Bodiganidoddi village. "I started farming, hoping to repay loans taken over the last three years for the marriages of my daughter and son."
But a few weeks before the lockdown began in late March, he lost around half of the 50 tons of banana (as well as watermelon) crops on his land due to heavy winds and bad weather in his and other villages in Bukkarayasamudram mandal of Anantapur district. He barely recovered Rs. 1 lakh from selling the fruits – and suffered a loss of nearly Rs. 4 lakhs. Instead of being able to pay off his past debts, the amount he owes moneylenders rose from Rs. 3.5 lakhs to Rs. 7.5 lakhs.
Farmers in Anantapur had benefitted from a fair monsoon in 2019. Like Kista, they were hoping for some decent returns after a robust rabi harvest this year. Banana farmers were anticipating a rate of Rs. 8,000 per ton.
Then came the lockdown on March 25 – towards the end of the rabi season. Traders became increasingly reluctant to buy the produce due to uncertainty in the market. The effect on cultivators has been debilitating – banana is harvested roughly every two weeks during the rabi season till April, and each round was hit.
Among those who have suffered losses is G. Subramanyam from Bukkarayasamudram village. He had cultivated bananas on 3.5 acres and spent roughly Rs. 3.5 lakhs on inputs. In April, of the 70 tons he harvested, he sold the bulk to traders who visited the village for just Rs. 1,500 a ton. That month, truckloads of 8-9 tons of bananas were being bought for just Rs. 5,000 – Rs. 3,000 below the rate for just one ton that the farmers had counted on.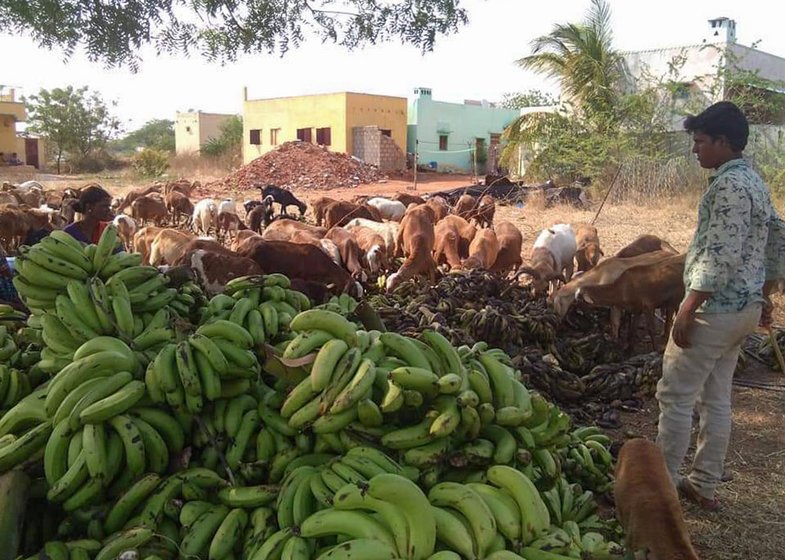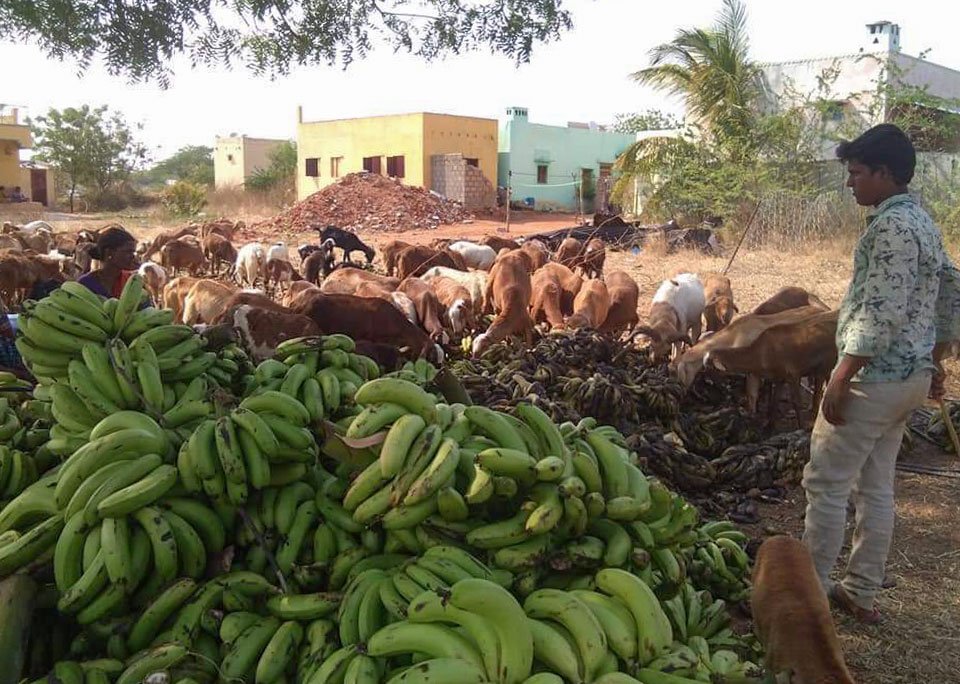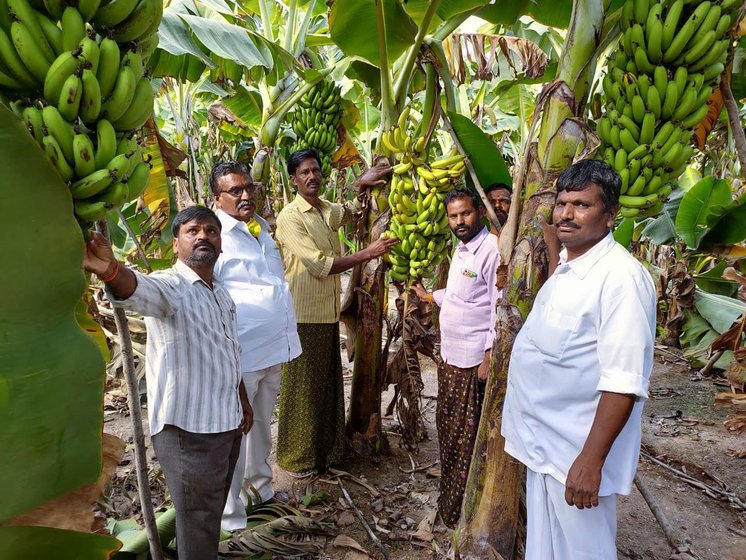 "During a health emergency [the Covid-19 lockdown], if the government had procured the fruit, people could have been given nutritious food, instead of the crop left to go waste in the fields. Farmers could even have been given money after some time," Subramanyam says.
C. Ram Mohan Reddy of Gondireddipalle village in Raptadu mandal , who cultivated banana on three of his seven acres, says traders were reluctant to buy even for Rs. 1,500 a ton because they were not sure about being able to market the produce. Ideally, he says, bananas should have fetched Rs. 11,000 to Rs. 12,000 per ton. The fruit was being sold for even Rs. 14,000 per ton on January 31, when the state's agriculture minister, Kurasala Kannanbabu, flagged off a 'fruit train' from Tadpatri town, reports said, carrying 980 metric tons of locally grown bananas to Mumbai for export to Iran.
In the dry Rayalaseema region's Anantapur district, of the cultivable area of 11. 36 lakh hectares, fruit crops are grown on around 158,000 hectares, and vegetables cover 34,000 hectares. The district deputy director of horticulture, B. S. Subbarayudu, speaking on the phone, said the district's total annual total horticulture output of 58 lakh metric tonnes is valued at Rs. 10,000 crores.
Subbarayudu disagrees that the lockdown created a price fall, and says that at this time every year [the months of the lockdown in 2020], the price of bananas falls to Rs. 3 to Rs. 5 per kg – from around Rs. 8-11. In April 2014, he says, the fruit did not sell for even Rs. 2 per kilogram. "Production has increased from 20 tons per acre to 40-45 tons. The farmers should sell their produce in the APMC [Agriculture Produce Marketing Committee] markets for better prices, and not from their fields [to traders]," he adds. "This way, they will get a better price."
The farmers however maintain that prices don't usually fall as much as Subbarayudu claims they do– and that they were expecting the rate for bananas to remain steady at Rs. 8 to Rs. 11 a kilo in April this year.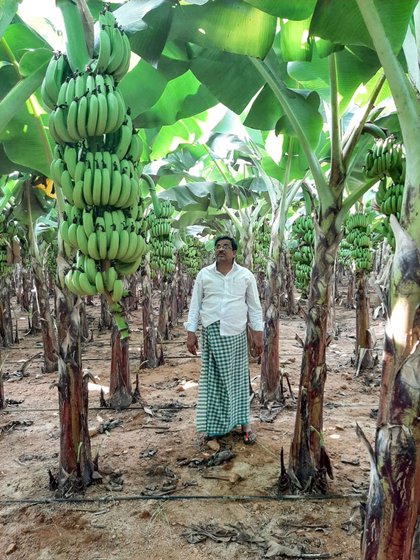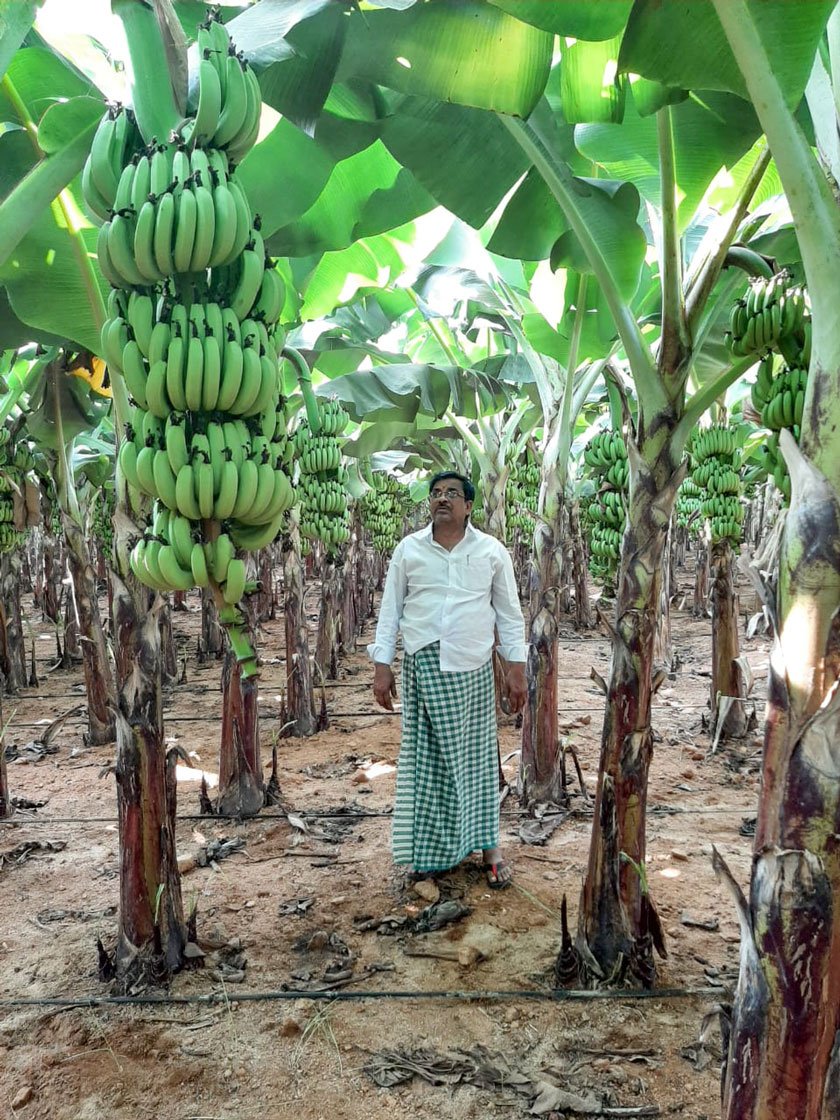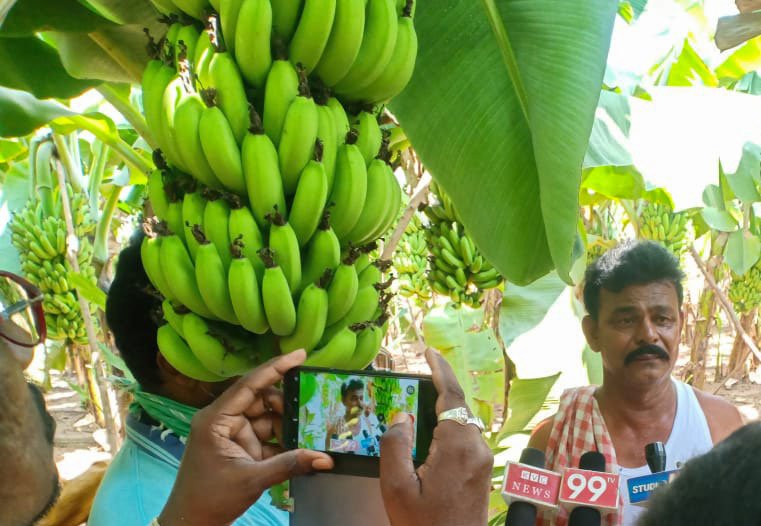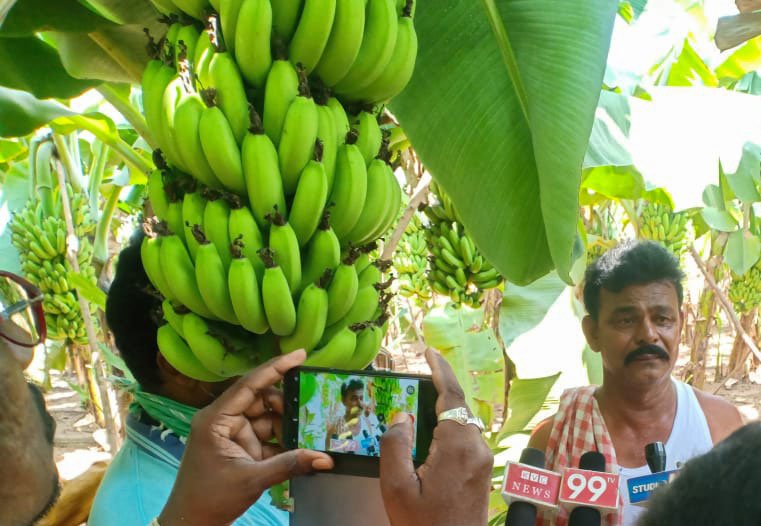 PHOTO • T. Sanjay Naidu
T. Adinarayana ( in the cover photo on top ), who cultivated bananas on six acres in Bodiganidoddi village of Bukkarayasamudram mandal , says, "But bananas were sold for hardly Rs. 2 per kilo due to the lockdown. I don't get any credit from banks as I am a tenant farmer and I had invested Rs 4.80 lakhs for the crop…"
C. Linga Reddy, from Reddipalli village of the same mandal , who cultivated bananas on his five-acre farm, says he barely recovered Rs. 2.50 lakhs of his investment of Rs. 10 lakhs. He has taken loans from a bank, from fertiliser shops and others. "I should have earned Rs. 15 lakhs, but for the lockdown. I have applied for compensation," he says.
Activists and farmers here say that they have collated details of all crops harvested  across several villages in Anantapur. The local market committee collected passbook photocopies of farmers to arrange for compensation. But the government, the farmers say, has not yet sought further details or moved on this.
"The officials lacked planning and were insisting that we bring to their notice individual cases of farmers unable to sell their crop when entire villages are troubled. Even the much-touted eNam system ended up failing the farmers," says R. Chandrasekhar Reddy, district secretary, All India Kisan Sabha, Anantapur. (The eNam system, started in April 2016 in Andhra Pradesh, allows farmers and traders to sell online to the highest bidder. But due to the lockdown-driven uncertainty, traders stayed away from bidding.)
Kista says there have been no queries from officials so far about the extent of his losses. "I don't have a tenancy card and the Rythu Bharosa [the AP government's subsidy scheme for farmers] amount went to the land owner. I doubt if he will pass on the compensation now, if any, given by the government, though he has promised to do so."
Kista has to now borrow more money from private money lenders – at least Rs. 1 lakh at an annual interest rate of 24 per cent – to tend to his remaining crop. "The banana crop is cultivated for three years. So right now, I am continuing farming…" he says, hoping the next harvest will bring him better luck.