In the fast fading evening light some months ago, little Sakthivel sat on the mud floor outside his house playing with a baby rat. He would gently prod the creature in its stomach with a finger and let it run, only to tug its tail and pull it back. The rat was one-year-old Sakthivel's only plaything.
The toddler and his parents, R. Vanaja, 19, and R. Johnson, 22, live in a tiny mud hut with a thatched roof in Bangalamedu hamlet. "We don't buy toys. Maybe a rattle [sometimes] for newborn babies. I don't think anyone in our village has had much toys," says Vanaja, who works at state-run MGNREGA sites, while Johnson works on construction sites, at brick kilns, or felling trees in villages of their panchayat , Cherukkanur, in Tiruttani block of Tamil Nadu.
"Our children play with pets. We keep rabbits, rats, squirrels as pets. Mostly, children like to keep rats. They are also easy to find. I like rabbits. They are soft, but you can't find baby rabbits so easily," says S. Sumathi, 28, a tutor to primary school children in the hamlet, who also works at MGNREGA sites and brick kilns.
Baby rats are especially popular as pets among the children in this hamlet of 35 Irula Adivasi families in the state's Thiruvallur district. (See Digging up buried treasures in Bangalamedu ). The tiny creatures don't bite and remain with the families just like any other pet. (During one visit, I met a woman who brought her pet rat in a wire basket to a meeting).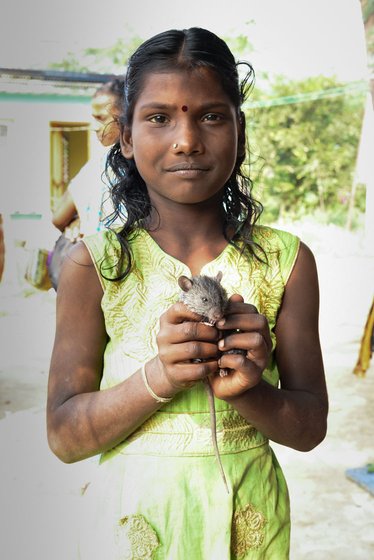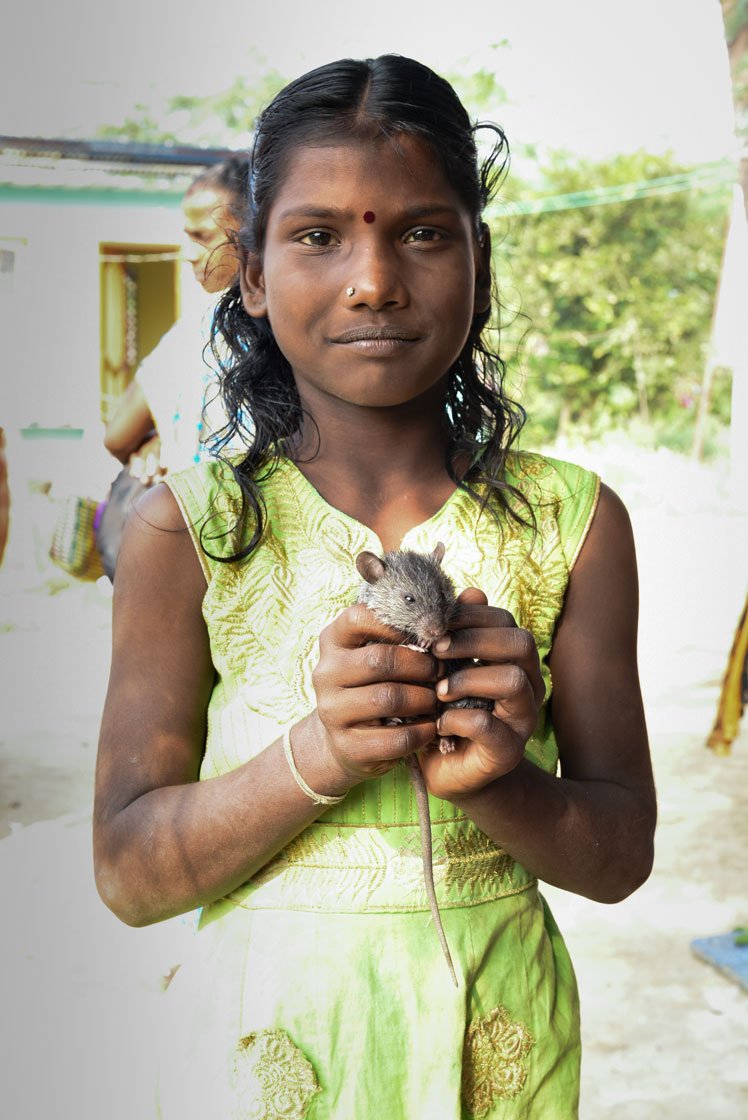 PHOTO • Smitha Tumuluru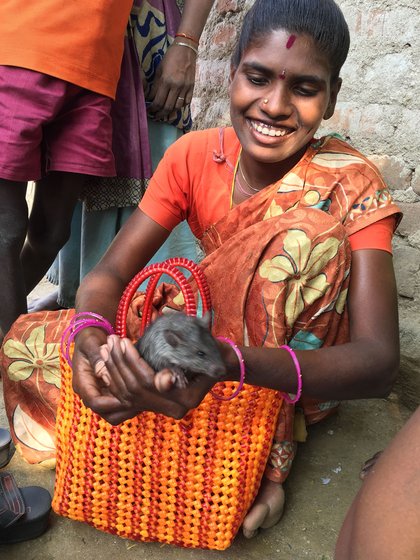 PHOTO • Smitha Tumuluru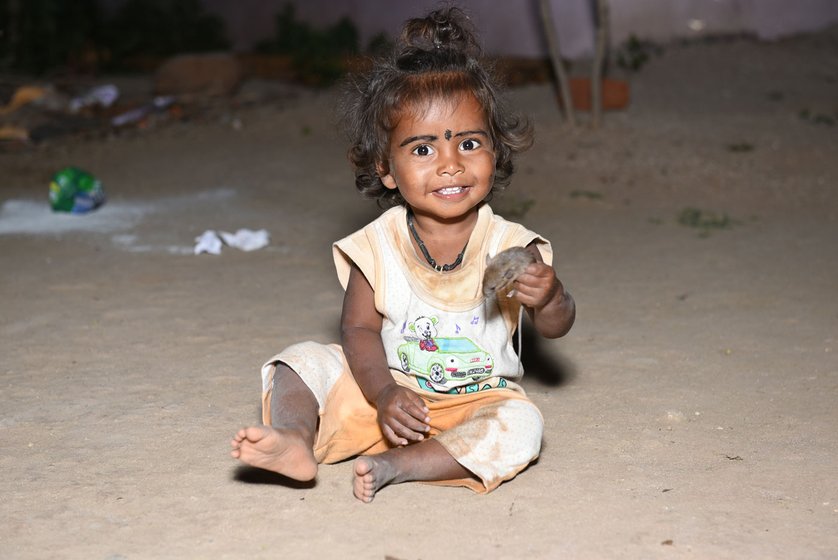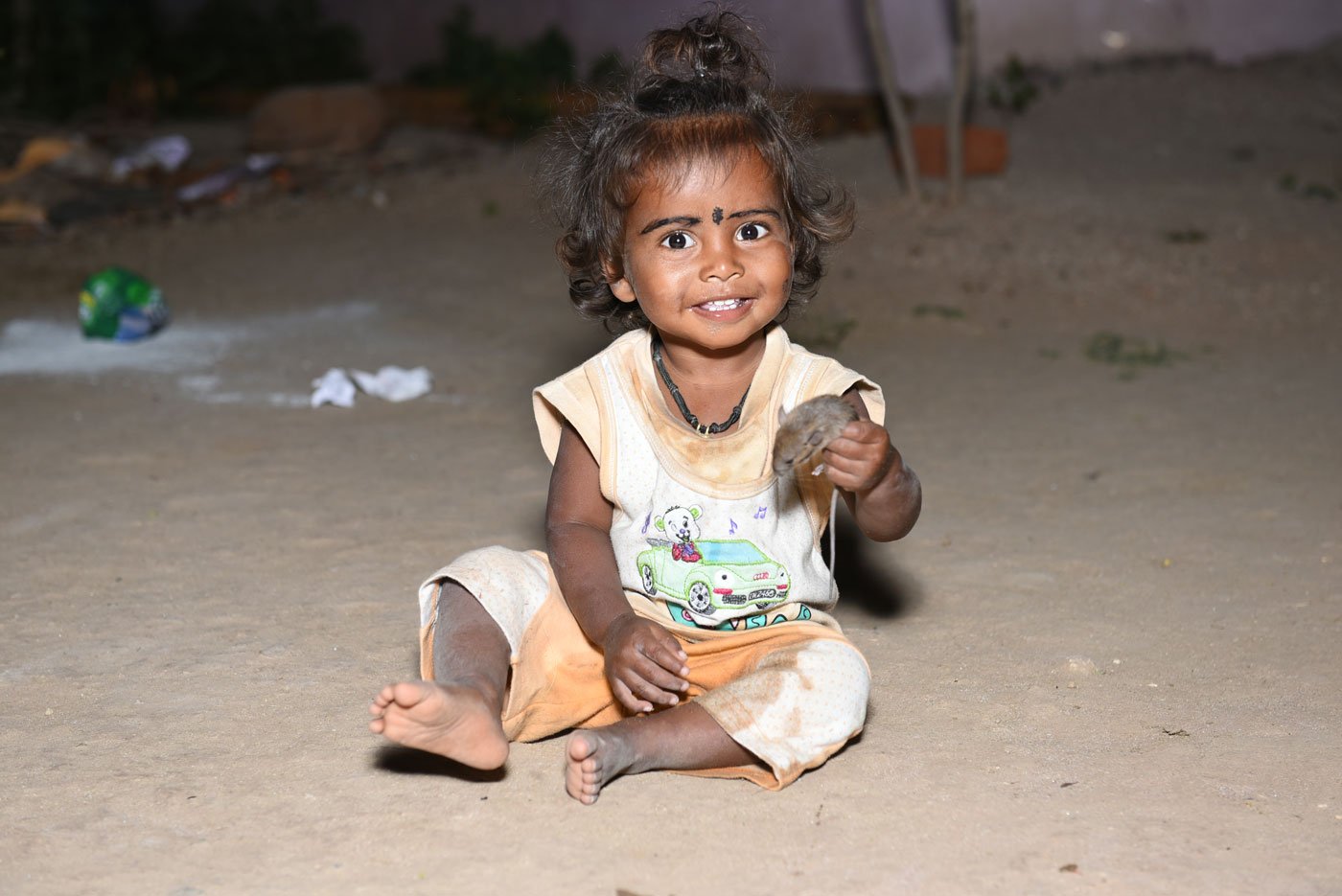 PHOTO • Smitha Tumuluru
The Irulas – one of the six particularly vulnerable tribal groups (PVTGs) of Tamil Nadu – also relish rat meat, which they cook fresh after catching the rodents from paddy fields. They hunt for food at least 2-3 times a week, sometimes every day if they cannot find any work. Their meals include rabbits, rats, squirrels, snails, crabs, and a variety of birds – all of which they catch in the scrub forests or fields near Bangalamedu.
"We eat meat almost every day," says 35-year-old G. Manigandan. He is Vanaja's uncle, and runs after-school classes for middle school children in the hamlet. He also occasionally plies a two-wheeler 'taxi', and does electrical work at nearby construction sites. Manigandan and others in the hamlet believe each animal has a special medicinal value. He says, "Cat meat is good for wheezing, squirrel meat is good for the voice, crabs are good for cold. That's why our people don't fall sick often."
(Though a few accounts speak of the Irulas as snake-catchers, the families of Bangalamedu say that no one in their community catches snakes. Manigandhan recalls that during his father's time, till around four decades ago, some of them would capture snakes to sell. This practice faded out over time. Now, he adds, the residents of this hamlet are as cautious about snakes as anyone else.)
The rats in the meals of Bangalamedu's residents are often collected when farm owners in nearby villages hire them to get rid of pests from their fields. Rats steal paddy, ragi (finger millet, locally called kelvaragu ) or groundnuts from fields and store them in underground tunnels.

"If we dig carefully, we can get up to 6-7 padi [around 8 to 10 kilos] of paddy in their burrows," explains Manigandan. "We manage to get about 3 kilos of rice out of it. The owners let us take home the paddy. We use the rat meat in kozhambu ." That's a tangy broth made with tamarind juice and eaten with rice.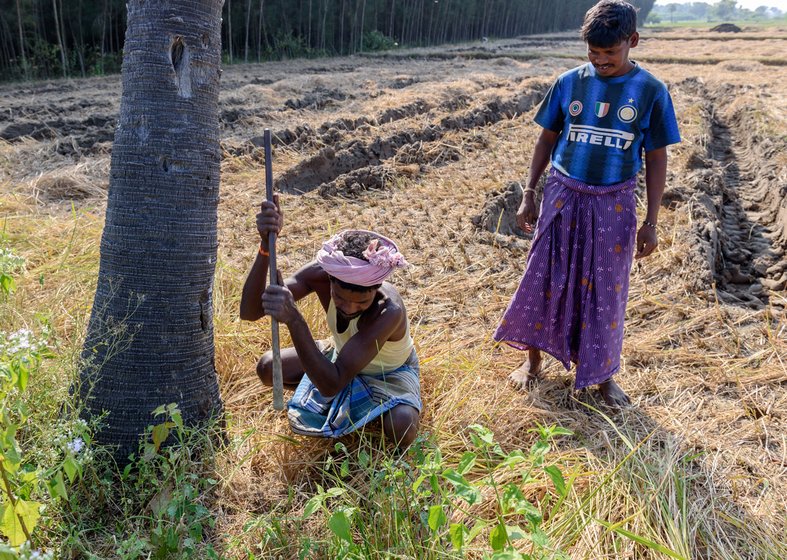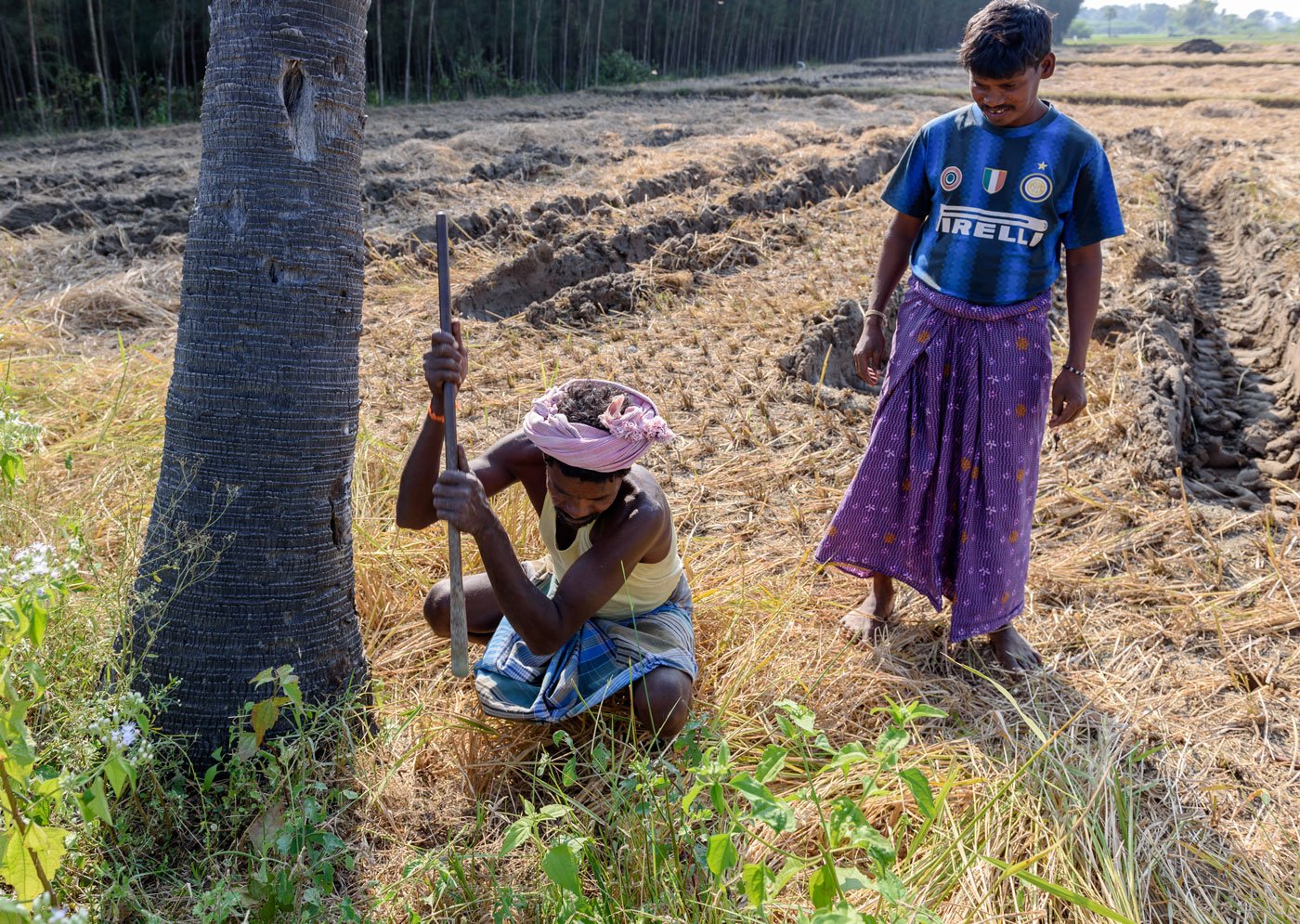 PHOTO • Smitha Tumuluru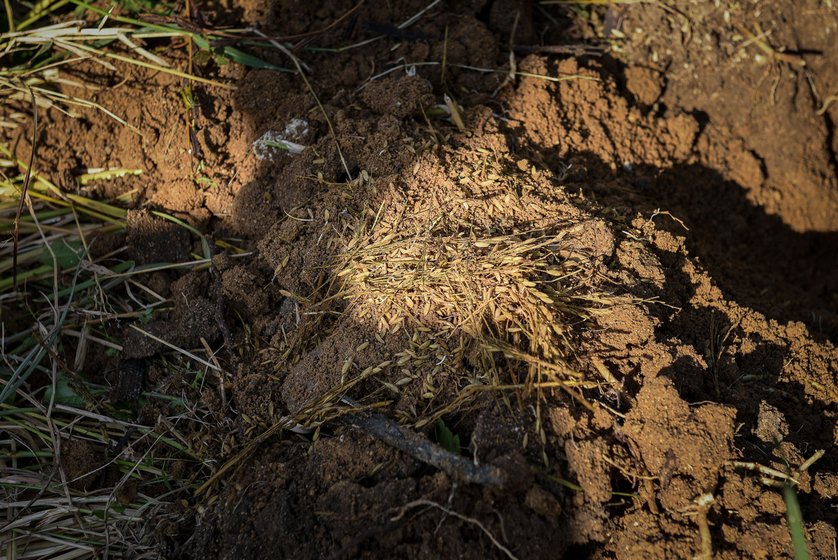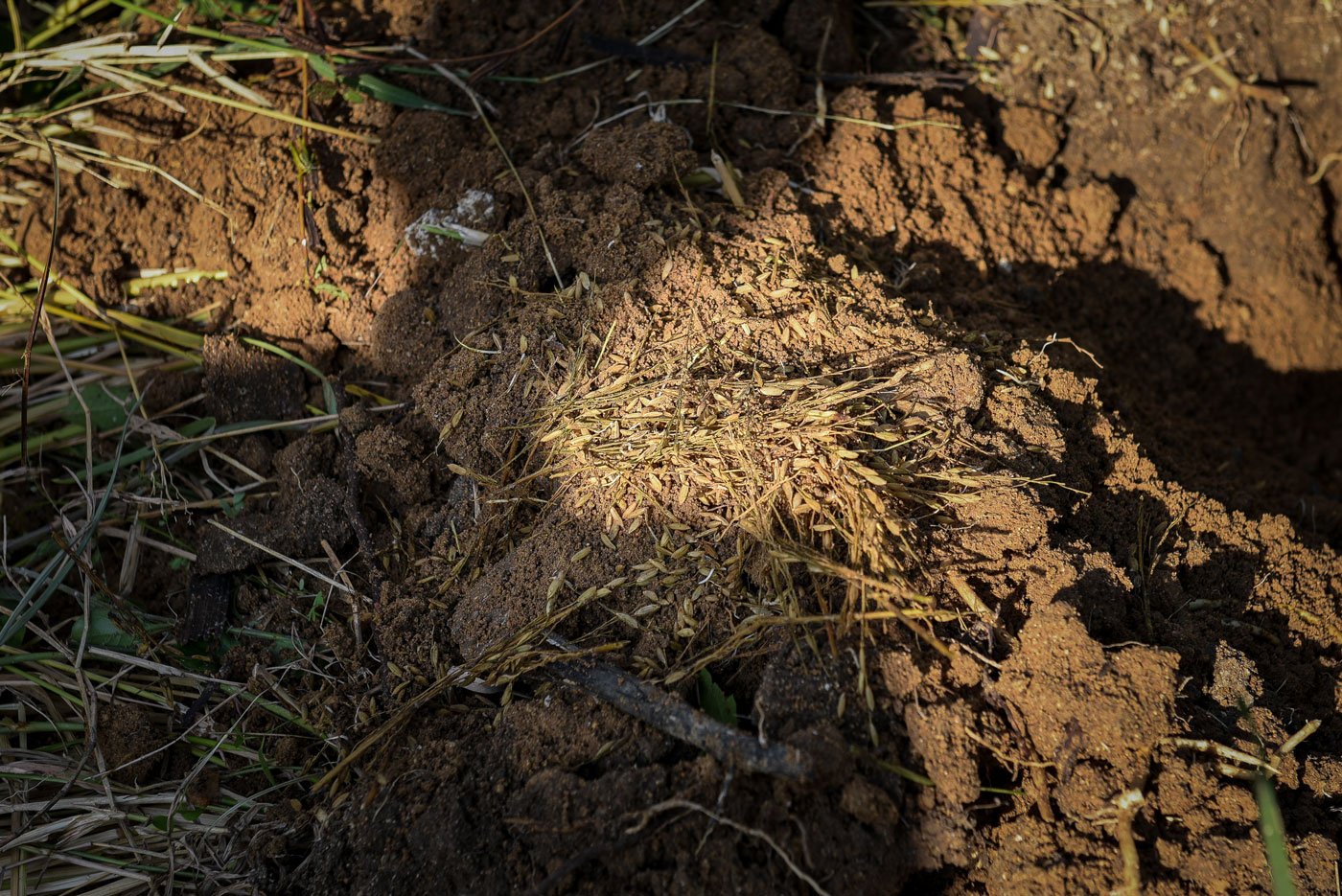 PHOTO • Smitha Tumuluru
Farm owners also call the Irulas to trim trees, dig canals or plough their fields. For this work, they can earn Rs. 350 a day. For catching rats, the farm owners pay them between Rs. 50 and Rs. 100. "There is no fixed amount for this," says Manigandan. "It depends on each owner and how much he decides to pay. Some don't pay anything, saying, 'why should I pay, haven't you got your rice and meat?'."
"Until a few years back, they used to call us exclusively to catch rats," adds Sumathi's husband K. Sriramulu, 36, who regularly hunts for rats when he works in paddy fields. "Nowadays, when we go to work in the fields to plough or dig canals, they simply ask us to clear the rat burrows too. Even if the owner doesn't ask, when we notice the valai [burrows] we catch the rats."
However, he says, the youngsters in the community don't like to take on these rat-catching assignments. "Somebody sees them and says 'why are you people still in your old ways, still catching rats'. They feel embarrassed."
Though for some outside the community the idea of rats as food may not be appealing, or may even be repugnant, the rats consumed by the Irulas are anything but fetid rodents – they are robust and clean field animals. "They are all healthy rats," Sumathi says. "They only feed on paddy and nothing else. They are clean. Else we wouldn't eat."
Even without the burrow-digs on farms, the Irulas look for rats or snails several times a week. In the afternoons, while returning from their wage work, they stop by the fields to hunt these small animals. The crowbar they usually carry for farm work comes in handy. "We don't eat many vegetables," says Manigandan. "For us meat is a must in our meal. So we hunt nearly every day. If we're lucky, we get even 10 rats. Sometimes, we make do with just four. We cook them the same day. We never store them for another day."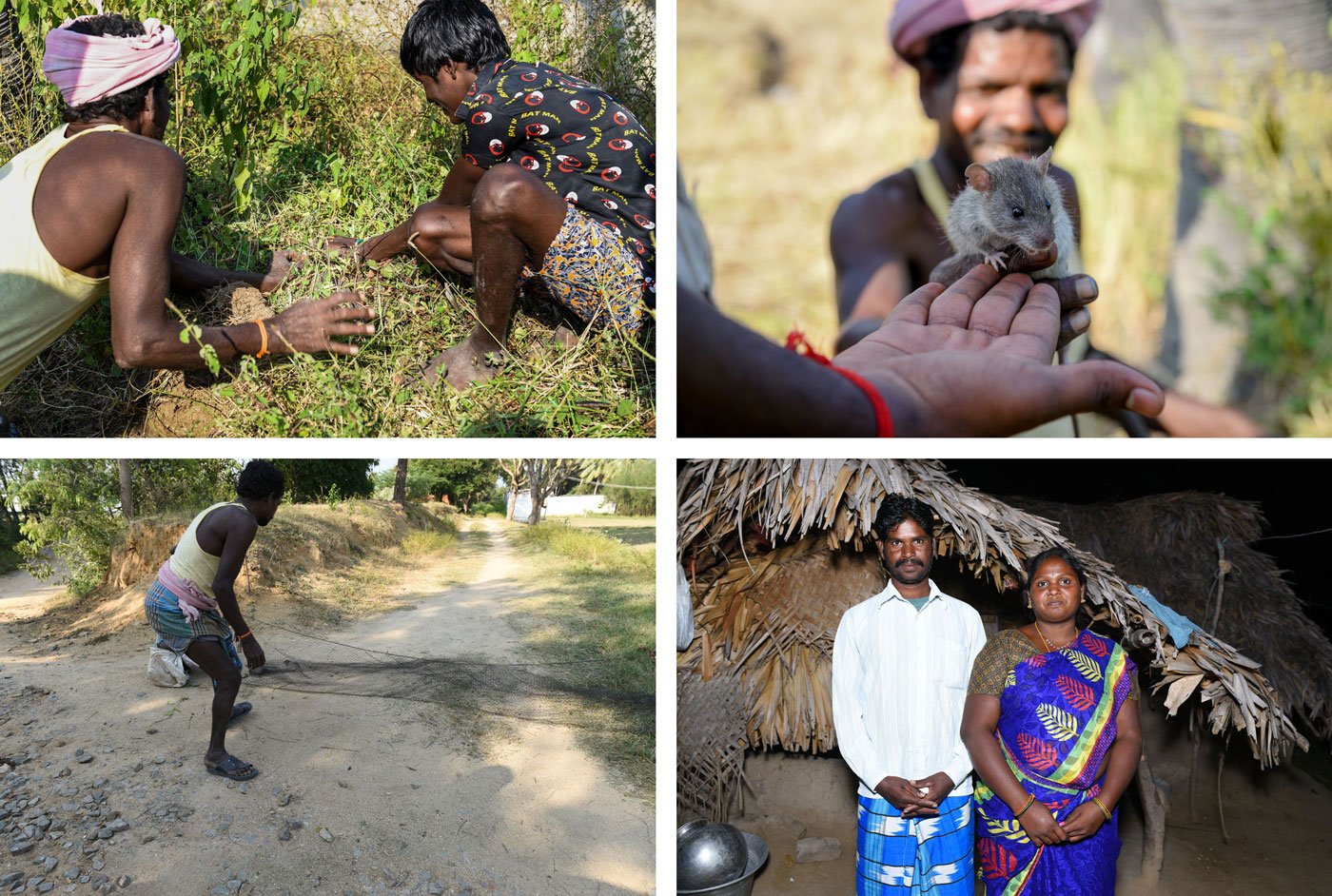 PHOTO • Smitha Tumuluru
The rat-catchers usually work in pairs – though at times, a lone person might hunt a rat, and sometimes it's in teams of three. Called for such a job one afternoon, Manigandan and his cousin K. Krishnan head off to the paddy field adjacent to a s avukku (casuarina) grove. Krishnan, 45, points to burrows along the edge of a field. "Can you see these holes? These are entrances to the rat tunnels. We look at these and plan how to catch the rats." Krishnan goes hunting every other day, and says, "We bring home whatever we find. Rats are the easiest to catch. So we cook rats at least two to three times a week."

"Rats have complex tunnels, like how a city's roads are spread out in different directions, even above and below the ground," adds Manigandan. "They are very clever. They close their valai with mud. It is not easy to spot these. You must observe carefully. But once we spot them, we block the entrance with a stone and start digging from the other end. There is no way out for the rat to escape and we catch it. If the earth is too hard and dry to dig, we burn cowdung and send smoke through the tunnels. The rats suffocate and die."
Manigandan, Krishnan and others in the hamlet also use nets to catch rats. "Sometimes, we lay nets around that area when we can't find all the valai entrances," says Manigandan. "The smoke travels through the tunnels from one end to the other. If a rat tries to run out of the tunnel to escape the smoke, it runs right into our nets." For this, a few Irula families in Bangalamedu make their own nets– close-knit firm thread – while others buy them from nearby markets.
Back in the paddy field, as Krishnan begins to dig at one end of a tunnel, 20-year-old G. Suresh, who is passing by, joins him. He and his parents make wood charcoal for a living. He alerts Krishnan to the presence of a rat. As the confused rodent tries to escape, Krishnan gets hold of it with his bare hands in a quick motion. He swiftly breaks its teeth and all its limbs – they crack audibly. "This is important, else it can bite or slip away. They are very quick," he says. Once the rats are caught, Krishnan and his team dig through the tunnels to carefully extract the stored paddy.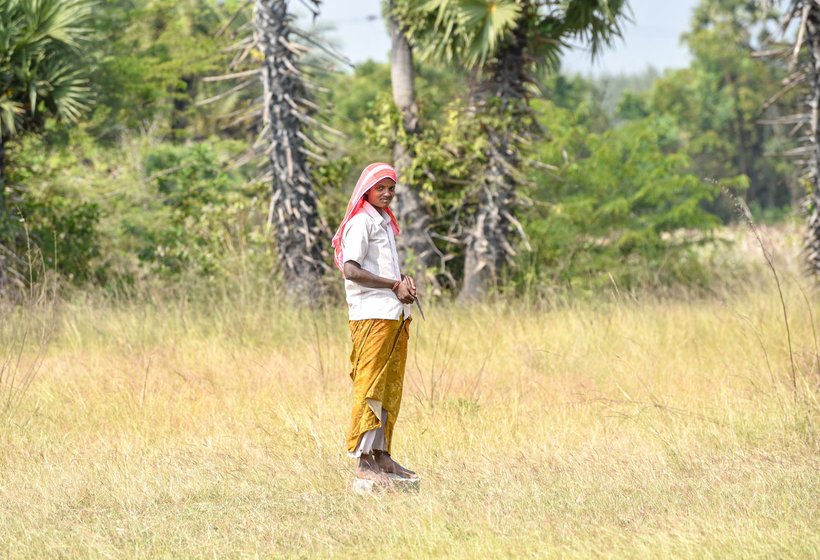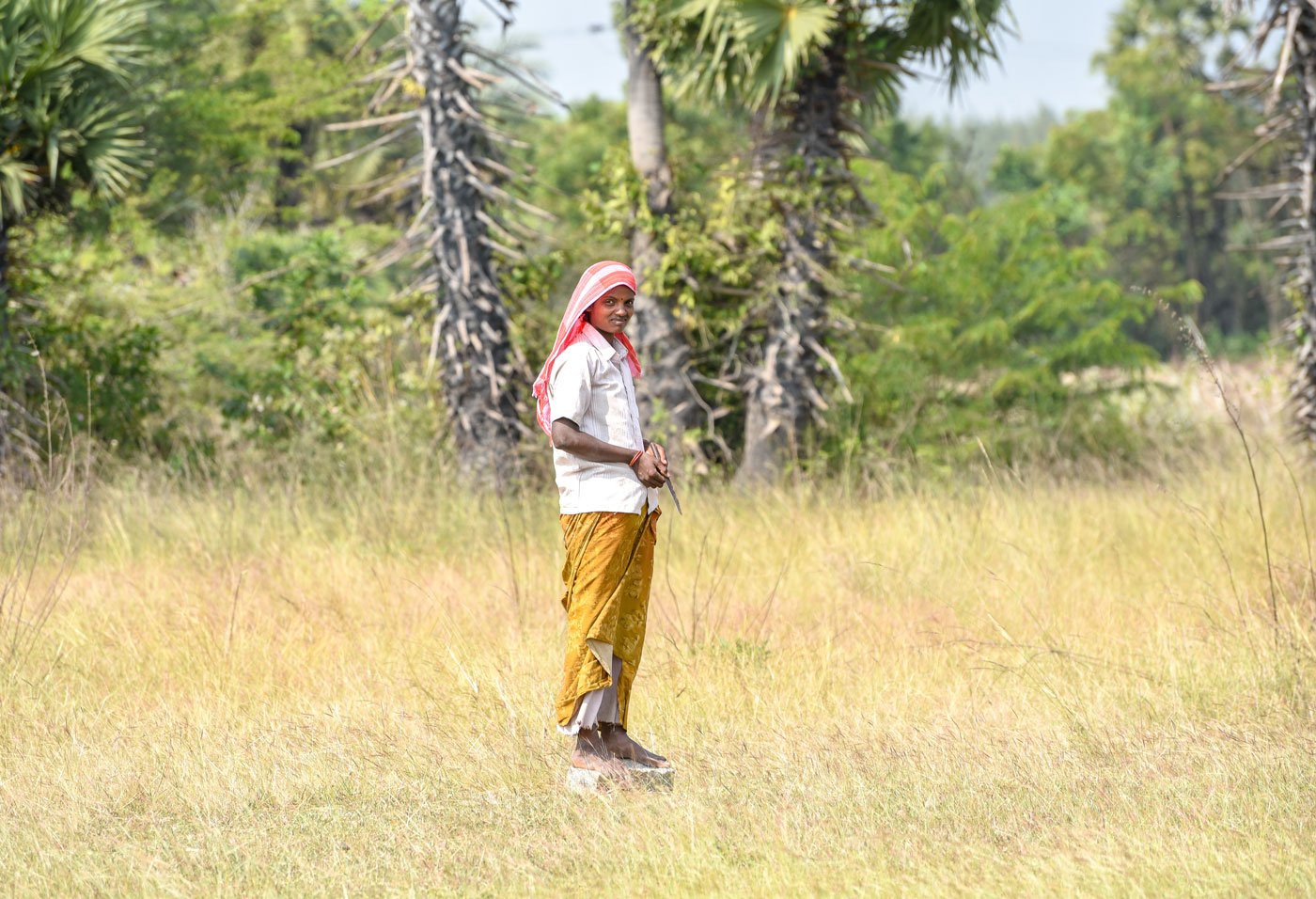 PHOTO • Smitha Tumuluru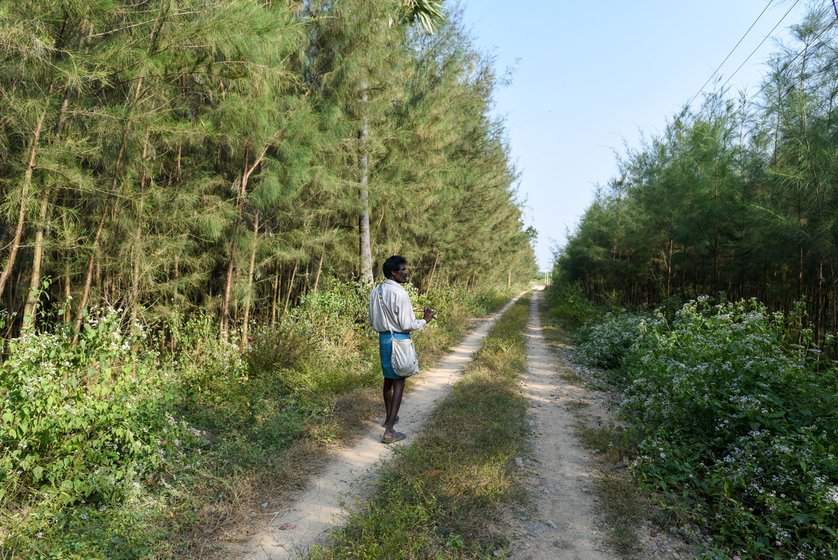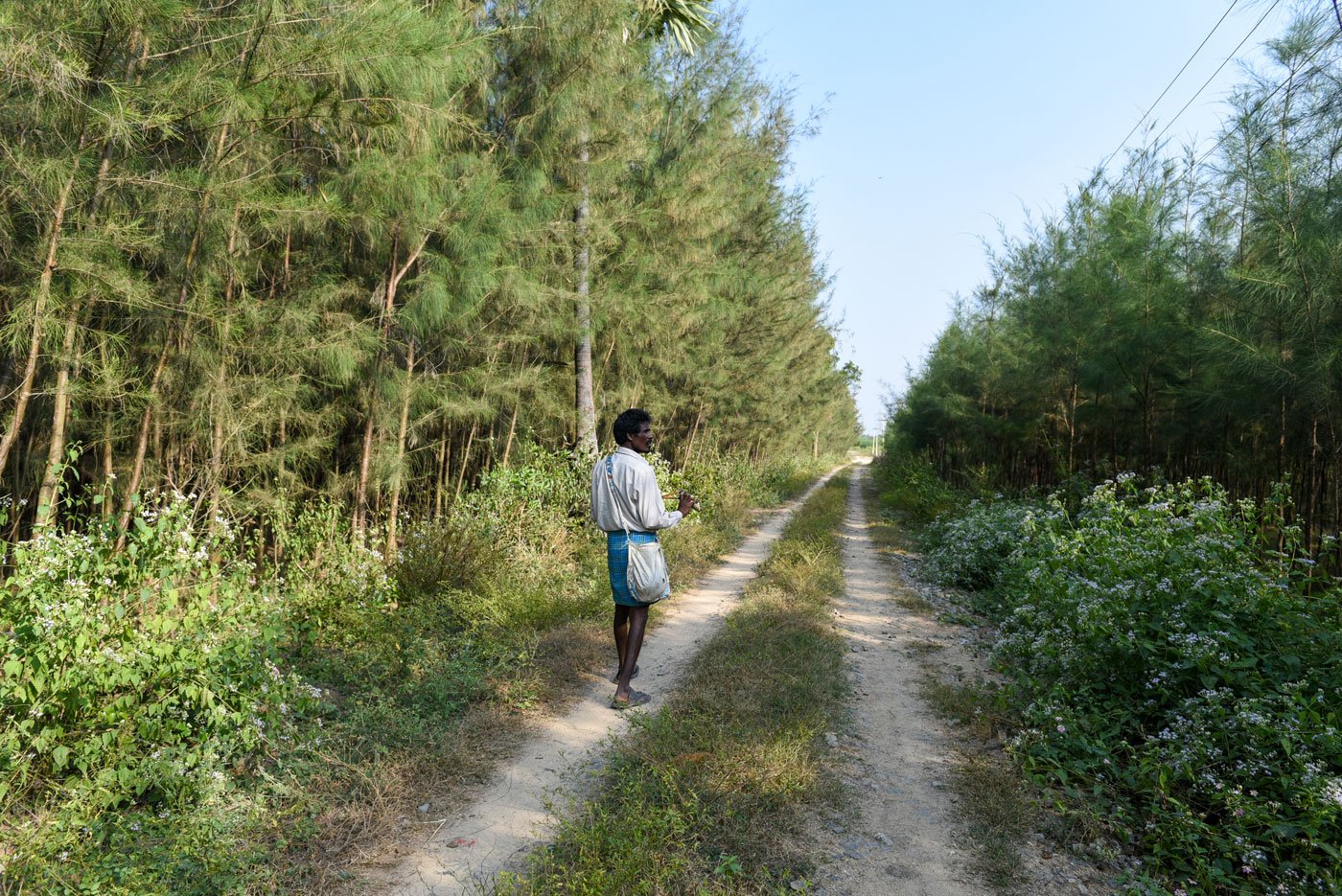 PHOTO • Smitha Tumuluru
Sometimes, they come across baby rats in the tunnels. Many of the Irula families of Bangalamedu adopt these as pets and playmates. R. Dhanalakshmi, a 15-year-old studying in Class 7, who attends Manigandan's after-school classes, still remembers her pet rat, Geetha, when she was 10. "I loved my rat," she says. "It was tiny and nice to play with."
While rat catching remains a regular activity, many of Bangalamedu's residents are no longer interested in consuming the paddy from the tunnels."Our people have got used to the taste of ration rice," says Manigandhan. "They prefer that now over paddy from the valai . I have seen many people pick the rats, but simply leave the paddy right in the tunnel or feed it to their hens instead."
Krishnan agrees that people in his hamlet now use rice from ration outlets more than rat-tunnel paddy. "We don't even get as much paddy from the rat holes as we used to earlier," he says. "Nowadays there is less rain, so paddy yield is also less. And they are building houses on farmland, so many are not farming as much as before."
The ration rice, he adds, is used now to cook daily meals. "But we use the rice from the rat tunnels to make something sweet. That rice smells different. Some may not like it, we like it…"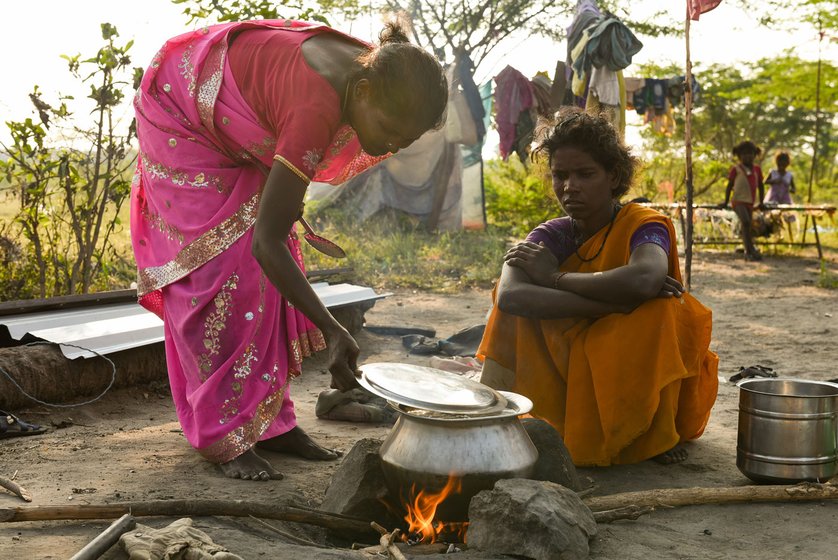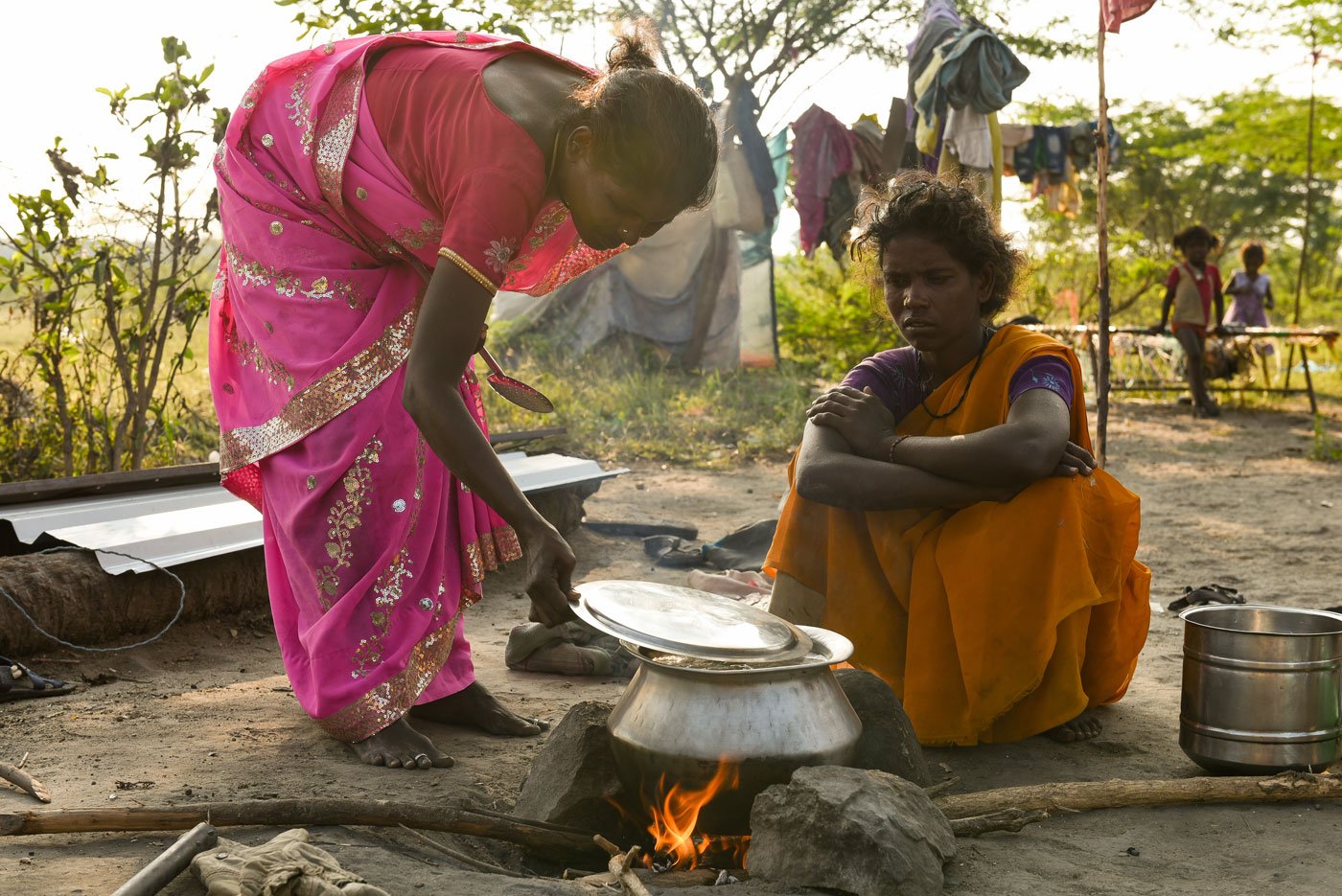 PHOTO • Smitha Tumuluru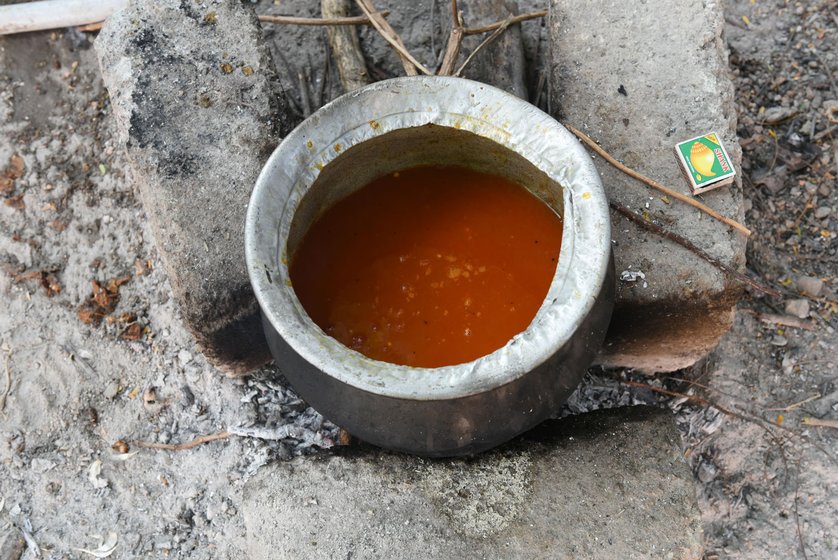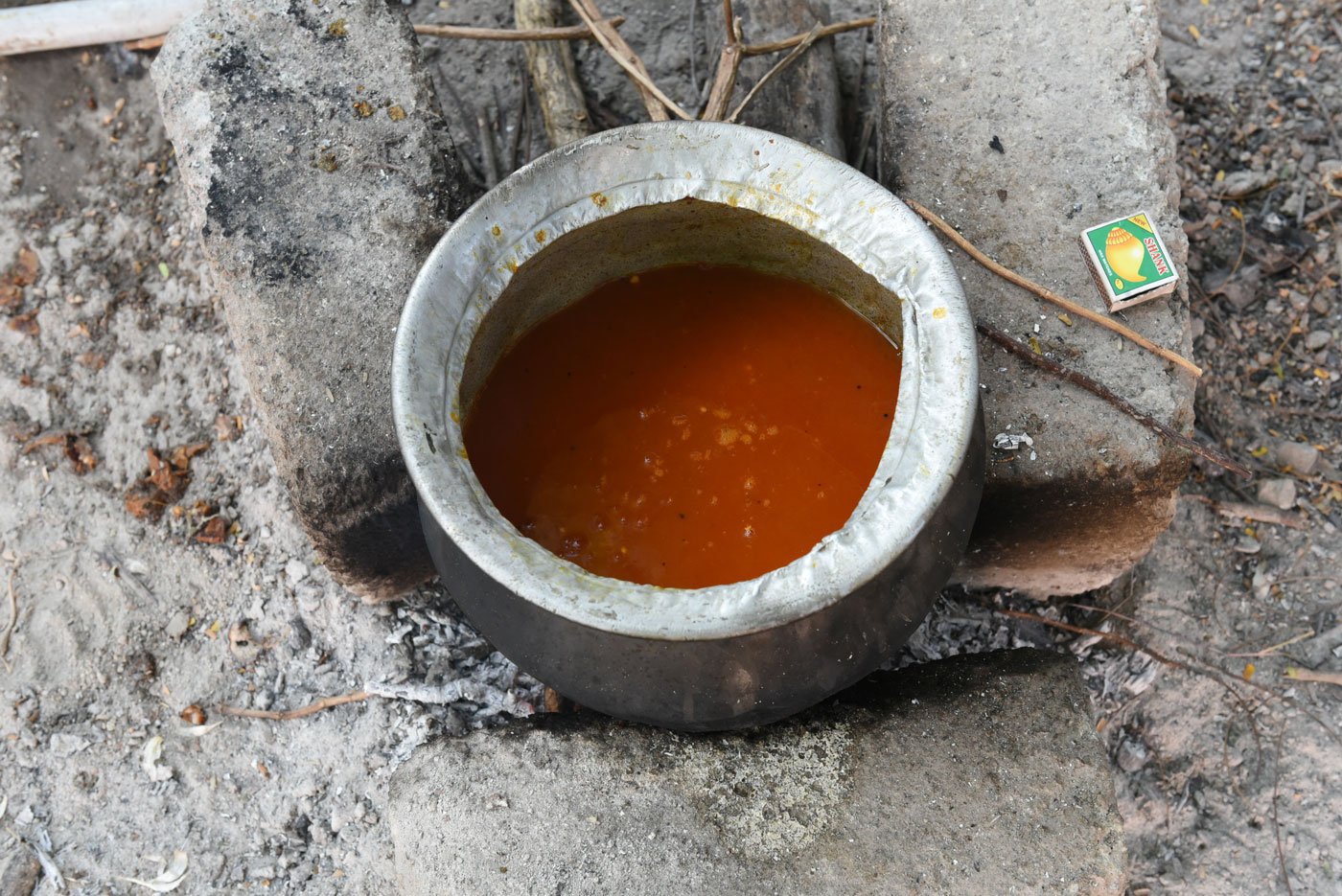 PHOTO • Smitha Tumuluru
But the groundnuts from the rat tunnels still remain sought-after. "Rats select mature groundnuts to hide away. These taste very sweet. We can also get oil out of it. Whether we get paddy or not, if there is groundnut planted [in a field] we definitely go to hunt rats there to collect it," says Manigandan. Sumathi and Krishnan agree wholeheartedly.
Manigandan recalls a rainy day years ago, when there was no food at home. His mother, G. Yellamma, now 60, determined to find something to feed her children, returned home with one annakudai (alarge aluminium vessel) of groundnuts dug out from the rat burrows.
Sumathi though still collects paddy from the tunnels. "The rice from the rat tunnels smells of the earth. It has a sweet taste and flavour. My friends recently used it to make kozhukattai [a sweet dish of freshly pound rice flour pouches stuffed with jaggery and coconut]."
And, she adds, "Even if there is nothing much at home [to eat], we can always find rats easily. We roast them over the fire and make kozhambu with the meat, with a few pieces of brinjal, tomato and onion. We eat it with rice. It is tasty and satisfying."