At the end of October last year, two slick LED television sets were mounted in two classrooms at the zilla parishad primary school in Sanja village. The gram panchayat had dispatched them for use as teaching-learning aids.
But the TV sets hang forlornly from the walls, their screens blank. Since March 2017, for two years now, the school has not had any electricity.
Sheela Kulkarni, the principal of the school in Maharashtra's Osmanabad district, says she does not know whether to laugh or cry. "The funds coming from the government are not enough. For a school with our enrolment number [a total of 40 students in two classes], we get only 10,000 rupees per year for school maintenance and to buy stationery for students . We will have to pay around 18,000 rupees to restore power supply."
The school's powerlessness dates back to 2012. At that time, says an official of the Maharashtra State Electricity Board, a  government resolution (GR) in Maharashtra said that zilla parishad (ZP) schools would henceforth be charged power tariffs at commercial rates (Rs. 5.86 per kWh) instead of domestic rates (Rs. 3.36 per kWh).
The electricity bills of schools shot up. By the end of 2015, the power supply was cut off in 822 of 1094 ZP schools in Osmanabad district, says Sanjay Kolte, the chief executive officer of the Osmanabad zilla parishad . By October 2018, Kolte says, the dues had crossed Rs. 1 crore, and 70 per cent of schools in the district were operating without electricity.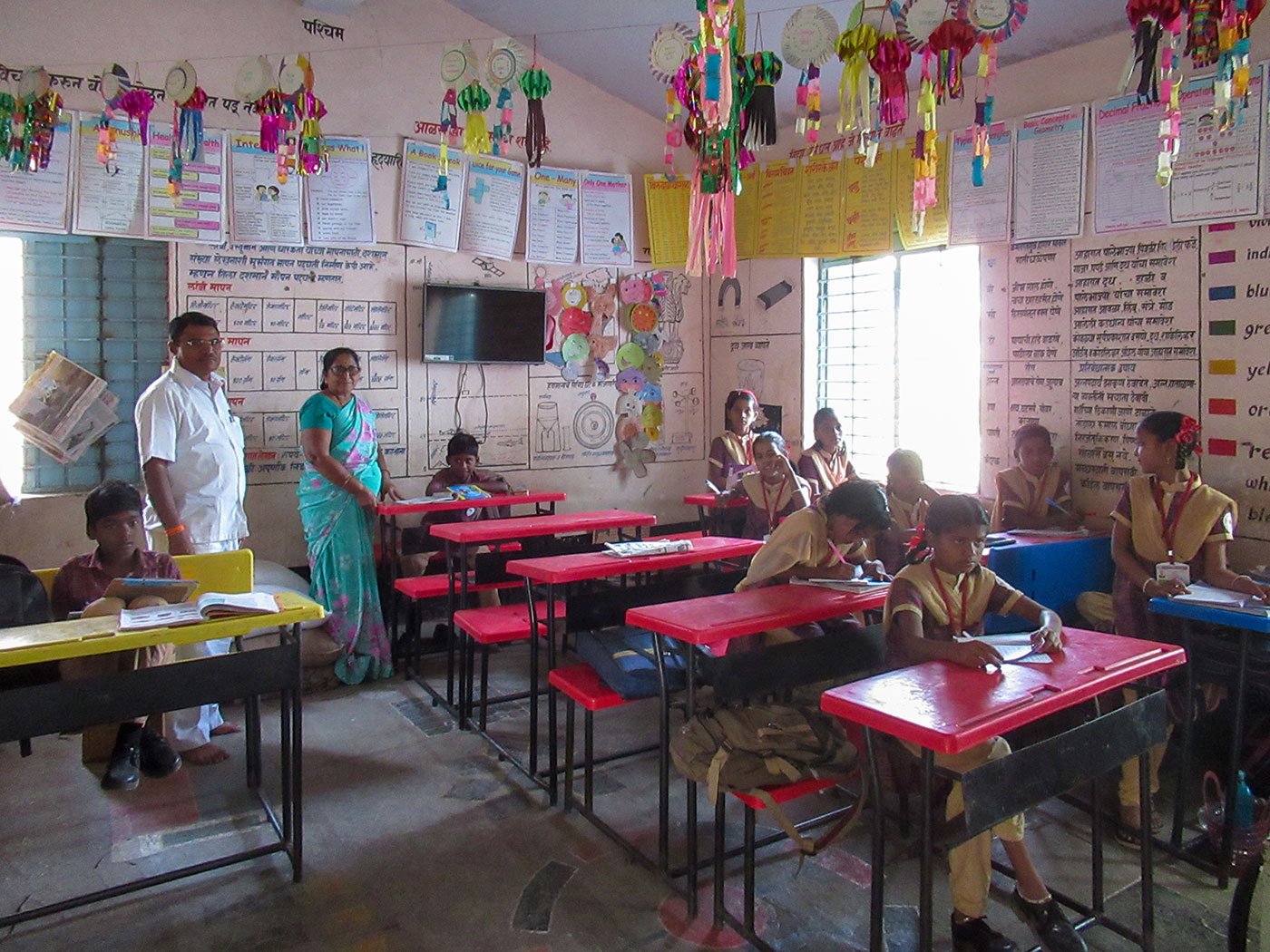 PHOTO • Parth M.N.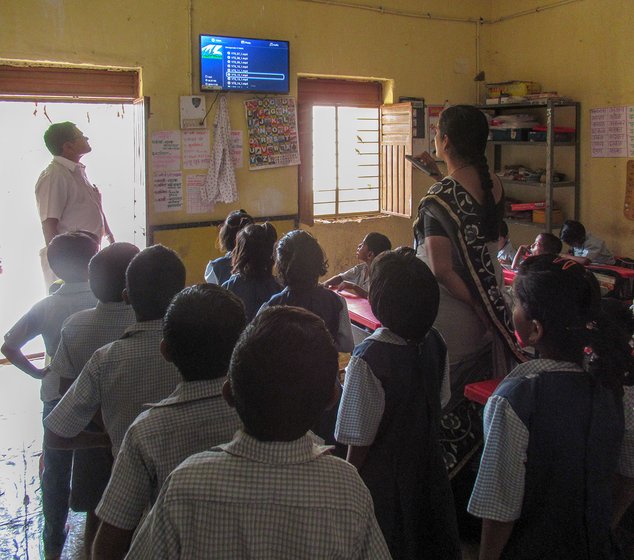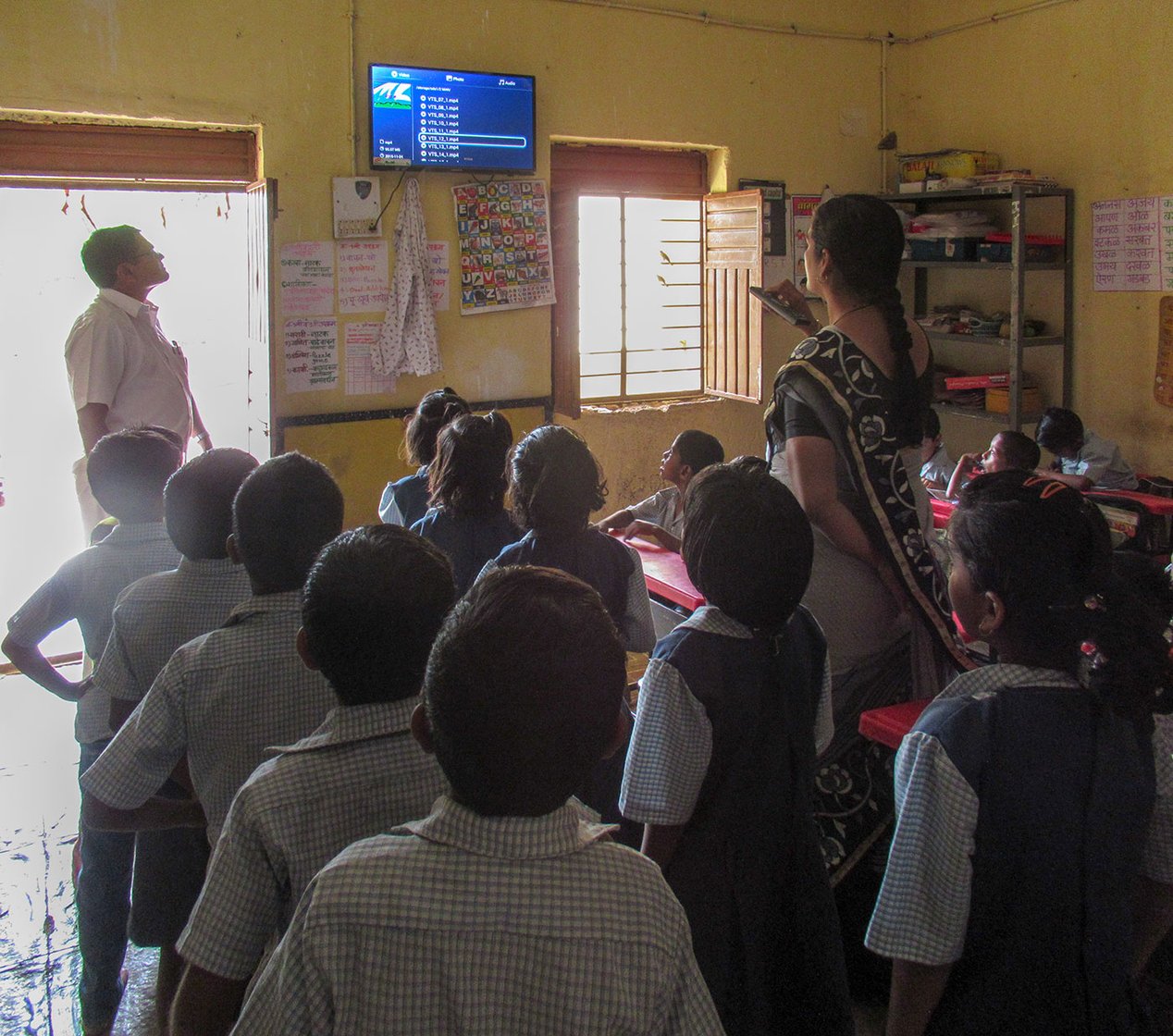 PHOTO • Parth M.N.
Rajabhau Giri, supervisor of 30 ZP schools in Osmanabad, says around 30 per cent – or 320 schools—of 1092 schools in this district are using solar power. These panels were installed at a cost of around Rs. 1 lakh in each school; some of the money came from ZP funds, the rest from public donations.
Schools in other parts of Maharashtra are also struggling with unpaid bills. In Aurangabad district, 1,617 of 2,190 ZP schools reportedly remained without electricity (at the time of field reporting here in February), compelling the zilla parishad to tap into solar power.
In July 2018, Nationalist Congress Party legislator Shashikant Shinde, reportedly told the state Assembly that 13,844 schools in Maharashtra do not have electricity. Activists working in the education sector believe it is a conservative estimate.
Responding to the claim, Education Minister Vinod Tawde had declared in the Assembly that the state has drawn up a scheme to supply electricity to schools at lower rates. But the scheme does not seem to have materialised on the ground.
Most of the students at ZP schools in Maharashtra are from farm families, Adivasi communities, and other low-income groups.  Zilla Parishads are district councils, which took over primary education in Maharashtra in 1961-62. But successive state governments have neglected the schools, and placed good quality education beyond the reach of the poor.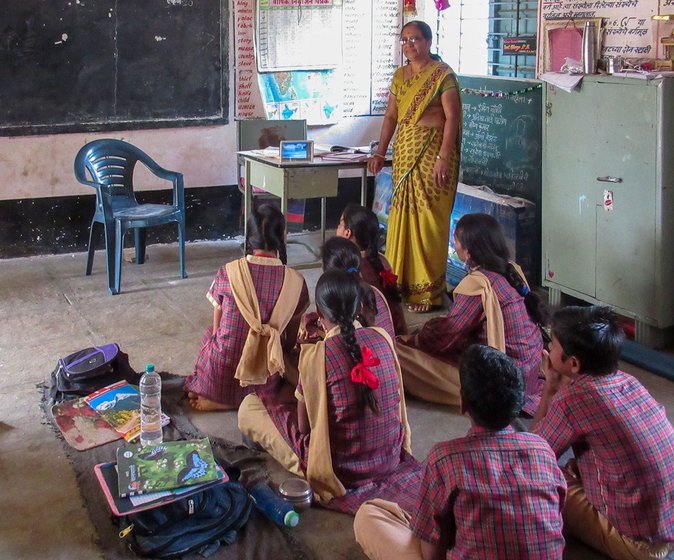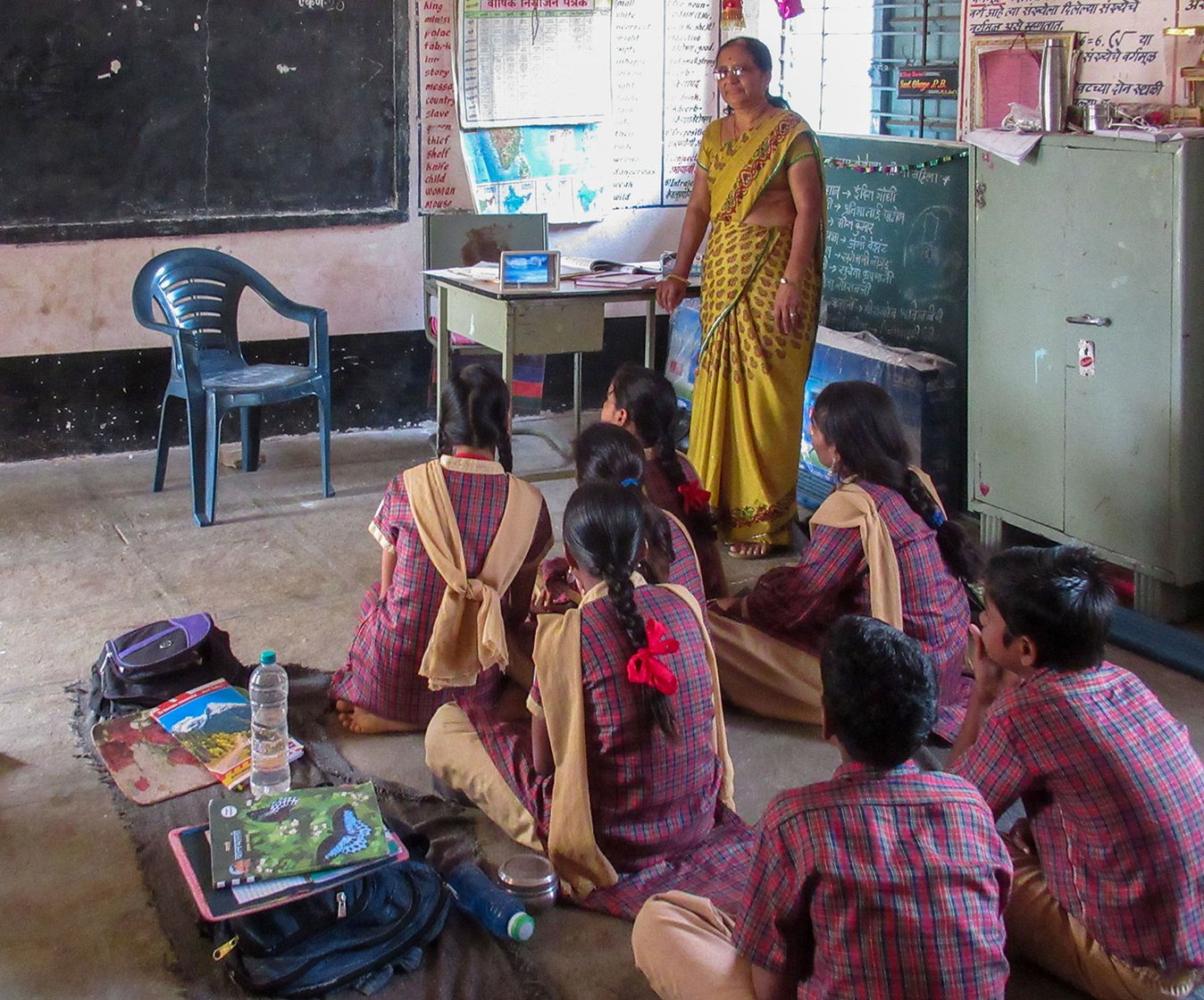 PHOTO • Parth M.N.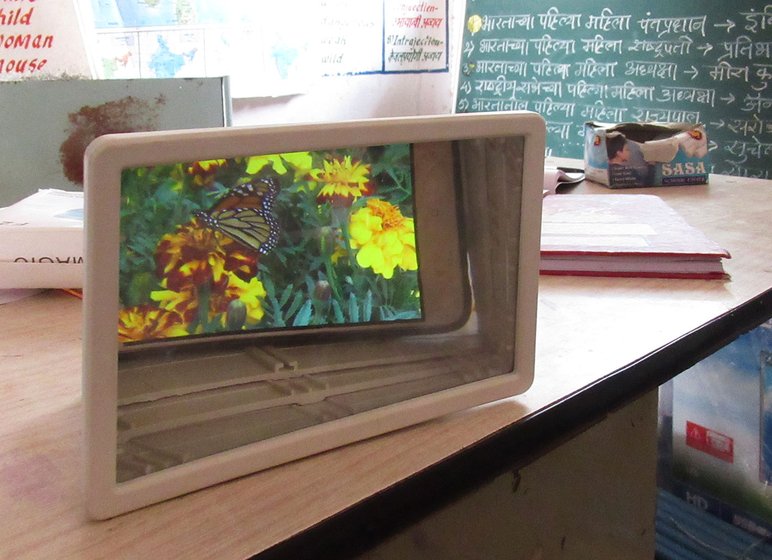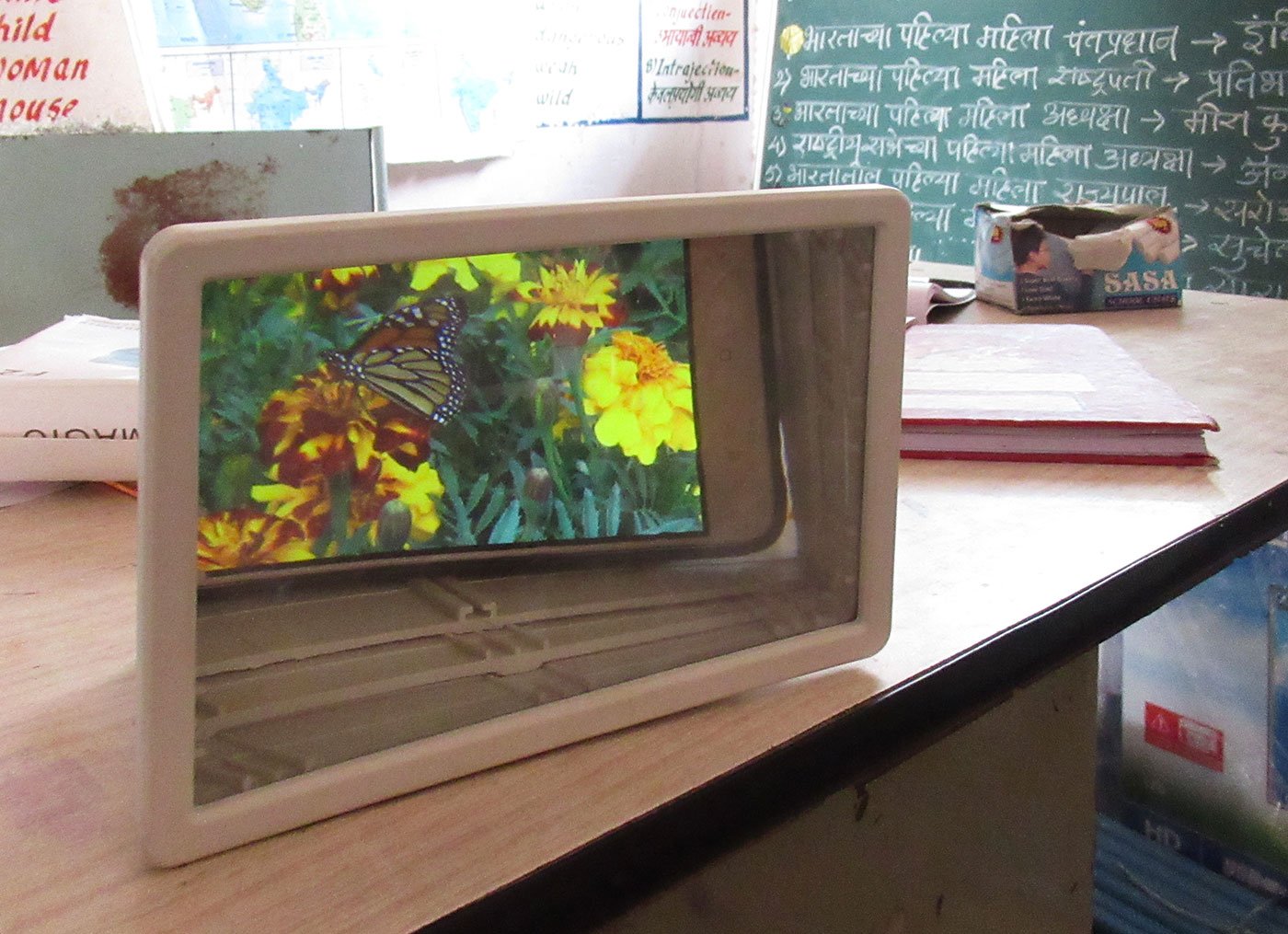 PHOTO • Parth M.N.
The neglect is evident in the data: in 2008-09, the amount allotted for school education was almost 18 per cent of the total expenditure of the state government. In 2018-19, it was down to 12.68 per cent, indicating a steady decline.
An analysis done by a Mumbai-based NGO, Samarthan: Centre for Budget Studies, of the state government's budgets of the past six years says: "In 2000, the state government had promised the expenditure on education would be 7 per cent of the state's GSDP, and 75 per cent of it would be used for primary education." But, the paper states, the average allotment for primary education has only been 52.46 per cent. And the expenditure on education, since 2007-08, has been under 2 per cent of the GSDP.
The neglect and funds crunch has real outcomes. In 2009-10, ZP schools in the state had over 1.1 million students in Class 1. Eight years later, by 2017-18, there were only 123,739 students in Class 8 – that is, 89 per cent of the students dropped out in between. (These are numbers obtained through a query that I filed in June 2018 under the Right to Information Act).  (See Sometimes, there's no place like school )
Meanwhile, at the Sanja ZP school, students sit with their backs to a silent TV screen, facing their teacher Parvati Ghuge. She has a gadget, bought from a local market for around Rs. 1,000, which magnifies the size of a mobile phone screen. The ceiling fans above are still, everyone is drenched in sweat, but the students valiantly try to concentrate on a video of a poem in Marathi being recited on the mobile screen.  "We spent our own money to buy it," says Ghuge, about the screen magnifier.
Trying to counter the lack of funds, other teachers have also chipped in from their own pockets. In Osmanabad town, teachers at the ZP school for girls take their students to a cyber café, while an 'e-learning' room created at the school gathers dust.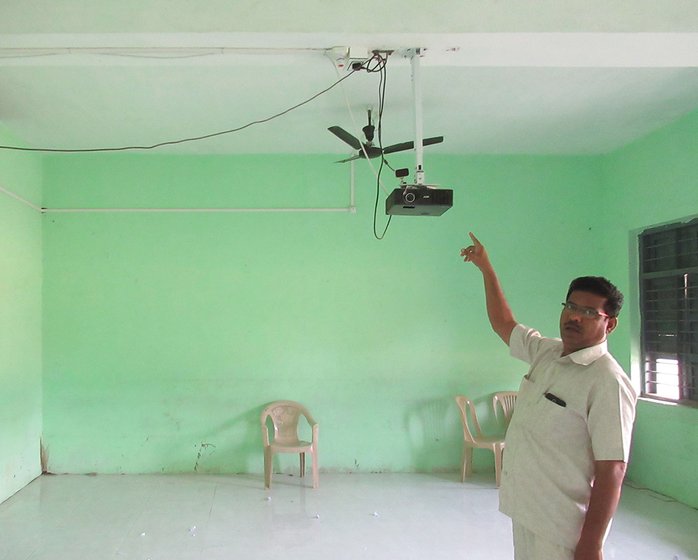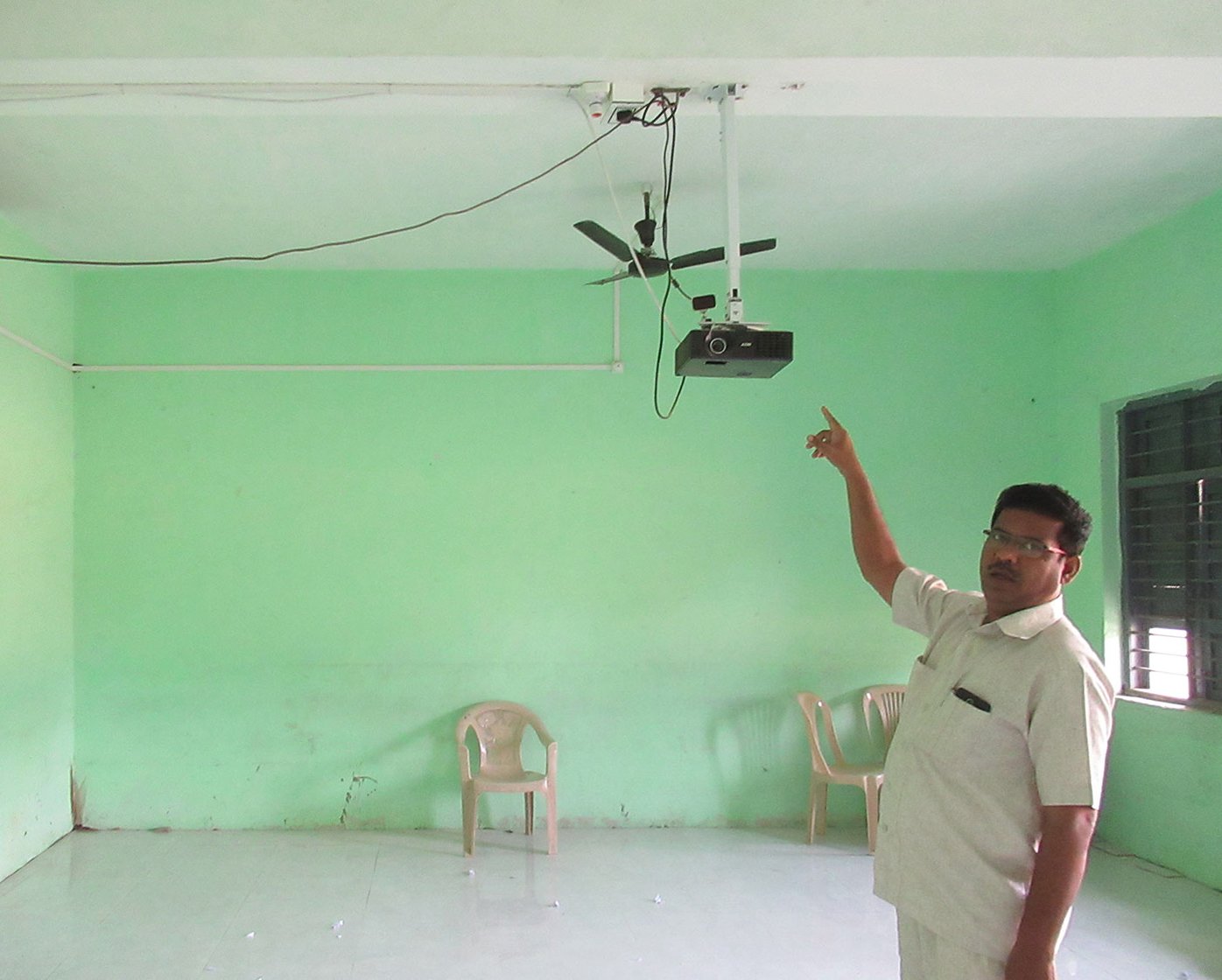 PHOTO • Parth M.N.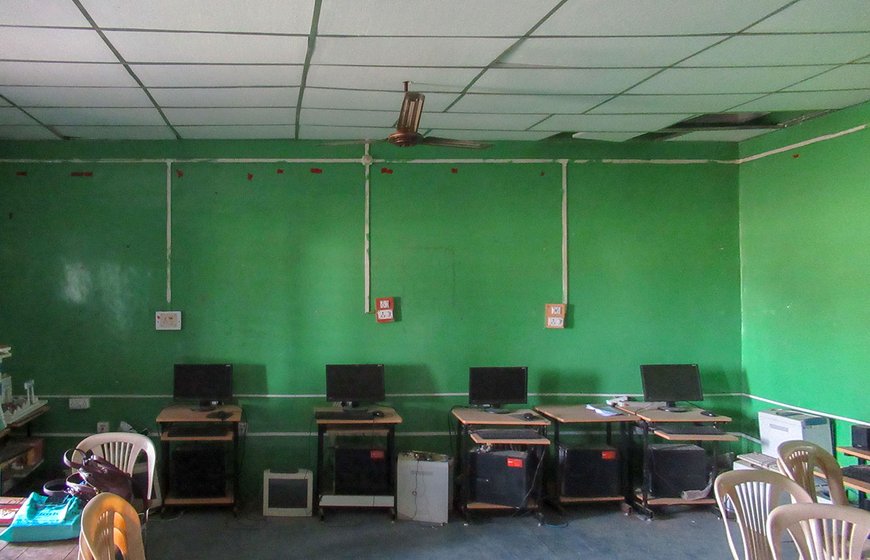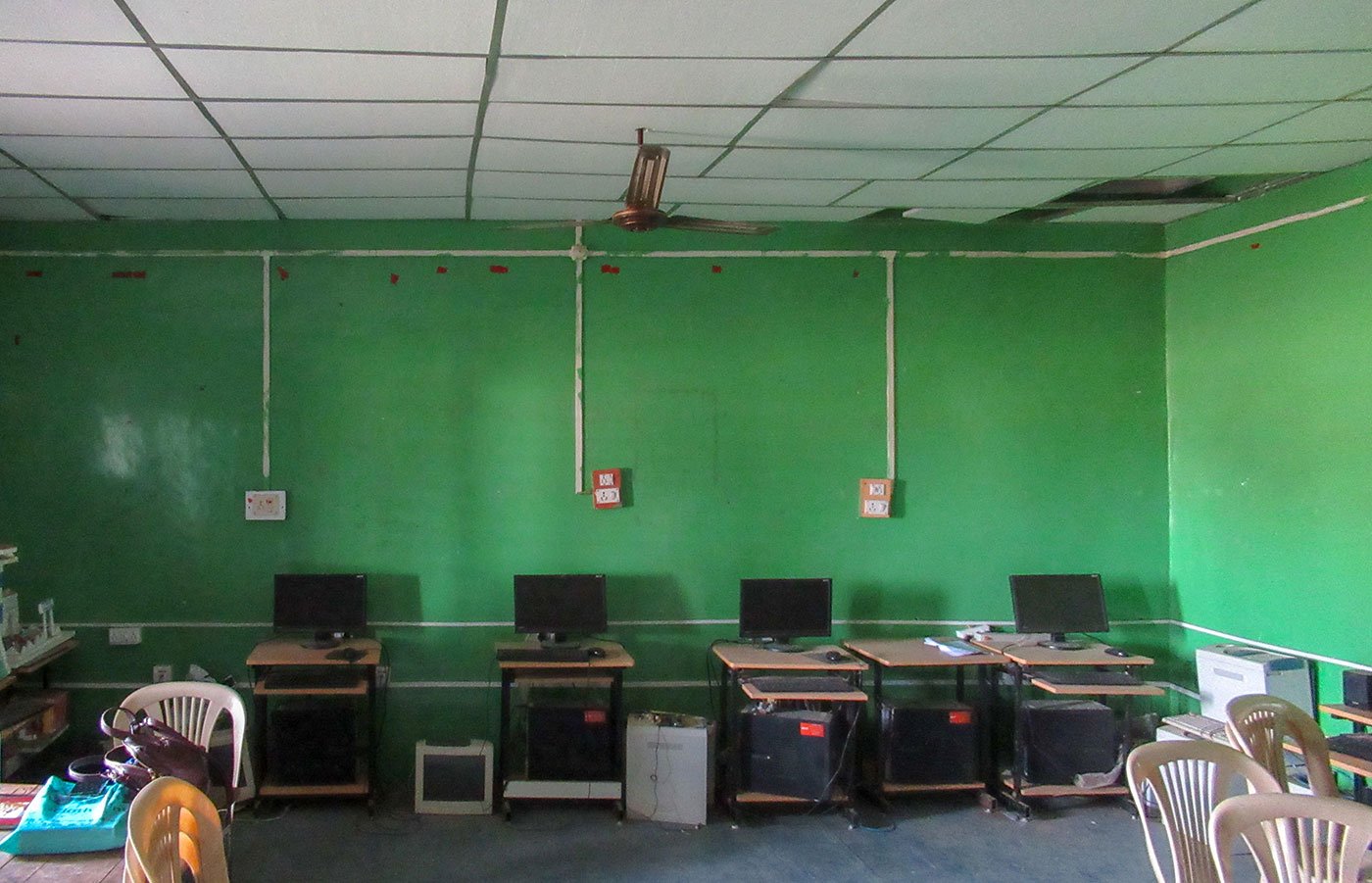 PHOTO • Parth M.N.
"All state scholarship [applications] are now online," says teacher Tabassum Sultana, sitting in the e-learning room with 10 computers and printers covered in dust. "Our power has been cut since August 2017. We cannot risk the students' careers because the school has no electricity." For a while, the school tried to get electricity from an adjacent construction site, but that too soon stopped.
Bashir Tamboli, another teacher, says unpaid electricity bills of the ZP school in Osmanabad town are over Rs. 1.5 lakhs. "We had purchased a projector for interactive learning," he says, pointing to a classroom where the blank projector is hanging on a static ceiling fan.
Rajabhau Giri, supervisor of 30 zilla parishad schools in Osmanabad , says the lack of funds mean several schools don't have security guards, clerks or cleaners. Teachers and students have to pitch in for some of these tasks, including cleaning the classrooms. "Parents do not like that," he says. "Even the toilets in several schools are not as good as they should be, and are too few. Many are without running water. It is particularly tough on girls, especially when they grow up and start menstruating."
At Yedshi village of Osmanabad, 18 kilometers from Osmanabad town, three ZP schools are next to each other, with a common playground in between. There are just three toilets for the total of 290 students, more than 110 of them girls. "And even these don't have water," says Vitthal Shinde, 35, a labourer, whose seven-year old daughter, Sandhya, studies in one of the schools. "She is young, so managing somehow. What will happen when she grows up?"
Osmanabad district is drought-prone and usually struggling for water. With the present severe drought, borewells have run dry, and the school is forced to manage on the 500 litres a day that the gram panchayat provides. Sandhya, standing next to her father, says the queue outside the school toilet is always long. "Everyone lines up in recess," she adds, as some boys play cricket on the ground while two girls carefully fill a mug of water from a tanker and enter the toilets. "Sometimes, the line is too long. So we fill up a bit of water in the bottles and go to an open ground near the market."
Her father adds that the kids know they have to use the toilet as infrequently as possible.  "But the schools start at 10 a.m., and end at 4 p.m.  It is a long time, and it is not healthy."
PHOTO • Parth M.N.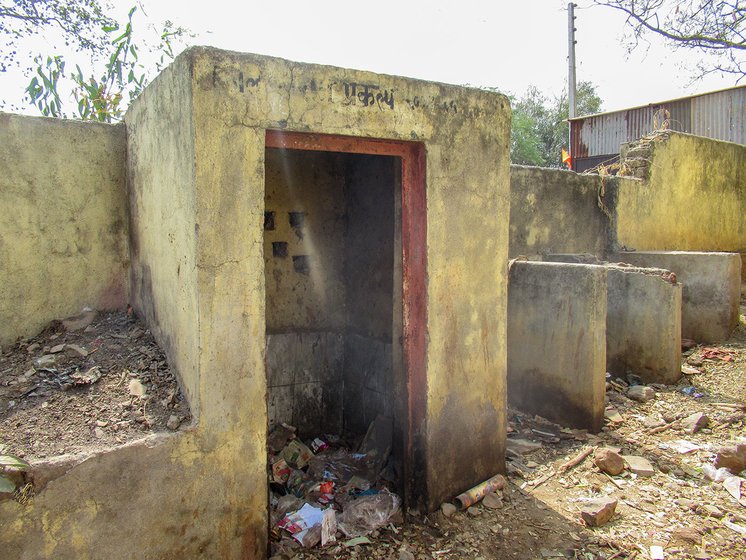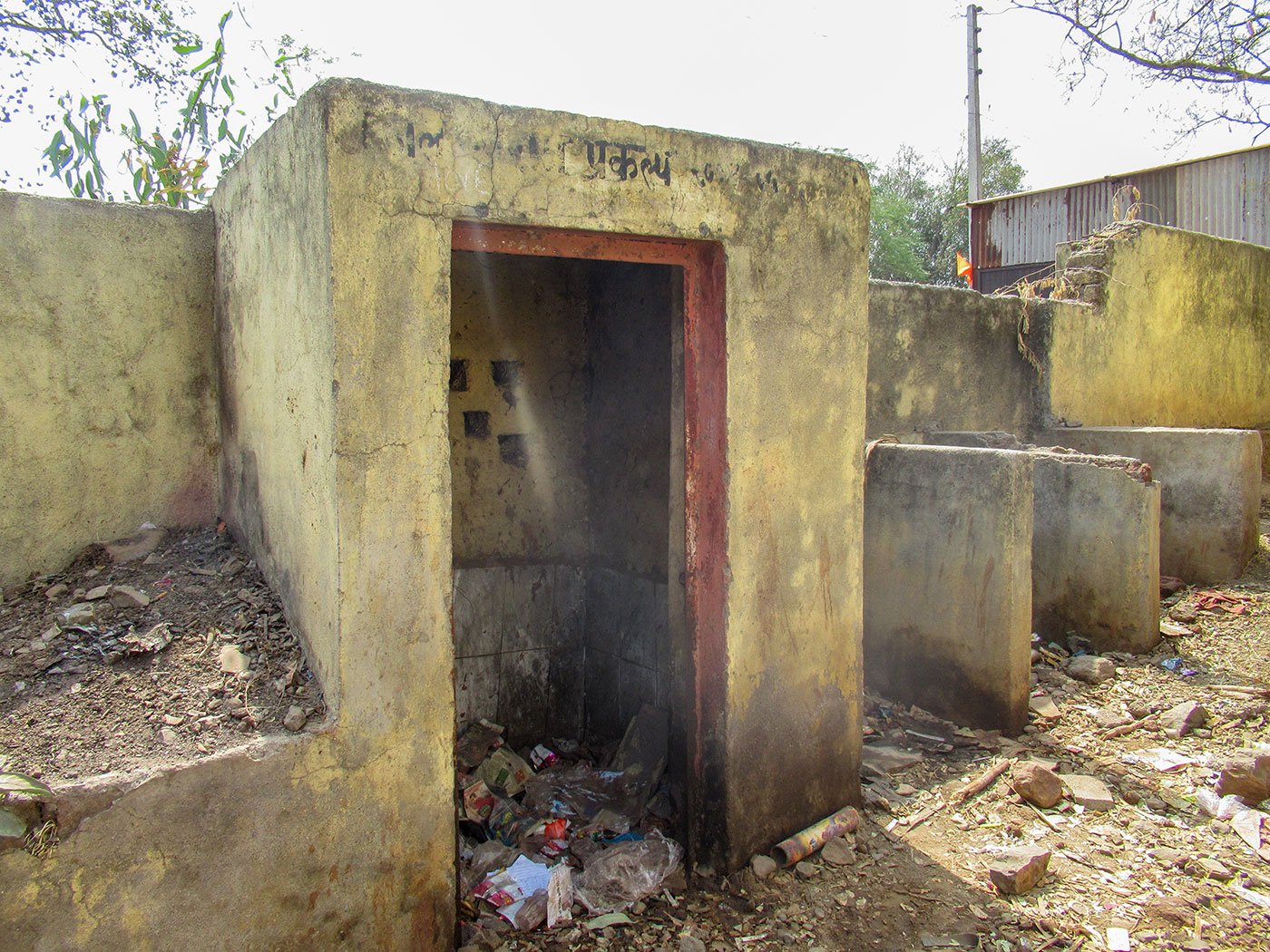 PHOTO • Parth M.N.
Students also carry their own drinking water, because that too is a problem during drought. (See Small meal, big deal for hungry students ) "One day, school ran out of water," says Sandhya. "So we went to a hotel to drink water. Looking at so many students, the hotel owner denied us water."
When teachers complain about the lack of funds, says Bhau Chaskar, activist and teacher at the ZP school in Virgaon village of Akola taluka in Ahmednagar district, "we are told to solicit donations from the community." But the state-wide transfers of teachers in June 2018 have hindered donations. In Ahmednagar, 54 per cent of ZP teachers received transfer orders, says the district's education officer Ramakant Katmore. As a result, Anil Mohite, a teacher based in Akola town, was transferred 35 kilometres away to Shelvihire village. "I don't know anyone in Shelvihire, neither does anyone there know me," he says. "How do I convince them to donate for the school?"
The impact of the poor infrastructure on learning and education is long-term. The Annual Status of Education Report shows that 74.3 per cent children in Class 5 in government schools of Maharashtra could read only Class 2 text in 2008. Ten years later, that number declined to 66 per cent.  A 2016 survey by IndiaSpend, a data analysis portal, showed that almost 59 per cent of the students across the country preferred private schools over government schools citing "better environment for learning" at the primary level.
However, some schools are doing well despite the government's neglect, because of dedicated teachers and helpful villagers. (See 'I don't feel like I'm a teacher' ) At the Saknewade ZP school in Osmanabad, which too had its power cut off, an electricity pole stands right outside. The school taps its power from the pole – not entirely legally, but with the consent of villagers.
The television sets here are working, and 40 students, all 6 and 7 year old, learn the poems and stories they watch on TV. As I enter the classroom, they say "good afternoon" and their teacher Samipata Dasfalkar turns on the TV, inserts a pen drive, and asks the students what they want to watch. Each has their preference, but the consensus is for a poem on water and the monsoons. Students sing along and dance as it plays on the screen. In drought-prone Osmanabad it has a special resonance for them.