"Chutney, chutney fry!"
It's red ants that make good chutney here in Kanubari, located at the foothills of the Patkai mountains in Arunachal Pradesh. A handful of bright gleaming red ants, placed on a bed of leaves, is selling for Rs. 20 in the weekly market on this wet and rainy July morning.
"There are varieties of ants," says Pobin Kurmi, a resident of Kanubari. "The amloi [red ants] are widely preferred as they are easier to catch than black ants. Their bite doesn't harm much and they're found on mango and jackfruit trees." Arunachal Pradesh is home to Oecophylla smaragdina also called the Asian weaver ant.
Ten-year-old Nayanshila and nine-year-old Sam, students from Mahabodhi School where I'm teaching for a few weeks, describe to me the process of catching ants. "After identifying the nest of ants on a branch of a tree, you cut it and then put it in boiling water. Those dead ants are then separated from the leaves and soil, and dried." They can then be fried to make chutney which, my students inform me, tastes a little sour.
It's the Thursday weekly market held here in Kanubari block of Arunachal Pradesh's Longding district. The other big market available to Kanubari residents lies 70 kilometres away, so the locals prefer to shop for their daily necessities here. The Assam border is also less than a kilometre away and residents from the neighbouring state also visit to buy and sell their produce.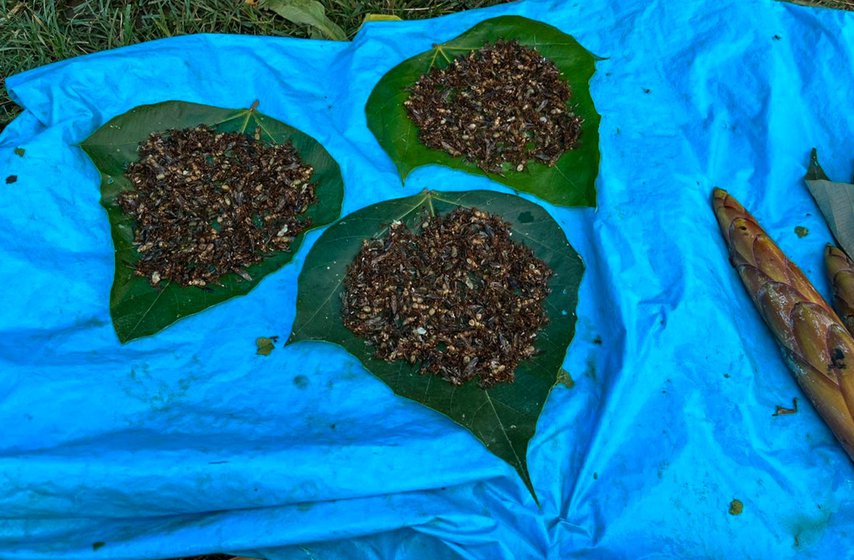 PHOTO • Dnyaneshwar Bhalerao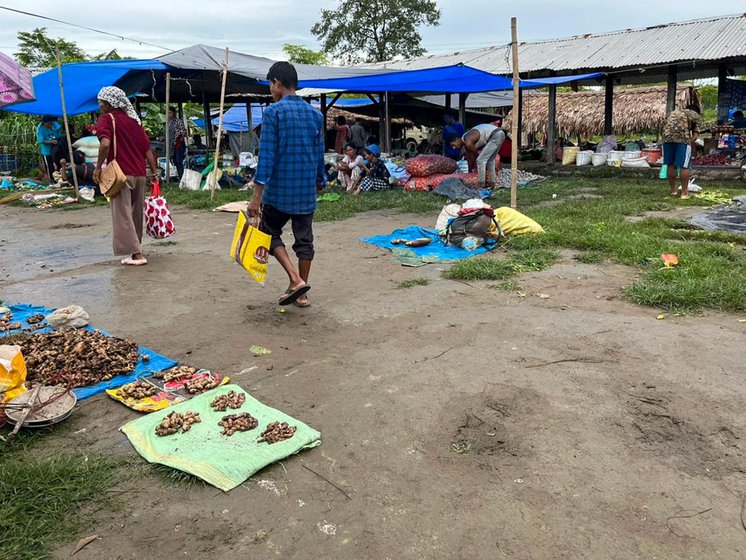 PHOTO • Dnyaneshwar Bhalerao
Mr. Chitra, a teacher at the Mahabodhi School in town, remembers going to the market as a young child back in 1985. "Things sold back then would be grown on people's farms without any chemicals, in their pure form," he reminisces.
Despite the rain, cobblers are busy repairing shoes, chappals and umbrellas, lining a small road that leads into the market area. They are seated alongside vegetable and fruit sellers, fish and meat vendors and more.
Every corner of the market is marked by paan thelas [tobacco shops]. Jayato Bashin, tobacco vendor from Charaideo district in Assam points out to me the different varieties of dried tobacco, "the brown one is usually chewed with chuna [lime] and the black is eaten with paan [betel leaves] brought from Bihar."
Besides the regular produce like potatoes, tomatoes and onions, brought in from other parts of the country, many local vegetables turn up here: ferns, kacchu [taro root], bamboo shoot, banana trunks, garlic, green and black pepper, cucumber and the famous king chilli.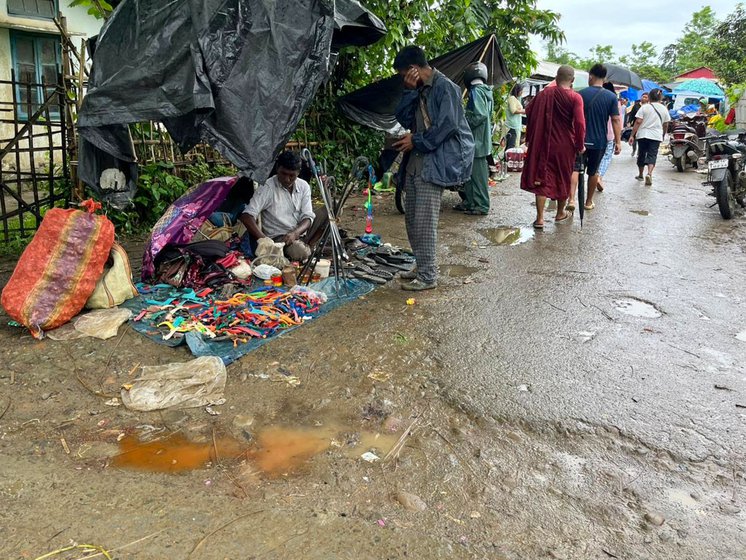 PHOTO • Dnyaneshwar Bhalerao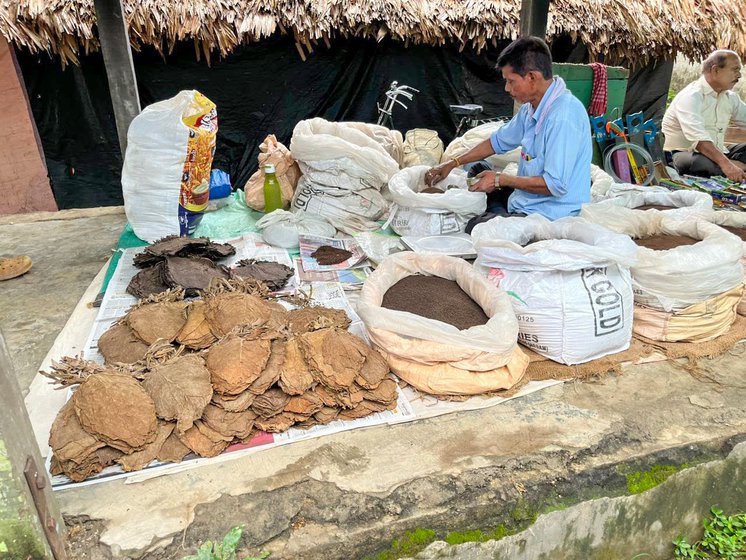 PHOTO • Dnyaneshwar Bhalerao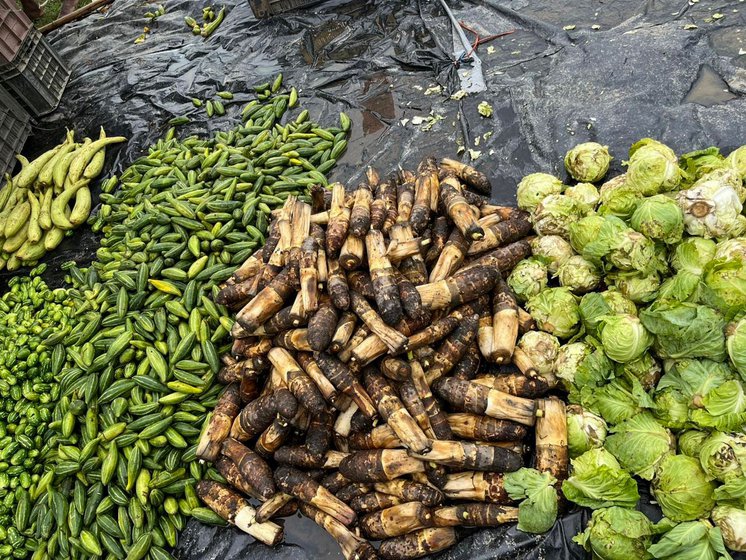 PHOTO • Dnyaneshwar Bhalerao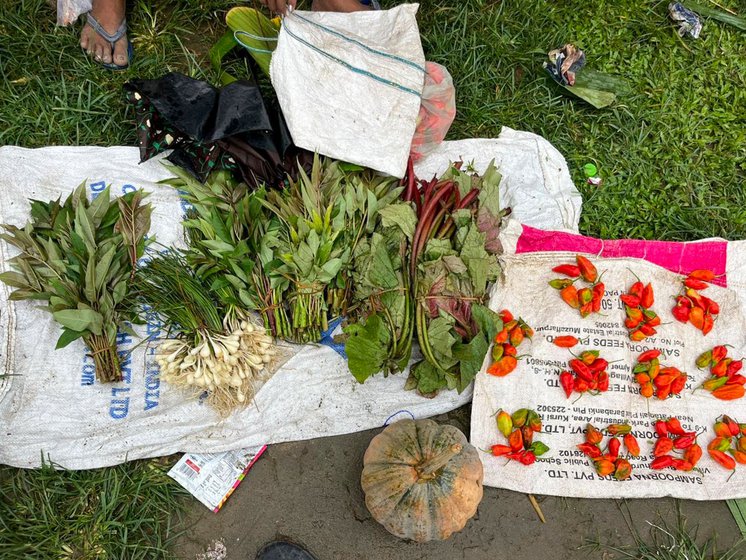 PHOTO • Dnyaneshwar Bhalerao
Vendors selling in bulk quantities are from nearby regions of Sapekhati and Sonari in Assam while the smaller sellers are local farmers. Sitting in the open spaces or in the shade of tin-roofed verandas, they line-up their wares on tarpaulins or sheets made of old fertiliser sacks sewn together. Local vegetables sell quickly.
"Pork is one of the preferred meats here as it is cheap and tasty too," says Pomsen Labram, 26, who is accompanying me to the market. Fresh as well as dried meat and fish, including pork, duck, prawns and crab can be found in plenty at the market.
Catching everyone's eye is the bright red stack of thumb-sized red chillies – king chillies or ghost pepper also known as bhut jolokia in Assamese and bongan hingbu in the language of the Wancho tribe living in Longding. The chillies, once regarded the hottest in the world and still the hottest in India, are arranged either in large piles or in small bunches of 6-8 pods.
"
December-January
mein lagate hain aur 3-4 mahina baad usko mircha aata hai
[We plant the chillies in December-January and they start giving yield in 3-4 months]," informs Basant Gogoi, a seller from Charaideo district in Assam.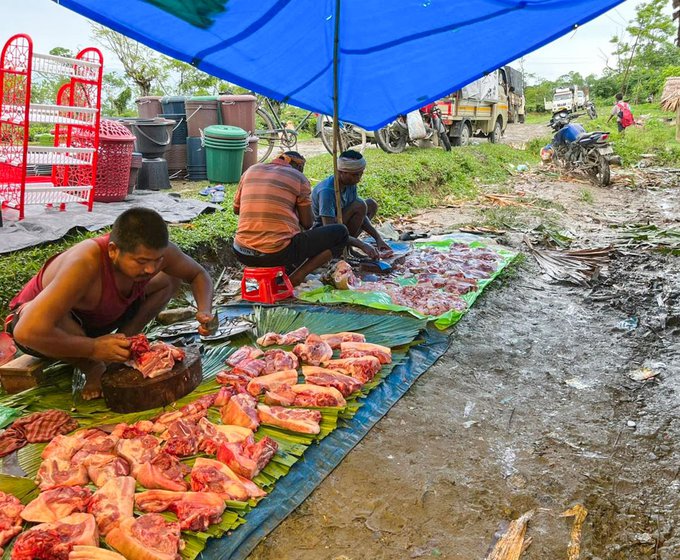 PHOTO • Dnyaneshwar Bhalerao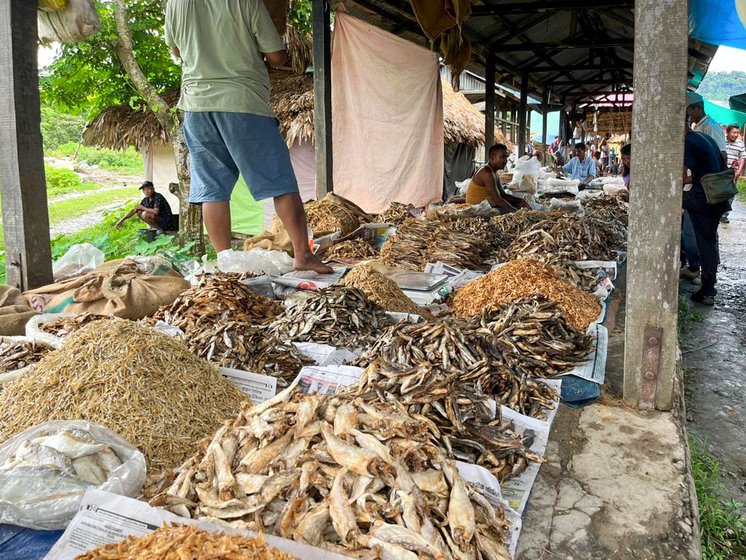 PHOTO • Dnyaneshwar Bhalerao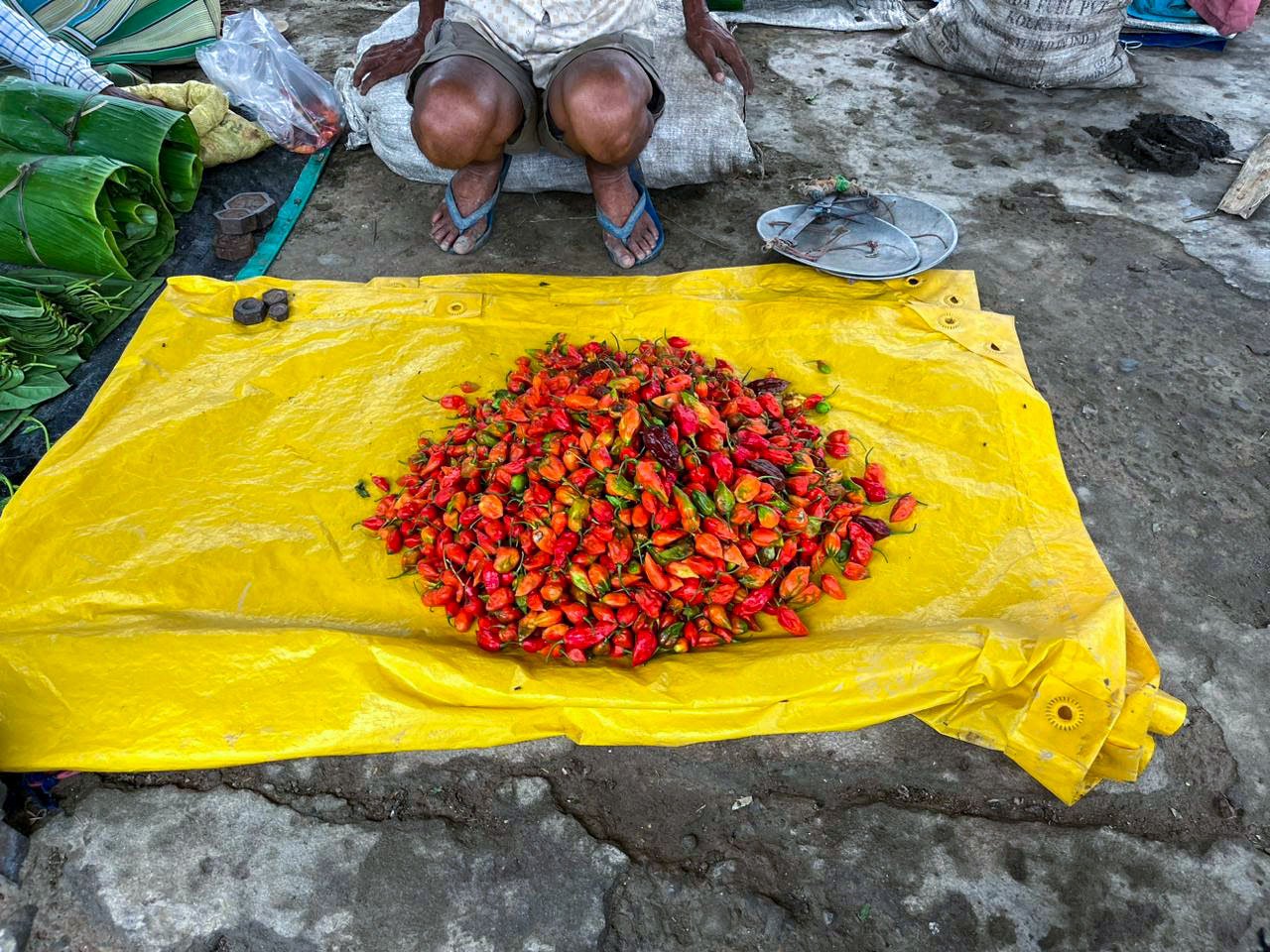 PHOTO • Dnyaneshwar Bhalerao
A farmer, Gogoi grows king chilli in one bigha of his 11-12 bighas (or 1.5 hectares) of land. He shares that due to the plant's pungency and hotness, animals do not harm the crop, " lekin baarish hi jyada nuksan karta hai [but the rain does]." Heavy rain washes the young flowers and affects the yield.
"There are varieties of king chilli," says Basant. "The ones from Nagaland are hotter. The spice of the ones we grow has reduced. It was more spicy in our childhood." He picks chillies twice a week and sells them for Rs. 20 per 6-8 pods. These bring him around Rs. 300 to 500 every week.
Basant also grows tea, tamul [areca nut], pears, turai [edge gourd], bhat karela [spiny gourd], kaji nemu [Assam lemon] and a few other things on his land. Every Thursday, the farmer cycles 10 kilometres from his village Boka Pothar in Assam to Kanubari. Leaving home at five in the morning, he reaches the market an hour or so later. Setting up his small shop, he waits till half-past one in the afternoon to sell all his produce before returning home.
The farmer also sells his produce at the Kherbari Sunday market – a smaller market closer to his home in Charaideo. But he especially likes to come to the Kanubari market.
" Jab se hume samajhne laga tab se yaha aate hai. Ek baar bhi nahi aaye toh accha nahi lagta [I have come here as long as I can remember. It feels odd if I miss even a single visit]."