"They would have killed me..." says Aruna, 28, with a dazed look on her face as she watches her six-year-old daughter playing nearby. 'They' were members of Aruna's family, and they could not fathom why she behaved the way she did. "I would fling things. I wouldn't stay at home. Nobody would come near our house…"

Often, she would wander off in the hills near her home, in Kancheepuram district of Tamil Nadu. And while some would run away from her, fearing she might hurt them, others threw stones at her. Her father would bring her back home, and, at times, tie her to a chair to stop her from going out.

Aruna (not her real name) was 18 years old when she was diagnosed with schizophrenia. The illness affects how she thinks, feels and behaves.

Sitting outside her home in the Dalit colony in Kondangi village, in Kancheepuram's Chengalpattu taluk , Aruna breaks off the conversation about the tough days. She moves away suddenly. Clad in a pink nightie and sporting closely cropped hair, the tall, dusky woman stoops while walking. She enters her one-room thatched hut and returns with a doctor's prescription and two tablet strips. "This one puts me to sleep. The other one is to prevent nerve-related problems," she says, showing the tablets. "I sleep better now. I go to Sembakkam [primary health centre] every month to get the medicines."

Aruna's illness might have remained undiagnosed if it hadn't been for Shanthi Sesha.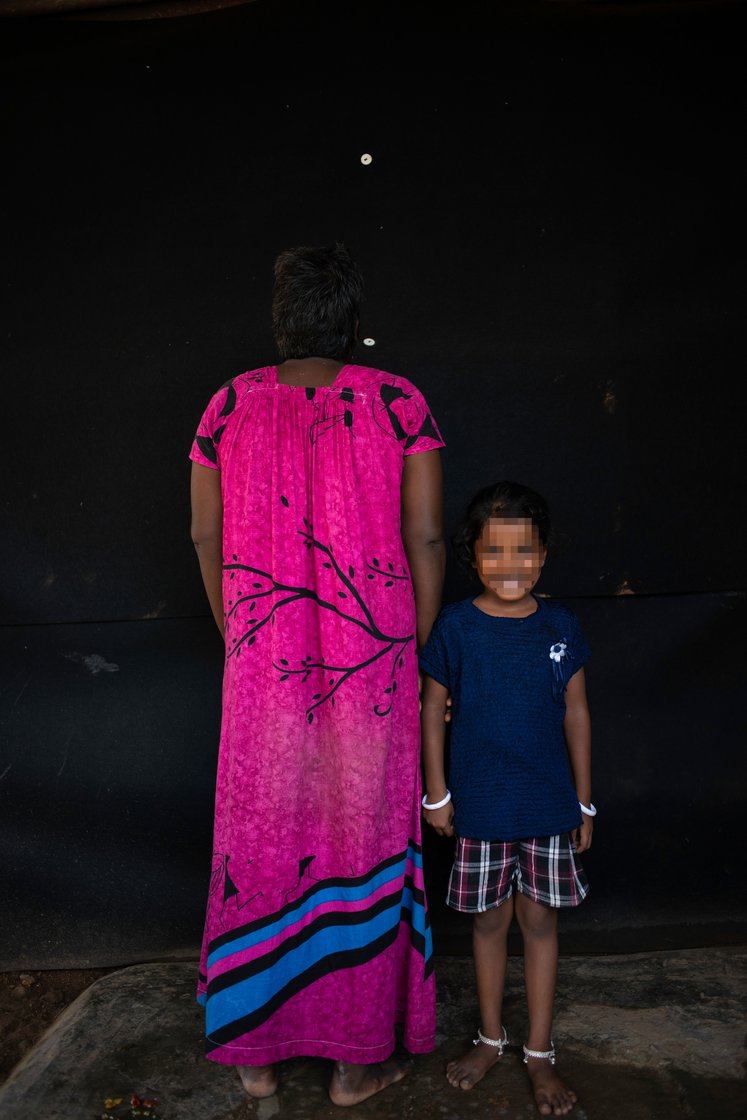 PHOTO • M. Palani Kumar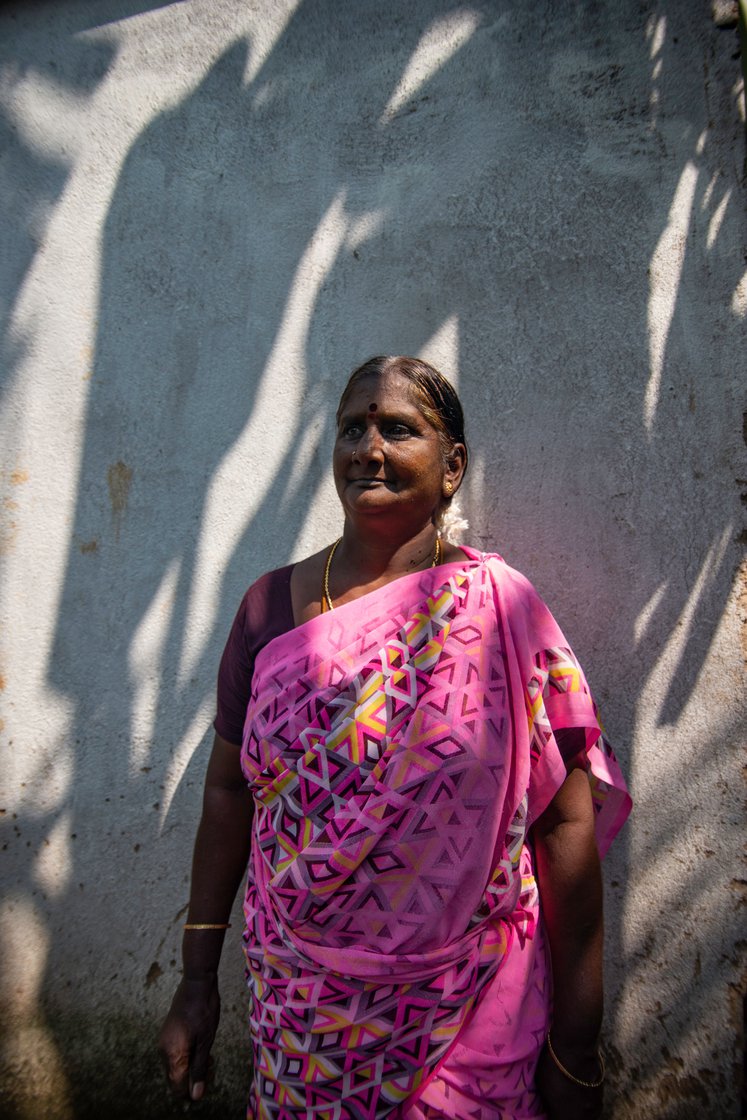 PHOTO • M. Palani Kumar
Shanthi, 61, could see what was going on. She had helped hundreds of people like Aruna who were coping with schizophrenia. In 2017-2022 alone Shanthi had identified 98 patients in Chengalpattu and assisted them with receiving medical care. As a community health worker on contract with Schizophrenia Research Foundation (SCARF), Shanthi was well known in Kondangi village for her work with mentally estranged persons.
When Shanthi met Aruna over a decade ago, "She was young and thin, and not married yet," she says. "She would just roam around, never eat. I told her family to bring her to the medical camp in Thirukalukundram." The camp was organised by SCARF every month to diagnose and treat people suffering from schizophrenia.

When Aruna's family tried taking her to Thirukalukundram, about 30 kilometres from Kondangi, she turned violent and refused to allow anyone near her. She was carried to the camp with her hands and legs tied. "I was told [by a psychiatrist] to give her an injection once in 15 days," says Shanthi.

Besides injections and medicines, Aruna was given counselling every fortnight at the camp. "After a few years," says Shanthi, "to continue her treatment, I took her to the Sembakkam Primary Health Centre." Another NGO (Banyan) was running a mental health clinic at the PHC.  "Aruna is much better [now]," says Shanthi. "She speaks well."
The centre of Kondangi village is a few yards from Aruna's house. Families of the dominant castes – Naidu and Naicker – reside here. So does Shanthi, a Naidu. "Since Aruna is of their caste [Scheduled Caste], they tolerated her [in the Dalit colony]," Shanthi believes. The colony's residents don't come to the Naidu-Naicker neighbourhoods, she explains. "If Aruna had ventured here, it would have led to fights."
Four years into her treatment, Aruna was married off to a man who deserted her when she became pregnant. She returned to her parental home and lived with her father and elder brother. Her married elder sister, who lives in Chennai, helps with taking care of her child now, and Aruna manages her illness with medicines.
She owes her better health to Shanthi akka , she says.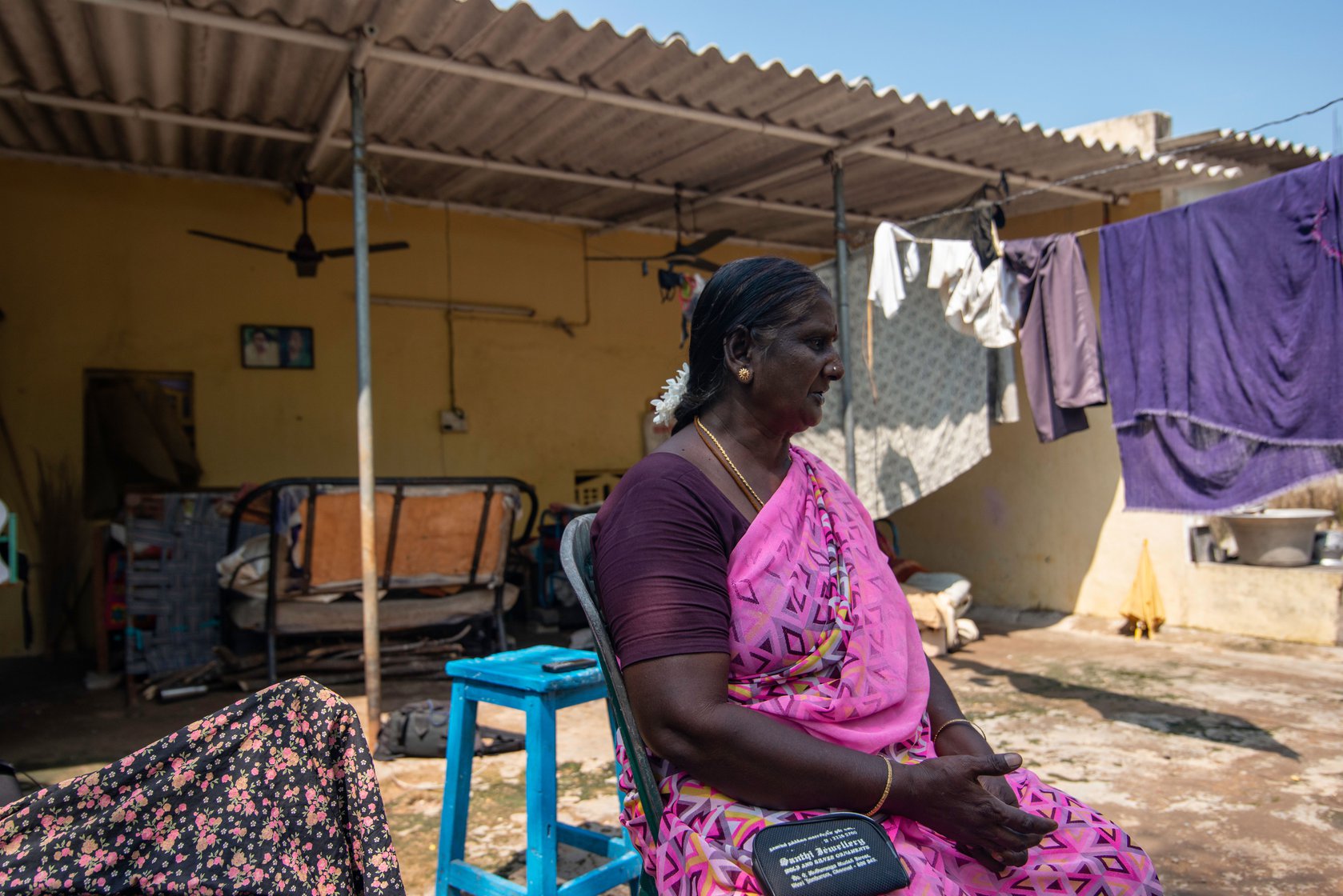 PHOTO • M. Palani Kumar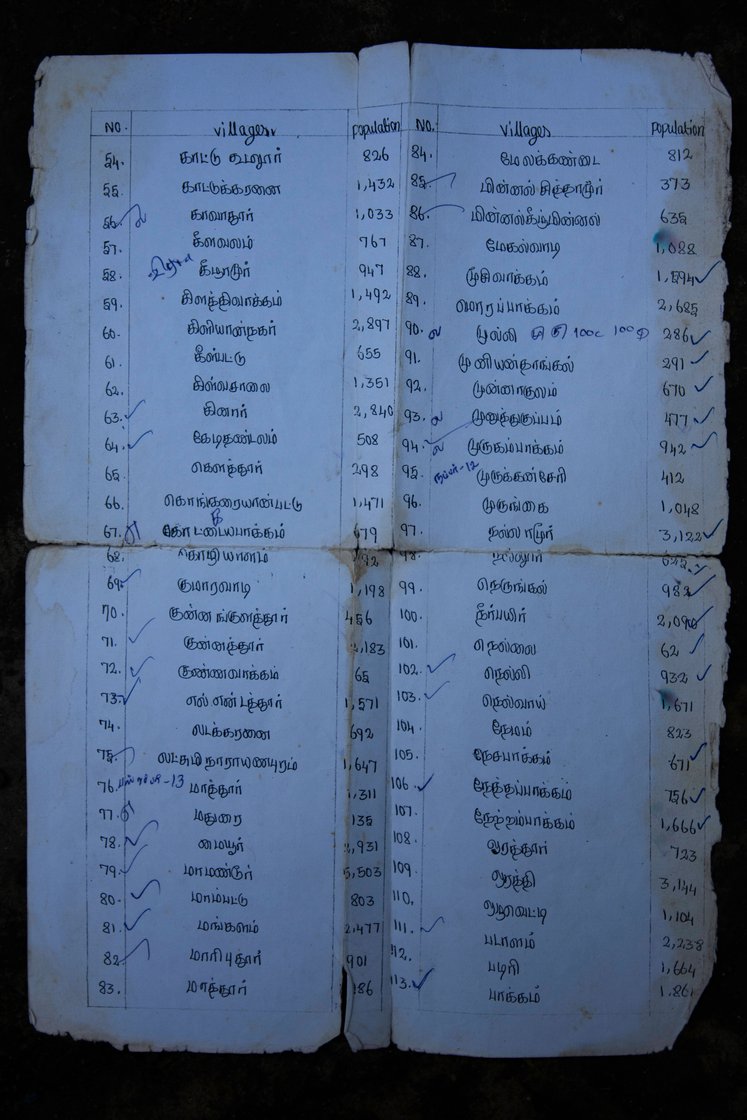 PHOTO • M. Palani Kumar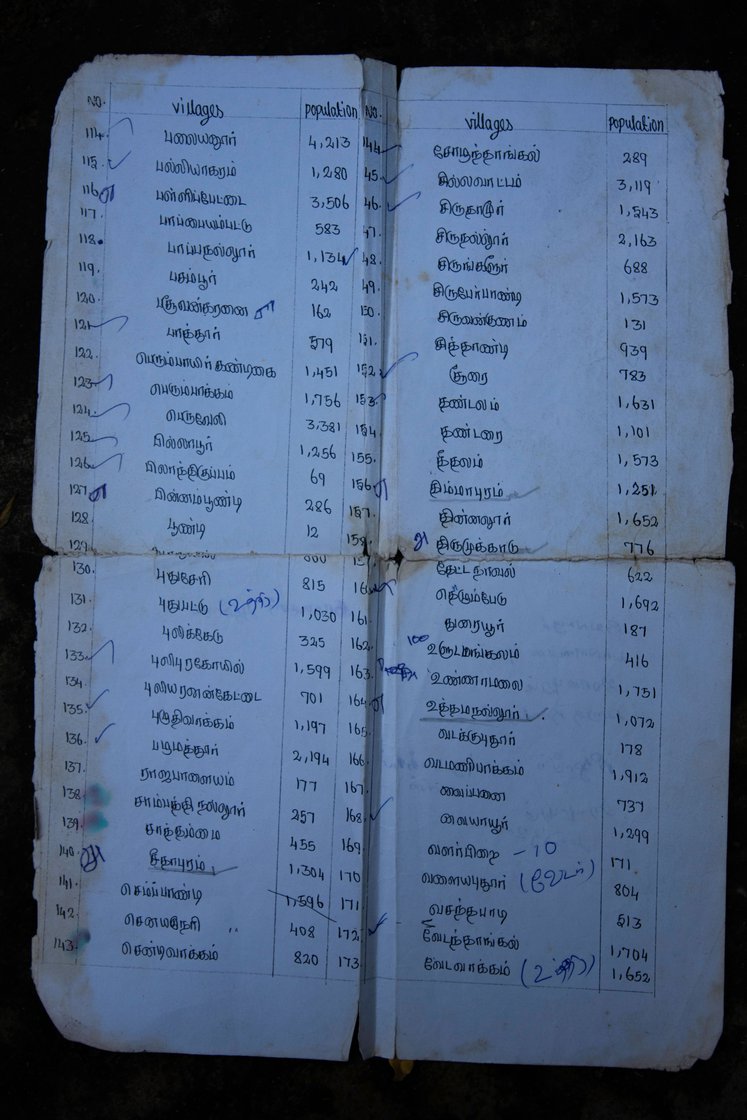 PHOTO • M. Palani Kumar
With a lunch box in hand, Shanthi would leave home at 8 a.m. every day carrying a list of villages and hamlets to survey in Chengalpattu taluk . She would walk for about an hour – about 15 kilometres – to reach the bus stand in Maduranthakam. "It is the point from where we get transportation to other villages," she says.

Her job was to travel all over the taluk , identifying people with mental illness and helping them get access to medical care.
"We would first visit the villages that were easy to reach and later go to the remote places. Buses to those areas are available only at specific times. Sometimes we would wait at the bus stand from eight in the morning until noon or even one in the afternoon," Shanthi recalls.

Shanthi worked throughout the month, with only Sundays off. Her routine as a community health worker remained constant for three decades. Her work, though unseen, is of great significance considering mental disorders affect an estimated 10.6 per cent of the adult population of India, where 13.7 per cent of the people experience a mental illness at some point during their life. But the treatment gap  is high: 83 per cent. At least 60 per cent of persons living with schizophrenia do not receive the care they need.
Shanthi's journey as a community health worker began in 1986. At the time, many Indian states did not have enough professionals for mental health care. The few who were trained were in the cities; hardly any were in rural areas. To address this problem, the National Mental Health Programme (NMHP) was set up in 1982 with the objective to ensure "availability and accessibility of minimum mental healthcare" for all, especially for the most vulnerable and underprivileged people.
In 1986, Shanthi joined as a social worker with the Red Cross. She travelled to the remotest parts of Chengalpattu, locating physically disabled persons and reporting their immediate needs to the organisation.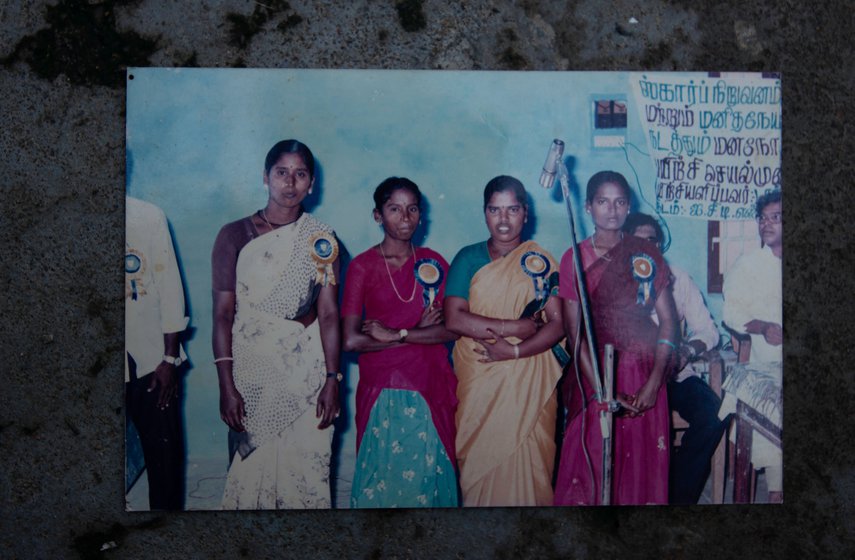 PHOTO • M. Palani Kumar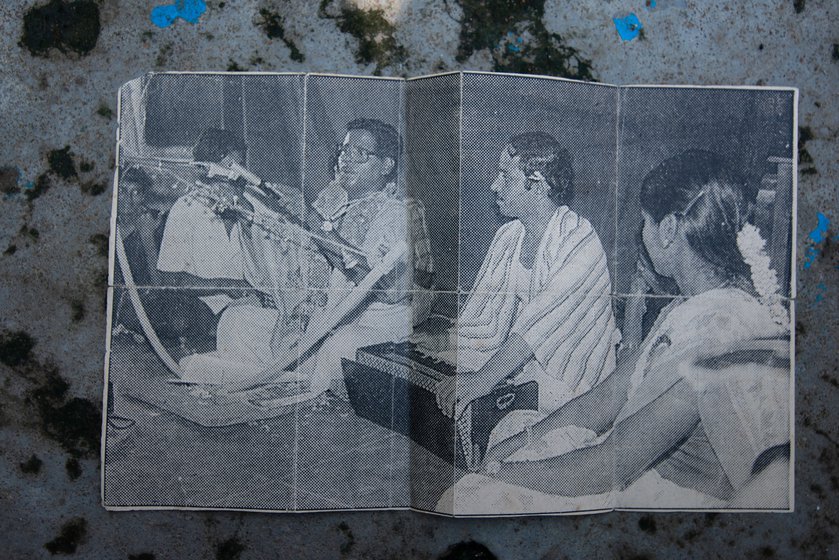 PHOTO • M. Palani Kumar
When SCARF approached Shanthi in 1987, the organisation had been implementing programmes under NMHP to rehabilitate mentally ill persons in Kancheepuram district's Thiruporur block. It had been organising training programmes in rural Tamil Nadu to create a cadre of community-based volunteers. "People from the community who had completed school-level education were recruited and provided training in recognising and identifying persons with mental disorders, and referring them to hospitals," says Dr. R. Padmavati, SCARF's director, who had also joined the organisation in 1987.

At these camps, Shanthi learnt about the different mental disorders and how to spot them. She also picked up skills to motivate persons suffering from mental illnesses to seek medical treatment. Her starting salary was Rs. 25 per month, she says. She was required to find mentally ill people and bring them to the medical camps. "I and another person were assigned to three panchayats – about 2-4 villages in each panchayat," she says. Her income increased over the years. She was earning Rs 10,000 a month net (after deductions for provident fund and insurance) when she retired from her duties at SCARF in 2022.
Her work gave her a steady source of income that sustained her through a life of turmoil. Her husband, who was addicted to alcohol, barely provided for the family. Shanthi's 37-year-old son, an electrician, earns about Rs. 700 a day. But his income is erratic; he gets work only 10 days a month or so. It isn't enough to support his wife and daughter. Shanthi's mother lives with them too. After SCARF's schizophrenia programme ended in 2022, Shanthi started making Thanjavur dolls, earning about Rs. 3,000 for 50 pieces.
The 30-odd years that she spent working in the community did not tire Shanthi. In her last five years at the NGO, she visited at least 180 villages and hamlets across Chengalattu. "I aged, but I continued doing this work," she says. "Though I didn't get a lot of money, I managed with what I earned. I have mental satisfaction. There is respect."
Selvi E., 49, travelled with Shanthi all over Chengalpattu, looking for people with schizophrenia. Between 2017 and 2022, Selvi went to 117 villages, covering three block panchayat territories – Uthiramerur, Kattankolattur and Maduranthakam – and helping more than 500 people get medical care. She has worked at SCARF for over 25 years, and she's now involved in another project, identifying patients with dementia.

Selvi was born in Chengalpattu's Sembakkam village. She started out as a community health worker after completing school. She belongs to the Sengunthar community, whose main profession is weaving. It is categorised as an Other Backward Class in Tamil Nadu. "I didn't study after Class 10," she says. "To go to college, I would have had to travel to Thiruporur, which was eight kilometres away from my home. I wanted to study, but my parents didn't allow me because of the distance," she says.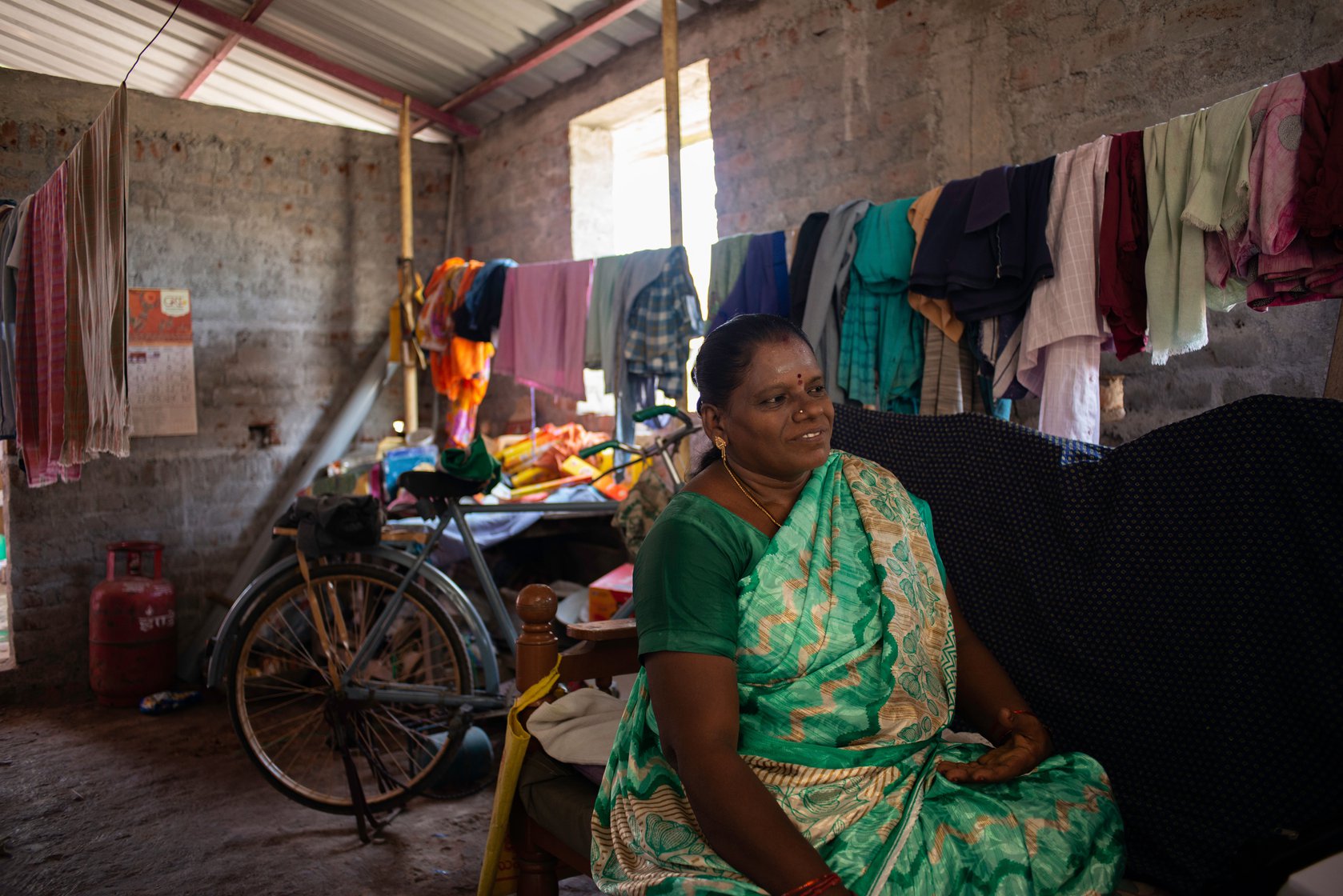 PHOTO • M. Palani Kumar
After she was married at 26, Selvi became the sole breadwinner of her family. Her husband's income as an electrician was unreliable. So, with her meagre income, in addition to the household expenses she had to support the education of her two sons. Her elder son, 22, finished his MSc in Computer Science six months ago. The younger one, who is 20, is studying in a government college in Chengalpattu.
Before she started going to the villages and motivating schizophrenia patients to seek treatment, Selvi was counselling patients. She did this for 10 patients, for three years. "I had to visit them once a week," she says. "During these sessions, we talked to the patients and their family members about the importance of treatment, follow-ups, diet and hygiene."

Initially, Selvi faced a lot of resistance from the community. "They wouldn't accept that there was a problem at all," she says. "We would tell them that it is an illness and can be treated. The patients' families would get angry. Some preferred taking the ill relative to religious places rather than hospitals. It took a lot of effort, and several visits to their home, to convince them to come to the medical camp. When the patient found it difficult to travel, a doctor would visit their homes."
Selvi devised her own strategy to get through. She would visit every house in a village. She would also go to the tea vendor's stall – where  people gather – and speak to school teachers and panchayat leaders. They became her main contact persons. Selvi would describe the symptoms of schizophrenia, explain how medical care helps, and request them for information on persons with mental illnesses in their village. "Some people hesitated, but a few told us or pointed us to the patient's house," says Selvi. "Many don't know the specific problem. They tell us that a person is being suspicious, or some talk about prolonged sleeplessness," she adds.
Growing up in a close-knit community that practises endogamy strictly and where consanguineous marriages are common, Selvi has witnessed several children being born with cognitive disabilities. She says this has equipped her to differentiate between symptoms of mental illness and cognitive disabilities, a crucial skillset required for her work.
One of Selvi's important tasks was to ensure that the medicines were delivered to a patient's doorstep. The majority of persons with mental disorders pay for health services and medicines almost entirely out of their pocket in India. Up to 40 per cent of the patients travel more than 10 kilometres to avail of services provided under the National Mental Health Programme. People in remote villages often find it difficult to access treatment facilities regularly. Another hurdle is the stigma attached to the patients, who struggle with the symptoms of their illness and are unable to meet societal expectations.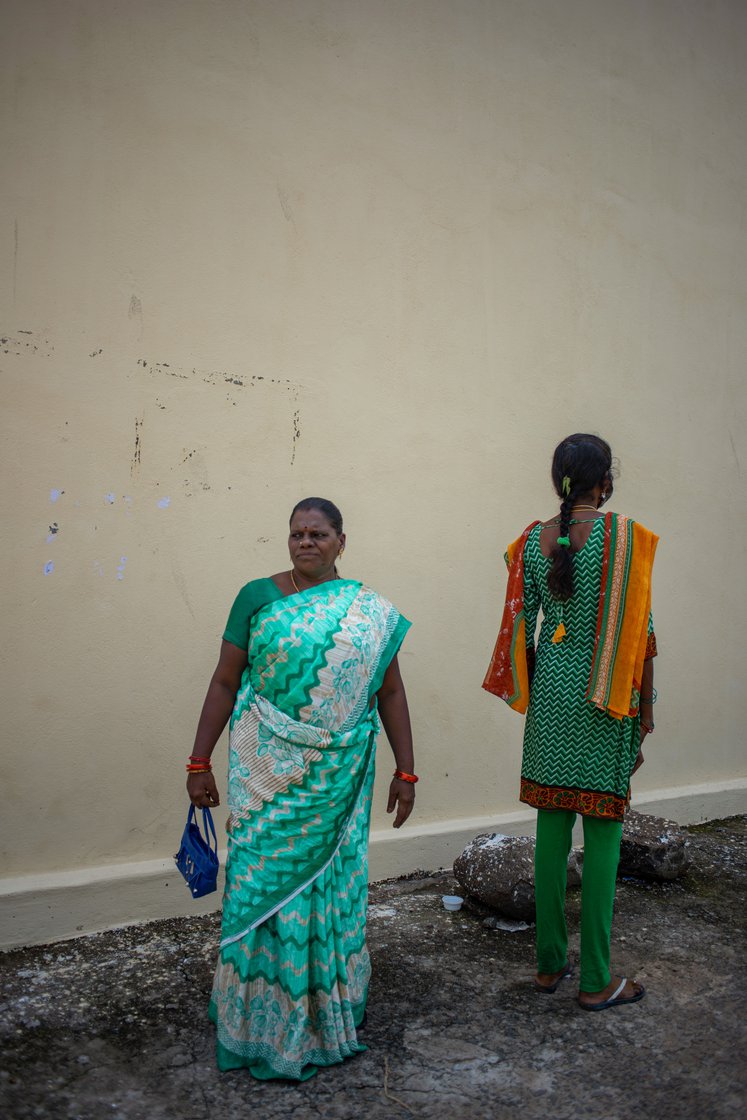 PHOTO • M. Palani Kumar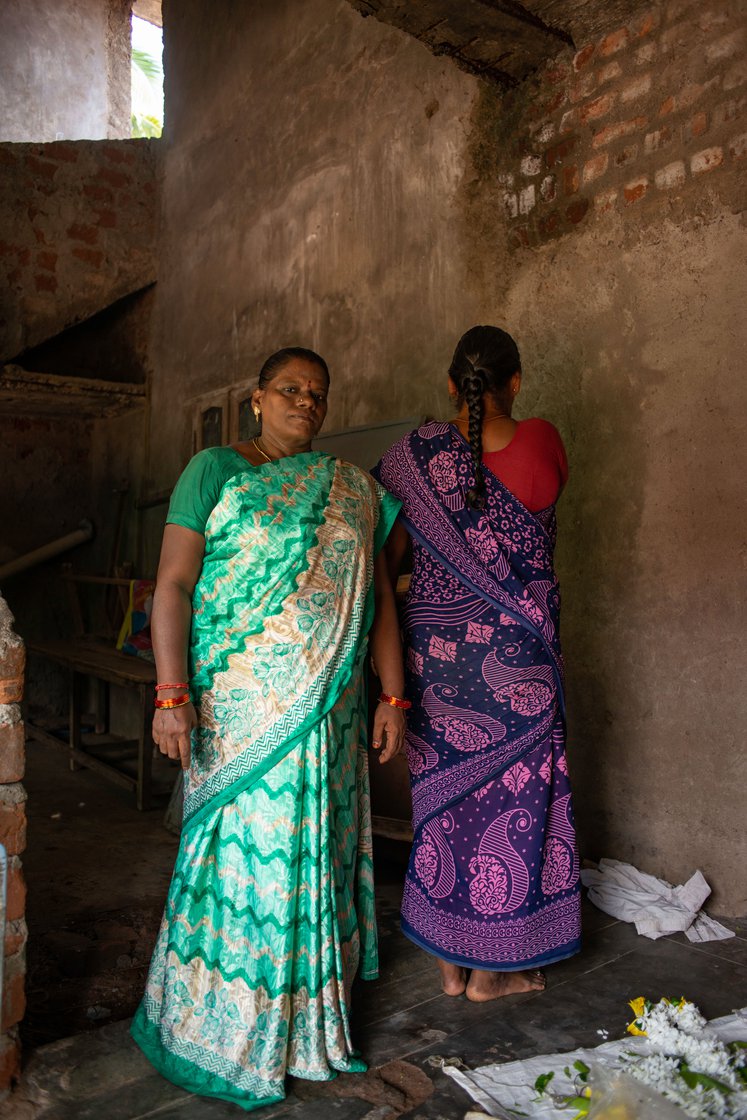 PHOTO • M. Palani Kumar
"These days there is some improvement because of watching TV," Selvi says. "People are not so afraid. It has become easy to treat BP, sugar [blood pressure issues and diabetes]." "Despite this," she adds, "when we reach out to families of those suffering from mental illness, they get angry and come to fight with us, saying 'why are you coming here…who told you that there is a mad person here?'"
D. Lili Pushpam, a 44-year-old community health worker in Manamathy village of Chengalpattu taluk , agrees with Selvi about misconceptions in rural areas regarding mental health care. "There is a lot of suspicion. Some people think that the psychiatrist will kidnap and torture patients. Even if they come for treatment, they are scared." Lili says. "We show them our ID [identity] card, explain that we have come from a hospital. But they still look at us suspiciously. We struggle a lot."

Lili grew up in the Dalit colony in Manamathy. It has made her conscious of the discriminatory treatment she encounters in the field. At times, her caste puts her in a sensitive spot. So she doesn't disclose the location of her house when she's asked. "If I did, they would know my caste and I fear people would treat me differently," she says. Though Lili is a Dalit Christian she identifies as only Christian.
The manner in which community health workers are received differs from village to village, explains Lili. "In some places where the rich, upper castes live, they wouldn't even give us water to drink," she says. "Sometimes we would be so tired that we just needed to sit in a place and eat, but they wouldn't let us. We would feel bad, really bad. Then we would have to walk at least 3 or 4 kilometres to find a place to sit and eat. But in some other places they would give us water to drink and even ask if we needed anything when we sat down for lunch."
Lili was married off to her cousin when she was only 12 years old. He was 16 years older to her. "We are four girls and I am the eldest," she says. The family had 3 cents of land, on which they had built a mud house. "My father wanted a man to take care of his property and help him cultivate the land. So he married me off to his elder sister's son." The marriage wasn't a happy one. Her husband was not faithful and he would not visit her for months. And when he came, he would beat her. He died of kidney cancer in 2014, leaving her with two children, 18 and 14 years old, to care for.

Until SCARF offered her the job of community health worker in 2006, Lili worked as a seamstress. She earned Rs. 450-500 a week, but that depended on the number of customers. She says she became a health worker because it paid better. Covid-19 affected her monthly income of Rs. 10,000. Before the pandemic, she could get her bus fare and phone charges reimbursed. "But because of Corona, for two years I had to manage my phone bill and transportation charges within the 10,000. It was difficult," she says.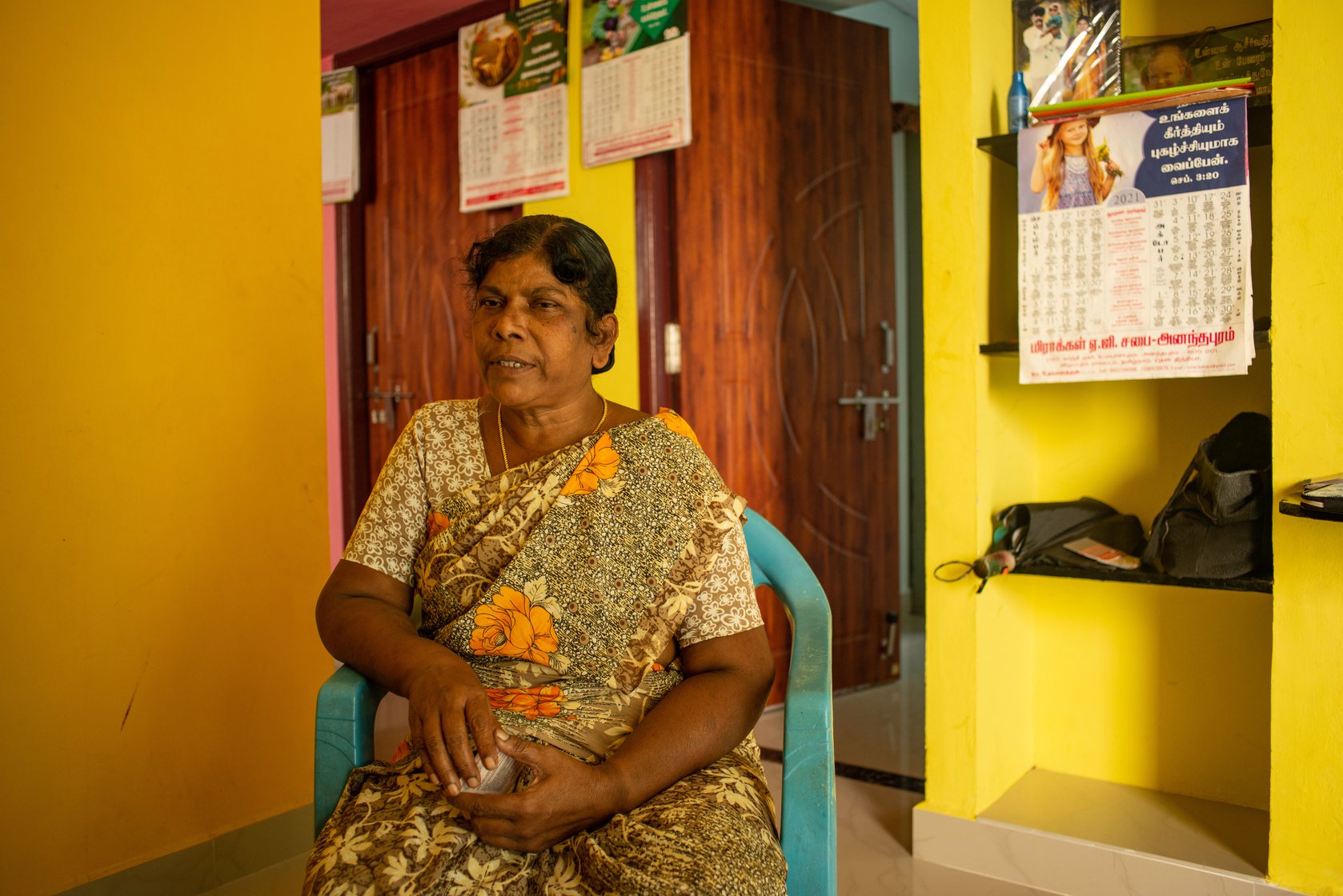 PHOTO • M. Palani Kumar
Now, since SCARF's community project under the NMHP has ended, Lilli has been taken on for the organisation's project on people with dementia. The work started in March, and she goes once a week. But, to ensure that the schizophrenia patients continue to receive treatment, she has been taking them to the government hospitals in Chengalpattu, Kovalam and Sembakkam.

Women like Shanthi, Selvi and Lili, who play a critical role in managing community health, are forced to work on 4-5-year contracts. NGOs like SCARF can engage workers like them based on funds they receive for term-based projects. "We have been talking to the government to establish a system at the state level," says SCARF's Padmavati, who believes it would help streamline the work of community health workers.

Things might be different if budgetary allocation for mental health care was not so abysmal in India. In 2023-24, the Ministry of Health and Family Welfare's budget estimate for mental health – Rs. 919 crore – is just 1 per cent of the union government's total health budget. A major portion – Rs. 721 crore – is earmarked for National Institute of Mental Health and Neuro-Sciences (NIMHANS), Bangalore. The rest will go to Lokpriya Gopinath Regional Institute of Mental Health, Tezpur (Rs. 64 crore) and National Tele-Mental Health Programme (Rs. 134 crore). Further, MoHFW's National Mental Health Programme, which looked into infrastructure and personnel development, has been subsumed under 'tertiary activities' of the National Health Mission this year. So, allocations for tertiary level mental care cannot be determined.

Meanwhile, in Manamathy,  Lili Pushpam is still struggling to access a social security benefit that she is entitled to receive. "If I have to apply for widow pension, I have to pay bribe. I don't even have 500 or 1,000 rupees to give them," she says. "I can give an injection, give tablets and provide counselling and follow up with patients. But this experience is not considered [useful] anywhere except at SCARF. Every day of my life is filled with tears. I am sad because there is no one to help me."

Feature image: Shanthi Sesha as a young woman