At 34, Junali Risong is a master apong brewer. "Some days I can make over 30 litres of apong ," she says. Most brewers can manage only a few litres every week. The process is entirely manual.
Junali's brewery is her three-room house and backyard near Garamur, a town in Majuli island on the Brahmaputra river in Assam. The house is next to a small pond formed by the overflow of the mighty river that floods regularly.
It's 6 a.m. when we catch her at work, and the sun is already high up in the sky in this eastern part of India. Junali is preparing the wood fire in the backyard to start the brewing process. Her tools and materials are stowed inside the house.
A fermented drink, apong is brewed by people of the Mising community, a Scheduled Tribe in Assam. It is had with meals, and as Mising Bharat Chandi says, "For us Mising people, if there is no apong we can't go ahead with any puja or festival." Chandi is the owner of Majuli Kitchen, a homestyle eatery in Garamur market.
The pale cream-coloured drink made of rice and herbs is almost exclusively produced by Mising women like Junali, who sell it to shops and hotels in Garamur. "Men don't like to do this. They find the work  physically demanding and the gathering of herbs and leaves tiresome," says Junali, laughing.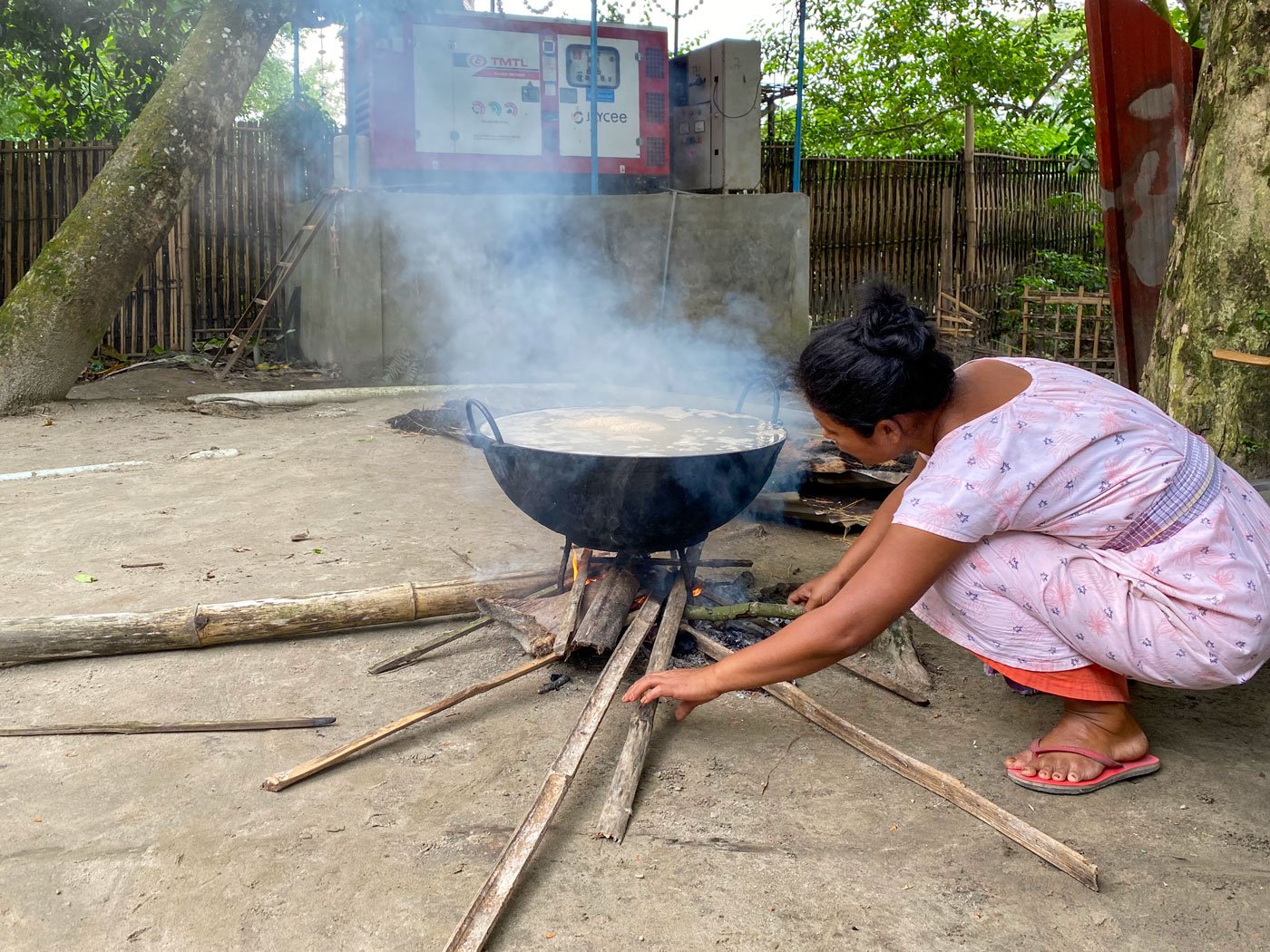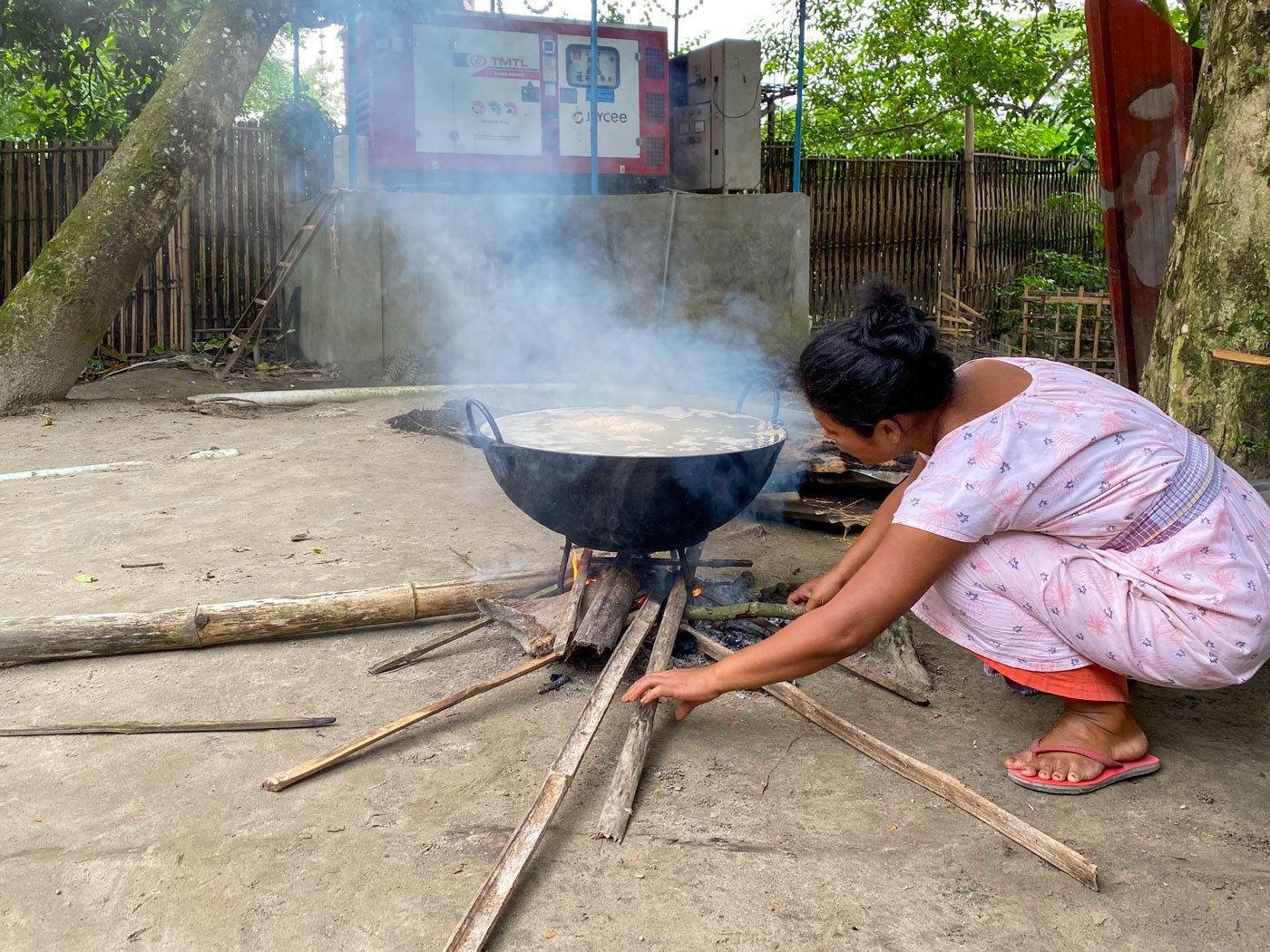 PHOTO • Priti David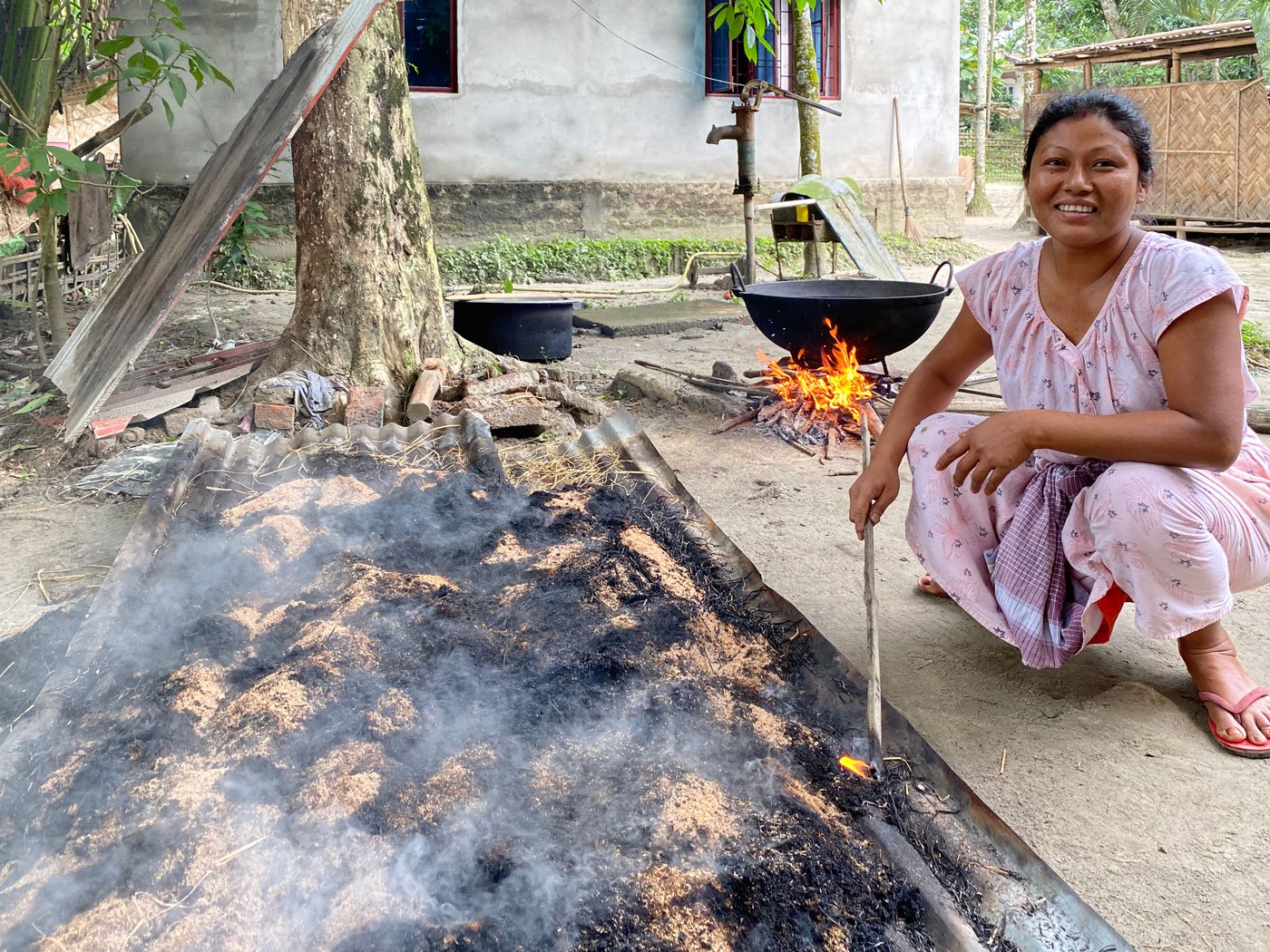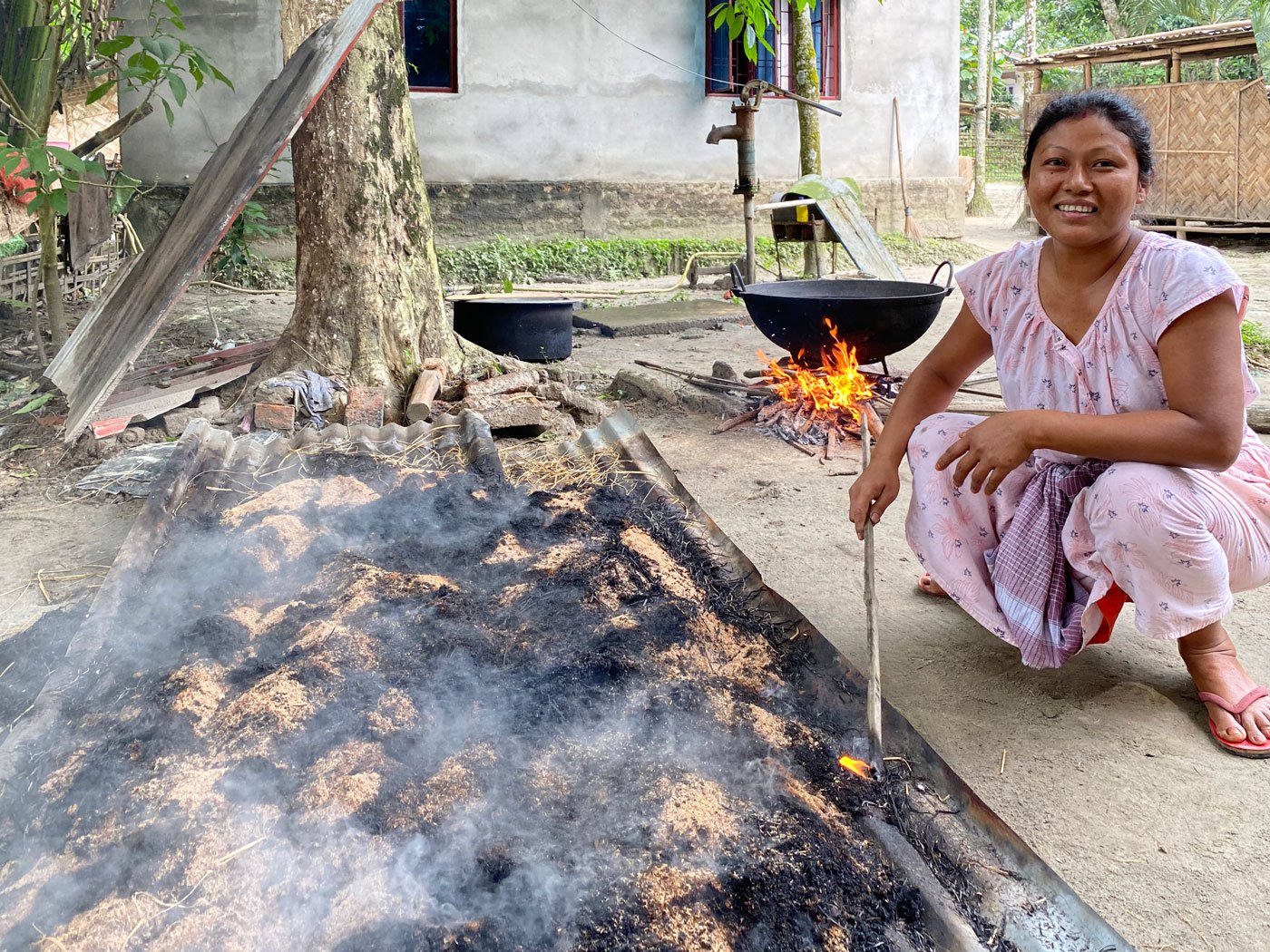 PHOTO • Priti David
Junali's husband, Urbor Risong, owns a shop in the market area, a five-minute walk from their home. Their 19-year-old son, Mridu Pabong Risong, is studying hotel management in Jorhat, which is an hour away by ferry across the Brahmaputra.
It was Junali's mother-in-law, Deepti Risong, who taught her to make apong . There are two kinds: nongzin apong , with just rice as the main ingredient; and poro apong , with the added flavour of burnt paddy stalks. A litre of apong sells for Rs.100, and earns the maker roughly half that amount.
With over a decade of practice behind her, Junali knows the routine by now. When PARI met her in her hamlet in Kamlabari block of Majuli district, she was making poro apong . She had begun early, around 5:30 in the morning, by lighting 10-15 kilos of paddy stalks on fire and letting them smoulder and burn gently on a tin sheet in her backyard. "It takes 3-4 hours to burn," she tells us as she bustles around, lighting the fire to cook the rice. Sometimes she starts the process even earlier, setting the stalks to burn slowly overnight.
Near the smouldering stalks, Junali places a large cauldron of water on the fire. When it begins to bubble, she lifts and pours 25 kilos  of rice into it, a few kilos at time. "This work does give me a little pain in my back," she admits.
During Assamese festivals – Magh Bihu, Bohag Bihu and Kati Bihu – when large quantities of the beer are in demand, Junali gets busy, sometimes making two rounds in a single day

Two fires are live and Junali moves briskly, alternately giving attention to the boiling rice and also stirring the smoking stalks with a long wooden pole so that the heat spreads evenly. Stirring 25 kilos of boiling rice is not easy, and Junali grunts a little as she does it. The rice was bought at the ration shop. "We also grow rice, but we keep it to eat ourselves," she says.
It will take about 30 minutes for the rice to cook, and when it is slightly cooled, Junali will mix it with ash of the burnt stalks. The process sounds easy but involves kneading and mashing the steaming rice with warm ash. She will use her bare hands for this, spreading the mixture in a bamboo basket. "It cools faster in this basket. We have to mix the ash and rice while still hot or it won't mix," Junali explains, barely wincing at the mixture scalding her palms.
While kneading, Junali adds the herbs she has prepared for the apong . "A hundred herbs and leaves go into this," she says. Unwilling to share all her secrets, she does add that some of the leaves are known among the Mising for lowering blood pressure and improving digestion. But that is all she reveals.
In the daytime, Junali walks around Garamur and picks up the leaves and herbs she needs. "I dry them and run them in my mixie [mixer grinder] to make a powder, which I make into little [fist-sized] balls. I use around 15-16 balls of dried and powdered herbs in my
apong
," she says. Born in Phutuki, a hamlet barely a kilometre away from her marital home, Junali knows the area well.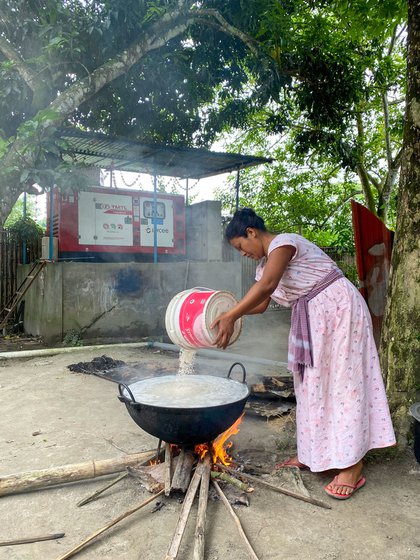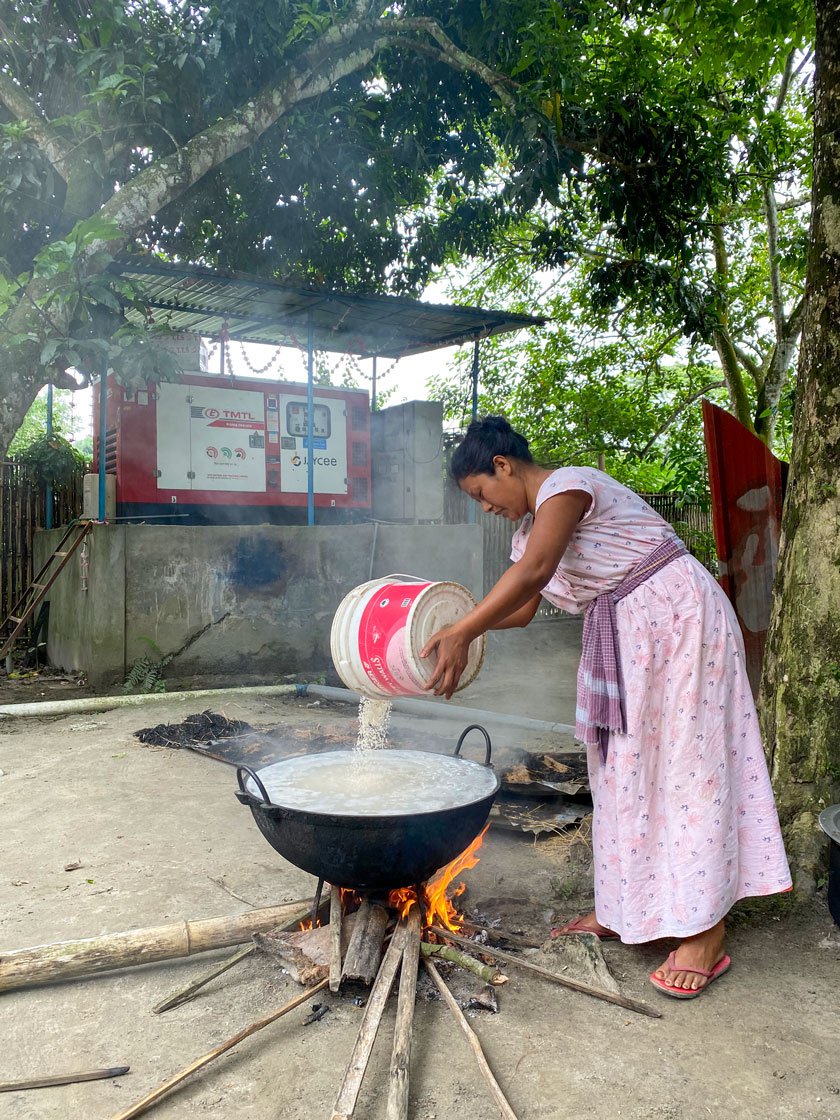 PHOTO • Priti David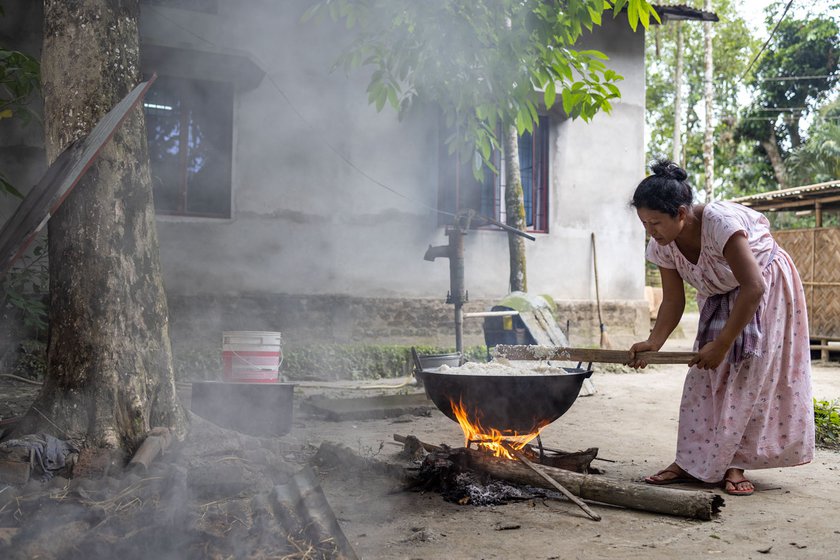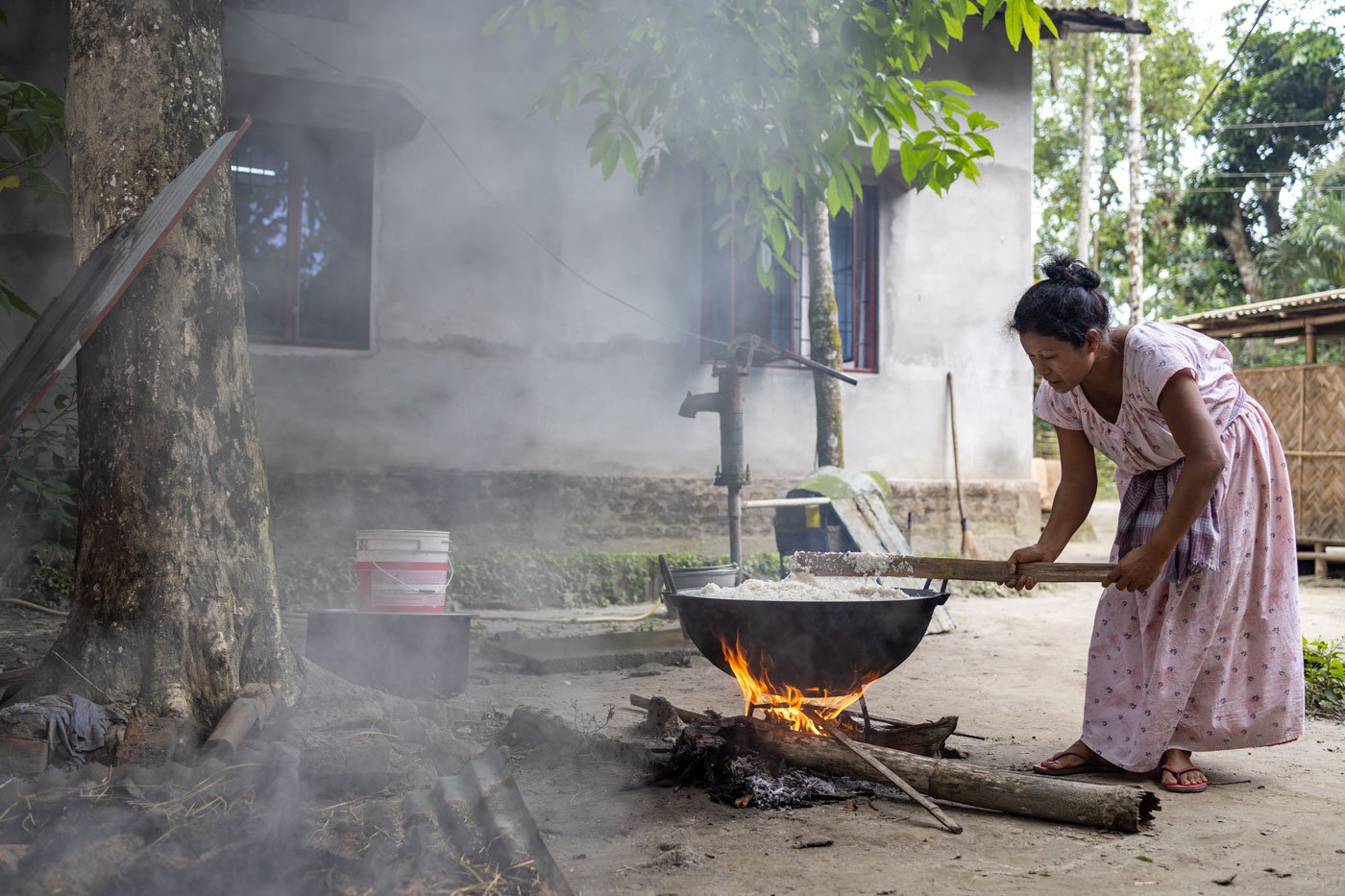 PHOTO • Riya Behl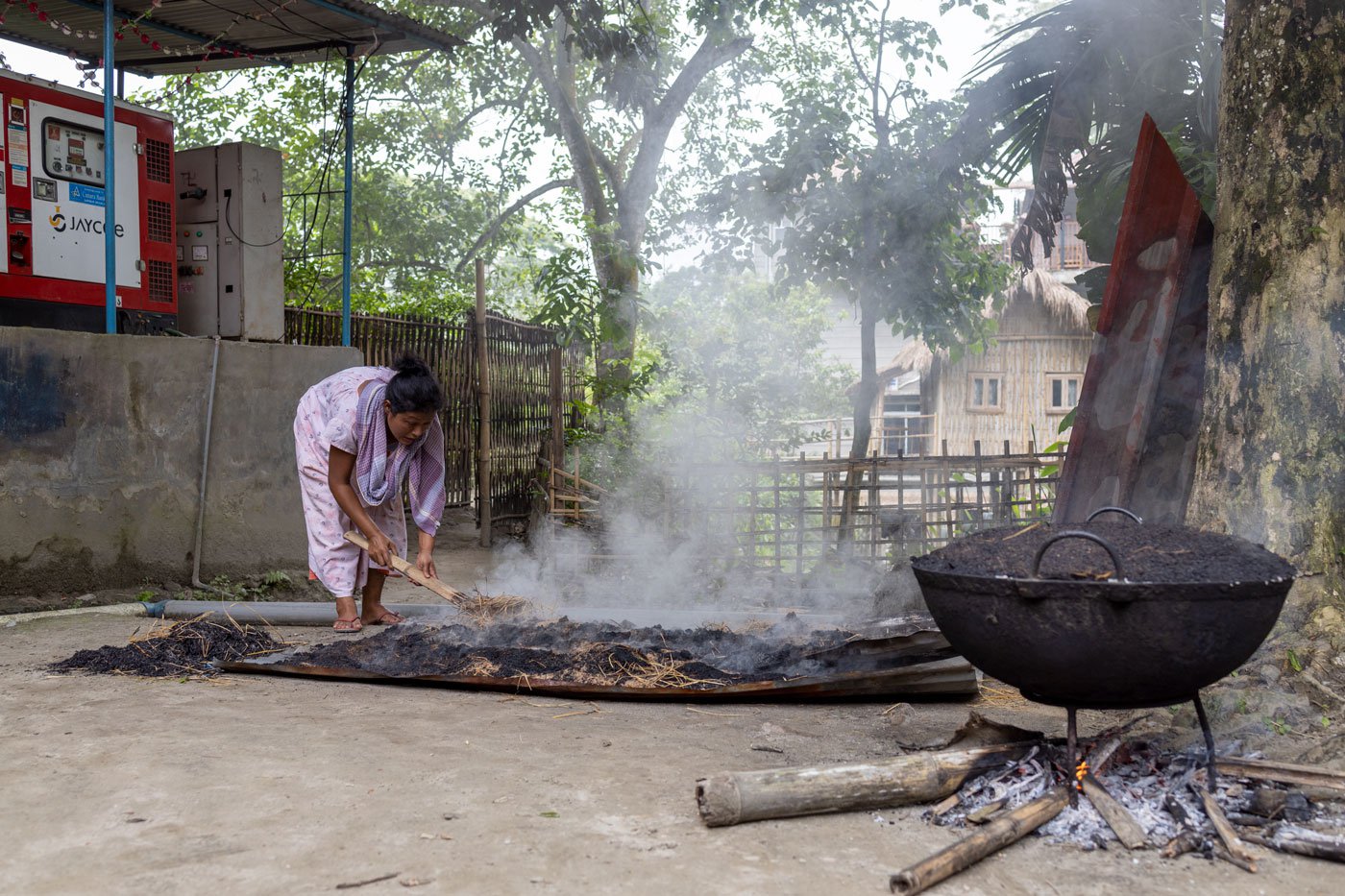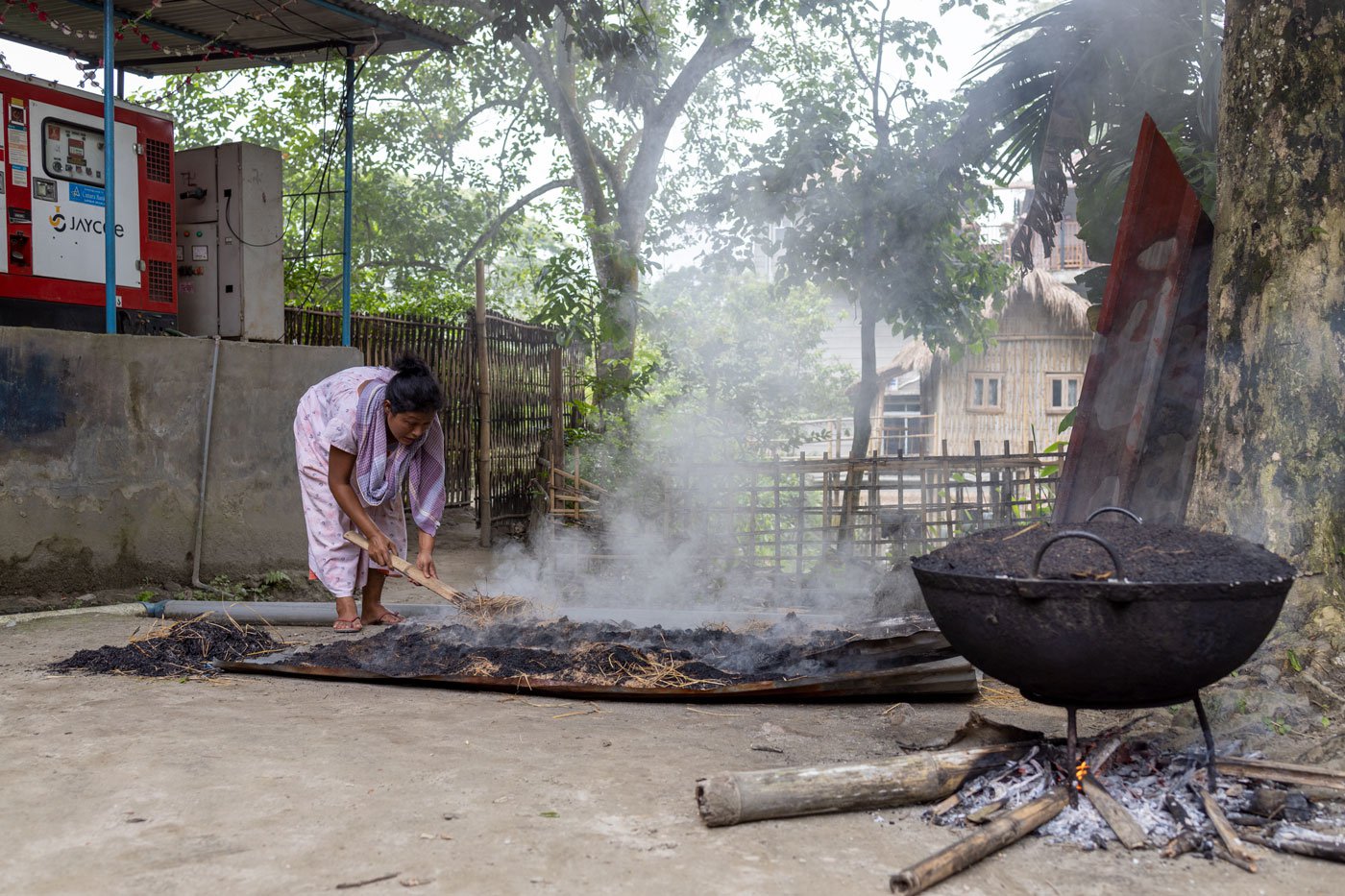 PHOTO • Riya Behl
After the mixture in the bamboo basket cools, it is stored in plastic bags in Junali's home for roughly 20 days. "I will know from the smell [of fermentation] when it is ready," she says. It's then time for the final step in brewing: the fermented mixture of ash, cooked rice and herbs is placed in a cone-shaped basket lined with banana leaf and suspended over a vessel. Water is poured into the basket, and the beer formed by the mixture will drip into the container below. The 25 kilos of rice will yield around 30-34 litres of apong .
During Assamese festivals – Magh Bihu in January, Bohag Bihu in April and Kati Bihu in October – when large quantities of the beer are in demand, Junali gets busy, sometimes making two rounds in a single day. Also during the Mising festival Ali-Aye-Ligang.
Junali earns not only from brewing and selling
apong
. She also does laundry for a nearby hotel, cooks and serves Mising food, breeds 200 chickens for eggs, and even supplies hot water in buckets to the small homestays nearby. Making
apong
, she says, brings in a comfortable income. "If I put a 1,000 rupees in, I can get 3,000 back," she says. "That's why I like to do this."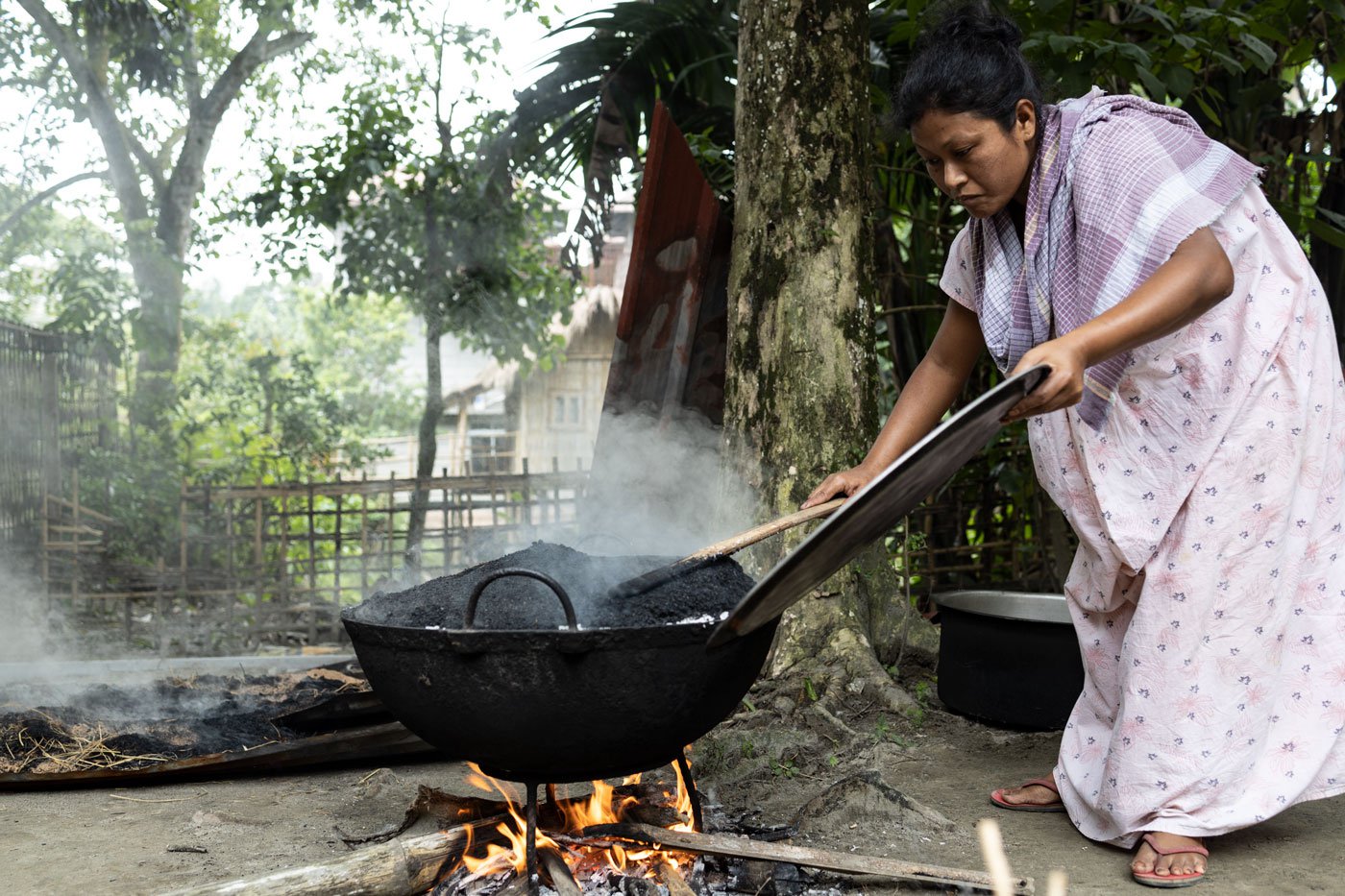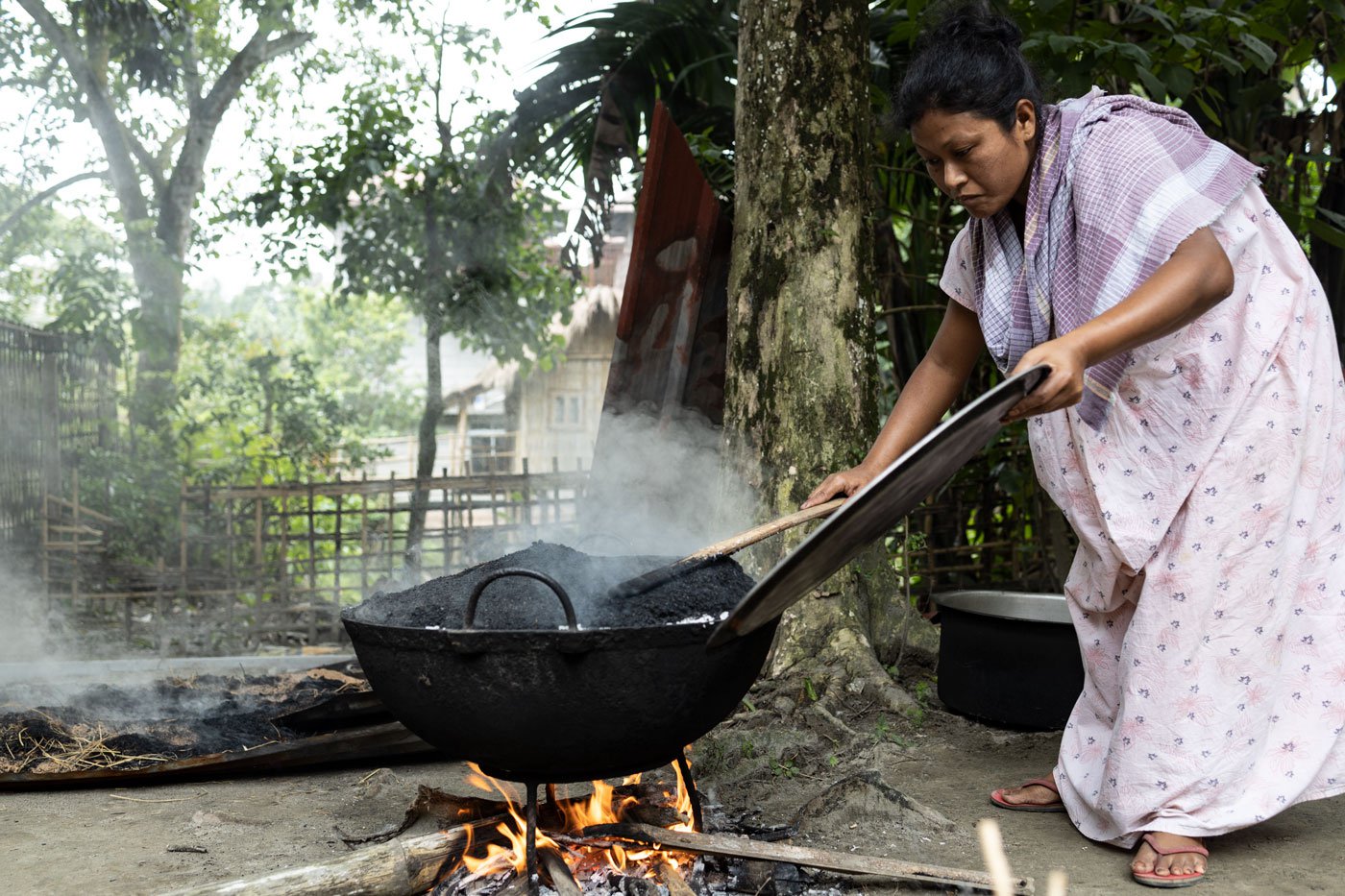 PHOTO • Riya Behl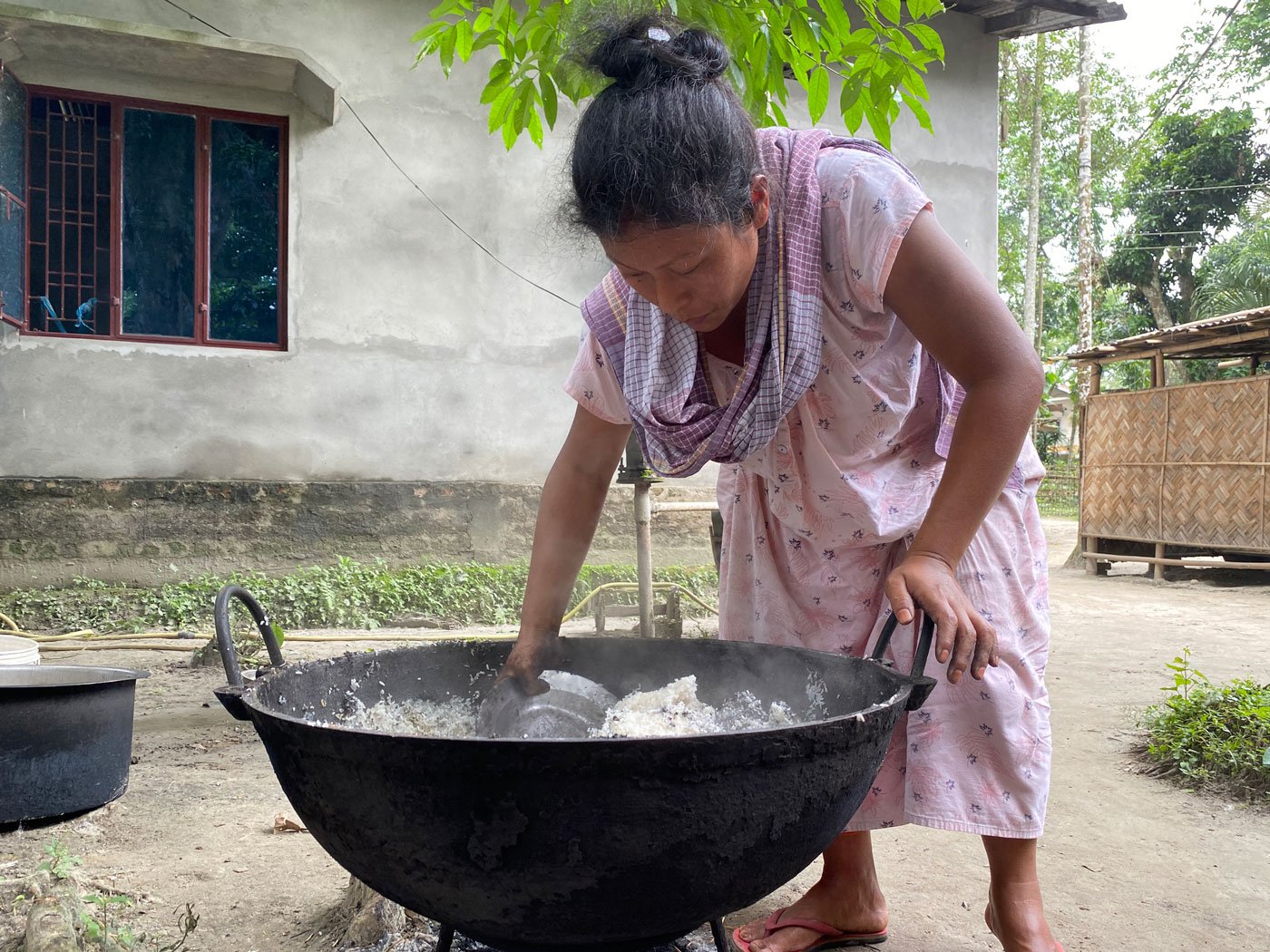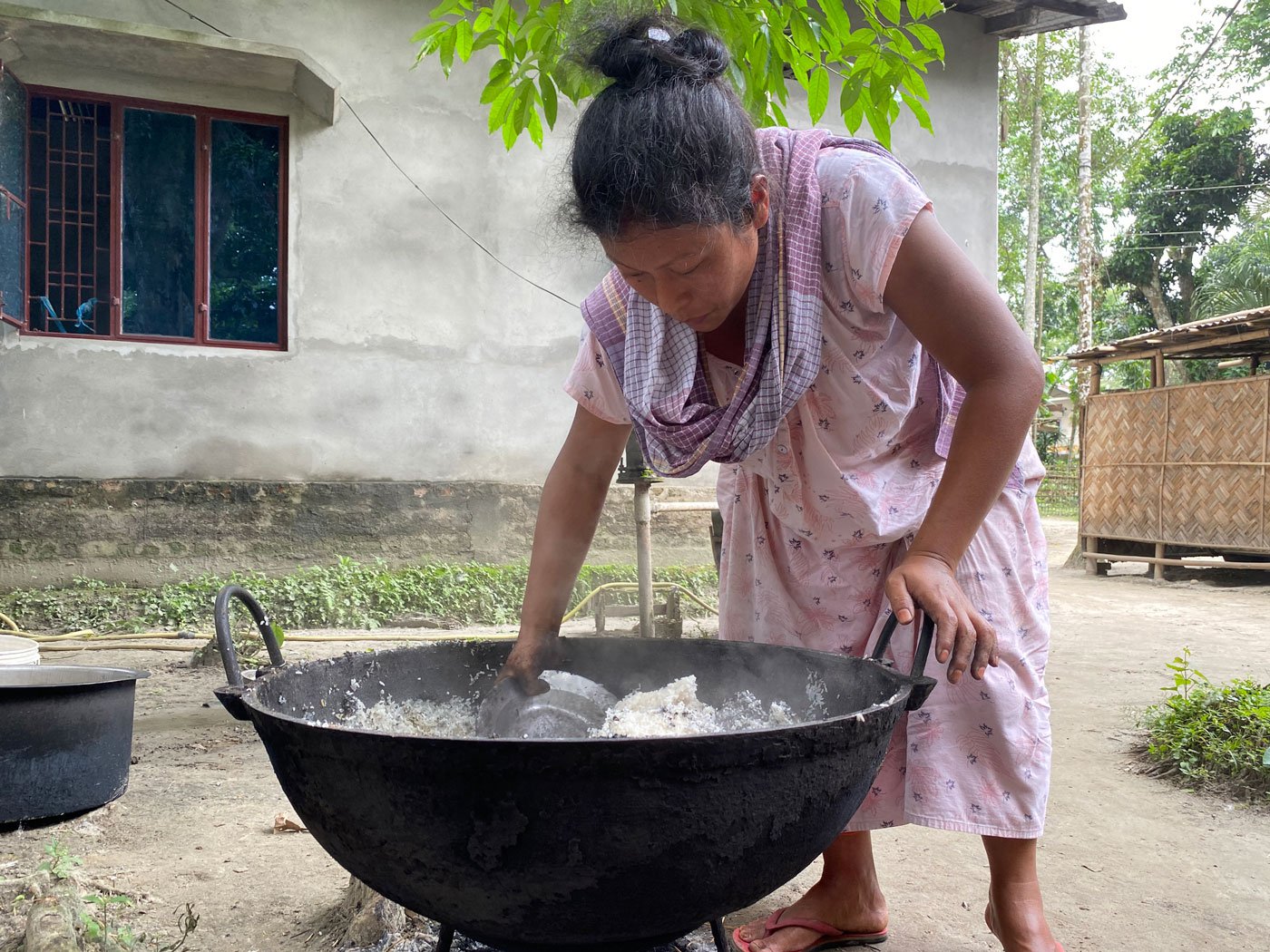 PHOTO • Priti David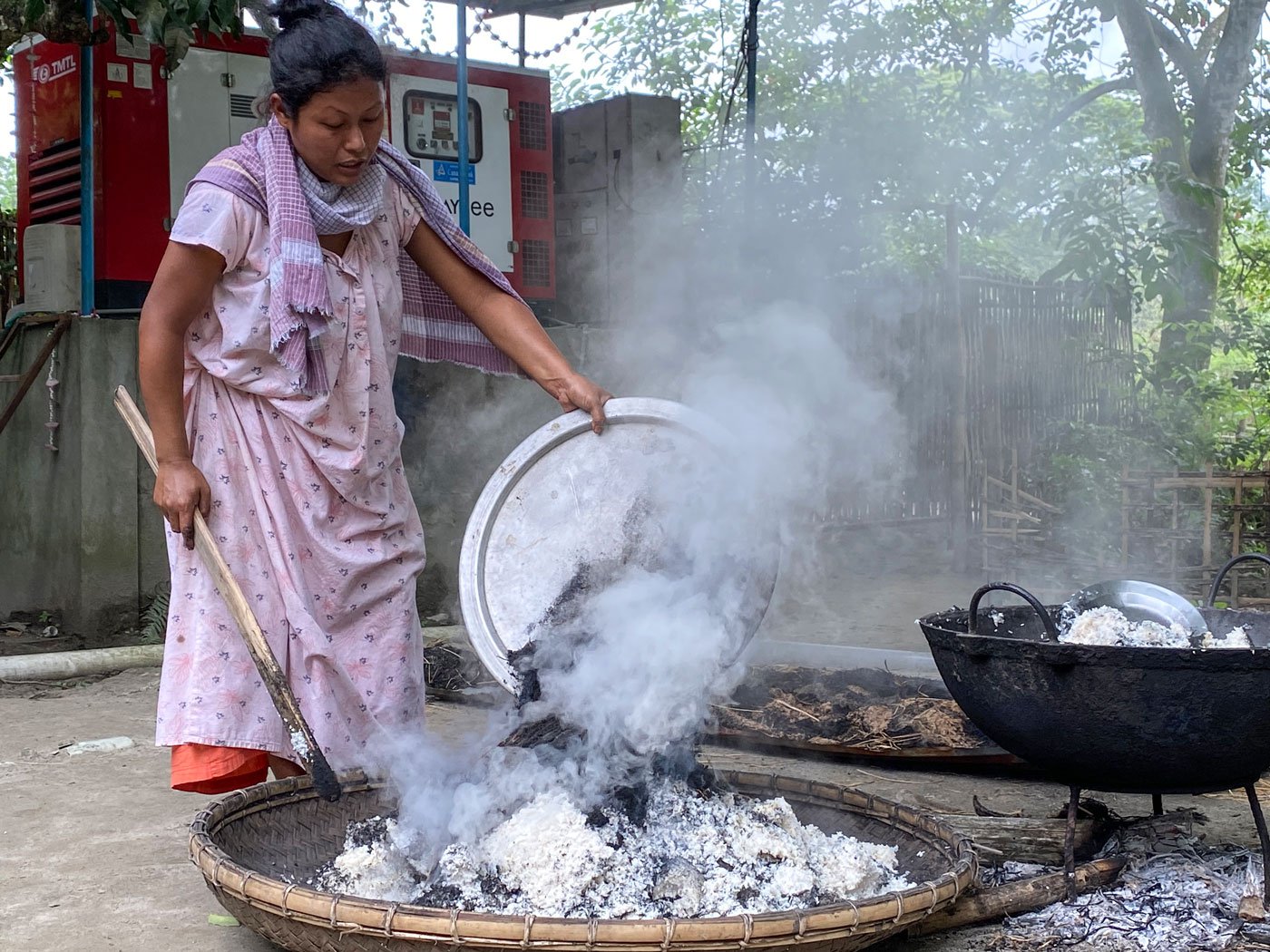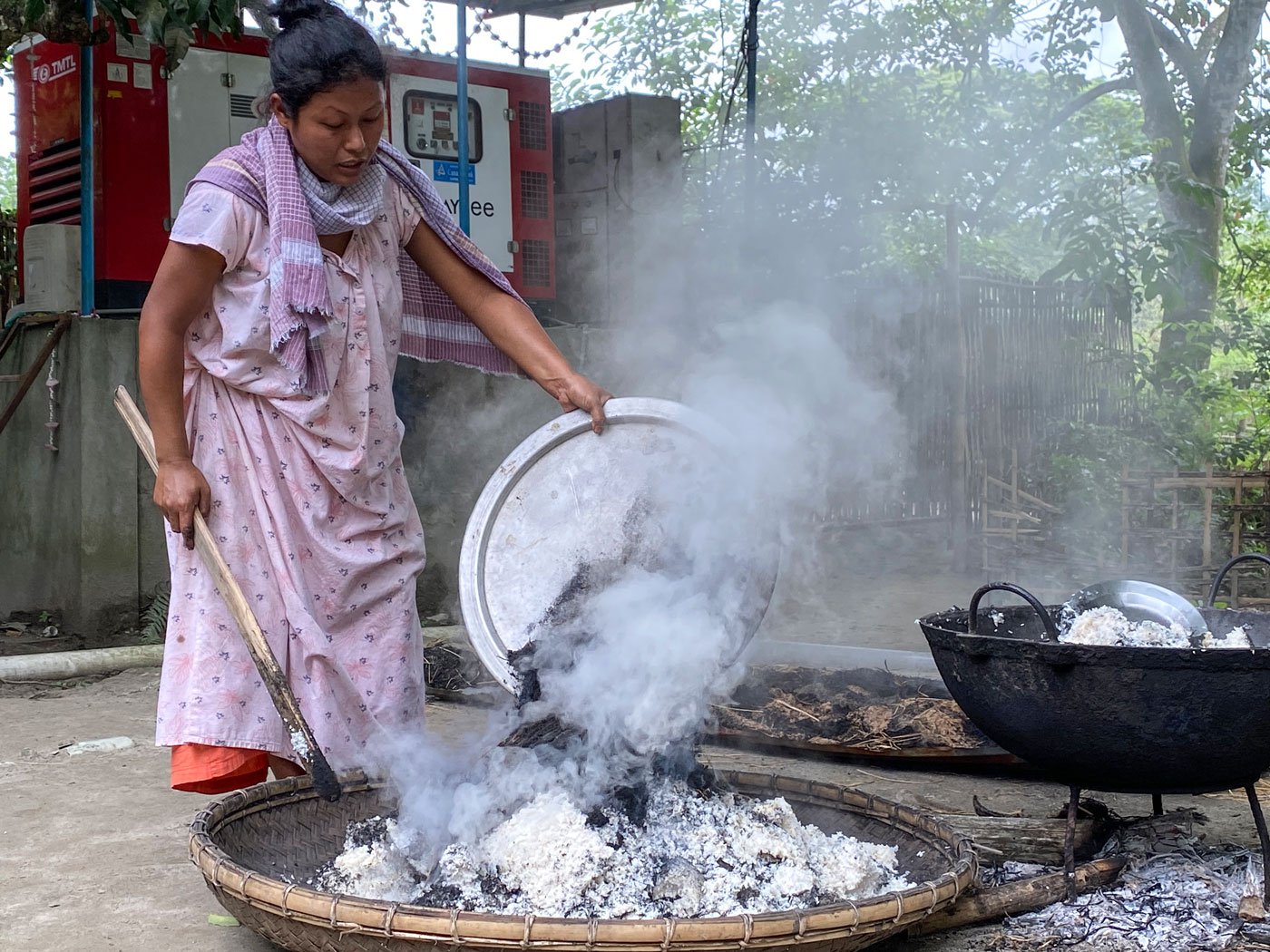 PHOTO • Priti David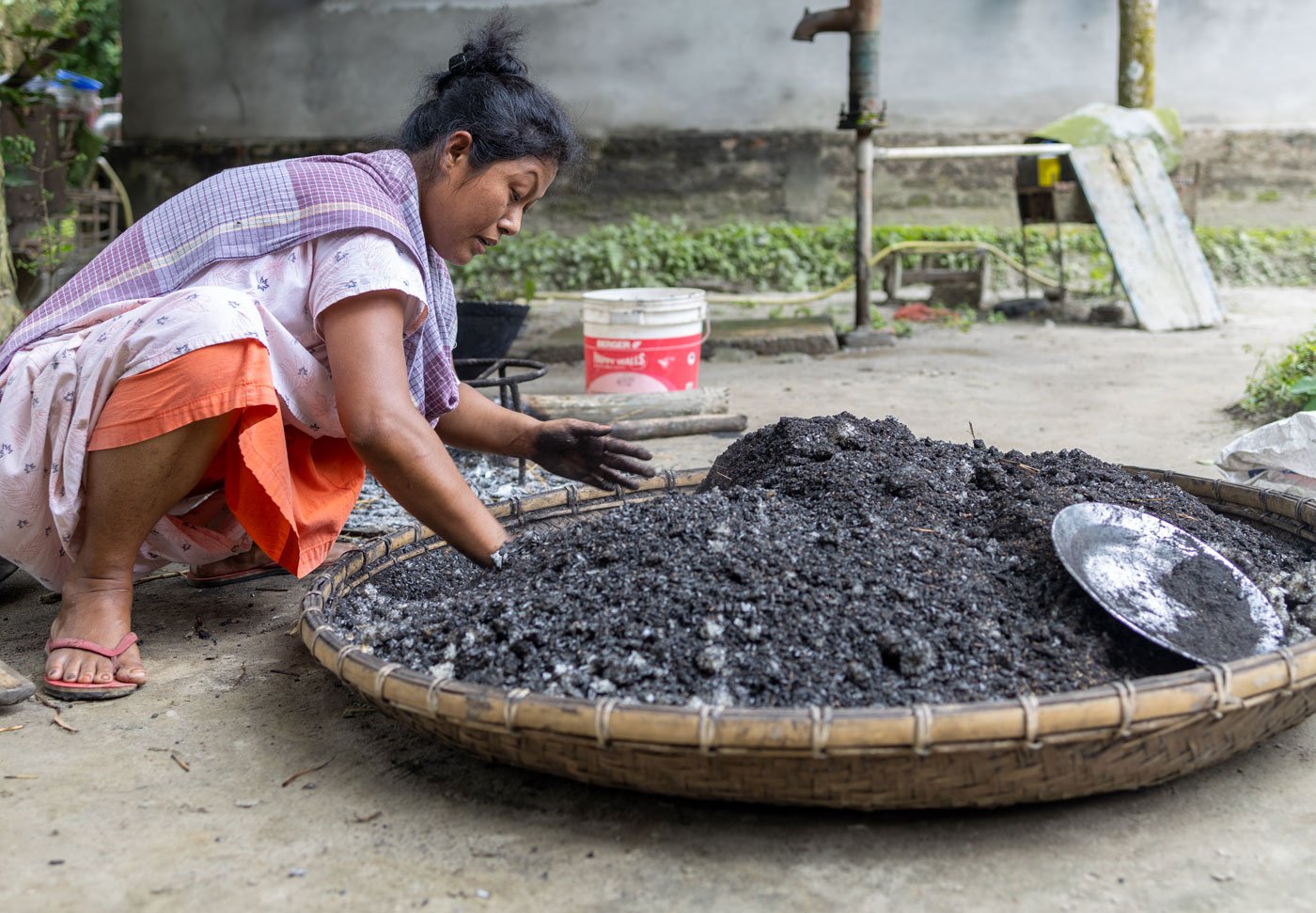 PHOTO • Riya Behl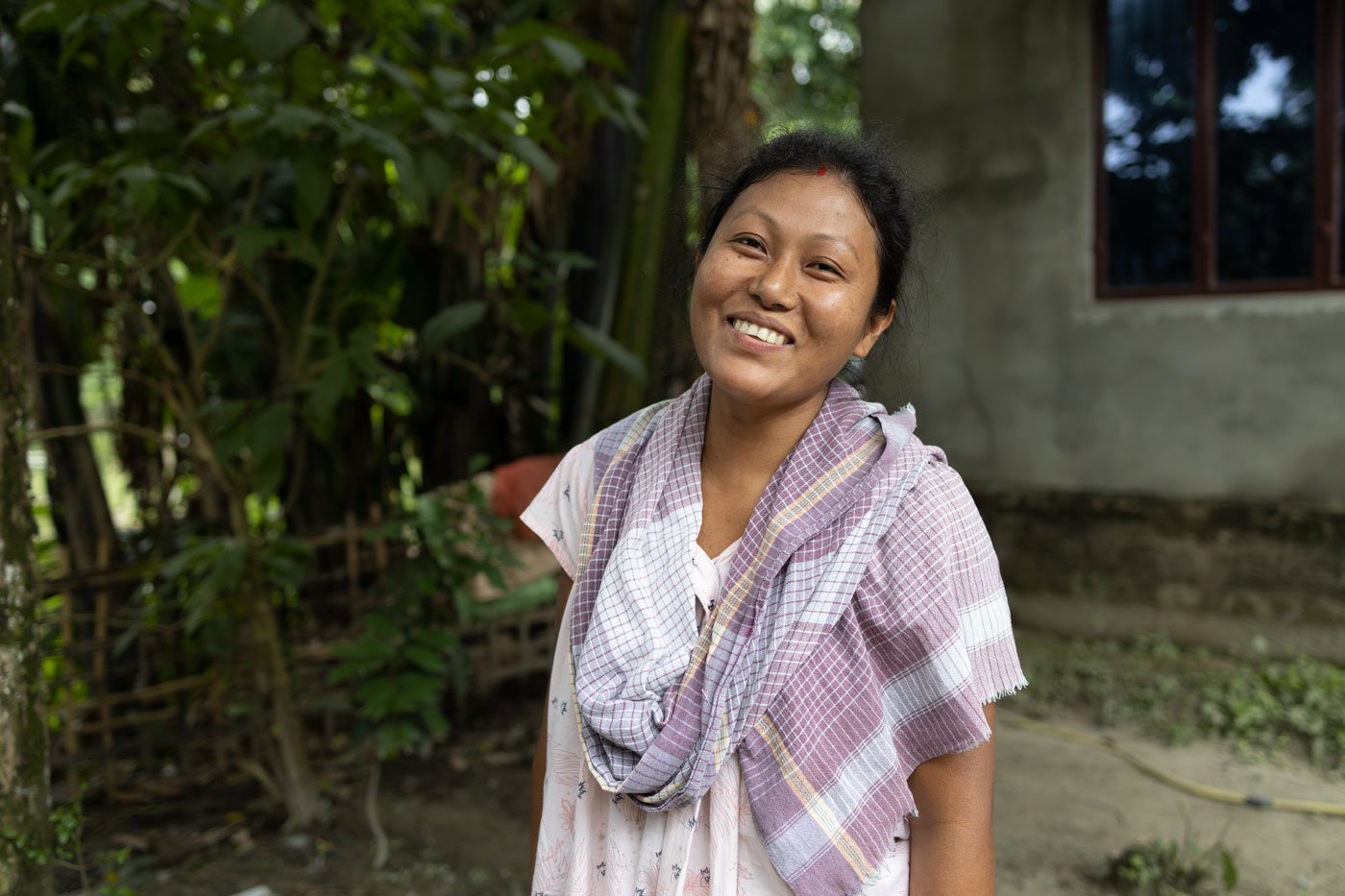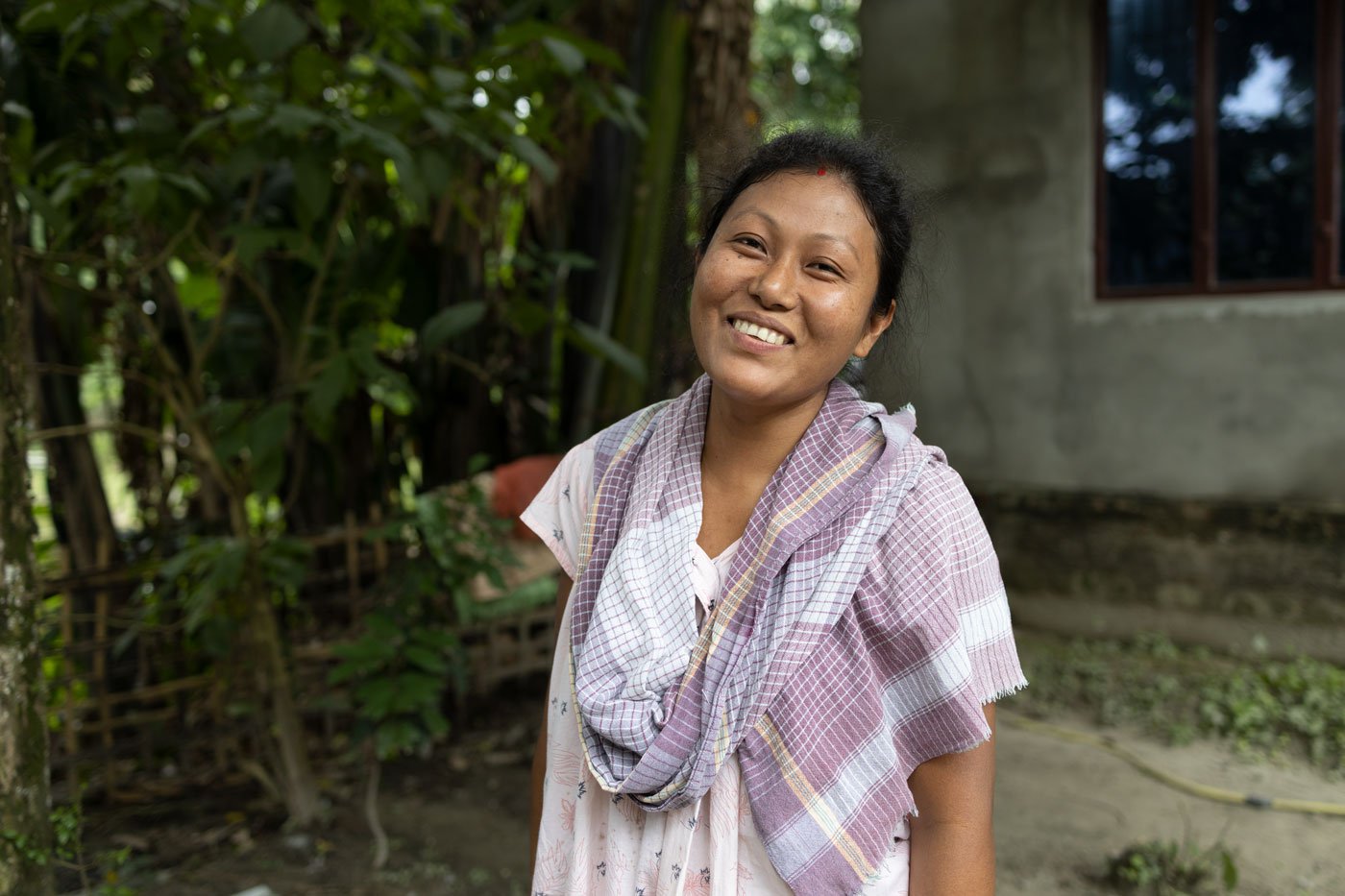 PHOTO • Riya Behl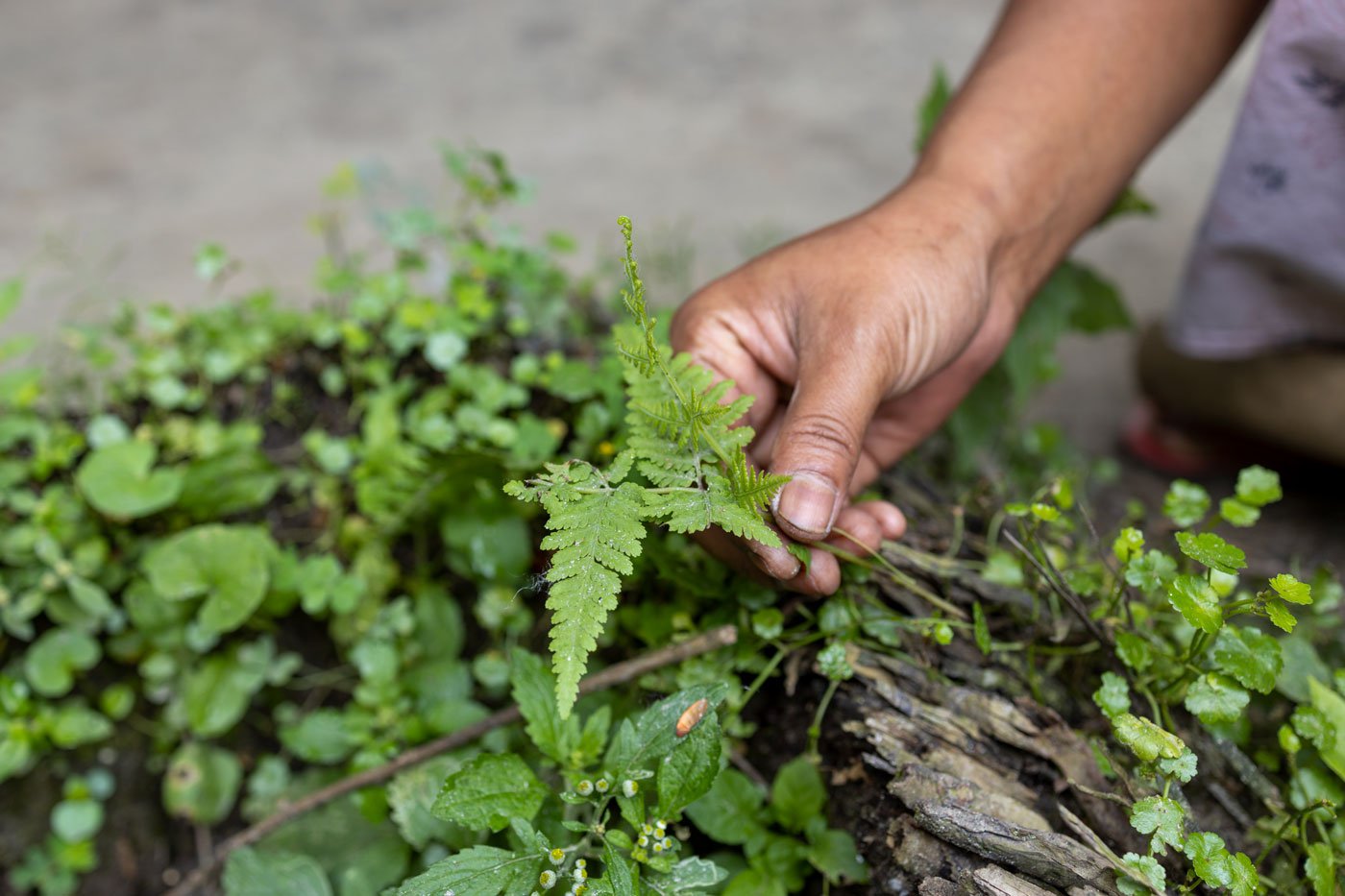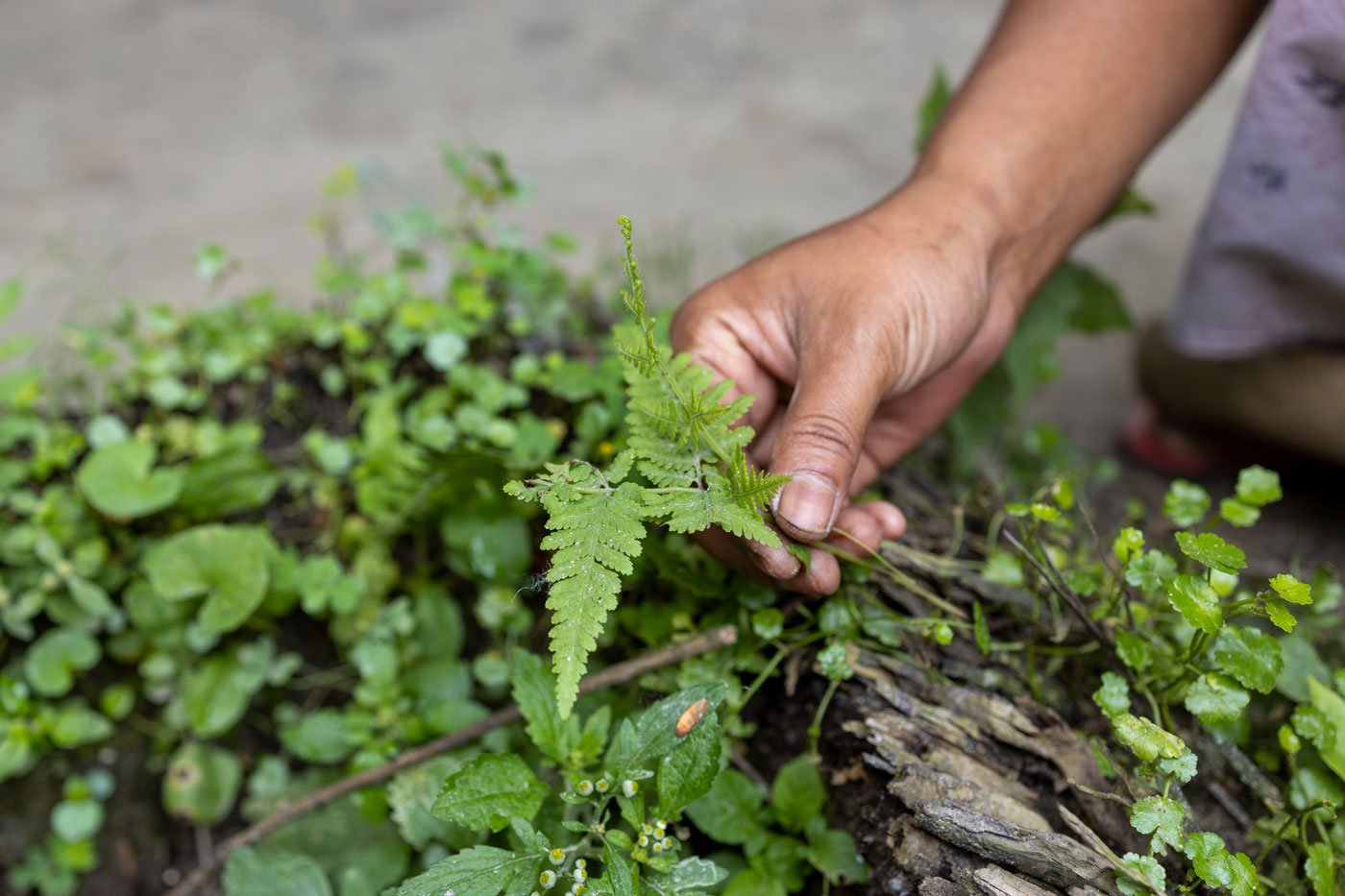 PHOTO • Riya Behl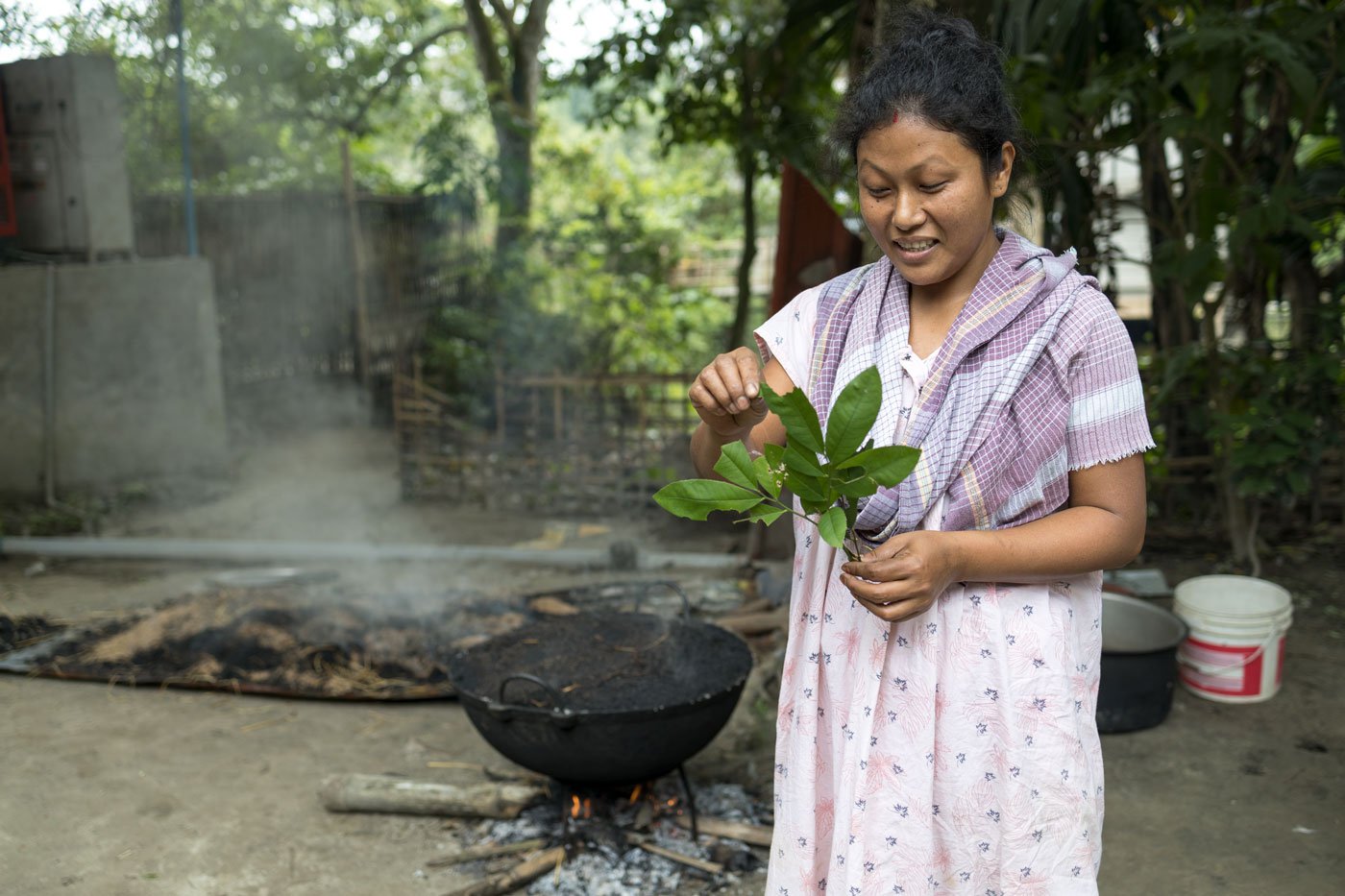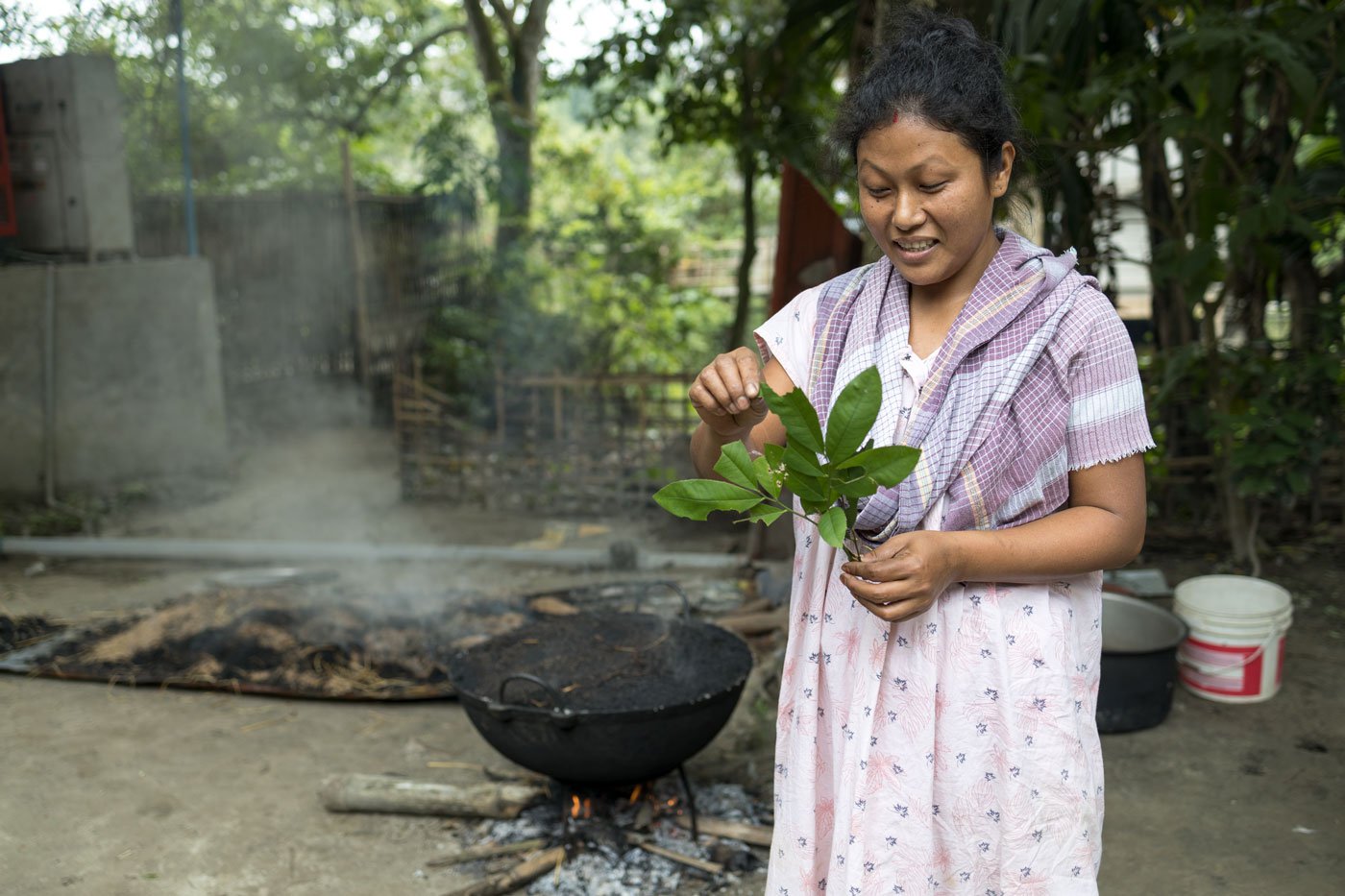 PHOTO • Riya Behl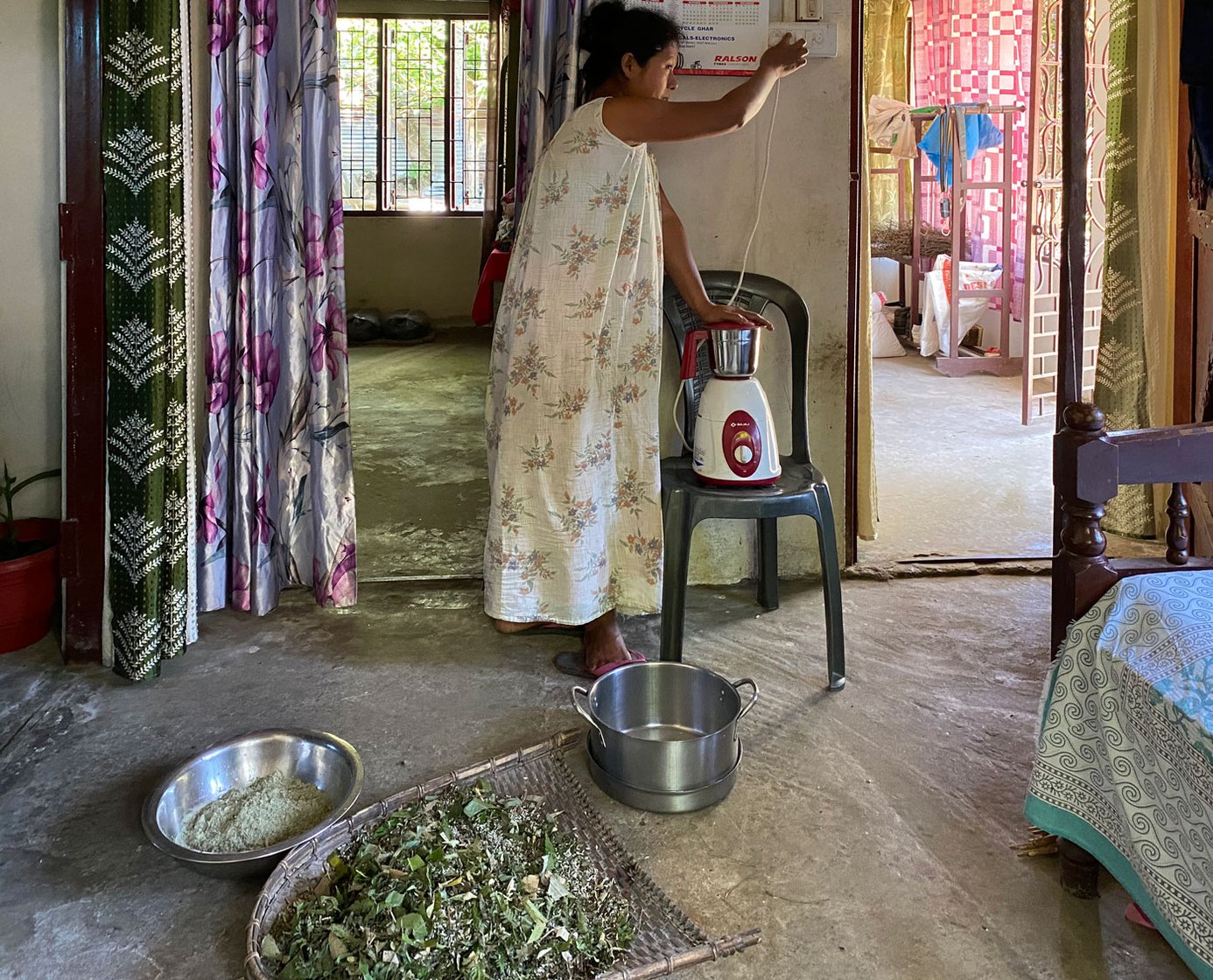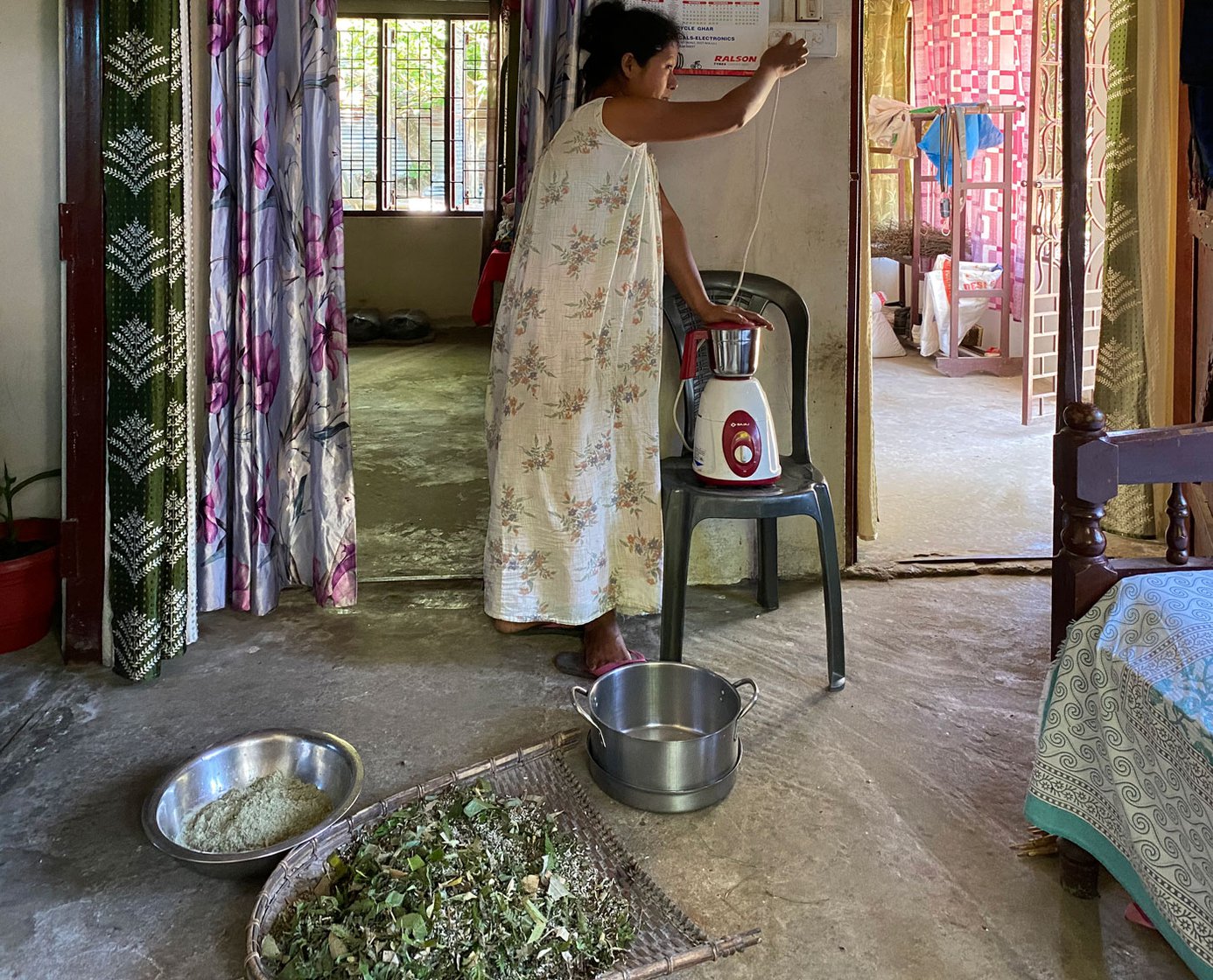 PHOTO • Priti David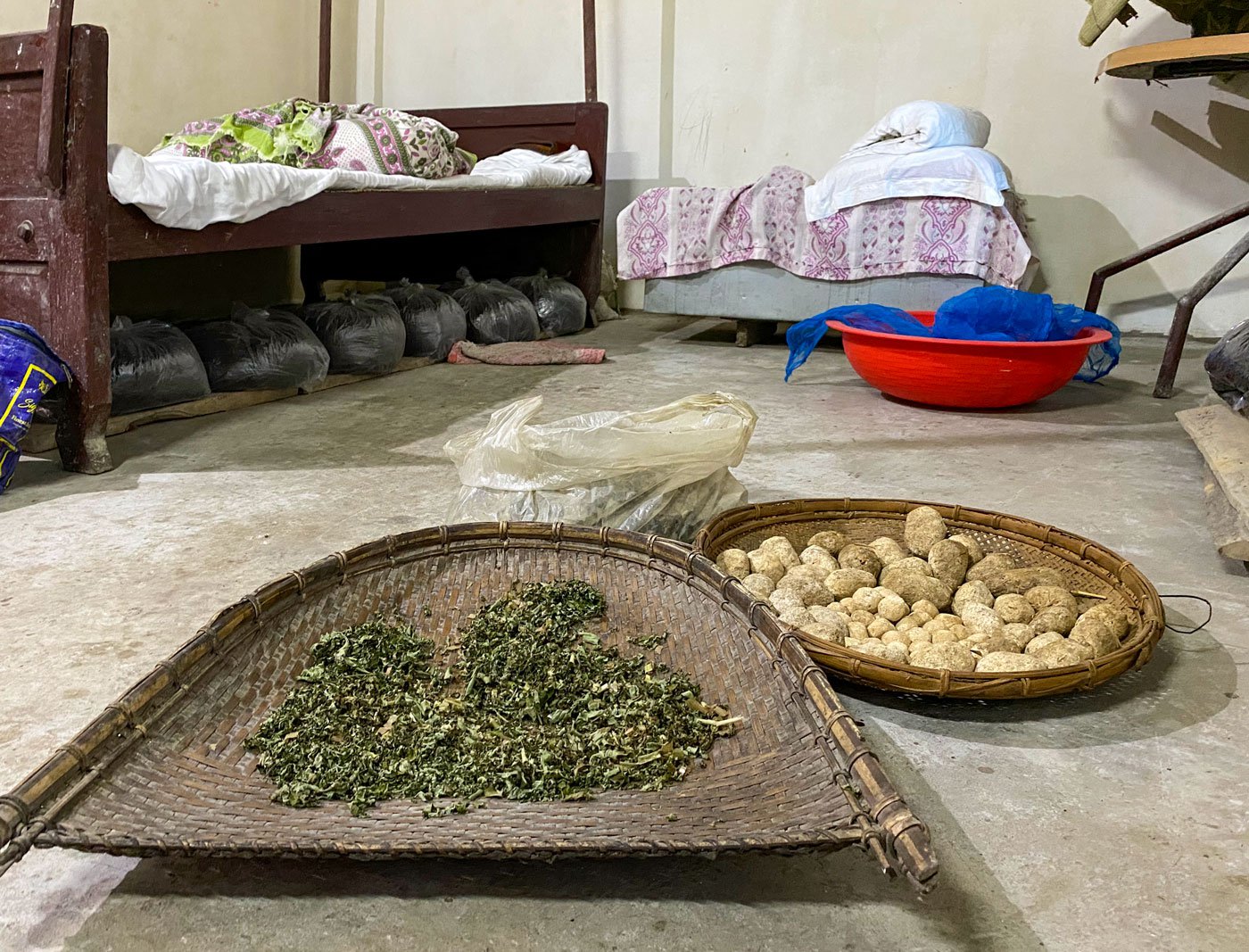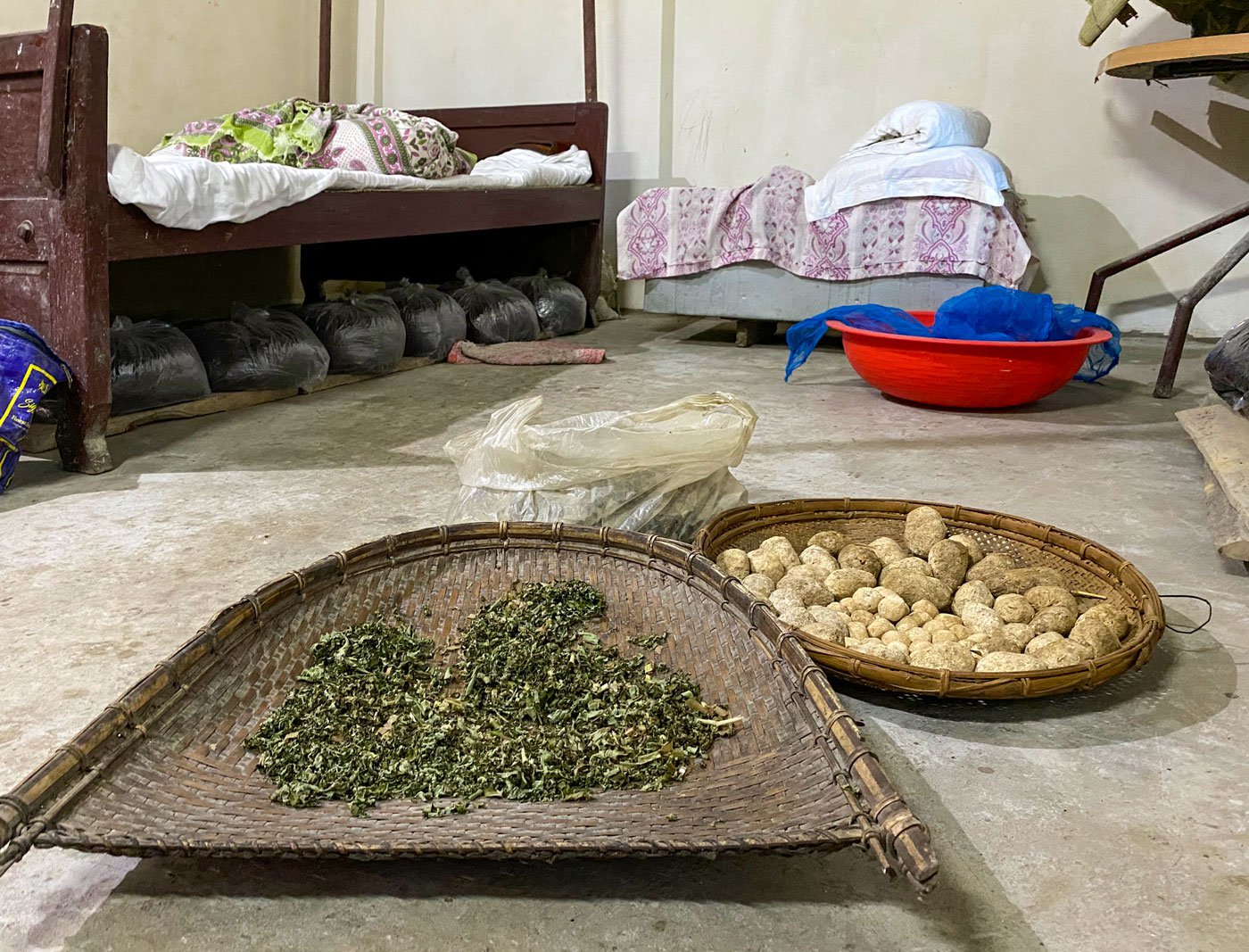 PHOTO • Priti David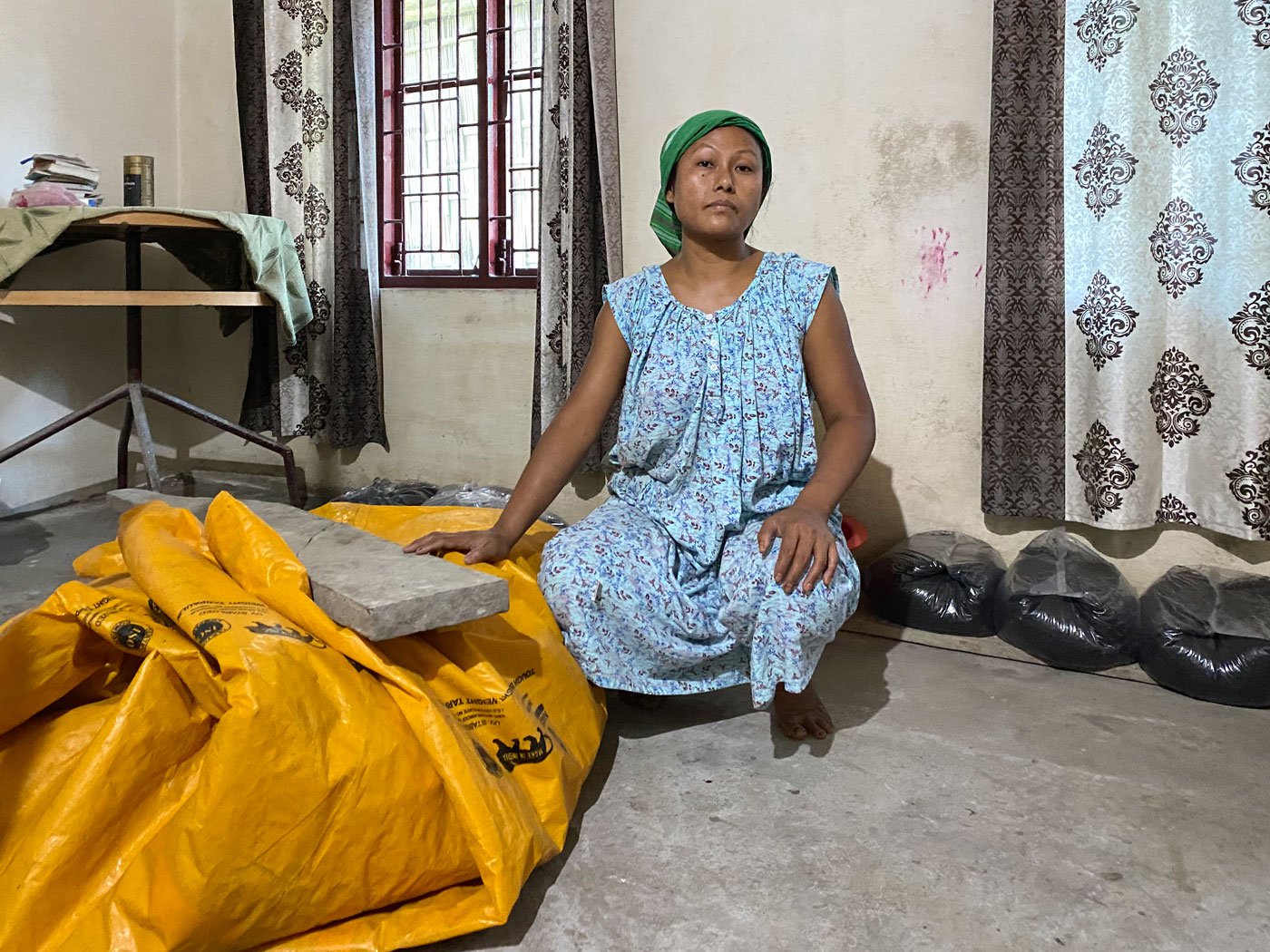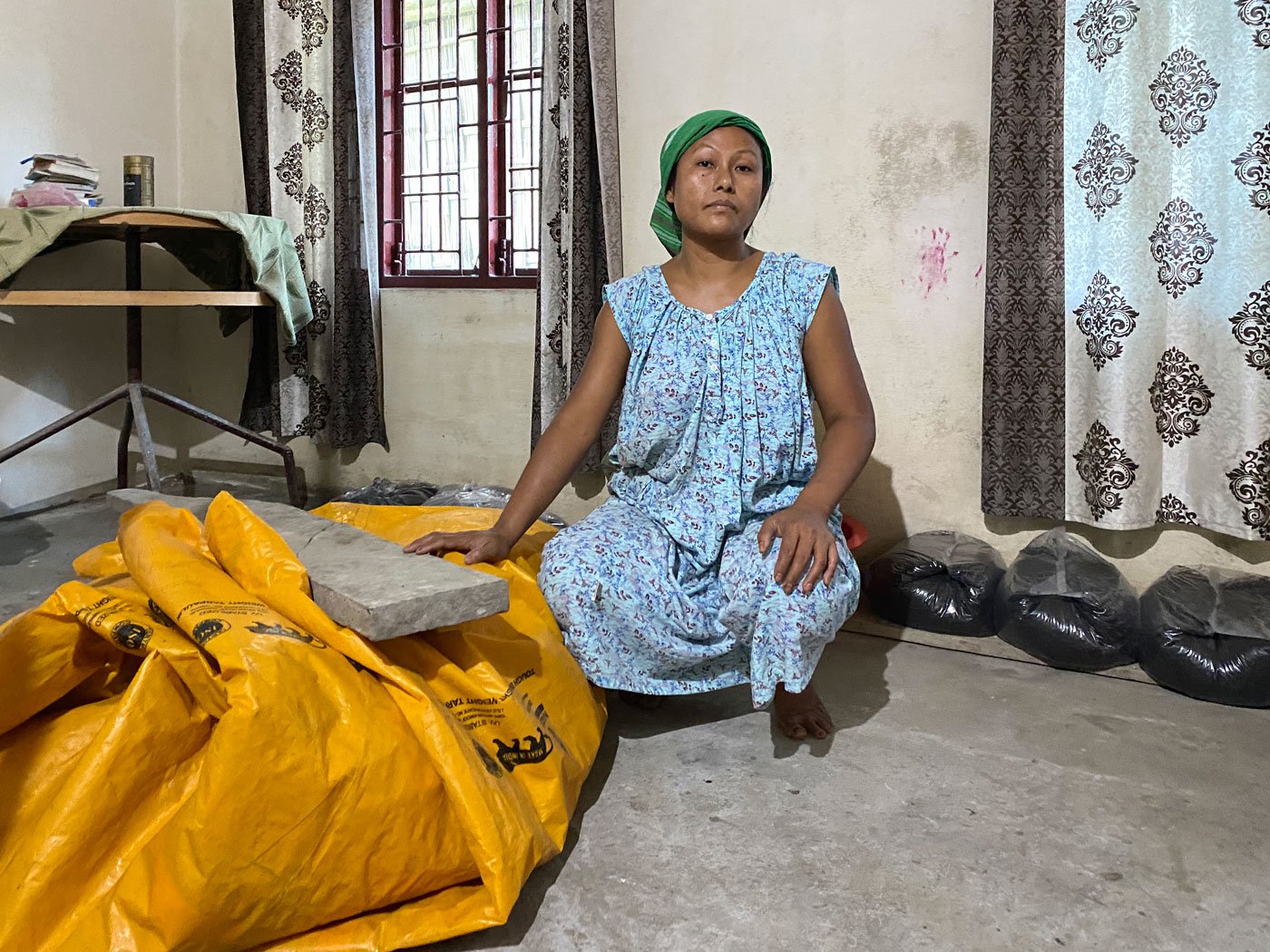 PHOTO • Priti David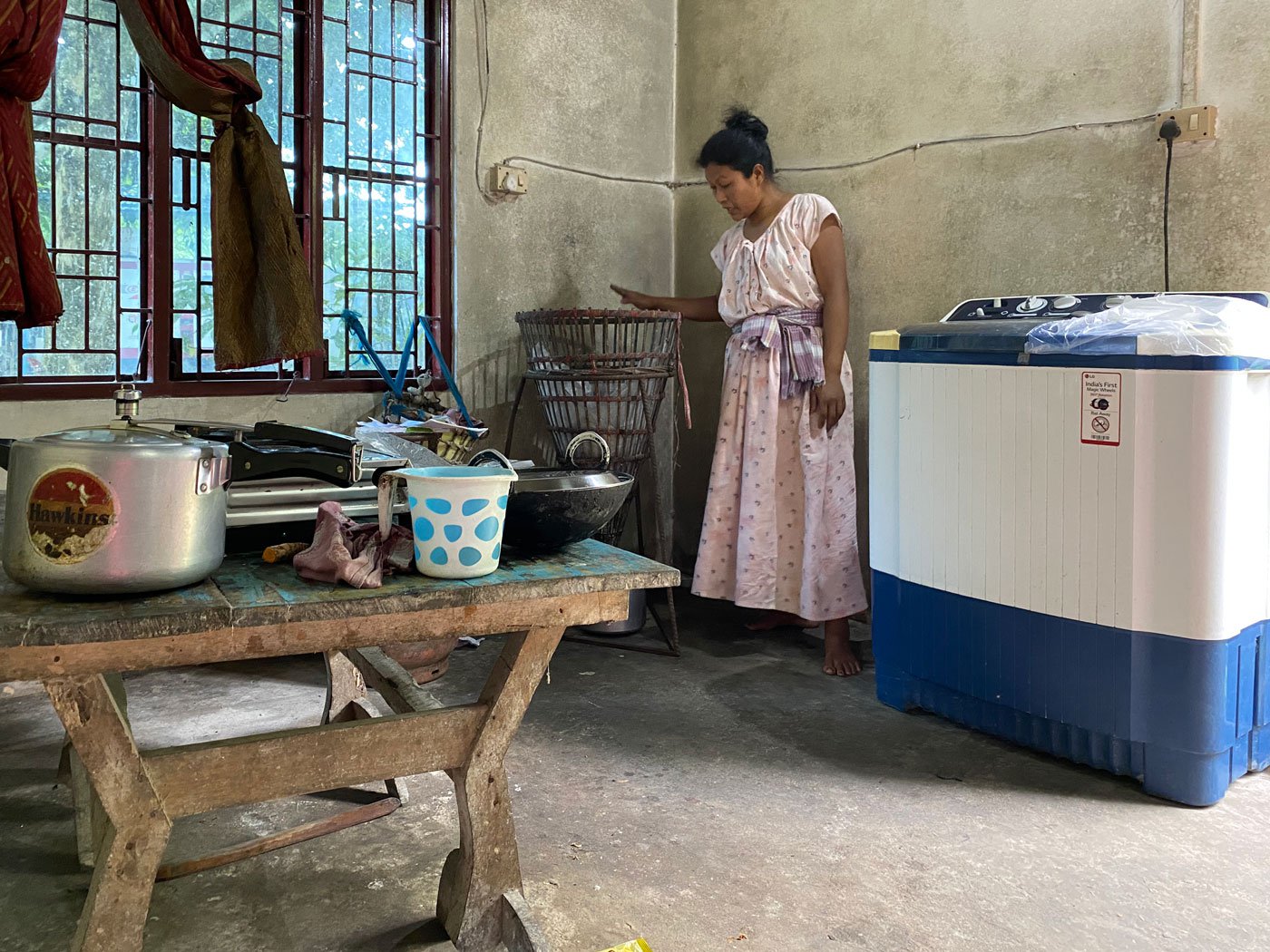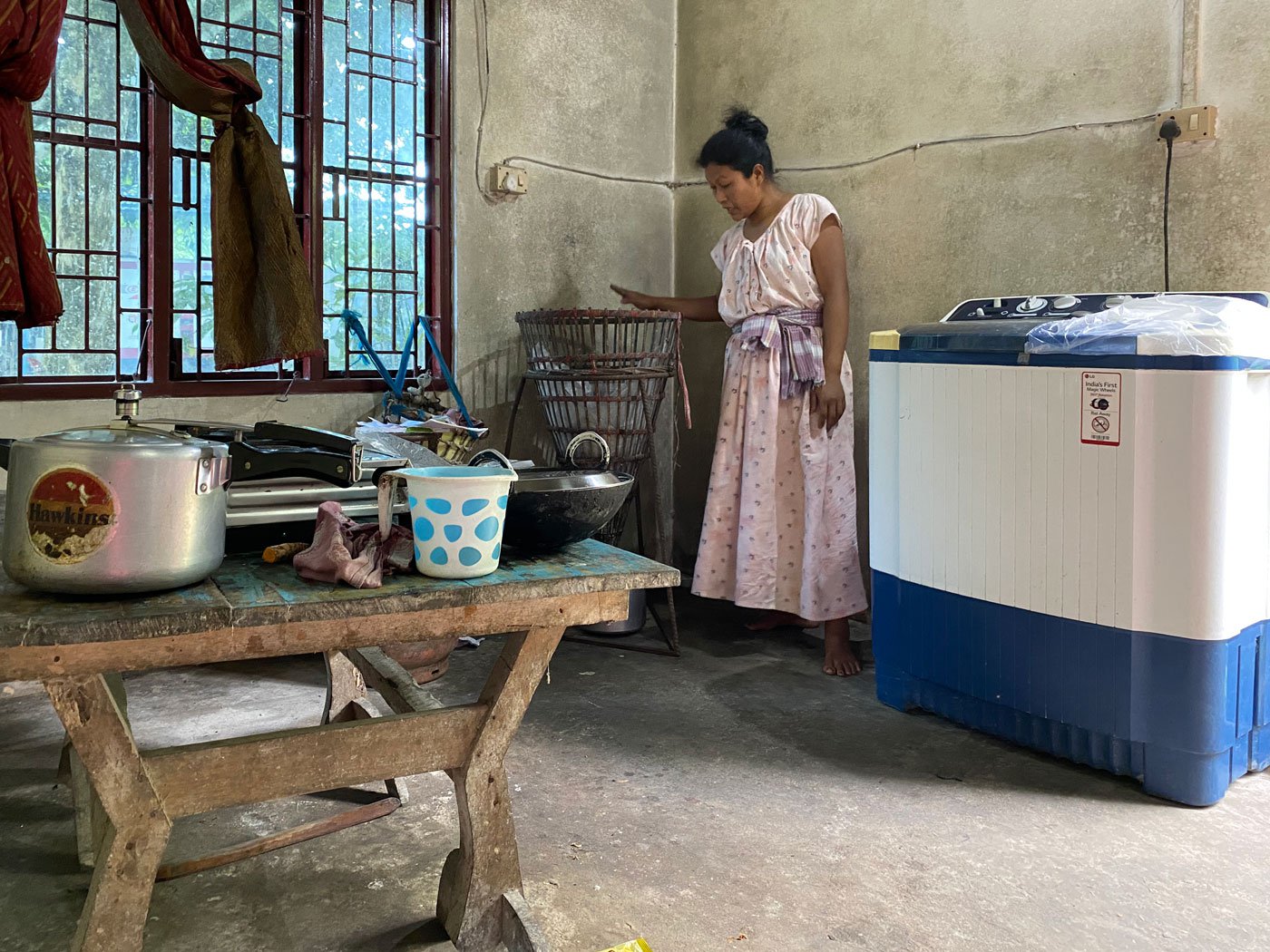 PHOTO • Priti David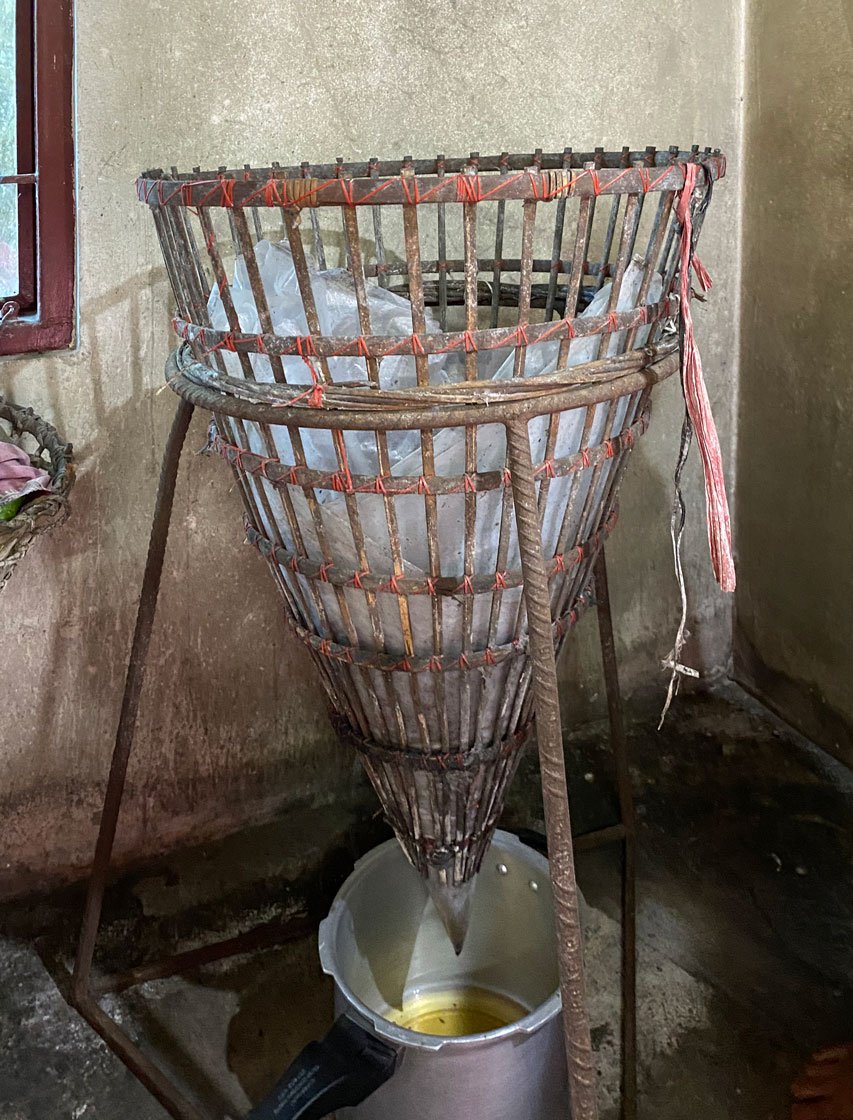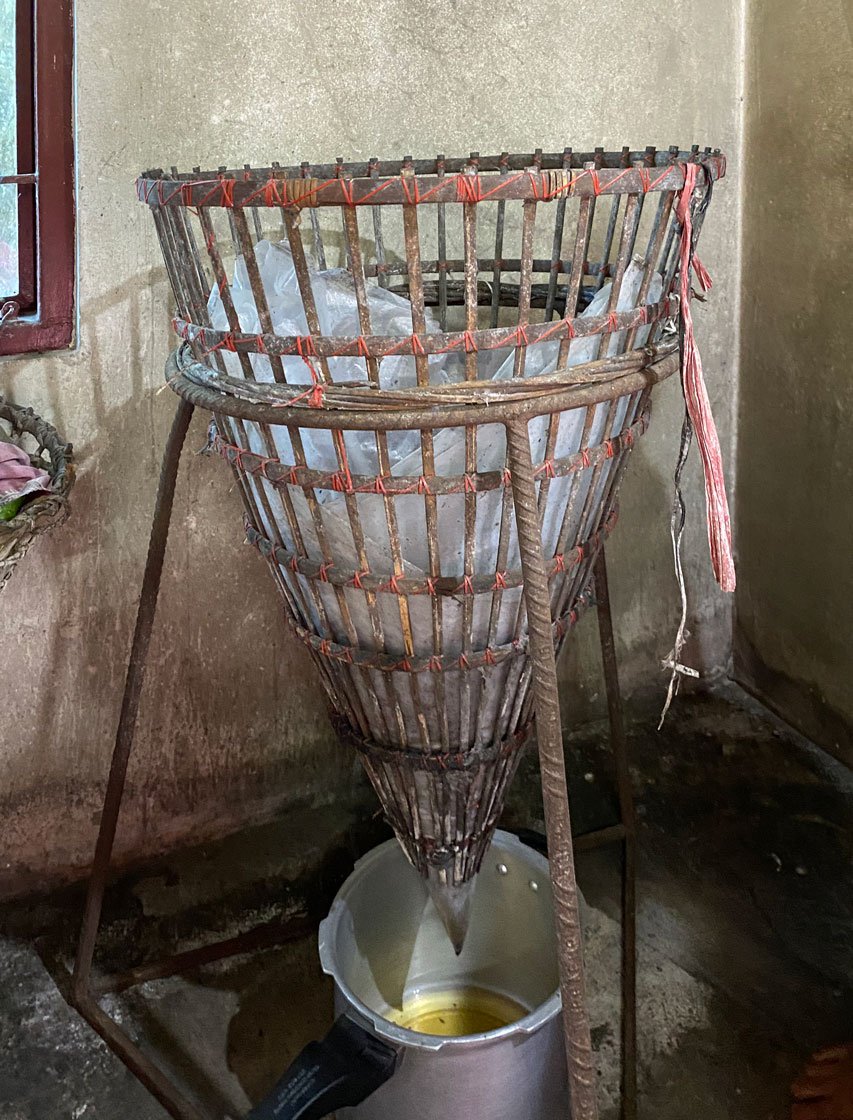 PHOTO • Priti David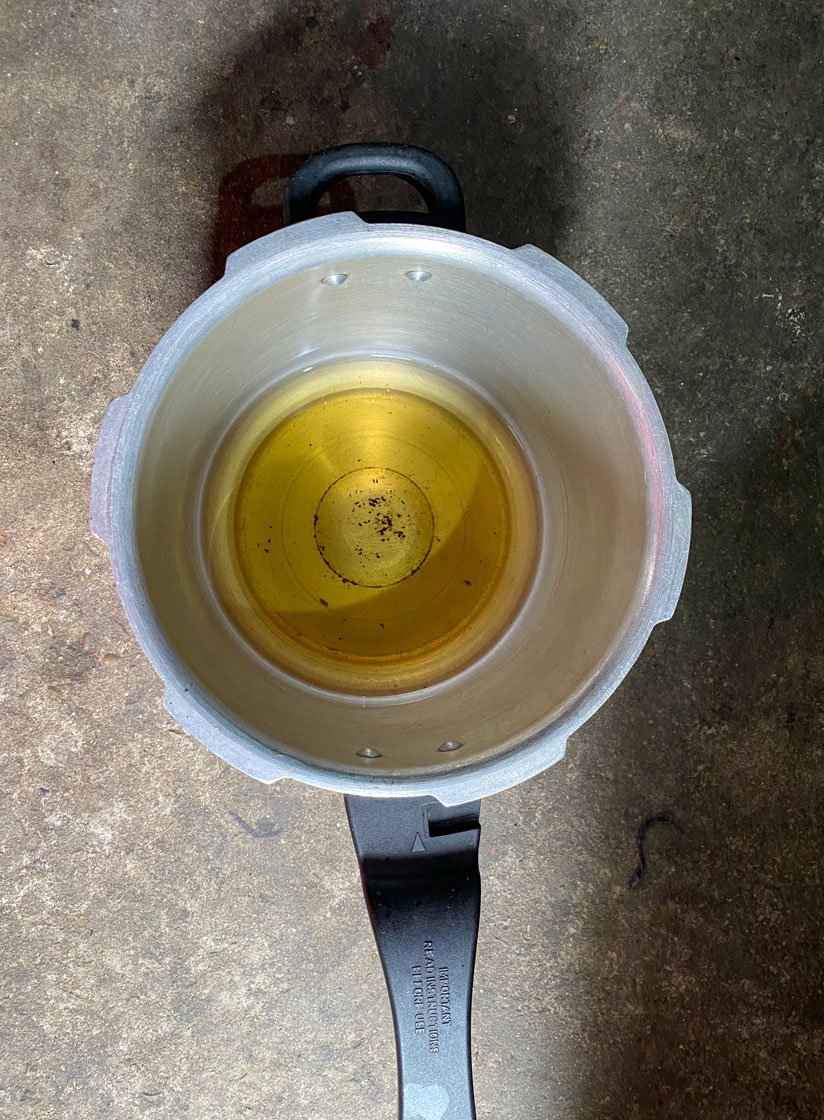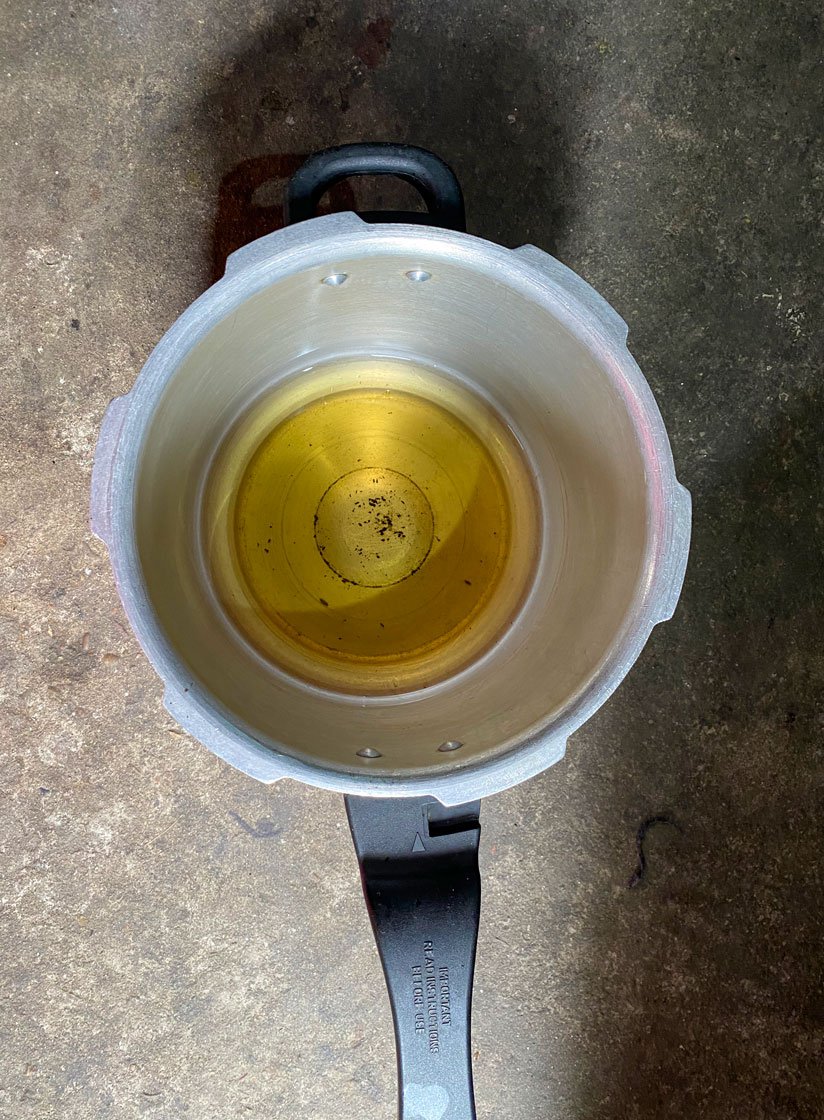 PHOTO • Priti David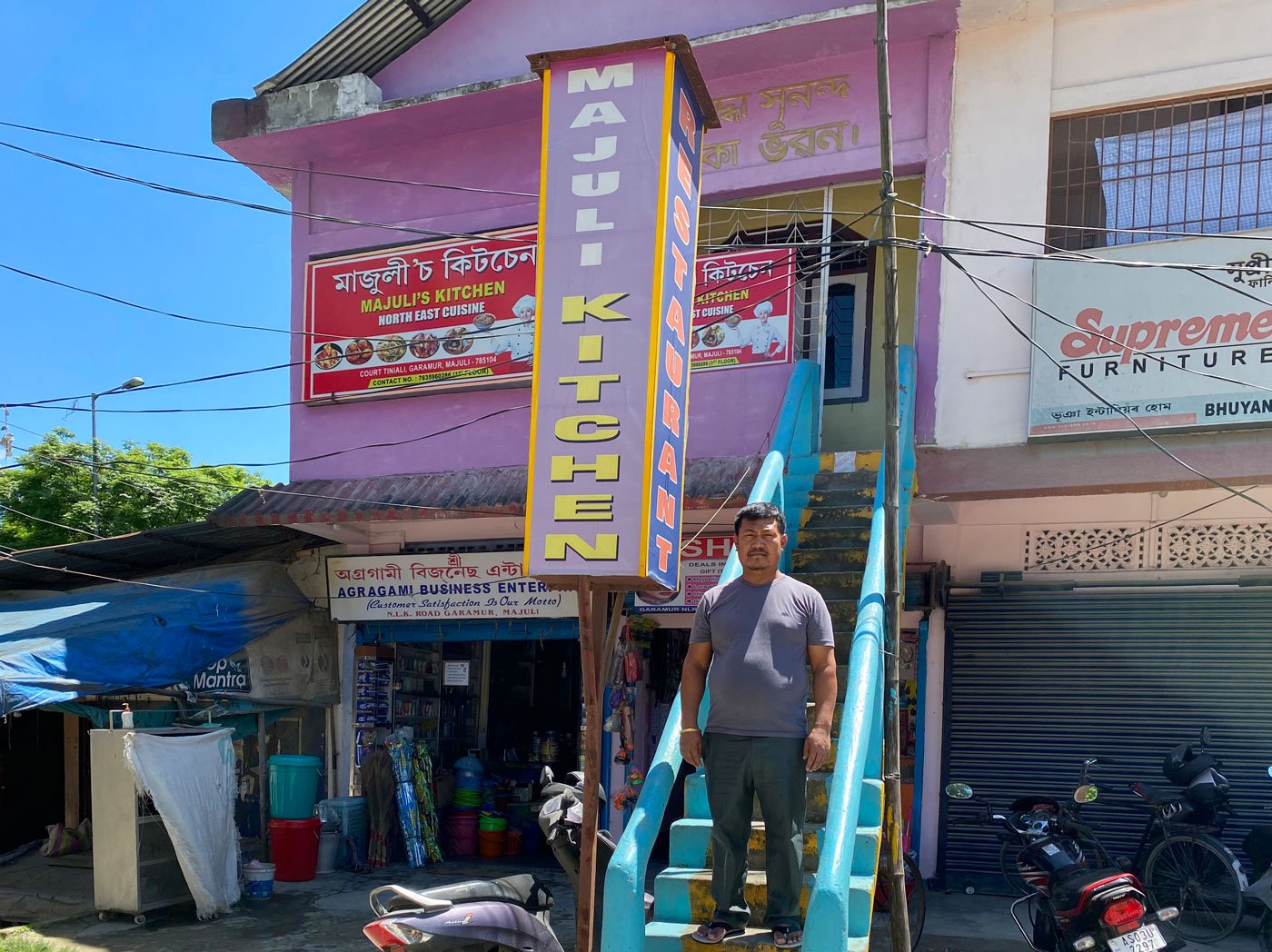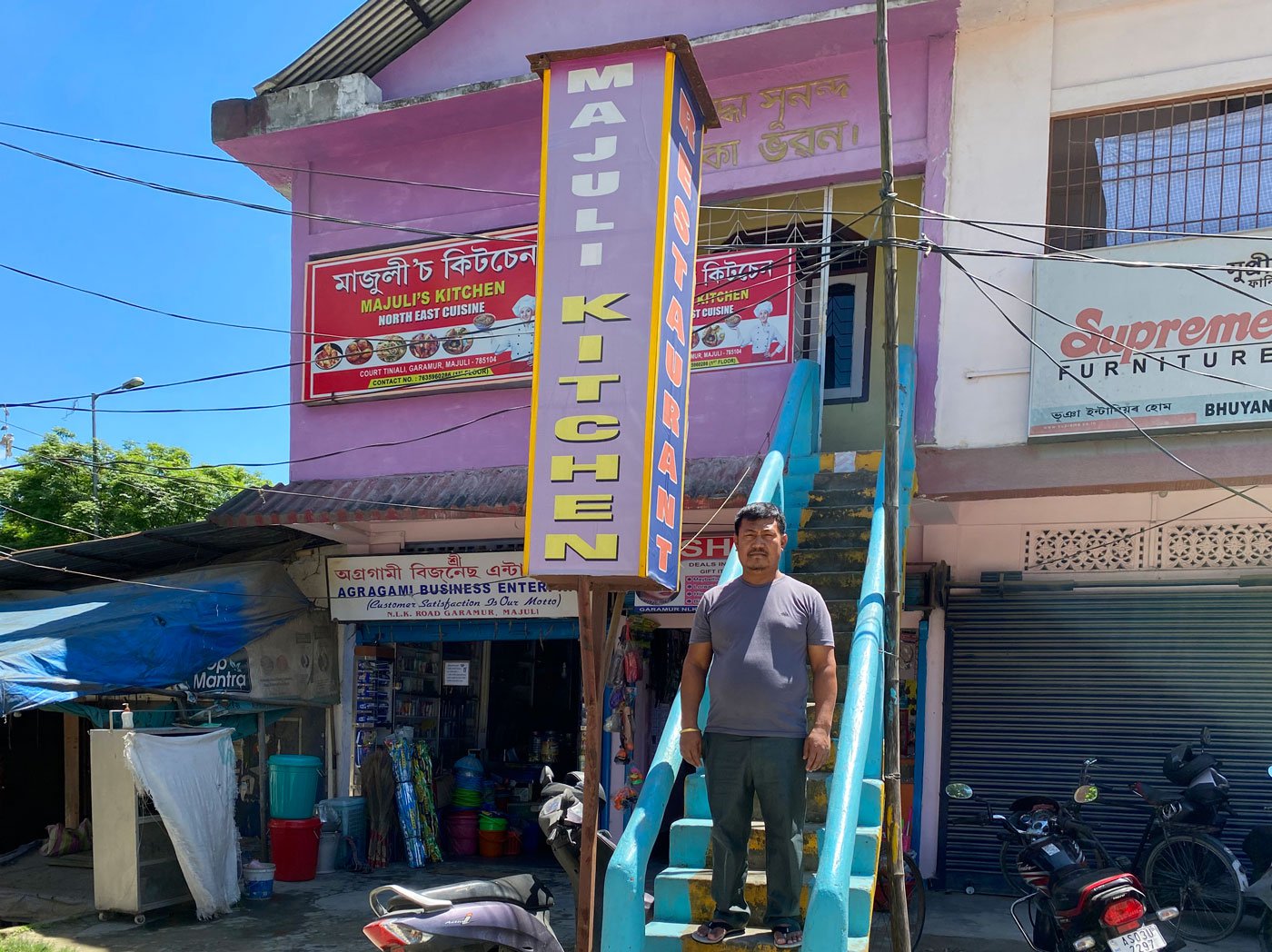 PHOTO • Priti David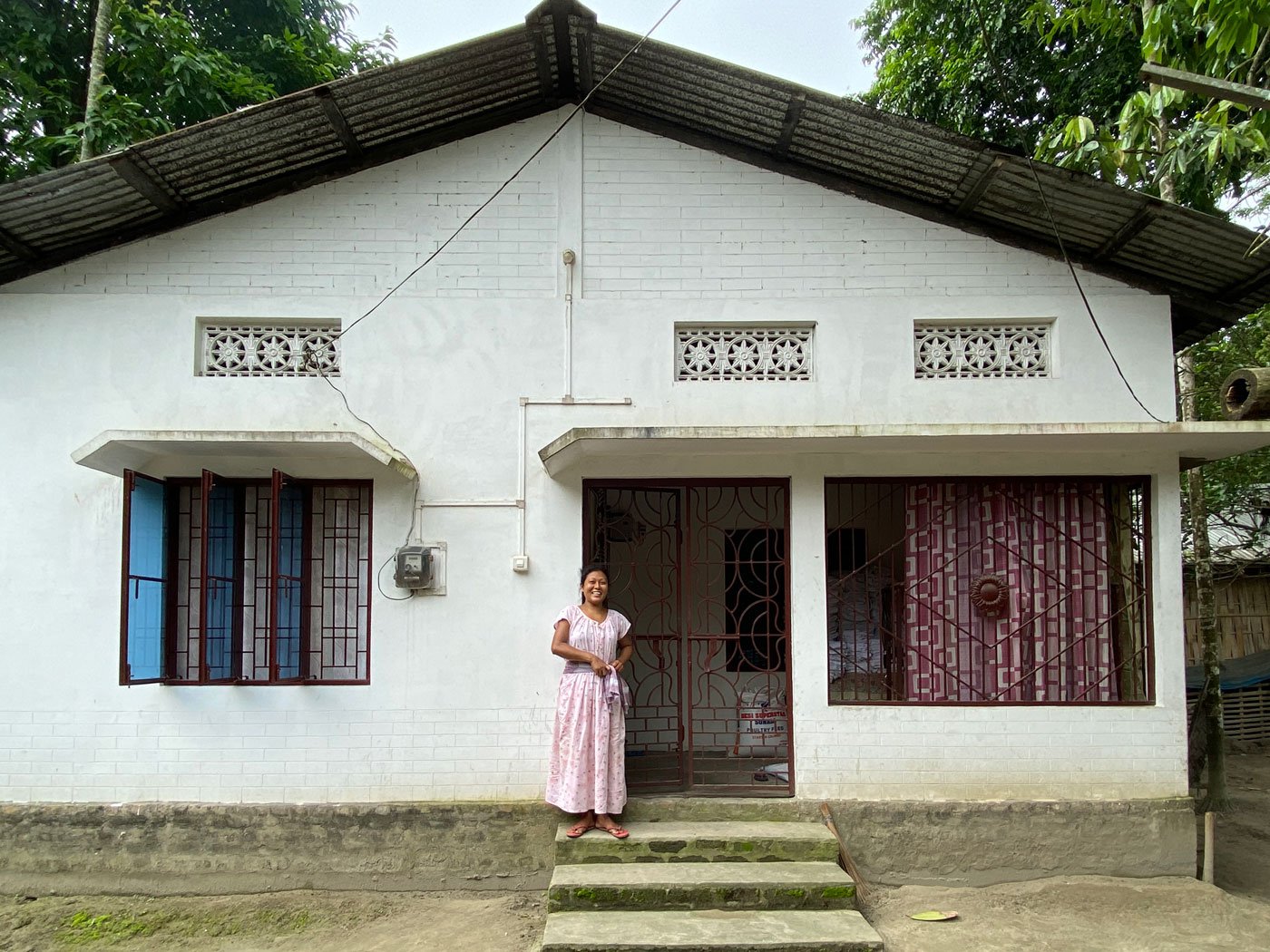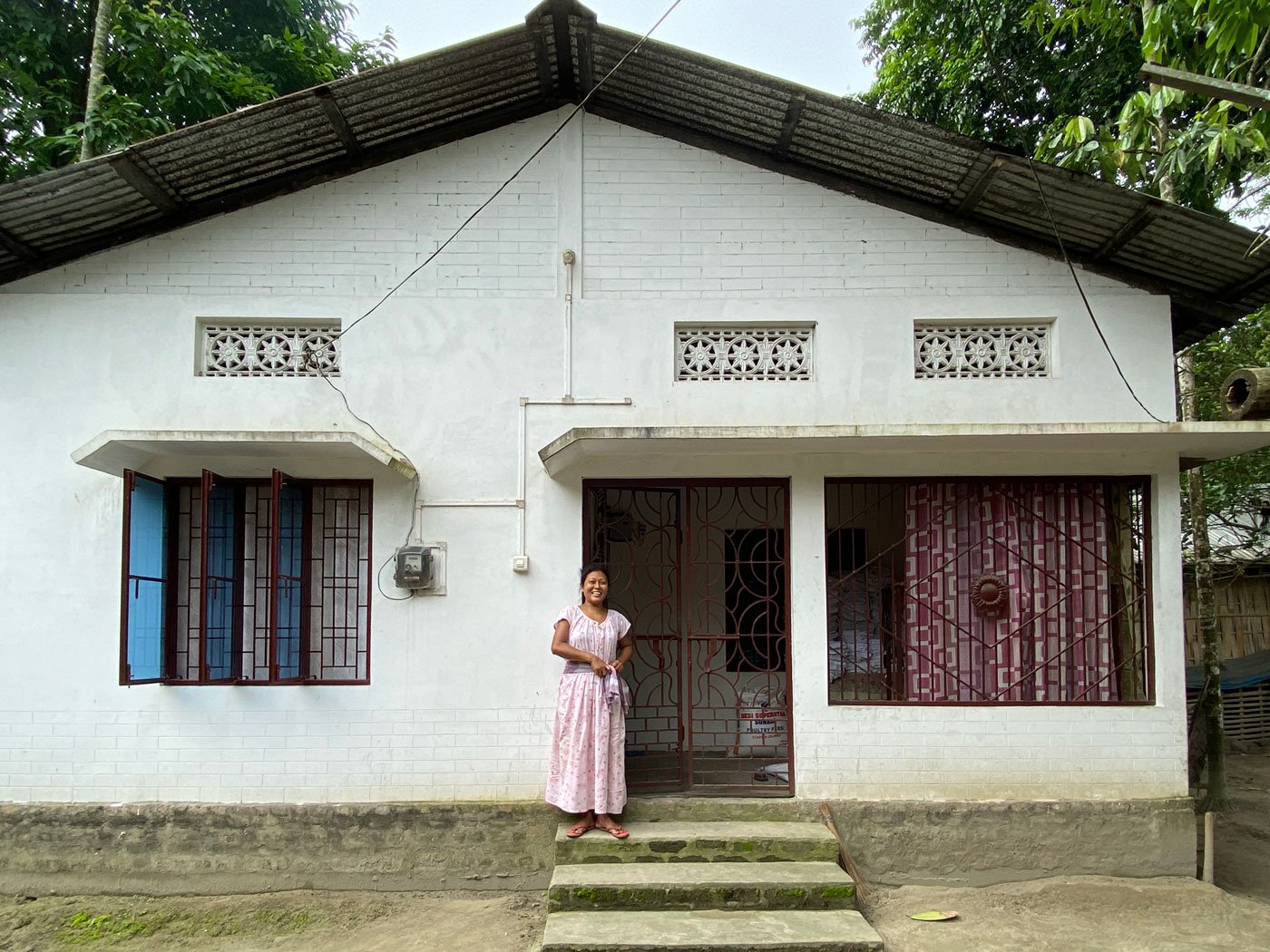 PHOTO • Priti David