Cow dung, clay and bamboo are crafted together to make a mask here in Majuli. It's a skill practised by generations of artisans on this island in the Brahmaputra. "Masks are important to our culture, and we are one of the last families still making them," says craftsperson Anupam Goswami. Both simple and elaborate masks made here are worn for annual theatrical performances celebrated on this island in the Brahmaputra, and at festivals across the country.
"I am responsible for taking my family tradition forward," says 25-year-old Anupam. His family has been doing this for multiple generations and everyone in the family of nine is associated with the craft.

"Many tourists come to visit Majuli from around the world and they buy masks as souvenirs," says Dhiren Goswami. He is Anupam's 44-year-old uncle who sells masks of varying sizes from the family-owned shop. A single mask is priced at Rs. 300 but could go up to Rs. 10,000 for special, larger ones with customisations.

Majuli is India's largest river island and is, 'considered the nerve centre of Assamese Vaishnavite religion and culture with 62 satras [Vaishnavite monasteries]', points out the Census 2011.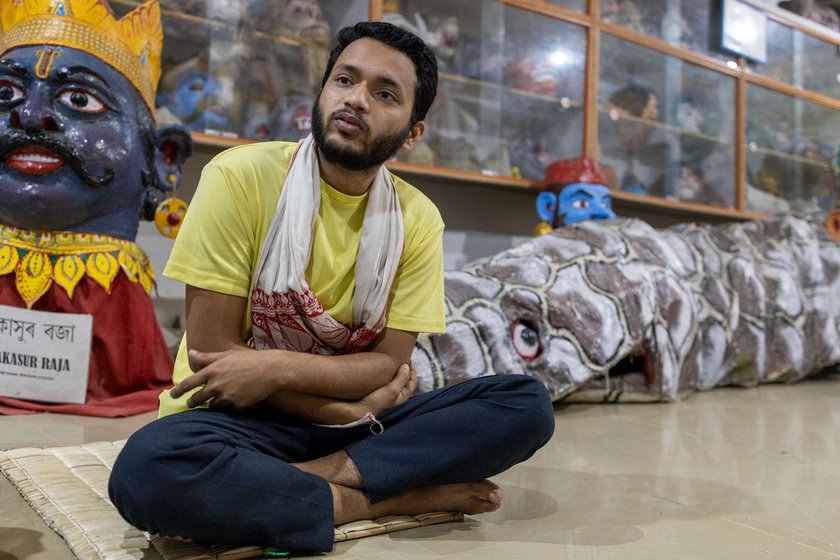 PHOTO • Riya Behl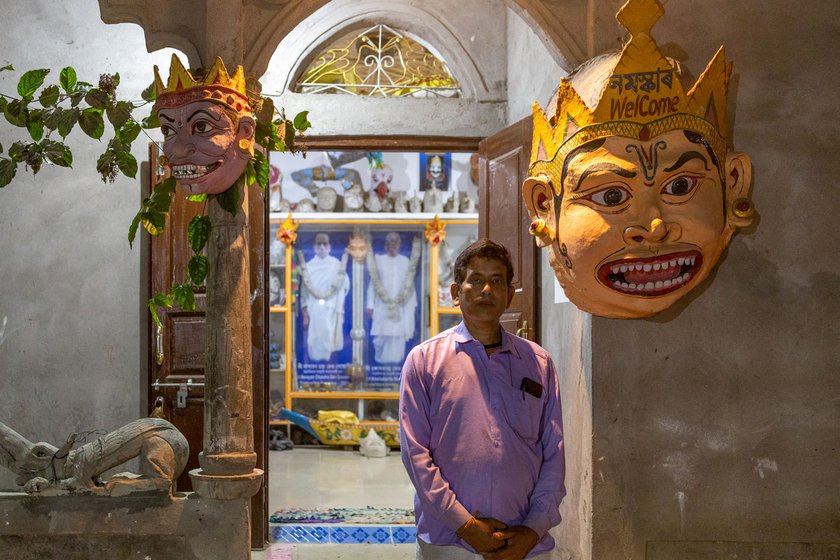 PHOTO • Riya Behl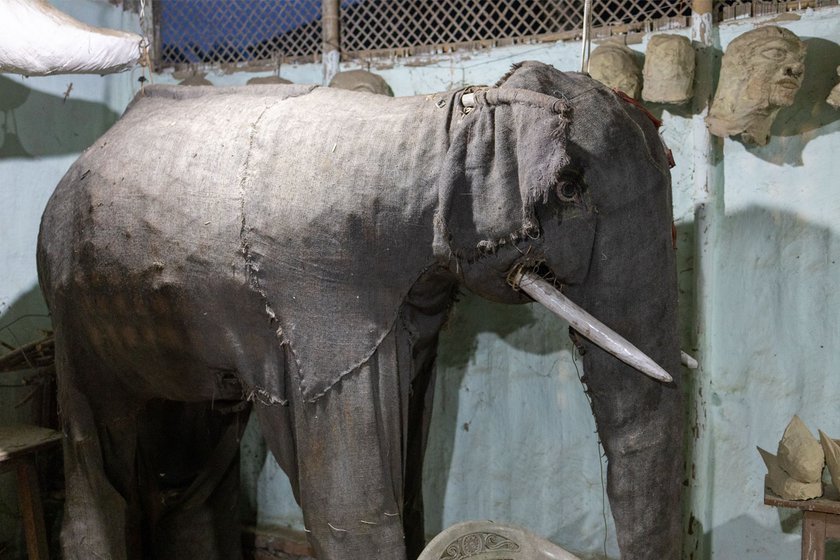 PHOTO • Riya Behl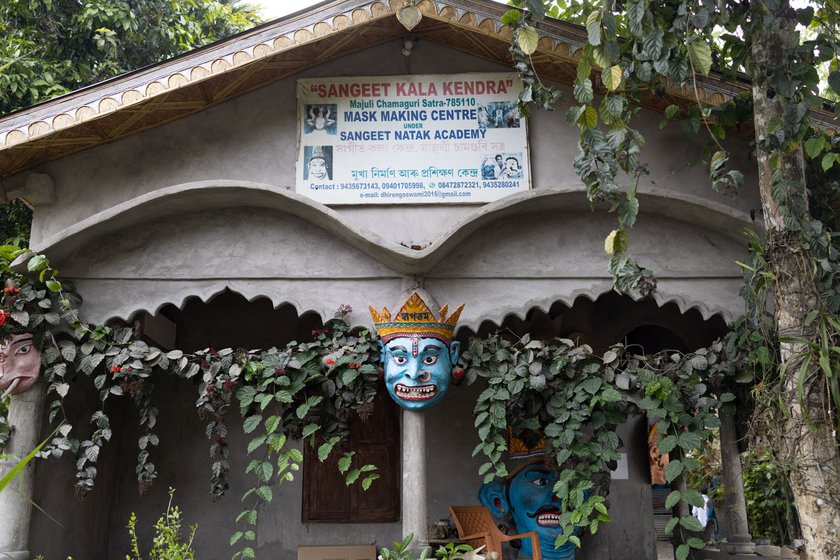 PHOTO • Riya Behl
The materials to make a mask – clay and bamboo – are provided by the Brahmaputra. Majuli is a large island on this river that has one of the largest riverine systems in the world, occupying 194,413 square kilometres in India. The melting of Himalayan glacial snow and heavy monsoon rainfall feeds the river and floods the area: annual erosion in Majuli and surrounding islands is a constant threat.
Mask makers are feeling the impact of erosion. "The continued erosion of land in Majuli has made it harder to source the clay required for [mask-making]," Dhiren Goswami writes in India Development Review. They pay Rs. 1,500 to buy one quintal of kumhar mitti or clay from the nearby market. Anupam adds, "Earlier we used natural dyes to paint the masks, but now it has become difficult to find them."

Dhiren traces the origins of this craft to a performance of one of Mahapurusha Srimanta Sankaradeva's plays. "It was difficult to create the looks for some [mythical] characters with just makeup. So Sankaradeva created masks that were worn in the drama and that's how this tradition started."

The Goswami family runs Sangeet Kala Kendra in Samaguri satra that dates back to 1663. Satras are centres of traditional performing arts, established by social reformer and saint Mahapurusha Srimanta Sankaradeva.

'Masks are important to our culture, and we are one of the last families still making them,' says Anupam Goswami
Their workshop includes two rooms less than 10 steps away from their home. A large and unfinished bamboo skeleton of an elephant mask sits on a table in the corner, waiting to be completed. In 2003, Dhiren Goswami's late father, Kosha Kanta Deva Gosawami won the prestigious Sangeet Natak Akademi Award for establishing this workshop and his contribution to this art form.
The walls of the exhibition hall in the workshop have masks of various shapes, sizes and colours sitting inside glass cabinets. Those that don't fit – full-body masks almost 10 feet tall – are placed outside. Dhiren shows us a full-body mask of garuda (mythical eagle) used during religious festivals like Bhaona (a traditional form of entertainment with religious messages) or Raas Mahotsav (festival of Krishna's dance) on the island.

"Sometime in 2018 we got an order from a museum in America for 10 masks of this size. We had to change the design as it was too heavy to send," says Anupam.

That was the beginning of innovations – the craftsmen began to make masks that could fold and were easier to ship and re-assemble. "We have modified how masks are presented. Once some tourists said they wanted wall-hangings to give as gifts, so we made these masks for them. With time, everyone needs to change," says Anupam, brushing off his critics who think tradition has been violated.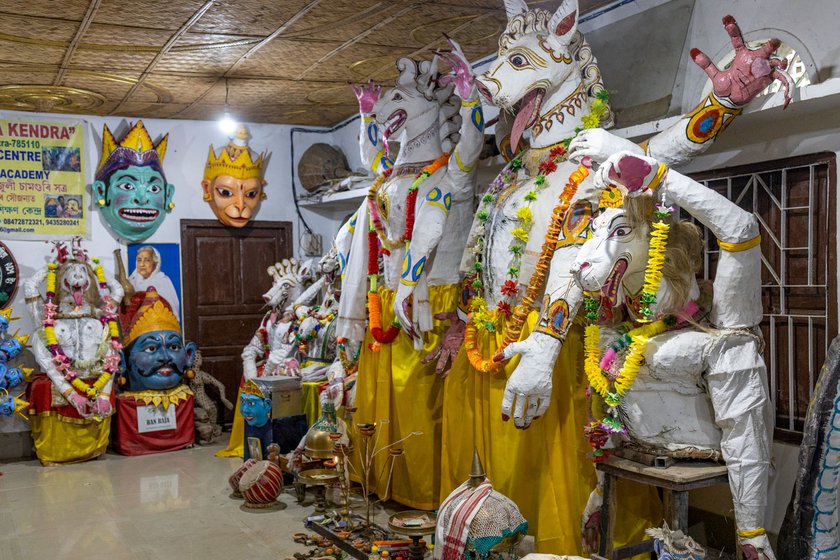 PHOTO • Riya Behl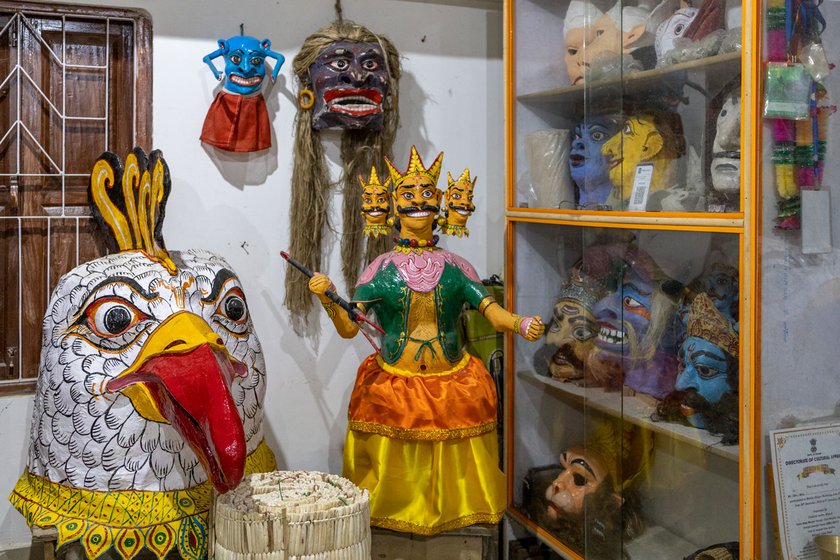 PHOTO • Riya Behl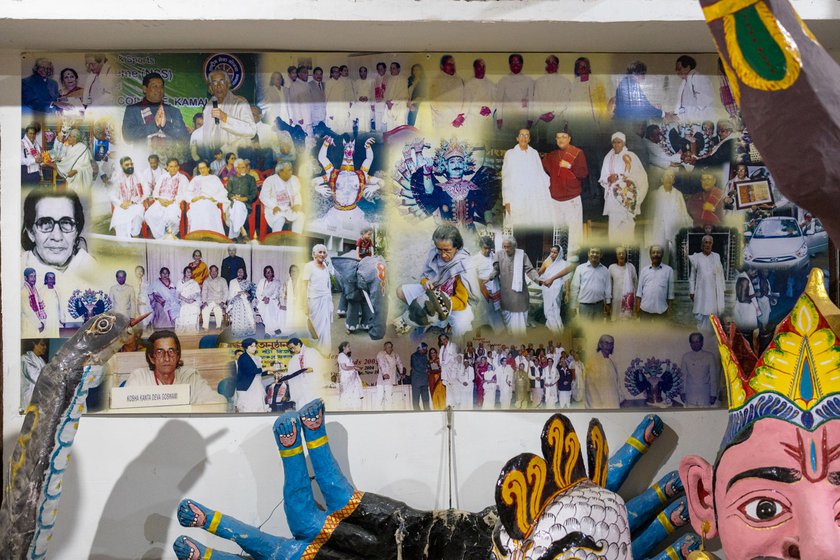 PHOTO • Riya Behl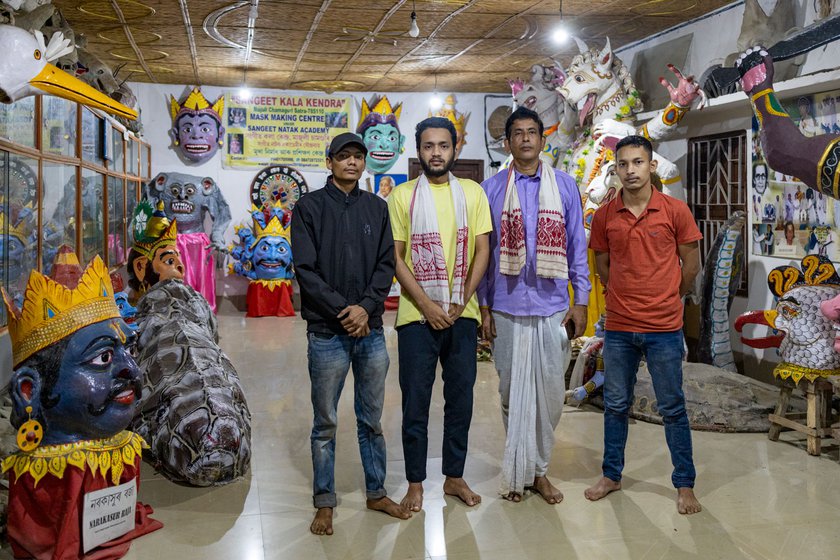 PHOTO • Riya Behl
Now their sales are mainly dependent on tourism. Anupam says worriedly, "We didn't focus on earning in the past. There is no [financial] stability even during tourist months."
Determined to find a balance, the young graduate who recently finished his Masters in Tourism from Dibrugarh University is looking for other opportunities in the industry. "I have many ideas and dreams about how to grow our traditional business, but I know I will first have to build my own savings to put in [to this business]."
The family continues to teach the craft to anyone who wants to learn. "We have at least 10 students per year. They come mostly from families who do farming in nearby villages. Initially women were not allowed to be a part [of this craft] but now that has changed," says Anupam. Masks made by students in their workshop are displayed for sale at the Kendra and the student earns a percentage from the sale.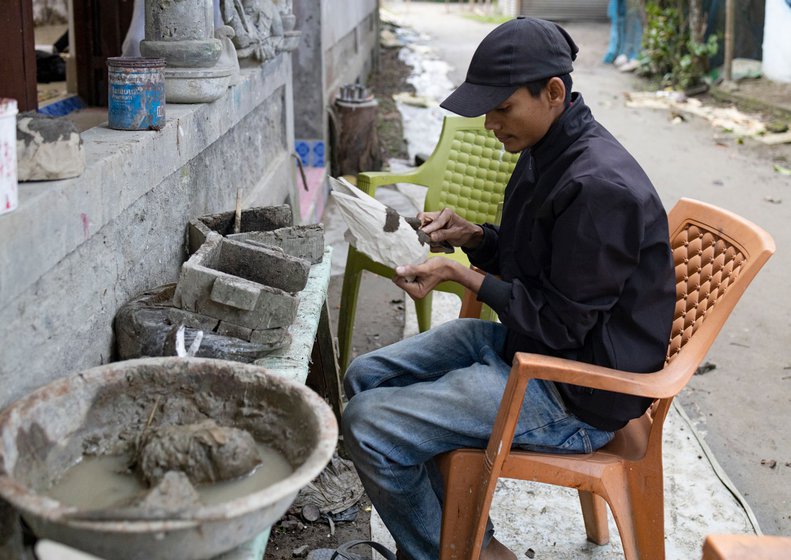 PHOTO • Riya Behl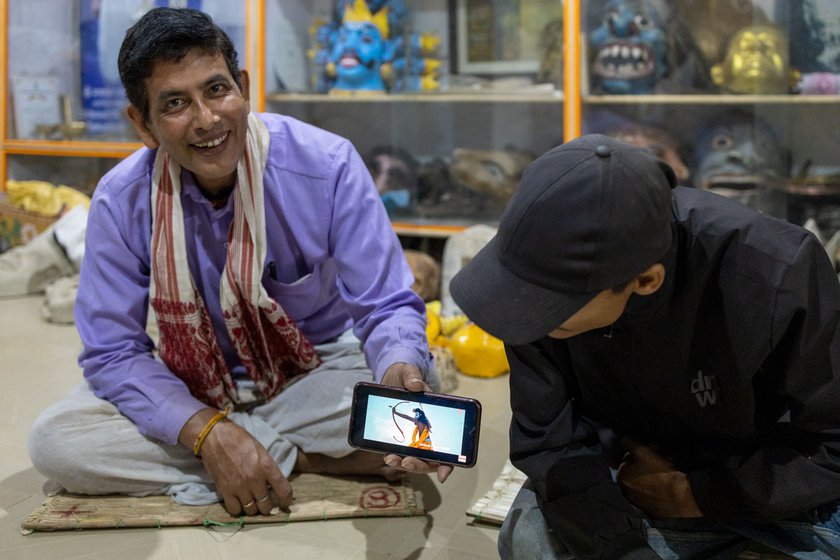 PHOTO • Riya Behl
One of the students, Goutam Bhuyan is currently at the workshop, making a mask for an upcoming order. The 22-year-old lives in the nearby Potiari hamlet in Kamalabari block, where his family grows rice on their eight bighas (roughly two acres) of land. "I would see people make masks here and got curious, so I started learning from here after school, whenever I didn't have to help out on the farm," he says.
Goutam now takes individual orders for masks through Facebook and Instagram. He says, "My earning depends on the order. Sometimes I even work here [at the Kendra] when they get big orders." He smiles when adding that apart from money, there is more that he has received from learning this craft. "I get to travel in the country whenever we put up [theatre] performances with the masks. I even got to act in that Bollywood music video with so many views!"

Goutam and Anupam recently performed in a bollywood music video which got over 450 million views on Youtube. Anupam played the character of the 10-headed Ravan from the Ramayana and featured in the opening shot in a mask he made himself. "I did not get a single mention in the credits for it," he points out, adding that neither did his two fellow craftspersons who acted and created costumes for their performance.

The reporter would like to thank former PARI interns Sabzara Ali, Nandini Bohra and Vrinda Jain for their support with this story.