Nallamma steps across a stagnant stream of liquid sewage as she enters the dusty path between two pucca houses, lined with supplies of firewood. The 35 year-old walks tall in her floral blue chiffon saree, her bare feet marking a route that appears to be in frequent use.
We reach an open space, filled with shrubs, dry grass and garbage. "Wherever there is space, we sit [to defecate]," Nallamma says, pointing to the houses in Gudikal village that we just passed, "None of our homes have toilets. Even if it is a C-section [caesarean birth], pregnancy or periods, we have to come here," she says with finality.

Over the years, inti venuka [behind the house] has come to be known as the designated area for open defecation. "Every woman from my side of the lane comes here. The men have a similar space on the other side of the lane," explains Nallamma.
Gudikal village in Yemmiganur block of Kurnool district has a population of 11, 213 people (Census 2011). It was declared "open defecation-free" by the central government and later by the state government in 2019. But Gudikal's third ward – where Nallamma lives – is definitely not open defecation-free, residents say. In fact, Nallamma says that six out of eight wards here have no toilets. (Official data shows 20 wards but local government officials including the local secretariat and her assistant say there are eight.)

Roughly 25 per cent of households in Gudikal are daily wage workers; half the population are cultivators. Most farmers grow commercial crops such as chilli and cotton. Due to the region's ongoing water crisis, the agriculture is primarily rain-fed with about 1,420 hectares of total irrigated land.
Nallamma points at four wild boars resting under the shade of an old
Jammi (Prosopis cineraria)
tree. She says that boars along with, "white cranes and snakes," are commonly seen here. "It is usually pitch dark in the morning when we come. Nothing has happened till now, but there is fear," she says.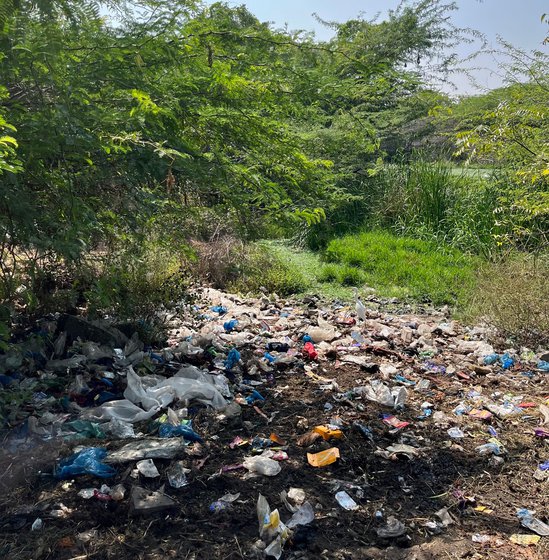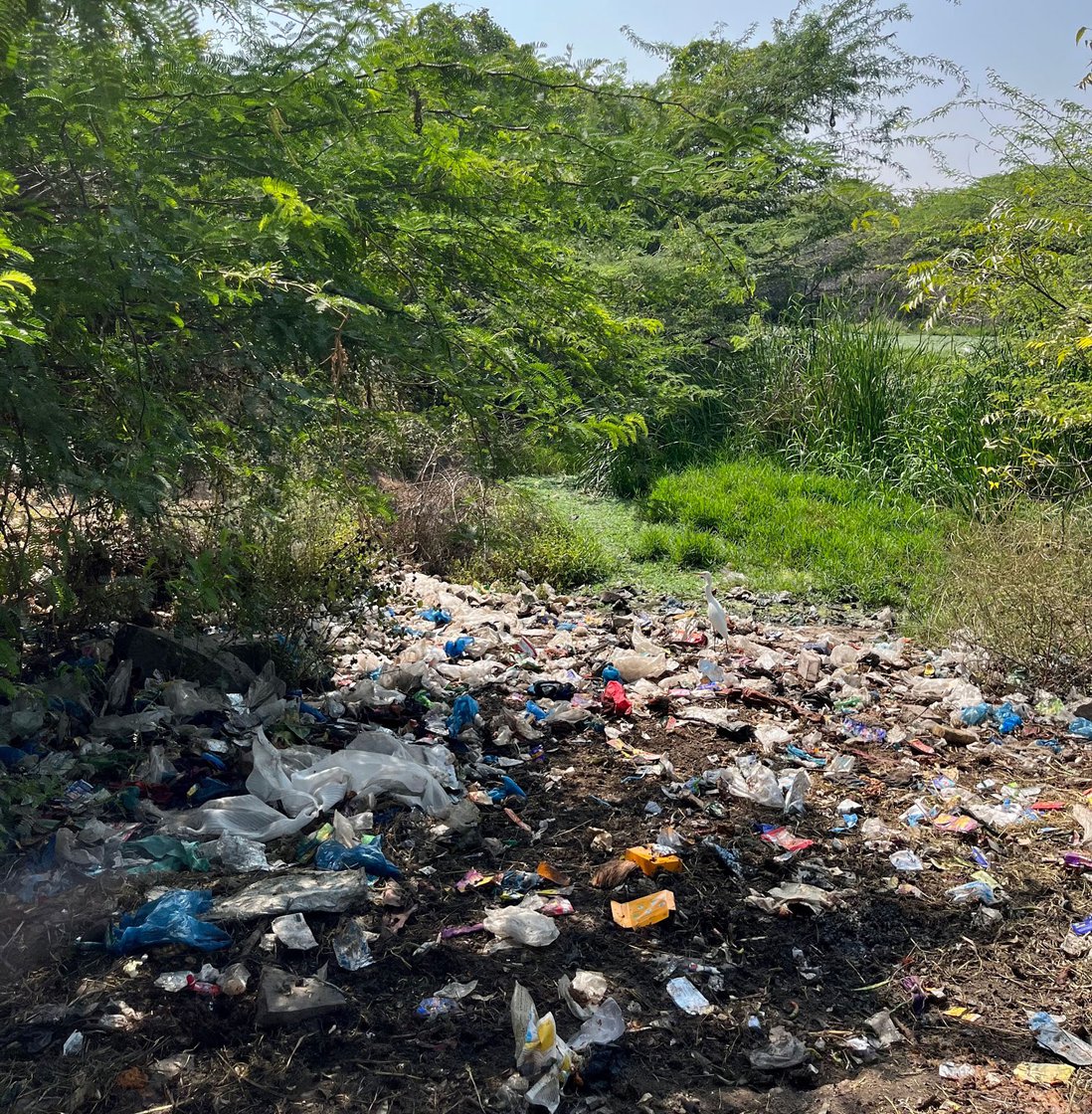 PHOTO • Kruti Nakum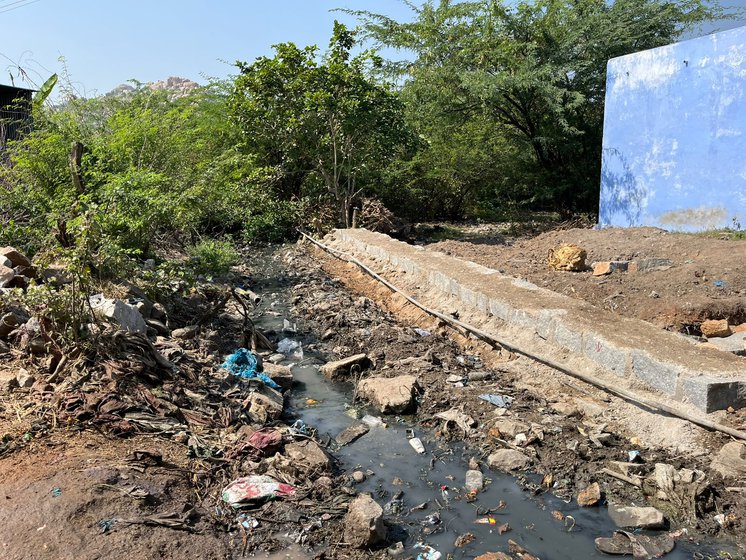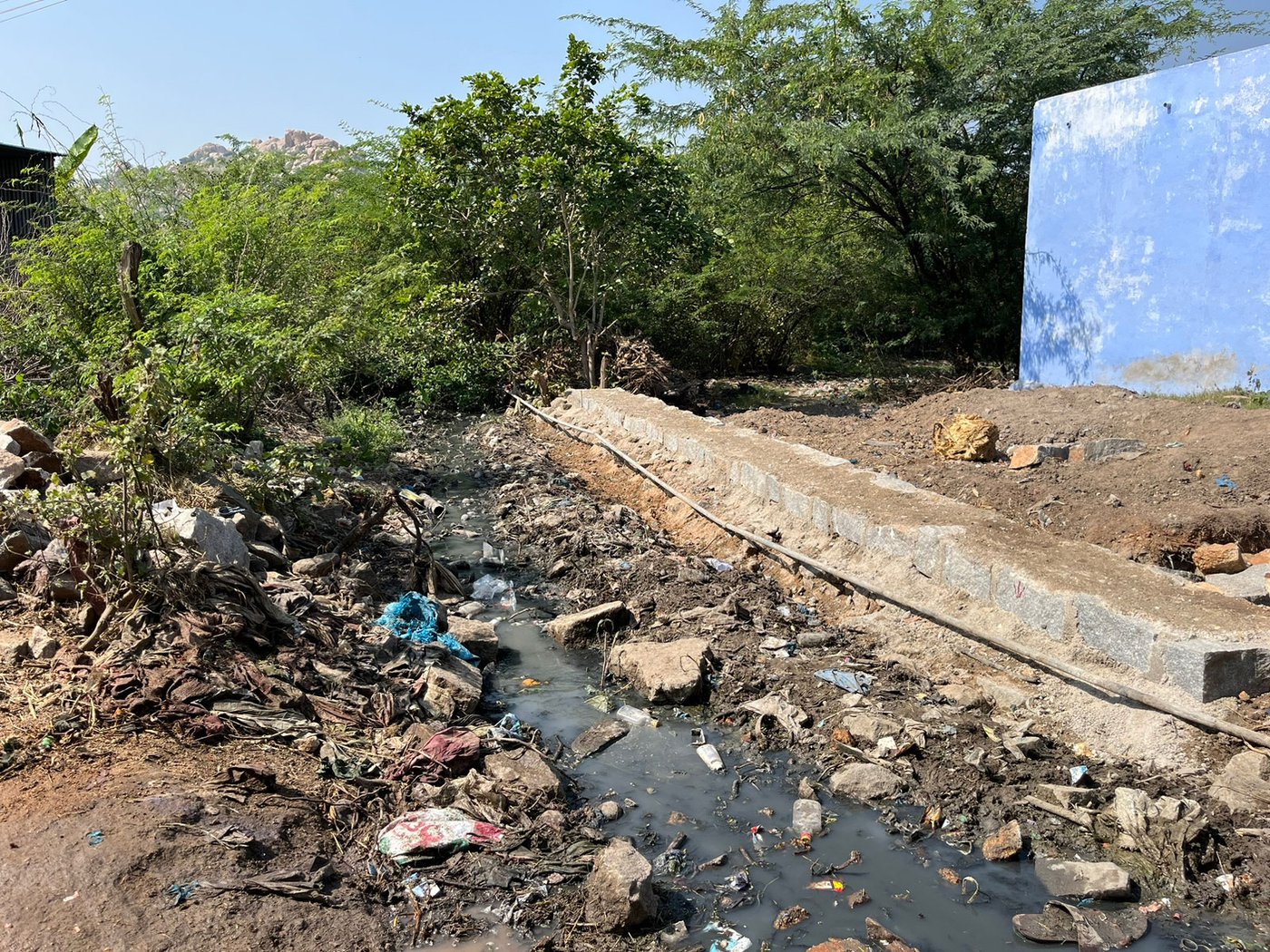 PHOTO • Kruti Nakum
The mother of three has a busy morning getting her household going. She arrives here when it's still dark, around 4 a.m., as do most people in her village. A daily wage construction labourer, she is off at 8 a.m. to the nearby town of Yemmiganur, roughly three kilometres away to get work. "At the construction sites where I work, there are no toilets either," she says. "Even there, we usually go [to relieve ourselves] around a tree or an open space."
"Mala, Madiga, Chakali, Netkani, Boya, Padmasali – everyone goes to different spots," says Janakamma reeling off the different communities of people that live around here, primarily listed as Scheduled Caste (SC) and Other Backward Class (OBC) in Andhra Pradesh. "Men and women go to different spots; young and old adults go to different spots." A resident of the fifth ward in Gudikal, she is in her early 60s and belongs to the Boya community, listed as OBC.
Many  residents do not own land and live in kuccha houses. "In our old age, we can't climb rocks or hills to get privacy. We have to go where it is close," Ramanamma says. She is seated with other women also in their sixties – Anjamma, Yellamma at a community space in the fifth ward.

The foothills of Hanuman Hill tower above us in this Boya settlement. The banks of Gudikal's cheruvu (lake) was their open defecation space until a few months ago, when someone from a dominant caste bought up the land. In a disappointed voice Ramanamma says, "Now we just build our huts closer to fields."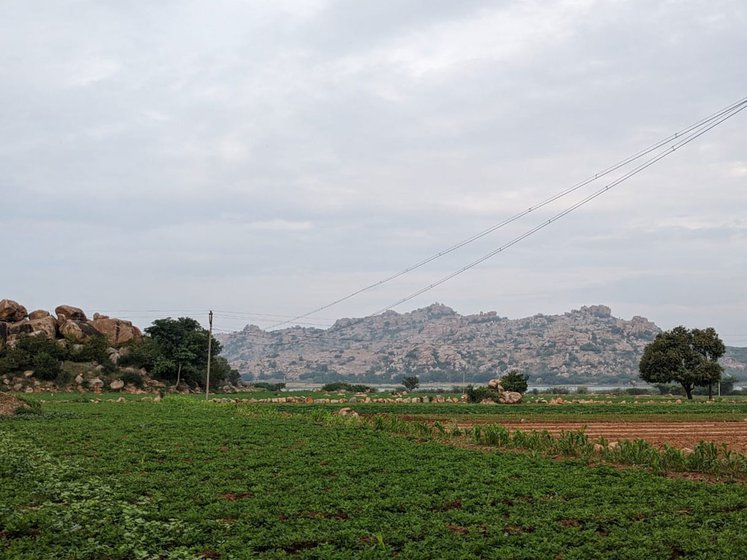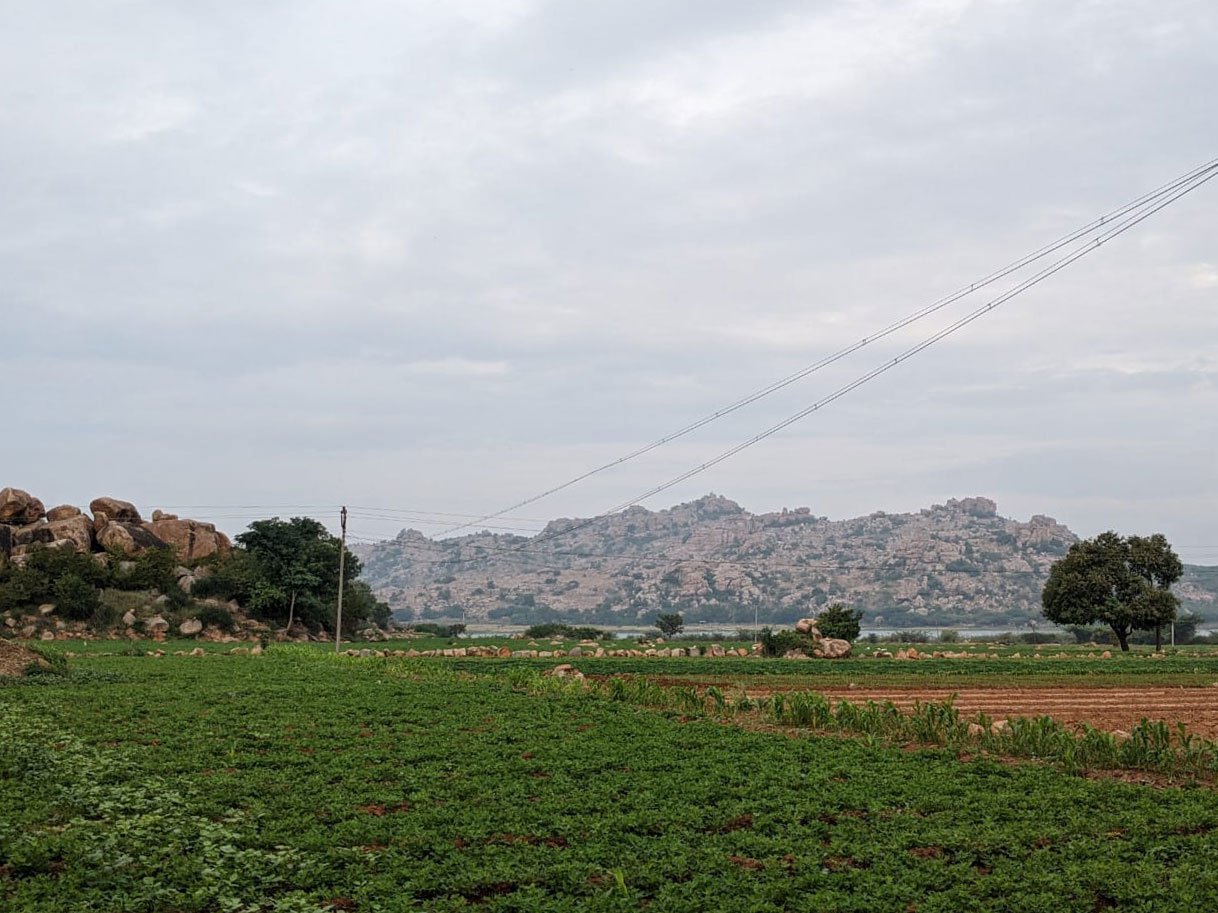 PHOTO • Kota Adarsh Venkat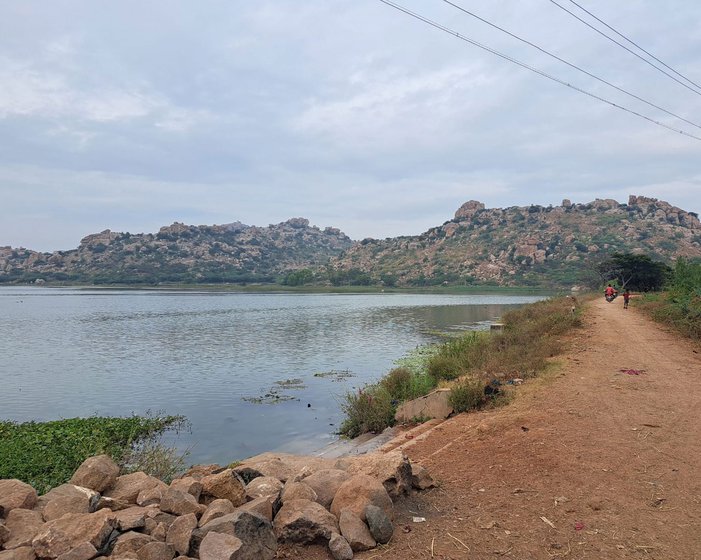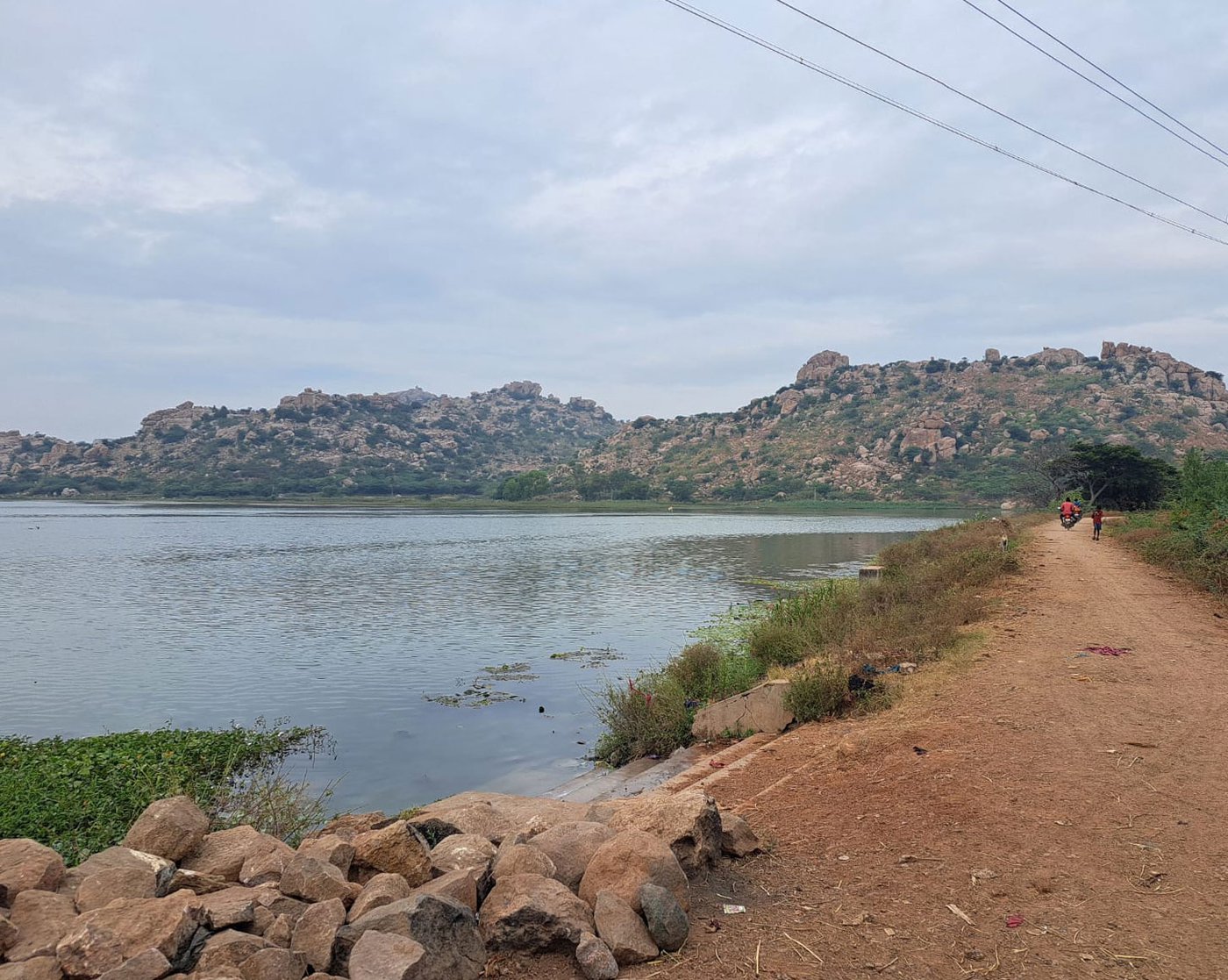 PHOTO • Kruti Nakum
Yellamma agrees and adds, "Climbing behind a rock or going up a hill like we used to do earlier becomes a hazard for someone my age, so I do not think about privacy as my priority."

Living in the sixth ward, less than a kilometre away, Parvathamma, says, "There are no toilets in this SC colony, not even a drain. It sometimes becomes difficult to eat [our meals] with  the stench from the open drains."
The 38-year-old recalls countless times when she and the other women have tried to speak about this issue with political leaders who campaign in the village during elections. She says, that the voices of women are not heard: "The men around don't let us speak. They tell us we don't know what we are saying."

Parvathamma has little faith in local governance, primarily Grama-Ward Sachivalayam or Village-Ward Secretariat (secretariats set up in the Indian state of Andhra Pradesh to decentralise the administration by making services and welfare services of all government departments available in one place). There are 51 Sachivalayam volunteers in Gudikal distributed across 3 Sachivalyams , each volunteer governing 50 households.
"Three years ago, the Sachivalayam people came and marked the place to build a toilet in some houses in Gudikal. They marked our houses, but never came again," says 49-year-old Narsamma. "Even though there are many volunteers, they don't care. Vallaki kommulu molichayi [Power has gone to their heads]."
Gulam Jameela Bee, 43, the Panchayat Secretary of Gudikal and head all of the Sachivalayams in the area lists out the criteria for toilet eligibility: "Having no latrine, ownership of a house, Below Poverty Line (BPL) card and Aadhar documentation." She says based on this the Village Revenue Officer (VRO) makes a list and sanctions free provision of toilets under the 'Swachh Andhra Mission' scheme."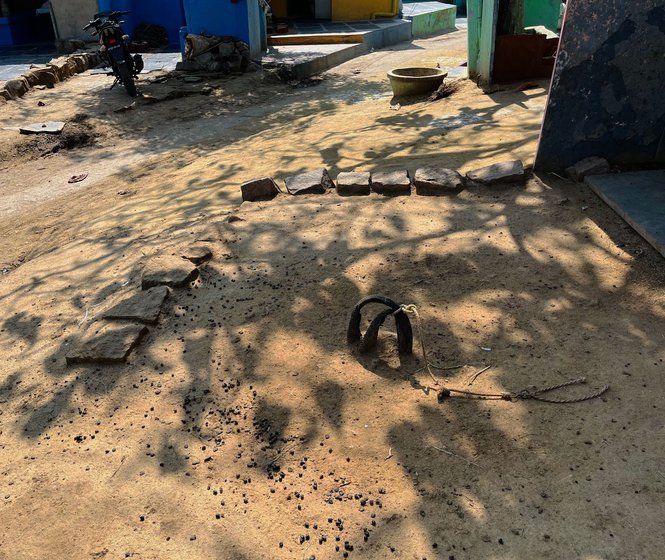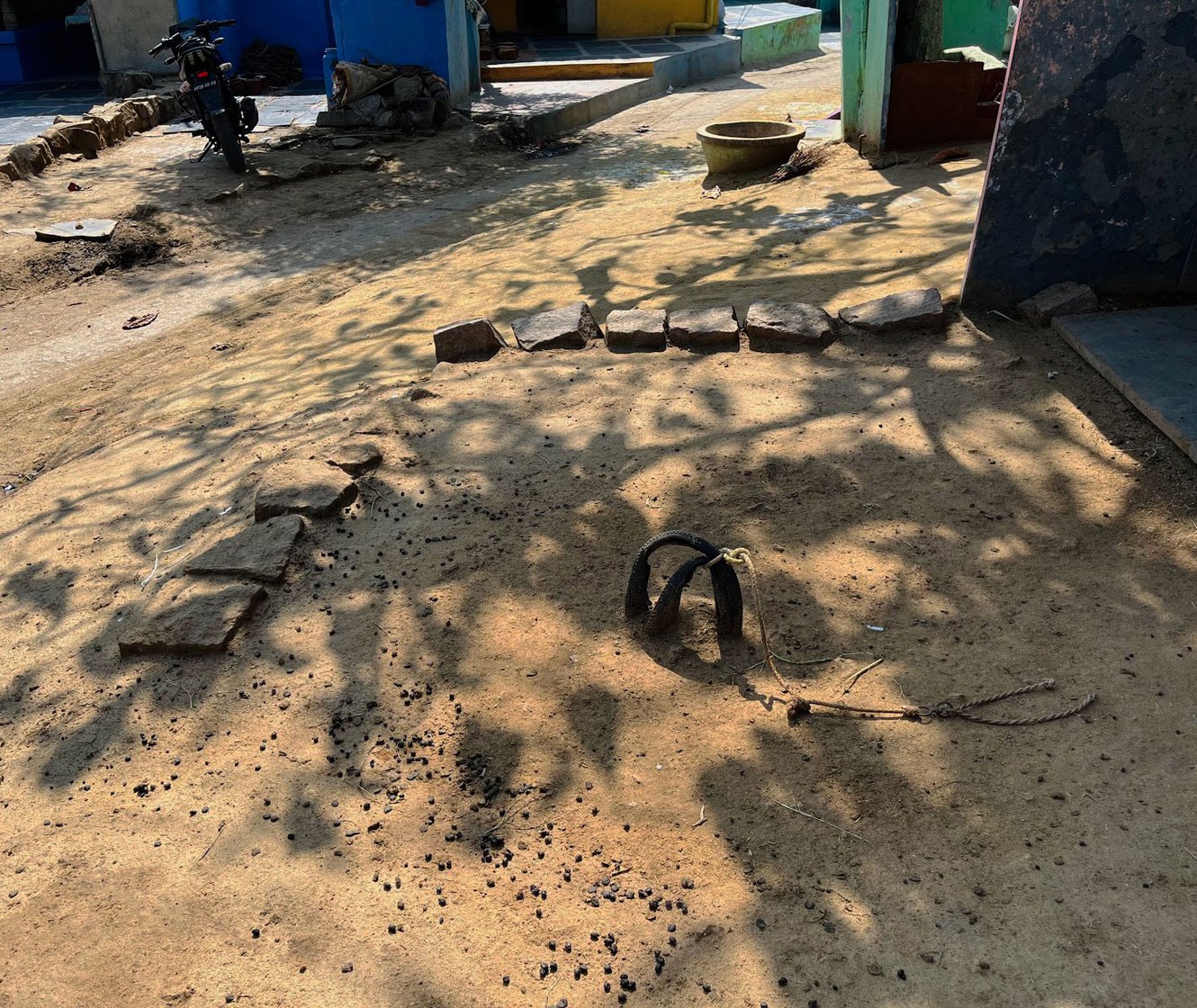 PHOTO • Kruti Nakum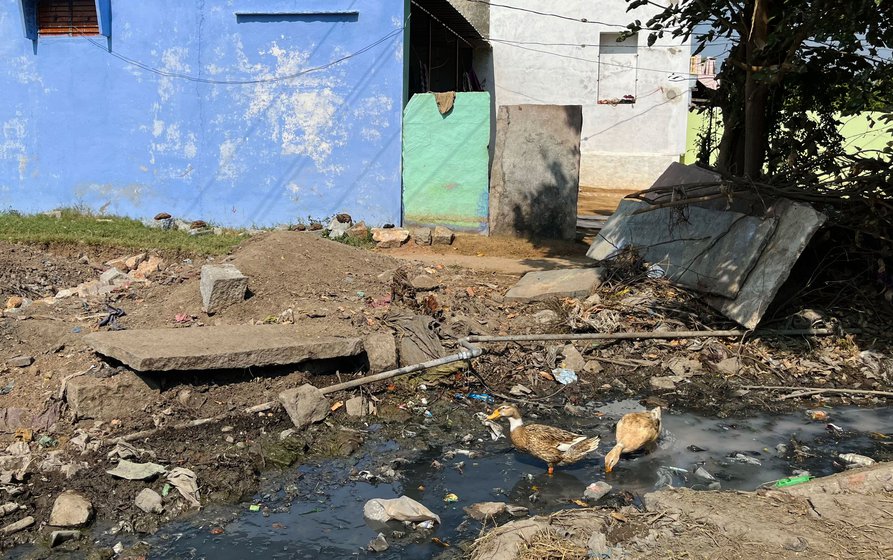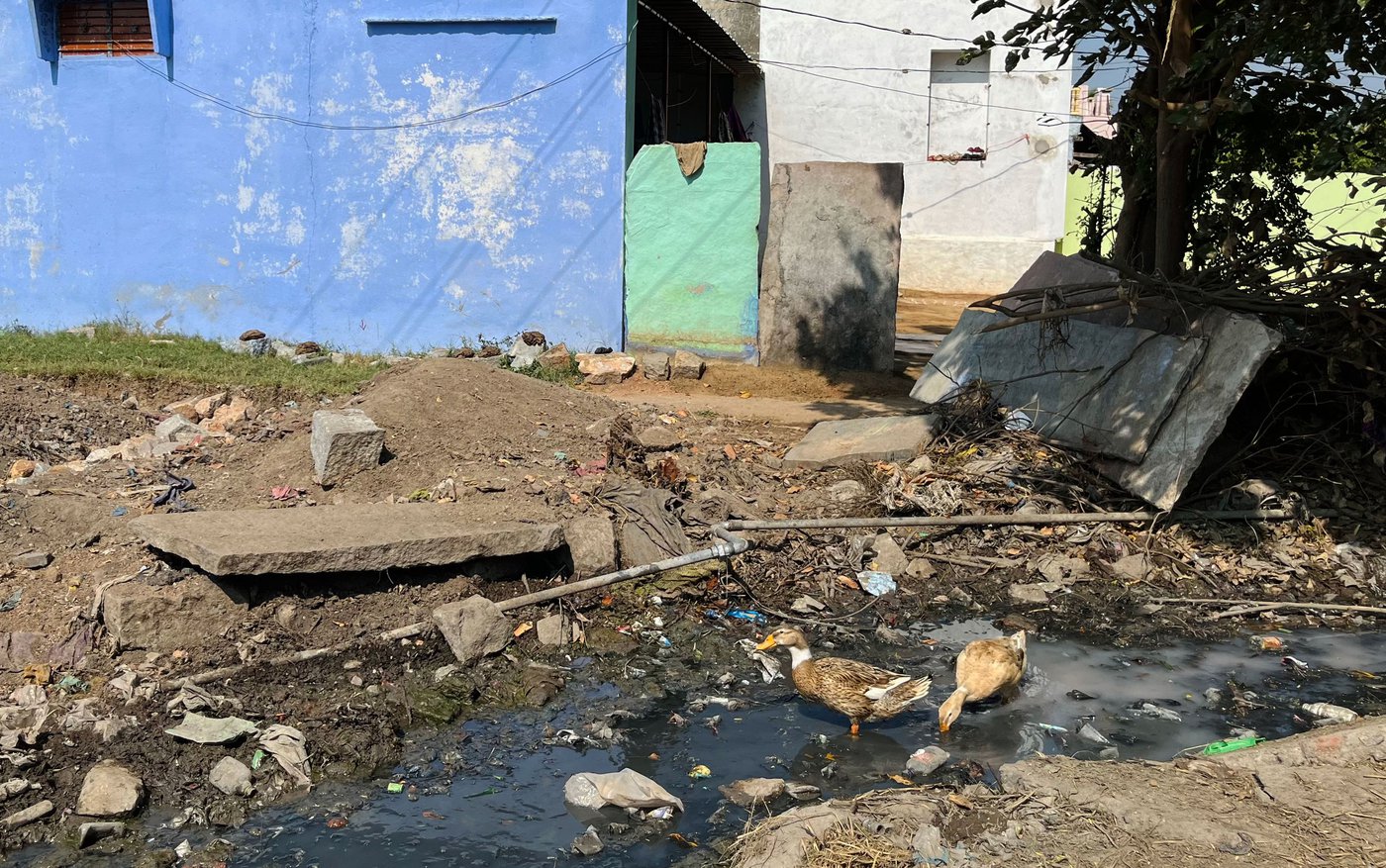 PHOTO • Kruti Nakum
Despite a majority of the households qualifying for it, only nine such toilets were built in Gudikal, says Gulam. She hands us the election manifesto of YSRCP (Yuvajana Sramika Rythu Congress Party) from 2019 and says, "Here are all the schemes Jagan [Chief Minister] planned on implementing, toilets are nowhere in this pamphlet."
Narsamma, whose house had been approved for a toilet provision in 2019 lives at the edge of the fourth ward – a low-lying area where all houses are raised by two feet to avoid water logging and flooding during monsoon months of June to October.

She is standing next to a 4 x 4 feet square-shaped area, outlined with rocks. The rocks mark the place where a toilet was to be built three years ago, but she says nothing has happened.
Across from Narsamma lives 51 year-old Bhadramma. She says that the monsoon rainwater carrying litter from various parts of Gudikal floats their road and blocks the path while also bringing an unbearable stench. She points out that, "This is the same place where jaatra [religious gathering] happens during the summers," she says referring to the temple revered located at the end of their street. "People from all across the village lead the procession [through this route] to celebrate but nobody bothers about what happens here when the monsoon rains arrive."
Ramalakshmi lives in a concrete house with a bathroom shed near the entrance, but no toilet inside it. The 21 year-old moved to Gudikal after her marriage three years ago. "My in-laws, husband and I use the [open defecation] site." Her two small children must take their chances closer home.
All the women quoted in this story shared their experiences on the condition of anonymity with the exception of Gulam Jameela Bee, Gudikal village's Panchayat Secretary.