"These hands are only meant to make music," Krushna Chandra Bagh says, feeling nostalgic about the day he watched Bhukha – a film set in Sambalpur with dialogues on tribals and musical instruments that spoke to the artist in him.
Decades later, Krushna flawlessly recites a dialogue from the film, unprompted: "I can't give up this age-old profession we have [ dulduli ]. My father never worked as a labourer. Neither did his father."
Dulduli is a Sambalpuri folk tradition that combines five drum and wind instruments during a performance. Only highly skilled musicians can participate.
Krushna says Bhukha was one of the first films that made dulduli musicians like him feel seen. A resident of Sambalpur town in west Odisha, he lives with his wife Sukanti Bagh, in her 50s, and their son, Kshitish Bagh. They belong to a Dalit community.
" The ghasia [Ghasi] community makes the instruments and people from the Ganda community play them. Both these communities' work with leather, so they were treated as unholy," says Krushna. "It was difficult for them to find work, so they engaged in activities like dancing and playing instruments." Ghasi and Ganda communities are both listed as Scheduled Caste (SC) in Odisha (Census 2011).
Of the five instruments used, these communities make the
dhole
and the
nishan,
which have drumheads made of animal leather. The
nishan
is also adorned with deer horns affixed on two sides. Making these instruments requires close work with animal hide and horns and has traditionally been left to Dalit communities.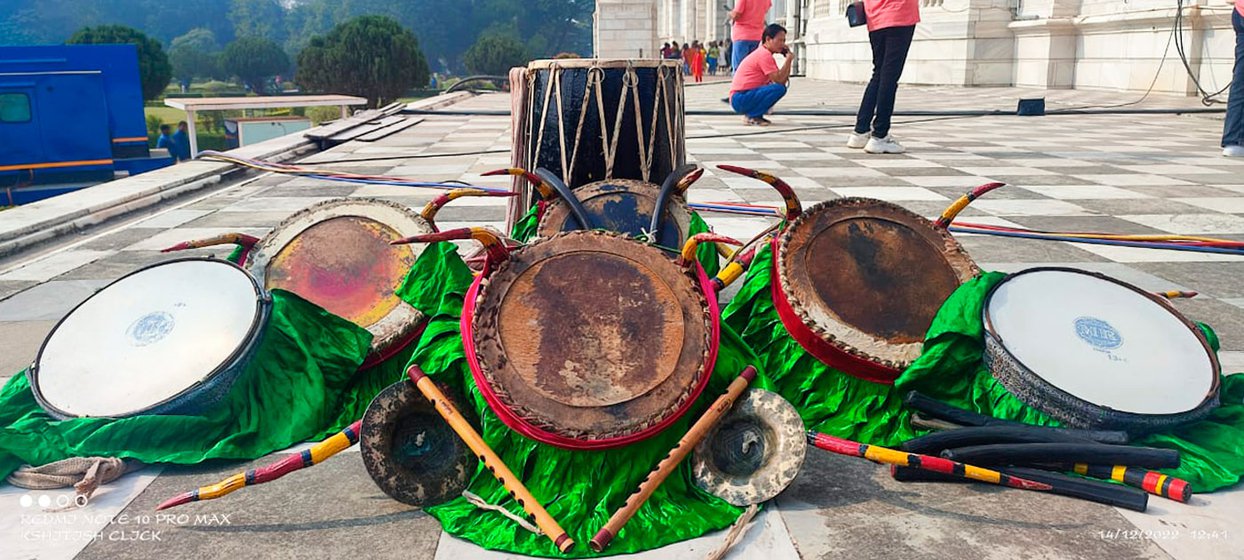 PHOTO • Bishnu Bagh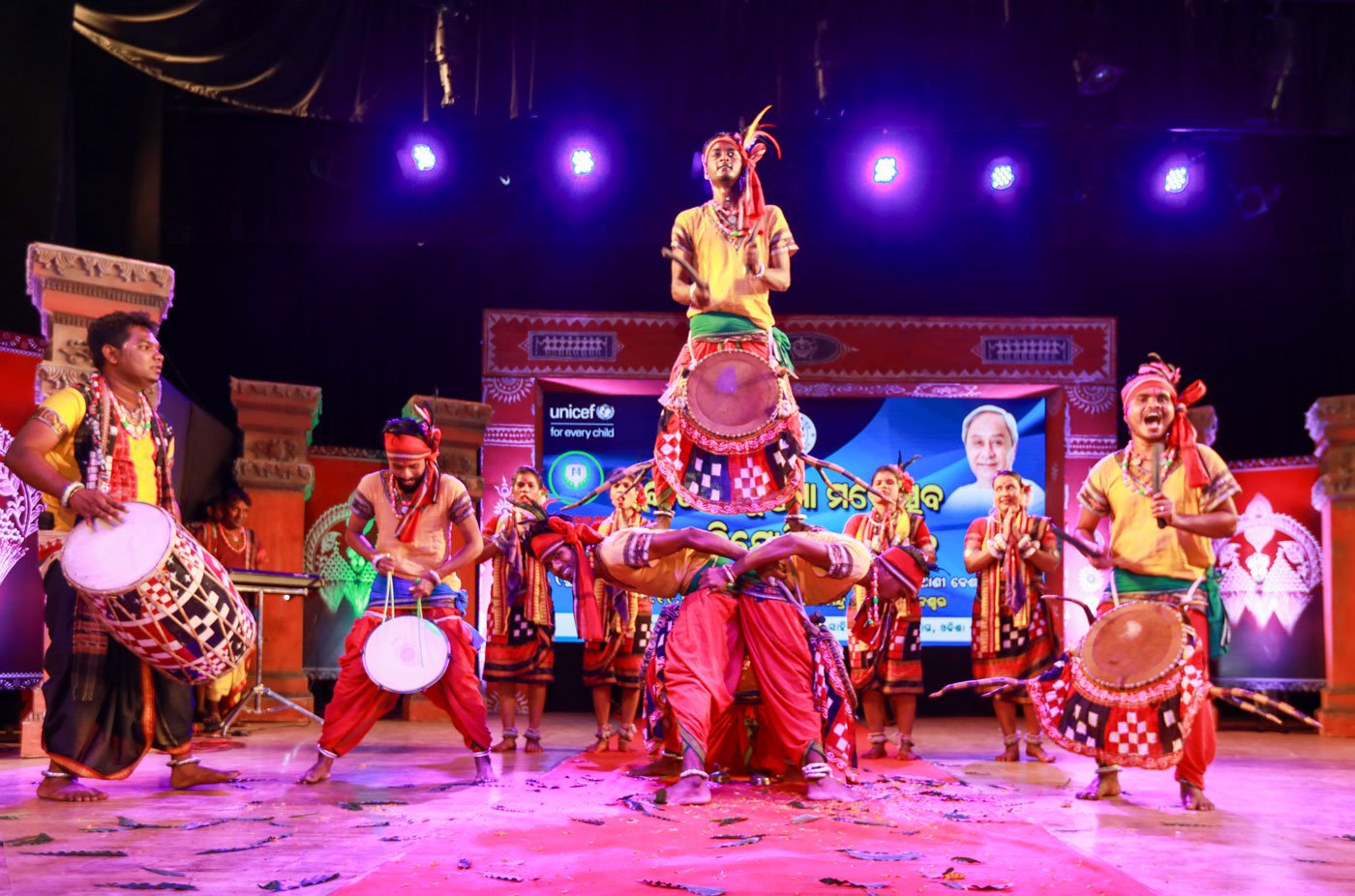 PHOTO • Courtesy: Kalajibi Dance Group
Krushna is in his late 50s and among the oldest players in a dulduli group called Rangfarua. The dulduli combines five drum and wind instruments collectively known as the pancha badya (five instruments) – percussion instruments such as the dhole, nishan, and tasha ; along with wind instruments like the muhuri, and the khartal.
When played together, Krushna says, " Bajar sound re etki sound baharsi je hall bhitre practice hi kari nai hue [The sound produced by the instruments is so loud that you can't have a proper practice session inside any hall]."
He specialises in playing the dhole , a double-sided barrel shaped drum. His son, Kshitish is a 28-year-old freelance photographer and dhole -player as well, who performs with his father. "We had not been formally trained and only learned the art form from my father and he got it from his father," says Krushna, adding that his artistic legacy of the dulduli can be traced back to three generations of his family.
Pointing to a wall covered with certificates in his living room, Krushna says, speaking in Sambalpuri, "
Ita hi taa amar kamani aae baki duniadari ta chalithiba
[This is the respect we have earned]." An artist for over four decades, he has played across the country and at prestigious events like the Lok Mahotsav – an annual celebration organised by the local district governments in Odisha.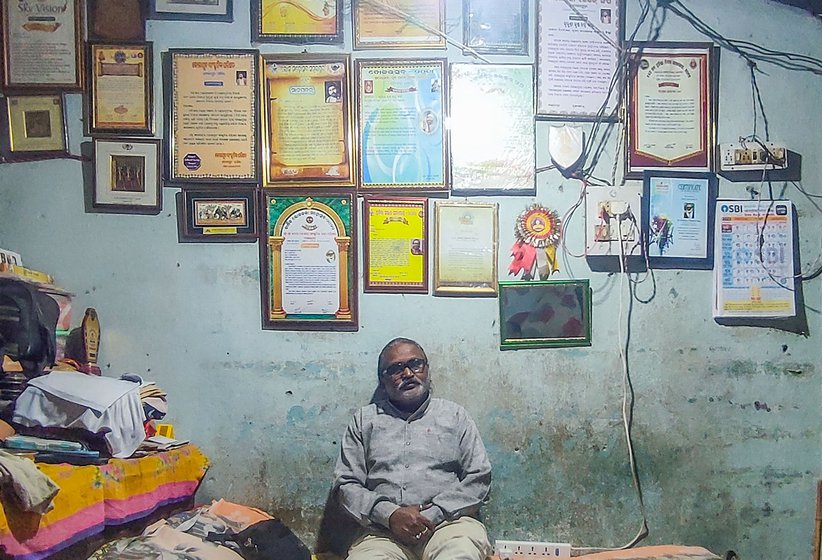 PHOTO • Shakti Sekhar Panigrahi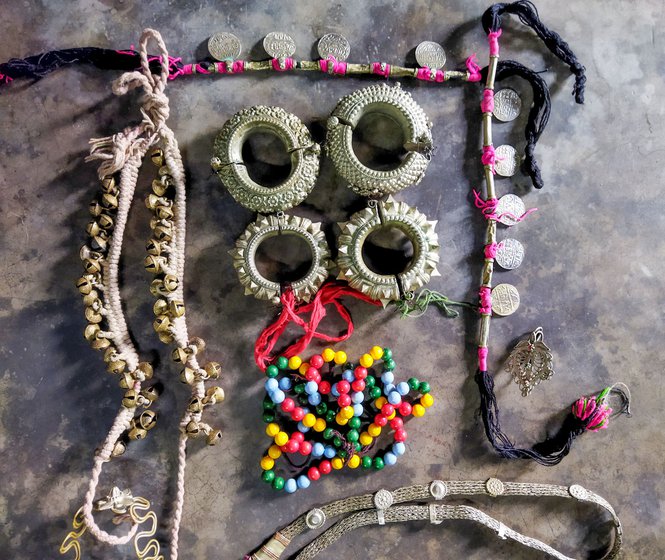 PHOTO • Shakti Sekhar Panigrahi
Krushna charges between Rs. 1,000 – 2,000 for each event, based on how long the group's performance will last.
Three years ago, Krushna started working as a music teacher in a nearby government high school. In addition to practising and performing with his
dulduli
group, the musician also teaches young people the
dalkhai
dance over the weekends.
Dulduli and dalkhai go hand in hand, says dancer Durga Prasad Dash, a dalkhai instructor, choreographer and performance artist, who has been associated with the art for over 40 years.
The 55-year-old is from Majhipali village in Dhankauda block. Dash belongs to the Brahmin community, which he says has not historically been associated with the dalkhai art that has "a group dancing to a song dedicated to goddess Dalkhai Devi – a physical manifestation of goddess Durga ."
"Earlier, women from the Kol , Kharia , Binjhal , and Oraon communities [listed as Scheduled Tribe in Odisha] performed to the rhythm of the dulduli to break their fast during the festival of Dussehra , " Dash says.
"I wasn't allowed to watch dalkhai [performances] when I was younger," he says, adding that it was considered vulgar for children to watch at the time. " Mor school dine, mui luki luki dalkhai dekhijauthili [I used to watch Dalkhai performances by hiding in the crowd during my school days]."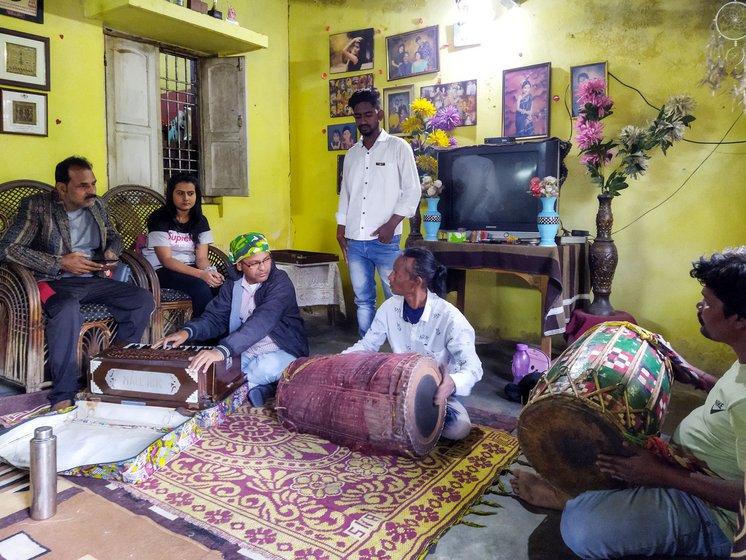 PHOTO • Shakti Sekhar Panigrahi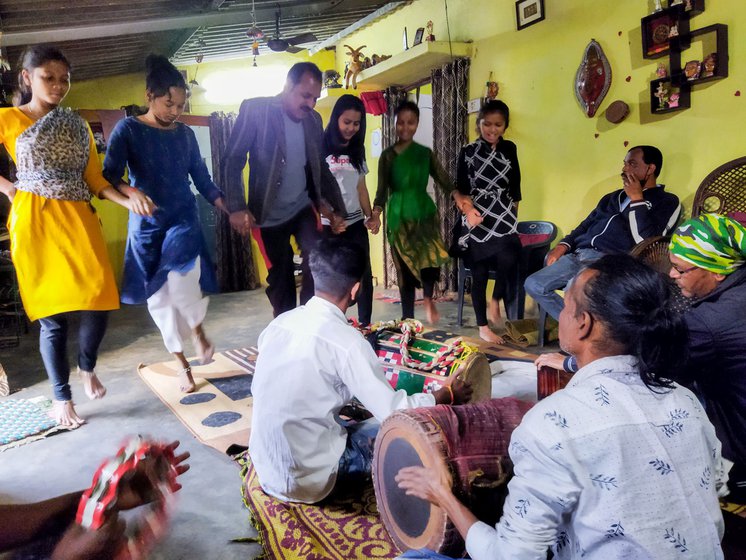 PHOTO • Shakti Sekhar Panigrahi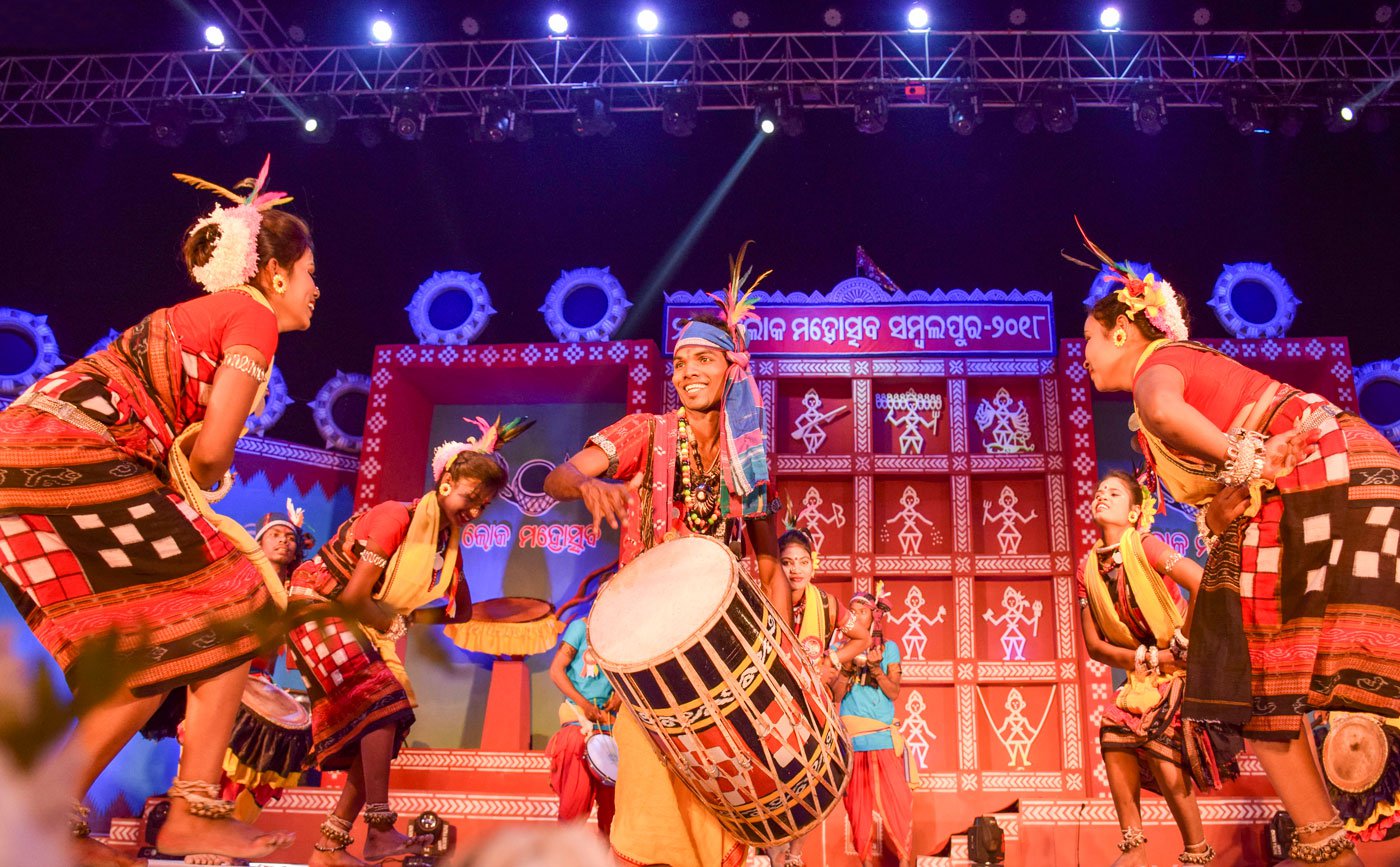 PHOTO • Courtesy: Kalajibi Dance Group
Things changed in the late 1980s, he says, when dalkhai emerged as a public performance, its audience broadened, and many new dance groups were formed. People from different communities joined, says Dash, and those who had been in the industry since the beginning became gurus or mentors and started their dance group and academy.
" Dalkhai taa khali dance nuhe ita amar duniya aae [ Dalkhai is not only dance, it means the world to us]," says Dash, summing up his experience as a teacher in the world of dalkhai performances.
Tiki Meher is a 24-year-old dalkhai dancer from Rairakhol village, in Rairakhol block, Sambalpur. She belongs to the Meher community. In 2014, she moved with her family of four – her mother and two younger brothers, to Burla town in the same district. They were in pursuit of more lucrative dalkhai opportunities.
Today she is a member of a popular dance group called Kalajibi . She is one of eight dalkhai permanent dancers who perform across the country. "At first I started as a background dancer and now I am performing at the hockey World Ccup, so that itself is satisfying for me," says Tiki proudly.
Tiki's father passed away when she was 19. Suddenly, as the eldest sibling, she had to find ways to support her mother and two younger brothers. "I started learning dalkhai hoping to earn something out of it," says Tiki.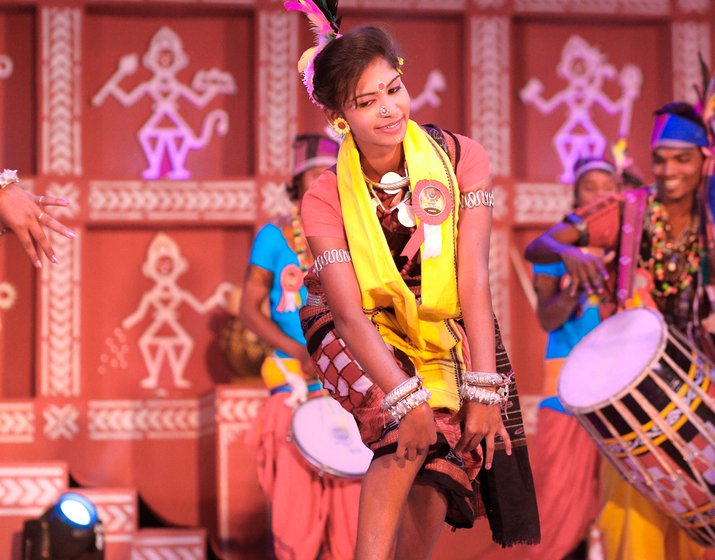 PHOTO • Courtesy: Kalajibi Dance Group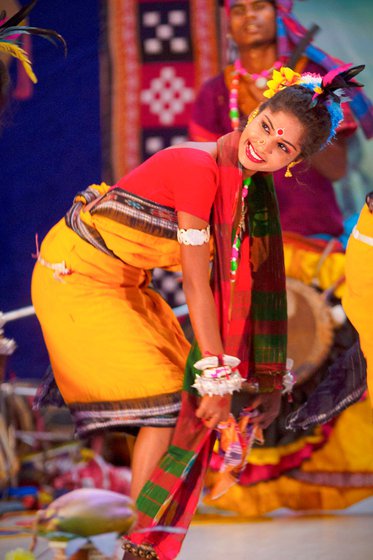 PHOTO • Courtesy: Kalajibi Dance Group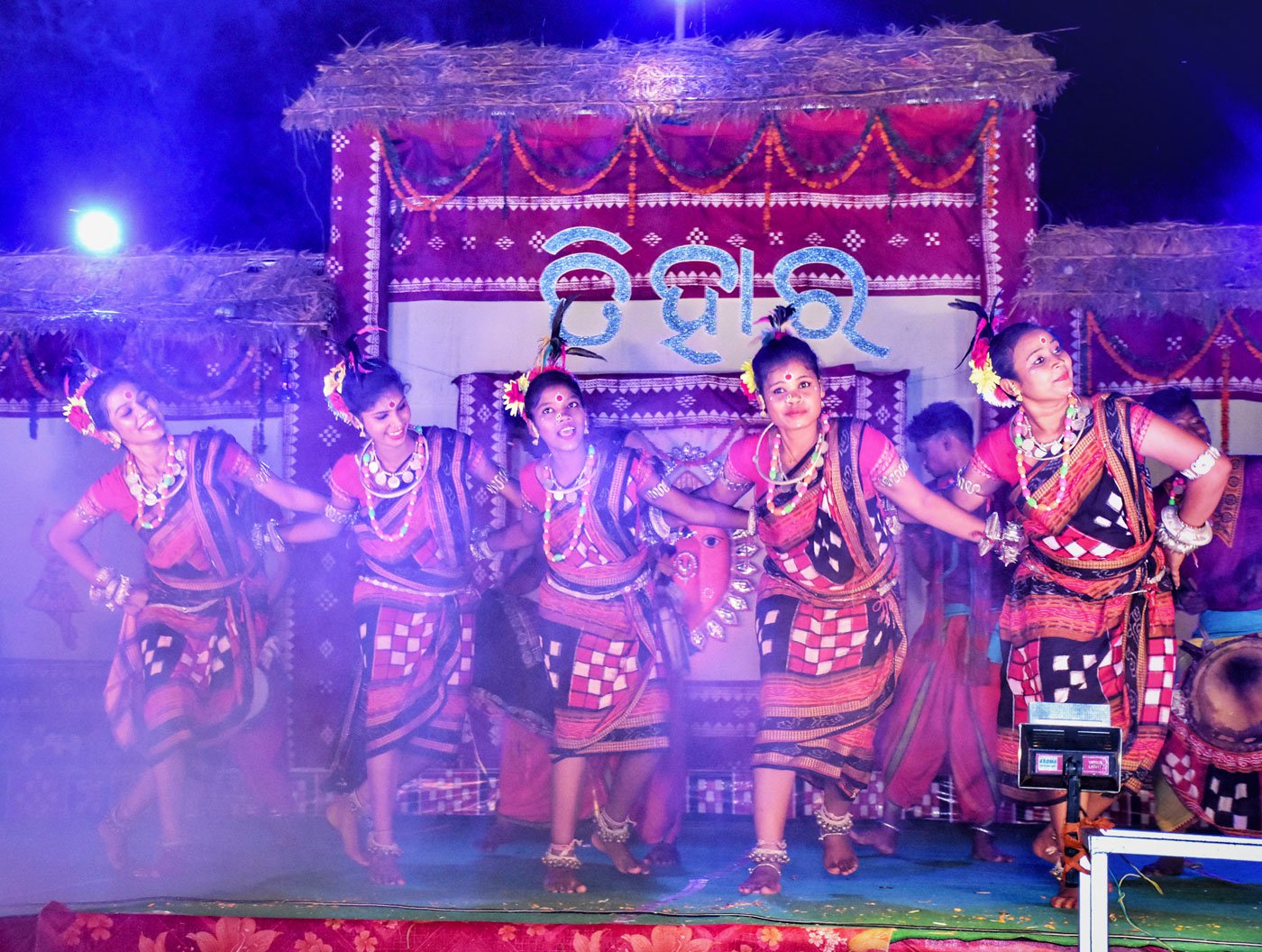 PHOTO • Courtesy: Kalajibi Dance Group
" Chua school thi utki utki nachle tali marsun aau sehi chua bad hei kari dancer hemi kahele gali desun [Every parent acknowledges their children's performances on stage during school days, but the same child is scolded if they want to become a professional dancer]," she says.
She felt the backlash of her decisions in her early days. "My neighbours used to suggest to my family members that dancing is not a noble profession for me, and no one will marry me."
But, for Tiki, dance has been a constant reminder to stay hopeful through the toughest of times. "Through all my ups and downs dancing is the only thing that I enjoyed, and it kept my faith alive to face the world."