"From you mother, I've received
This life of mine.
The first word I uttered
Was in your tongue.
Holding on to your love
I walked for the first time.
Holding on to your hand, O mother
I learnt to walk.
Holding your hand
I learnt to write."
This is a poem displayed in a stall run by book vendor, Mohan Das, in Kolkata's Gariahat market. Incidentally, he also happens to be the poet who wrote that verse and many others.
"Nijer kaajke bhalobasha khubi joruri ar amar jonne amar prothom bhalobasha hochchhe amar boi" [It is very important to love your work, and my books are my first love]," says the 52-year-old who goes by the pen name, Mani Mohan Das.
Despite having a bachelor's degree in commerce from Heramba Chandra College, Mohan was unable to land a formal job. This pushed him to start selling books and magazines on the streets of Gariahat about three decades ago.
Despite his unplanned entry into the profession, he has never thought of changing it. "It [book selling] is not just a way to earn money. It involves a lot more than that," he says. "For me, books are a passion."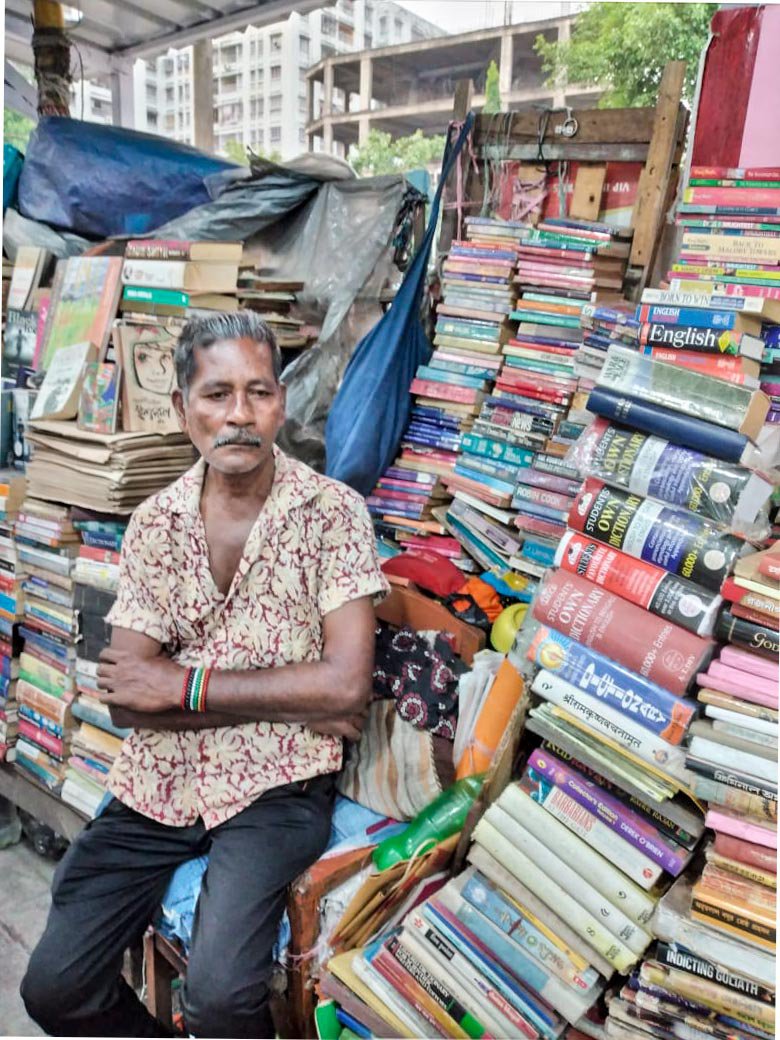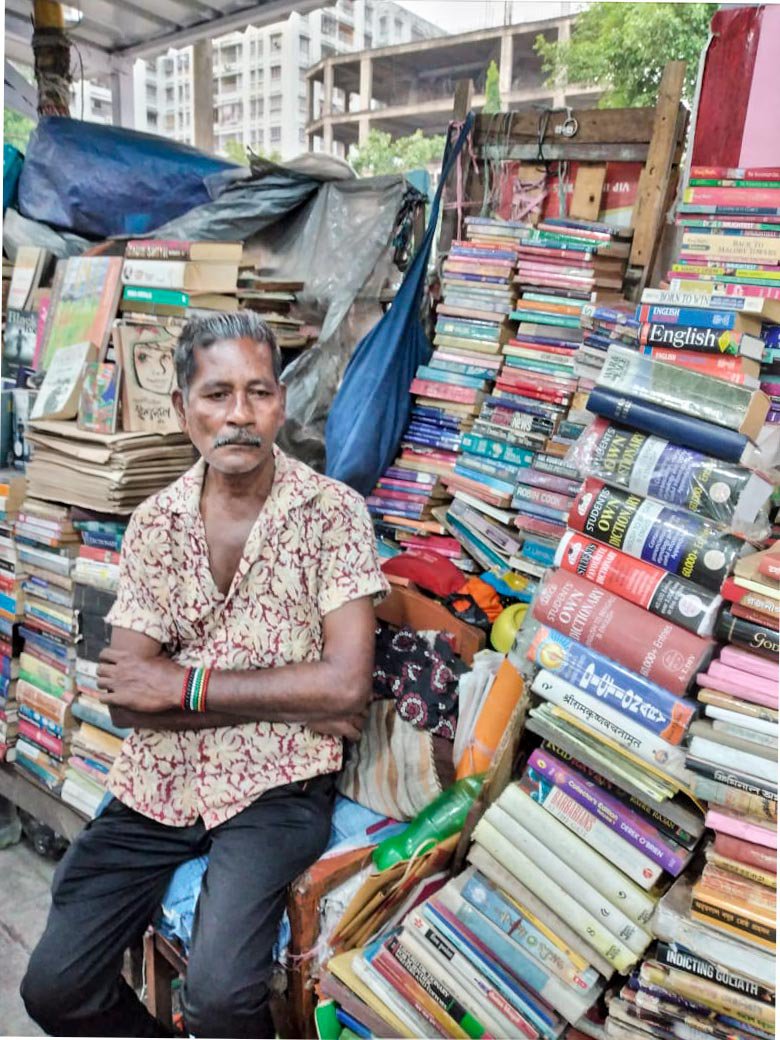 PHOTO • Diya Majumdar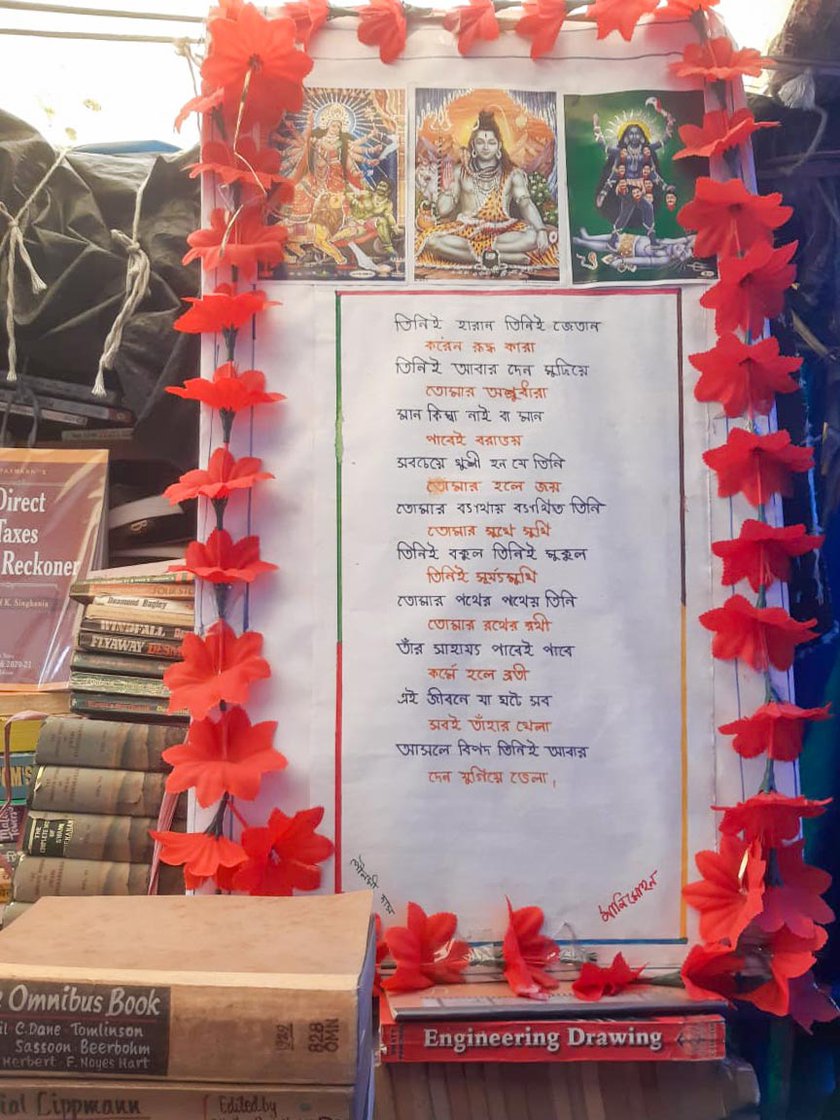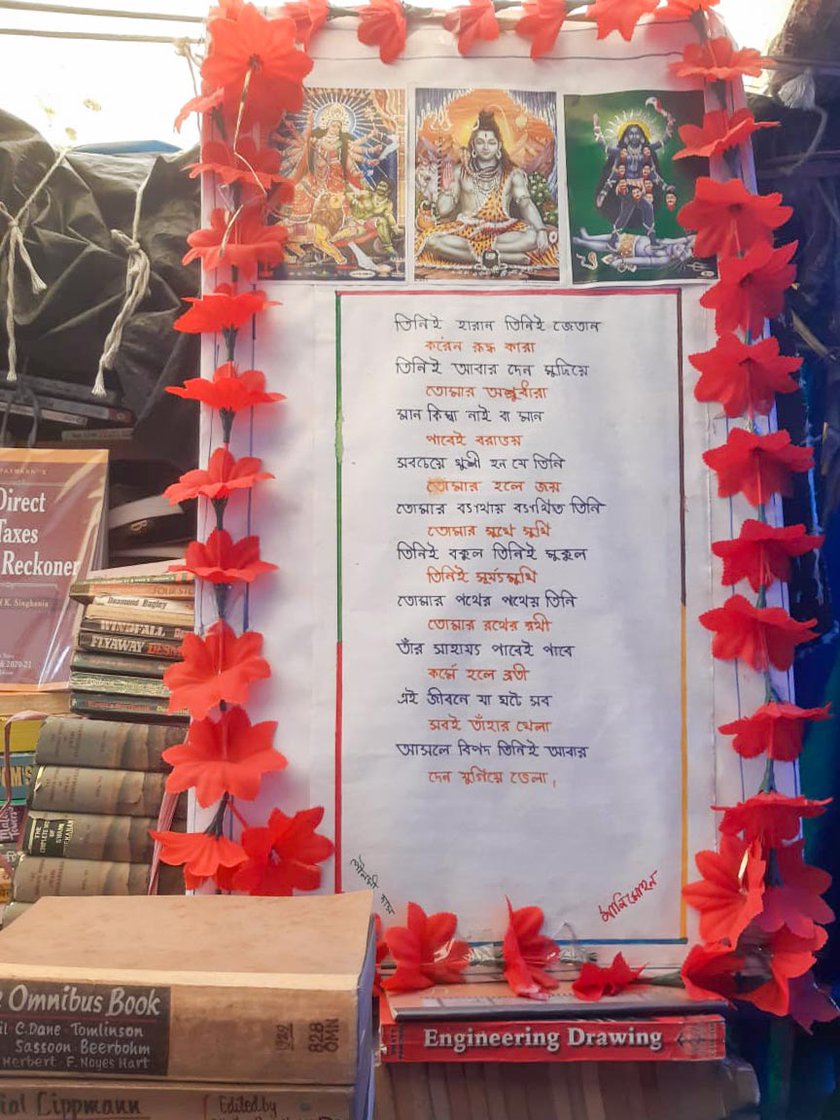 PHOTO • Diya Majumdar
Located at a busy intersection near the Golpark area in South Kolkata, Mohan's book stall is one of the roughly 300 in the Gariahat market. Snacks, fruits and vegetables, fish, clothes, books and toys are some of the many things sold in this market, which is a collection of both permanent shops and makeshift stalls.
Mohan says temporary stall vendors like him and shop owners on this street are like family. "People have a misconception that shop owners do not want us [street vendors] here, but that is not always true," he says. They share lunch with each other and are friends.
Mohan's days are long. He opens his shop at 10 a.m. and shuts it at 9 p.m. – that's 11 hours of work every day of the week. Although he enjoys the nature of the job, he is unhappy with the money he makes from it, as it cannot support him and his family. "Kokhono taka pai kokhono abar ek bela khabarer motono taka paina" [Sometimes we make money. Other times, we don't earn enough for a meal]," says Mohan, who provides for a family of five.
The book vendor and poet dreams of a bright future for his daughter Poulomi, who is currently getting a bachelor's degree in Political Science at the University of Calcutta. He says that he will also have to finance and arrange his sisters', Protima and Pushpa's weddings.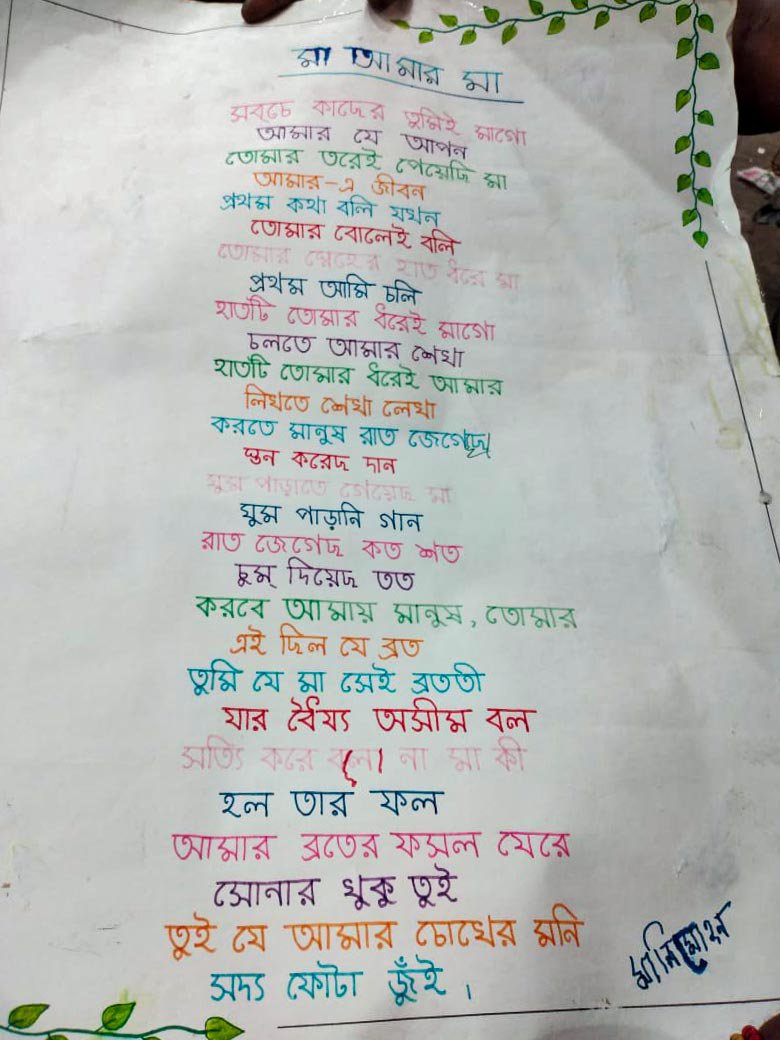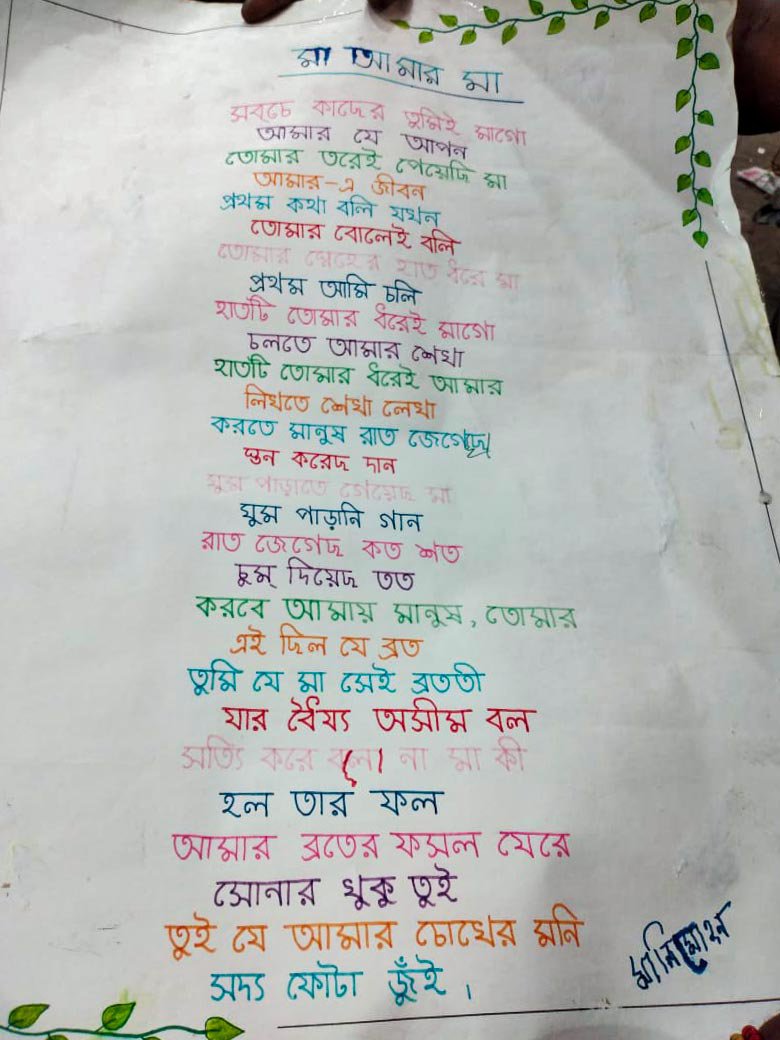 PHOTO • Diya Majumdar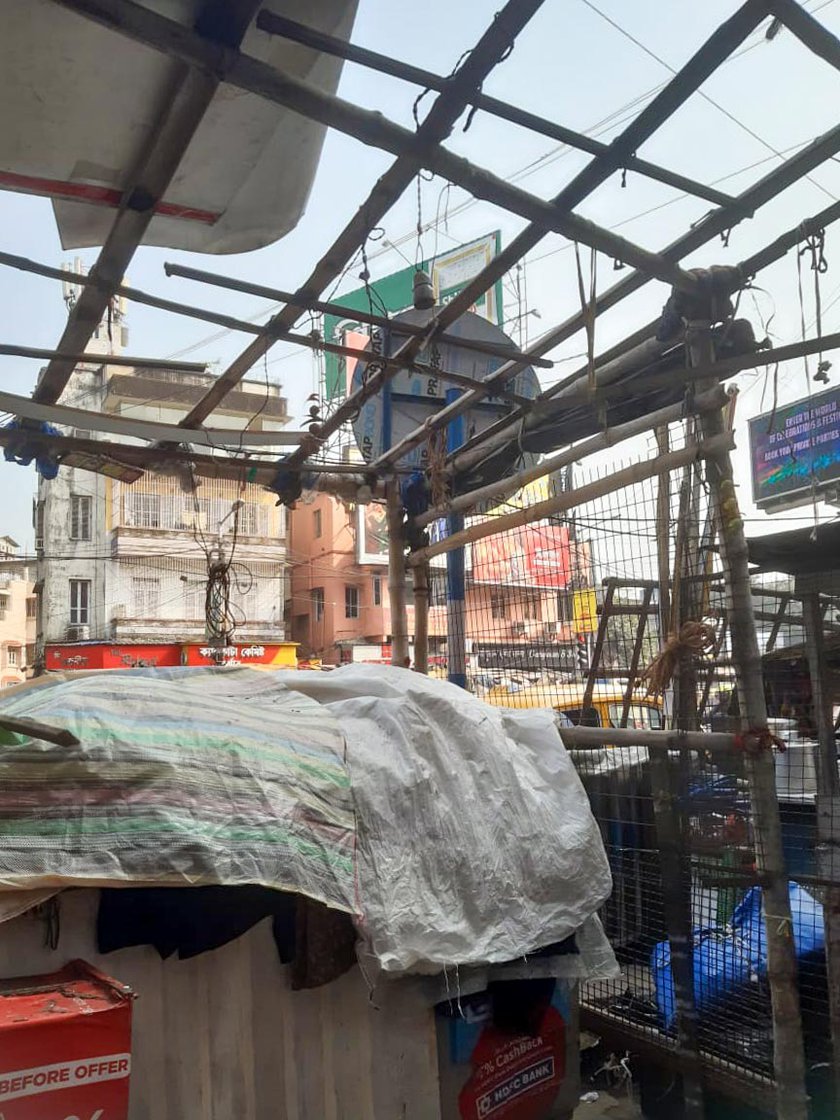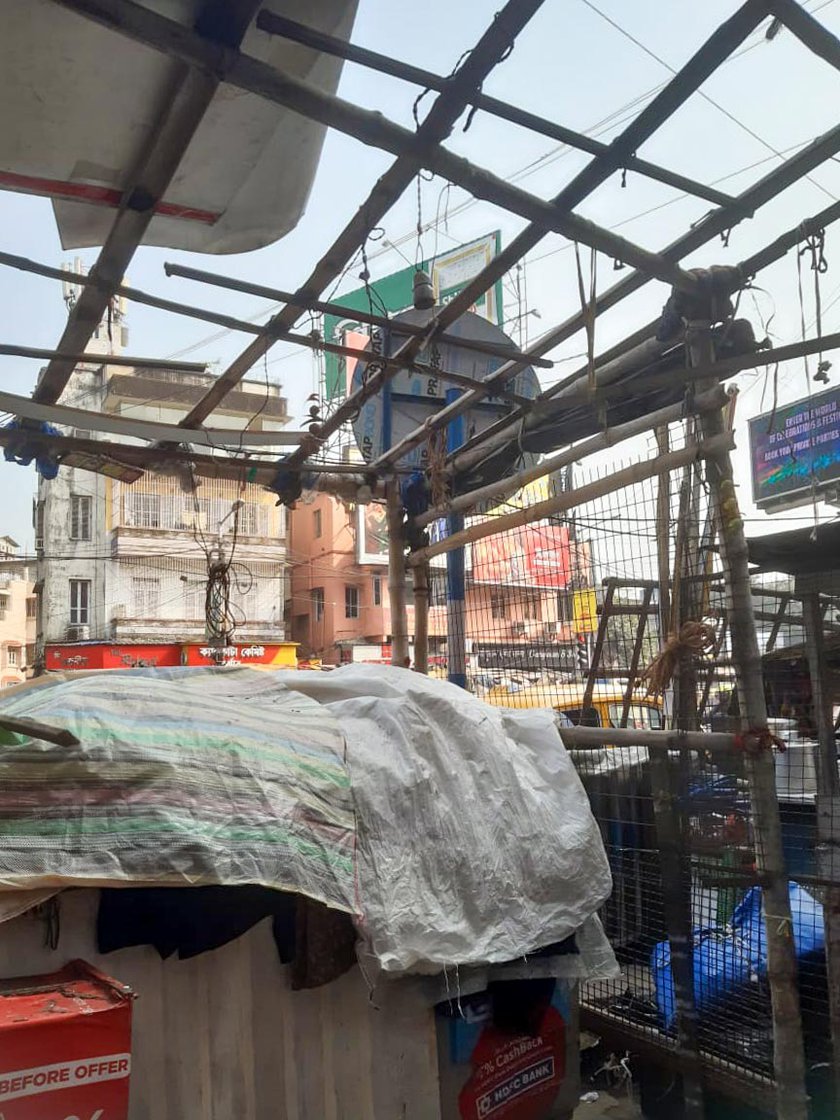 PHOTO • Diya Majumdar
Despite the precarity of his livelihood, he tries not to lose hope, "I do not fear that anyone can move us from here. We [the street vendors] are many and our livelihoods depend on this street. It is not easy to remove us." But there have been attempts.
"I had no idea what to do," says Mohan, remembering the 1996 'Operation Sunshine', an undertaking by the state government and municipal authorities to evict hawkers from pavements in certain parts of the city.
During this time Mohan was a member of the Communist Party of India (Marxist) – member party of the Left Front alliance then in power in West Bengal. He recalls going to the party office and urging the officials to not go through with their plans, but the authorities were unwilling to negotiate. He was among the lucky ones and was able to retrieve his goods before the government and municipal authorities demolished most of the hawkers' shops in the area.
"It was a sudden decision of the government," he says, "They never realised that many people lost everything in that one night." Mohan, among others, was able to reopen his shop only after months of protests and a petition to the Calcutta High court court. This was done on December 3, 1996, by the South Calcutta Hawkers Union, part of the Hawker Sangram Committee of which Mohan is a member. He adds that he left the party after that incident and has not been involved in any political activity since then.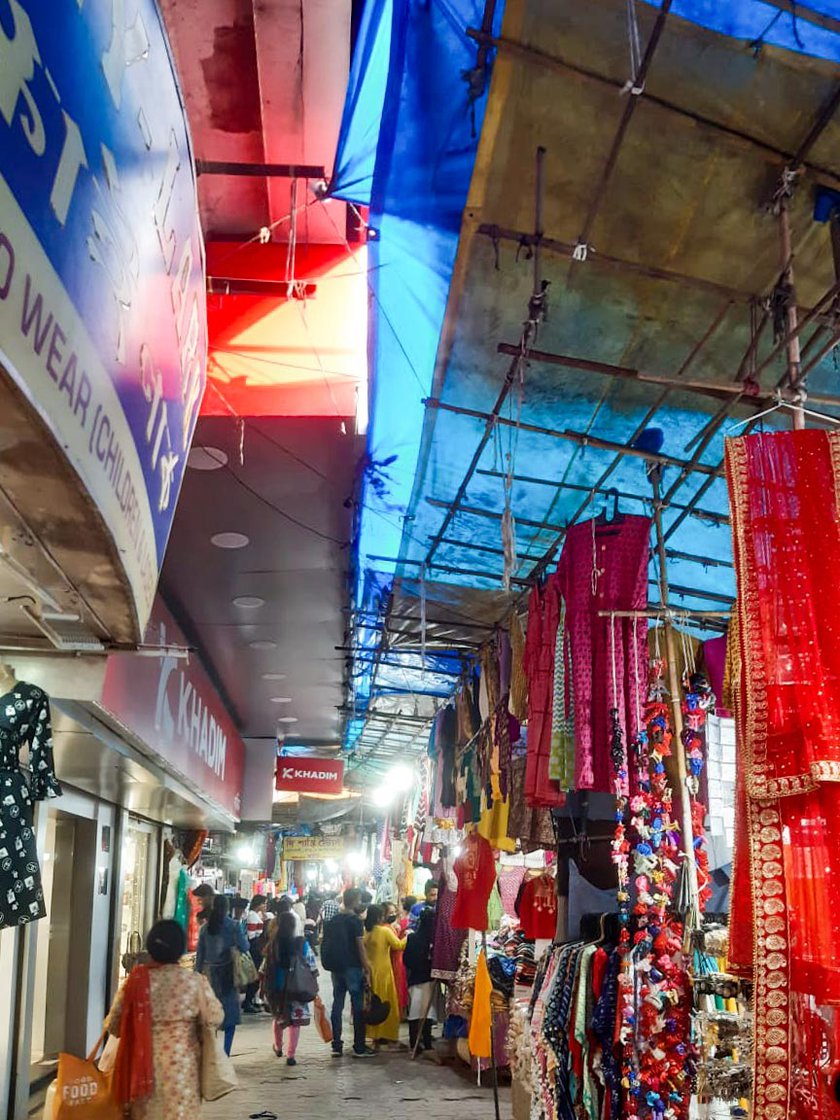 PHOTO • Diya Majumdar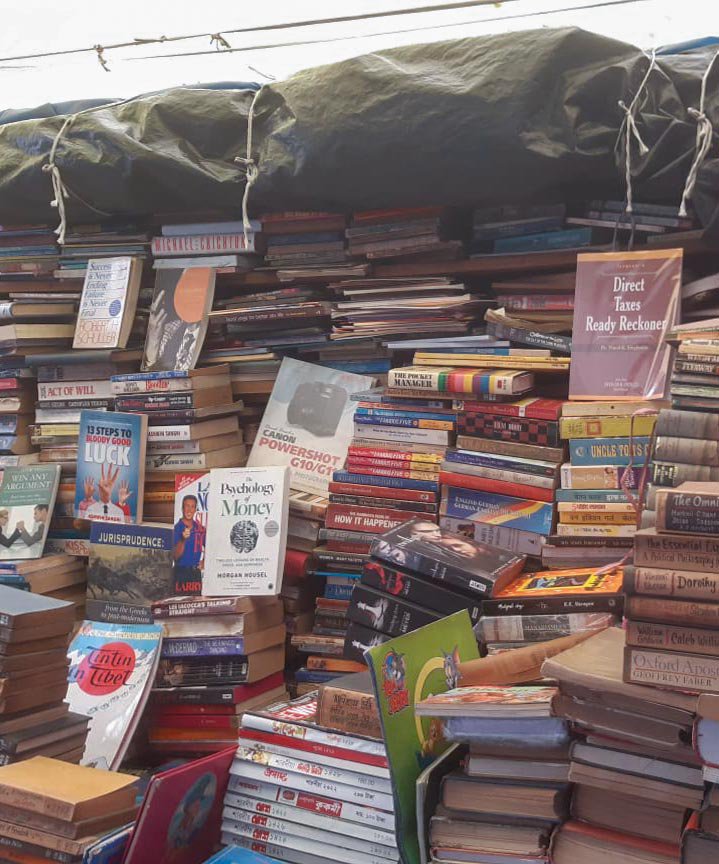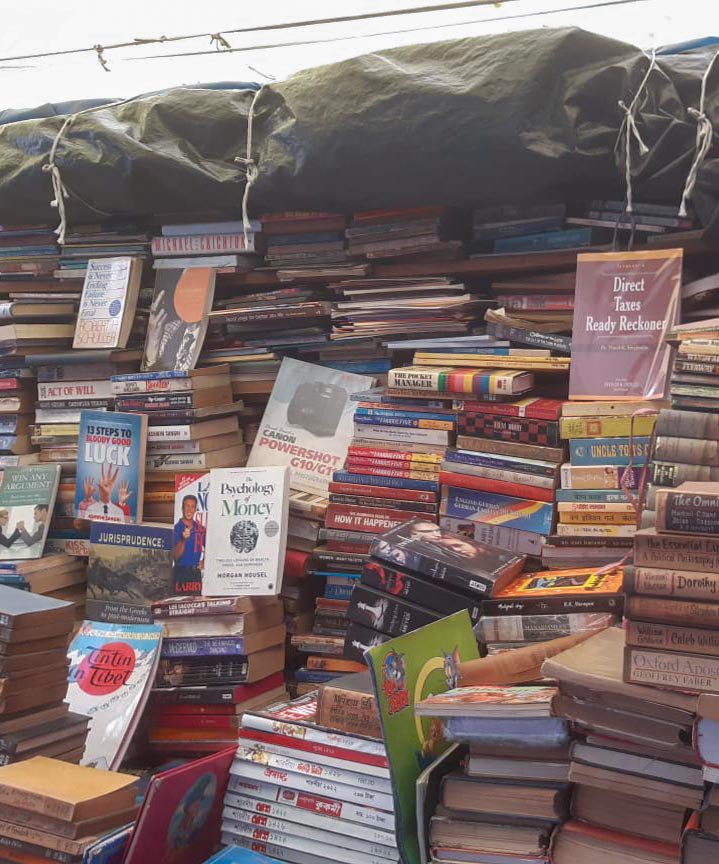 PHOTO • Diya Majumdar
" Ajkal ar keu boi porena. [These days no one really reads books]." Mohan claims he has lost a number of customers to Google. "Now we have this thing called Google. People search for the exact information they require and get just that." The Covid-19 pandemic only made things worse.
"I never closed my shop willingly before, but during Covid I had no option but to sit idle." Mohan used up all his savings during the pandemic. Speaking to PARI in January 2023, he said, "Business is at an all-time low."
Mohan believes a government-issued vending licence would help reduce the uncertainty of his business. He applied for a licence five years ago but is yet to receive it. In its absence, he feels the only security he has comes from being a member of the hawker's union, for which he pays Rs. 50 every week. This also ensures him a spot in the market to set up shop.
Towards the end of 2022, Mohan said that the Kolkata Municipal Corporation decided to enforce the
West Bengal Urban Street Vendors (Protection of Livelihood and Regulation of Street Vending) Rules, 2018
. All street vendors were ordered to remove any plastic sheets covering their shops. "It is fine now [in winter]," says Mohan. "But what will we do when it rains?"
মা আমার মা
সবচে কাছের তুমিই মাগো
আমার যে আপন
তোমার তরেই পেয়েছি মা
আমার এ জীবন
প্রথম কথা বলি যখন
তোমার বোলেই বলি
তোমার স্নেহের হাত ধরে মা
প্রথম আমি চলি
হাতটি তোমার ধরেই মাগো
চলতে আমার শেখা
হাতটি তোমার ধরেই আমার
লিখতে শেখা লেখা
করতে মানুষ রাত জেগেছ
স্তন করেছ দান
ঘুম পাড়াতে গেয়েছে মা
ঘুম পাড়ানি গান
রাত জেগেছ কত শত
চুম দিয়েছ তত
করবে আমায় মানুষ, তোমার
এই ছিল যে ব্রত
তুমি যে মা সেই ব্রততী
যার ধৈয্য অসীম বল
সত্যি করে বলো না মা কী
হল তার ফল
আমার ব্রতের ফসল যেরে
সোনার খুকু তুই
তুই যে আমার চোখের মনি
সদ্য ফোটা জুঁই ।
O mother, my mother
None is dearer than you, O mother
You are my own.
From you O mother, I have received
This life of mine.
The first word I uttered
Was in your tongue.
Holding on to your love
I walked for the first time.
Holding on to your hand, O mother
I learnt to walk.
Holding your hand
I learnt to write.
Sleepless nights you've spent to nourish me,
You have gifted me your breasts.
To bid me sleep, O mother
You had sung lullabies.
Countless sleepless nights you've passed
You've kissed me endlessly,
You had taken a vow
To make a human out of me.
You are the one who had pledged,
Your patience is eternal,
O mother, please tell me the truth
What came out of it?
You are the harvest of my vow
O my golden daughter,
You are the light of my eyes
A freshly blossomed jasmine.
Poem translated from Bangla by Joshua Bodhinetra