It's 4 p.m. on a sunny day in February at the Rajasthan Polo Club in Jaipur.
Both teams of four players each are in position.
Indian women from Team PDKF are up against Team PoloFactory International for this exhibition match – the first-ever international women's polo match to be played in India.
Each player holds a wooden mallet in hand, ready to begin. It's Ashok Sharma's first match of the season. But he's no stranger to the sport.
A third generation artisan, Ashok has 55 years of experience in making mallets – cane-based sticks essential to any polo players' kit. "I was born into the craft of making mallets," he says proudly, speaking about his family's 100-year legacy. Horseback polo is among the oldest equestrian sports in the world.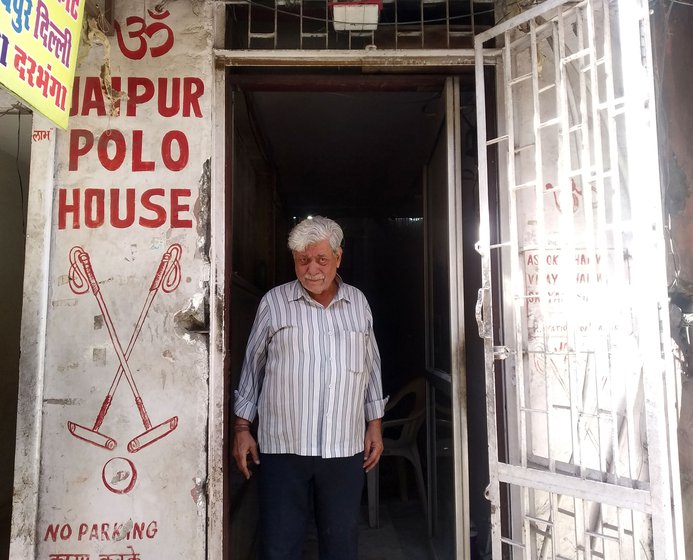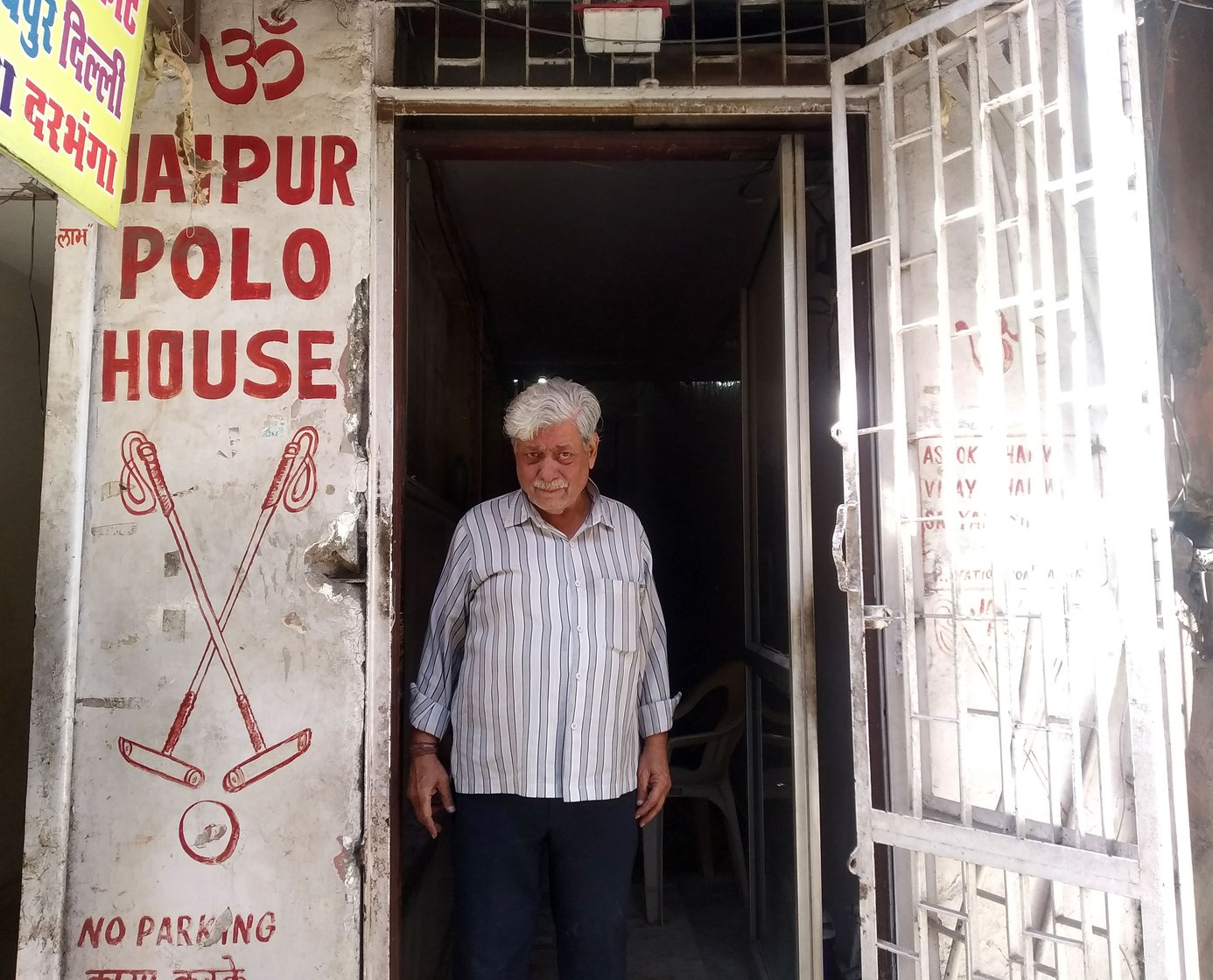 PHOTO • Shruti Sharma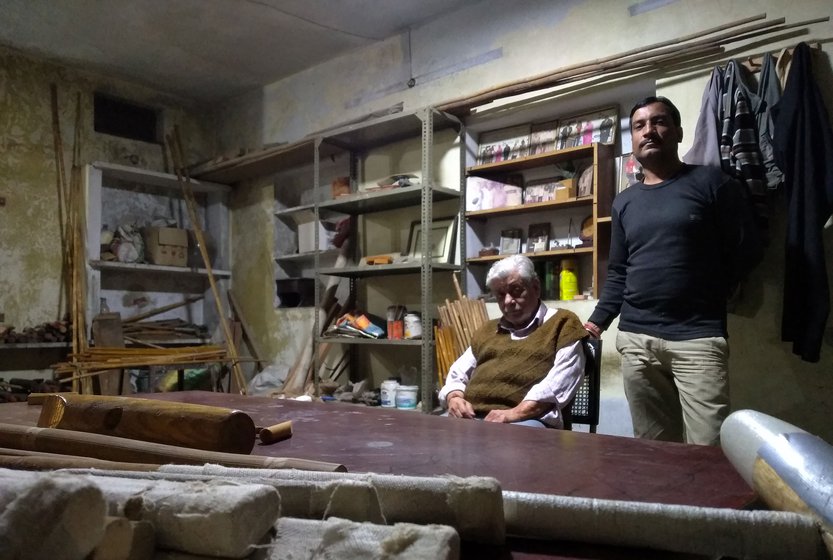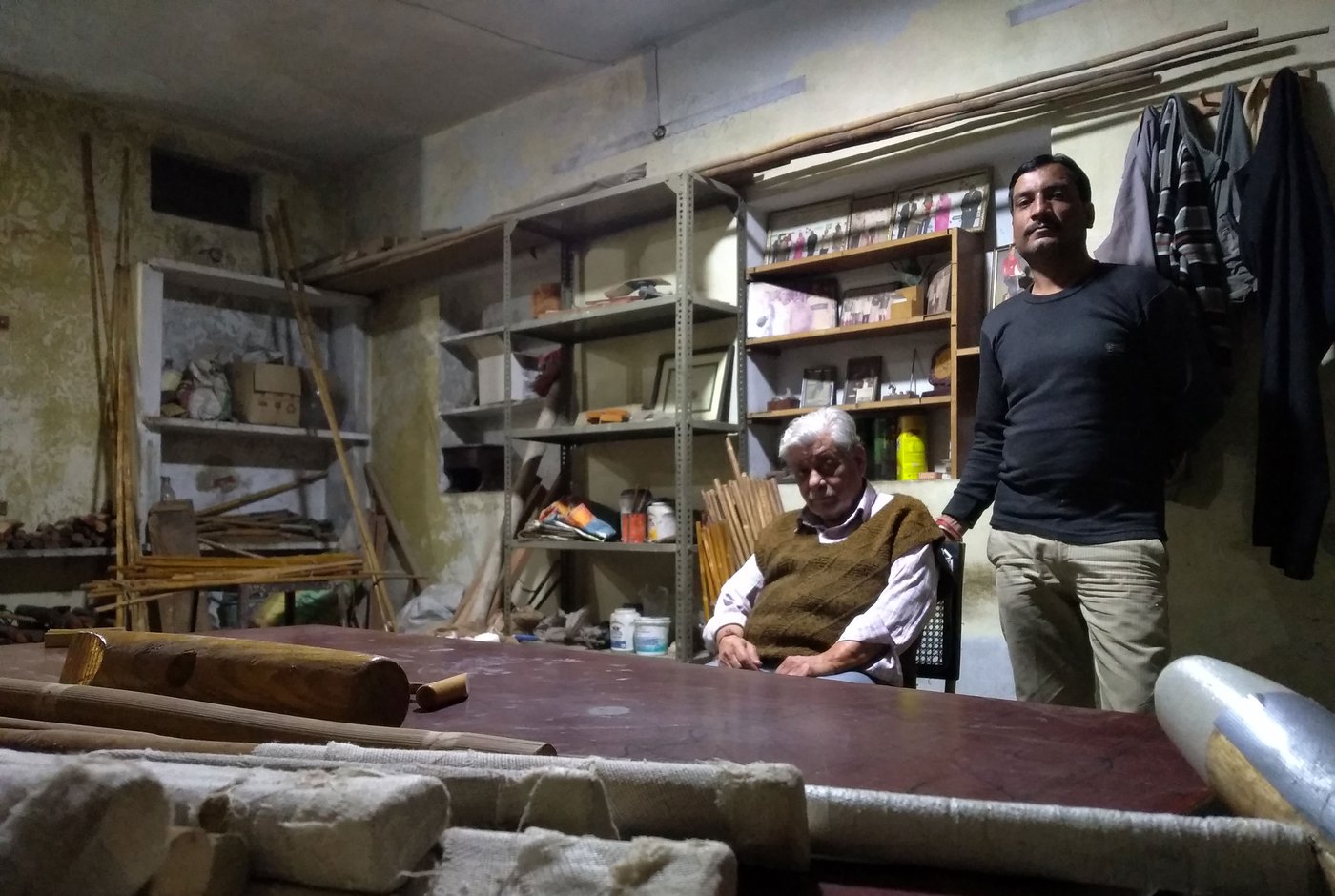 PHOTO • Shruti Sharma
He runs Jaipur Polo House, the oldest and most sought after workshop in the entire city. It is also his home, where he crafts different kinds of mallets with his wife Meena and her nephew Jitendra Jangid, 37, fondly called 'Jeetu'. They belong to the Jangid community, listed as an Other Backward Class in Rajasthan.
The umpire rolls the ball between the teams lined up opposite each other; and as the match begins, the seventy-two year old feels nostalgic. "I used to cycle to the ground, and then I bought a scooter." But that ended in 2018 when a mild stroke in the brain cut down his visits.
Two male players come up and say namaste "Polly ji ", a nickname Ashok got from his nani (maternal grandmother) that has stuck in Jaipur's polo circuit. "I want to come more these days, so that more players know that I am still working and then they will send their sticks for repairs," he says.
Almost two decades ago, a visitor to Ashok's karkhana (workshop) would be greeted with the sight of entire walls lined with finished mallets, hung head-up from the ceiling. He says not a trace of the off-white walls could be seen and, "Big players would come, choose a stick of their liking, sit with me, drink tea, and leave."
The game has started and we find our seats next to the former secretary of the Rajasthan Polo Club, Ved Ahuja. "Everyone got their mallets made only from Polly," he says smiling. "Polly also supplied bamboo root balls to the club," recalls Ahuja.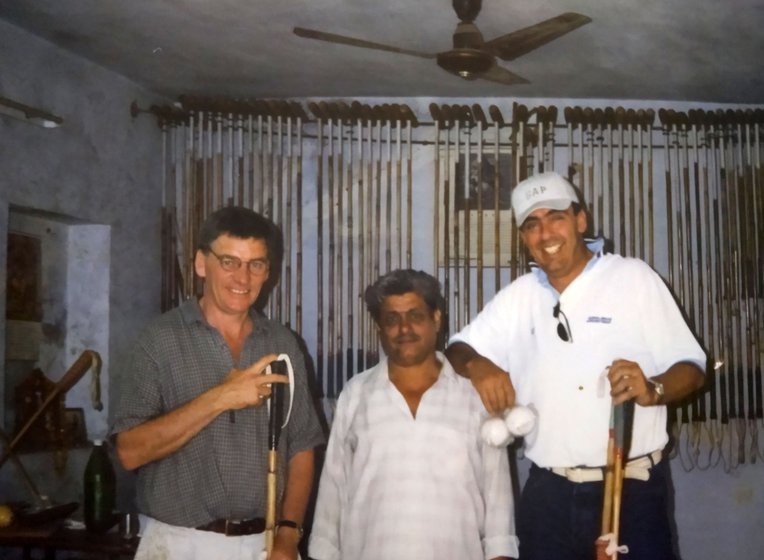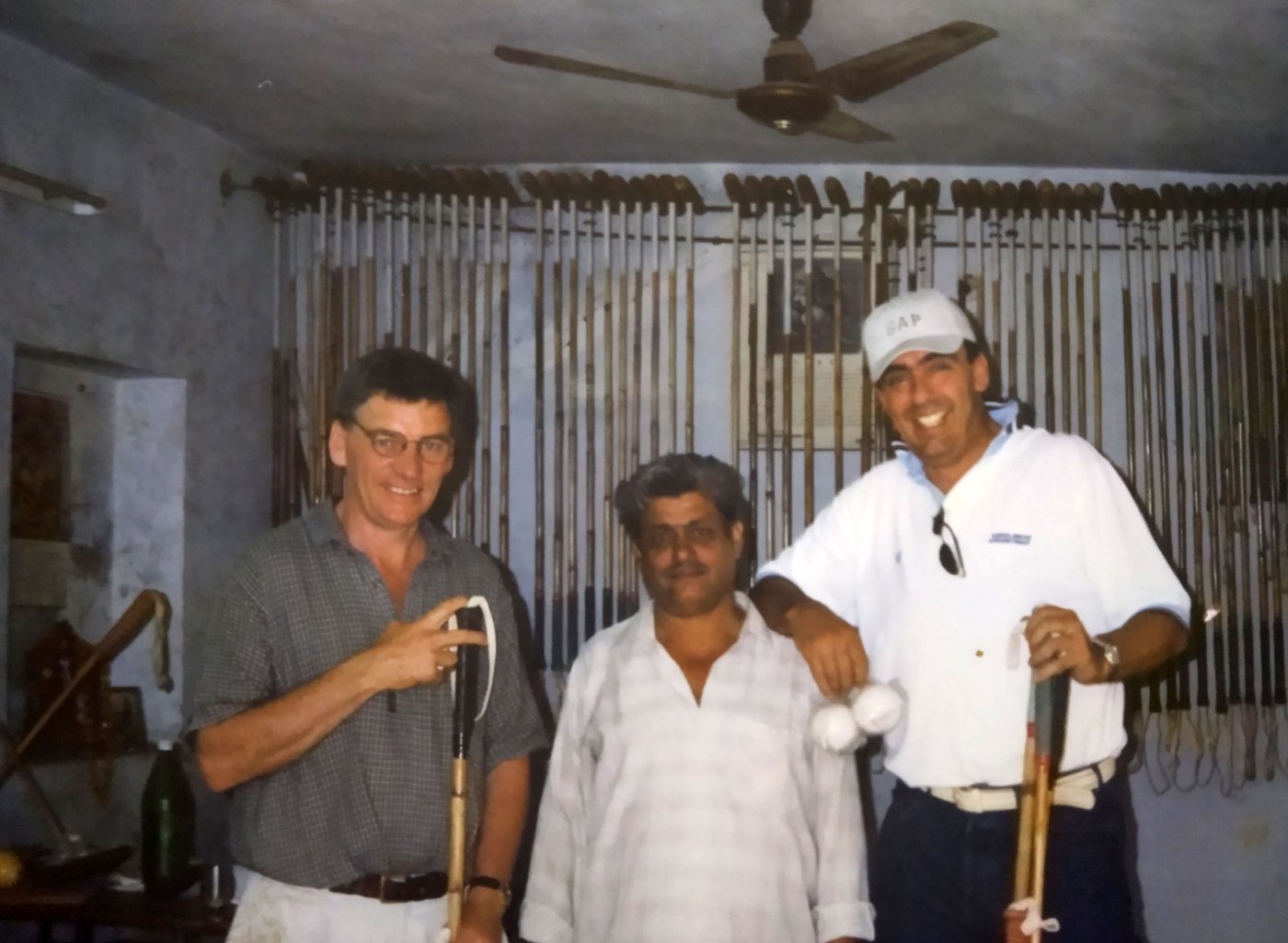 PHOTO • Courtesy: Ashok Sharma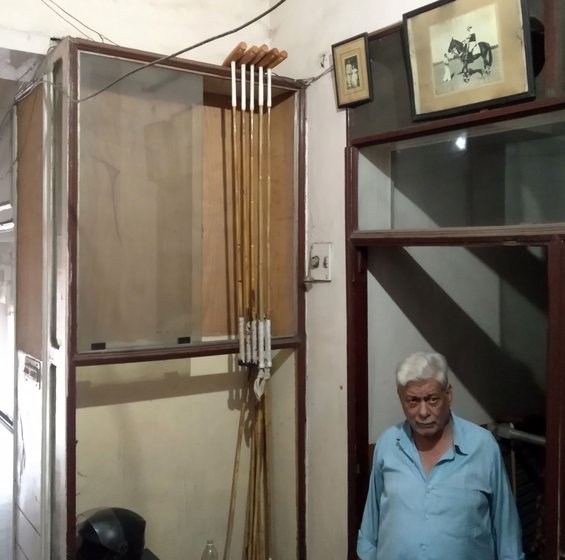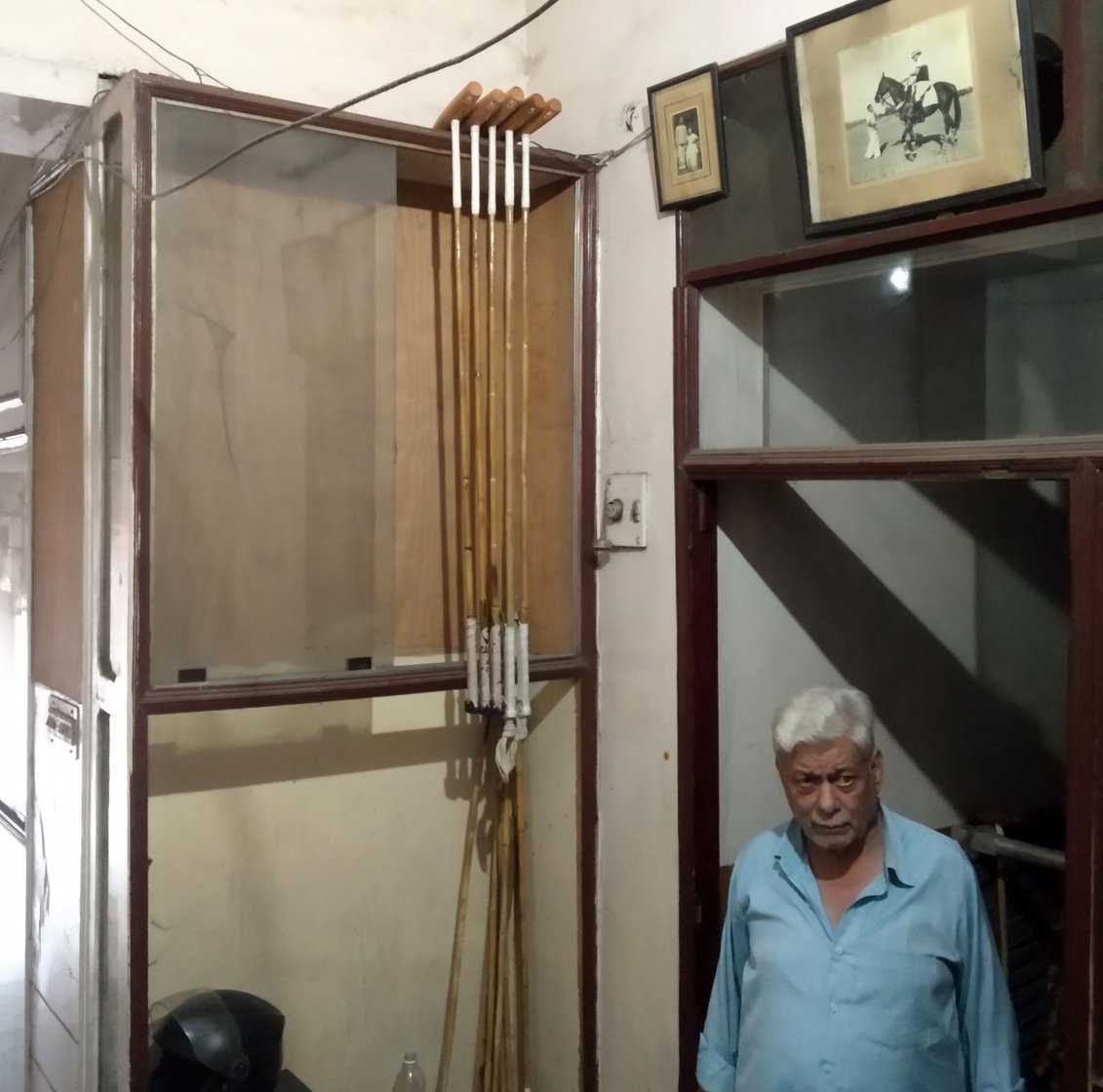 PHOTO • Shruti Sharma
Either the very rich or members of the military, Ashok points out, can afford to play polo. As of 2023, only around 386 players are registered with the Indian Polo Association (IPA), established in 1892. "A person must have at least five to six horses of their own to play a match," he says as matches are divided into four to six chukkers , and each player has to mount a different horse after every round.
Former royals especially in Rajasthan were patrons of the sport. "My uncle Keshu Ram made polo sticks for the rulers of Jodhpur and Jaipur in the 1920s," he says.

In the last three decades, Argentina has come to rule the world of polo in playing, production and regulation. "Their polo horses are a superhit in India, as are their polo mallets and fibre glass balls. Players even go to train in Argentina," adds Ashok.
"My work would have stopped because of Argentina's sticks, but thankfully I started making cycle polo mallets thirty-forty years ago, so I still have work," he says.
Cycle polo is played on an ordinary cycle of any make and size. Unlike its horseback counterpart, "this game is for the common person," Ashok says. His annual earnings of roughly Rs. 2.5 lakh come from crafting cycle polo sticks.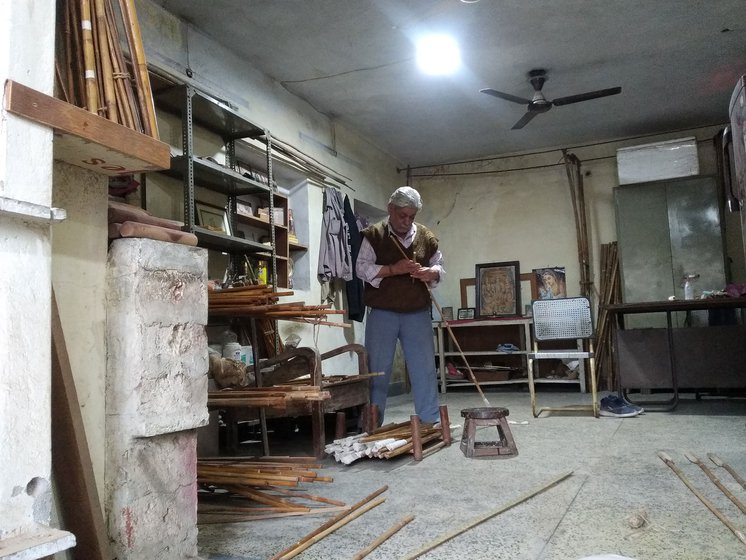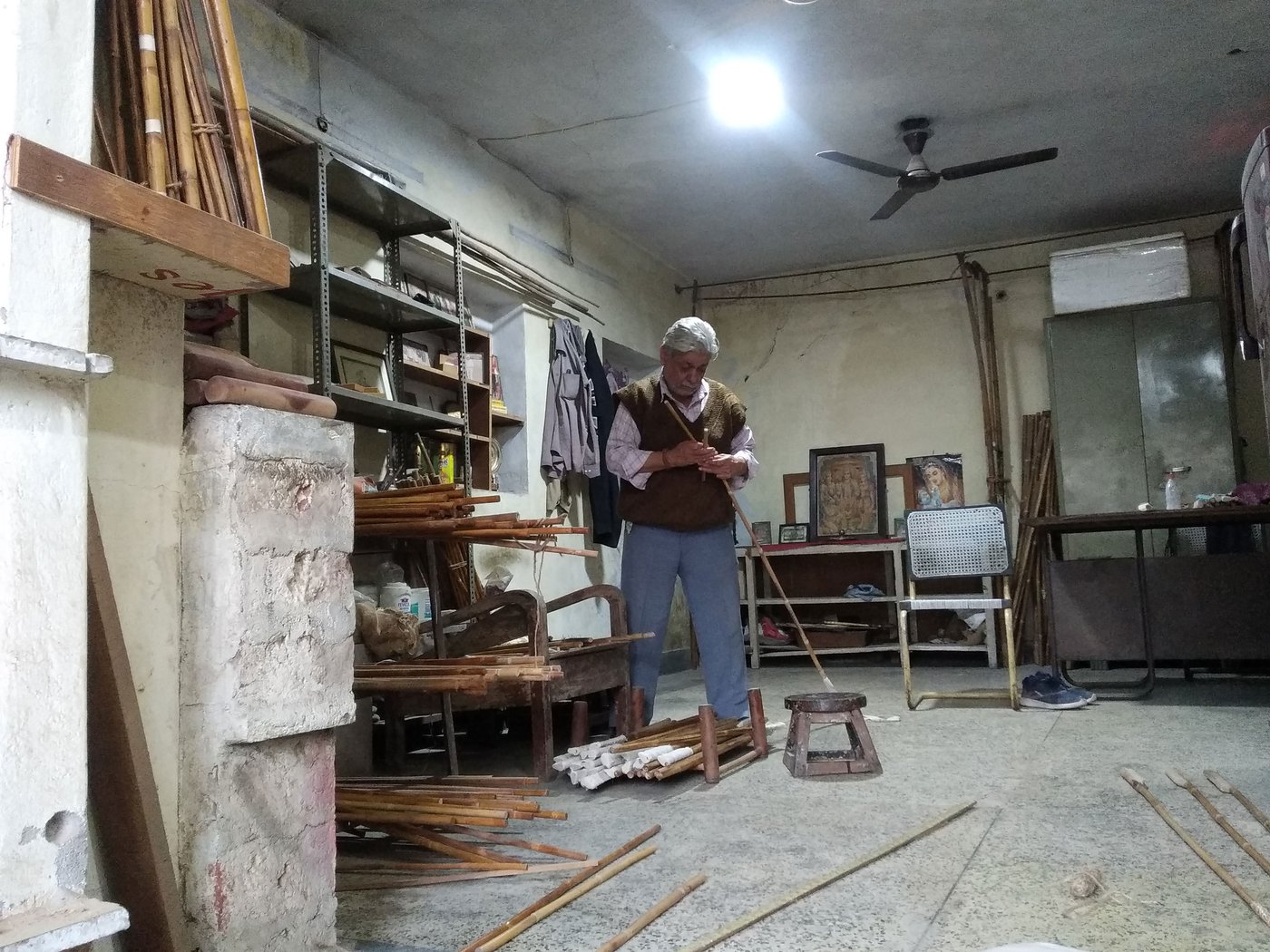 PHOTO • Shruti Sharma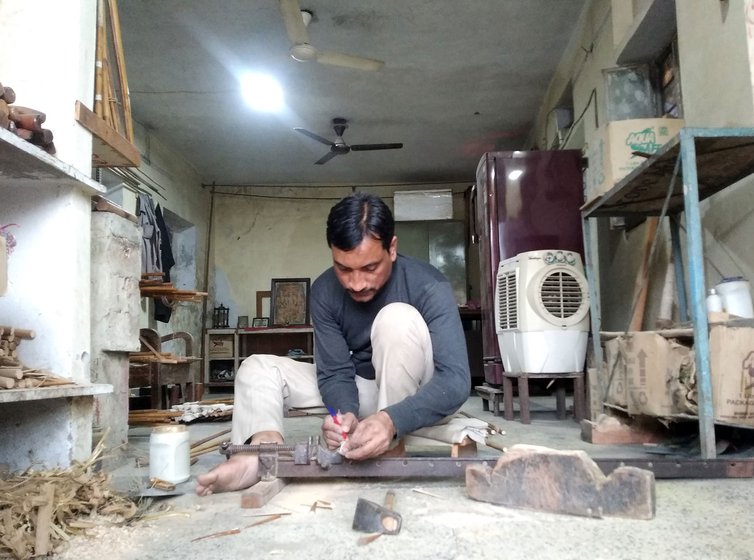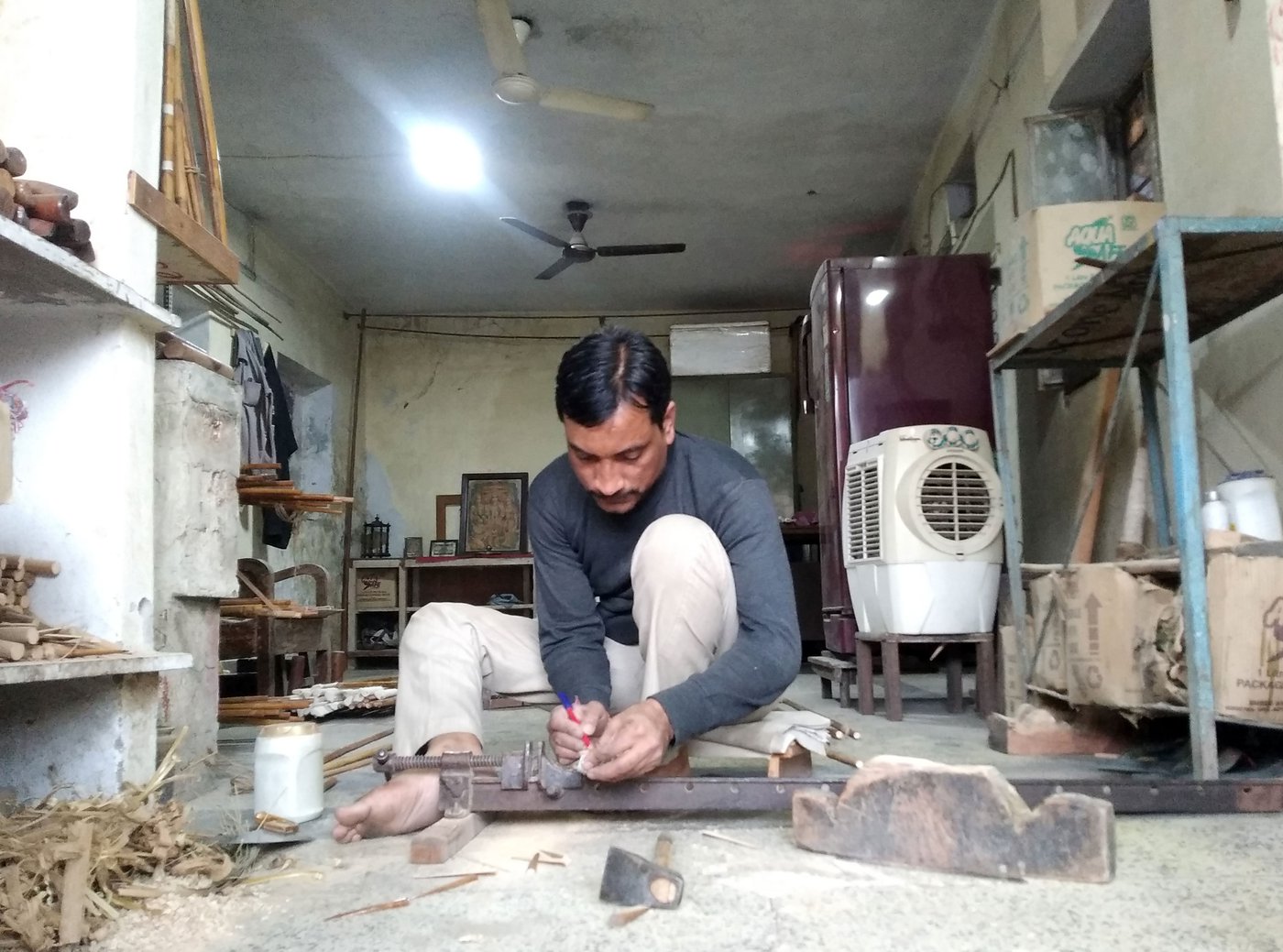 PHOTO • Shruti Sharma
Ashok gets annual orders for over a 100 cycle polo mallets each from civilian and army teams in Kerala, Karnataka, Maharashtra, Rajasthan and Uttar Pradesh. "The player is usually poor, so I have to allow for that," he says by way of explaining why he makes only around 100 rupees on every stick he sells. He also gets mallet orders for camel polo and elephant polo which are infrequent, and for miniature gift sets too.
"There are barely any spectators today," says Ashok as we make our way out of the ground.
When a match between India and Pakistan was played on the ground, he remembers over 40,000 people attended it and many even sat on trees to watch. Such memories keep up his spirit to adapt to the times, and continue his family's long legacy of making mallets.

"People ask me, is there any craftsmanship in this work? It is just a cane."
Making a mallet, he says, "is the result of crafting together different natural raw materials to arrive at an intangible feel of play. This feeling is a coming together of balance, flexibility, strength as well as lightness. It should not be jerky either."
We climb the dimly-lit narrow flight of stairs one step at a time to the workshop on the third storey of his house. It is difficult for him after the stroke, he says, but he is determined. While repair work for horseback polo mallets is undertaken all round the year, cycle polo mallet-making peaks only during the season – September to March.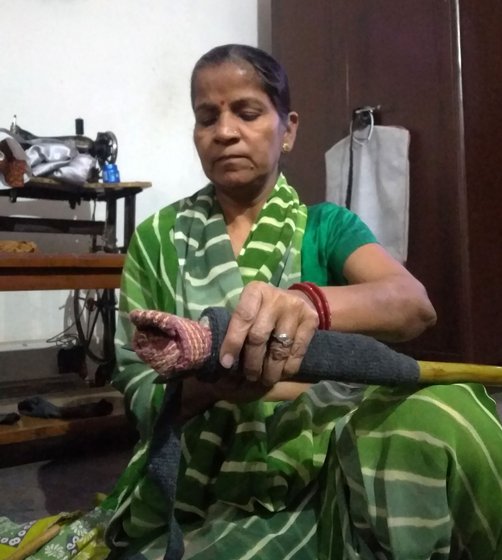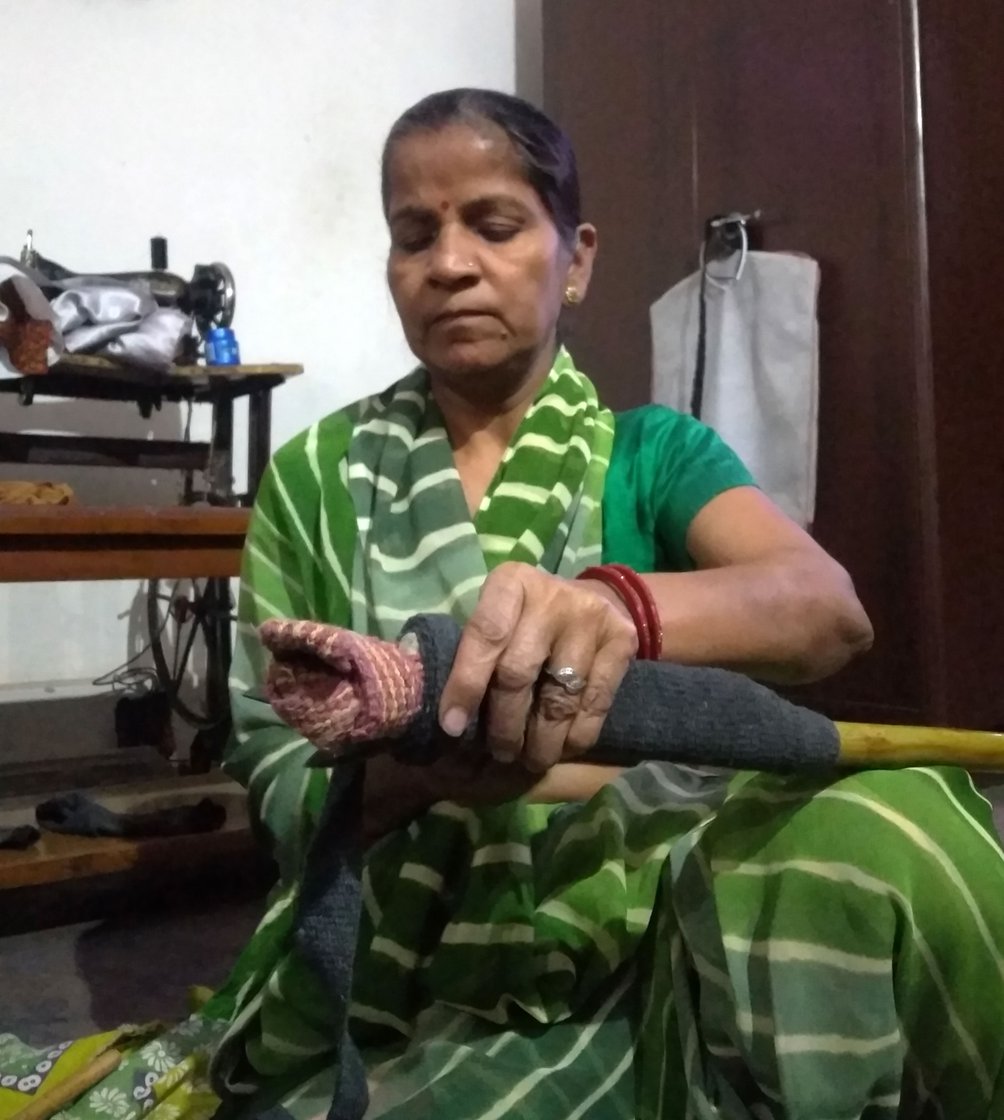 PHOTO • Shruti Sharma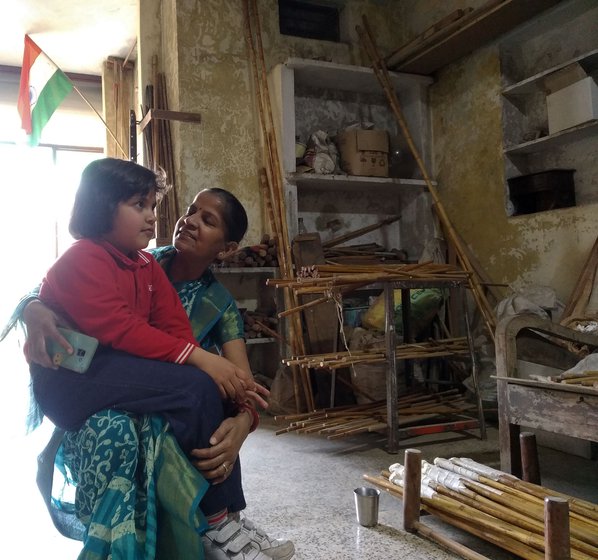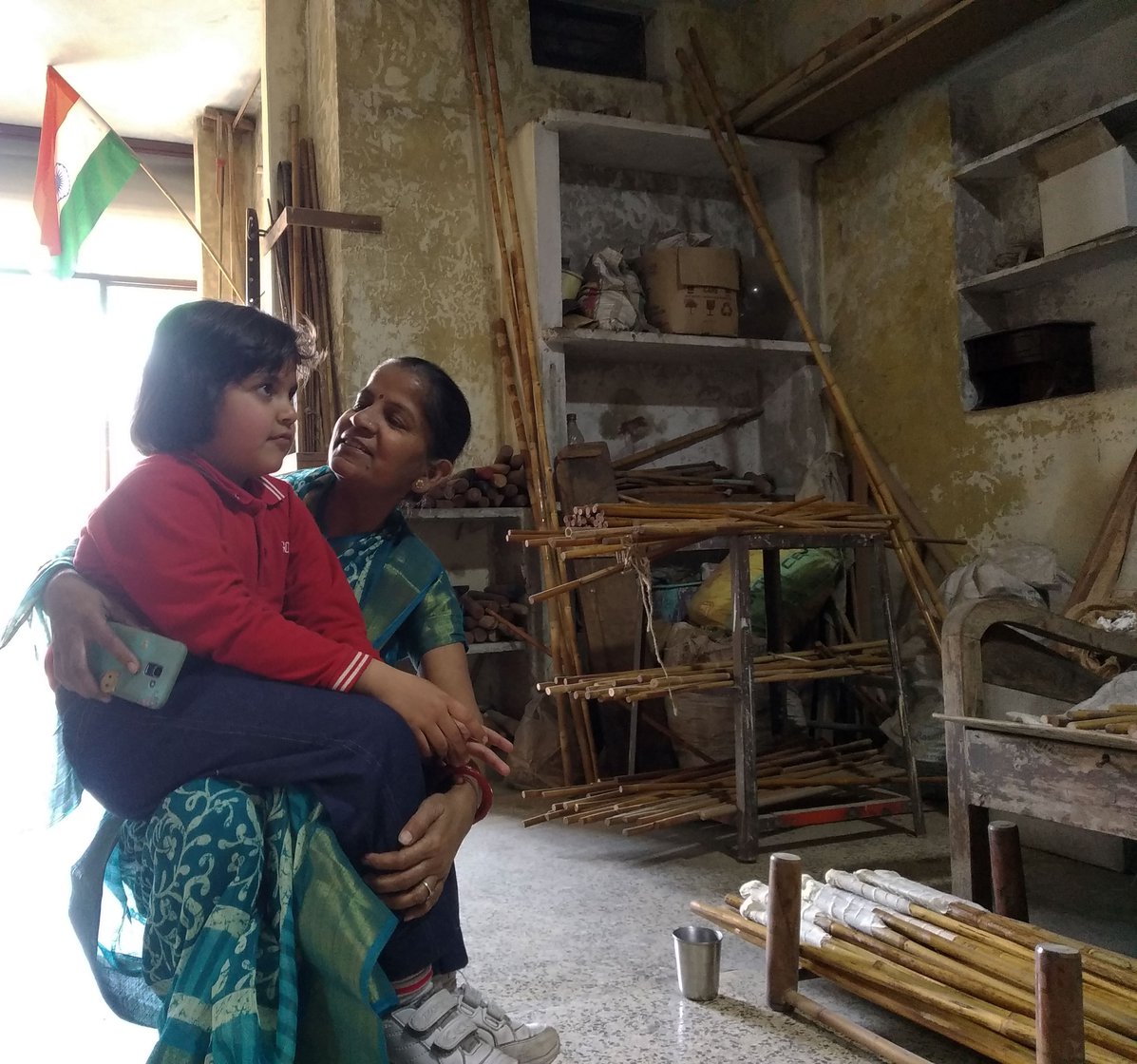 PHOTO • Shruti Sharma
"The rough tasks are done by Jeetu upstairs," says Ashok, "Madam and I do the rest of the work downstairs in our room." He is referring to his wife Meena who is seated beside him as 'madam'. In her sixties, she chuckles as he continues to call her 'boss'; half listening to our conversation while simultaneously sending sample photographs of miniature mallet sets to a prospective client through her phone.
Once that is done she moves into the kitchen to fry kachoris for us to eat. "​​I have been doing polo work for 15 years now," Meena says.
Taking an old mallet off the wall Ashok points out the three main components of a polo stick: a cane shaft, a wooden head and a rubber or rexine grip handle with a cotton sling. The making of each element is handled by a different member of his family.
The process begins with Jeetu who is working on the third floor of the house. He uses a mechanised cutter that he has made himself to cut the cane. To taper this cane, he uses a randa (plane) which makes the shaft flexible and allows it to arc when in play.
"We don't put nails at the bottom of the cane as it might injure the horses," Ashok says and adds, " Maano agar ghoda langda ho gaya toh aapke lakhon rupay bekaar [If the horse becomes lame then lakhs of rupees are wasted]."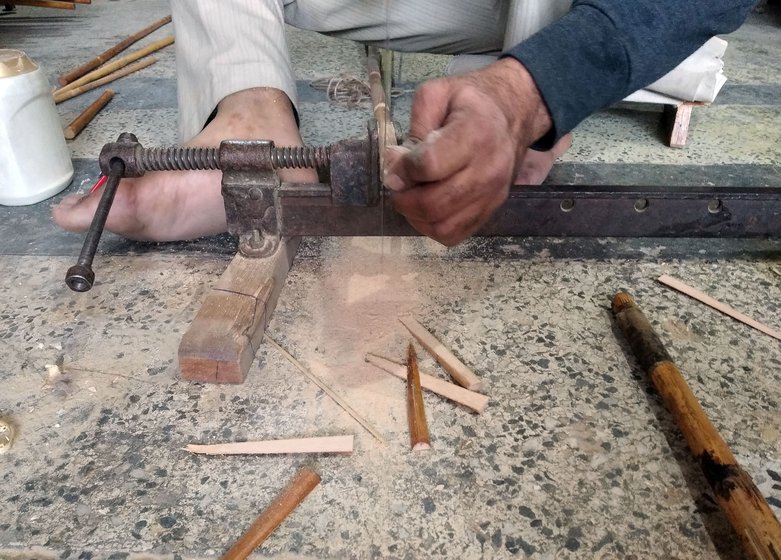 PHOTO • Shruti Sharma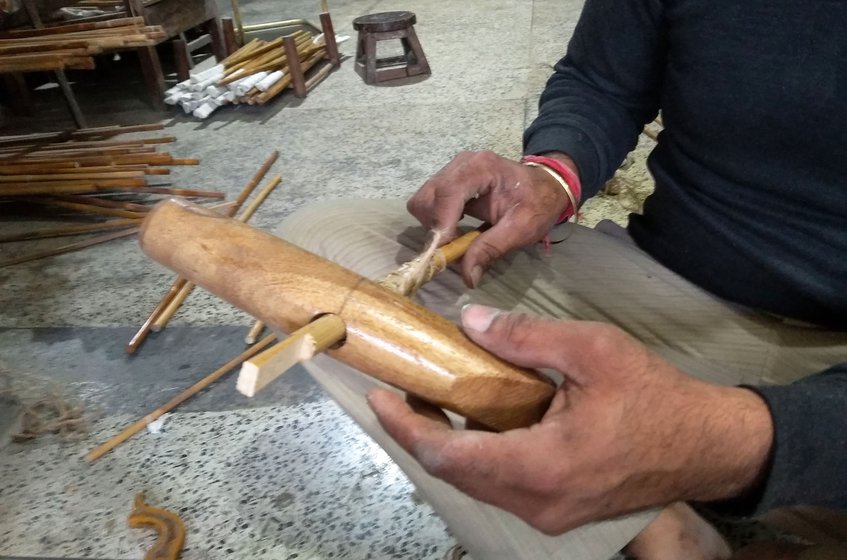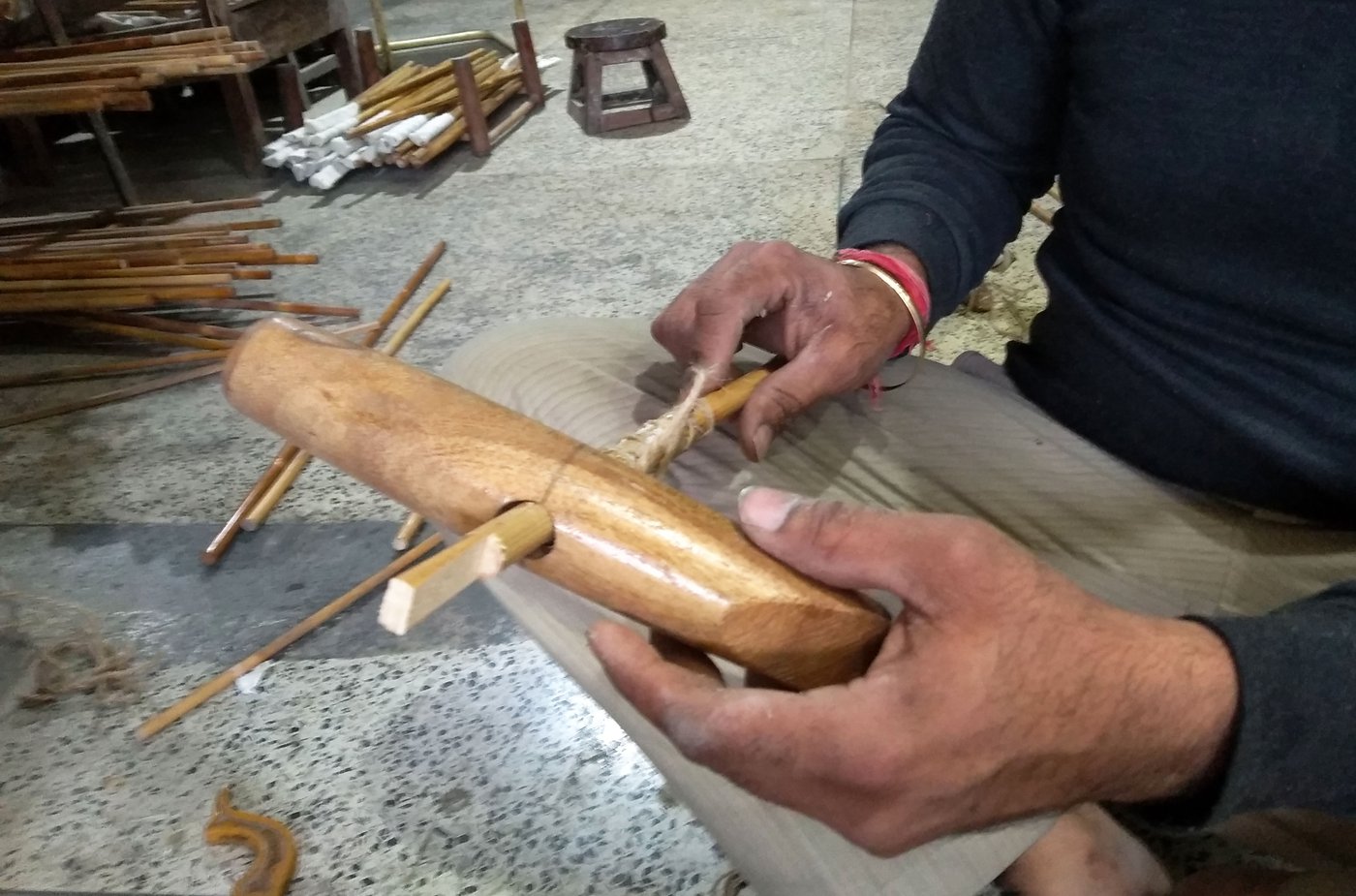 PHOTO • Shruti Sharma
"My work has always been technical," Jeetu says. He used to make furniture earlier and is now employed in the 'Jaipur Foot' department at the Rajasthan government's Sawai Man Singh Hospital which relies on artisans like him to make affordable prosthetic limbs.
Jeetu points at the mallet's head to demonstrate how he uses a drilling machine to make a chhed (hole) for the cane shaft to go through. He then hands the shafts to Meena who takes over.

The kitchen is on the ground floor along with their two bedrooms. Meena works within these spaces, easily moving around as required. She tries to schedule working on mallets for the afternoons, between 12 noon to 5 p.m., after and before she finishes cooking. But when orders come in on short notice, her days stretch on longer.
Meena undertakes the most time consuming aspects of making mallets – strengthening the shaft and binding the grip. It involves meticulously winding strips of cotton dipped in Fevicol glue onto the thinner end of the shaft. Once done, she must dry the shaft flat on the ground for 24 hours to keep its shape intact.
She then binds rubber or rexine grips and fastens cotton slings onto the thicker handles using glue and nails. This grip must be visibly neat and the sling strong so that the stick does not slip away from the player's wrist.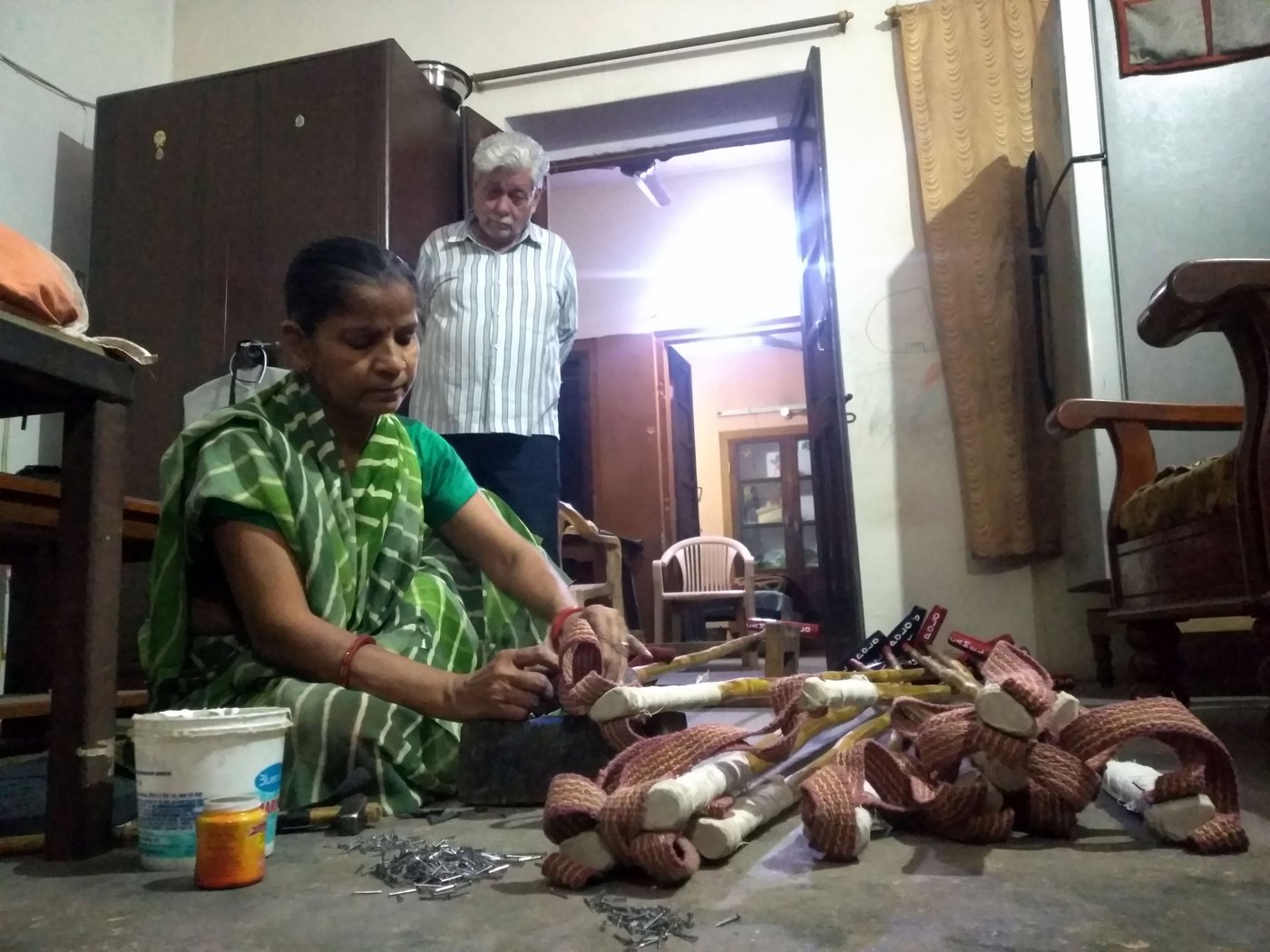 PHOTO • Shruti Sharma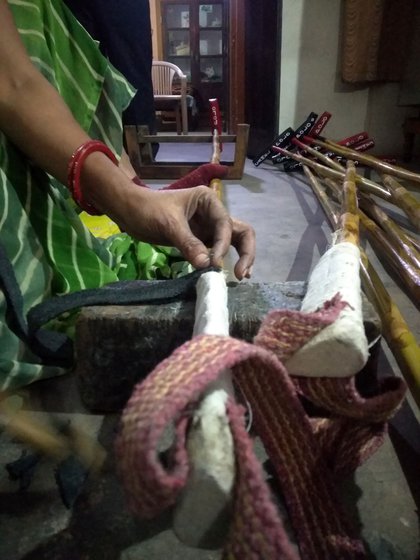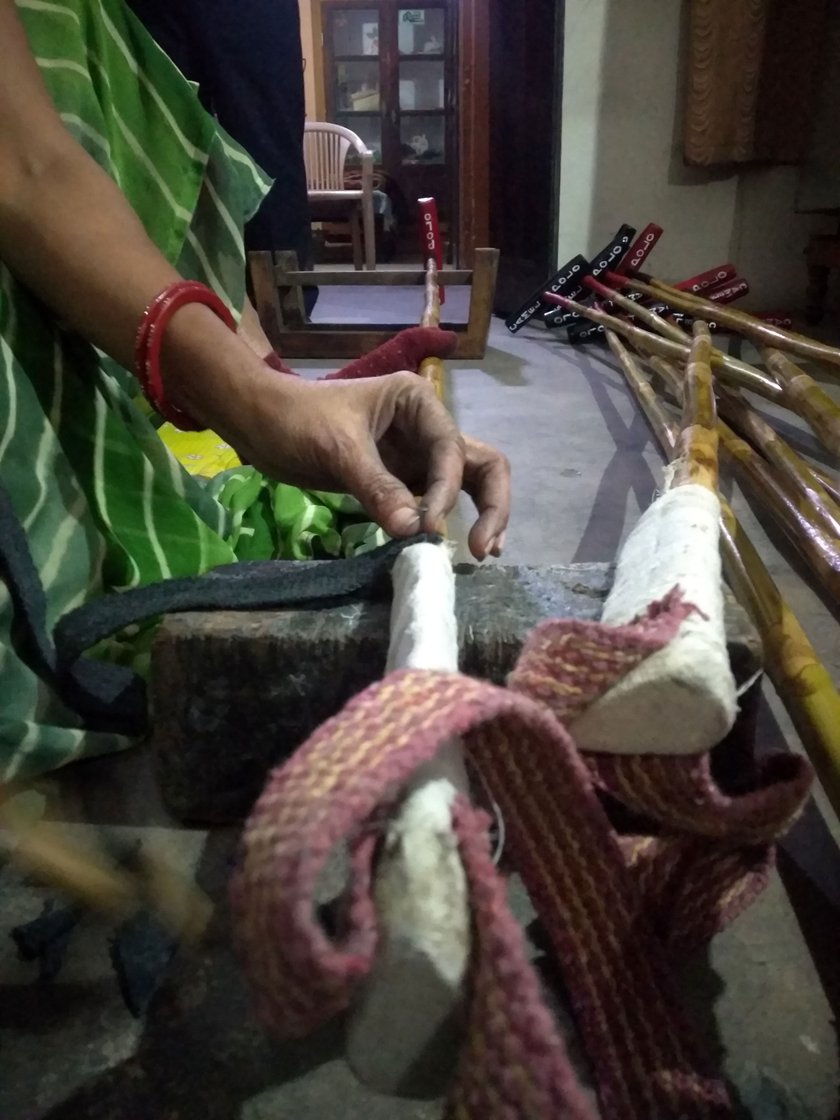 PHOTO • Shruti Sharma
The couple's 36 year-old son, Satyam would share these tasks earlier but he is now unable to sit on the ground after a road accident that led to three surgeries on his leg. Some evenings he helps out in the kitchen by cooking the subzi (vegetable) or making tadka (seasoning) for the dal in dhaba style for dinner.

His wife Rakhi works from 9 a.m. to 9 p.m. seven days a week at a Pizza Hut that is walking distance from their house. She spends any free time at home tailoring women's clothes such as blouses and kurtas , and with their daughter, Naina. The seven-year old usually completes her homework with Satyam's guidance.
Naina is playing with a 9 inch miniature mallet that is quickly taken away from her because it is fragile. A miniature set of two sticks, an artificial pearl as a ball mounted on a wooden base, is priced at Rs. 600. Meena says that it takes more effort to make the miniature mallets for gifting than the bigger ones that are used for play. "The work for them is more intricate."
In mallet-making, wedging two distinct pieces – the head and the cane shaft – together is considered the most defining task. This stage sets the stick's balance. "Balance is one thing that everyone cannot set right," says Meena. It is an intangible characteristic of the equipment and Ashok replies casually, "that is what I do."
Sitting on a red gaddi (cushion) on the floor with his left leg stretched out, he applies glue all around the drilled chhed in the head, while the cane shaft rests between his big toe and index toe. "There is just no count," Ashok says, laughing gently when asked to share how many times he has placed the cane shaft between his toes in the past five and a half decades.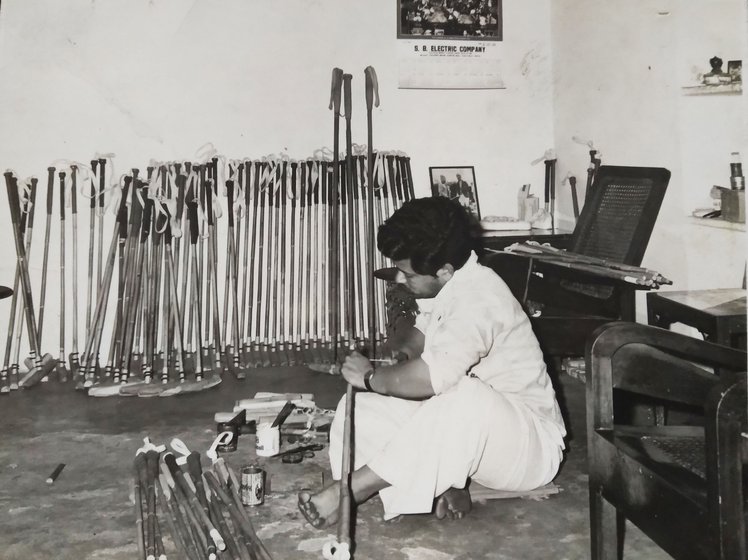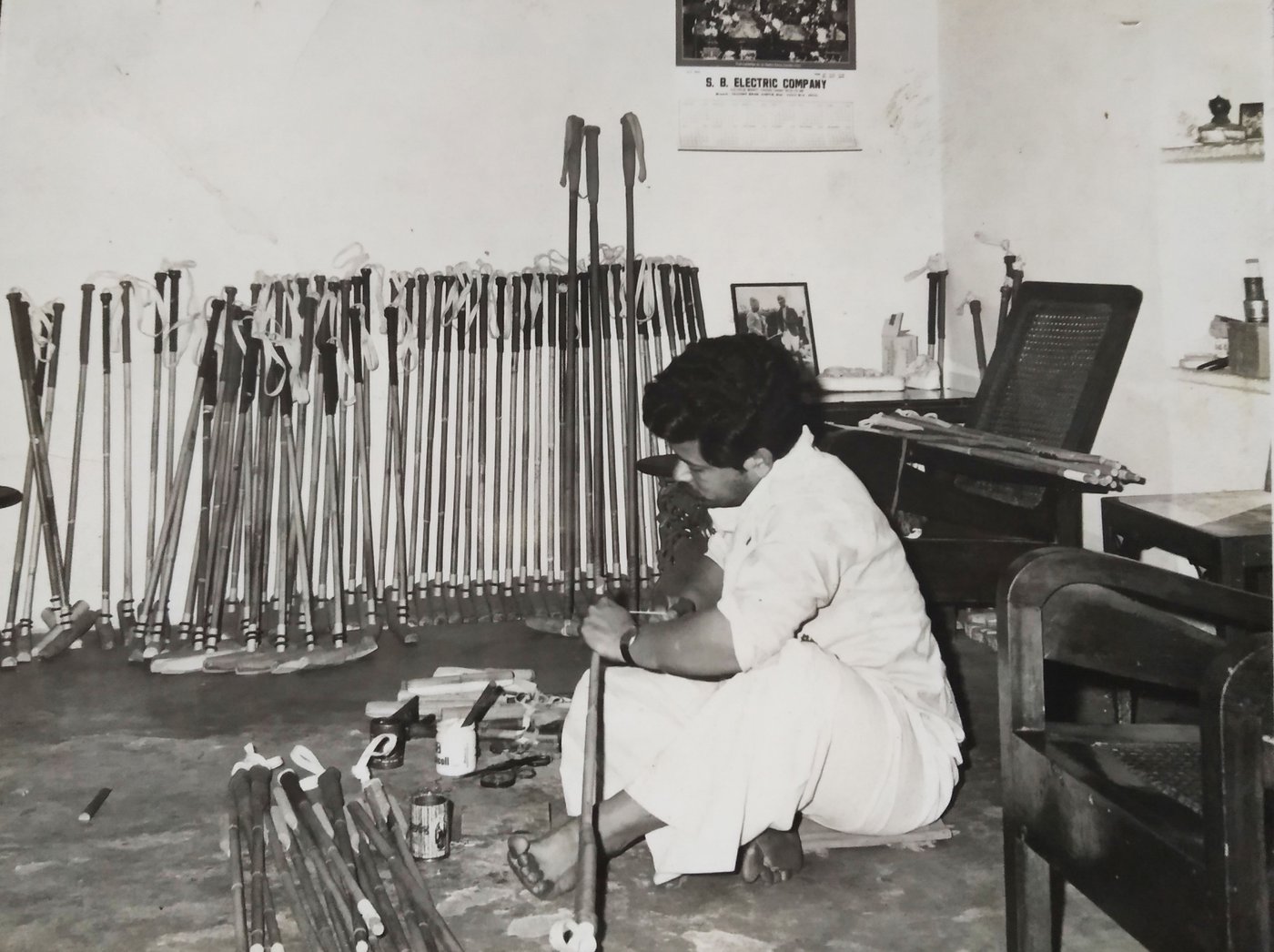 PHOTO • Courtesy: Ashok Sharma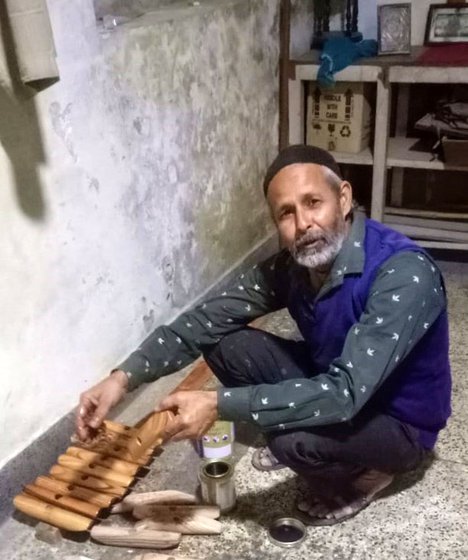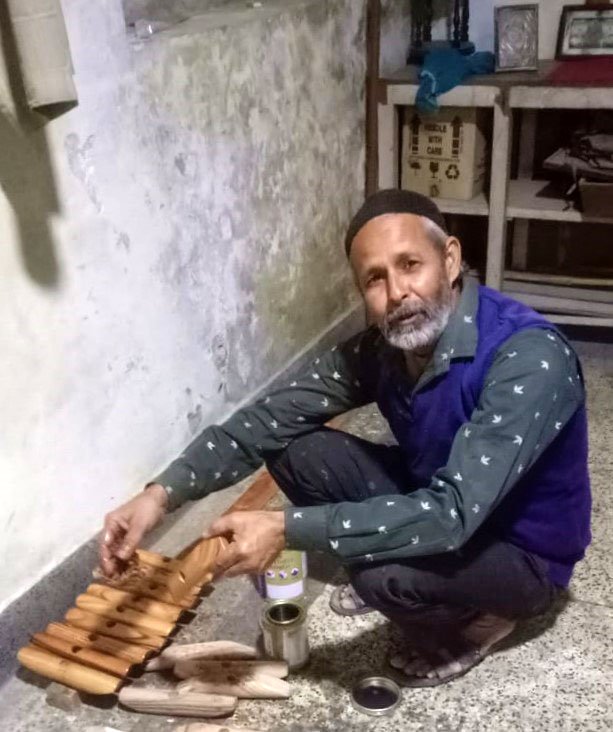 PHOTO • Jitendra Jangid
"Yeh chudi ho jaegi, fix ho jaegi phir yeh bahar nahi niklegi [It will resemble a bangle and get fixed onto this bangle's rim. Then it won't come off]," Jeetu explains. The cane and wood are tightly combined to withstand the continuous impact of a ball.
In a month roughly 100 mallets get made. They are then varnished by Mohammad Shafi, Ashok's associate of 40 years. Varnish gives them a shine and protects from moisture and dirt. Shafi finishes by calligraphing the height of the mallet with paint on one side. Then Ashok, Meena and Jeetu stick the label 'Jaipur Polo House' below the handle.
The cost of raw materials for one mallet is Rs. 1,000, and Ashok says he is unable to recover even half that amount in sales. He tries to sell a mallet for Rs. 1,600, but doesn't always succeed. "Players don't pay well. One thousand, twelve hundred [rupees] is what they offer to pay," he says.
He rues the low returns pointing out how each part of a mallet is carefully considered. "Cane [only] comes from Assam and Rangoon to Kolkata," Ashok says. It must qualify with the right moisture content, degree of flexibility, density and thickness.
"The suppliers in Kolkata have thick canes which are suitable for making batons for police personnel and walking sticks for the elderly. Out of a thousand of those, only a hundred meet my requirements," says Ashok. Most of the canes his suppliers send are too thick for making mallets, and so before the pandemic he used to travel to Kolkata every year to sort, choose and bring suitable canes. "Now I can only go to Kolkata if I have one lakh rupees in my pocket."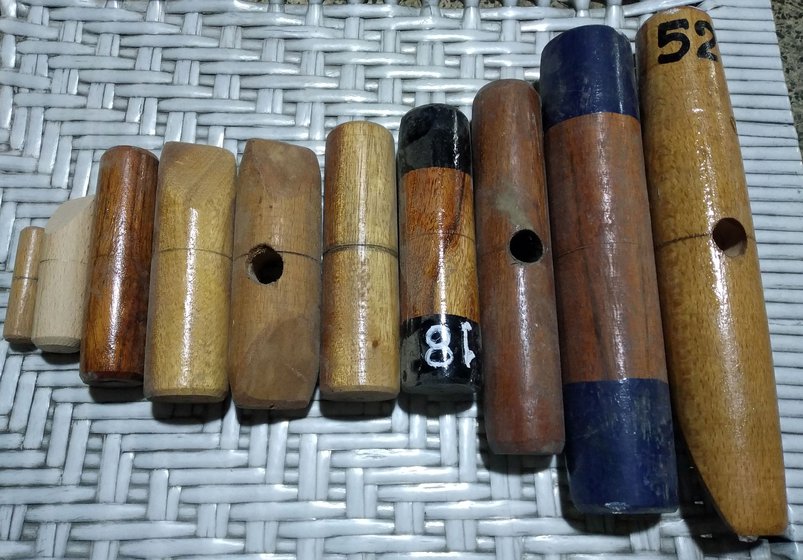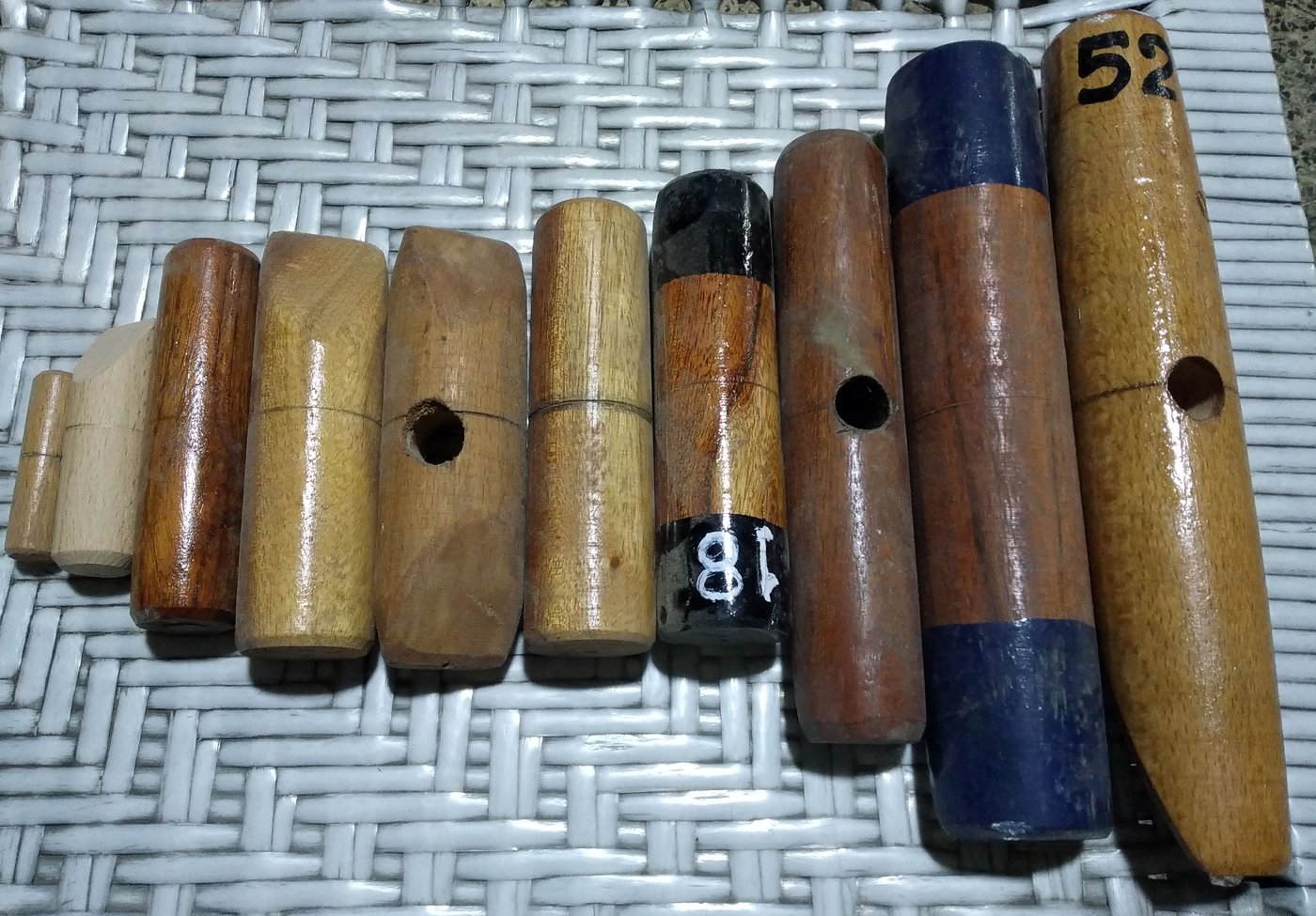 PHOTO • Shruti Sharma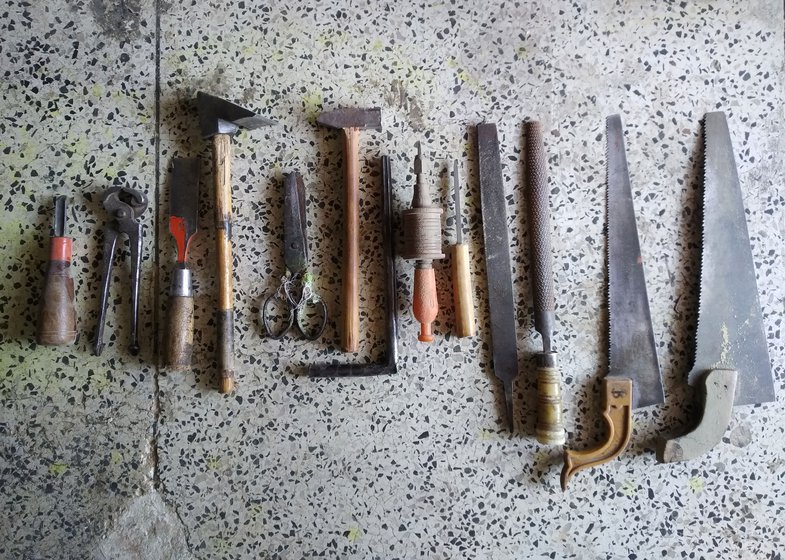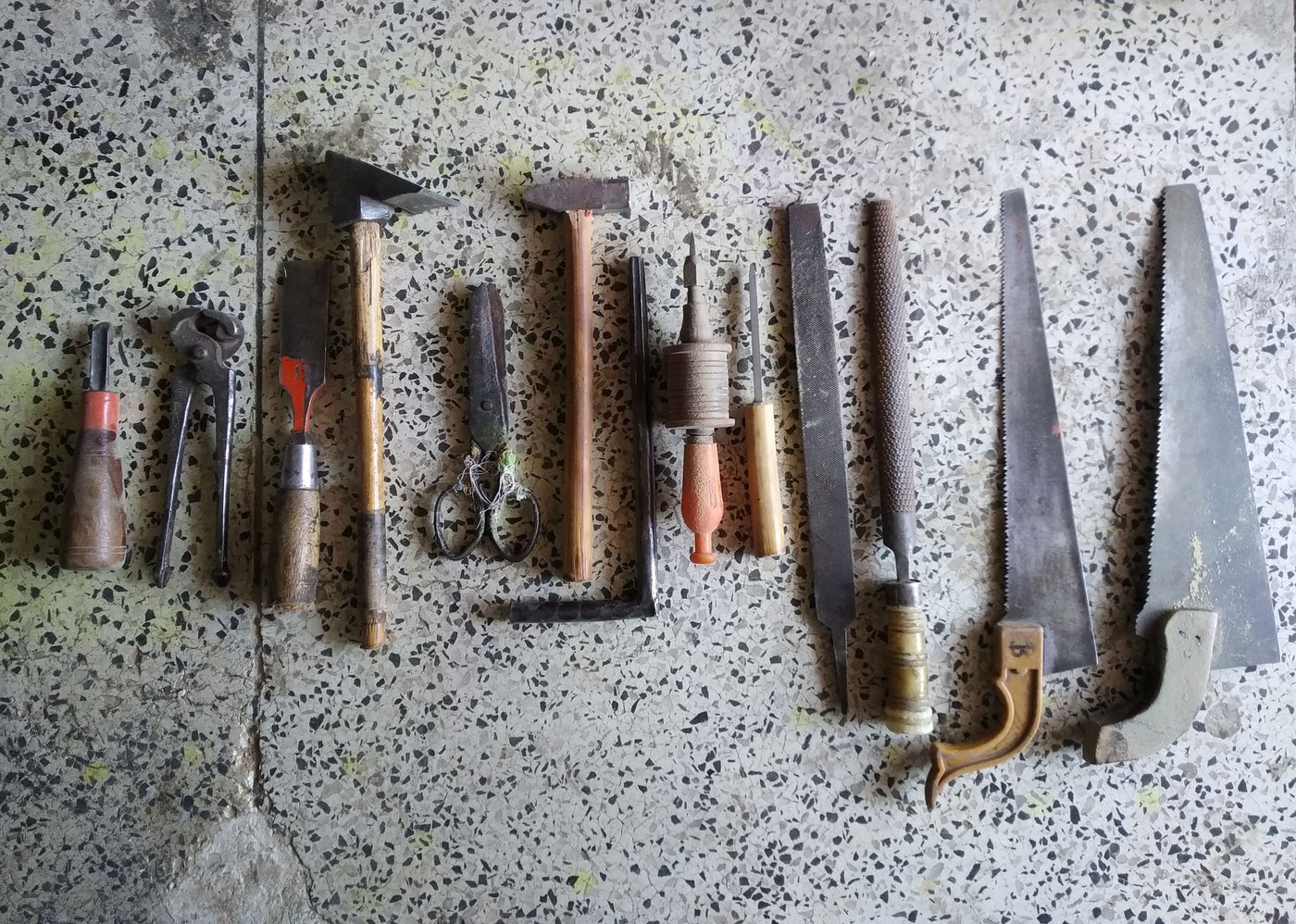 PHOTO • Shruti Sharma
Ashok says that years of trial and error at the local timber market have made him rely on imported steam beech and maple wood for the mallet's heads.
He shares that he has never revealed to the timber sellers what he crafts out of his purchases. "They will increase the rate saying, 'you are doing a bada kaam [highly valued work]!"
Instead he tells his suppliers he makes legs for tables. "If somebody asks, if I make rolling pins, I say yes to that too!" he says laughing.
"If I have 15-20 lakh rupees, then no one can stop me," he says. He finds tipa wood from the Tipuana tipu tree native to Argentina that is used for Argentinian mallet heads to be superior. "It is very light and doesn't break, it just peels off," he says.
Argentinian sticks cost a minimum of Rs. 10,000 -12,000 and, "The big players order from Argentina."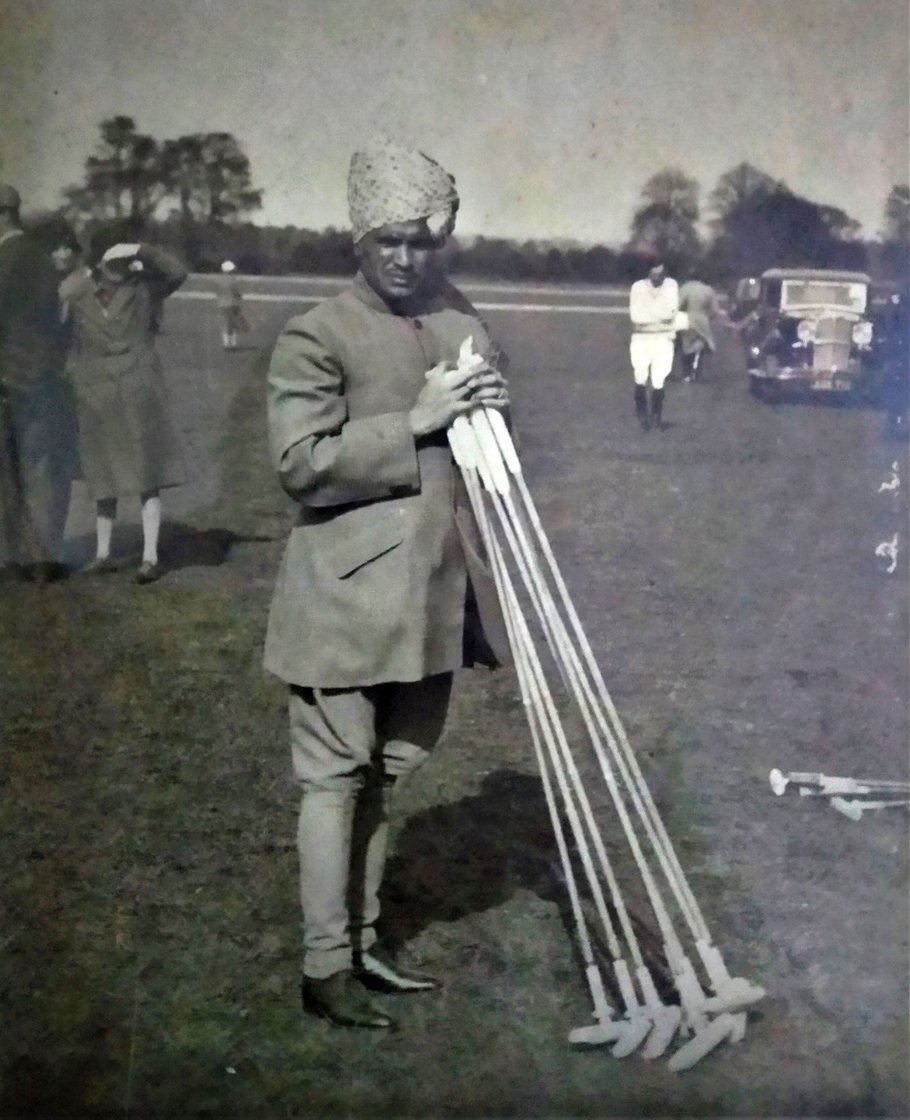 PHOTO • Courtesy: Ashok Sharma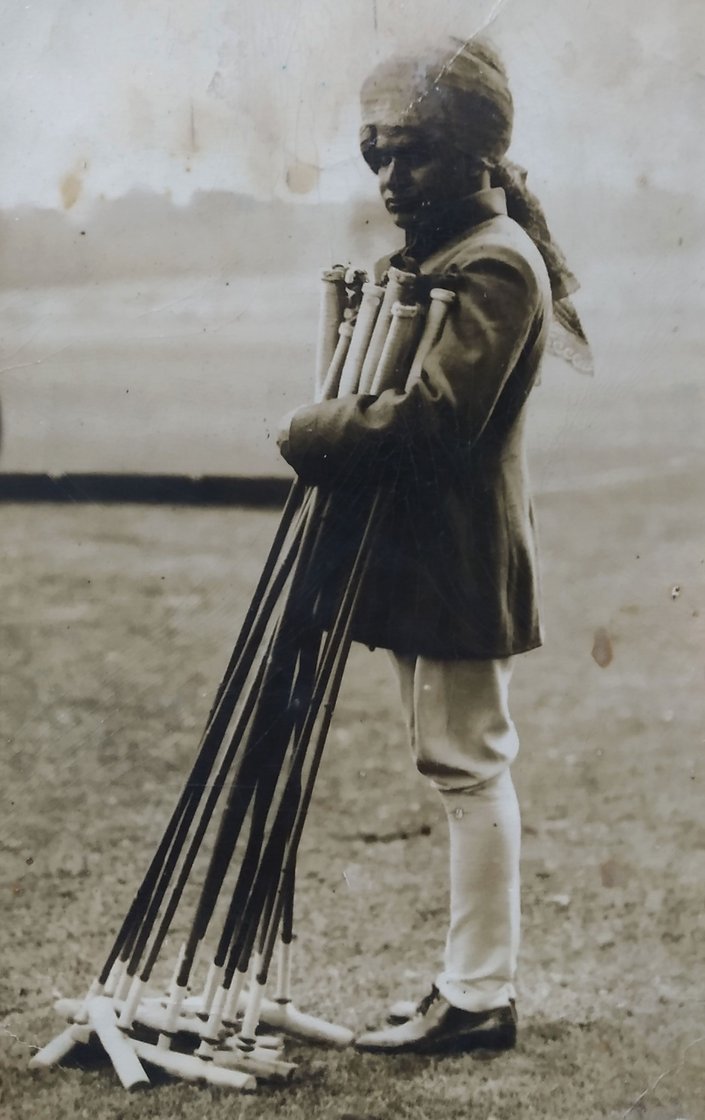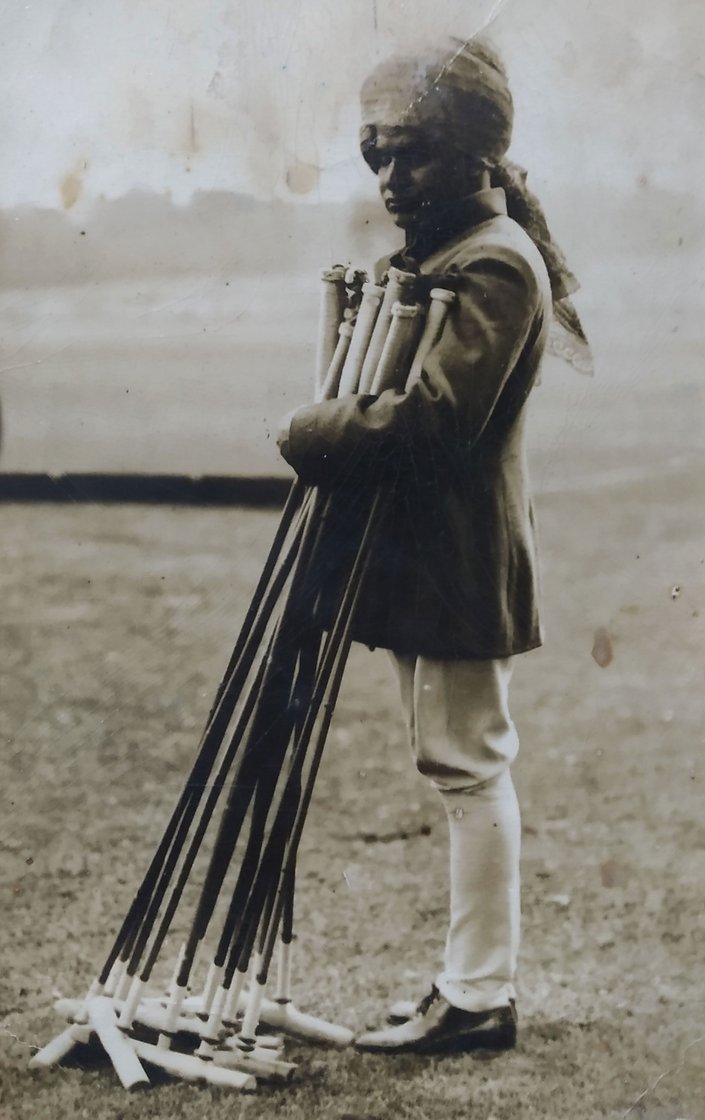 PHOTO • Courtesy: Ashok Sharma
Today, Ashok custom makes horseback polo mallets on order and repairs foreign mallets. Despite the fact that Jaipur district has the highest number of polo clubs in India,  the city's sports retail stores do not keep mallets for sale.
"If someone comes asking for polo sticks we have always sent them to Jaipur Polo House opposite Polo Victory," says Anil Chhabria of Liberty Sports (1957), handing me Ashok's business card.
Polo Victory cinema (now a hotel) was built by Ashok's paternal uncle, Keshu Ram, to commemorate a historic spree of victories of the Jaipur team on tour in England in 1933. Keshu Ram was the only polo mallet artisan who traveled with the team for the tour.
Today, annual polo tournaments are held in the names of three members of the historic Jaipur team: Man Singh II, Hanut Singh and Prithi Singh, at Jaipur and Delhi. There is little acknowledgement, however, of Ashok and his family's contribution to the subcontinent's polo history.

"Jab tak cane ki sticks se khelengay, tab tak players ko mere paas aana hi padega [As long as they play with sticks made of cane, players have to rely on me]," he says.
This story is supported by a fellowship from Mrinalini Mukherjee Foundation (MMF).