Duck feathers are scattered all over Naba Kumar Maity's karkhana (workshop). There are clean feathers, dirty feathers, trimmed feathers, and feathers of various shapes, and in varying shades of white. The mild breeze coming in through the open windows, ruffles the feathers, sending them whirling into the air before they drop.
We are on the ground floor of Naba Kumar's three-storeyed house in Uluberia. The air inside the workshop is filled with the sound of scissors snipping and iron shears cutting. This is where India's badminton shuttlecocks are made. "White duck feathers, synthetic or wooden hemispherical cork base, nylon mixed with cotton thread and glue are what make a shuttle," he explains, picking one out from a ready-to-dispatch barrel.
It is 8 a.m. on a sunny and humid Monday morning in late August, 2023. We don't know yet, but five weeks later, Indian shuttlers will grab the country's first-ever Asian Gold, beating the South Koreans 21-18; 21-16.
Here in Uluberia, slippers and cycles of karigars (craftsperson) are already lined up at the entrance of the production unit. Dressed in an ironed, full-sleeve maroon shirt and formal pants, Naba Kumar too is ready for the day.
"I started making badminton balls with hans-er palak [duck feathers] when I was 12 at a karkhana in my village Baniban," says the 61-year-old who began his journey in this industry as a feather-shaper. Using hand-held iron scissors, he would cut three-inch long feathers to shape. Karigars refer to shuttlecocks as 'balls'.
"The first factory [in Bengal] was J. Bose and Company that came up in the 1920s in Pirpur village. Gradually J. Bose's workers opened their own units in nearby villages. I learnt the craft in one such unit," he adds.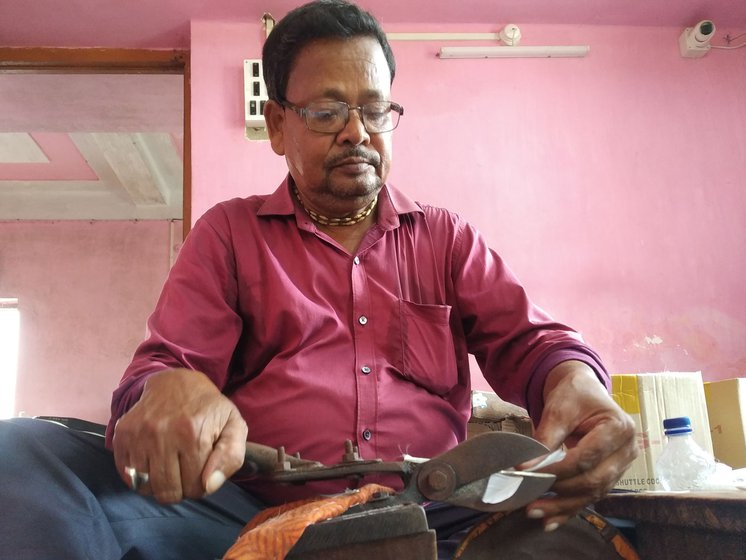 PHOTO • Shruti Sharma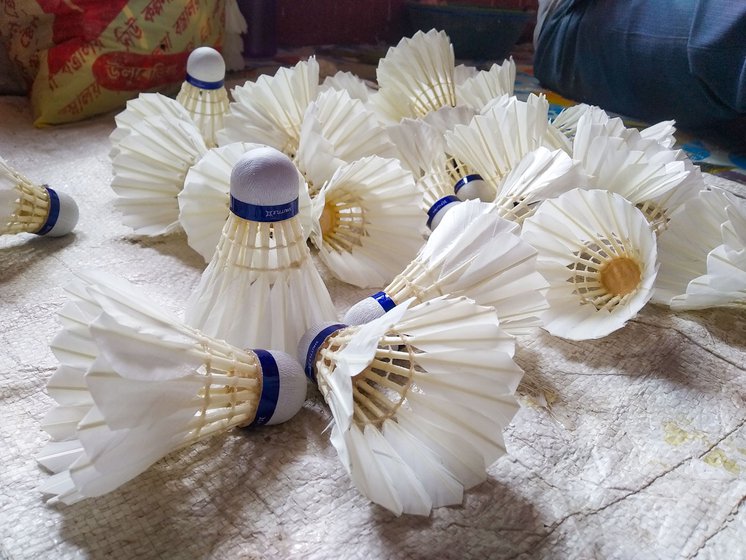 PHOTO • Shruti Sharma
In 1986, Naba Kumar started his own unit at Hattala in Baniban village in Uluberia and in 1997, built and moved into the current karkhana -house in the neighbourhood of Jadurberia. Here he oversees production, manages the supply of raw materials and coordinates sales; he also undertakes the task of sorting the feathers.
Shuttlecocks are amongst the three most important commodities manufactured in the Census towns of Baniban Jagdishpur, Brindabanpur, Uttar Pirpur and Baniban, and the Uluberia Municipality and Out Growth areas in Howrah district (Census 2011).
"There used to be around 100 units in Uluberia in the early 2000s, but today less than 50 remain. Of them, around 10 are like my karkhana with 10–12 karigars ," says Naba Kumar.

Naba Kumar's karkhana has a yard in front that is cemented; a hand pump, unan (open clay-brick stove) and two pots fixed to the ground occupy the space. "This area has been designed for feather-washing which is the very first step of shuttle-making," he says.
A karigar working here , Ranjit Mandal is preparing a batch of 10,000 duck feathers. The 32-year-old explains, "The feather suppliers are based in Cooch Behar, Murshidabad and Malda in north Bengal, and Birbhum in central Bengal. There are some local traders as well, but their prices are much higher." He has been working in the karkhana for 15 years and is the production supervisor.
The feathers are sold in bundles of 1,000 and prices vary according to their quality. "The price of the best feathers is about Rs. 1,200 today, i.e. a rupee and 20 paise per feather," Ranjit says as he picks out a handful of feathers soaking in warm water in one of the pots to wash them.

PHOTO • Shruti Sharma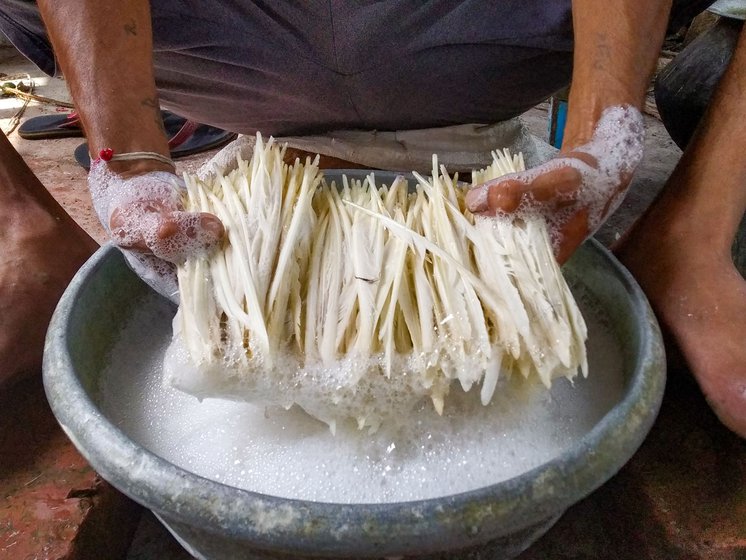 PHOTO • Shruti Sharma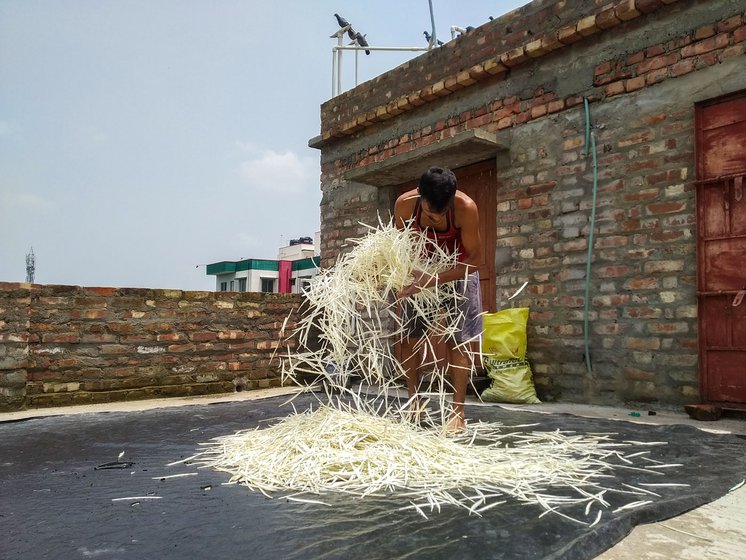 PHOTO • Shruti Sharma
He mixes Surf Excel detergent powder with water in a medium-sized degchi (pot) and heats it over the open stove fuelled by firewood. "The feathers on a shuttle have to be spotless white. Washing them in hot soapy water rids them of all kinds of filth," he says and adds, "they cannot be stored for too long because they will begin to rot."
After scrubbing the feathers, he neatly stacks every batch on a tilted bamboo basket for the soapy water to shed before giving them another rinse and a final soak in the other pot in the yard. "The entire process of washing takes two hours," Ranjit says as he carries the basket of 10,000 feathers to the terrace for drying in the sun.
"Most of the feathers come from ducks that are slaughtered for meat and duck farms. But several rural households also collect naturally-shed old feathers of the ducks they rear, and sell them to traders," he adds.
On the terrace, Ranjit lays out a black square tarpaulin sheet and pins it down with pieces of bricks at its edges to prevent it from flying. Spreading the feathers evenly across the sheet, he assesses, "the sun is quite strong today. The feathers will dry in an hour. After that, they will be ready to be crafted into badminton balls."
Once the feathers are dry, they are individually inspected. "We sort them into grades one to six based on the wing of the duck – left or right – and the part of the wing they originally come from. Only five-six feathers from each wing meet our requirement," Ranjit says.
"A shuttle is made of 16 feathers, all of which must come from the same wing, and have similar shaft strength, thickness of vanes on either side of the shaft, and curvature," says Naba Kumar, "otherwise it will wobble in the air."
"To a lay person, all feathers look the same. But we can tell the difference just through touch," he adds.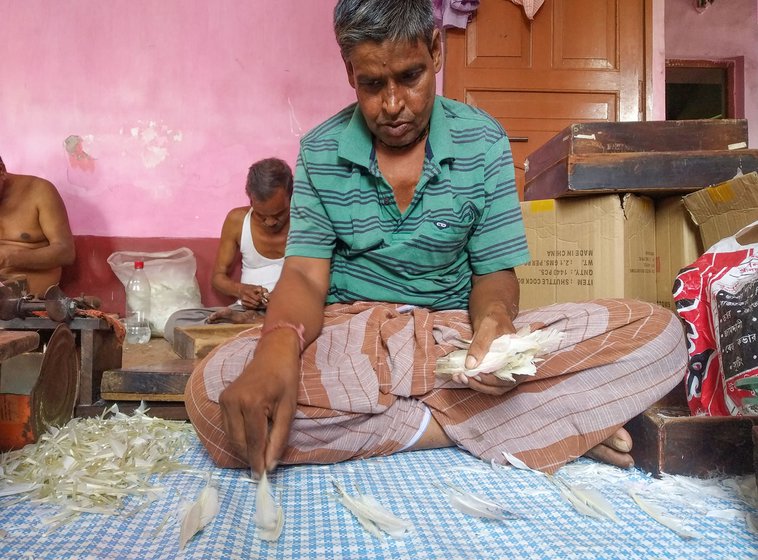 PHOTO • Shruti Sharma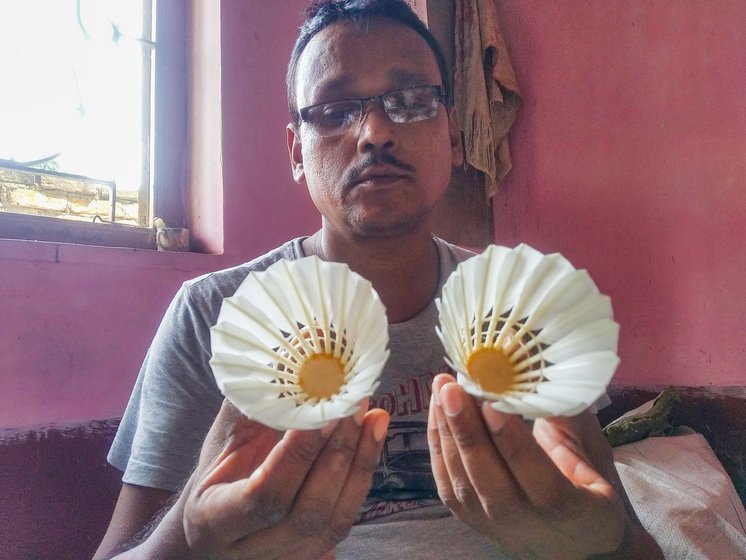 PHOTO • Shruti Sharma
The shuttlecocks made here are mostly sold to local badminton clubs in Kolkata and wholesalers in West Bengal, Mizoram, Nagaland and Pondicherry. "For matches at higher levels, the Japanese company Yonex, which uses geese feathers, has captured the entire market. We cannot compete at that level," Naba Kumar says, "our shuttlecocks are used at lower levels and by beginners for practice."
India also imports shuttlecocks from China, Hong Kong, Japan, Singapore, Taiwan and the UK. From April 2019 to March 2021, Rs. 122 crore worth of shuttlecocks were imported, says a report of the Directorate General of Commercial Intelligence and Statistics, Government of India. "Demand shoots up in the winter months as the game is mostly played indoors," says Naba Kumar. At his unit, production takes place all round the year but increases significantly from September.

Sitting cross-legged on the matted floor in the two rooms, the karigars are at work, hunched over as they perform various tasks of the process. Their deft fingers and steady gaze are only disturbed when a passing breeze ruffles up the feathers which are at varied stages of turning into shuttles.
Every morning, Naba Kumar's wife, 51-year-old Krishna Maity, comes down the stairs to the karkhana while performing her morning prayer rituals. Chanting silently, she rotates a burning incense stick at various spots as she walks through the two rooms, filling the mid-morning air with a floral fragrance.
Back in the room, the process begins with 63-year-old Shankar Bera who has been working at this unit for a year. He takes one feather at a time and places it between iron shears that are bolted at three inches. "The feathers which are approximately six to ten inches are cut to uniform length," he says.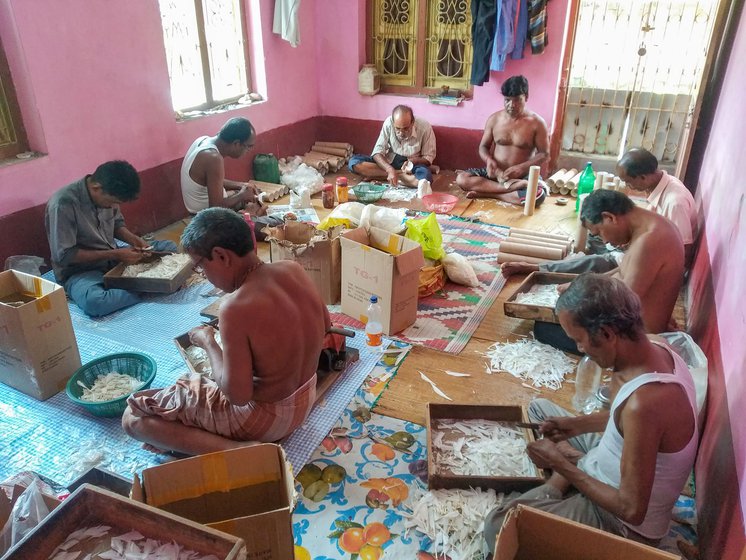 PHOTO • Shruti Sharma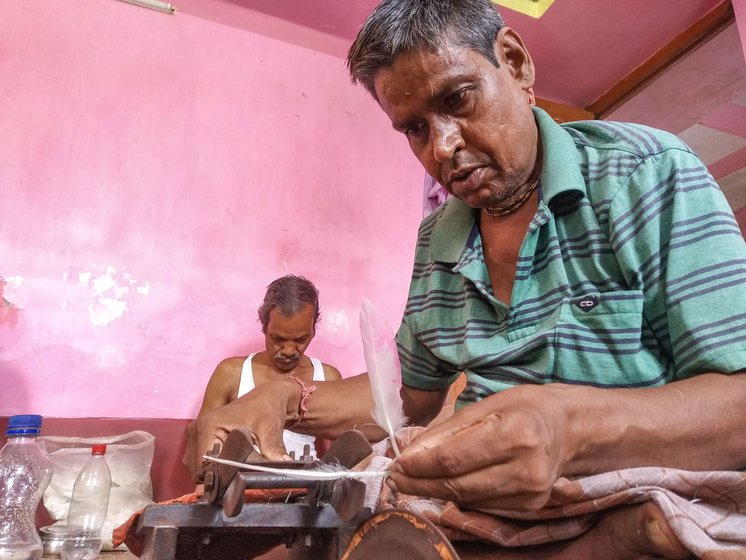 PHOTO • Shruti Sharma
"The middle portion of the feather's shaft is the strongest and that is trimmed, and 16 such parts make up a shuttle," Shankar explains as he chops and collects them into small plastic baskets which are then passed on to four karigars for the second step.
Prahlad Pal, 35, Montu Partha, 42, Bhabani Adhikari, 50 and Likhan Majhi, 60 take up the second step of cutting the three-inch feathers into shape. They keep the feathers in a wooden tray which they place on their laps.
"The lower portion of the shaft is cleared completely, and the upper portion is cut to a curved edge on one side of the shaft and a straight one on the other," Prahlad demonstrates using a pair of handheld iron scissors, taking about six seconds to design one feather. The feather- cutters and shapers earn Rs.155 for every 1000 feathers which translates to Rs. 2:45 per shuttlecock.
"The feathers may be weightless, but their shafts are hard and sturdy. Every 10–15 days, we have to send the scissors to the local ironsmiths for sharpening," says Naba Kumar.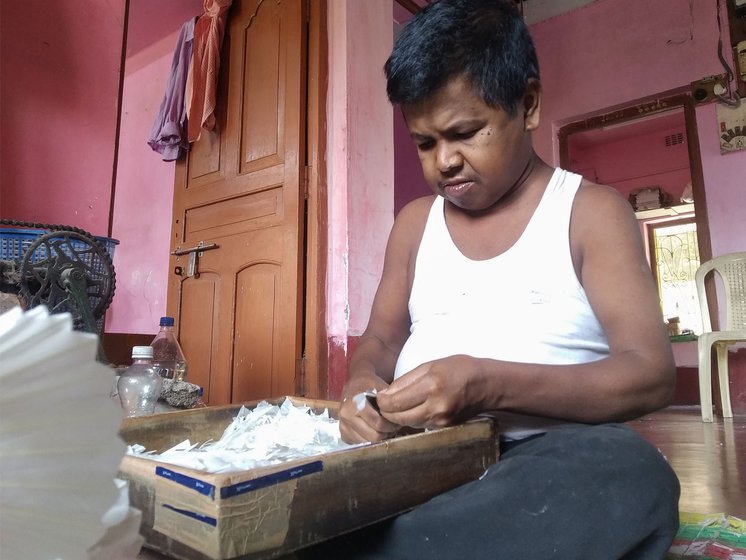 PHOTO • Shruti Sharma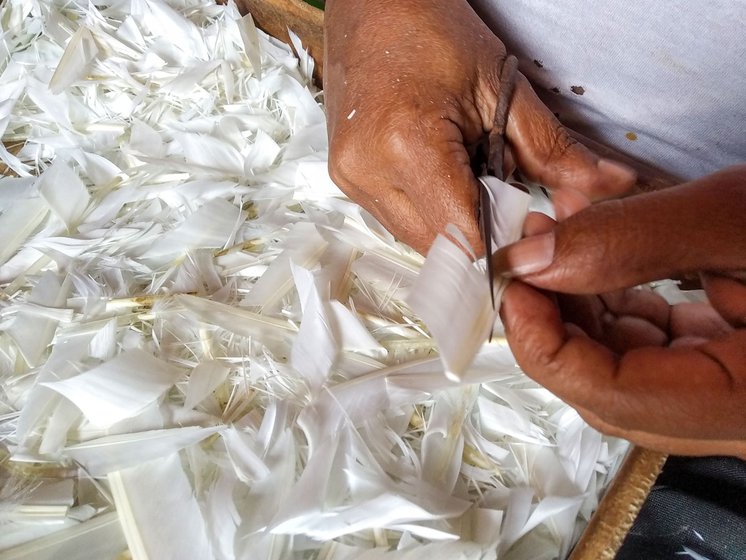 PHOTO • Shruti Sharma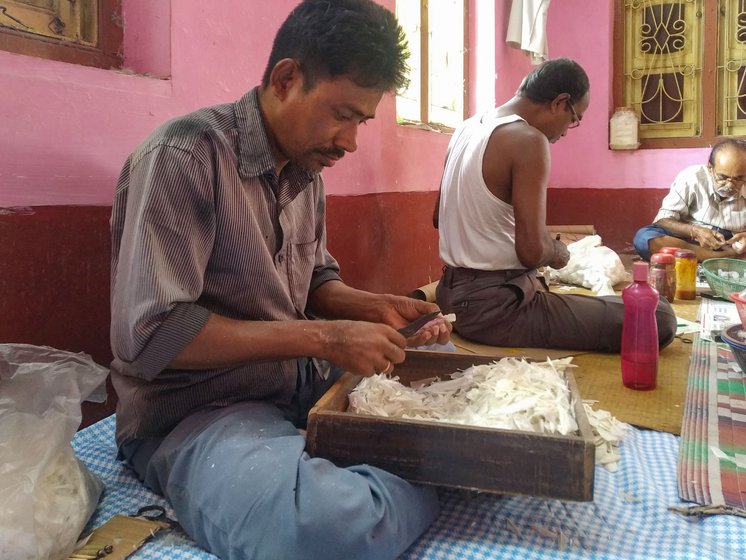 PHOTO • Shruti Sharma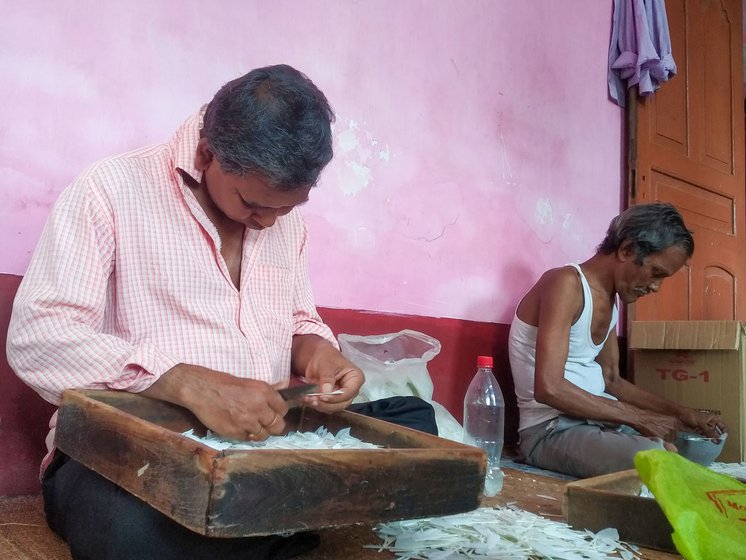 PHOTO • Shruti Sharma
Meanwhile, Sanjib Bodak, 47, is drilling the ready-made hemispherical cork bases with the only hand-operated machine used in the entire production process. Relying on the steadiness of his hand and optical precision, he drills 16 equidistant holes into each base. He earns Rs. 3:20 per cork drilled.
"There are two types of cork bases. We get the synthetic ones from Meerut and Jalandhar and the natural ones from China," Sanjib says. "The natural cork is used for better quality feathers," he adds. The difference in quality is evident in their pricing. "Synthetic corks cost about a rupee, while the natural ones cost around five rupees each," Sanjib says.
Once the cork bases are drilled, along with the shaped feathers, they are passed on to senior grafting experts Tapas Pandit, 52, and Shyamsundar Ghoroi, 60. They perform the most valued task of inserting the shaped feathers into the cork holes.
Holding each feather by the quill, they dab its bottom with a bit of natural glue and insert them into one hole after another. "Each feather-working task is scientific. If anything goes wrong at any stage, the flight, rotation and direction of the shuttle will be affected," Naba Kumar explains.
"The feathers have to overlap at a particular angle and be even. This alignment is done using a shonna [tweezer]," Tapas says while demonstrating his expertise which he has perfected over 30 years. His and Shyamsundar's wages are determined based on the number of shuttle barrels they are able to fill. One barrel has 10 pieces; they earn Rs. 15 per barrel.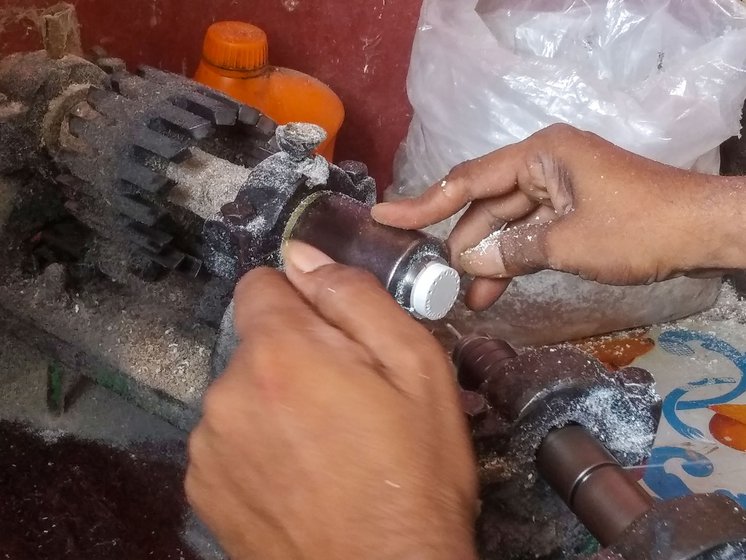 PHOTO • Shruti Sharma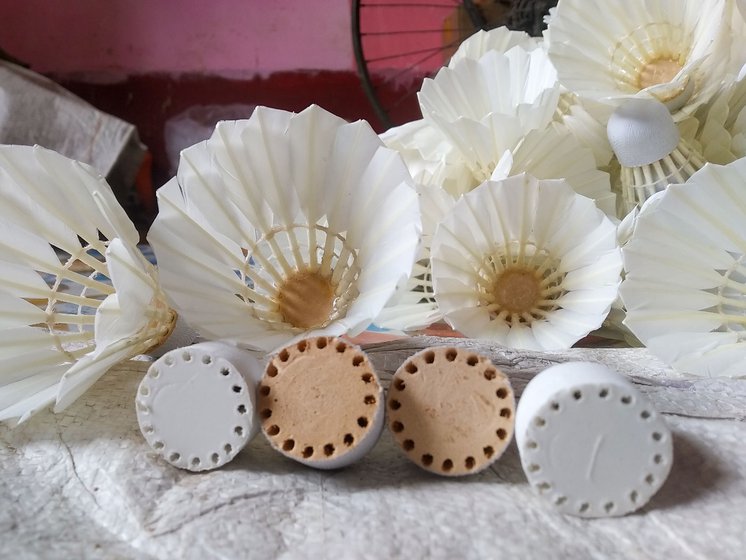 PHOTO • Shruti Sharma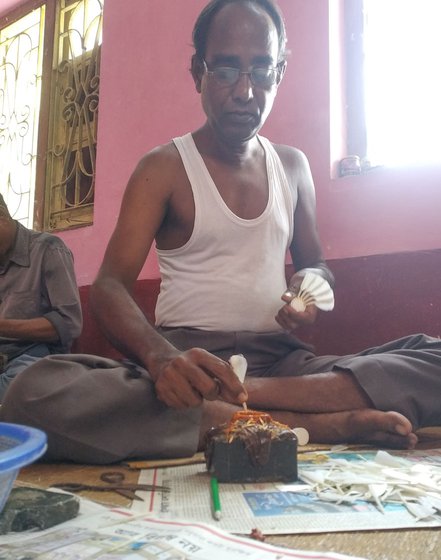 PHOTO • Shruti Sharma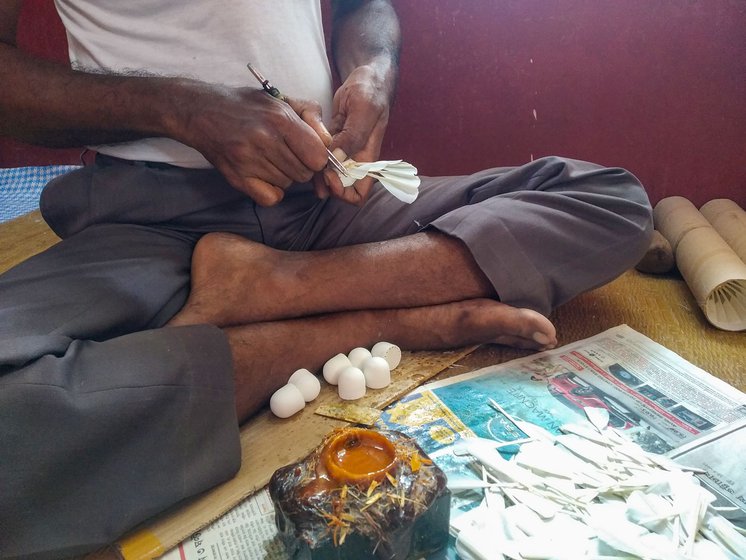 PHOTO • Shruti Sharma
After the feathers are grafted onto the cork, it takes the preliminary shape of a shuttle. The shuttles are then passed on to 42-year-old Tarakh Koyal for the first layer of thread binding. "These threads are locally purchased. Nylon mixed with cotton gives them more strength," explains Tarakh, holding a ten-inch-long thread with its ends knotted in one hand, and the cork-feather combo in the other.
He takes only 35 seconds to bind together the 16 overlapping feathers. "The thread is made to hold each feather shaft by a knot followed by tightly woven double twists between shafts," Tarakh explains.
His wrists move so fast that they are almost a blur. The 16 knots and 32 twists are only visible once Tarakh ties the final knot and trims the extra thread with a pair of scissors. He earns Rs. 11 for every 10 shuttles he binds.
Prabash Shyashmal, 50, checks each shuttlecock for feather alignment and thread placement one final time. Fixing them where required, he fills barrel after barrel with shuttles and passes them to Sanjib again who undertakes the task of applying a mix of synthetic resin and hardener on the cleared shaft and threads to increase the strength of the shuttle.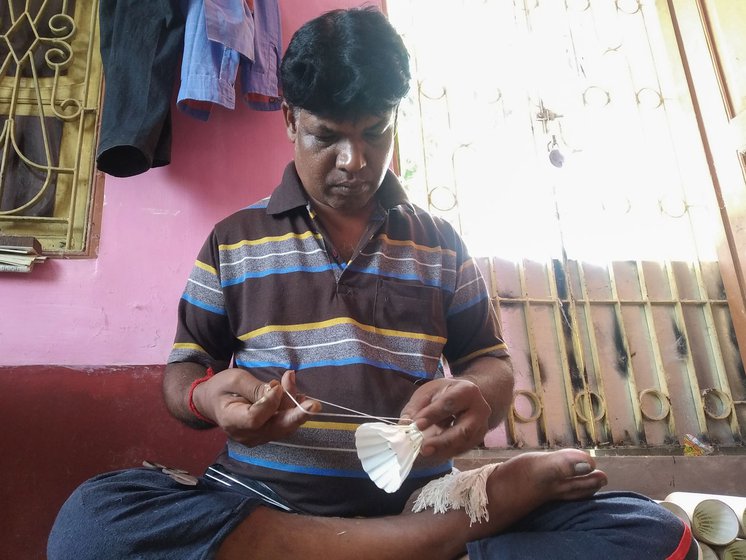 PHOTO • Shruti Sharma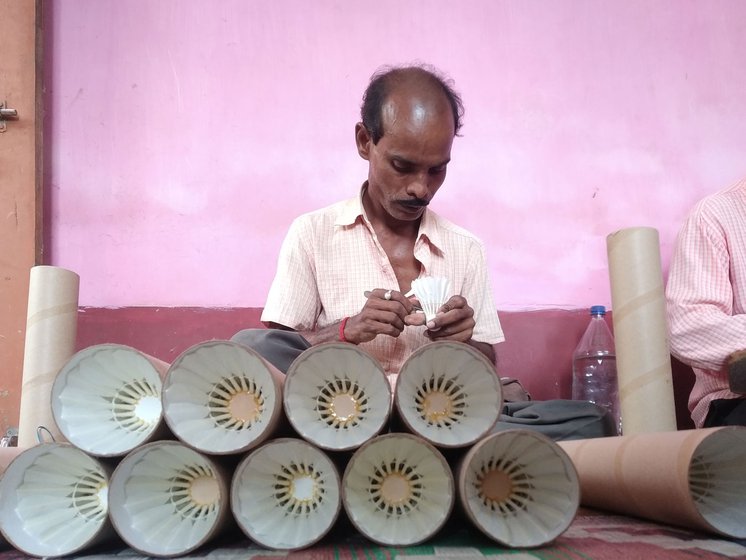 PHOTO • Shruti Sharma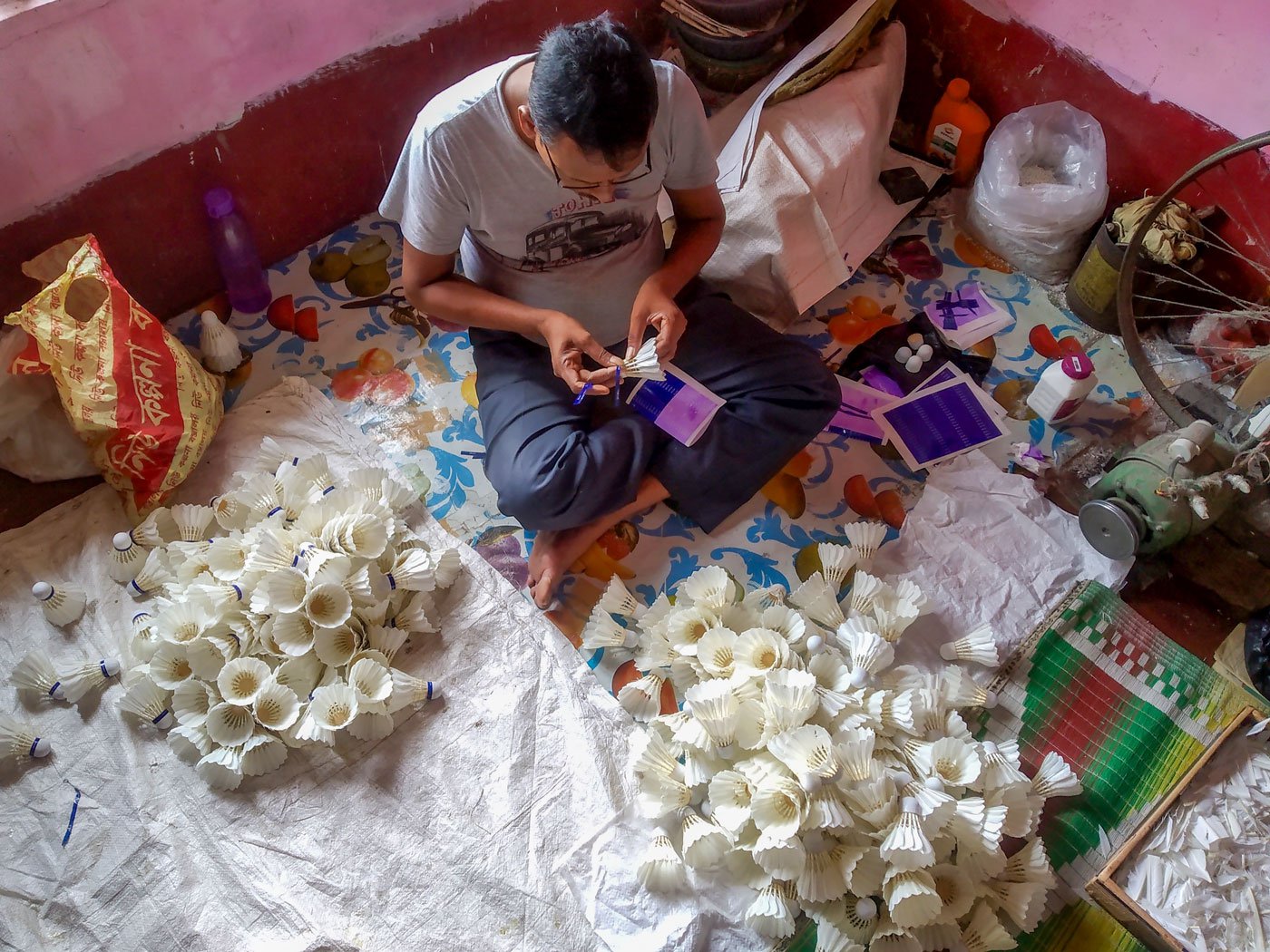 PHOTO • Shruti Sharma
Once dry, the shuttles are ready for branding which is the final step. "We stick a 2.5-inch-long blue line with the brand name on the rim of the cork and paste a circular sticker at the base of the feather shafts," Sanjib says. "Then each shuttlecock is individually weighed and barrelled according to uniformity," he adds.
"We have three Olympic medals from Saina Nehwal and P.V. Sindhu. Badminton is becoming very popular," says Naba Kumar speaking to PARI in August, 2023. "But in Uluberia, even if youngsters learn to craft flight with feathers, there is no guarantee that their future will be secure like the players."
The Uluberia Municipality is categorised as a shuttlecock manufacturing cluster by the West Bengal government's Directorate of Micro, Small and Medium Enterprises. But Naba Kumar says, "Nothing has changed since the locality got classified as a cluster. It is just for show. We are all managing on our own."
In January 2020, the feather-shuttle industry was hit by an unreturnable smash. Badminton World Federation, the international governing body, had approved the use of synthetic feather shuttles at all levels of play citing durability, and "economic and environmental edge" and "long-term sustainability" of the sport. Subsequently, it became an official part of the Laws of Badminton in Clause 2.1 which now states that "the shuttle shall be made of natural and/or synthetic materials."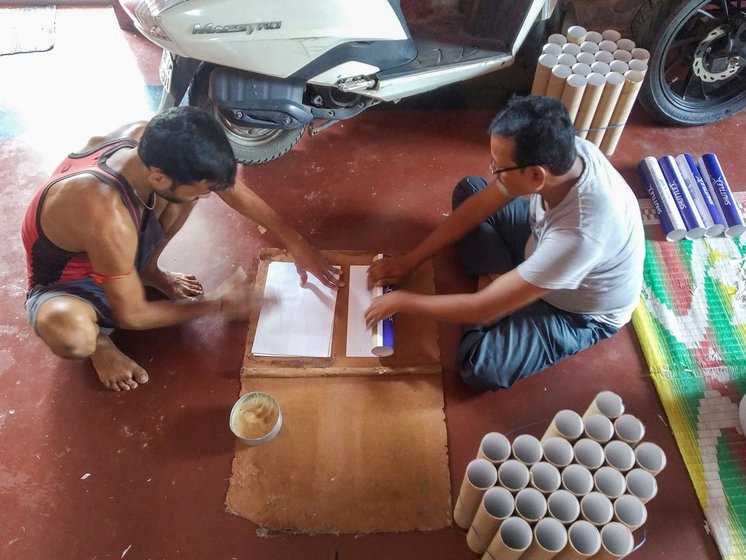 PHOTO • Shruti Sharma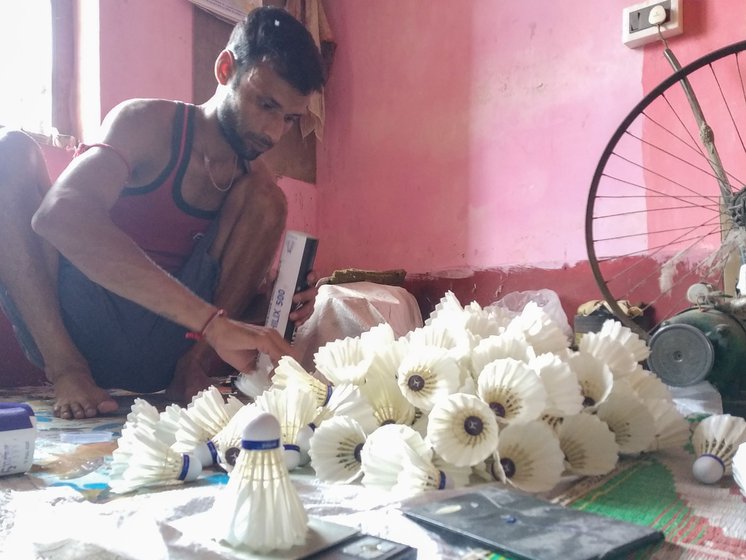 PHOTO • Shruti Sharma
"Can plastic or nylon compete with feather? I don't know what will happen to the game, but if this decision has been taken at a global stage, how long do you think we will survive?" Naba Kumar asks. "We don't have the technology or skills to make synthetic shuttles."
"Today most of the karigars are middle-aged or senior citizens with 30 or more years of experience. The next generation is not considering this as a livelihood option anymore," he says. The pitifully low wages and the long hours required to acquire specialised feather-working skills, are an immediate deterrent for newcomers.
"If the government does not step in to ease quality feather supply, put a cap on feather prices and provide the latest machine technology, it won't be long before the industry disappears completely," Naba Kumar says.
The reporter would like to thank Adrish Maity for his invaluable help with this story.

This story is supported by a fellowship from Mrinalini Mukherjee Foundation (MMF).