" Kadalile raajav thimingalam aannenkilum njammale, meenpanikkare raajav mathiyaann
[If the king of the ocean is the dolphin, our king, the fisherfolk's king, is the oil sardine]."
Babu (name changed) is a fish loader at the Chombal Fishery Harbour in Vadakara town in Kerala. He has been doing this job – loading and unloading mostly oil sardine fish ( Sardinella longiceps ) – for a few decades now.
Babu reaches the harbour around 7 a.m. and changes into clothes he has kept aside for his work – a blue mundu and a t-shirt, along with chappals. The 49-year-old loader then walks towards the sea, wading through knee-high and muddy water to get to the boats. "All of us [loaders] keep different chappals and clothes for this work because the water smells," he says. He will leave by late evening when the harbour finally falls quiet.
This reporter spoke to Babu on a cool December day as he came into work at the harbour, already buzzing with activity. Long-necked, white pelicans were hovering and hopping around the bamboo baskets in the boats, hoping to steal some of the fish. Nets filled with fish lay dumped on the ground. The sounds of people negotiating filled the harbour.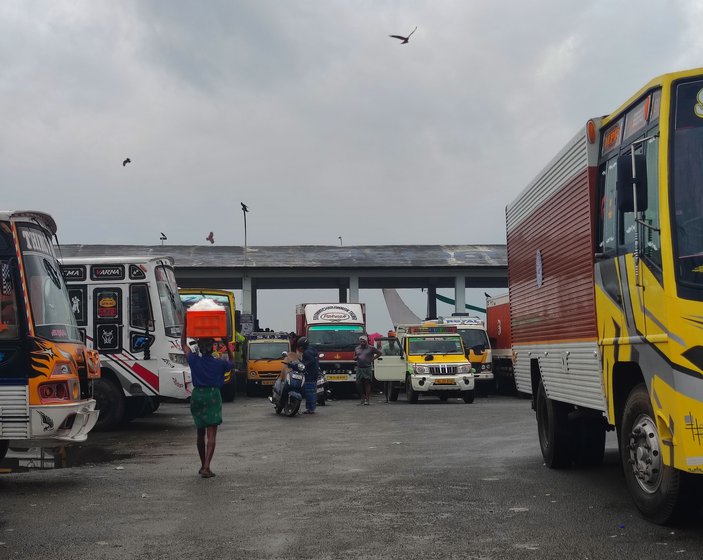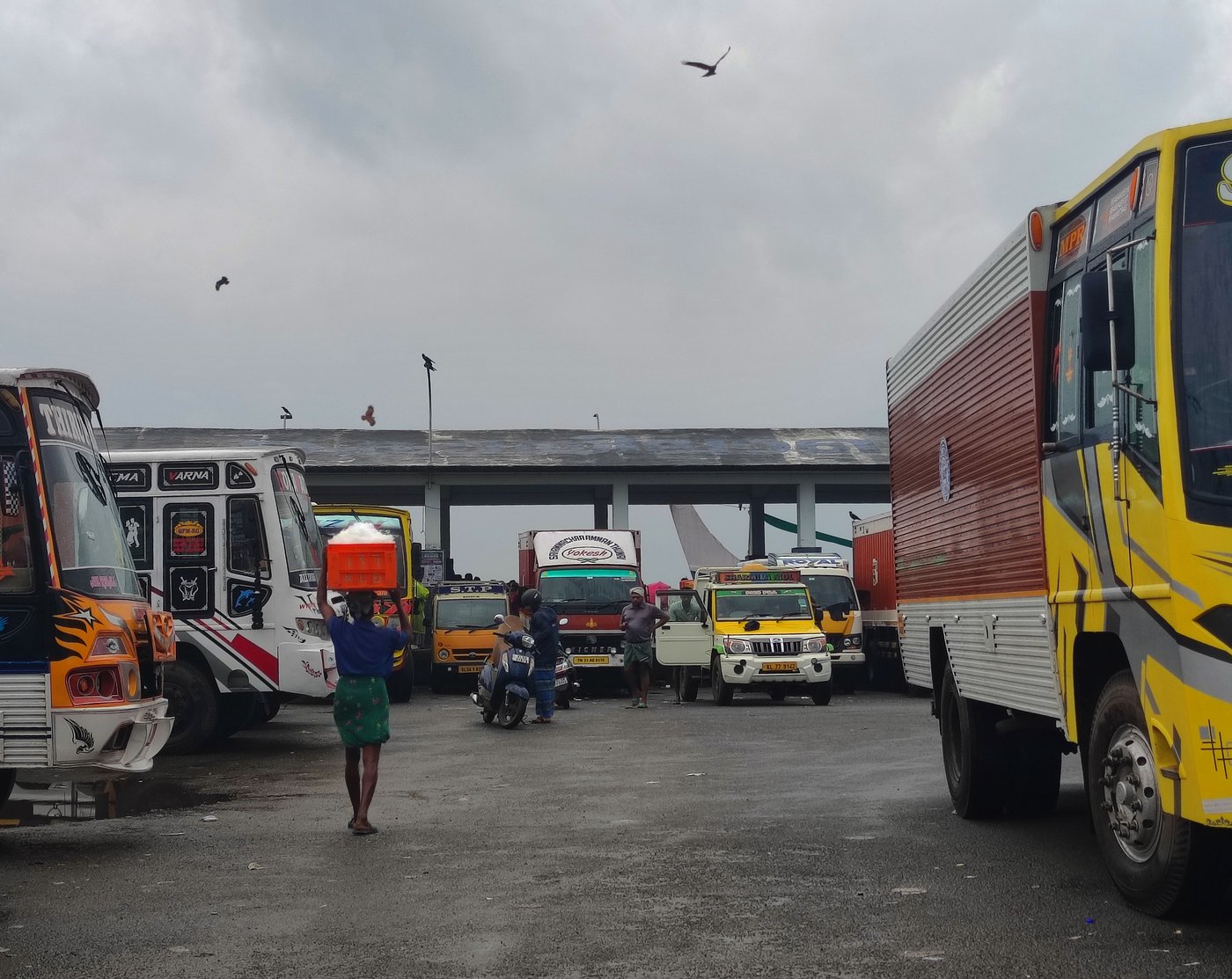 PHOTO • Mufeena Nasrin M. K.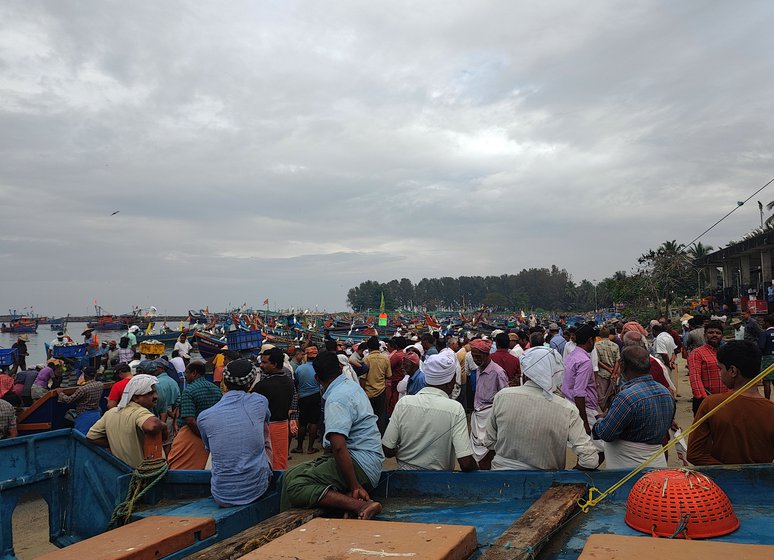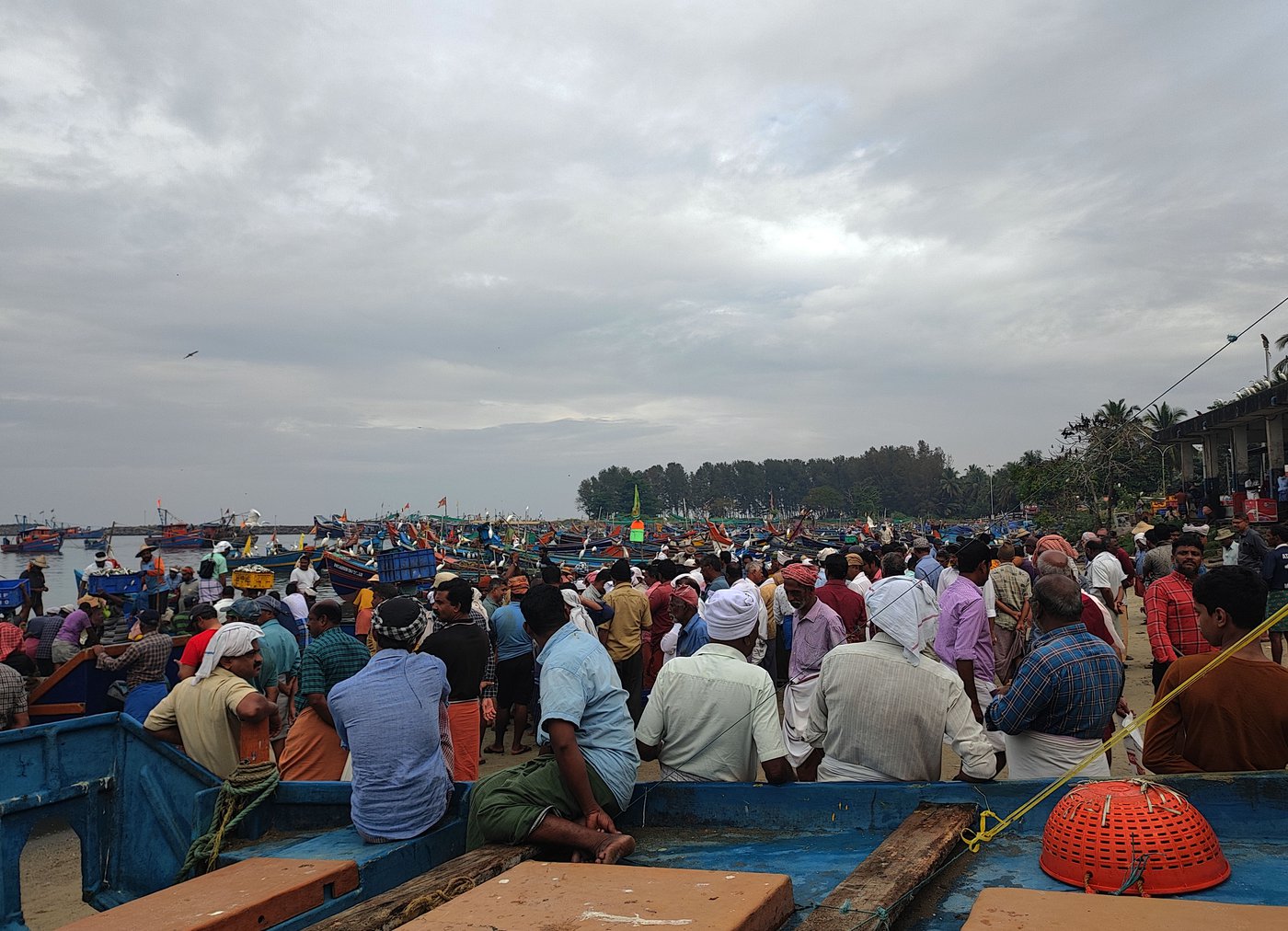 PHOTO • Mufeena Nasrin M. K.
Boats of all sizes were moving in and out of the busy harbour bustling with customers, sellers, agents and people like Babu, who load and offload the fish from the boats onto the harbour and into waiting tempos. He estimates around 200 people work here.
Everyday, the first thing Babu does when he reaches the harbour in the morning is to keep his equipment under the shade of a tall Indian almond tree – an orange plastic basket or crate, water bottle, chappals and theruva , a small round shaped flat bundle of cloth or rope covered with plastic sheet. He places his theruva as a cushion between his basket and his head on which he will carry a load of fish.
Today Babu is collecting fish from a four-person outboard engine boat, one of the smallest boats at this harbour. He works only with non-trawler boats, as commercial trawlers usually hire in-house loaders. "These fishermen go to the sea for a week or more on big boats," he says, "That boat can't come to the harbour so it is [anchored] further away. The fishermen bring us the fish on these smaller boats."
Babu scoops the oil sardine into his basket with a small net called
maal
. The water oozes out of tiny holes in the basket as we make our way back to the harbour. "In this month [December 2022] we have gotten a big catch of sardines," he says. He earns Rs. 40 for carrying a basket of fish, and is paid by boat owners or agents who buy fish to resell at local markets.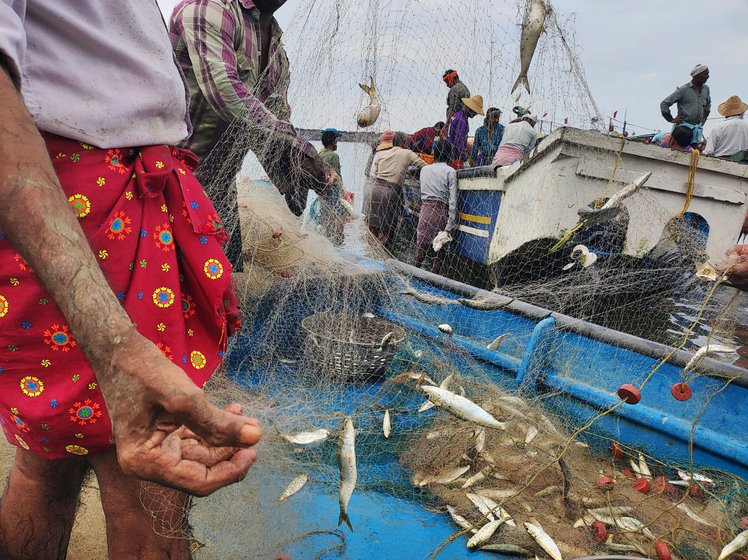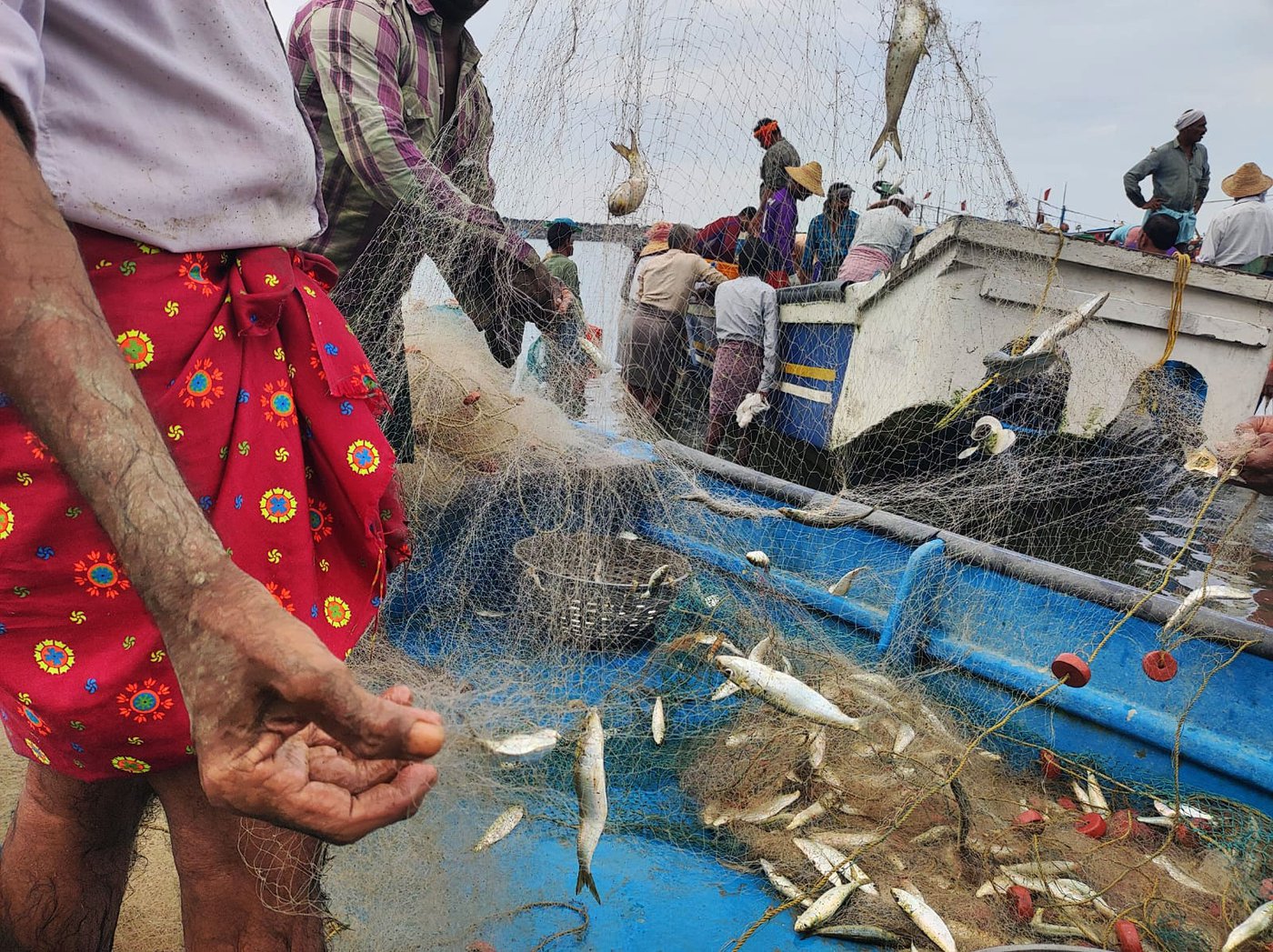 PHOTO • Mufeena Nasrin M. K.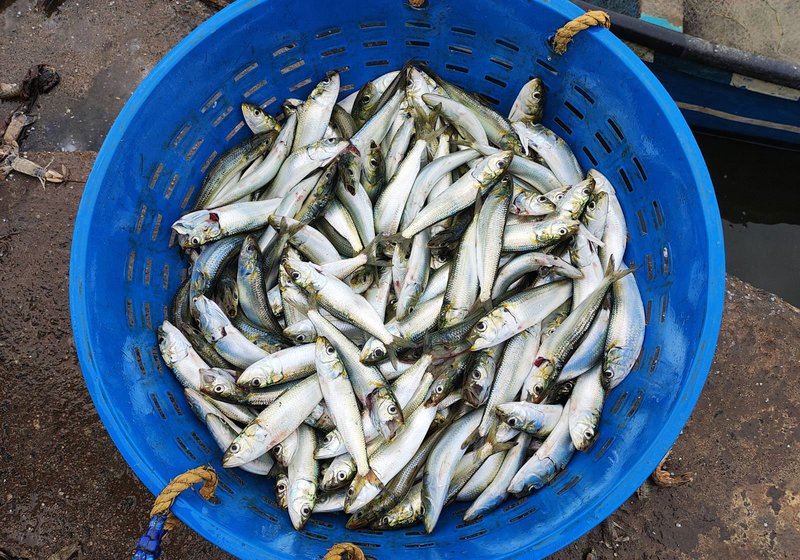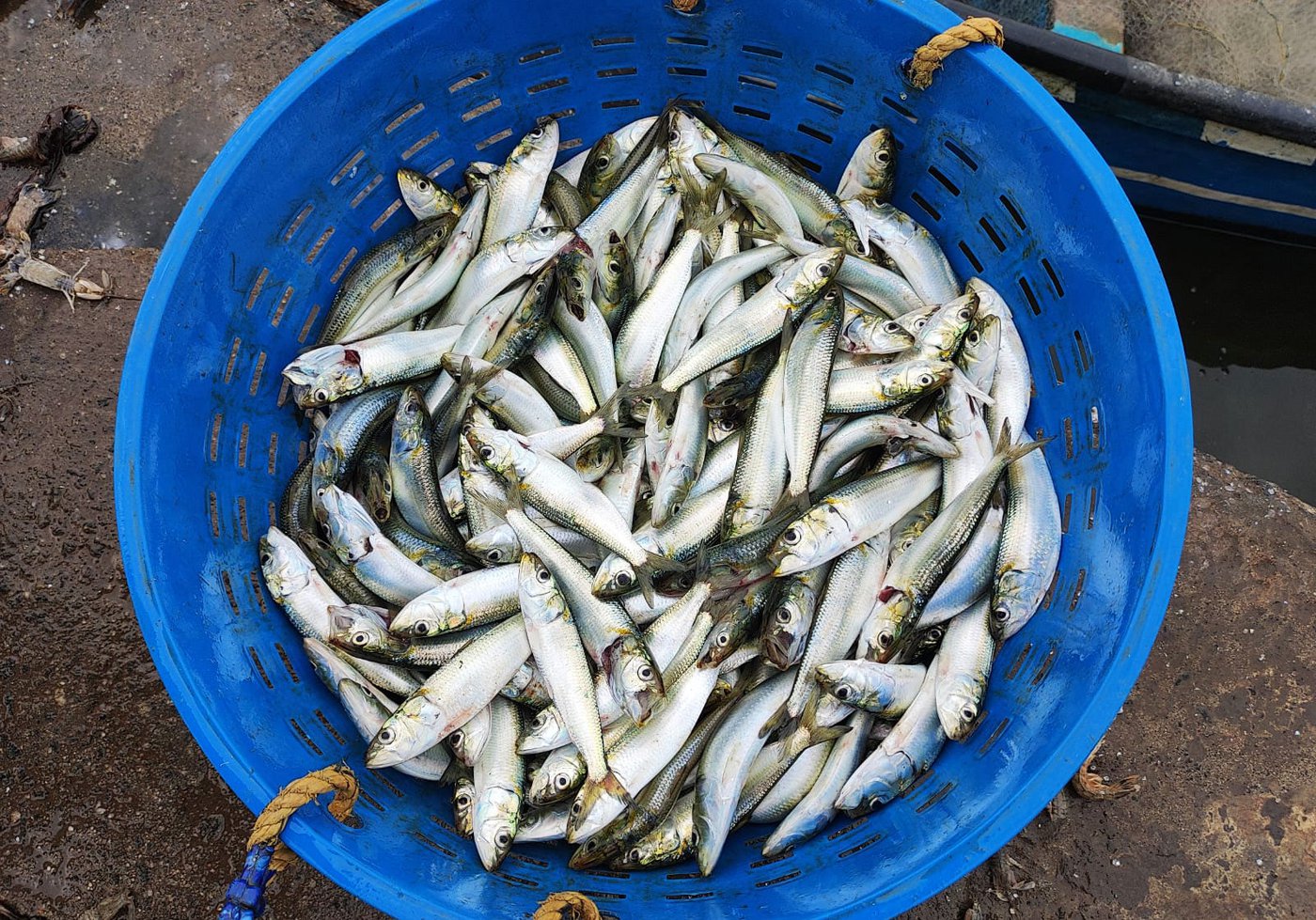 PHOTO • Mufeena Nasrin M. K.
"It's difficult to say how many baskets we carry in a day because it depends on how much fish comes in," Babu says, adding that there are days where he can earn a maximum of Rs. 2,000 in a day. "I can only earn that much if there is a lot of oil sardine coming in."
Babu began working in the fishing industry as a teenager. He started out as a fisherman and over the years began to do loading work at the harbour. His chomadu pani or daily-wage loading work begins once the boats start to return from the Arabian Sea in Kozhikode district.
In the last decade, he has observed an unpredictability in oil sardine catch.
"When there is a smaller catch of [oil] sardine, we try to divide the [loading] work amongst each other," he says, "If there are more empty boats that come in, then we know we have to see that all of us can get at least some work so we decide amongst ourselves."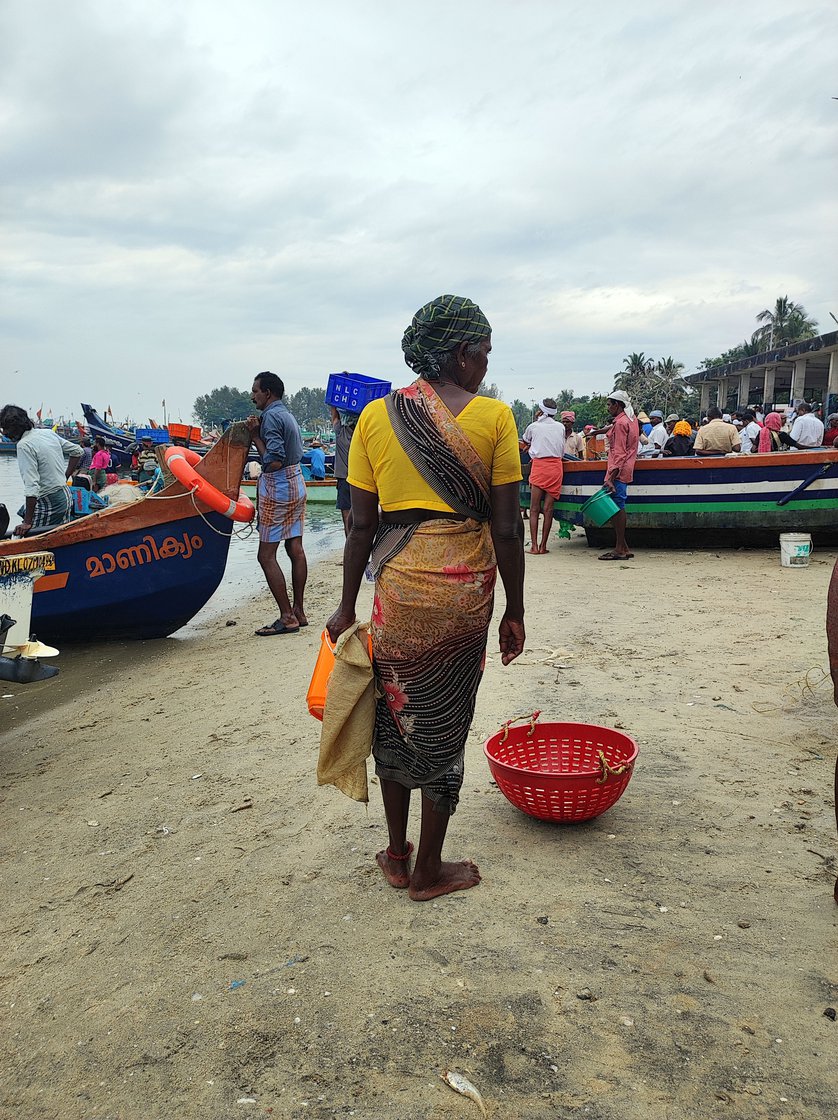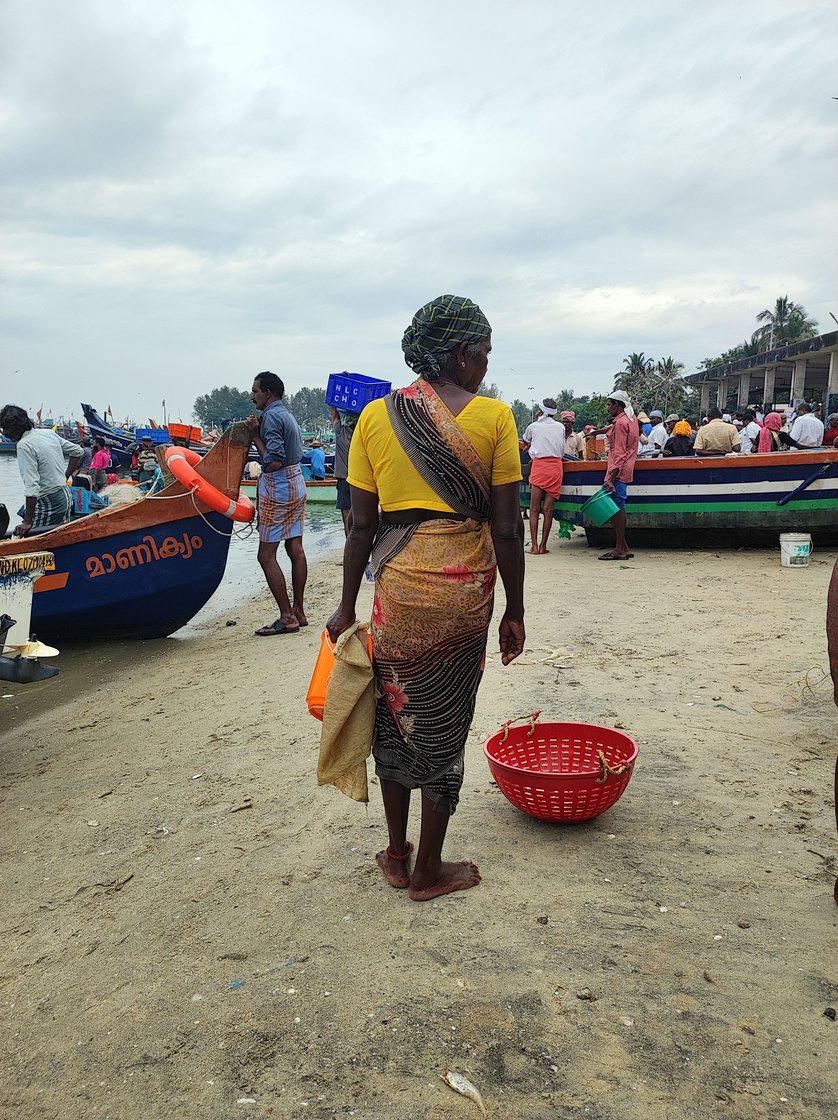 PHOTO • Mufeena Nasrin M. K.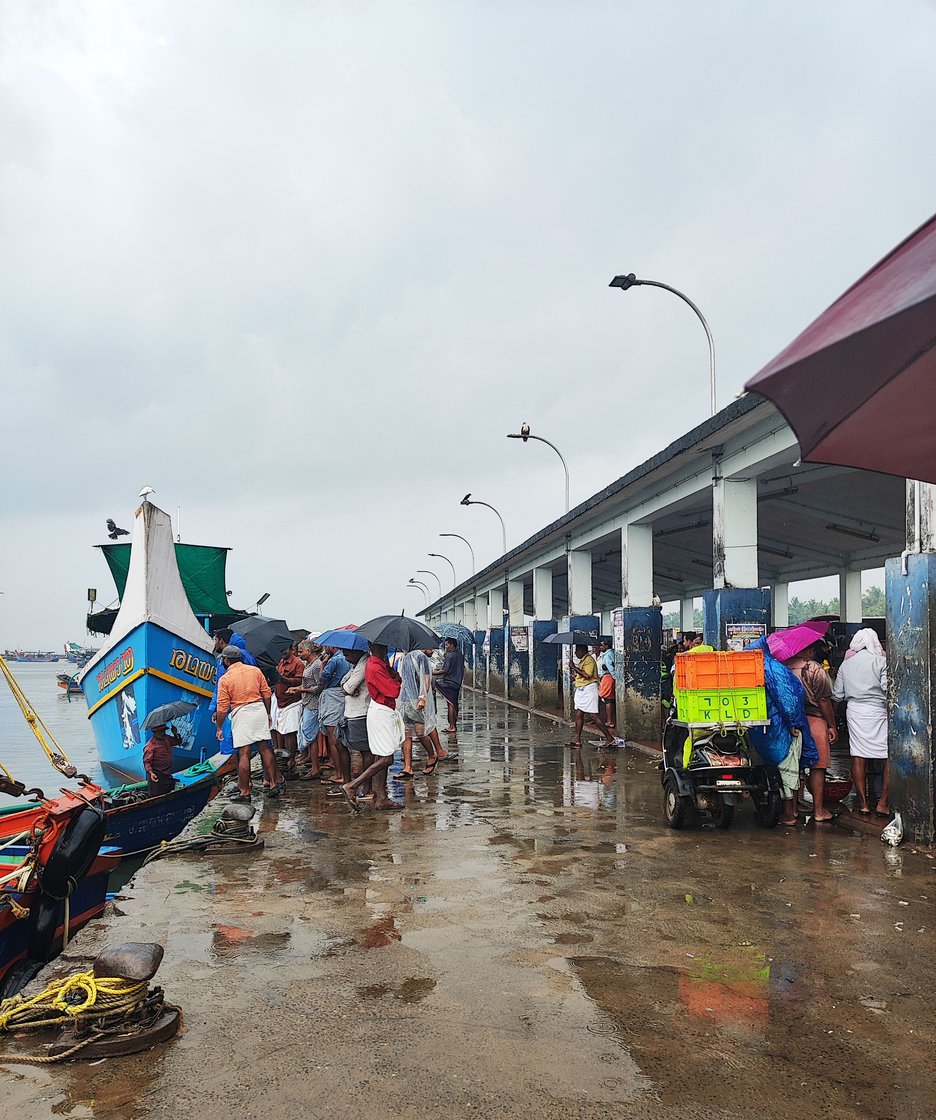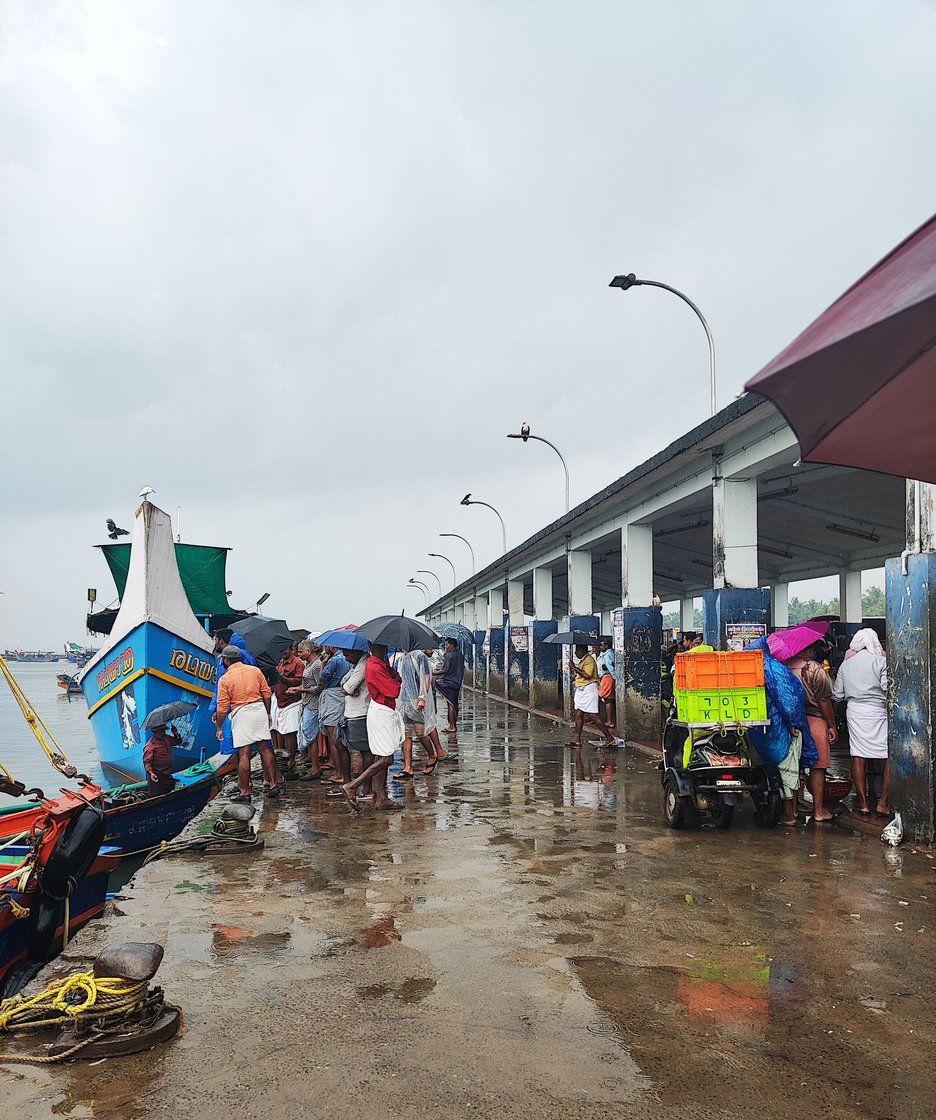 PHOTO • Mufeena Nasrin M. K.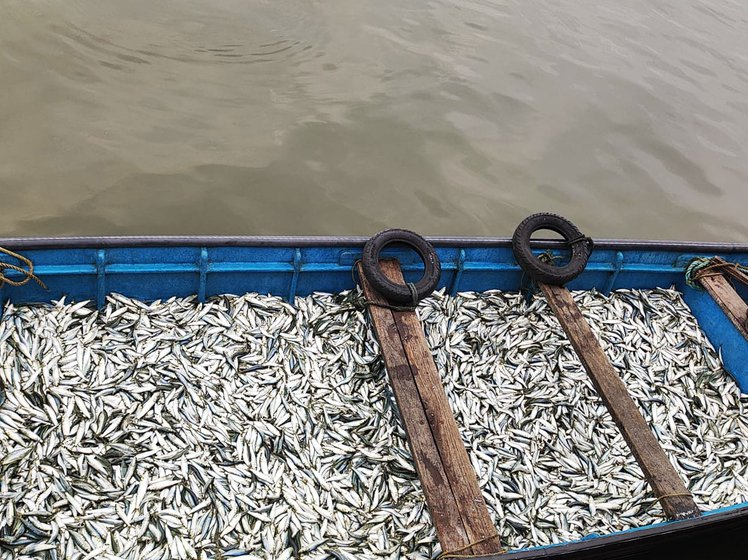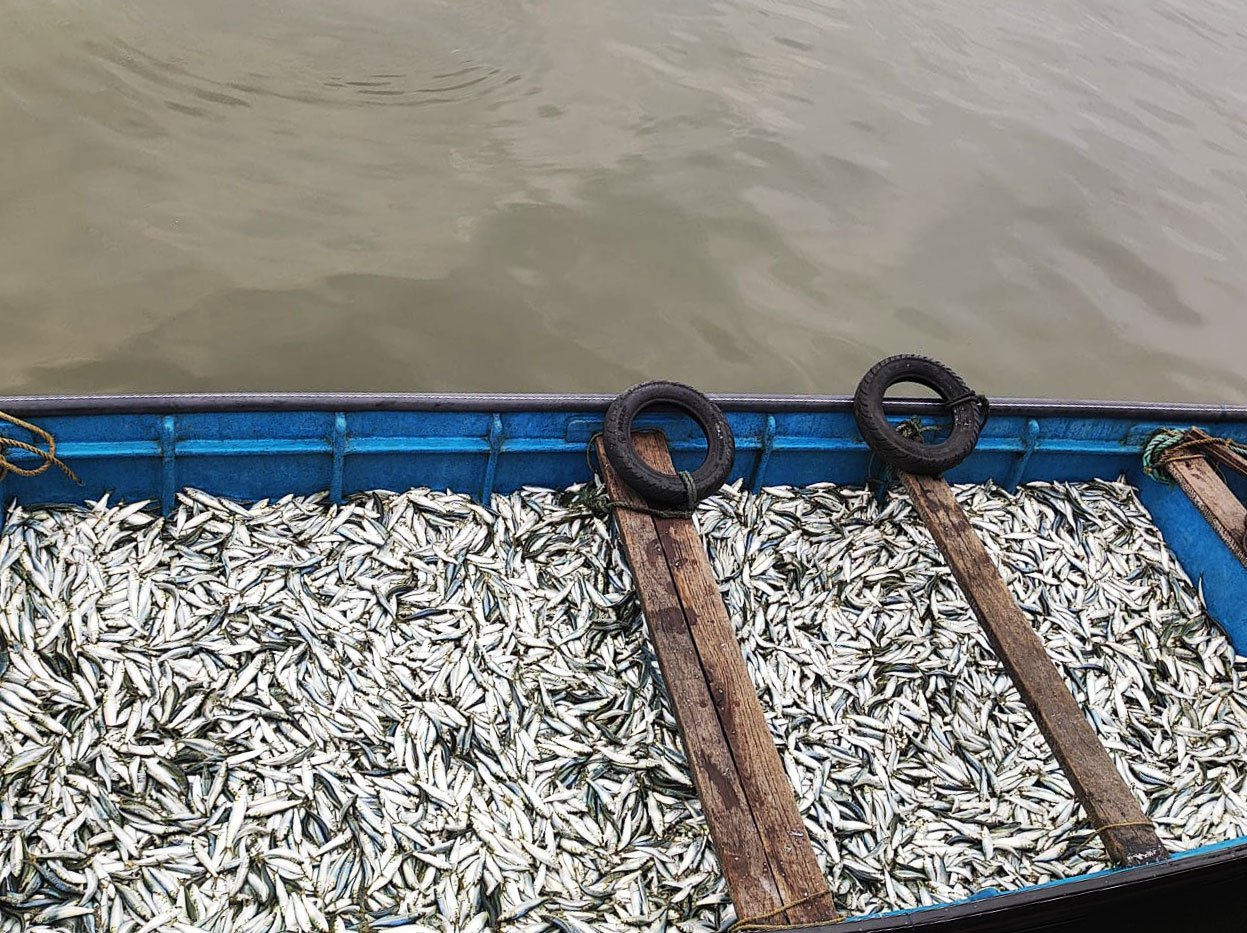 PHOTO • Mufeena Nasrin M. K.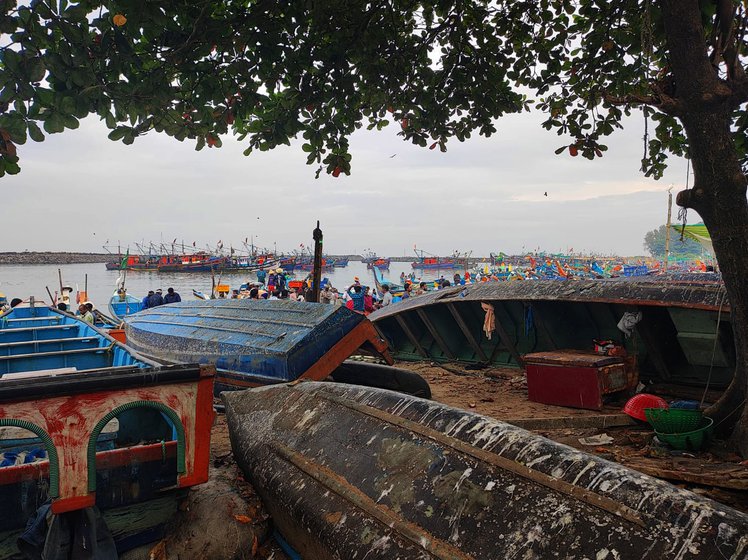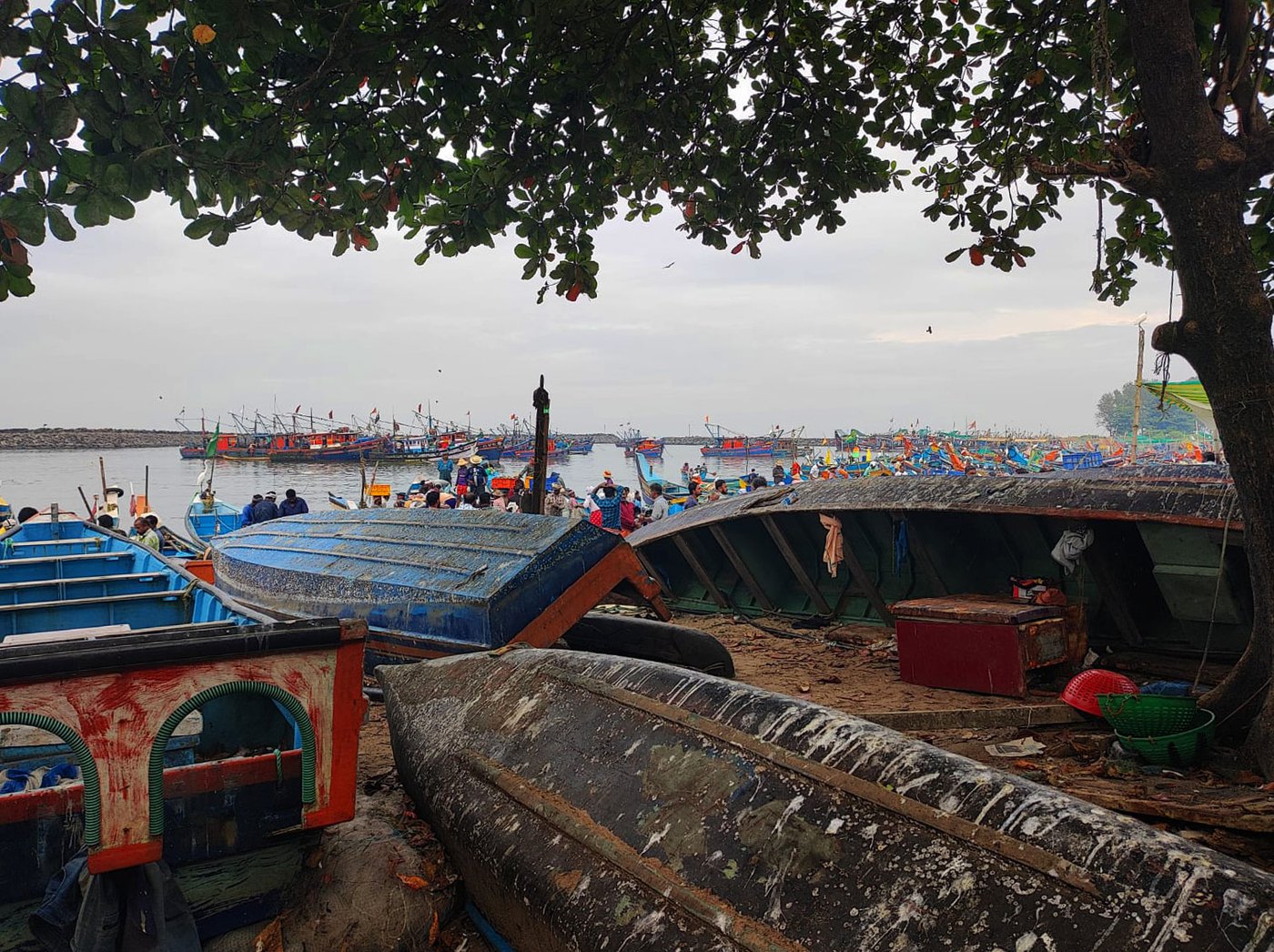 PHOTO • Mufeena Nasrin M. K.
As the only earning member in his family of five – his mother, wife and two sons – he says an  uncertainty about the catch has hit daily-wage workers at the harbour hard.
In 2021, the oil sardine catch was 3,297 tonnes in Kerala, the lowest since 1995, says the Marine Fish Landings in India 2021, published by Central Marine Fisheries Research Institute, Kochi (CMFRI).  "In the last ten years, we have seen a drop in oil sardine catch and observed that this fish might be moving further away from Kerala's coastline," says a scientist at CMFRI Kochi, who did not wish to be named. They also added that climate change, the cyclical growth of oil sardines, La nino effect and the growing presence of jellyfish has adversely impacted the catch.
The Handbook on Fisheries Statistics 2020 found that Kerala had the highest landing of 0.45 lakh tonnes of Indian oil sardine among states and union territories on the west coast.
Oil sardine, Babu says, is one of the most common, nutritious and cheap fish in Kerala. Earlier, he says, its catch would also be dried for consumption. He has now noticed a rise in the number of this fish going to processing mills in Mangalore and other nearby areas to make food for poultry food and fish oil. "There is a lot more catch of oil sardines than other fish here, so we are able to fill more baskets."