Perched on scaffolding 25 feet above the ground, Sangeeta Kumari Sahu's right hand moves slowly and steadily, gently scraping off years of neglect and ill-conceived restoration jobs. "I am no ordinary labourer, I am an artist," she declares, during a forced pause when asked by this writer to take off her dupatta which she is using as a dust-protection mask.
Some 800 kilometres away from her village of Bahera in Bemetara block of Chhattisgarh's Durg district, Sangeeta, 19, and her mother, Nira, 45, work as scrapers. They tenderly wade through layers of cement and paint, with a six-inch art brush of synthetic hair. They have different brushes, with bristles measuring anywhere between 0.7 and 4 inches, depending on how delicate the job is. Which is to reveal the original architectural details of one of Lucknow's most famous landmarks – the Constantia. A palace built by Major General Claude Martin of the British East India Company's Bengal Army, the structure now houses the La Martiniere College for boys.
Sangeeta's superior skills do little to dull the physical discomfort of the work. 'On most days, I look like a ghost', she says referring to the dust that settles on her clothes

Scraping is the first, essential step in restoration. Ansaruddin Aman, the 50-year-old who has led this project since 2013, describes it as a 'delicate job'. "Without careful scraping, no restoration is possible," says the man who started off as a signboard painter and in 2016 was honoured by the French government for his remarkable work.
The Constantia is an over 200-year-old structure in the French Baroque style, flowing with figures and frescos on its walls and across its ceilings. To the mother-daughter duo, however, the result of their job is more a revelation of " phool, patti, chehre " (flowers, leaves and faces). Sometimes the original they unearth makes them gasp. "Like the first look at a new born child – that is how happy it makes me," smiles Sangeeta. And sometimes, there is deep dejection. "Like when there is a figure with no face, I imagine how it would have been," she says in a small voice, as though the loss is personal.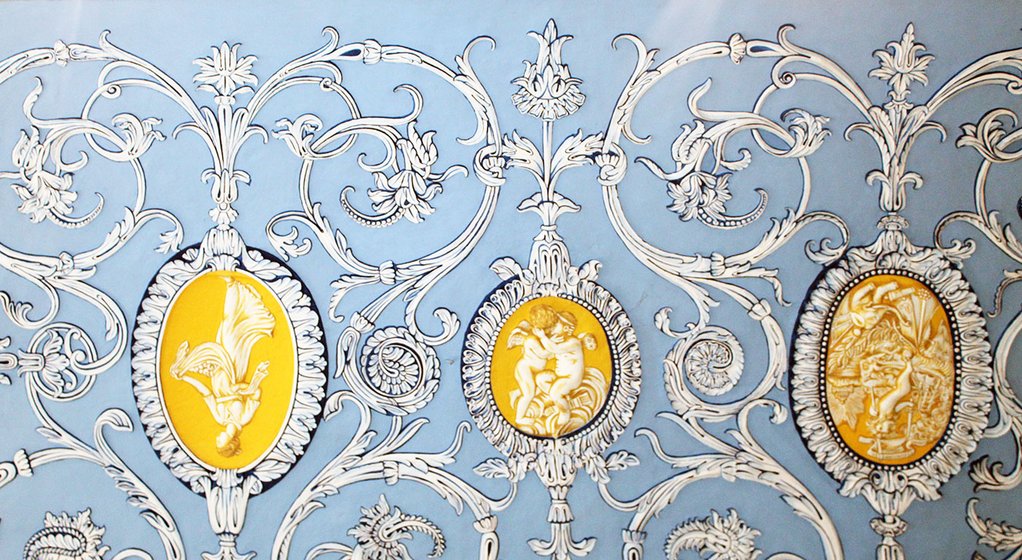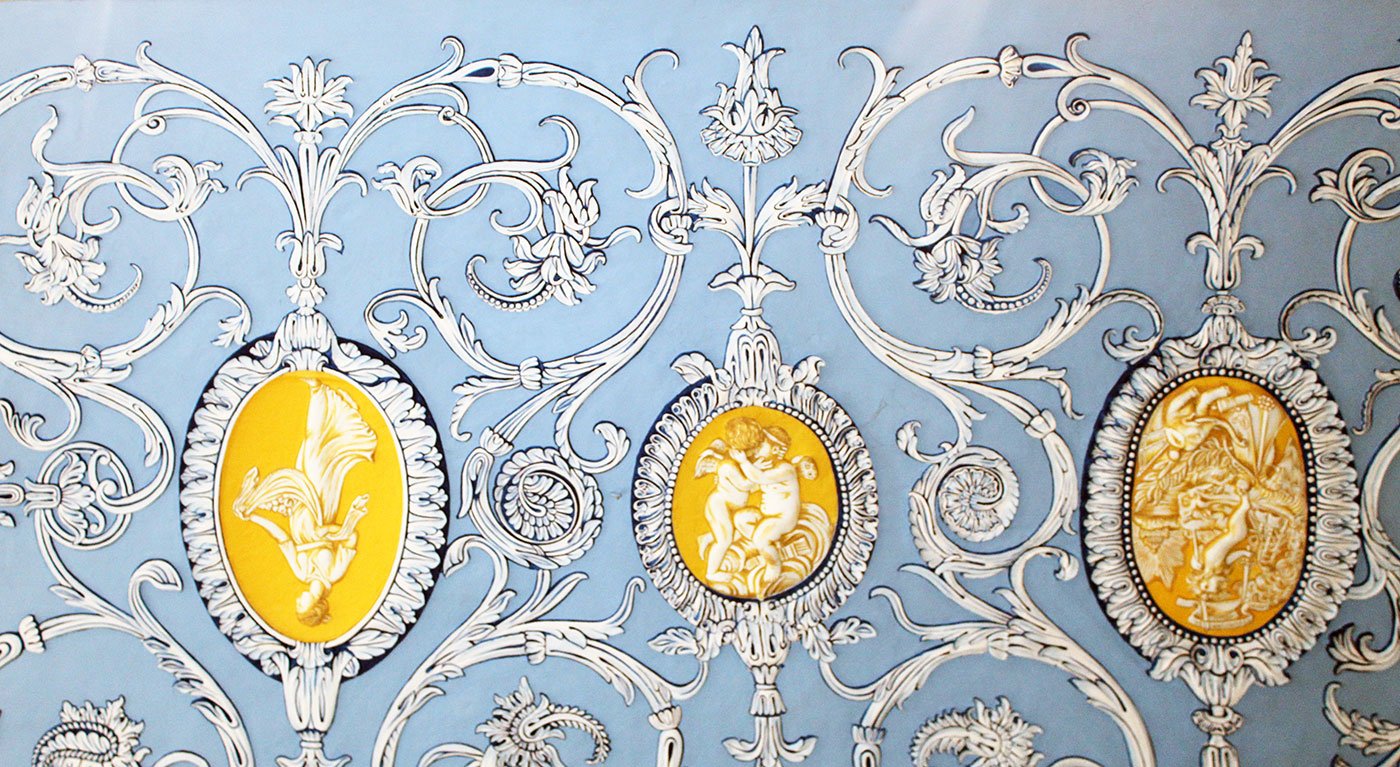 PHOTO • Puja Awasthi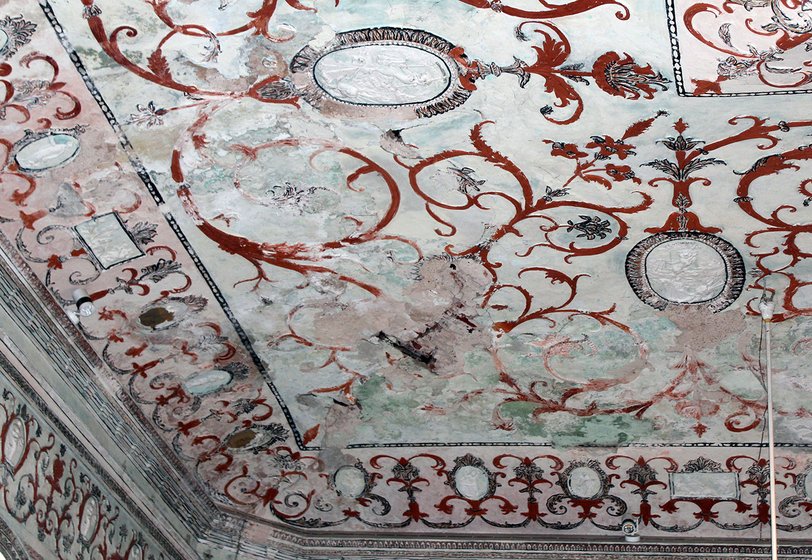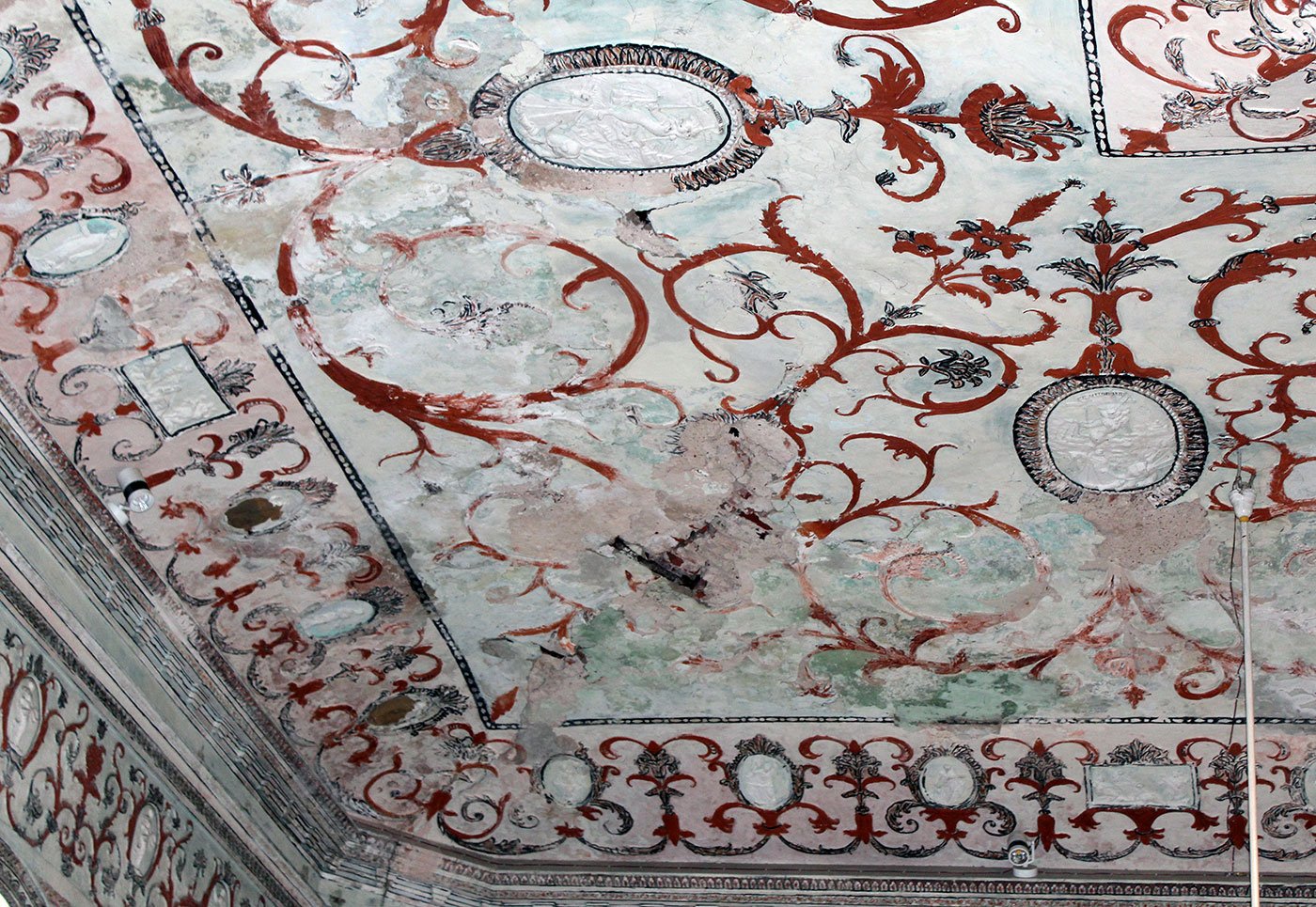 PHOTO • Puja Awasthi
The Constantia is a structure unlike any other the two inhabit or visit in real life. Sangeeta lives with her parents, her elder brother Shyamu, and younger sister Arti. Though located in an upscale Lucknow neighbourhood, the single room the family occupies is in a chawl -like structure and measures barely six-by-eight feet. The walls of the room are garish pink and two sides are plastered with pictures of Hindu gods. Below the bright gods hang an assortment of clothes. On a ledge that runs across one wall are tin boxes, family photos and a mishmash of household items. Beneath it is a television, on which Sangeeta watches what she describes as "family dramas and love stories." The only piece of furniture is a wooden cot, while another, made of nylon, stands folded against the opposite wall. There is an open space the size of the room, outside, which serves as the cooking and additional sleeping area.

Though the room (and several others like it similarly rented out for Rs. 600 a month) is on a plot almost 20,000 square feet in size, the landlord (a teacher) frowns upon tenants roaming his grounds.
And Sangeeta has not had the courage to step off the grounds, except to cycle (with her mother seated behind her) for 15 minutes to her workplace at 8.15 a.m. and leave there for home at 5.30 p.m. "Lucknow is not a safe place, I hear. It is not good for girls," she says. In Bahera, she would walk by the fields and across the village with friends, sharing secrets and smiles.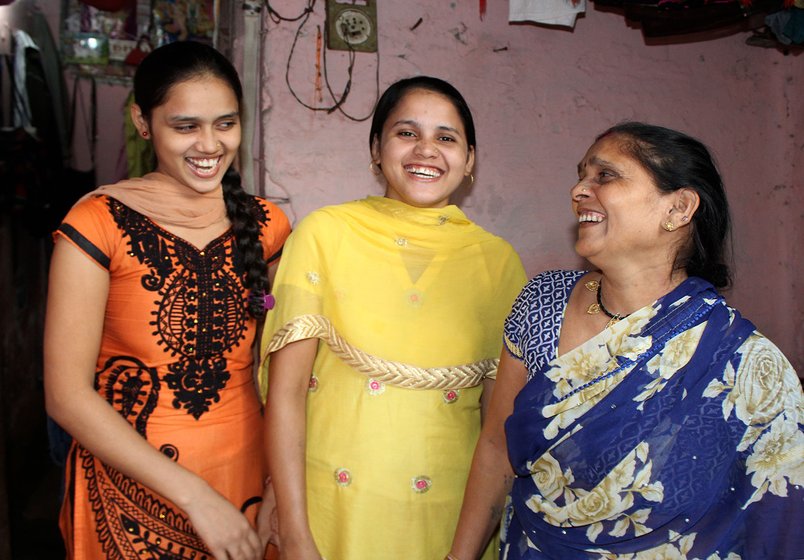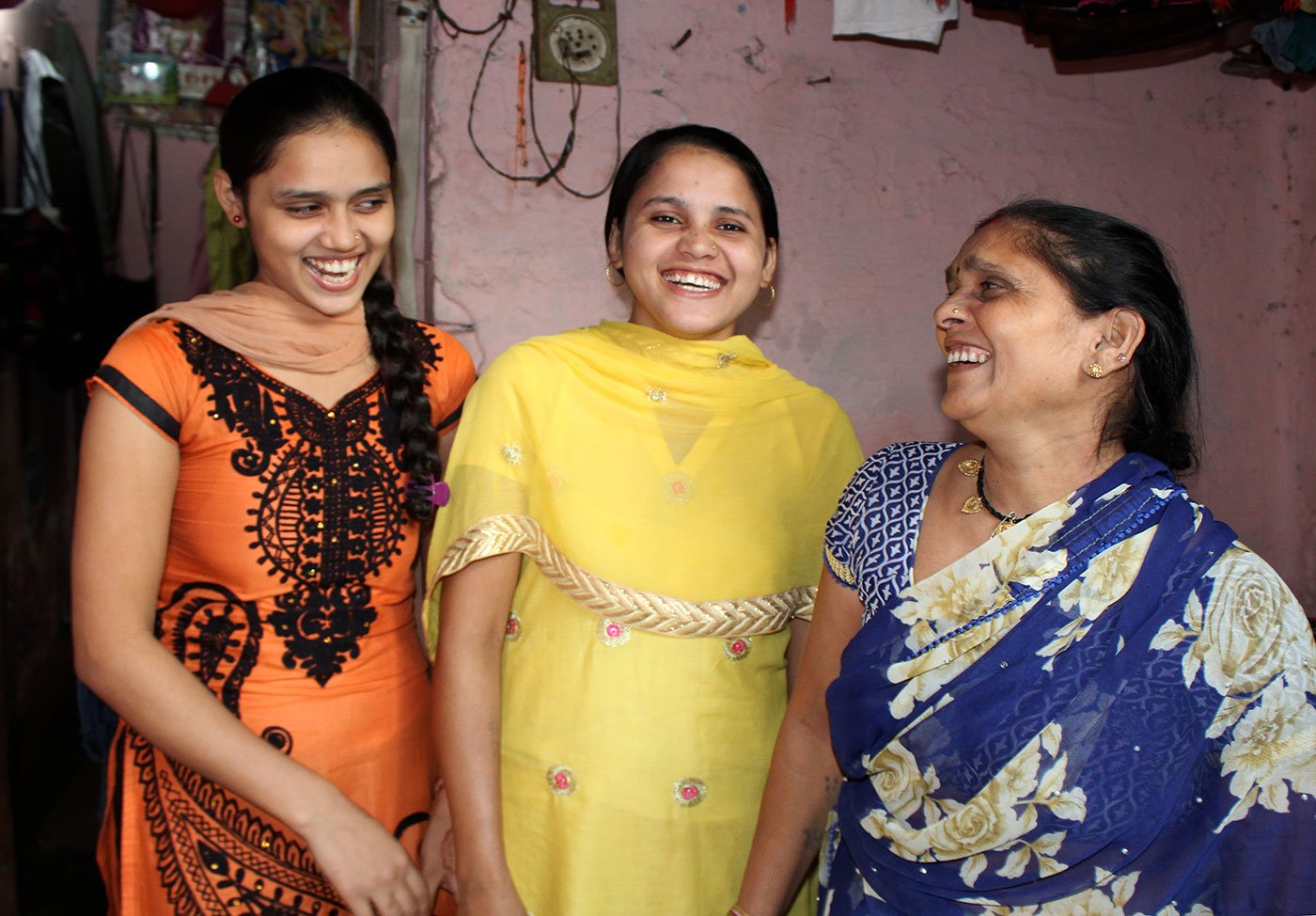 PHOTO • Puja Awasthi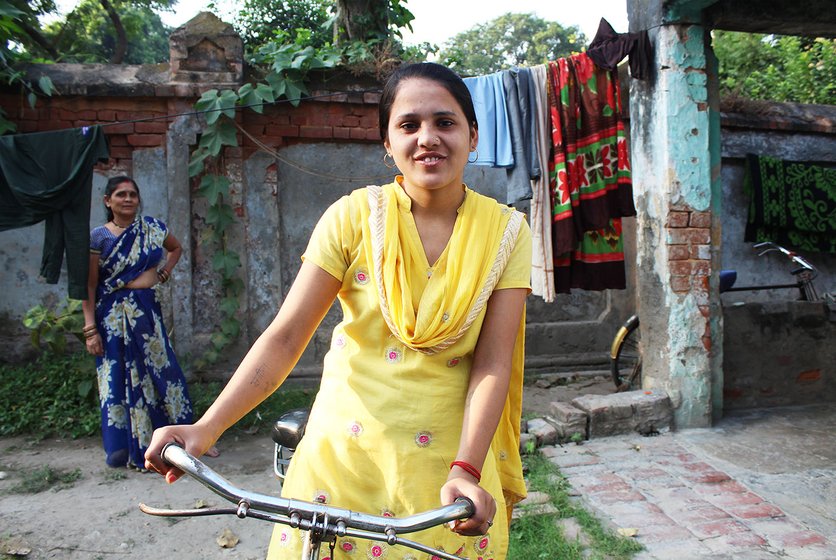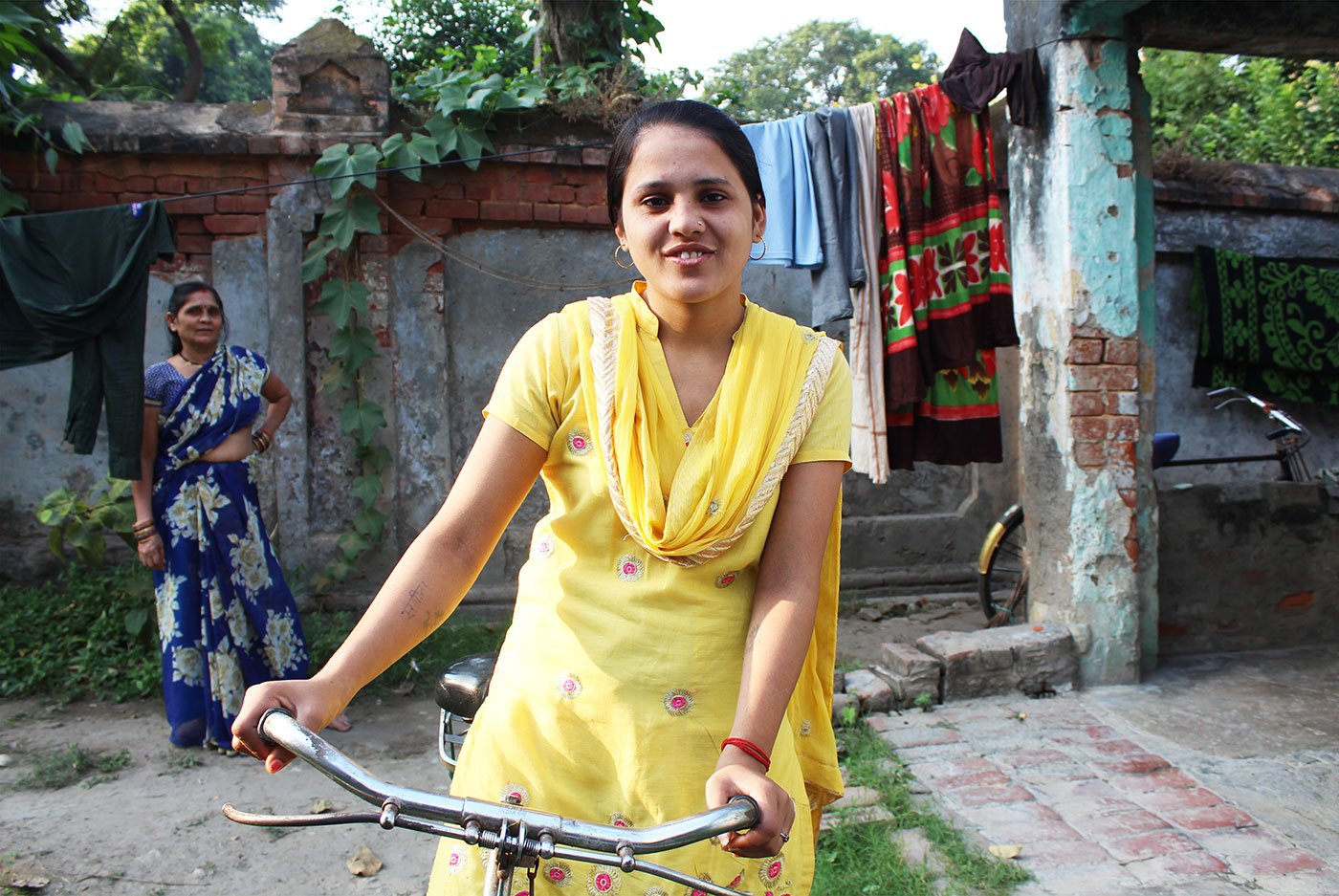 PHOTO • Puja Awasthi
Migration is rampant in Bahera, and many move out to work on construction sites. The family has a small slice of farmland there – less than an acre. "When we work on the land of others, we make just Rs. 100 a day," says Nira. The land is leased out and the tenants give them 10-20 sacks of rice or wheat each year, depending on how good the harvest has been. The almost four years of labour in Lucknow has given them the money to construct three brick rooms in their village. Next, they want to build a toilet and get all the brick walls plastered.
For the vital work they do for seven and a half hours every day, Sangeeta and Nira are paid Rs. 350 each – the same as labourers. There are no off days, and when they take one, there is no pay. Sangeeta's father, Salikram, earns Rs. 550 as a mason on the same site. Shyamu, somewhere between a labourer and a mason, earns Rs. 400. Arti, the youngest sibling, chips in with the Rs. 600 she earns monthly working as a cook for the landlord. The family reckons they save about Rs. 10,000 a month between the five of them.
On most construction sites here, women work as labourers, hauling 50-kilogram bags of cement and mortar mixture on their backs and heads. Sangeeta's elder sister Santoshi was an exception.  Her patience and fine eye prompted Ansaruddin to train her as a scraper. "She was almost 70 per cent a mason. But then she got married," he says. Santoshi now works as an ordinary labourer with her husband in Pune and not as the mason she could have become.
Ansaruddin tried to overcome the loss of Santoshi by coaxing Salikram to train as a scraper. "That way, when he would find work on restoration sites, Sangeeta's skills would be utilised better." He also believes that in 20 years of work he has not come across anyone as naturally gifted as her. But Salikram showed little interest and so Sangeeta's future, unknown to her, has been compromised.
Sangeeta's superior skills do little to dull the physical discomfort of the work. "My eyes and shoulders hurt. On most days, I look like a ghost," she says referring to the fine dust from the paint and cement that settles on her clothes. Her days begin at 6 a.m. and her first task is to fetch 15-20 buckets of water from the handpump, 20 feet away from the family's abode, on the grounds. She then washes the clothes and bathes, while Arti cooks breakfast and lunch. After work, she again fetches 4-5 buckets of water and cooks dinner – noodles, chicken and fish are her favourites. The men of the family either go out to buy household provisions or relax. Shyamu worked with a caterer once, and sometimes whips up a few dishes. But that's "mostly just for himself," says Sangeeta. The sisters have never thought to question this.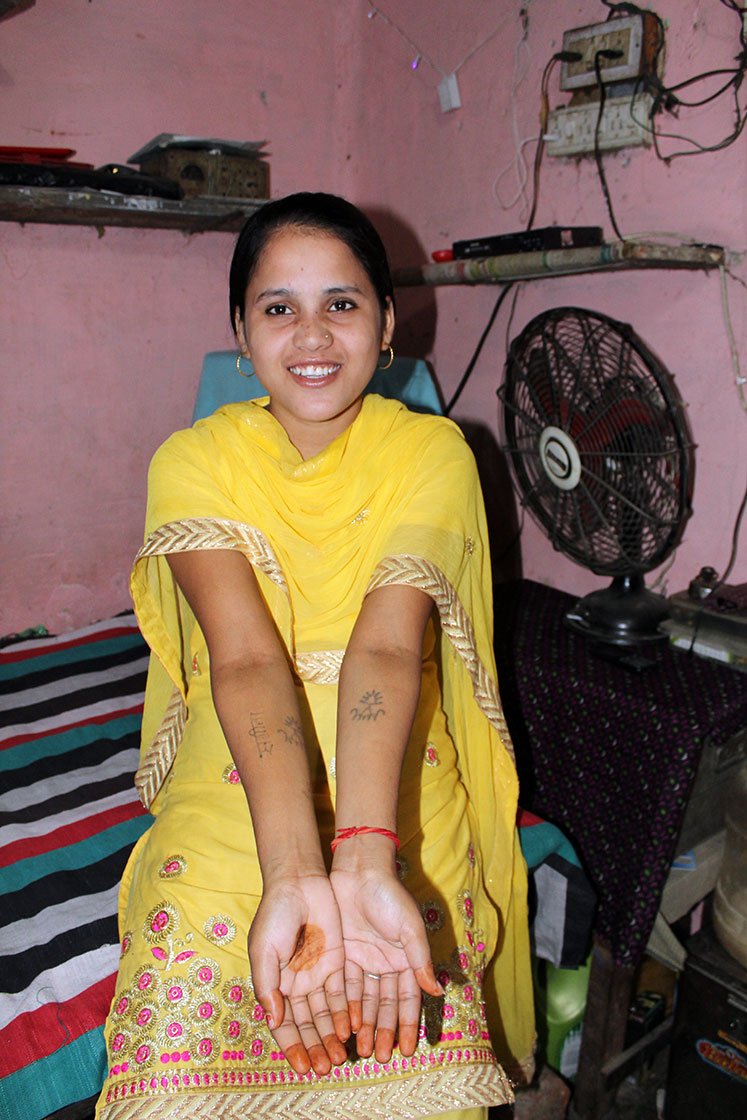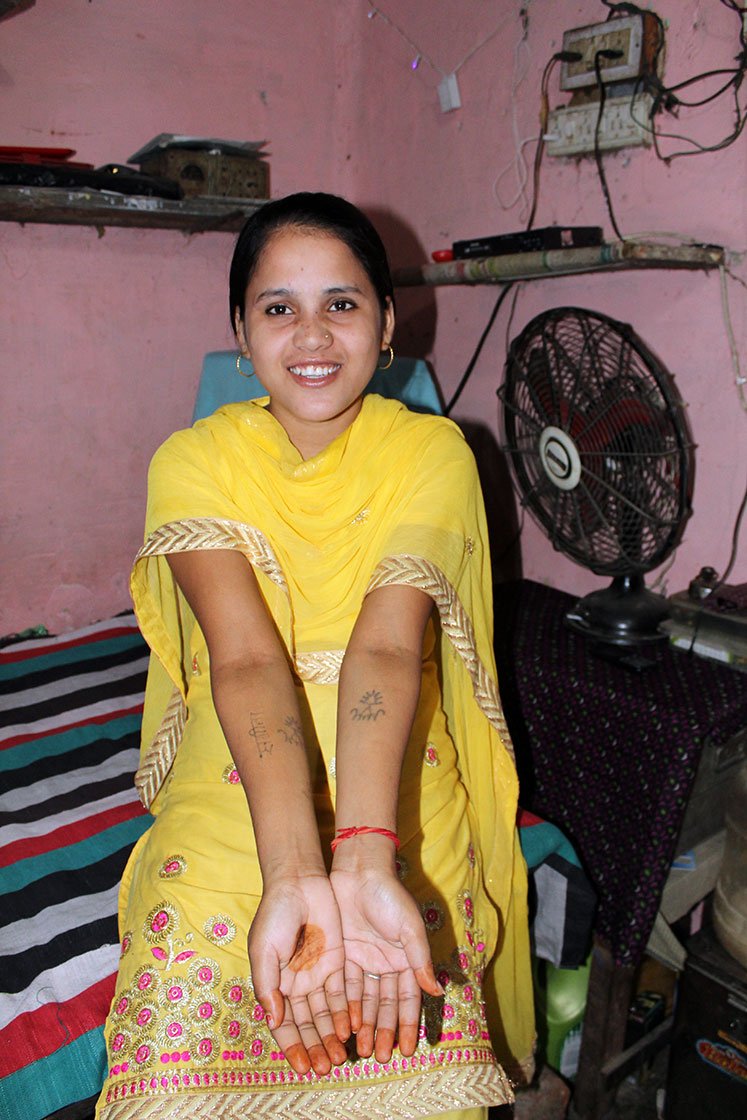 PHOTO • Puja Awasthi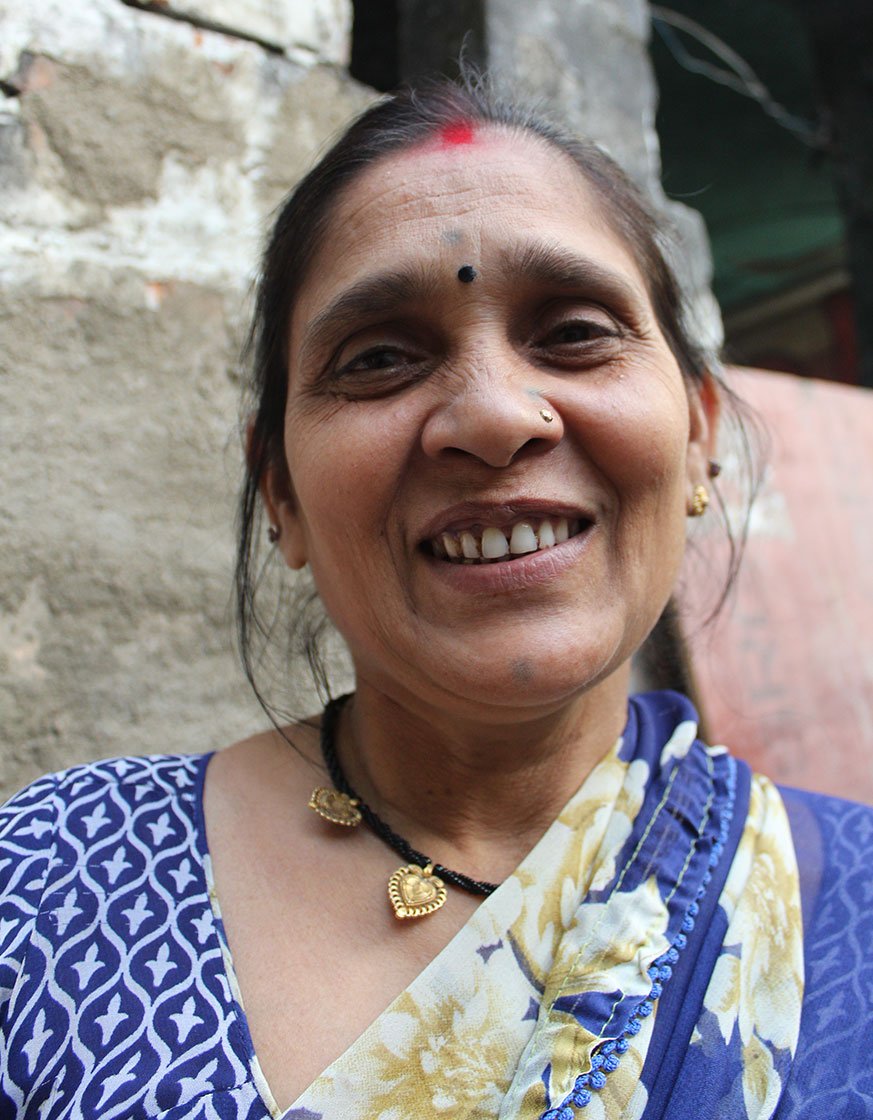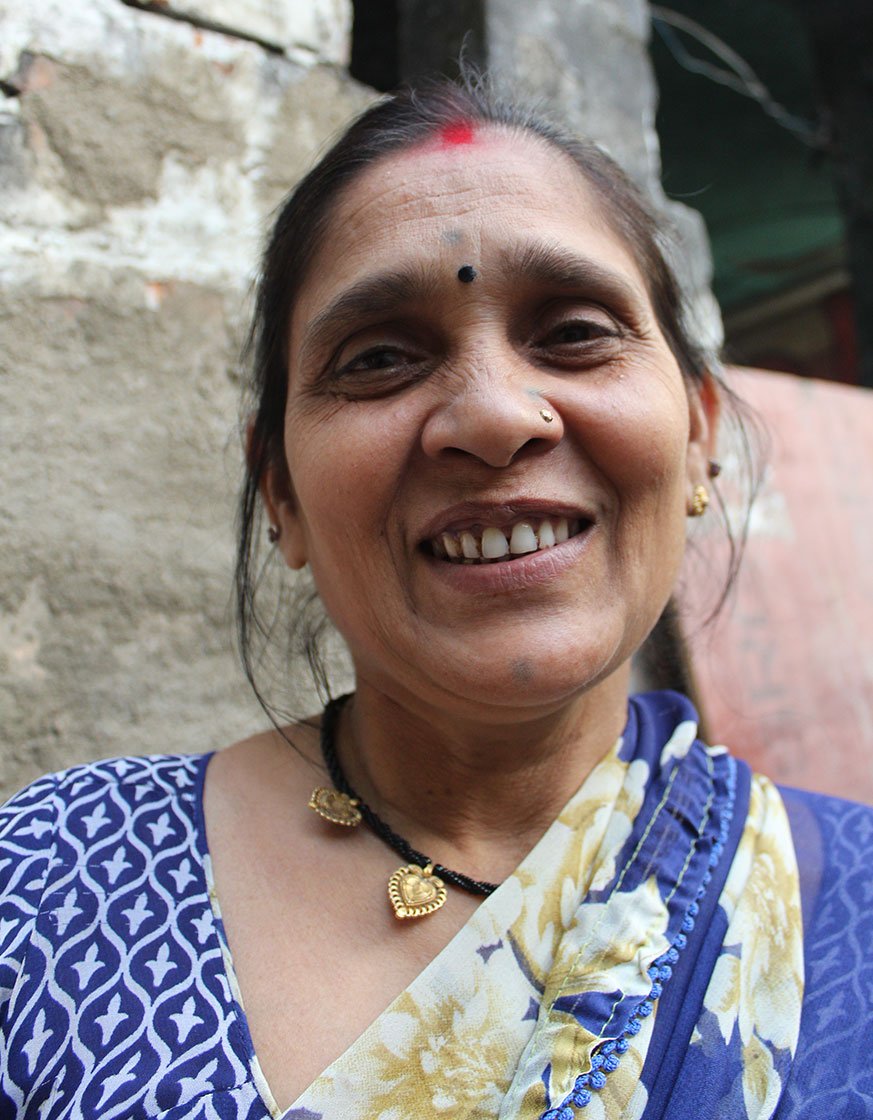 PHOTO • Puja Awasthi
Despite the nature of her work, and though she has broken some barriers, at heart, Sangeeta's priority remains marriage. "If only I could give up this tiring work. I would rather travel and eat my favourite food," she declares. Nira looks on disapprovingly. "She has royal dreams. She should be more connected to reality."
Unperturbed, Sangeeta makes mental notes of the vital things she seeks for her wedding trousseau. ("No matter how beautiful a woman is, dowry is a must," she whispers). And so, there is a television, a refrigerator, a steel almirah and a washing machine on the list. "Oh yes, silver anklets and clothes in bright, beautiful colours," she says, dissolving into laughter.