"This is not a drum," says Savita Das pointing to, well – a drum.
Refusing to be limited by the options before them, a group of women in the village of Dhibra in Bihar's Patna district, chose a rather unconventional livelihood. With cultivable land shrinking and work for lowly-paid farm labourers drying up, they picked up sticks. Sixteen women started out on the journey, but family pressures and unending criticism saw six cave in and withdraw. The 10 who persisted, all of them with the surname Das, formed the state's first women-only band of drummers in 2012 – the Sargam Mahila Band.
"Look at these hands, they are no longer bruised from working in the farms. We have money. We have respect. What more could we want?" asks Domini Das, 35, mother of two.

Like Savita and Domini, the other members of the Sargam Women's band  –  Pancham, Anita, Lalti, Malti, Sona, Bijanti, Chitrekh, Chhatiya  –  are Mahadalits. In Bihar, that refers to the poorest and most discriminated against sections among the Scheduled Castes. They make up about a third of the state's 16.5 million Dalits.  Each member of the mahila band has inherited stories of oppression and violence unleashed on their ancestors by the upper castes. They also have personal narratives of abuse by dominant caste landlords in the fields and by husbands at their  homes. All are from Dhibra village in the Jamsaut panchayat of Danapur block.

PHOTO • Puja Awasthi
Chitrekh, 50, remembers that her husband Sitaram would object every time she wanted to go out. "Do the the household chores – he would tell me. Sometimes he would make demands on a whim. Now when I have to go out, he is always hurrying me up, lest I get late. How things have changed," she laughs.

Drumming was not an idea that came to them independently. They were part of a self-help group, and hence, as they explain, "used to working together." United by the desire to do something other than make papad and pickle in their quest for economic empowerment, they seized the idea when Nari Gunjan, a Patna-based organisation, suggested a band and engaged a music teacher for them. Aditya Kumar Gunjan would travel from Patna, 20 kilometres away, to train them – seven days a week, for a year and a half.

PHOTO • Puja Awasthi
The initial months were difficult for the group, whose members range in age from 30-50. Apart from the constant barbs of villagers – the most scornful of which was that they were trying to be like men – they had to contend with aching palms and shoulders stung by the drum straps.

As word about these unusual drummers spread, invitations to play at local programmes and events piled up. Since then they have travelled far. Besides performing all around Patna and its neighbouring districts, the band has also held shows in Odisha and Delhi. From the capital city, the women retain joyful memories of their first experience of riding in the metro.
They manage their money and assignments independently. While the money is divided equally among them, any member who pulls out of a job does not get paid. Practice sessions (usually conducted in the fields to avoid disturbing the villagers) vary, depending on the quantum of work. They have visiting cards and a code of behaviour which mandates that members will be neatly dressed at all times and that only the group leader, Savita, will negotiate all gigs.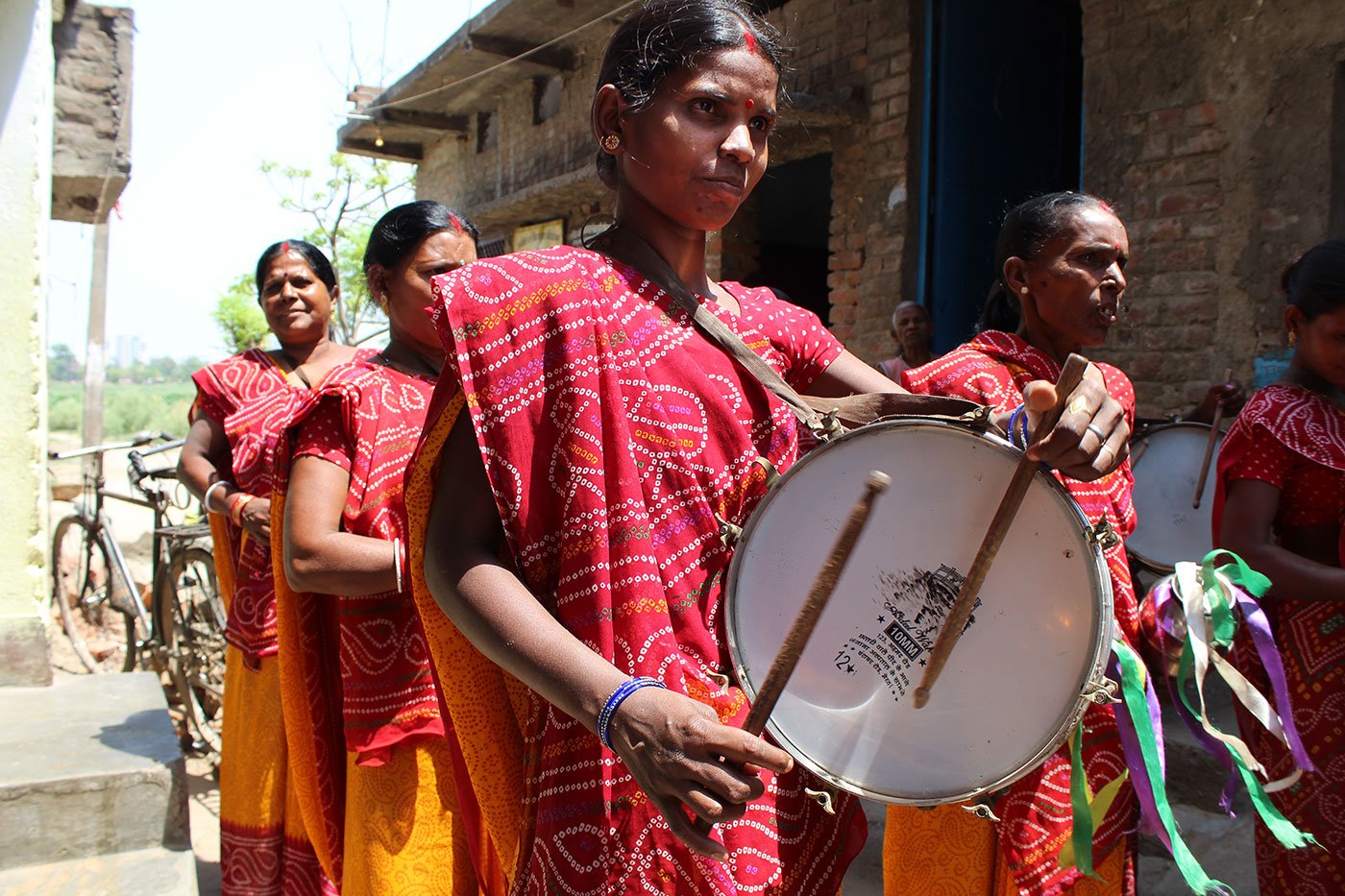 PHOTO • Puja Awasthi
It is also an unspoken pact that each woman will own her earnings. " Pati ko nahi denge [we won't give it to our husbands]," they assert. Anita, 32, asks, "I spend money on books and school fees for my children, we eat better food. I save and occasionally splurge on myself. It has taken a lifetime to achieve this freedom. Why should I give it away?"

In the old order of the caste hierarchy the mere presence of Anita and her bandmates would have 'polluted' high caste weddings and celebrations. But in the alternate universe that these women have carved for themselves, people of all castes seek them for their musical skills, sometimes going as far as deciding dates for functions based on the group's availability. The women talk with pride of walking into hotels they would not even dare look at before.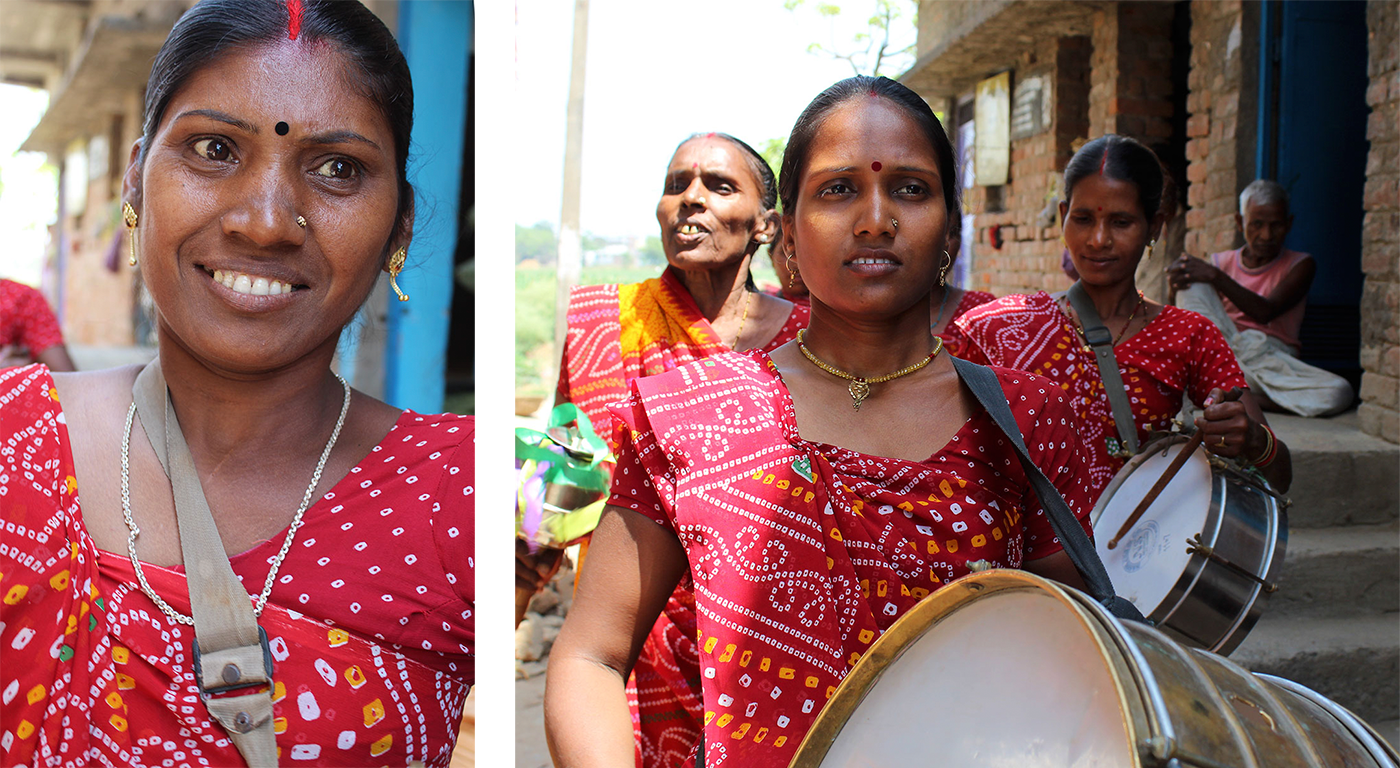 PHOTO • Puja Awasthi
The band charges anywhere between Rs. 10,000 and Rs. 15,000 for a day's work.  They could get up to 10 gigs a month in the wedding season. And so earn up to Rs. 1.5 lakh a month in that season. "We are not very strict and can negotiate," says Savita. Other, non-negotiable, conditions: pick up and drop off from and to their village, and proper accommodation in case they need to stay the night.

How does their situation now compare with their wages earlier? This is a state where the MNREGA daily wage is Rs. 168. Where the – seldom observed – minimum wage for unskilled labourers when they formed the band was under Rs. 200. These women themselves were not being paid much more than Rs. 100 a day as farm labourers in 2012.
Though economic freedom has translated into deep respect around the village (with many other women asking if they too can be part of the band), it has not made them forget their social responsibilities. From abusive husbands to dowry seekers – they tackle them all and have emerged as counsellors and arbitrators for Dhibra and surrounding villages. They do cite examples of their interventions, but won't name any names.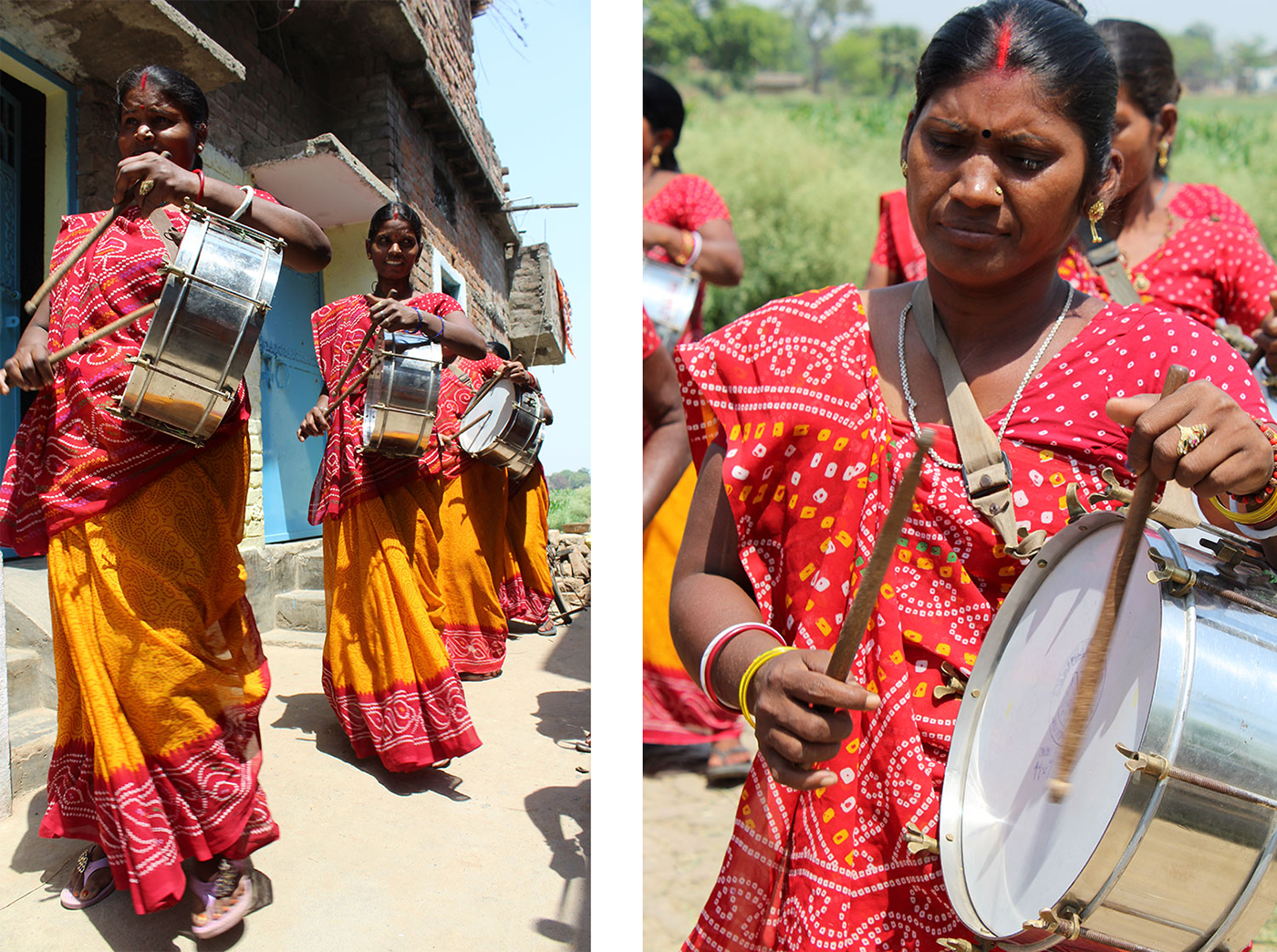 PHOTO • Puja Awasthi
The band's immediate plans include adding a bass drum and a Casio electronic keyboard to the existing nine drums and one shaker. Though the bhangra beat remains their favourite, they have now started to improvise on musical pieces on their own. They want to have a uniform – of trousers and shirt, and accessorise it with caps and small sling bags to look more like the 'military bands' they compare themselves with.
Like the others, Savita looks back at the journey with wonder. Thus the drum, to her, is more than just a musical instrument. "Every time I hit it, I feel I am hitting against all that has held me back," she says.

In this small corner of the world, change is being ushered in by the Sargam Mahila Band – one hit at a time.