It takes 60 steps for Vitto Pandey to reach the toilet. She cannot make that journey alone over uneven land. Sometimes, she waits for hours for someone to hold her hand and walk with her. "I keep falling. I fall and I get up. Once, I was hit by a bull and for weeks my body was swollen," she says.
Vitto, who is visually impaired since birth, is usually taken to the toilet by her brother's wife, Geeta. "Sometimes I am in the middle of other work when she calls out. It is a problem," says Geeta, who herself uses the fields. "There is no running water in the toilet, so it gets very dirty. It is a useless toilet," she says.  Her husband Sanatak is the youngest of Vitto's three brothers. He farms on their one bigha (around 0.6 acres) land in their village, Bakhari, in Lucknow district's Gosaiganj block.
Many of the 203 toilets in Bakhari, of which most are located far from the living quarters, are crumbling and in no shape to be used. The lack of access to even a rudimentary toilet has meant prolonged stretches of self-control, long walks, and frequent humiliation for the village residents.
Tarawati Sahu, a homemaker, remembers countless times when she had an upset stomach, and defecated in front of someone's house while hurrying to the fields. "It is very shameful. The neighbours give us dirty looks. When my stomach is upset and I can't control myself, I sometimes wash the streets where I defecate, five times a day," she says. At 65, the five-minute trek to the fields is a difficult journey for her. Her 72-year-old husband Mata Prasad Sahu, who is too ill to work in their three bighas of farmland, faces similar problems. "We have folded our hands before so many, but no one has paid attention to us. I am tired of asking for a toilet," she says.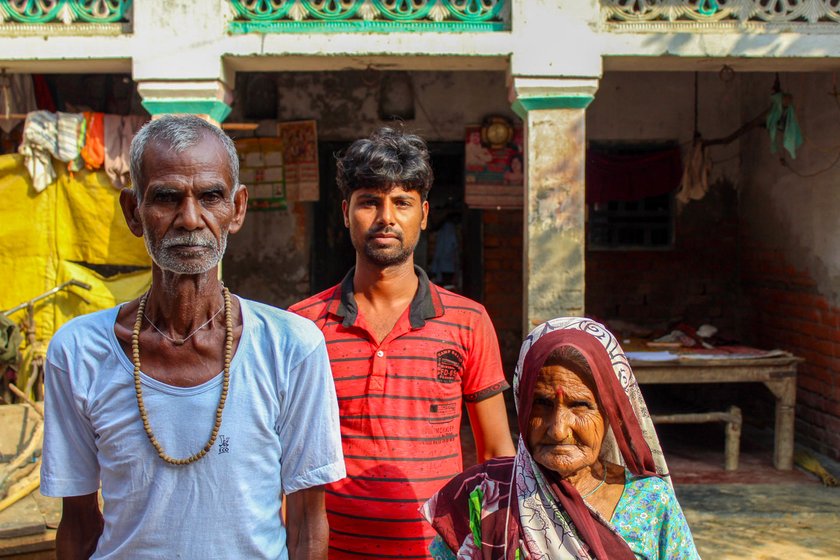 PHOTO • Puja Awasthi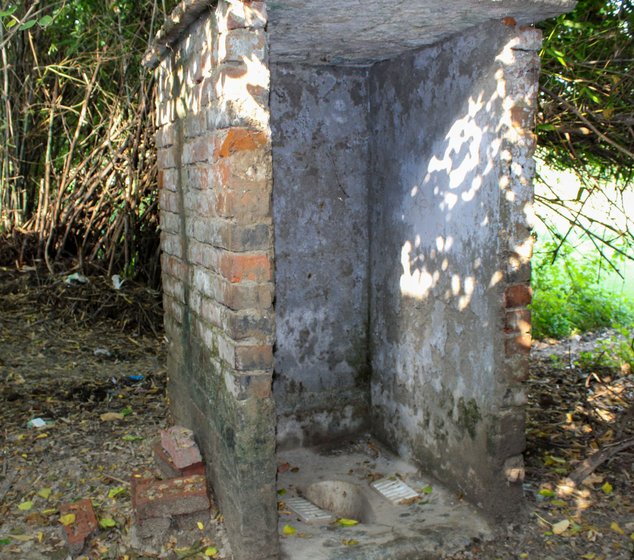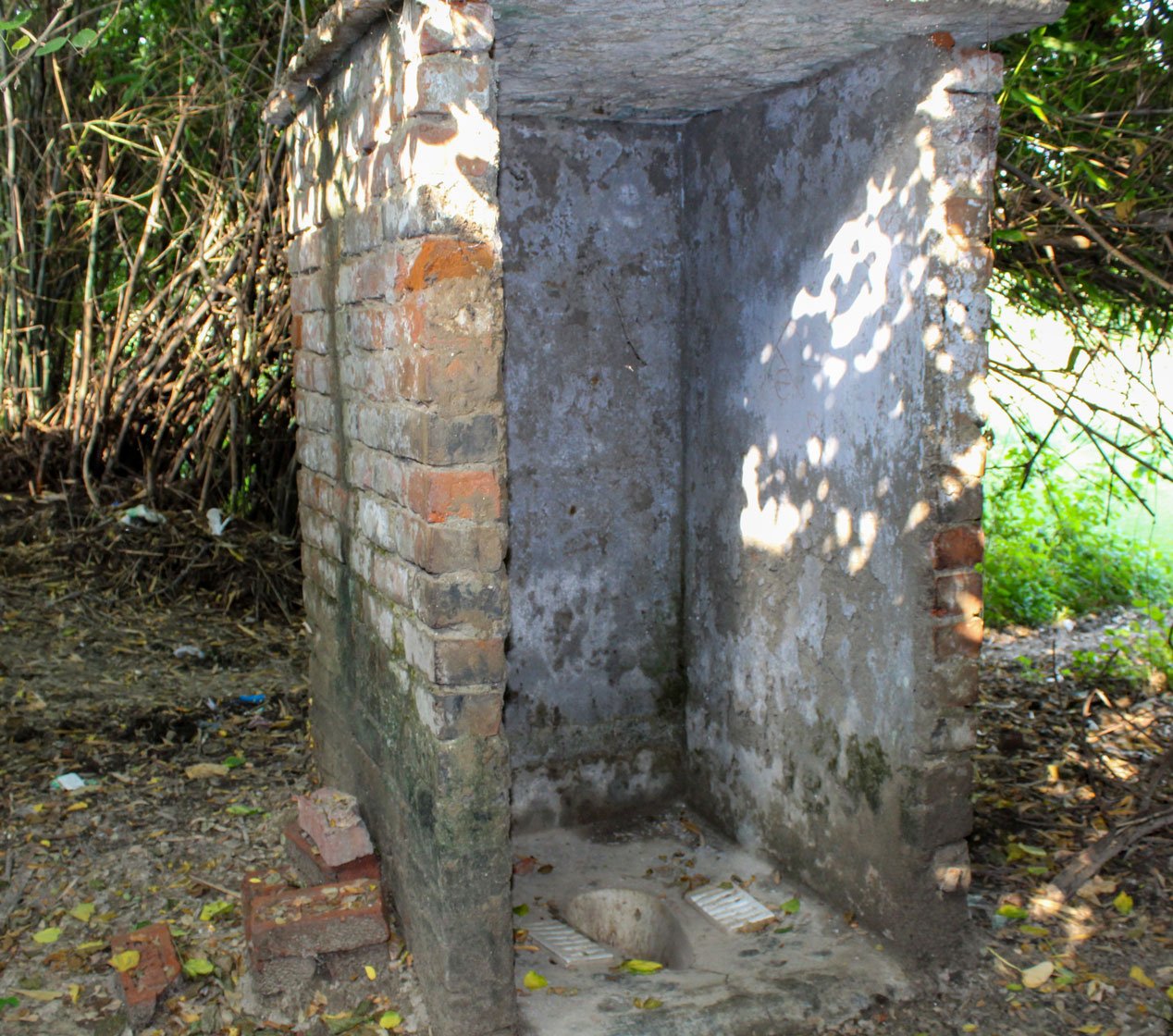 PHOTO • Puja Awasthi
And yet, Bakhari – a village of 190 households, around 25 kilometres from Lucknow city – is counted in Uttar Pradesh's claim of achieving 100 per cent coverage of household toilets under the Swachh Bharat Mission (SBM). Launched in October 2014 by the central government's Ministry of Drinking Water and Sanitation, the Mission aims to achieve total sanitation in the country.
Bakhari's tryst with toilets, however, began several years before the SBM was launched. In 2009, when Mayawati was the state's chief minister, the village was chosen for the Dr. Ambedkar Gram Sabha Vikas Yojana (AGSVY), a scheme of the Uttar Pradesh government, which included provision of clean toilets. Five other mandatory objectives were to be achieved: electrification, link roads, drains, drinking water and housing. The toilet used by Vitto was among the 170 built in Bakhari under the scheme, for which the village was selected on the basis of 18 parameters – a sizeable population of Scheduled Castes being one of them.  Of Bakhari's 917 residents, Census 2011 listed 381 who belonged to SC communities.
But Bakhari's inclusion in the AGSVY scheme became its undoing when the SBM, in its baseline survey in 2012, identified the households eligible for toilets. Since the village was supposed to have received its share of toilets under the AGSVY, it was left out of the SBM list.
Ambar Singh, the elected pradhan of the Bakhari gram sabha , says that he tried to get some funds from the SBM to repair the toilets built under the AGSVY – including the crumbling Pandey household toilet. "But nothing can be done after it is locked," he says. By 'locked' Singh means the record in the SBM's database, which tracks the Mission's progress. If the record says that toilets have already been constructed in a village, no more funds can be released for new ones.
Caught between the claims of two schemes, Bindeshvari's family too has no option but to use a rickety loo, with the bricks coming loose: 'It seems as though it will fall on me'

Caught between the claims of two schemes, Bindeshvari's  family too has no option but to use a rickety loo, with the bricks coming loose. "It seems as though it will fall on me. I am getting old but am still working. This toilet retired as soon as it was made," remarks Bindeshvari, 57, who works as a domestic worker in Lucknow. Everyone else in her family of eight in the village, including her daughter and two daughters-in-law, go outdoors. But Bindeshvari is accustomed to using a toilet with running water in the city, where she works during the week and earns Rs. 6,000 a month.
In Bakhari though, the toilets have turned into an equaliser for people of different castes and varying economic status. The quality of the toilet built for Bindeshvari's landless family from a Scheduled Caste, was the same as that constructed for the household of Ram Chandra Pandey, a 62-year-old Brahmin farmer.
Although no one in the village recalls the cost of a toilet built under the AGSVY scheme, many remember that 300 bricks were used for each. Some who could afford it got toilets built on their own.
Ram Chandra, who has 2.8 acres of land in the village, thought the quality of his toilet was so poor, that he spent Rs. 4,000 of his own money to improve the structure. "There was a tin sheet for the door. It blew away one night," he recounts. The only person now using the toilet in his household of seven is his seven-year-old granddaughter. "If everyone in the family used it, it would have become completely useless many years ago," he adds.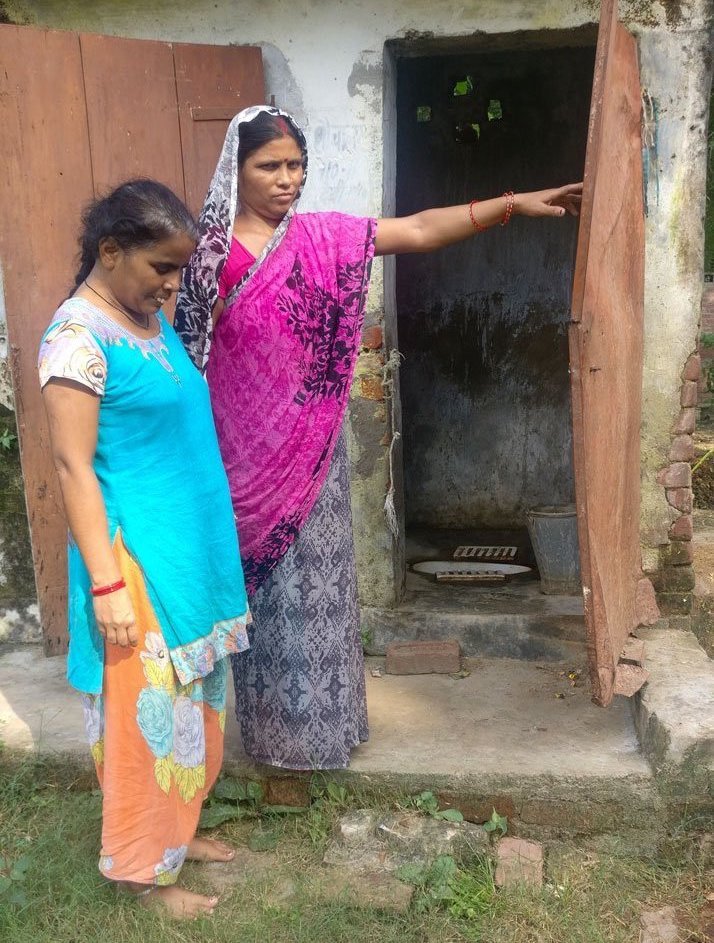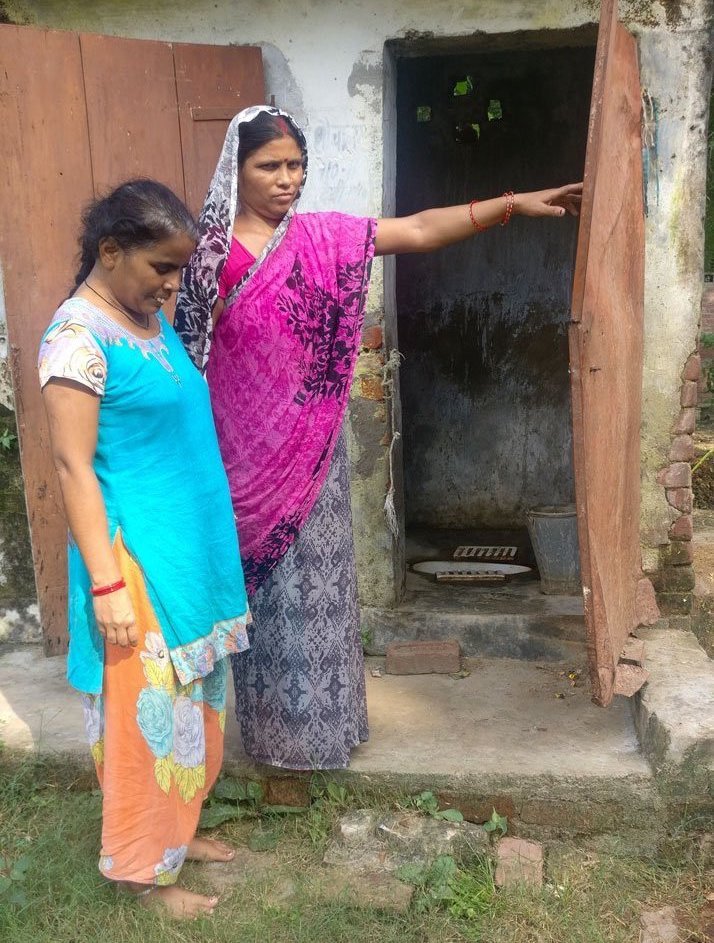 PHOTO • Puja Awasthi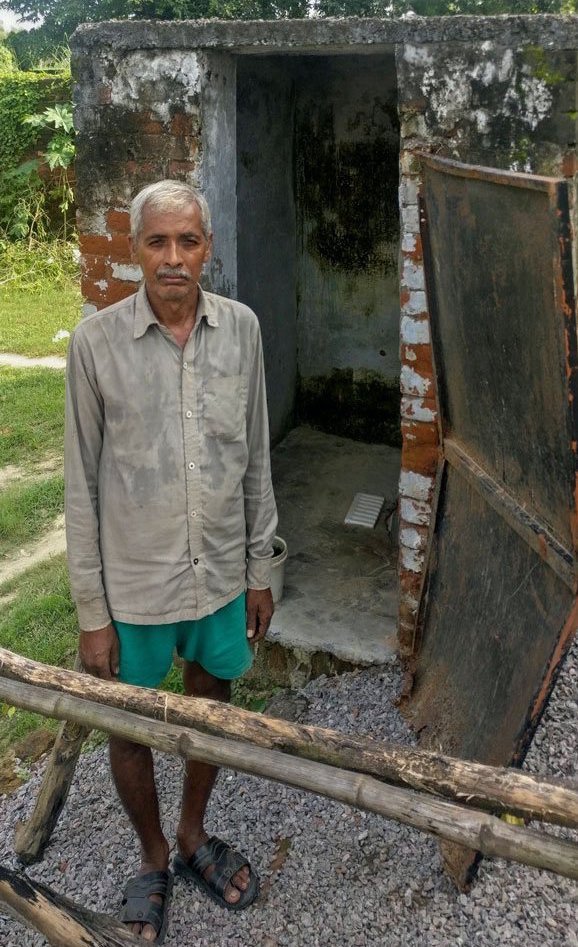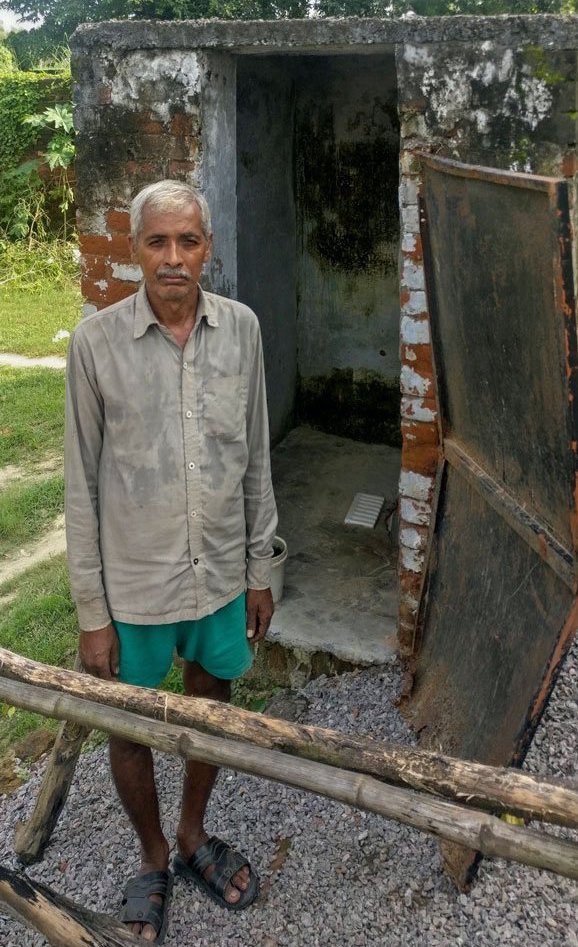 PHOTO • Puja Awasthi
Besides, the toilets in Bakhari are not linked to a sewerage system, nor do they follow the guidelines set by the Swachh Bharat Mission – because the SBM bypassed this village since it was 'covered' by the previous sanitation scheme. The one at Ram Chandra's home, for instance, is composed of a single pit, and not the twin-pit recommended by the Mission. The second pit ensures uninterrupted use of the toilet after the first one fills up, which takes between five to eight years.
The SBM's goals of 'Equity and Inclusion' are not met in Bakhari either. The toilets built as part of the earlier scheme do not include facilities – listed in the Handbook on Accessible Household Sanitation for Persons with Disabilities – for persons with disabilities, like Vitto. The document, published by the Ministry of Drinking Water and Sanitation, is meant to serve as a reference for the countrywide SBM. It itemises conveniences such as ramps, handrails, pathways, landmarks for blind people, and wide entrances, among other features.
But Vitto, who votes in every election with her Electoral Photo Identity Card (EPIC), the only government-issued identification she possesses, has never heard of these conveniences. "When it rains, the roof of my toilet begins to leak. The pit fills up with water," she says. When that happens, she goes to the fields. And though she does not know how her family can get a toilet that is easy to use and has water supply, she is sure that having one is desirable. "Life will become a little easier," she says.
Amidst all this, almost no one in Bakhari knows what the acronym ODF (Open Defecation Free, the SBM's stated purpose) means. Bindeshvari thinks hard for two minutes, and offers: "Perhaps ODF means No Order for Village."