Pramod Kumar gave in only when the calls became incessant. "Give your Aadhaar or lose your number," the caller said.
Since the first half of 2018, such calls had mushroomed in Kumar's village, Dadeora. So even though he had used the mobile number for three years without any such identification, he cycled for four kilometres one morning in mid-2018 to a SIM card vendor's shop in the Parsada market. "No questions were asked. The shopkeeper took my Aadhaar and asked me to twice push a button on a small black machine. I could see my photo on the computer screen. He said my SIM would continue to work as before," recalls Kumar.
After that seemingly painless act, Kumar's wages went missing.
The Department of Telecommunications (DoT) had, as far back as 2005,  spoken of the need to verify the identity of SIM card owners, describing it as 'a matter of concern …[with] serious security implications'. By 2014, the DoT had tweaked this step – now a customer would have to enter his or her Aadhaar number.
In January 2017, Airtel became the first mobile services provider in India to open a Payments Bank; its website promised 'every Indian access to an equal, effective and trustworthy banking experience'.
In Sitapur district's village, these developments upturned life for 33-year-old Kumar, an unlettered small farmer and labourer. He and many others in his family and village used Airtel SIM cards.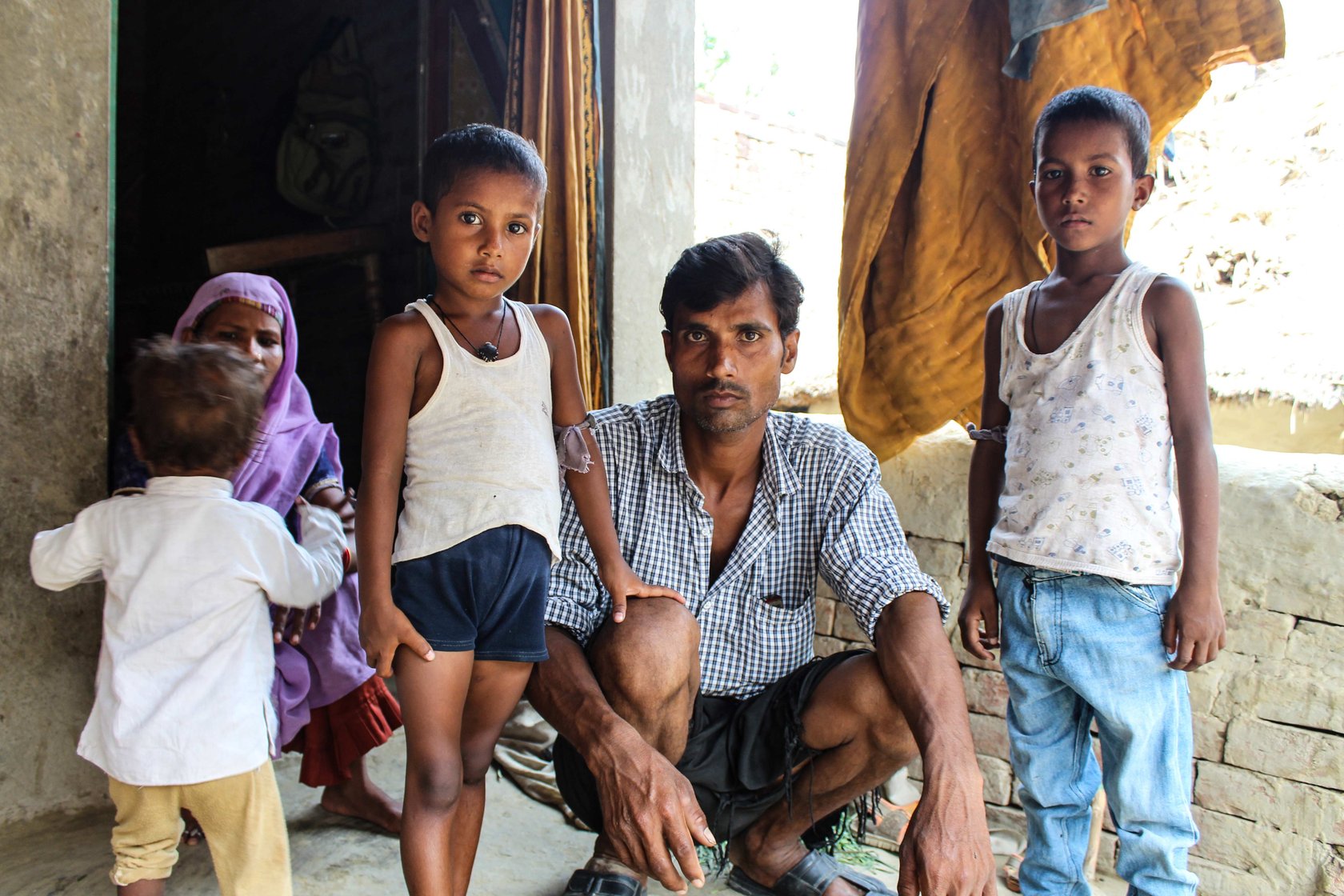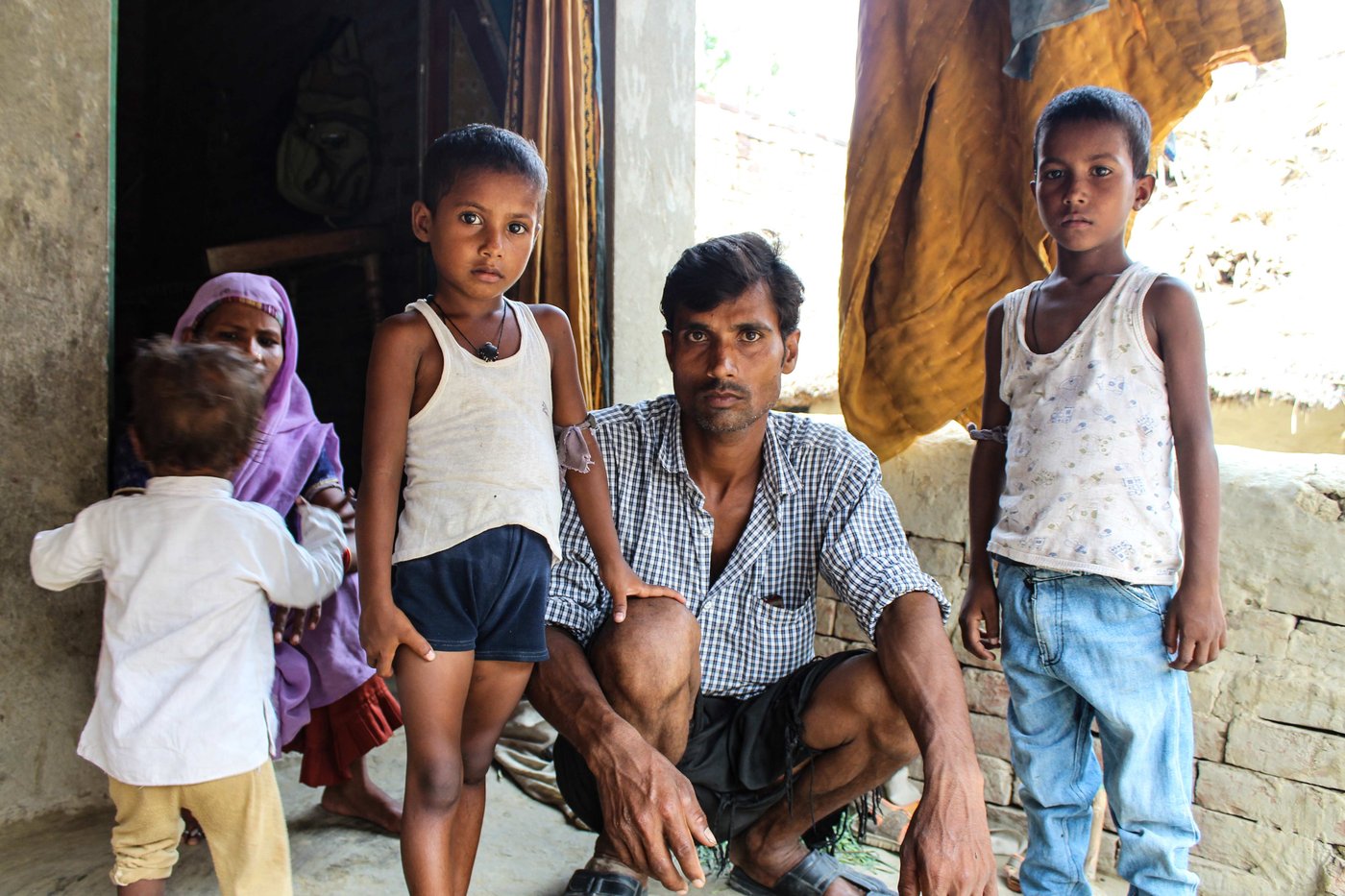 PHOTO • Puja Awasthi
At the time his SIM was being verified, Kumar was digging a pond, the Jhavar Talab, under the Mahatma Gandhi National Rural Employment Act (MGNREGA). He earned  Rs. 175 a day. In 2016, he had worked for 40 days and his wages had been deposited into his account at the UP Allahabad Grameen Bank in Parsada, the account he had specified in his job card.

"Government work is not the best paying. But it is available near home. My parents are old and need looking after. I get to spend time with my children," says Kumar, who intermittently also works with private road construction contractors for Rs. 200 a day. On construction sites in Lucknow, around 100 kilometres from his village, he can sometimes earn up to Rs. 300 a day.

From August to December 2017, Kumar worked for 24 days digging the rocky earth for the pond. He earned Rs. 4,200. But the wages, usually deposited within 15 days of work being completed, did not show up. The wages of some others in his village too had gone missing.
Kumar tried different ways to track his money, with help from a local organisation called Sangtin Kisan Mazdoor Sangathan. He confirmed that his attendance at work had been duly noted. He visited the bank every month to check. Twice he went to the MGNREGA block-level office in Machhrehta, around six kilometres away. "I requested them to check in the computer where my money was. They said it had been sent to my account. If the computer said that, it must be true," says Kumar.
Such transfers of state-sponsored benefits directly into bank accounts (Direct Benefit Transfer) were initiated in December 2013, because, the DBT Mission says, it is 'useful in targeting the intended beneficiaries' and in 'reduction of fraud'.
MGNREGA wages were added to the list of transfers in 2014. Then repeated directives of the Ministry of Rural Development made it mandatory to link bank accounts of person eligible to receive wages, to their Aadhaar numbers. This, the government claims, has made payments more efficient.
In Sitapur, Singh explains, such transfers were made to the "mostly poor and uneducated" in accounts the recipients did not even know existed. Their consent for opening such accounts had been obtained by asking them to just tick a box on the online form while doing the 'Aadhaar-based SIM verification'. As a result, benefit transfers were diverted to these new accounts. This followed a seemingly harmless guideline of the Unique Identification Authority of India that the bank account seeded last with the Aadhaar number automatically became the account that would receive any money disbursed under DBT.

"This is the magic of Digital India," says Singh. "We feed an account number for an MGNREGA card holder. We can only assume that the payments are going to that account. If any changes are made [for example, if a fresh account linked to Aadhaar becomes the default for payments], there is no way for us to know. The system does not allow it."

Will better awareness ensure this does not happen? Singh laughs. "What awareness does one create? That getting an Airtel SIM is a crime? Without consent, without documents, accounts are being opened. This is a new kind of in-the-air banking. How can one be careful enough?"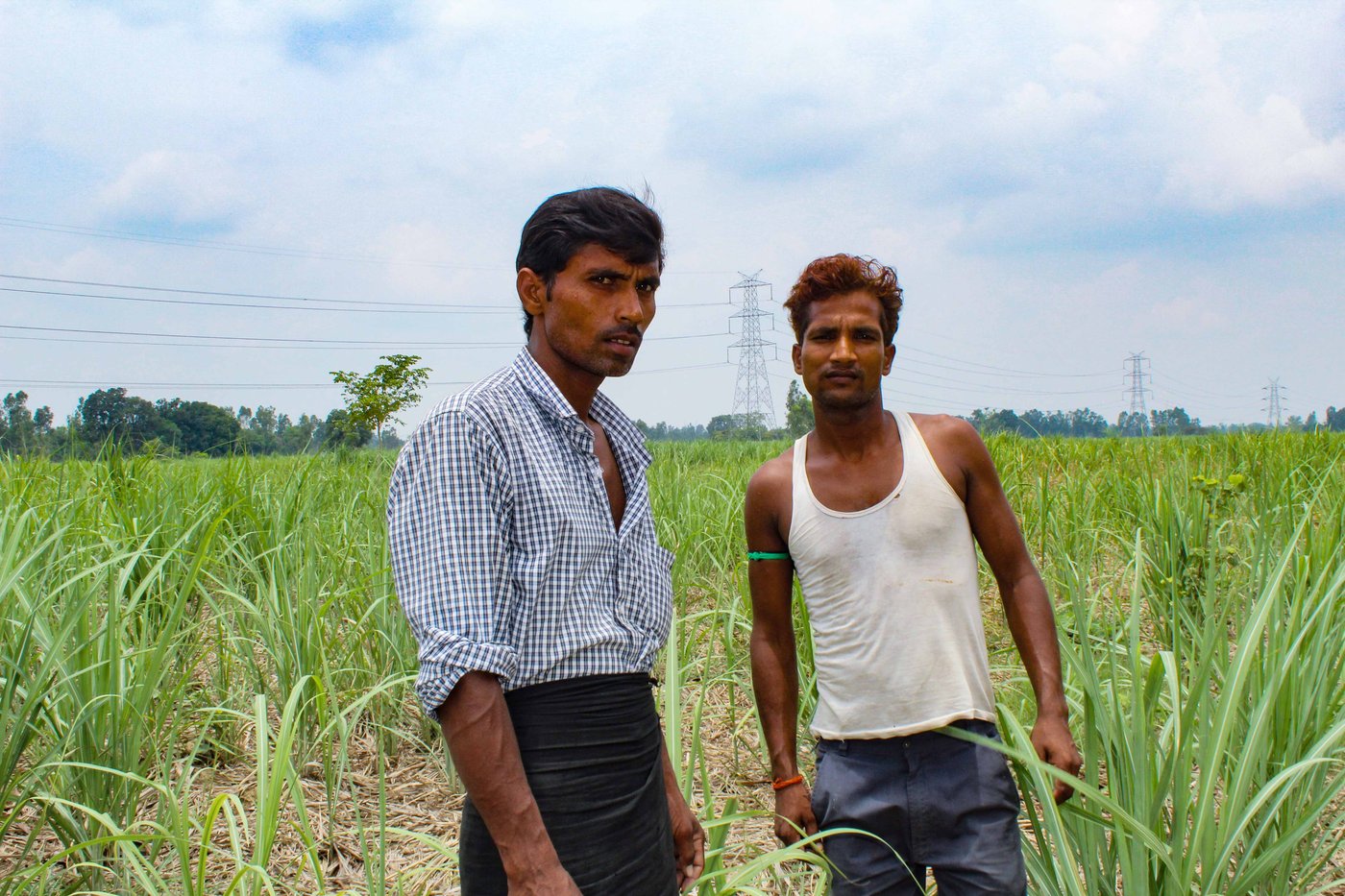 PHOTO • Puja Awasthi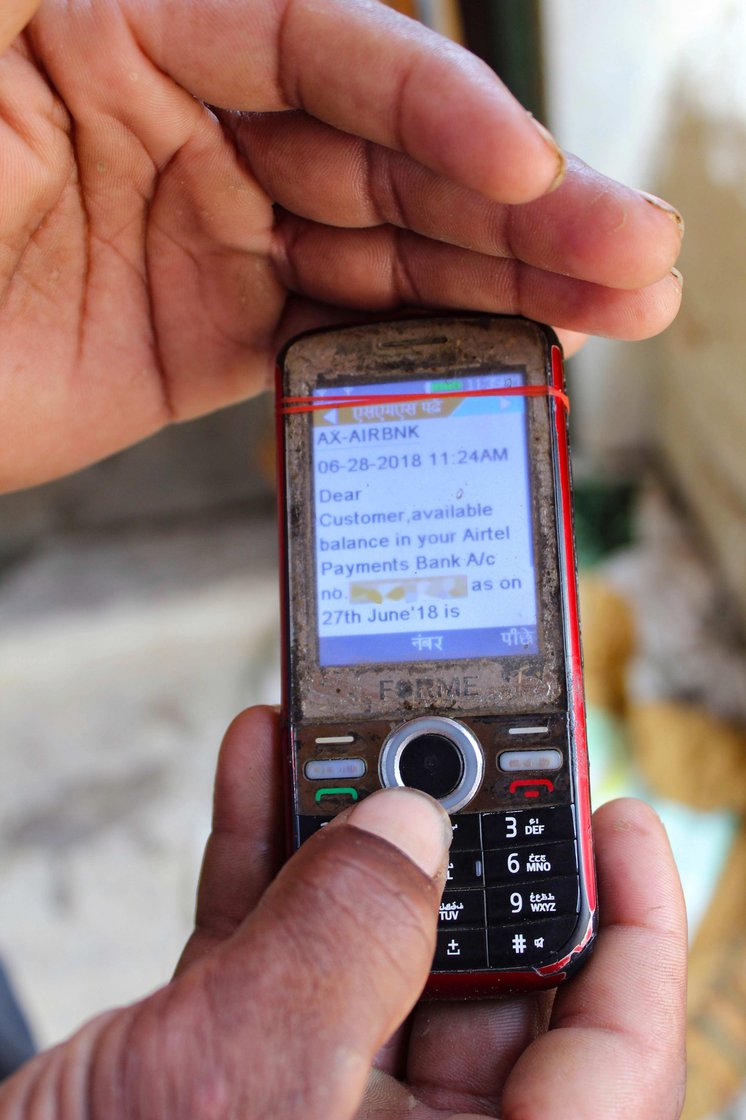 PHOTO • Puja Awasthi
Kumar's is not sure how he acquired an APB account. "A SIM card opens the account. The money goes into Aadhaar," he explains.  Prompted by others who had discovered their money in such accounts, Kumar visited the Airtel dealer's office at the Hardoi Chungi toll road, around 14 kilometres away , making the journey by a tempo that charged him Rs. 60 one way. "The man in the shop asked for my Aadhaar. Then he dialled a number. It showed that I had Rs. 2,100 in the [Airtel] account [half of Kumar's pending Rs 4,200 wages]. He gave me Rs. 100 [cash] saying that it was all he had that day and asked me to come back some other day for the balance."

Kumar went back 12 days later (on 25 June 2018) and got the remaining Rs. 2,000 in cash. After Kumar protested at the block office along with others wages for eight more days, Rs. 1,400 suddenly appeared in his earlier account, the Allahabad Grameen Bank in Parsada. Kumar withdrew that sum as cash. Wages for the remaining four days, Rs. 700, remain missing.

Meanwhile, his family borrowed Rs. 5,000 from relatives. Living in a joint family with his parents and five other siblings buffered some of Kumar's financial stress during this period. He has three children, and a persistent cough of unknown origin.  "It was not as if we had nothing to eat," says Meenu Devi, 26, his wife. "But we could have used the money to take our daughter to a private doctor for a skin rash that has covered her entire back."
Kumar has held on to the APB account. He had received a message saying it still had Rs. 55, possibly as interest, he thinks. When he went to the Hardoi Chungi outlet to ask for that money, he was told that only withdrawals in multiples of 100 were allowed.
Worried that his wages might still go into this account, he stopped applying for MGNREGA work.
What about the vendors who opened such accounts? An APB spokesperson told this reporter, "Appropriate action has already been taken against erring retailers."