Yellapan is puzzled and angry.
"We are not a coastal, fishing community. [So] why are we being identified as Sembanand Maravars or Gosangi?"
"We are Sholagas," says the 82-year-old decisively. "[The government] asks us for proof. We are here and living. Isn't that proof enough? Aadhaara ante aadhaara. Yellinda tarli aadhaara ? [Proof! Proof! [that's what they want]."
Residents of Sakkimangalam village in Madurai district of Tamil Nadu, Yellapan's community practise whip-lashing and are locally referred to as Chaatai community. But in the census, they are marked as Sembanand Maravars, and put under the Most Backward Classes (MBC) category.
"[Census] surveyors visit us, ask some questions and list us under whatever category they please," he adds.
Yellappan is one of an estimated 15 crore Indians who have been wrongly identified and categorised.  Many of these communities were once branded 'hereditary criminals' by the Criminal Tribes Act, 1871, instituted during colonial rule. This Act was repealed in 1952 and the communities referred to as De-Notified Tribes (DNTs) or Nomadic Tribes (NTs).
"Incomplete at best and inadequate at worst. They remain, in most cases, firmly placed on the lowest rung of the social hierarchy, often facing the prejudices that were created during the Colonial rule," says a 2017 government report by the National Commission for Denotified Nomadic and Semi Nomadic Tribes.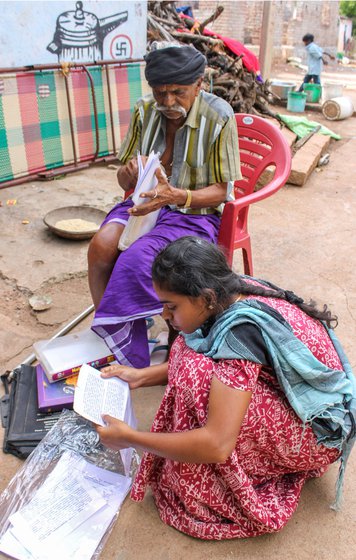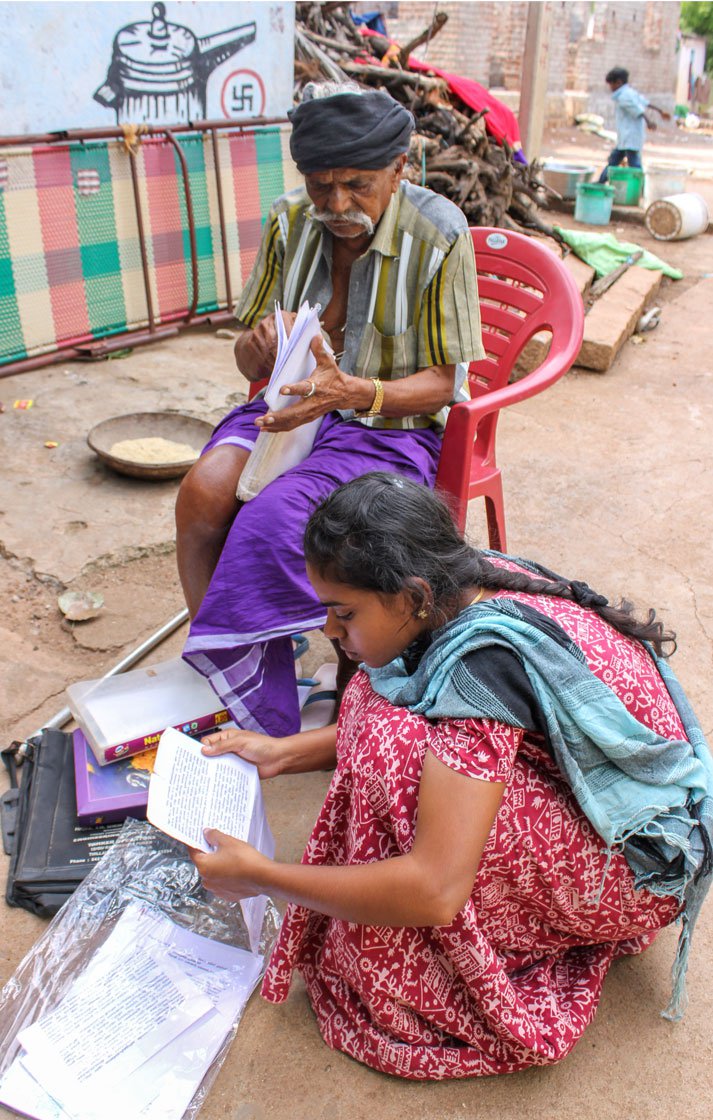 PHOTO • Pragati K.B.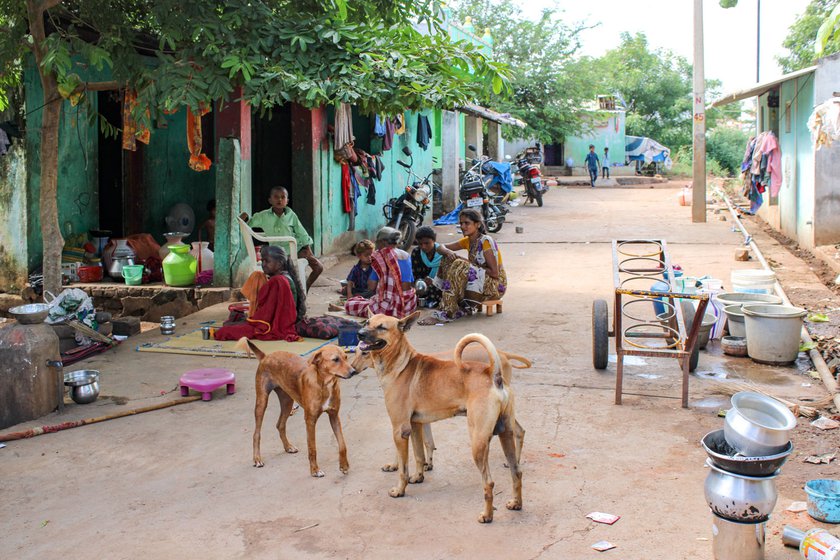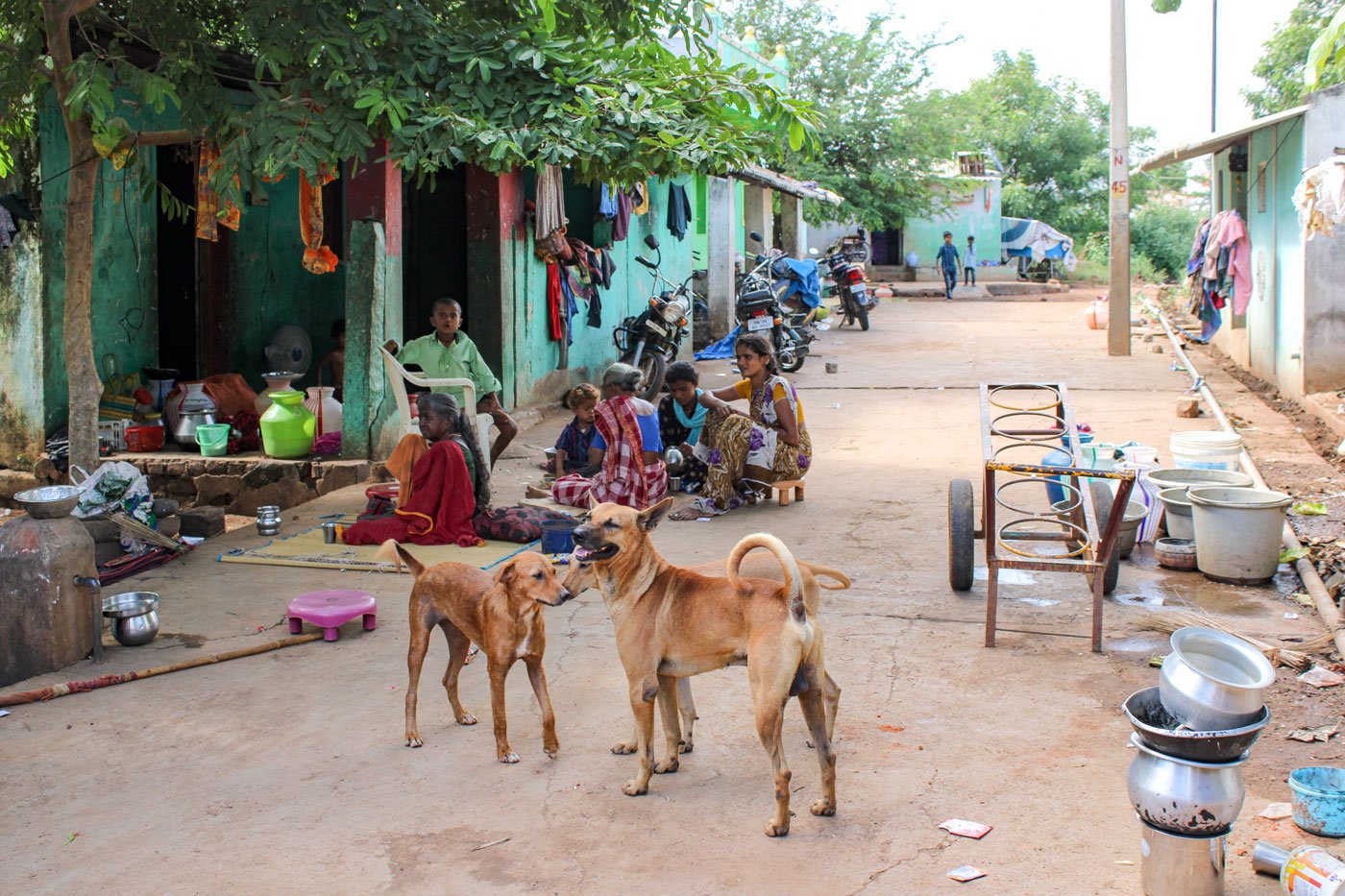 PHOTO • Pragati K.B.
Later some of these groups were placed in other categories like scheduled tribe (ST), scheduled caste (SC) and other backward classes (OBC). However, 269 communities have simply not been enumerated till date under any category, the 2017 report further adds. This denies them their rightful social welfare measures such as reservation in education and employment, land allotment, political participation and more.
Members of these communities include street performers like Yellapan, circus performers, fortune-tellers, snake-charmers, trinkets-sellers, traditional healers, tightrope-walkers and 'nodding' bull-handlers. Their lives are migratory and their livelihoods vulnerable. They are still nomadic as their income depends on finding new customers everyday. But, for the sake of the children's education, they have a settlement they return to periodically.
In Tamil Nadu, Perumal Mattukaran, Dommara, Gudugudupandi and Sholaga communities are all listed in the census as SC, ST or MBC. Ignoring their distinct identity, they have been placed within Aadiyan, Kattunayakan and Sembanand Marvar communities. Many others also have been similarly miscategorised across different states, if enumerated at all.
"Our children don't stand a chance without reservation in education and jobs. It is unfair to expect us to thrive amidst others [non DNTs and NTs] without support," says Pandi, a member of the Perumal Mattukaran community. His people earn their living going house to house with their decorated bulls. The community is also known as Boom Boom Mattukaran and they also tell fortunes and sing devotional songs in return for alms. In 2016 they received the ST categorisation and were placed in the Aadiyan community. They are not happy with this and want to be called Perumal Mattukarans.
Pandi is still speaking when his son Dharmadorai returns home tugging at a bull, festooned with decorations. On his shoulder he has slung his collection bag and in the crook of his arm rests a big book titled 'Practical Record Book.'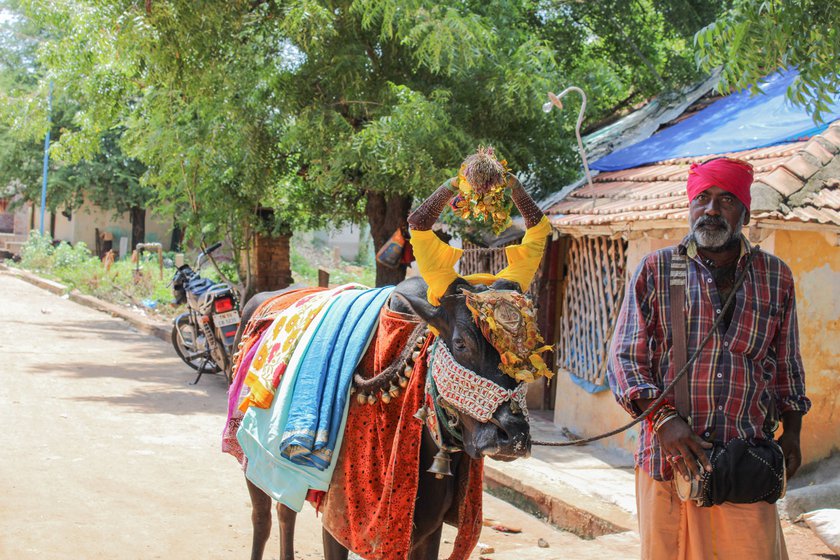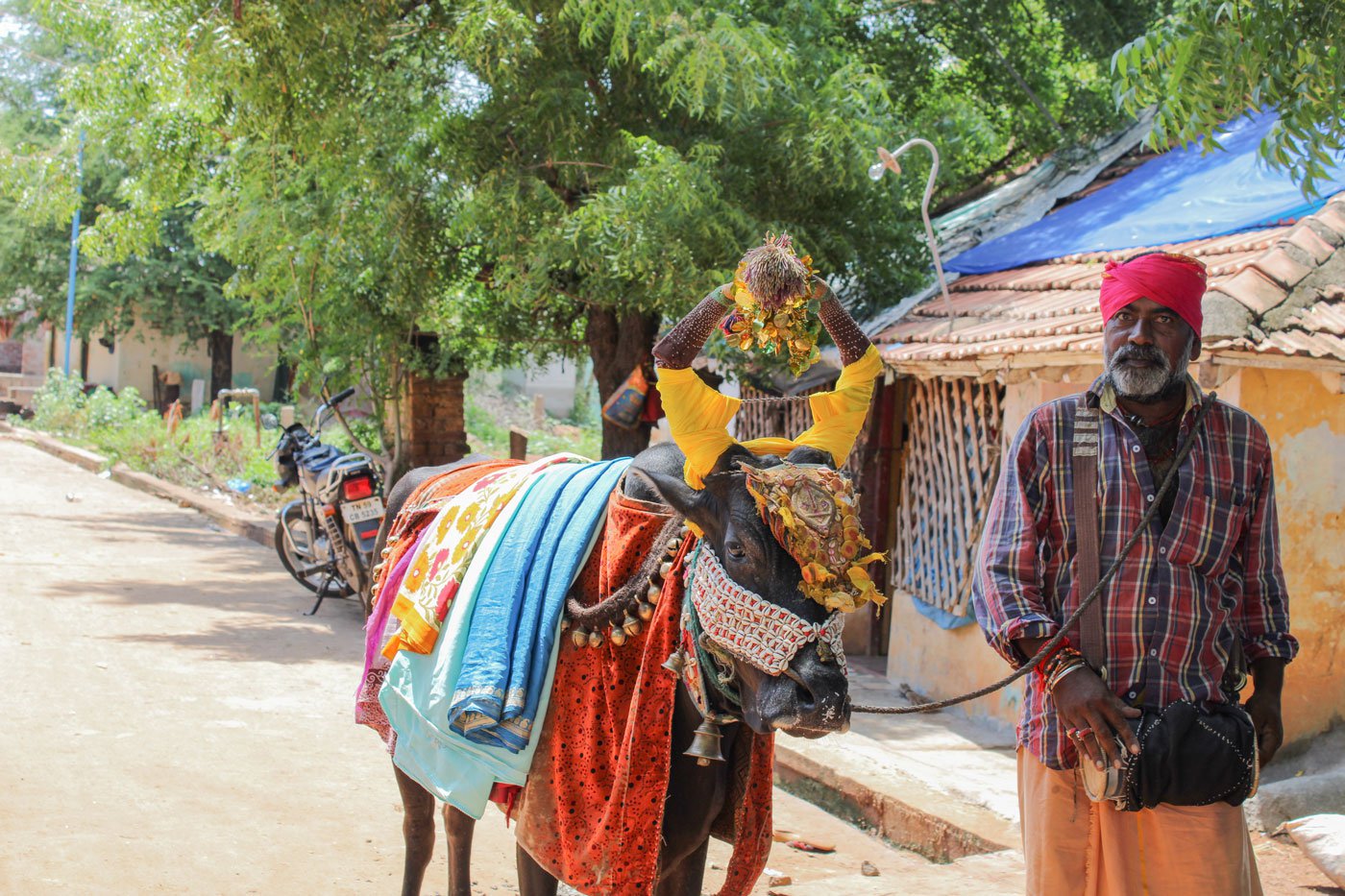 PHOTO • Pragati K.B.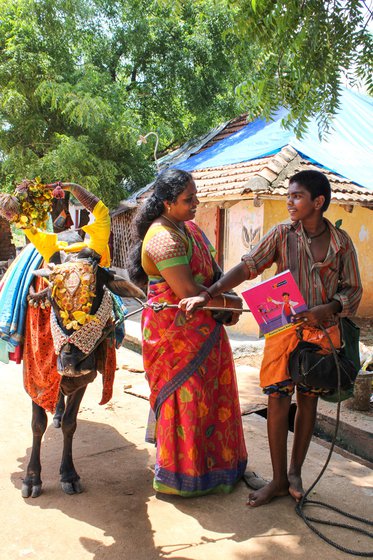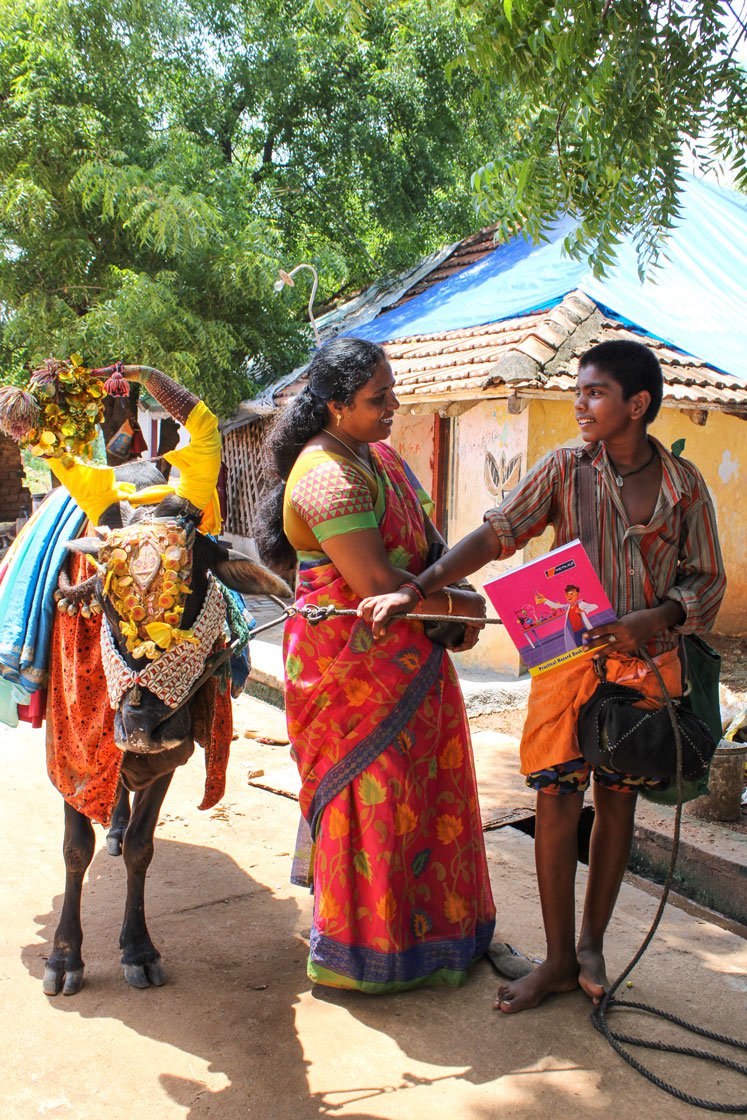 PHOTO • Pragati K.B.
Dharmadorai is a student of Class 10 in the Government High School in Sakkimangalam, Madurai. He wants to be a District Collector when he grows up and needs to stay in school to achieve that. So when he had to buy seven books for school and the Rs. 500 his father, Pandi, gave him was insufficient for the seventh book, he took matters into his own hands.
"I went with the [festooned] bull for 5 kilometres and made a collection of Rs. 200. I bought this book with that money," he says, pleased at his enterprise.
TN has the highest number of DNT communities – 68 and the second highest number of NTs at 60. And so Pandi feels Dharmadorai's chances at getting an education are slim. "We are competing with too many others," he says referring to those who have had the ST status for longer. In Tamil Nadu, 69 per cent reservation is given in education and employment to Backward Classes (BC), Most Backward Classes (MBC), Vanniyars, DNTs, SCs and STs.
"If something is lost in a village that we are passing through, we will be the first to be blamed. Theft of poultry, jewellery, clothes – anything and everything – we are held culprits, imprisoned, beaten up and humiliated," Maharaja says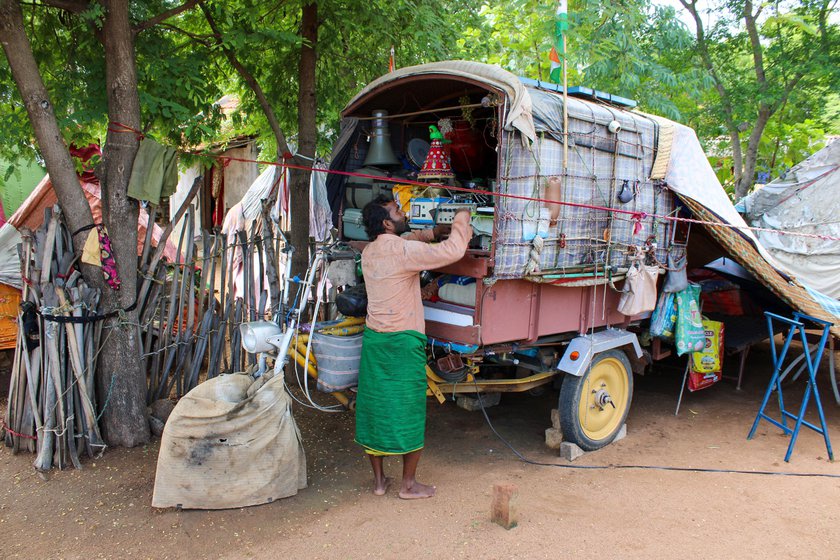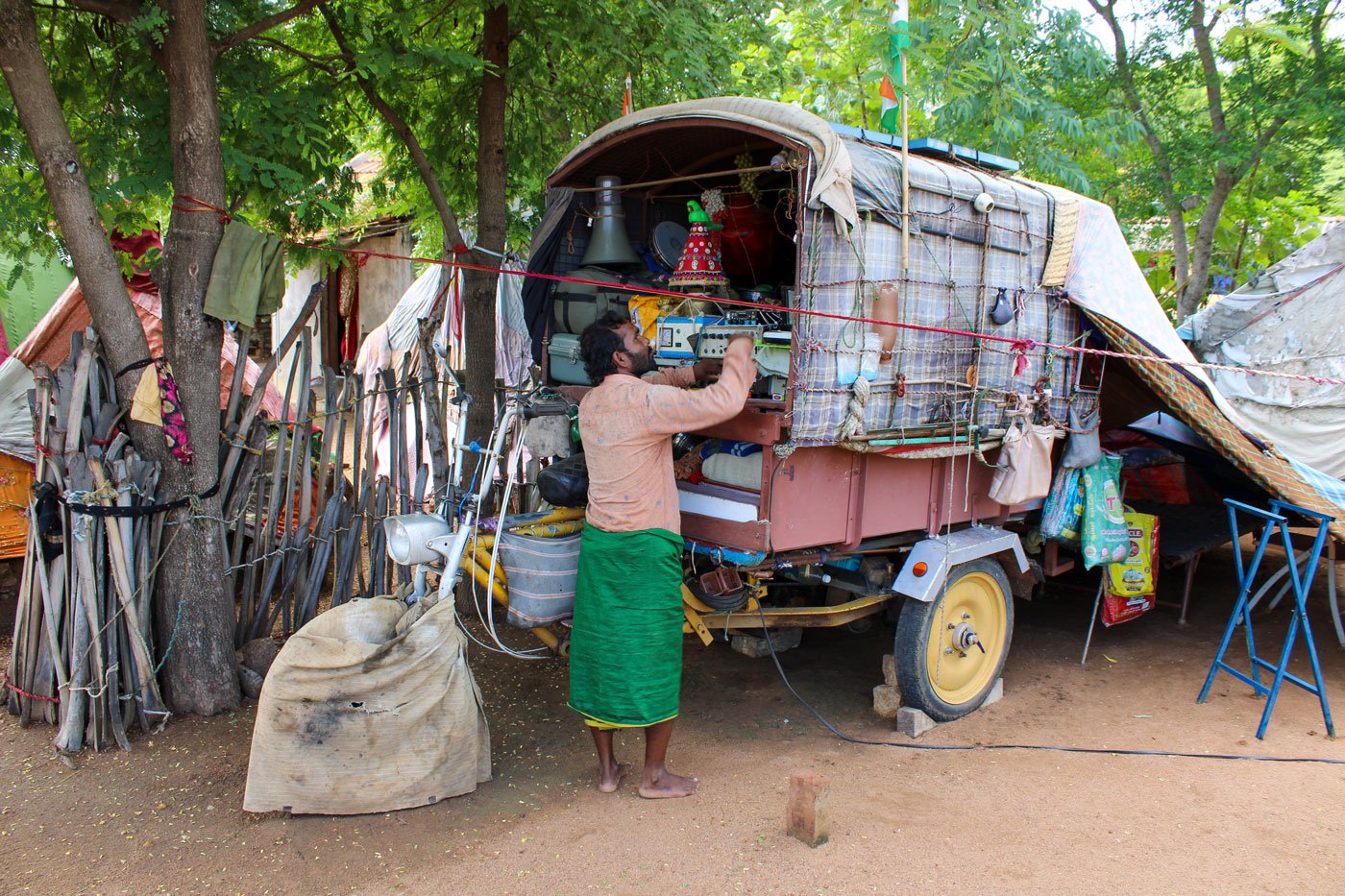 PHOTO • Pragati K.B.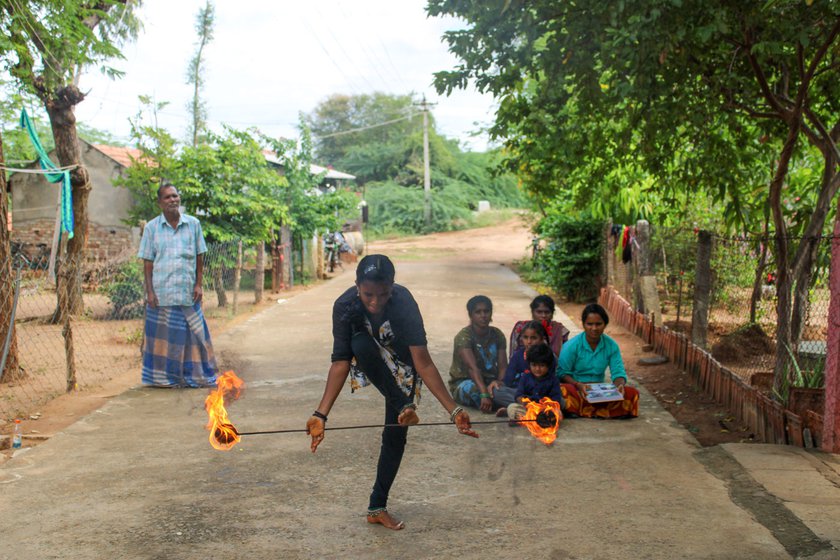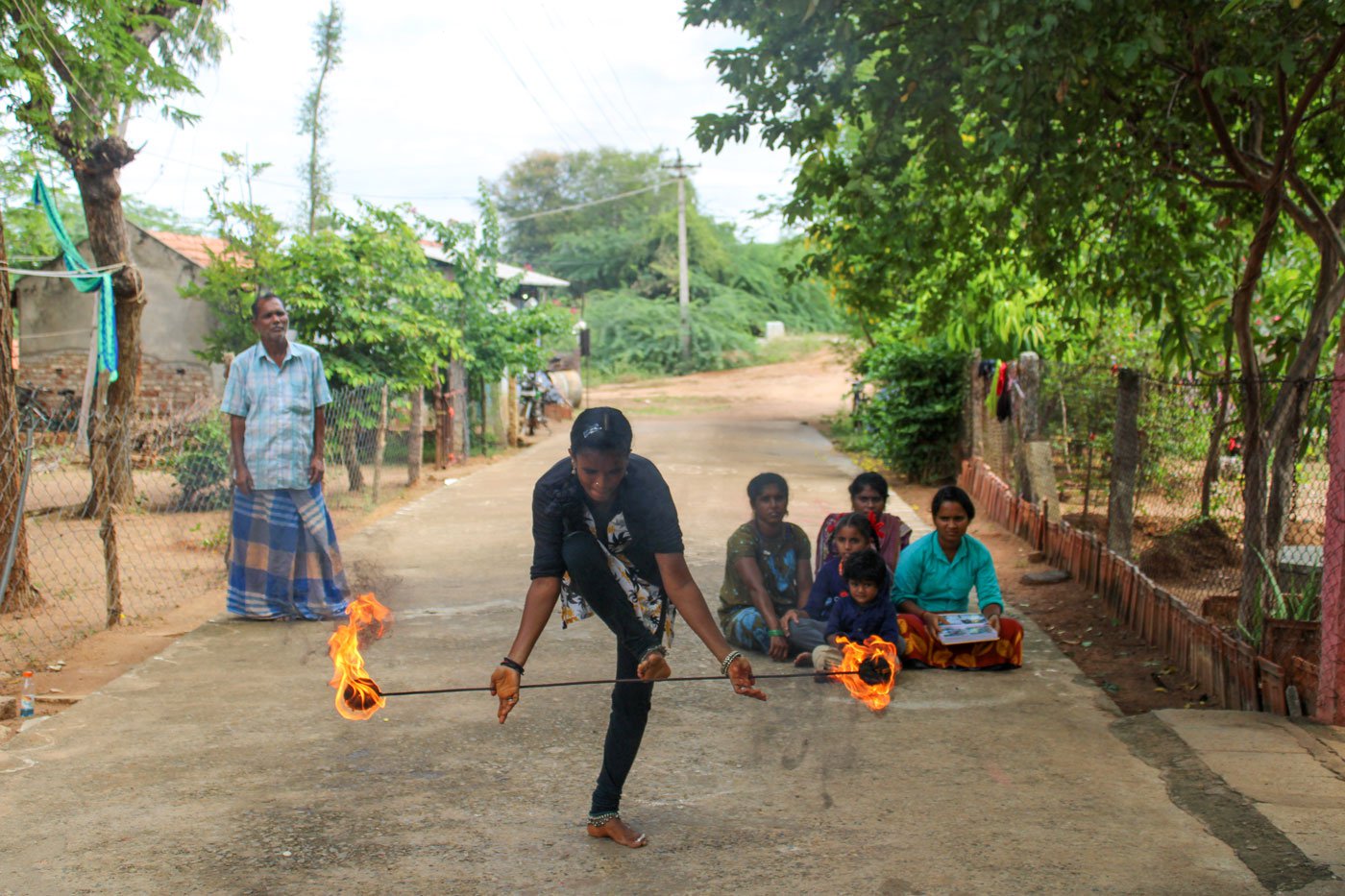 PHOTO • Pragati K.B.
In his early 30s, R. Maharaja is from the Dommars community of street circus artists. He lives in a bandi (makeshift caravan) with his family in Manamadurai in Sivaganga district. Their settlement has 24 families and Maharaja's home is a three-wheeler that can be packed up and used to transport the couple and their belongings. Their entire household and working equipment – mattress, pillows and a kerosene stove along with a megaphone, audio cassette player, rods and rings they use for their shows – moves with them.
"My wife [Gouri] and I leave in our bandi in the morning. We reach Tirupathur, which is the first village from here, and seek permission from the village thalaivar [head] to pitch our bandi [camp] on the outskirts and put up our show in the village. We also request electricity connection for our loudspeaker and microphone."
If they are permitted, they go around the village making announcements about their performance and then around  4 p.m. the show begins with circus stunts for an hour and freestyle dancing to recorded music for the second hour. After the show they go around asking for donations from onlookers.
The Dommars were listed as Criminal Tribes in colonial times. Although denotified, "They live in a constant state of fear. Police atrocities and mob lynchings are a common occurrence," says R. Maheswari, secretary of TENT (The Empowerment Centre of Nomads and Tribes) Society, Madurai, an NGO working for the communities' rights.
She points out that while the Scheduled Castes and Scheduled Tribes (Prevention of Atrocities) Act has accorded legal protection to SCs and STs from discrimination and violence, no such constitutional and legal safeguard exists for the vulnerable groups of DNTs and NTs, despite various commissions and reports advocating for it.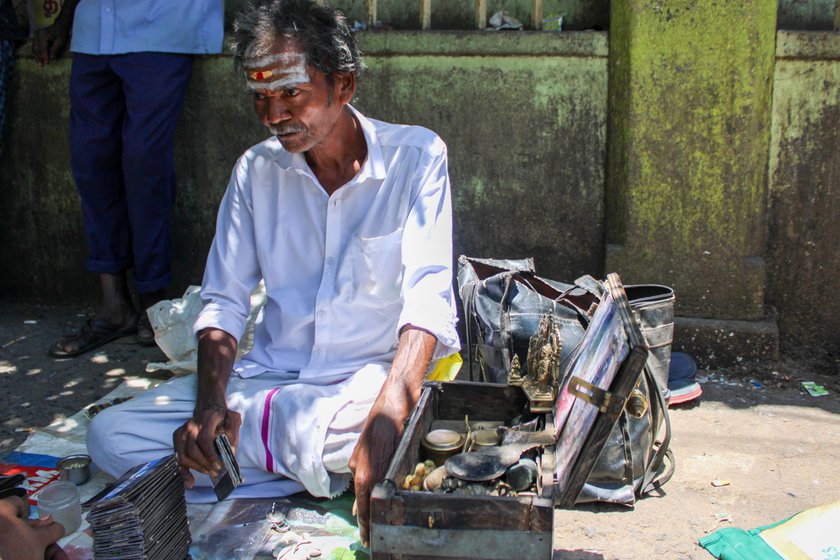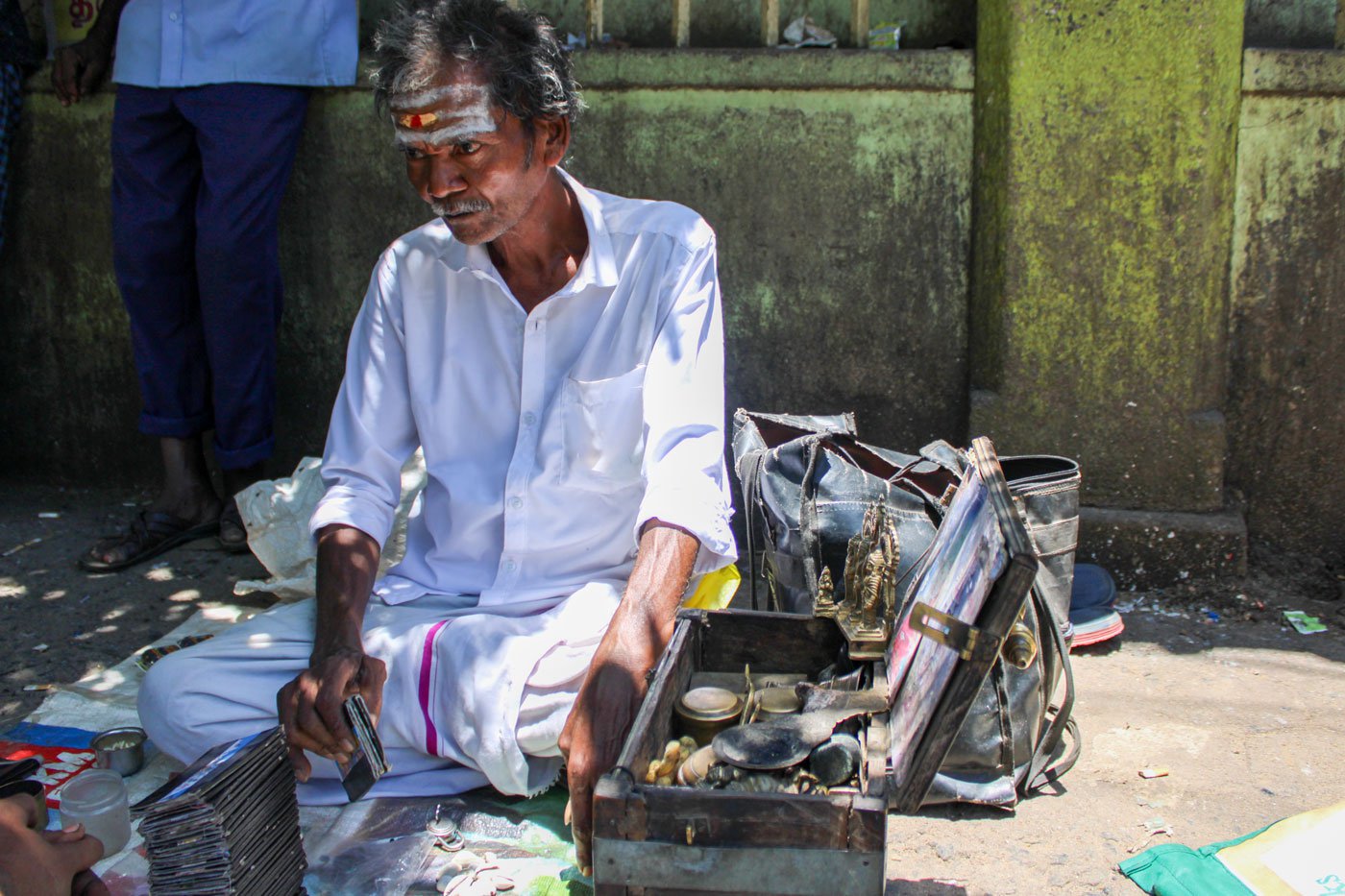 PHOTO • Pragati K.B.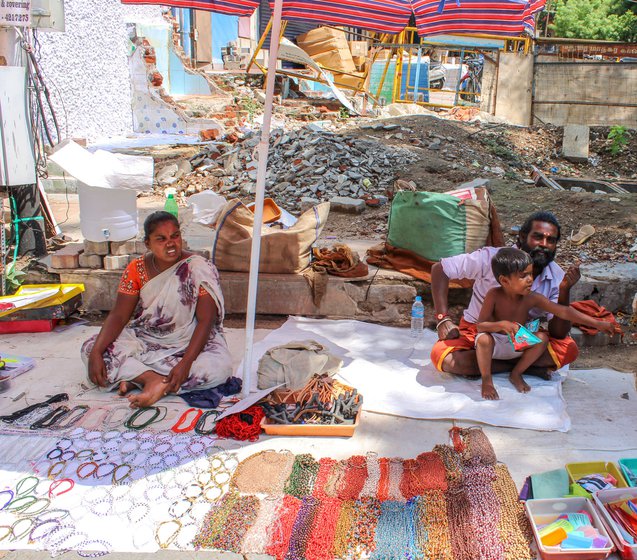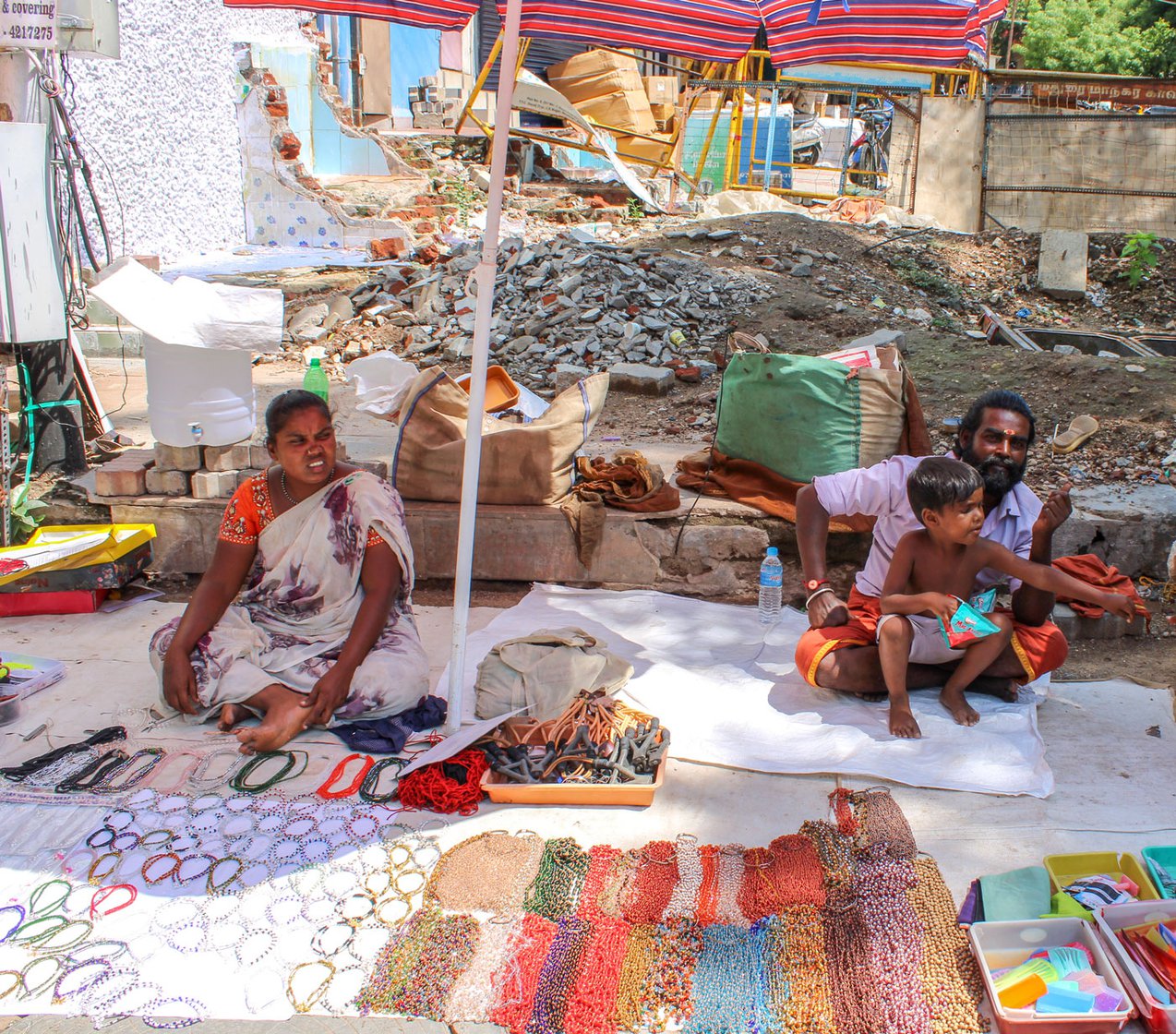 PHOTO • Pragati K.B.
Dommar performers travel sometimes up to a year before returning home, says Maharaja. "If it rains or if the police interrupt our act, we make no collection that day," Gouri adds. The next day, they drive their bandi to the next village and the routine is repeated.
Their 7-year-old son Manimaran's formal education is a collective community effort. "One year my brother's family stays back and looks after the children, sometimes my uncle takes care [of them]," he says.
In her heyday, Rukmini's stunts would bring a collective gasp from her audience. She could lift big, heavy stones with her hair and bend a metal rod between her and another person. Today she still draws the crowds with her fire stunts, baton twirling, spinning and more.
The 37-year-old is a member of the Dommars or street circus community and lives in Manamadurai in Sivaganga district of Tamil Nadu.
Rukmini says she is constantly harassed by inappropriate comments. "We put on makeup and colourful clothes while performing and men see that as an invitation. We get touched inappropriately, get cat-called, and are asked for our 'rates'."
The police don't help. The men they complain against feel offended and she says, "file false theft cases against us, which the police act upon, locking us up and thrashing us."
It was only in 2022 that this NT community, locally called Kalaikootadigal, was listed under scheduled caste (SC).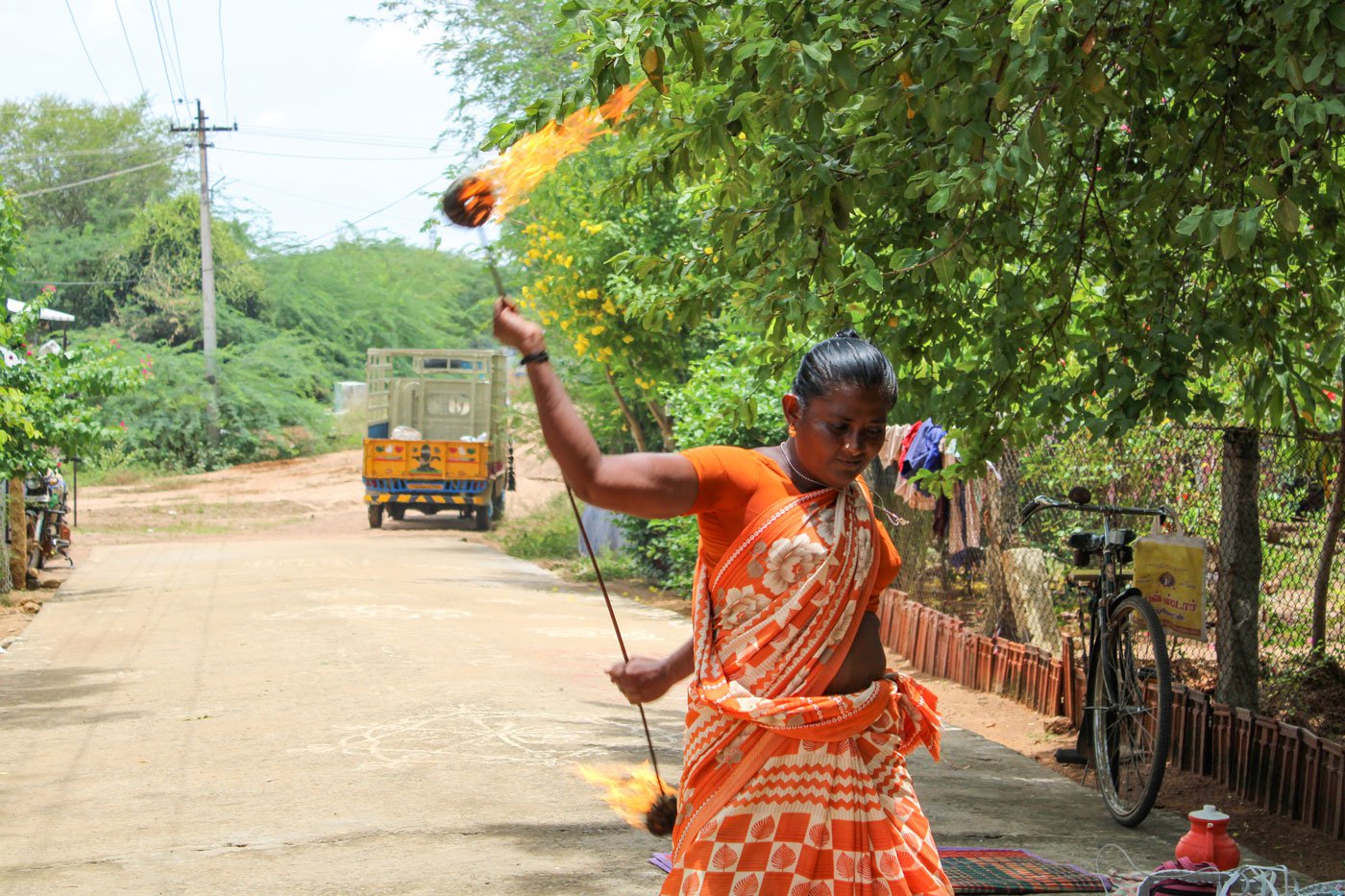 PHOTO • Pragati K.B.
Rukimini's experience is not uncommon to former DNTs and NTs. The Criminal Tribes Act was repealed but some states instituted the Habitual Offenders Act that calls for similar registration and surveillance procedures. The difference is that now individuals and not entire communities are often targeted.
The community live in a settlement of temporary tents, caravans and brick-and-mortar structures in this village. Rukmini's neighbour Selvi, a 66-year-old street circus performer from the same community says she is sexually harassed. "Men from the village enter our tents at night and lie down beside us. We stay dirty to repel them. We don't comb our hair, bathe or wear clean clothes. And yet, the miscreants are not dissuaded," says the mother of four, two boys and two girls.
"When we are touring, you will not recognise us. We are that dirty then," Selvi's husband Rattinam adds.
A young girl in the community, Tayamma is 19 and studying in Class 12 at the Government Higher Secondary School, Sannathipudukulam. She will be the first to finish school in her tribe.
But her dreams of "studying computers" in a college are not likely to get her parents' approval.
"Colleges are not safe for girls from communities like ours. [They] are bullied and discriminated against in school as, ' circus podarva iva ' [circus performers]. It will be worse in college." Thinking about it further, her mother Lachmi adds, "Moreover, who will offer her admission? And even if she gets into a college, how will we pay for it?"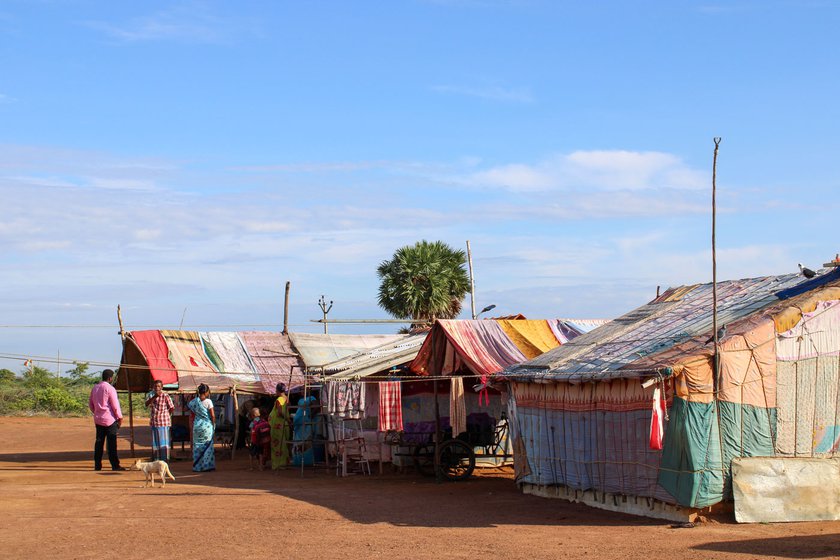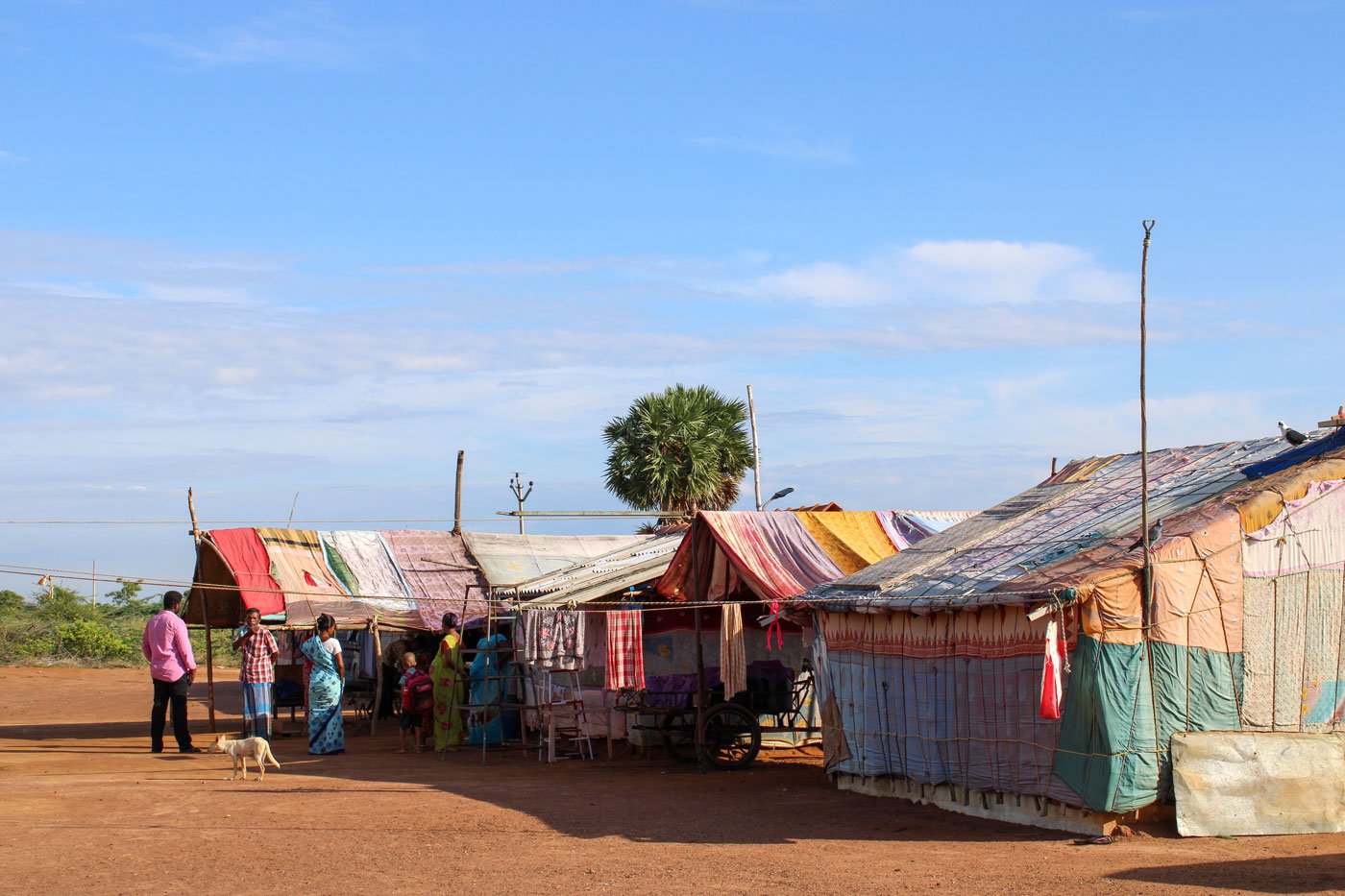 PHOTO • Pragati K.B.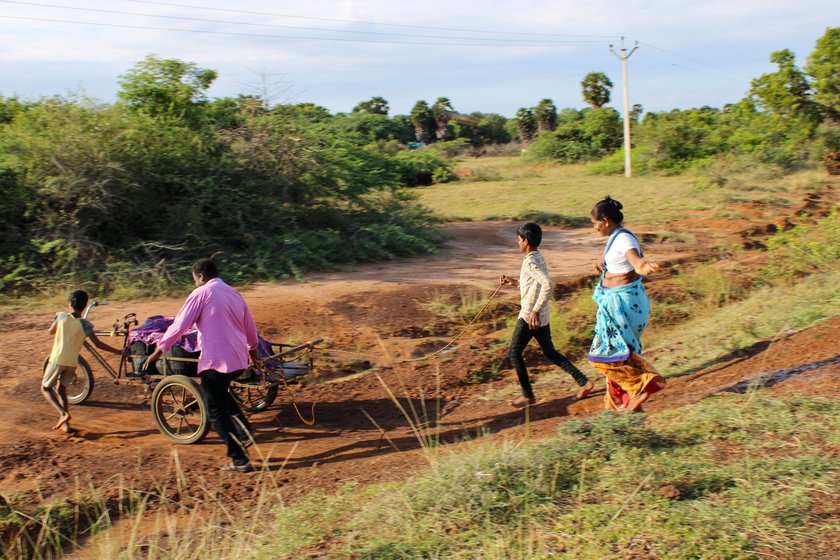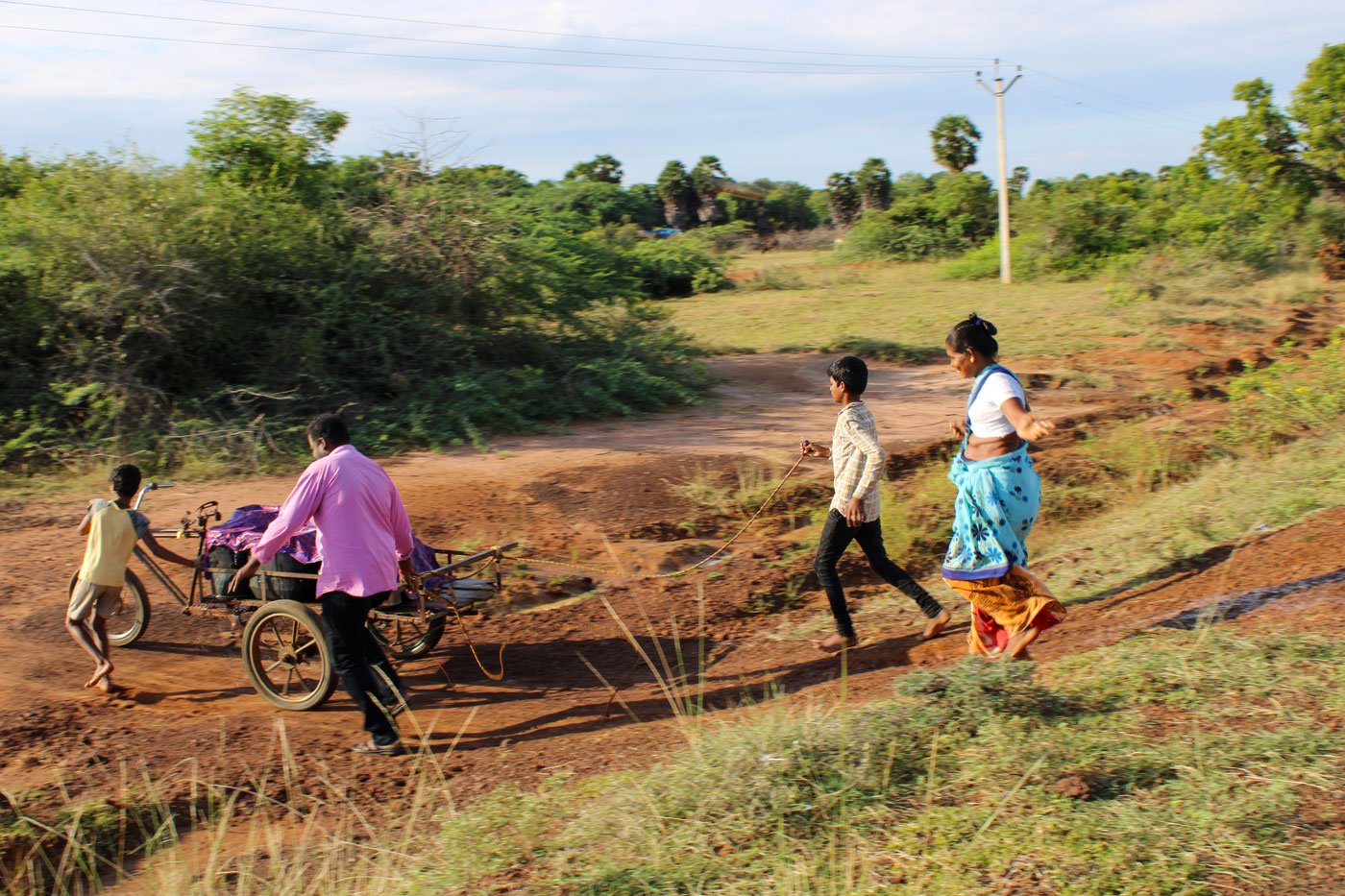 PHOTO • Pragati K.B.
So girls from these communities are married off at an early age, explains Maheswari from TENT  "If something goes wrong [sexual assaults, rapes and pregnancies], she will be ostracised even within the community and will have no marriage prospects," points out Selvi.
For the women in these communities it is a double blow – not only must they bear the discrimination against their tribe but also towards their gender.
"I was married off when I was 16 years old. I am not educated. Fortune-telling is how I make a living. But this work should end with my generation," says Hamsavalli, a 28-year-old mother of three. "That's why I send all my children to school."
From the Gudugudupandi community, she travels across the villages of Madurai district to tell fortunes. In a single day, she covers roughly 55 houses, walking up to 10 kilometres in temperatures going up to 40 degrees centigrade here in central Tamil Nadu. In 2009, residents of her settlement were categorised as Kattunayakans – a scheduled tribe (ST).
"We get some food and a handful of foodgrains at these houses. Some give us a rupee or two," she says in her home in JJ Nagar in Madurai city, a settlement of roughly 60 families  in Thiruparankundram town, Madurai district.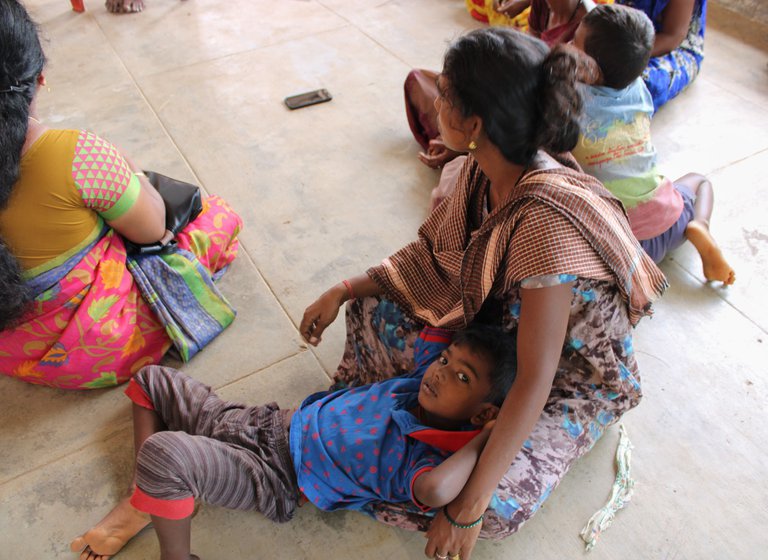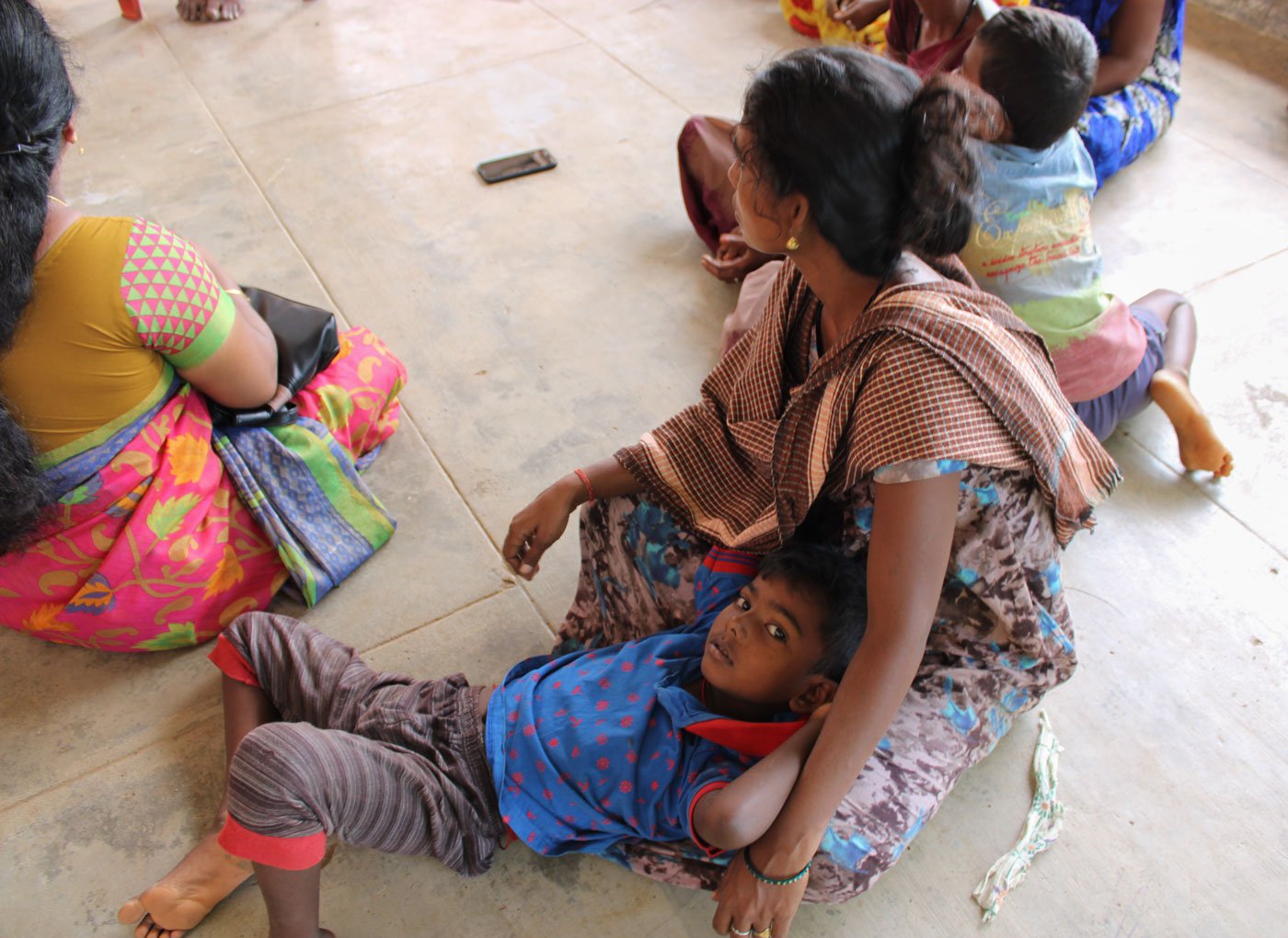 PHOTO • Pragati K.B.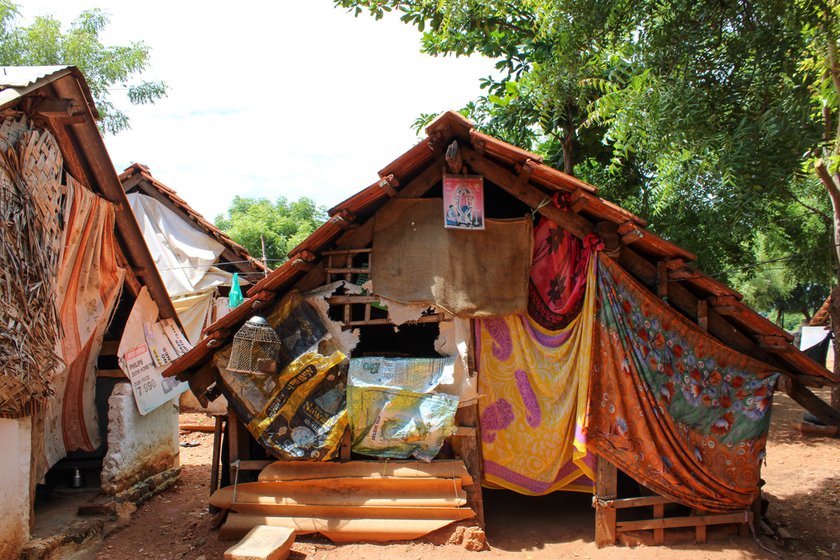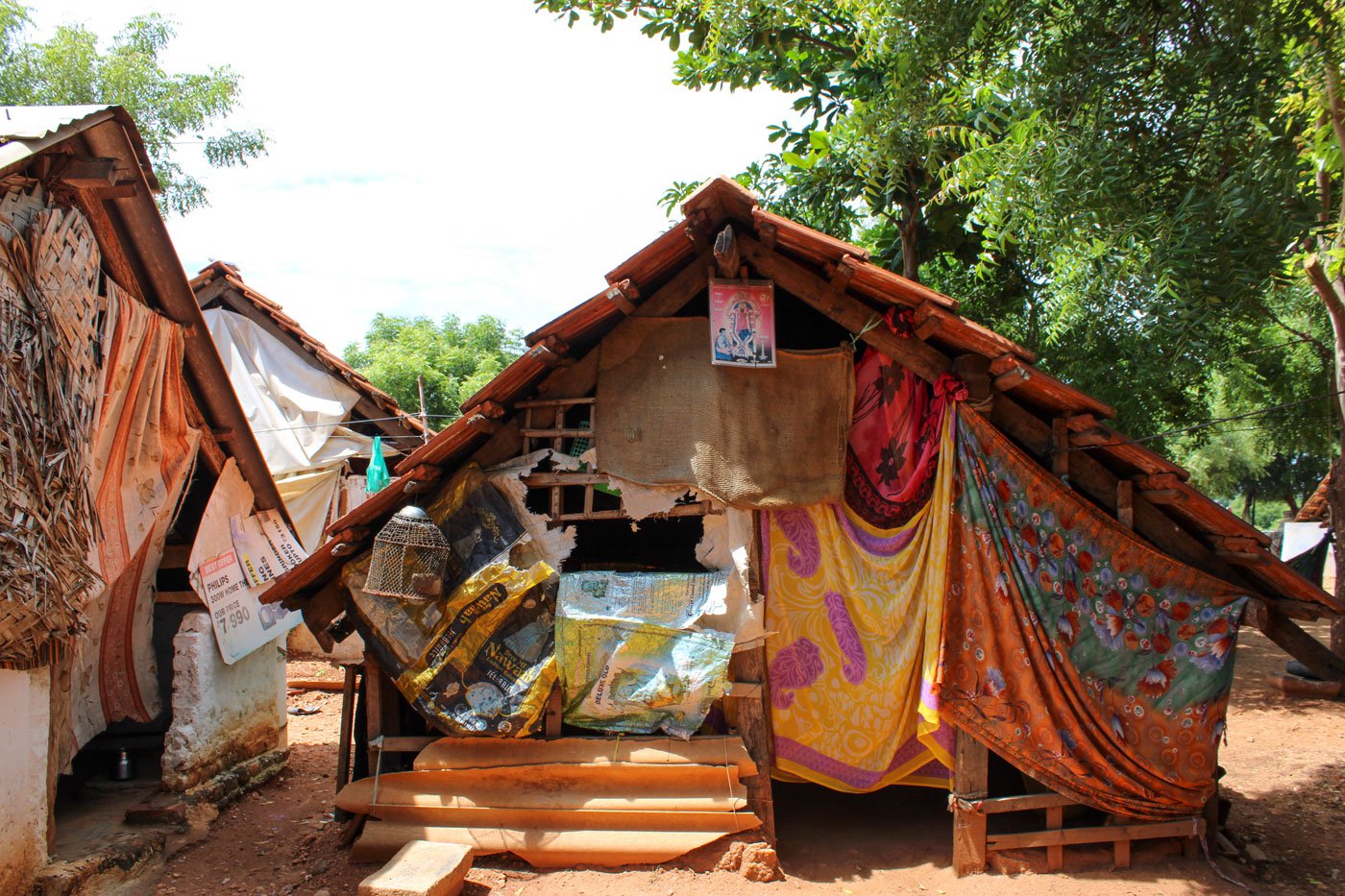 PHOTO • Pragati K.B.
This settlement of the Gudugudupandi community has no electricity connections or sanitation facilities. Snake bites are a common occurrence because of open defecation in the dense overgrowth around the settlement. "There are snakes here which coil and rise till my waist," Hamsavalli gestures. When it rains, the tents leak, so most families spend the night in a 'study centre', a big hall built by an NGO.
But her earnings are barely sufficient to feed her three children aged 11, 9 and 5 years. "[My] children here are always sick. The doctor says, 'eat healthy, children need nutrition for energy and immunity'. I can only afford to feed them gruel made from ration rice and rasam."
And so she firmly says, "This work should end with my generation."
Citing the experiences of these groups, B. Ari Babu says, "a community certificate is not a mere category-identifying paper, but a human rights-realising instrument."  Babu is Assistant Professor at American College, Madurai.
The certificate he adds, "is their conduit for social justice and for ensuring political, social and economic inclusion, undoing decades of wrongs." He is the founder of Buffoon, a non-commercial YouTube channel that documented the hardships faced by marginalised groups in Tamil Nadu during the pandemic and its lockdowns.
"I voted in these elections [Tamil Nadu State Legislative Assembly elections in 2021] for the first time in 60 years," says R. Supramani proudly displaying his voter ID card at his home in Sannathipudukulam. Other official documents like Aadhaar have also been obtained with help from NGOs.
"I am not educated so, I cannot earn livelihood doing anything else. The government should give us some vocational training and a loan. These will help with self-employment," he says.
On February 15, 2022, the Ministry of Social Justice and Empowerment launched the Scheme for Economic Empowerment of DNTs (SEED).  It is aimed at families "with income of Rs. 2.50 lakh or less per annum and not availing any such benefits from similar Scheme of Centre Government or the State Government."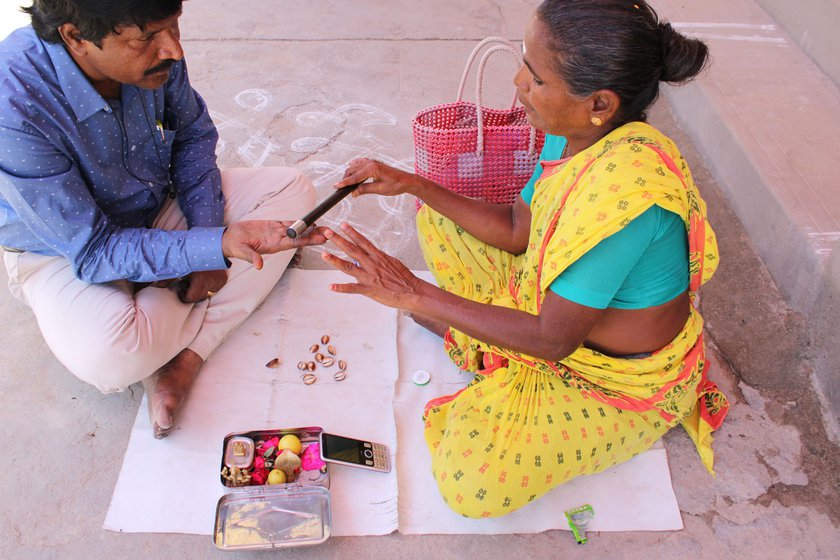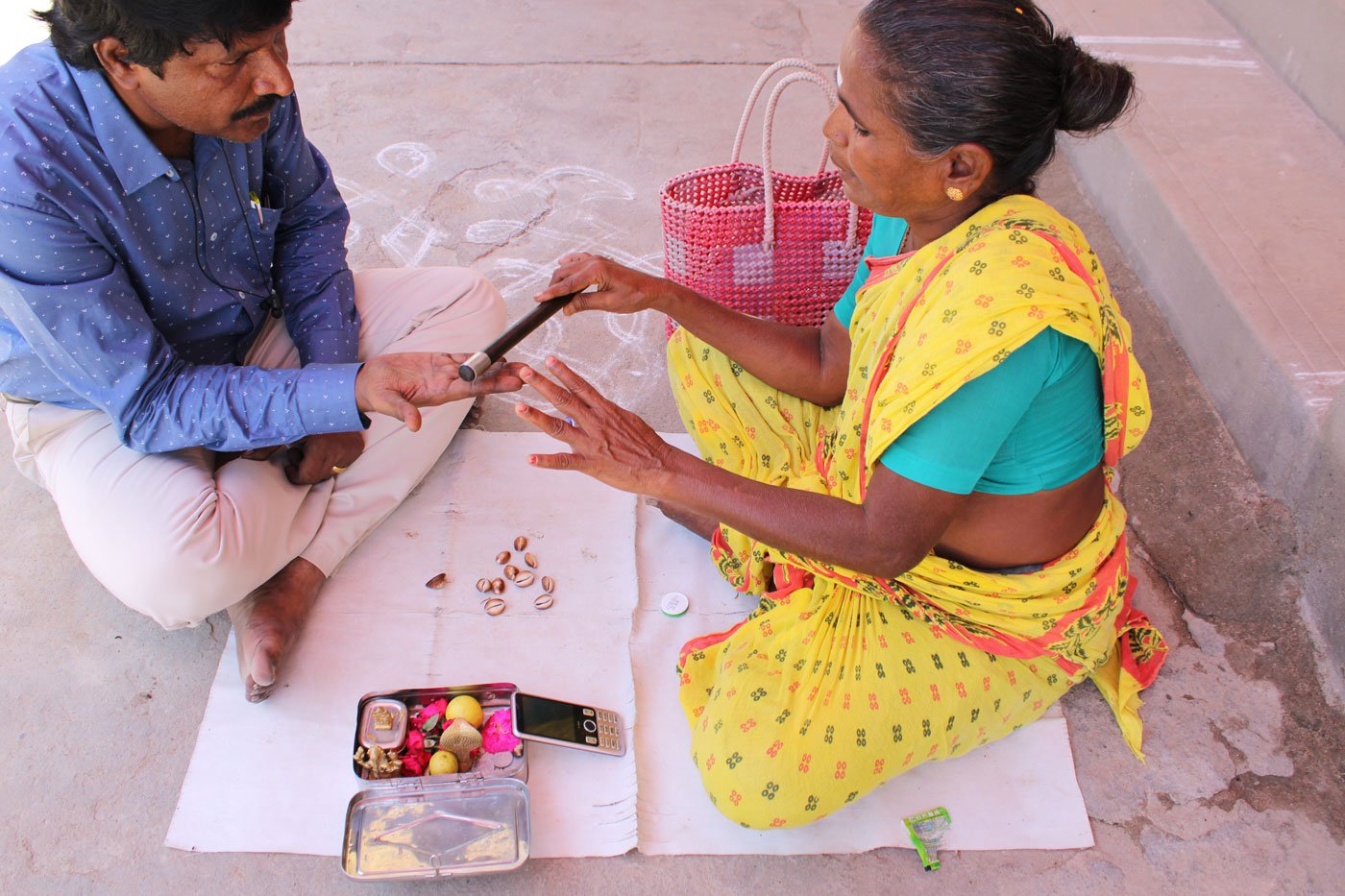 PHOTO • Pragati K.B.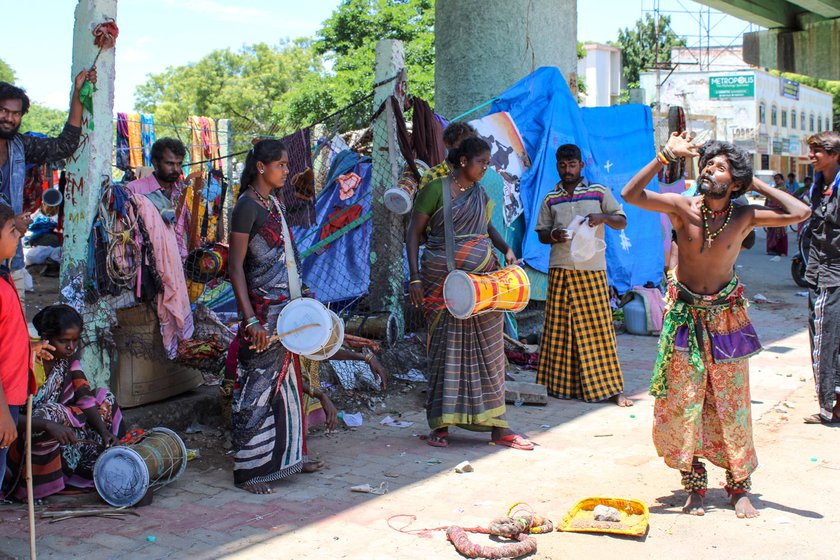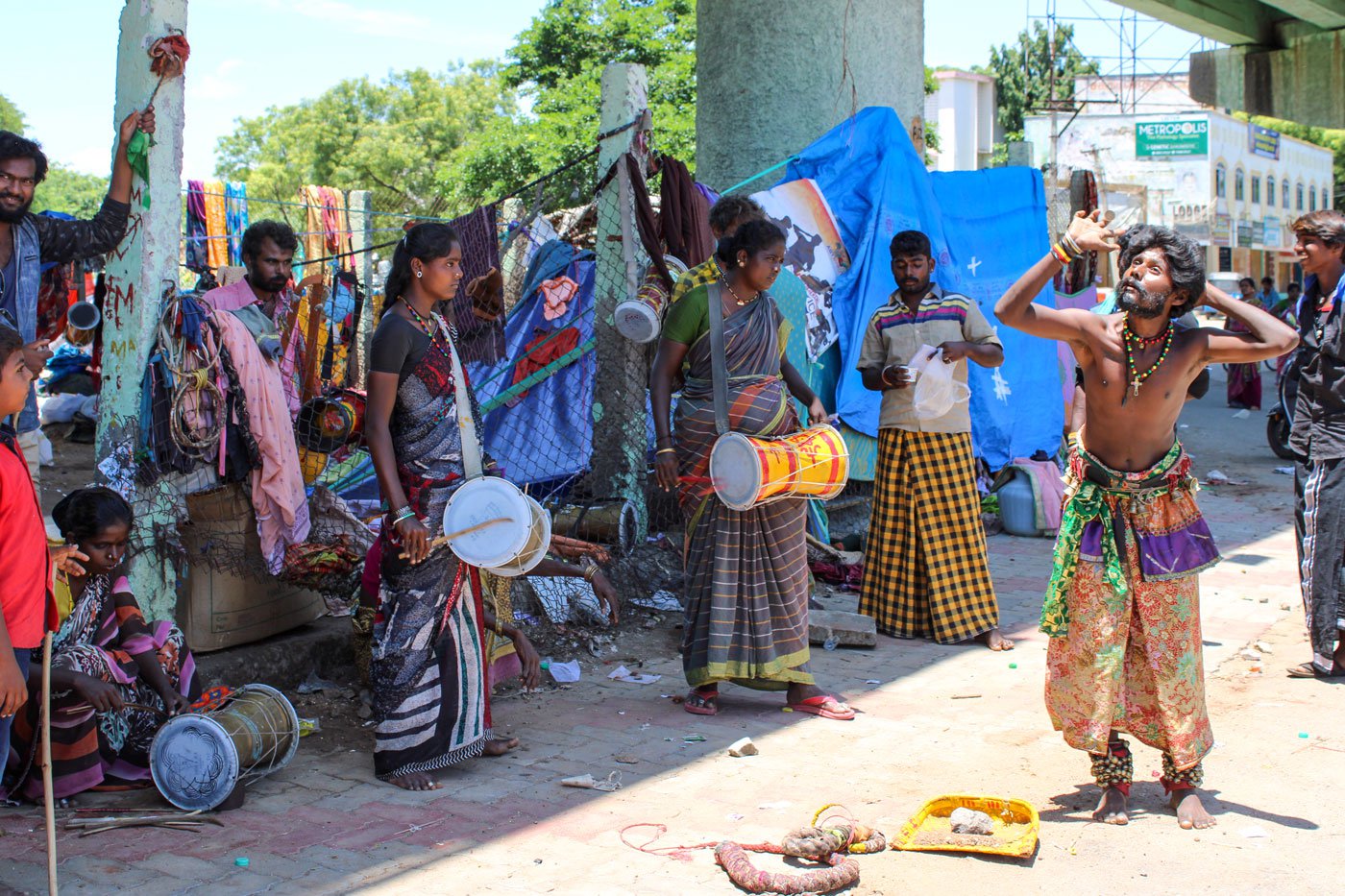 PHOTO • Pragati K.B.
The press release also acknowledged the injustice done to these communities and an approximate "amount of Rs. 200 crore will be spent over a period of 5 years starting Financial Year 2021-22 to 2025-26." So far no money has been received by any of the communities as the enumeration process has not been completed.
"We must get a separate recognised status in the Constitution like SC and ST communities. That will be the first step in ensuring we are not neglected by the state," says Supramani. He says nothing less than proper enumeration will be enough to get them their rightful identity.
The article was produced as part of the 2021-22 Asia Pacific Forum on Women, Law and Development (APWLD) media fellowship.