Mohammad Hasnen has been working as a labourer in Delhi – at construction sites, as a loader, doing whatever daily wage jobs he can find for 25 years. "But today is different," he asserts, standing at Ramlila Maidan in the north east of the city, watching the tents go up. Farmers are expected to start arriving here from the night of November 28. They will be coming from across the country to participate in the Kisan Mukti Morcha over two days, November 29 and 30.
"I am a farmer too," says 47-year-old Hasnen. "I was compelled to migrate from Moradabad in Uttar Pradesh because our farm was not productive enough. I hope to see a huge rally tomorrow. I am expecting to see some farmers from Moradabad. We have been ignored for far too long."
Around 65-70 labourers at Ramlila Maidan have been working away since Wednesday morning, November 28, striking heavy nails into the ground that will hold the tents. Each thud on the nail with the metal hammer is followed by a grunt. Not far from the tent-work, 6-8 people are busy peeling potatoes and boiling milk in a huge vessel. Harishchandra Singh, 35, originally from Porsa village in Madhya Pradesh, and now working with a nearby halwai , is overseeing the procedure. "We need to be prepared with tea and samosas for 25,000 people at least [expected to stay at the maidan tonight]," he says.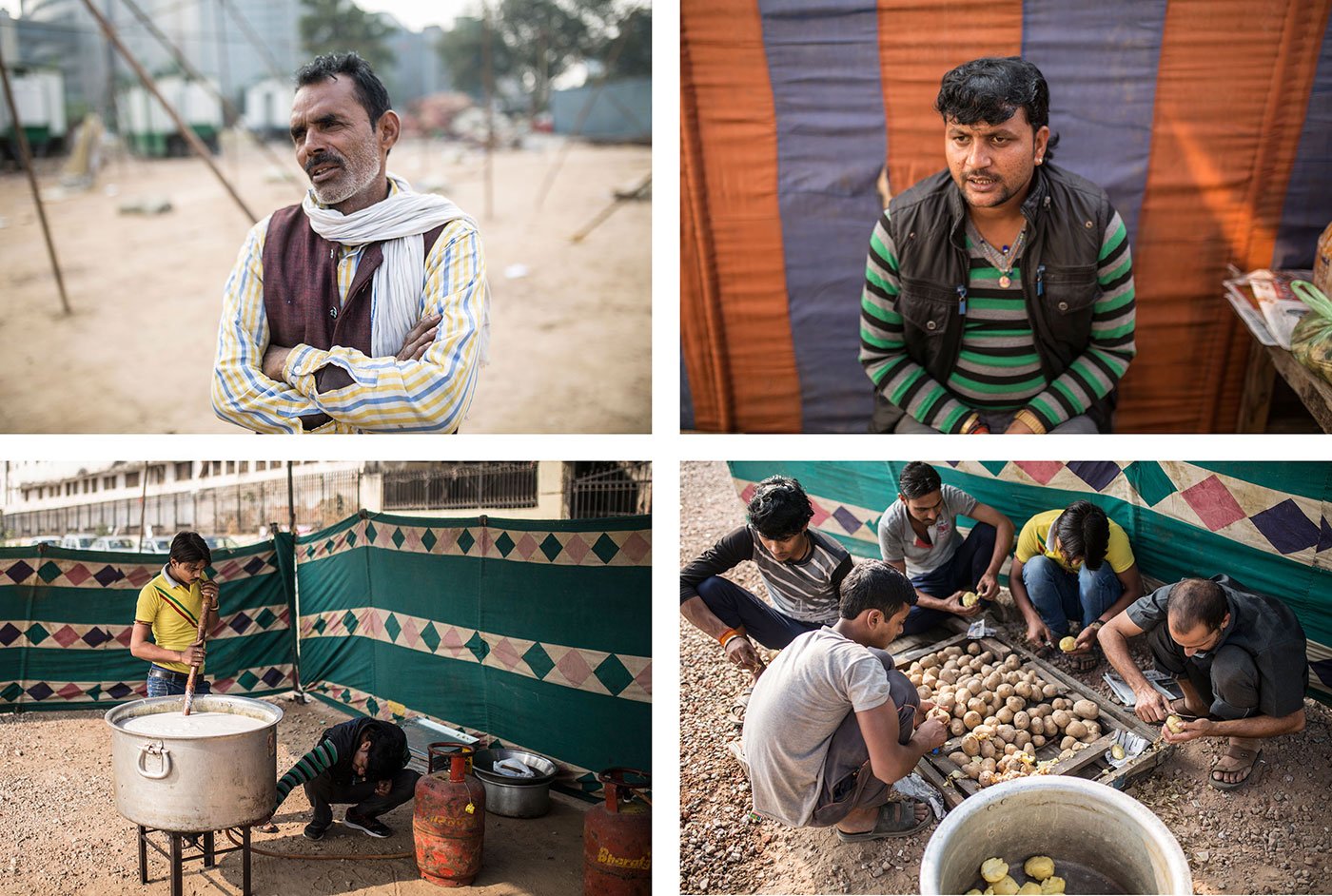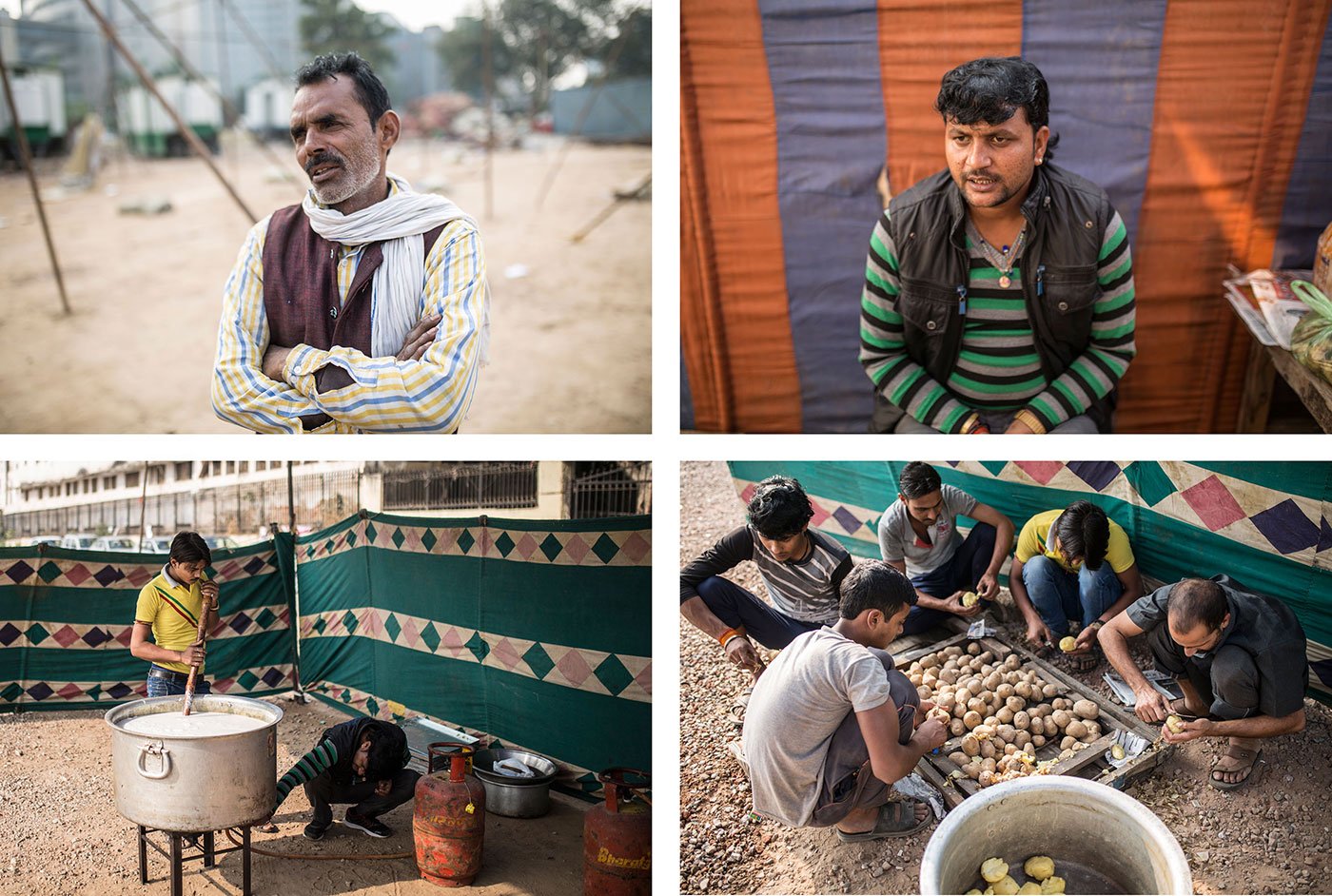 PHOTO • Shrirang Swarge
Many of the labourers readying the maidan for the farmers' march are from farm households too, but have been forced to migrate for work. Hasnen has a six-acre farmland on the outskirts of Moradabad, where he cultivates paddy and wheat. "My wife looks after the farm back home," he says. "I live here alone. It is impossible to survive without this kind of labour. There are no real returns in farming. We cannot even recover our investment costs."
From 1995 to 2015, more than 300,000 farmers have committed suicide in India, according to the National Crime Records Bureau. The agrarian crisis – created by poor crop prices, a crumbling credit system, growing debt, and a host of other reasons, has forced tens of thousands of farmers to leave agriculture. In 2014, a survey by the Centre for the Study of Developing Societies, Delhi, found that 76 per cent of the farmers in India wanted to give up their occupation. Between the Census of 1991 and 2011, nearly 15 million farmers have dropped out of farming. Most of them have either become agriculture labourers on other people's farms, or have moved to towns and cities, like many of the workers at Ramlila Maidan.
To focus attention on the escalating agrarian crisis, the All India Kisan Sangharsh Coordination Committee, an umbrella organisation of 150-200 farm groups and unions, has mobilised farmers from across India. They are expected to march through Delhi on November 29, reach Ramlila Maidan that evening, and then march towards Parliament on November 30. Their overarching demand: a special 21-day session on the agrarian crisis.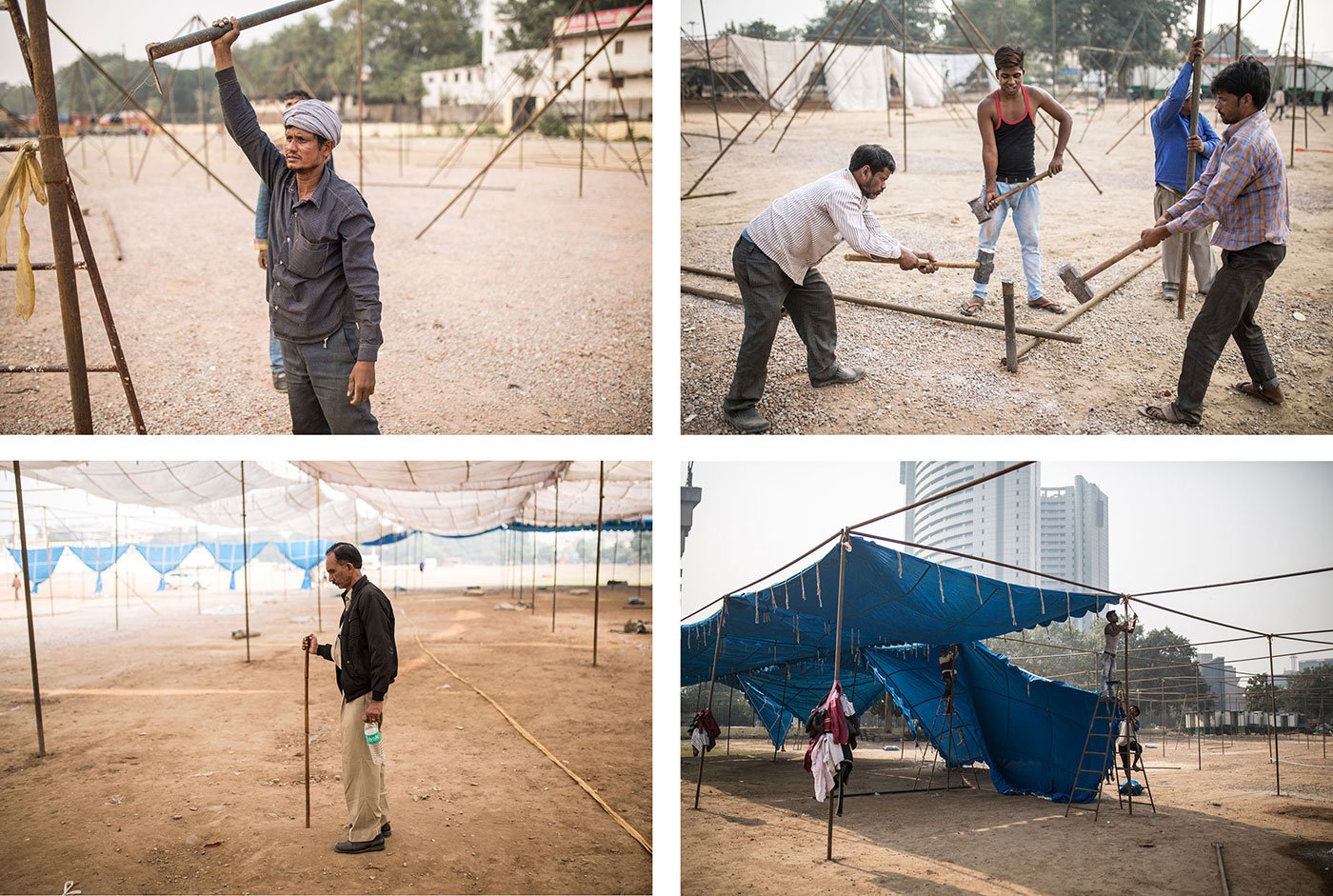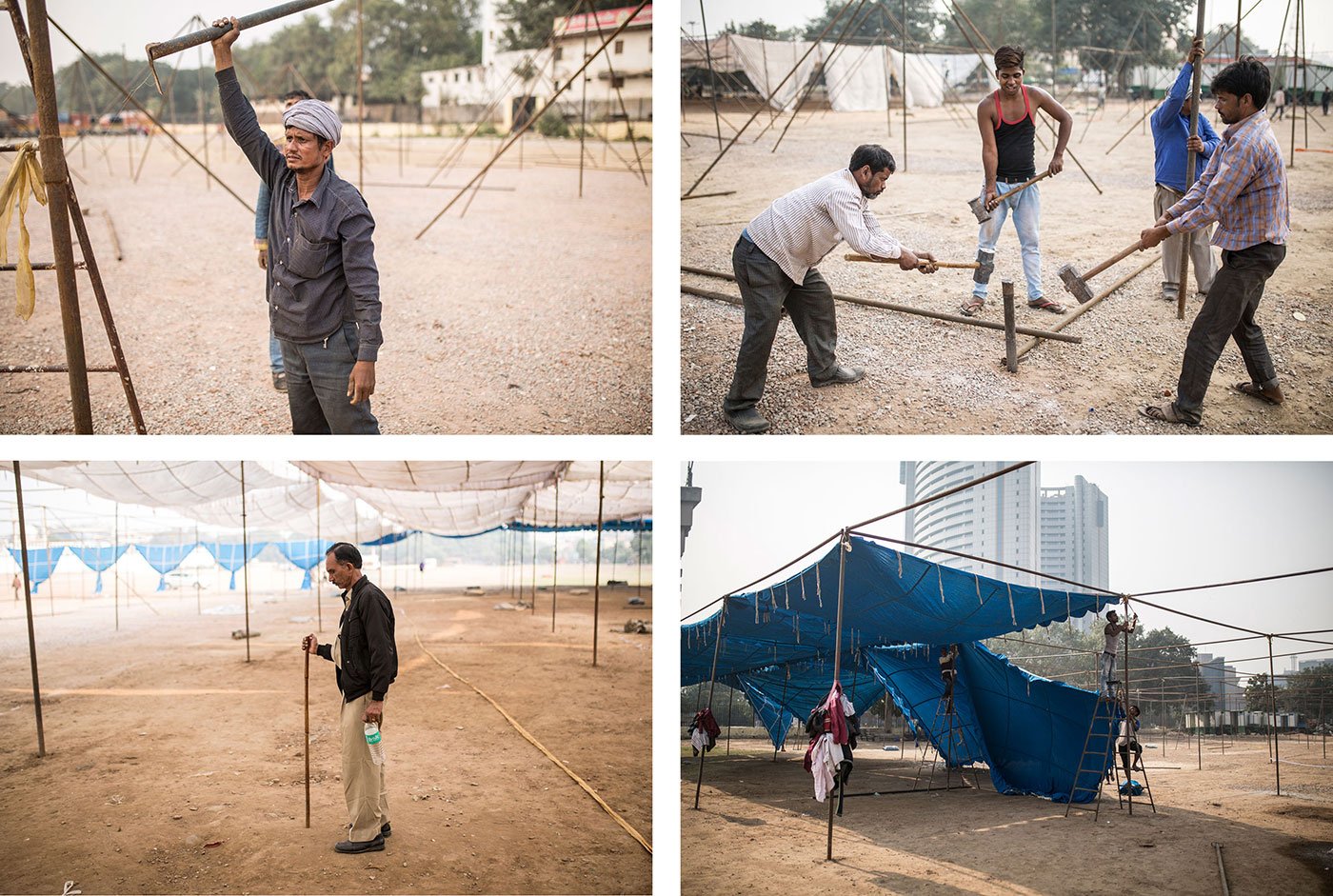 PHOTO • Shrirang Swarge
The labourers installing the tents at Ramlila Maidan say the farmers have their full solidarity. "We too are farmers," says Sakir, correcting me, when I ask if he and his co-workers here support the rally. Yet, Sakir (who only wants his first name to be used) says, not many farmers from his area will be able to join the march. "They depend on agricultural labour," he explains. "How many can spend money, leave their farm behind and participate in a protest march, giving up their daily wages for several days?"

Sakir, 42, is from Sirsi village in Bihar's Purnea district, where, he says, there are hardly any livelihood options. "We have only an acre of farmland," he says, picking up a pole from the ground and passing it on to another worker standing atop a ladder to tie it to another pole. "That is why I respect those who have travelled here."

Though the labourers at the maidan identify with, and support the farmers' march, they do not seem to be hopeful. Arvind Singh, 50, a security guard there, says when farmers marched in Delhi on October 2, they were welcomed with tear gas and water canons. "The government does not even acknowledge that farmers are in trouble," says Singh, who is from Teraragi village in Kannauj district of Uttar Pradesh. "We were told our loans would be waived off. I have a loan of over 1 lakh rupees. Nothing has happened. I mainly cultivate potatoes and a bit of paddy. The prices are only falling. During my father's time, we had 12 acres of farmland. In the past 20 years, we have had to sell off bit by bit to pay for medical emergencies, my daughter's marriage and farm debt. Today, we have one acre. How am I supposed to sustain my family?"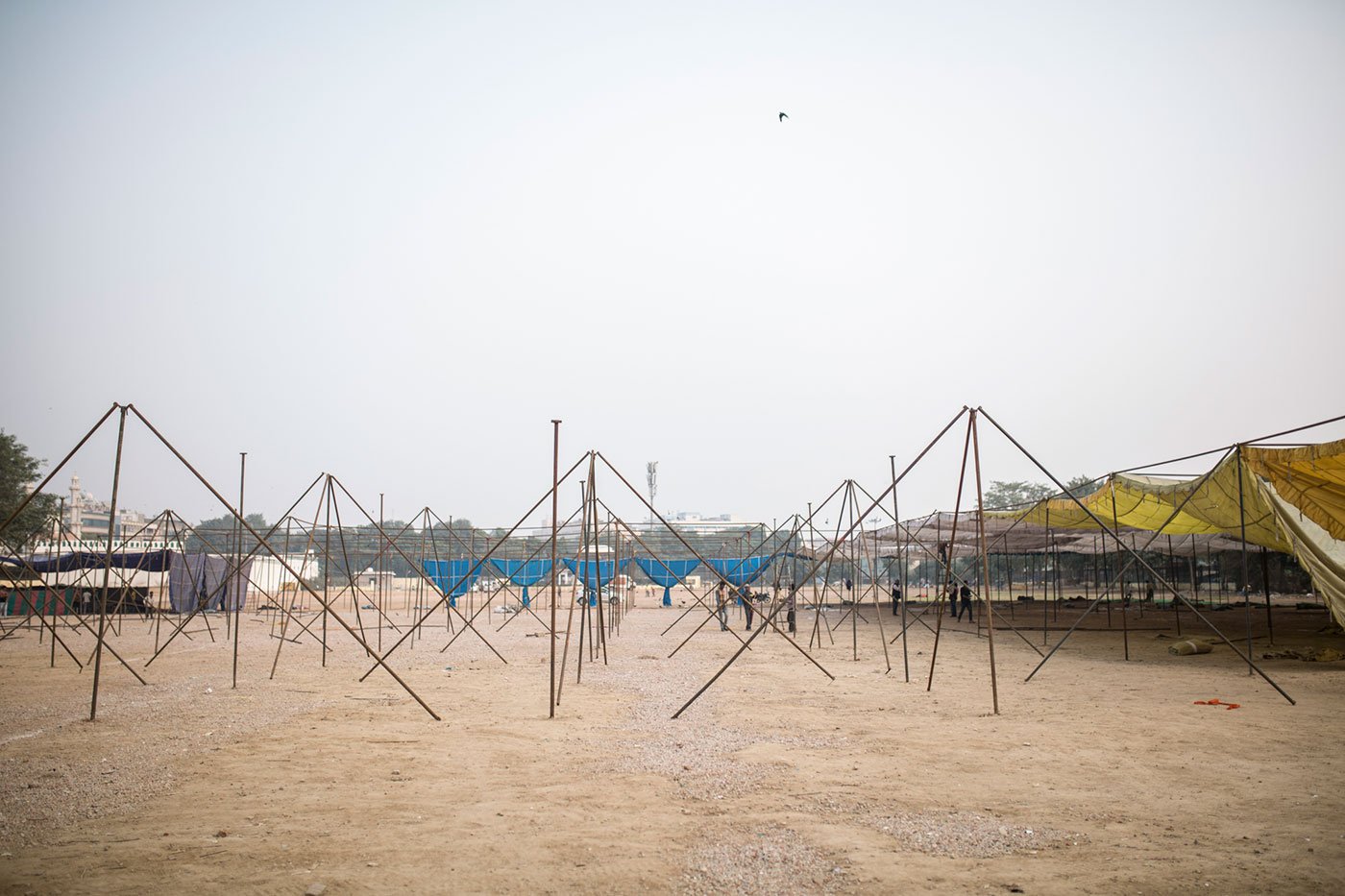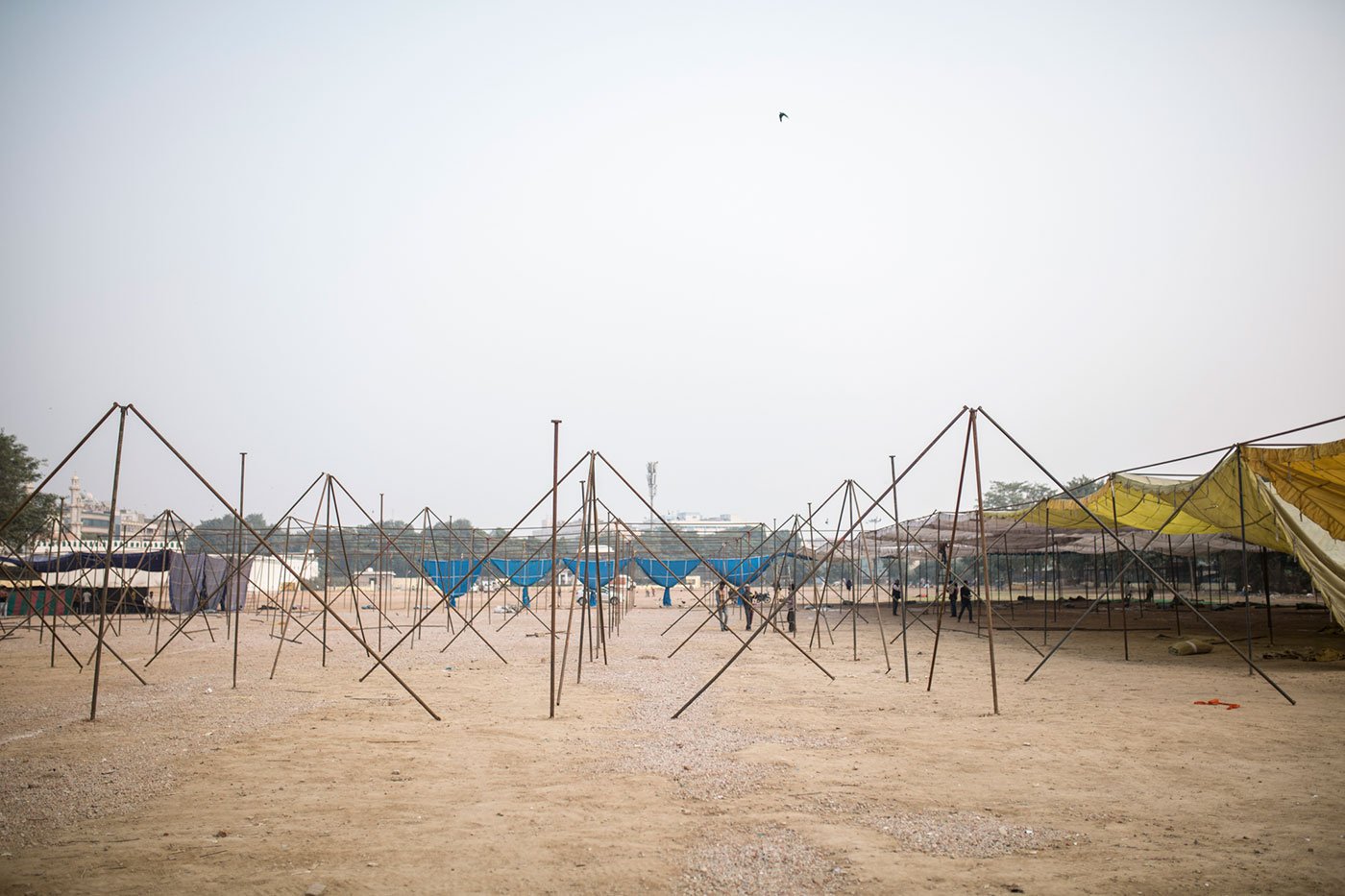 PHOTO • Shrirang Swarge
Singh, who has three daughters and three sons, adds, "I make around Rs. 8,000 per month, sometimes more. I have to pay rent here, buy food, and send money back home as well. How am I supposed to save for my kids after all this? Is the government even thinking about us? I do not know if the protest will actually help farmers. But it will force them to think about us. Right now, only the rich are making money, while we get nothing."
And his colleague Manpal Singh, 39, says, "You are asking us about our problems? A farmer's life is a problem."