After 70 years as an agricultural labourer, Gangappa, now around 83, has refashioned himself as Mahatma Gandhi. Since August 2016 he has been dressing up as Gandhi and positioning himself in public places across Anantapur town in western Andhra Pradesh. The alms he is offered fetch him a better income than what he earned from agricultural labour.
"When I am your age, I will also dress like you, swami," Gangappa claims to have told Gandhiji as a child when he met him on a visit to Anantapur. "I was with my parents who were working on the Peruru tank as labourers at the time." Chennampalli, where Gangappa was born, is not too far from Peruru. Gandhi's capacity to achieve whatever he set out to, his ability to command the mightiest, had impressed the young Gangappa.
Although it is difficult to verify Gangappa's claim about the meeting with Mahatma Gandhi, or put a date to it, his memory of Gandhi drives his life. Gangappa loves to travel – travelling and patience are essential to becoming like Gandhi, he believes.
Gangappa (who goes only by this name) says his name is now Gangulappa because that's what people have been calling him by mistake. He wears a sacred thread across his chest to accentuate his Gandhi look. He applies kumkum to his forehead and on his feet, and sometimes acts 'priestly' by blessing people with his hand, when in Gandhi costume.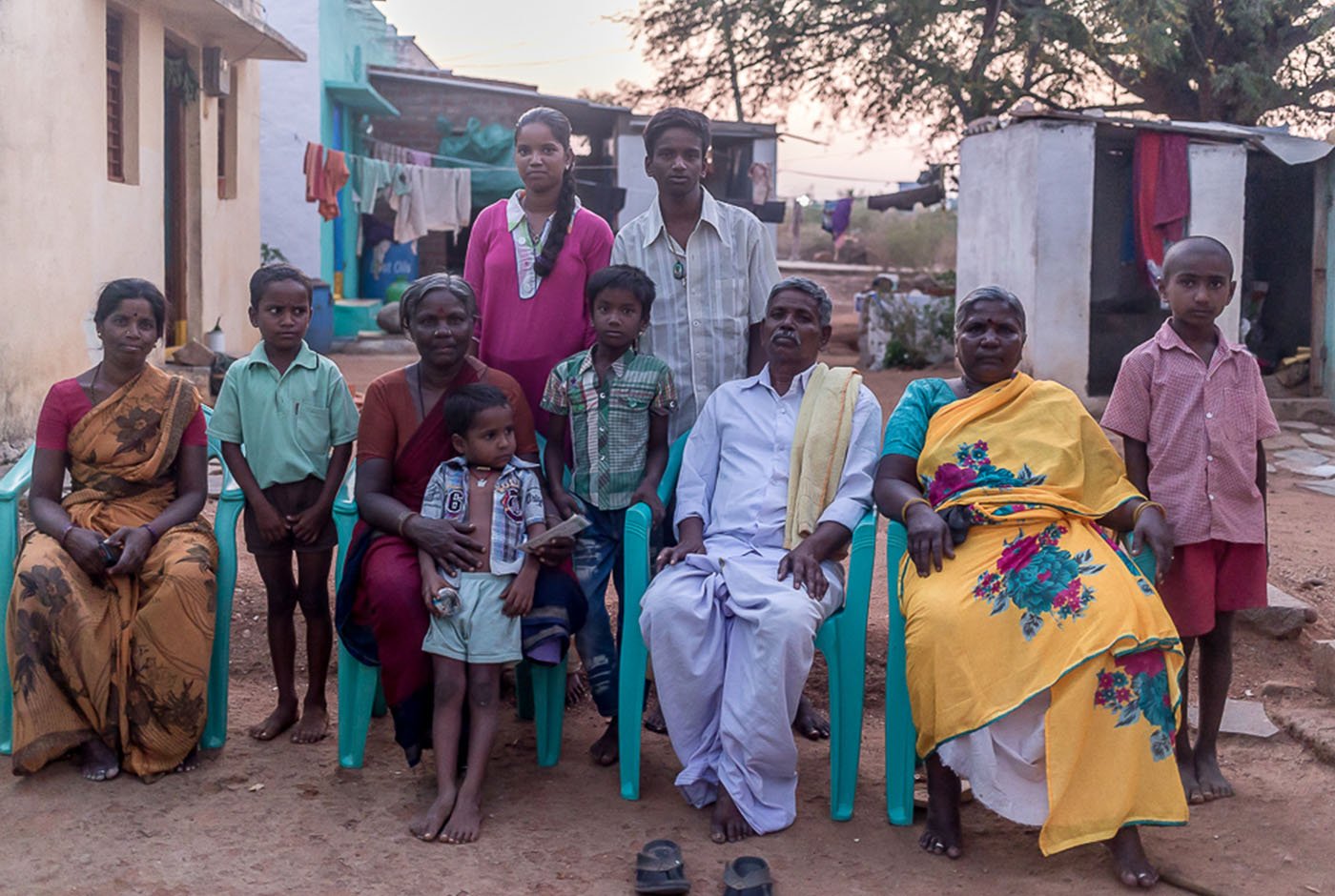 PHOTO • Rahul M.
His assumed caste identity has opened a local temple's doors to him. He is allowed to rest on the stone bench in the temple premises during the day. He bathes and washes off his make-up at the temple's taps.

Gangappa's relationship with his wife Middi Anjanamma and her family has been stressful for a decade. That was when their elder daughter committed suicide. "I had gone to Kollapalli to dig pits in a forest. When I returned home my daughter had died,"  he says, tears rolling down as he remembers his daughter. "I still don't know why my daughter died. And no one tells me why she died. How can I go back to that family?"
Although Anjanamma has not spoken to Gangappa for two years and hates his unpredictable ways, she misses him and wants him back now. "Please ask him to come back. I don't have a mobile phone or money to buy coffee powder for the month. I don't have change for the children [their younger daughter's two sons] when they ask me." Anjanamma lives with their younger daughter in Gorantla, a village around 100 kilometres from Anantapur, where I met her.

PHOTO • Rahul M.
After Gangappa left home, he continued labouring in the fields. He started drinking more alcohol. In 2016, he fainted while working in the fields. "I stopped doing agricultural labour after Mala Punnami [an annual festival]," Gangappa remembers. "I braided ropes for a few days, but it didn't pay much."

That was when his memory of Gandhi came to him and he decided to reinvent himself.

Gangappa has improvised his Gandhi costume from everyday objects. He uses Pond's powder from a 10-rupee plastic box to make himself "shine" like the Mahatma. Cheap sunglasses purchased from a roadside shop are his Gandhi spectacles. A 10-rupee cane from the local market is his walking stick. He uses a motorbike's rear-view mirror, which he found somewhere, to check his make-up and costume.
Gangappa mostly wore shorts when he worked in the fields. "Now I wear a dhoti and shave my head once in three or four days," he says. Although he smokes and drinks, he makes sure he is clean when he dresses up as Gandhi. He travels to fairs and monthly markets in the surrounding villages and towns, earning anything between Rs. 150-600 a day. "I made about 1,000 rupees in a day at one parsha [village fair] recently," he says proudly.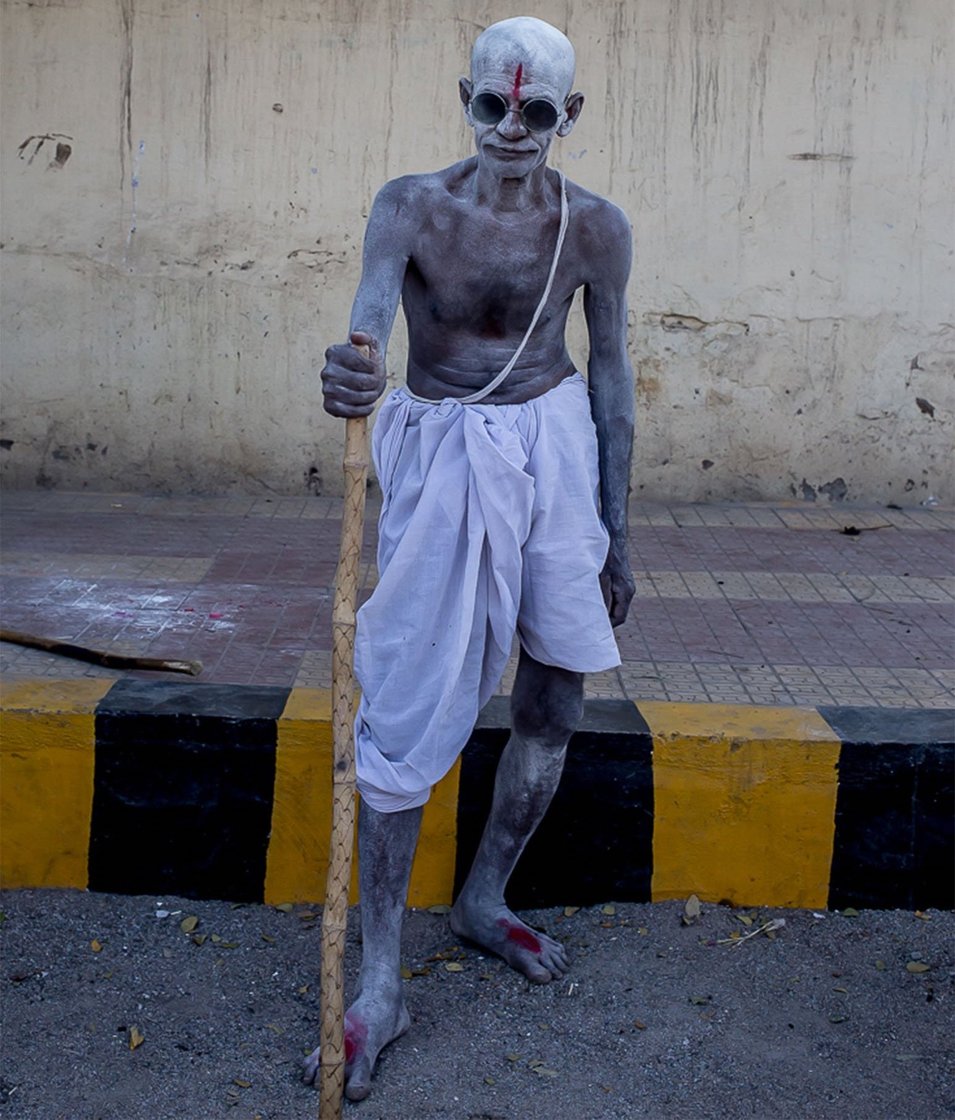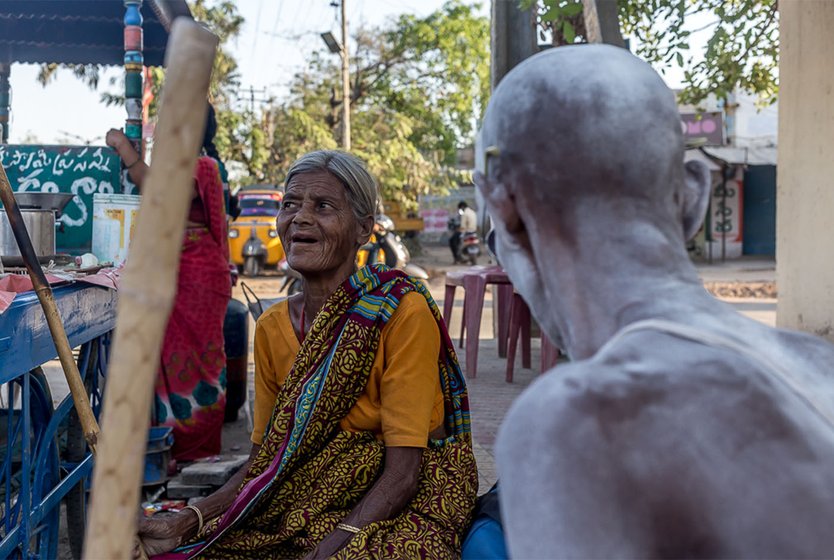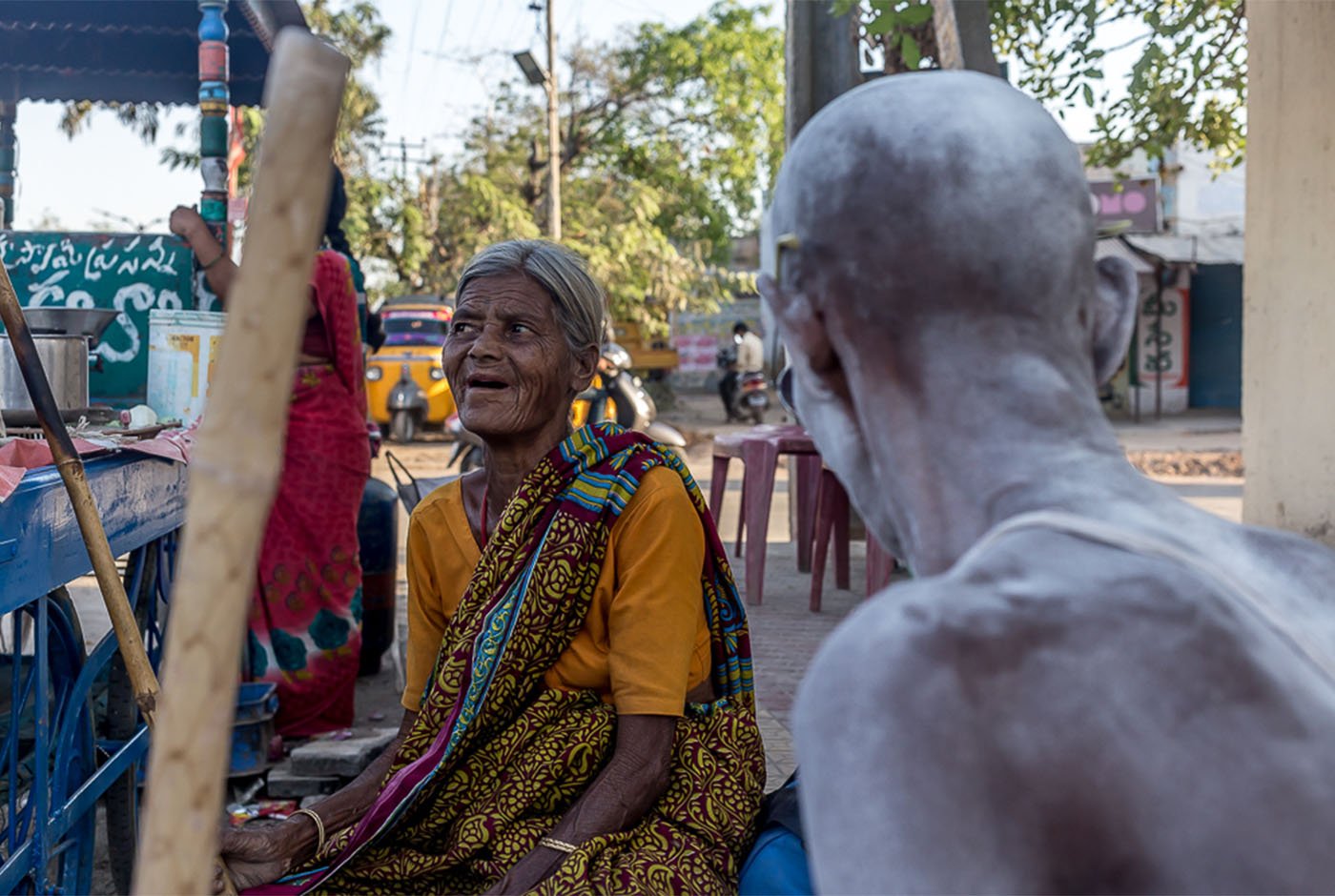 PHOTO • Rahul M.
"I stood for six hours at a stretch today because it is Kadiri Punnami," he adds. This festival is celebrated in villages in the Kadiri area of Anantapur district once a year, when the full moon is at its brightest.
Some months ago, when travelling to the nearby town of Puttaparthi, Gangappa met Kuruba Pujamma, a widow in her 70s, who begged for alms on the 35-kilometre stretch between Puttaparthi and Penukonda. "One evening, when I was going home, I saw him sitting alone," she says. "I asked him what he does. He told me, and asked me if I wanted to go with him. I agreed. He said, 'Please come along. Wherever we go, I will show you around'." So Pujamma began to trail along with Gangappa, helping him with his Gandhi costume, applying powder to his back, and washing his clothes.

Pujamma's partnership with Gangappa hasn't been easy. "One night," she says, "he went somewhere, and didn't return for a long time. I was alone. I felt really scared. There were people nearby and I was sitting under a metal shade. I wondered what to do. I felt like crying since I didn't have anyone now. He returned later, with dinner!"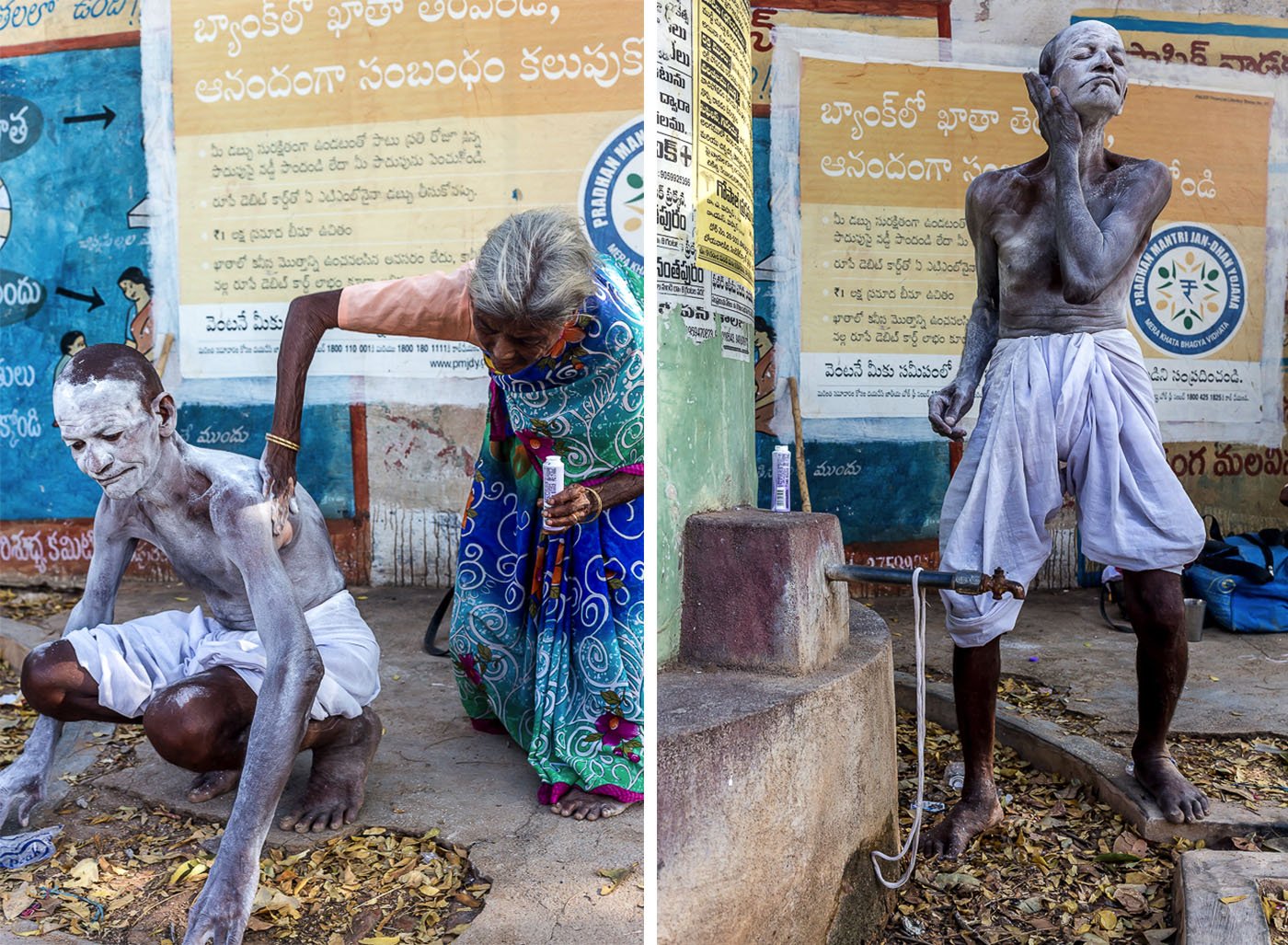 PHOTO • Rahul M.
Gangappa and Pujamma live on the outskirts of Anantapur town, close to the highway. They sleep outside a restaurant whose owner is an admirer of Gandhi. Gangappa usually wakes up around 5 a.m. and goes to bed by 9 p.m, just as he used to when he worked in the fields.
Sometimes Gangappa is given dinner by the eatery outside which he sleeps. He buys something for breakfast from the roadside shops, and skips lunch. Gangappa makes sure Pujamma eats as well. And when he feels like a hearty meal, he buys ragi , rice and chicken, and Pujamma cooks up a feast of muddha [ ragi and rice balls, a staple of the Rayalaseema region] and chicken curry on a makeshift stove on the road.
It's a simple life. And better than it used to be. Being Gandhi has meant that he no longer has to worry about his meals and shelter. However, Gangappa is saddened that not everybody reveres Gandhi these days. How can they not? "A few young boys came to me and asked me to stop dressing like Gandhi," he recalls. "They told me the government is trying to remove Gandhi from the currency notes now, so why do you want to dress up like him?"
Postscript: Pujamma left Gangapapa to go home a  few days ago. "She left around the festival of Ugadi," he says. "She isn't coming back. She is going to beg there itself. I gave her 400 rupees. I have to be alone now."