"Why am I not getting my rice from the ration shop?" Mahammad asked the mandal officials gathered at the government school in Thummala for Janmabhoomi, an interactive gathering in January, organised by the state government.
Mahammad's name had disappeared from his ration card in Thummala village, while his photo had appeared on a ration card in Kurnool city, over 250 kilometres from his home. "Some names are even showing up in places like Vizag [Visakhapatnam, over 800 kilometres away]," the official replied.
So Pathan Mahammad Ali Khan is being denied his rations since October 2016 – after he linked his Aadhaar number to his ration card.  Ali, who is 52 and a vegetable vendor, linked his Aadhaar and ration cards soon after the government of Andhra Pradesh made the linking mandatory. Within a few weeks, his problems began at the public distribution system (PDS) ration outlet in Thummala village of Amadagur mandal in Anantapur district.
Whenever a BPL (below poverty line) ration card-holder like Ali goes to the PDS outlet, the shopkeeper asks for the family's ration card number and punches it into a small machine. The device then displays the list of family members and the person present has to authenticate this with his or her fingerprints. The dealer gives the rations according to the number of persons the machine shows. But Ali's name had disappeared from the online list of names in his family's ration card. "I went many times and my name was not there," he says. "When they punch in our number, five names should show up. But only four do, mine is missing. Only if the name is there, the fingerprints work. Otherwise they don't work."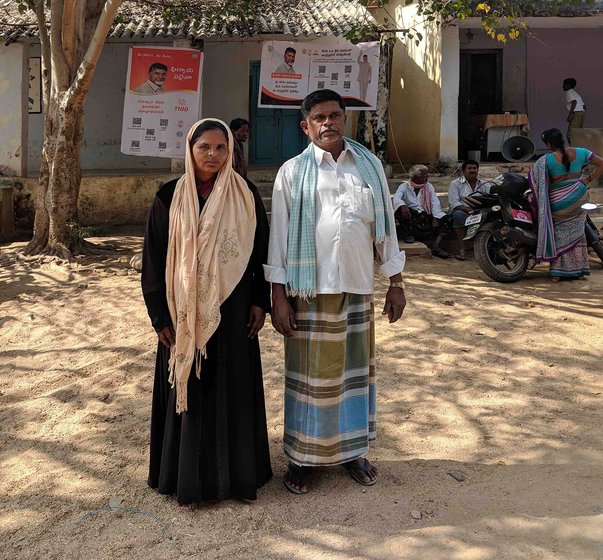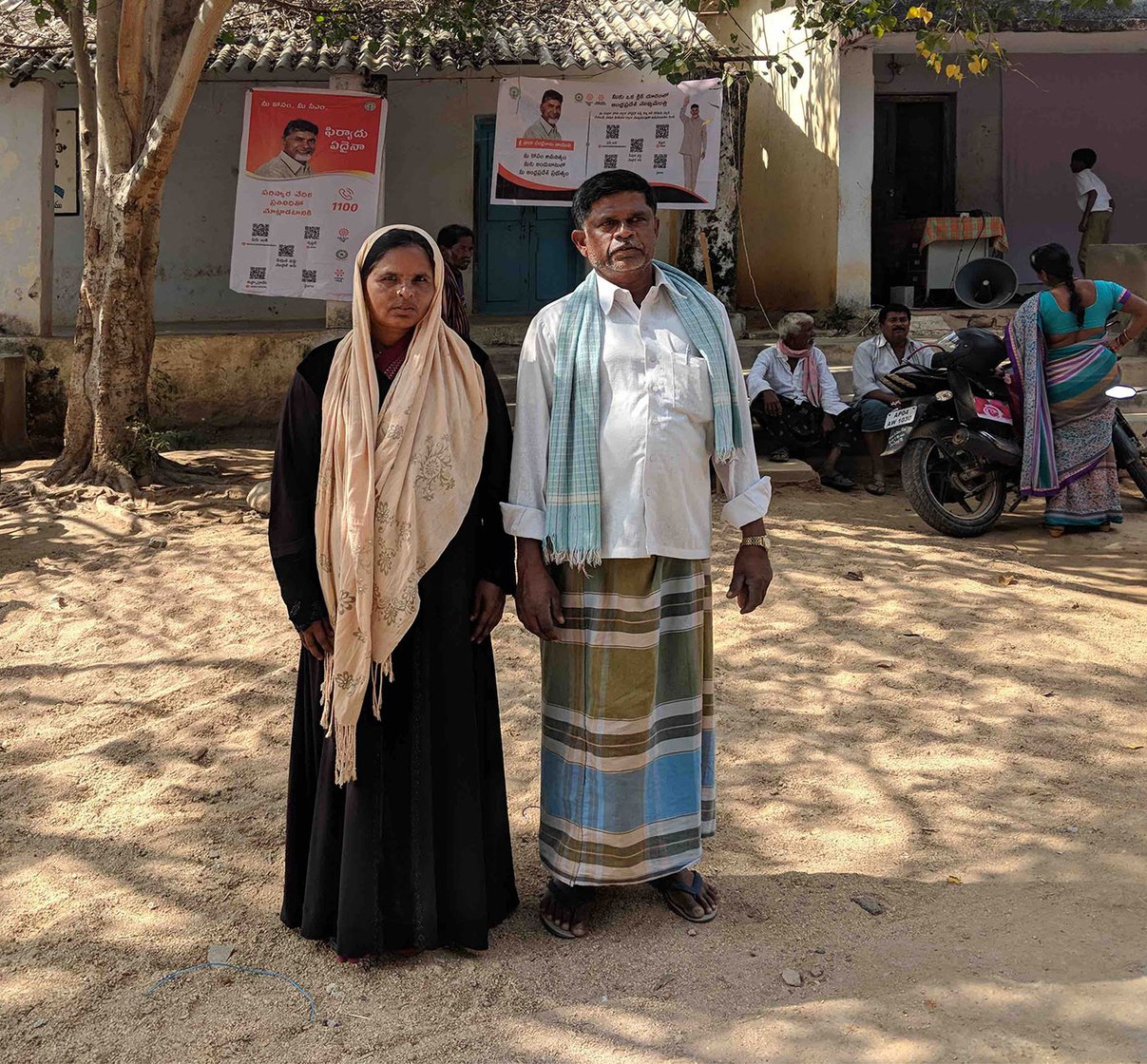 PHOTO • Rahul M.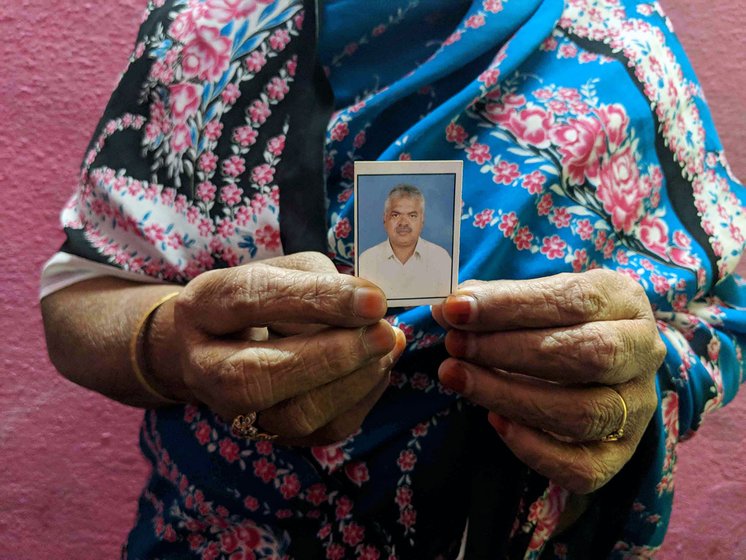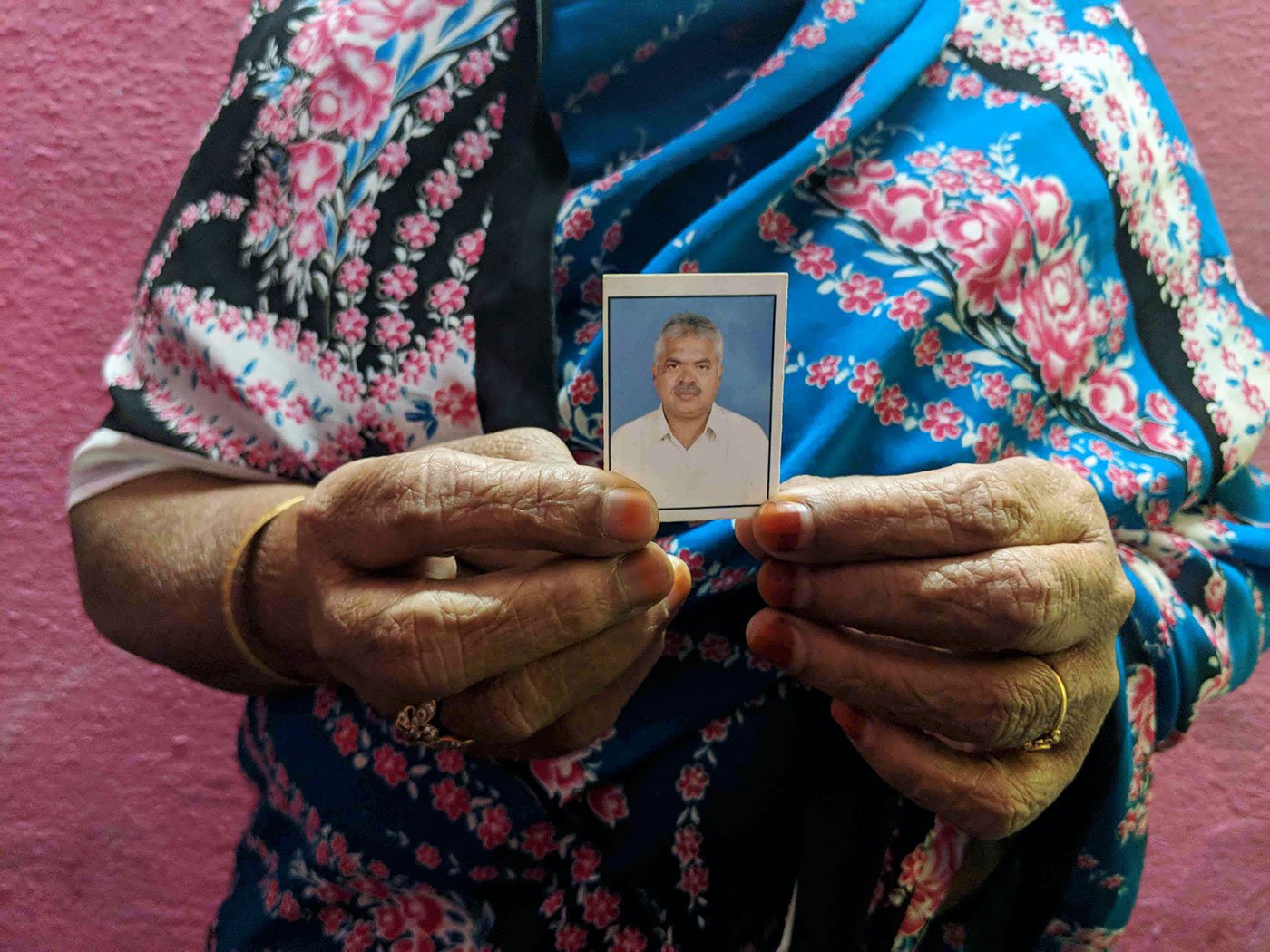 PHOTO • Rahul M.
This happened because Ali's Aadhaar number had got linked to Mohammed Hussain's ration card. How that happened, no one knows. But Hussain, who lived on Kavadi street of Kurnool city, died in 2013 of a brain stroke at the age of 59; he used to work with the Andhra Pradesh State Road Transport Corporation. "[So] they have erased my husband's name [from our ration card]," says his wife, Shaik Jubeda Bee.
At Venkatanarayna Palli hamlet, not far from Thummala, V. Nagaraju's name has also disappeared from his ration card. "His name is not showing up after I punch in the card [number]," says Ramana Reddy, the ration dealer. He shows me the list of persons on the family's ration card – Nagaraju's name is missing.
"Not getting five kilos of rice [from the ration shop] every month is a big thing for us," says Nagaraju, 45, a tenant farmer and Ali's friend, who sometimes also works on Mahatma Gandhi National Rural Employment Guarantee Act (MGNREGA) sites. When stocks are available, BPL card holders also get a kilo of ragi , and occasionally a family will get some sugar and some soap.
So Nagaraju went with his problem to the district supply officer's (DSO) office in Anantapur, around 140 kilometres from Amadagur. There, an operator looked up his details and wrote this on a photocopy of Nagaraju's Aadhaar card: "This Aadhaar card is seeded in Kurnool Dist / Already addressed [informed] the DSO, Kurnool."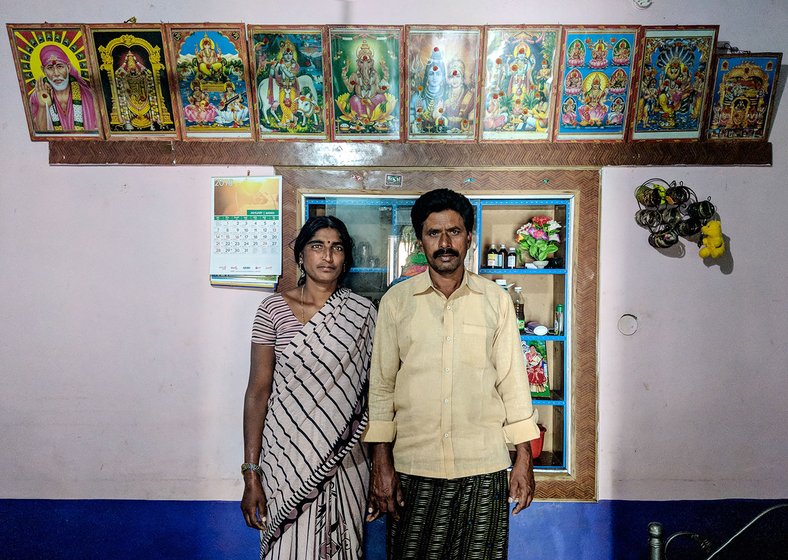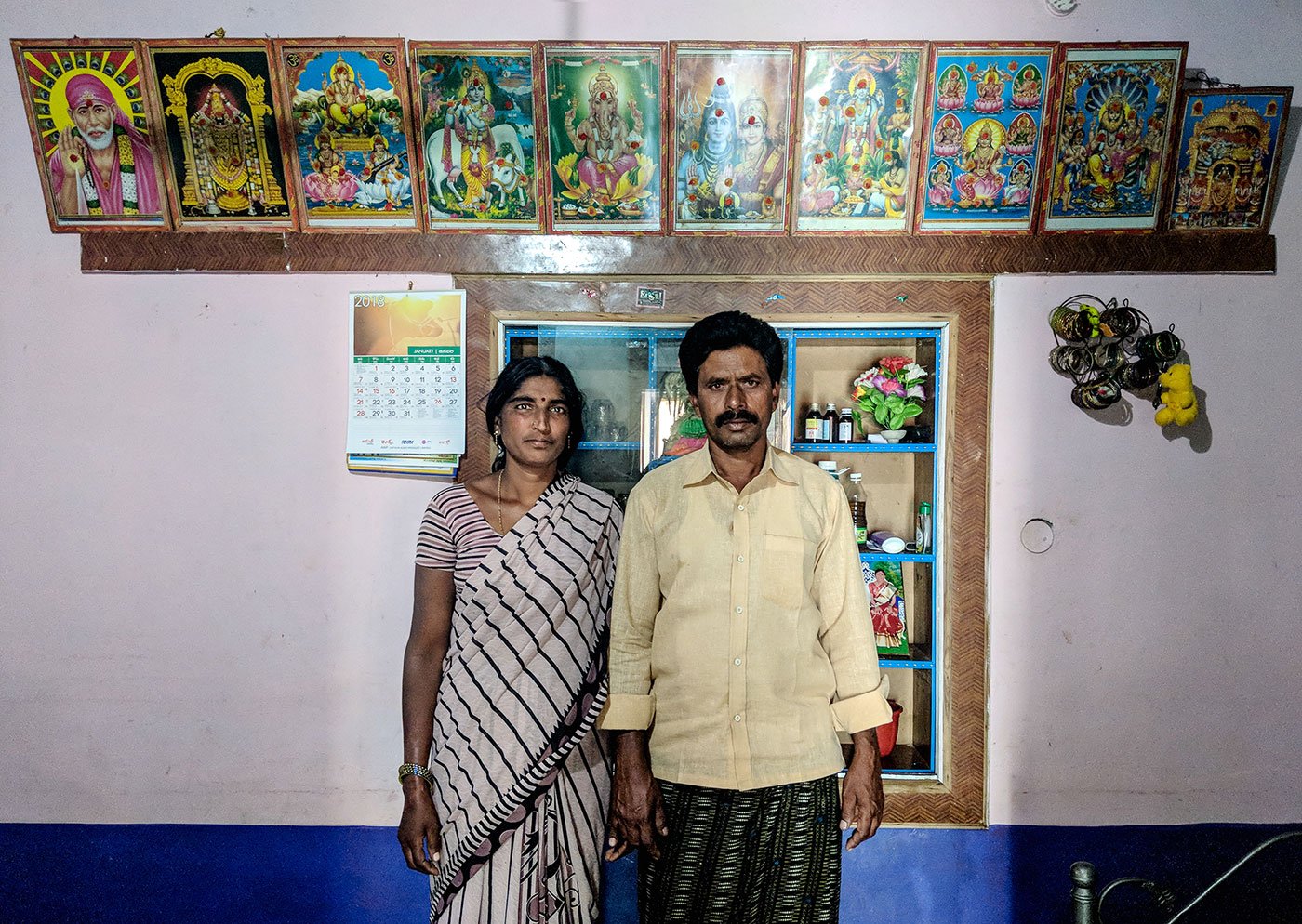 PHOTO • Rahul M.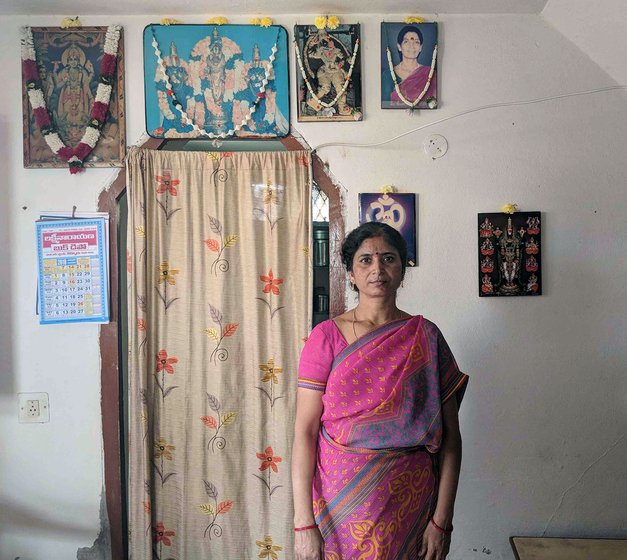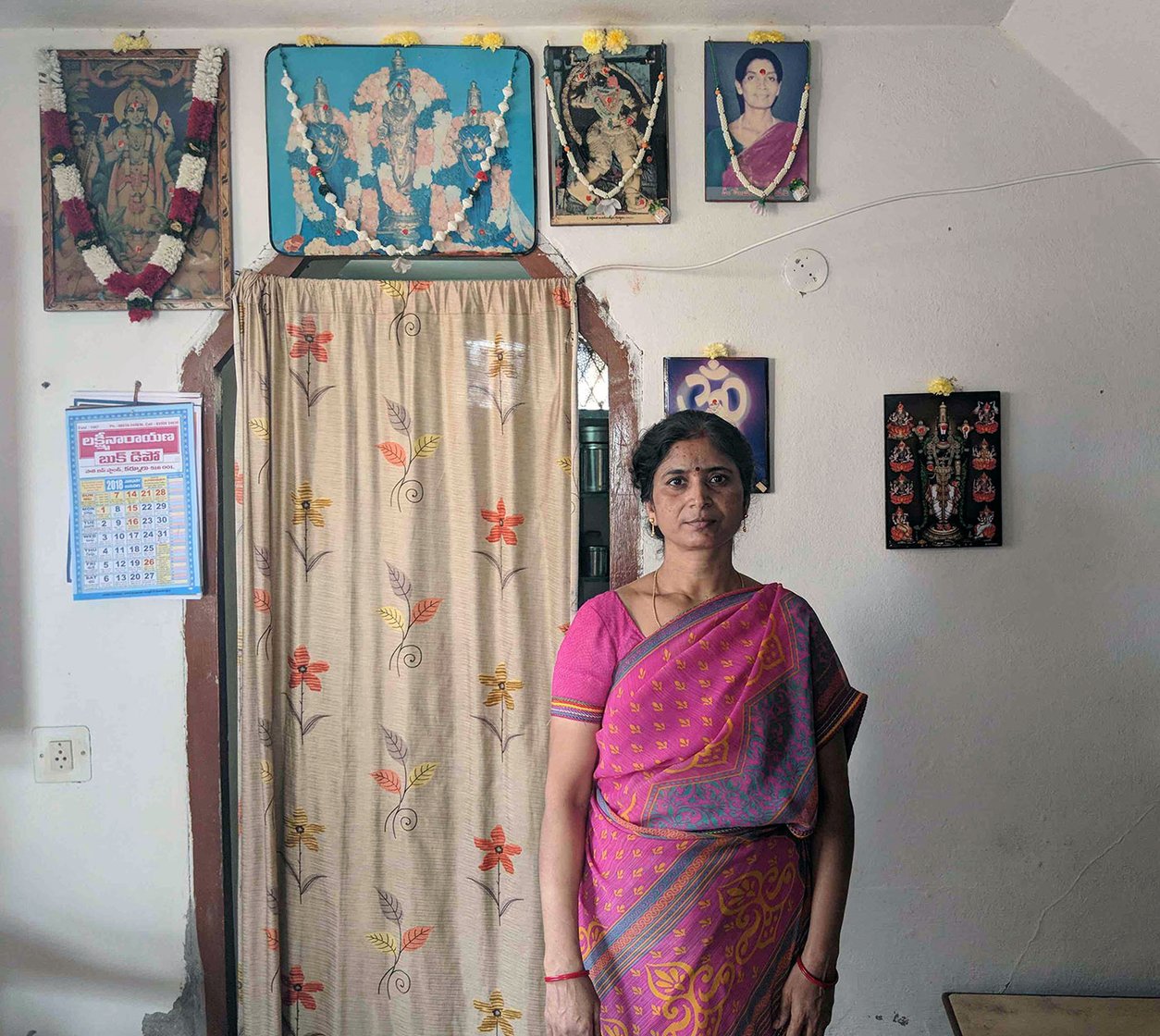 PHOTO • Rahul M.
Like Ali, Nagaraju's Aadhaar too had somehow got linked to a ration card from Kurnool – in this instance, to the card of G. Vijayalakshmi, who lives in the Srinivasa Nagar locality of Kurnool city. According to the PDS website of the Andhra Pradesh government, Vijayalakshmi's card status was 'active' – she was collecting rations from the PDS outlet.
"But I have never collected my ration," says Vijayalakshmi, a homemaker in her 40s, whose husband is a scooter mechanic. Vijaylakshmi couldn't recognise the photo of Nagaraju or of the woman on the ration card which was issued in her name. She applied for a ration card in her and her family's names around January 2017 and has been waiting for it since.
The two ration cards, both in Kurnool, erroneously linked to Ali's and Nagaraju's Aadhaar numbers were issued in December 2011, according to the "transaction history" section of the PDS website. The history shows that till October 2016, multiple unsuccessful attempts were made to 'seed' these two ration cards into the Unique Identification Authority of India (Aadhaar) database. These may have been sincere attempts by helpful government officials – or fraudulent ones by unknown persons. But none of these attempts were by Ali or Nagaraju.
Accessing the transaction history and card details does not require a password – only entering the ration card number is enough. When I retrieved these cards from the 'Print Ration Card' section of the website, the cards contained names that neither Ali nor Nagaraju know. Among the passport-size photos of six people (four on ration cards linked to Ali's Aadhaar and two on Nagaraju's) were photos of Ali and Nagaraju (from their Aadhaar cards) – the others Nagaraju couldn't identify.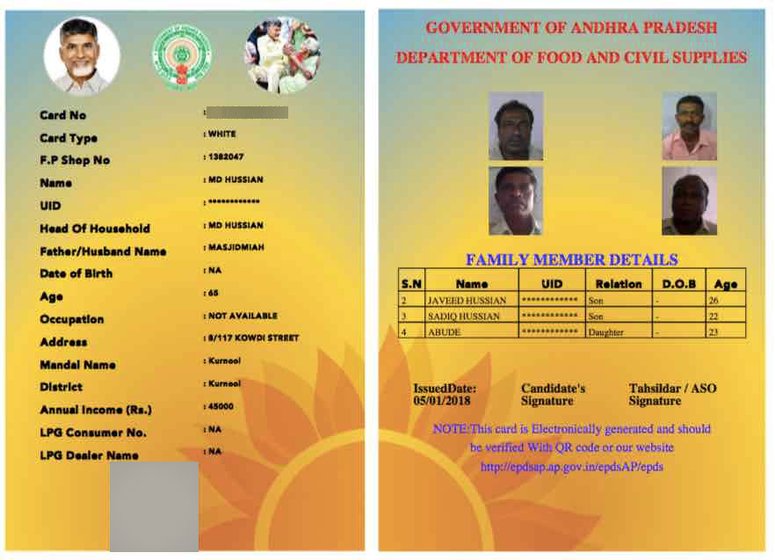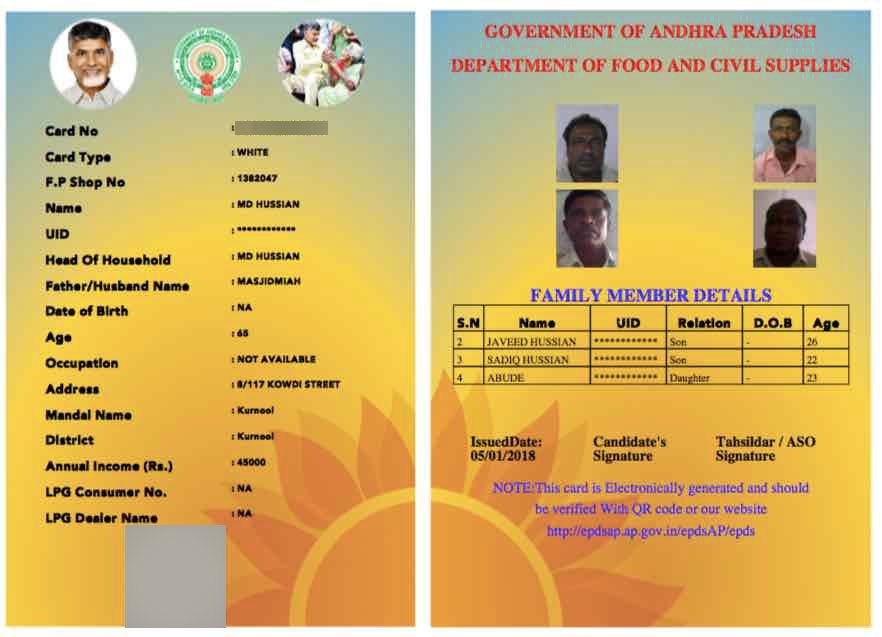 PHOTO • Rahul M.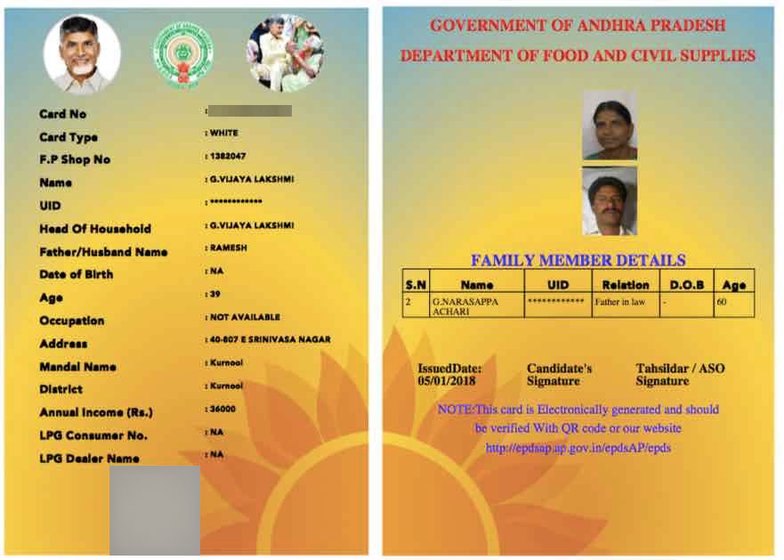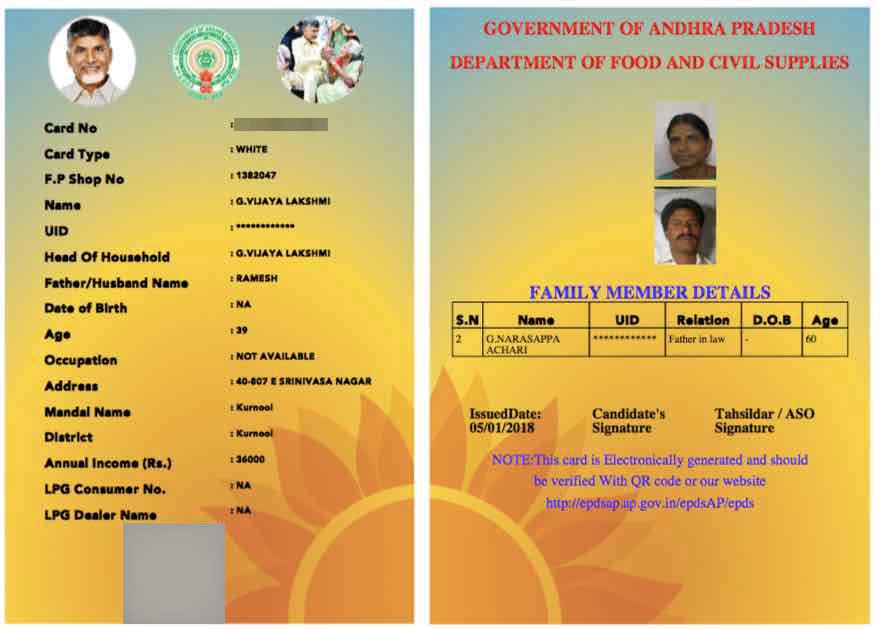 PHOTO • Rahul M.
Unlike Vijayalakshmi, who had not availed her quota of rations since she got married 24 years ago, Ali was collecting his rations since the 1980s. So when the mess began around October 2016, he phoned the ration card helpline a few times, and the agents assured him that his problem would be resolved. After waiting, in October 2017, Ali went to the Mee Seva ('At your service') centre in Amadagur and requested that they add his name back on his family's ration card. He even spoke to the Amadagur mandal revenue officer (MRO), who too assured him that his problem will be resolved soon. "Each time I go find about my Aadhaar [and ration], I lose business for that day," Ali says.
After the Janmabhoomi meeting in Thummala, Ali and I went together to the Mee Seva branch of Amadagur, around eight kilometres away, where we tried to get a copy of his Aadhaar card to check for any data discrepancies. The OTP (one time password sent to mobile phones for authentication) was enabled for his Aadhaar number. Ali didn't know about this. The OTP was sent to a number he couldn't recognise.
After failing to retrieve the Aadhaar, we went to the nearby MRO office in Amadagur to check what had happened to Ali's October 2017 request at the Mee Seva centre. The computer operator at the MRO office wanted to see the receipt given by the centre to Ali – who had no such receipt. So we returned to Mee Seva to ask for an acknowledgement slip. This was not easy to retrieve and took some time.
After collecting that piece of paper, we once again went to the MRO's office, where the operator looked up the details. According to the remarks column in the 'Integrated Services Delivery Gateway' of the Mee Seva website, Mahammad Ali's ration was stopped because "… Uid already exists" with an unknown ration card number, but with Mohammed Hussain's address in Kurnool.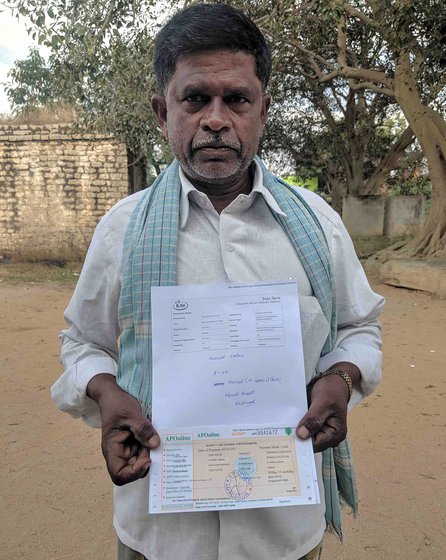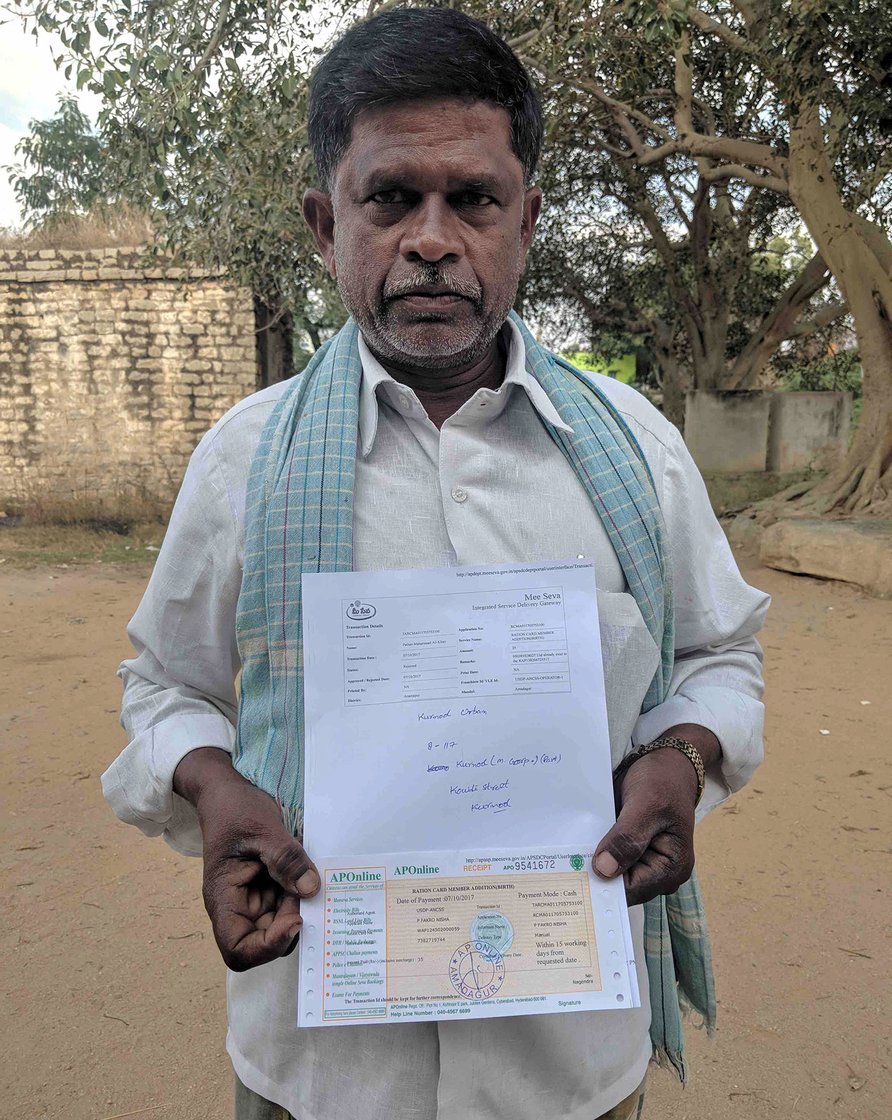 PHOTO • Rahul M.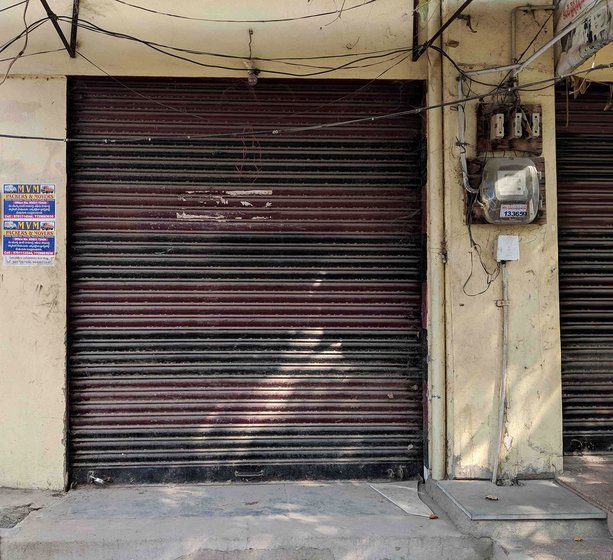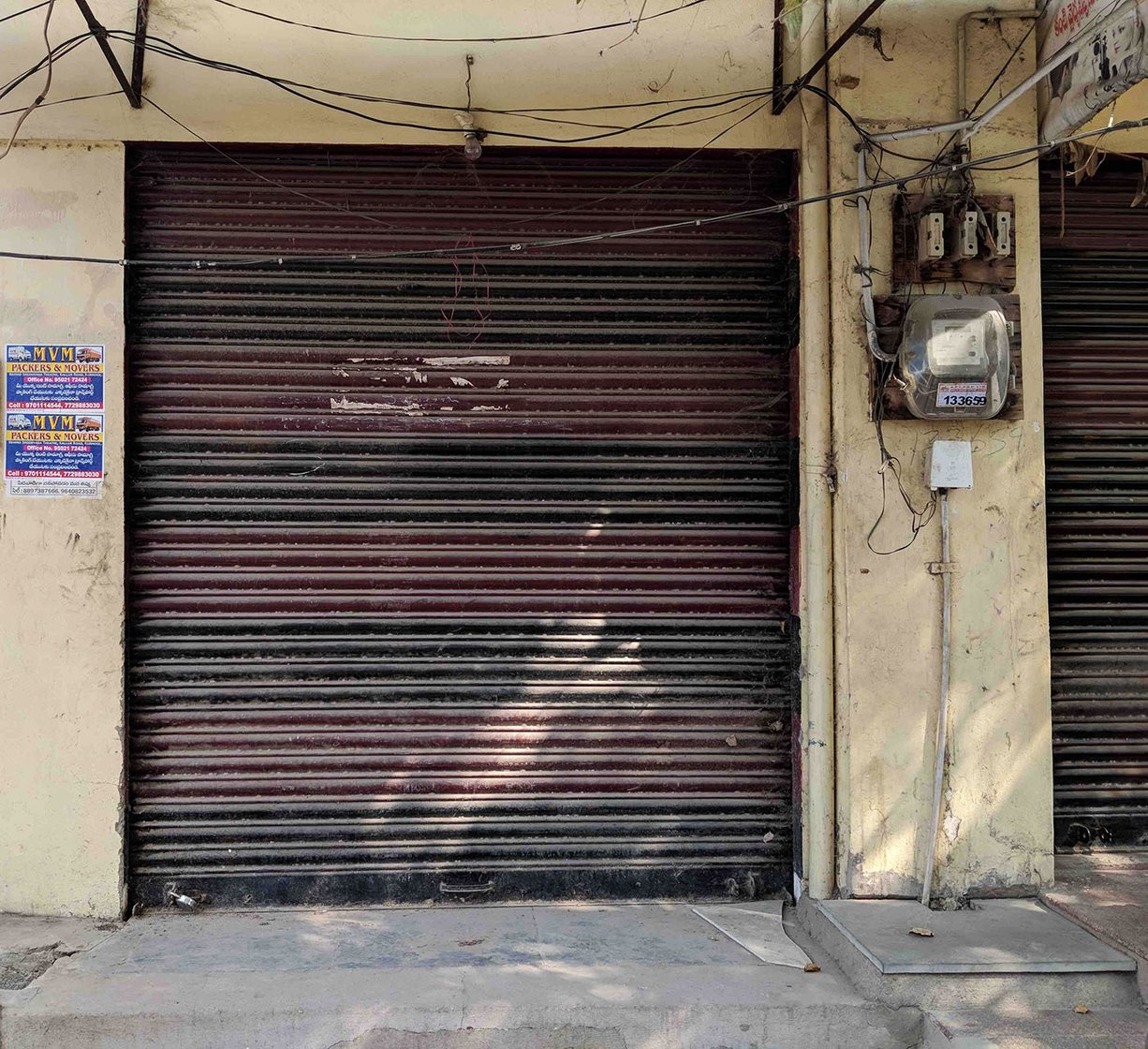 PHOTO • Rahul M.
The ration shop in Kurnool, where both Ali's and Nagaraju's Aadhaar details had travelled, was shut down in 2017 because of allegations of corruption; its consumers have started using another ration outlet in the city.

The ease with which we could access Ali's ration card history, the fact that his OTP went to another phone number, the photographs of unknown persons on the ration cards – all of this points to the mind-boggling mess created by digitisation. But equally, it points to siphoning off of rations into a parallel market— among the very holes Aadhaar seeding and digitisation were supposed to plug.
K. Prabhakar Reddy, the Kurnool district secretary of the Communist Part of India (Marxist), who had organised a protest in 2016 demanding strict action against corrupt ration shop dealers in Kurnool, says, "The dealers made extra ration cards with Kurnool addresses and paired them with bogus Aadhaar cards. Cases were registered against them. Some ration shop dealers went to prison and then returned."
The MRO, P. Subbalakshumma,  though says that only in a few instances like Ali's and Nagaraju's, errors may have occurred because of wrong digits mistakenly punched in by the operators. It's possible to resolve this, she says, "if they go to the Mee Seva and update their 10 fingerprints once again [in their Aadhaar data]."
But Ali has seen enough and can't risk taking off from work again to chase his tangled Aadhaar-ration link. He has three children, and is the main income-earner in his family; besides selling vegetables, his wife and he occasionally work on MGNREGA sites. "I have come to the MRO office too many times," he says, "Now they are asking me to go to the DSO office. I don't know when I will get time for that."