Tatta Lakshmi and Pothada Lakshmi are at a loss. The government has transferred the wages owed to T. Lakshmi to P. Lakshmi's bank account – and Pothada Lakshmi's money has gone to Tatta Lakshmi's account at the State Bank of India in Munagapaka mandal of Andhra Pradesh.
So T. Lakshmi is still waiting to be paid roughly Rs. 16,000, and P. Lakshmi awaits around Rs. 9,000. Both women are Dalit, both have no land, and both work as MGNREGA workers – T. Lakshmi in Munagapaka village and P. Lakshmi in Ganaparthi village of the same mandal .
During 2016-2017, T. Lakshmi worked for 95 days on projects under the Mahatma Gandhi National Rural Employment Guarantee Act (MGNREGA). She has not received her wages (which too are not calculated for the full 95 days by field assistants) because the government has insisted, starting from April 2015, that workers must link their Aadhaar cards to their MGNREGA job cards.
"Because of the error of the computer operator in Munagapaka
mandal
while digitalising the 18 digit job card number and 12 digit Aadhaar number, the payment I was supposed to get [for now, around half  of the total owed to her] was transferred to a P. Lakshmi from Ganaparthi village," she says.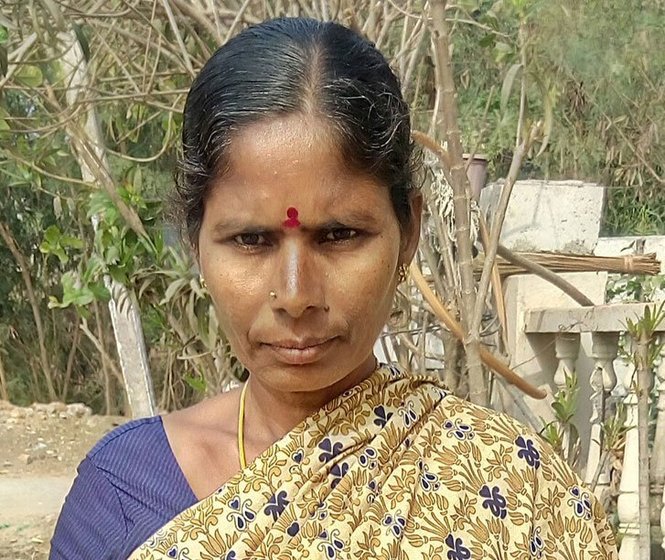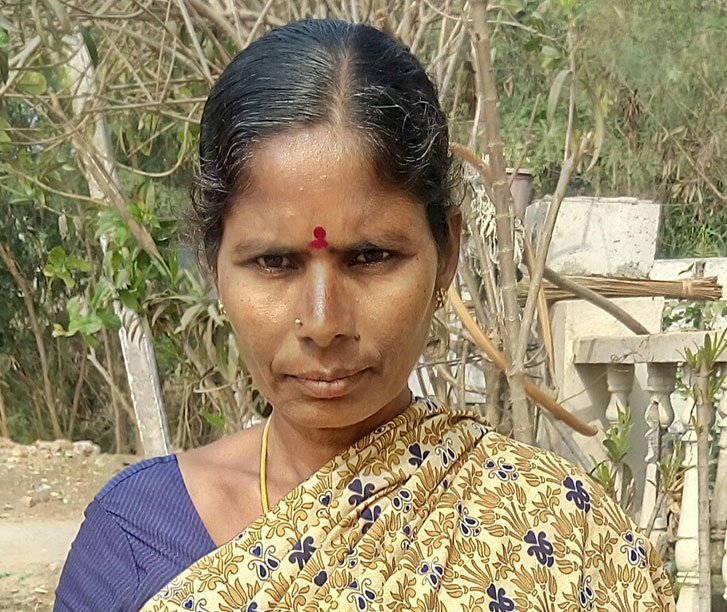 PHOTO • Rahul Maganti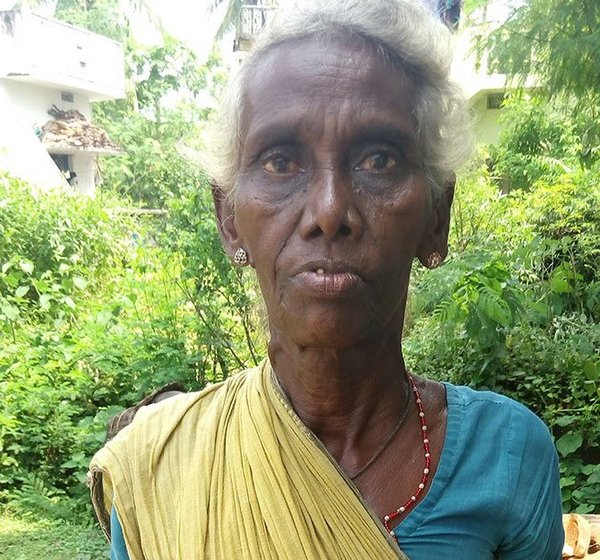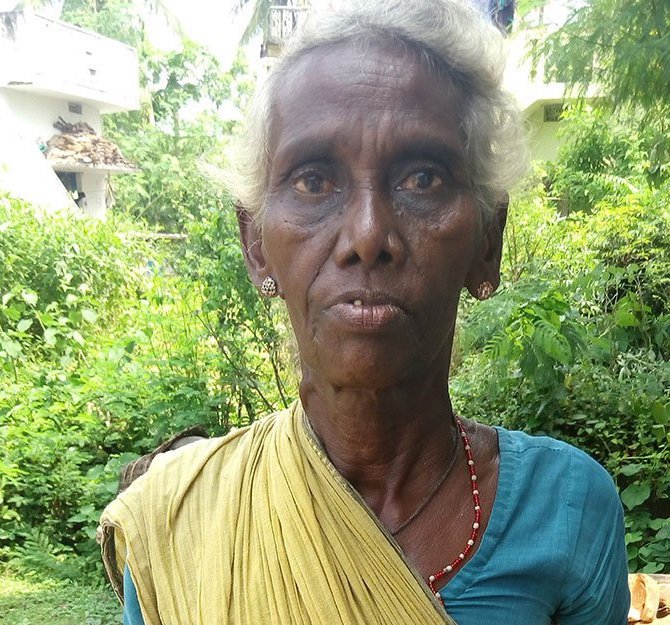 PHOTO • Rahul Maganti
"But neither of us could withdraw the [other person's] money at least for temporary use because our bank accounts are also linked to Aadhaar and the job cards," she adds. Lakshmi, 34, earns a daily wage of around Rs. 150-200 as an agricultural labourer when work is available in the fields, and a daily wage of Rs. 203 on MGNREGA sites when that work is possible in her village in Visakhapatnam district.
Nearly 700 MGNREGA workers in Munagapaka – a village with a population of around 10,000 – are collectively waiting for Rs. 10 lakhs in wages since April 2015. And 294 labourers of Ganaparthi, a village with  a population of around 2,200, are yet to receive more than Rs. 4 lakhs. These estimates have been compiled by the villagers and local activists with data collected from RTI (Right to Information) applications, MGNREGA field assistants and from the postal department's portal.
Across the 20 panchayats of the mandal , payments of as much as Rs. 1 crore are yet to be made to 6,000 labourers – 12 of these panchayats still get them through the postal department, and in eight, after 2015, the payments are supposed to be credited into bank accounts.
"I have to walk one and a half kilometre and back only to hear the bank officials ask me to come back again the next day," says T. Lakshmi, who has been to the bank numerous times hoping to get her money, sometimes losing out on her day's agricultural wages. Till March 2016, her payment was disbursed by the post office, where she had managed to successfully match her data with her Aadhaar biometrics. Her problems started when the payments were transferred to the bank. "They keep saying that there is some 'technical problem' but don't explain what that is." So Lakshmi – her husband is also a daily wage labourer with intermittent work – depends on her son, who works with an apparel company in Atchutapuram mandal , where he earns Rs. 6,000 a month.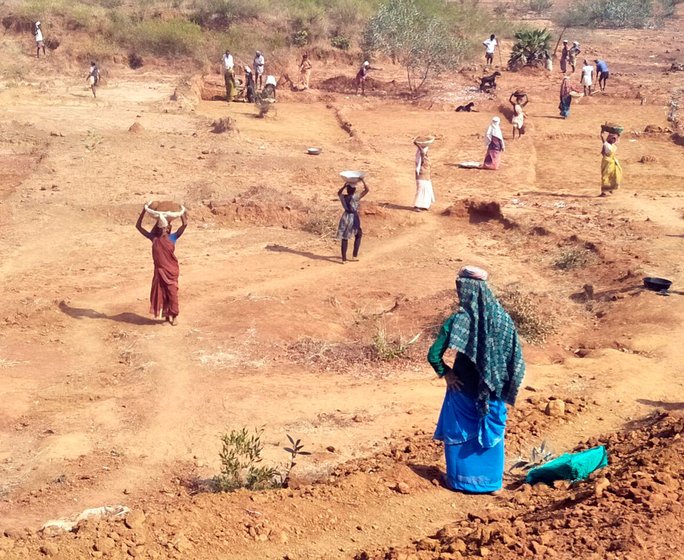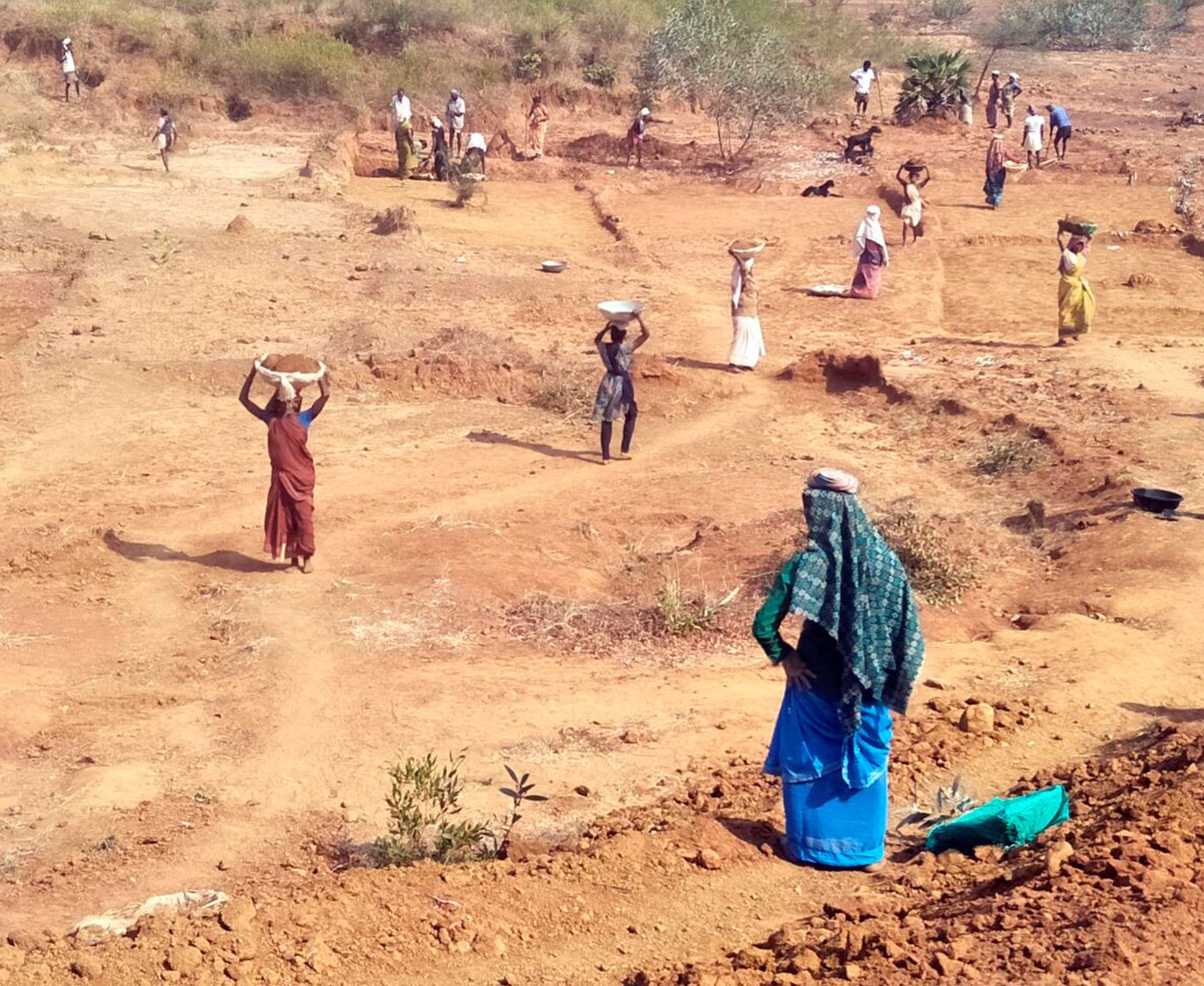 PHOTO • Rahul Maganti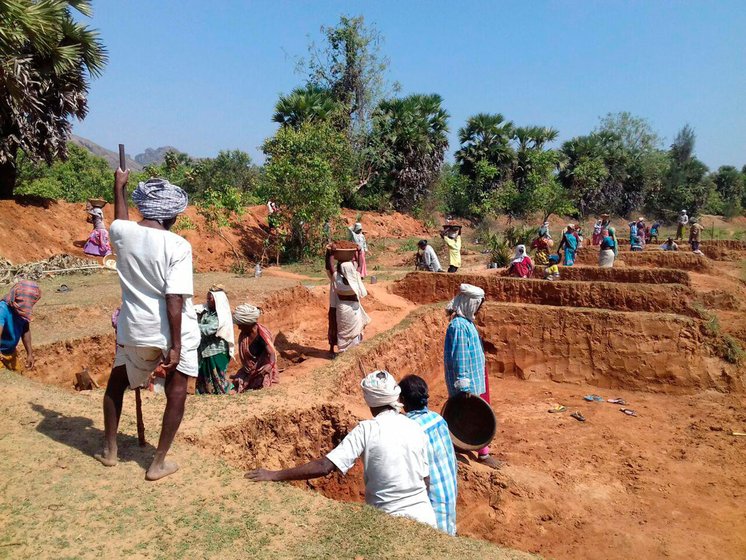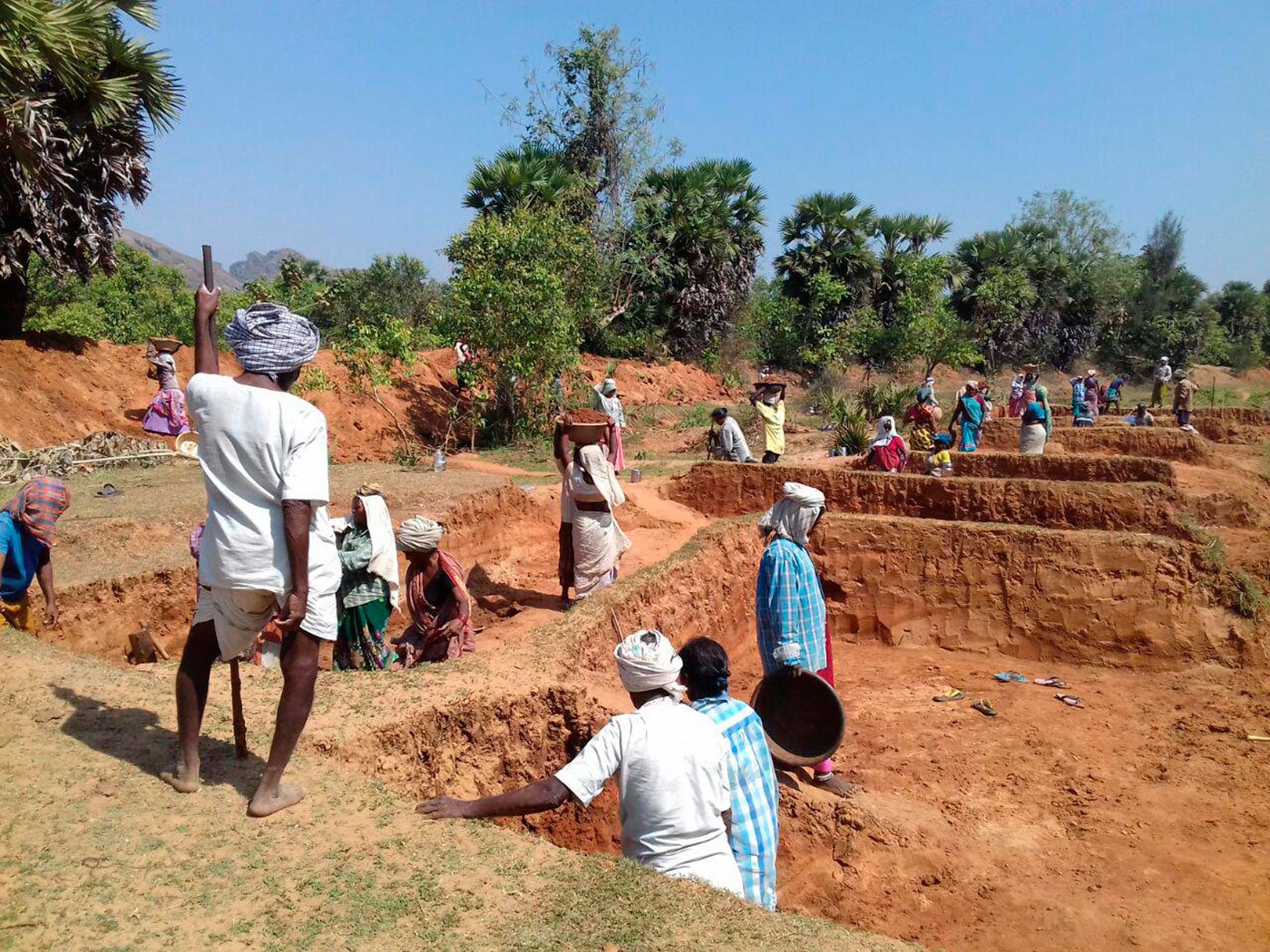 PHOTO • Rahul Maganti
The computer operator of Munagapaka mandal , Bablu, who digitises records, also cites 'technical problems' for the workers' Aadhaar numbers not being linked to their MGNREGA cards. He tells me he doesn't know what these problems are and asks me to contact the State Bank of India's Munagapaka branch. The bank officials ask me to contact the computer operator.
The government's records state that the Aadhaar numbers and job cards of 14,070 labourers in Visakhapatnam district are yet to be linked – and of a total of 174,755 across Andhra Pradesh (till January 2018).
At the Munagapaka mandal' s post offices, the problems with fingerprinting are rampant. "The post office keeps sending us back saying our finger prints [which the post office records when a  worker goes to collect wages] do not match with the ones they have in their [Aadhaar] database," says Nookaraju, who works on MGNREGA sites in Ganaparthi. He is waiting to be paid long-pending dues of Rs. 22,000. "We are the sons of the soil and we soil our hands every day working with our hands. The prime minister talks of Aadhaar and digitisation as a solution to all the problems in the country, but in reality this has taken food away from our mouth."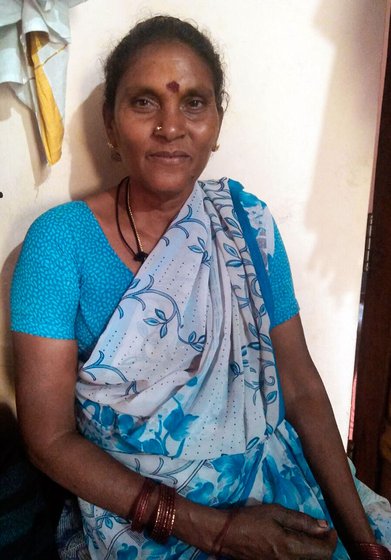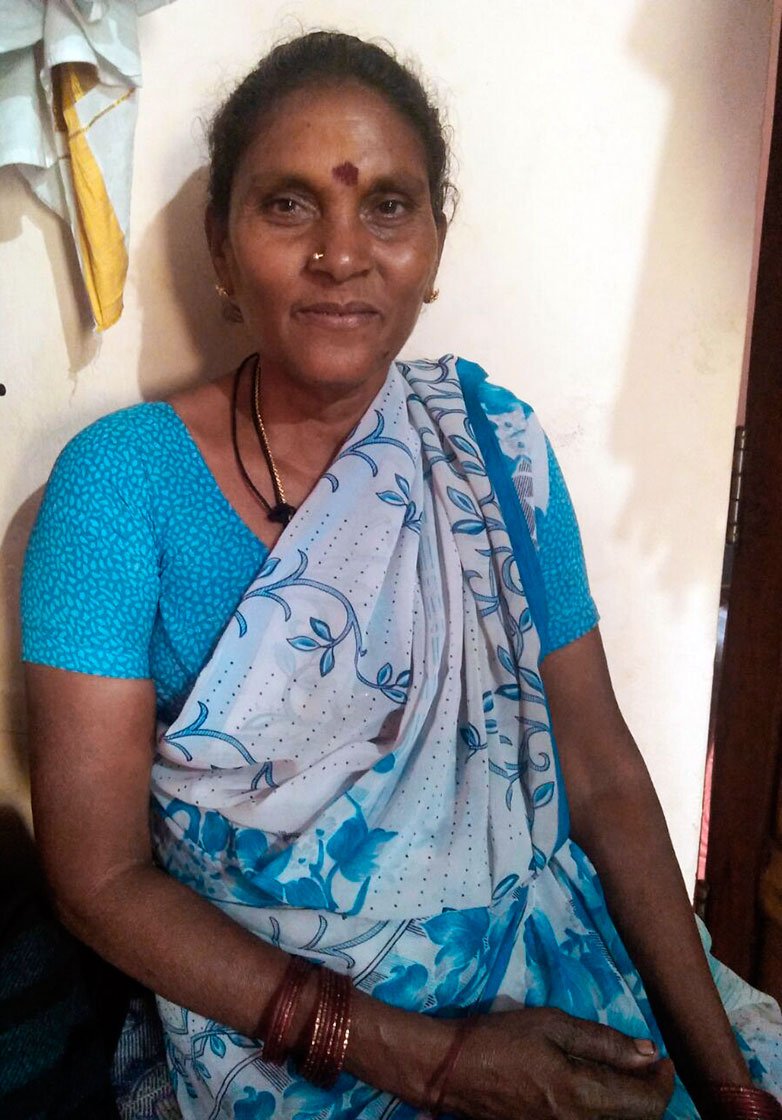 PHOTO • Rahul Maganti
Adding to the delays due to the technical glitches, fingerprint mismatches and erroneous linking is a severe shortage of funds. The central government is reportedly supposed to have released Rs. 1,972 crores for Andhra Pradesh to pay for the work generated since April 2015,  but released only Rs. 420 crores in November 2017. Many argue that this is a consequence of the  political tussles between the Bharatiya Janata Party at the centre and the Telugu Desam Party in the state.
"The law [MGNREGA Act, 2005] mandates that the payments must be made in less than 14 days after completing the work, or the workers must be paid compensation [25 percent above the wages owed for delays from 14-21 days, and 50 per cent for delays over 22 days]," says Balu Gadi, an activist with the Andhra Pradesh Vyavasaya Vrutthidarulu (Agriculture and Allied Occupations) Union. "So every worker in this
mandal
is eligible for compensation. Not a single person has got it. They are in fact still waiting for their actual wages."
Balu's mother Chinatalli, 50, is also an MGNREGA labourer who worked for 100 days in the financial year 2017-2018. "When I ask for more work days, the officials tell me that a household will only get a maximum of 100 days of work. But the law states that a household should get a minimum of 100 days of work. They use every opportunity to deny us work and payment," says Chinatalli. She is yet to be paid Rs. 12,000 that has piled up as wages since April 2016. The officials I spoke to say this is because her Aadhaar number is not linked to her job card and bank account.
In the mess of digitisation and delays, not many labourers speak of their right to a minimum of 100 days work because they are busy sorting out their payment problems for work already done. The average workdays generated per household for the 2017-18 financial year so far was 59 for Munagapaka mandal. For Andhra Pradesh as a whole, the number is 47 workdays.
On these days, T. Lakshmi, P. Lakshmi, Nookaraju and Chinatalli, along with other MGNREGA workers, have constructed feeder canals, dug ponds, cleared shrubs, and done other land development works. But they have been unable to  hammer through the unrelenting wall of Aadhaar.