"There is hardly any work in our village or in the surrounding villages," says Jangam Dhanalakshmi. "All the agricultural lands have been converted into fish tanks."
Dhanalakshmi, 40, (in the cover image above), lives in Ankennagudem, a Dalit hamlet of around 450 people at Tamirisa village in Krishna district, Andhra Pradesh. She spends a fourth of her daily wage of Rs. 200 on an autorickshaw to travel around 60 kilometres a day to agricultural work sites.
"Even after travelling so much, we only get work for around 30 days a year – 10 days in April, 10 days in August and another 10 days in December during the peak agricultural seasons," says Ganta Saroja, Dhanalakshmi's 60-year-old neighbour.  Since the people of the hamlet can only earn Rs. 5,000-6,000 annually from agricultural work, many have migrated. "Around 10 years ago, there were 150 families in this village. Now, there are hardly 60 families," Saroja estimates. "Some have migrated to Gudivada, Vijayawada and Hyderabad, others have gone to their in-laws' villages in search of work."
Ankennagudem is in Nandivada mandal , which has a population of around 36,000. Nandivada has the second largest per capita income in Andhra Pradesh (after Atchuthapuram mandal in Visakhapatnam district) due to the high returns from the fish tanks. The fish here are used in aqua processing units and then mainly exported to East Asian and European countries.  In 2014-15, according to data of the state's Capital Region Development Authority, the annual per capita income in Nandivada was Rs. 308,371 – the income for Krishna district as a whole the same year was Rs. 140,628.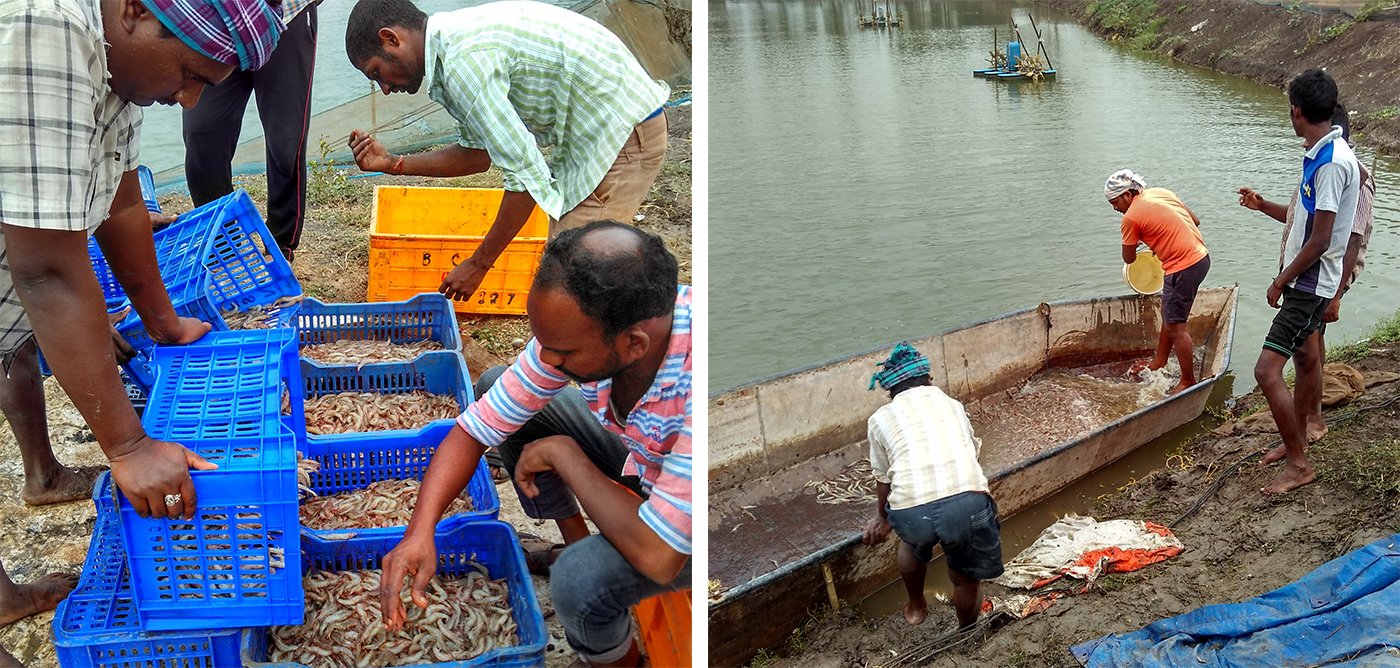 PHOTO • Rahul Maganti
But it is the only mandal across the state, Census 2001 and 2011 data show, where the population has been decreasing every year since the early 2000s. In the last 10 years, because the population has dropped, the Mandal Parishad Territorial Constituency seats (which reflect population numbers) have also reduced from 12 to 11.

Jangam Yahoshua, Dhanalakshmi's brother, also an agricultural labourer, explains, "About 15 years ago, our hamlet had around 370 acres of agricultural land. Most were owned by Kamma and Yadava landlords from the surrounding hamlets, while the Dalits owned just about 50 acres. When the landlords converted their agricultural lands into fish tanks to make quick money, we too were forced to do so, due to loss in soil fertility and contamination of water."
Most of the 50-odd acres the Dalits owned in the village were eventually bought at cheap rates by the landlords, because the Dalit families needed immediate money. As a result, Yahoshua says, "Not even an acre of agricultural land is left in our hamlet. This created a work crunch and we had to go out in search of livelihoods. But since almost all the surrounding villages followed a similar trend, work options in the region were drastically reduced, leading to migration."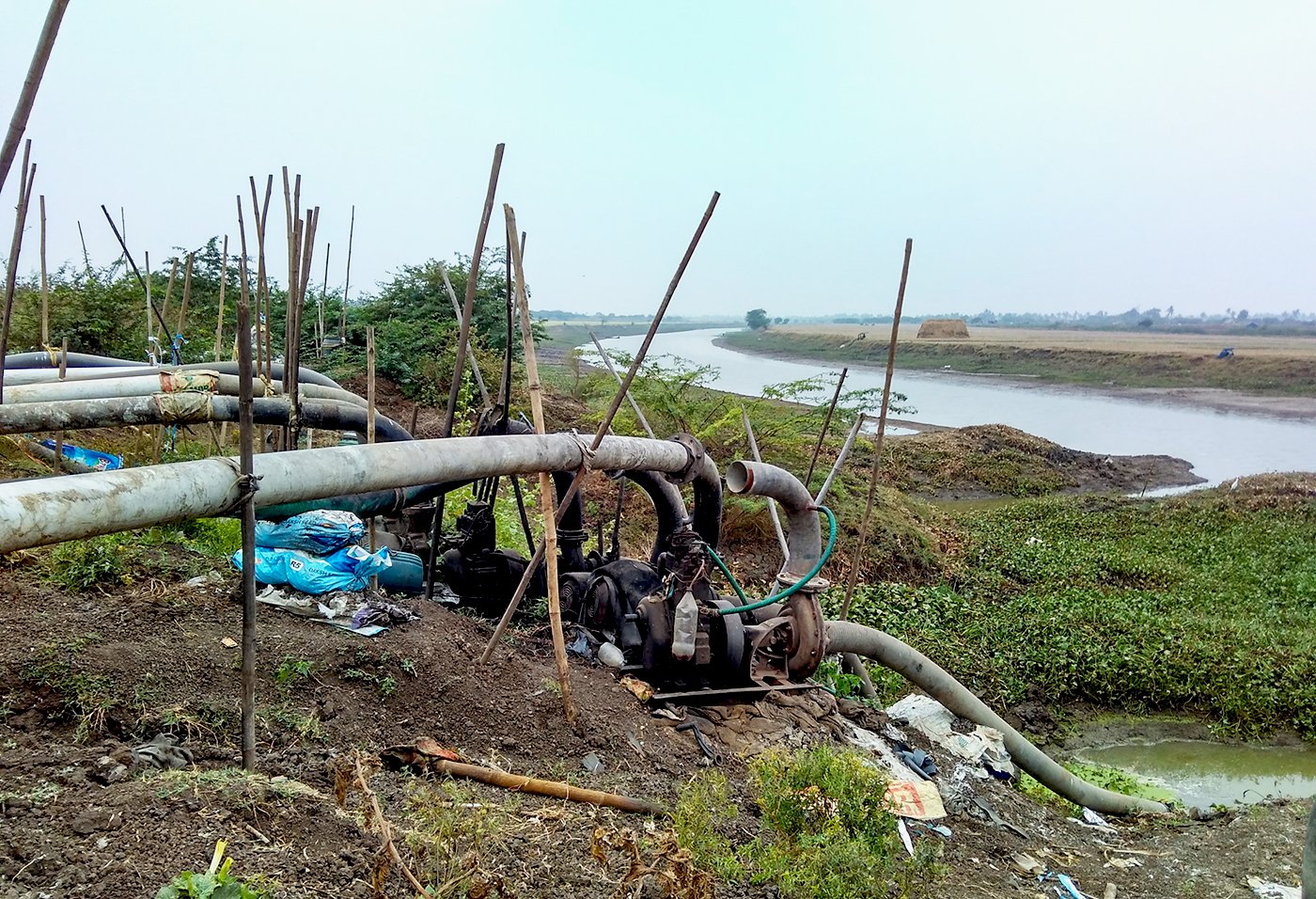 PHOTO • Rahul Maganti
The extent of the loss of work is huge: 100 acres of agricultural land offers around 11,000-12000 work days per year, while 100 acres of fish tanks offer only 1,000 work days per year. (Work days is the number of people who get work multiplied by the number of days they get work).

Ankennagudem is not the only Dalit hamlet suffering in this manner. "Our estimation is that fish tanks fill 28,000 acres of the total 32,000 acres of land in Nandivada mandal , most of them without proper permission from the district authorities," says Murala Rajesh, 28, an activist with the Communist Party of India (Marxist)-affiliated Andhra Pradesh Agricultural Workers Union. Land in the region is largely owned by the Kamma community, a politically and socially dominant caste in Andhra Pradesh; this is followed by the Reddy, Kapu, Rajaka and Yadava communities. Their income now comes mainly from the fish tanks.
Dhanalakshmi's son Ajay, 20, works at a fish tank owned by a Kamma and leased by a Yadava. His monthly salary of Rs. 7,500, for working from 7 a.m. to 1 p.m., helps support the family of five. "We used to eat three times a day 10 years ago. Now, we hardly have money for a second meal," says Dhanalakshmi.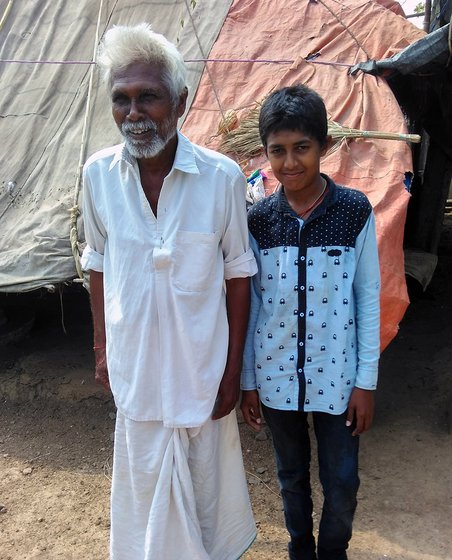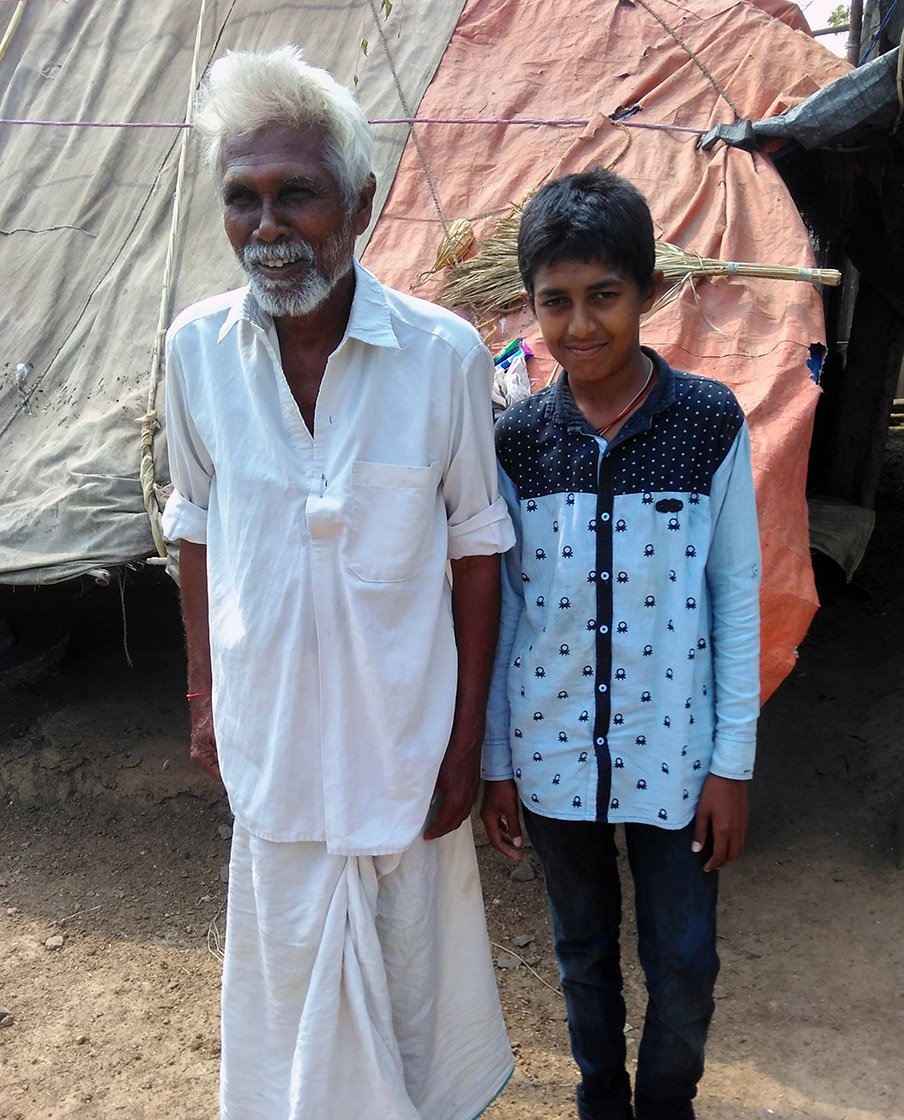 PHOTO • Rahul Maganti
This is the story of many elderly people in Dalit families across Nandivada, where aquaculture began in the early 1990s – then escalated and spread by the 2000s. Kanthamma, 55, a Dalit widow from the adjacent Hanumanapudi hamlet, worked as an agricultural labourer till the early 2000s. "I earned Rs. 100 a day and worked for around 200 days a year," she says. "With the increasing number of fish tanks, opportunities became less and I was forced to go out in search of work. But my health did not cooperate…"
Her son Chandu, 25, now takes care of Kanthamma. He works in a welding company in Hyderabad. Chandu dropped out of school in Class 7 to help his mother, and he too started working as an agricultural labourer. But when that work nearly vanished, he relocated to Hyderabad four years ago. "I now earn Rs. 12,000 and send half back to my mother," he says.

Vasantha Rao of Hanumanapudi hamlet, who worked as an agricultural labourer till a few years ago, also depends on his sons to run the house. "Two work in Gudivada [the closest town, seven kilometres away], while the third works in Hyderabad," he says. Vasantha estimates that the sons of at least 30 of the 50 Dalit families in his hamlet have migrated to these two places.

Chandu is not surprised at the declining population of the mandal despite the high per capita income. "The women stay back [and take care of house work, since no wage work is available nearby]. Men occasionally get work if they are healthy enough to travel to other nearby villages. The daughters are married off and sent to their in-laws' villages. Sons go to Gudivada and Hyderabad, do menial jobs, drive autorickshaws, work as construction labourers and painters – and send money back to their parents while leading miserable lives themselves. In such a situation, why will the population of the mandal not decrease?" he asks.

PHOTO • Rahul Maganti
Chandu's friend Mattupalli Joseph works at the fish tanks whenever work is available. He decided to stay back in the village to take care of his old parents. "What is the purpose of MGNREGA [Mahatma Gandhi National Rural Employment Guarantee Act] if it is not being implemented? We have often asked the officials to give us some work through MGNREGA, but not once has that happened since the Act was passed [in 2005]. One day, I will also be forced to leave my old parents in the village and go to some city and work as a labourer there," says Joseph, pain and anger visible on his face.
Meanwhile, the aquaculture has contaminated groundwater and drinking water ponds in the hamlet, and polluted other surface water resources like irrigation canals and rivulets. "The drinking water from the panchayat tap looks green. We buy a can of 20 litres of drinking water for Rs. 15  [from shops near the panchayat office in Tamirisa]. And we need at least 20 cans a month. The Dalits here have been forced to migrate, but will the landed castes escape the fury of nature?" asks Saroja.