Every night, around 10 p.m., Setty Srikanth and Setty Gopichand spread out an old vinyl banner on the traffic divider of the Chennai-Kolkata National Highway that passes through Vijayawada. Then, using their towels as sheets, they go to sleep right there.
In the morning, they walk to the nearby Benz Circle, where daily wage labourers gather from 6 a.m., hoping to be hired. Sometimes, the Setty brothers eat idlis bought from vendors on cycles at the labour ' adda '. Many times they go to work on an empty stomach.
"It has been a year since we came to Vijayawada," says 16-year-old Srikanth. He and Gopichand, 22, left Madupalle village in Khammam district of Telangana soon after their family suffered huge agricultural losses in 2016, though they had managed to break even until then. "Our father cultivates five acres [on leased land] of chilli, cotton and turmeric. But we ended up with a loss of five lakh rupees that year [and that amount has now grown to seven lakhs due to the high interest rates charged by moneylenders]," says Srikanth. The turmeric harvest did not fetch a good price, their cotton crop got infested by the pink bollworm and the chilli crop failed because of bad seeds. "We were forced to migrate to find work and repay our debts," says Srikanth, who dropped out of Class 10, while Gopichand left the polytechnic course where he was training to be an automobile mechanic.
Every morning, like the Setty brothers, around 1,000 people wait at Benz Circle hoping to be hired for daily wages at jobs that require hard labour. While women commute from nearby villages and return in the evenings, most of the men sleep on the pavements or dividers within a three-mile radius of the Circle. They have migrated to the city from across the state – from the northern Srikakulam district of Andhra Pradesh to Nellore district in the state's southern coastal region.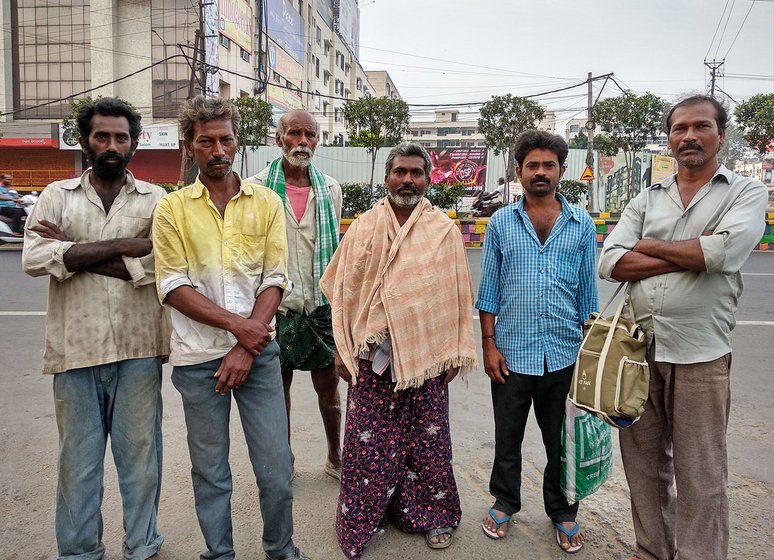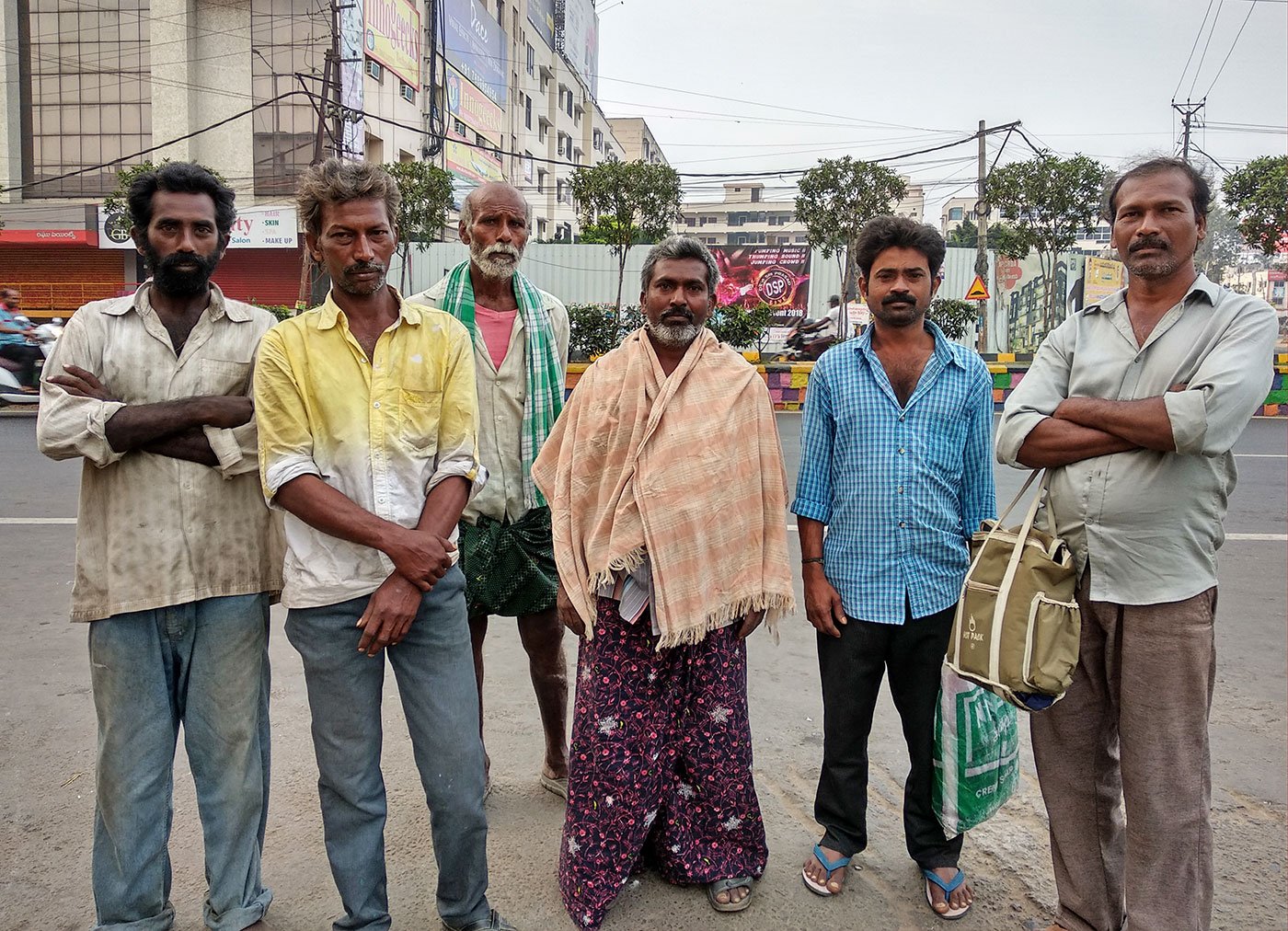 PHOTO • Rahul Maganti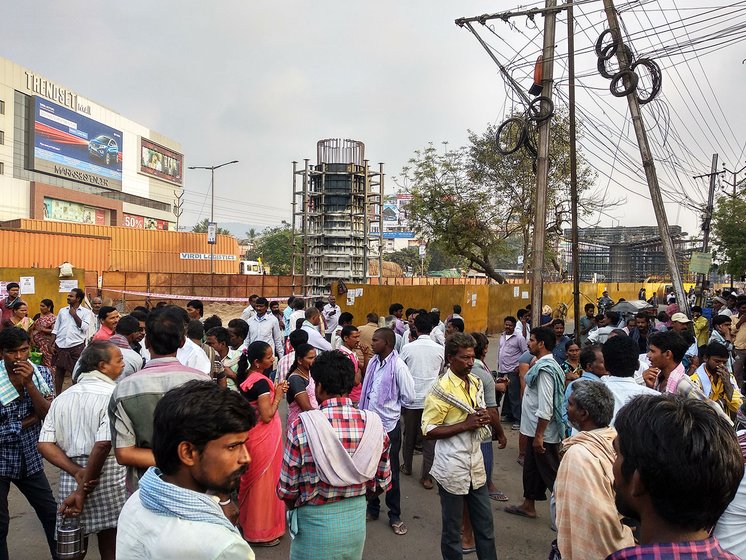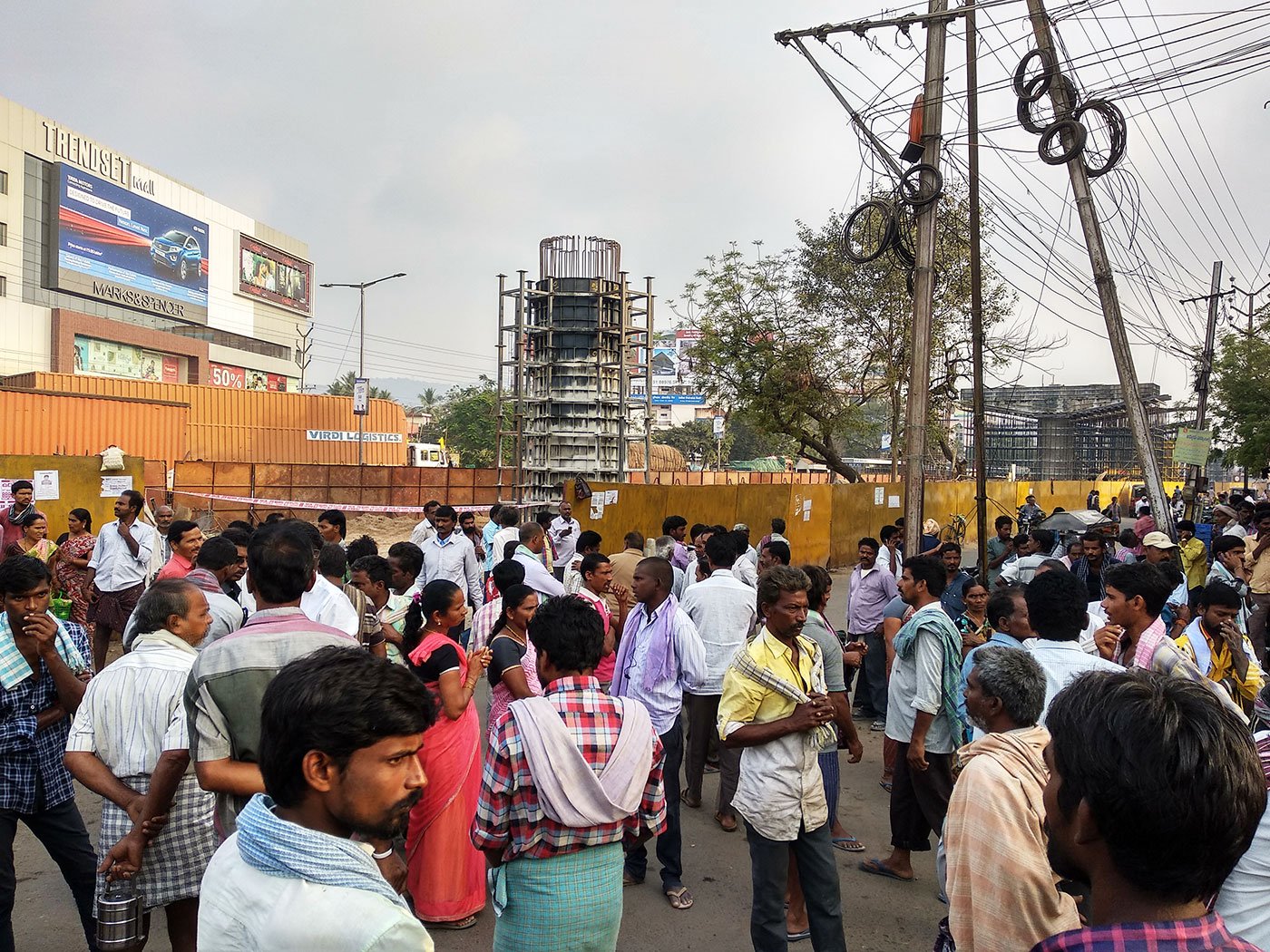 PHOTO • Rahul Maganti
Others have come here from Telangana's Khammam and Nalgonda districts. Banavath Kotaiah, 40, a Lambada tribal from Jamalapuram village in Khammam, migrated after he could no longer cultivate on his half-acre podu (forest) land. Without a patta (a government-issued 'land ownership' document), he couldn't apply for an agricultural bank loan. His land has been lying empty for 15 years, ever since Kotaiah came to Vijayawada, leaving behind his wife and two school-going sons. "I go back home [by train, then by a bus] once a month and return after spending a day or two with my family," he says.  Kotaiah usually works a gruelling 11 hours, from 8 a.m. to 7 p.m., for Rs. 400.
This wage rate varies, depending on the job. It is decided by the employer since supply always outstrips demand at these labour addas . Employers – mainly contractors and construction mestris – come to Benz Circle to pick up workers in two-wheelers, tractors and tempos, depending on the number of labourers they need for the day.
"We do all sorts of work – catering, construction, working in houses – you tell us, we will do that," says Kota Veera Vasantha Rao, 52, a Dalit from Muppalla village in Krishna district, who came to Vijayawada in 2003. "These [labour] centres have been here since long and the number of people looking for work has increased in the last few years."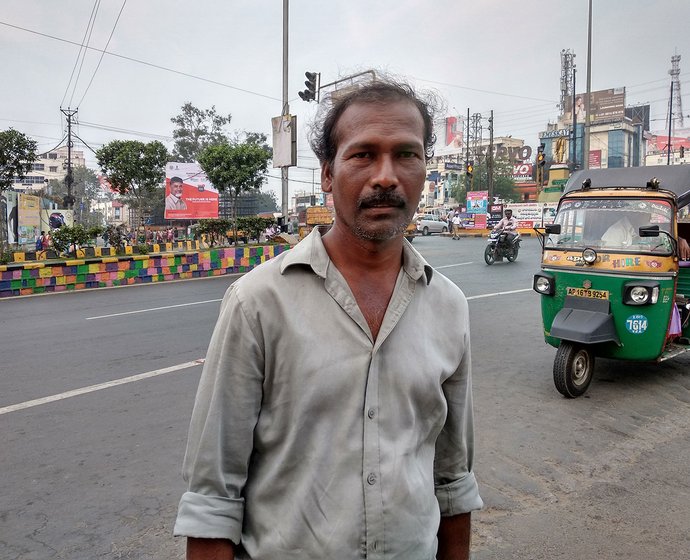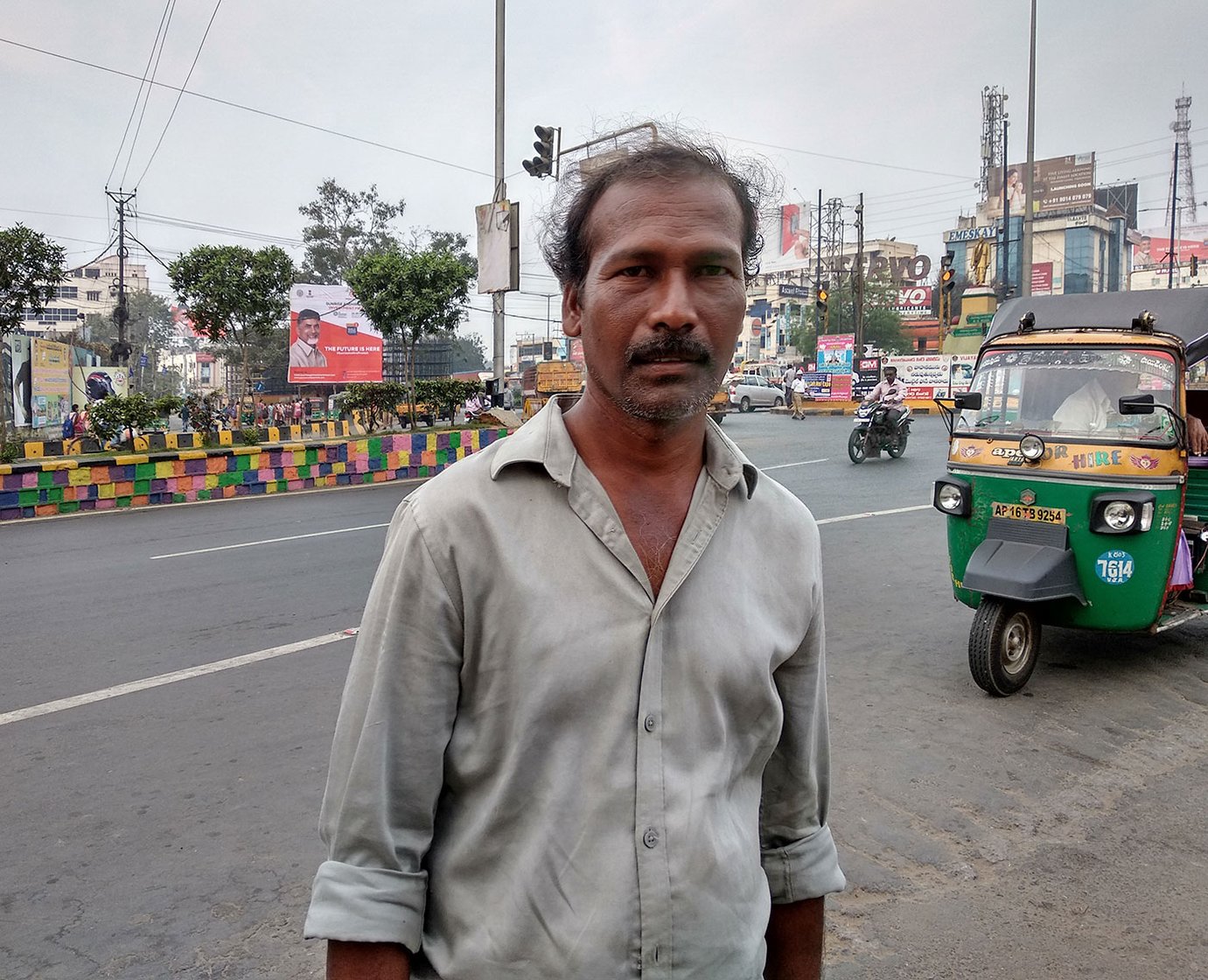 PHOTO • Rahul Maganti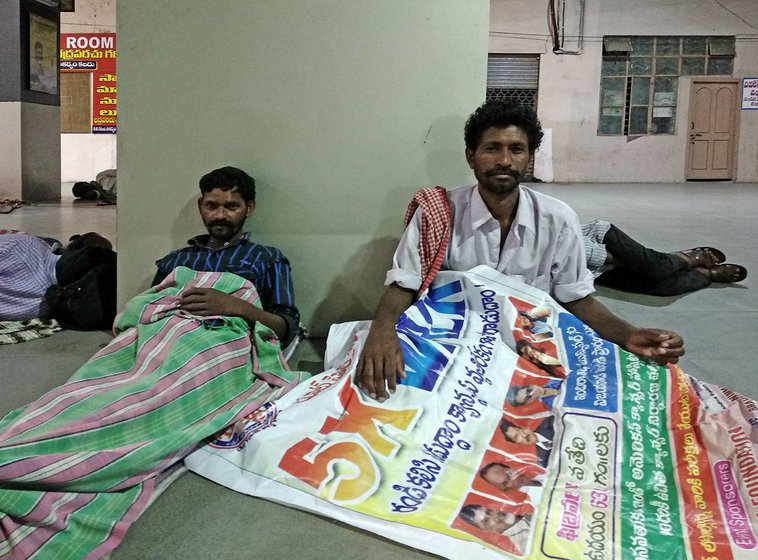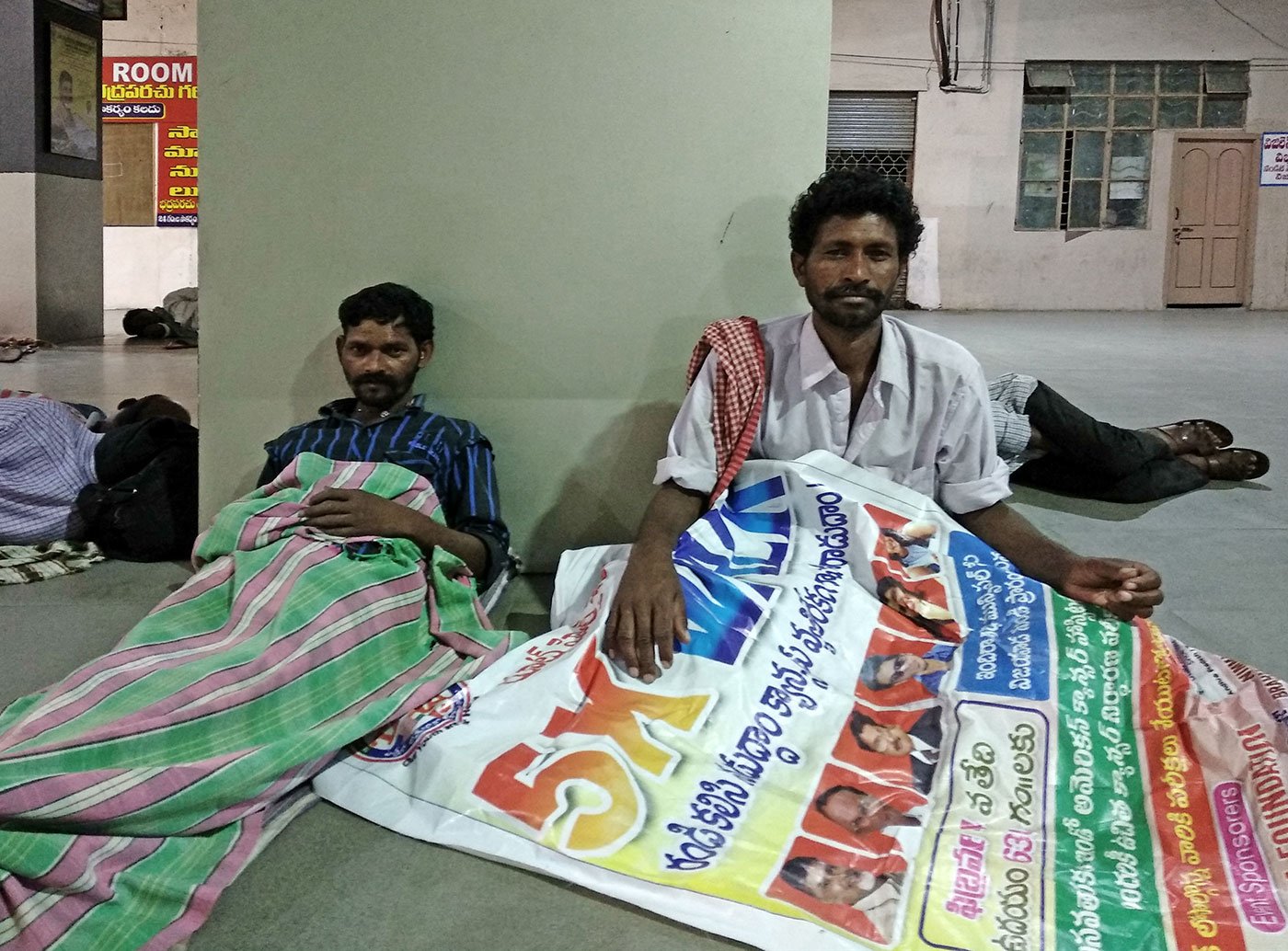 PHOTO • Rahul Maganti
Vasantha Rao, a landless labourer, was forced to leave his village after work on the farms dried up due to prolonged water scarcity in the region. For two years, he paid Rs. 30 for a bed to sleep on in a lodge near Vijayawada's railway station. When he could no longer afford this small luxury, Vasantha Rao stared sleeping at the railway station itself. Since 2014, he's been sleeping at the city's main bus station after it was renovated, when Vijayawada became the state's new capital. His homeless nights in the city are punctuated by a trip back home every Sunday – around 58 kilometres away, by a state transport bus. He returns on Monday morning to Benz Circle, ready for work.
There are more than 10 such labour clusters in Vijayawada, where approximately 6,000 men and women (estimates N.C.H. Srinivas, general secretary of the Centre for Indian Trade Union, Krishna district) gather every day looking for daily wage jobs. Besides Benz Circle, the most prominent of these are at Satyanarayanapuram, Vijaya Talkies and Chittinagar.
Bhoolakshmi, 55, has been coming to Benz Circle for three years. Along with 10-12 other women, she comes by a shared autorickshaw from Kankipadu, 15 kilometres from Vijayawada. She ends up spending nearly Rs. 100 every day on travel.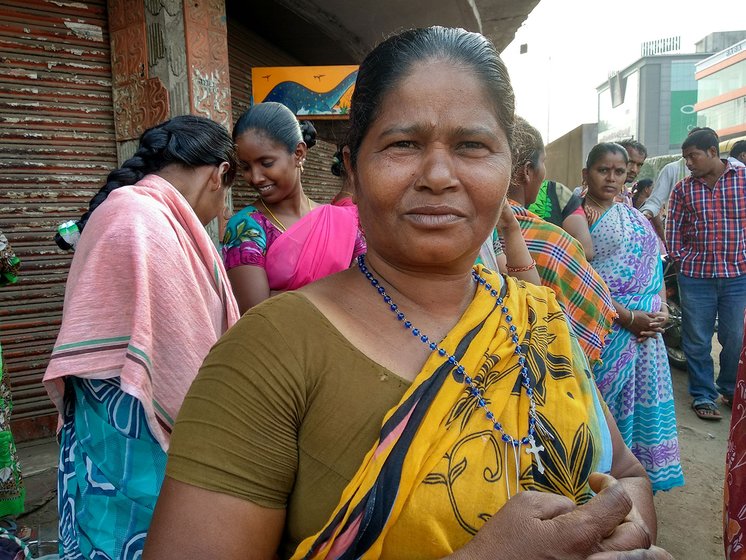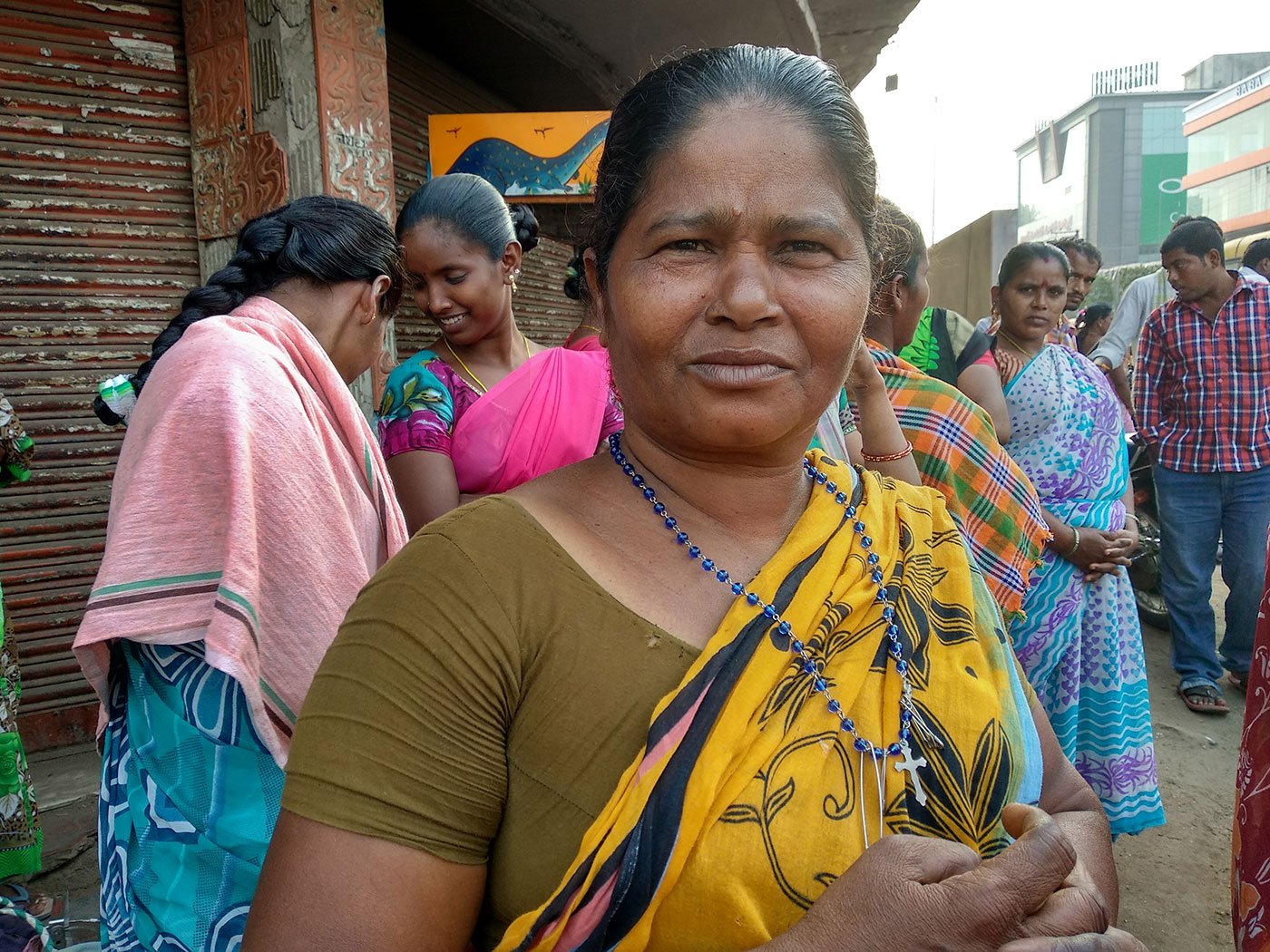 PHOTO • Rahul Maganti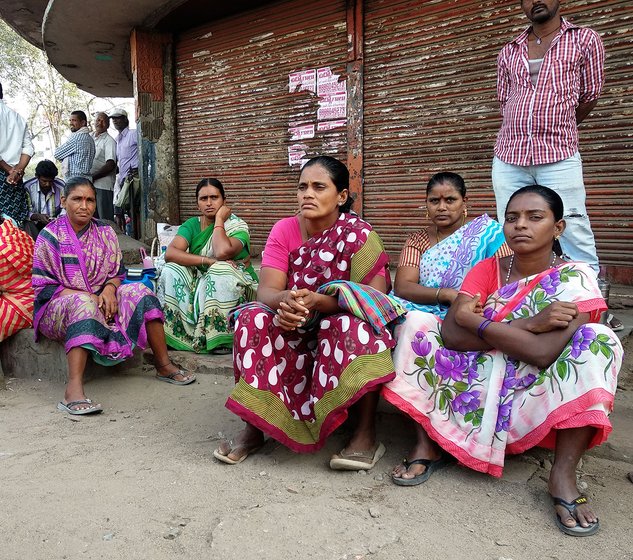 PHOTO • Rahul Maganti
"We don't have work either in the fields or through MGNREGA [Mahatma Gandhi National Rural Employment Guarantee Act]. So we come to the city," she says. "But we hardly get 2-3 days of work in a week and 400-500 rupees per day." The women are mainly hired for construction work and catering jobs, but are often paid less than the men.
At around 6 a.m. one Friday morning in February, the crowd of hopefuls swells at Benz Circle, waiting patiently for someone to hire them. At 10 a.m., at least half of the nearly 1,000 workers slowly start dispersing and walk to a Sai Baba temple a kilometre away, where food is given to poor people every day.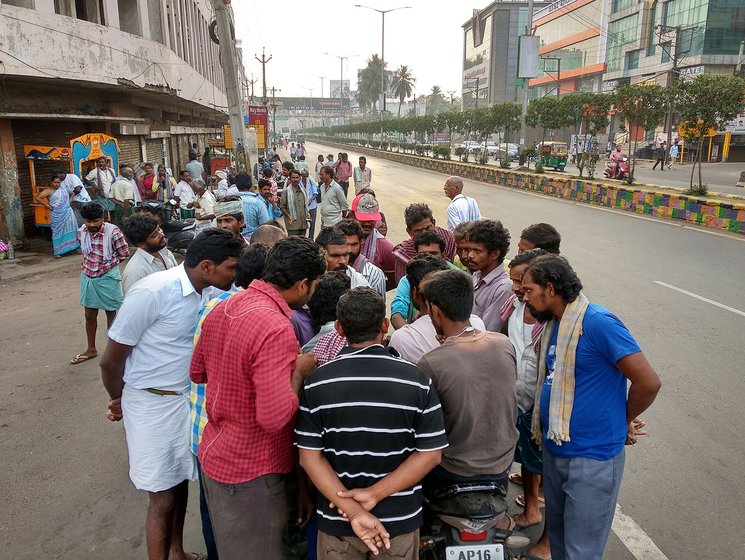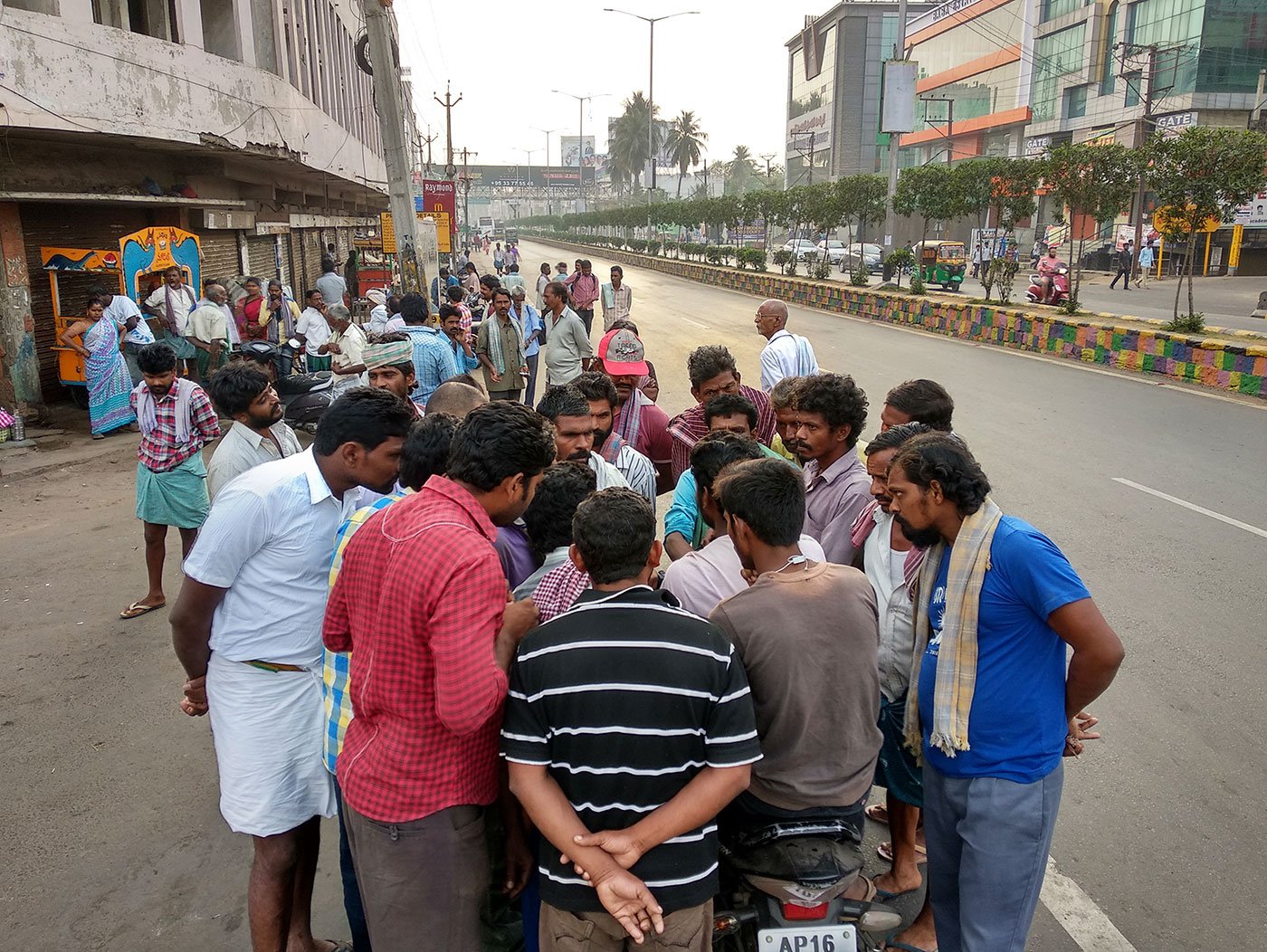 PHOTO • Rahul Maganti
"Today's earnings will be over by the end of the day. If we don't find work the next day, we have to stay hungry till we do," says Setty Srikanth. "Till then, we eat in the afternoon at the temple and fill our stomachs with water from the municipal tap in the night." Working for long on an empty stomach sometimes makes young Srikanth dizzy. "I  drink water, rest for some time, and start working again," he says.
Kotaiah recalls a hot Vijayawada summer when he fainted after having eaten just once a day for weeks. "I didn't have any money to go to the hospital and my contractor gave me only half my wage that day since I didn't complete my shift. My co-workers pooled a little money and took me to the government hospital that evening," says Kotaiah, who woke up the next day with a severe headache, nausea and high fever. He went back to Jamalapuram for two weeks, then returned to Vijayawada. "I had to go back to my village because I don't have a roof here and didn't have the energy to work and make money," he says.
Many workers at Vijayawada's labour clusters also face a daily battle to protect their hard-earned money from organised gangs who roam the streets at night. "Just yesterday, I lost 1,500 rupees to the 'blade batch' [gang of] thieves. Sometimes, we bury our money in mud to save it from those gangs," says 25-year-old Kumar (who wanted only his first name to be used). He is from Nidadavole town in West Godavari district, around 135 kilometres  from Vijayawada. "When we don't find any work, we buy [country] liquor worth 50 rupees. We drink on the pavements and pass out."
Living on the streets also means facing frequent police violence. "They come and drive us away and hit us with their lathis when some VIP is coming or when they want the city to look clean," says Kumar.
There are only two NGO-run night shelters in town, with a total capacity of 150 people. These were built by the Vijayawada Municipal Corporation. Three more shelters have been 'under construction' for four years, close to the bus station near Benz Circle and near another labour adda . The government says the additional shelters will be completed this year.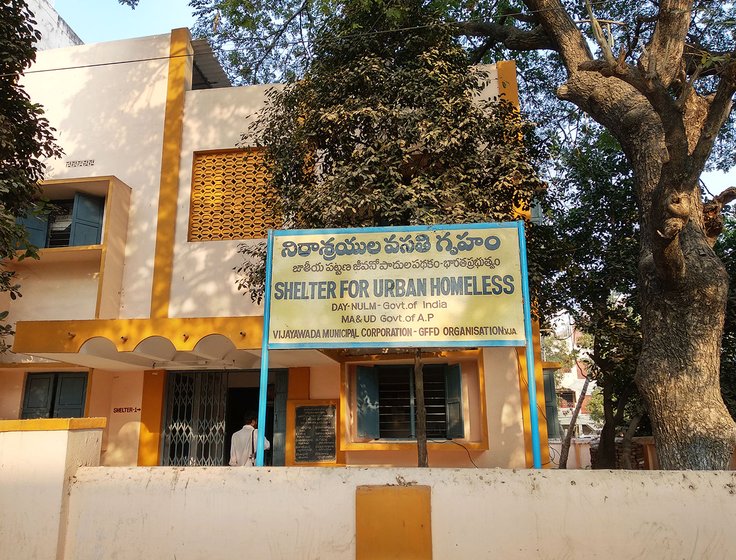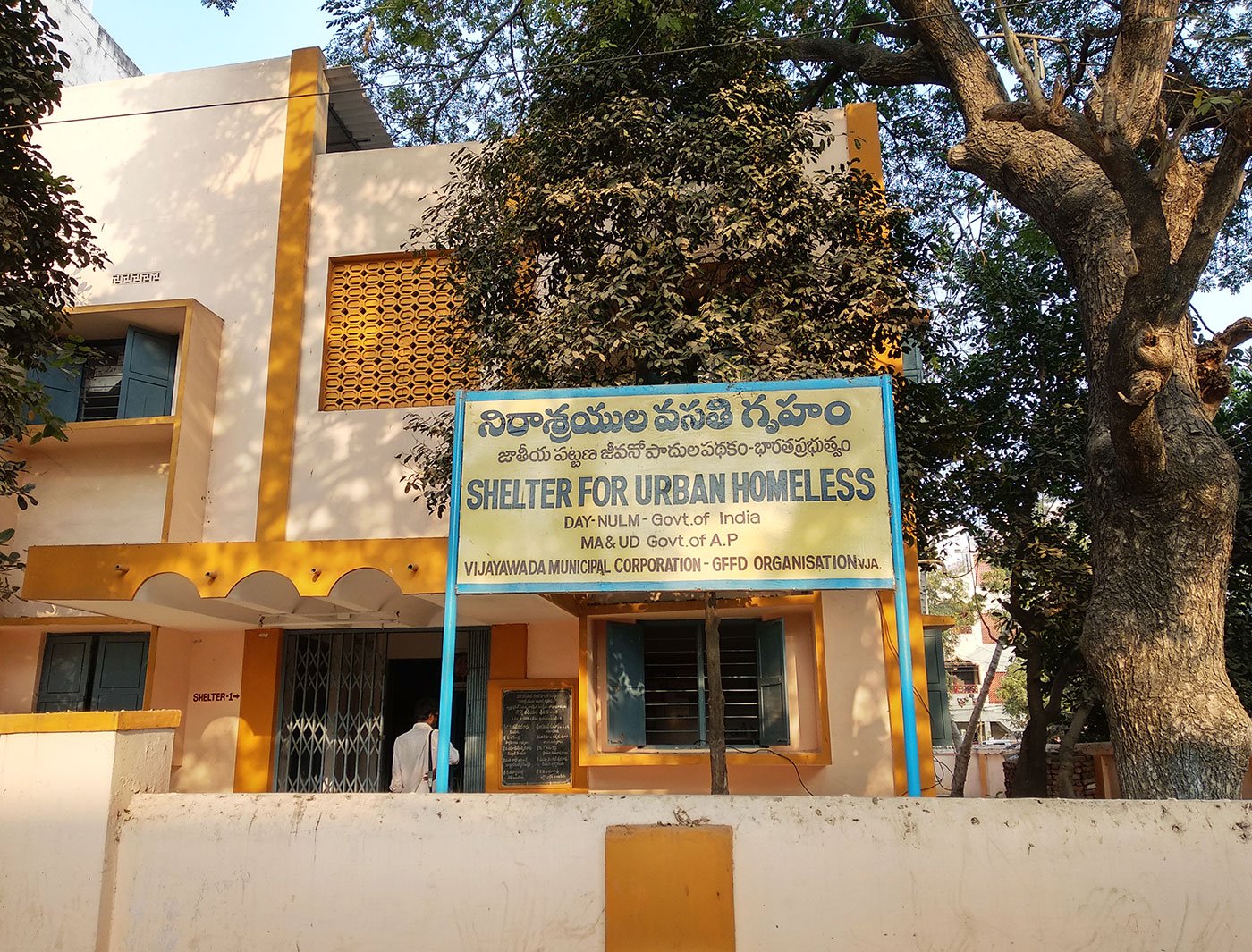 PHOTO • Rahul Maganti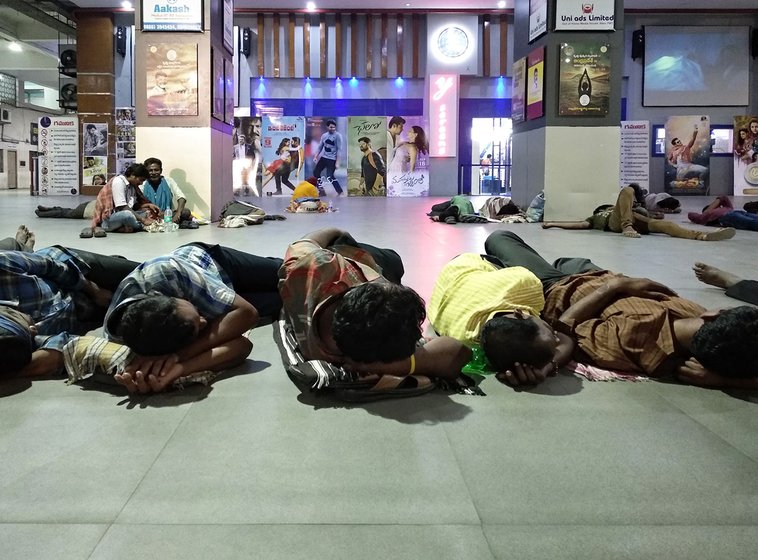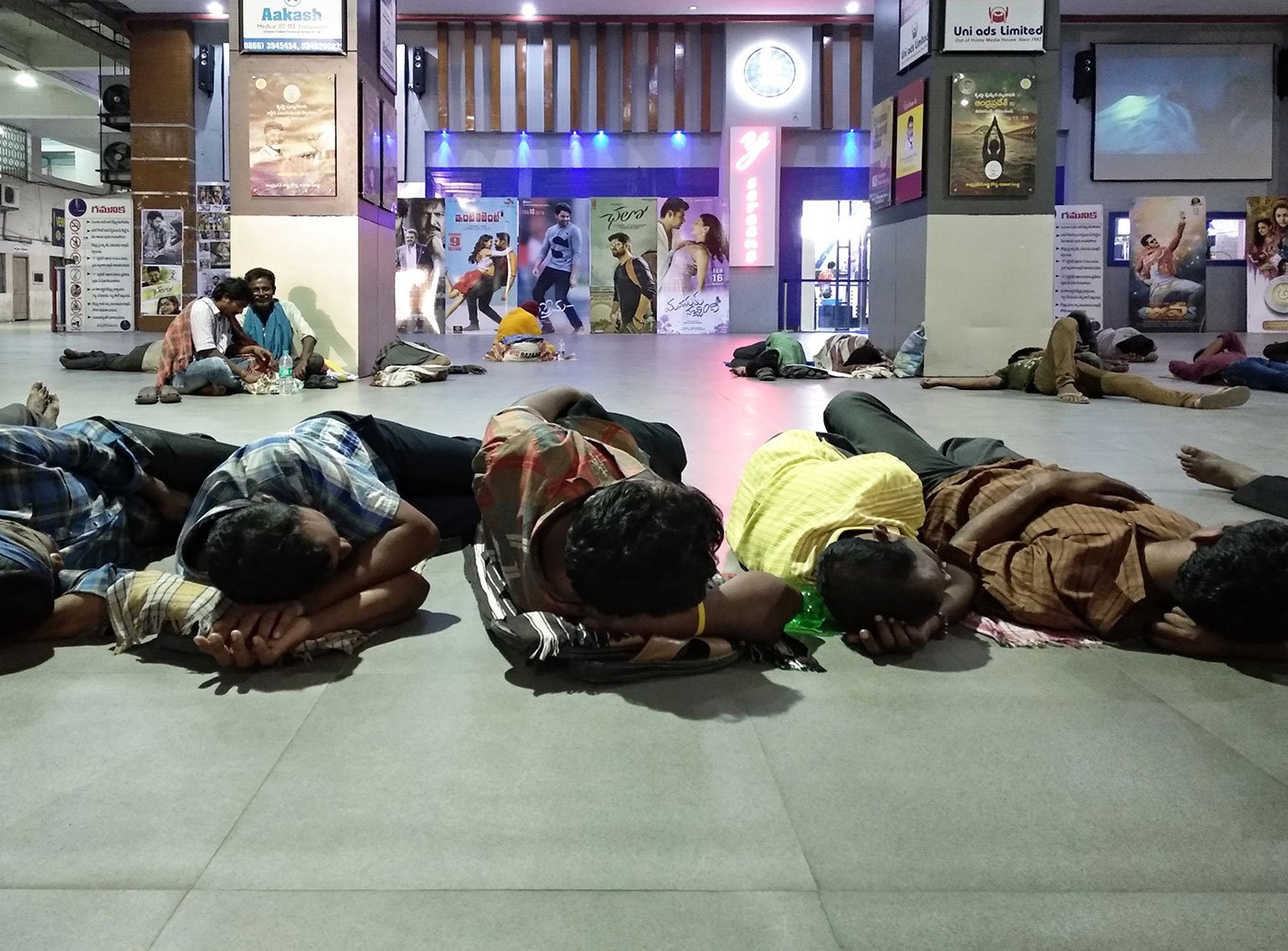 PHOTO • Rahul Maganti
"But they are not enough. The Supreme Court guidelines [as per the court's ruling in the 2016 'E.R. Kumar & Others Vs Union of India' case, based on writ petitions concerning the right to shelter of homeless persons in urban areas] state that for a population of every 100,000 people, a minimum of one shelter [each housing between 50-80 persons] should be constructed. So Vijayawada [now with a population of around 15 lakhs] should have [at least] 15 shelters," says Murali Krishna of Guide Foundation, a non-governmental organisation which looks after the existing night shelters.
"There are sufficient funds [for building shelters] under the National Urban Livelihood Mission but there is a lack of commitment. The government [through the NULM] should also give free dinner to people in the shelters along with sessions about employment options [or skill development] and help them find alternate housing in the city [as per the Supreme Court ruling]," says Pragada Srinivasu, a Visakhapatnam-based activist with the Association for Urban and Tribal Development.
Such measures though remain a distant dream, and the people who give the most to keep Vijayawada running with their labour live in a state of constant flux. Their search for the next job, the next meal, the next safe place to sleep continues.