Twice a day, Sameeruddin Sheikh manoeuvres his bicycle through the crowded lanes of the old city of Ahmedabad. The 13 kilometre journey from his home in Fatehvadi, Juhapura to Taj Envelopes – his workplace, takes him about an hour each way. "બાઇક હૈ પર નહીં લે જાતા, ક્યોંકિ પેટ્રોલ નહીં પોસાતા [I don't take the motorbike I have. I cannot afford the petrol]," says the soft-spoken 36-year-old, parking his bicycle.
His workday day begins and ends in a 10 x 20 room in the basement of a shopping complex in the old city, an area called Khadia. He works with about 10 others like himself, crafting envelopes. His personal best has been 6,000 to 7,000 in one day.
The making of an envelope is not as easy as it may appear. "It takes one and a half to two years to learn the craft," says Sameerruddin. "You don't qualify as an independent worker, entitled to an independent wage until ustad (the senior craftsman and mentor) approves the quality of your work and puts his stamp on it," he explains.
Quality here is a combination of speed, accuracy, dexterity, and knowledge of tools. Barring the two machines for cutting and punching in every workshop, all the work is done by hand.
The machines are largely operated by the workshop owners; large sheets of paper are cut into smaller pre-fixed sizes and a special die is used to mould the envelope papers into different sizes. The workers count the papers and work on a hundred at a time, folding, sticking, sealing and packing.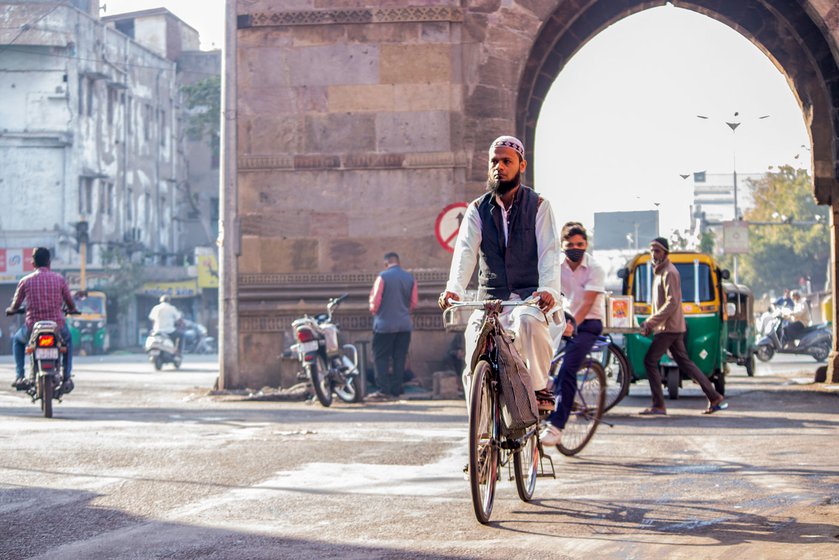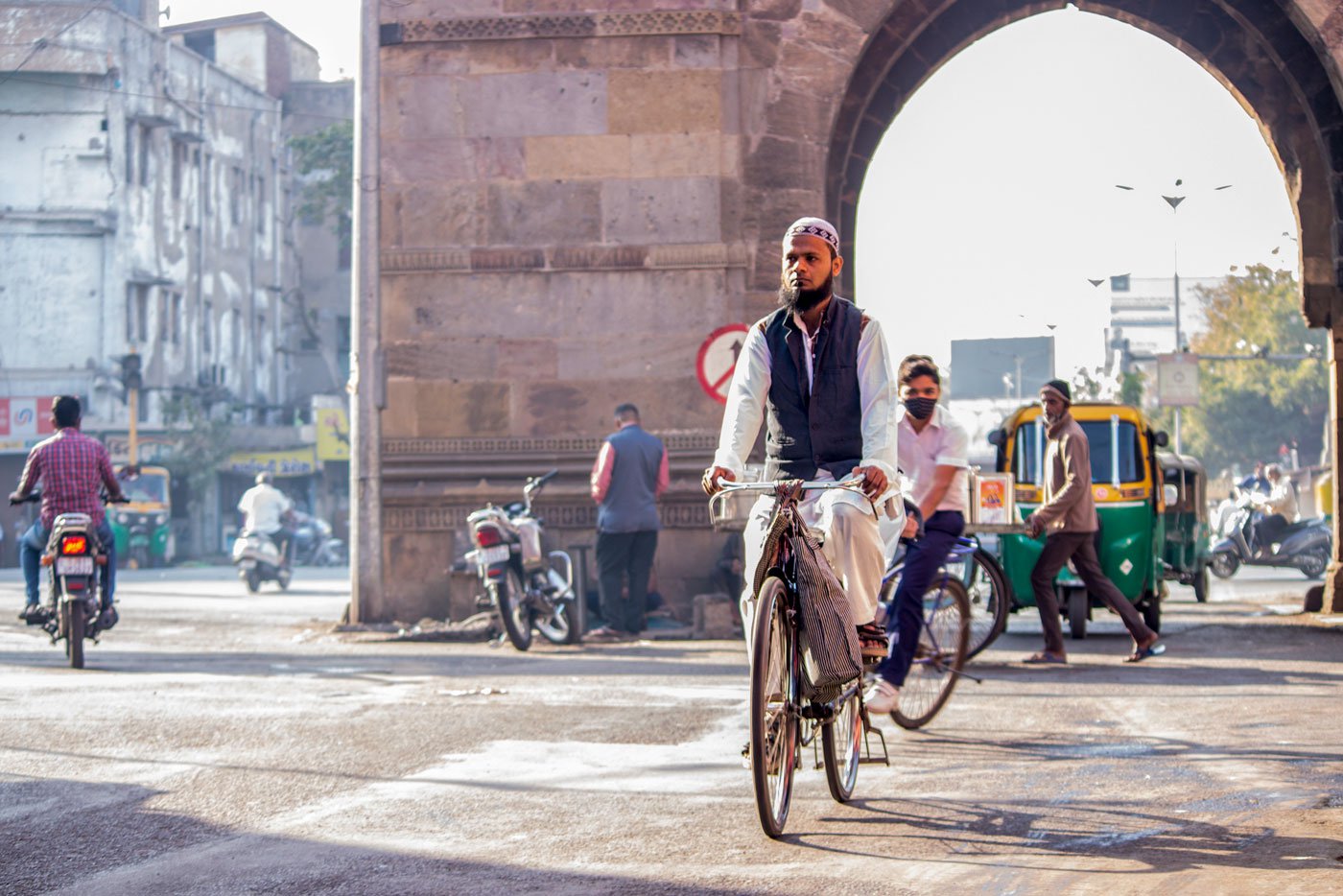 PHOTO • Umesh Solanki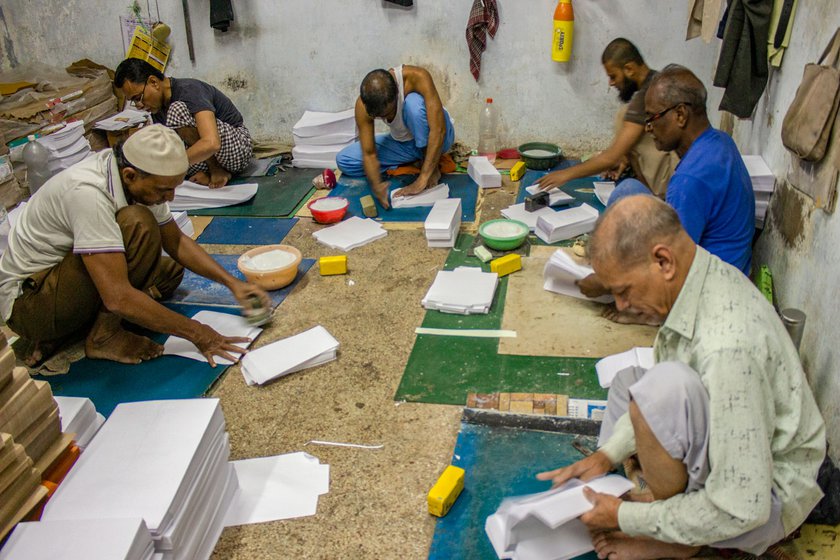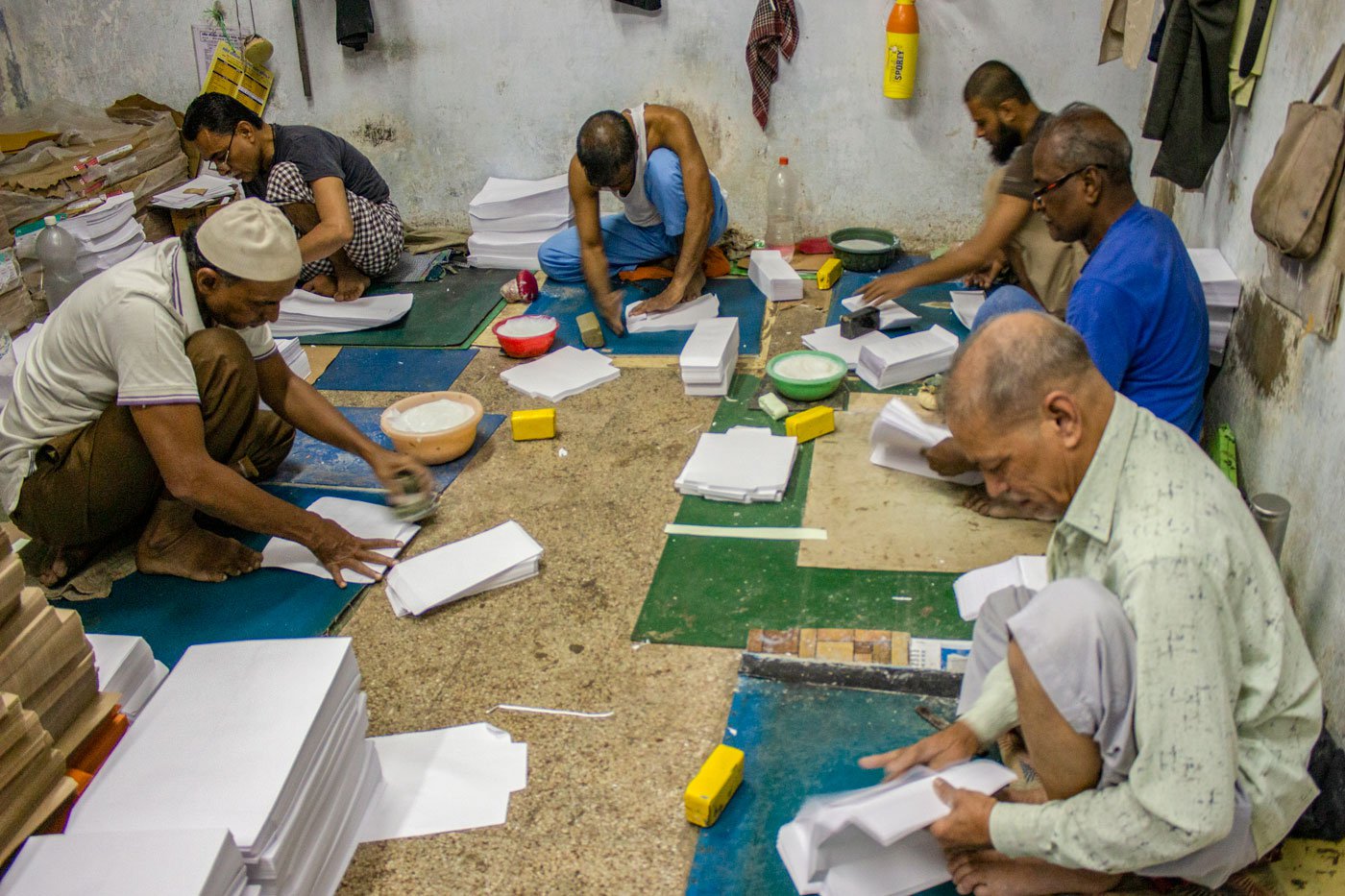 PHOTO • Umesh Solanki
The process calls for meticulous care. Each part of the envelope is distinctly named – mathu (the top end), pendi (the bottom flap), dhapa (the side flap where glue is applied), khola (the side flap that is pasted onto the glued flap). And every step of the process, also distinctly named, must be strictly followed; tools are to be used with care and knowledge or they can cause serious injury.
When the side flaps are folded, workers use their fists and then a tool called patthar (stone) to create neat sharp creases. This 'folding stone' was once made from a grinding stone but now a heavy iron slab is used instead. "When I was learning the process the patthar hit my finger," says 51-year-old Abdul Muttalib Ansari. "Blood gushed out from my finger and splashed onto the wall near me. Then the ustad told me that if I wanted to be an accomplished craftsperson, I had better learn to use technique rather than physical force."
The 'stone' weighs about a kilogram. "You need to use it four to five times for a normal envelope," explains Abdul Muttabil Ansari. "Depending on the thickness of the paper your technique has to change. How high you lift the patthar, how hard you hit, and how many times you hit, are all things you learn only by doing," says 52-year-old Abdul Gufar Ansari. "One envelope passes through our hands 16 to 17 times in the process. The chance of us cutting our fingers every day are always very high. If the glue touches your cut fingers, it burns," he adds.
Envelope maker Mustansir Ujjaini, 64, says he applies hot kokam oil on his cuts. Some others use Vaseline or coconut oil for relief. The challenge of the work varies depending on the kind of paper one is working with. "Sometime when we get kadak maal [art paper of 120 GSM], our hands hurt. I then immerse them in hot water with salt for seven-eight minutes for relief," says Mahammad Asif of Sonal Envelopes. "Our hands also hurt when the weather turns cold. Then I also use hot water for relief," adds Sameeruddin Sheikh.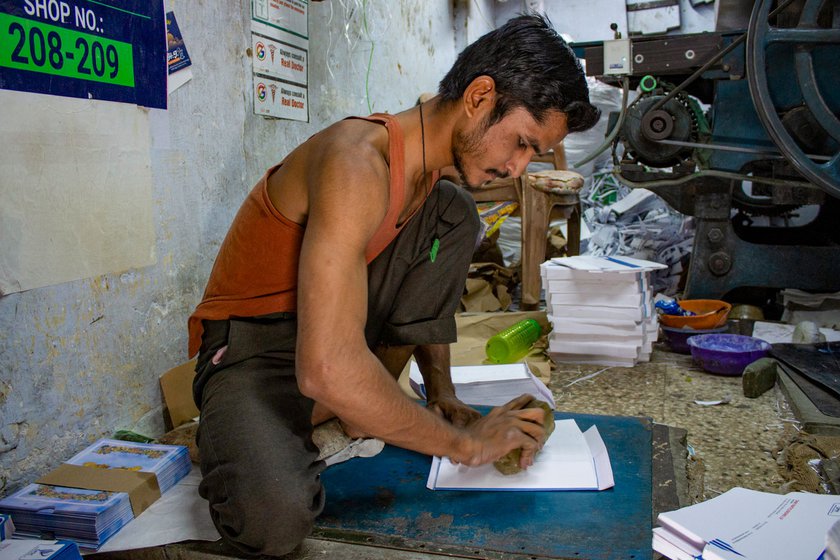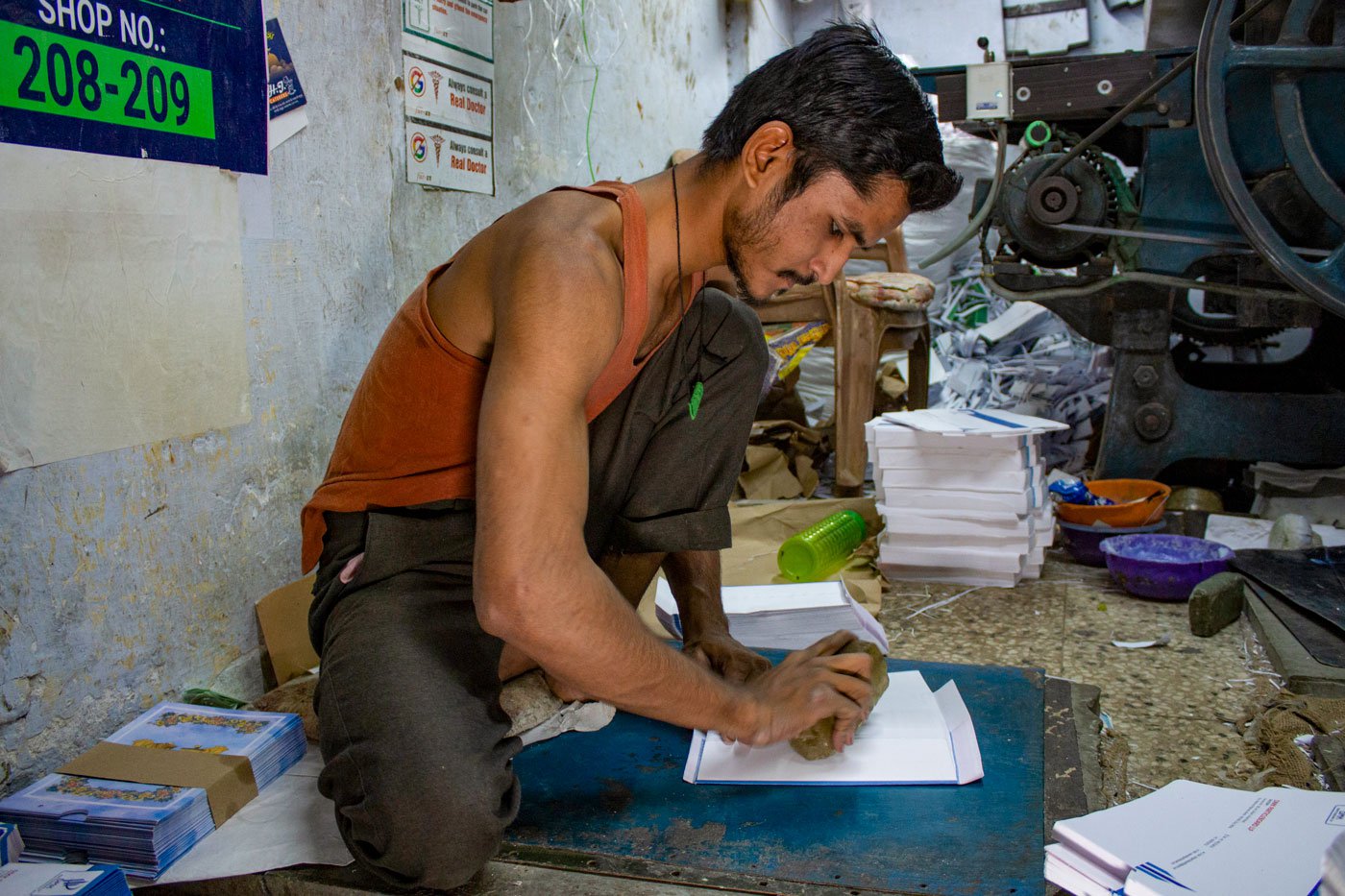 PHOTO • Umesh Solanki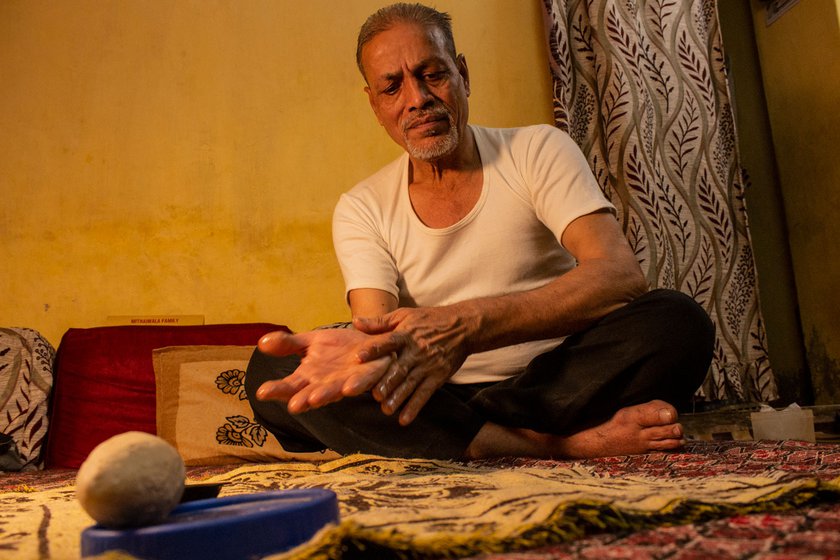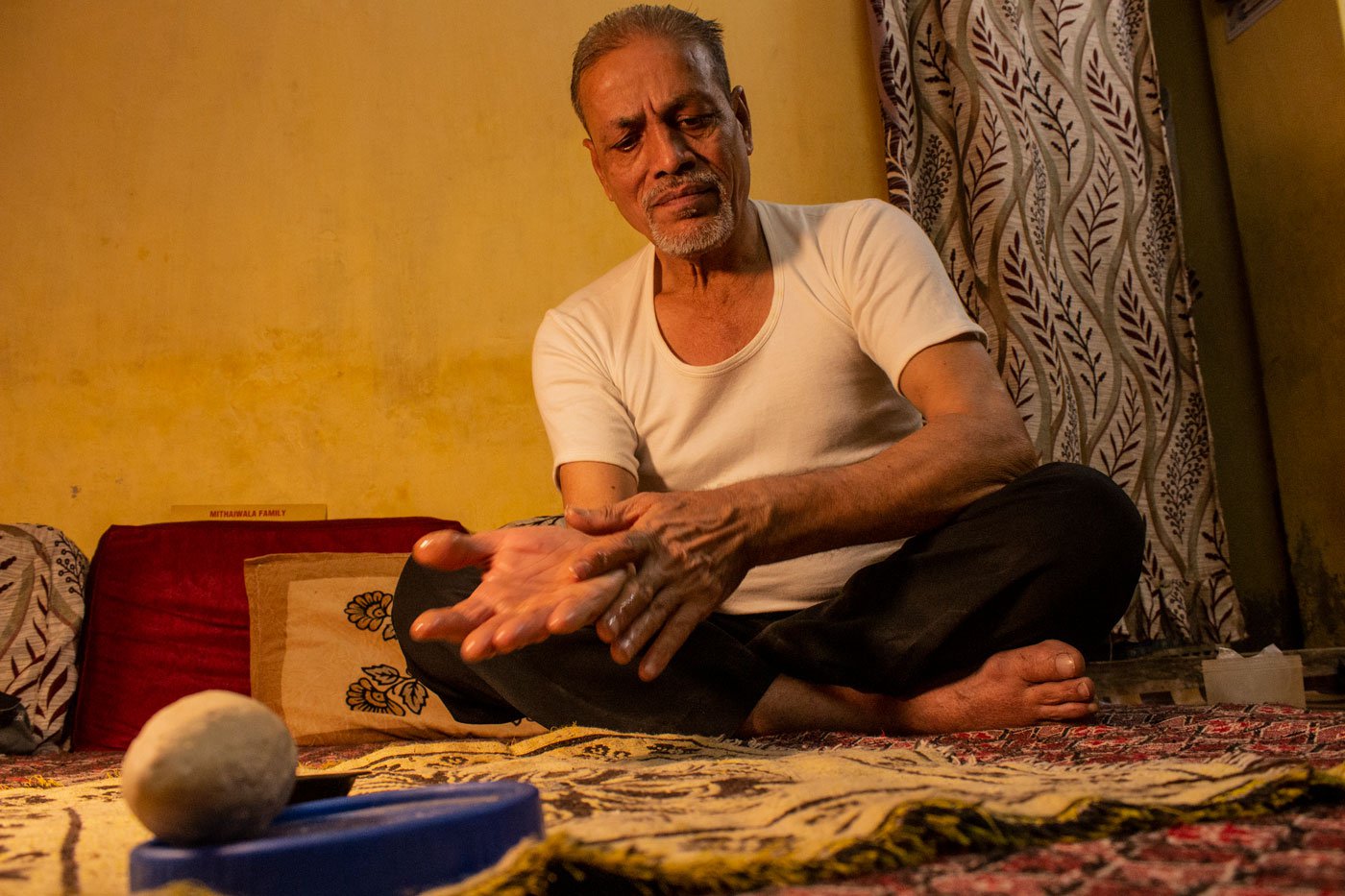 PHOTO • Umesh Solanki
The job requires the craftsmen to sit on the floor for long hours. "We sit down to work at 9:30 and do not get up until one o'clock for lunch. My back hurts, even in the evening when I get up," says Sameeruddin. He has developed calluses on the ankles after working for long hours by sitting in the same position. "Everyone will get these things, " he says, indicating this is because they all sit cross legged on the floor. "If I try to save my legs my back hurts," he adds.
The work brings in little income, despite the cuts and burns, aches and pains. A cause for anxiety for 33-year-old Mohseen Khan Pathan, who says, "My family depends on me [my income] alone. The house rent is 6,000 rupees. I spend 50 rupees a day on tea and snacks and another 60 rupees on bus and auto fare." His four-year-old daughter recently joined an English medium school. "The fee is 10,000 rupees a year," he adds worriedly as he continues crafting envelopes.
Sameeruddin has a family of six – his wife, three children and his elderly father. "Kids are growing up," he says, "and this envelope-making does not get me enough. I can just about run the household but I cannot save." He is thinking about alternative jobs and is trying for an auto license as he thinks that he will have a better income if he were to buy an autorickshaw. "The money in the envelope work is also not certain. Some days when there is no work, we are done by two or three in the afternoon. You see, we are all workers on commission. We have no fixed salary," he adds.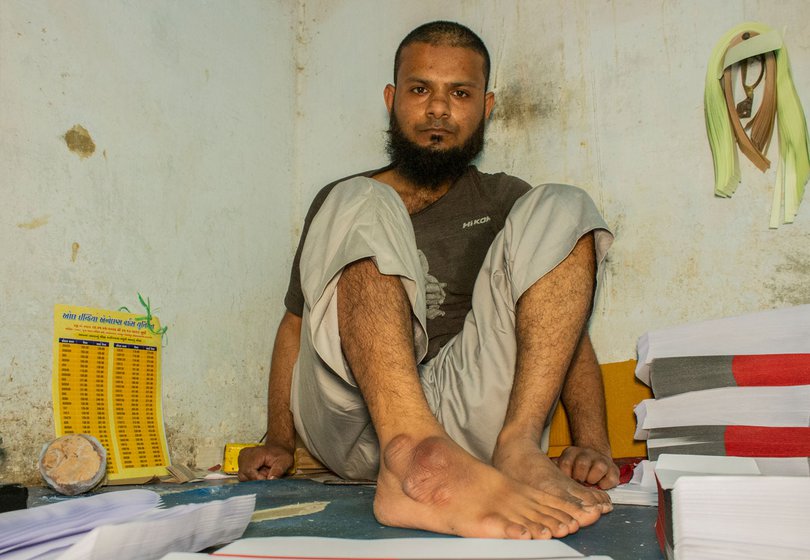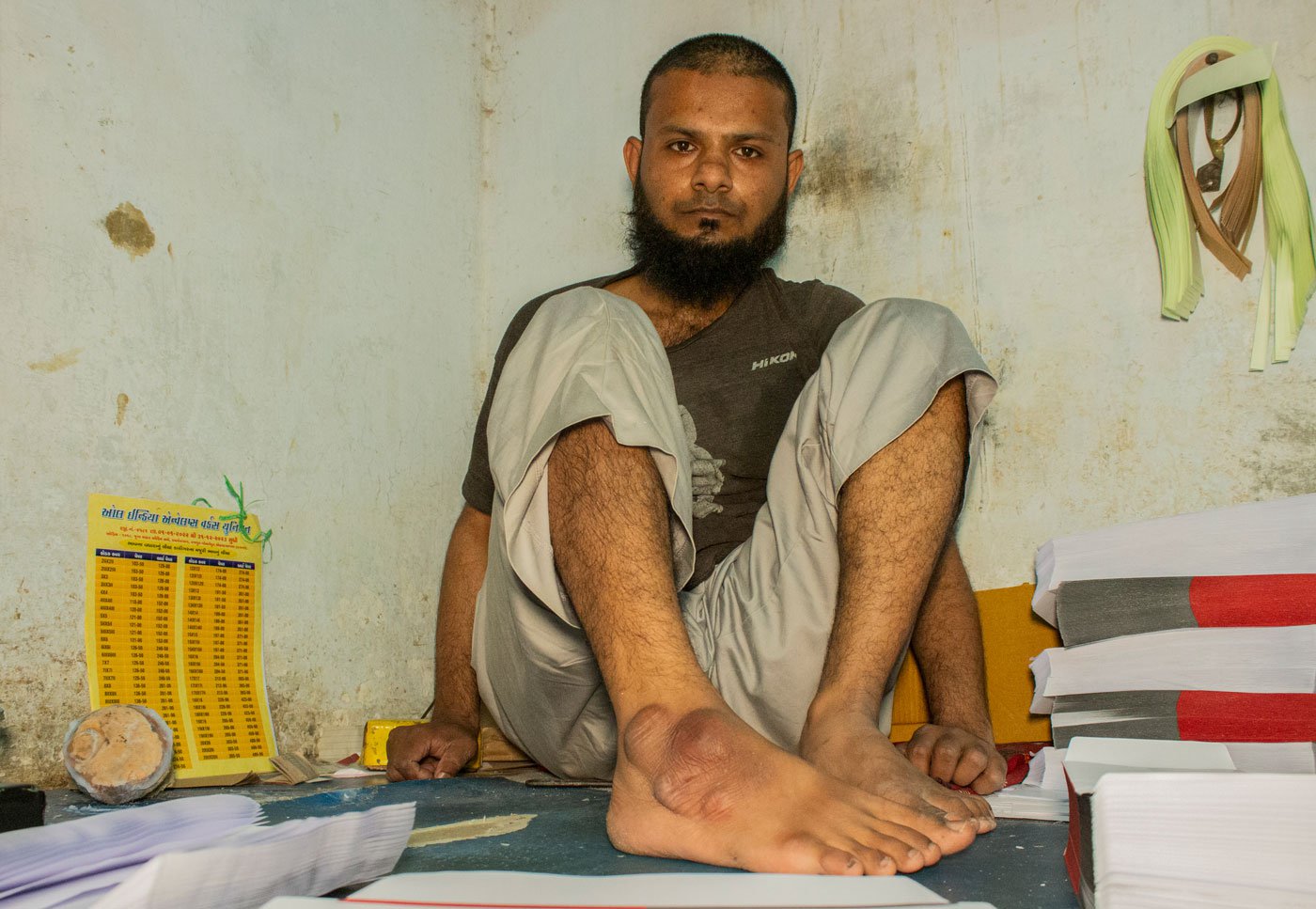 PHOTO • Umesh Solanki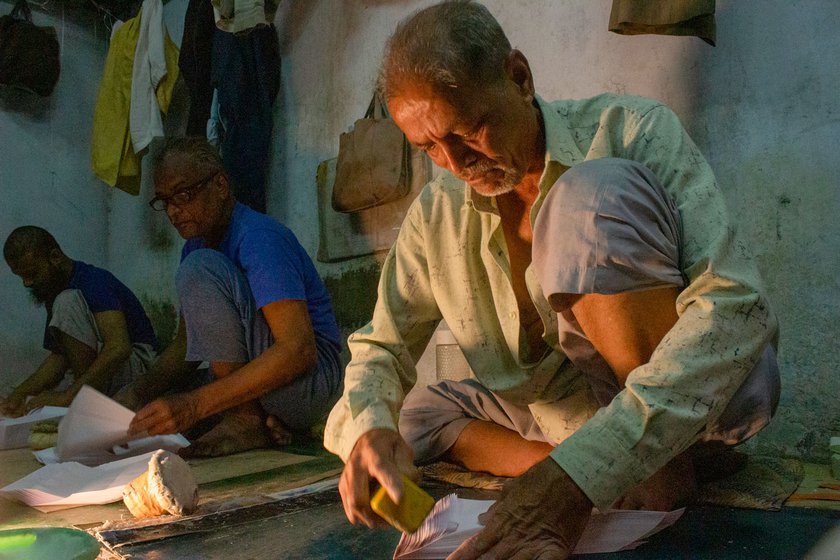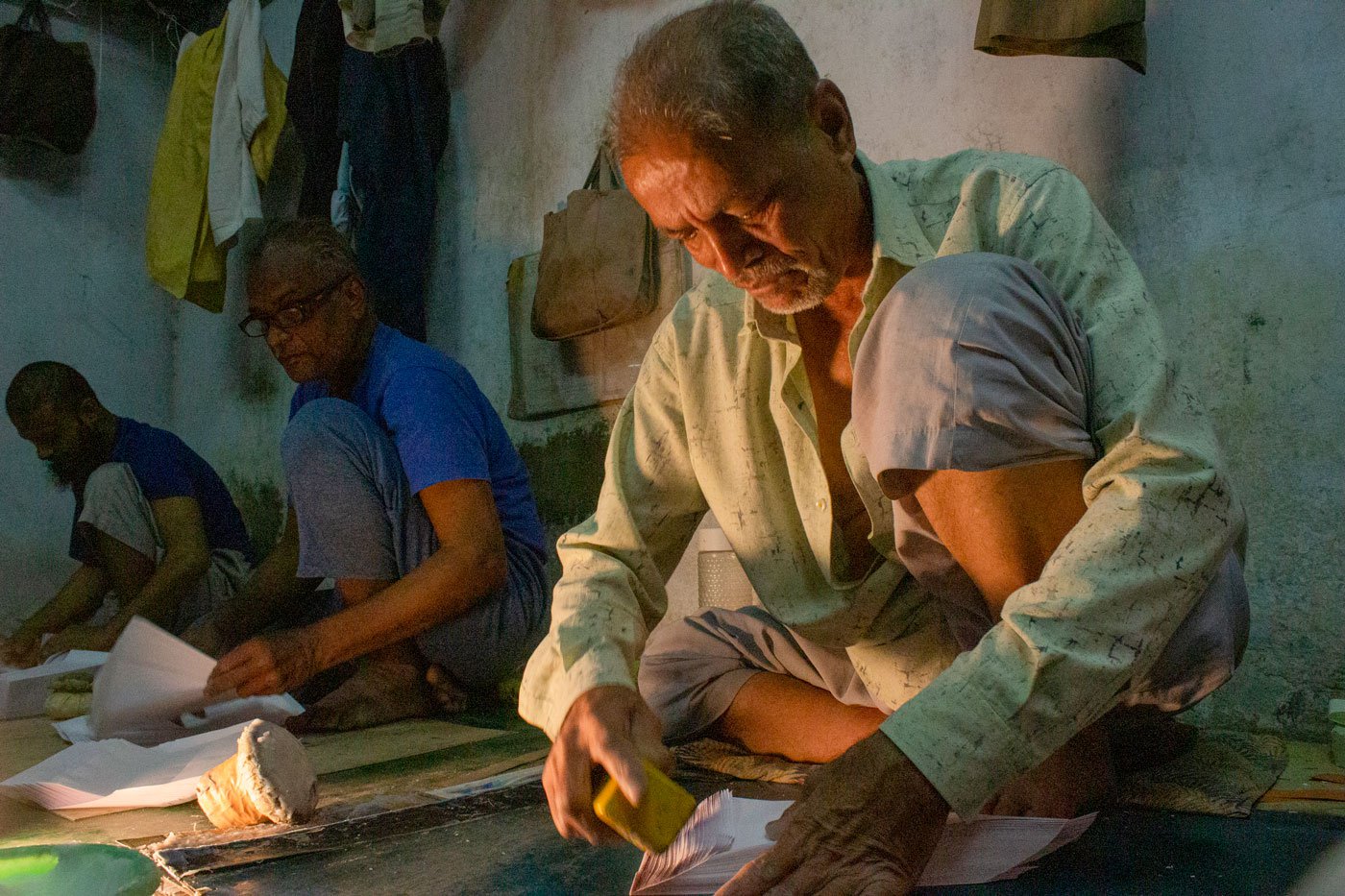 PHOTO • Umesh Solanki
A union of envelope workers was established in 1988. It was sometimes active, sometimes dormant and eventually it collapsed. The workers do not know the exact date of the collapse but they say that after some years a few of them revived the organisation and decided in association with the workshop owners, to entitle very worker to 10 per cent towards inflation, bonus, and leave in proportion to their work, in addition to an annual raise.
The industry is heavily dominated by men in Ahmedabad – only one envelope craftsperson here is a woman.
Wages are paid out weekly and depend on the number of envelopes made, as well as their size and thickness. A 1,000 envelopes made of regular paper earn around Rs. 350, and those from art paper bring in Rs. 489. A worker can make anything between 2,000 to 6,000 envelopes a day depending on the kind of envelope, their speed and the demands of the season.
An office envelope of the size: 11 x 5 inches, weighing 100 GSM (grams per square metre), sells for Rs. five.

The wages paid to the worker for a 1,000 envelopes of 100 GSM quality is around Rs. 100. In other words, he gets one fiftieth of the sale value
It takes a craftsman about two hours to earn a hundred rupees.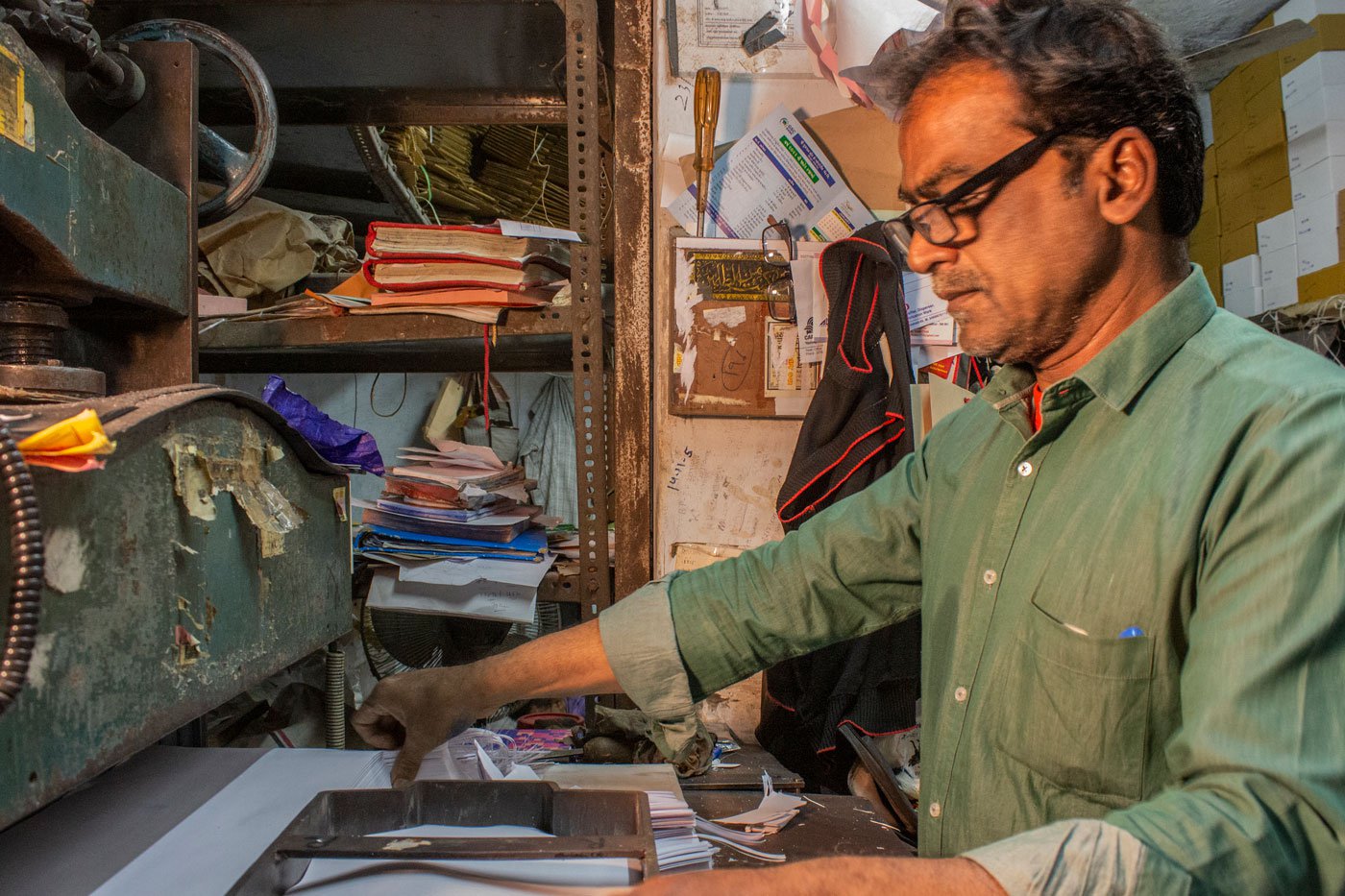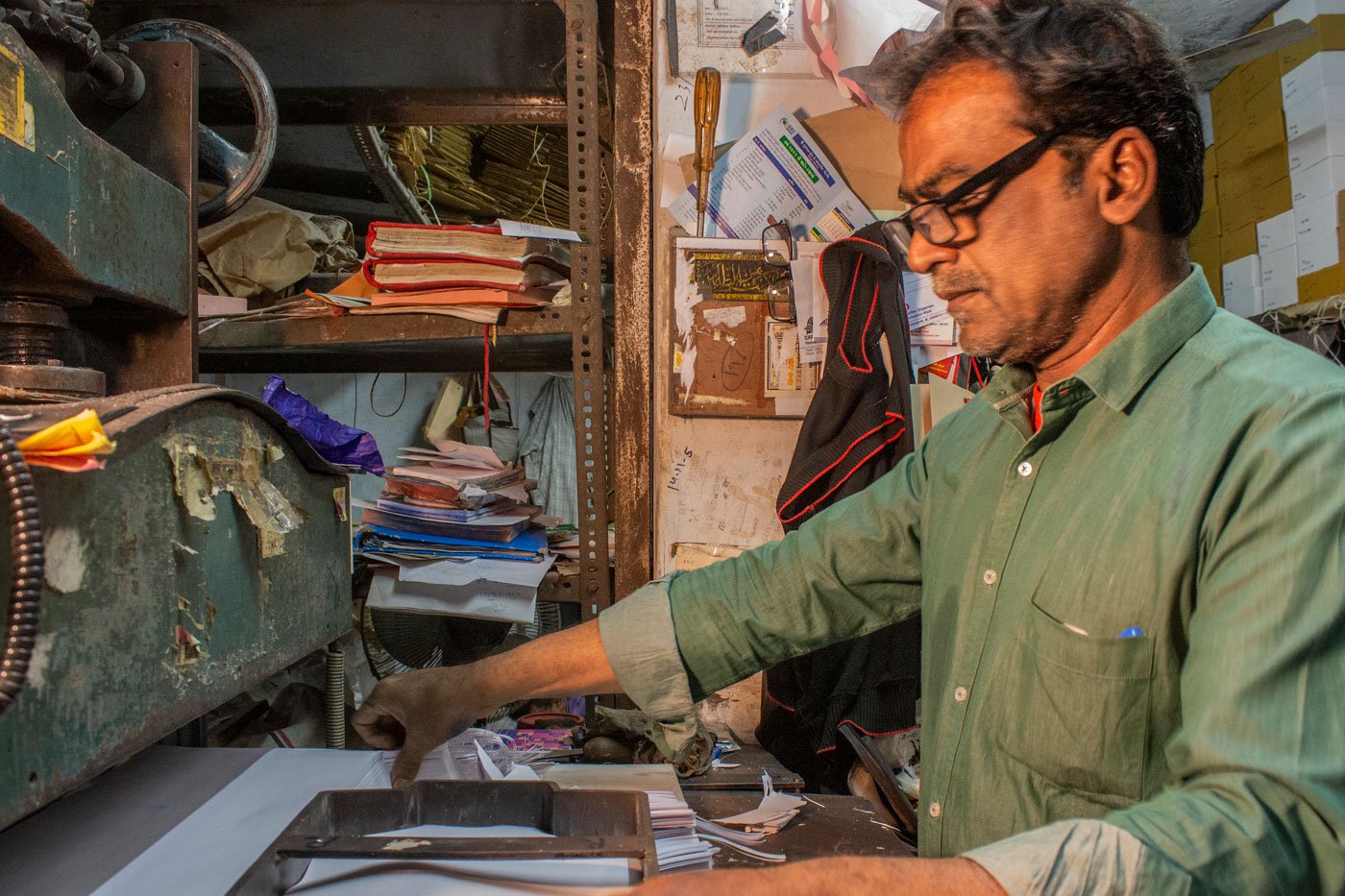 PHOTO • Umesh Solanki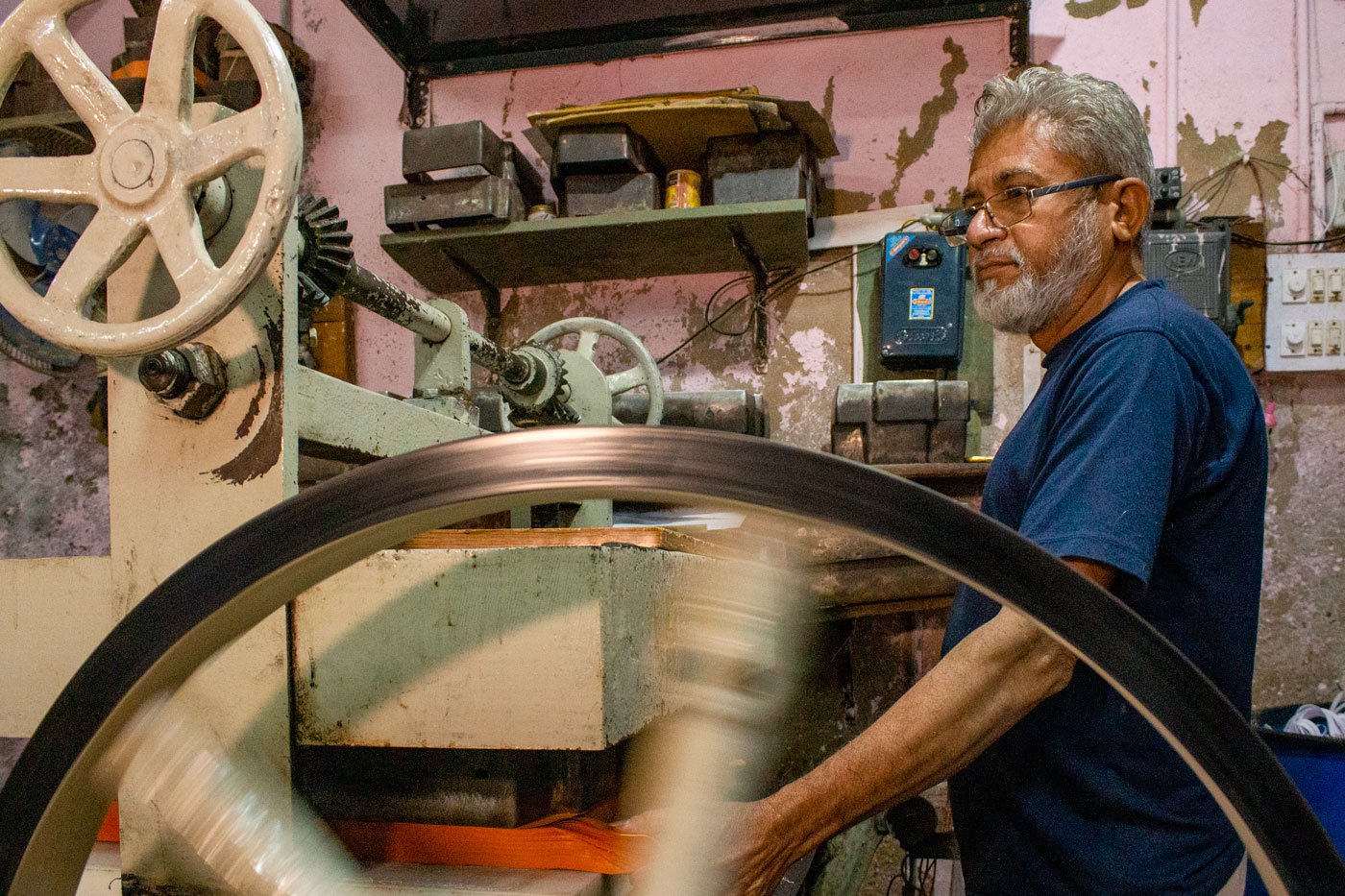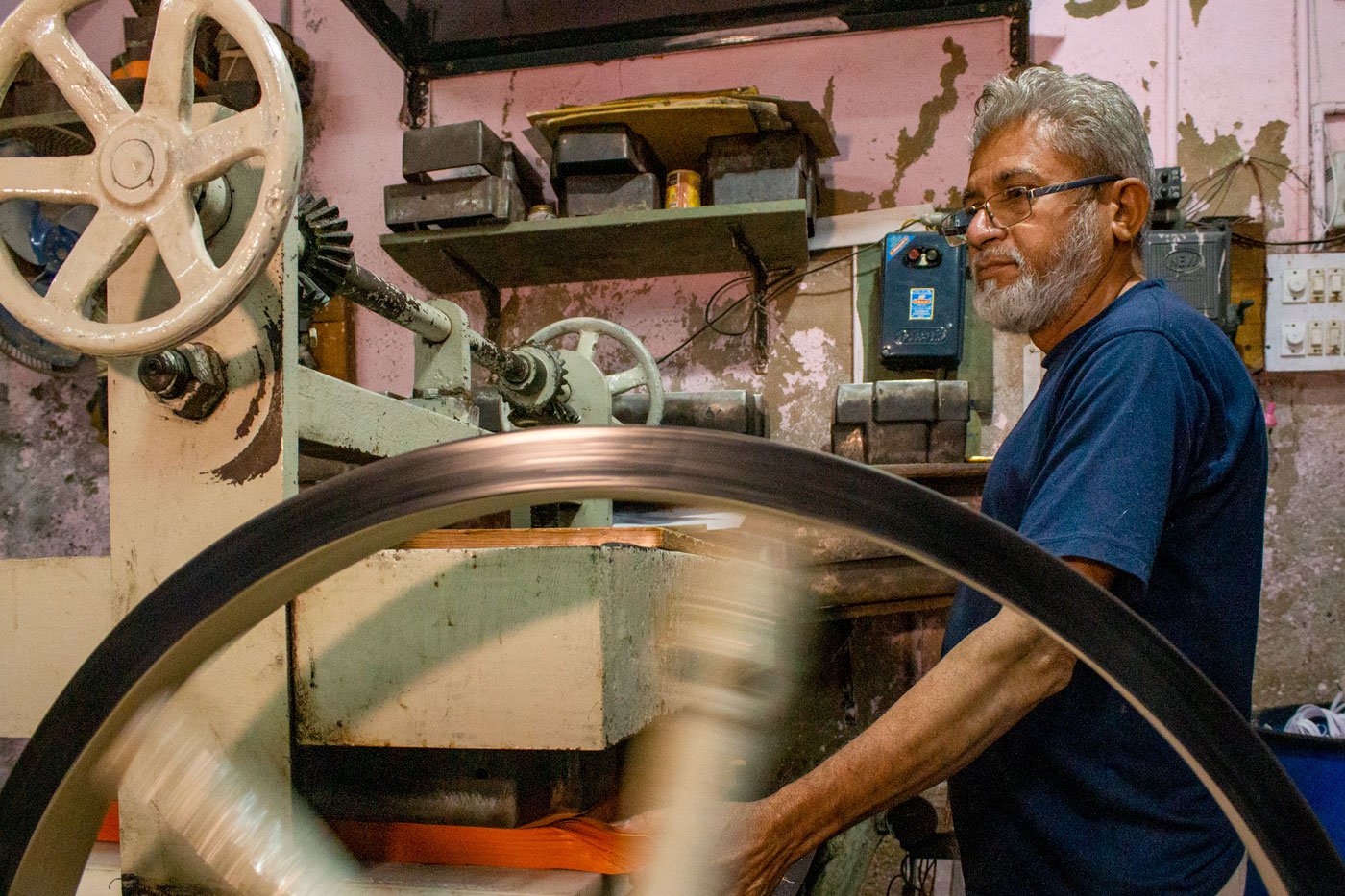 PHOTO • Umesh Solanki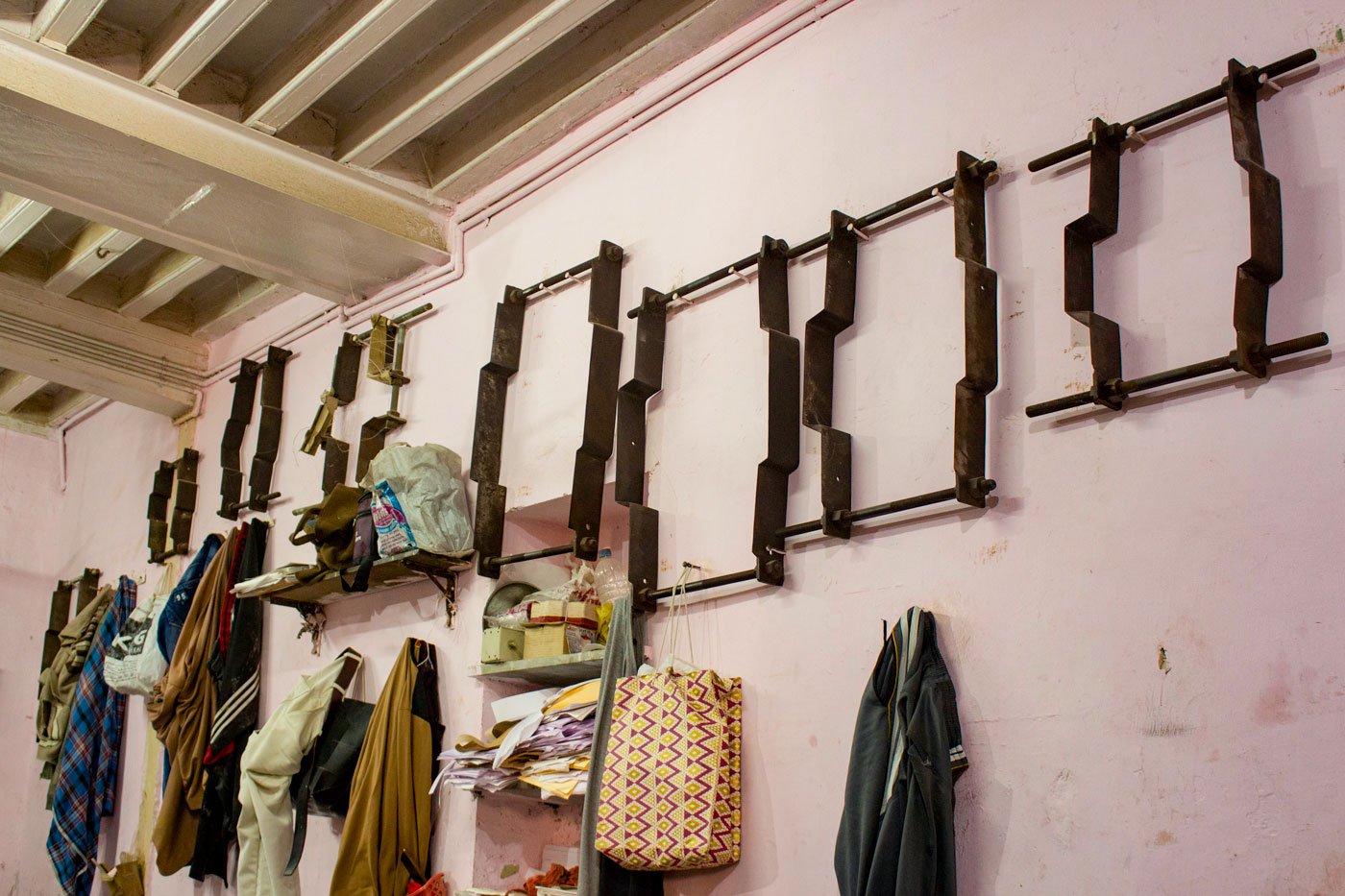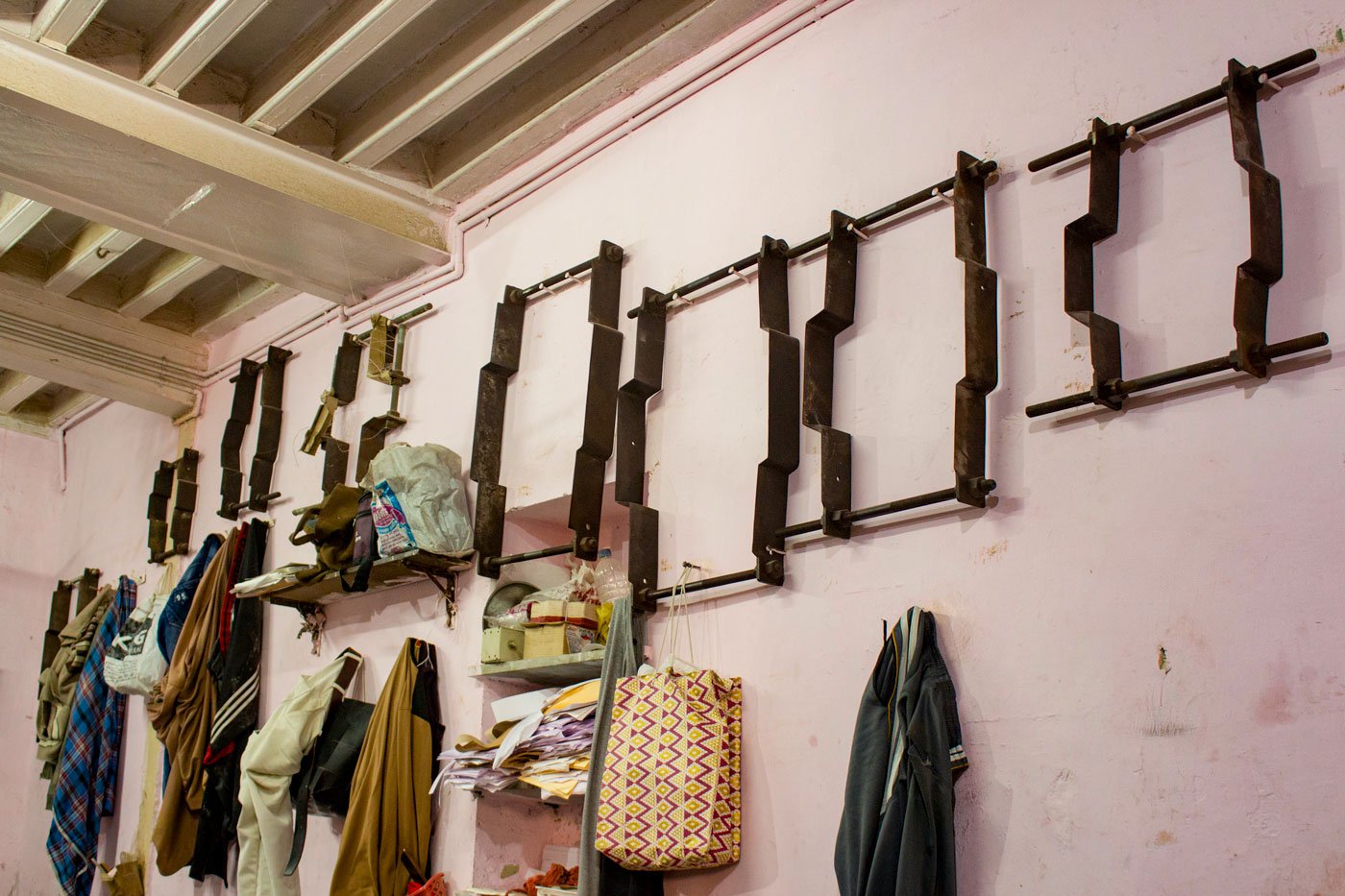 PHOTO • Umesh Solanki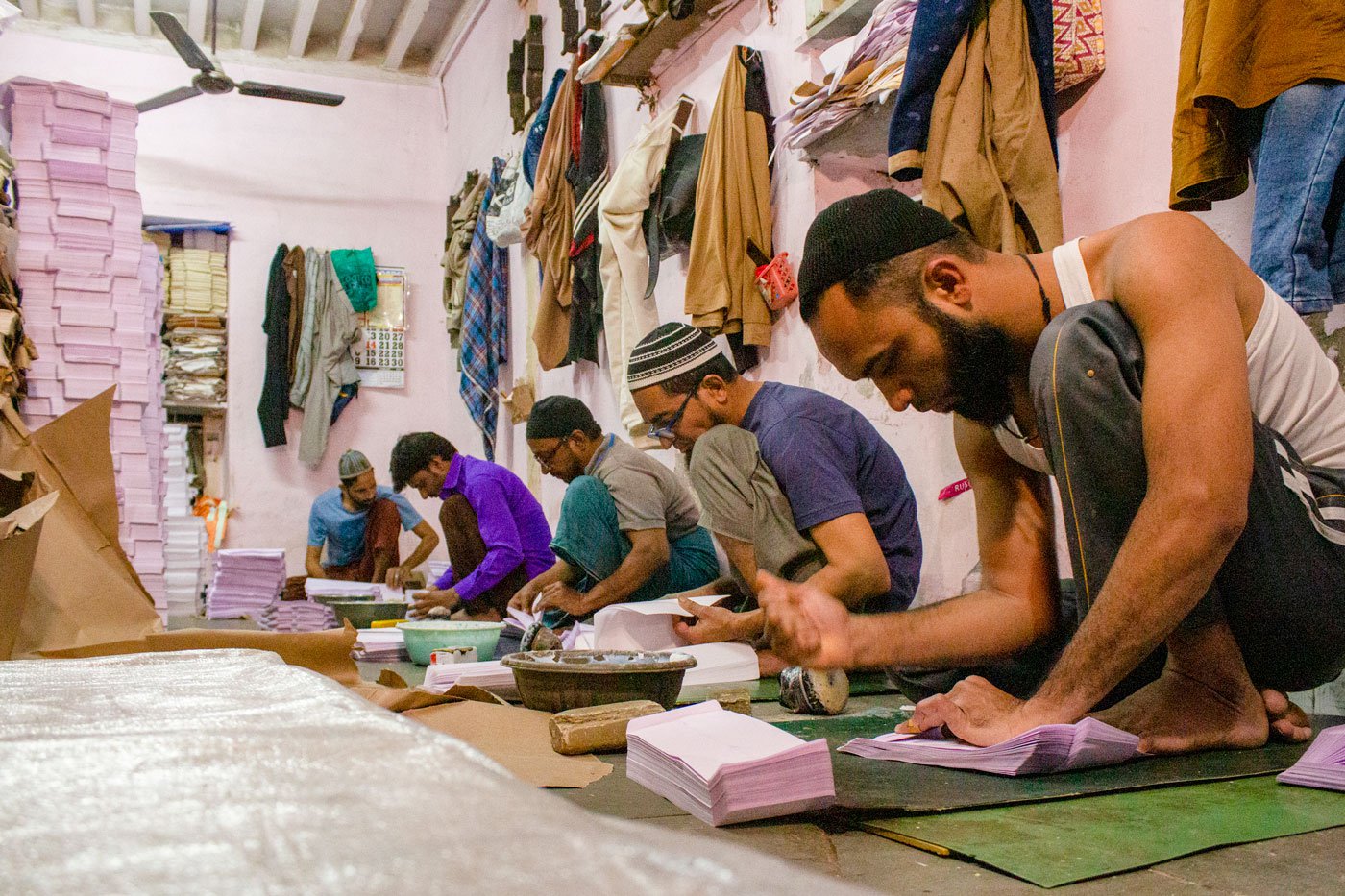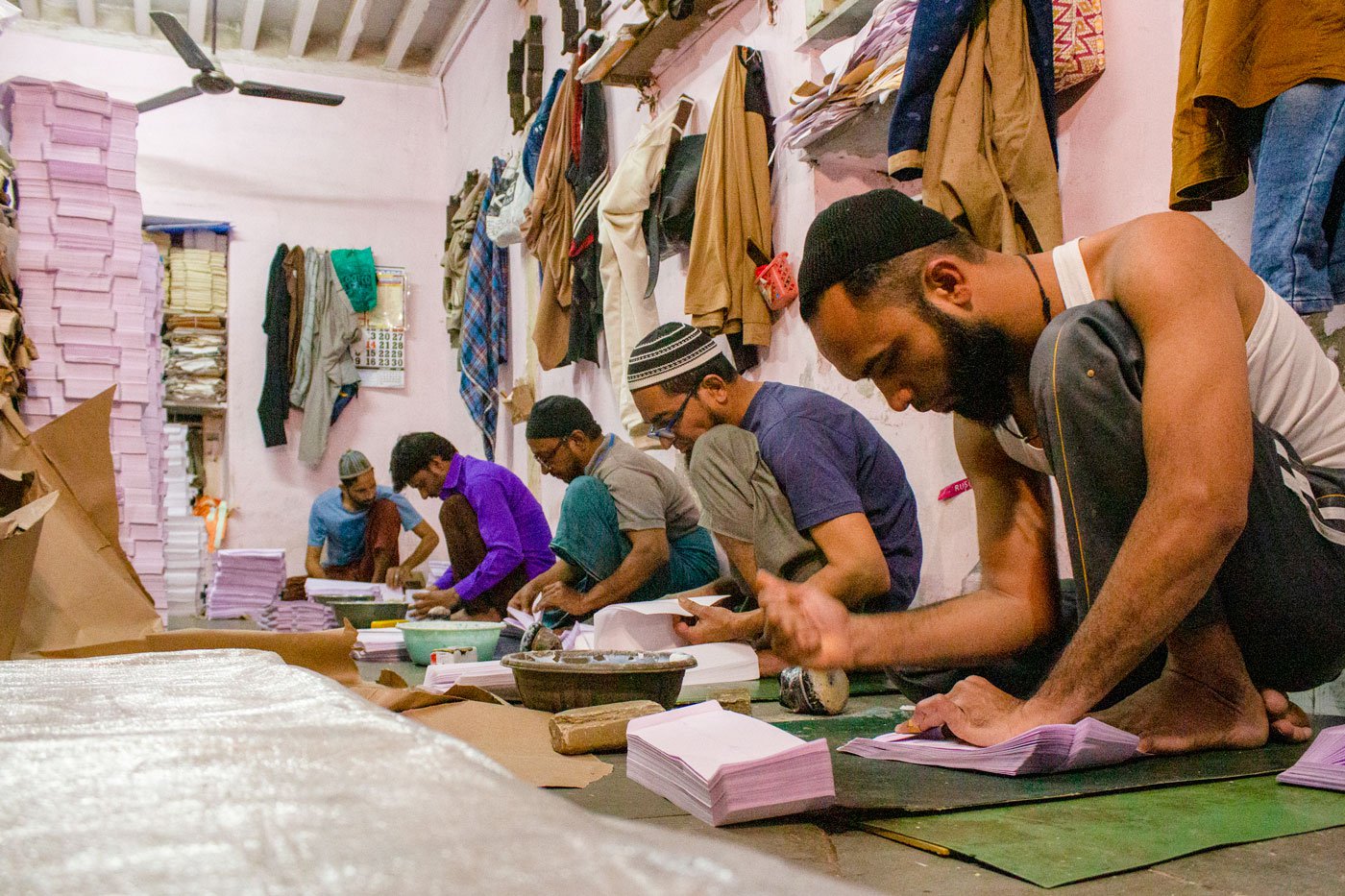 PHOTO • Umesh Solanki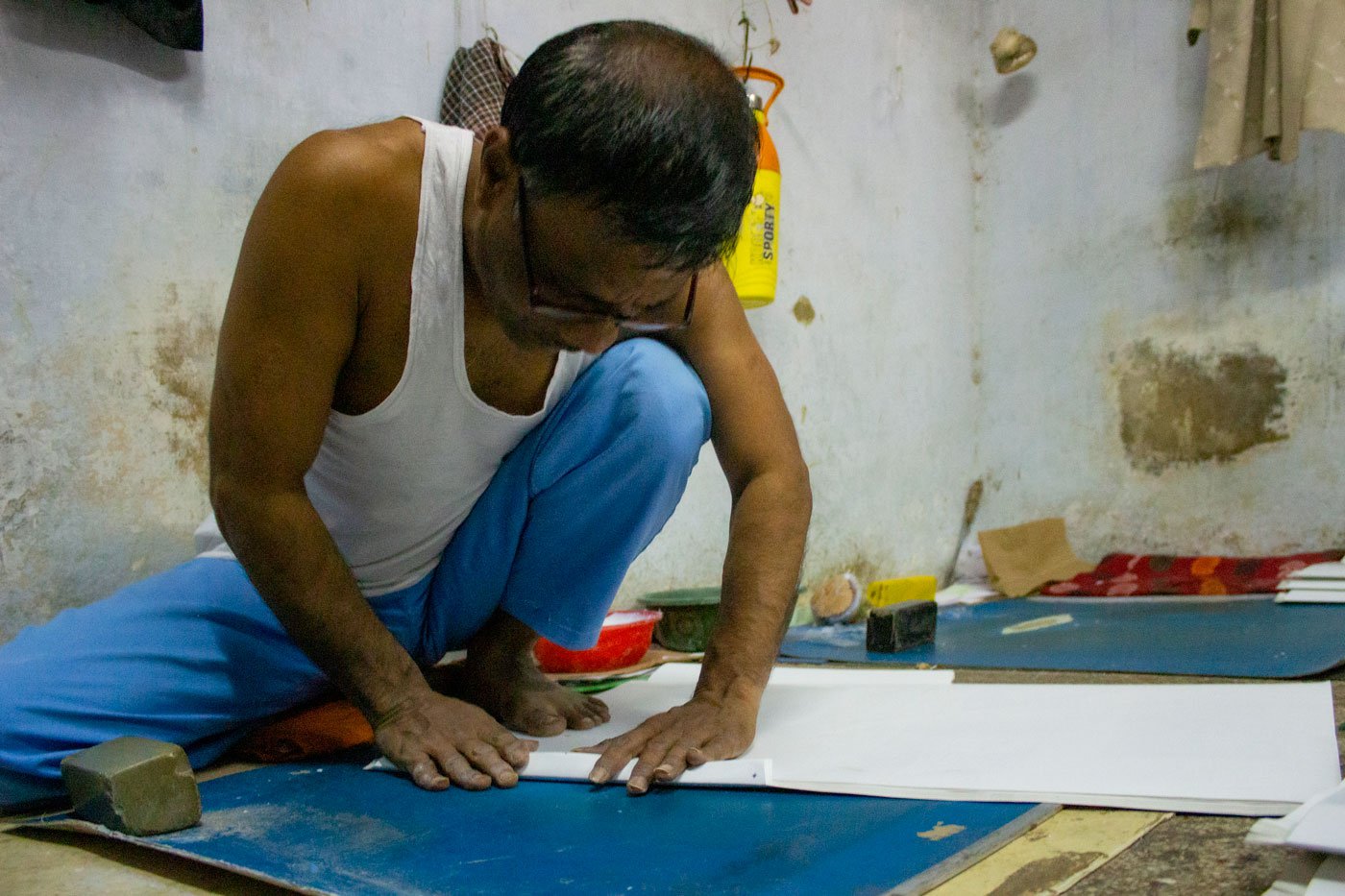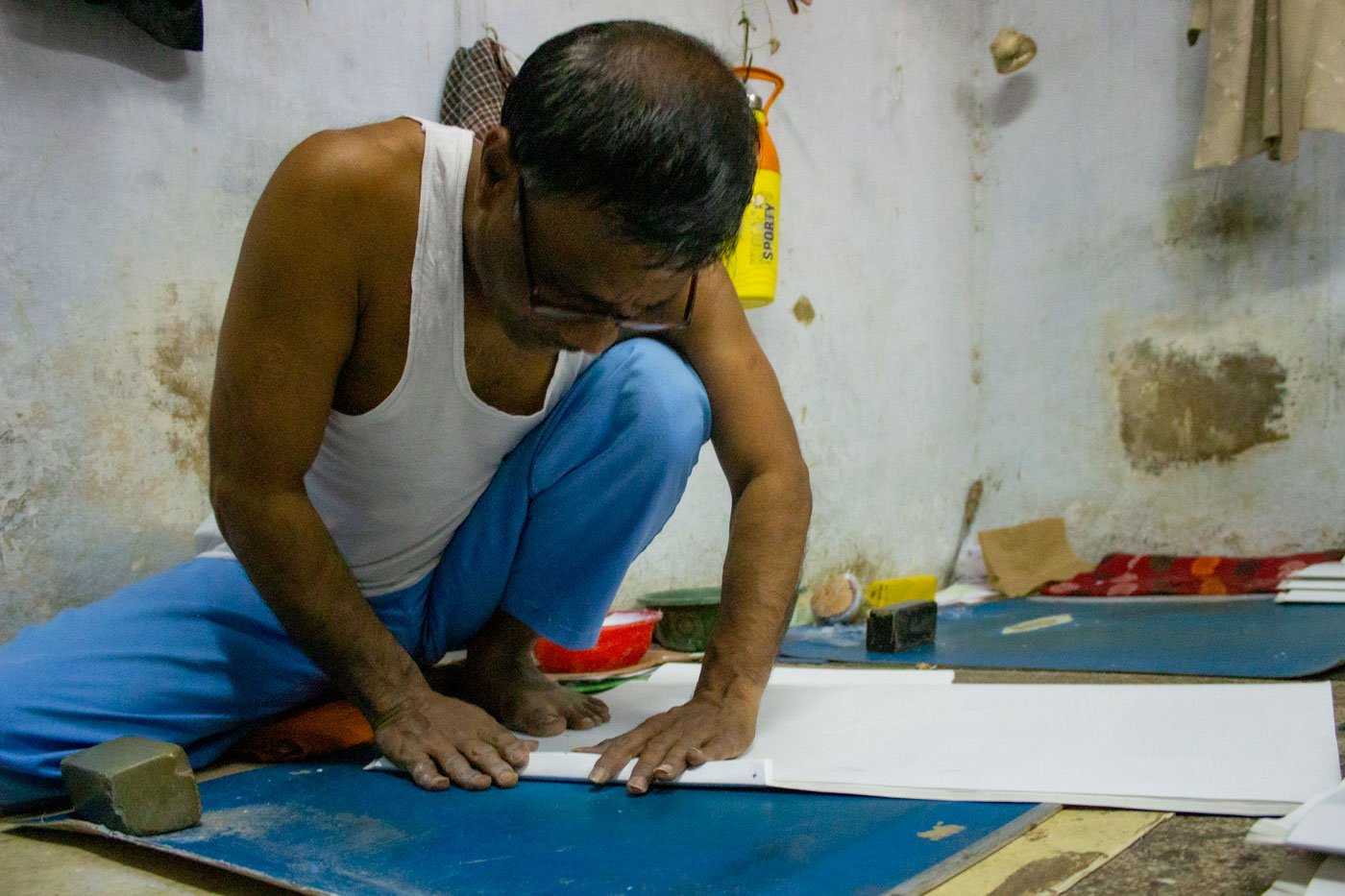 PHOTO • Umesh Solanki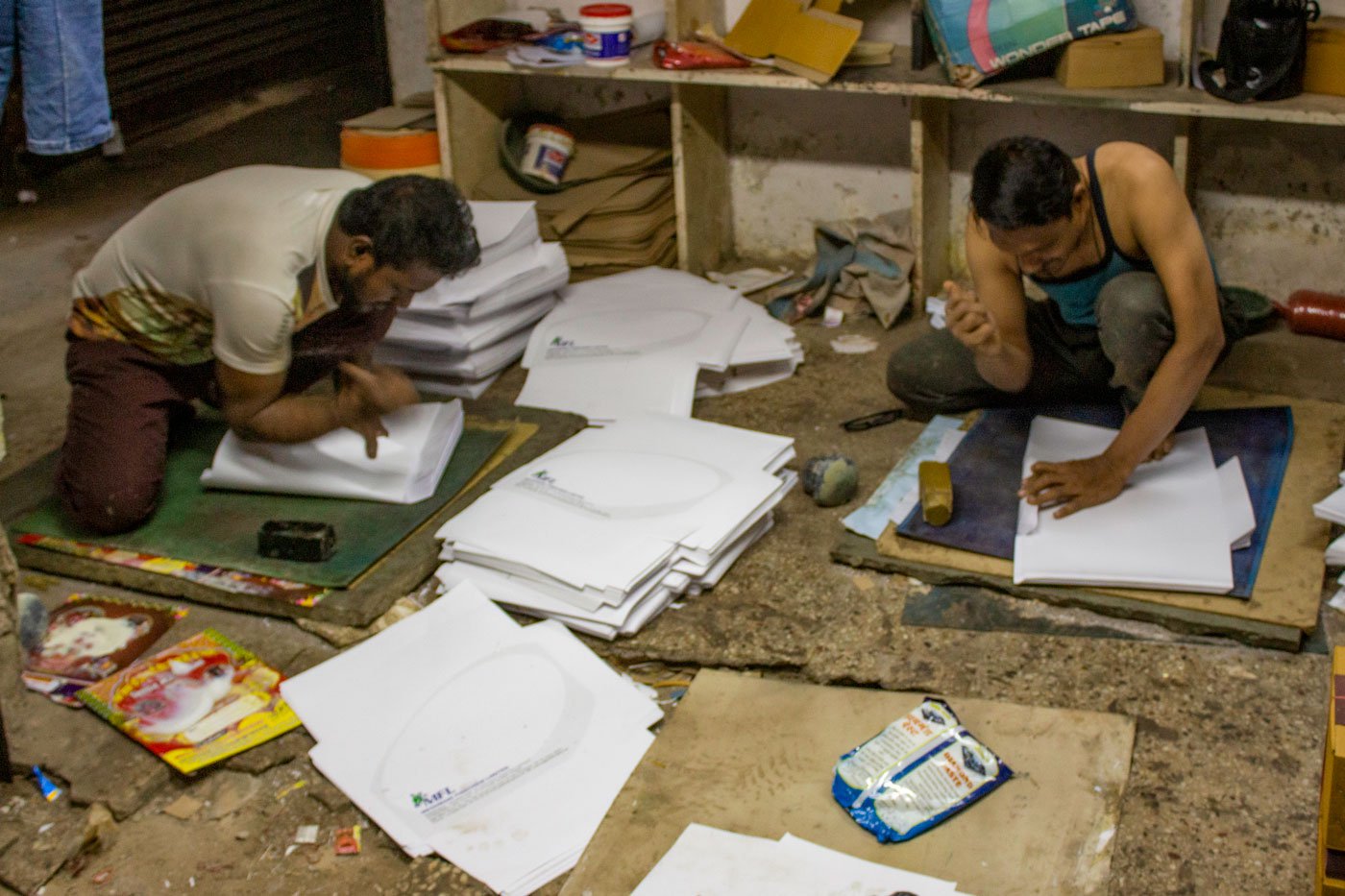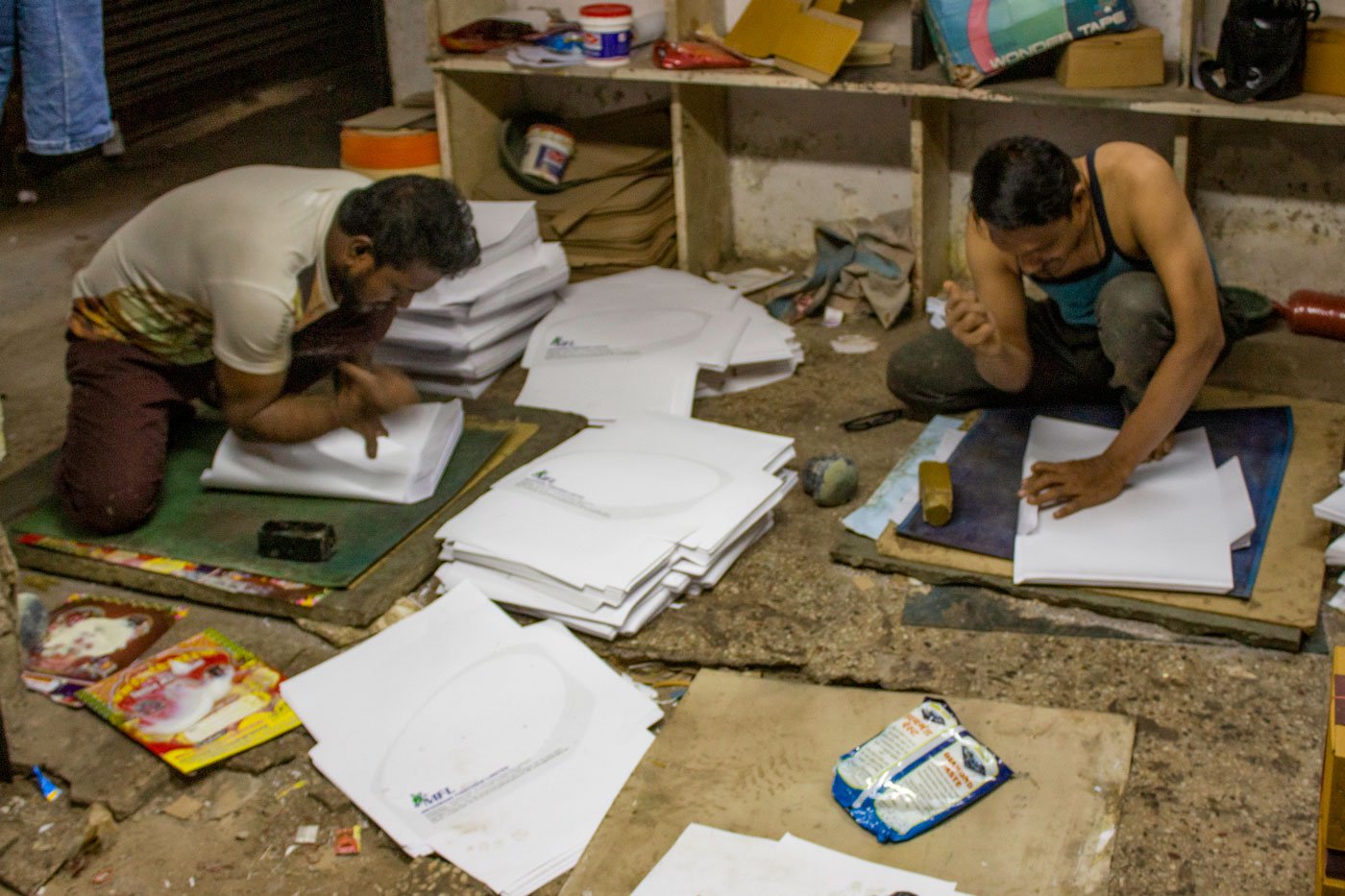 PHOTO • Umesh Solanki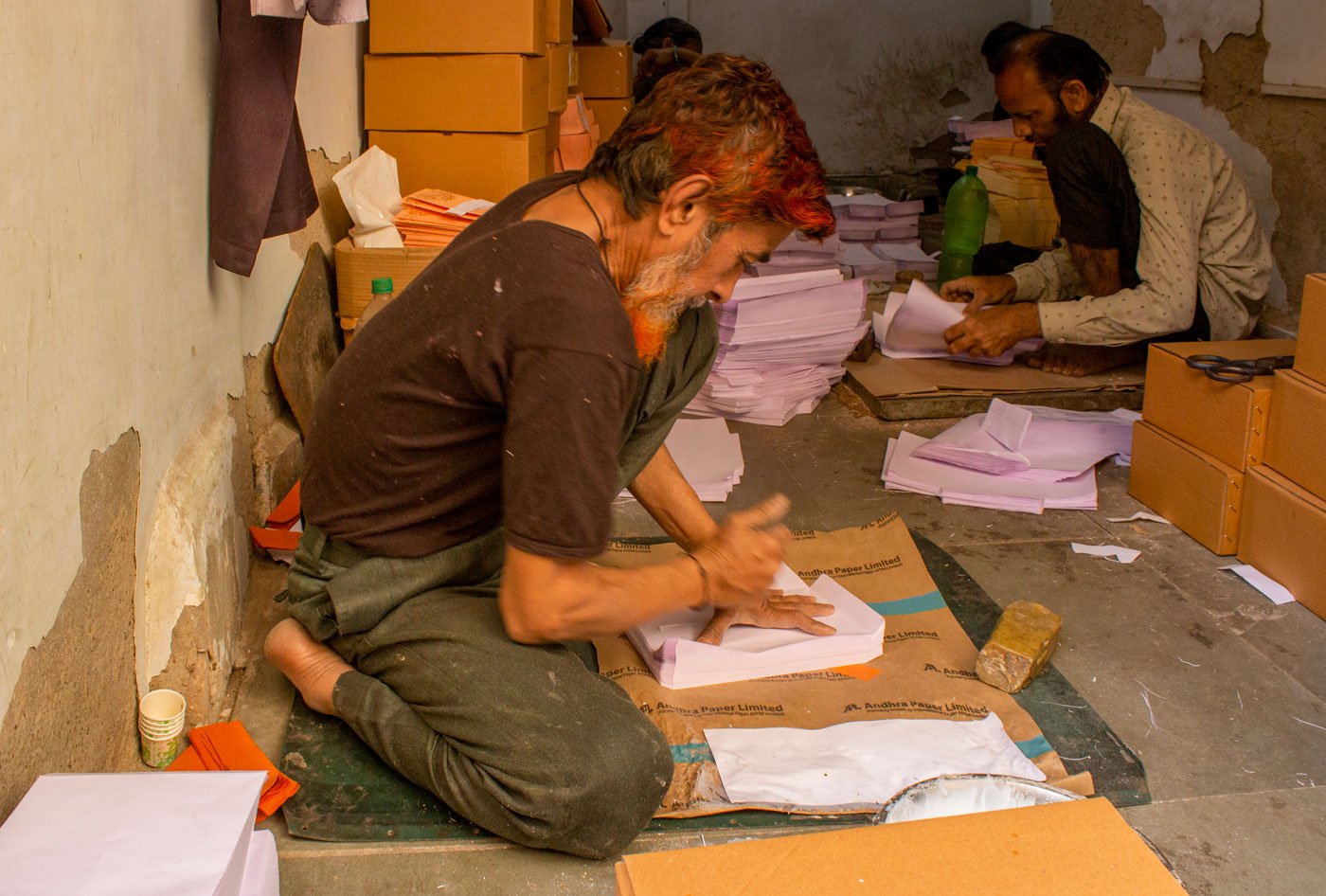 PHOTO • Umesh Solanki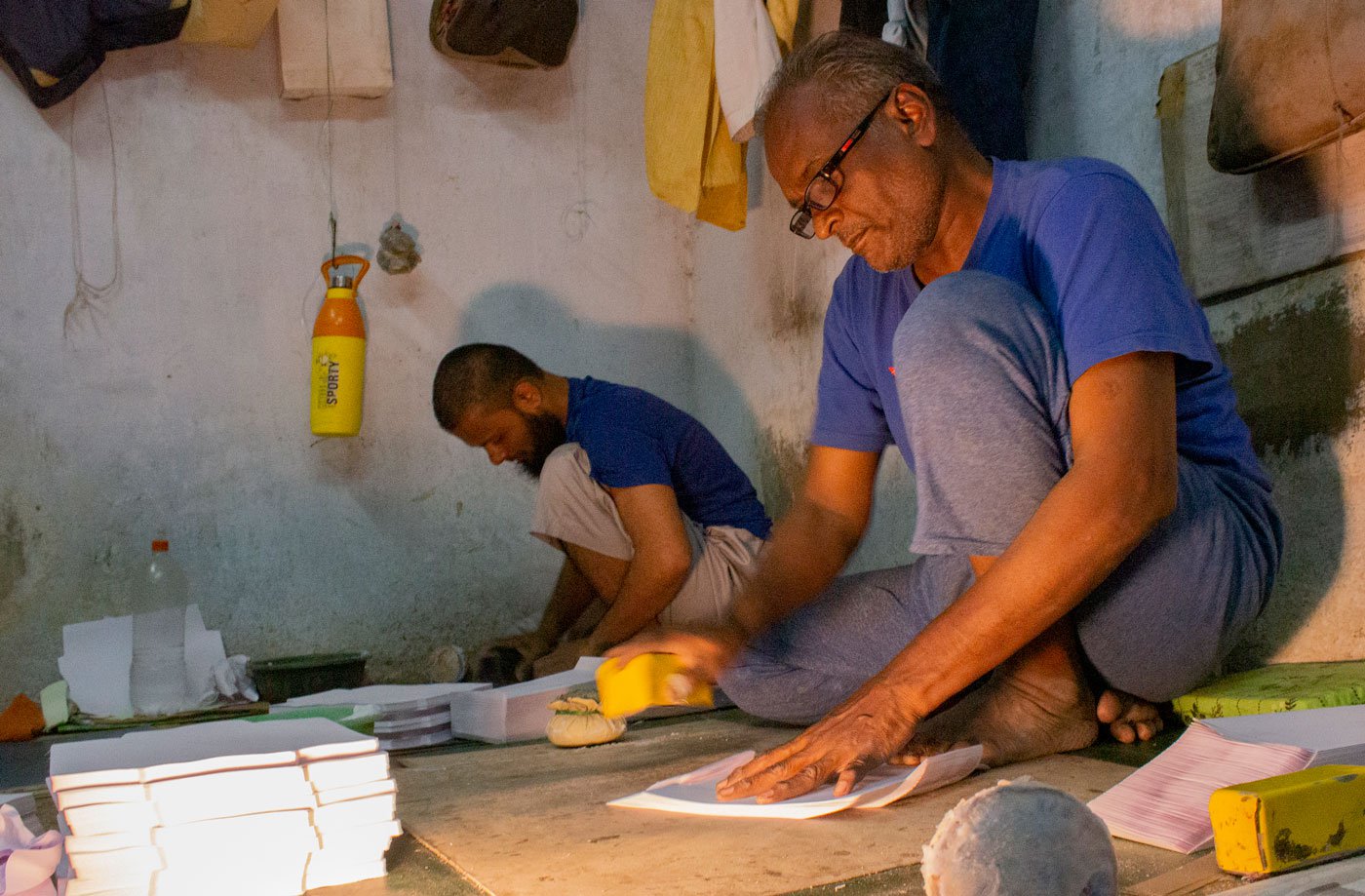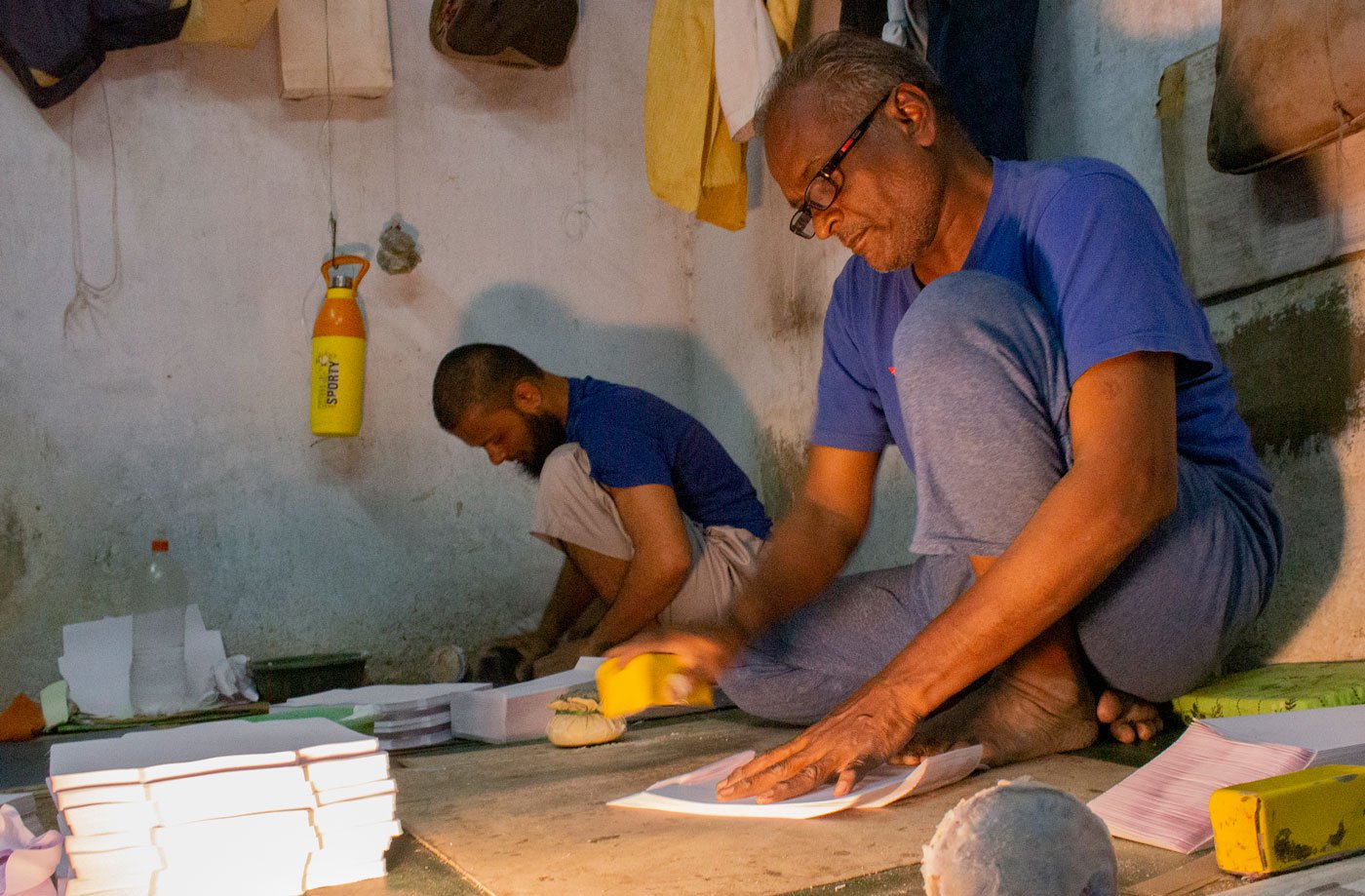 PHOTO • Umesh Solanki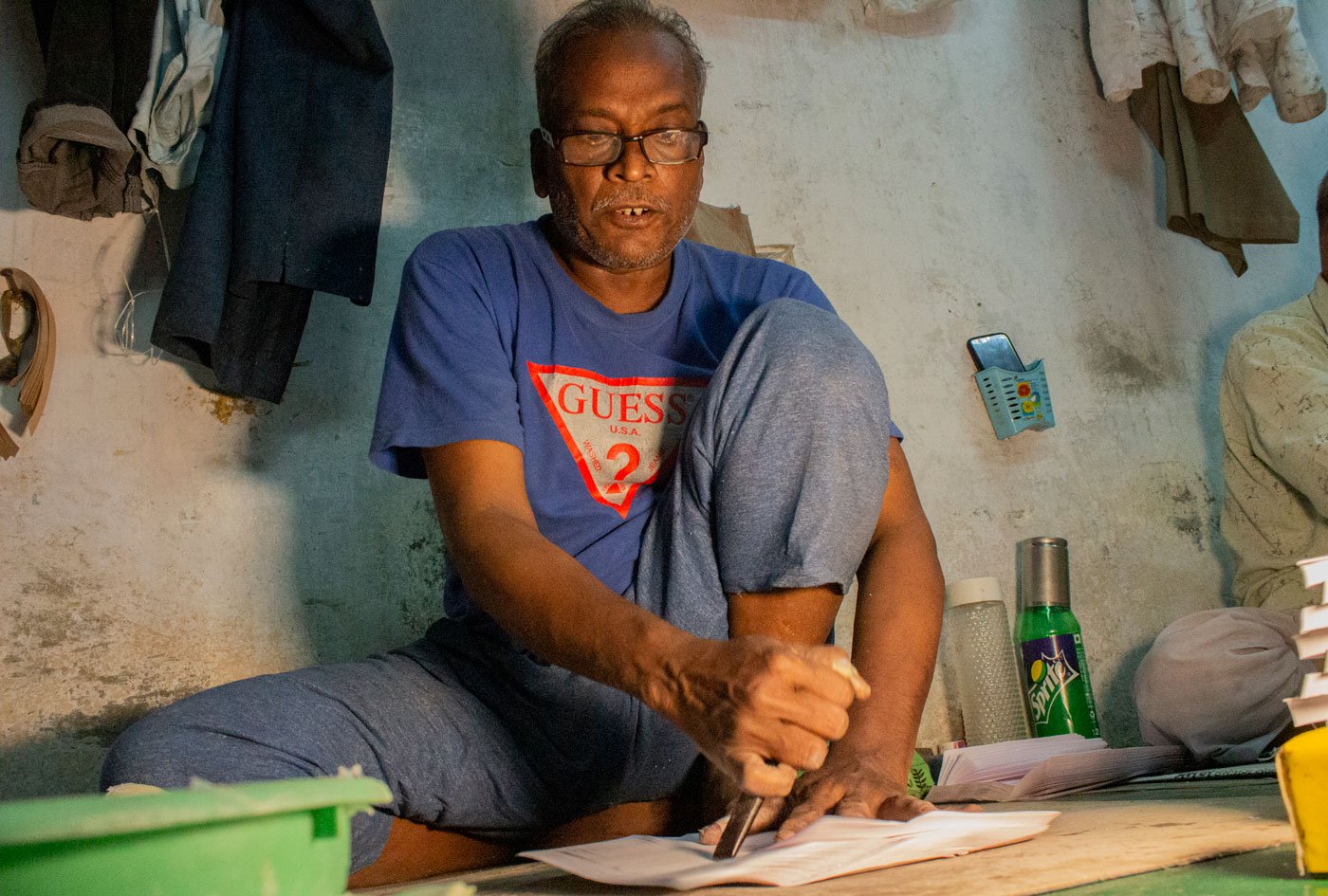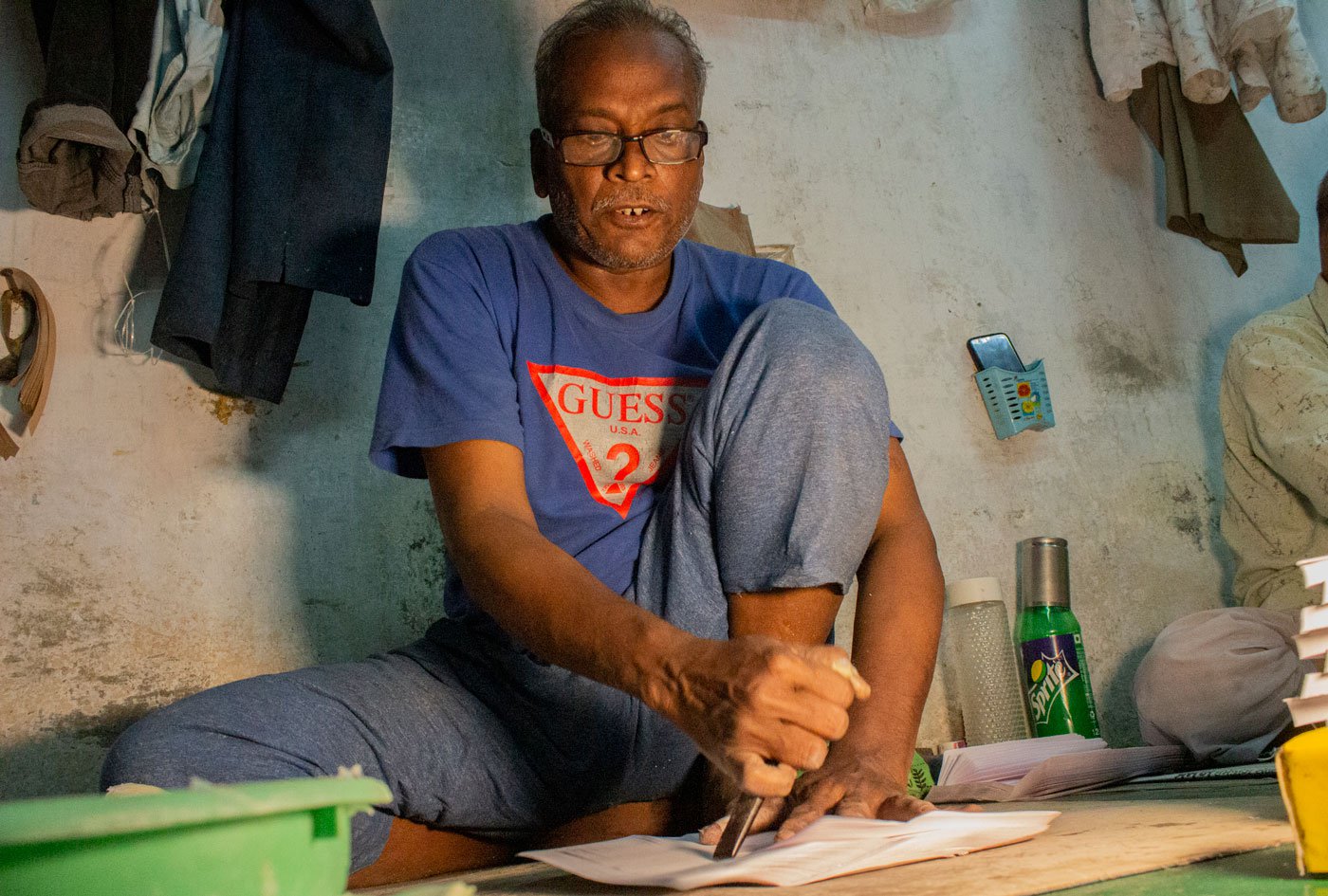 PHOTO • Umesh Solanki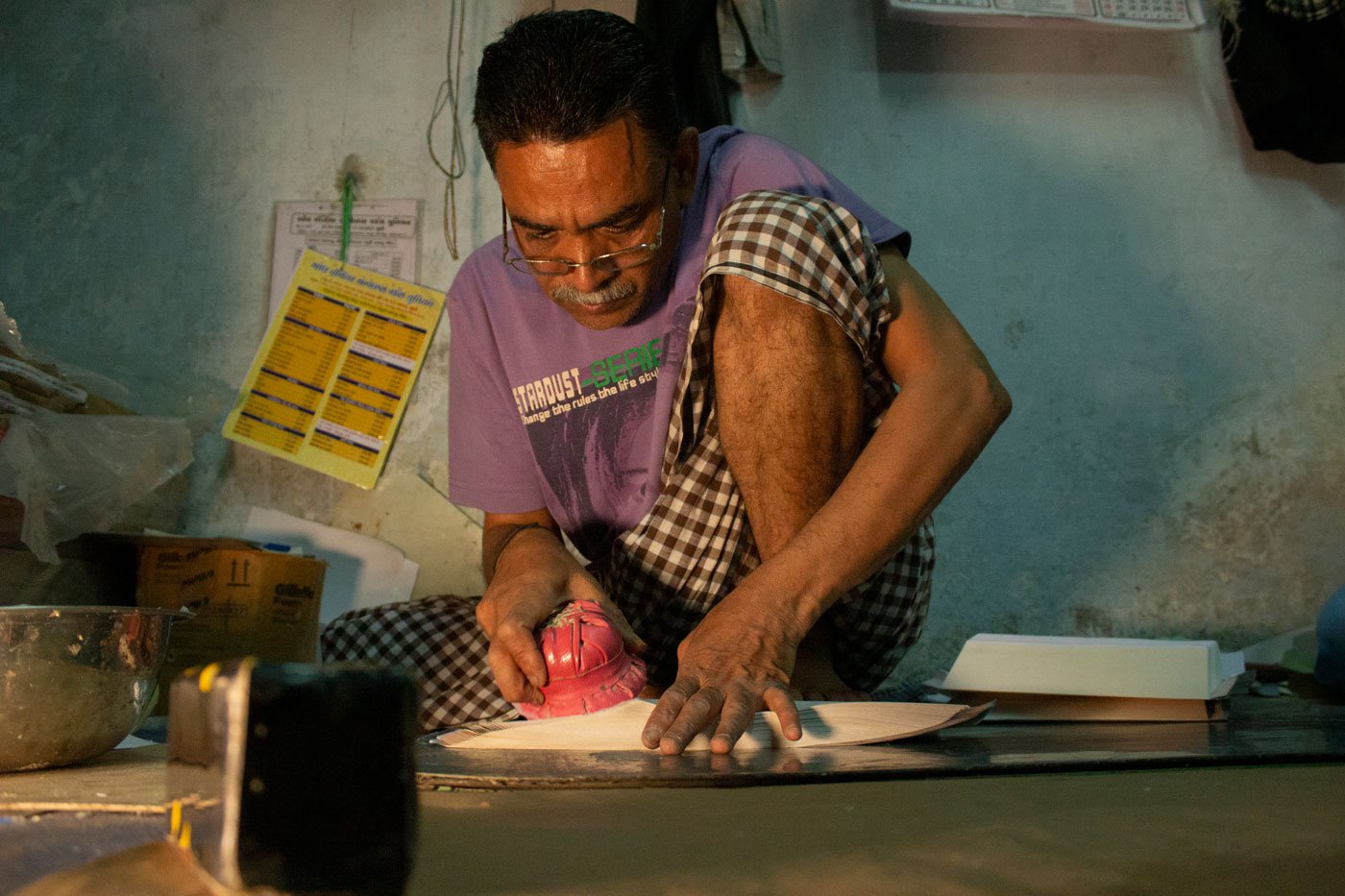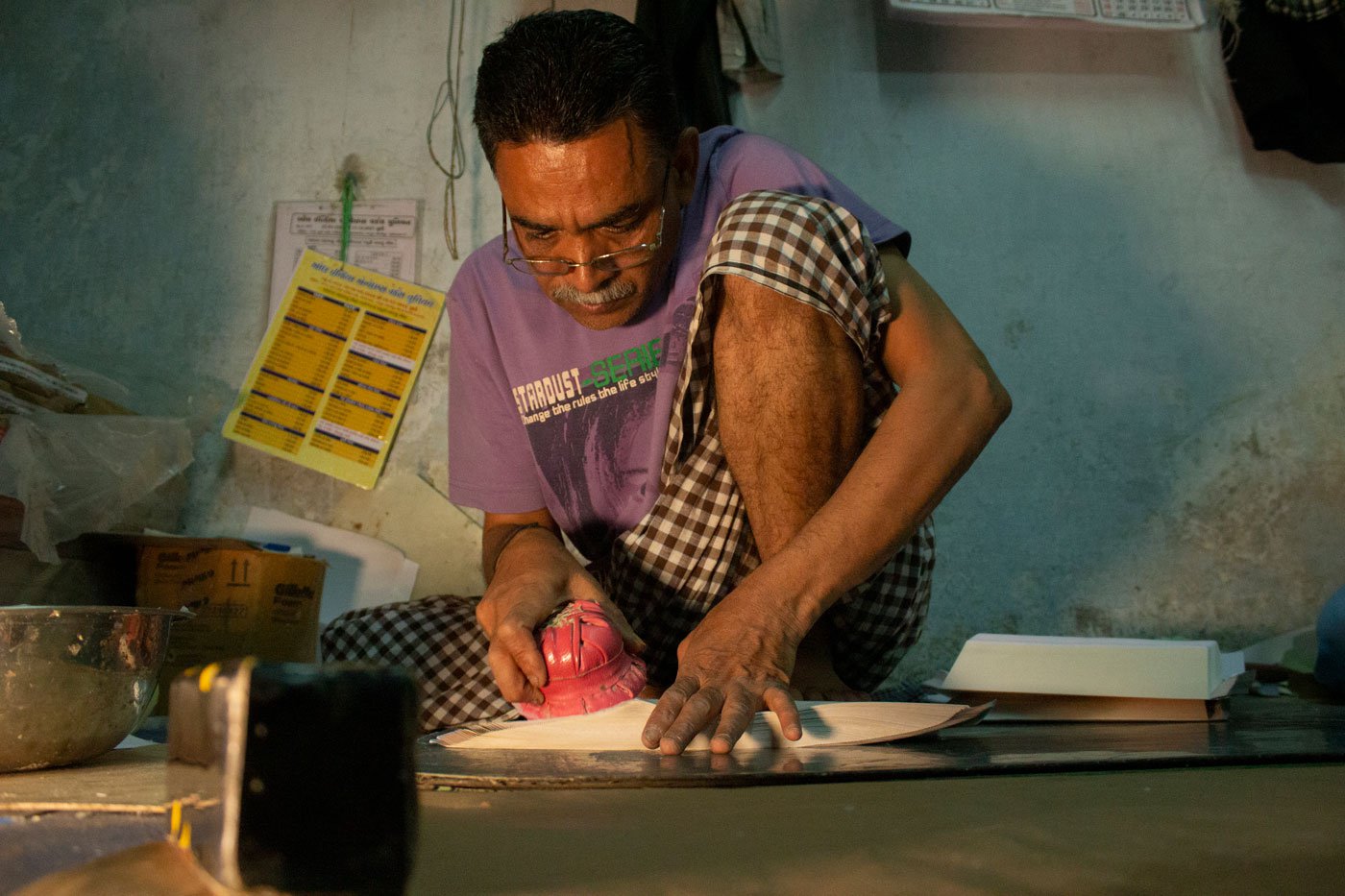 PHOTO • Umesh Solanki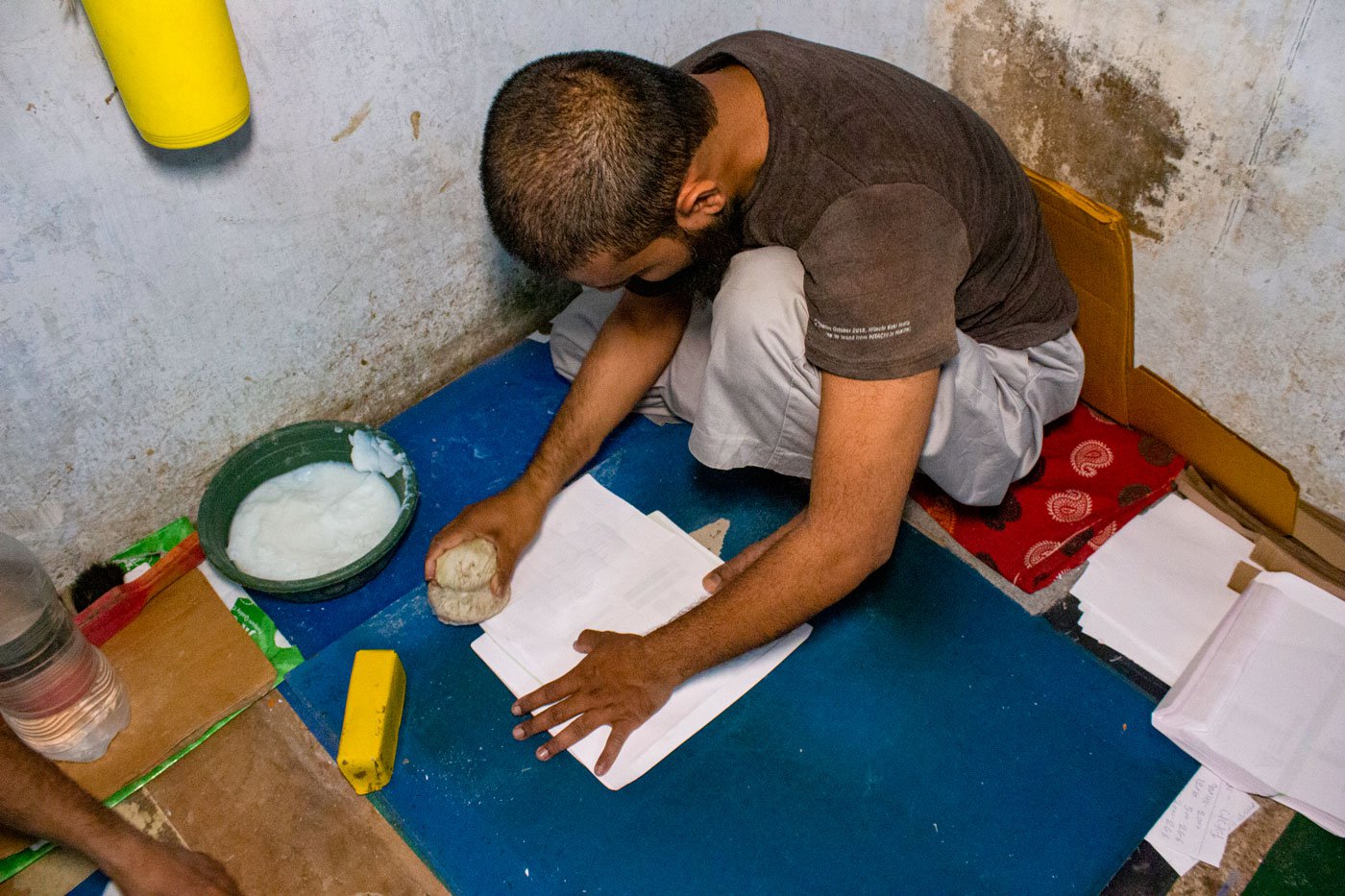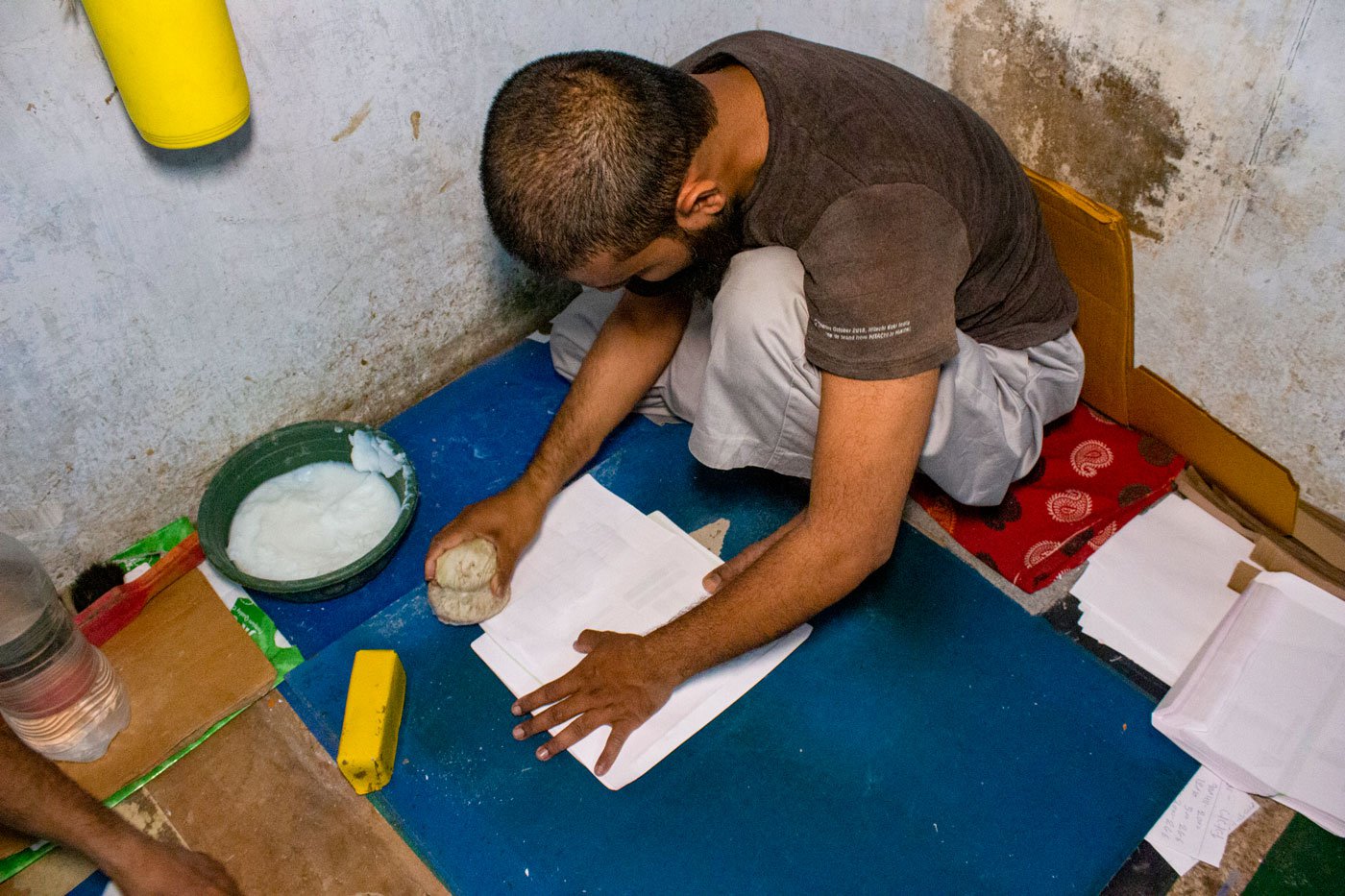 PHOTO • Umesh Solanki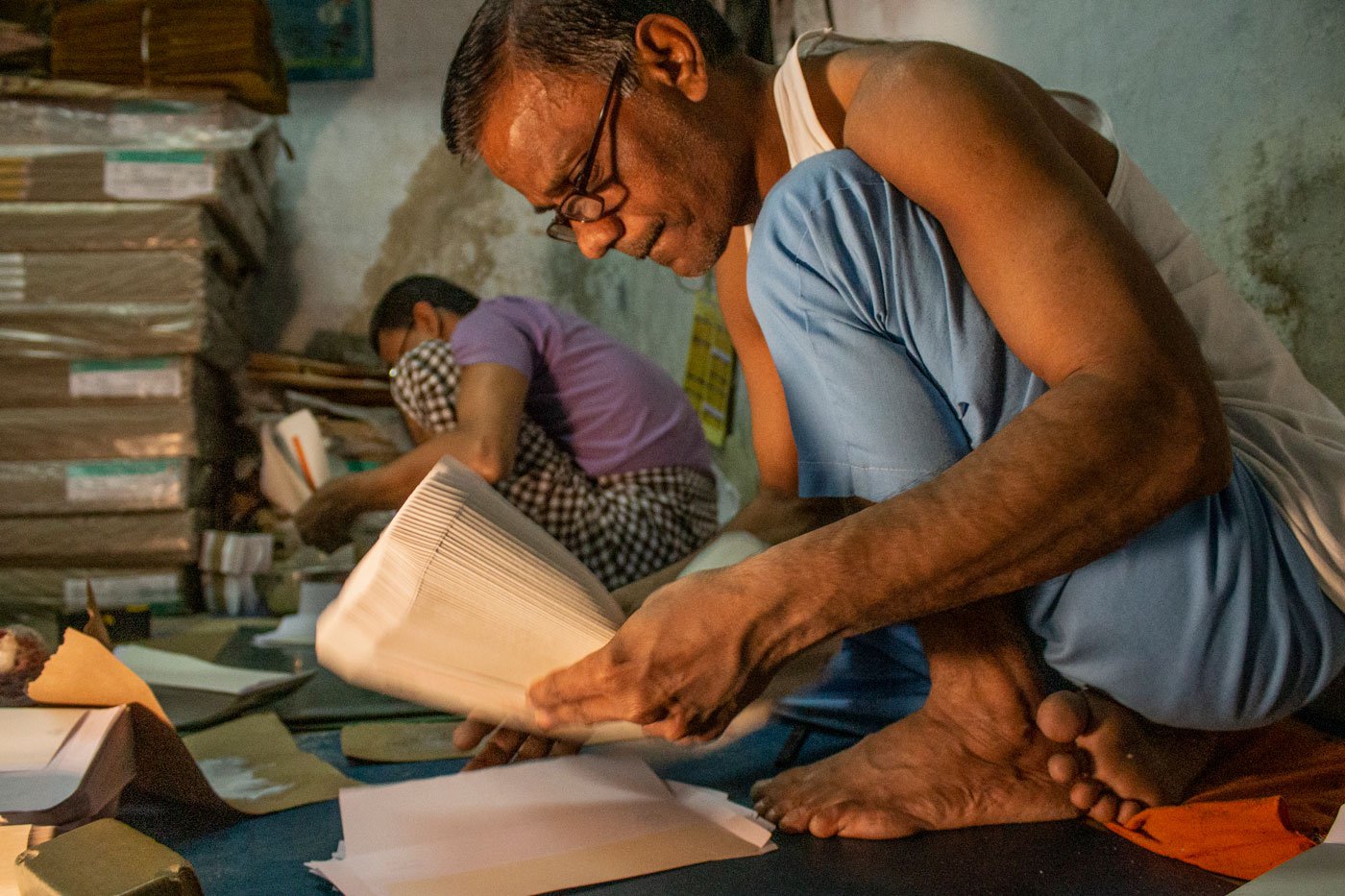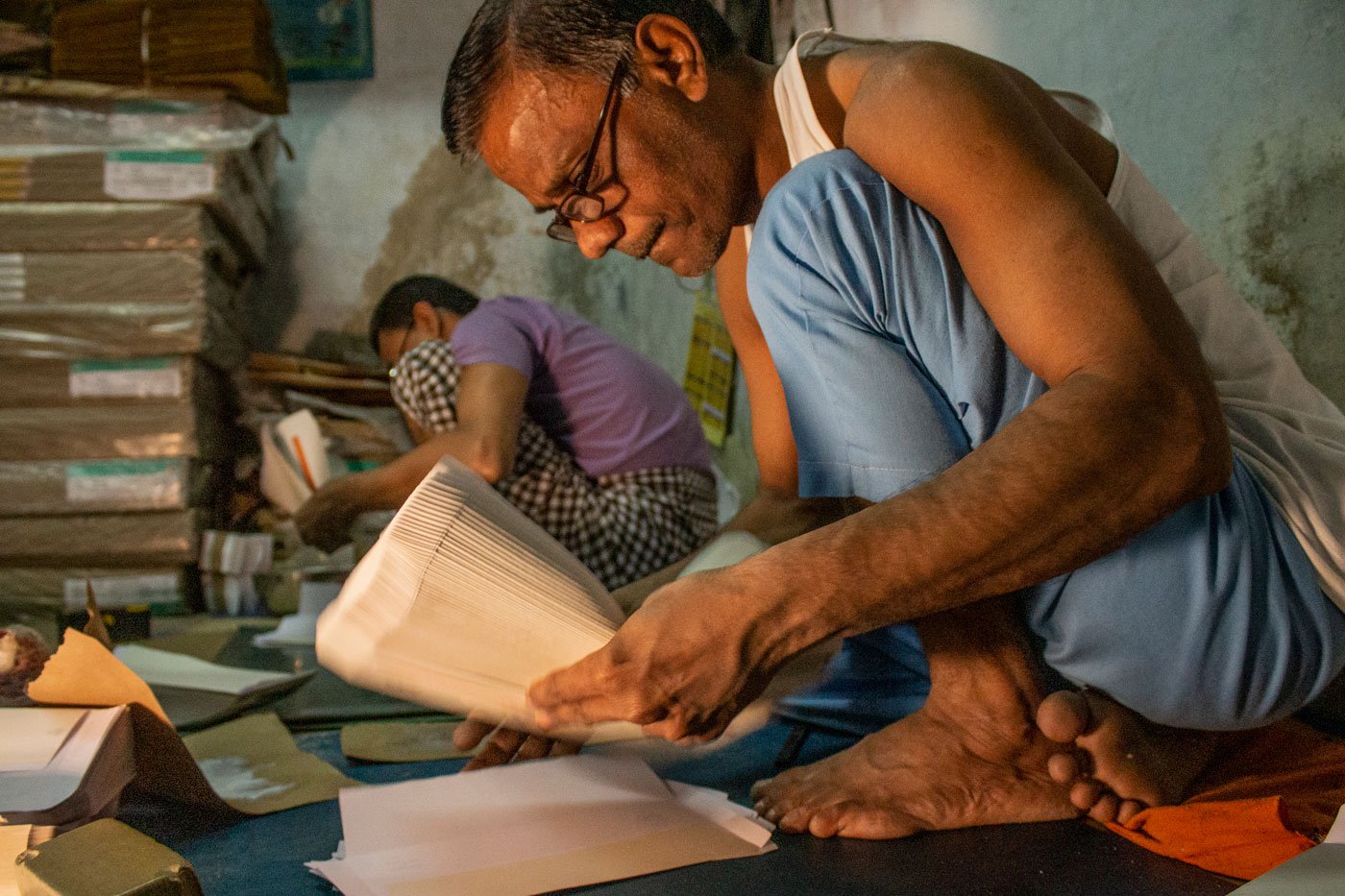 PHOTO • Umesh Solanki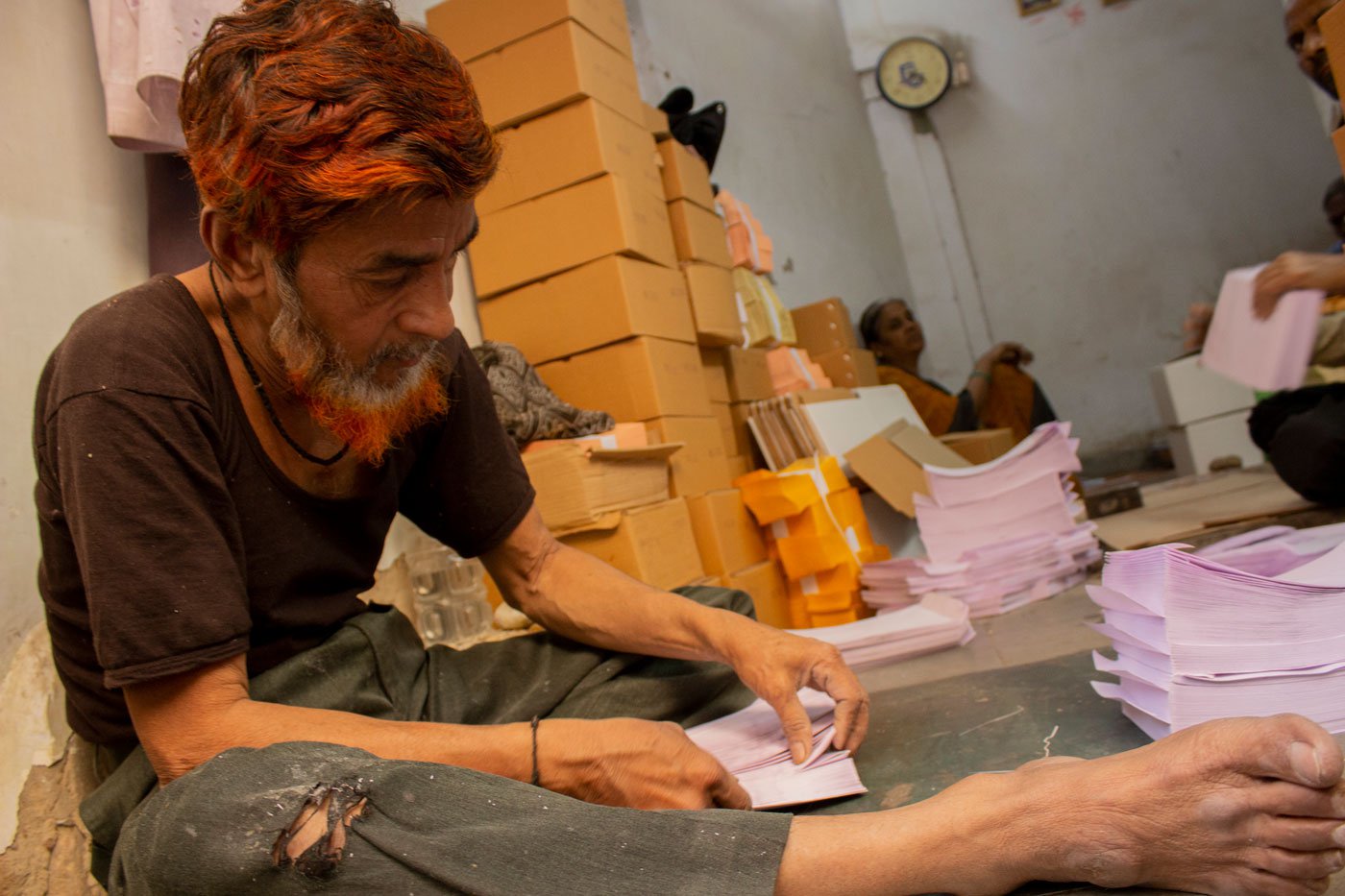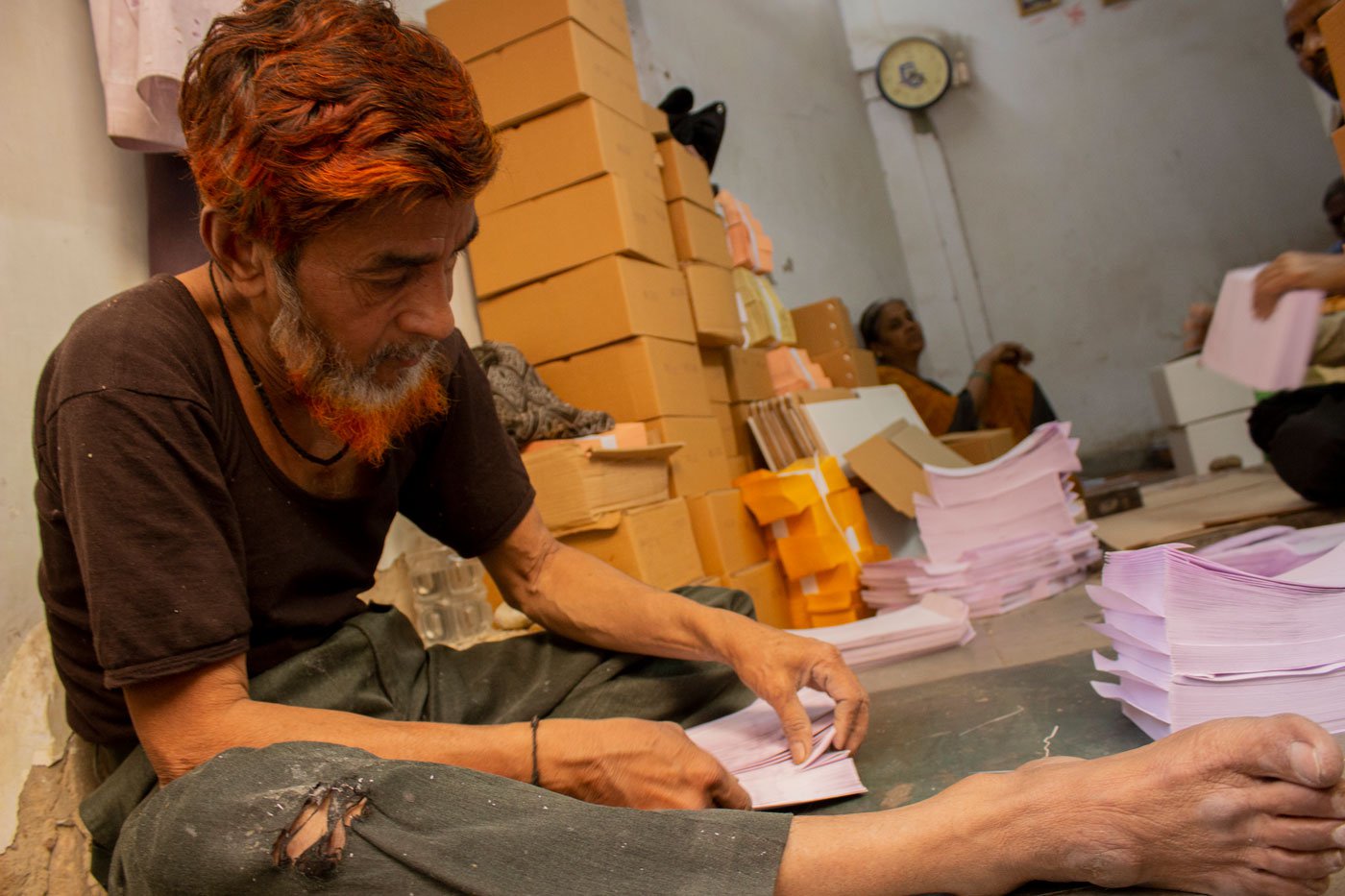 PHOTO • Umesh Solanki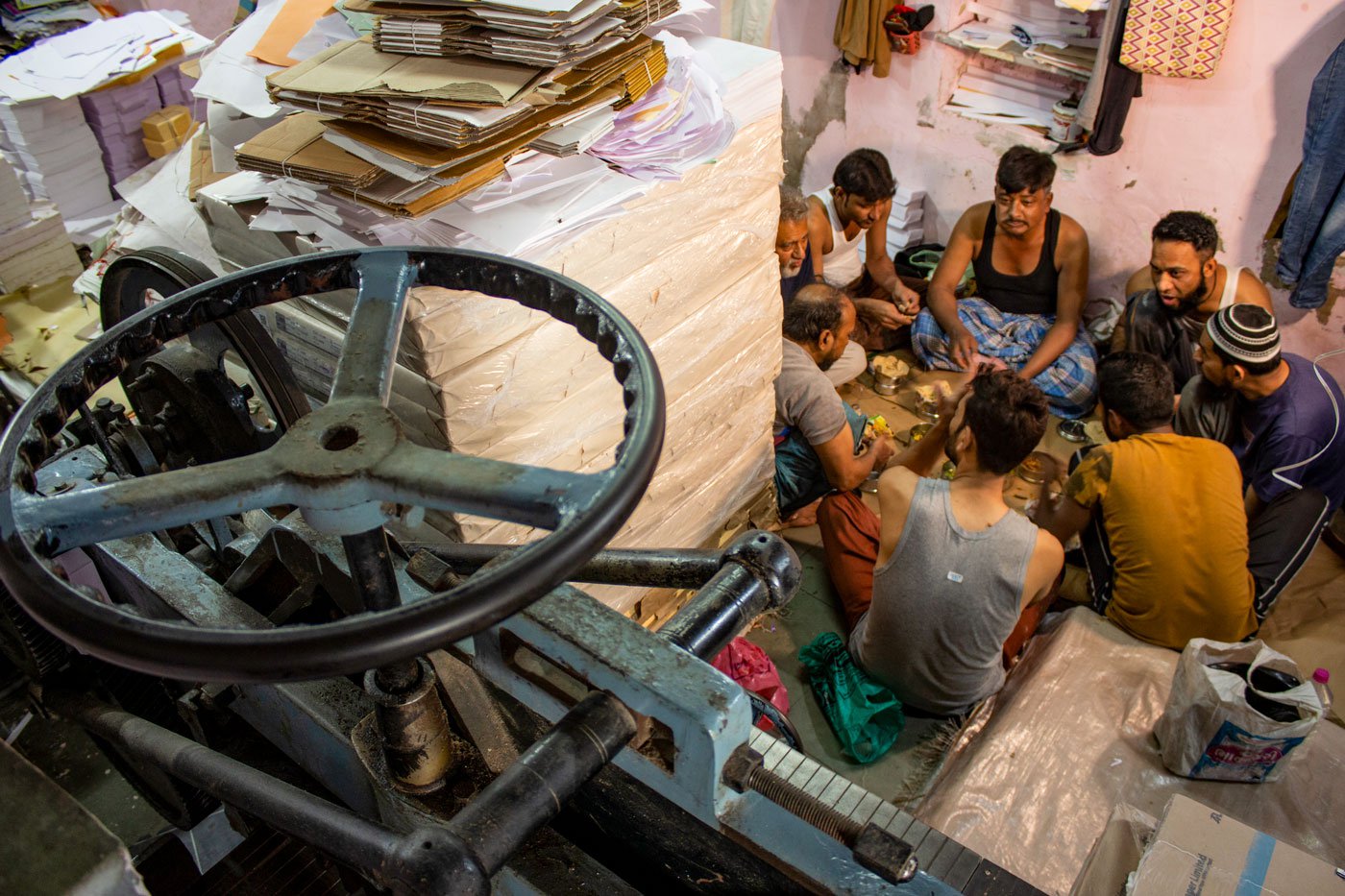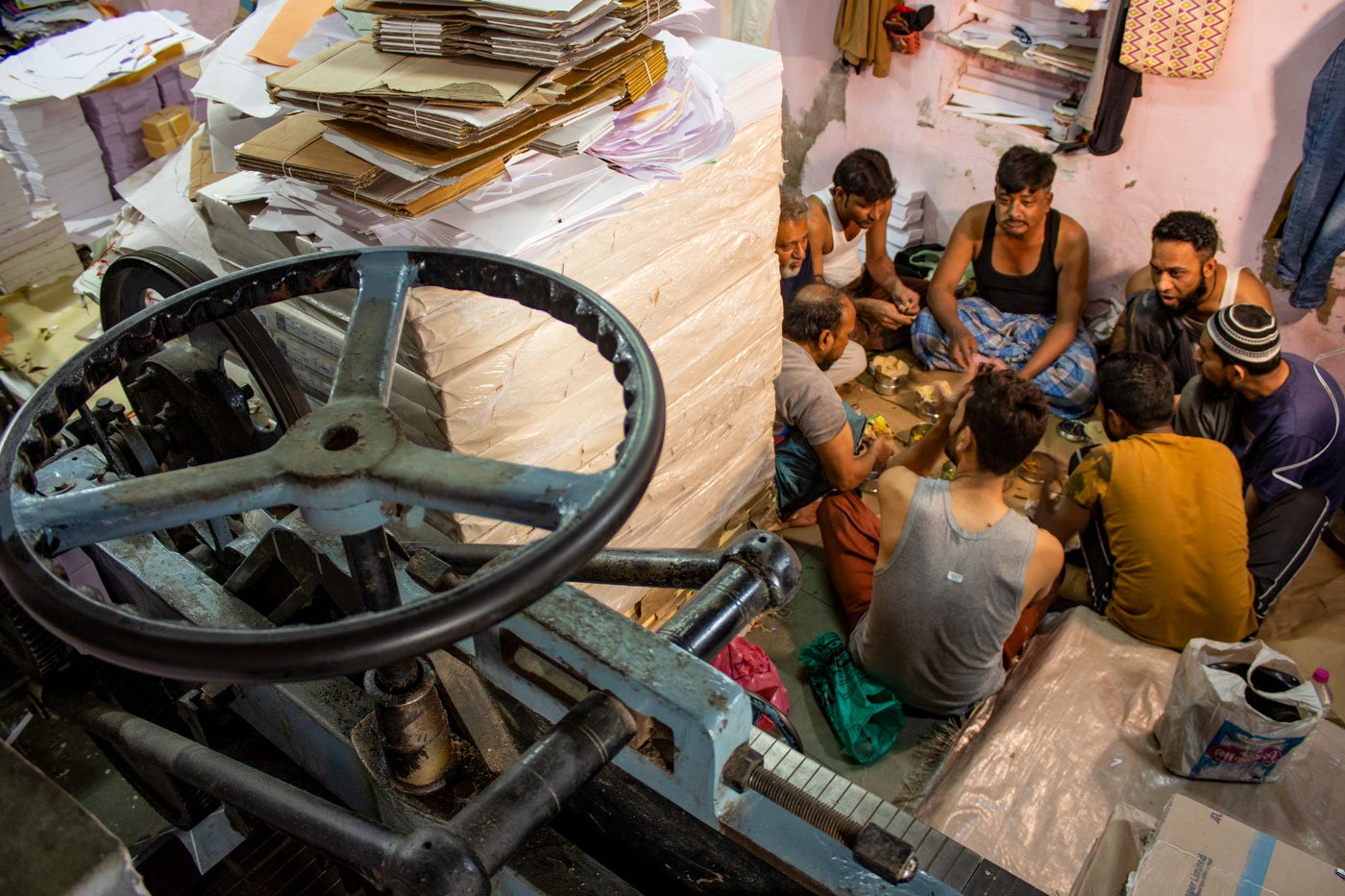 PHOTO • Umesh Solanki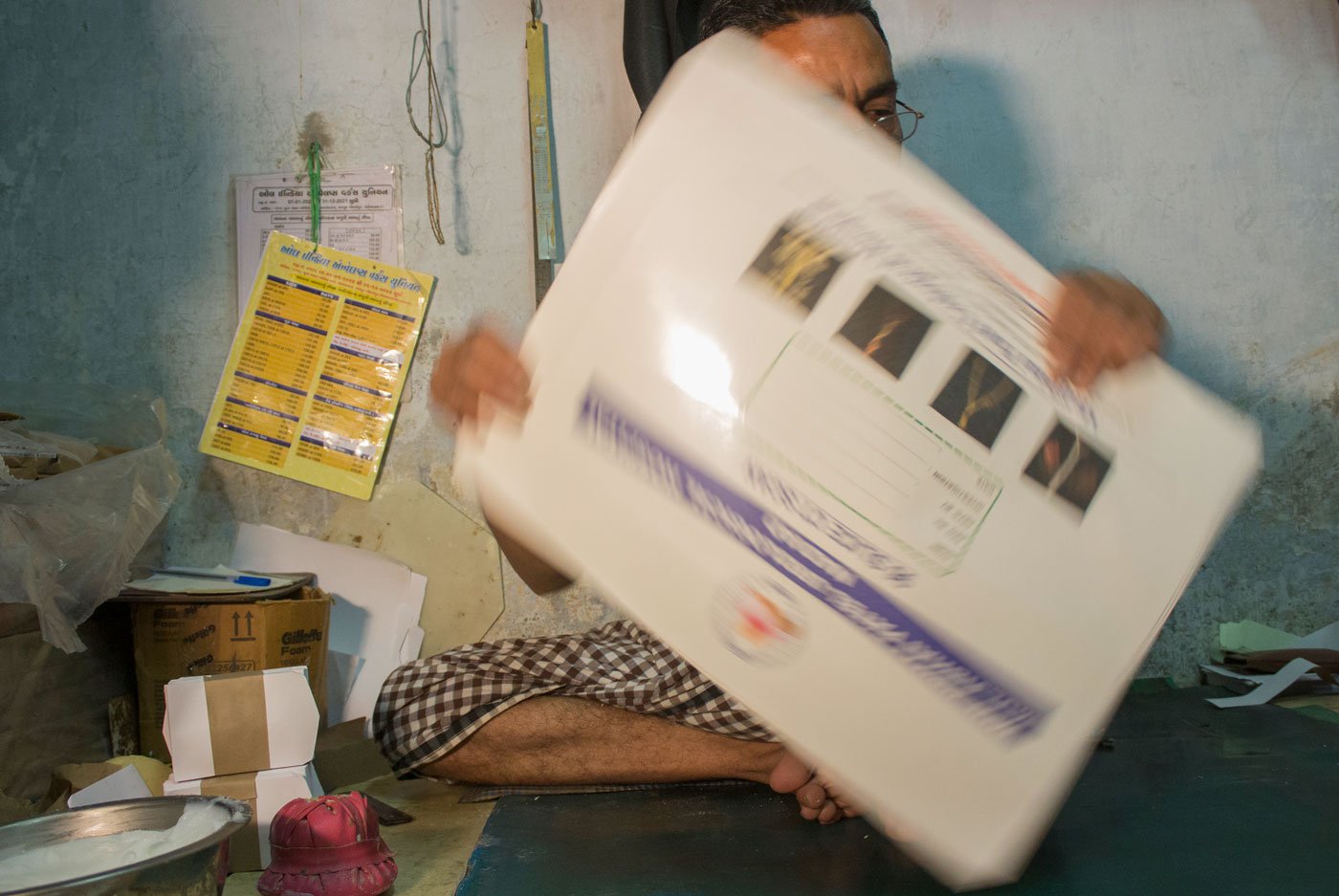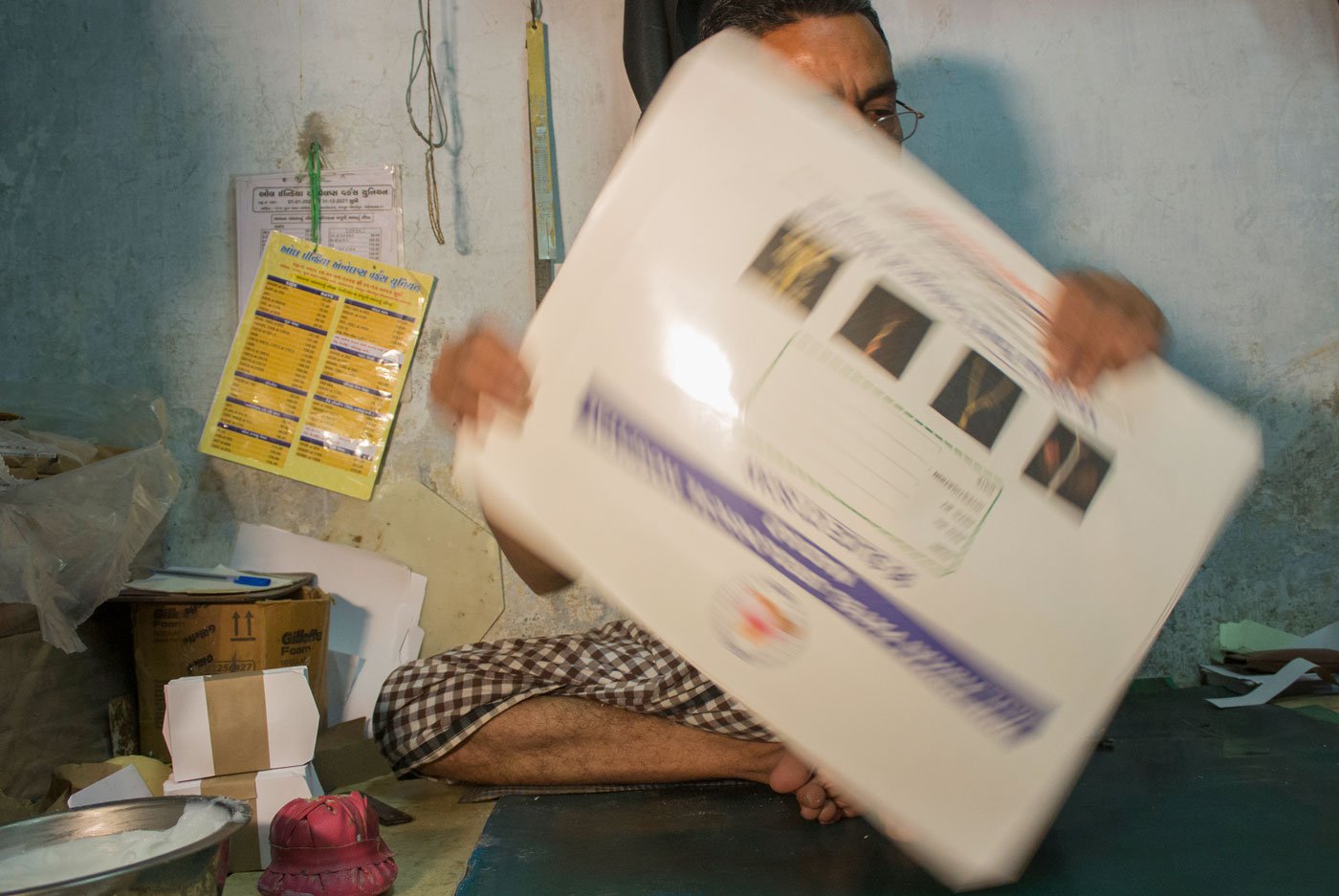 PHOTO • Umesh Solanki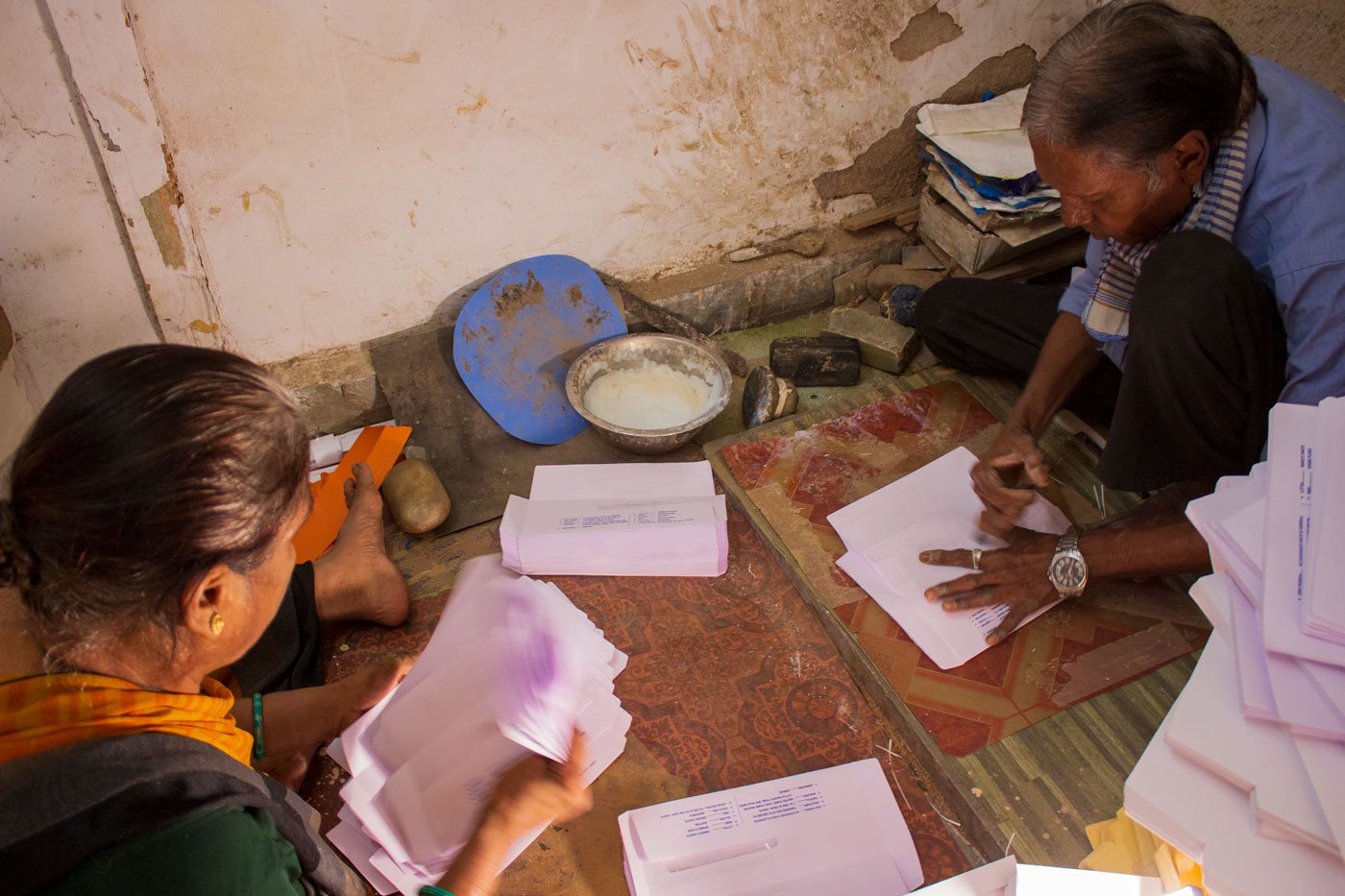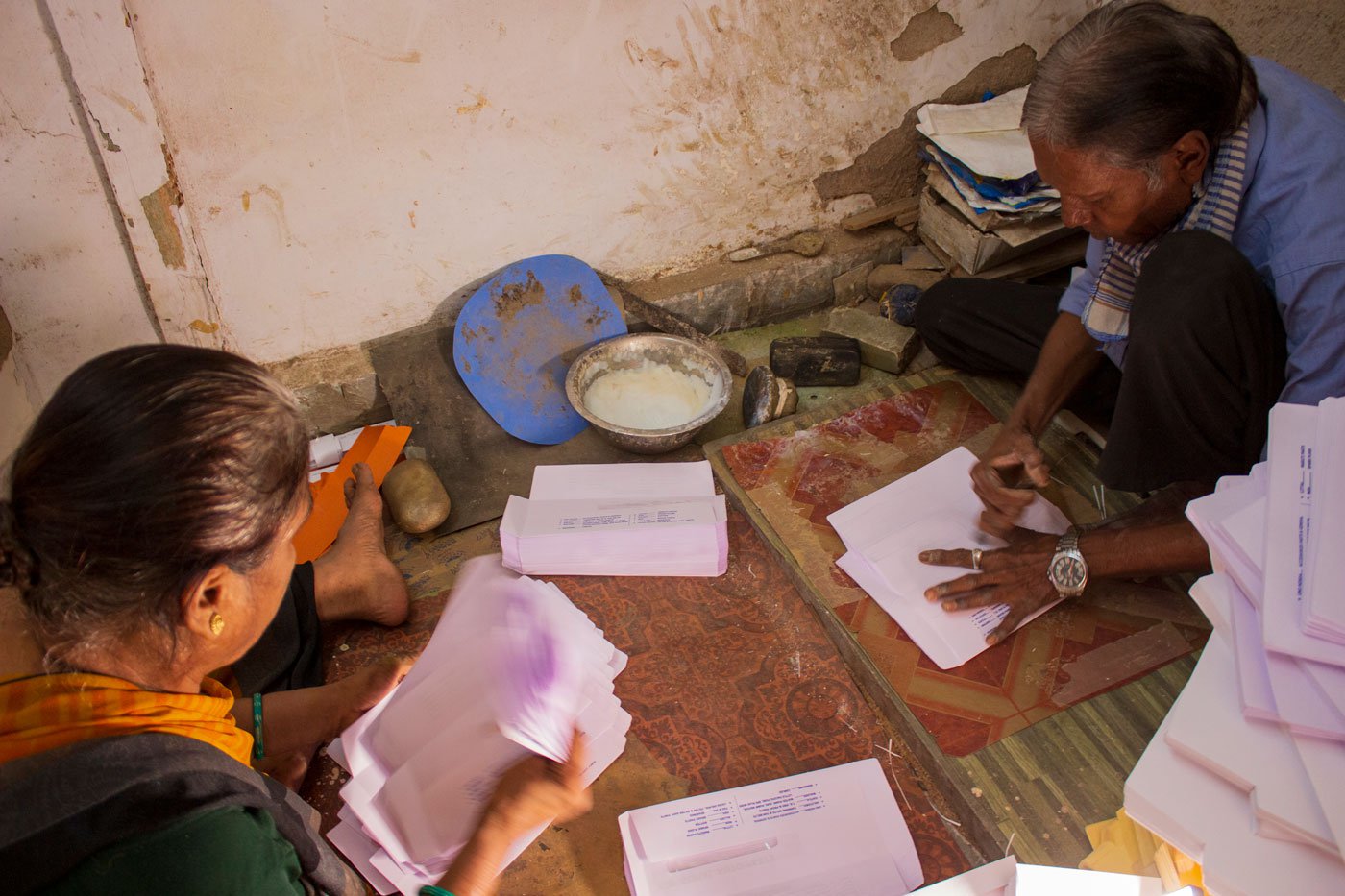 PHOTO • Umesh Solanki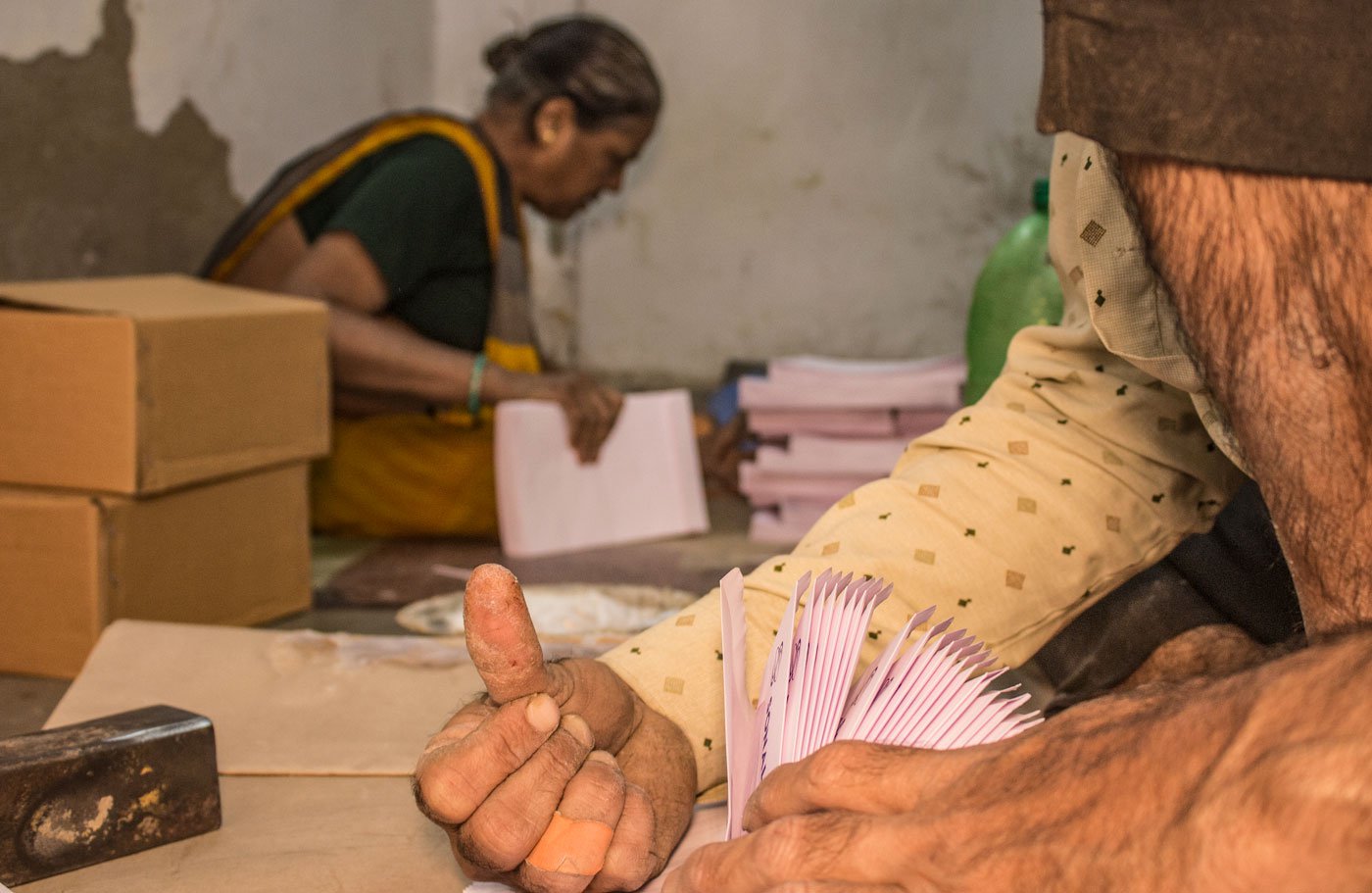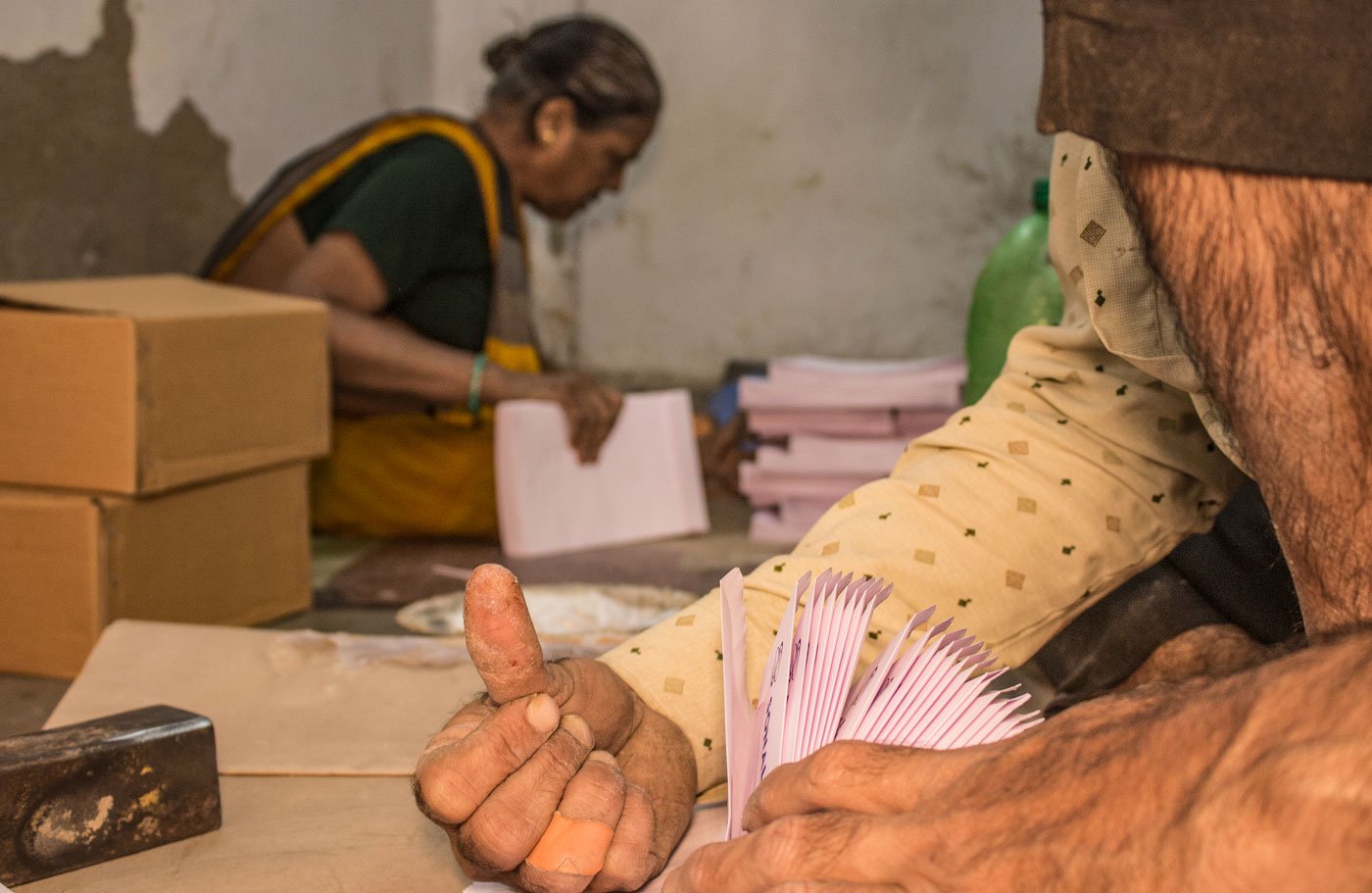 PHOTO • Umesh Solanki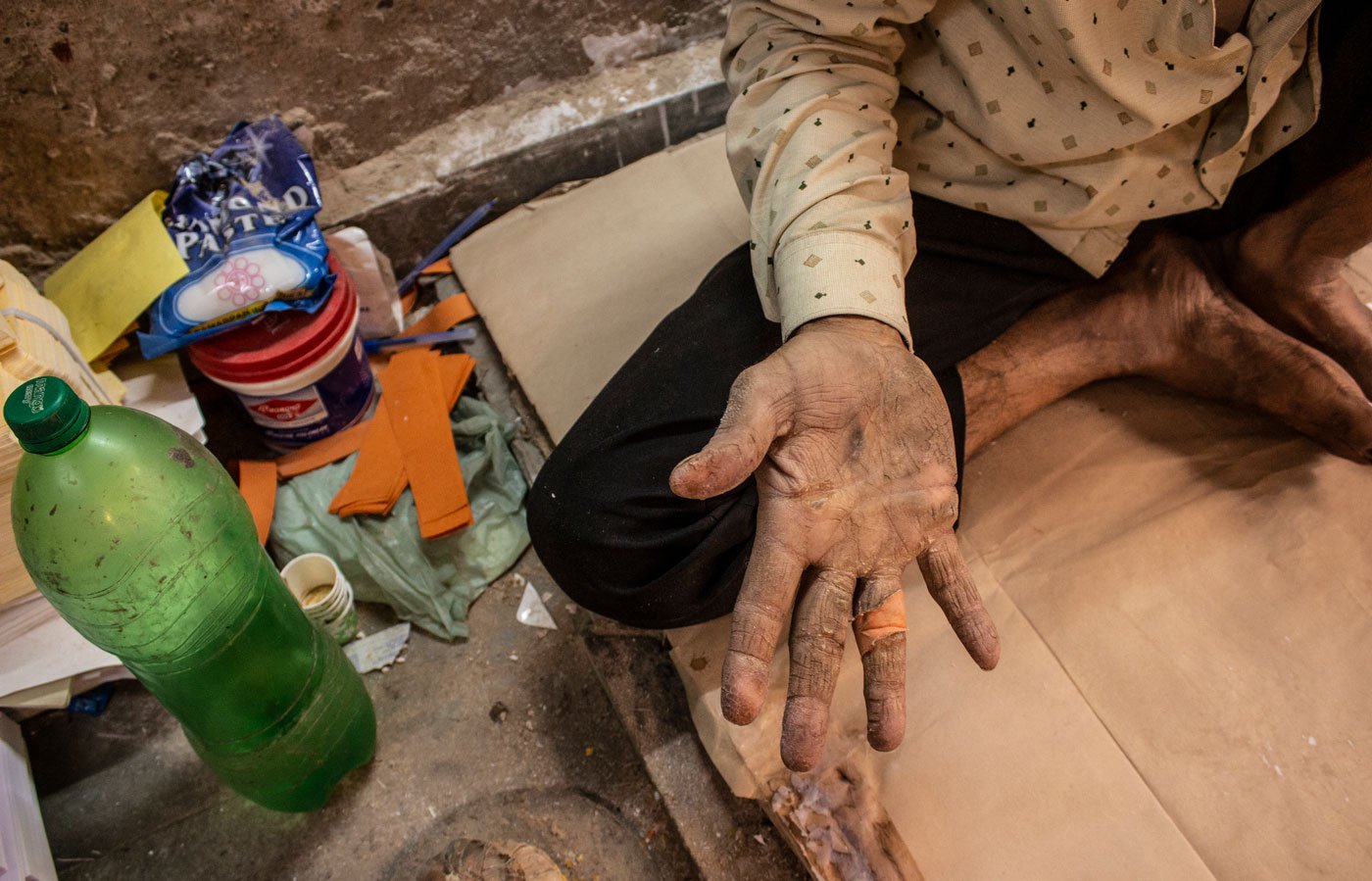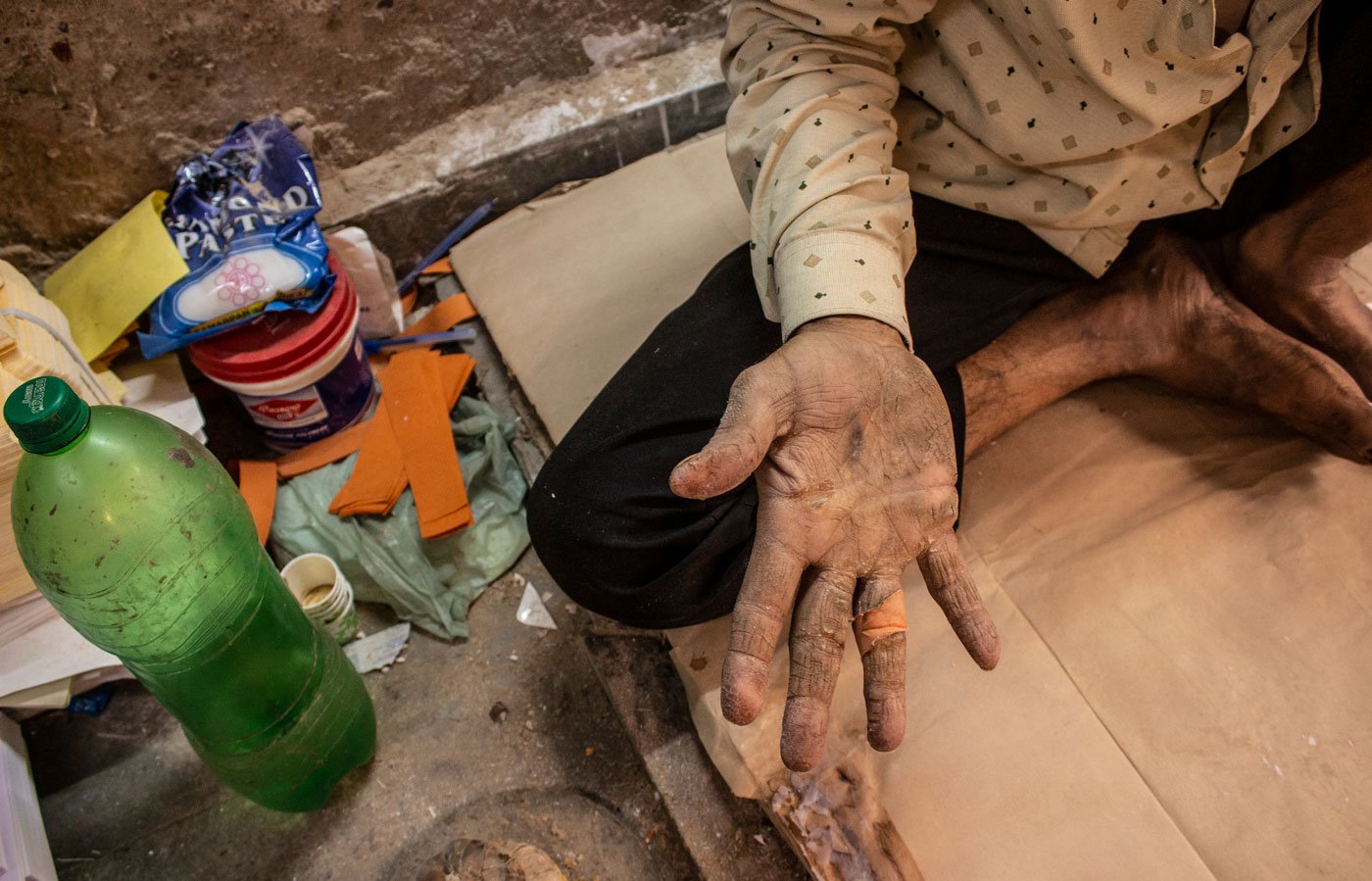 PHOTO • Umesh Solanki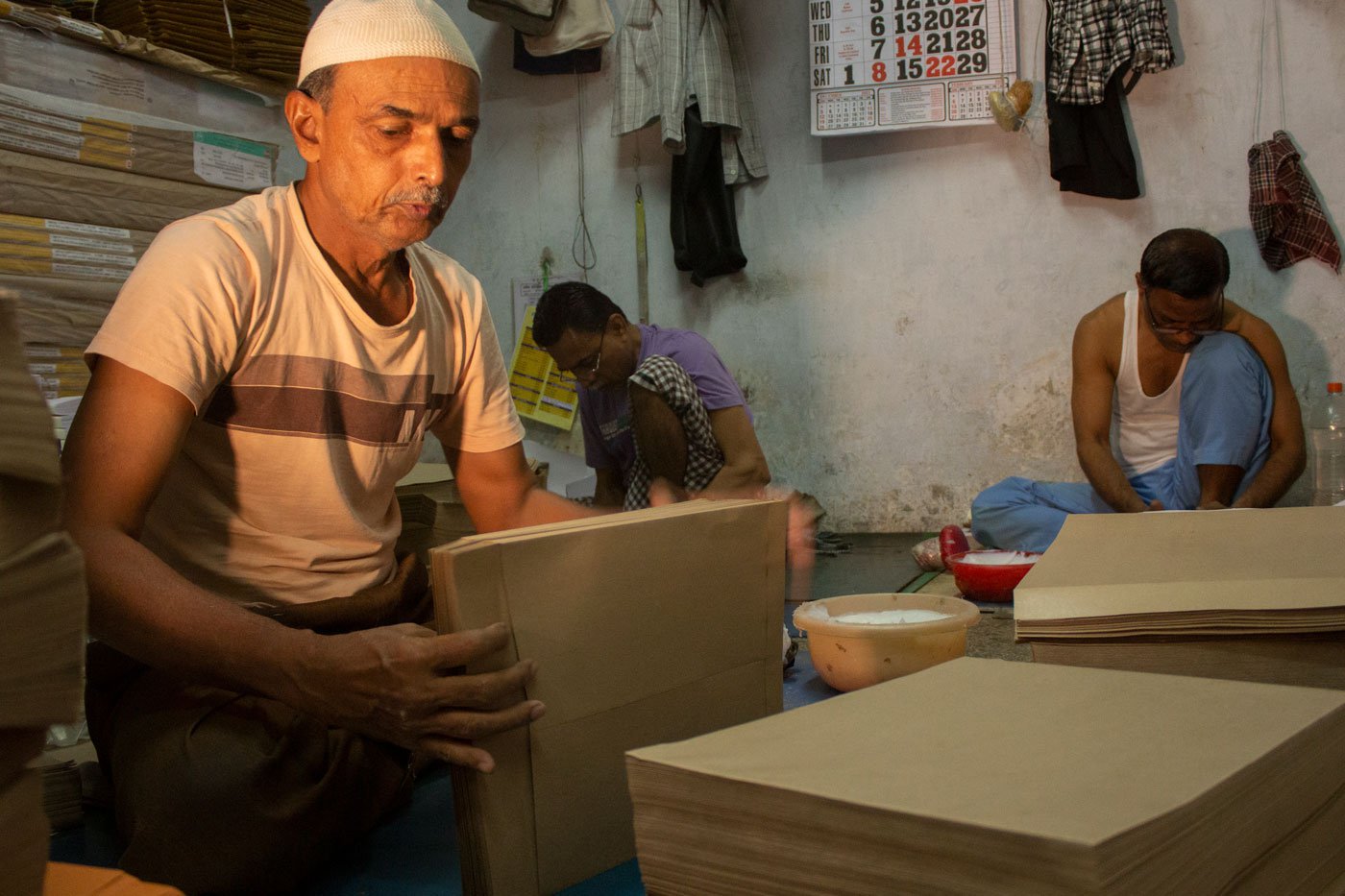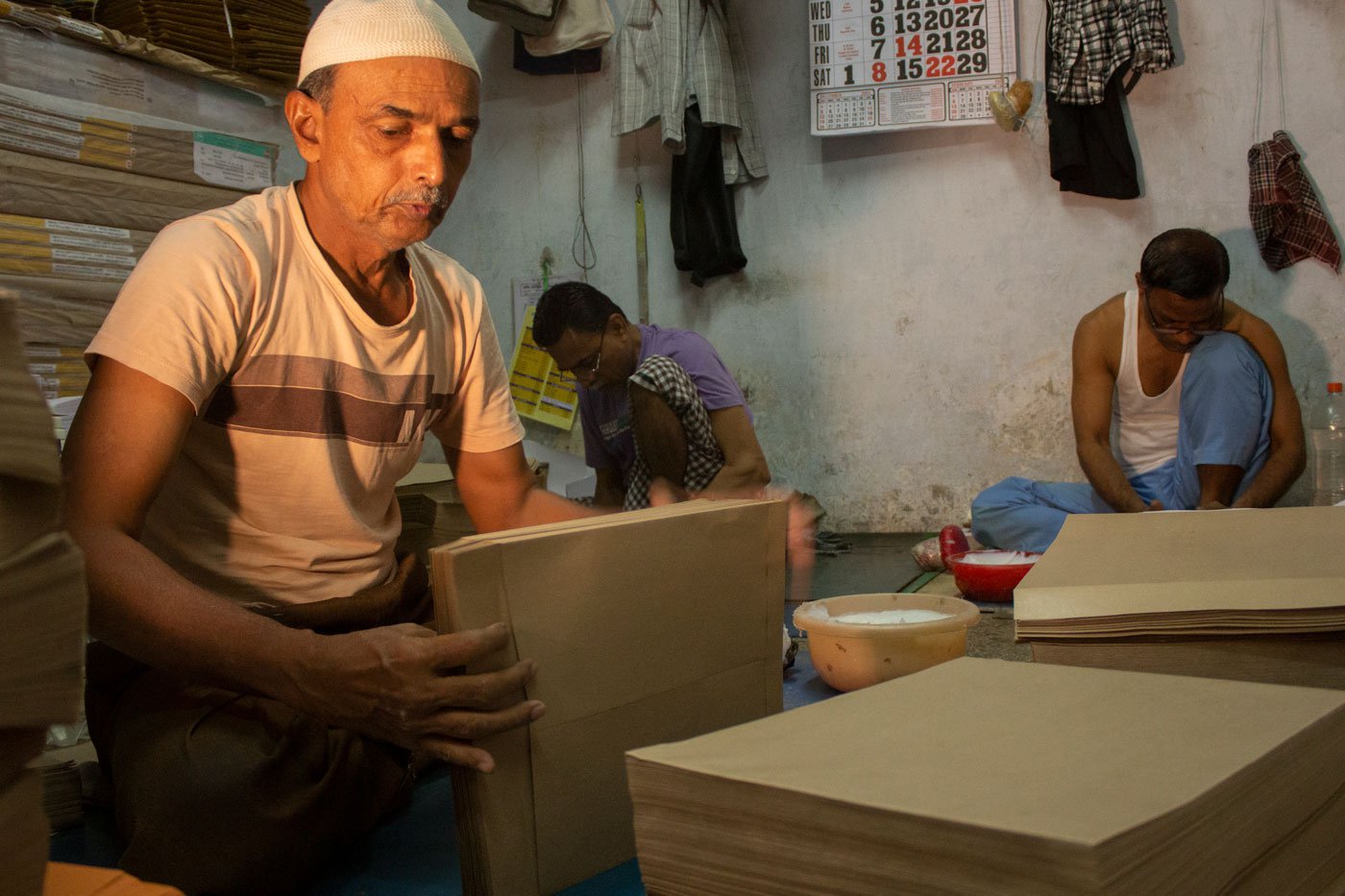 PHOTO • Umesh Solanki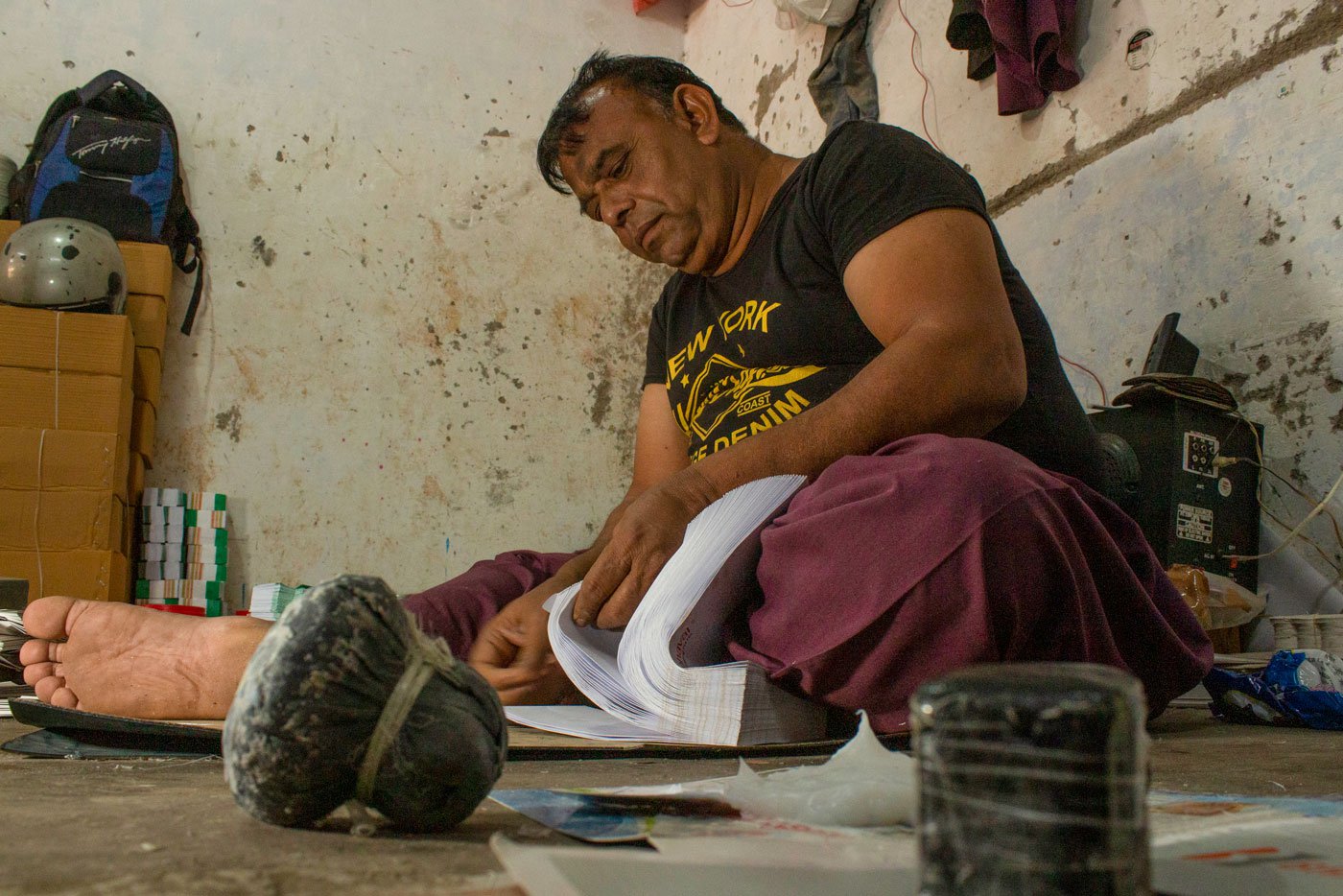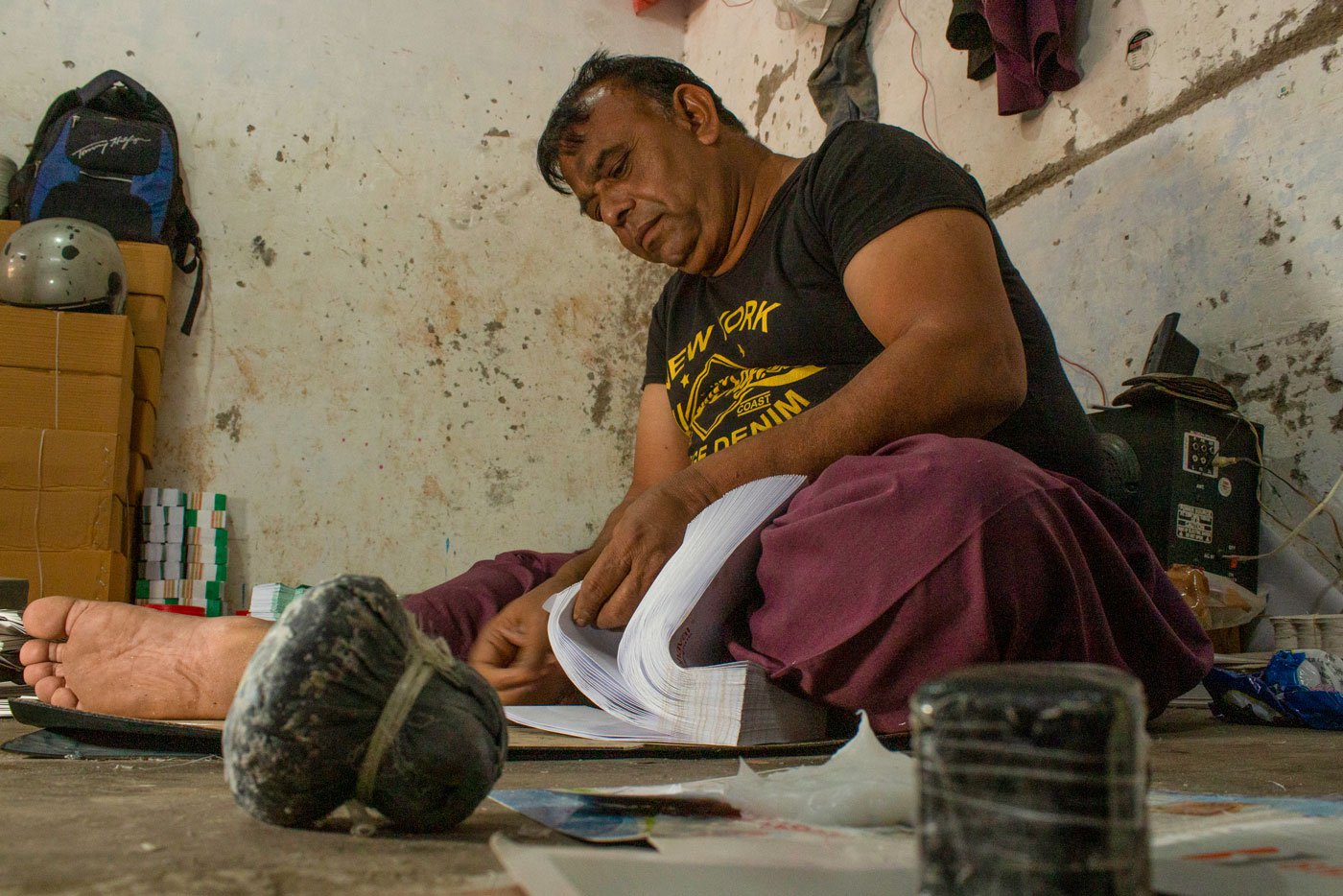 PHOTO • Umesh Solanki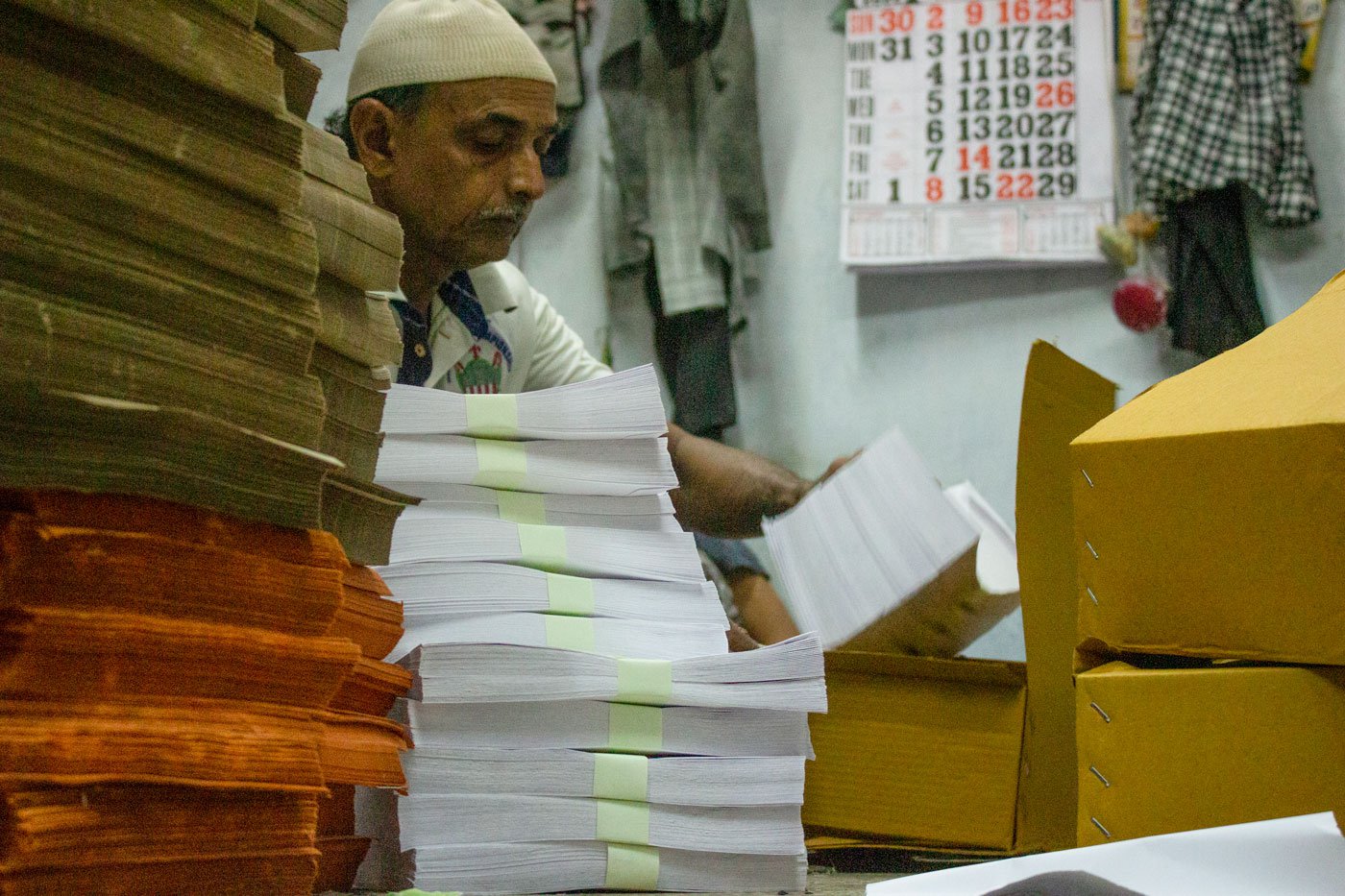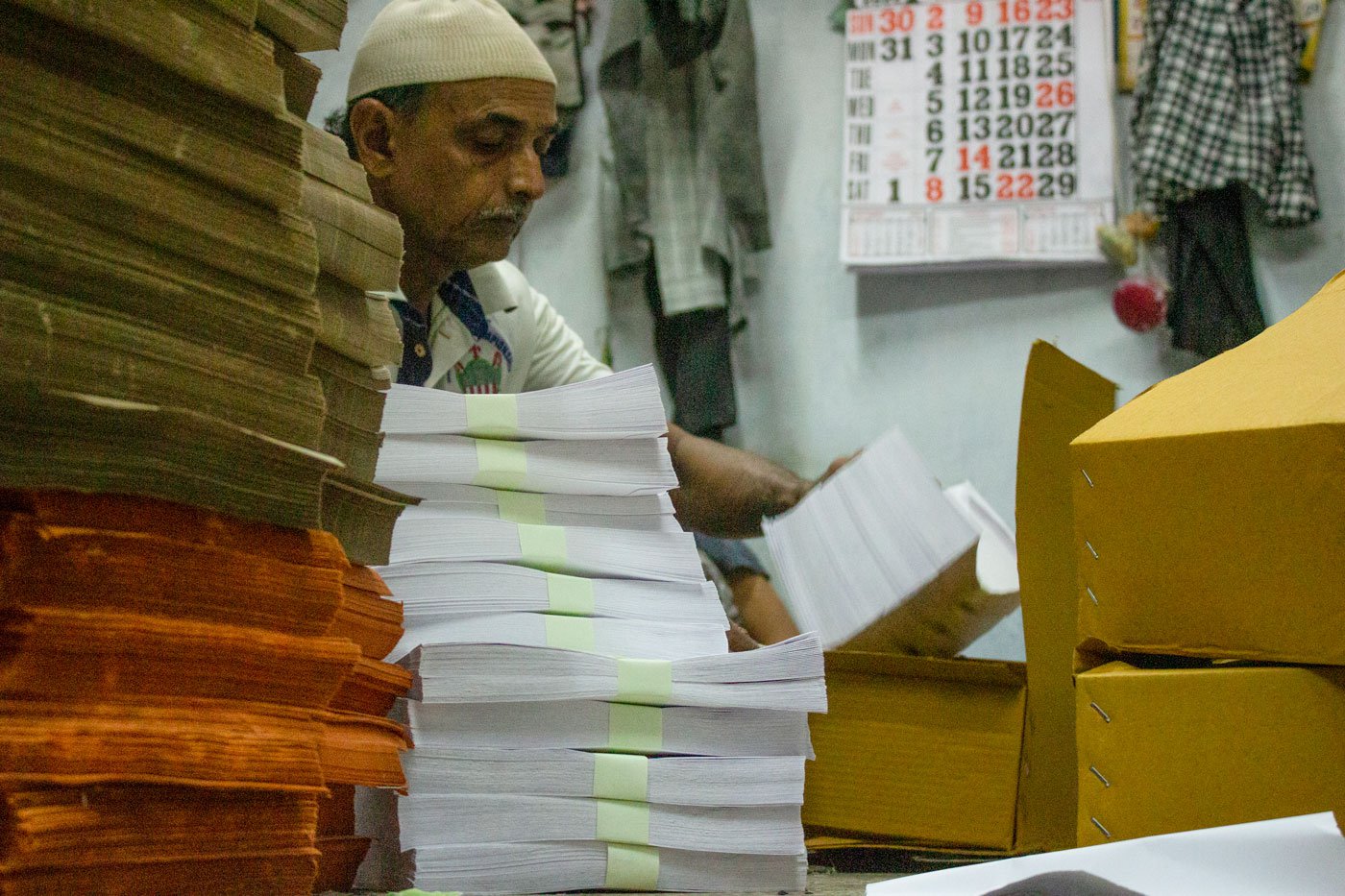 PHOTO • Umesh Solanki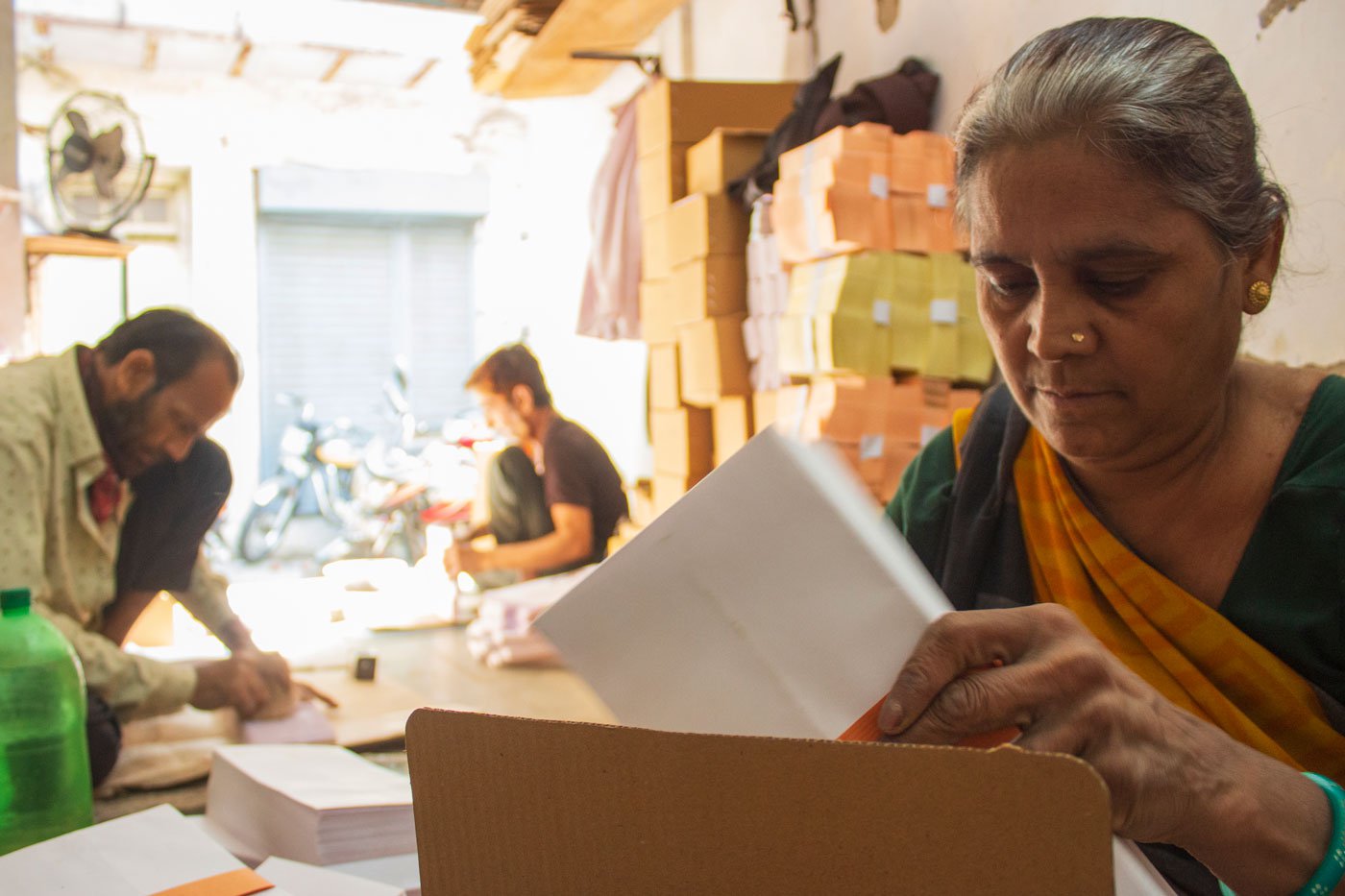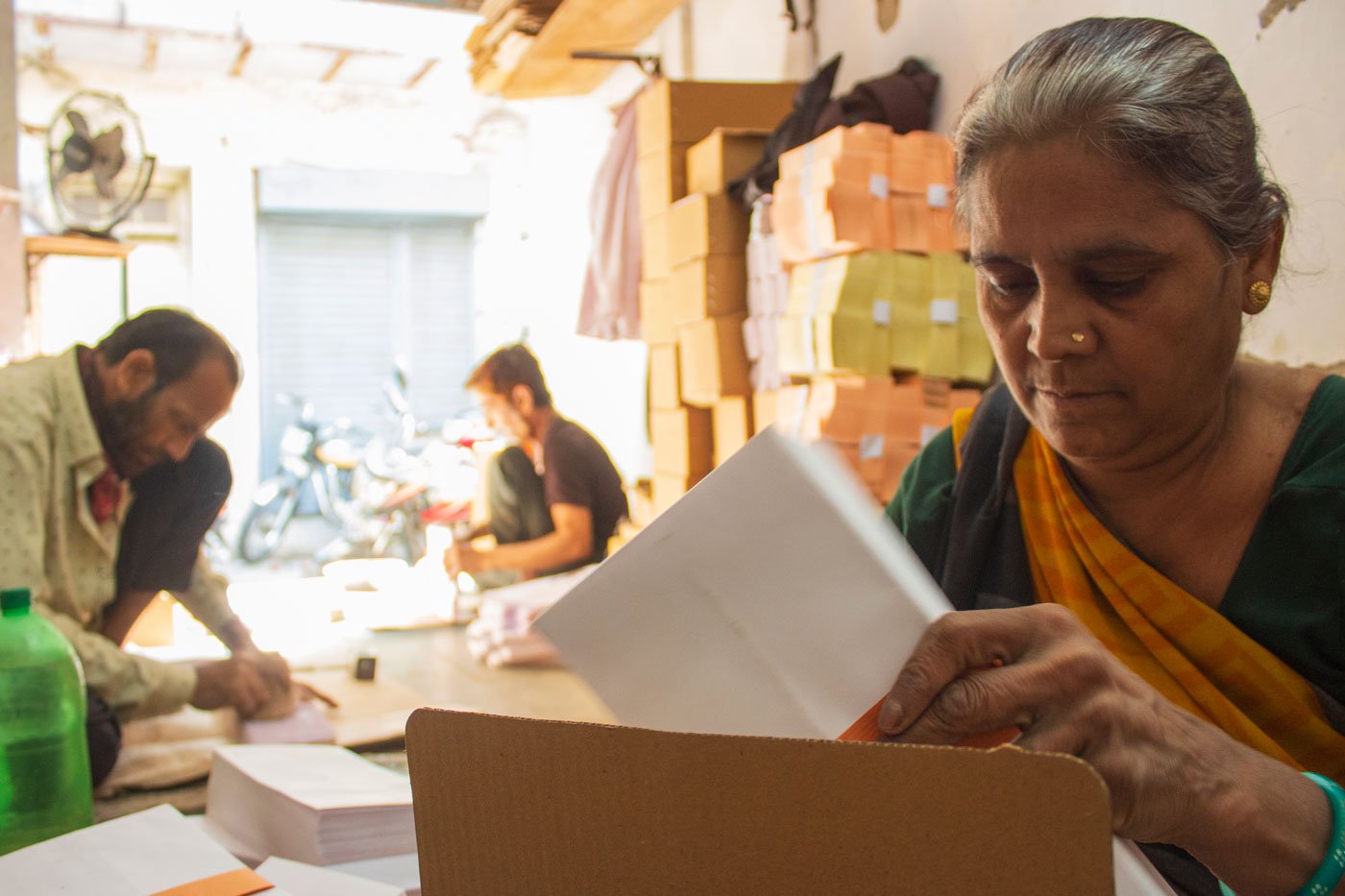 PHOTO • Umesh Solanki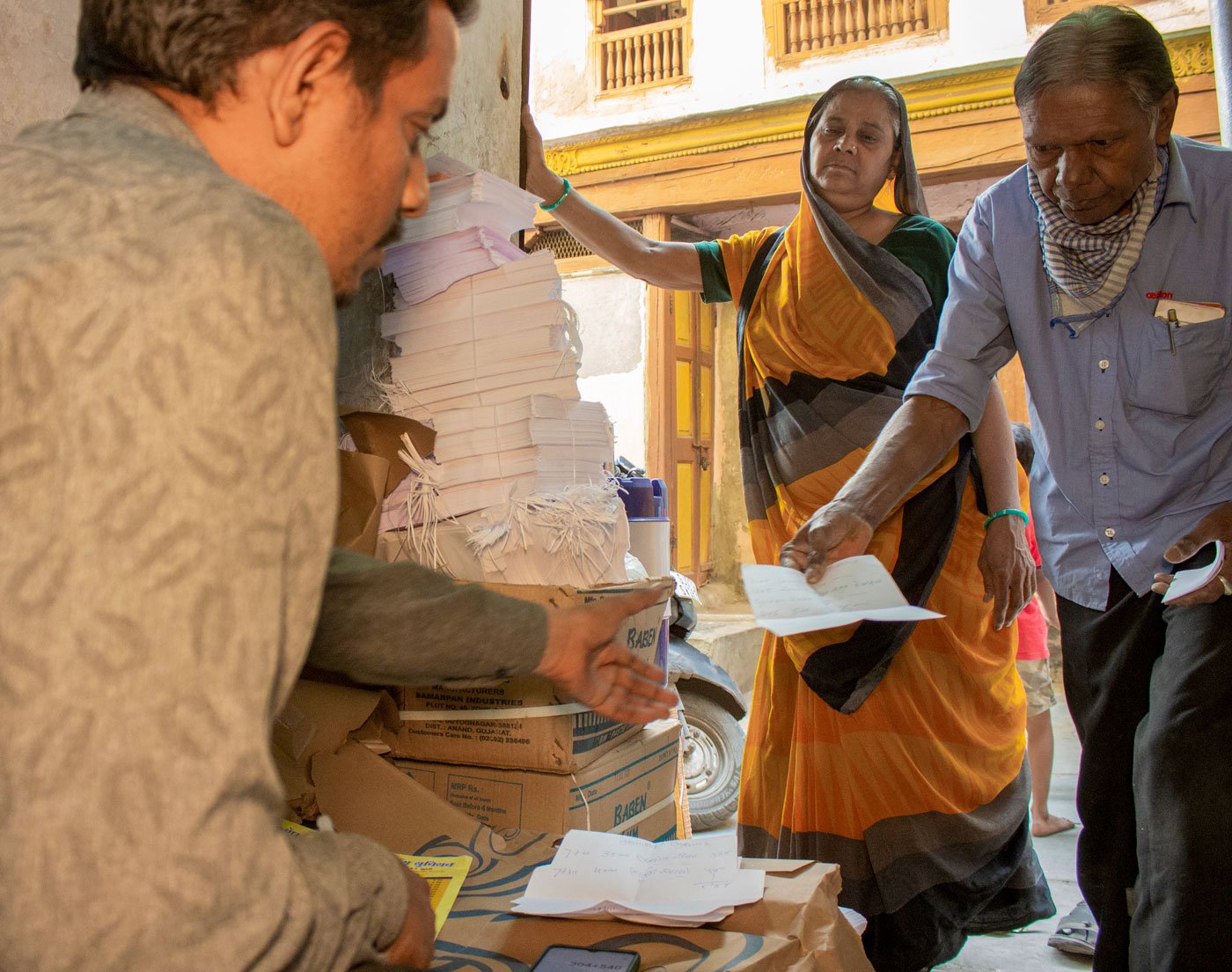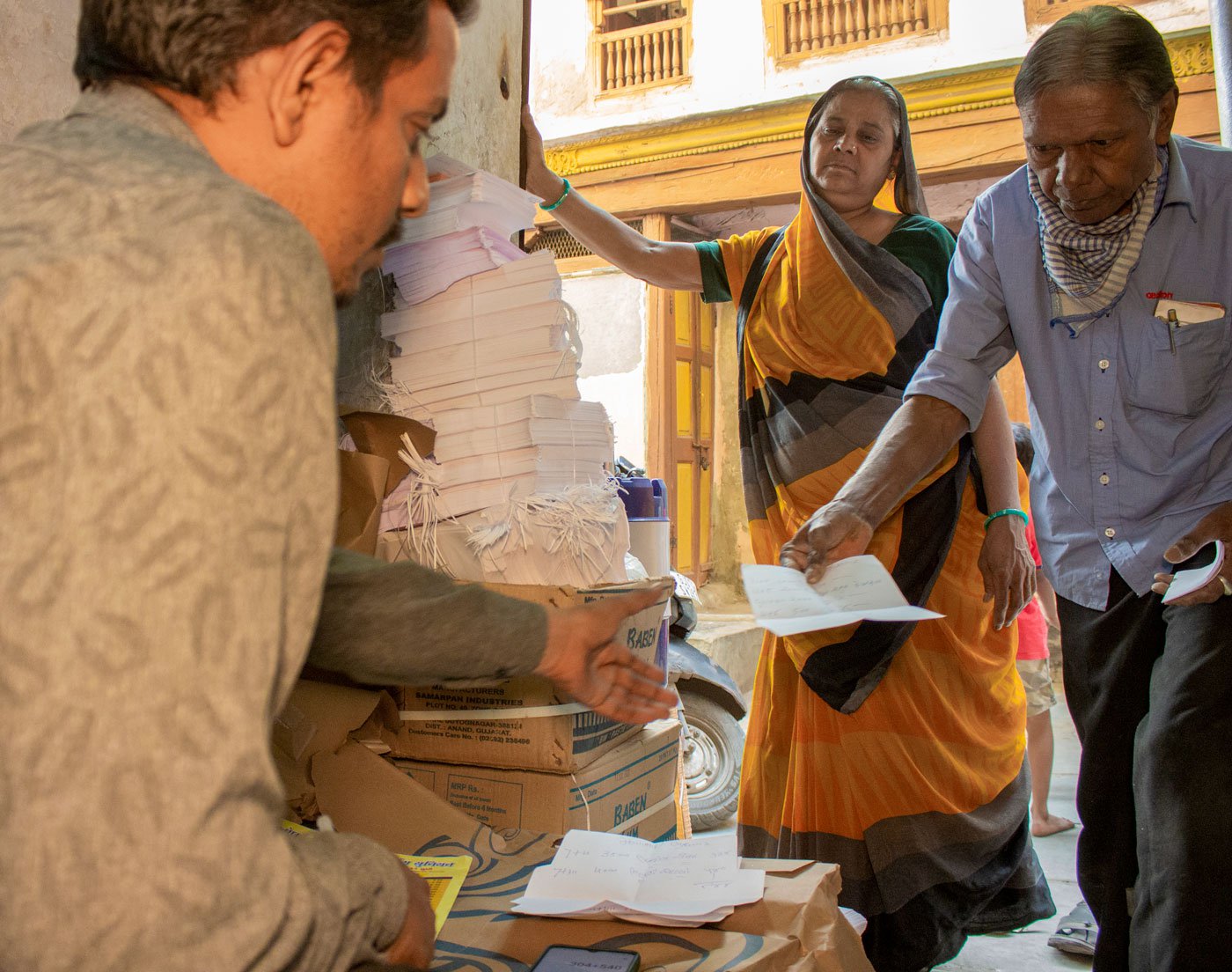 PHOTO • Umesh Solanki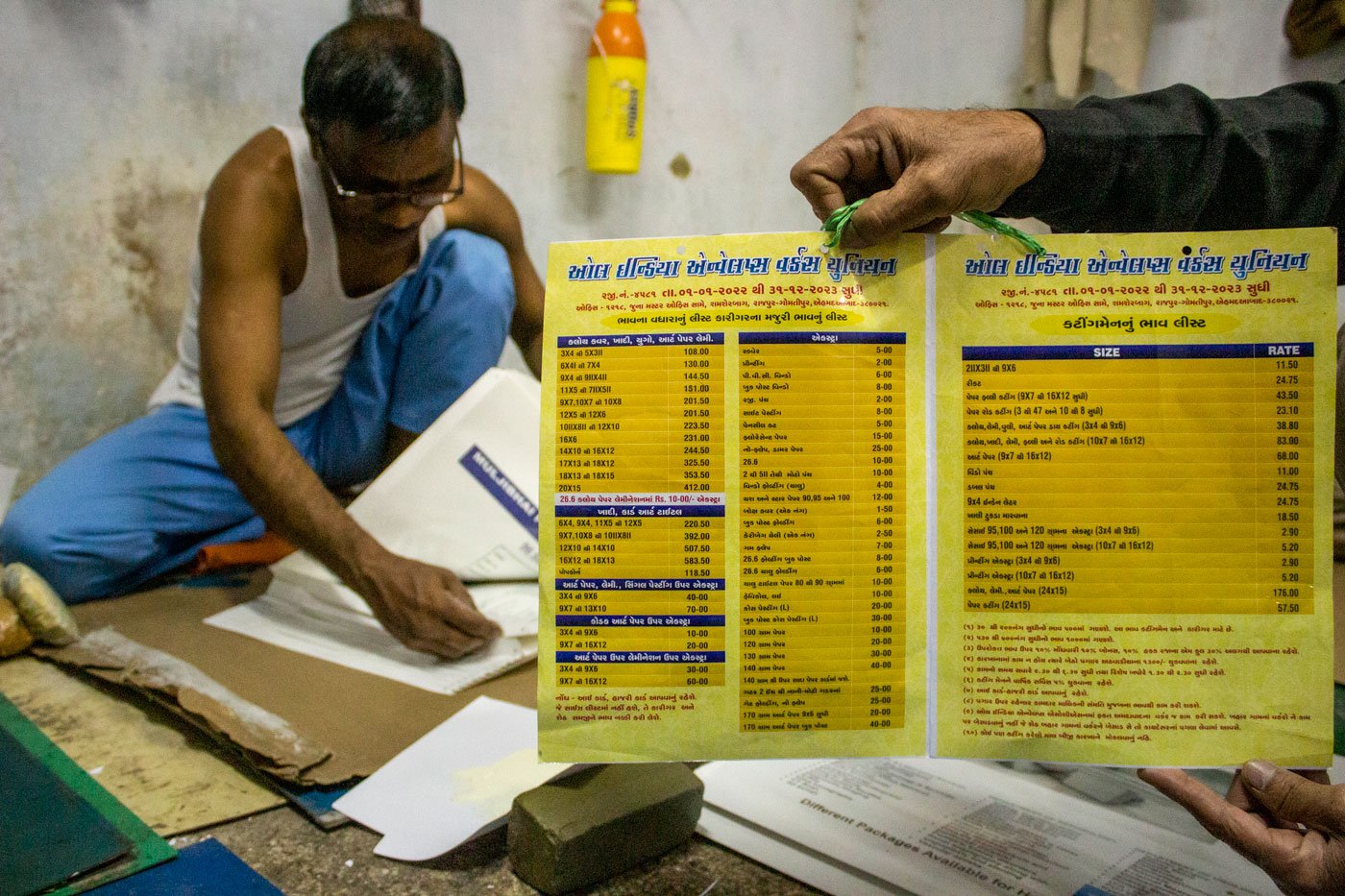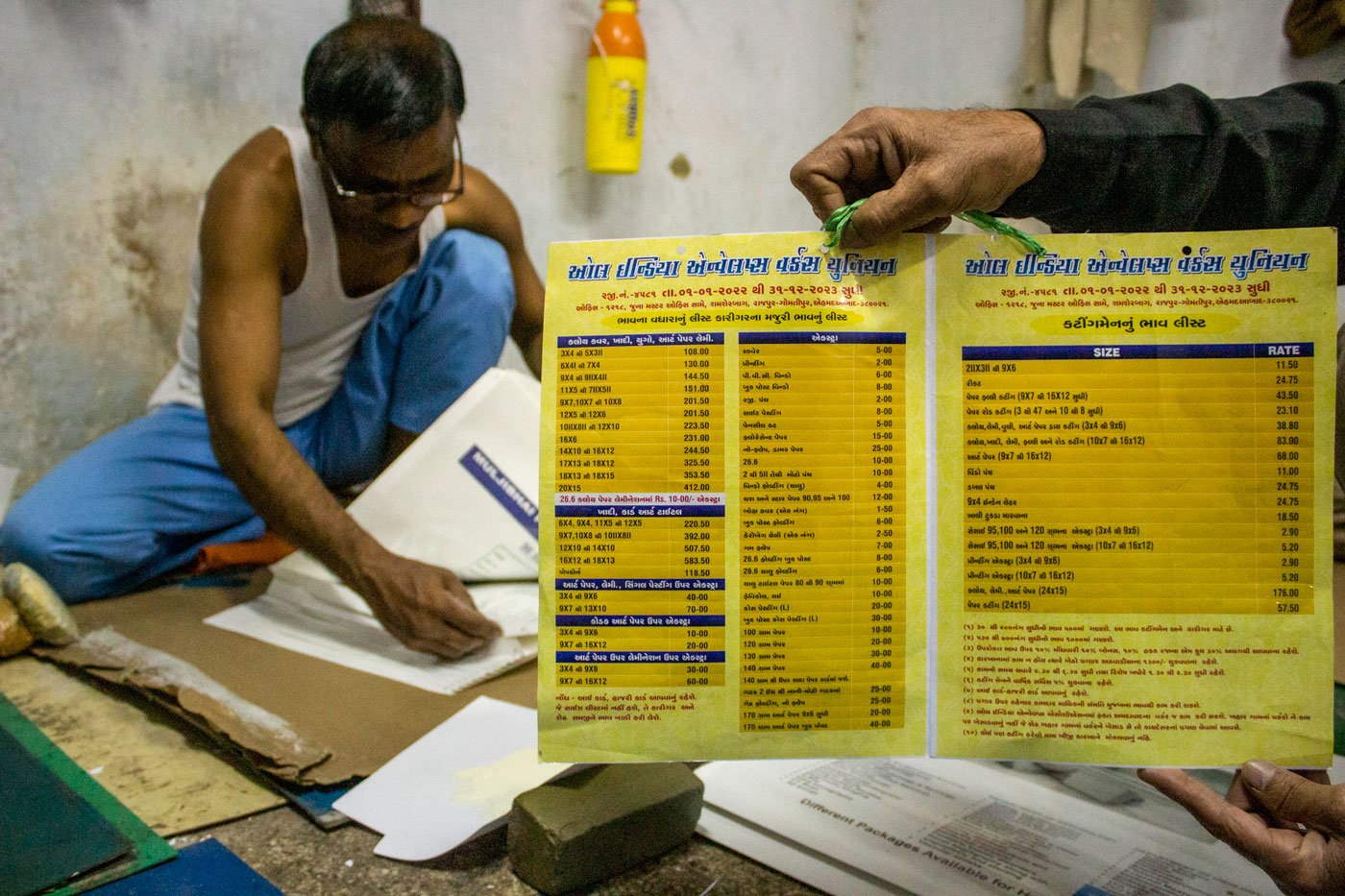 PHOTO • Umesh Solanki