Ashok Bhat is hurriedly wrapping up his puppets, miniature wooden toy horses, elephants and more. He uses the white sheet they were displayed on to bundle them up. He has to be quick – the police have launched a sudden raid outside Dilli Haat, a government-run market in south Delhi, leaving street vendors like Ashok uncertain of their next move.
Dilli Haat is a semi-open air space given by the local municipality for craftspeople to display their wares. Ashok says the club assigns each one a stall inside for a short period of time, but today Ashok has put up his wares outside the designated area along with other craftspersons also awaiting their turn in the line-up. It is they who are targeted as 'illegal' vendors by the local police.

"This is common outside Dilli Haat," the 40 year-old says, "It's out of compulsion [to earn] that I have to sell here." Once the police leave, Ashok returns to his spot near the market's entrance. He once again lays down the white cloth on the pavement and begins setting up with help of his wife (who did not wish to be named). They neatly arrange puppets dressed in vibrant red and orange bandhej prints in a familiar pattern, ready to re-start their day.
"Kathputli colony used to be filled with tourists from all over the world."
"We never felt a shortage of work there," says Sunny (named changed), a puppeteer in his late 20s in Delhi. He remembers growing up in a neighbourhood in the capital where there was always some or the other puppet show going on. It was the vibrant atmosphere of this locality that inspired him to learn the craft. "People came to watch from far-off places and would pay us instantly," he says.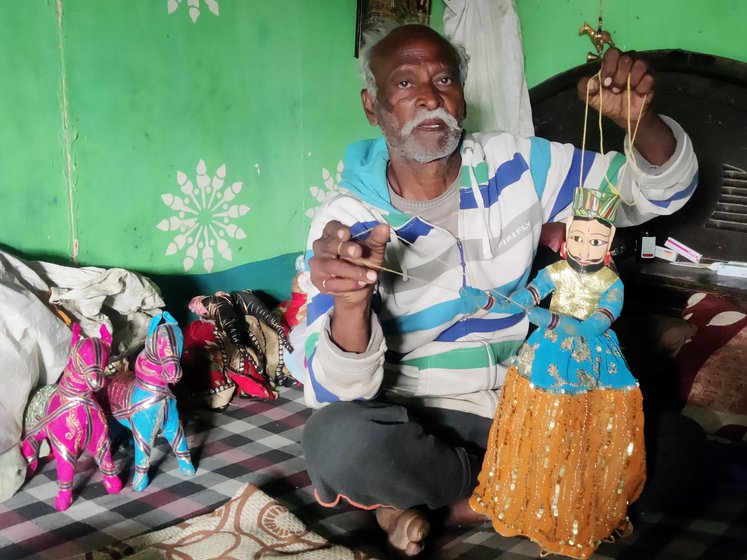 PHOTO • Himanshu Pargai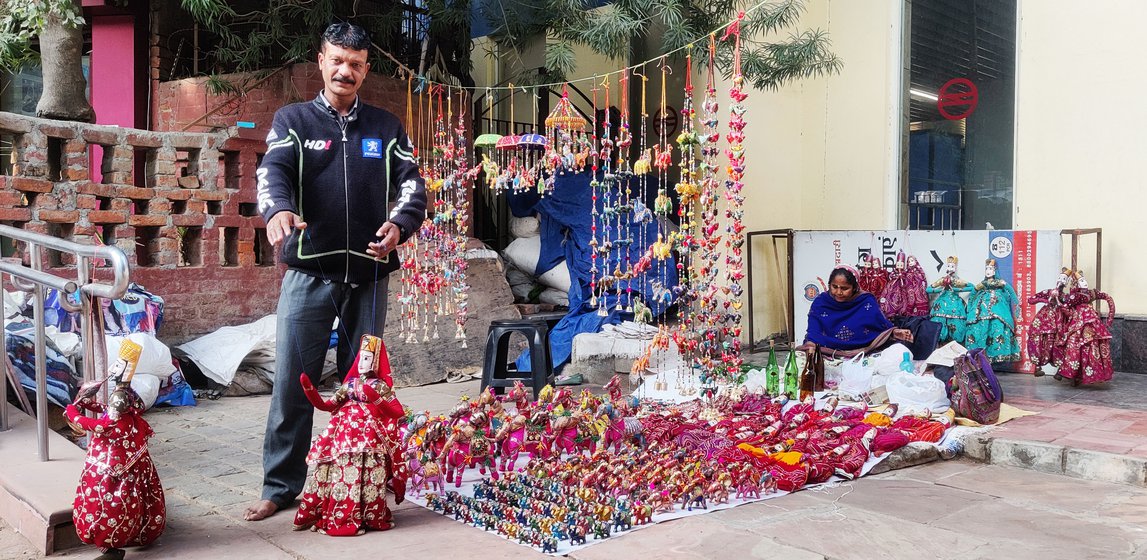 PHOTO • Himanshu Pargai
Chamanlal Bhat, a craftsperson in his 60s moved to the Kathputli colony in west Delhi with his family sometime in the early 1970s. He recalls how this area in Shadipur was slowly becoming known as a hub for puppet-makers and performers. Many artists like him had migrated from Rajasthan.
Ashok learnt the skill of making puppets and performing with them from his father, and says it has been passed down generations in his family. He creates puppet shows based on Rajasthani folklore and even does some stories based on his client's demands. Making puppets, writing stories for shows and performing them, "is not just physical labour, it requires thought too," he points out.
Explaining the craft he says, "Making puppets is very time consuming. First, we have to make wooden frames, dry them up in the sun for days, smoothen them and then paint them."
"It takes four to five coats of paint for the colour to show on the wooden puppet's frame. Then the paint brush is kept aside to make way for the needle and thread," he says. Picking up different tools to work on each element of a puppet demands years of practice: "We stitch cloth and make the puppet wear clothes. Then we do zari work on their clothing, attach strings to it and make them dancing puppets."
"At this time of year, I used to work at melas [fairs], weddings and other events," Ashok recalls, and adds, "There are people who still love our work and call us, but they are only a few now."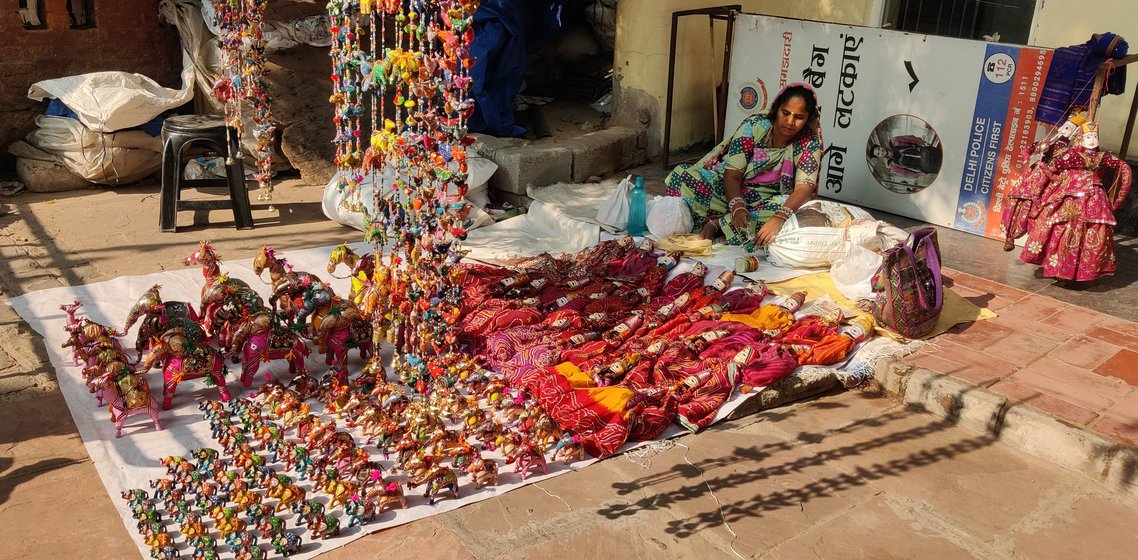 PHOTO • Himanshu Pargai
Selling puppets, he says, is the only way the couple can support their two school-going children. He smiles while adding, "Even so, our kathputli is evergreen. I am teaching it to my children like my father taught me."
Sitting outside his home in a transit camp at Anand Parbat Industrial Area, Sunny, an artist in his 20s, blames the fall in the fortunes of puppet makers to the shift in residence.
He says earlier their kathputli locality was in Shadipur in west Delhi. In 2017, residents were moved from there to this camp as part of the Delhi Development Authority's (DDA) first 'In-situ Slum Rehabilitation Project.' The DDA planned to reconstruct their homes, and shift them back onto the original plot and into 'improved housing'. It's been six years and the puppet makers remain in 'transit'.
The transit camp where they still live is five kilometres away, but he believes this move hit the lives and livelihoods of puppeteers and performers hard.
"Earlier, our colony was on the main road and easily accessible," he says, "Now no one knows about the transit camp, no one wants to come here, and even taxi drivers cancel rides knowing about [the reputation of] Anand Parbat area."
Sunny adds, "there are no proper roads outside the camp area, it's even difficult to walk there. We have to leave two hours early to get anywhere in time."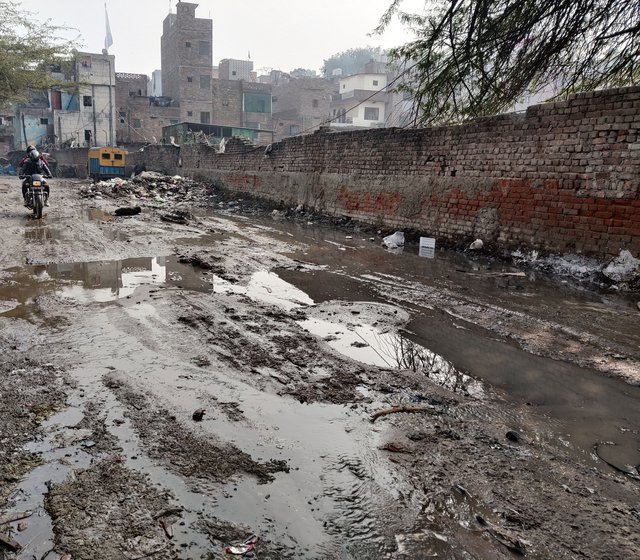 PHOTO • Himanshu Pargai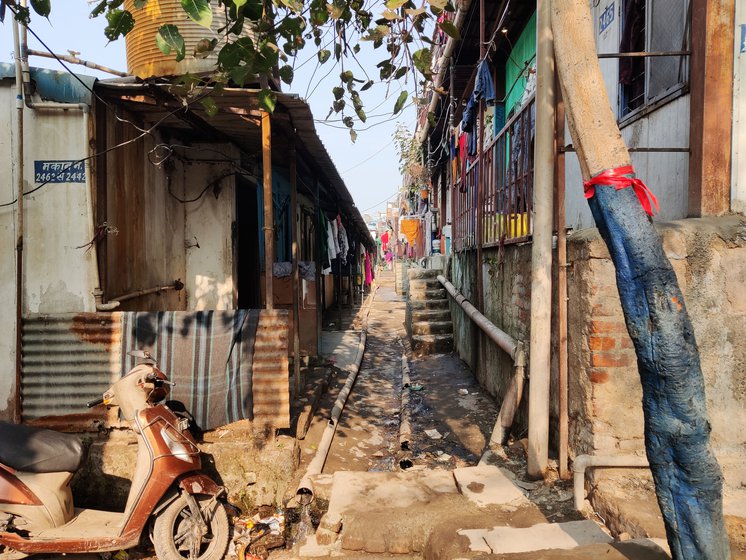 PHOTO • Himanshu Pargai
In this temporary settlement, 2,800 families live in houses made of fibreglass walls with tin roofs. Chamanlal says that the DDA has provided a common bath and toilet at the end of each lane but these are poorly maintained and rarely have running water. "There are no provisions for health and cleanliness in the camp. The bad water quality makes everyone sick. We have lost most of our craftspersons to illness," he says.
Many puppeteers and craftspeople are moving to other professions and artforms. "Playing the dhol is more popular now," says Chamanlal. Another craftsperson, Ajay Bhat, 29, says that one can earn nearly Rs. 20,000 a day playing the dhol . He says, "It's not that we don't want to perform puppet shows but we also have to earn money for our families."
Sitting outside his home in Delhi's faint winter sun, Chamanlal remembers his life before moving to the capital. He spent his childhood performing puppet shows in villages across Uttar Pradesh and Rajasthan with his family.
"The sarpanch [village head] would give us a space to perform," he says, "Everyone would come to watch and welcome us with happiness."