Sandip Shelke had taken charge of his family's four acres in Khamaswadi village in Marathwada's Osmanabad district 6-7 years ago, after the joint family divided their land. He was just 19 years old then.  "My eldest son Mahesh is handicapped in both legs," Sandip's mother Nandubai says, tearfully. "Sandip's uncle would look after the entire land [before the sub-division]. My husband works on the farm but he is quite naïve and does not take decisions."
The Shelkes had cultivated jowar, wheat and soyabean for years without much returns. So Sandip decided to try sugarcane for the June 2017 sowing season. "A cash crop was one of the ways to get rid of our debts," says Nandubai, sitting in their dimly lit, tin-roofed shed.
In 2012, just two years after Sandip took over the farm, Marathwada entered a four-year spell of erratic weather – marked by hailstorms or sparse unseasonal showers, as well as drought. This damaged crops and farmers suffered severe losses. The Shelke family was left with a debt of Rs. 3.5 lakhs from the local bank and more than Rs. 1 lakh from a private moneylender.
But Sandip held on. The crisis did not stop him from arranging his elder sister Sandhya's wedding two years ago. "He was very responsible and sincere," she says. "He would help mom in the kitchen, look after his brother."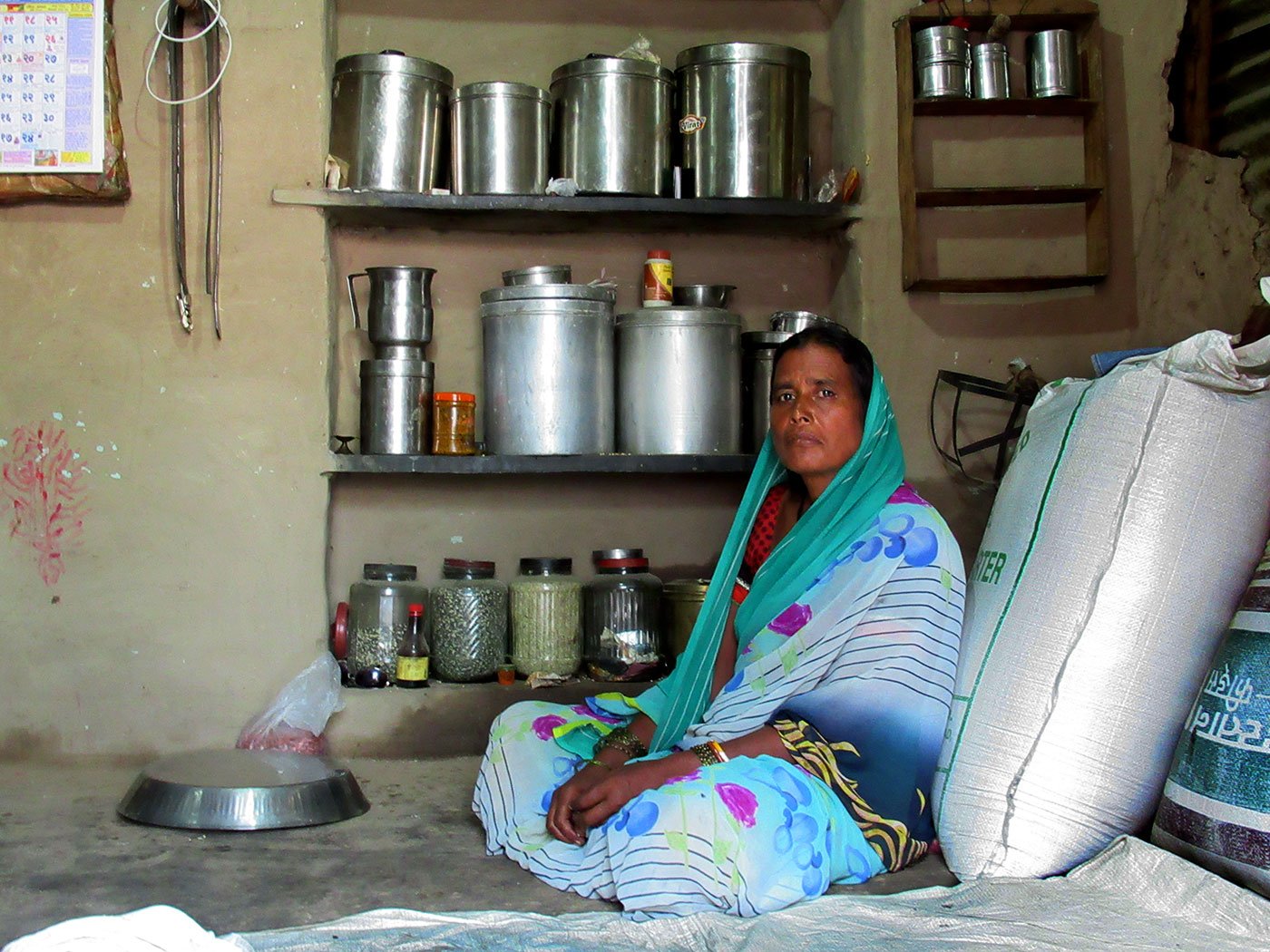 PHOTO • Parth M.N.
To clear the debts, Sandip felt he could not rely on traditional food crops, for which the state does not ensure a minimum support price (MSP). As a result, their prices fluctuate in the market, increasing the uncertainty of returns.  But the government incentivises sugarcane – with an MSP, a decent sugarcane crop guaranteed more money, Sandip thought. However, cultivating it entails other risks. The crop is water intensive and needs much more investment than food crops.
"In any case, we were going under," says Nandubai. "Something had to be done."
Determined to improve the family's fortunes, Sandip borrowed another Rs. 1 lakh from a private moneylender and drilled a borewell, which fortunately yielded water. He bought sugarcane stalks on credit and stacked them under a lime tree in his farmland. Then he waited for just a few decent showers so that he could buy fertilisers and pesticides to begin the sowing.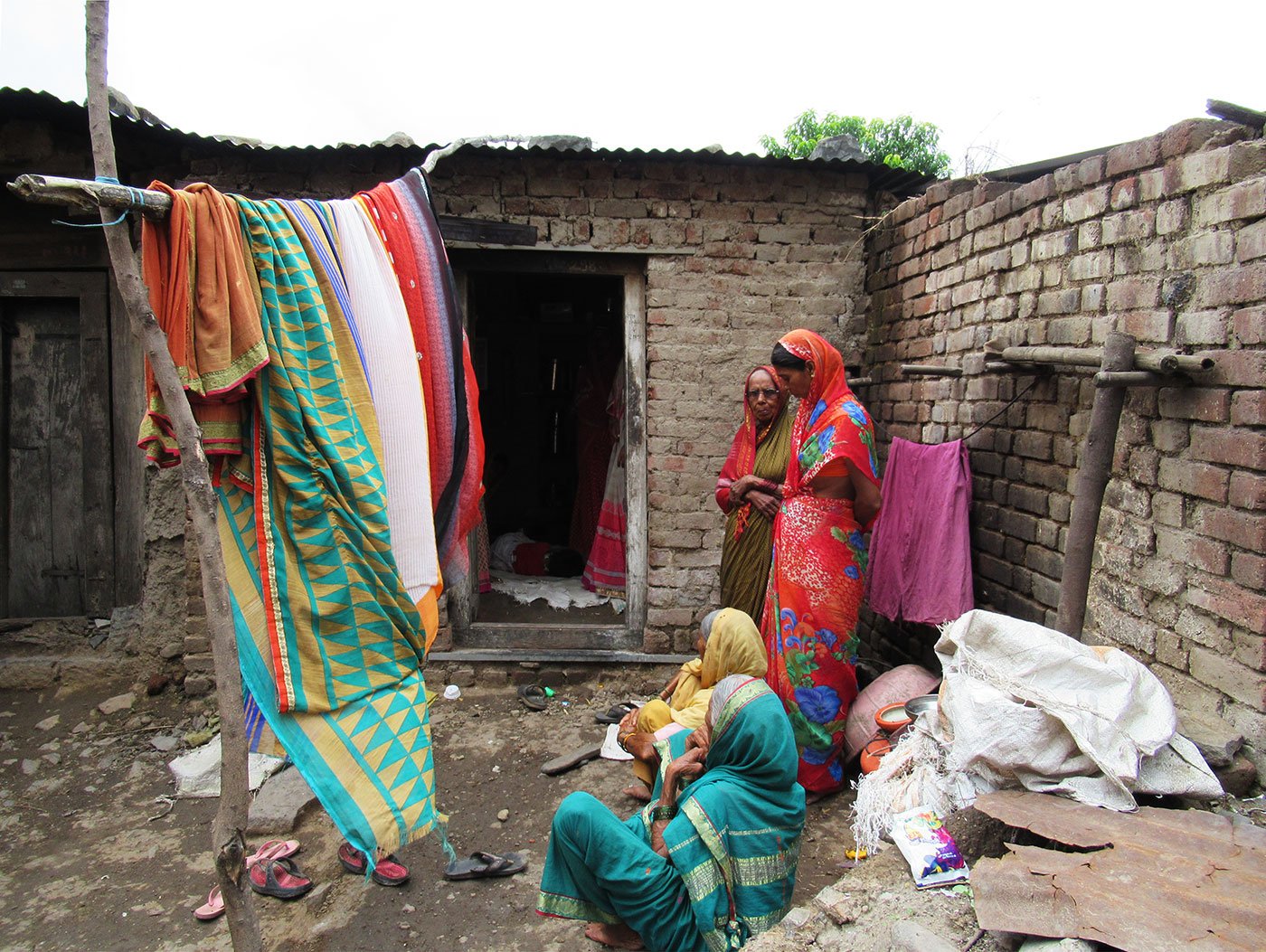 PHOTO • Parth M.N.
Meanwhile, the debt was growing. Apart from the bank loans, the family's total private loan (the recent one plus the earlier loan) had mushroomed to Rs. 3 lakhs. "A failed crop here has the potential to permanently wreck us," says Sandip's father Balbhim, 52. "Maybe the pressure grew on him gradually."

On June 8, Sandip was found hanging from the same lime tree under which he had stacked the gunny bags full of to-be-planted stalks and hope. "At 8 in the morning, a neighbour saw a body hanging from the tree," says Balbhim, sitting in the shadow of the same tree. "We went closer and realised it was Sandip. I froze."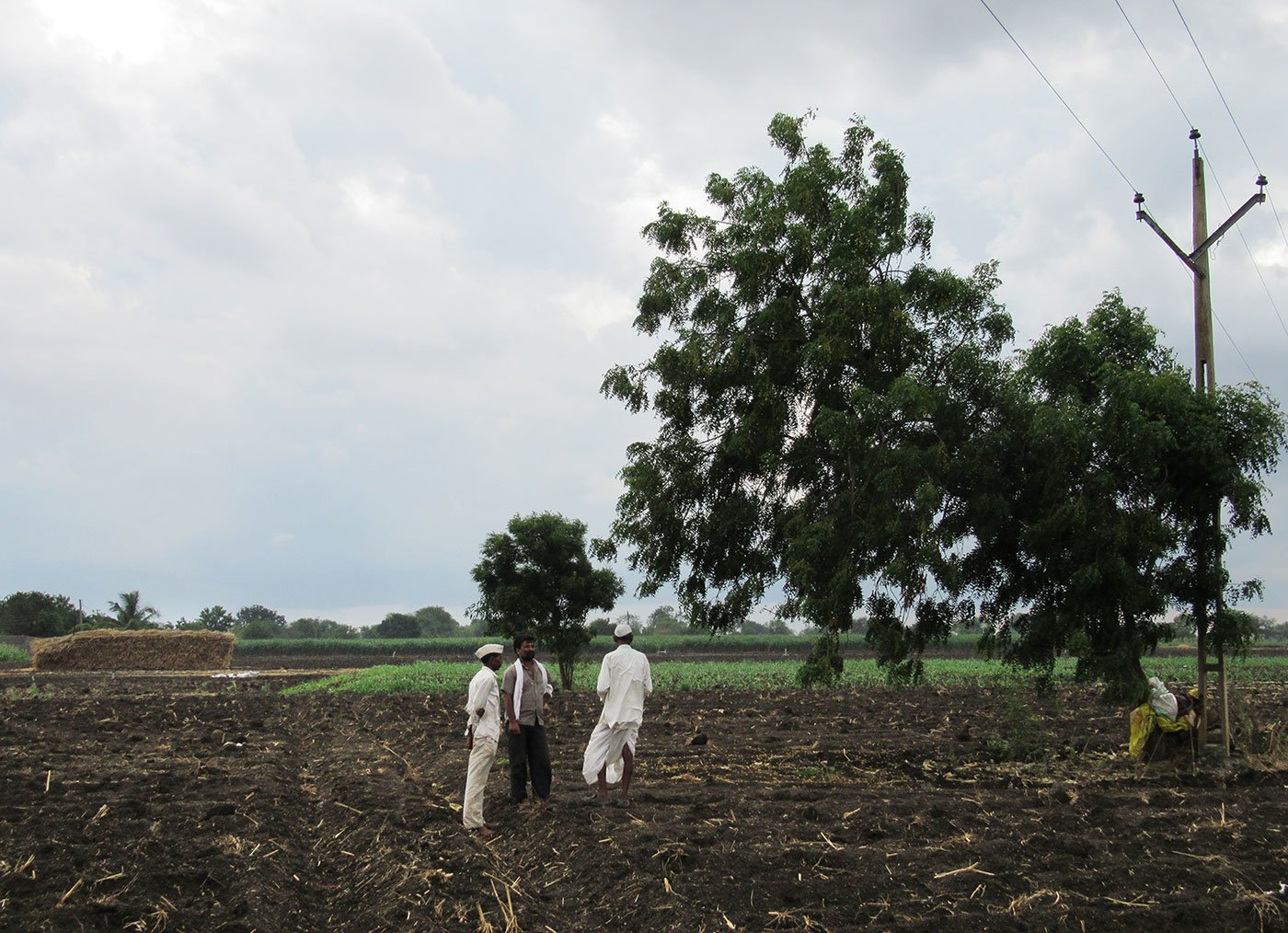 PHOTO • Parth M.N.
In the first five months of this year, 55 other farmers in Osmanabad had done the same, according to data from the district collector's office. This amounts to one suicide every three days. And the rate has remained steady even when the drought years are over, with a  good monsoon in 2016.

One reasons why even a decent monsoon has failed to stop farm suicides and agrarian distress in Marathwada is the lack of options for farmers to raise credit for the sowing season.
Who do they approach? Banks disburse loans in a hugely skewed manner. The Reserve Bank of India's data shows the severe regional imbalance in banking:  the eight districts of Marthwada have a total population of 18 million, double that of Pune district's 9 million. But the total advances given until March 2016 by commercial banks (nationalised and private) to Marathwada (Rs. 45,795 crores) is less than one-third the advances disbursed in Pune district (Rs. 140, 643 crores). This also reflects the reluctance of banks to give loans to regions they regard as economically unattractive, and one reason why industries allied with agriculture don't come up in those regions.
Devidas Tuljapurkar, joint secretary of the All India Employees Bank Association, says 90 per cent of banking in Maharashtra is transacted in the three regions of Thane, Mumbai and Pune. "Resources in the developed region should be transferred to the underdeveloped region to bridge the gap," he says. "Instead, we are perpetuating the gap."
Plus the banks have restructured farmers' debts by clubbing together their crop loans and term loans. The interest rate on a crop loan (for agricultural activities like buying seeds and fertilisers) is 7 per cent; of this, 4 per cent is paid by the state. A term loan (used for capital investments like tractors and machinery) could charge double the interest rate. Through restructuring, the banks merge the two loans and convert them into a new term loan. This magnifies the farmers' dues and classifies them as ineligible for new loans.
A retired officer with the Bank of Maharashtra in Aurangabad bank says he often advised farmers against restructuring. "But not all bank officials do that," he says. "Farmers are in fact told to go for it, to avoid raids at their homes."
That leaves farmers with the option of approaching district cooperative banks, where many traditionally have an account. But the six banks in six districts of Marathwada are nearly defunct, largely due to their inability to take on influential defaulters; the district cooperative  banks in Latur and Aurangabad are not in great shape either.
That compels farmers like Sandip to approach private moneylenders, who immediately disburse cash, but at an exorbitant interest rate of 3-5 per cent  per month – or  40-60 per cent per annum. So even a supposedly manageable amount, with interest added, can eventually surpass the original amount many times over.
In Anjanwati village of Beed district, Bhagwan Yedhe, 65, and his wife Sakharbai  are also preparing to visit a private moneylender. "I already have a loan of 3 lakh rupees with Hyderabad bank, and 1.5 lakhs of private debt," Yedhe says. "Some of the expenses were also for the education of my two sons. They studied in Pune and are now looking for jobs."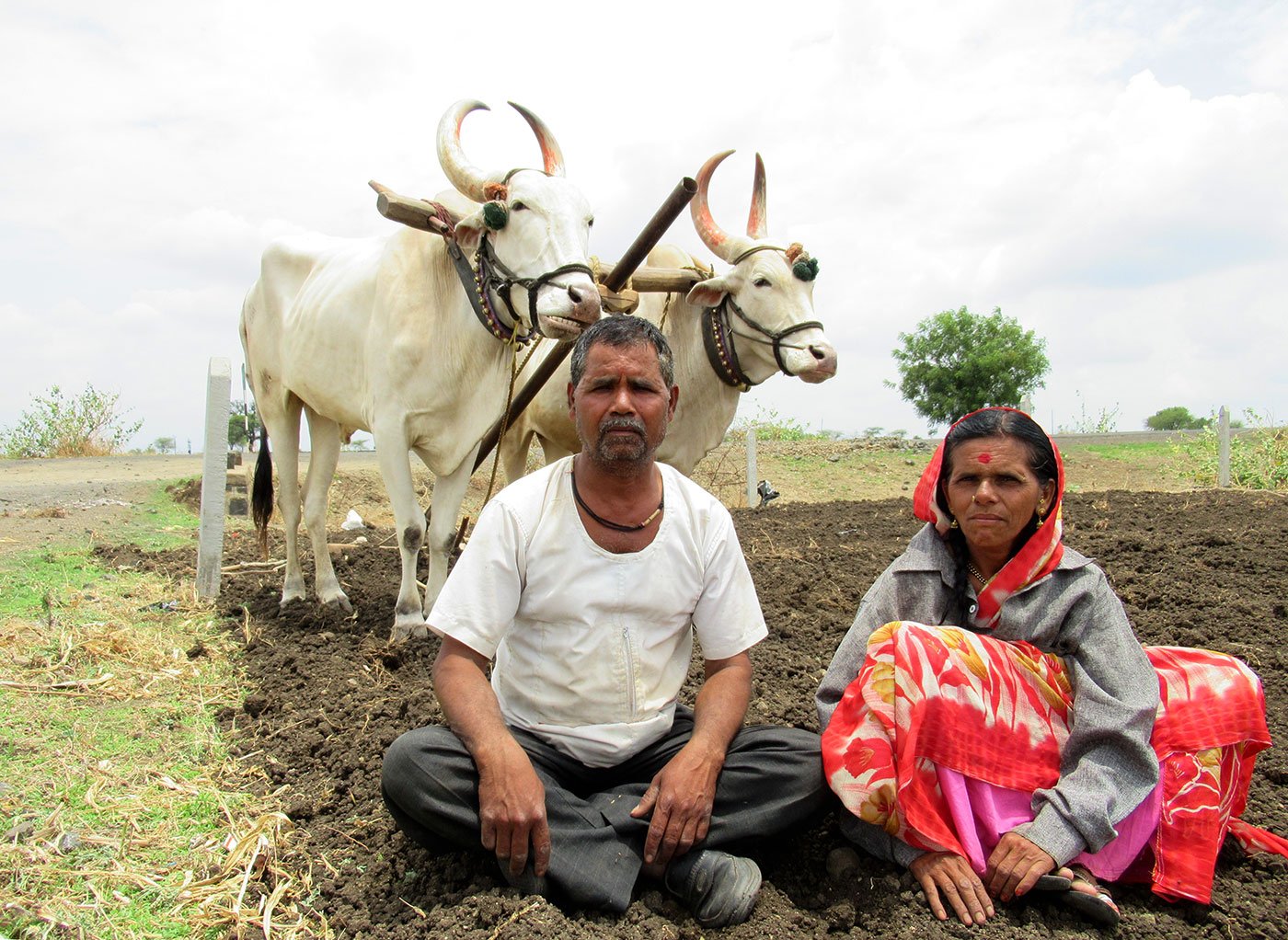 PHOTO • Parth M.N.
To prepare his five acres for the sowing season, Yedhe spends around Rs. 30,000 on seeds, fertilisers and pesticides for food crops. Then there are labour and ploughing costs. He hopes he is the last in his generation to do these calculations. "Why would I want my sons to lead a life full of uncertainty?" he asks. "Raising credit is a pain. The current system puts farmers at the mercy of others."

Amid mounting protests, on June 24, Maharashtra chief minister Devendra Fadnavis announced a loan waiver for farmers in the state, for loans taken after 2009.  The state has said those farmers can now approach their banks for a crop loan with a clean slate.
But that too is a task, says Yedhe's nephew Ashok, 40. "We need an NOC [no objection certificate] from each and every financial institution in the vicinity, stating we do not have a loan pending with them. We are made to do several trips and the NOC is released only after paying bribes. There are 6-7 such places from where I would require an NOC. How can I pay a bribe at every place? Plus, if we do not start preparations on time, the entire season will be wasted."

This is why Balbhim will have to get on his feet even though his son has committed suicide just a few weeks ago. He has sown sugarcane after the initial showers, as Sandip had planned. He now hopes for a good monsoon, and waits with biting uncertainty – just as Sandip did.