Abdul Latief Bajran left Peri, a village in Rajouri district, in early May with his 150 animals – sheep, goats, horses and a dog – in search of grazing grounds high up in the mountains of Kashmir. He took his son, Tariq and a few others. "I sent my family [wife and daughter-in-law] along with the weak animals, food, shelter and other necessary items in a mini truck," says the 65-year-old herder from Jammu.
But two weeks later, "I was shocked to see them [in Wayil]," he says. He had expected them to have reached their destination in Minimarg (on the India-Pakistan border) and set up a summer camp.
Instead, they were 15 days away from that location. He says they had stopped because of the weather – they were waiting for the snow to melt on the Zojila Pass which they must cross to reach Minimarg.
Every year as summer approaches in the Jammu region, and grass becomes scarce, pastoral nomadic communities like Bakarwals migrate to the Kashmir valley in hope of better grazing grounds. They come back only in October when the weather starts to get cold there.
But when grazing grounds high up are still covered in snow, pastoralists like Abdul are caught – they can neither descend back to their village as there is no grazing, and neither can they move up to the meadows.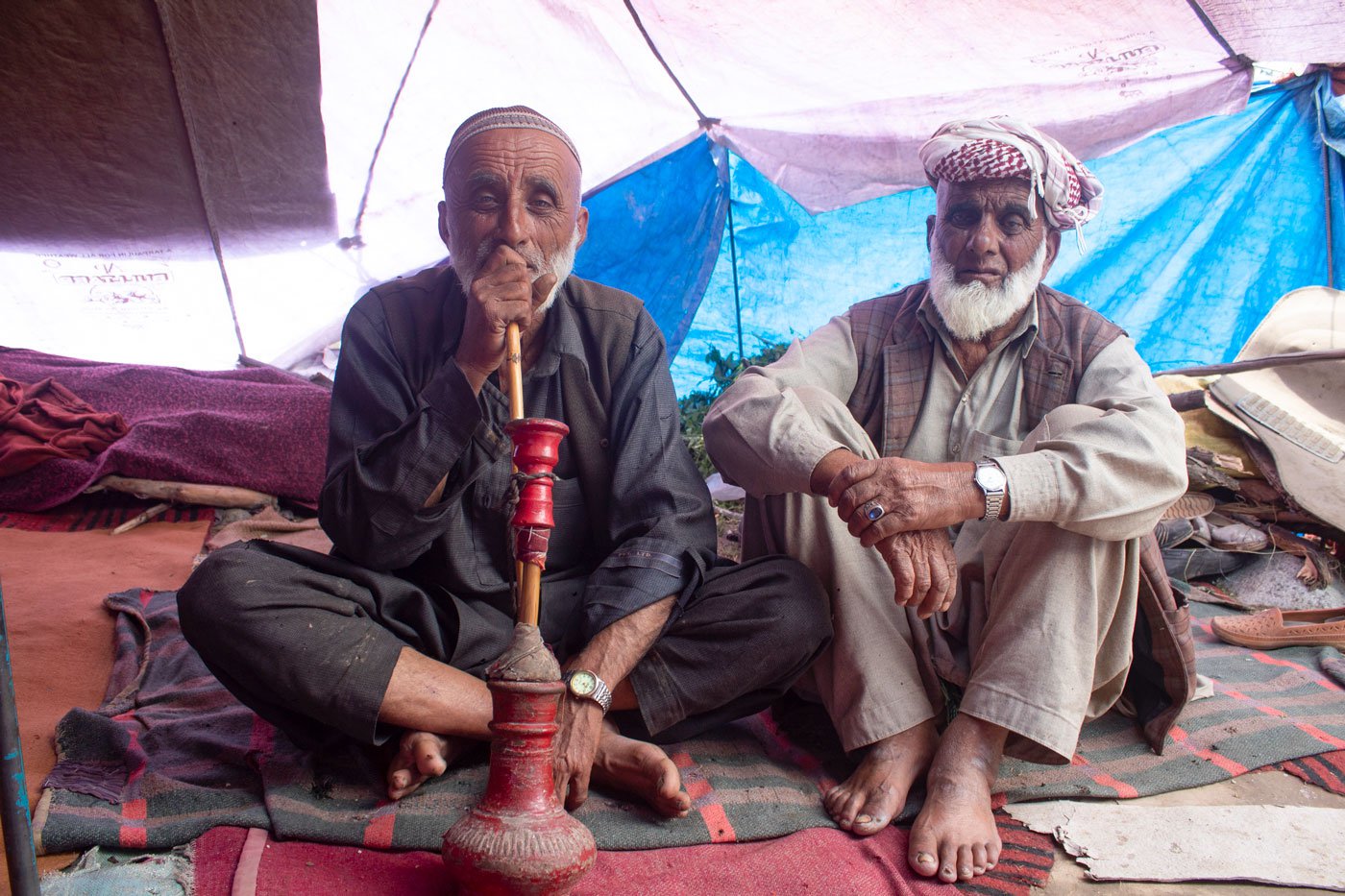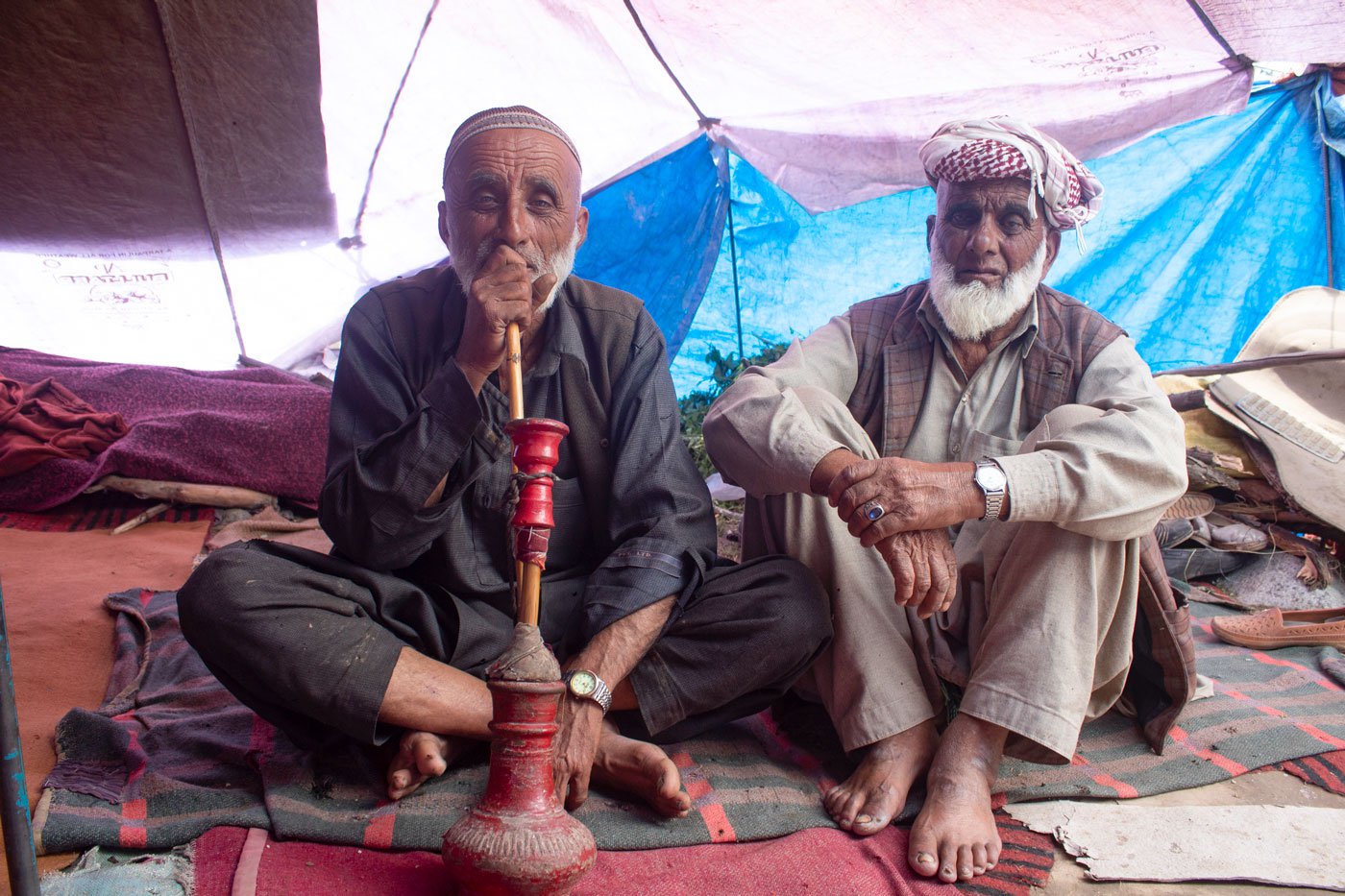 PHOTO • Muzamil Bhat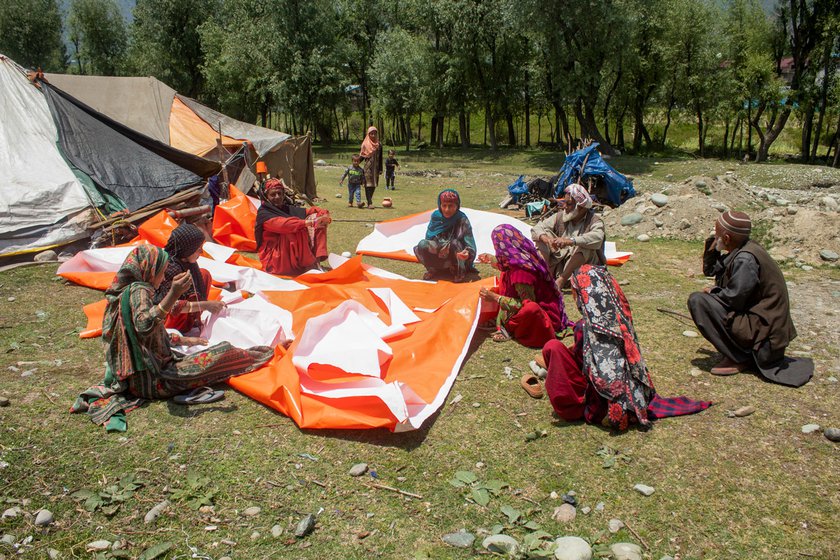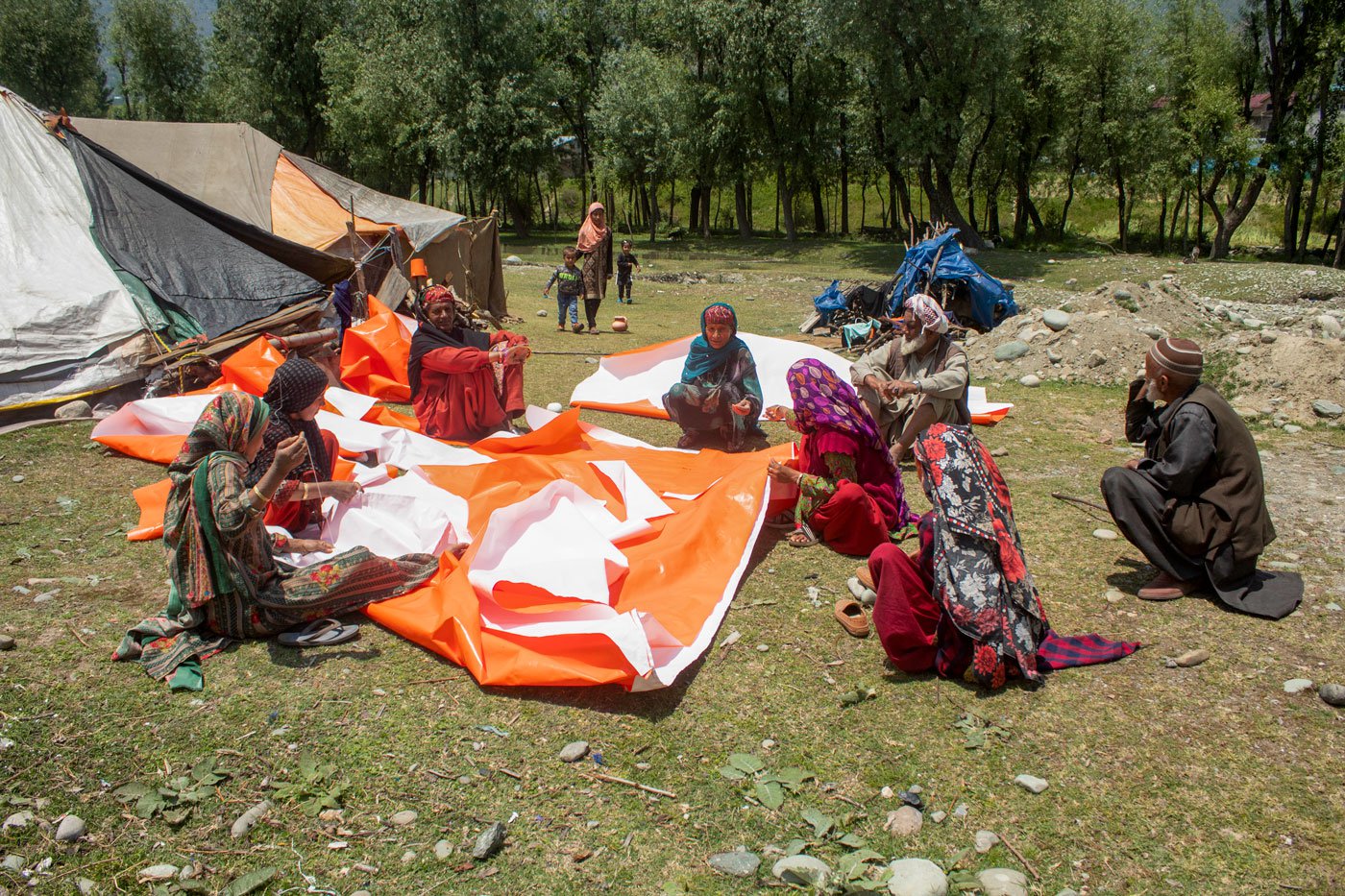 PHOTO • Muzamil Bhat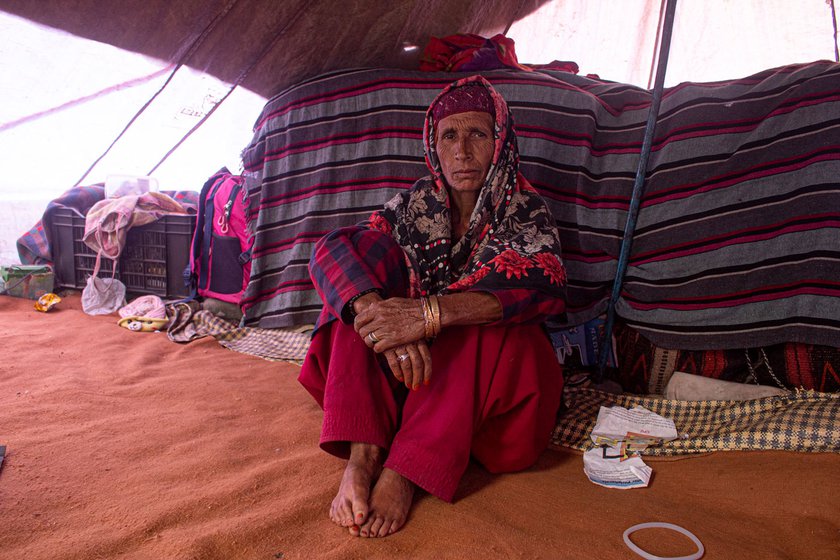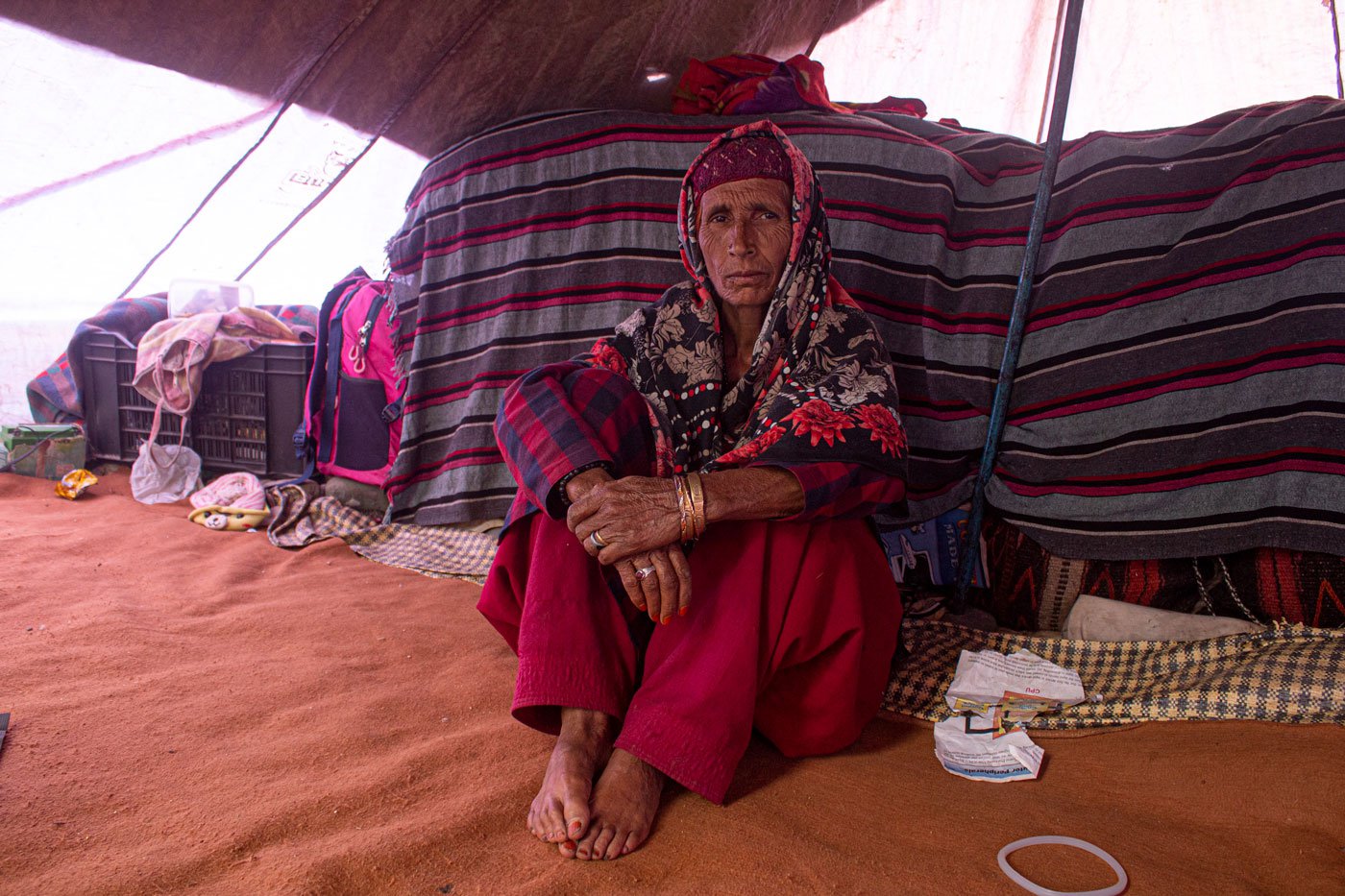 PHOTO • Muzamil Bhat
Mohammad Qasim is caught in the same dilemma with the added loss of animals to unseasonal heat even before he could head upwards. "When it gets hot our sheep and goats usually get fever and diarrhoea which makes them weak. It can kill them," the 65-year-old says.
A Bakarwal from Andh village, in Jammu's Rajouri district, he started late as many of his animals fell sick due to the unexpectedly warm early summer and he lost 50 goats and sheep to the heat.
While waiting he says he kept checking in with Liyakat, a fellow nomad who was already in the Kashmir valley, on the phone about the weather. "The answer was always that it is bad." Getting through to Liyakat was difficult as there is hardly any mobile network.
Hearing that there was still snow in the valley, Qasim was hesitant to leave his village, especially since the heat had already caused weakness among the animals. He says goats cannot survive very cold weather and may die while sheep have some tolerance due to their wool.
But after waiting for many days he was left with no other choice but to load his animals in a truck to catch up with other Bakarwal families in Wayil. Jammu was getting hotter and he was worried. He recalls thinking, "if I do not move them from here fast, I will lose all of them."
He was two weeks behind schedule but Qasim was taking no chances, "I paid 35,000 rupees to move my animals from Kalakote to Ganderbal [229 kilometres]."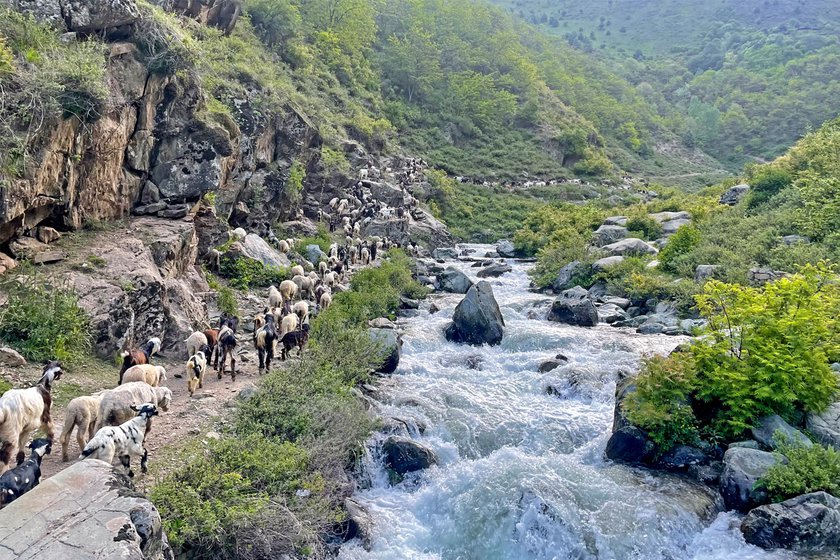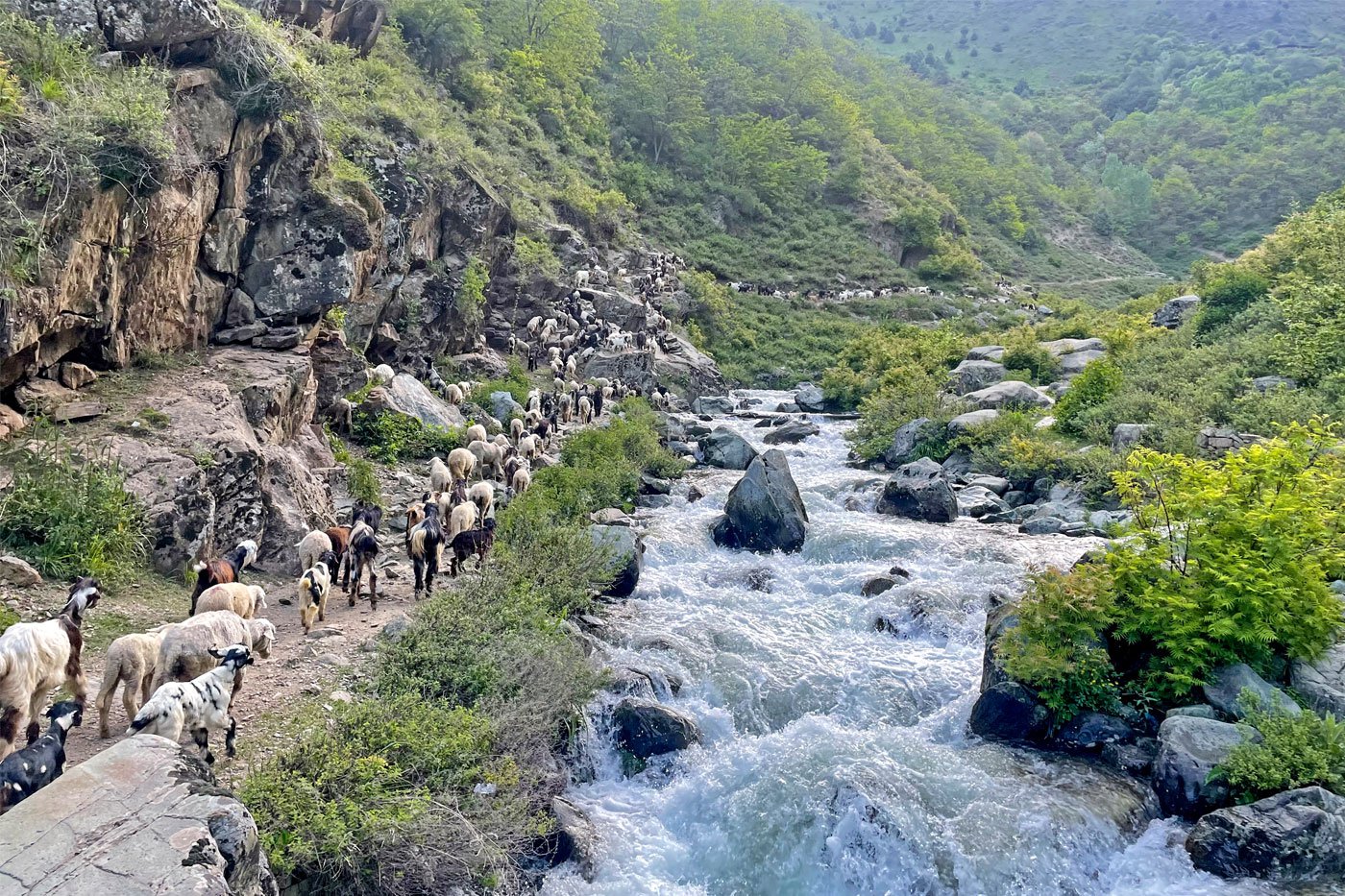 PHOTO • Muzamil Bhat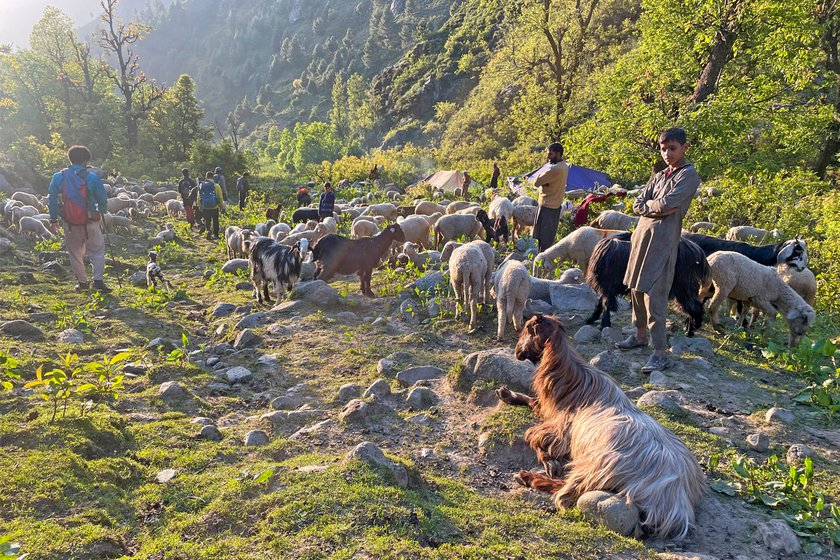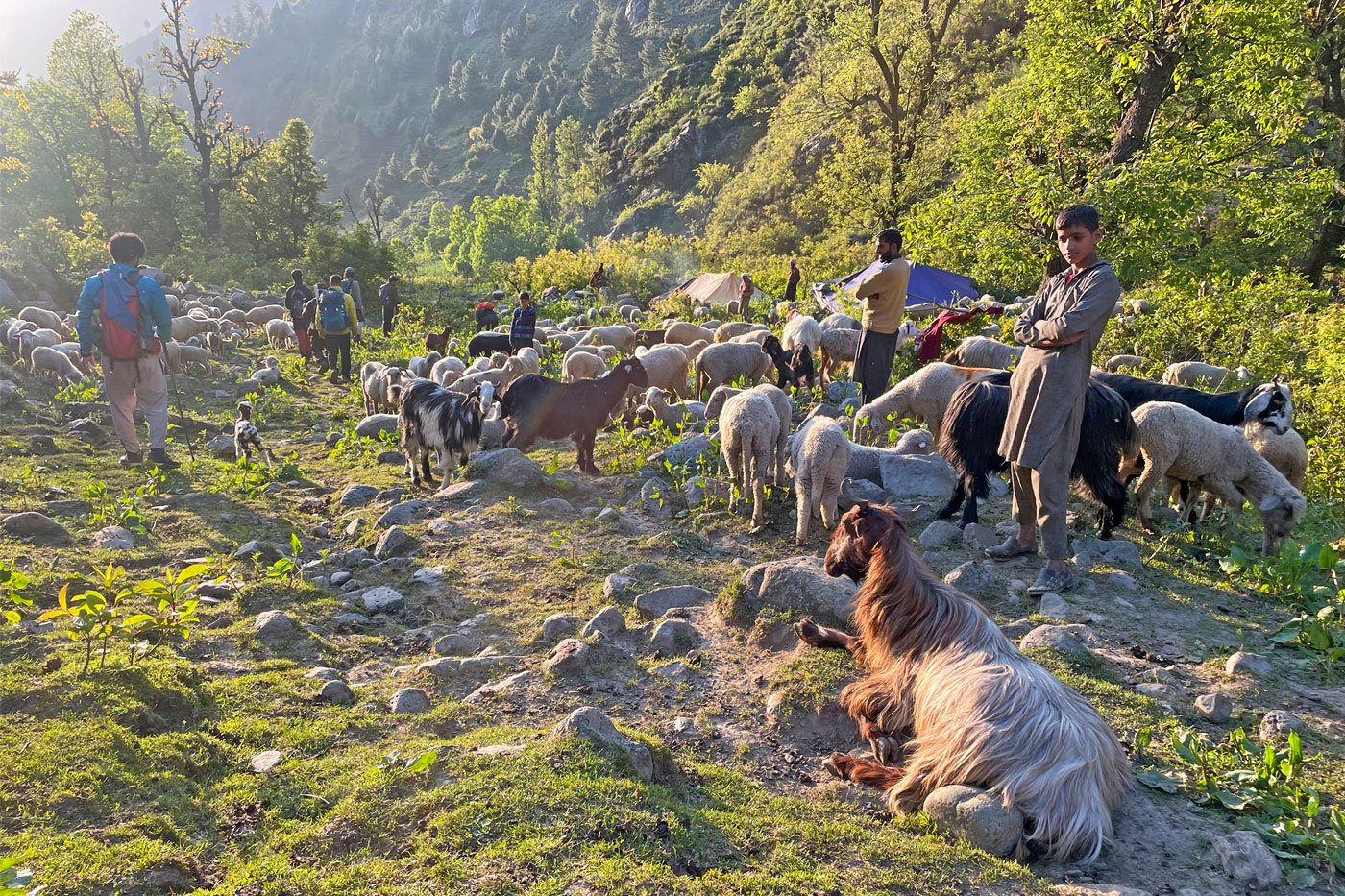 PHOTO • Muzamil Bhat
Prioritising the safety of his animals, Abdul was also a month late in reaching Minimarg. "This year [we were late] because there is still snow in the highlands of Kashmir." The family and herds finally reached on June 12th.
For Abdul's animals, not just snow but heavy rains on the way up proved disastrous. "I lost 30 sheep in flash floods in the Shopian area of southern Kashmir," he says. This happened on the way to Minimarg this year. "We were coming from Mughal road in Shopian district and all of the sudden it started raining, which continued for five days."
Abdul, who has been migrating to Kashmir from Jammu every summer since his childhood says he has never seen such extreme weather in late May and early June. He says he is glad his family chose to stay back in Wayil for a few days and not rush up the mountain. "I didn't want to lose more sheep when they crossed the giant Zojilla [on the way to Minimarg]," he says.
The traditional route for pastoral nomadic communities passes through the old mughal route via Shopian.
When they find snow instead of grasslands, "we search for shelter or a place to pitch our tents. We usually search for big trees or dokas [mud houses] nearby," says Abdul. "If you are lucky, you will find something, otherwise you will have to pitch tents in the open and get drenched in the rain." Saving as many animals as they can is critical, he says, " sabko apni zindagi pyaari hai [everyone loves their own life]."
While pastoralists usually carry enough food to last them a few weeks, inclement weather makes getting clean water a challenge. "If we are stuck in extreme weather conditions the major problem we face is a shortage of water. If it snows it becomes hard for us to find water and then we search for any form of water whether pure or impure and boil it to make it fit to consume," says Tariq Ahmad.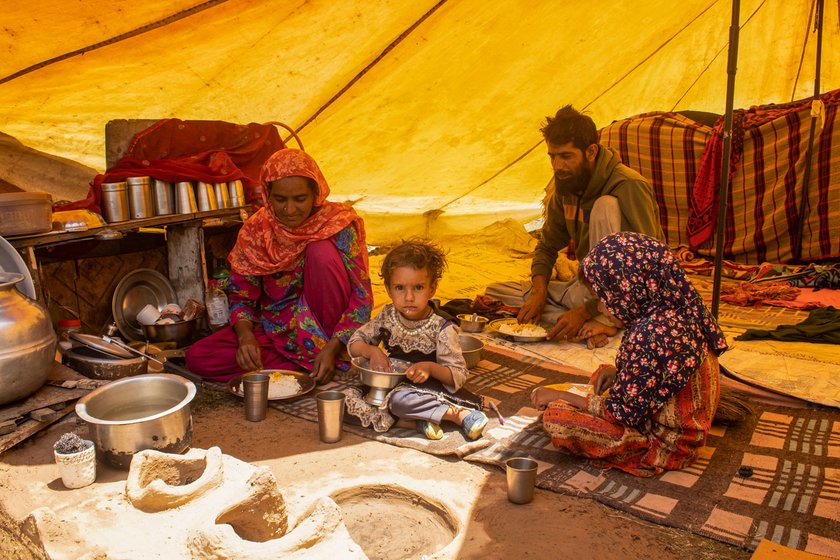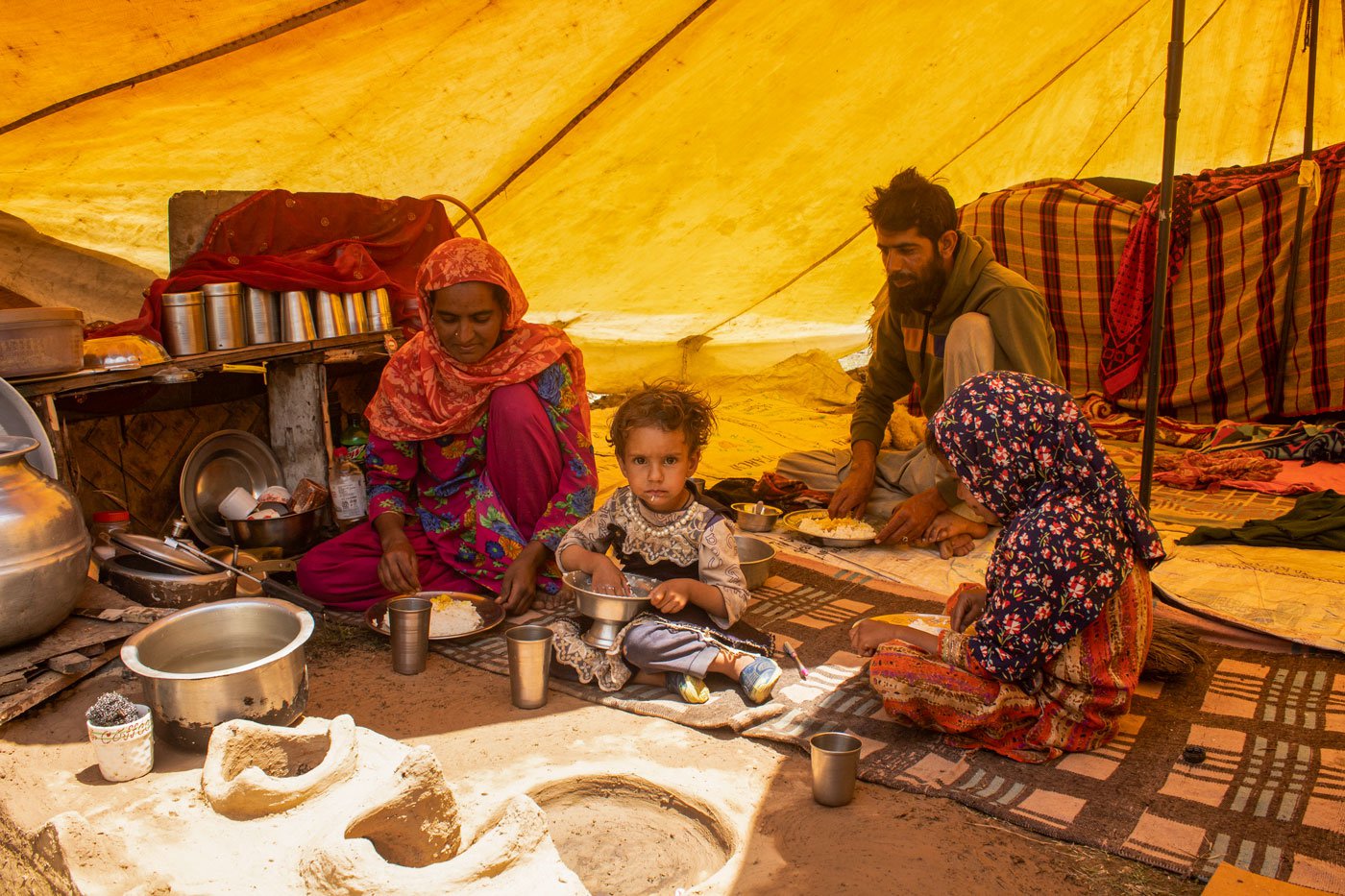 PHOTO • Muzamil Bhat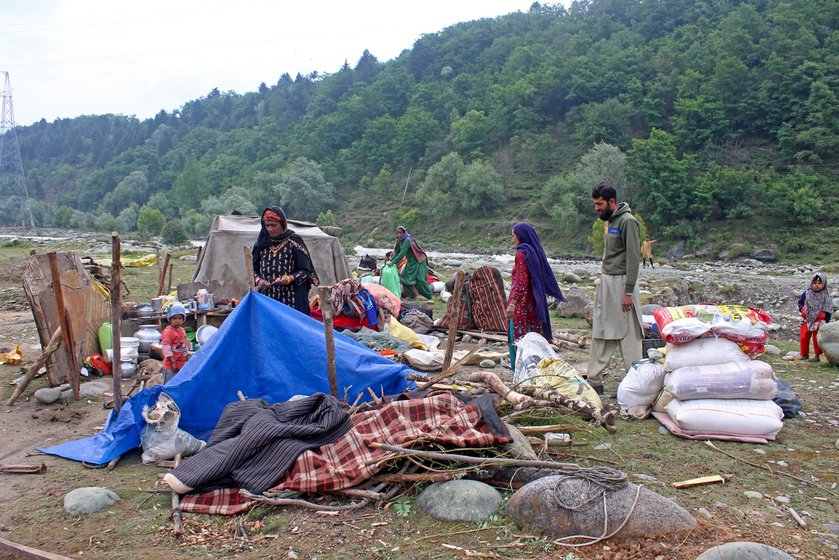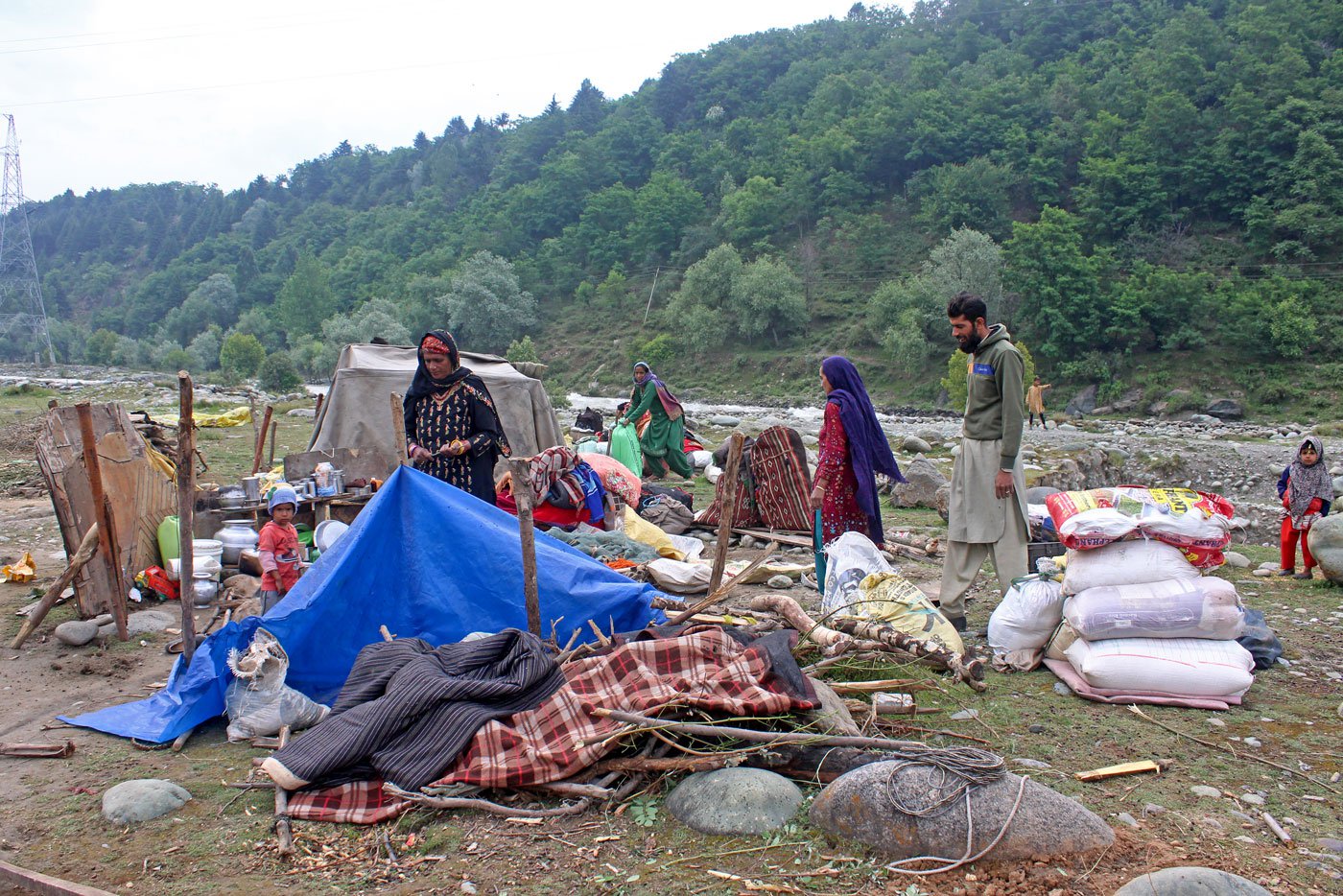 PHOTO • Muzamil Bhat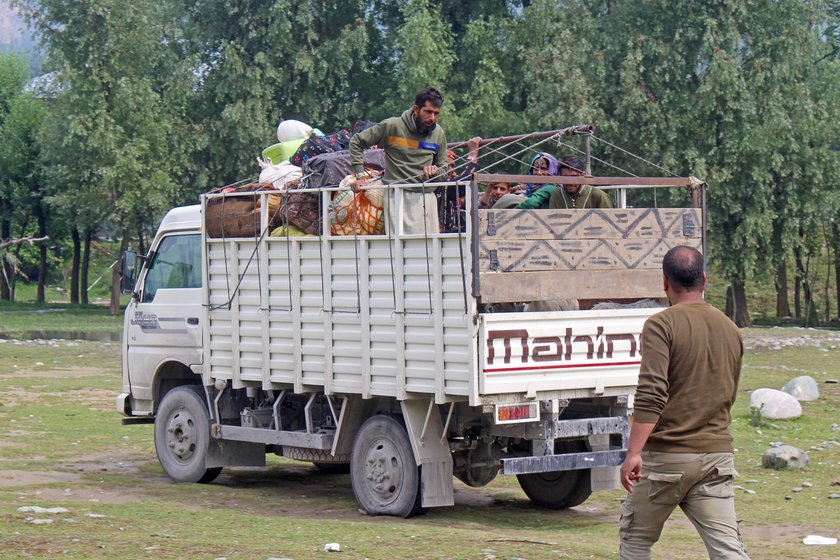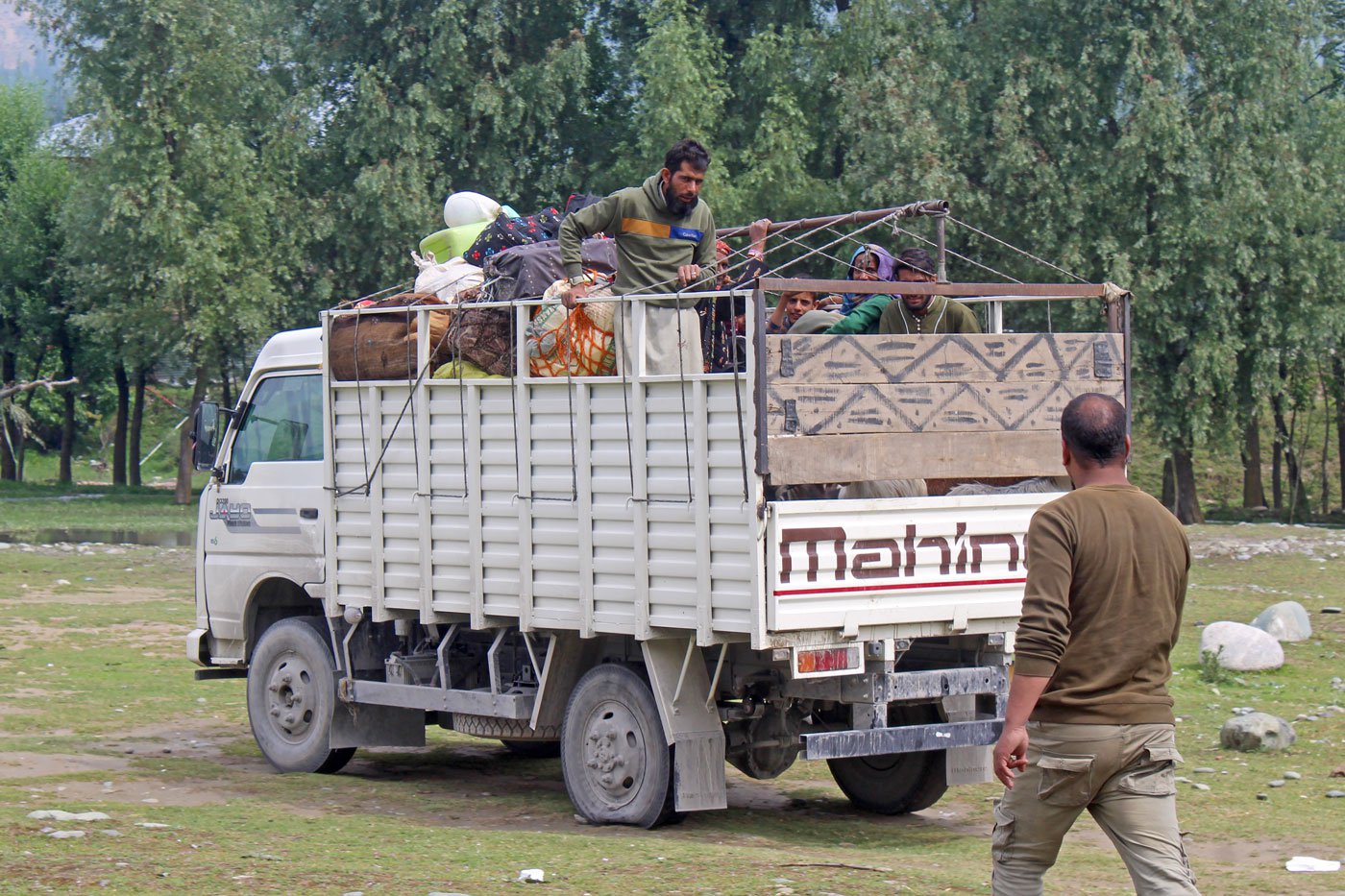 PHOTO • Muzamil Bhat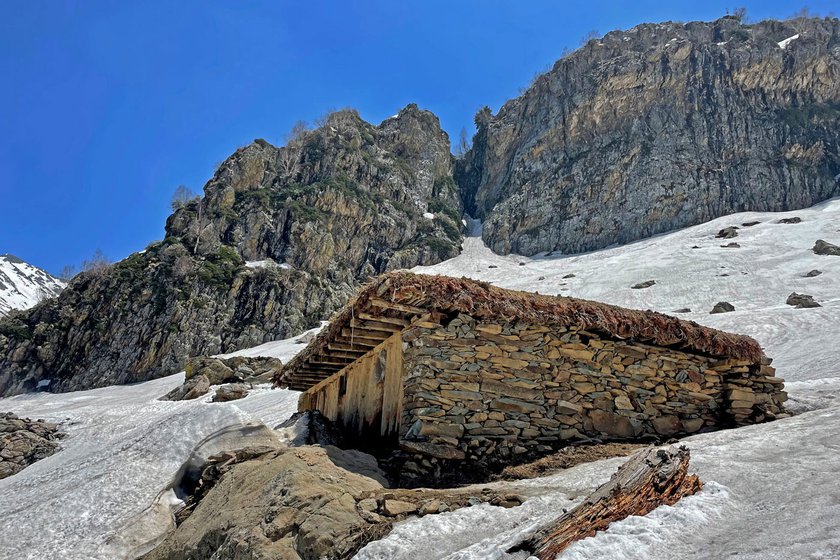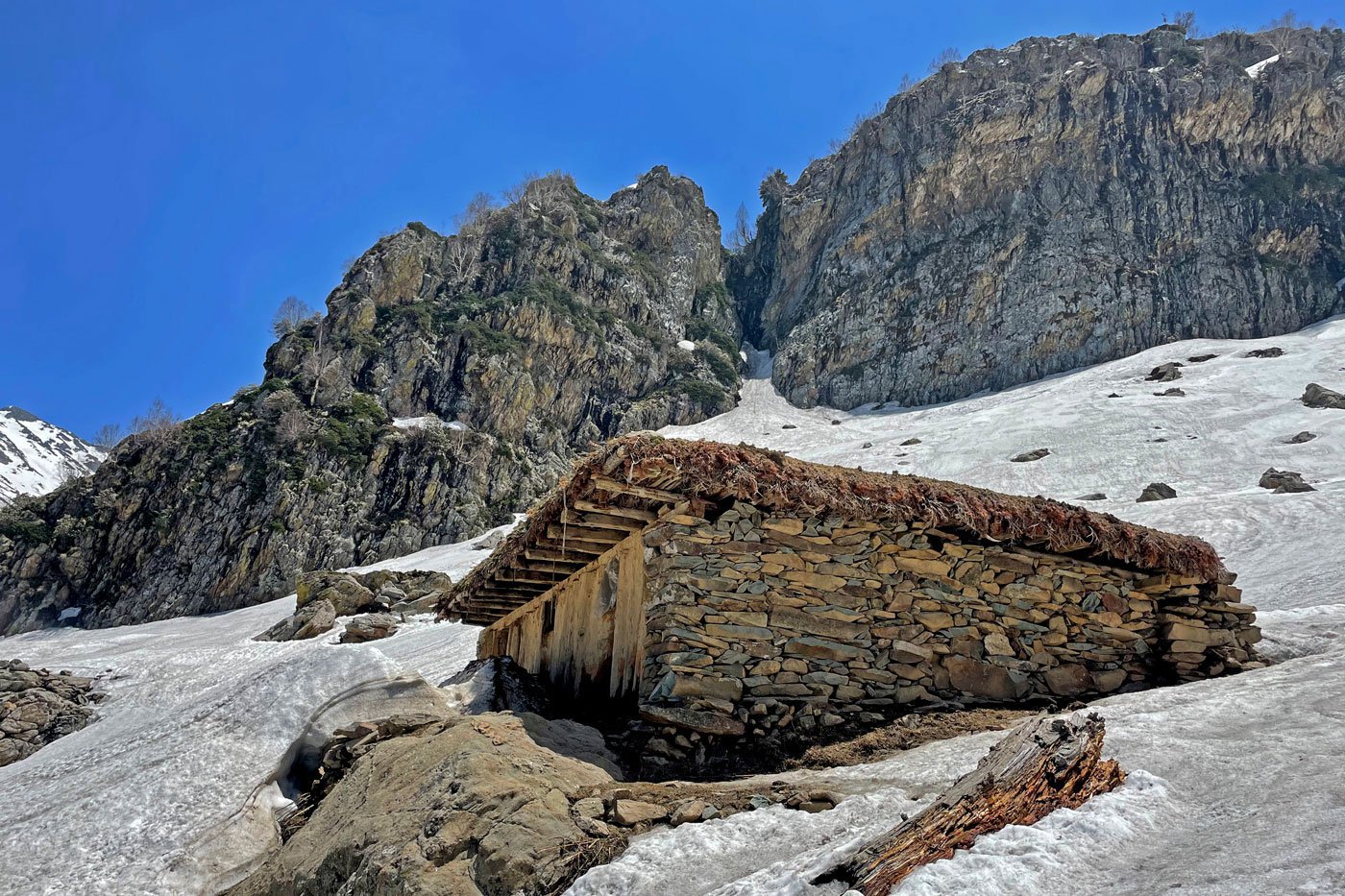 PHOTO • Muzamil Bhat
Other Bakarwals say they are also moving up the valley late this year. "We had started our journey from Rajouri on May 1 this year [2023] and got stuck in Pahalgam for 20 days, waiting for the snow to melt," says Abdul Waheed. The 35-year-old Bakarwal leads a group of herders from his community and they were on the way to Kolahoi glacier, through Lidder valley.
It usually takes them 20-30 days to complete this route, but it can vary depending on the weather conditions. I had already lost eight of the 40 sheep that I brought with me," the 28-year-old Shakeel Ahmad Bargad says. He had pitched his tent in Wayil on May 7 as the snow hadn't melted in Baltal in Sonamarg where he was headed. From Baltal, he will move to Zero point in Zojila, where he will stay with a few other Bakarwal families for the next three months – herding together. He expects to lose more animals as "the area we are going to is prone to snow avalanches," says Shakeel.
Shakeel recalls how one of his friends, Farooq, lost his entire family and all his animals to flash floods last year.
Experiencing unseasonal rainfall and snow isn't new for the Bakarwals. Tariq recalls an incident from 2018 when it suddenly started snowing in Minimarg. "When we woke up in the morning we were shocked to see almost 2 feet of snow and all the entrances of tents were blocked," says the 37-year-old pastoralist. With no tools available to remove snow, he adds, "we had to remove the snow with whatever utensils we had."
By the time they were able to get out to check on their animals, many had already died. "We lost sheep, goats, horses and even dogs were killed because they remained outside and could not survive the heavy snowfall as they remained outside [the tent]," recalls Tariq.