Yashwant Govind is glad his 10-year-old daughter Satika attends school. "She gets to study and her lunch is taken care of," he says, busy sharpening wood for furniture ordered by a customer. Satika, he adds, starts her day with just a cup of tea. After the mid-day meal in school, she next eats only dinner – usually what is prepared from the grains the family gets at the ration outlet. She does not eat anything in between.
"We only get 25 kilos of rice, 10 kilos of wheat and 2 kilos of sugar from the ration shop," adds 47-year-old Govind, a resident of Ghosali village, not taking his eyes off work; he is an occasional carpenter or works on construction sites. Govind, and most of the people in his village in Mokhada taluka of Palghar district in Maharashtra, are from the Thakar Adivasi community."We are a family of seven," he adds. "The grains get over in 15 days." And on holidays or during the summer vacation, when the school-going kids eat lunch too at home, the ration can get over even faster.
Like Govind, for many parents in the villages of Palghar district, the afternoon meal, six days a week, is an incentive to send their kids to school. Of the district's nearly 3 million people, over 1.1 million are from Adivasi communities (Census 2011). Many households here depend on the subsidised rations provided under the public distribution scheme to families living below the poverty line. "At least my daughter gets to eat till her stomach's full once a day," says Govind.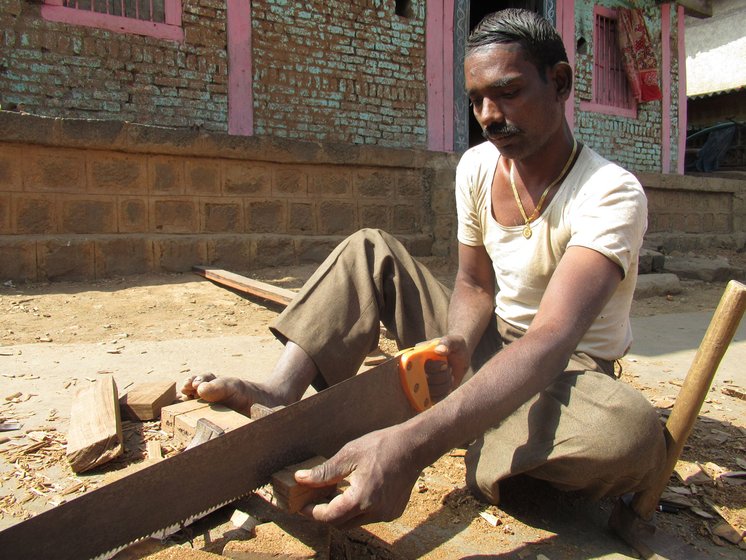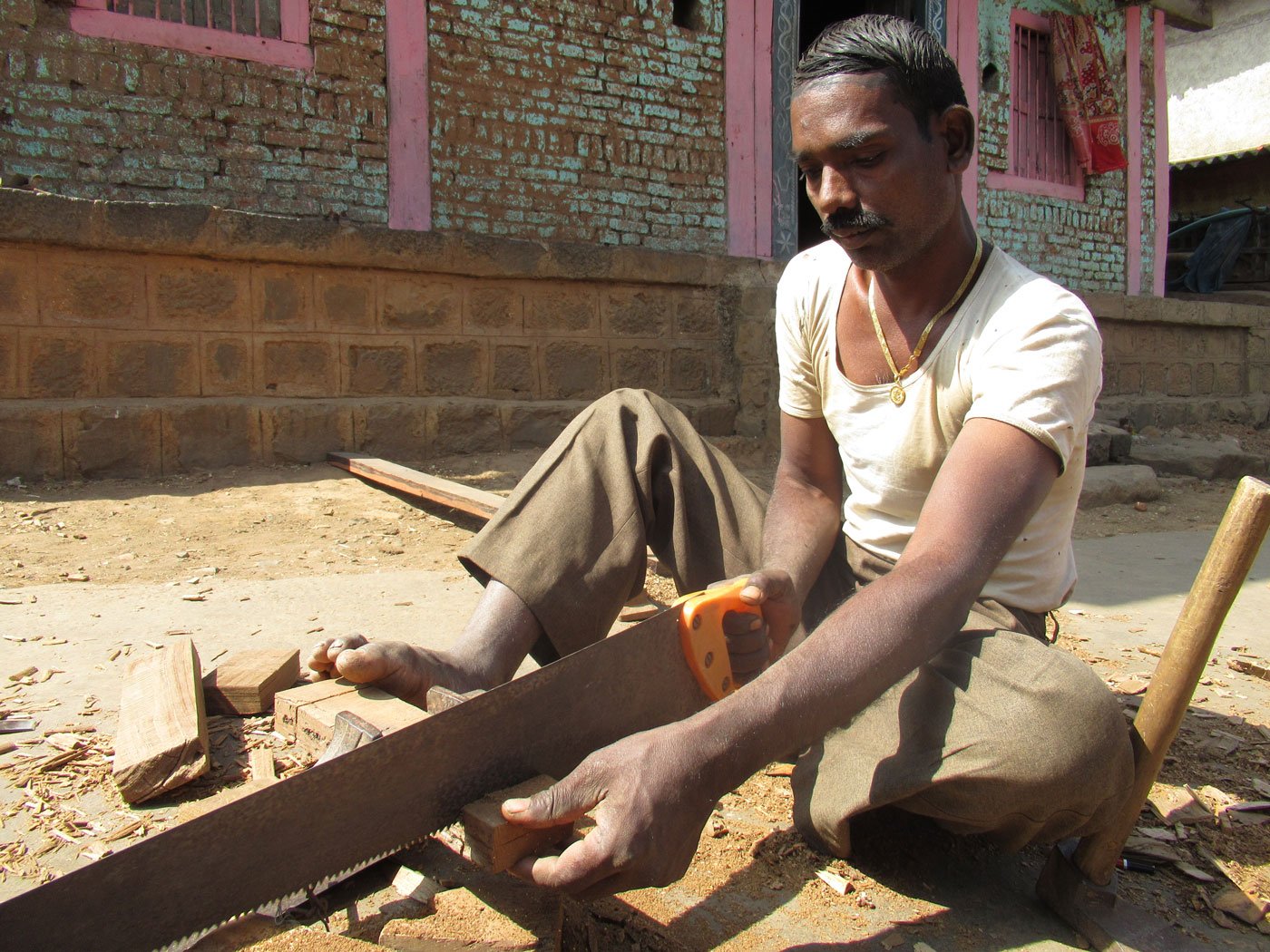 PHOTO • Parth M.N.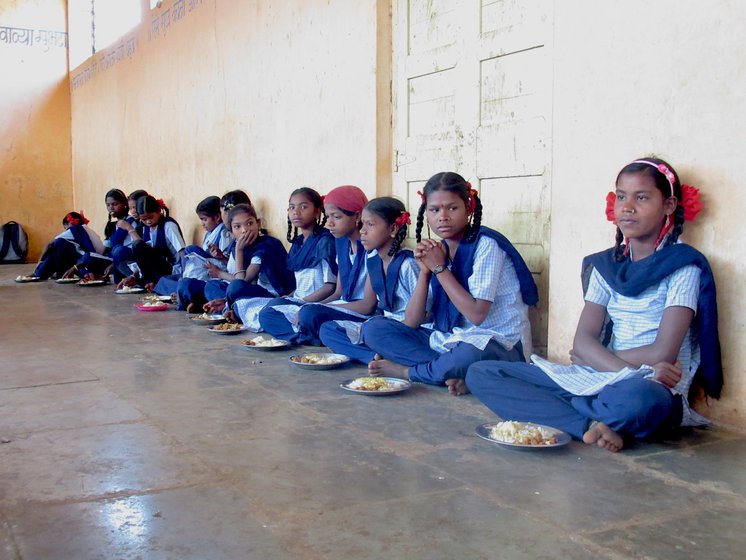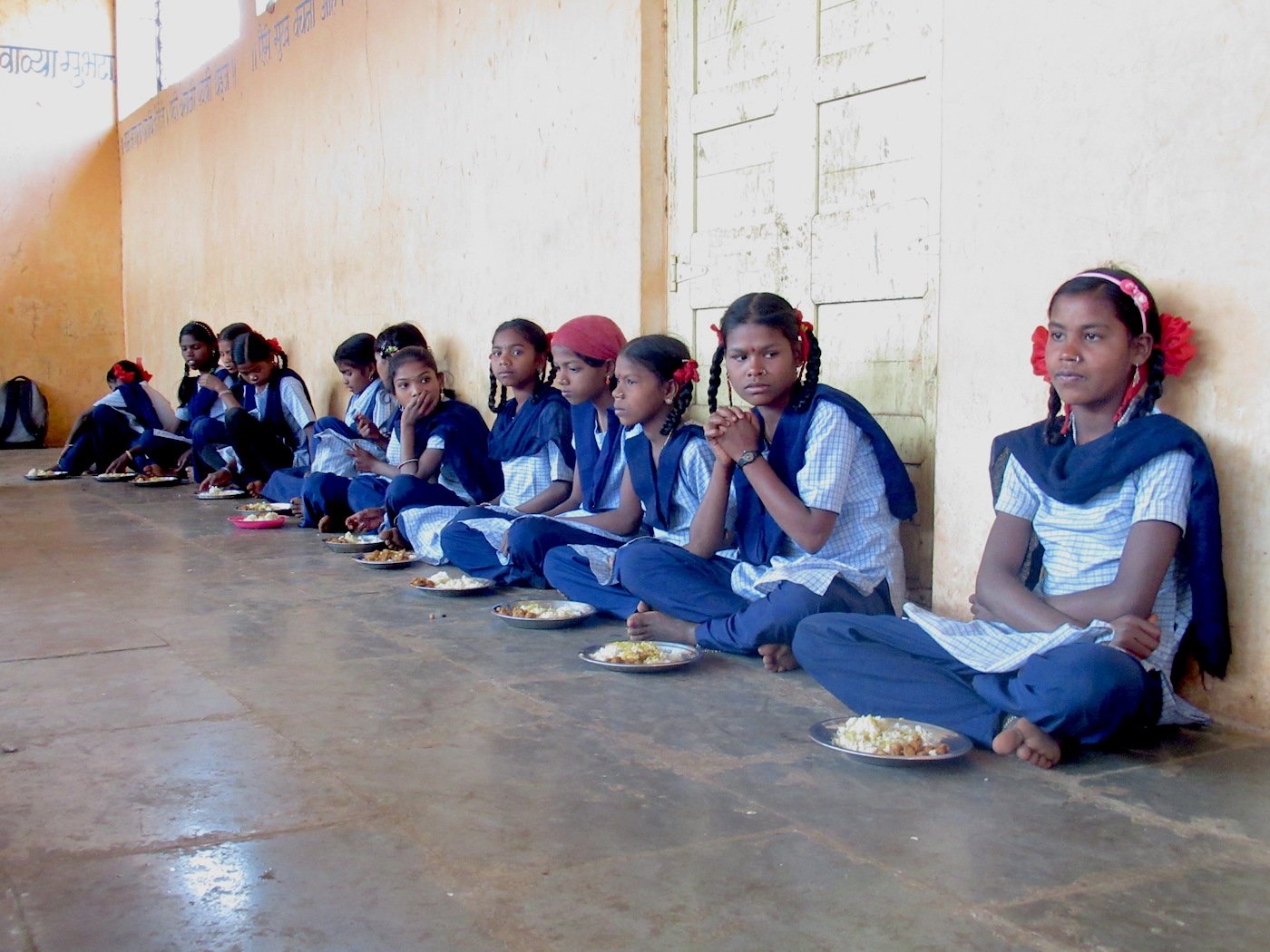 PHOTO • Parth M.N.
Satika studies in Class 5 in the zilla parishad (ZP) school in the village. In 2017-18, around 4.6 million students were studying in 61,659 ZP schools in Maharashtra (down from nearly 6 million in 2007-08; these are numbers obtained through a query that I filed in June 2018 under the Right to Information Act). Most of the students in rural ZP schools are from families of farmers, agricultural labourers and others who cannot afford private schooling. (See Sometimes, there's no place like school )
The schools provide daily lunch to the students under the mid-day meal scheme of the National Programme of Nutritional Support to Primary Education. "Students up to the fifth standard can get 100 grams of rice and 20 grams of dal. Students between class 6 and 8 are allowed to eat 150 grams of rice and 30 grams of dal per day," says Ramdas Sakure, as the lunch bell rings. Sakure is a teacher at the ZP school in Dhondmaryachimet – a village of mainly Koli Mahadev Adivasis, 14 kilometres from Ghosali.
Hearing the bell, the students, ages ranging from 6 to 13, pick up steel plates, wash them at a water drum outside, and assemble in the village's Hanuman temple right across the school for lunch. It's around 1:30 p.m. when they sit on the ground in straight lines, awaiting their share of rice and dal. "The budget [sanctioned by the state government] for fuel and vegetables for one student up to Class 5 is Rs. 1.51 per day. For students between Classes 6-8, it is Rs. 2.17. The state provides rice, food grains, oil, salt and spices," says Sakure.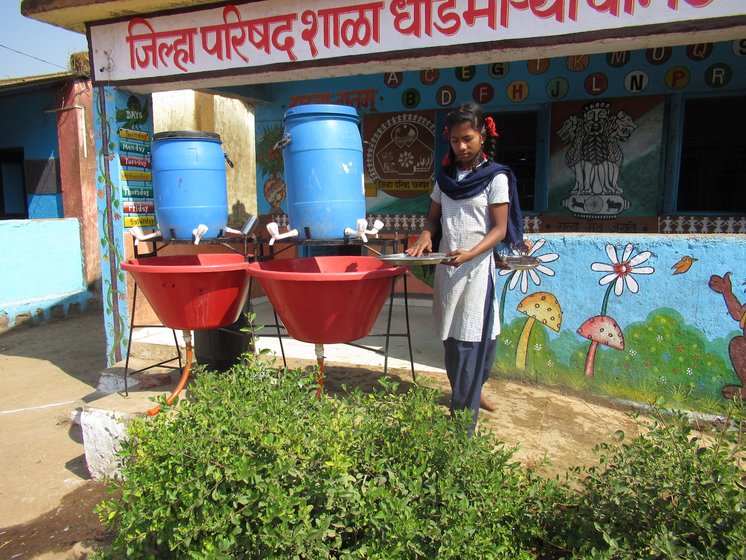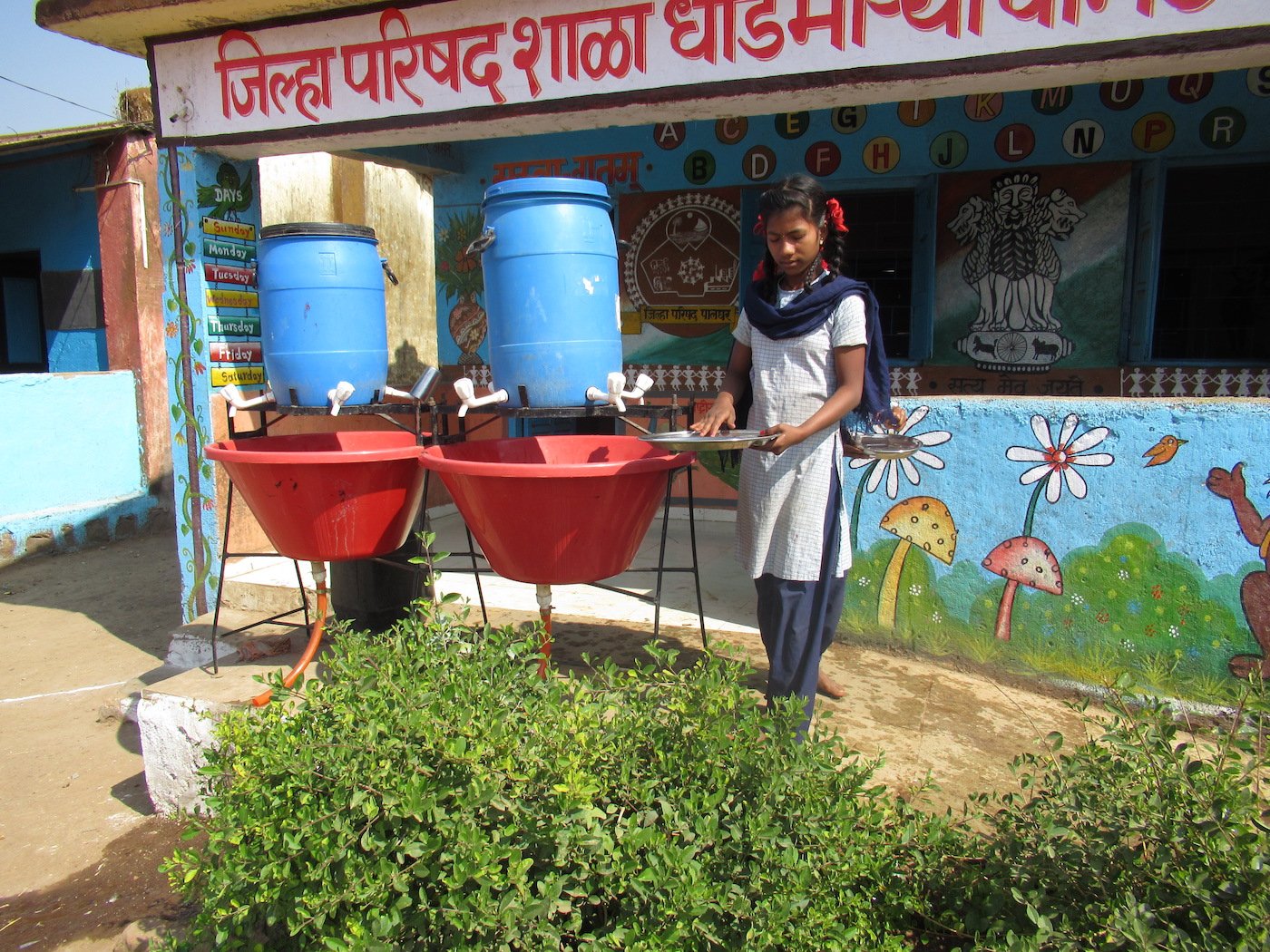 PHOTO • Parth M.N.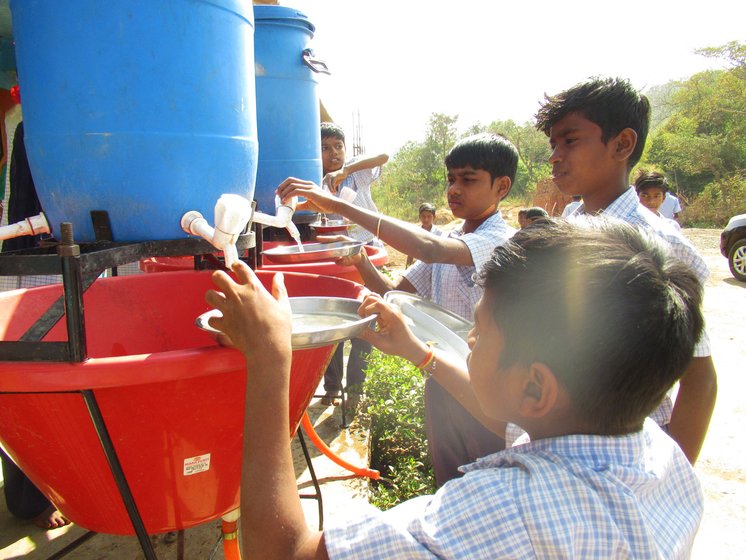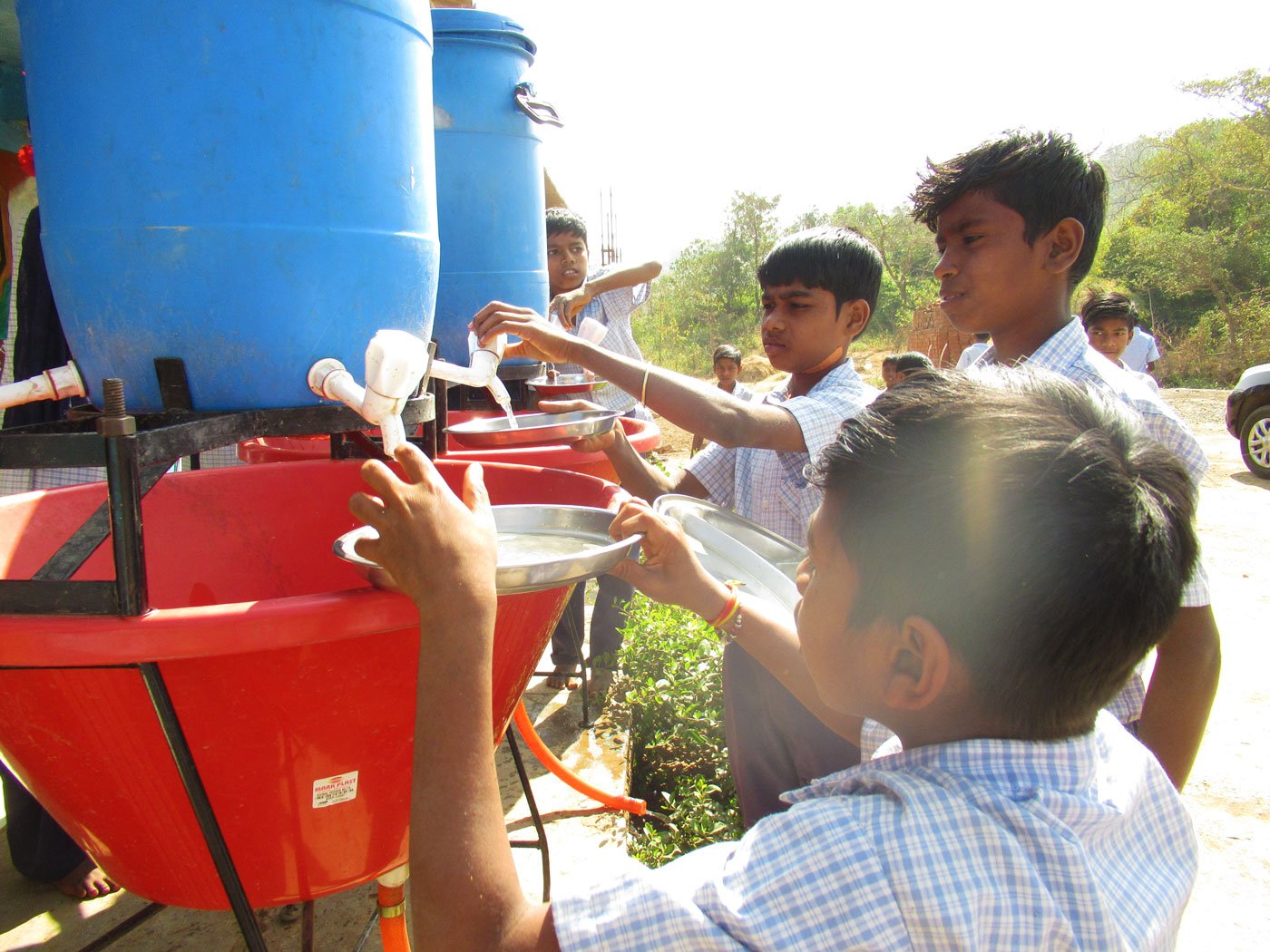 PHOTO • Parth M.N.
For many parents, their kid getting a meal is more important than what the meal consists of. However, even if the meal is filling, it is not nutritious, says Dr. Abhay Shukla, a public health physician with Sathi, a Pune-based a nutrition rights programme. "For a child growing up, lunch should ideally have 500 calories," he says. "But 100 grams of raw rice would give 350 calories after being cooked. Carbohydrates, protein, fat, minerals, vitamins are the  five basic components of an all-round meal, which is not covered at ZP schools. What can you get in Rs. 1.51? It is almost nothing. It also includes fuel that is not cheap anymore. Teachers sometimes serve vegetables [and often, only potato] only three or four days a week because they have to manage somehow in an inadequate budget. The kids remain undernourished."

Besides, says Bhau Chaskar, activist and teacher at the ZP school in Virgaon village of Akola taluka in Ahmednagar district, the rice and masalas provided by the administration are sometimes adulterated. "Spices are of low quality too. Several schools lack storage or a shed to cook food," he adds. "The lack of infrastructure means the food is cooked in an open space, which is prone to contaminated. The programme is essential, but it needs better implementation."

According to a December 2017 report in the Hindustan Times, which cited  information obtained by an activist through a Right to Information application, 504 students in Maharashtra had suffered from food poisoning because of mid-day meals in five years.
Ram Wakchaure, 44, a teacher at the Virgaon ZP school, says they sometimes request well-meaning farmers to give raw vegetables to the school. "They give when they can afford to," he says. "But teachers posted in areas where the land is barren cannot even do that." (See 'I don't even feel like I'm a teacher' )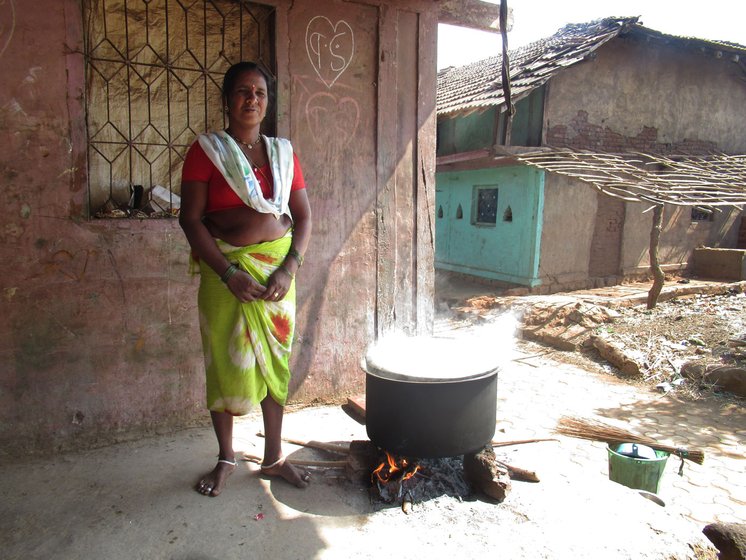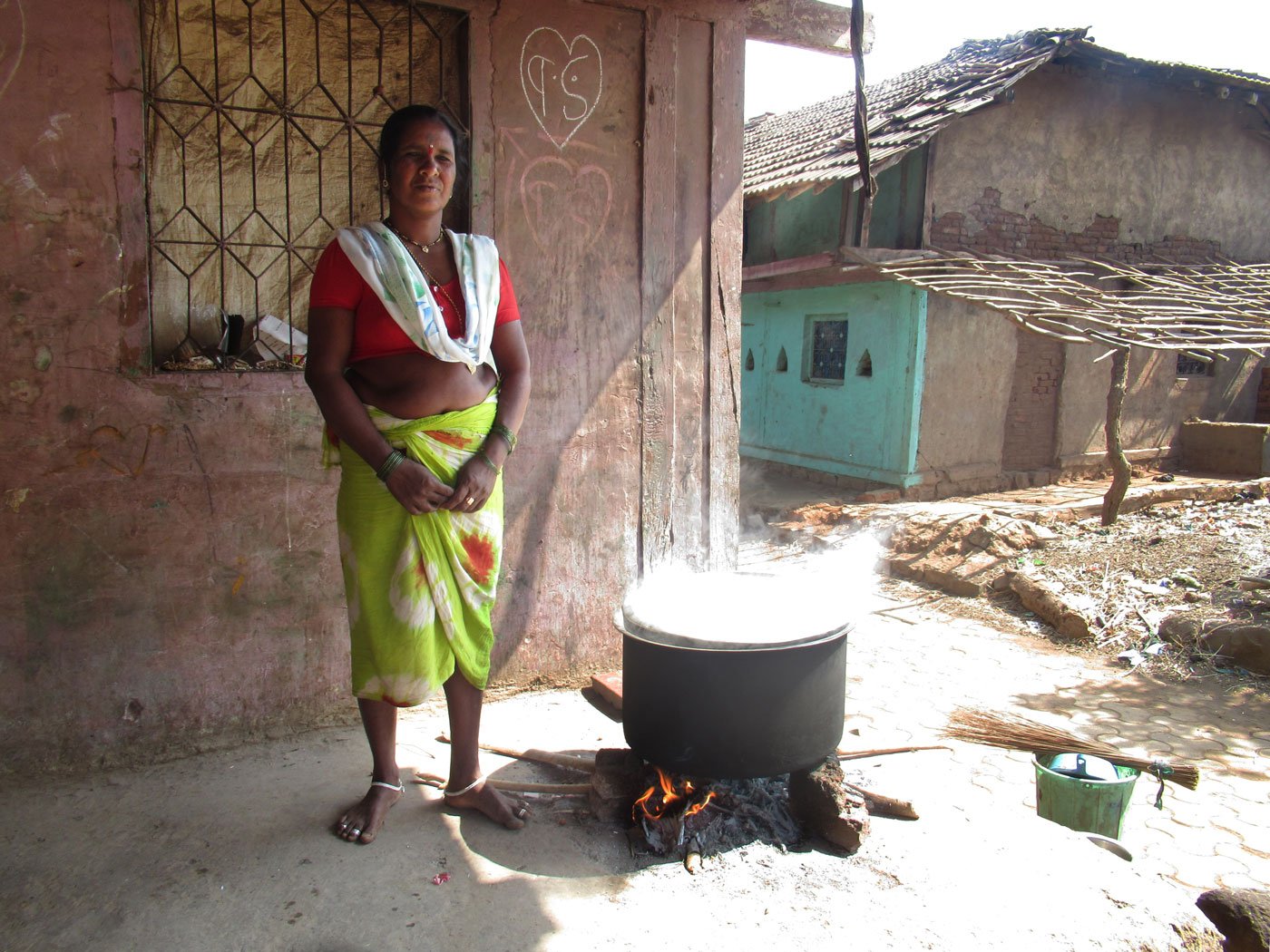 PHOTO • Parth M.N.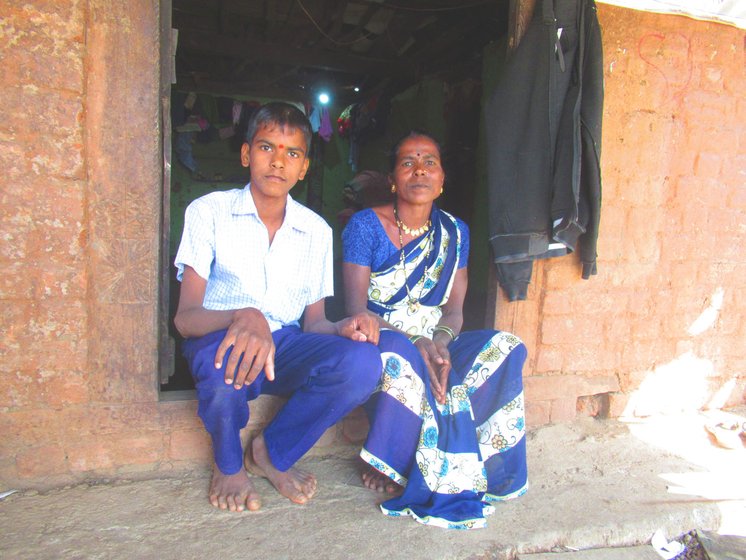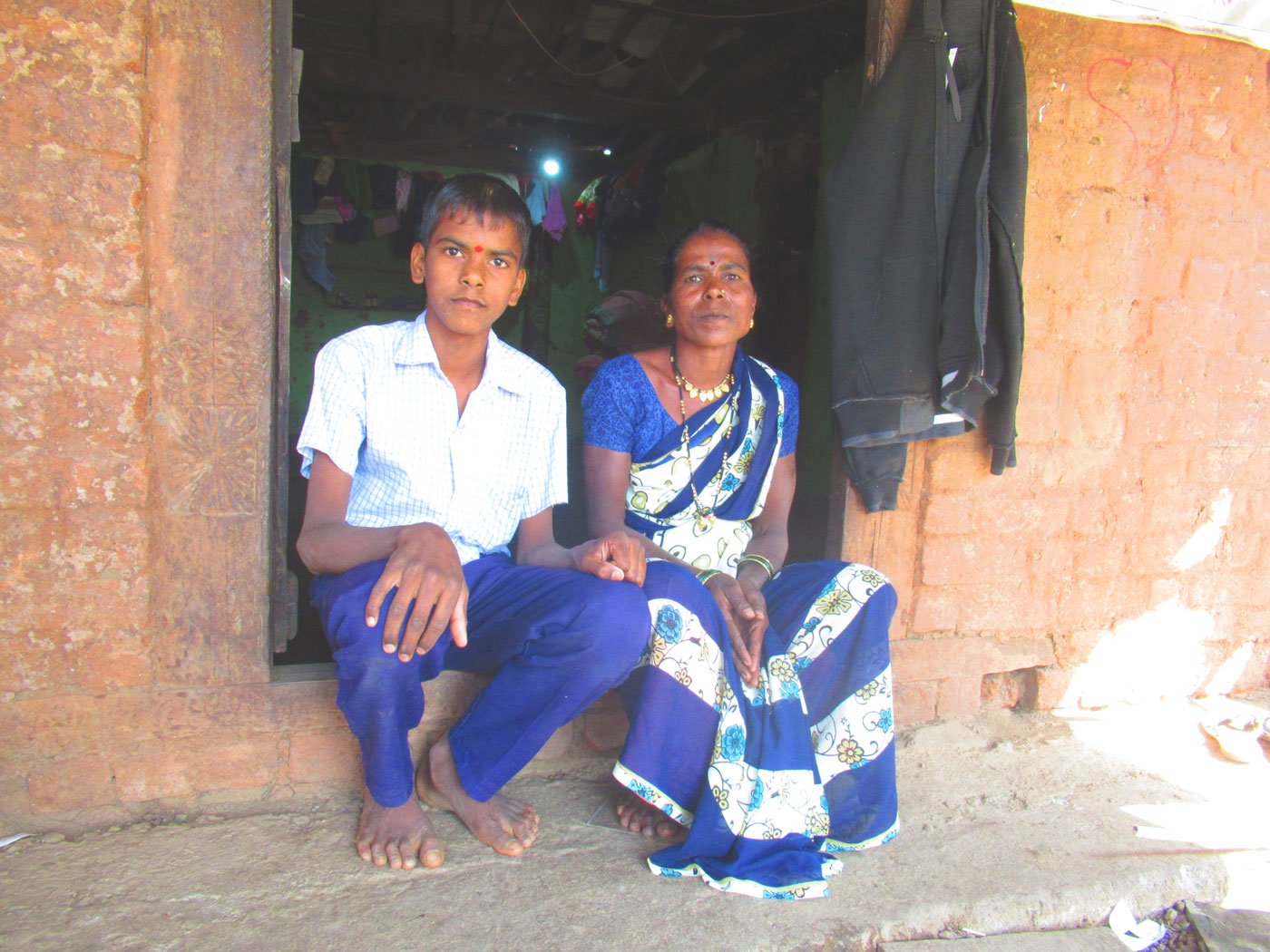 PHOTO • Parth M.N.
So sometimes, for the meals she cooks for the 103 students at the ZP school in Ghosali, Lakshmi Digha ends up using the rice she gets from the public distribution system for her own family. "We 'adjust'. But that is the only option when we do not get rice on time," she says, stirring khichdi in a huge utensil in a shed near the school. "We cannot keep the kids hungry. They are like our own kids." The zilla parishad supplies the grains to the school in the first week of every month, but this is sometimes delayed.

Digha's day begins at six in the morning, and concludes with the end of school at 4:30 p.m. "I dust the school premises before the students turn up, then fill up water [from a nearby borewell]," she says. "I buy the vegetables [at Mokhada, four kilometres from her village], chop them, and prepare the food. I clean up after lunch… It all takes up the whole day."
Because she does all the work without a helper, Digha, whose husband is a daily wage labourer, earns Rs. 1,500 per month. A ZP school cook's salary in Maharashtra is Rs. 1,000 – so for the 20 work days in a month, each stretching to 10 hours, the cook earns Rs. 50 a day.  This amount is scheduled to be increased to Rs. 1,500 from February 2019, after persistent demands by teachers and mid-day meal workers.  "I received Rs. 12,000 in January," Digha adds, with a smirk. "My salary of eight months had been pending."
In a district like Palghar, where farmlands are dry and low-yielding, and residents depend on odd non-farm jobs, it is not difficult to retain cooks at the ZP schools. However, in regions with agricultural activity, retaining a cook  is a challenge for the teachers.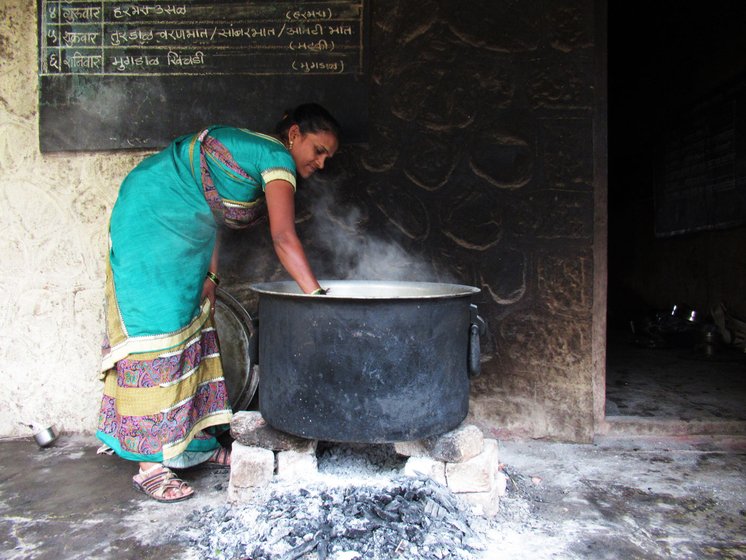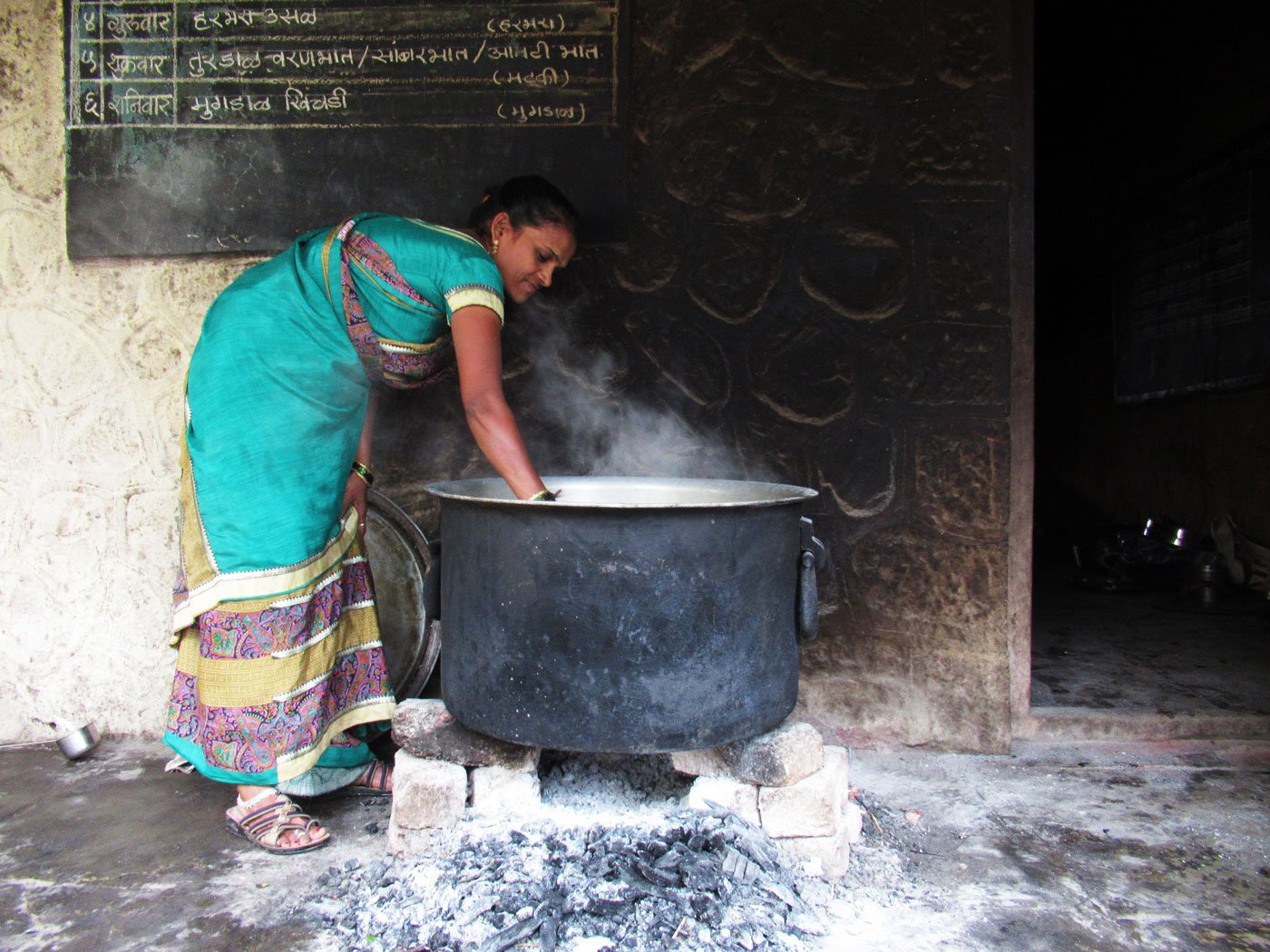 PHOTO • Parth M.N.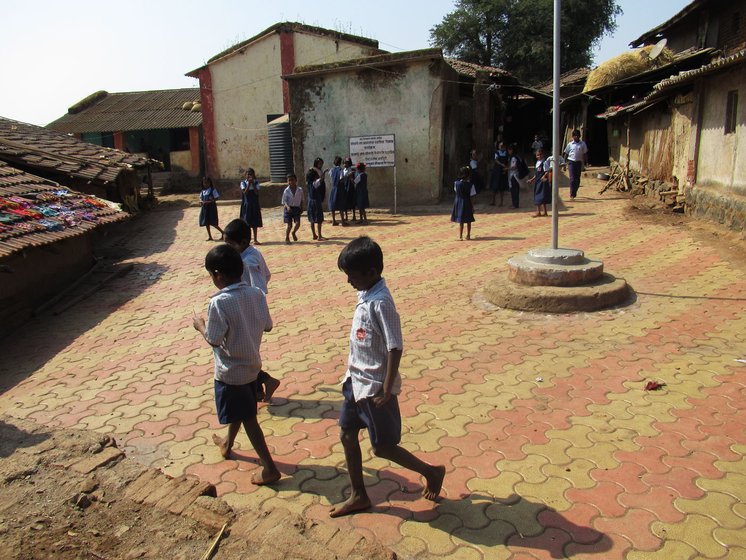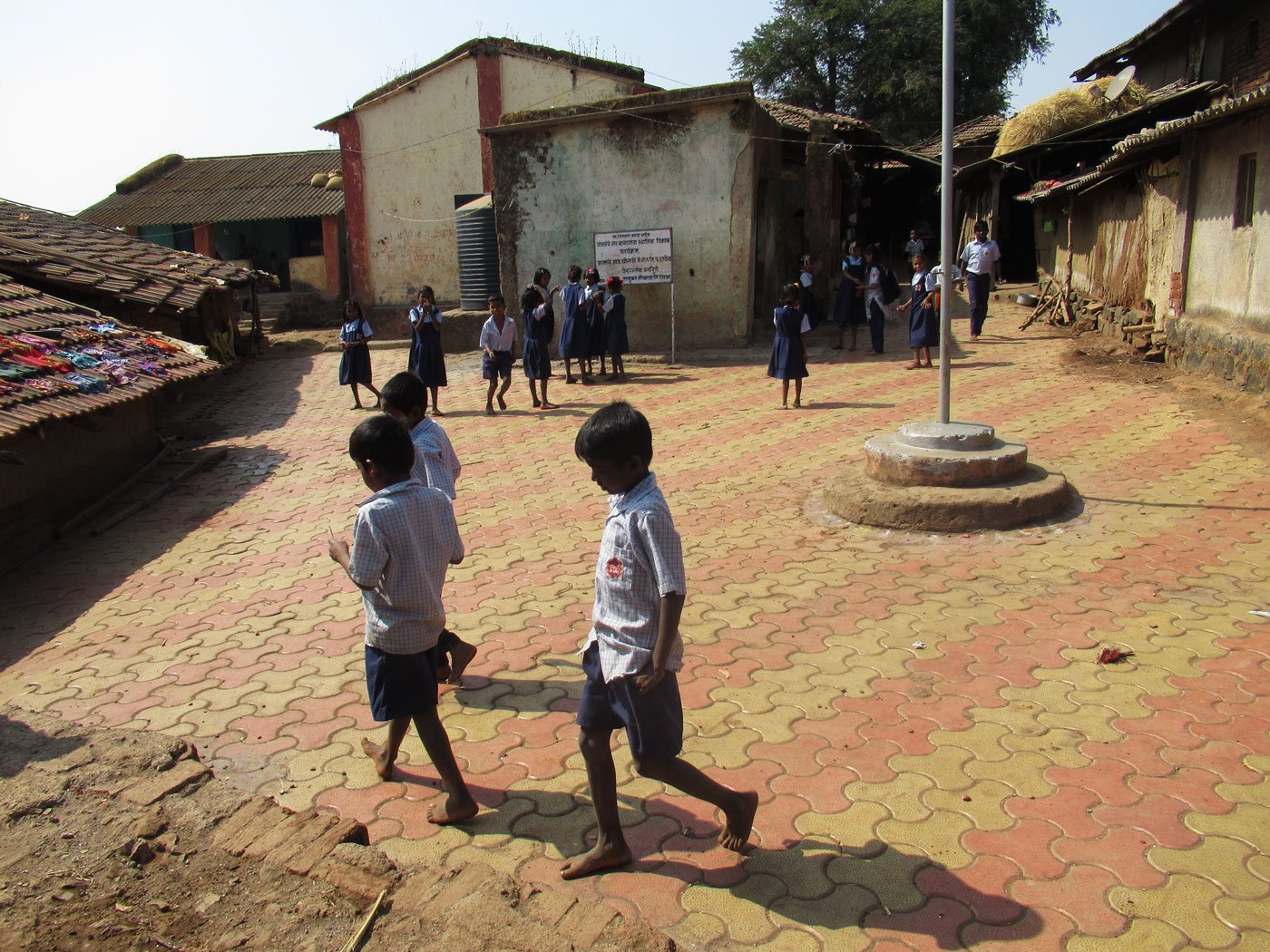 PHOTO • Parth M.N.
Anil Mohite, principal at the ZP school in Shelvihire village of Ahmednagar district, cooked food for the students for some weeks in July 2018. "The cook quit without notice," he says. "Until we could find another, I was in charge of the kitchen. During that period, I could only teach the kids intermittently. I cannot prioritise their studies over their meals." (See ZP schools: coping without power, water, toilets )

At the ZP school of Virgaon – 35 kilometres from Shelvihire – the teachers pool in Rs. 1,000 of their own money to add Rs. 500 to the salaries of each of the two cooks. Alka Gore, one of the cooks, says she could earn Rs. 150-200 a day as an agriculture labourer. "Even if I get work thrice a week, I would make more than my salary [in the school]," she says. But a lack of farm work due to drought has forced her to work at the school, she says. "When the teachers temporarily increased my pay, I stayed on. But once the monsoon arrives and the sowing season begins, I will have to reconsider. I spend my entire day at school, after which I cannot get any work on the farm. I have three daughters to support."

The students and their parents though are too dependent on the mid-day meal to complain about it. "We hardly have an acre of farmland," says Mangala Burange, whose 13-year-old son Sooraj studies at the ZP school in Dhondmaryachimet. "We cultivate rice for our consumption. But the harvest is unreliable. We only harvested two quintals because of this year's [2018] drought. In such a situation, whatever we get [in the mid-day meal] is  a bonus."
Sooraj, like Satika, starts his day with a cup of tea in the morning. "That and dinner at night is what I usually have at home," he says. "At dinner, we have to keep in mind that the food grains need to last as long as possible, especially when the harvest is meagre. So I look forward to the lunch at school."