All my life I have been looking after animals. This is our work as Raikas: we serve animals.
My name is Sita Devi and I am 40 years old. Our community has historically been responsible for taking care of animals – mainly camels, and more recently, sheep, goats, cows, and buffalos. Our hamlet is called Taramagri and it is a kilometre from Kurki village in Jaitaran block in Pali district of Rajasthan.

I am married to Hari Ram Dewasi [46] and we live with our two sons – Sawai Ram Dewasi and Jamta Ram Dewasi and their wives Aachu Devi and Sanju Devi respectively. Aachu and Sawai have a 10-month-old son. My mother, Shayari Devi, 64, also lives with us.

My day starts at about 6 a.m. with a cup of goat milk tea made either by me or my daughters-in-law. Then we cook and head to the baada [shed for animals] where we keep our sheep and goats. Here I sweep and clean the muddy floor, and collect the animal excreta and keep it aside for use later.

The baada is at the very back of our house and this is where our 60 animals, both sheep, and goats live. We have a small enclosure within it where we keep the lambs and kids. At one end of the baada we store dry fodder – it is mostly dry guar stubble. Besides the sheep and goats, we also have two cows and they have a separate shed near the main entrance of the house.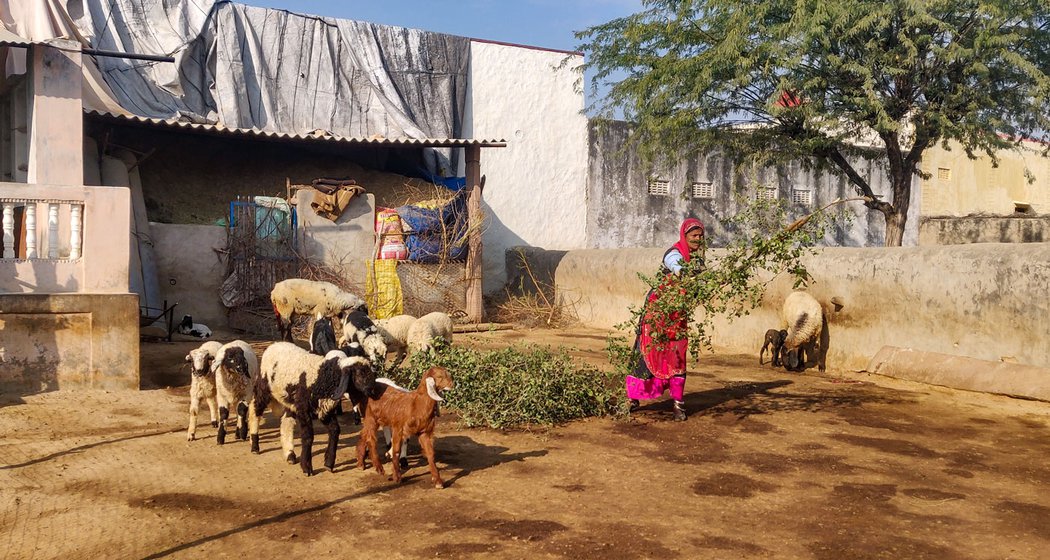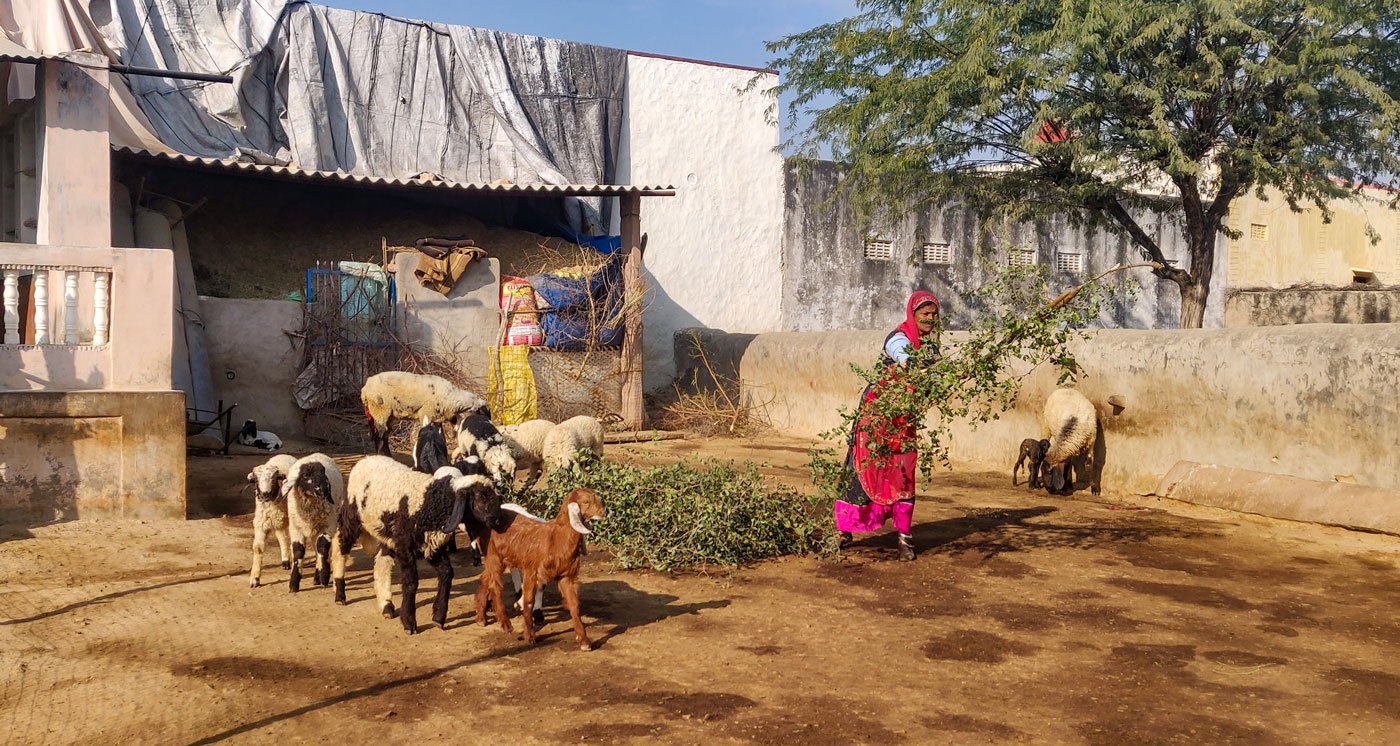 PHOTO • Geetakshi Dixit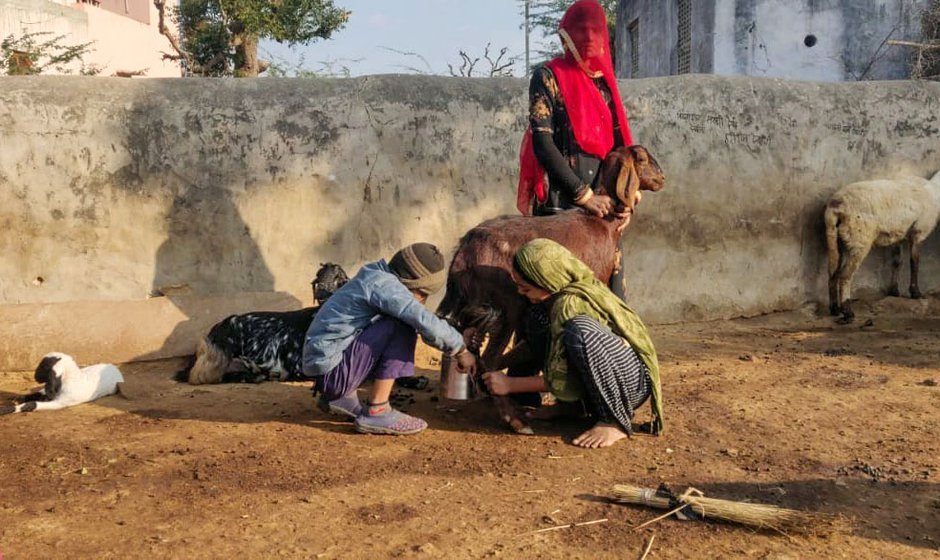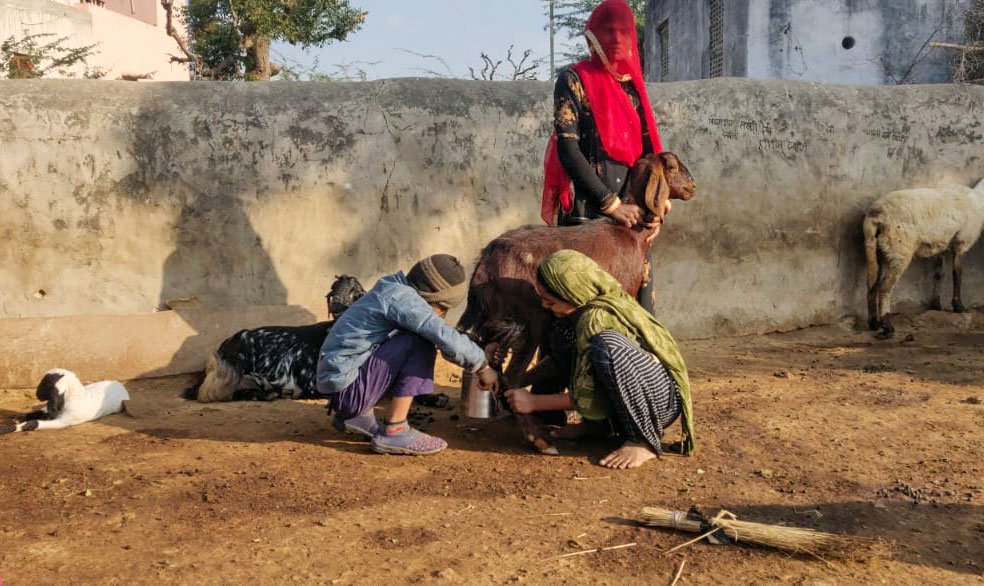 PHOTO • Geetakshi Dixit
To get anything we need to go to the village Kurki – groceries, hospitals, banks, schools, and more. Earlier we used to go up to Jamna ji (Yamuna river) with our herds and camp on the way. Now herds have become smaller and it is not profitable to travel so far, and we are growing old too. So we take the animals to graze not too far away.
As I clean the baada , my daughter-in-law, Sanju, milks the goats. Young people need someone to hold the animal as they milk it because goats are clever and wriggle out of their grip. My husband or I help her or milk the goats ourselves; the animals are comfortable with us.
It is my husband who takes the animals out to graze. We have rented a field nearby, and have also bought trees, which is where our herd goes to graze on the stubble. My husband also cuts branches from the trees and spreads them for the animals to eat. They love eating Khejri ( Prosopis cineraria ) leaves.
We need to make sure that young ones don't go out with the herd as it's not safe for them. So there is a lot of shushing, clucking, trilling, and hissing we do to guide the animals in and out of the baada . Sometimes if a young one strays out following its mother, we pick it up and bring it inside. One of us stands at the gate of the baada and waves our hands and makes sounds to stop the animals from entering the baada again. After about 10 minutes, the animals are out of the main gate and ready to leave.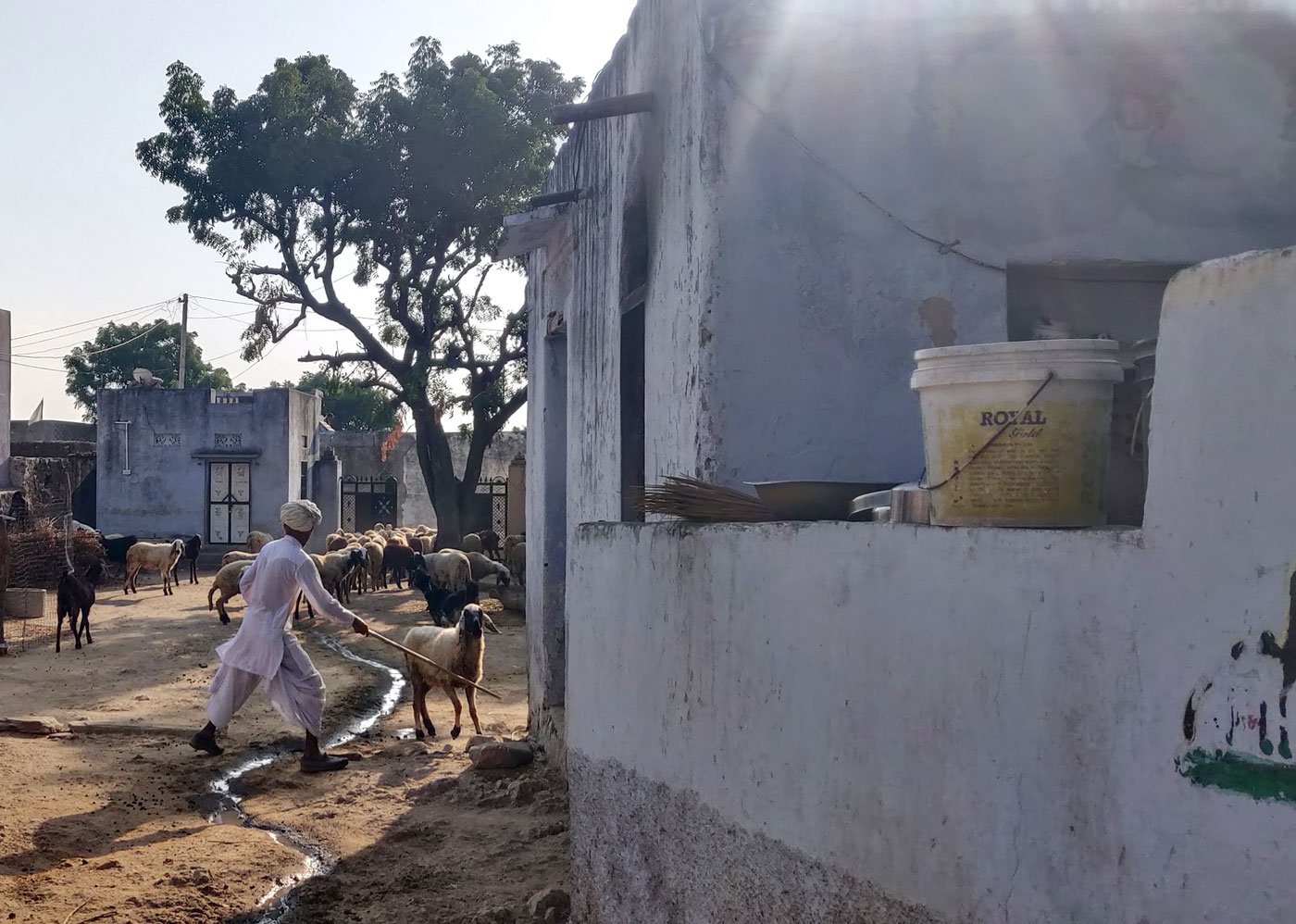 PHOTO • Geetakshi Dixit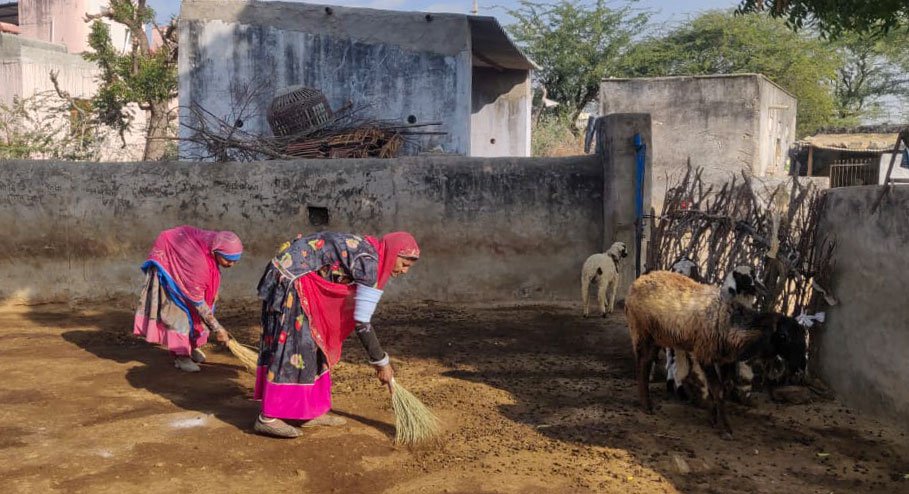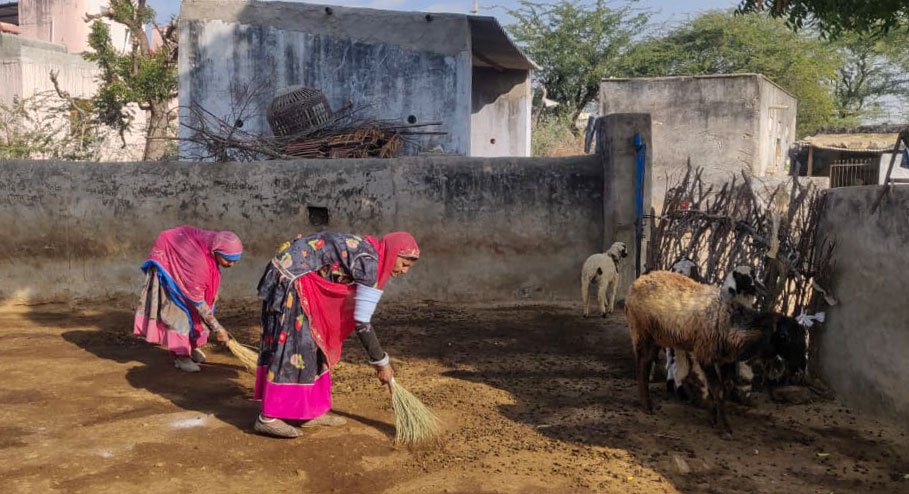 PHOTO • Geetakshi Dixit
With only the new mothers, sick or young ones left behind, it feels a little quiet. I sweep up the droppings once more and carry it to a small plot of land about 100 metres from our house. Here we gather it until we can sell – it is valuable manure. We manage to sell two truckloads a year. One truckload fetches us between 8,000-10,000 rupees.
Other major sources of income for us are from selling sheep – roughly 12,000 to 15,000 [rupees] for one animal. Selling lambs and kids fetches about 6,000 [rupees]. We sell them when we need money urgently. The trader takes them and sells them in big wholesale markets as far off as Delhi.

Sheep wool used to be an important source of income for us, but prices of wool have fallen to as low as two rupees a kilo in some places, and now we don't see many buyers.

Once I return from dumping the meengani , I come back to a baada full of hungry little mouths and expectant eyes. I bring out the daali (green branch) for the animals. During winter, some days it is neemda (neem, Azadirachta indica ), and other days it is bordi (ber, Ziziphus nummularia ). I also go out to the field and get fuelwood .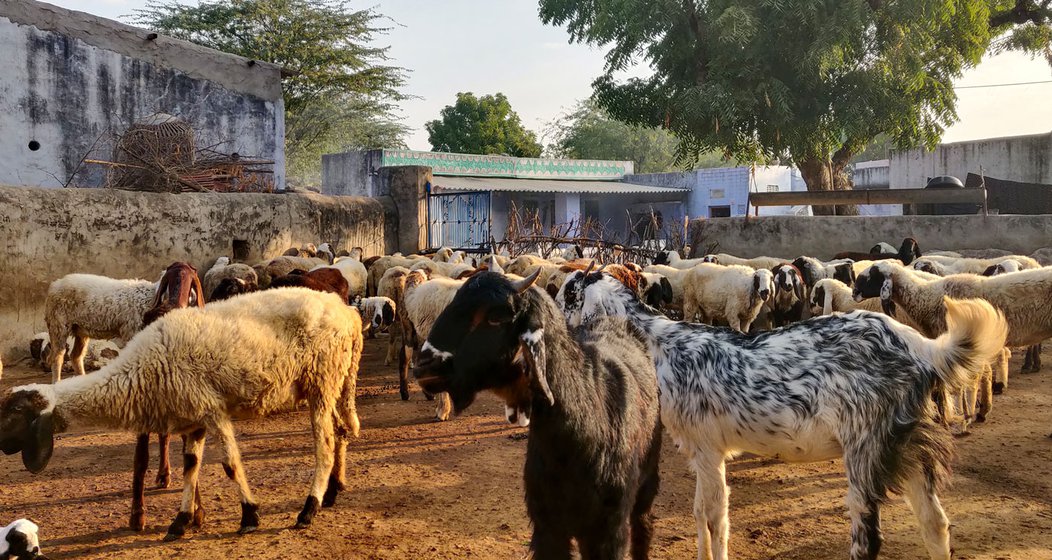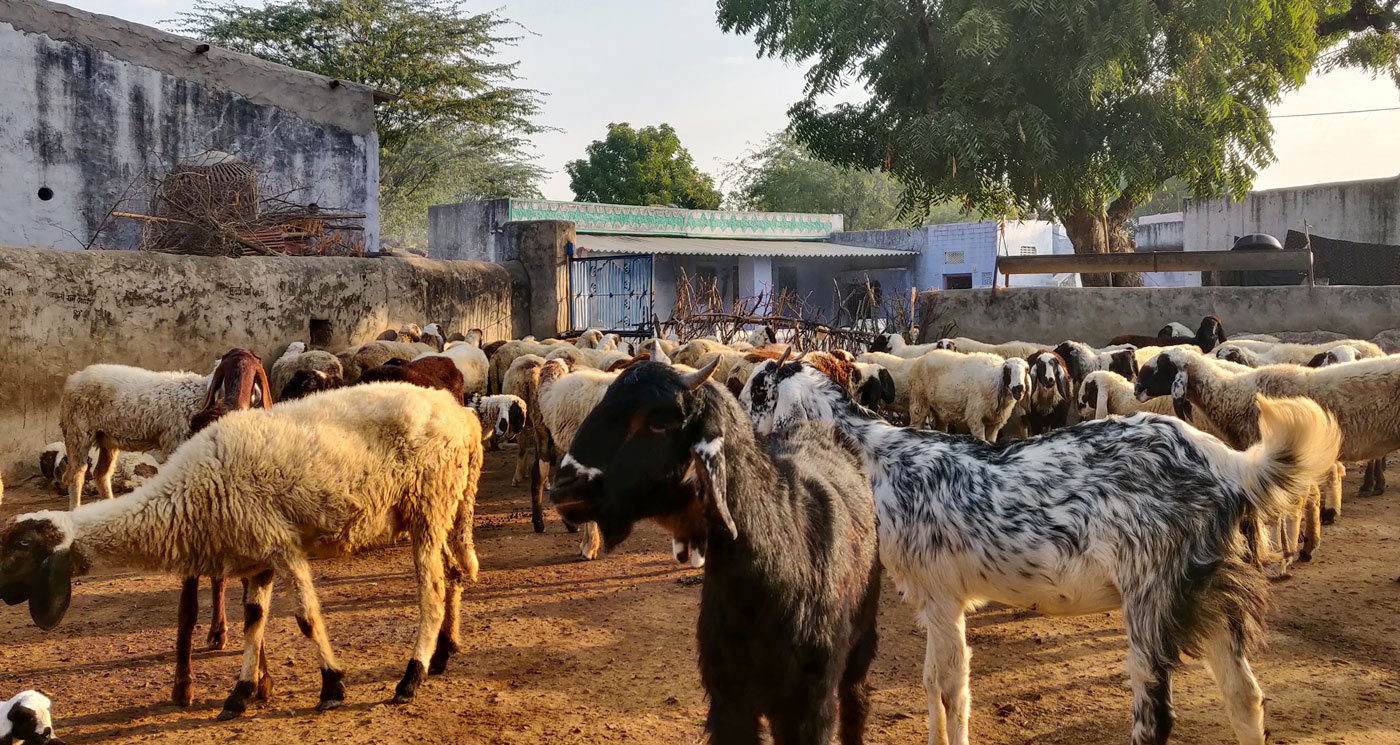 PHOTO • Geetakshi Dixit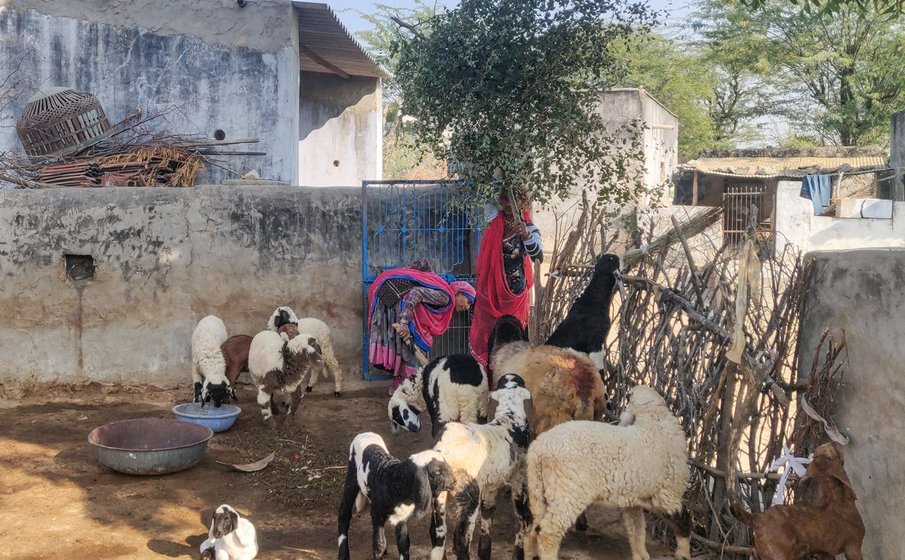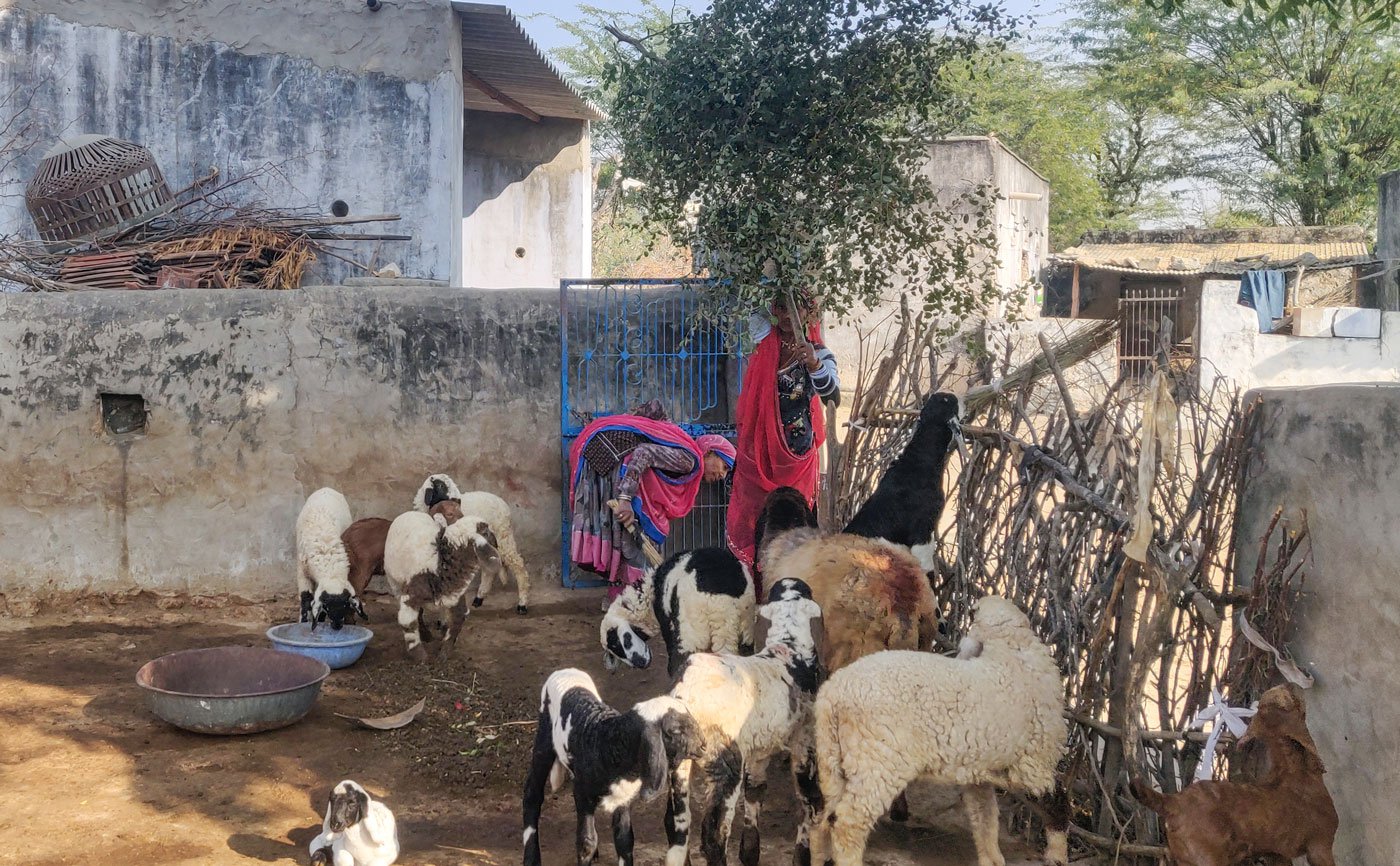 PHOTO • Geetakshi Dixit
The daali [branches] are cut either by my sons or husband, but sometimes I go and get it. Any work outside the house is mostly dealt with by the men. They are responsible for all the negotiations such as buying trees, renting out farmlands, negotiating manure prices, and getting medicines. On the field, they also have to cut the branches to feed the herd and look after any injured animals.
If there are any sick animals, I look after them. I feed the cows dry fodder and we add the waste from the kitchen to their food too. My mother also joins me in doing this. She also helps out with getting ration from the shop in the village.

Once the animals are fed, we sit down to eat mostly bajra [pearl millet] in some form, or wheat (from the ration shop) moong or another pulse or a seasonal vegetable , and bakri ke doodh ka dahi [goat milk curd] . We have two bighas on which we grow moong and bajra for our consumption.
I also go to the NREGA [referring to National Rural Employment Guarantee Act] site, like other women from Kurki and our camp. We get two thousand rupees a week from NREGA, it helps us meet the household expenses.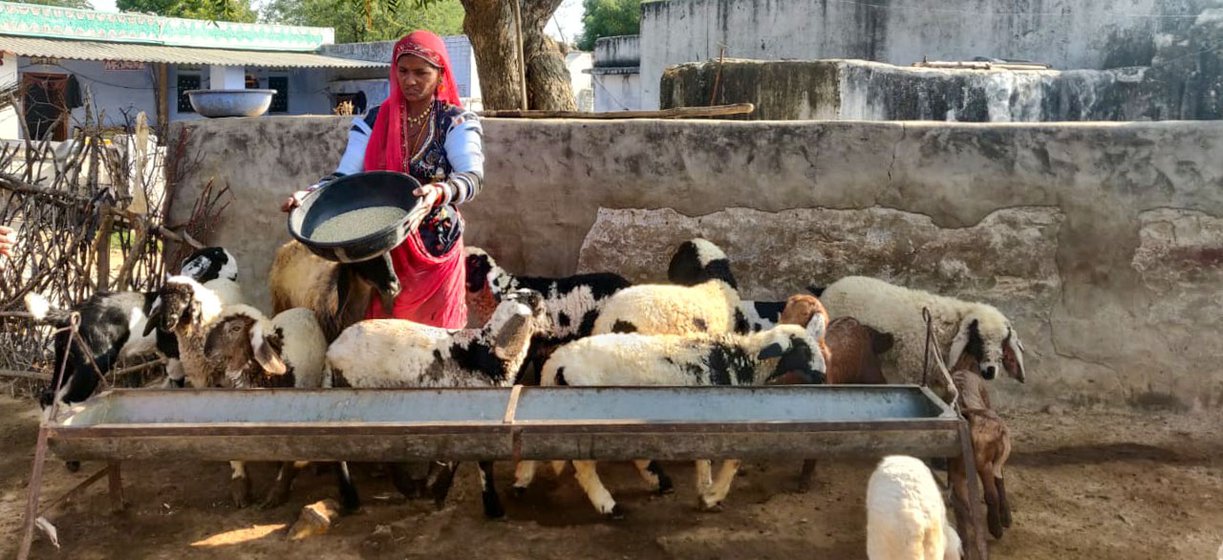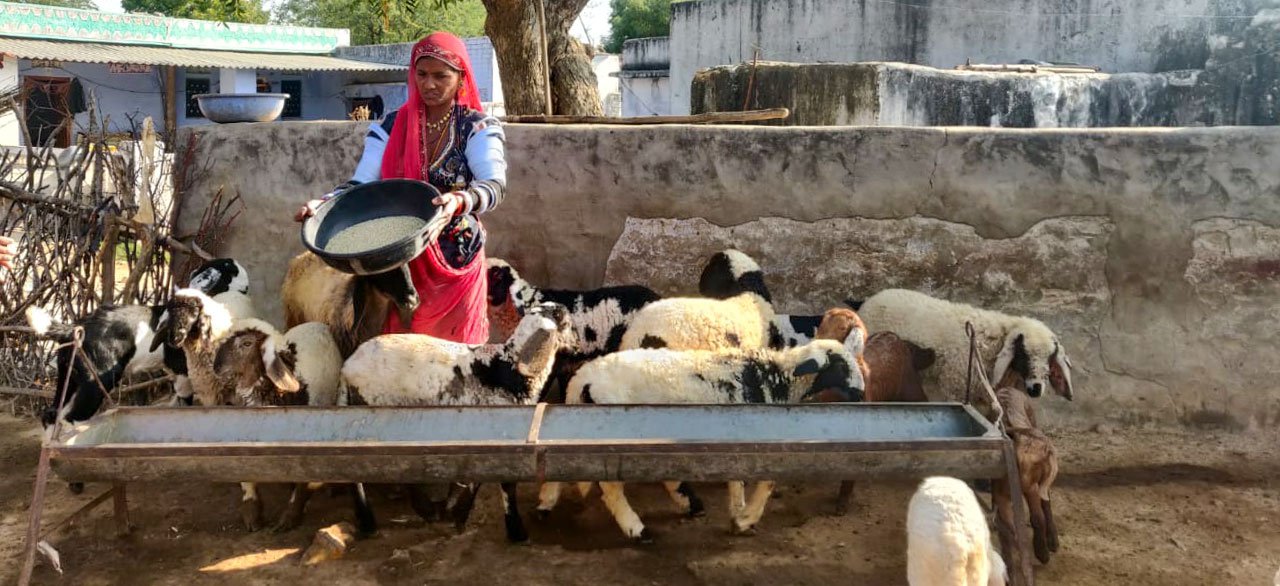 PHOTO • Geetakshi Dixit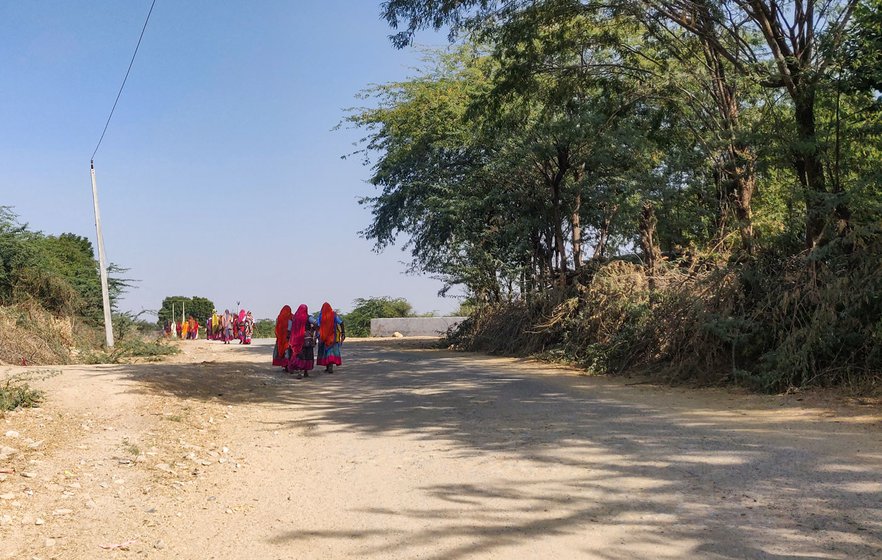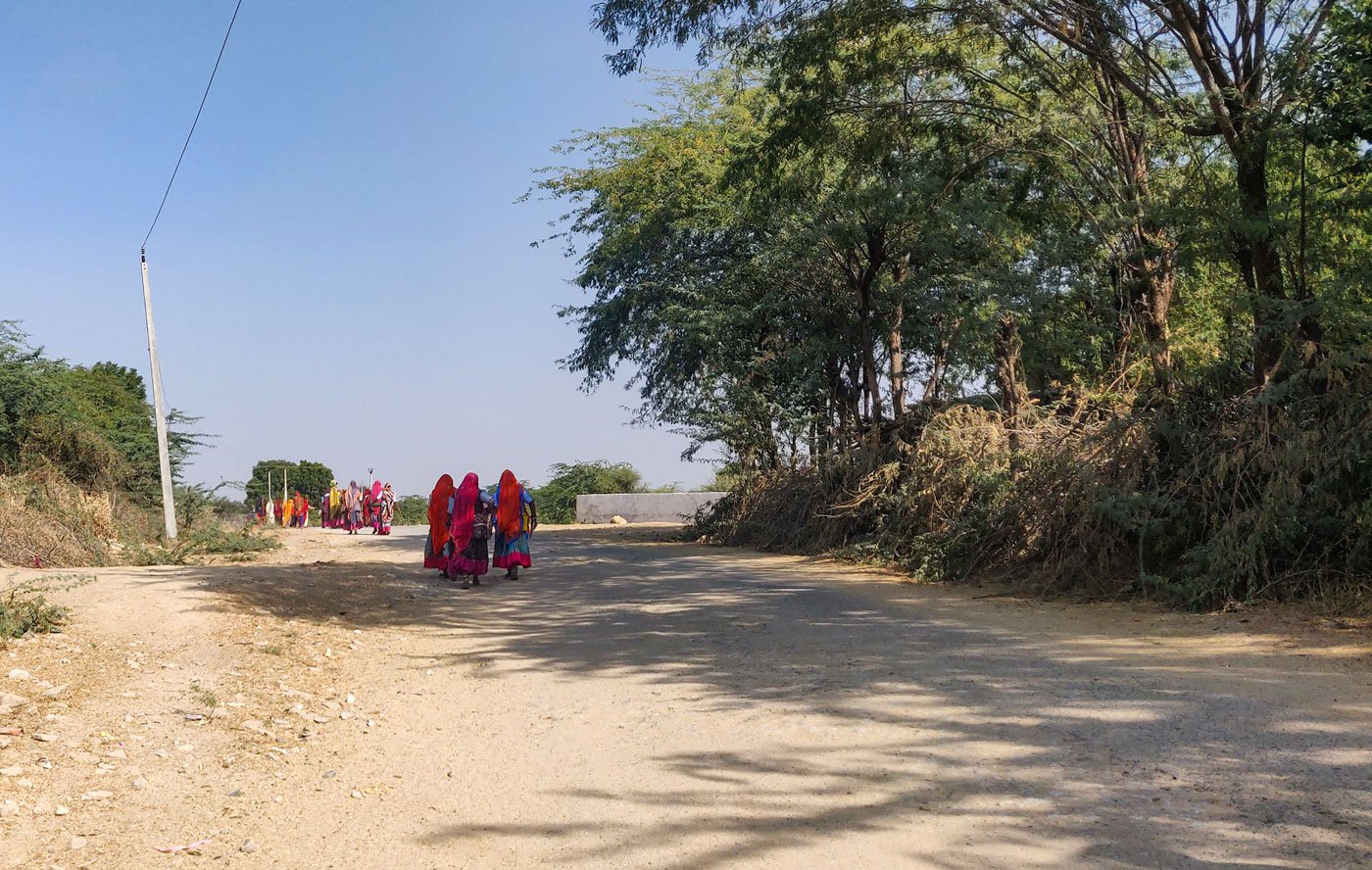 PHOTO • Geetakshi Dixit
This is the time I get to rest and also to finish other chores – washing clothes, and washing utensils. Often, women from the nearby houses visit and we sit and work together. On some winter days, we make kheechiya and raabodi [flat round crackers made using maize flour cooked in buttermilk].
Many youngsters do not have the necessary skills to carry on this [pastoral] work. I keep telling young children to study well. Eventually, we might have to sell our animals and then they will need to find work. The times are different now.

In the evening I cook for everyone and wait for our animals to return. After dusk, our herd comes home bringing the
baada
back to life again. I milk the animals one final time for the day, give them dry fodder, and then my day ends.