It was noon when the two bulldozers arrived. "Bulldozer, bulldozer…sir…sir…" the children on the school ground cried out. Hearing their cries, Prakash Pawar, the principal, and Matin Bhosale, the founder, came running from the school office.
"Why have you come here?" Pawar asked. "We want to demolish [the classrooms] for the highway. Please step aside," said one of the bulldozer's drivers. "But no notice was given," Bhosale protested. "The order has come from above [the Amravati collector's office]," the driver said.
The school staff swiftly took out the benches and green writing boards. They emptied the makeshift library – around 2,000 books in Marathi on Ambedkar, Phule, Gandhi, world history and more. All of these were taken to the nearby school hostel. Soon, the bulldozers struck. One wall crumbled to the ground.
This continued for two hours on June 6 at the Prashnachinh Adivasi Ashramshala (Question Mark Adivasi Residential School). The children who stay in the hostel – on summer break since April – watched the destruction of their classrooms. "So our school won't start on June 26? Why are they doing this?" some of them asked.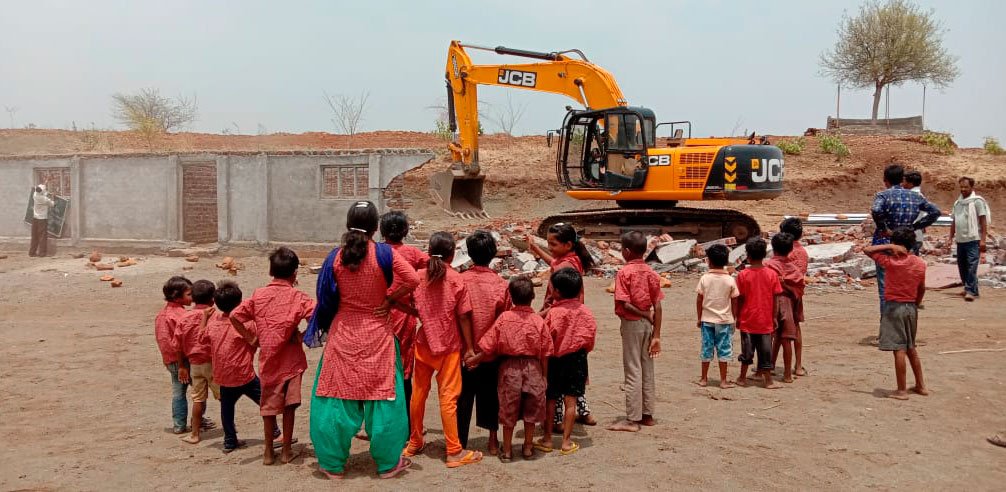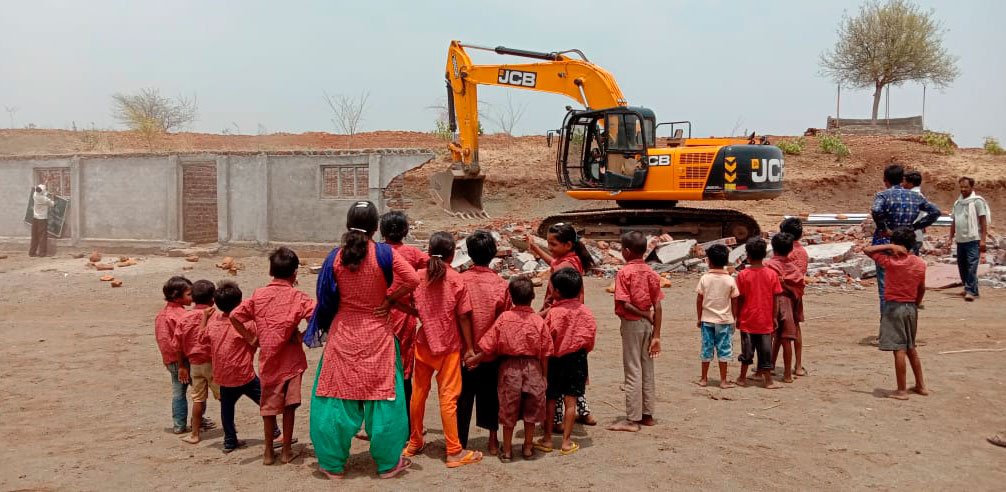 PHOTO • Yogesh Pawar
Soon, the three thatched classrooms, four concrete classrooms and the library – where 417 children from the Phanse Pardhi Adivasi community and 30 from the Korku Adivasi community studied in Classes 1 to 10 – were completely demolished. The Constitutional right to education got buried under the debris too.
The school in Amravati district was felled to make way for the Maharashtra government's 700-kilometre Samruddhi Mahamarg ('Prosperity Highway'). The highway will run through 392 villages in 26 talukas . In Amravati, the highway will cross 46 villages in three talukas .
"Seven years of our hard work have been wasted," says 36-year-old Matin. The school he started for Adivasi children is located in Nandgaon Khandeshwar taluka , beside a narrow deserted pathway. A letter sent by the Maharashtra State Road Development Corporation (MSRDC) in June 2018 informs the Amravati district collectorate that because the school was built on part of a 19.49 hectare government-owned grazing land on Survey No. 25, "even the question does not arise of giving compensation."
The Prosperity Highway will not eat up the two-floor concrete hostel with 10 rooms, which is home to 60 girls and 49 boys, built on three acres owned by the Adivasi Phanse Pardhi Samiti, which runs the school (Matin is the Samiti's chairman). The hostel and its two toilet blocks were built with public donations that came in after a support campaign run by a Marathi newspaper in 2016.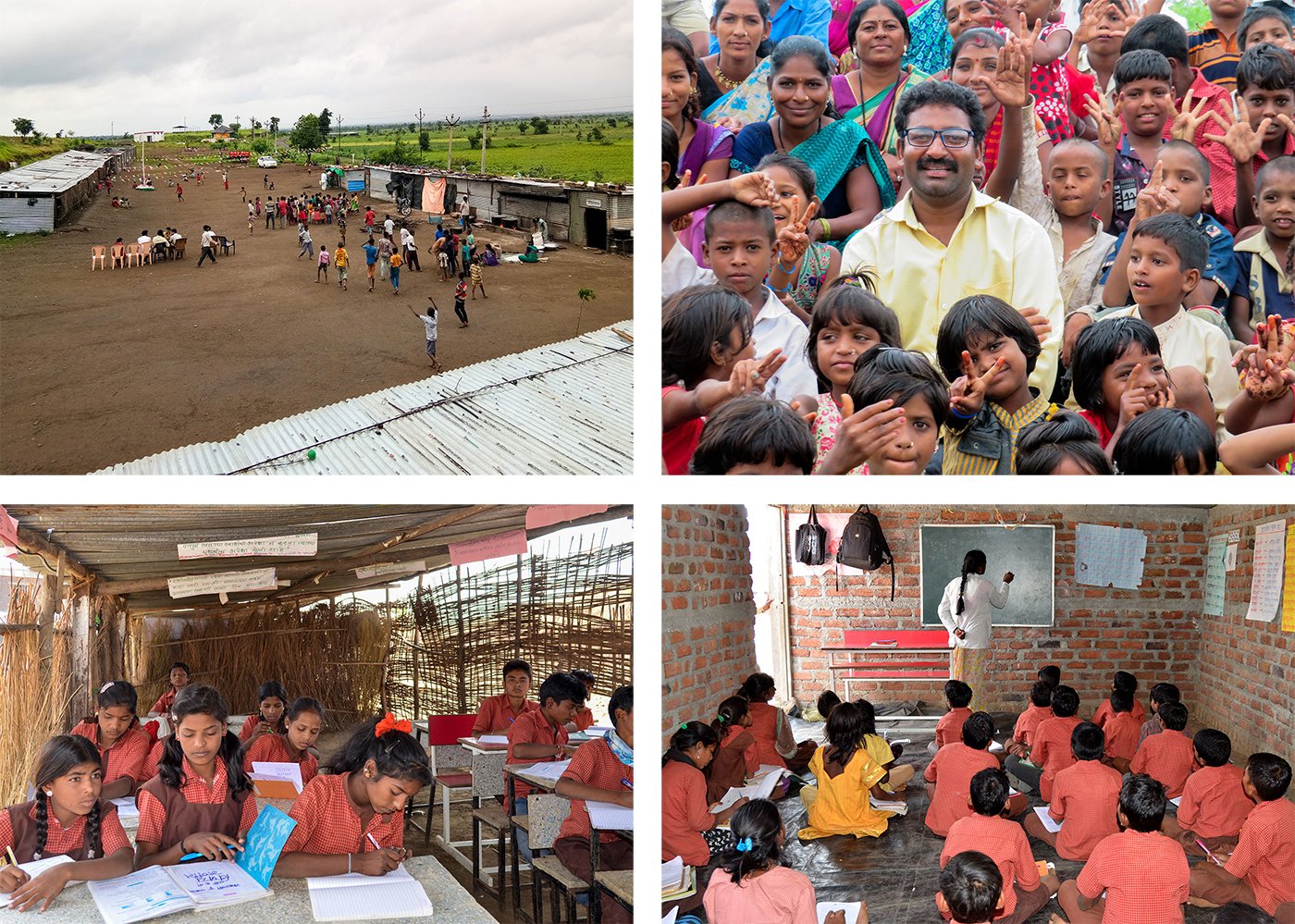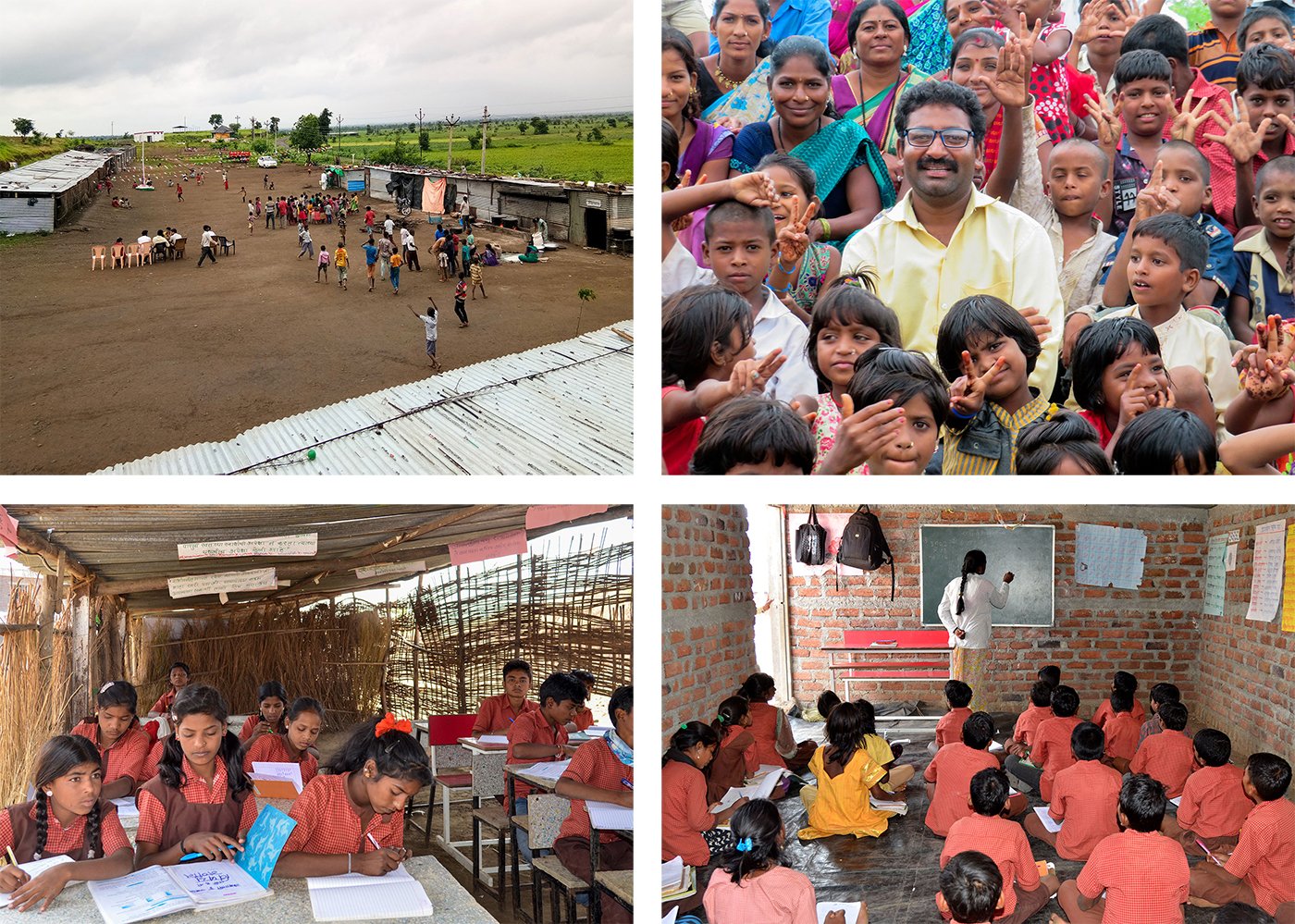 PHOTO • Jyoti Shinoli
But the government is asking for nearly an acre of these three acres too. A notice issued by the Amravati district administration on January 11, 2019, says that a 3,800 square metre plot (an acre is around 4,046 square metres) on Survey No. 37, between the hostel and the now-demolished classrooms, is also required for the highway. For this, the state has offered Rs. 19.38 lakhs as compensation to the Samiti.
"This amount is not enough to re-establish the school. Even though the classrooms, library and kitchen area were on governments land, we must get compensation as per the law ," Matin had told me in February 2019. "We haven't signed the sale deed [with MSRDC, for the 3800 square metres]. We have registered an objection with the Amravati collectorate and demanded they first provide alternative land for the school."
Matin has written several other applications to the Amravati collector and the chief minister, he has marched with 50-60 kids and school staff to the collector's office thrice in 2018, observed a one-day hunger strike in February 2019 – every time, demanding complete rehabilitation that includes enough land for all the school structures.
The parents of the kids studying at the Question Mark school were also worried about the demolition. Around two kilometres from the school, in the Phanse Pardhi settlement of some 50 huts, Surnita Pawar, 36, sitting outside her brick house peeling beans, had told me, "My daughter Surnesha completed Class 10 in this school. Now she is doing a correspondence course for Class 11." Surnita works as a farm labourer in Mangrul Chawala, a village of 3,763 people adjacent to her settlement. After the demolition, when I phoned her, she said, "I heard that the classrooms are destroyed. Surnesh [my son] is in Class 5 there. He was home for the summer vacation. Where will he go now?"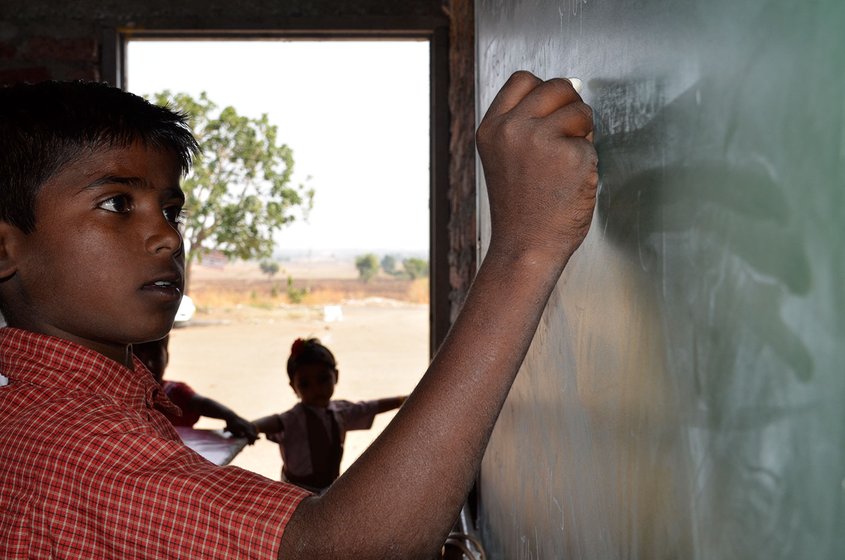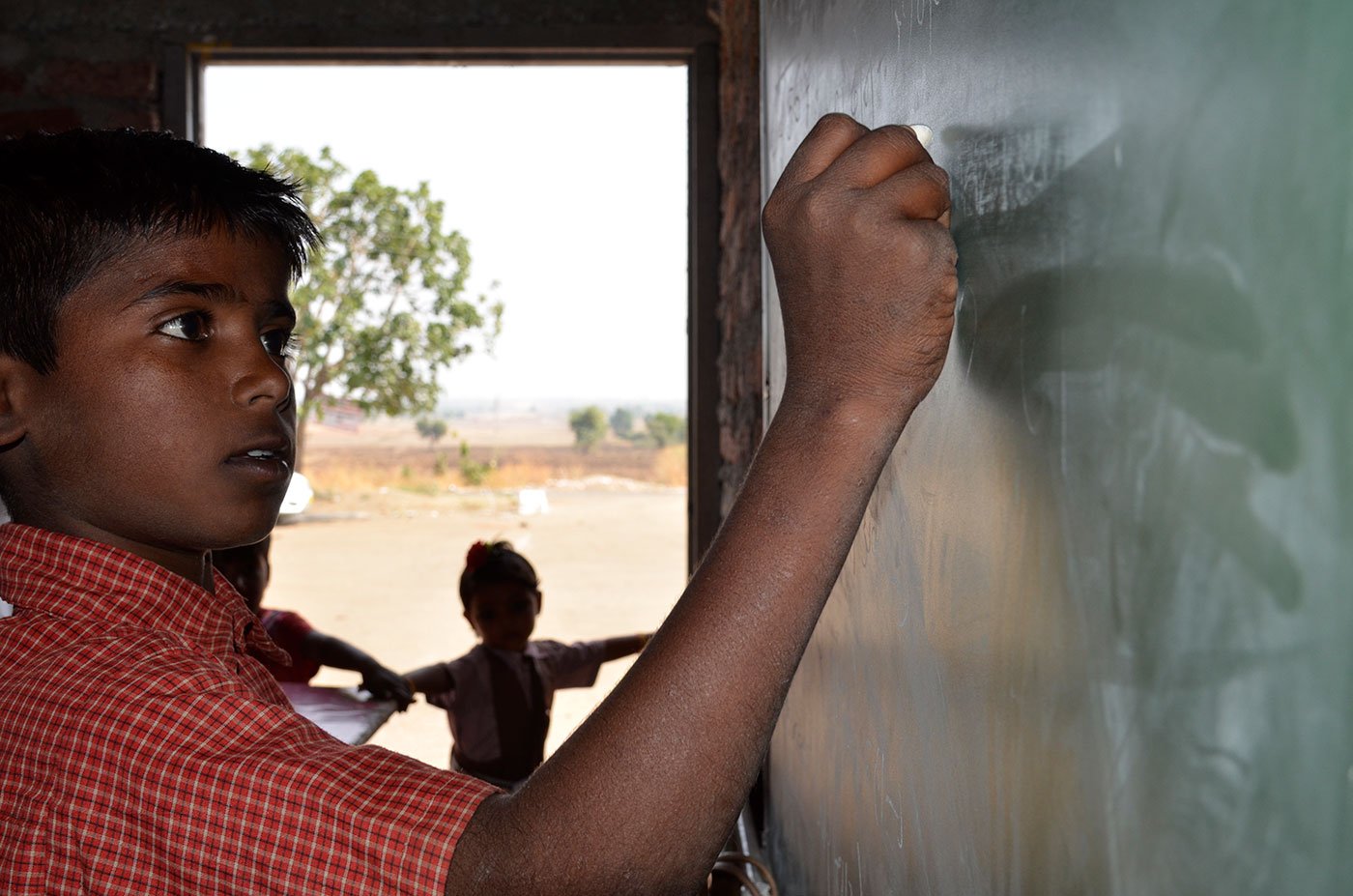 PHOTO • Jyoti Shinoli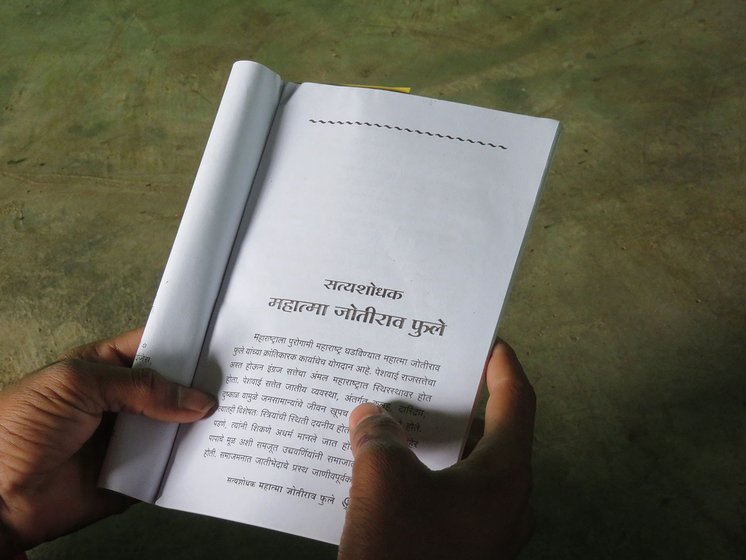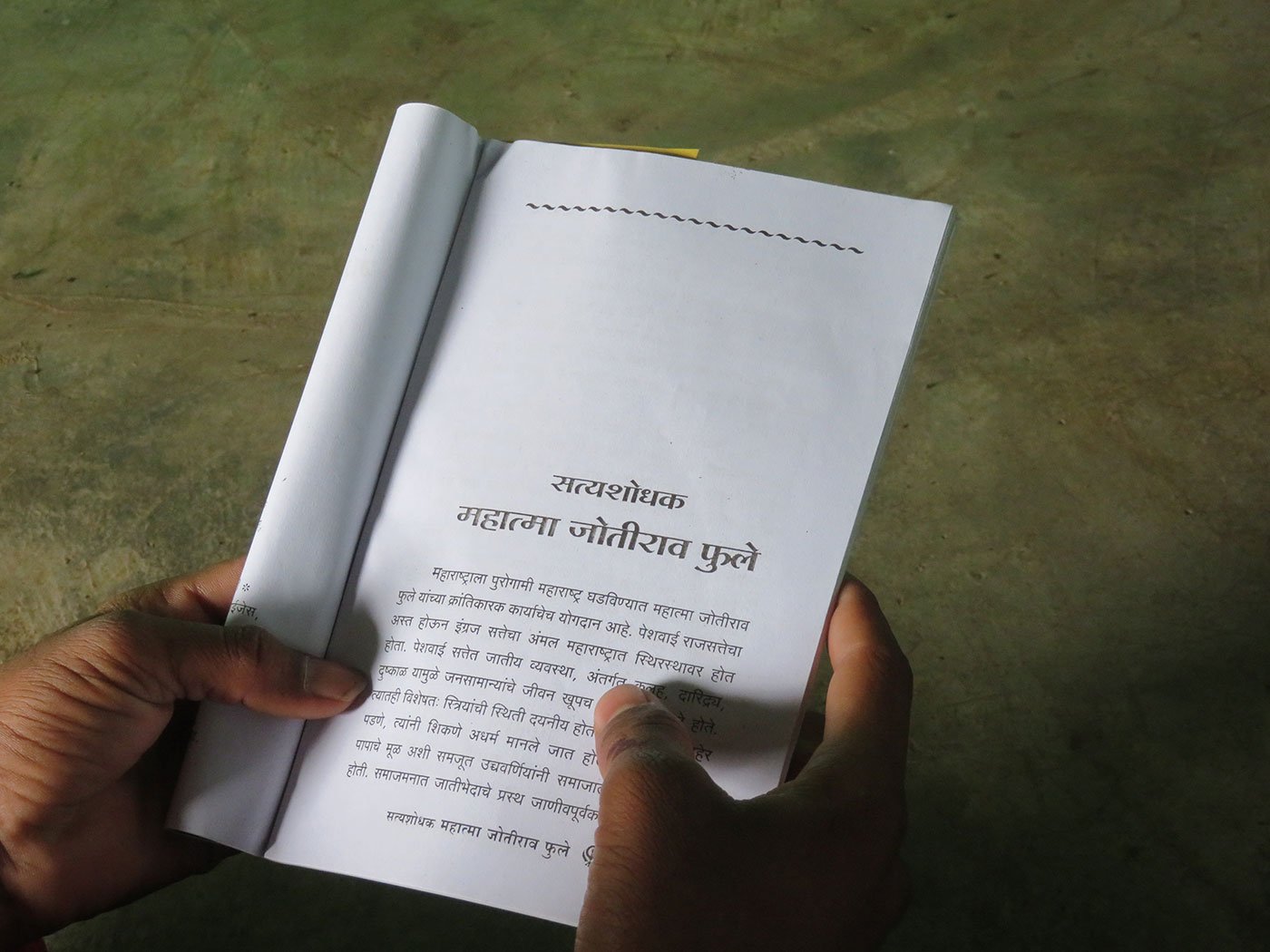 PHOTO • Jyoti Shinoli
Her community, the Phanse Pardhis, along with various other tribes, was branded as 'criminal' by the colonial British government's Criminal Tribes Act. In 1952, the Indian government repealed the Act, and the tribes were 'denotified'. Some of them are now included in the list of Scheduled Castes, some as Scheduled Tribes, and some are in the Other Backward Classes category.  (See No crime, unending punishment ). Around 223,527 Pardhis live in Maharashtra, according to Census 2011, and within the community, there are various sub-groups, such as Pal Pardhis, Bhil Pardhis and the Phanse Pardhis.
They continue to face discrimination at various levels. "The villagers don't give us work," Surnita says. "So then our people go to beg to Amravati city or to Mumbai, Nashik, Pune, Nagpur."
As did her neighbor, 40-year-old Hindos Pawar. He asked for alms until a decade ago, then occasionally found work on farms or construction sites.  "I have seen sorrow all my life," he says. "The police catch us anytime. It is still happening and it used to happen in my grandfather's time too. Nothing has changed. If our children won't study, they will also end up like us." His son Shardesh and daughter Shardesha were in Class 7 and 10 in the Prashnachinh Adivasi Ashramshala when I met the family a few months ago.
A 2017 survey by the Council for Social Development, Hyderabad, on Denotified, Nomadic, and Semi-Nomadic Tribes in 25 districts of Maharashtra, says in 38 per cent of 199 Pardhi households (the survey covered 1,944 households and 11 communities) children dropped out after primary school due to discrimination, language barriers, marriage and low awareness about the importance of education. The survey also says that 2 per cent respondents reported they are made to sit at the back bench and 4 per cent said the teachers' attitude was offensive.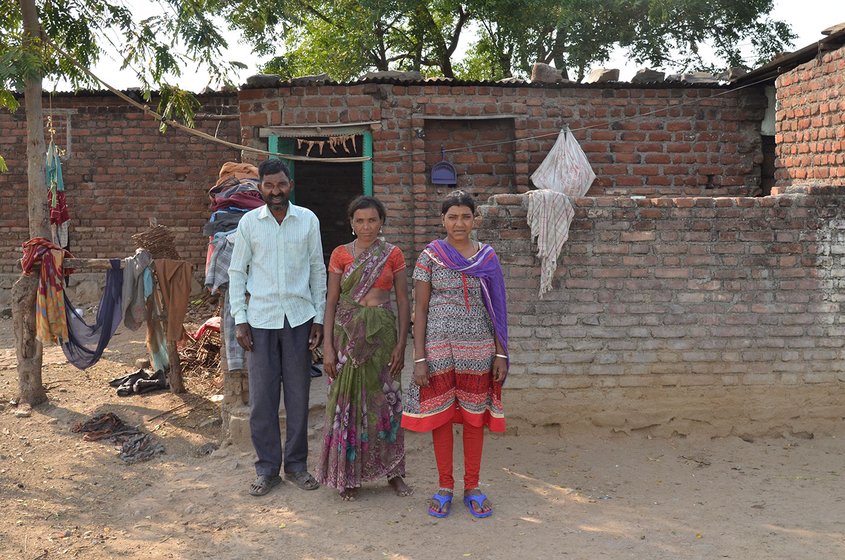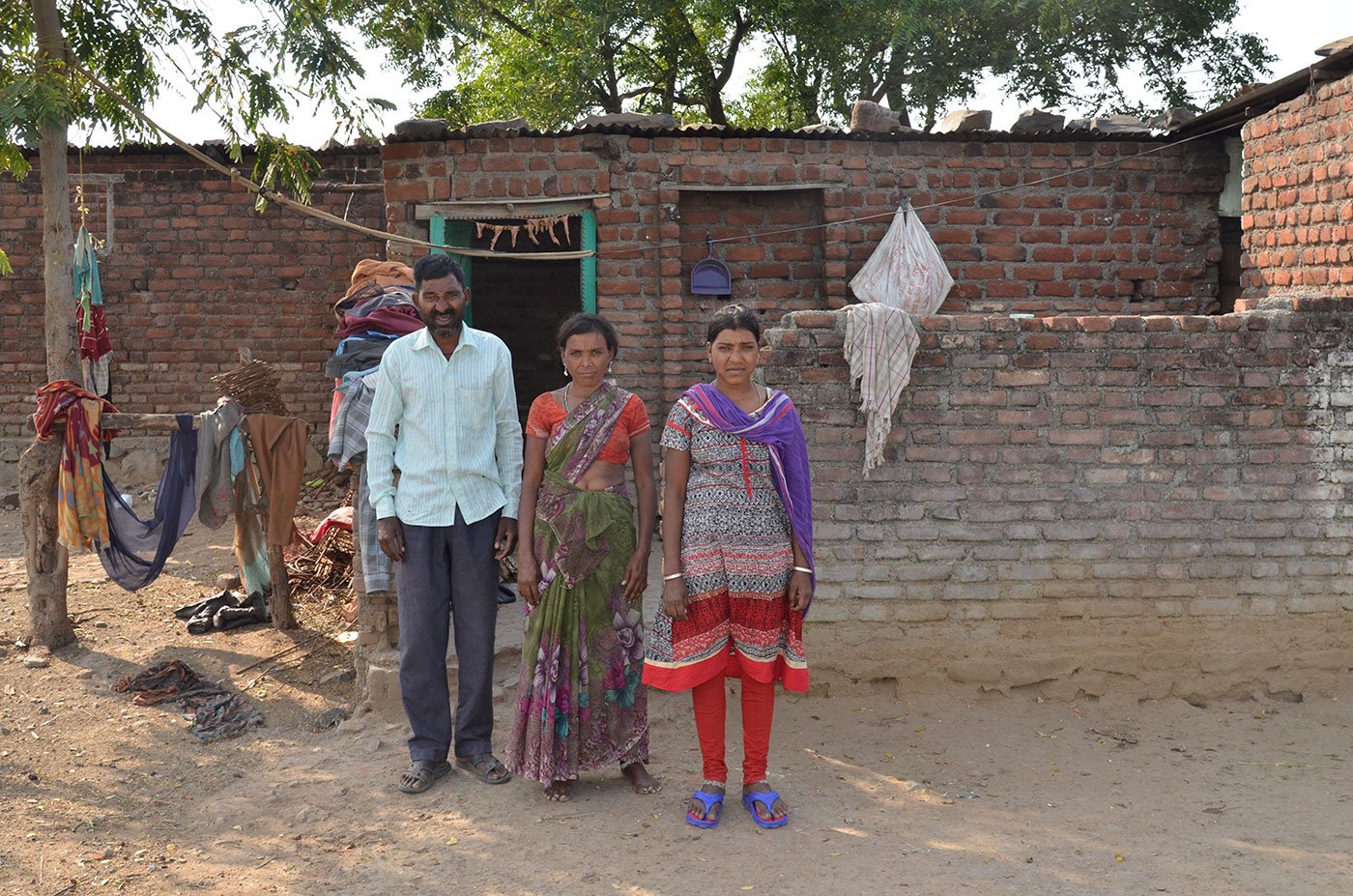 PHOTO • Jyoti Shinoli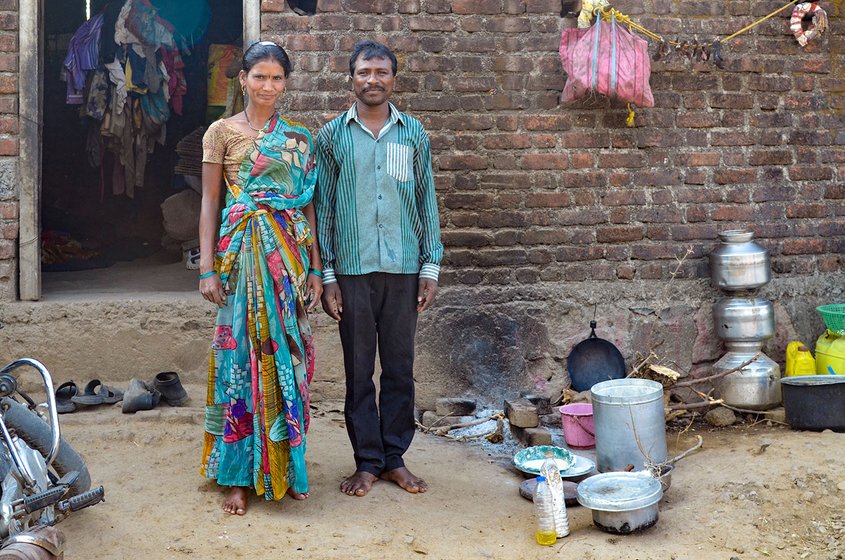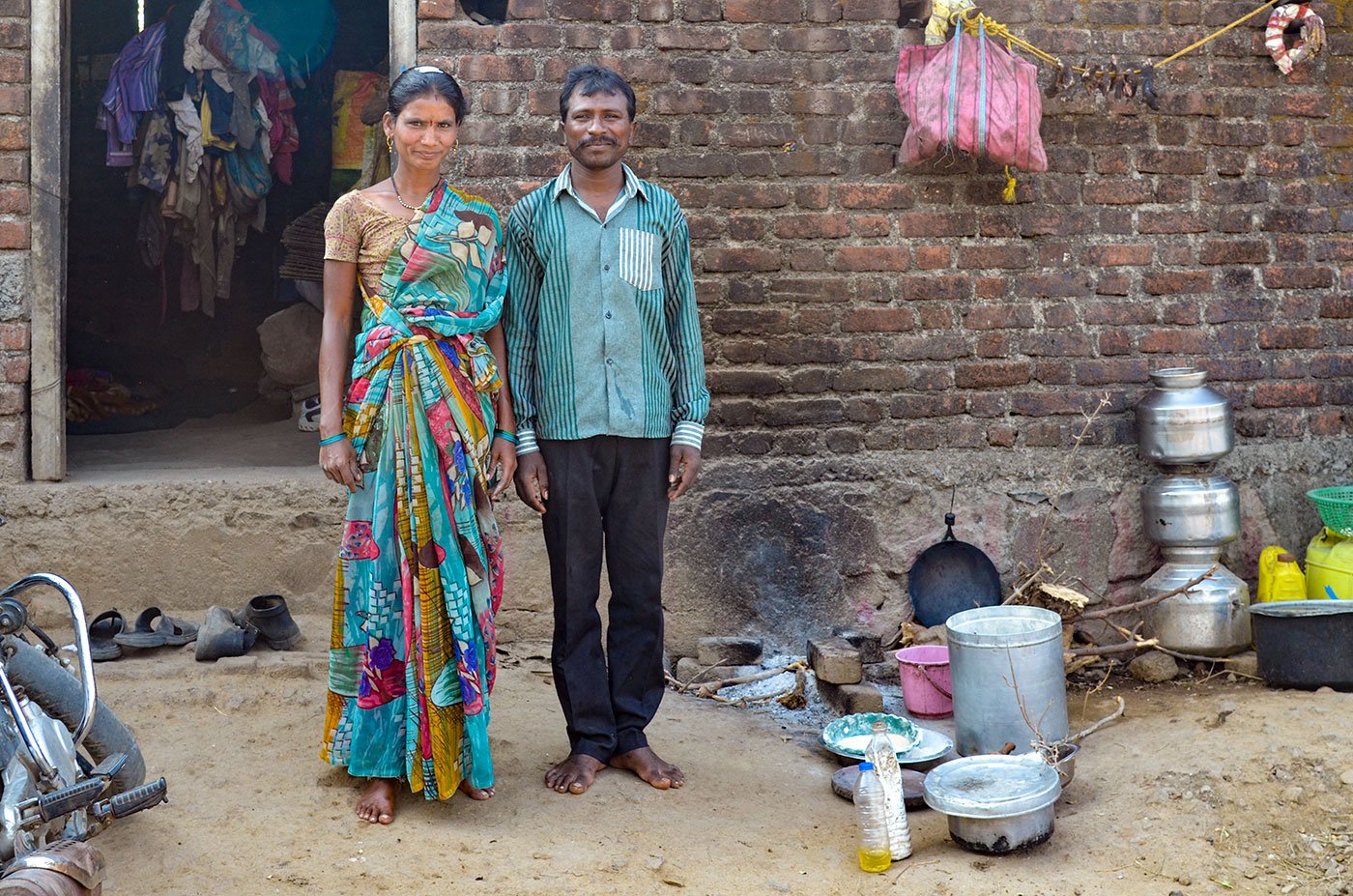 PHOTO • Jyoti Shinoli
"The zilla parishad [ZP] school teachers don't treat our children well," Surnita says.  Jibesh Pawar, 14 years old, agrees. "I don't want to go back to the ZP school," he says. Until 2014, Jibesh was studying in Class 5 at the ZP school in Ajanti village in Ner taluka of Yavatmal district. "The teachers used to ask me to sit at the back. Other children teased me, calling me Pardhi, Pardhi… The villagers say we are dirty. Our huts are outside the village. My mother begs. I also used to go. My father died two years ago."
Then Jibesh enrolled in the Prashnachinh Adivasi Ashramshala, around 17 kilometres from his settlement. There is no water and electricity in his settlement, so he stays at the hostel. "I want to study and join the Army. I don't want my mother to beg," he says. He has just completed Class 9, but his excitement about reaching the crucial Class 10 has now turned into worry.
Kiran Chavan, 14, was also studying in the ZP school in Jamade village in Sakri taluka of Dhule district. His parents cultivate paddy and jowar on two acres of forest land.  "The villagers are opposed to us attending the ZP school," he says. "My friends quit because other children used to tease them. Our huts are outside the village. When you enter the village they say, 'Beware, the thieves are here'. I don't why they say this. I am not a thief. The police often come to our settlement and catch anyone for theft, murder. That's why I want to be a policeman. I will not trouble innocents."
Knowing all this too well, Matin Bhosale decided to build a school just for Phanse Pardhi children. He started in 2012 with 85 children after selling his family's six goats and using his savings as a teacher. The school then was a thatched hut on the three-acre land given by his uncle Shankuli Bhosale, now 76. Matin says his uncle bought the land for Rs. 200 in 1970 after saving for years. He used to hunt monitor lizards, pheasants, rabbits and wild pigs and sell them in the markets of Amravati city.
'All these are the Pardhis' questions – with no answers. So this is the Prashnachinh [Question Mark] Adivasi Ashramshala'

Matin's wife Seema helps run the school, and their three kids study at the same school along with children from Phanse Pardhi settlements in Amravati, Beed, Dhule, Washim and Yavatmal districts. The education offered here is free of all costs for the kids and their families. Of the school's eight teachers, four are from the Phanse Pardhi community.
"The Phanse Pardhis don't have a permanent home and no [secure] source of income. They keep travelling. They beg, hunt or do bit of labour if they get any work," Matin says. His father used to hunt, his mother would go begging. "Often, the children beg with their parents at railway stations and bus stops. They remain deprived of an education and decent jobs. Education and stability are important for their development. But Pardhi children are still not really accepted in ZP schools. Where is the right to education for them? And the Maharashtra government has not provided enough residential schools [for Adivasi children]. How will they progress then? All these are the Pardhis' questions – with no answers. So this is the 'Prashnachinh [Question Mark] Adivasi Ashramshala."
Despite the hurdles faced by his family and community, Matin managed to complete a diploma in Education from the Government Teacher's College in Amravati in 2009. For two years he worked as a teacher in the zilla parishad school in Mangrul Chawala, the village outside which he used to live with his parents and sisters in a hut. He had studied in the same school, and didn't drop out, he says, because of a supportive teacher.
In 1991, when Matin was around eight years old, he recalls, "We used to beg or hunt pheasants and rabbits. Or me and my three elder sisters used to eat stale food thrown away by the villagers. Once we had eaten [almost] nothing for 5-6 days. My father couldn't see us starving. So he plucked 2-3 cobs of jowar from somebody's farm. My mother made jowari ambil [curry] and fed us. Later, the farm owner filed an FIR [first information report at the police station] against my father saying he stole five quintals of jowar . His anguished heart made him steal, but there is a big difference between 2-3 cobs and five quintals."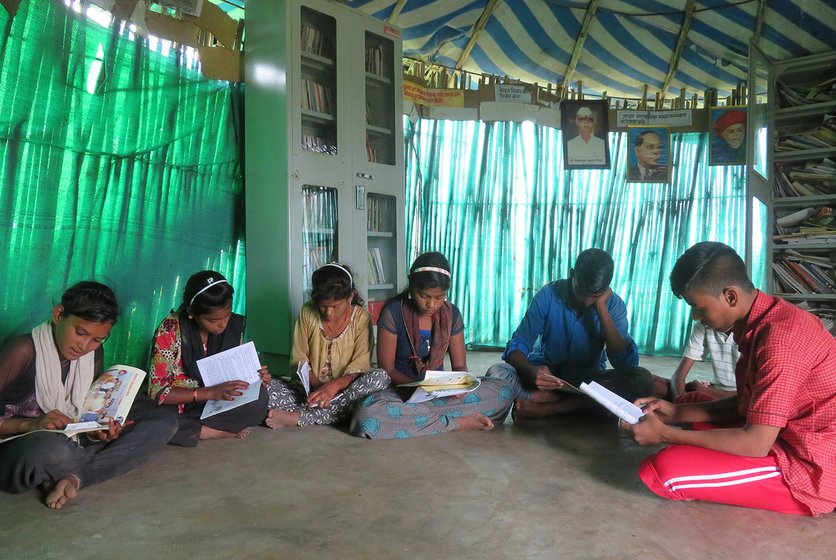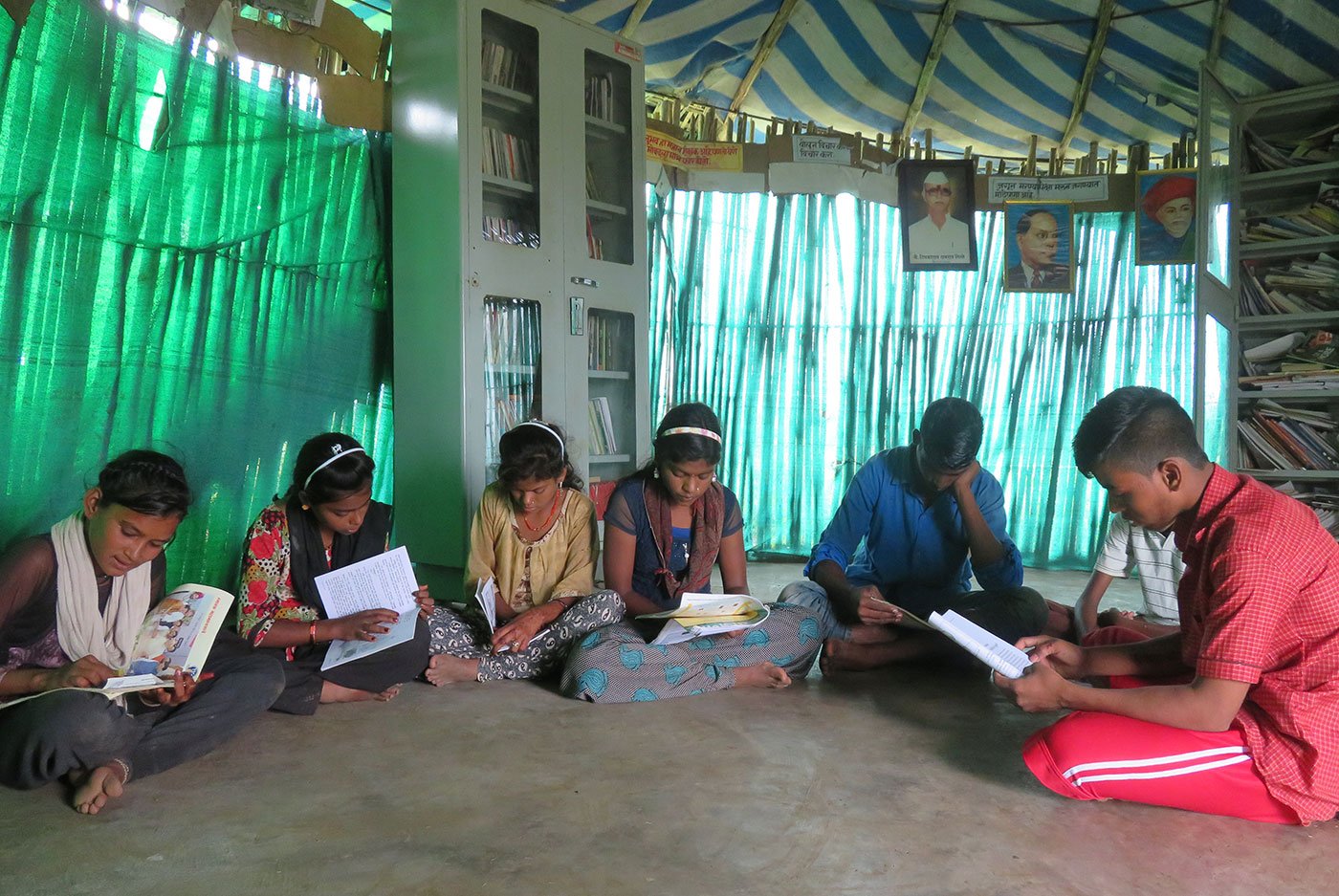 PHOTO • Jyoti Shinoli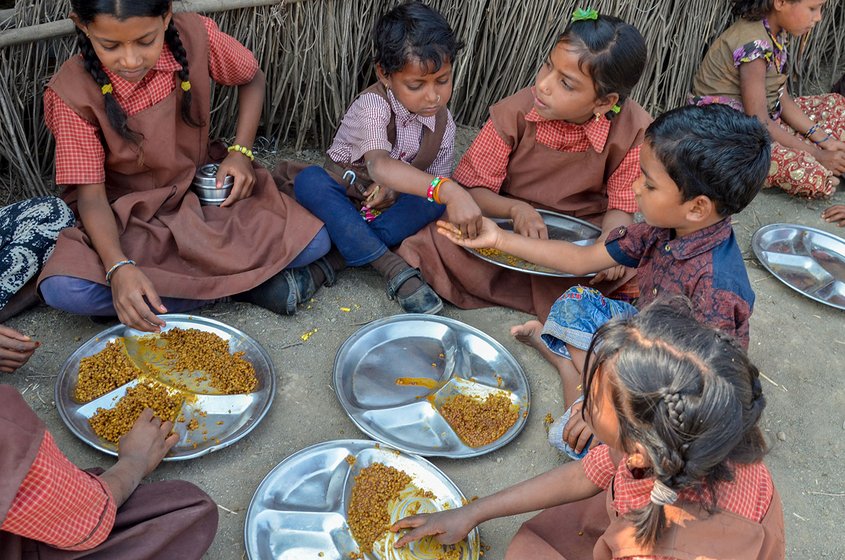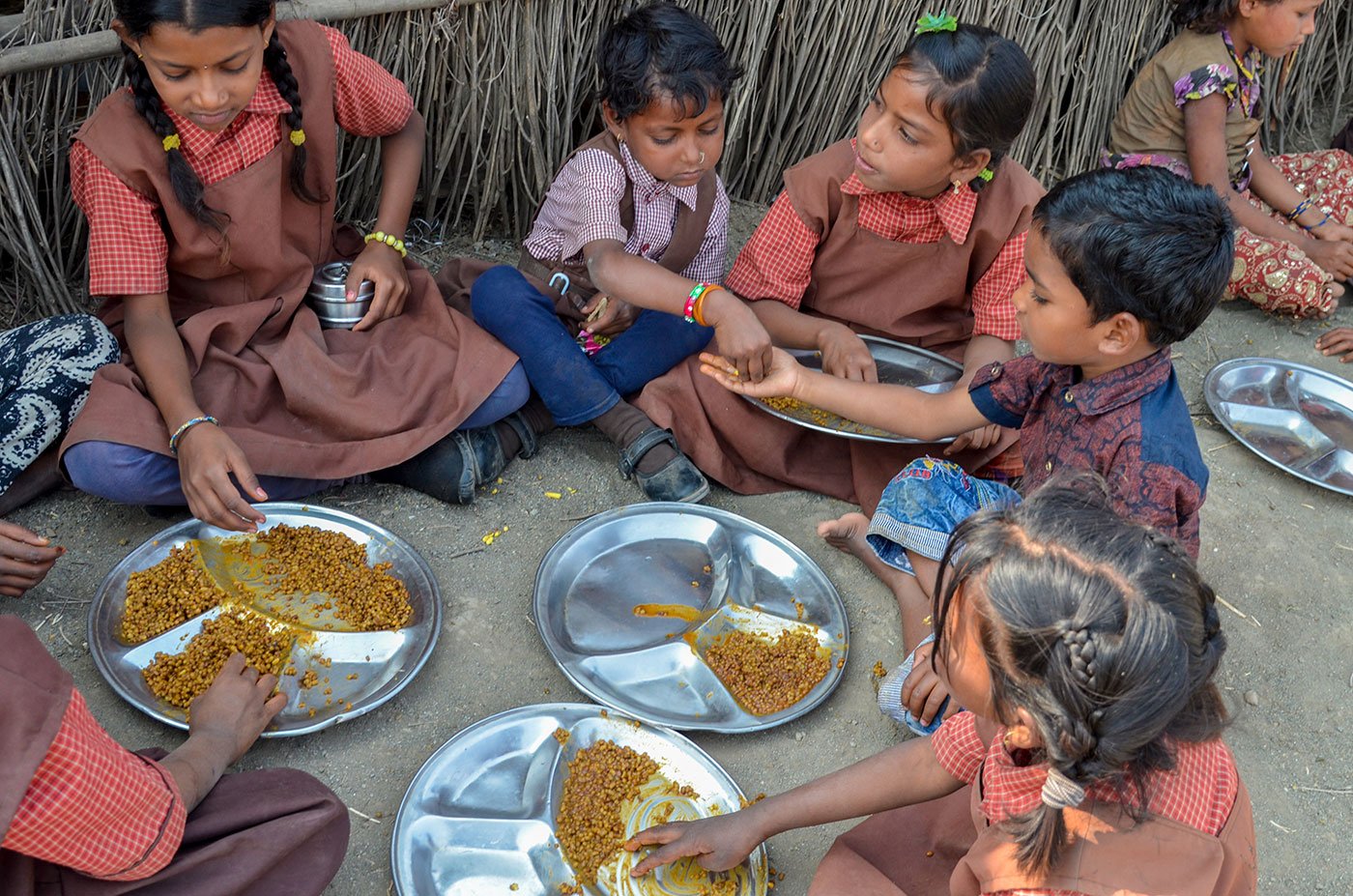 PHOTO • Yogesh Pawar
His father Shankar Bhosale was jailed in Amravati for three months. Seeing people there in uniforms, Matin says, his father realised the power of education and knowledge. "In jail he used to urge Pardhi inmates to educate their children," he says, and recalls his father words: 'If misuse of knowledge and education can trouble the innocent, then good use can protect them too'.
Matin followed his father's words and became a teacher. And then he established the school. But seven years later, the school is still struggling for government recognition and grants, despite numerous letters to the state's School Education Department  and Tribal Development Department.
In 2015, Matin sent a complaint to the Maharashtra State Commission for Protection of Child Rights about not being given official recognition and grants. The Commission reminded the state of its obligation under the Right to Education Act (RTE, 2009) to ensure that children from disadvantaged groups are not prevented from completing elementary education. It said the complainant has a right to run the school and get recognition provided that the school has the requisite infrastructure and facilities as prescribed by the law.
"It is the government's responsibility to ensure the primary education of each and every child, irrespective of caste, class and religion. This is what the RTE clearly says. If the government had sincerely followed this, this 'question mark' would not have arisen. Then when someone establishes such a school through their own efforts, the government does not even grant it recognition," says Bhau Chaskar, an education activist based in Ahmednagar.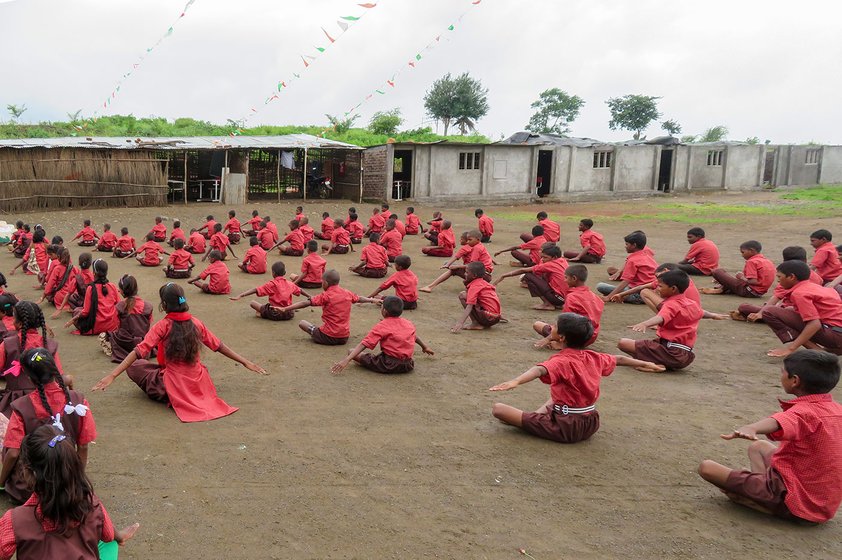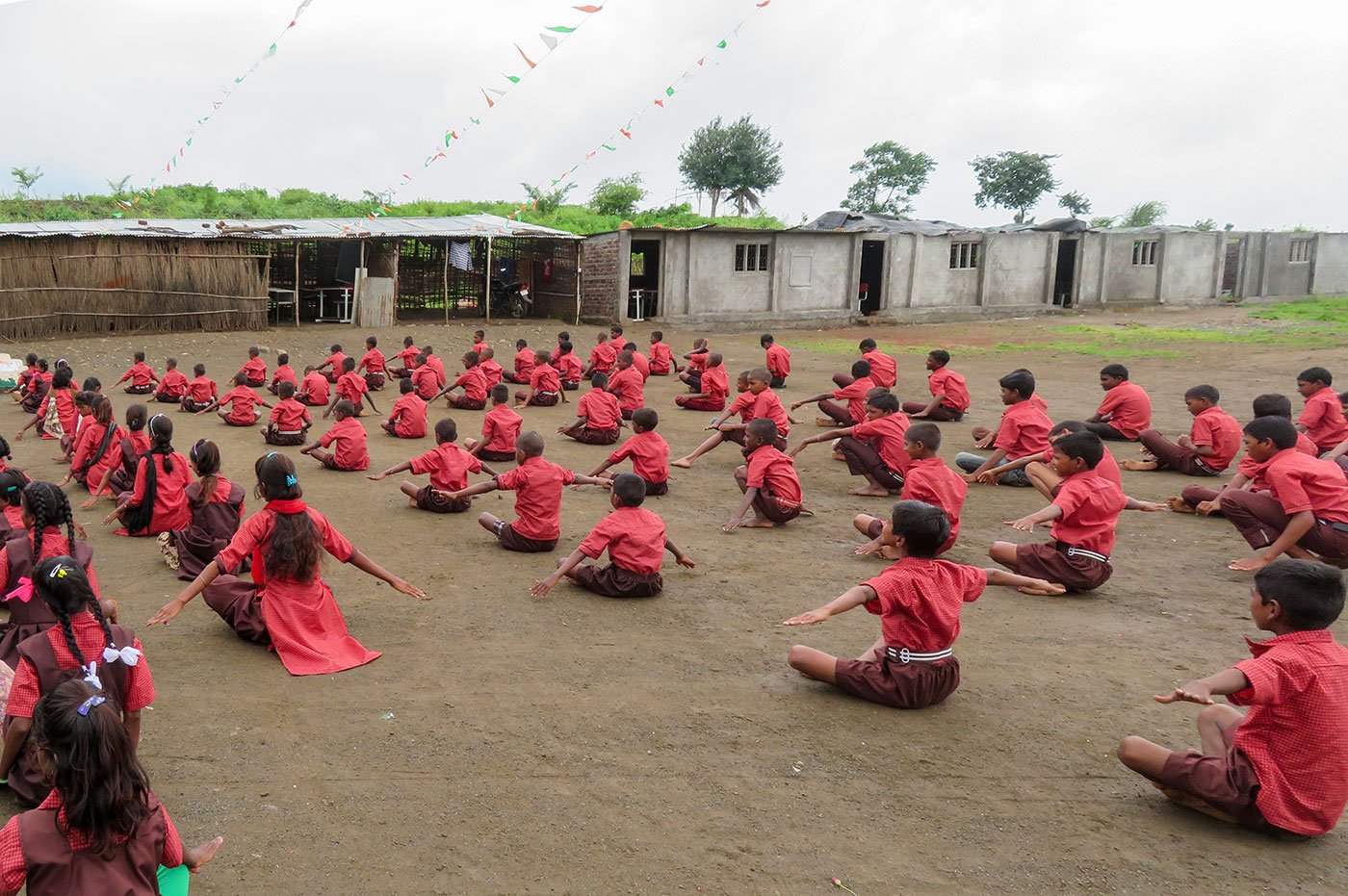 PHOTO • Yogesh Pawar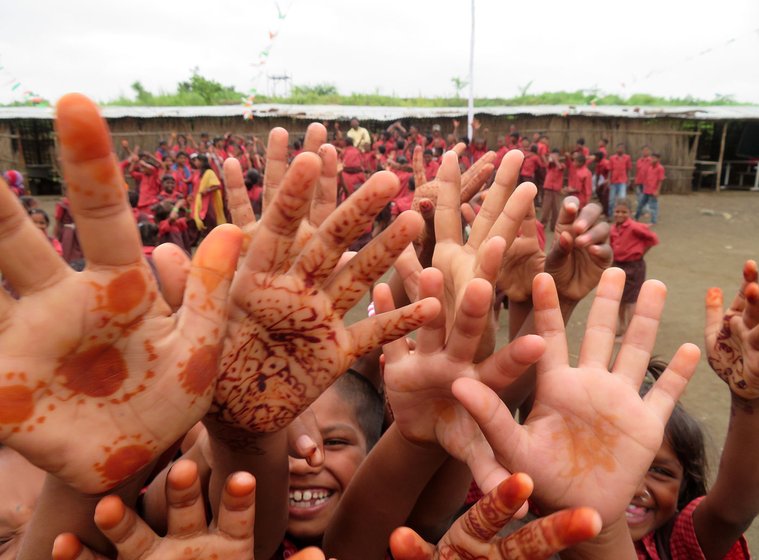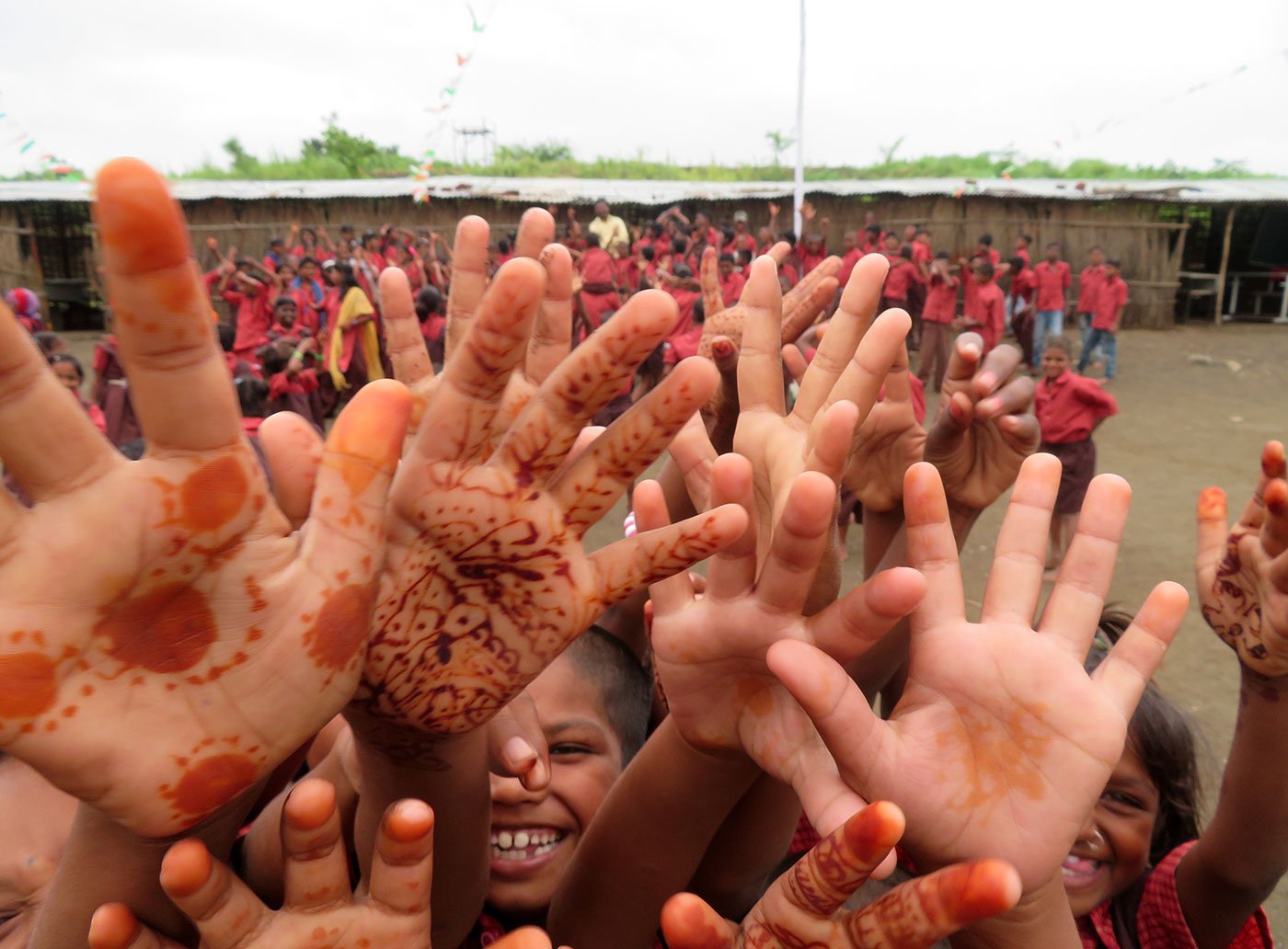 PHOTO • Jyoti Shinoli
"It's been four years since that order, but neither the tribal department nor education department have taken any steps," says Prakash Pawar, the principal of Question Mark school, who too is from the Phanse Pardhi community. Through grants, the state government can fund science and computer labs, library rooms, toilets, drinking water facilities, hostels, teachers' salaries and more. "All these we manage with public donations," Pawar adds.
The donations come in the form of notebooks from a few private schools, as well as books (for the library), rations and money from individuals and organisations in the state that help cover expenses, including the salary of the eight teachers (Rs 3,000 a month) and 15 helpers (Rs. 2,000 a month).
Despite the challenges, around 50 children have completed Class 10 at the Question Mark school and are studying further in the towns and cities of Maharashtra. The school's girls' kabaddi team has won taluka and state-level competitions in 2017 and 2018.
But now the Prosperity Highway is in the way of their dreams. "I don't know how we will start this year's batch. Maybe we will take classes in the hostel rooms," says Pawar.  "We have suffered 'questions' of discrimination, rejection, a lack of basic facilities. When we found 'education' as an answer, you [the Maharashtra government] have placed this new 'question' of displacement before us. Why?" Matin asks, angrily. "I will take all the children to Azad Maidan [in south Mumbai] for a hunger strike. We will not move till we get a written promise of rehabilitation."