The huts of Janu Waghe and 15 other Katkari Adivasis – listed as a Particularly Vulnerable Tribal Group in Maharashtra – are about to be overwhelmed by prosperity. Only it won't be their own. Their little hamlet in Thane district could soon be flattened by the state government's Samruddhi Mahamarg ('Prosperity Highway').
"This is my home. I have spent all my life here. My father and grandfather lived here. Now they [the Maharashtra government] are asking us to leave. We have not even been given any [written] notice," says 42-year-old Janu. "Where will we go from here? Where will we build our home?"
His hut is located around half a kilometre from Chiradpada village in Bhivandi taluka . It's a small room partitioned by a bamboo wall, and on the other side is a cooking area with an earthen stove. The floor is plastered with dung, the thatched walls rest on wooden poles.
Janu catches fish from 8 a.m. to 3 p.m. every alternate day. His wife Vasanti walks across a narrow, uneven path for six kilometres to the market in Padagha town to sell the fish, carrying a basket weighing 5-6 kilos on her head. They earn Rs. 400 a day for around 15 days of the month for their family of four. In between, when work is available, both Janu and Vasanti do daily wage labour on farms around Chiradpada, earning Rs. 250 a day for plucking cucumber, brinjal, chillis and other vegetables.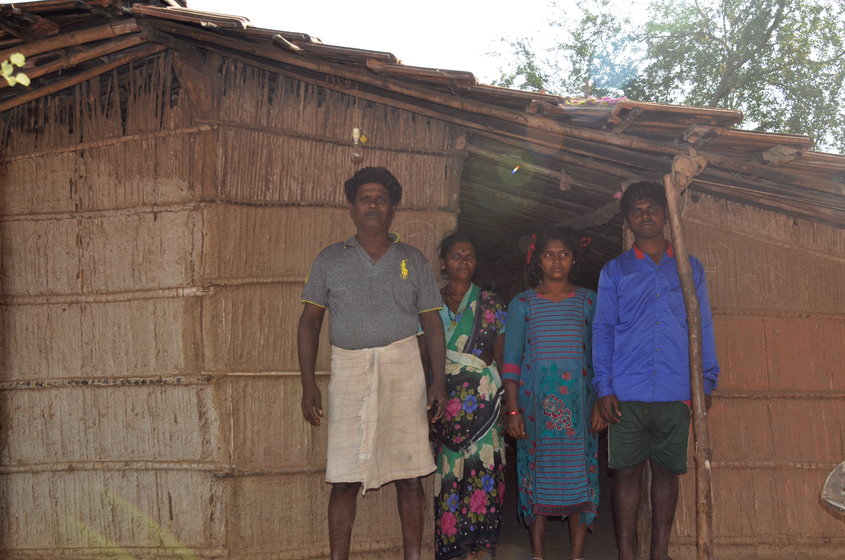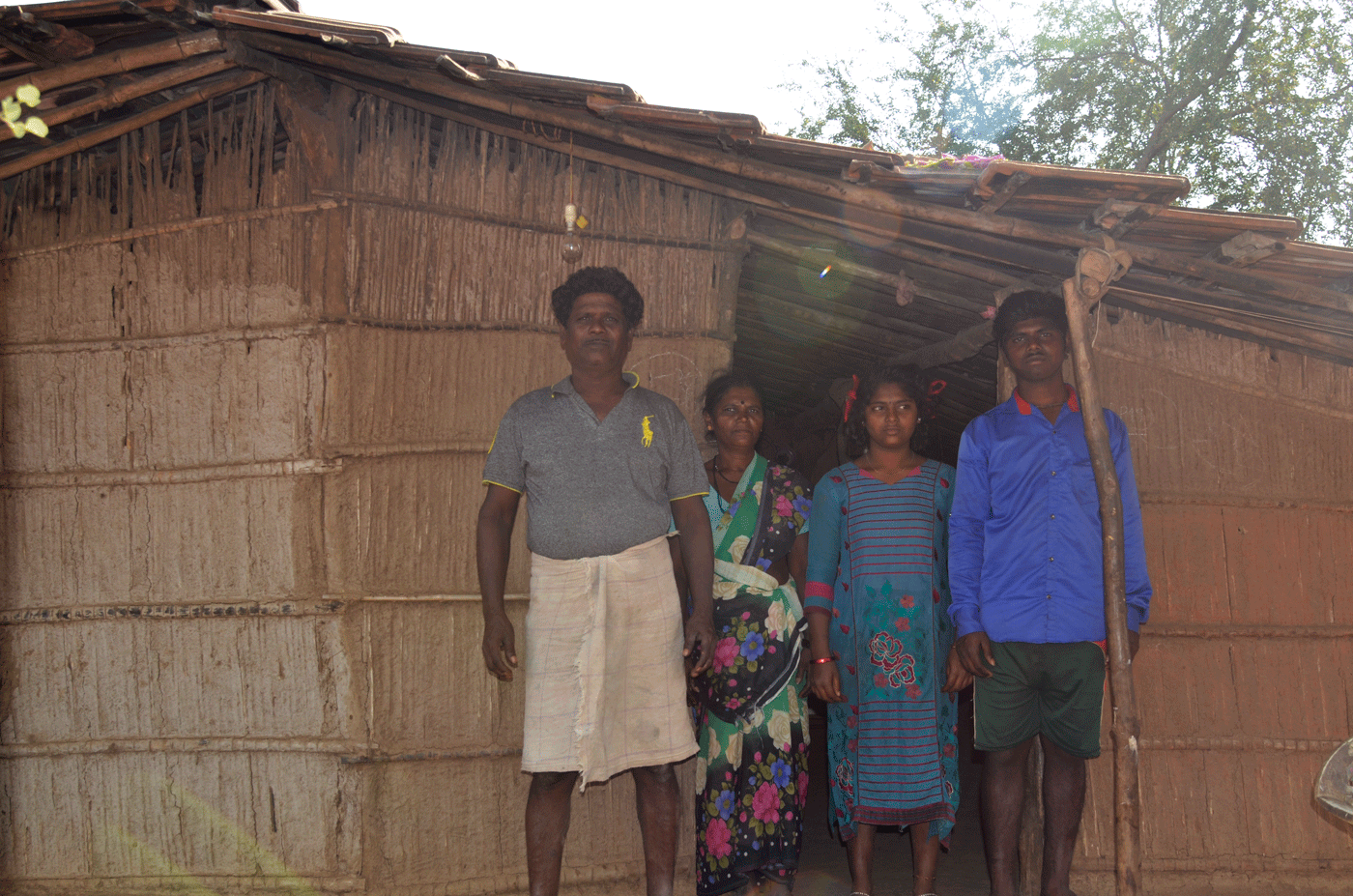 PHOTO • Jyoti Shinoli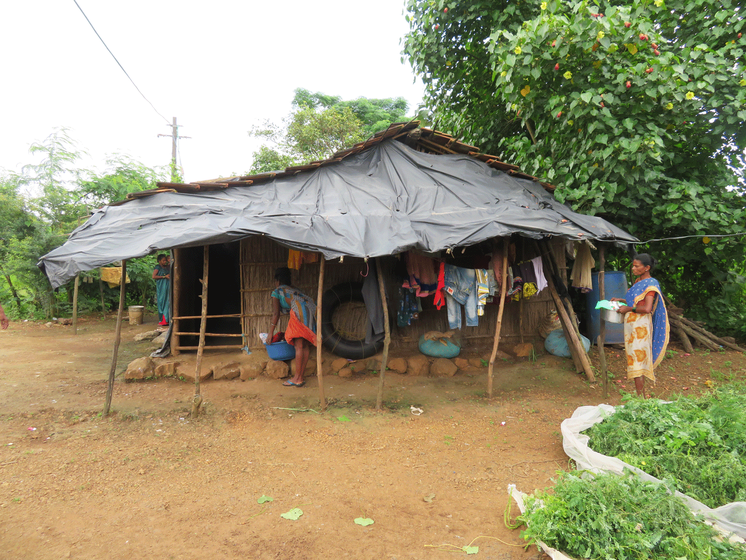 PHOTO • Jyoti Shinoli
The four huts in this hamlet are listed by the Public Works Department as being on survey number 210/85. But the land on which the modest structures stand will soon be acquired for building a 60-metre wide viaduct. That much is clear from the Environmental Impact Assessment (EIA) report submitted to the central government by the Maharashtra State Road Development Corporation (MSRDC) in June 2018.

The 400-metre long viaduct will cross Chiradpada and continue to the east of the Bhatsa river. It will not only take away the homes of Janu and his neighbours, but also their traditional livelihood of fishing.
When officials from the collector's office came here for a survey in 2018, the four families were verbally told they will have to shift to make way for the 700-kilometre long Mahamarg.  The families have not yet received any written notice. The 'prosperity' highway will connect 392 villages in 26 talukas , says the Maharashtra Samruddhi Mahamarg website , and will require nearly 25,000 acres.
This includes land in 41 villages of Thane district spread over 778 hectares, impacting 3,706 farmers, says an October 2018 'Joint Measurement Survey/Land Procurement' document of  the Samruddhi project.
To help the land acquisition process, the state has made amendments to the Maharashtra Highways Act, 1955, and added state-specific amendments to the Right to Fair Compensation and Transparency in Land Acquisition, Rehabilitation and Resettlement Act, 2013 . Among the most important changes is the elimination of a social impact assessment.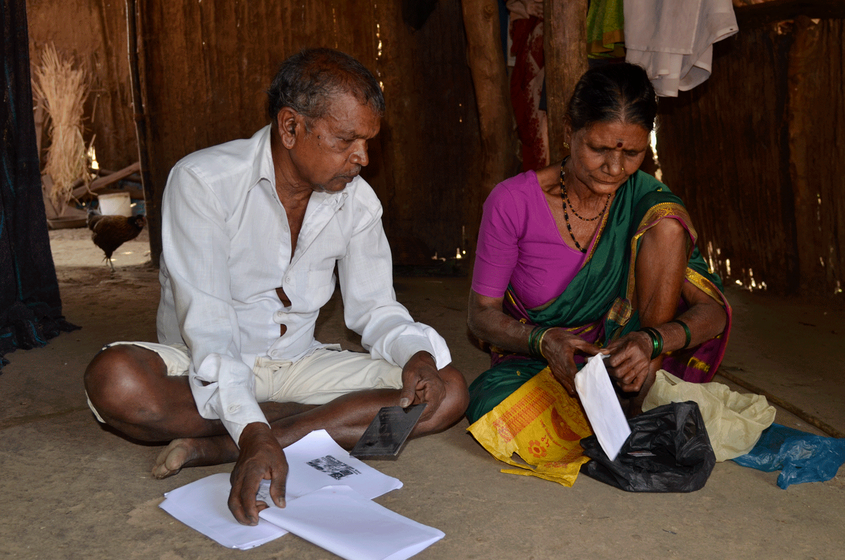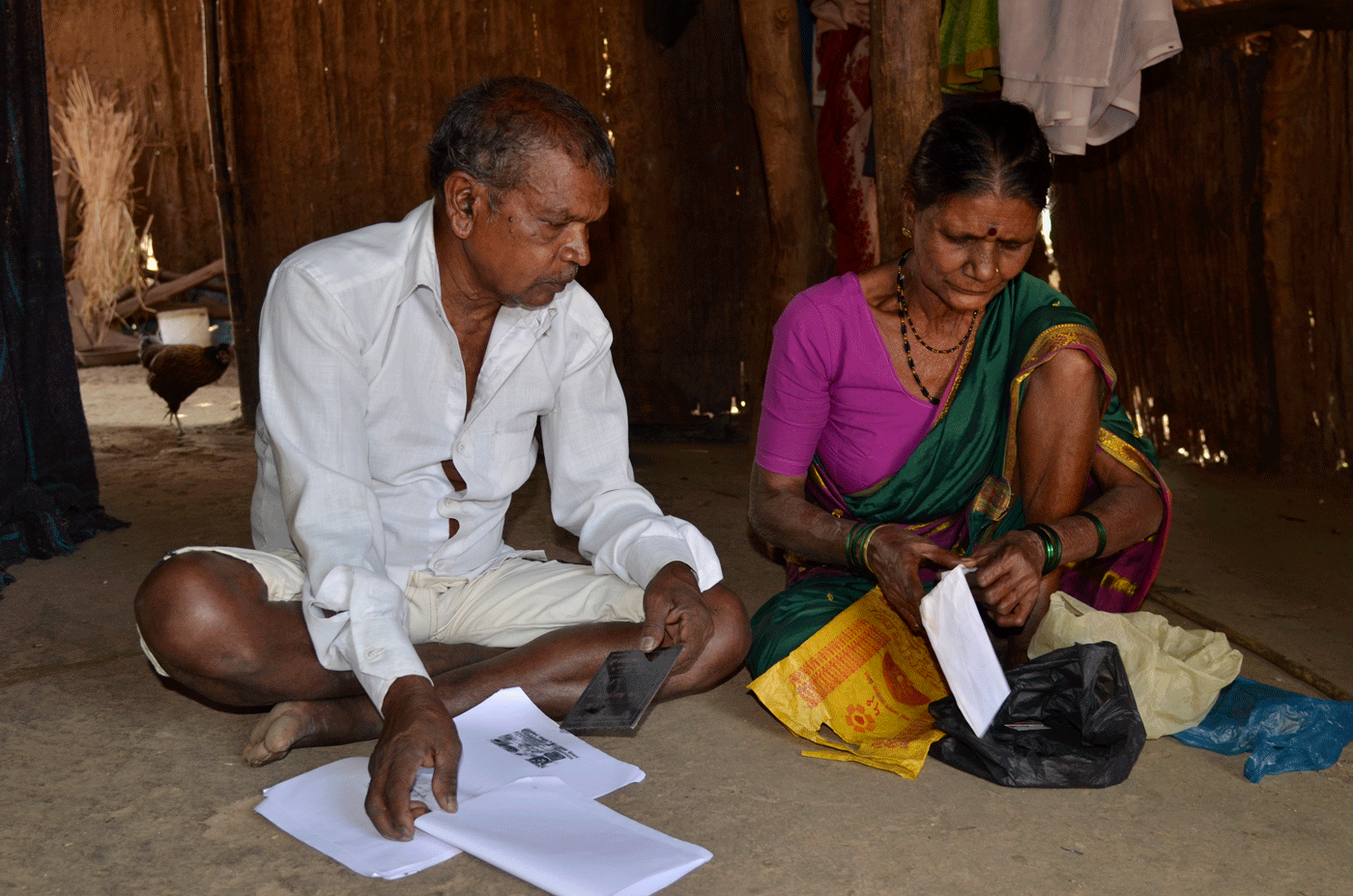 PHOTO • Jyoti Shinoli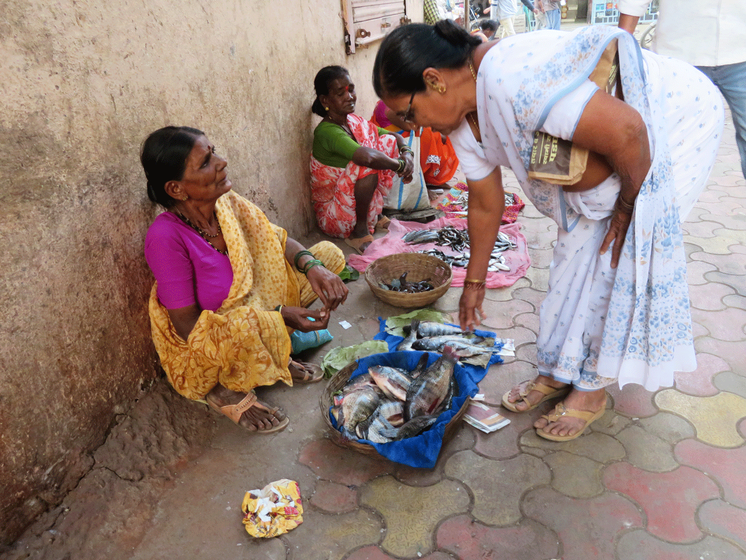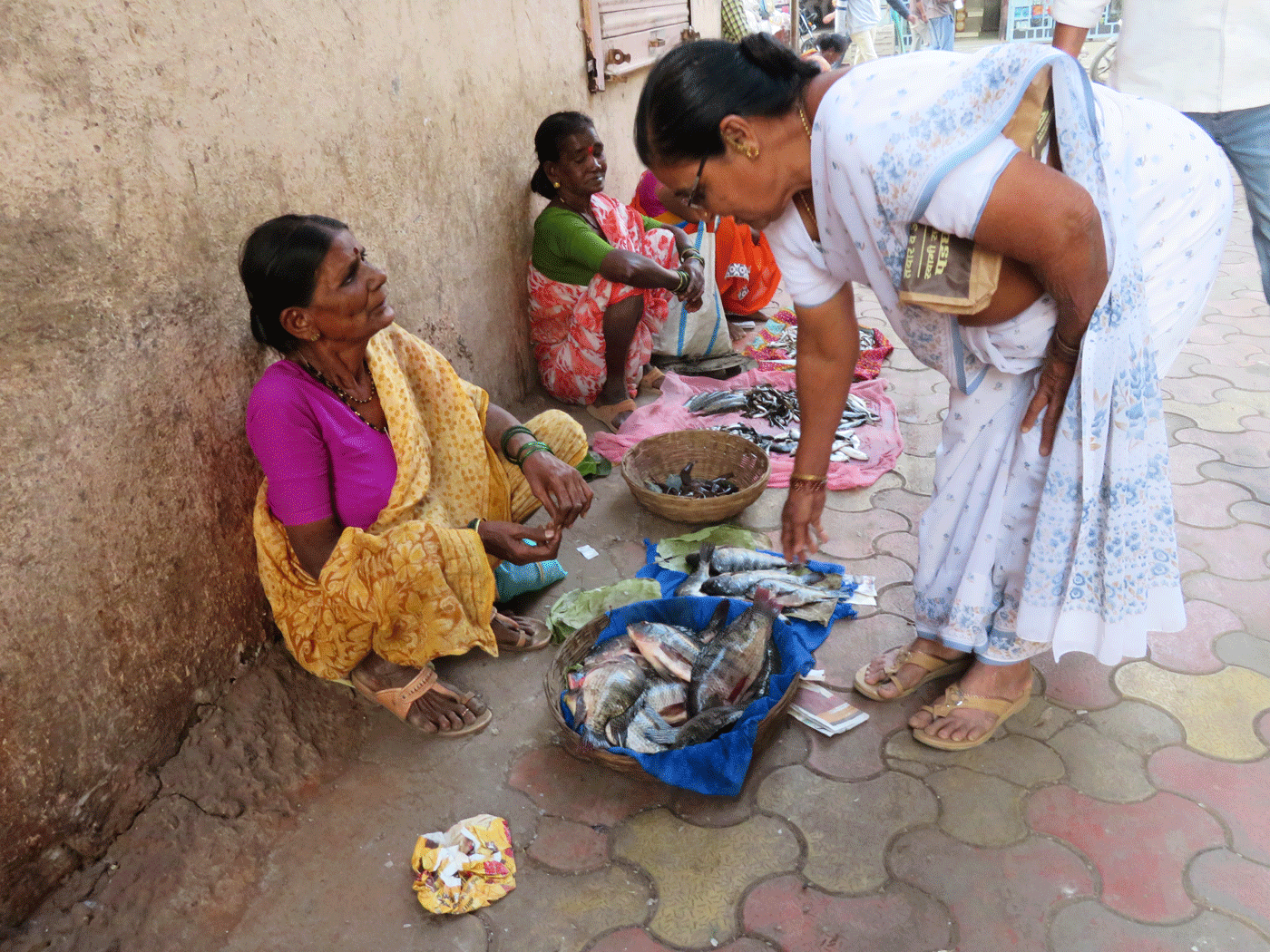 PHOTO • Jyoti Shinoli
In December 2018, Kashinath participated in a one-day hunger strike outside the Thane collector's office along with 15 farmers from Dalkhan village in Shahapur taluka and Ushid and Phalegaon villages in Kalyan taluka , in Thane district. "The collector promised to resolve the issue in 15 days. But nothing happened," Kashinath says. They are still waiting for a written notice and for some idea of the amount they will receive as compensation.

Kashinath and his wife Dhrupada depend on fishing too. Their three children are married – two daughters live in other villages, their son stays with his family in the main Chiradpada village. Looking at her dilapidated hut, Dhrupada says, "We never earned enough to repair it, just enough to fill our stomachs. The river is nearby, so the house gets flooded during the rainy season. But whatever it is, at least we have a roof over our heads." She shows me receipts – the families here pay an annual house tax – between Rs. 258 and Rs. 350 – to the gram panchayat (village governing council). "This ghar patti ,  the light bill… we have been paying all this regularly. Are we still not eligible to get another house?"
Chiradpada, a village of around 1,325 people, had opposed the Mahamarg in a gram sabha (village assembly) resolution  of April 2017.  But that year, the governor of Maharashtra reportedly issued a notification saying a gram sabha's resolution  is not needed to acquire land for vital projects.
Farmers and activists have widely criticised this move. " Gram sabhas opposed the project in 41 villages in Thane district. The government amended the Land Acquisition Act and waived the need for gram sabha permission, which is against farmers' and tribal rights," says Baban Harne, Thane-based activist and convener of the Samruddhi Mahamarg Shetkari Sangharsh Samiti. "The state has set aside the rehabilitation process and is using a 'take this money and leave' approach."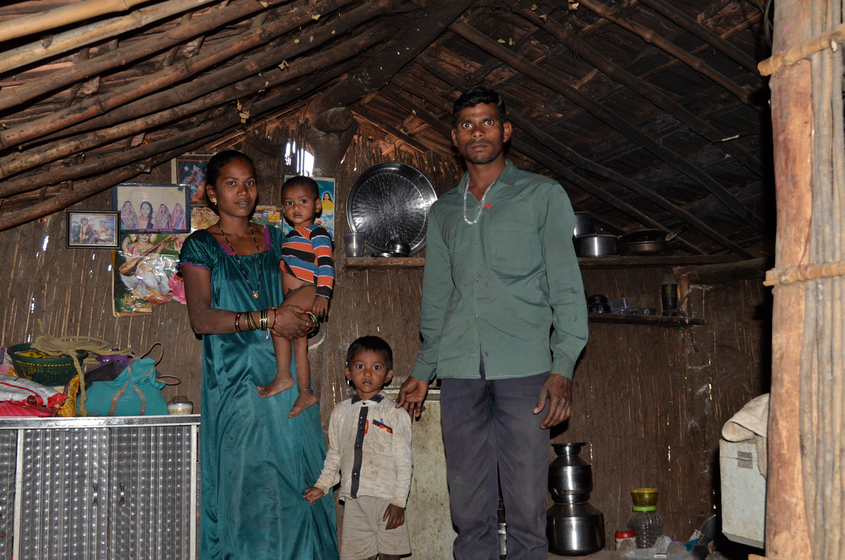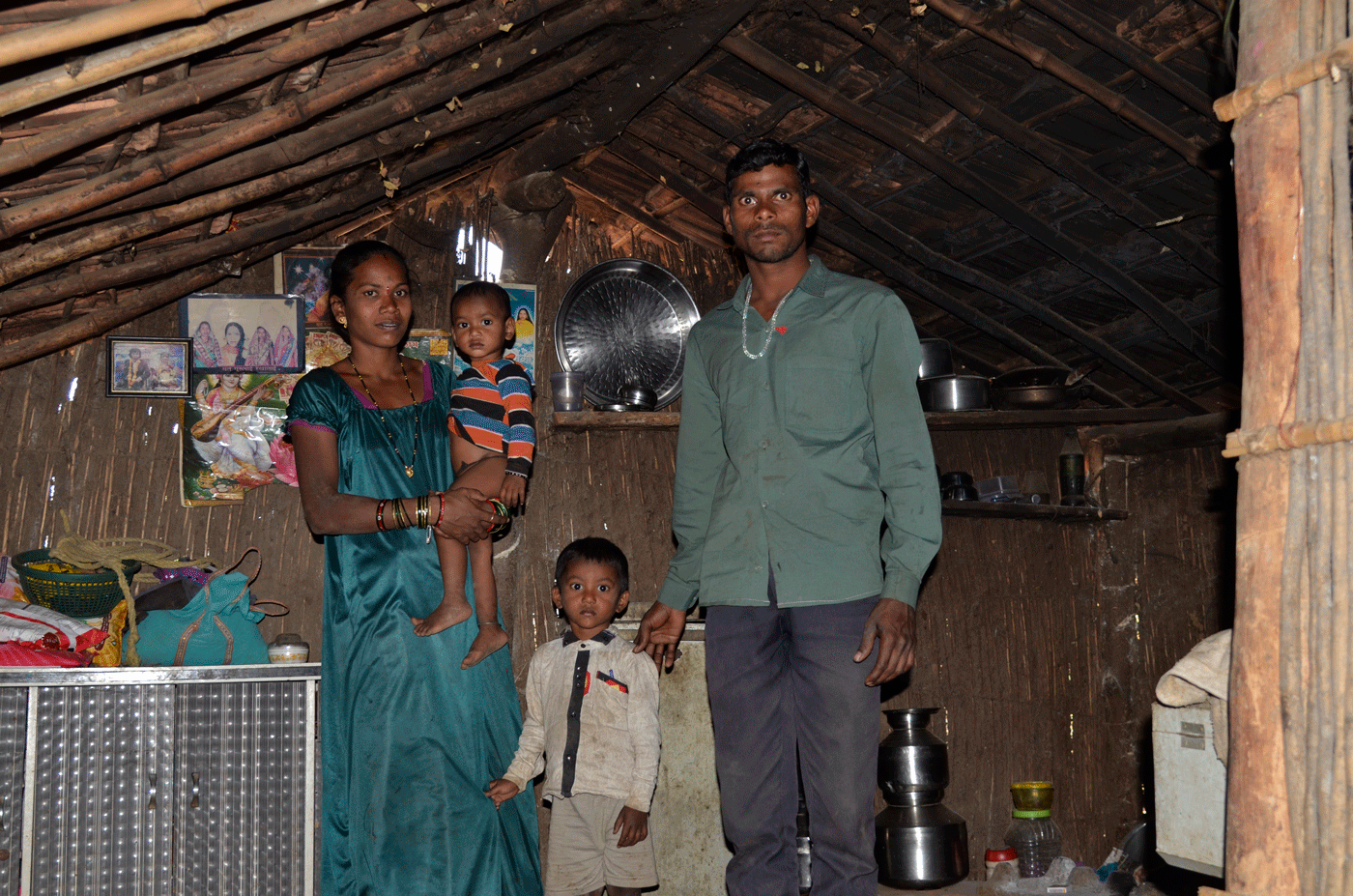 PHOTO • Jyoti Shinoli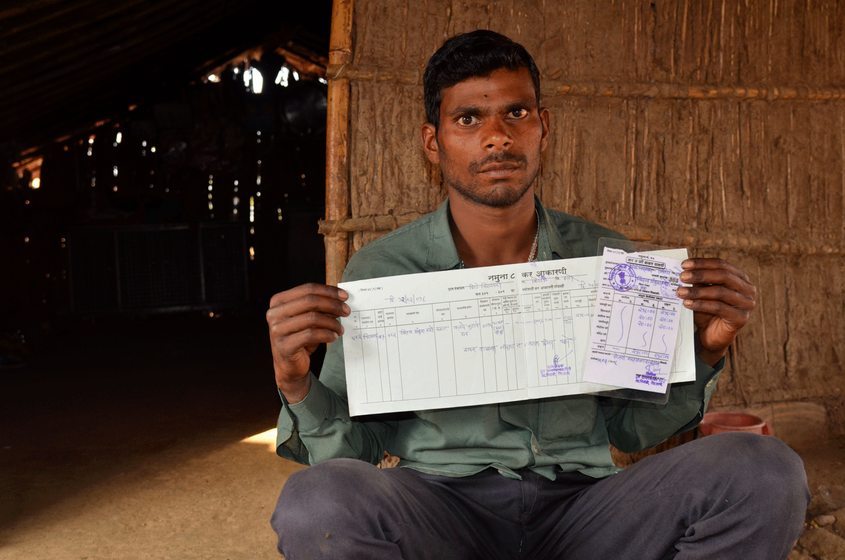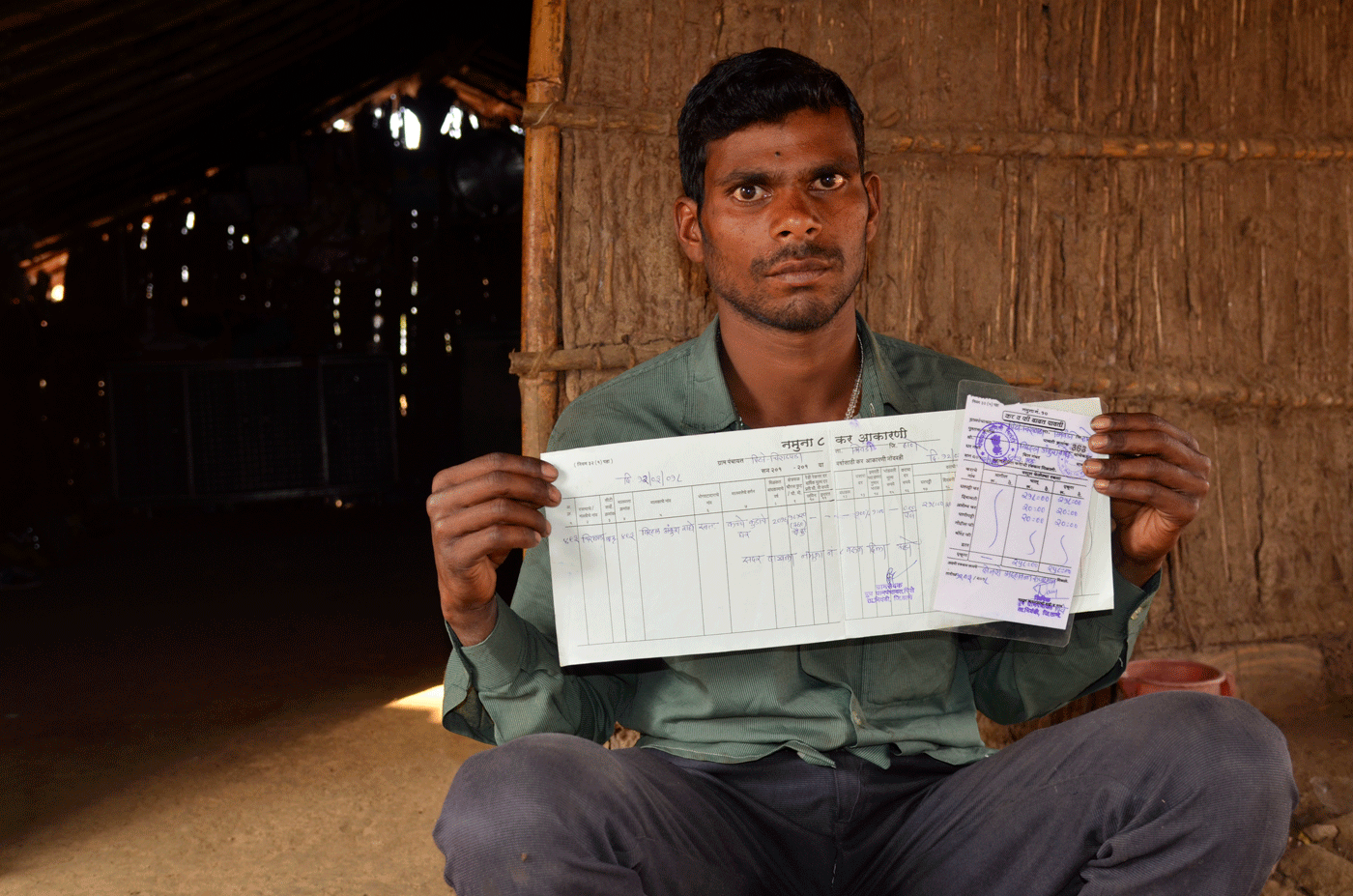 PHOTO • Jyoti Shinoli
In Chiradpada village, 14 hectares of land is to be acquired for the highway, the EIA report says. In return, landowners will be given Rs. 1.98 crores per hectare (1 hectare is 2.47 acres).  This, says MSRDC's Revati Gaikar, is a compensation formula of five times the market price. But farmers who refuse to give their land will receive 25 per cent less for the farmland, she adds.

"The government promised they won't force farmers to give up their land. But in some cases they have threatened them with low compensation if they resist, in other instances tempted them with higher amounts," says Kapil Dhamne, who will lose his two-acre farmland and two-storey house. "In my case, the land acquisition officer said first give your farmland, only then you will get the money for your house. But I refused to give my land and now they are acquiring it forcefully [that is, without consent]."  In January 2019, after two years of visits to the collector's office and numerous applications, Dhamne managed to get Rs. 90 lakhs as compensation for his house. He is uncertain how much compensation he will receive for his farmland.
Another farmer in Chiradpada, Haribhau Dhamne, who filed an objection in the collector's office and refused to give up his farmland, says. "There are more than 10 names on our 7/12 [the saat/bara document is an extract from the revenue department's land register]. But the acquisition officer took the consent of two-three members and completed the sale deed [to MSRDC]. This is cheating farmers."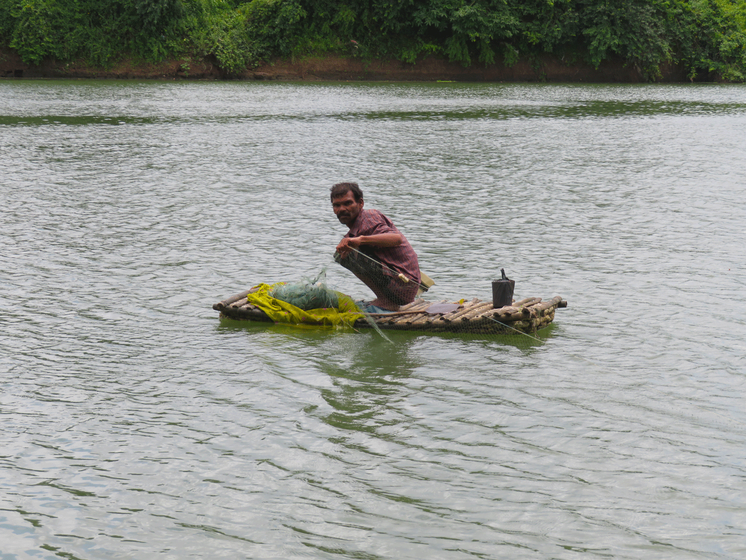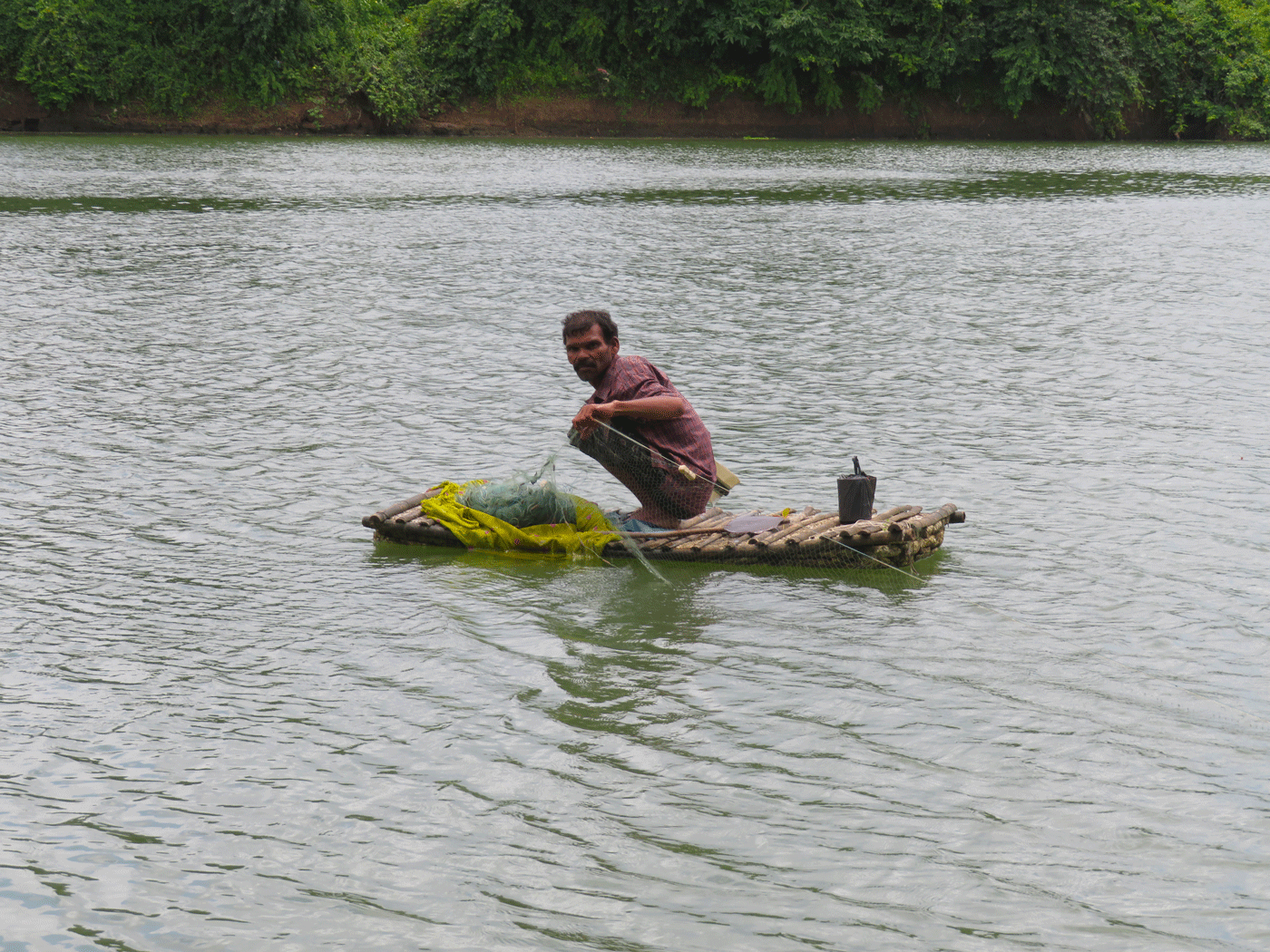 PHOTO • Jyoti Shinoli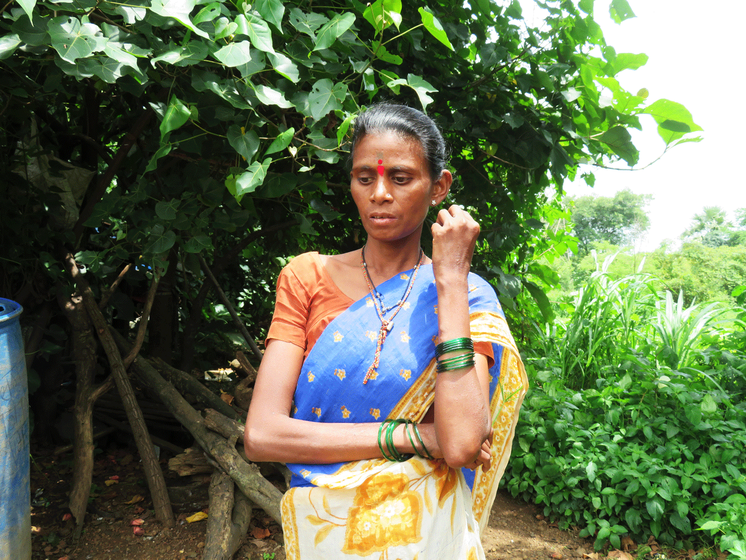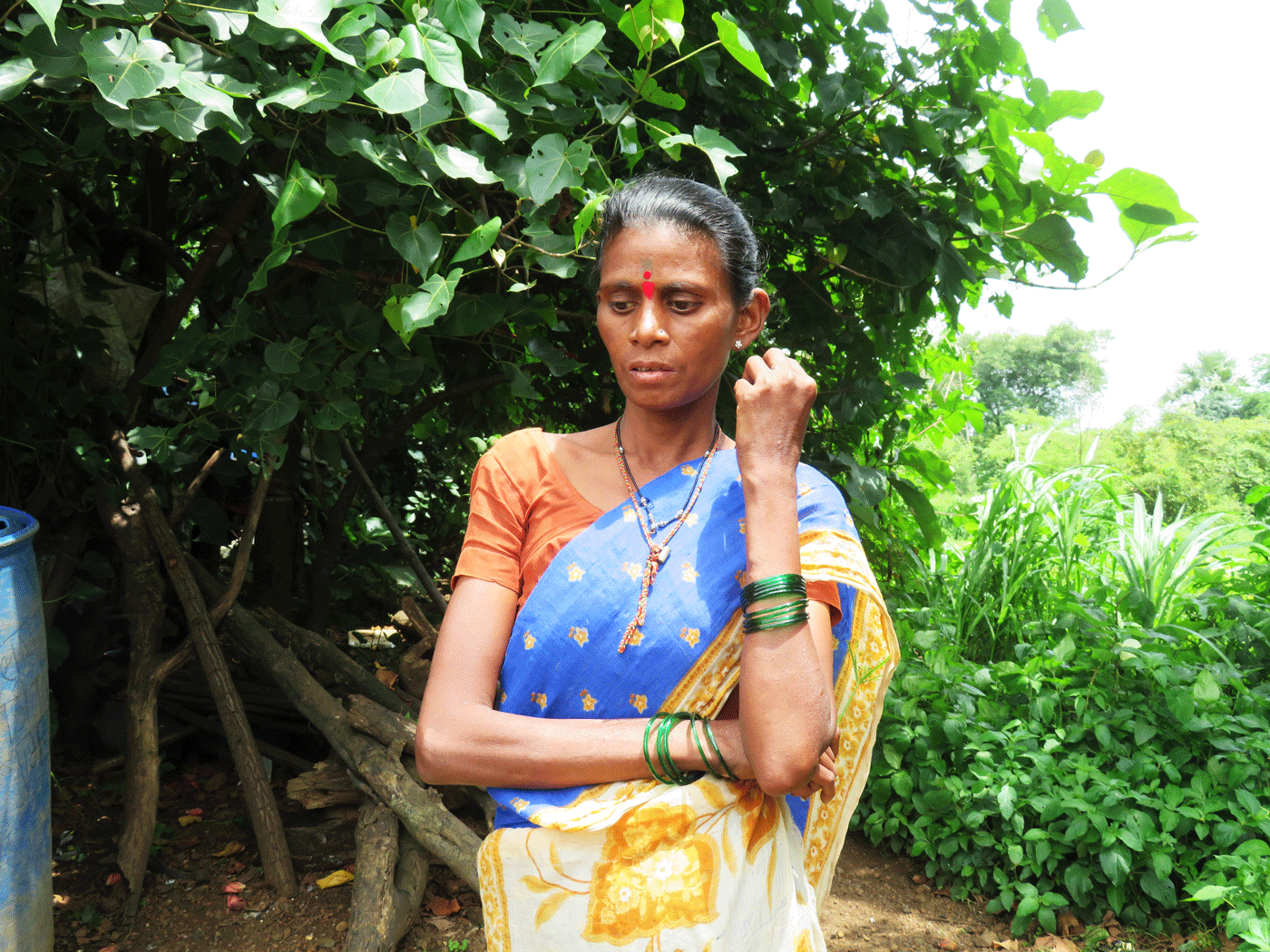 PHOTO • Jyoti Shinoli
Meanwhile, in Chiradpada's fishing hamlet, Ankush Waghe, 45, is walking along the sloping pathway beside his hut toward the river, to prepare his boat for fishing. "This is the same way my father would walk to the river. This will stop once the road [highway] comes. And all that cement, the machines will pollute our river. It will create noise. How will the fish survive? The river is our mother. It has fed us."

Ankush's fears are reflected in the Environmental Impact Assessment report. It says the construction of the viaduct requires "foundation works in the water bed which includes excavation, drilling and piling works… Bridge foundation works may result in some quantity of debris materials… [causing] temporary increase in turbidity and thereby contaminating the water… The Bhatsa reservoir, which is situated on the south-east of the proposed alignment will also be substantially affected by sedimentation and siltation."
"What we will do?" wonders Hirabai, Ankush's wife. Their elder son Vitthal, 27, will also lose his hut – one of the cluster of four – to the highway. He works at a stone quarry near Sawad village, around 6-7 kilometres away, and earns Rs. 100 a day  breaking and loading stones onto trucks. "We all went to Bhivandi's Public Works Department [in November 2018]." Vitthal says. "They asked if we had the notice to evacuate [which they have not yet got]. No one among us is well educated. We don't know anything. We should get alternate land. If tomorrow they ask us to leave, where we will go?"

The destruction of the river, the displacement of communities, rehabilitation – these and other concerns were voiced in a public hearing in Vashala Kh. village in Thane district held by the Maharashtra Pollution Control Board in December 2017. The concerns were ignored.
By 4 p.m., Dhrupada's son returns with a plastic basket full of tilapia fish. Dhrupada gets ready to go the market in Padagha. "My life has gone by selling fish. Why are they snatching this bit too from our mouths? Repair this dusty pathway first. We have to walk a long way to the market," she says, sprinkling water on the fluttering fish in the basket.