Rajinder is searching desperately for two leaves and a bud. His fingers brush the tea bushes planted uniformly in rows on the sloping hill. His wife, Sumna Devi, stands close, holding a basket in readiness. The many tall Ohi trees tower over the dense tea bushes dwarfing the humans on this hillside in the Dhauladhar range of the Himalayas.
It is harvesting time and Rajinder Singh's urgent search for leaves has not yielded anything. He comes to the field in Tanda village of Kangra district every day, and either Sumna or their 20-year-old son Aryan accompany him. April and May are the season for plucking tea, called the first flush. But there is nothing for him to pluck.
"You can feel the heat and don't know where the rain is!" he said worried about his drying tea bushes located here in Palampur tehsil of Himachal Pradesh.
Rajinder's nervousness is understandable given the poor rainfall over the last two years. A 2016 FAO intergovernmental report noted that, "Erratic rainfall is responsible for damage to tea plantations." The report studies the effect of climate change on tea which specifically needs rain between the months of February to April. After which, the first harvest in April demands the highest price – going for Rs. 800 and occasionally to as high as Rs. 1,200 a kilogram.
The year 2022 was supposed to be a special one for Rajinder who had taken two more hectares on lease and as he mentions, "I thought my income would increase." With the total area now at three hectares, he looked forward to harvesting up to 4,000 kilos of tea at the end of the season. He spent Rs. 20,000 for the lease, and says that in tea it is the wages for labour that account for up to 70 per cent of the production costs. "It takes a lot of labour and [input] expenses to maintain a garden," he pointed out. And then there is additional cost of processing the leaves.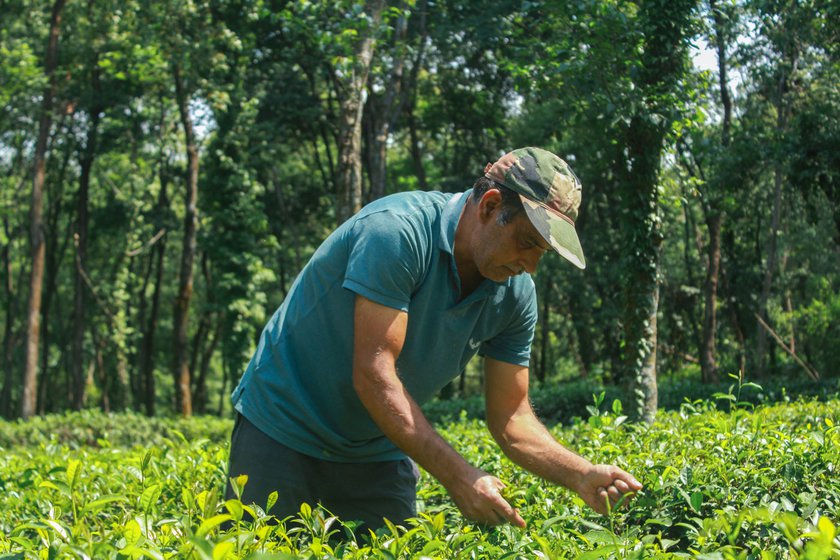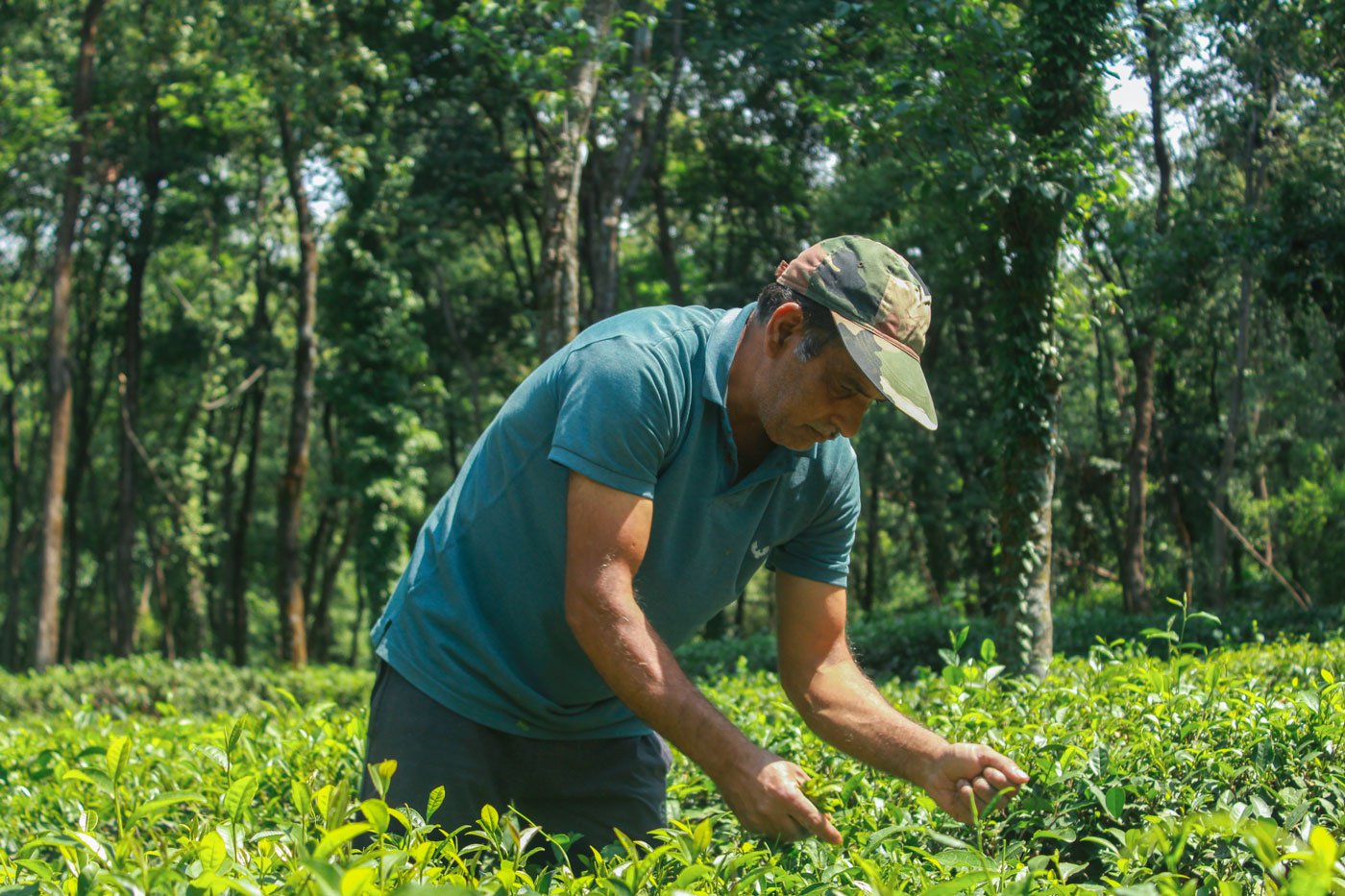 PHOTO • Aakanksha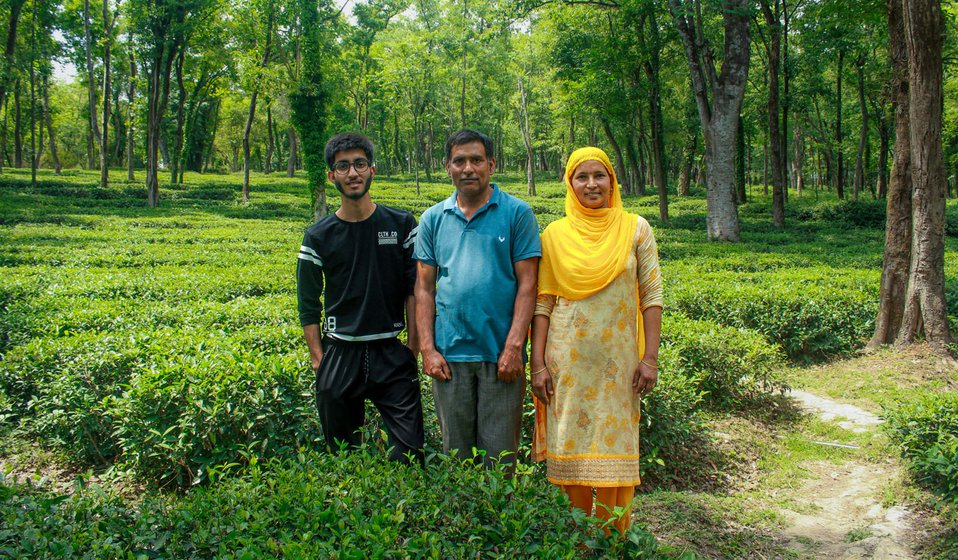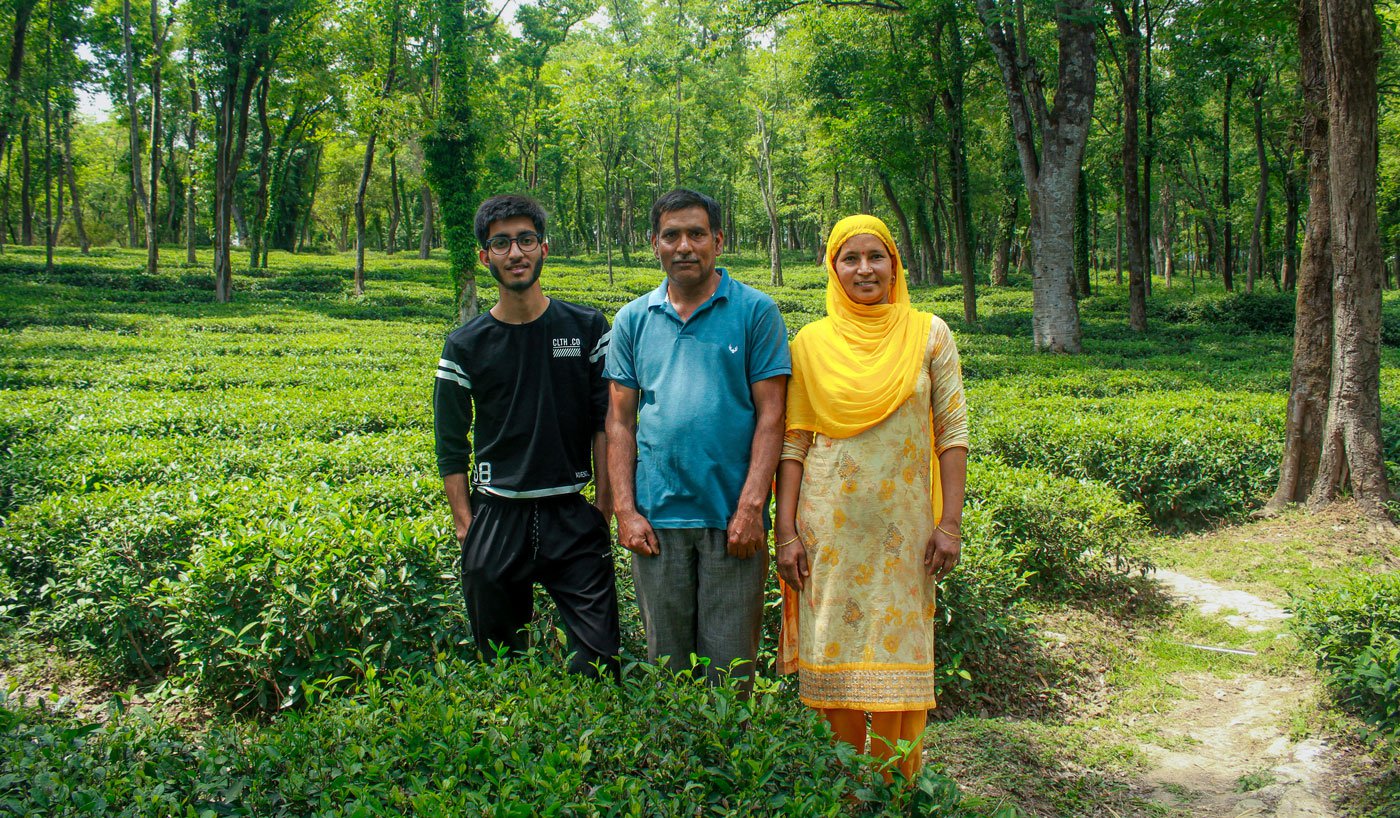 PHOTO • Aakanksha
The family belongs to the Labana community, listed as Other Backward Class (OBC) here in Himachal Pradesh. "Previous generations [of my family] were set in this work," and he was 15 when he took over the family farm after his father's death due to a prolonged illness. The eldest of four siblings, he felt the responsibility to run the farm and so dropped out of school.
The entire family is involved in the care of the garden and all the processes till the final product that is consumed as a beverage. Daughter Anchal is studying for an undergraduate degree in education and helps with weeding and packing. Their son Aryan is hands-on throughout – from weeding to plucking, pruning, and packing. The 20-year-old is doing a bachelors in mathematics and teaches part-time.
Kangra's tea gardens produce black and green varieties, and both are popular in local homes. "You will hardly find a tea shop here, instead you will be welcomed with chai in every house. We do not add milk or sugar to our tea. It's like medicine for us," said Sumna adding that she also takes up the grading and packaging. Most tea growers like Rajinder, have a small makeshift process room with machinery to roll and roast the fresh leaves. They also process the leaves for other growers, charging Rs. 250 for a kilo of the finished product.
Just before his death in 1986, Rajinder's father had taken a loan and sold land to buy machinery worth Rs. 8 lakh so that the family could process the fresh leaves; the loan is yet to be paid off.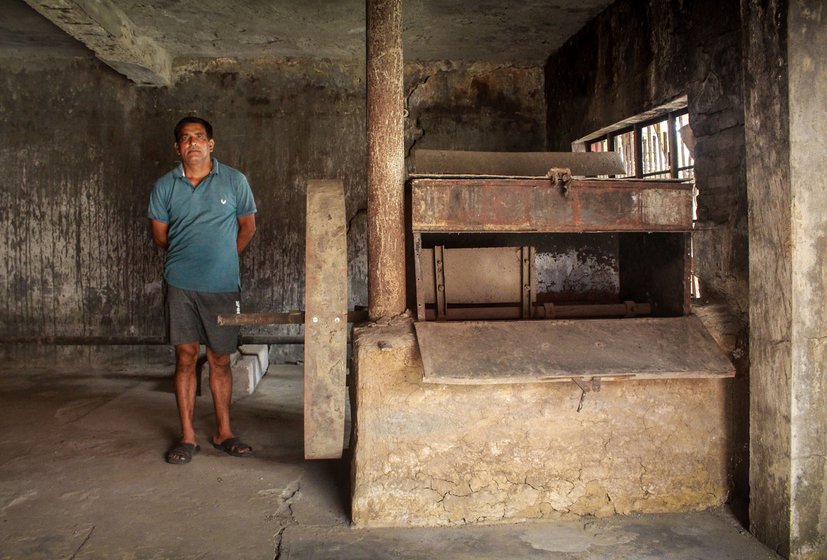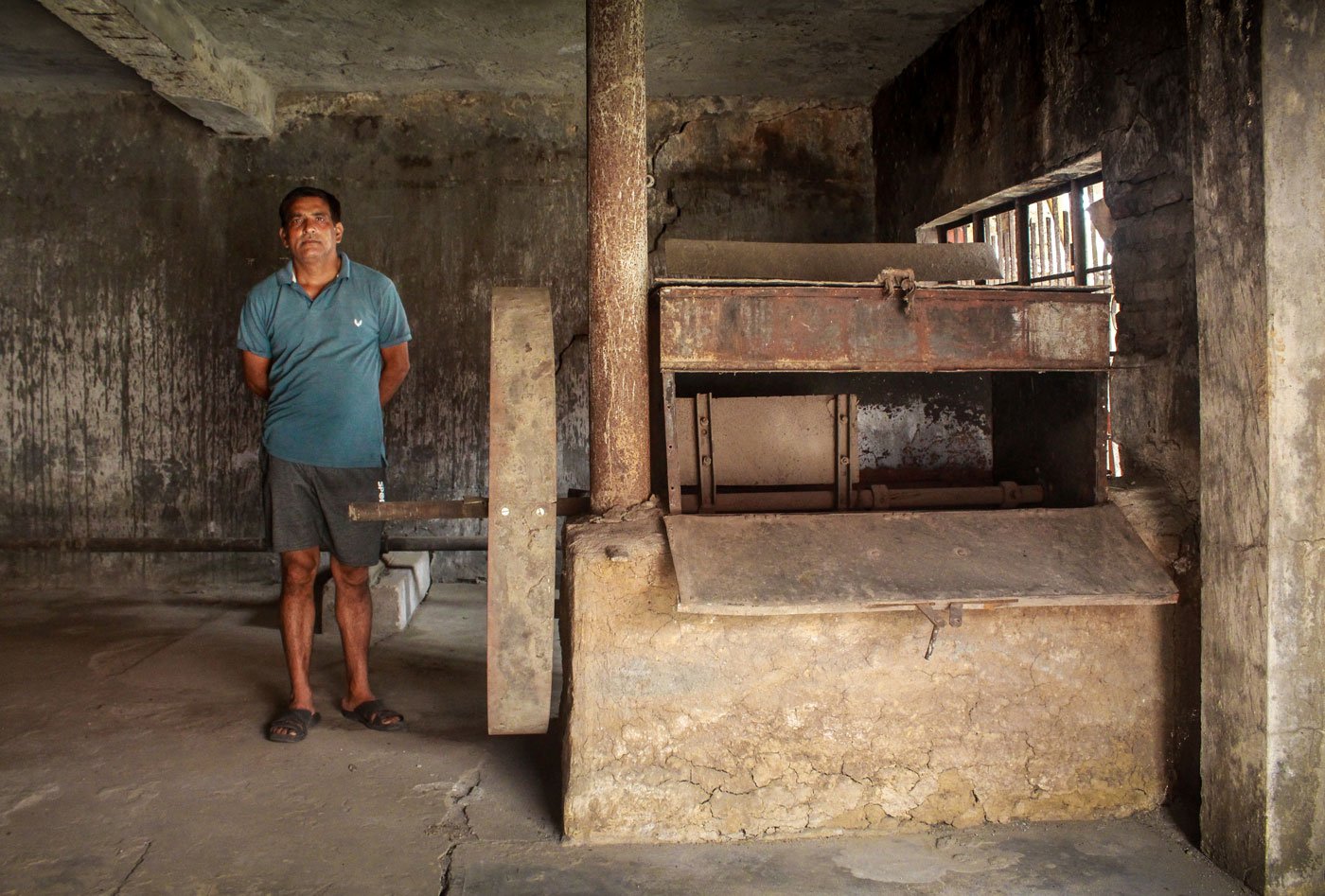 PHOTO • Aakanksha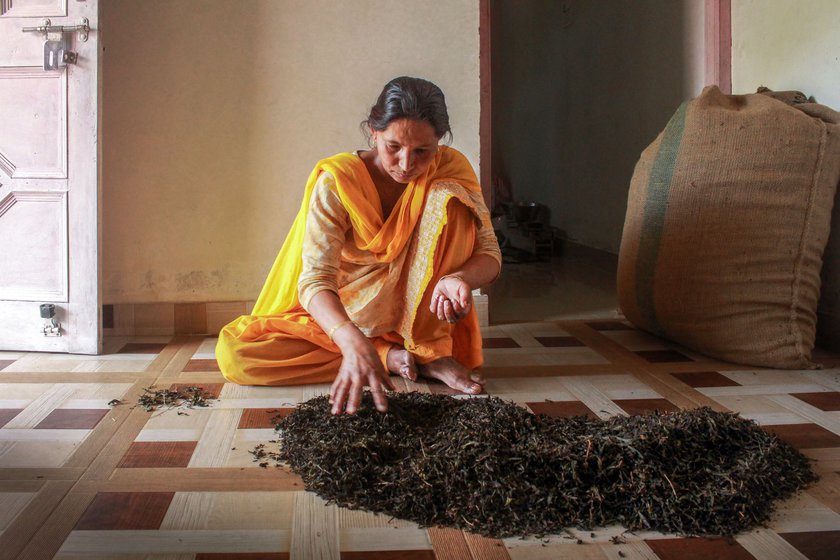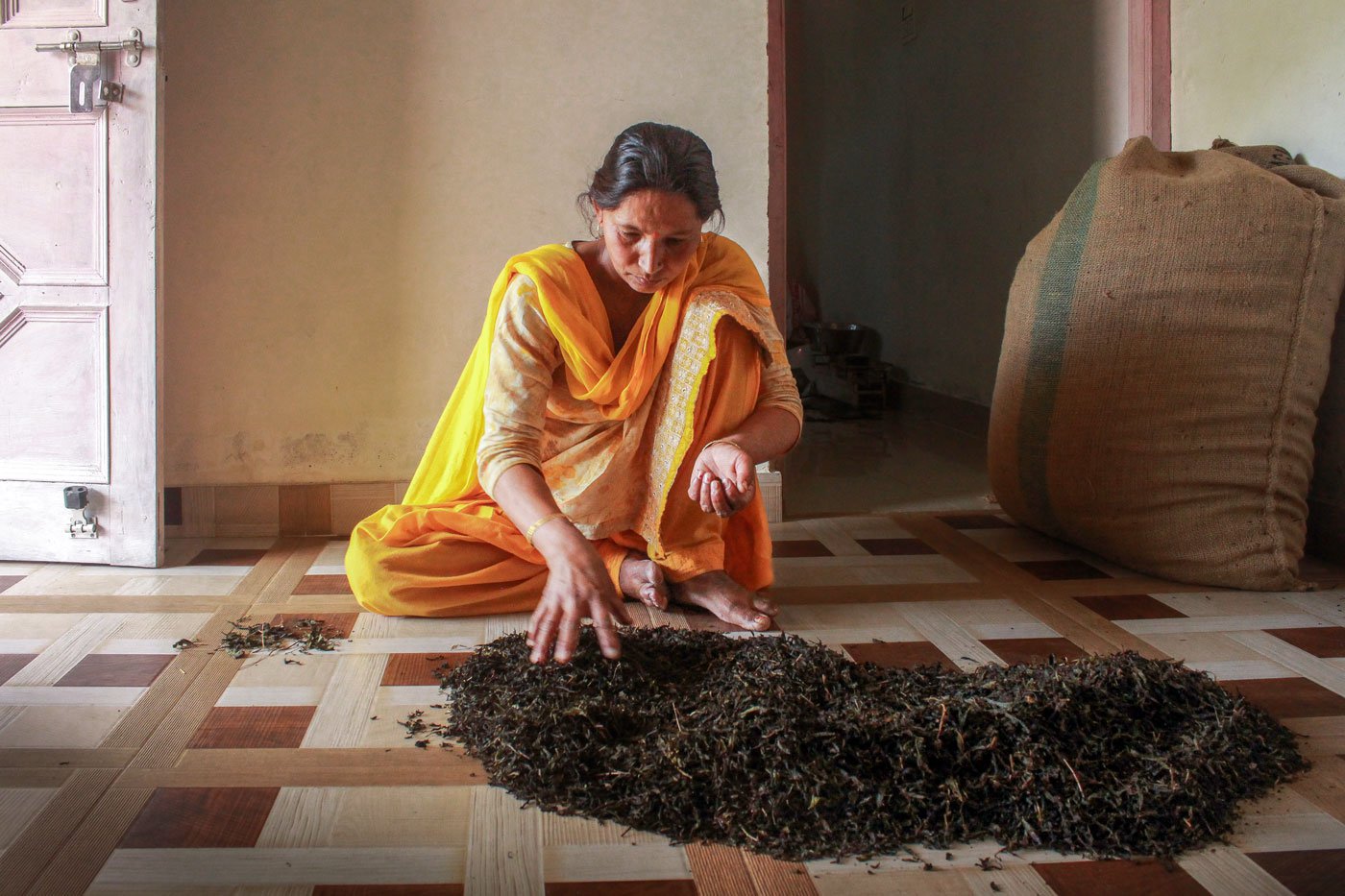 PHOTO • Aakanksha
Here in Kangra district, small growers like Rajinder dominate the tea landscape in the state – 96 per cent have holdings of less than two hectares, says a note from the state department of agriculture published in 2022. More than half the gardens are in Palampur tehsil , and the rest are distributed across Baijnath, Dharamshala and Dehra tehsil .
"Only a few districts in Himachal have the possibility to grow tea because of its fulfilment of tea requirements of acidic soil and a PH level of 4.5 to 5.5," points out Dr. Sunil Patial. He is the Tea Technical Officer at the state's Department of Agriculture.
The tea gardens and mountainous landscape of Kangra features extensively in Bollywood films, the latest being Bhoot Police, a story around supernatural elements. "Many tourists get out their cameras and shoot our gardens, but know very little about it," points out Rajinder.
Tea plantations in Himachal Pradesh are solely dependent on orographic precipitative rainfall – when the heat rises it usually rains, bringing relief to tea bushes. "A rise in temperature with no rainfall is a big problem. Tea plants need humidity, but now [2021 and 2022] it is hot," explains Patial.
In March and April 2022, rainfall in Kangra district showed over a 90 per cent deficit, according to the data with the Indian Meteorological Department (IMD). Subsequently, the leaves plucked in April and May 2022 and sent to the Palampur Cooperative Tea Factory, were down to one lakh kilos – a quarter of 2019 figures for the same month.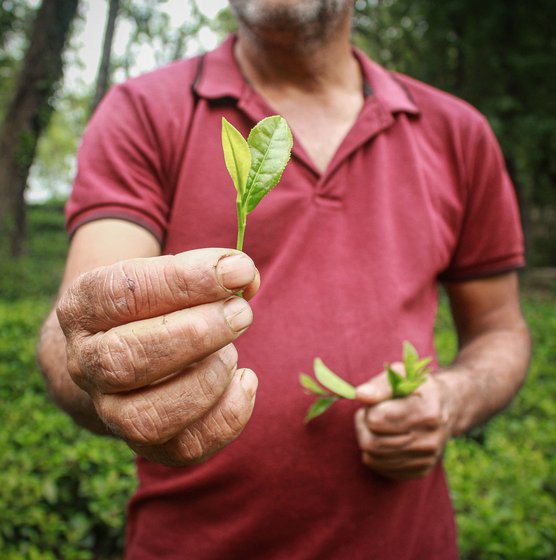 PHOTO • Aakanksha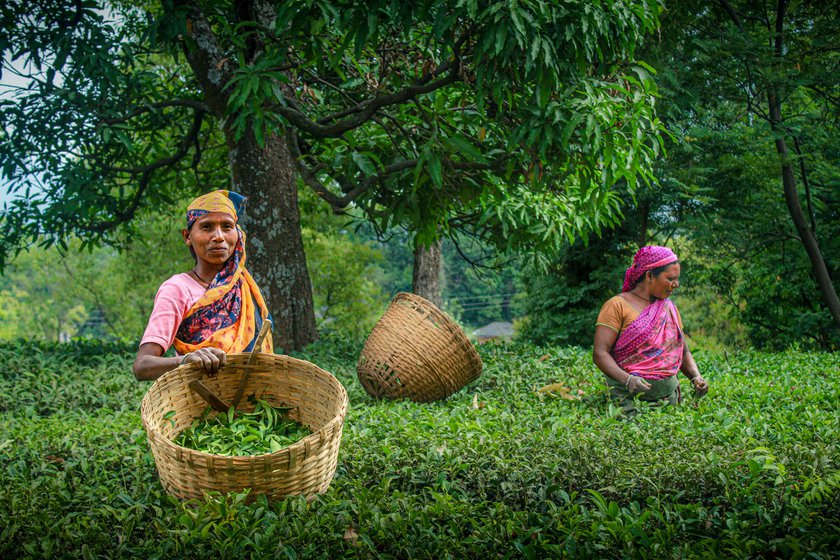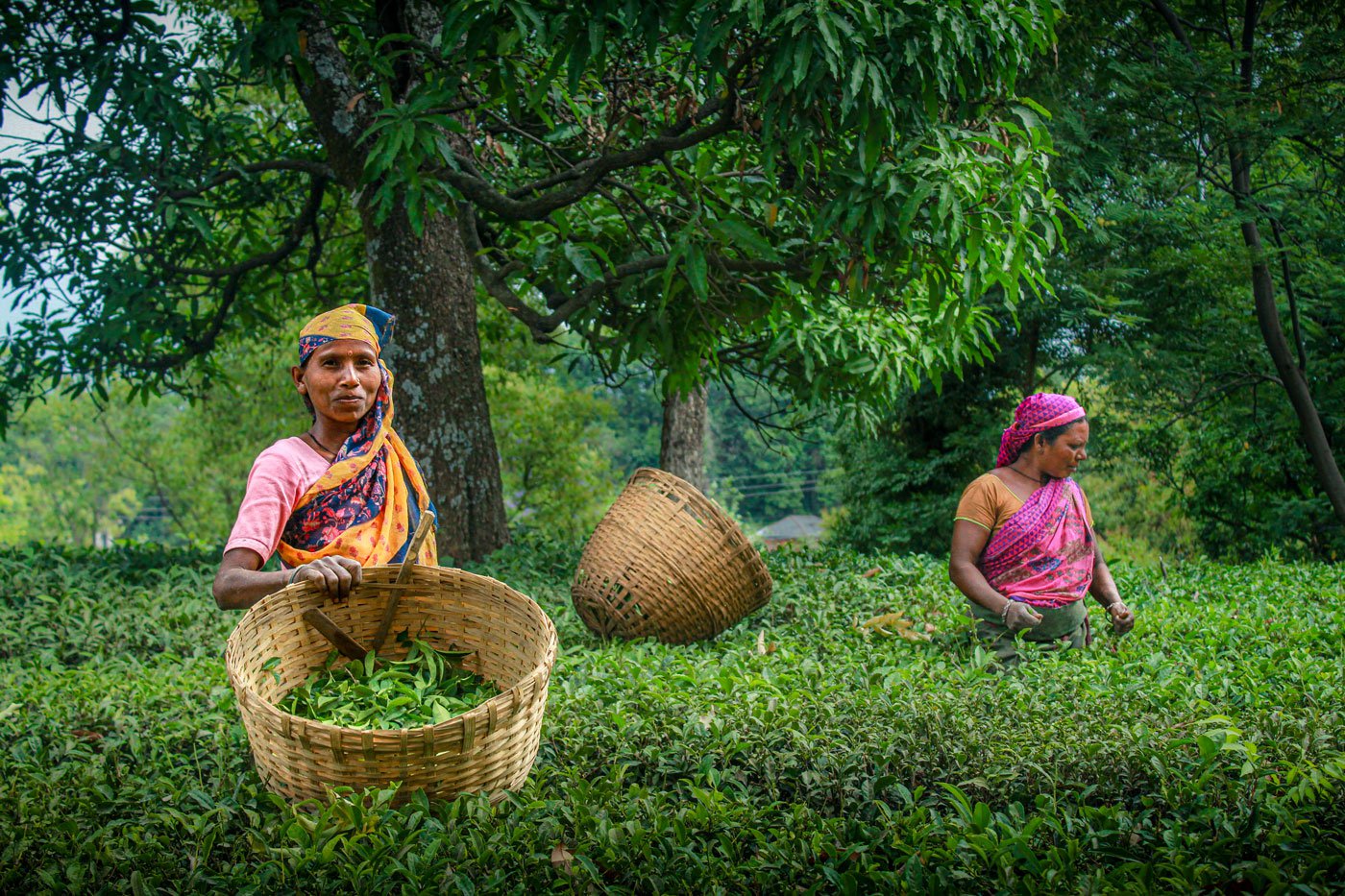 PHOTO • Aakanksha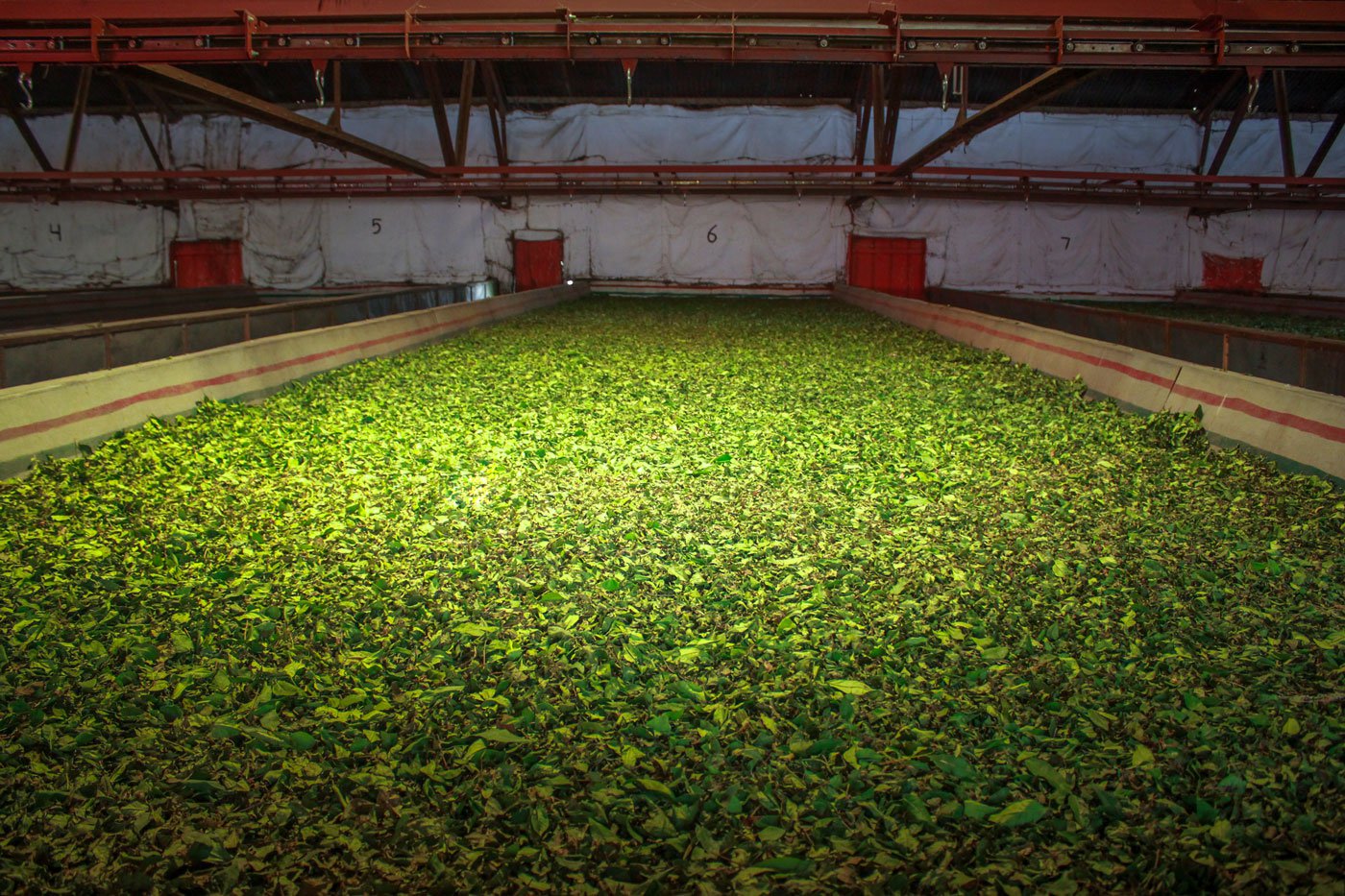 PHOTO • Aakanksha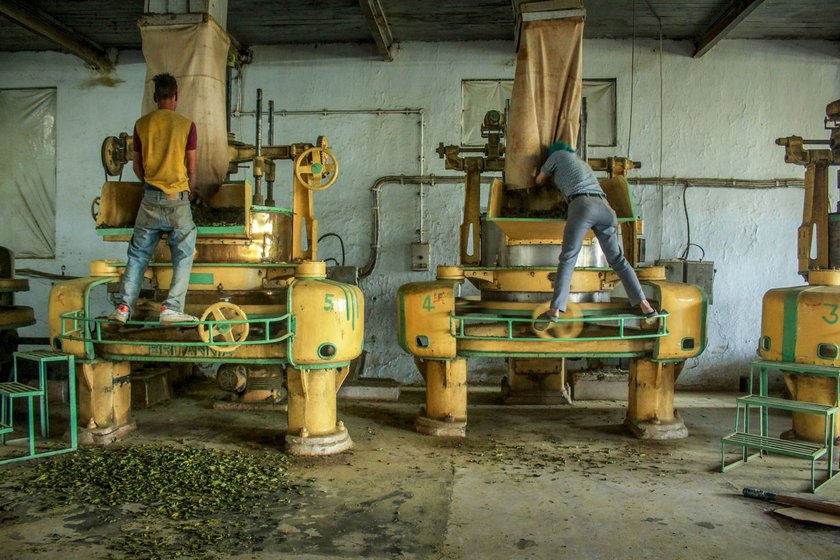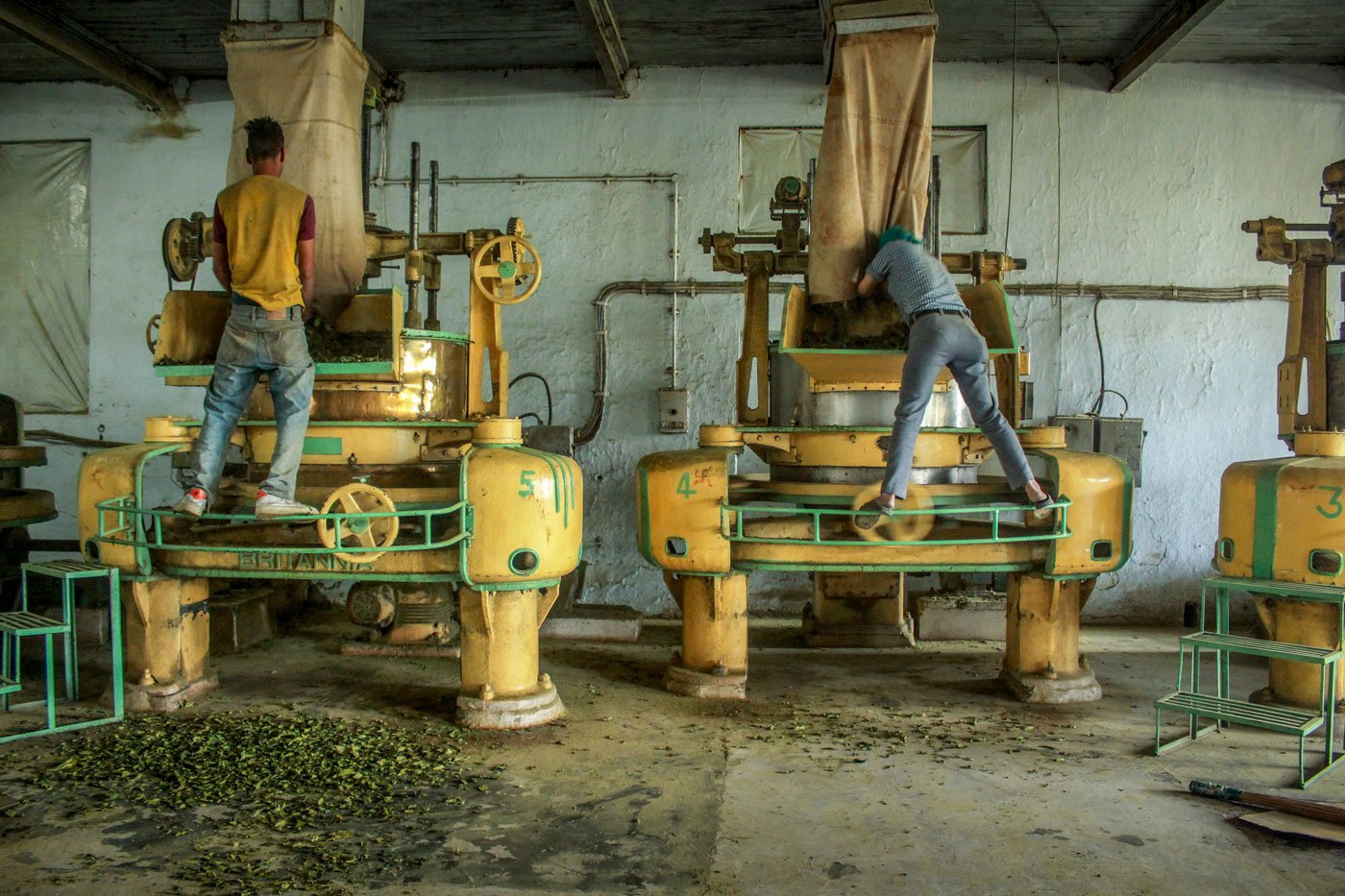 PHOTO • Aakanksha
Rajinder was not spared: When PARI checked at the end of May 2022, he said he had managed to harvest only around 1,000 kilos. Of that, half was kept by the family to process at home to sell locally and half went to the factory in Palampur for processing. "Four kgs of green leaves gives a kg of tea. We made around 100 packets of a kilo each to sell," said his son Aryan. A kilo of black tea is sold for Rs. 300 and green tea for Rs. 350.
The bulk of tea is grown in Assam, West Bengal and the Nilgiris, Tamil Nadu. In 2021-22, India produced 1,344 million kilos and small growers contributed close to 50 per cent of that, says the Tea Board India on its website. This body comes under the union ministry of commerce and industry goes on to say, "small producers are highly unorganized and because of fragmented and scattered nature of the holdings, they remain at the very bottom of the value chain."
Tea from Himachal competes with tea from other regions. Within the state, apple growers are preferred and get more attention from the [local] administration," points out Dr. Pramod Verma. He is a Tea Technologist at the Himachal Pradesh Agriculture University in Palampur and has been researching tea for over a decade.
The drop in tea produced is also a fallout of the shrinking area under tea: Bushes have been planted across 2,110 ha in Kangra district, but only half the area – 1096.83 ha is actively cultivated. The rest is neglected, abandoned or has been converted into dwellings. The last is in violation of the
Himachal Pradesh Ceiling on Land Holdings Act, 1972
, which states the land under tea cannot be sold or used for any other purpose.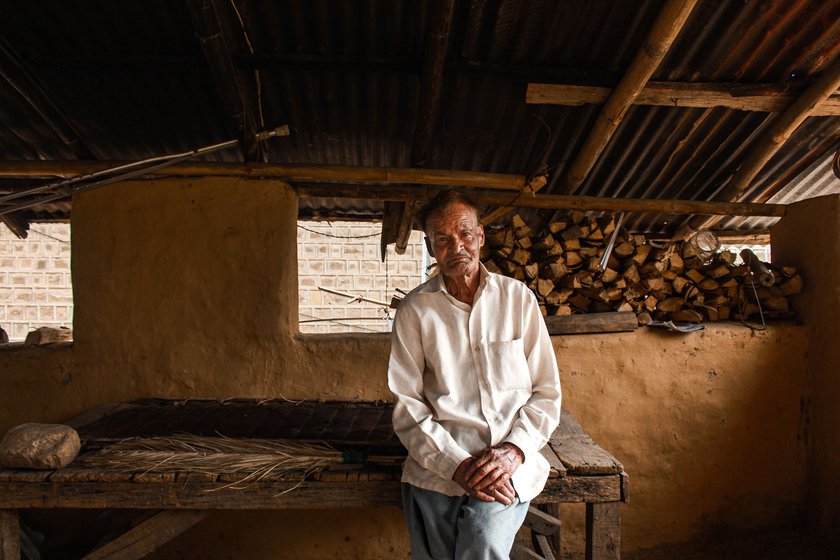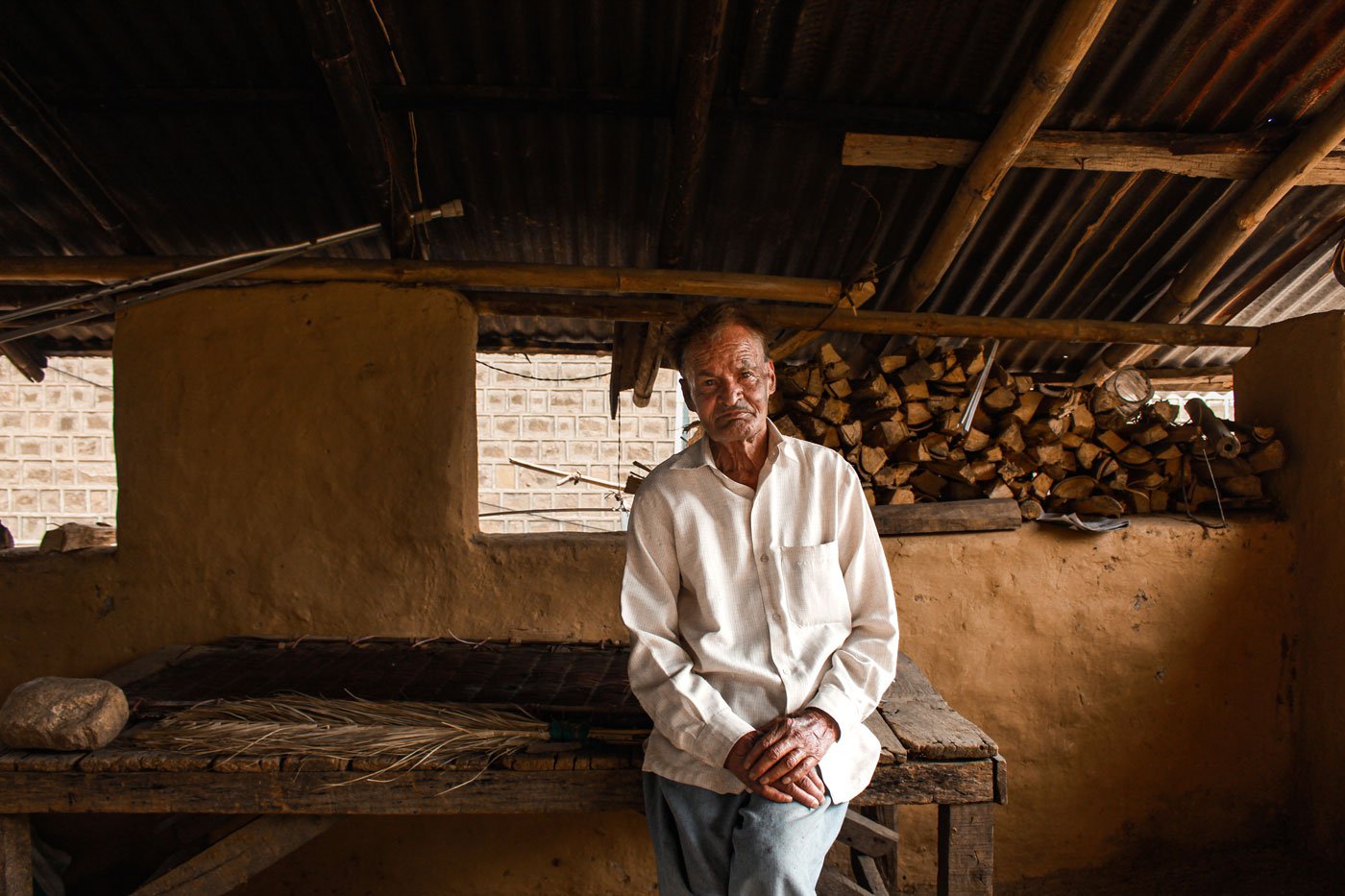 PHOTO • Aakanksha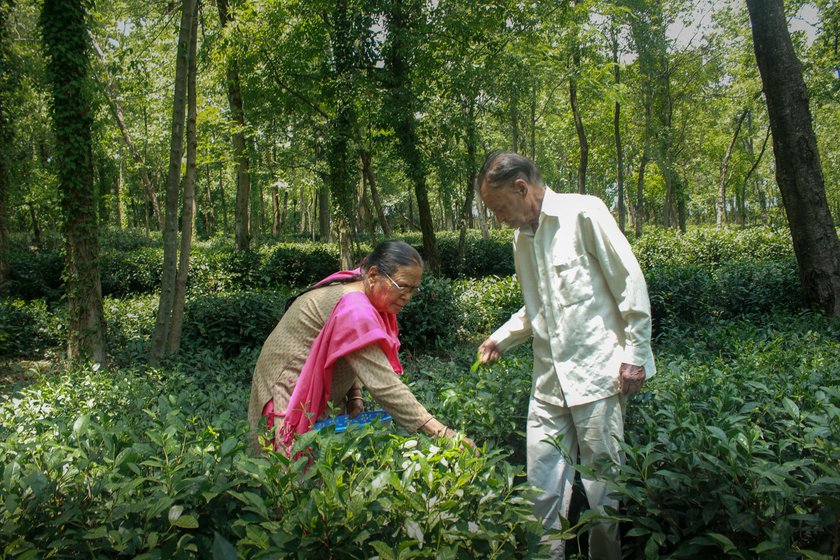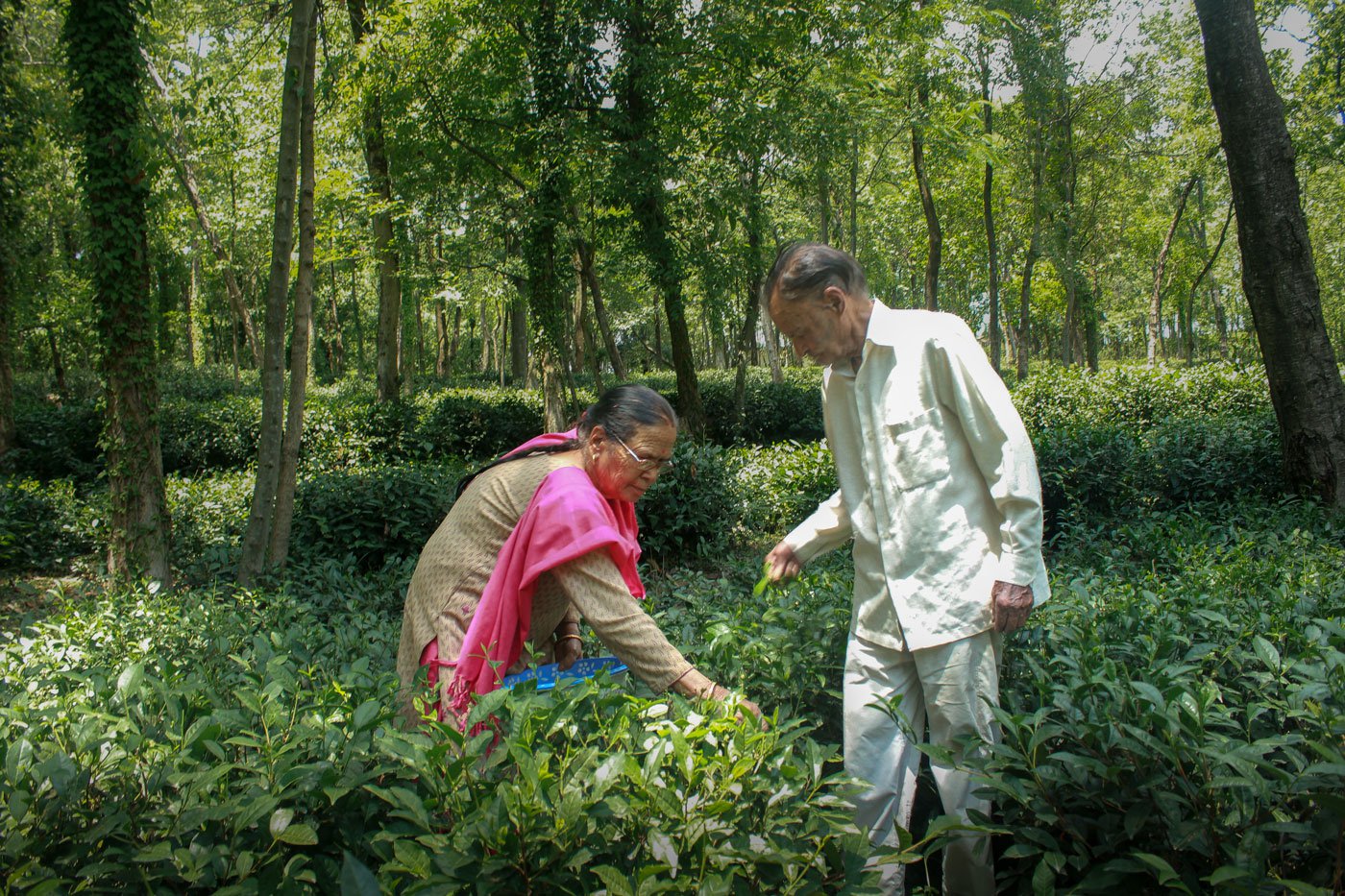 PHOTO • Aakanksha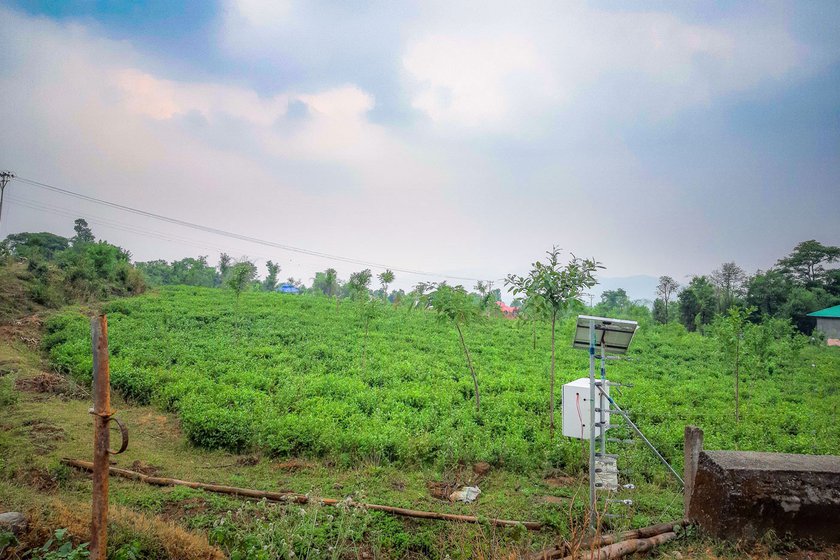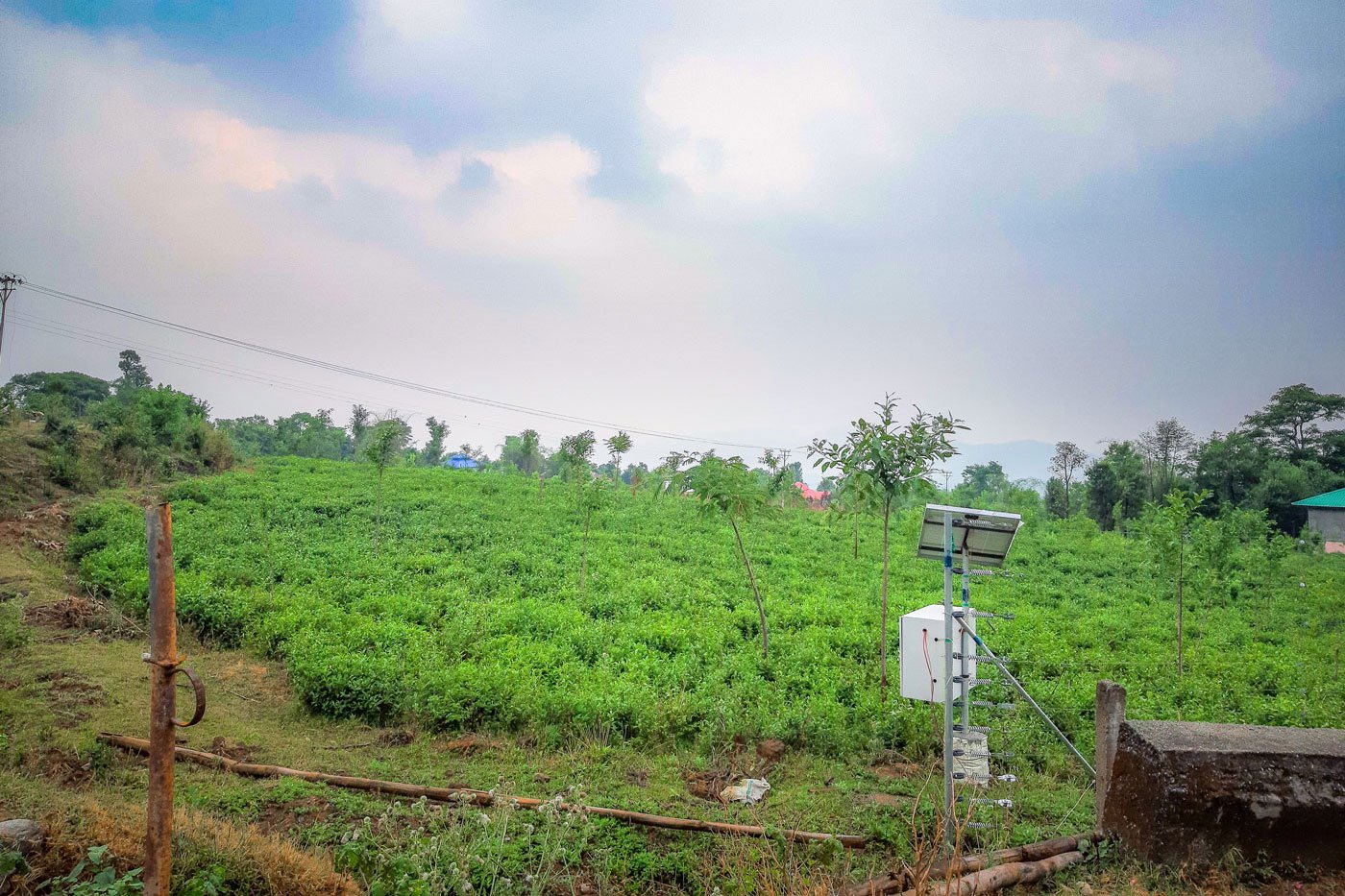 PHOTO • Aakanksha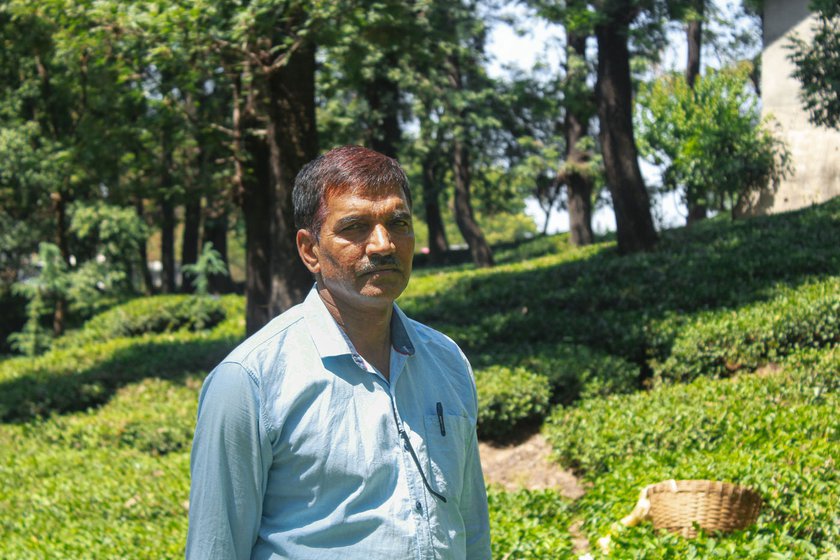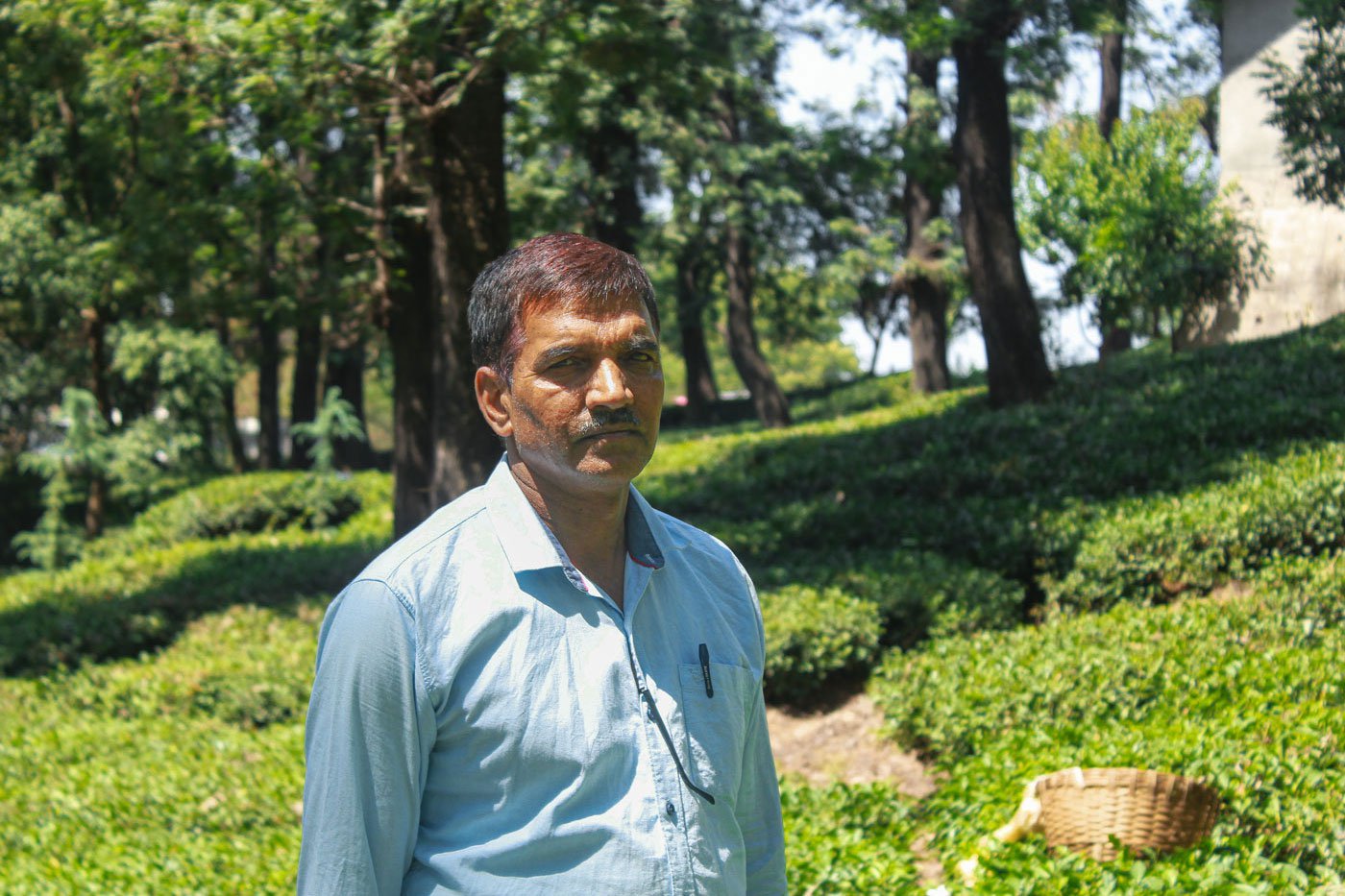 PHOTO • Aakanksha
"Just behind my farm there were tea gardens some few years back. Now you see houses," says Rajinder's neighbour in Tanda village, Jaat Ram Bahman. He and his wife Anjagya Bahman own and cultivate tea on their 15-canal garden (roughly three fourths of a hectare).
The 87-year-old Jaat Ram recalls a time when gardens made profits and there were plenty of them around. The first seedlings were planted in 1849 and by the 1880s, tea from Kangra was winning gold and silver medals in the London and Amsterdam markets. In 2005, Kangra received a Geographical Indication (GI) tag for its unique flavour.
"Those were the golden years" recalls Jaswant Bahman, 56, and owner of a 10 canals (roughly half a hectare) of tea also in Tanda village. "We used to process the leaves in our homes with machines (traditional) and sell in Amritsar. It was a huge market."
Bahman is referring to the 1990s when, according to the local tea board, Kangra produced up to 18 lakh tonnes of finished tea a year. The tea was sent by road to Amritsar's markets – a journey of over 200 kilometres – from where it joined international auctions. Today it produces less than half of that amount – 8,50,000 tonnes.
"We could earn a good amount [on our one hectare]. We made many trips in a year as soon as we prepared tea. In one trip I could earn between Rs. 13,000- 35,000," said Rajinder showing PARI old bills.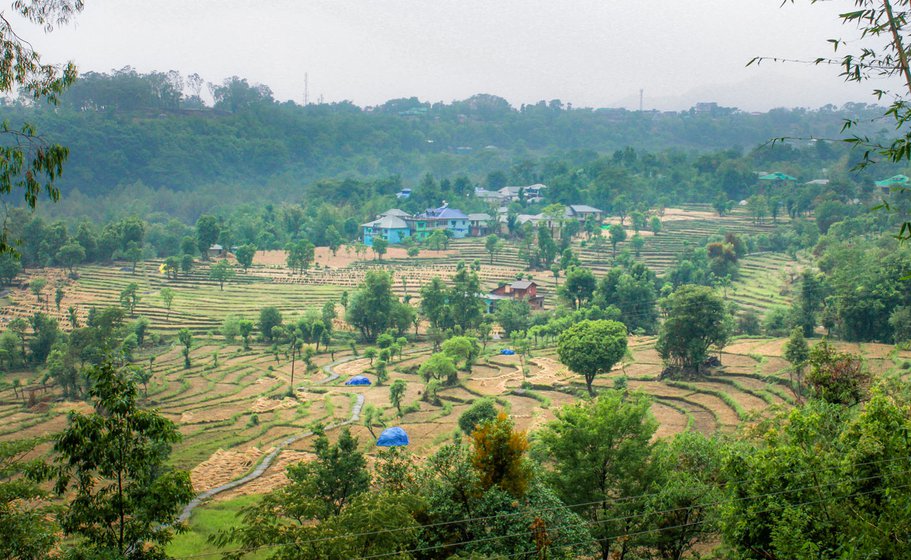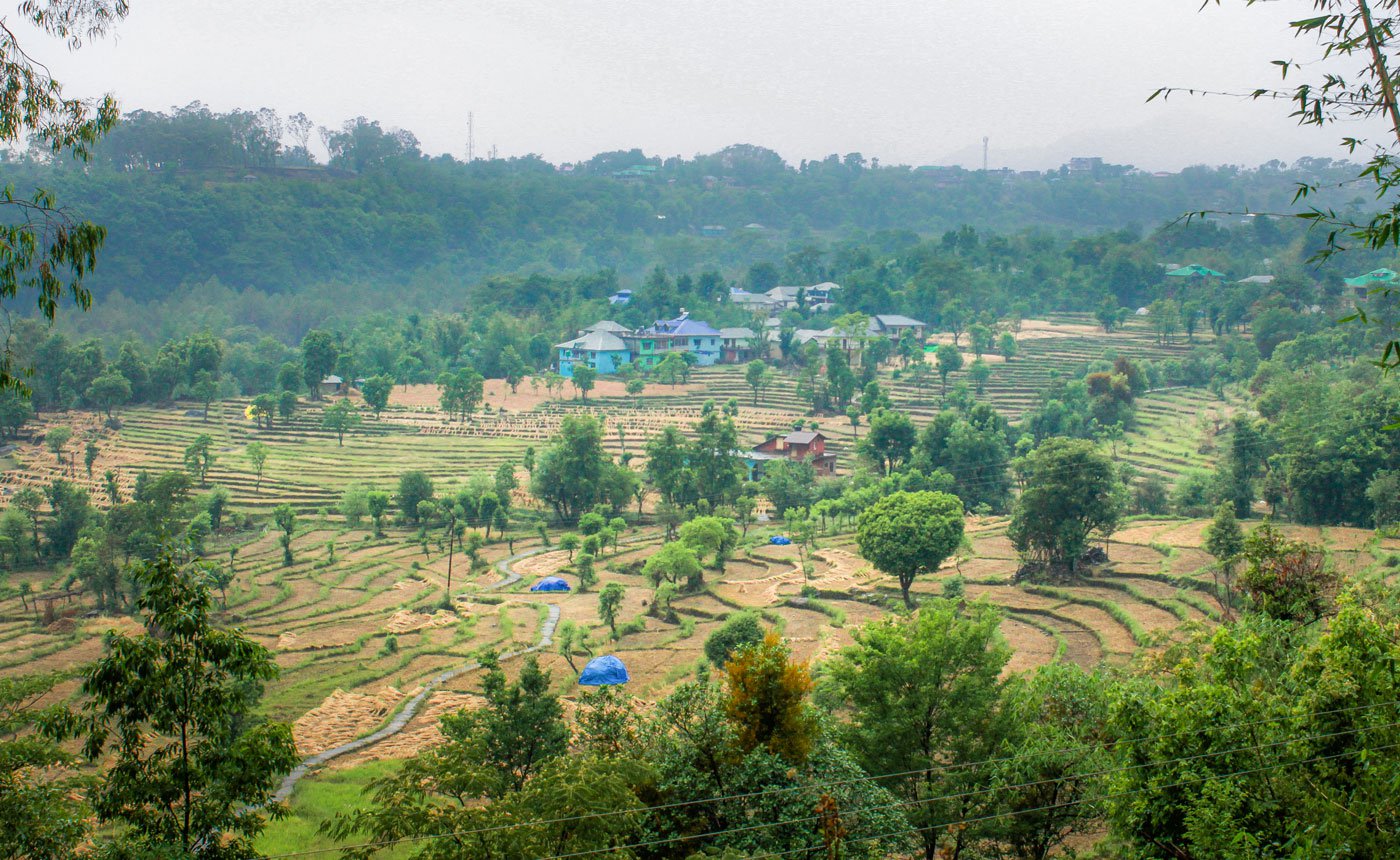 PHOTO • Aakanksha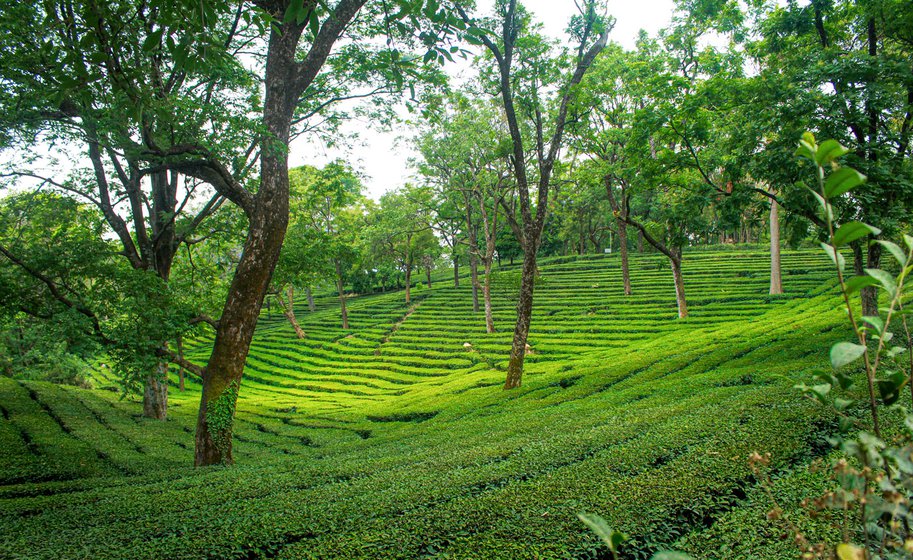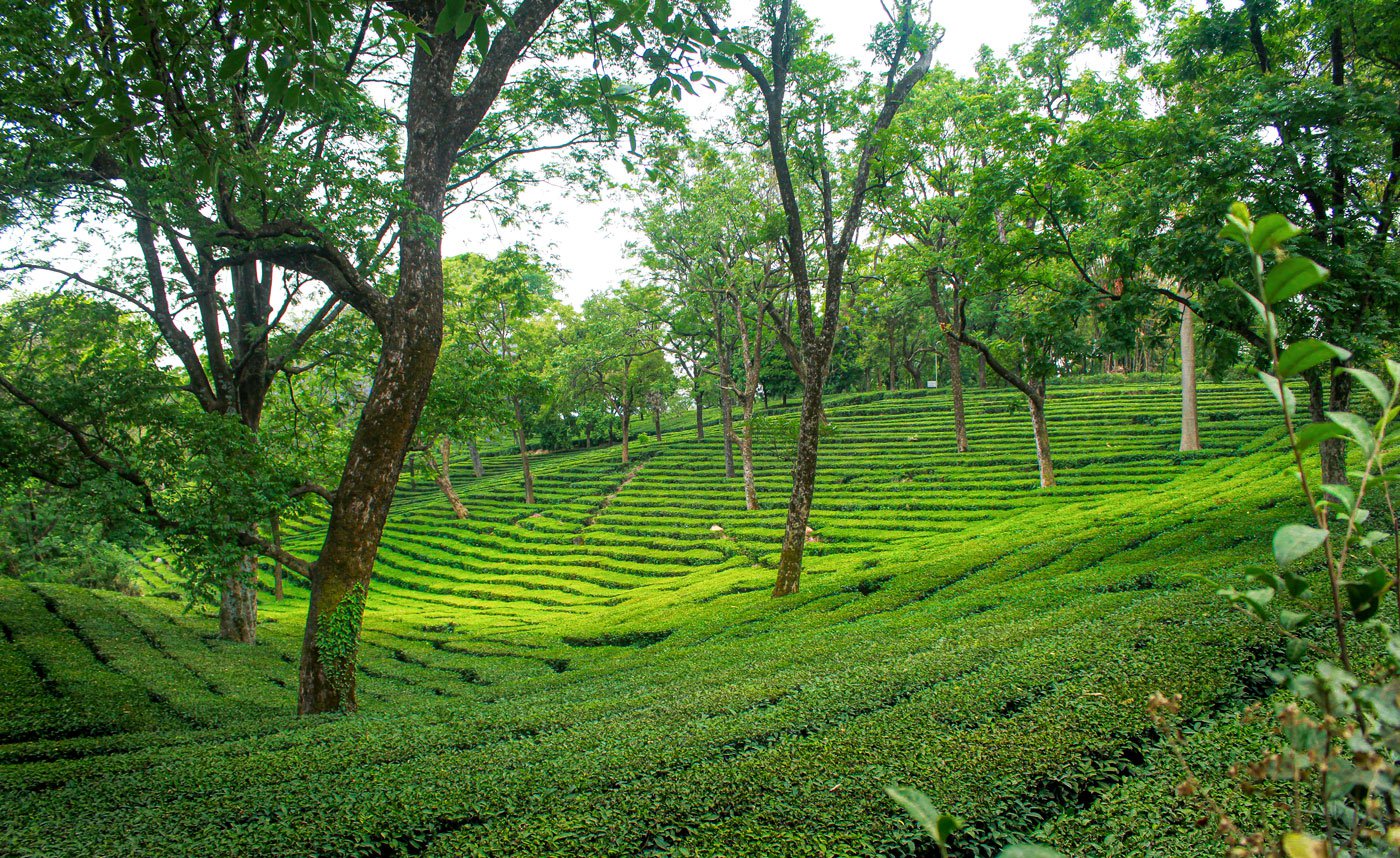 PHOTO • Aakanksha
The golden days did not last. " Amritsar me bhot panga hone laga, " [We began to have trouble in Amritsar]," says Jaswant. Kangra's tea planters started shifting to Kolkata, the chief tea auction centre in India. Most growers had shifted from processing at home to the state-run factories in Palampur, Bir, Baijnath and Sidhbari as the factories would deal directly with the Kolkata auction. However, these factories began to shut down and local growers lost local state support. Today only one cooperative factory is still functional.
The Kolkata auction centre is roughly 2,000 km from Kangra leading to higher transportation costs, high warehouse charges and increased labour cost. This made competing with other Indian teas from Assam, West Bengal and Nilgiris, difficult, and Kangra tea planters saw their profits shrink.
"Kangra tea is exported but not as Kangra tea instead with different names by the buyers and trader company name. Kolkata takes tea for less price and sells for good price and even has export base," points out Verma.
"I need around 1,400 kilos of manure for the garden, and this costs me around Rs 20,000," said Rajinder. Earlier the state government gave 50 per cent subsidy on the manure, but he says that has stopped in the last 5 years and no one is clear as to why, including the state department.
Tea is a labour-intensive crop and the need for workers is between April till October for plucking and then from November onwards for pruning. The state has given machinery for pruning and Rajinder and his son operate it to save on labour charges, but they do spend on petrol.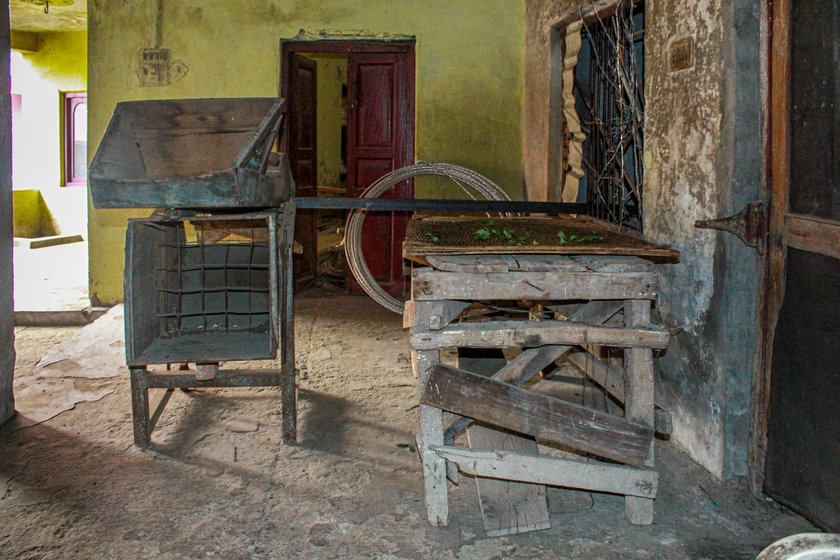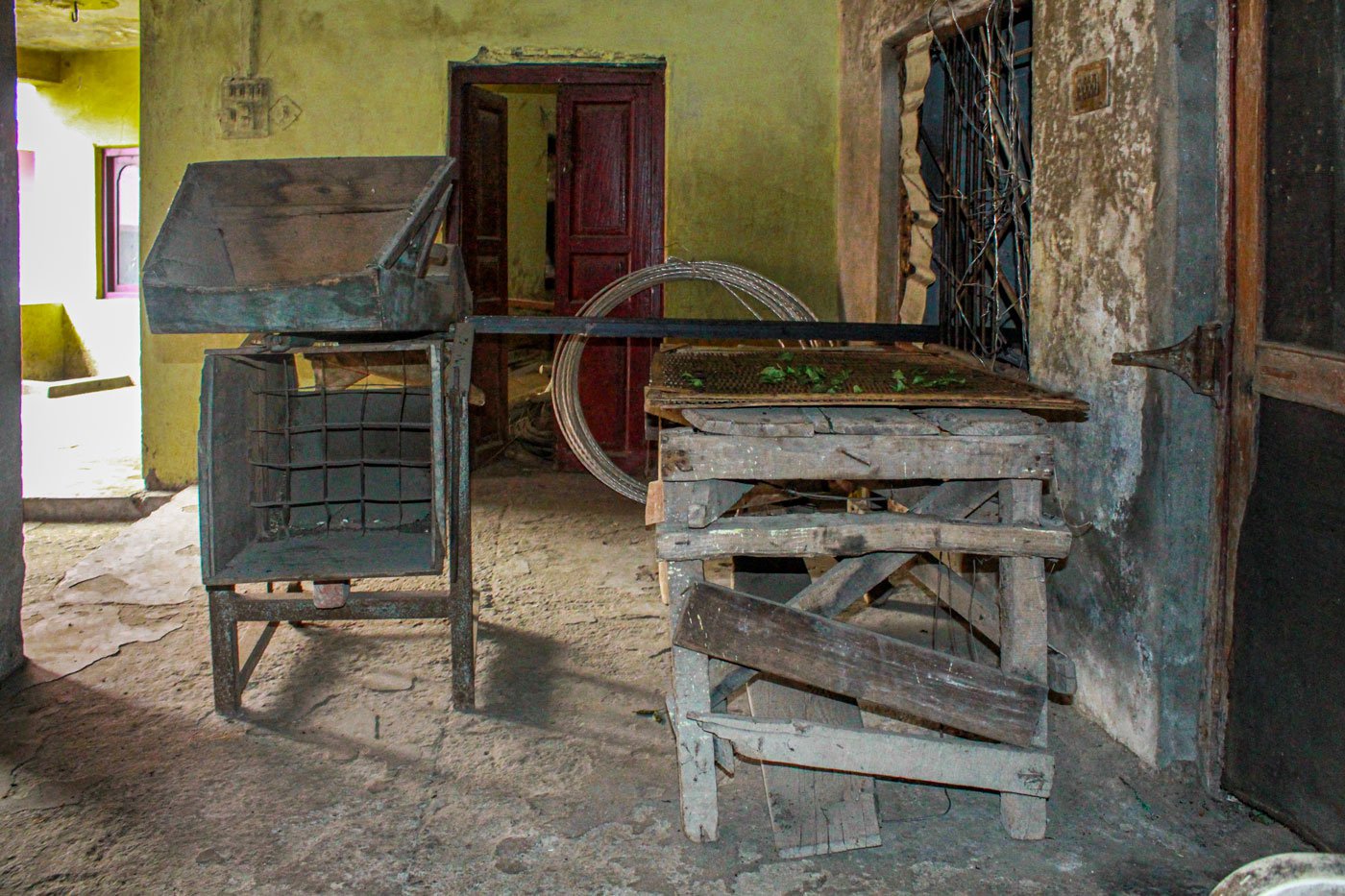 PHOTO • Aakanksha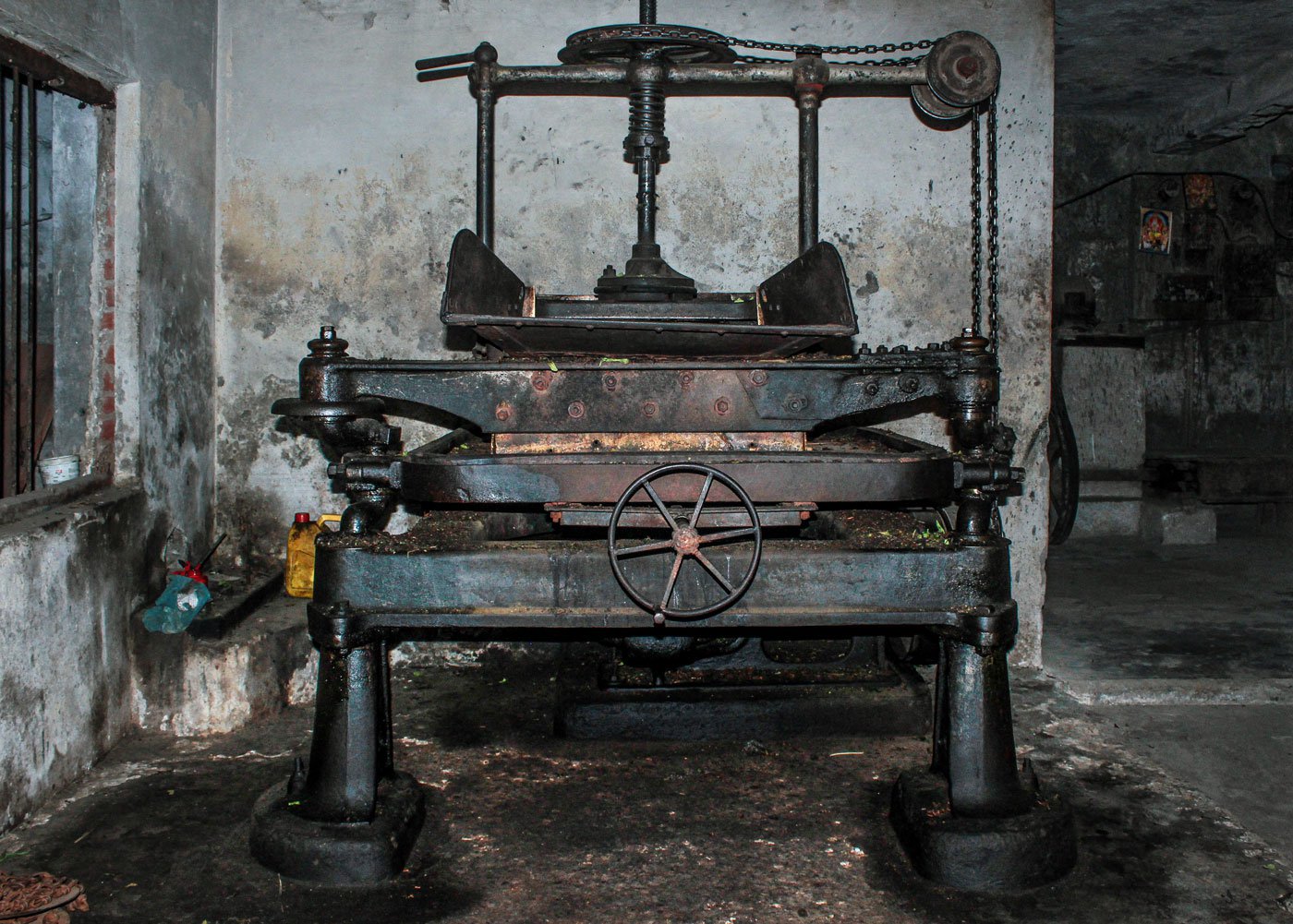 PHOTO • Aakanksha
"Last year, the family hired three labourers at wages of Rs. 300 a day. "There was nothing to pluck so what was the point keeping [labour]. How would we have given wages," asks Rajinder explaining why he had to let them go. And during 2022 harvest from April to October, a time when the hillsides are usually populated with workers, one could hardly locate anyone.
Shrinking profits and a lack of government support is leading young people away from a future here. Jaat Ram says his children have government jobs and his wife Anjagya added, "I don't know after us who will take care [of the garden]."
Rajinder's son, Aryan is also not keen to stay on. "I have seen them [his parents] struggling to earn a livelihood. For now, I work with my parents, but I won't do it in the long run," said Aryan.
By the end of the year, Rajinder estimated that they earned Rs. 2.5 lakh, most of it by October when the tea season ended. From this amount, they would deduct rent, inputs, and other costs.
In 2022 the family could not rely on savings, said Rajinder. They got by with selling the milk of their two cows, processing leaves of other smaller gardens and Aryan's Rs. 5,000 income from teaching.
Given the poor returns, 2022 Rajinder and Sumna returned the two hectares of gardens they had taken on lease.