K. Sunil lives in Kaniyanpura Colony, which is located directly on the boundary of Bandipur National Park in Chamarajanagar district of Karnataka. Kaniyanapura is a tribal hamlet as well as a larger village of the same name. He is from a family of Soliga Adivasis – his mother and father are labourers, and he has one sister who lives at home.
Sunil is 19 and has completed his Class 10. He is now working in Kargudi  village in Mudumalai, a national park and wildlife sanctuary at the tri-junction of Tamil Nadu, Karnataka and Kerala, which is a continuation of the Bandipur National Park. He has been employed by the Indian Institute of Science to accompany students when they measure trees and do other field studies.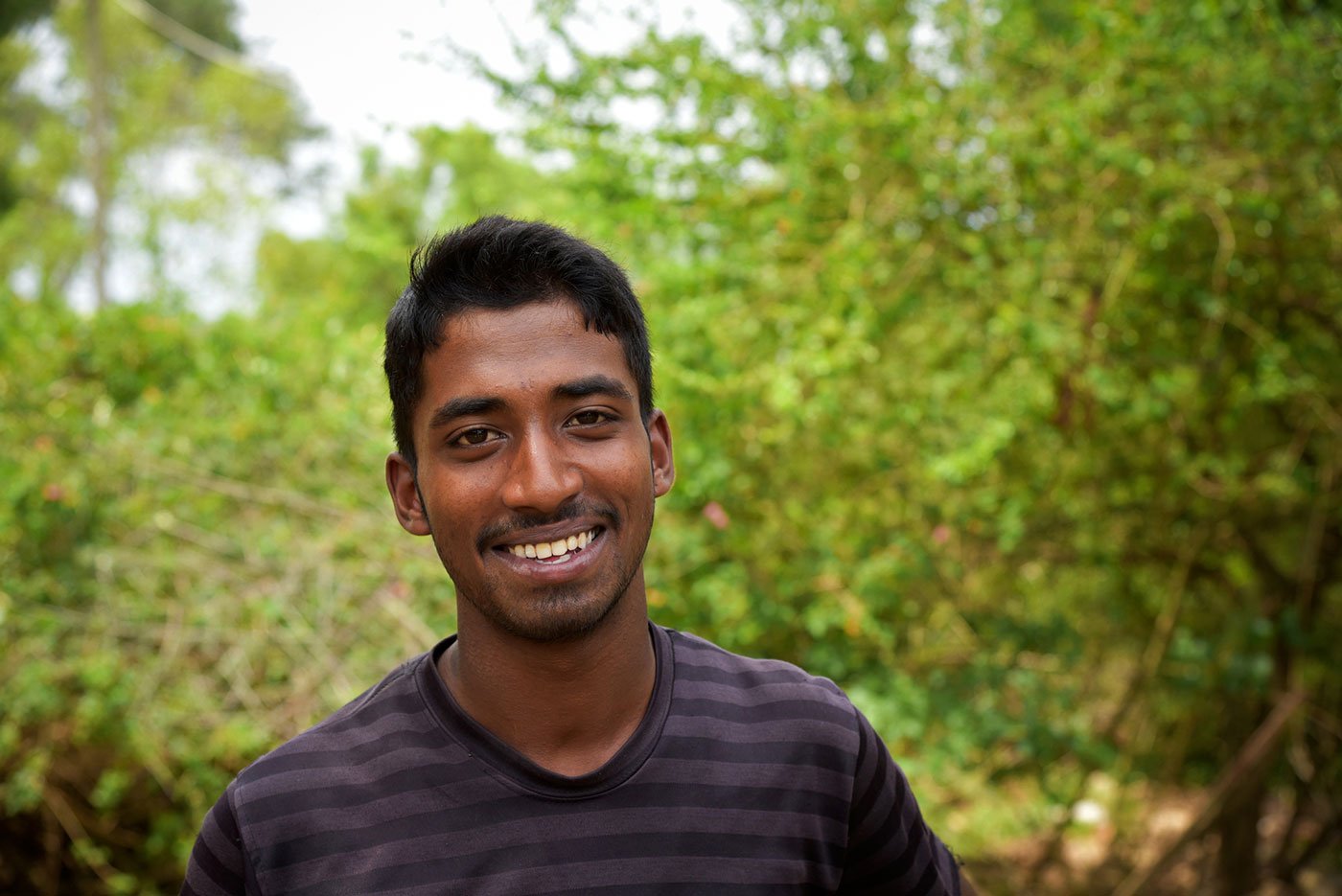 PHOTO • K. Sunil
Sunil's photo essay is part of a larger collaborative photography project about living with wildlife, and the third in a series of six on PARI. Over the course of six months, he took photos of his daily life, (using a Fujifilm FinePix S8630). In addition to the pictures presented here, Sunil says he enjoyed taking portraits of his friends and family, as well as videos of cultural events in his village.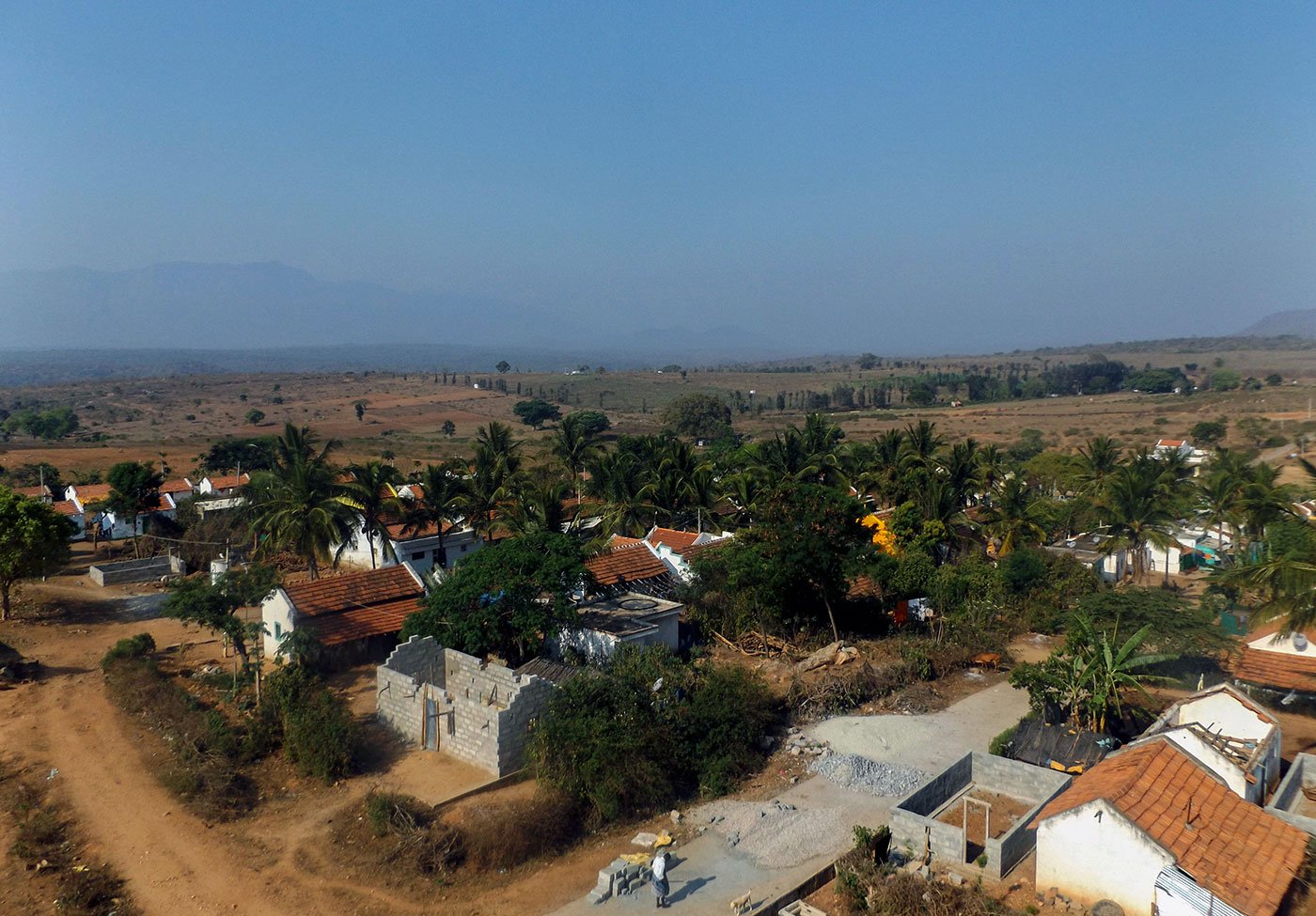 PHOTO • K. Sunil
Kaniyanpura Colony: "This is my village. Earlier there was no colony, there used to be a rich landlord who everyone worked for. Later, the government gave us land to build houses and that place became known as Kaniyanpura Colony."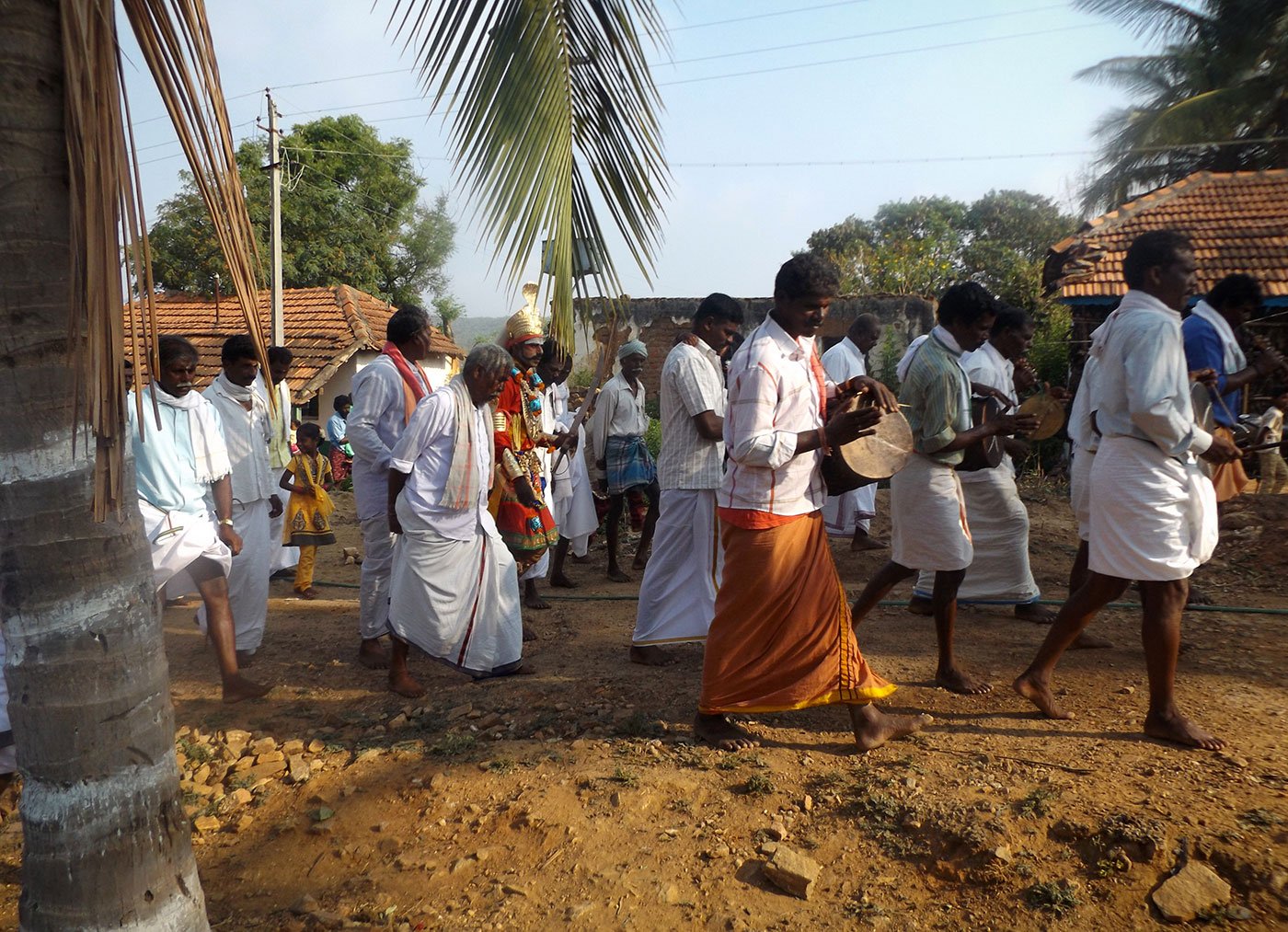 PHOTO • K. Sunil
Veerabhadra Kunita: "This is a wedding in my village. The man dressed in red is called to perform during weddings [Veerabhadra Kunita is a popular folk art and dance form]. He is from the Lingayat caste. He performs several ceremonies during the wedding."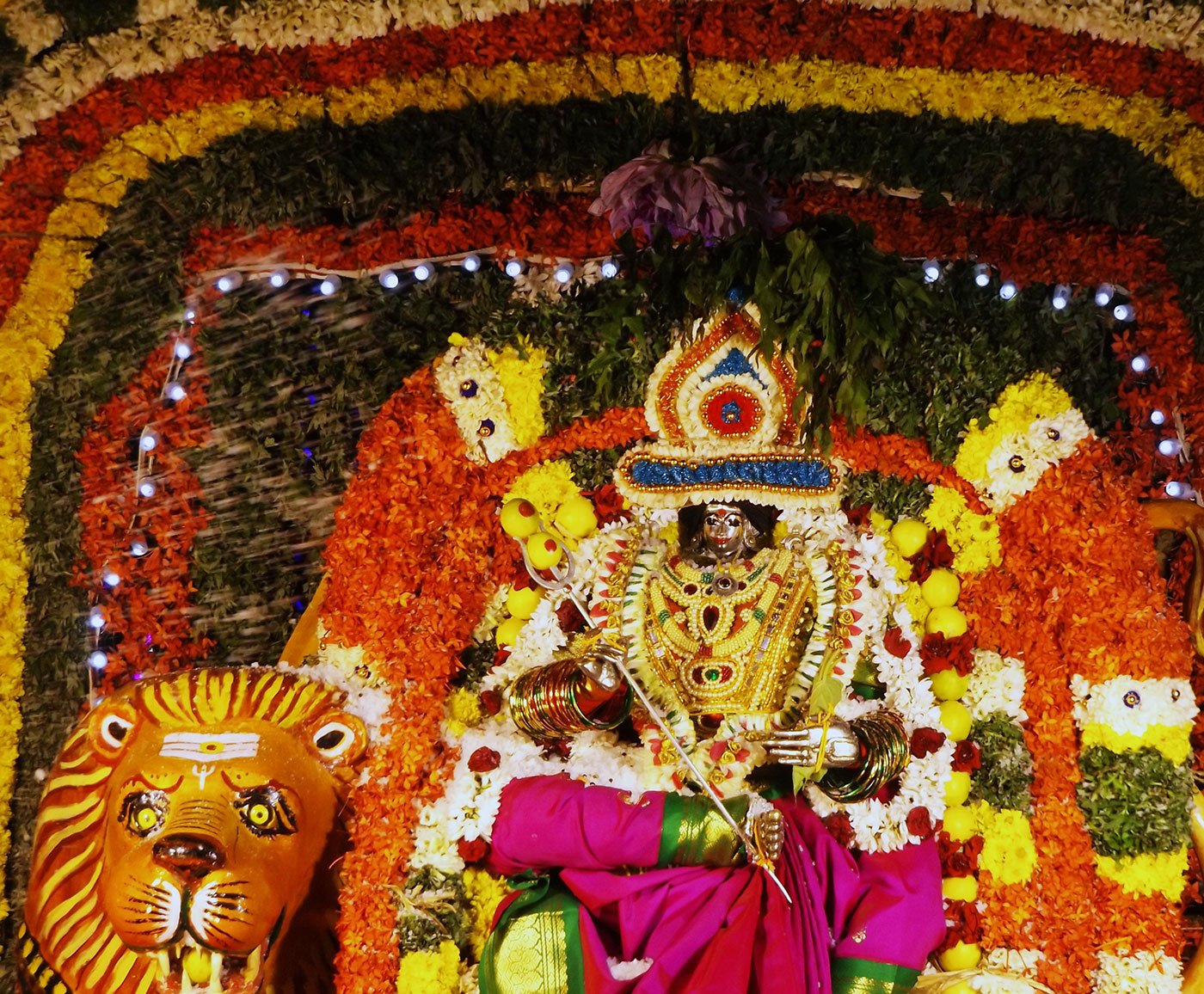 PHOTO • K. Sunil
Mariamma: "This is goddess Bokkapuram Mariamma. The deity is taken out in a procession once a year. She is decorated with jewels."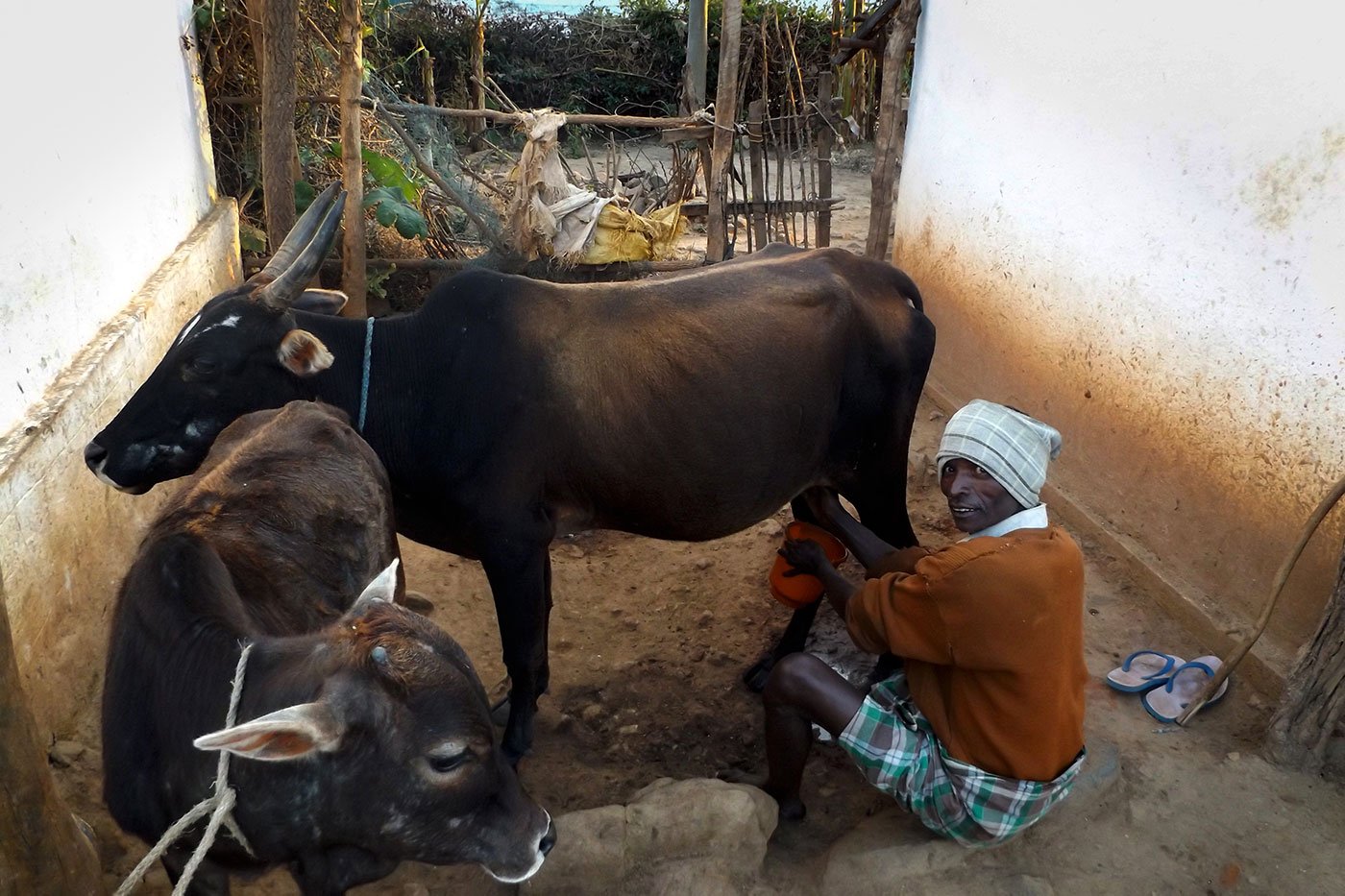 PHOTO • K. Sunil
Milking: "This is my neighbour, he is milking his cow. He has only two cows. He sells the milk to the diary. Each cow gives about two litres and he sells one litre [of each] to the diary.  He will get 22-25 rupees for a litre of milk, so about 50 rupees a day. He can no longer walk."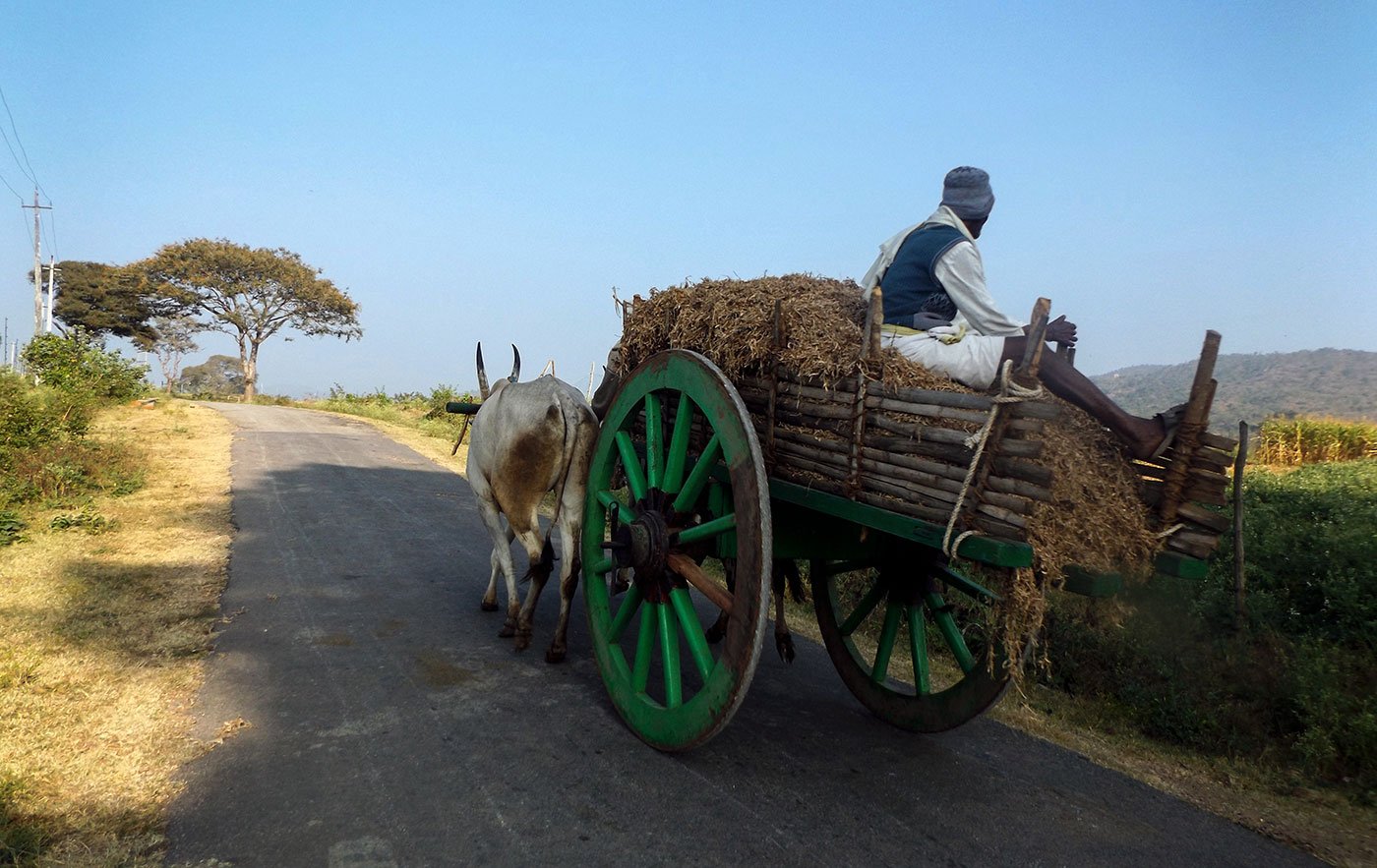 PHOTO • K. Sunil
Bullock cart: "The farmers here have harvested and are now taking the produce to their home. This is in Mangala village."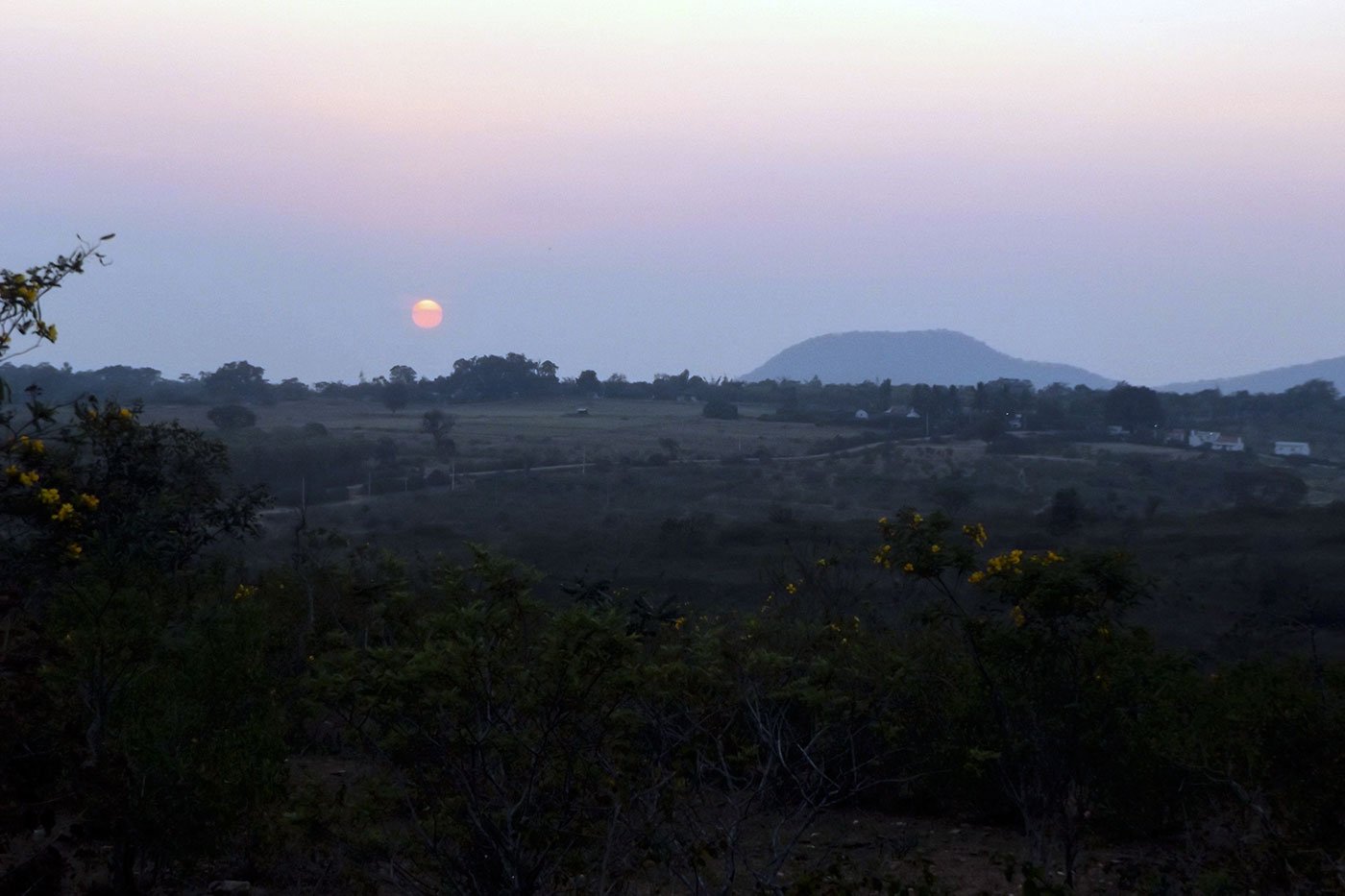 PHOTO • K. Sunil
Sunset: "This is near Kaniyanpura. I took this while I was going back from work. Mangala village is where the hills are seen."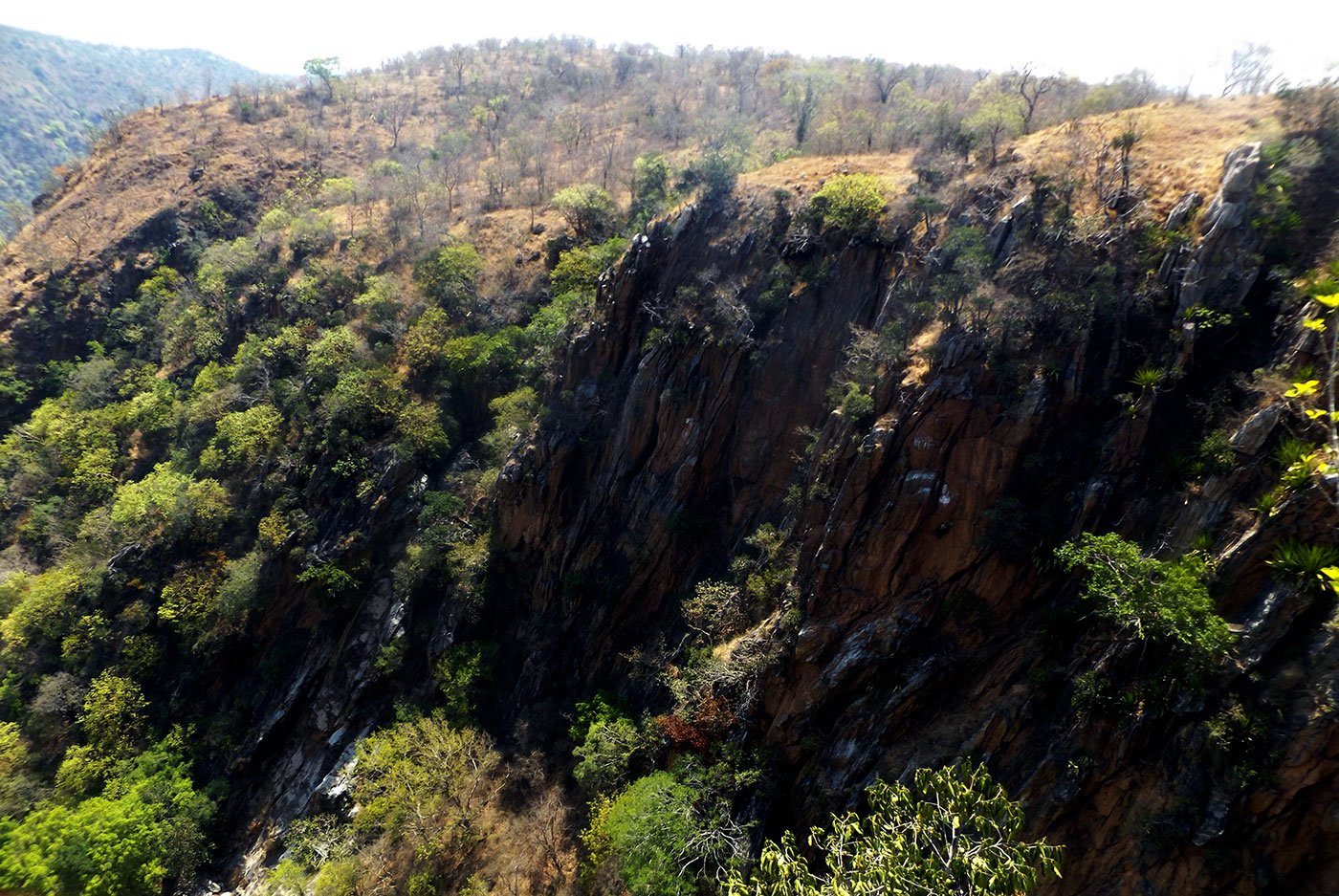 PHOTO • K. Sunil
Kyathambara gorge: "This place is called Kyathambara . It is a valley and there is water down there. There is no shortage of water even during summers."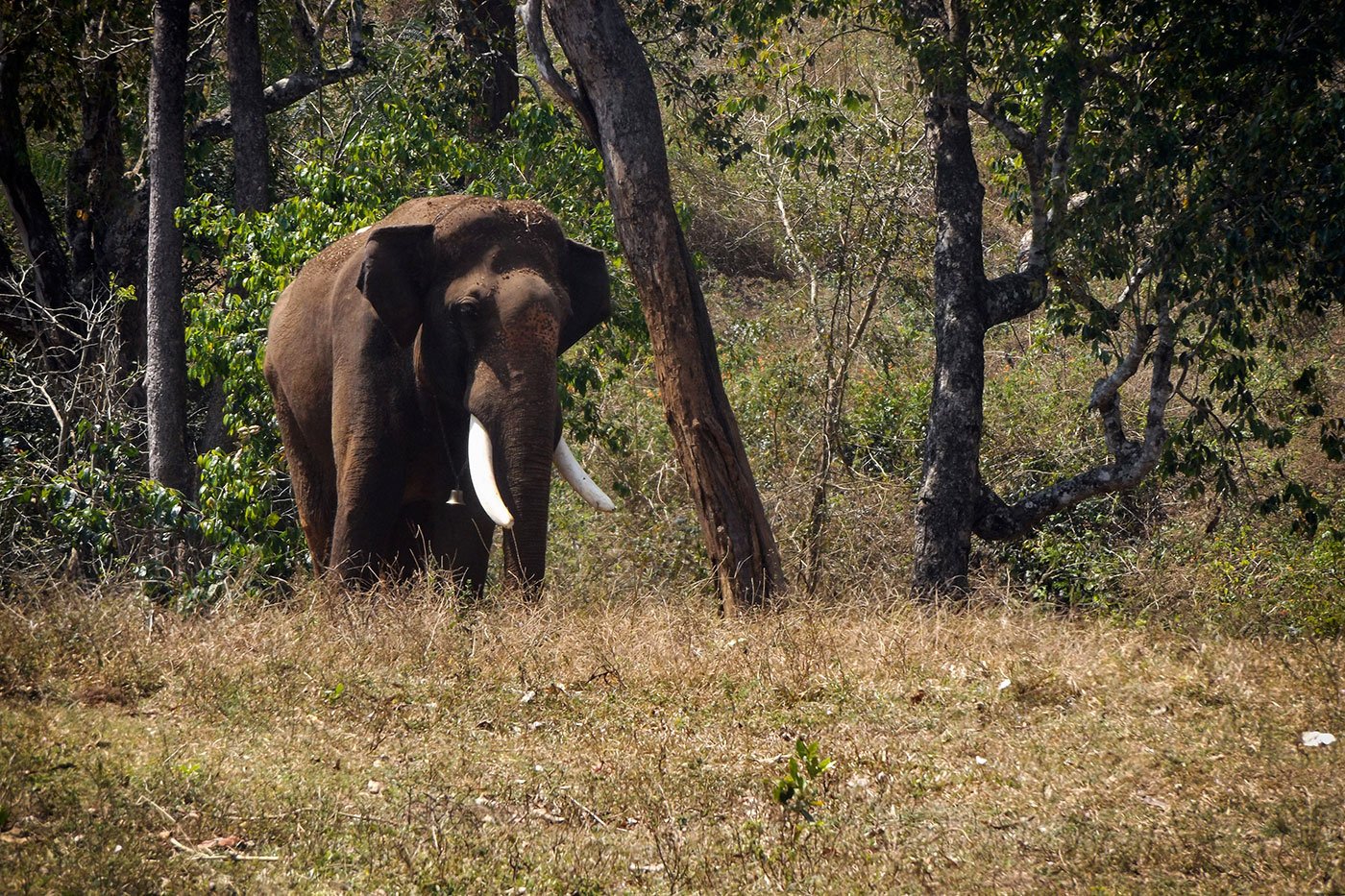 PHOTO • K. Sunil
Elephant: "I took this photograph near Abhayaranya. This tusker belongs to a elephant camp. Some of my friends work there as mahouts."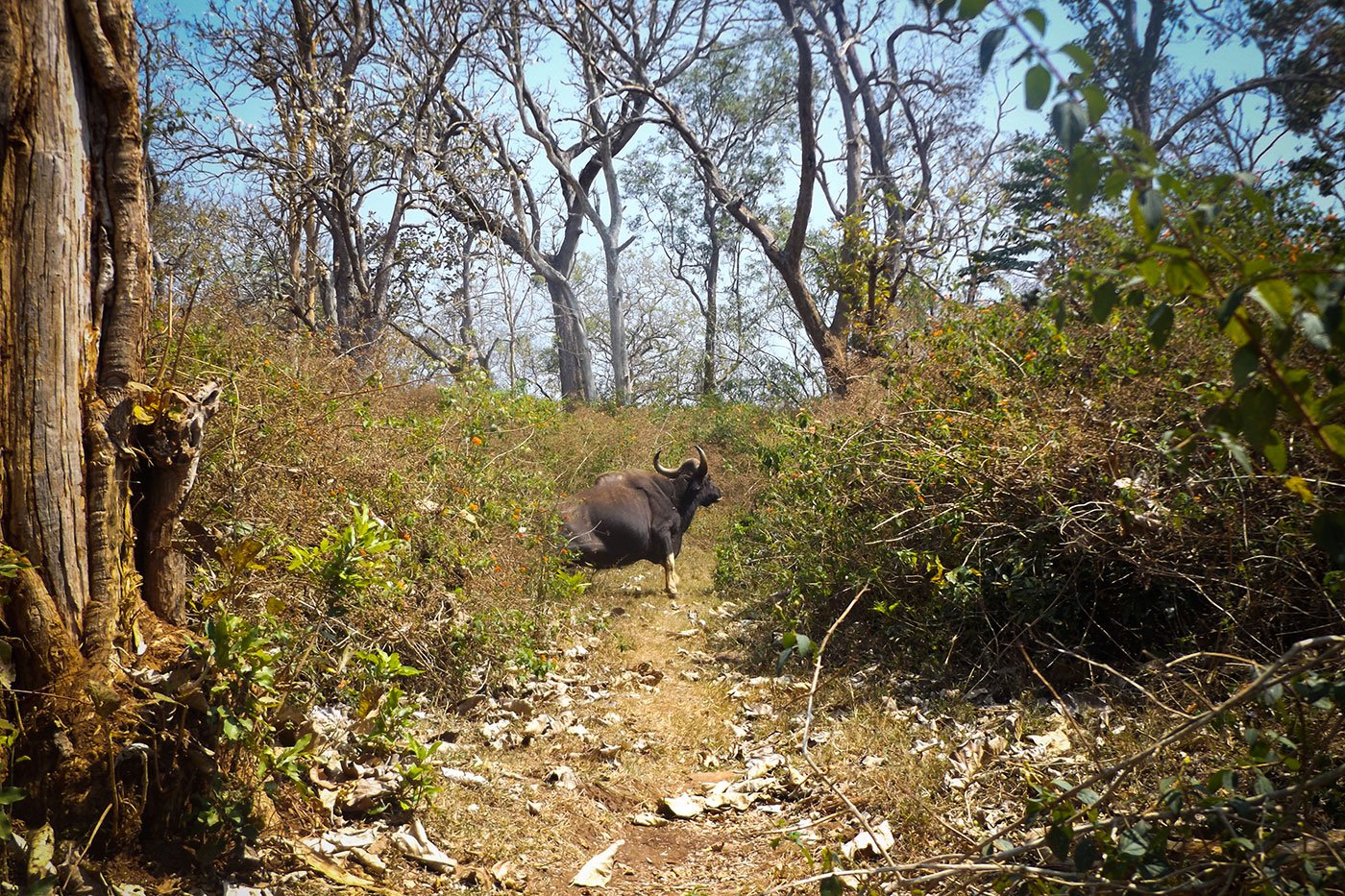 PHOTO • K. Sunil
Gaur: "We don't usually find gaur in this area, they are only seen in big tracts of forest."
This work was facilitated by Jared Margulies, in coordination with the Mariamma Charitable Trust, located in Mangala village, Karnataka. It was made possible with the support of a 2015-2016 Fulbright Nehru Student Research Grant, a Graduate Student Association Research Grant from the University of Maryland, Baltimore County, in-kind support from the Mariamma Charitable Trust, and above all, the participation, enthusiasm and efforts of the photographers themselves. B.R. Rajeev's help in the translation of the text was invaluable, too. All copyrights for the photo are held by the photographers alone in accordance with PARI's Creative Commons policies. Any questions about their use or reproduction should be directed to PARI.
Related stories:
When Jayamma spotted the leopard
'We have hills and forests and we live here'
Close encounters with the Prince of Bandipur
'That is where the leopard and tiger attack'
'This calf went missing after I took this photo'