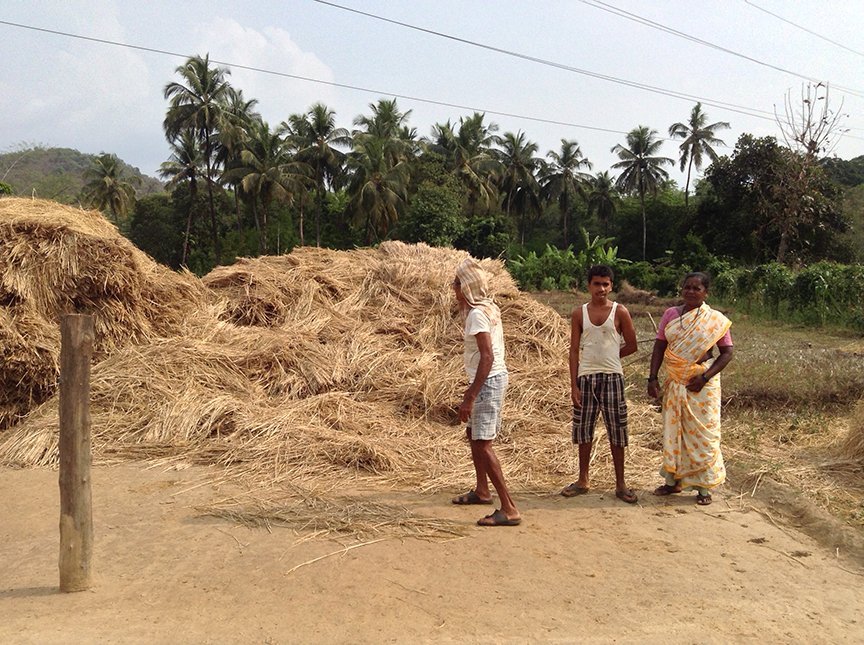 PHOTO • Parth M.N.
When 30-year-old Deu Kumbhar offered to supervise his uncle's farm one night last month, it could well have been their final meeting. Residing in a tranquil village of Babarwadi in the Dodamarg Taluka of Maharashtra's lush coastal Sindhudurg district, farmers often deal with unwelcome rampaging guests. Deu, napping on the perch at the two-acre-farm, got distracted with shuffling noises at 2.30 a.m.
In the pitch-dark farm, he flashed his phone light out of curiosity, only to see a gigantic wild elephant surging towards him. Deu immediately turned the light off and the tusker crushed the scarecrow mounted alongside the perch instead.
"Wild elephants regularly pay a visit at night", says Nhano, Deu's uncle. "If we are lucky, we suffer unsustainable monetary losses". More than half of the 30 quintals of rice lay strewn in farm the next day. 25 banana trees uprooted. Chillies looked like a toad under a harrow. The farmland resembled a dumping ground. When asked why it has not been cleaned up, Nhano says, "We have to forget the compensation if we do anything until forest officers arrive and gauge the damage".
Babarwadi, located alongside the Tillari dam, is one of the most remote villages in Dodamarg taluka. With erratic electricity and phone lines, the village is wedged amid curvy lanes and various shades of green. Enduring bumpy concrete roads and slippery red mud, it is an arduous task just to get there. Consequently, forest officers do not always turn up immediately to inspect the destruction. "We can segregate the spared crop from the one that is destroyed, safeguard it and lose out on the compensation or we wait for the officers to arrive and risk the elephants barging in again and rupturing the spared crop", says Nhano. "It is a catch-22 situation".
With one quintal of rice going for around Rs.1500 , the tusker, by spending few minutes in the farm, devastated crop worth Rs. 30,000. The investment of around Rs. 25,000 and the efforts of the past five months were all but devoured. Bananas and chilies included. Nhano incurred losses of around Rs.70,000 in one night. "But the compensation never measures up", he says.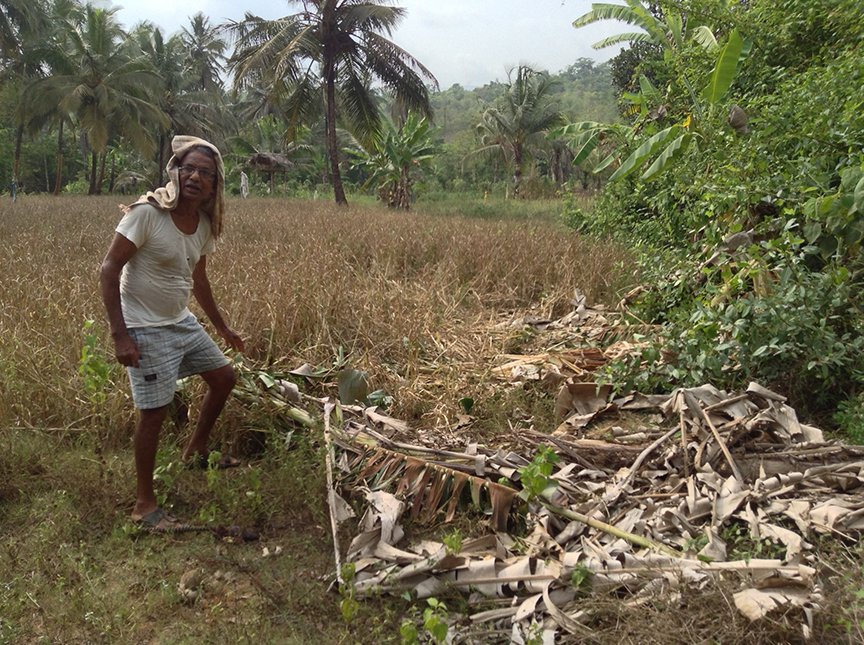 PHOTO • Parth M.N.
Till 2002, wild elephants could only be seen on TV in Sindhudurg. However, between 1944 to 1990, six dams were constructed in the Uttar Kannada district of Karnataka, shrinking the forestland of the state. "Elephants have genetic memory", says Anand Shinde, elephant behavior expert. "Their routes are fixed. If there are any changes in those routes due to encroachments, they get confused and stray into villages".
As a result, by 2004, 22 wild elephants had reportedly wandered into Maharashtra's Sindhudurg and Kolhapur districts, where meticulously tended farmlands of paddy, coconut, cashew, banana, rice and so on, present an attractive buffet for them. So far, they have killed 13 people, injured 21, forced 11,000 examples of crop damage across these two districts, compelling the forest department to pay 10.5 crore rupees in compensation for damages and casualties, according to official records. Meanwhile, 11 elephants have also died in the state, marking the first-ever man-elephant conflict here.
A repatriation experiment had been undertaken in 2004, an operation to drive the wild elephants out of Maharashtra into their original habitat. However, it turned out to be a let-down since the original habitat has been subject to fragmentation, and could no longer accommodate wild elephants. With the charade to meet the demands of growing population, forestland has only reduced by the day. "As forests shrank, elephants awoke", says Shinde.
About 70 kilometers away from Dodamarg, in Kudal Taluka of Sindhudurg, the paranoia swelled so much over the years that the central government sanctioned a Rs. 69 lakh campaign in February this year to capture the three wild elephants terrorizing 16 villages around Kudal in the Mangaon valley. Four trained elephants were brought from Karnataka. 204 forest officials from Karnataka and Maharashtra were part of the mission. "The operation lasted for five days", recalls Sanjay Kadam, forest range officer, Kudal. "It was exhilarating".
The mission began on 10 February. The first afternoon was spent trying to locate the elephants. With the absence of walkie-talkies, those who were aware of the elephants' territory came into the picture. Two of the three wild pachyderms were located in the evening. One fled, the other charged. The veterinary doctor promptly tranquilized him. The speed at which wild elephants run after being sedated is beyond that of a human being. One of the trained elephants chased him down. The team tied one end of a rope to the sedated elephant's leg and the other end to the leg of the trained elephant and brought him to the kraal, a wooden enclosure at Amberi, three kilometers from Mangaon. The other two elephants were captured similarly over the next five days.
Tourists visit the small ground at Amberi to get a glimpse of the elephants. It is a complete turnaround in Kudal that earlier quivered like an aspen merely at their thought. "Our kids would not even be in our own backyard after 7 p.m.", recollects Subhash Bandhekar, whose farm was wrecked thrice. "We had forgotten what a good night's sleep meant".
The three elephants uprooted 50 coconut trees from Bandhekar's garden. Moreover, they busted windows and backdoor of his house to pick up rice bags kept in the room. "We managed to lock ourselves in a different room in time", says Bandhekar. "We burst some crackers and they went away".
Vijaya Jadhav from Ghanvale village in Mangaon was less fortunate. In front of her kids, she was picked up by one of the elephants, crushed and thrown to the ground. She remains in vegetative state till date.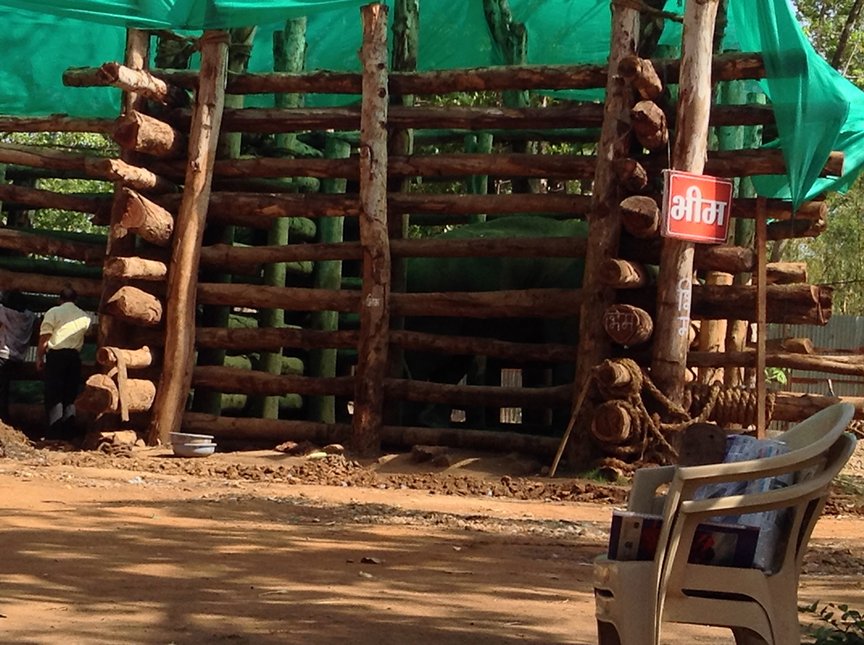 PHOTO • Parth M.N.
The cloud of intense fear may have dissolved from the air of Kudal, but the forest department has come under scrutiny for lacking foresight. One of the three captured wild elephants, during their training period, died in February this year. He was 40 while the average age of the elephant is 80. "It was a natural death", says Kadam. "We did not treat him differently than the other two". However, local journalist Chandu Shedge says, "There is no doctor in the area with expertise in elephant health. A doctor from Mysore visits the place upon being called".
With the elephant categorized as an endangered species, its preservation becomes even more important. Moreover, one elephant requires 200 kilos of food comprising hay and foliage and an equal volume of water every day. Apart from that, sludge is dear to elephants. They often get embedded in it to decrease the body temperature in scorching heat as they do not have sweat glands. "With temperature pushing 40 degrees, it is practically not possible to arrange the required quantity of marsh in a kraal. We must ask ourselves if we have the capacity to tend to the elephants", says Shinde. "In my opinion, we are lacking in manpower as well".
Sunil Limaye, forest officer, Pune, regretted the demise of the elephant, saying "We will learn our lesson and in future ensure we live up to the standards and provide everything an elephant requires".
But soon after, on a recent Saturday afternoon, Amberi lost its tranquility with one of the remaining two elephants shrieking throughout the afternoon.He already seemed under the weather and soon collapsed to the ground. His eyes turned red. 7-8 people started hysterically heaving him up to get him back on his feet. The sight was pathetic. The colossal pachyderm had turned so weak that he could not bear his own weight. Men tried to help him up with a rope but the tusker would get halfway up and crumble. After quite a few unsuccessful attempts, he lay motionless for a while like a frail warrior who had given up on everything.
The atmosphere grew frantic. Local vets were called and they applied saline. While others fed him banana trees, some arranged for a pipe and poured water on him. Later on, ice packs were applied. He did not get up the whole day as the other elephant watched helplessly. He was back on his feet the next day, but it was a temporary solace as he died within a month on 29 May.
"They must have a full-time elephant expert posted in Kudal", says Shinde. Kadam concedes that Maharashtra is still figuring out a way to deal with wild elephants. "Karnataka has them for hundreds of years", he says. "Before 2004, nobody in Maharashtra imagined a conflict like this".
Another of the objections raised is the way in which the tuskers are trained. Eyewitnesses around the vicinity say the elephants are beaten up and tortured while training. "It is an orthodox method", says Shinde. "A sensitive animal like elephant should be taken into confidence and then trained". Experts believe the orthodox method may have led to the unfortunate deaths of the two elephants. "A wild elephant lives his whole life on his own terms. Suddenly he is trapped in an enclosure. It severely disturbs the psychology, thereby physical health", says Shinde. "Elephants should be allowed to follow their natural instincts. If we provide appropriate habitat in a marked sanctuary, they would not stray into villages. Farmers would live sans fear and we would have also conserved forests".
Limaye says a "Dandeli-Tillari Elephant Reserve" along the Maharashtra and Karnataka border could be a long-term solution to the conflict. "It could be a joint initiative of the Maharashtra and Karnataka governments", he says, adding that an immediate goal is "to educate farmers and create awareness" as panicky behavior induces aggression among wild elephants, causing deaths. Limaye also believes that the "compensation process should be swifter".
Dr N.V.K Ashraf, the chief of conservation at the Wildlife Trust of India, has an out-of-the box suggestion for farmers. "Cultivate crops that attract pachyderms at the core of the land", he says. "Elephants hate lemons, chilies, beehives. Nurture them on the borders of the farm".
Suggestions abound but with shrinking spaces for the wild animals and human encroachments on the rise, the solutions are few, with both groups living in fear and losing out on freedom and a lot more.
Meanwhile, as the sun makes its lazy journey down the sky, Nhano's wife ensures all the windows and doors are firmly locked. She orders her grandnephews, sons and daughter-in-laws back in the house as Nhano gets ready with a stick and torch to spend the night on the perch at the farmland. It is his turn today.