Using a fallen branch, Thankamma A. K. beats the ground to announce her arrival under the coconut trees. "I get into these overgrown plots carefully. I beat the stick and make noise because if there are any snakes, they'll move away," she says as she navigates her way, careful not to intrude upon any creatures in the dense vines, broken branches and wild grass under towering coconut palms.
This patch of wilderness is an empty plot of land in one of Ernakulam's housing colonies. "Finding [good] coconuts along the way is a lucky strike!" says the 62-year-old, who gathers and sells fallen coconuts in untended places to make ends meet. Coconuts are a staple ingredient in a lot of Malayali cuisine, making the fruit in-demand all year round.
"Earlier I would collect coconuts from this neighbourhood [Puthiya Road Junction] after finishing work, but now my ailments don't let me go to work," Thamkamma says as she makes her way slowly through the tall grass. She stops every now and then to catch her breath or to look up at the fruit while shielding her eyes from the blinding midday sun.
Five years ago, Thankamma started to suffer from bouts of breathlessness, intense fatigue and other Thyroid-related complications. This forced her to quit her full-time job as a domestic worker and with it went her earnings of Rs. 6,000 a month. Staying home was not an option for Thankamma who needed an income, so she moved to less physically arduous work like dusting homes and cleaning yards in the neighbourhood. Once Covid-19 hit, that work stopped too.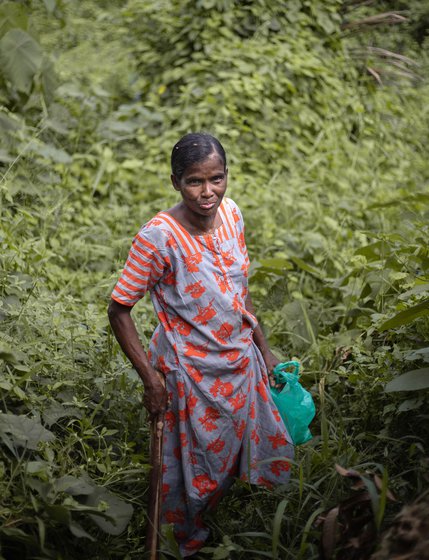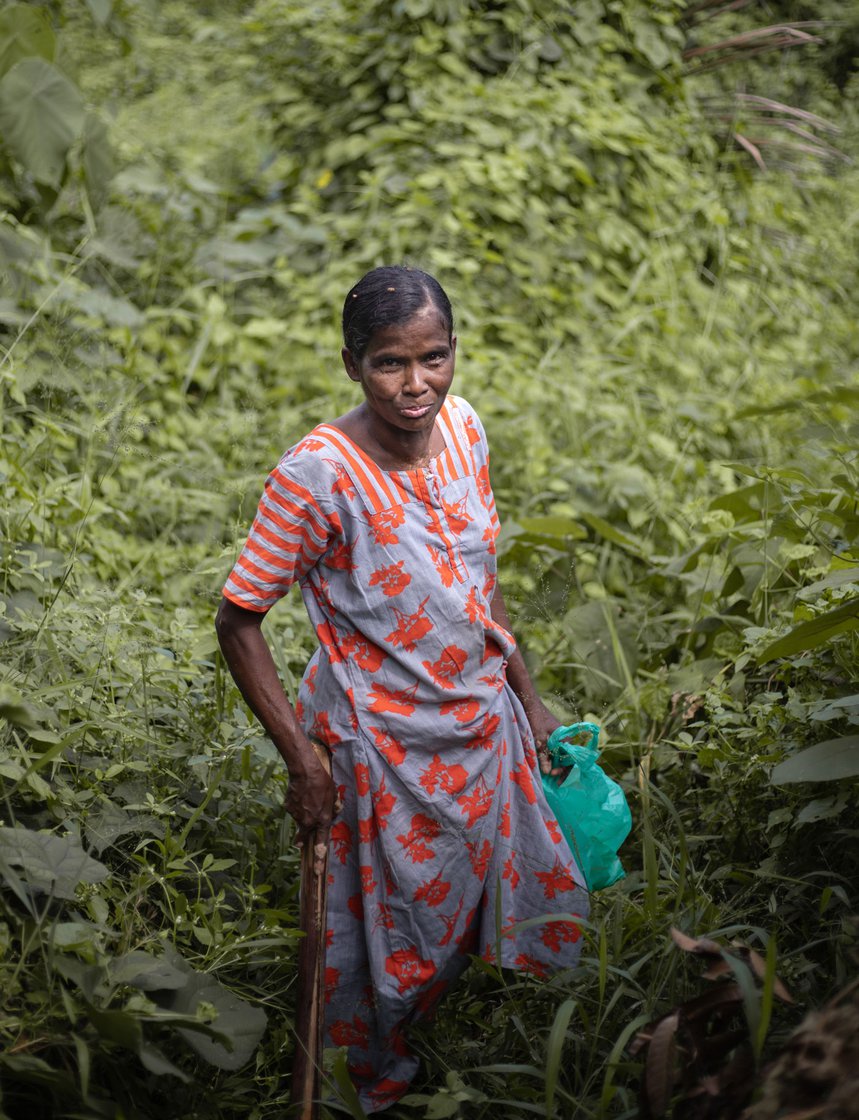 PHOTO • Ria Jogy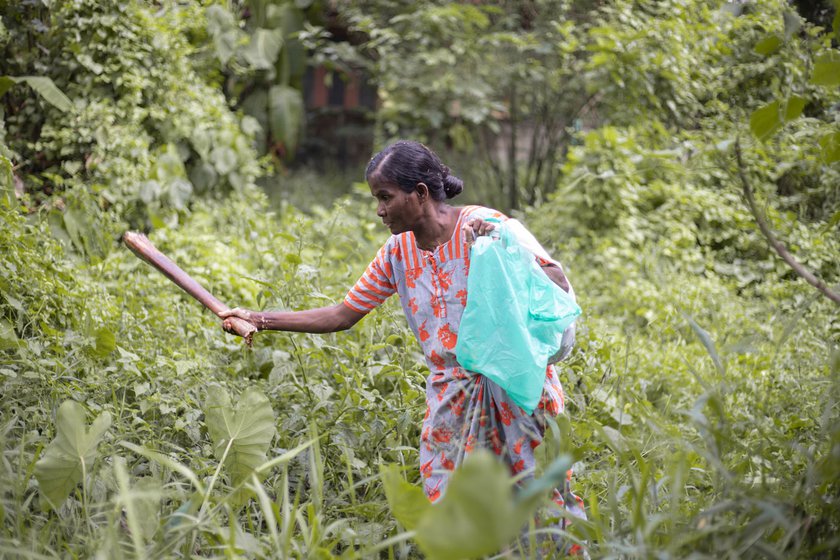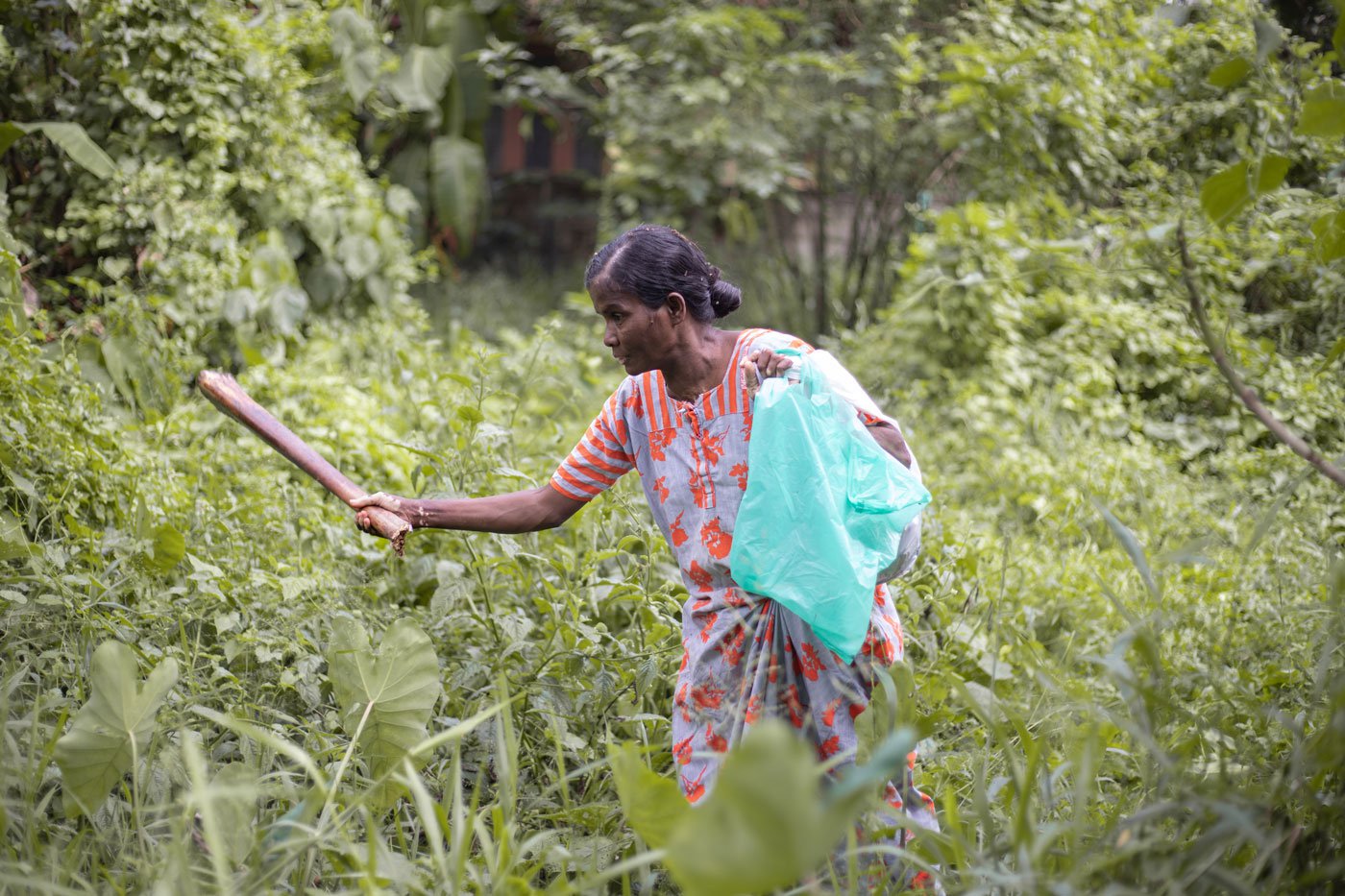 PHOTO • Ria Jogy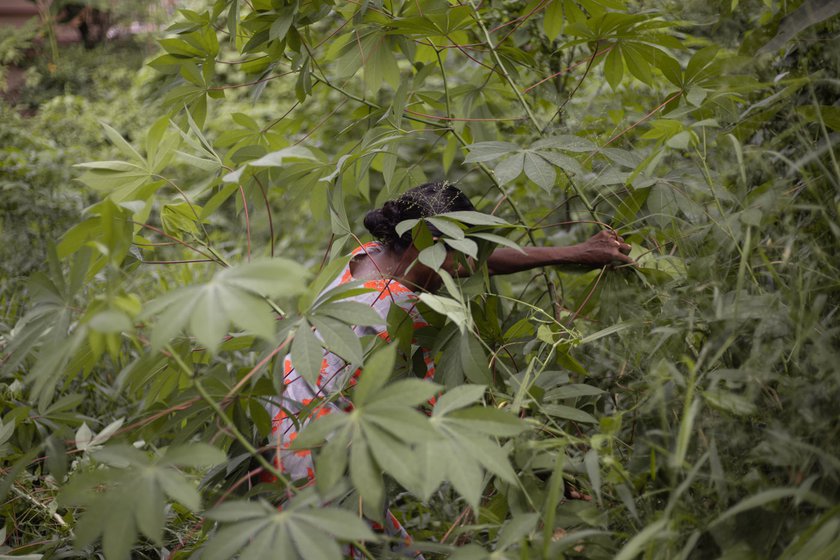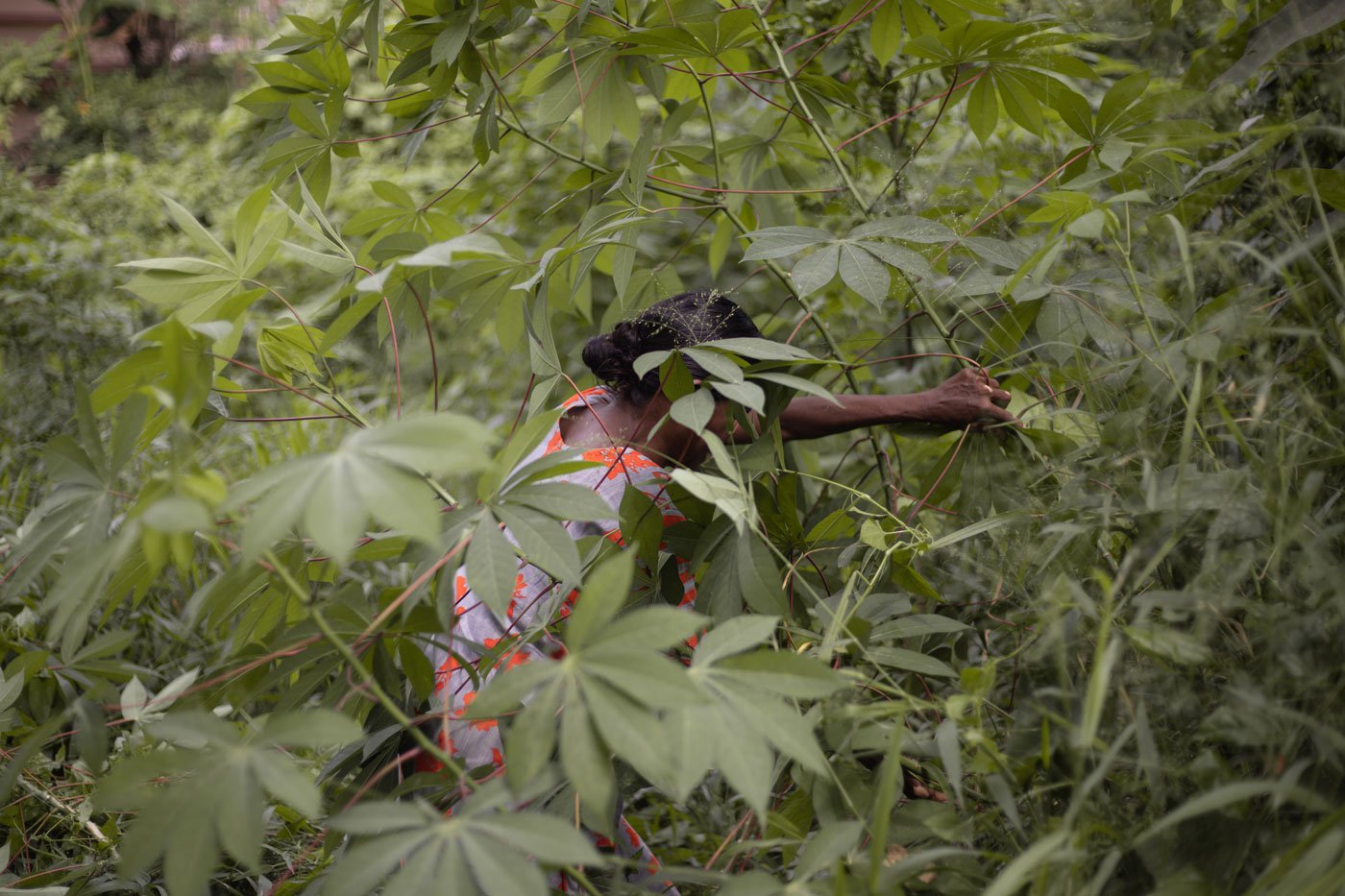 PHOTO • Ria Jogy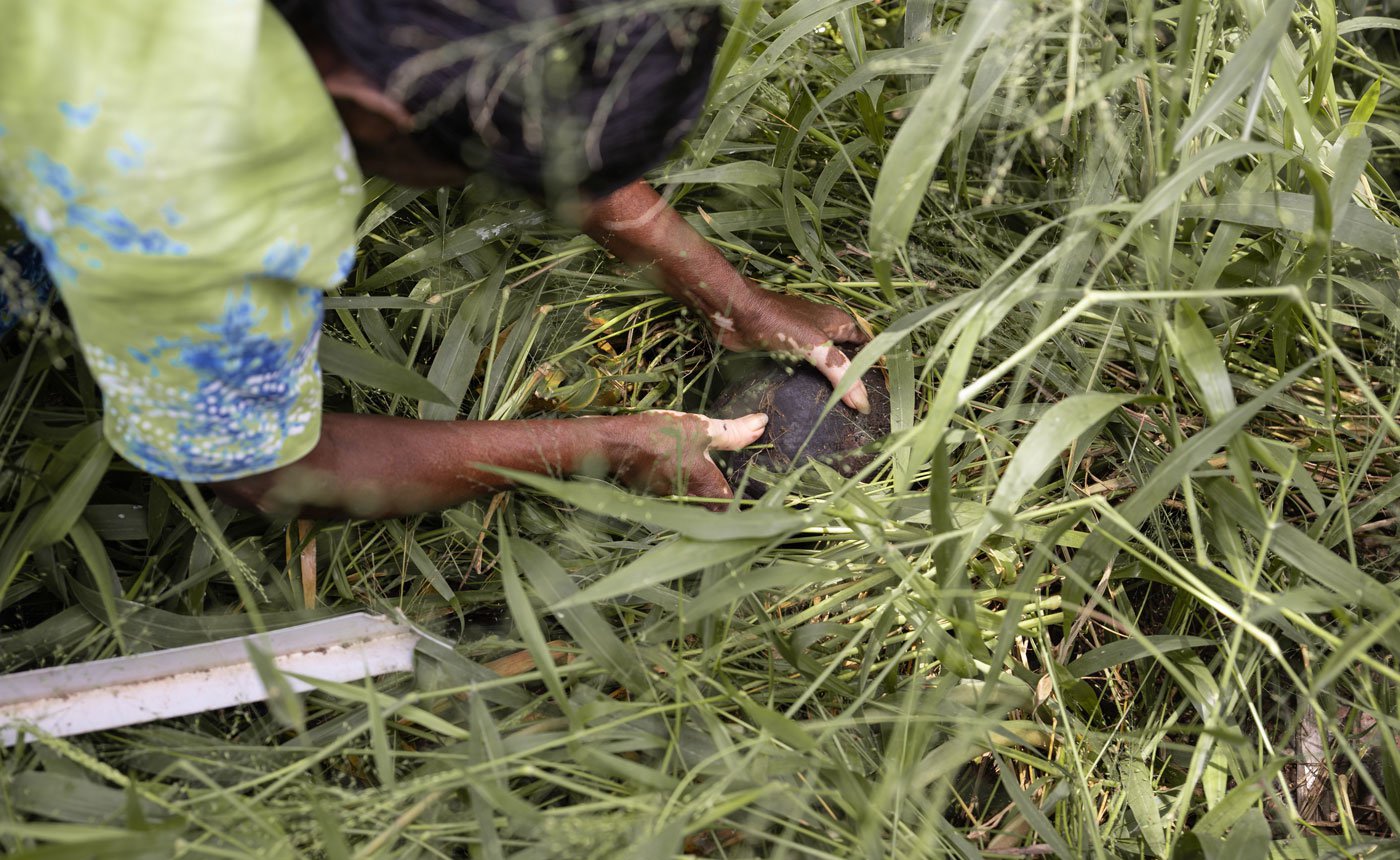 PHOTO • Ria Jogy
Thereafter, Thankamma's expenses were met by selling coconuts from any plots of land that were vacant. She also gets a state pension of Rs. 1,600 every month.
"No one has ever stopped me from venturing into these plots. Everyone knows me and that I mean no harm," says Thankamma, speaking of the unguarded properties she routinely scouts for healthy coconut trees and their fruit.
As Thankamma explains her work she is also snapping branches and pushing aside dense shrubbery to get to the base of the trees where fallen coconuts lie. She finds a coconut, places it on a nearby wall and continues her search for the next one.
After an hour of gathering coconuts, she is finally done. Thankamma then scales the wall into the next compound where she is greeted with a glass of water by the owner of the house who happens to be her previous employer.
A refreshed Thankamma cleans herself and her clothes of leaves and weeds and then begins sorting the coconuts. She places them in different sacks to be sold to a nearby hotel or homes in the neighbourhood. A regular-sized coconut fetches her Rs. 20, while larger ones can be sold for Rs. 30.

Once she is done sorting, Thankamma freshens up, changes out of her work clothes – an old nightie – into a saree and rushes to make the bus that travels to the Puthiya Road Junction where she sells these coconuts to a hotel.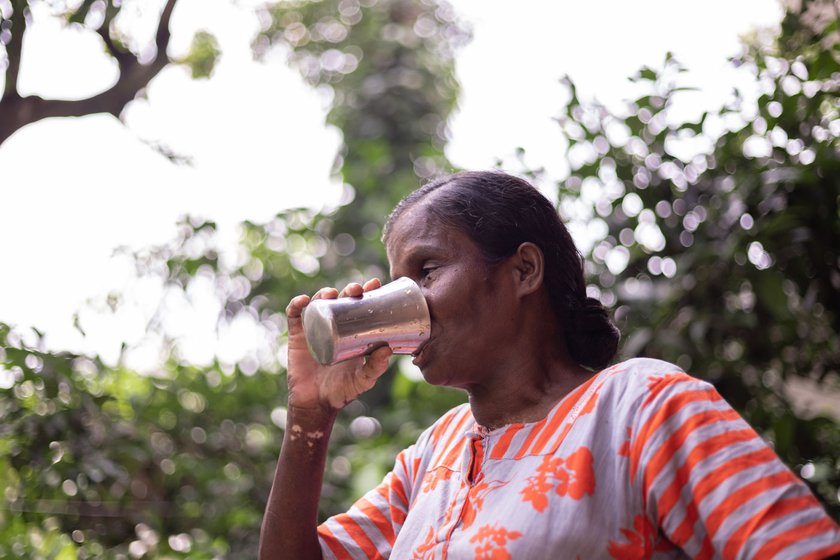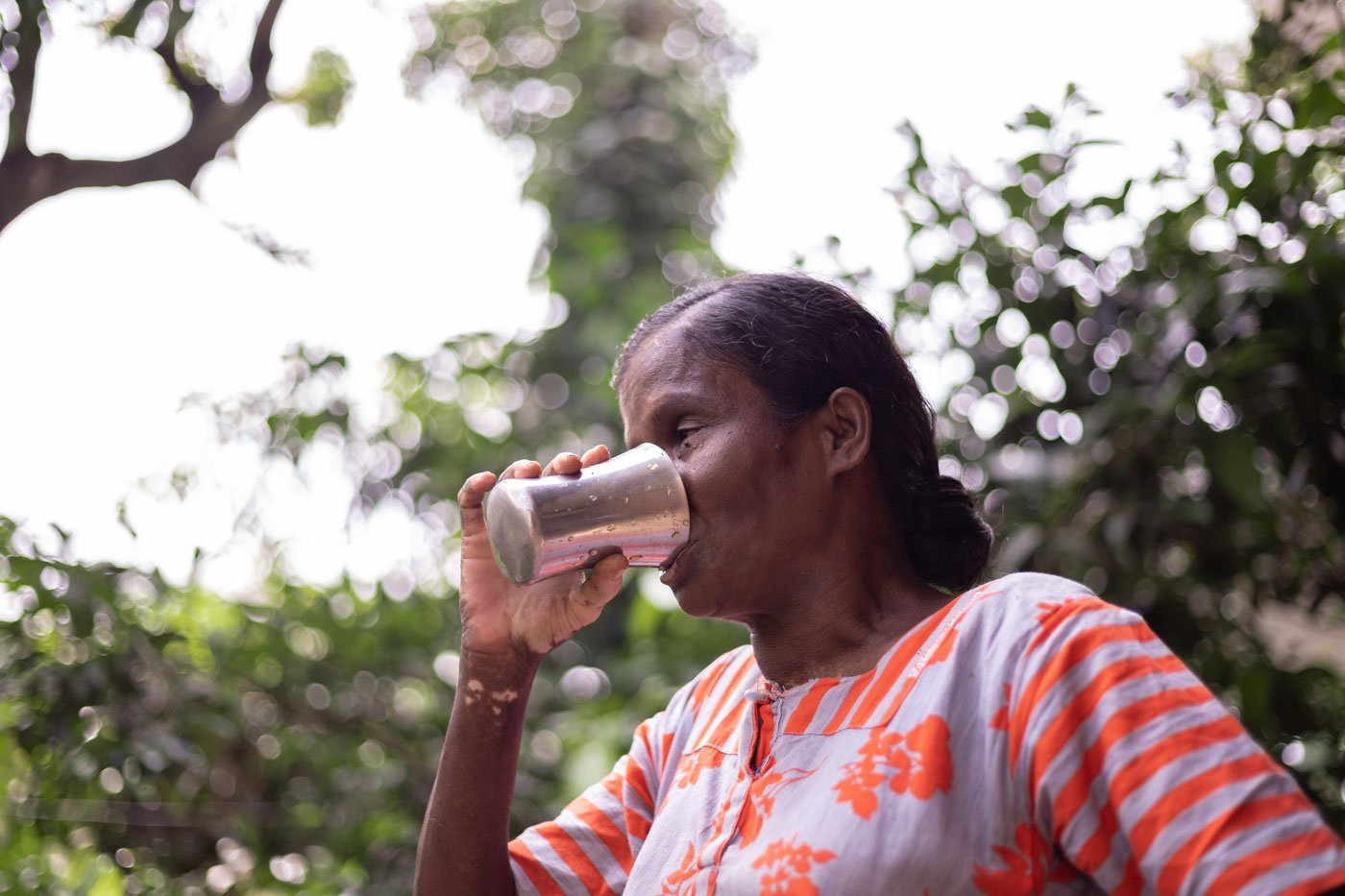 PHOTO • Ria Jogy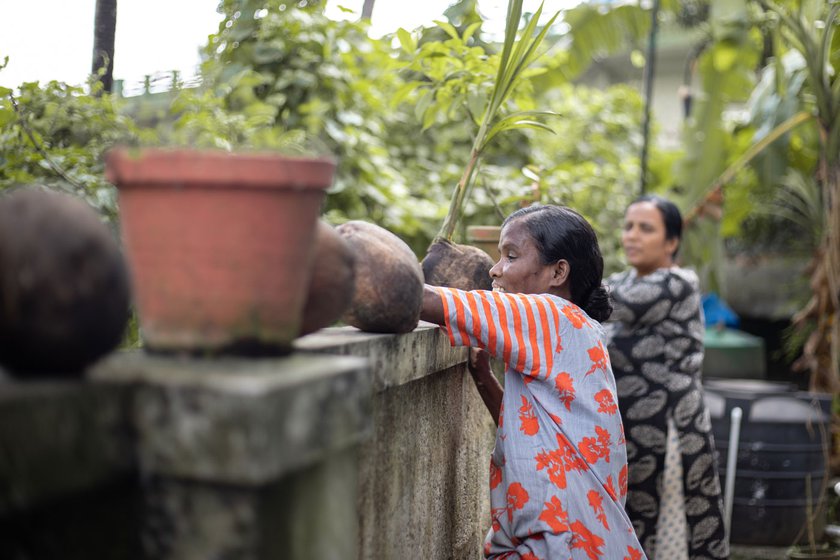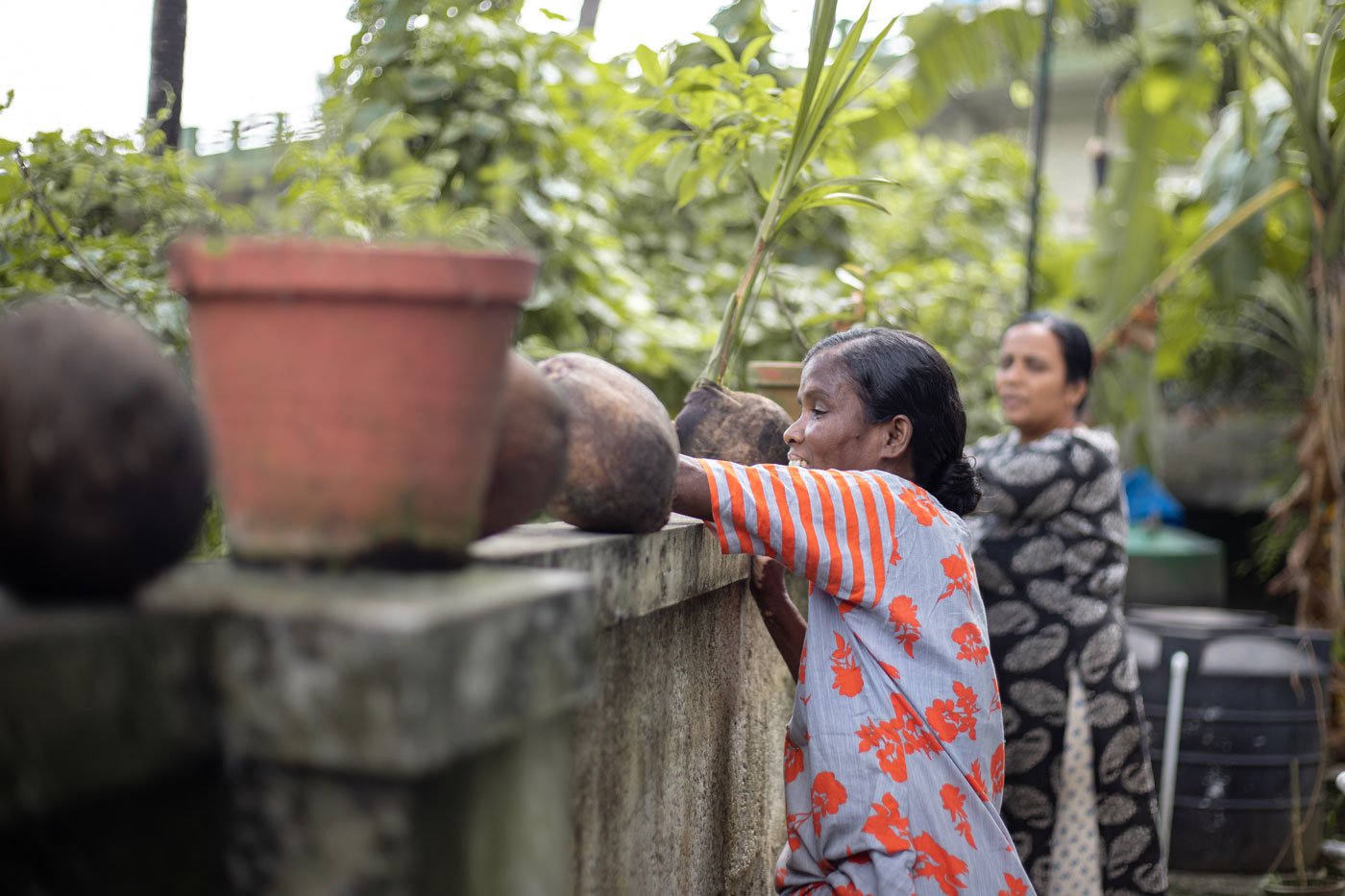 PHOTO • Ria Jogy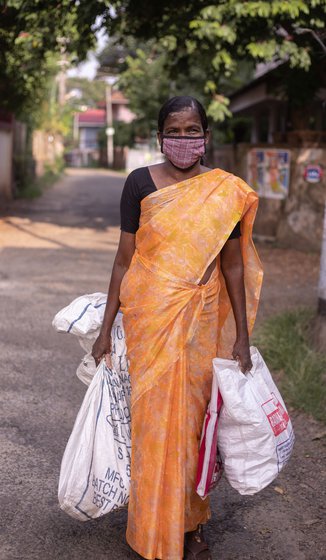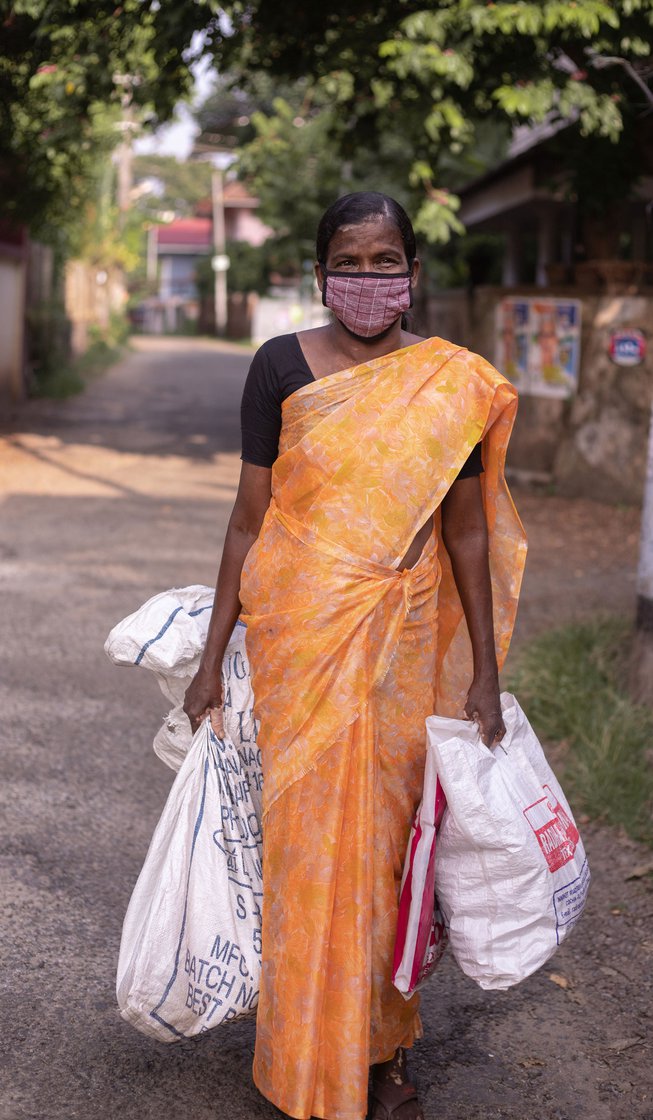 PHOTO • Ria Jogy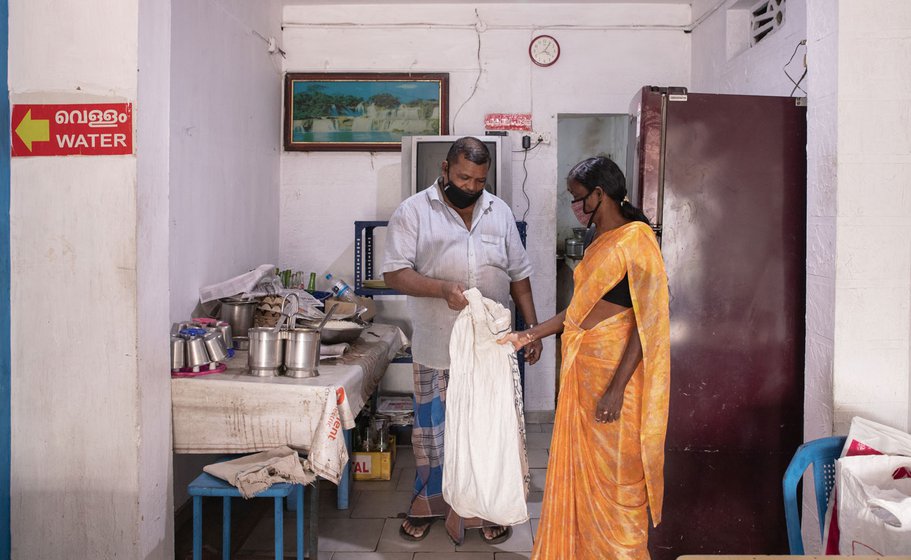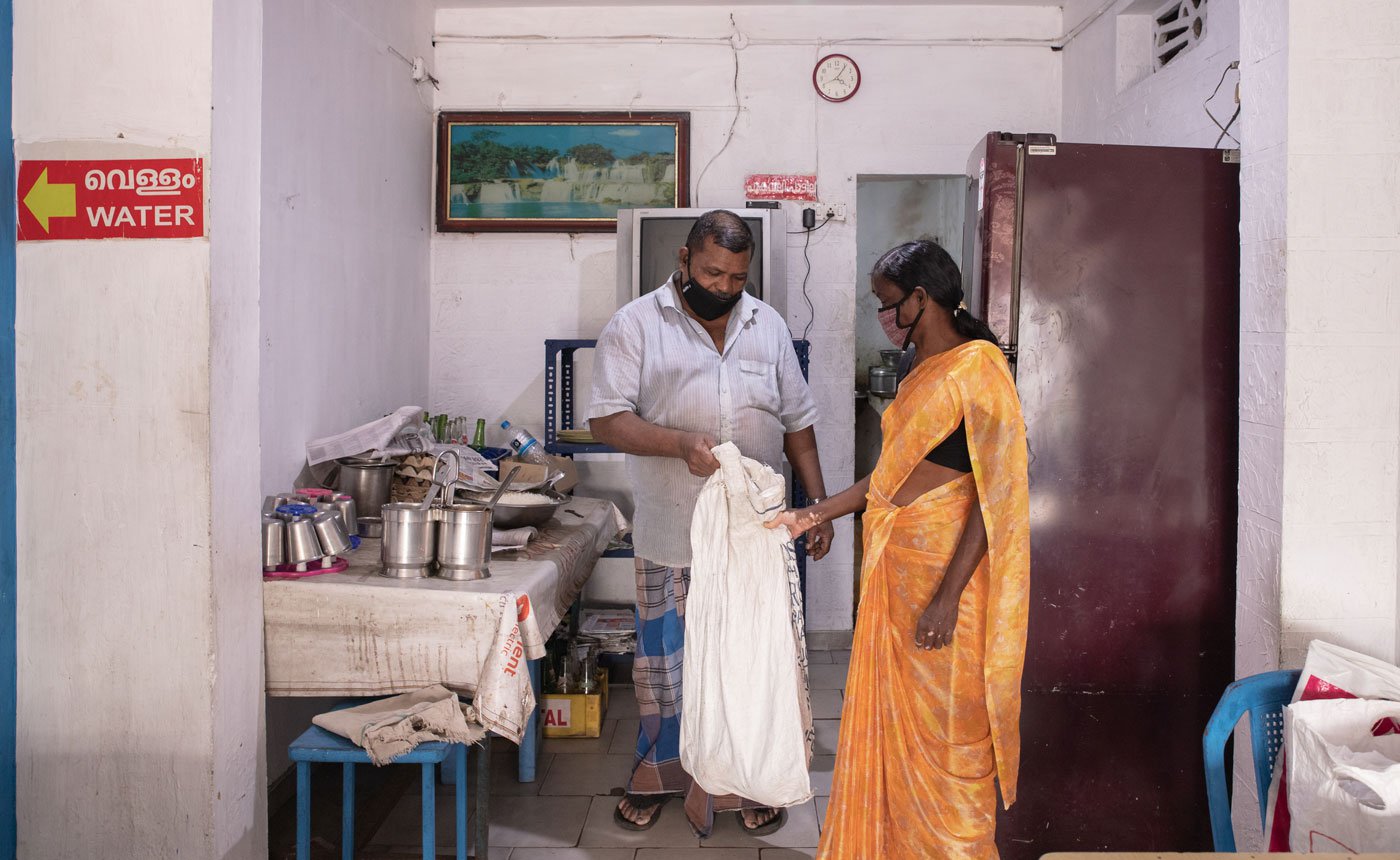 PHOTO • Ria Jogy
"I don't get coconuts on every visit. It basically depends on your luck. Sometimes it's a lot, other times nothing," she says.
It's getting harder to look up at the coconut trees, laments Thankamma, her speech interrupted by laboured breaths, "My head spins." She blames pollution from the factories near her home for the rapid decline in her health.
Ironically, Thankamma isn't a fan of coconut in her food. "I don't enjoy dishes with coconut. I use it just once in a while when I make puttu [steamed rice cakes] or ayala [mackerel] curry," she says. She uses the husk as fuel and the copra is traded to mills in return for coconut oil. Sprouted seeds are handed to her son Kannan for bonsai cultivation.

When she was in better health, Thankamma used to time her visits with the coconut harvesting cycle – once in 40 days. Back then, her chances of finding fresher coconuts were higher. Now visits are erratic as the travel to and from her home in Eloor to Puthiya Road is taxing. "When I used to live in Puthiya Road, all this was easy. Now the 20 minute bus ride and the 15 minute walk after is too tiring," she says as she waits for the bus to arrive.

Thankamma grew up in the area around Puthiya Road Junction with five siblings. The land on which her ancestral home was built was later divided amongst her brothers and sisters. Thankamma's share was sold by her late husband, Velayuthan. With no home to anchor them they moved often, sometimes staying with her sister in Puthiya Road and on other occasions under a bridge. Their present home is built on three cents of land (1306.8 square feet) in S.C Colony, Eloor, and was given by the Panchayat as a pattayam (land deed) to help the homeless.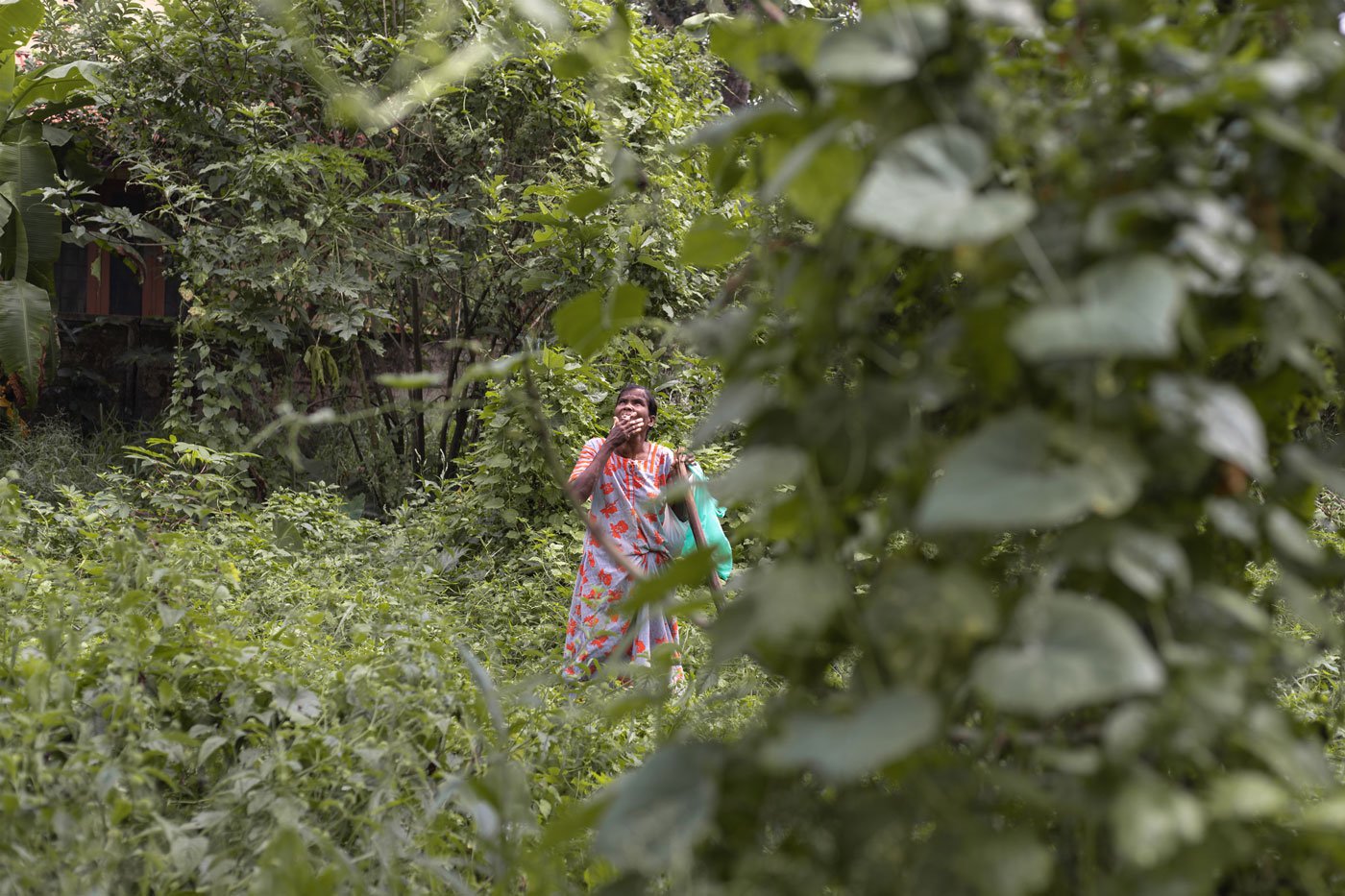 PHOTO • Ria Jogy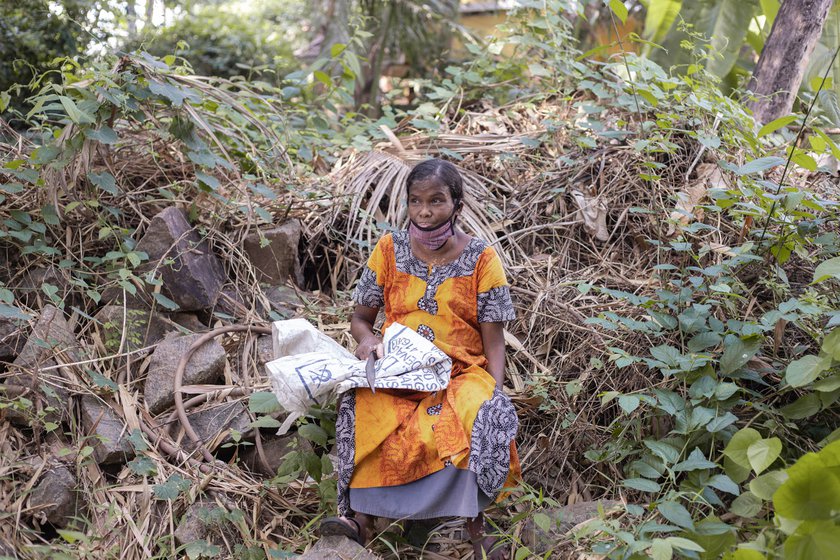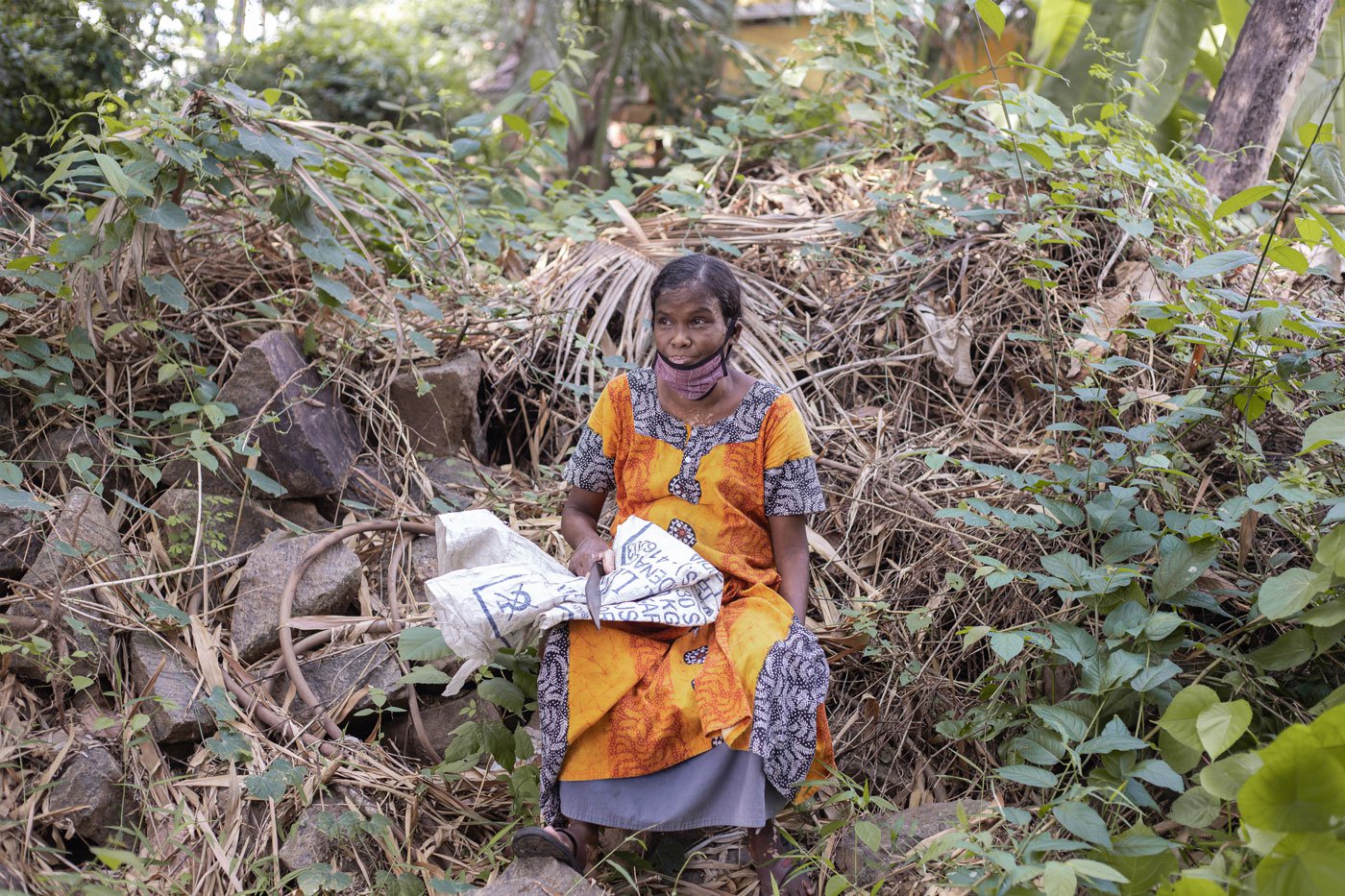 PHOTO • Ria Jogy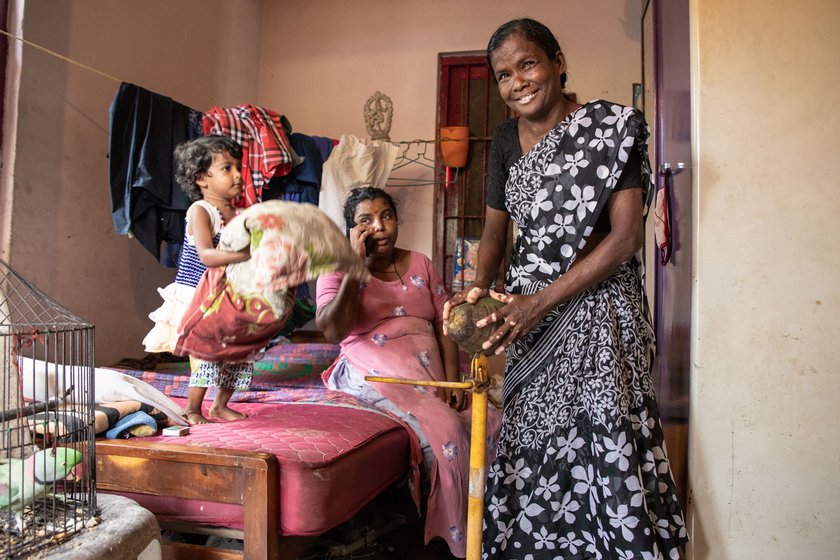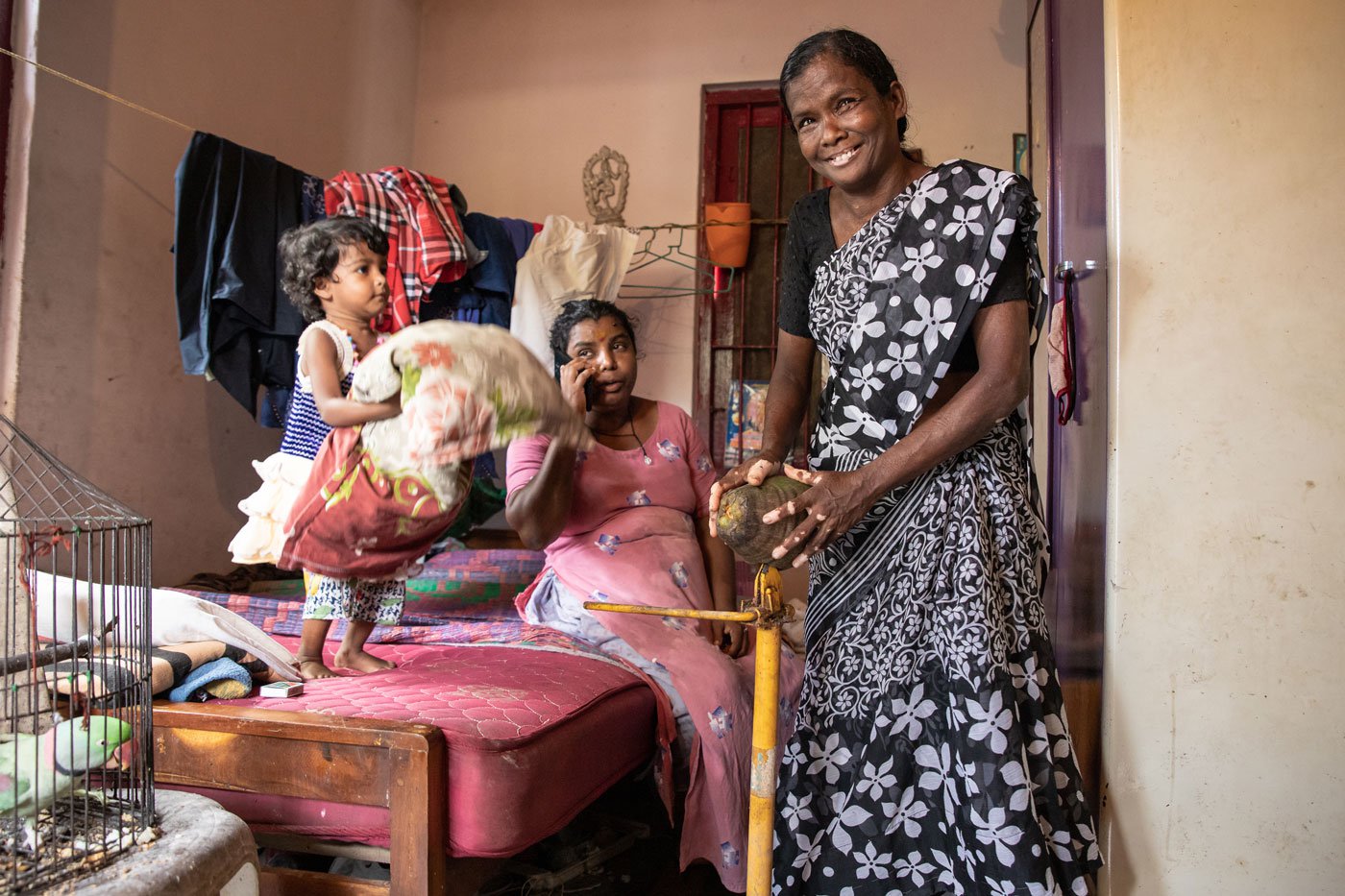 PHOTO • Ria Jogy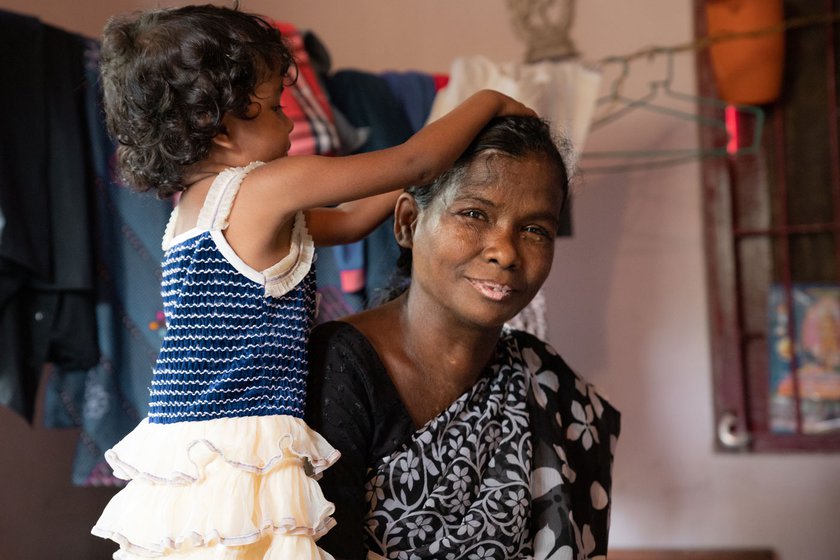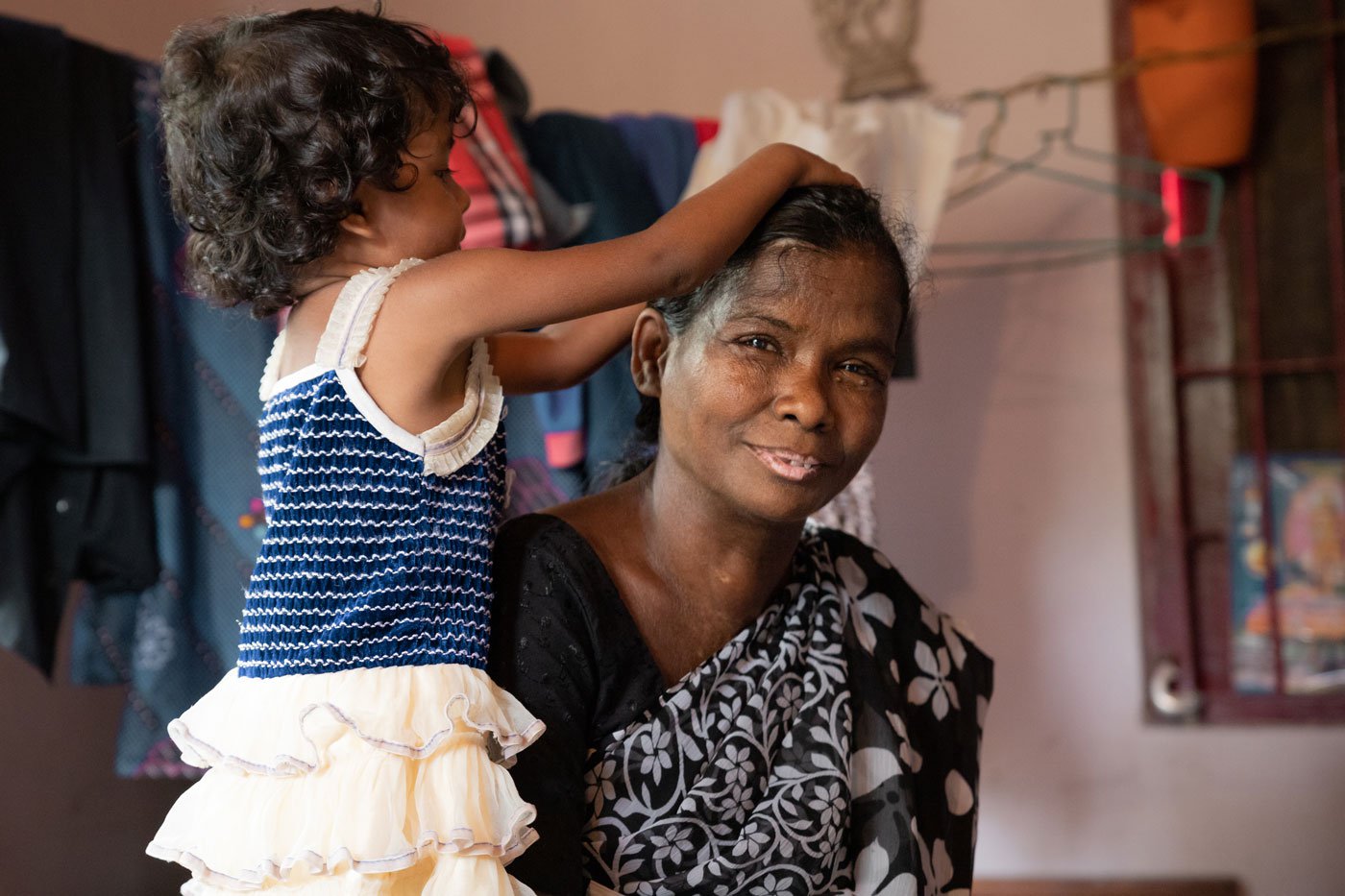 PHOTO • Ria Jogy
Thankamma and Velayuthan, who was a coconut climber in and around Puthiya Road, have two children, Kannan, 34, and Karthika, 36. The former lives in Thrissur and helps his wife's family with farming. Her daughter, Karthika lives nearby with her three-year-old daughter Vaishnavi who Thankamma lovingly calls thakkali (tomato). 'It is a lot of fun to be with children, but it is also very demanding and tiring,' she says.
"I cannot see things clearly anymore so I no longer go to look for coconuts," she says while arranging a pile of clothes, some papers and a pet parrot's crate on her bed. Thankamma lives alone with her parrot, Thathu, to keep her company. It's even trained to call out if it senses an intruder.
"Recollecting her earlier days she says, "Once I noticed a snake moving close by and stood still. It slithered along my tattered chappal. Now I won't be able to spot a snake or even coconuts for that matter!" she says as her eyesight has weakened. Unable to make ends meet, she cannot afford the medicines for her health complications or enough food for herself.

"Everyone I worked for still supports me in cash and kind. But it is becoming very difficult to go meet them," says Thankamma on her way to visit a well-wisher. As she walks to one such home, she starts to feel tired and parched. She eats a toffee hoping that the sugar will keep her going.