Set to the tune of a popular garba this is a song of freedom, defiance, and assertiveness. It resonates with the true voice of rural women who are no longer ready to accept the inherited structures and dictates of a culture without question.
Written in Gujarati, one of the many languages spoken in Kutch, this song was co-authored by village women, participating in one of the workshops organized by Kutch Mahila Vikas Sangathan (KMVS) to raise awareness about women's rights.
It is difficult to ascertain the exact year when the song was first composed or who the writers were. But what one hears, without a doubt, is the strong voice of a woman demanding equal rights over the property.
While we may not know the actual context in which the song was produced, we do have records of discussions and workshops organized across Gujarat, especially in Kutch, around the idea of landownership and livelihood issues of women around the year 2003. Campaigns to raise awareness of women's rights then focused on the sharp discrepancy between the contribution of women to agricultural production and their lack of entitlement for the land. We are not sure if these were the discussions that led to the creation of this song.
The song, however, has travelled across the region and beyond since then. And in the course of its journey, as often happens with a folk song, lines are added, altered, adjusted by the singers to appeal to their immediate audiences. The version here is presented by Nanduba Jadeja from Nakhatra taluka .
It is one of 341 songs recorded by Soorvani, a community-run radio started by the in 2008. A collection that has come to PARI through KMVS, these songs capture the immense cultural, linguistic and musical diversity of the region. The collection helps preserve the musical tradition of Kutch, which is in decline, its sounds fading across the desert sands.
Gujarati
સાયબા એકલી હું વૈતરું નહી કરું
સાયબા મુને સરખાપણાની ઘણી હામ રે ઓ સાયબા
સાયબા એકલી હું વૈતરું નહી કરું
સાયબા તારી સાથે ખેતીનું કામ હું કરું
સાયબા જમીન તમારે નામે ઓ સાયબા
જમીન બધીજ તમારે નામે ઓ સાયબા
સાયબા એકલી હું વૈતરું નહી કરું
સાયબા મુને સરખાપણાની ઘણી હામ રે ઓ સાયબા
સાયબા એકલી હું વૈતરું નહી કરું
સાયબા હવે ઘરમાં ચૂપ નહી રહું
સાયબા હવે ઘરમાં ચૂપ નહી રહું
સાયબા જમીન કરાવું મારે નામે રે ઓ સાયબા
સાયબાહવે મિલકતમા લઈશ મારો ભાગ રે ઓ સાયબા
સાયબા હવે હું શોષણ હું નહી સહુ
સાયબા હવે હું શોષણ હું નહી સહુ
સાયબા મુને આગળ વધવાની ઘણી હામ રે ઓ સાયબા
સાયબા એકલી હું વૈતરું નહી કરું
સાયબા મુને સરખાપણાની ઘણી હામ રે ઓ સાયબા
સાયબા એકલી હું વૈતરું નહી કરું

English
I will not slog alone any more, my love
I want to be your equal, evermore, my love
I shall not slog alone any more
Like you I work on the fields
But the fields are all in your name
Oh the land bears your name, my love
I will not slog alone no more
I want to be your equal, evermore, my love
I will not slog alone any more.
I will not keep quiet at home any more
I will not hold my tongue, no more
I want my name in every acre
I will claim my share in the property papers
I want my share in the property papers, my love
I'll be exploited no more, my love
Nor be the tolerant one, no not any more
I want to grow and do so much more
I will not slog alone any more
I want to be your equal, evermore, my love
I will not slog all alone any more.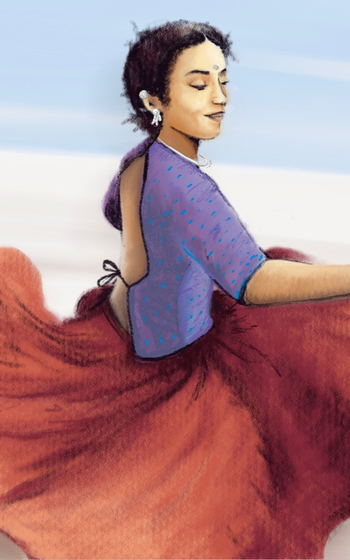 PHOTO • Priyanka Borar
Type of song: Progressive
Cluster: Songs of freedom
Song: 3
Title of the song: Sayaba, ekli hun vaitaru nahi karun
Composer: Deval Mehta

Singer: Nanduba Jadeja from Nakhatra taluka

Instruments used: Harmonium, drum, tambourine
Recording year: 2016, KMVS studio
English translation: Pratishtha Pandya
A special thanks to Preeti Soni, Aruna Dholakia, secretary, KMVS, Amad Sameja, project coordinator KMVS for their support and to Bhartiben Gor for her invaluable help