"We will never go back," says Bheema Sodi. "We left our home in search of a peaceful life because we were disturbed by both the junglewale [Naxalites] and the judumwale [the Salwa Judum militia] in our ancestral village."
Soyam Lingama says he too will never return to his village, Bhandarpadar, in Dantewada district of Chhattisgarh.  "We fled from there…" He and Bheema belong to around 27 families, they estimate, all from Chhattisgarh, who now live in Chiprupadu in Burgampadu mandal of West Godavari district in Andhra Pradesh.
This is one of several such settlements of internally displaced persons (IDPs) in East and West Godavari districts of Andhra Pradesh, and Khammam and Warangal districts of Telangana.
Most of them have a story of violence to tell. Ravi Sodi, 30, of Tadmetla village in Konta mandal of Sukma district, says, "We left home in 2005 when our village was attacked… All the villagers fled to the jungle but my uncle, just 30 years old, was stuck inside. He was caught and killed, and they set fire to the entire village. In fear, we left and came here." Sodi now lives in Chintalapadu village in Khammam district.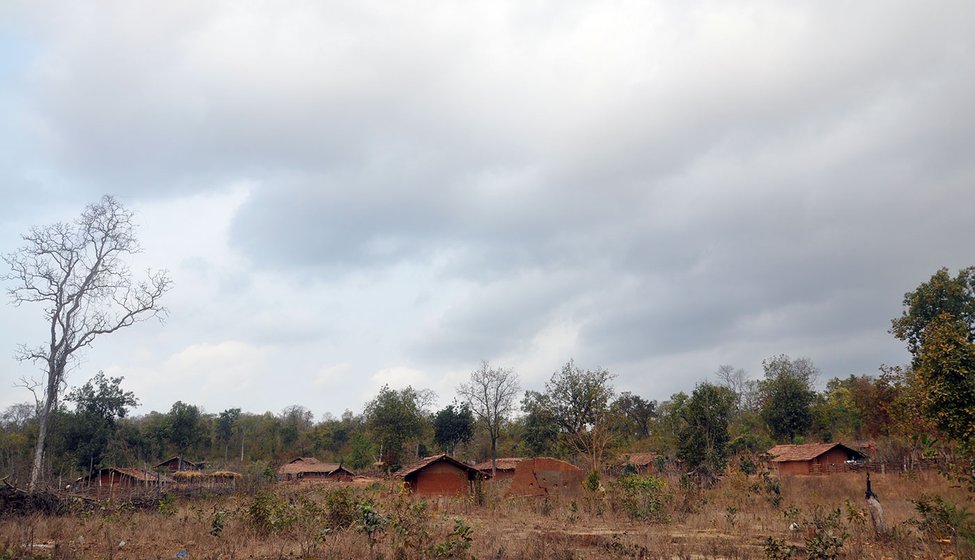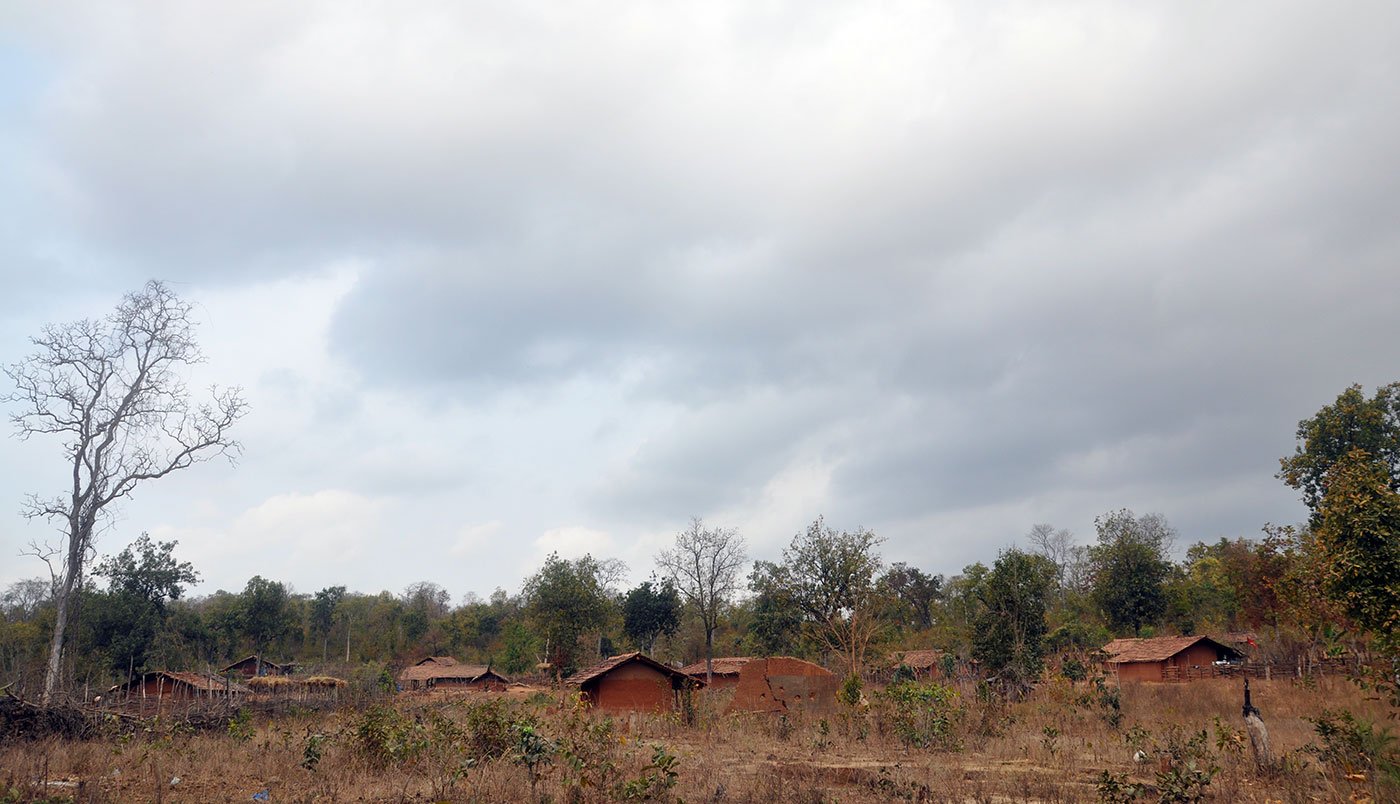 PHOTO • Purusottam Thakur
Adivasi communities, especially Gond (or Muria in Bastar and Koya in Andhra) from Chhattisgarh's border districts of  Sukma, Dantewada and Bijapur, have for long been seasonally migrating across the state borders for farm work. However, caught between the violence of the anti-state Naxalite movement in the region, and the state-supported anti-insurgency Salwa Judum militia in Chhattisgarh which began in 2005, the Adivasis were forced to migrate in large numbers. In the conflict, many also lost their ancestral land and forests.
Many say they feel safer in their new homes, and they get daily wage work in the fields of local farmers. Aarti Kalmu, 19, who also lives in Chiprupadu, came here from Bodko village in Sukma district of Chhattisgarh in early 2015 after marrying Mangu, a Muria Adivasi. Mangu has studied up to Class 10 and works as a teacher in the village school, earning Rs. 3,000 a month. "Mangu is a good and educated man. The villagers brought him here," Aarti says, because there was no one to teach the children. "I am happy to be here."
A non-governmental organisation that works on health issues in the area estimates that Chipurupadu is one of around 200 similar settlements that house at least 50,000 migrants. These hamlets are located deep inside the forests to avoid conflict with the local people. The Adivasis are familiar with the forest environment, it offers them land to cultivate and space to construct their huts. The locals too are not opposed to the newcomers because they provide cheap and hard labour. And both sides usually speak the same language, so communication is easy.

Bheema Sodi and his wife Sodi Mangi are among the labourers. They pluck chillies for a daily wage of Rs. 120, though they prefer to receive the wage in chillies – and get one kilo for every 12 kilos they pick. The couple, who have a six-year-old daughter Laxmi and three-year-old son Poja, also sometimes work on MGNREGA projects. And they cultivate a few crops, such as rice and corn. "I have developed my own land here," Bheema says. He seems content, though the land he has developed is encroached forestland and he does not have a patta (title document).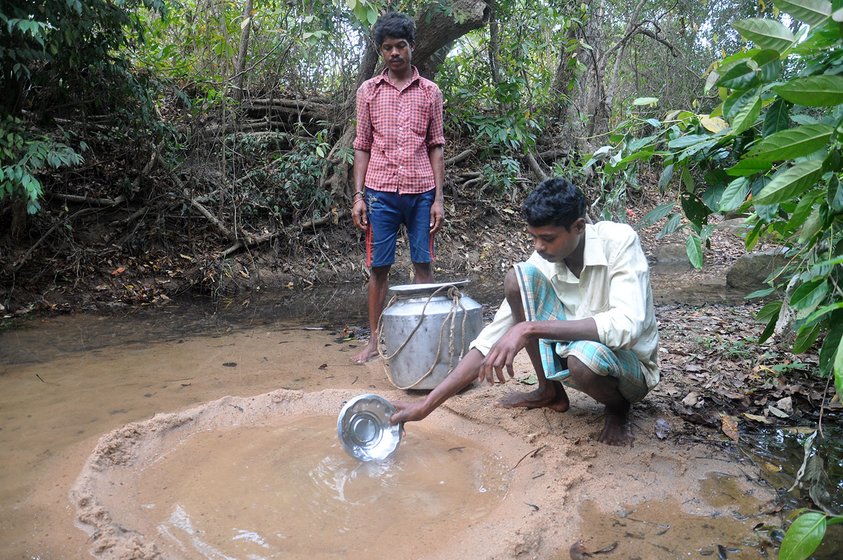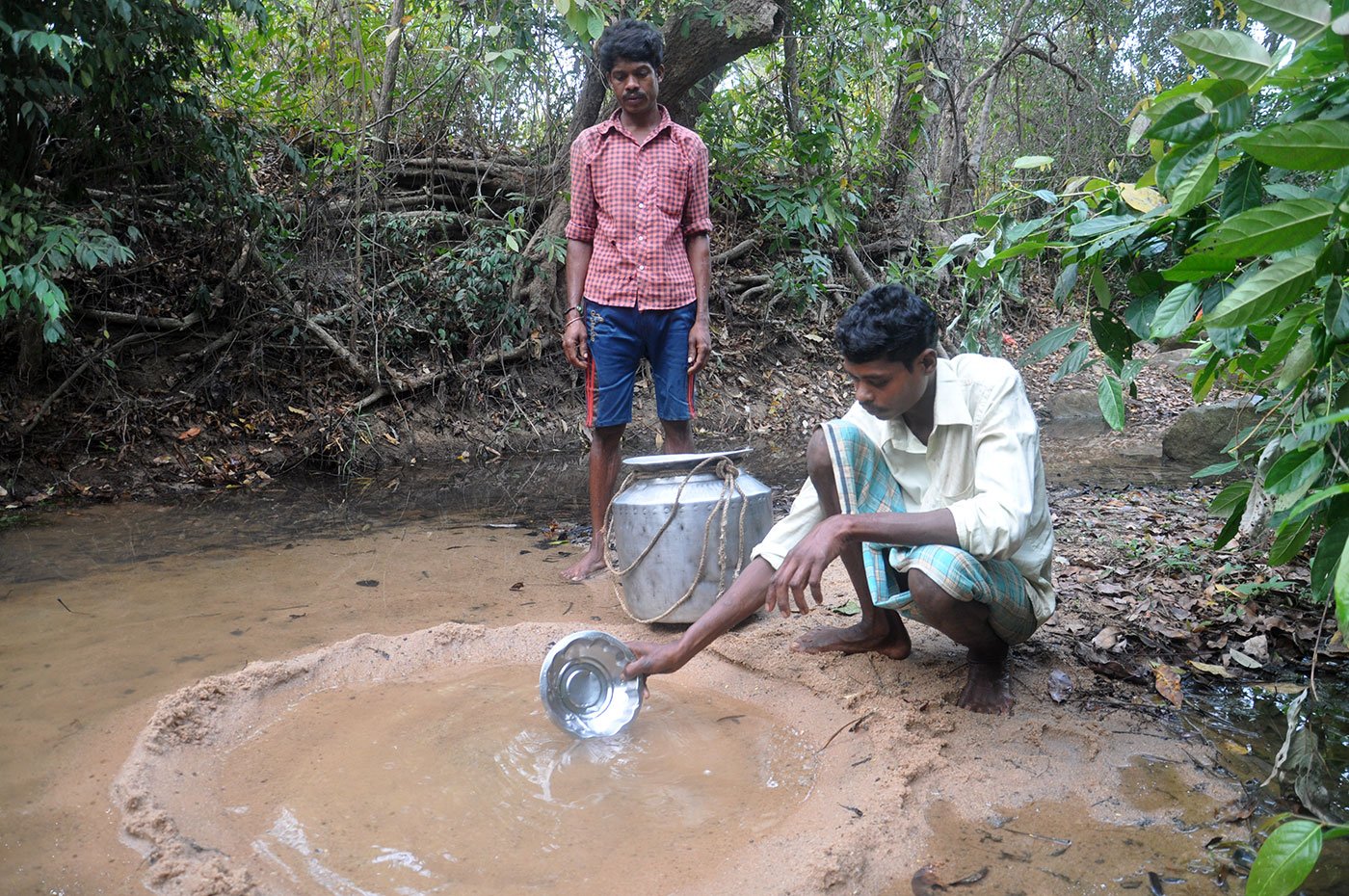 PHOTO • Purusottam Thakur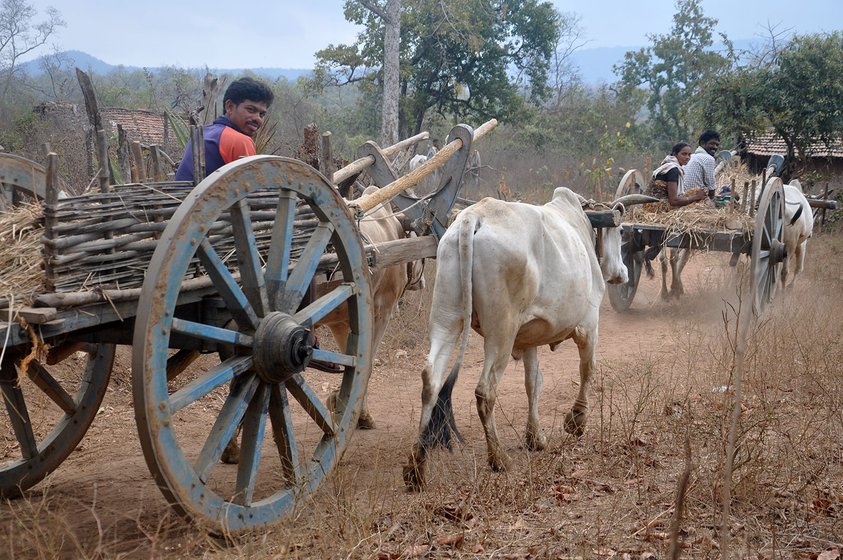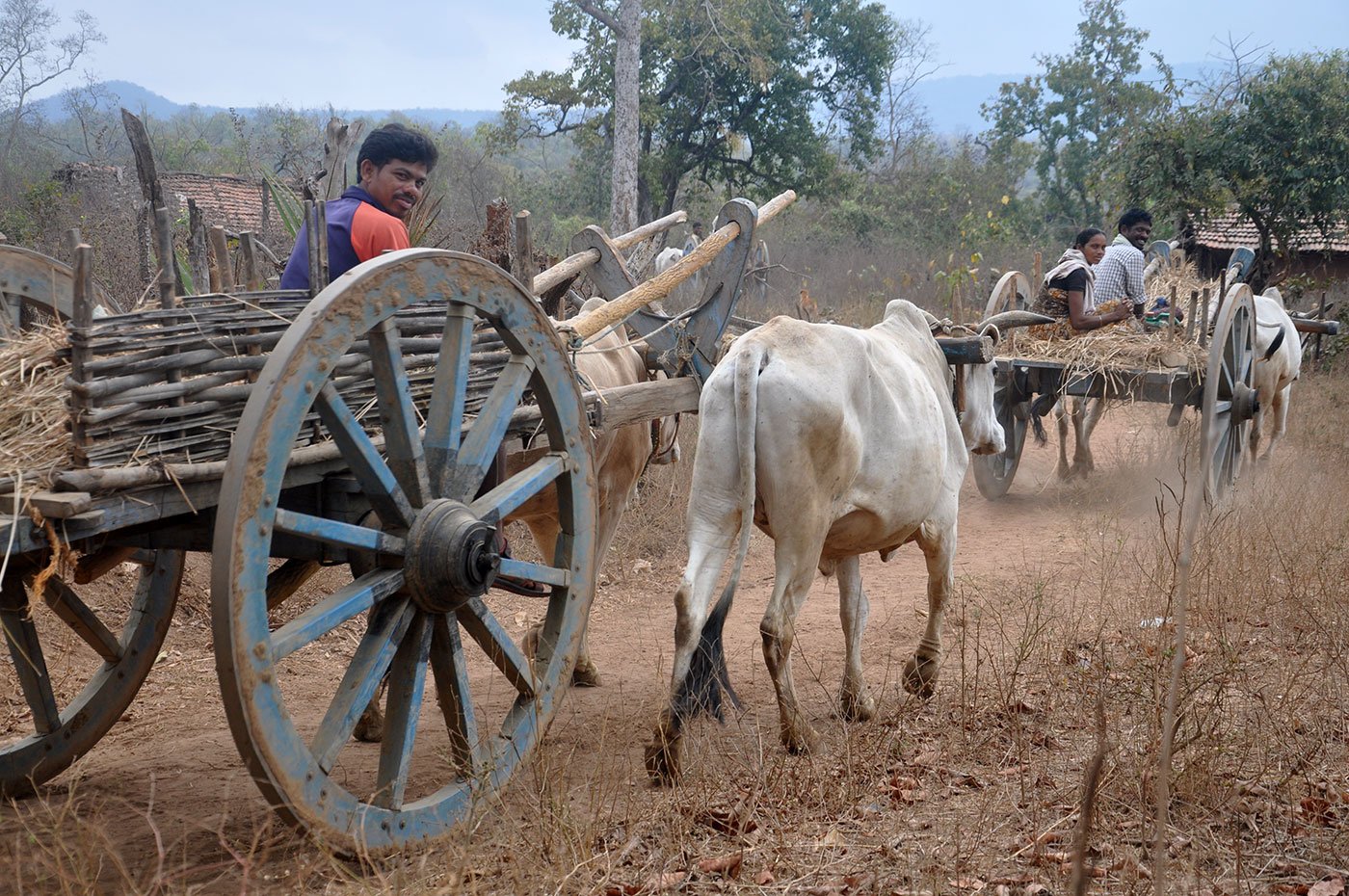 PHOTO • Purusottam Thakur
Others prefer to migrate only during the chilli-picking season from February to April, and then return home.  "We are living with relatives, looking for whatever work we can get. We have finished the harvesting in our village in Chhattisgarh and hope to find work here cutting jamai [eucalyptus] trees [for plantation owners]," says a labourer, from a group of 12 (he is reluctant to give his name). He and the others also pluck chillies – the chillies they earn as wages are an important part of the diet in these remote tribal areas.

Mangraj Sodi is host to some of the seasonal migrant labourers. "I came here around 10 years ago when I was no more than 12, studying in Class 7 at an ashram school. I left school because my family was not able to support me," he says. "I came with other labourers and settled here. I have cleared and cultivated some forestland. I don't know how much it is or even how much land we had in my village."
Another villager, Madkam Nanda, says, "When villagers in Dornapal and Polampalli were beaten by the Salwa Judum, we fled. We were from Tumerpal hamlet nearby. Four of us came here, including two brothers." Would you like to return, I ask. "No, never, because this place is fine," he says, simply.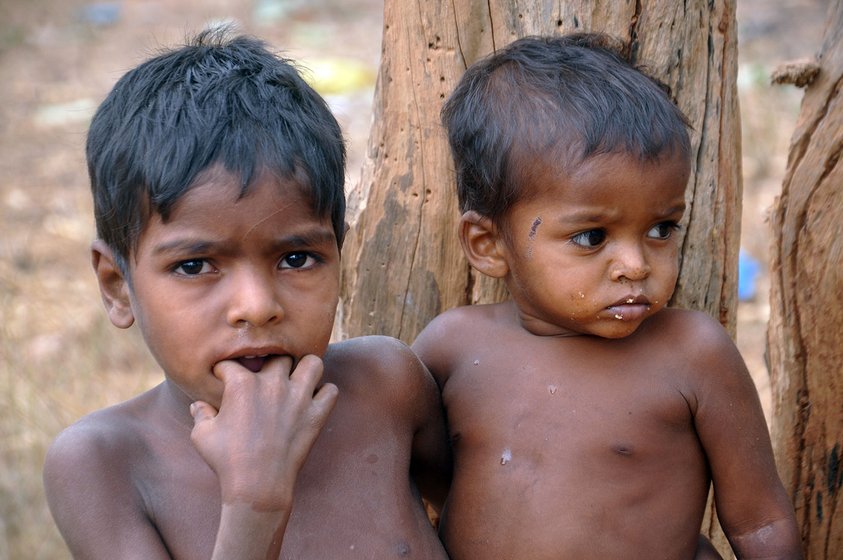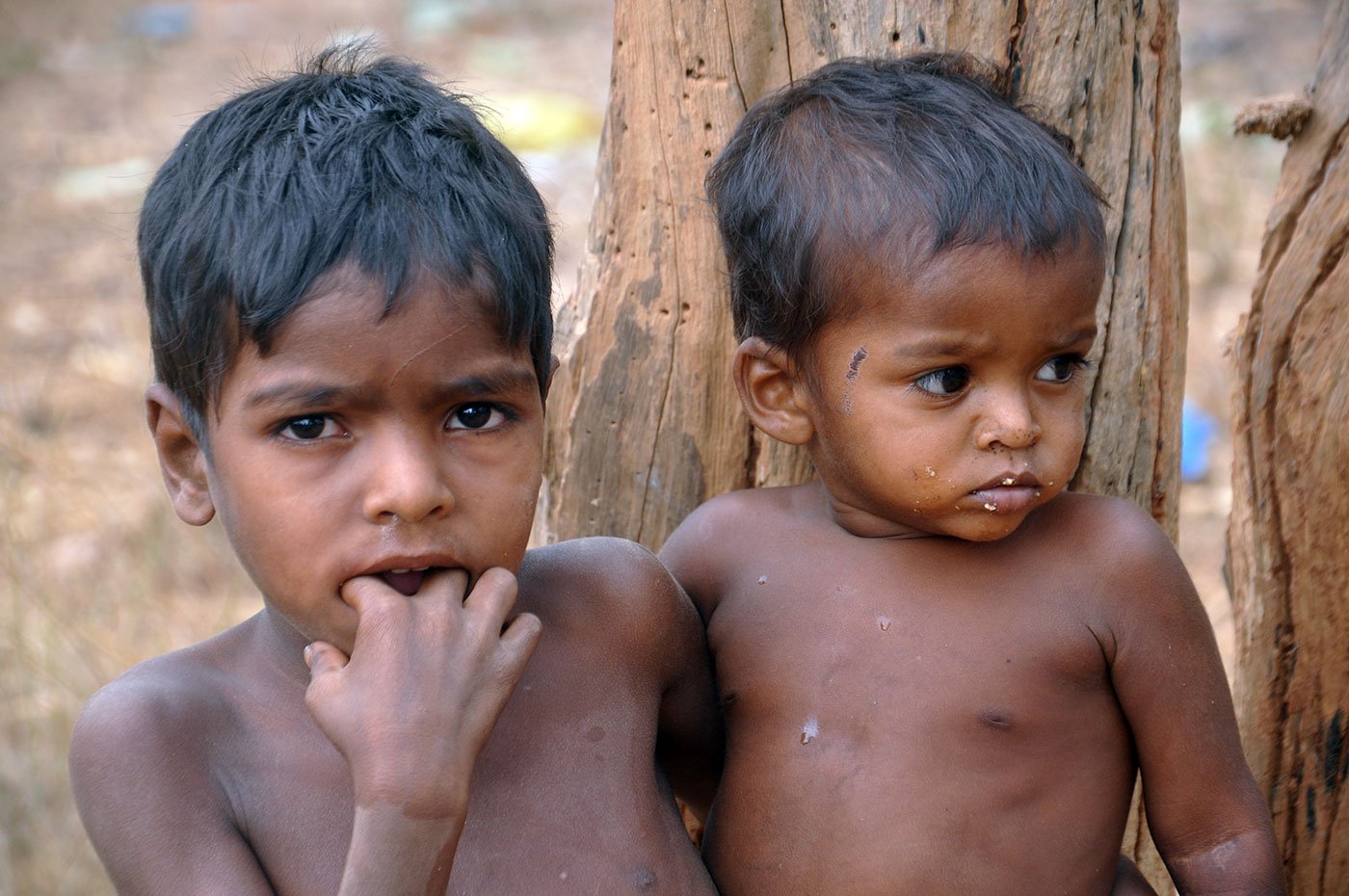 PHOTO • Purusottam Thakur
However, the resettled Adivasis have not yet got land titles. After a lot of groundwork by human rights groups, the Andhra Pradesh and Telangana governments have provided them ration cards, Aadhaar cards, and in some instances, voter cards. Water and electricity are scarce in most of the new settlements. Healthcare and educational facilities are also absent or inadequate. "We have to walk seven kilometres from Chipurupadu to Kondapalli where the nearest ration [public distribution system] centre is located," says Madkam Nanda.
In Jinelguda, a village in Vinjaram gram panchayat of West Godavari district, roughly 30 kilometres from Chipurupadu, Gangi, around 45, is cooking on an earthen chulha [stove] outside her house. It is evening, a solar lamp lights the area. The house belongs to Madkam Deva, she says, who is in Nagalgonda, a village near Dornapal police station in Dantewada district. His first wife and children continue to work there.  "We have no children," says Gangi, "but from his first wife he has two sons and a daughter. We have 4-5 acres of land there, not enough for both the sons. In 2002, we first came to Kondapalli to pluck chillies. Then people told us about this place. We liked it because there is land and forest here and so we settled here".
At a cluster of newly-built mud houses in Jinelguda, we meet Madkam Dule. He built his small house only a month ago. "Earlier we were settled in an old village called Badlamadi on land belonging to the local people. But the distance between our land and home was too much, so we shifted here. As our houses are built on forestland, forest officials keep visiting, asking us to demolish the structures and leave, but we have nowhere to go."
Madkam Dule introduces us to Kaluru Bhimaya, newly-elected (at the time of our visit)
sarpanch
of Vinjaram
gram panchayat
in Kukunuru
mandal
. "I am Kalmu Bheema in Chhattisgarh," he laughs, "but in Andhra Pradesh I have become Kaluru Bhimaya. This is how the government of Andhra Pradesh has recorded my name!"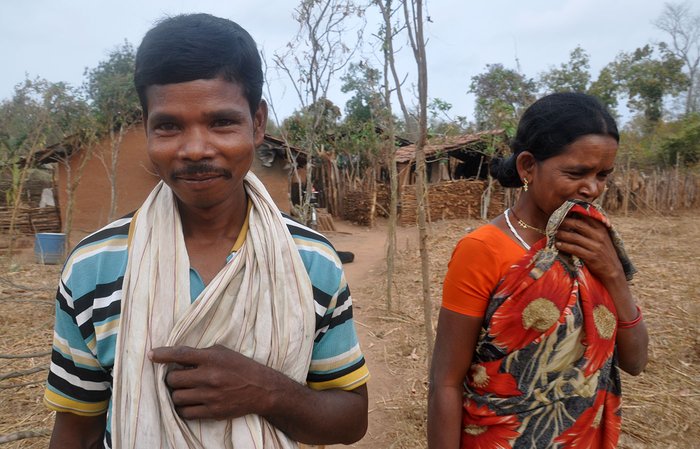 PHOTO • Purusottam Thakur
Caught between the violence of the anti-state Naxalite movement and the state-supported anti-insurgency Salwa Judum militia in Chhattisgarh, many Adivasi migrants have lost their ancestral land and forests

Kalmu, originally from a village in Chhattisgarh's Sukma district, came here when the Salwa Judum forced the people of his villages into a relief camp at Dornapal. They stayed at the camp for a month, then left.

Kalmu is not the only one who has got a new identity after relocation. " Udhar [there] Elma Deva aur idhar [and here] Selma Devaya," smiles a young man in Chintalapadu village in Upaka gram panchayat of Khammam district, around 25-30 kilometres from Chipurupadu.  "In Telugu, Deva becomes Devaya. But I don't mind and am fine with both." Elma does not intend to return to his home. "This land is peaceful and we are fine here… When we left Chhattisgarh we sought permission from both sides [the militants and the militia] so that they would not think we had joined either camp."
Around 22 families, locals estimate, are settled in Chintalapadu, all from insurgency-affected Sukma, Dantewada and Bijapur districts. There is no pucca road to the village and villagers have to collect their rations from Narayanpuram, four kilometres away.
Chintalapadu's migrants too have got ration cards, voter ID cards and Aadhaar cards after a long struggle, but don't have basic amenities like drinking water, roads, electricity, healthcare and education facilities. The local police and forest department files cases against them, and whenever summoned the Adivasis must present themselves at the police station.
Over time, and after the Salwa Judum was disbanded in 2011-12, many of them have returned to Chhattisgarh, feeling it's safe to go back home. For other Adivasi migrants, though, the promise of peace, a fragment of farm to cultivate, and some means of livelihood in a new land seem to be enough.