The rain on Tuesday this week turned Shivaji Park in central Mumbai into an ocean of mud, slippery and precarious to walk on. Sakhubai Khore fell and injured her leg. But, still smiling through mostly missing teeth, she says, "I am here to touch the feet of my deva [god].  I will come till I can, till my hands-legs work, till then, till my eyes can see, till then I will keep coming here."
Her deva – as of almost everyone who has congregated at this venue — is Dr. Babasaheb Ambedkar, and Sakhubai, a Nav Bauddha Dalit, around 70 years old, has come from Bhusawal in Jalgaon district to offer her respects on his death anniversary on Wednesday, December 6.
It's a day on which, every year, Shivaji Park – and the nearby Chaitya Bhoomi in Dadar, a memorial space that marks where Dr. Ambedkar, chief architect of the Indian Constitution, was cremated in 1956 – turn into a gigantic gathering of tens of thousands of people from Dalit communities. They come to pay homage to B. R. Ambedkar, the towering figure who was one of the greatest reformers and leaders of the 20th century and an unwavering voice for the oppressed everywhere.  They come by bus, by train or walking long distances to be present on this day. They come – with reverence, gratitude and love – from within Mumbai, from across the villages and towns of Maharashtra and from many others states too, some journeying for days to reach here.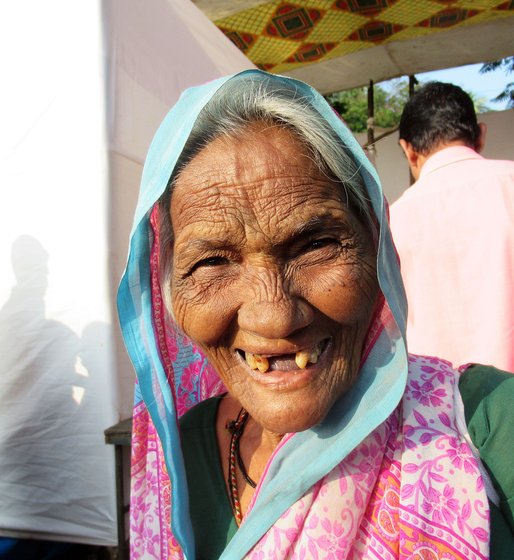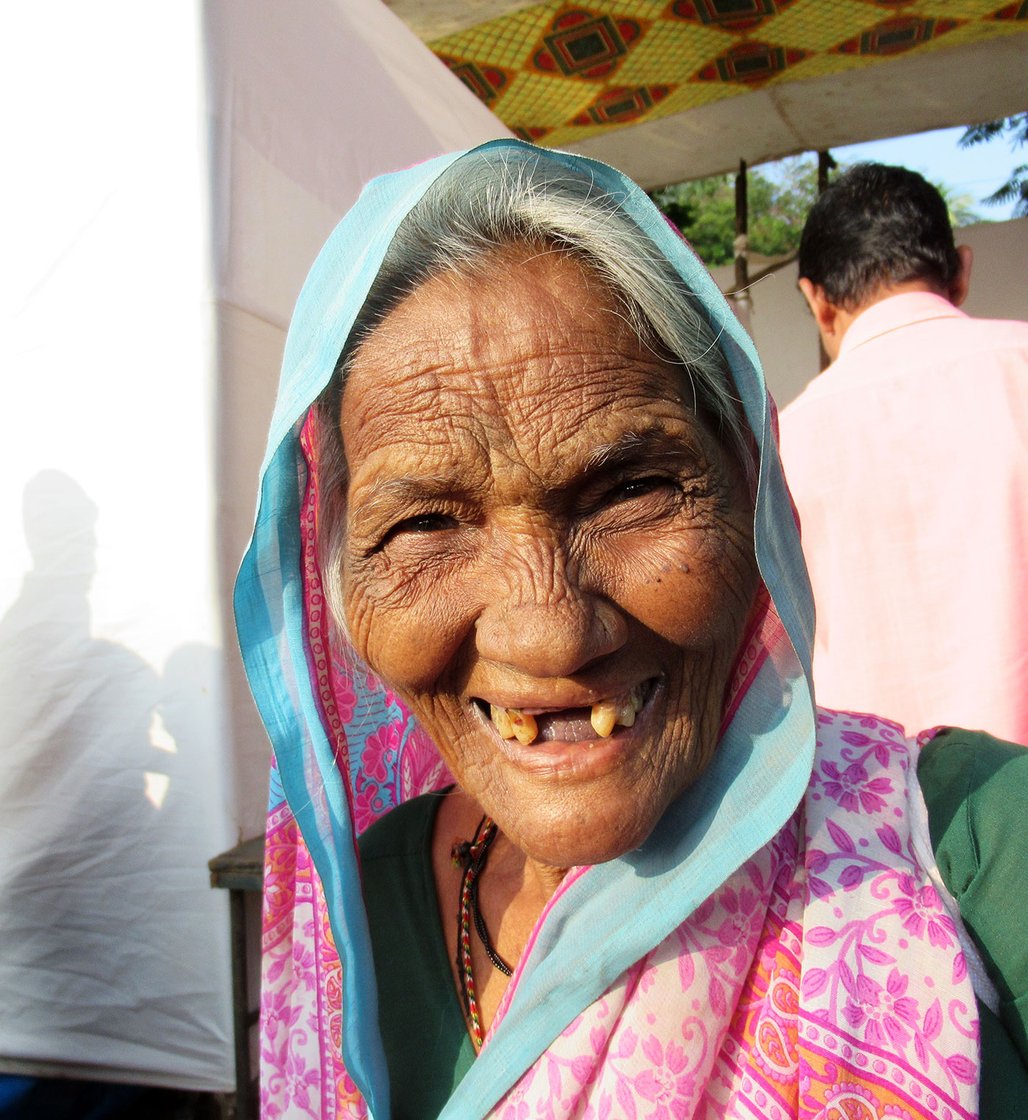 PHOTO • Sharmila Joshi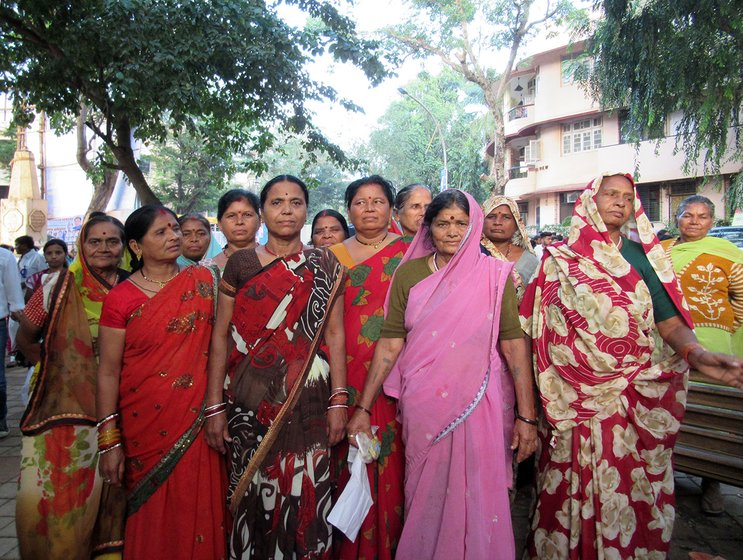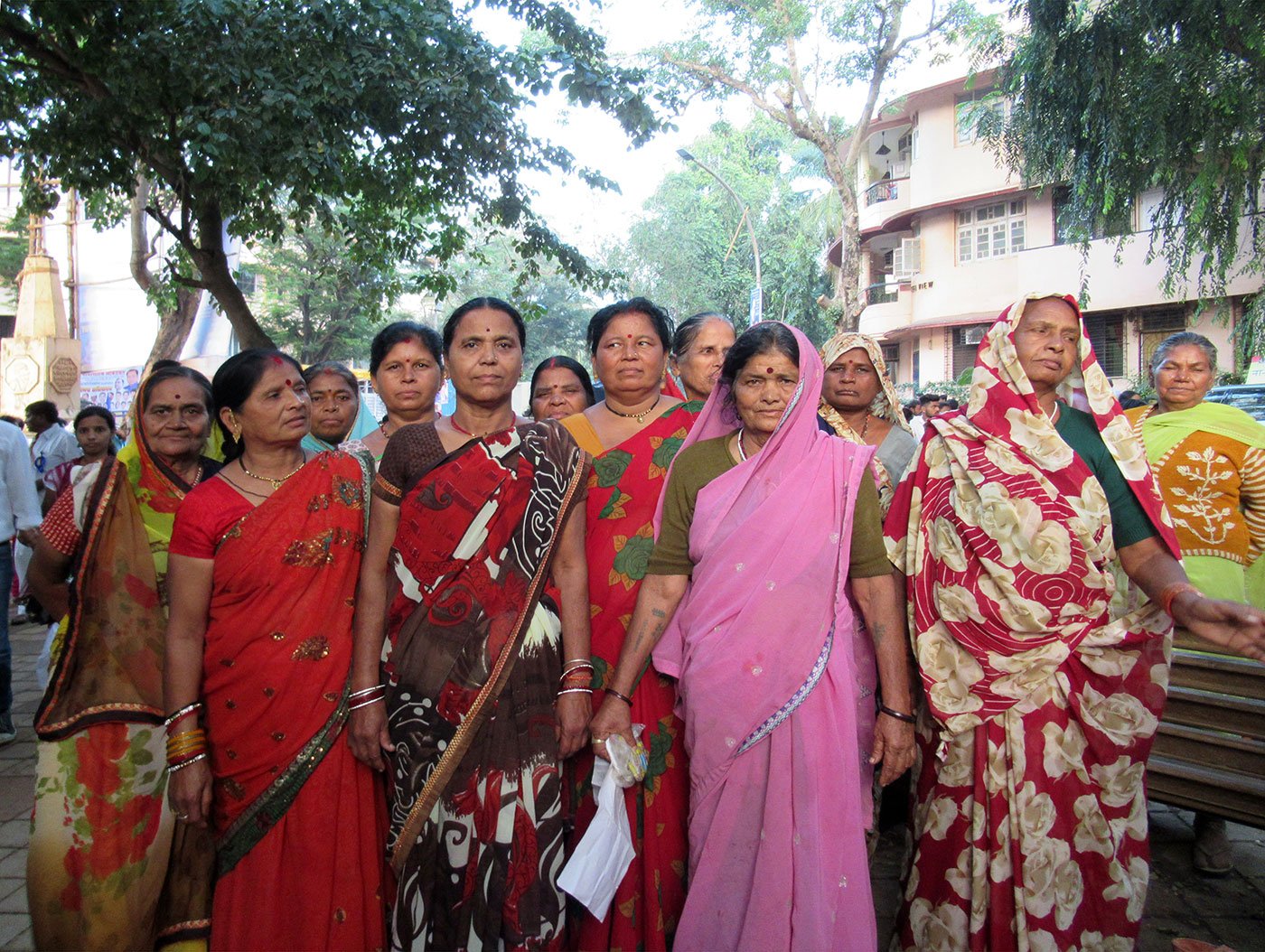 PHOTO • Sharmila Joshi
For 42 years, Lilabai Sain has been coming from Jabalpur in Madhya Pradesh, some 1,100 kilometres away. There, she works as a malishwali , a masseuse; her husband was a barber, she says, from the Nai caste. This time, she has come with a group of 60 other women, by a slow halting train that took nearly three days. "We reached at 2 a.m. and slept at Dadar station. We will sleep on this pavement [outside Shivaji Park] tonight," she says, cheerfully. "We come because of our attachment to Babasabeb. He did good work for the country, what no one could do, he did."
Lilabai's group has stationed themselves on the pavement with their bags, chatting, laughing, soaking in the sights and sounds. Although it is Dr. Ambedkar's death anniversary and a solemn occasion, there is a note of celebration among the crowd, of celebrating a leader who spoke for them. At every few metres on the streets that lead to Chaitya Bhoomi, Dalit activist groups are singing songs, some with revolutionary lyrics, someone is giving a speech, others are peering at the many items on sale displayed on sheets on the ground – statuettes of the Buddha and Babasaheb, Jai Bhim calendars, trinkets, paintings and more. Blue Bahujan flags, banners and posters are fluttering everywhere. Cops are also everywhere, managing the crowd, keeping watch, answering queries, or just resting after a long day at work.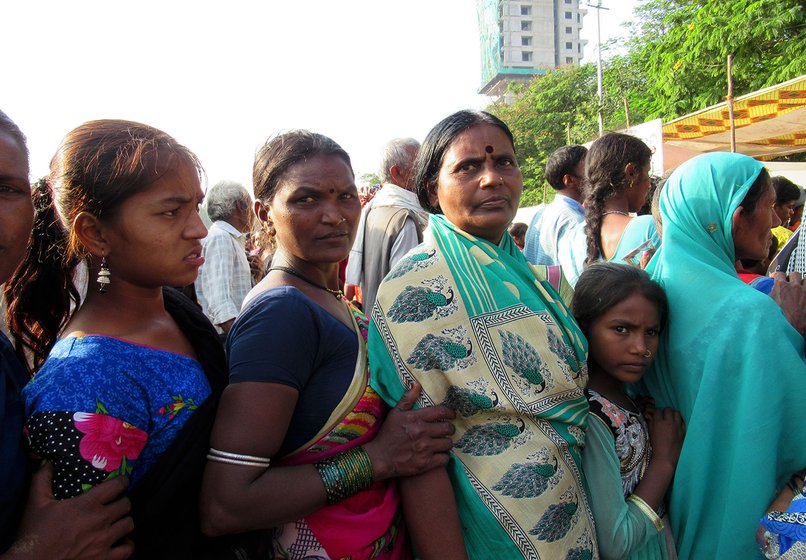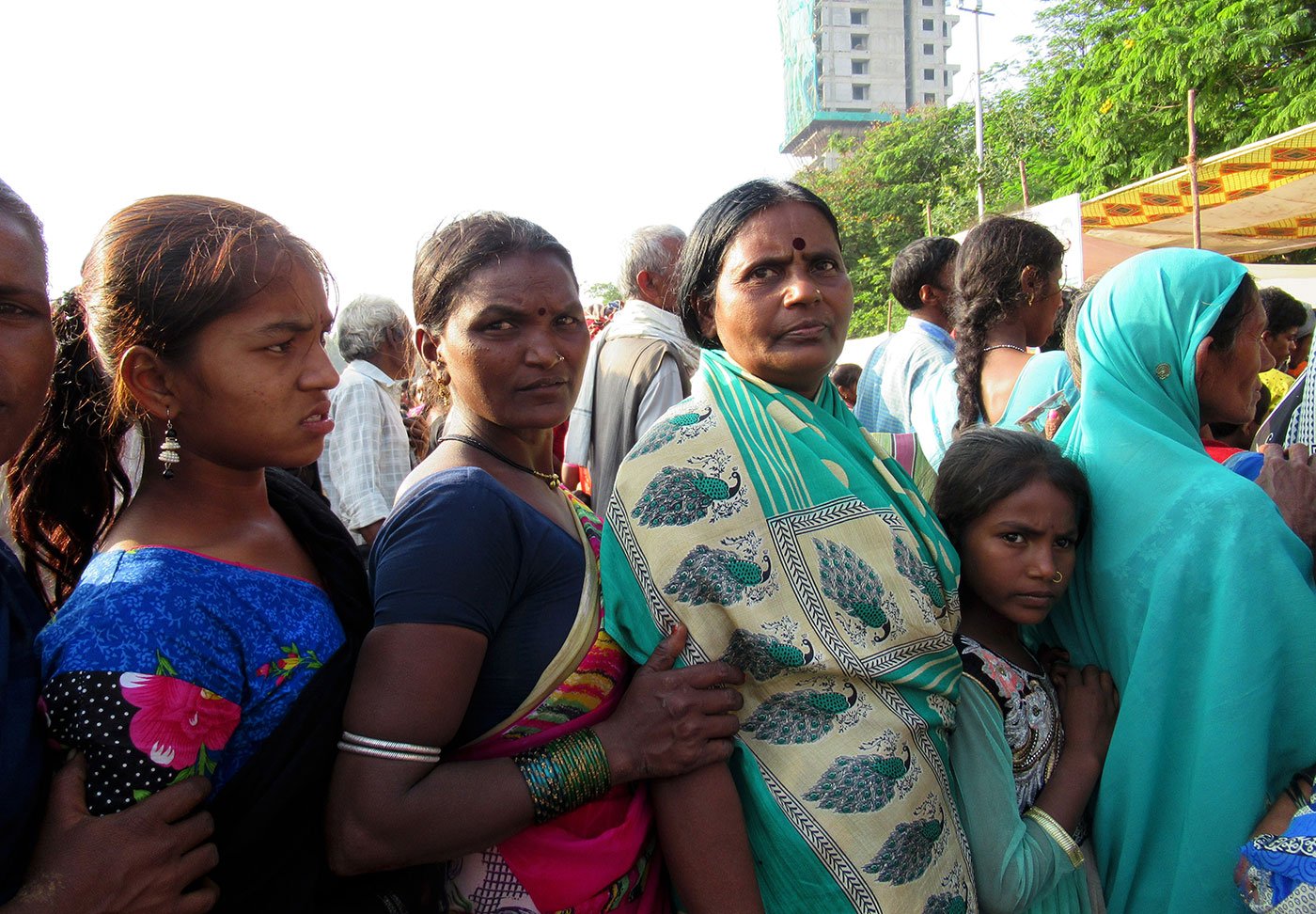 PHOTO • Sharmila Joshi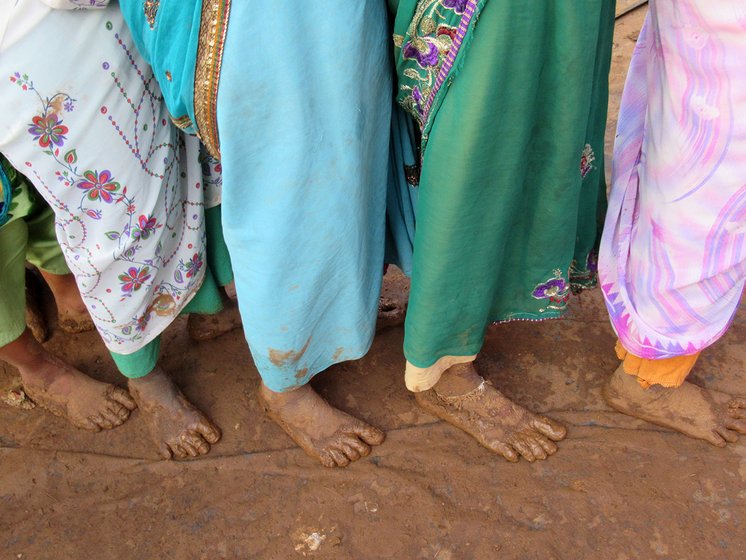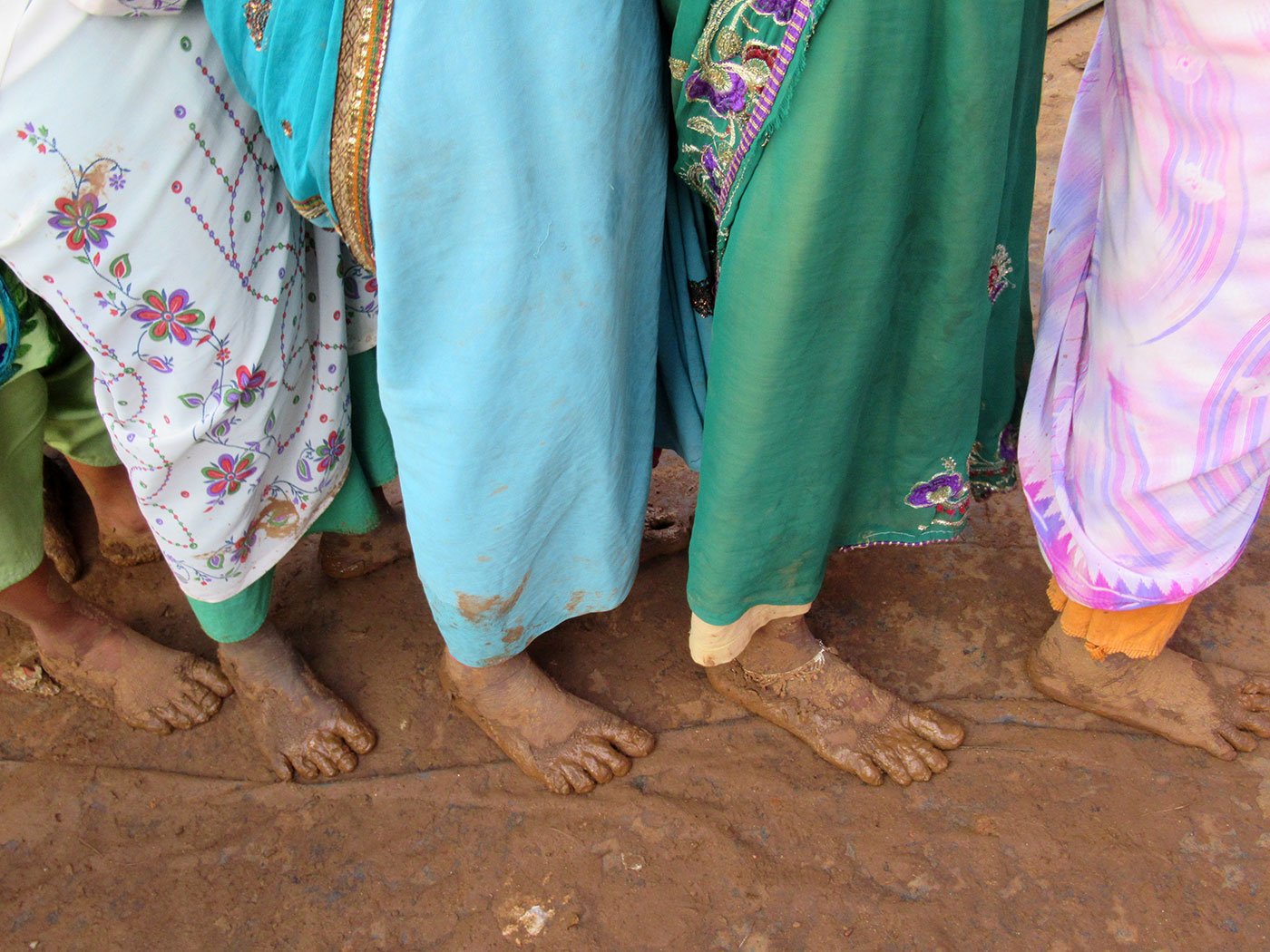 PHOTO • Sharmila Joshi
Inside Shivaji Park too are dozens of tents with stalls, though most of them are not selling anything, but offering services — free meals, water, even insurance forms or just solidarity – many of the stalls are of workers' unions, Dalit political bodies and youth activist groups. The most popular seem to be those that are giving out food items. At each, there are long queues of men, women and children, many with bare feet caked with mud. Among them is Baby Suretal, waiting to receive a packet of Krack Jack biscuits. She's come from Shirad Shahapur village in Aundha Nagnath taluka of Hingoli district. 'I came to see all this, the jatra [fair]," she says, pointing to the bustle around, "here I feel joy about Babasaheb Ambedkar'.
Sakhubai too has been waiting near the 'Krack Jack tent'. With her is a red plastic bag that contains just one saree and a pair of rubber chappals. Two bananas given by volunteers at one of the stalls have been placed in the bag too. She has absolutely no money on her. Sakhubai has a son at home, who works as an agricultural labourer. Her husband, also an agricultural labourer, died four months ago. "I have come alone," she says. "I have been coming every year for long years. I feel good when I come here."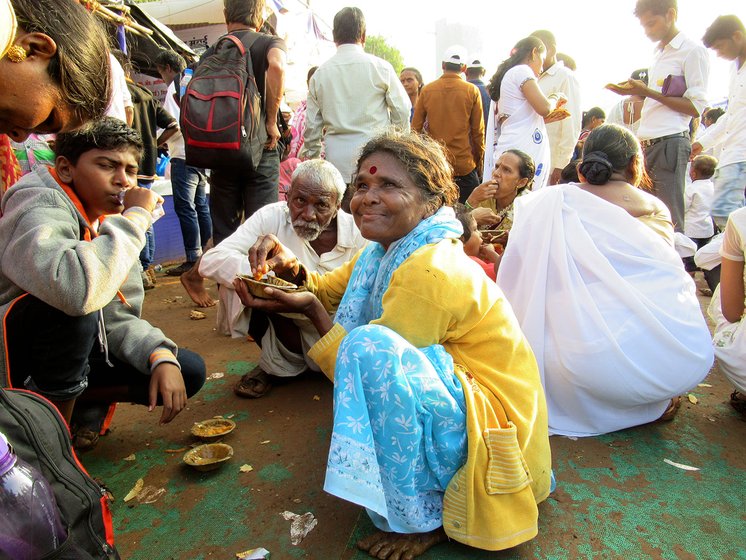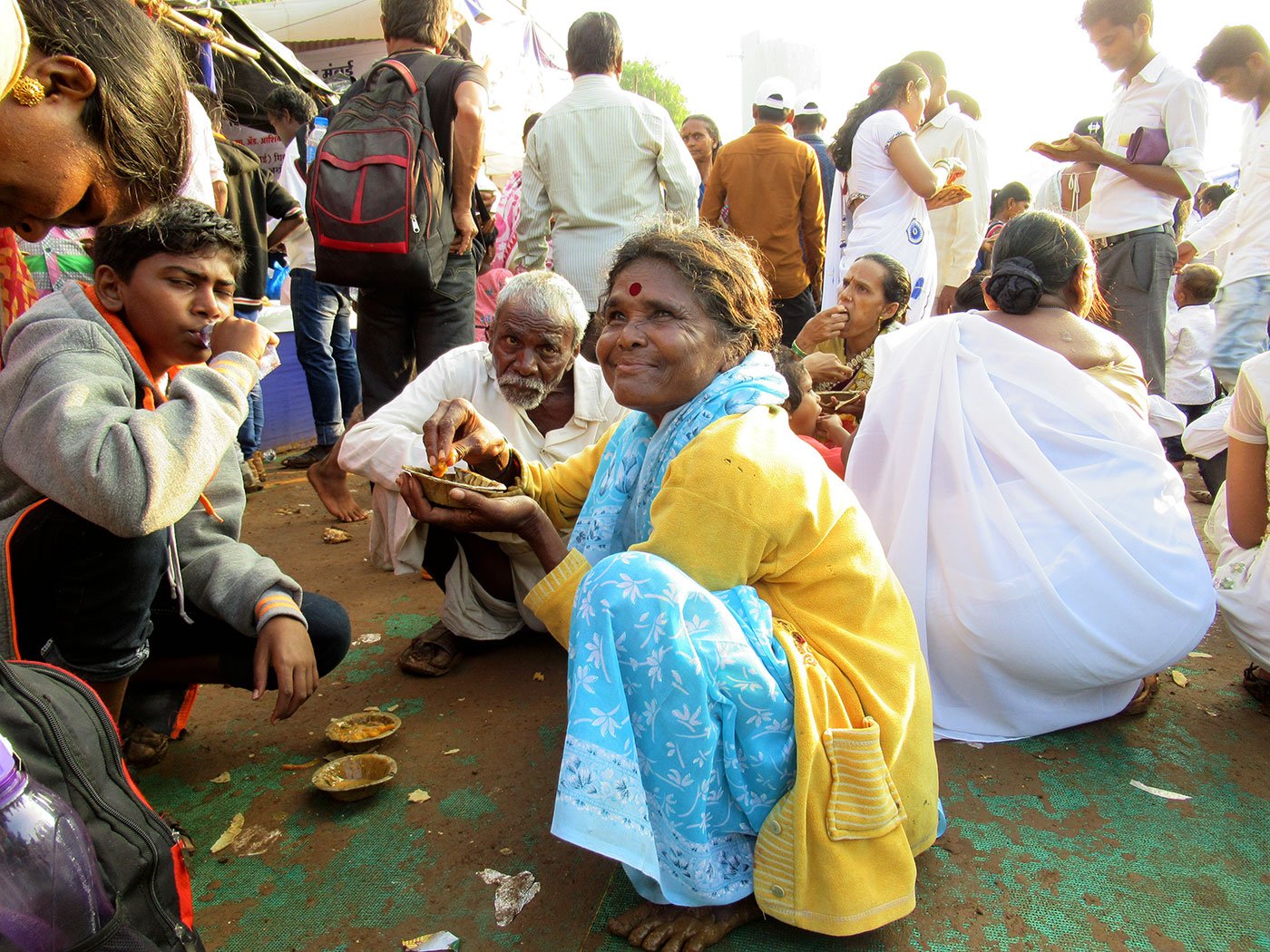 PHOTO • Sharmila Joshi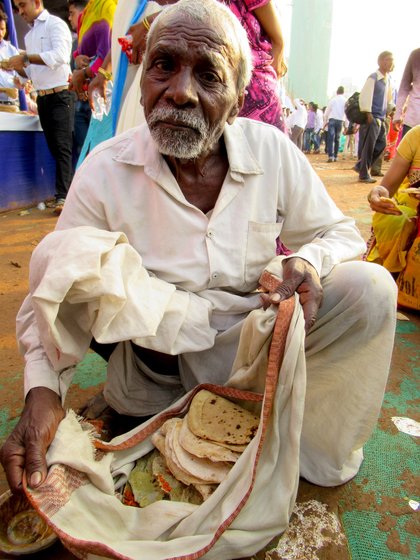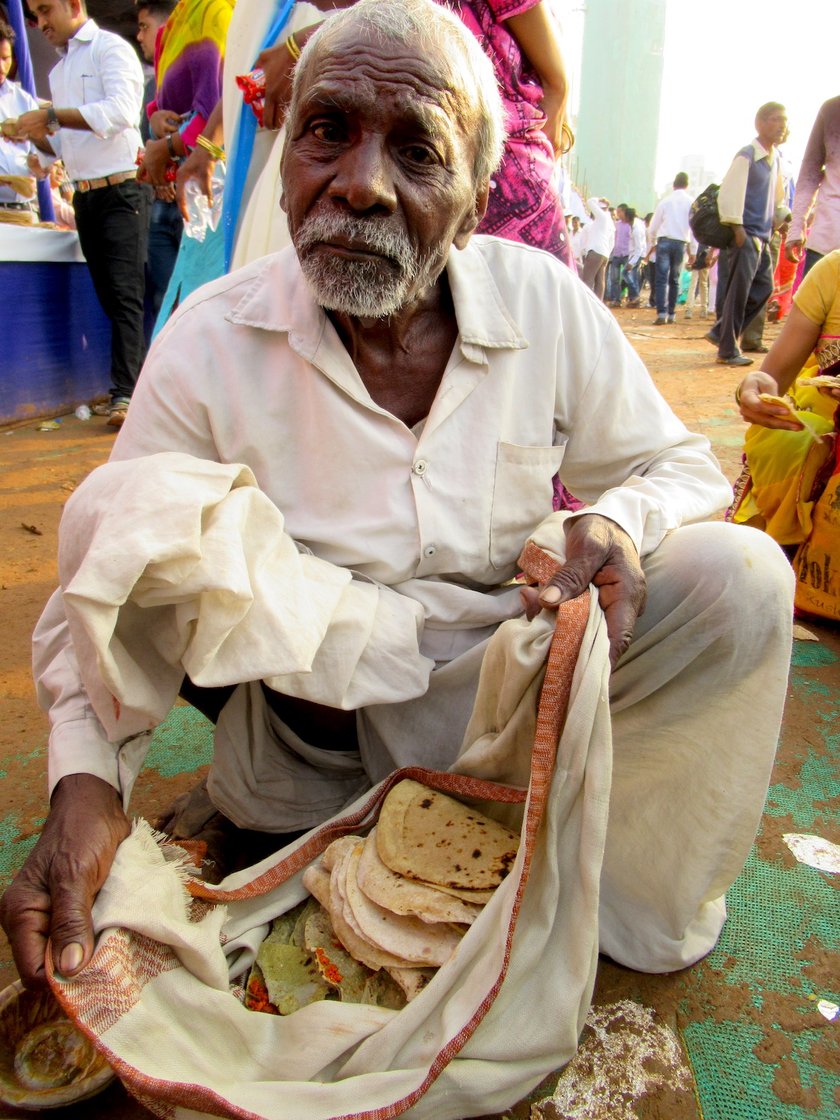 PHOTO • Sharmila Joshi
Like her, many of the people – from the poorest of communities – who have come to Dadar-Shivaji Park on December 6, carry little or no money. Train travel on this occasion is free, and they depend on the food given at the stalls, says Shantabai Kamble, sitting with her family on the muddy ground, eating a meal of dal and roti in dry-leaf bowls and silver-foil paper plates. Her elderly, taciturn husband Manohar has bundled several roti into a cloth to last them for dinner and the next day. They are a family of agricultural labourers, from Shambal Pimpri village in Pusad taluka of Yavatmal district, who spent the night on the road – usually, Shantabai says, they sleep inside the tents in Shivaji Park, but this year the wet mud has ruled out that option.

Ananda Waghmare is also an agricultural labourer; he has come by the Nandigram Express, travelling from Ambulga village in Nanded district with his 12-year-old daughter Neha. Ananda has a BA degree, but cannot find any other work. "We don't own any land. So I work as a labourer in the fields, earning Rs. 100-150 a day," he says. "I've come here for darshan of Babasaheb. It's because of him that we [he is Nav Bauddha, formerly from the Mahar community] got so many facilities. He was a people's Mahatma."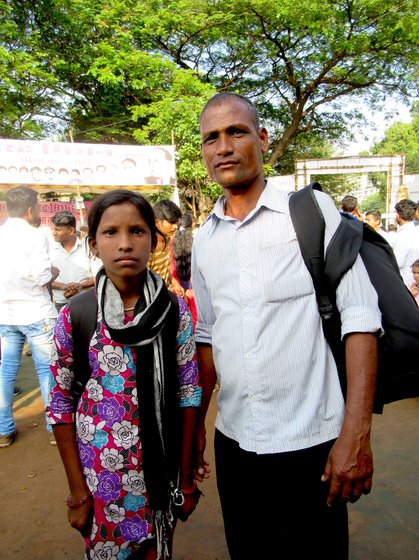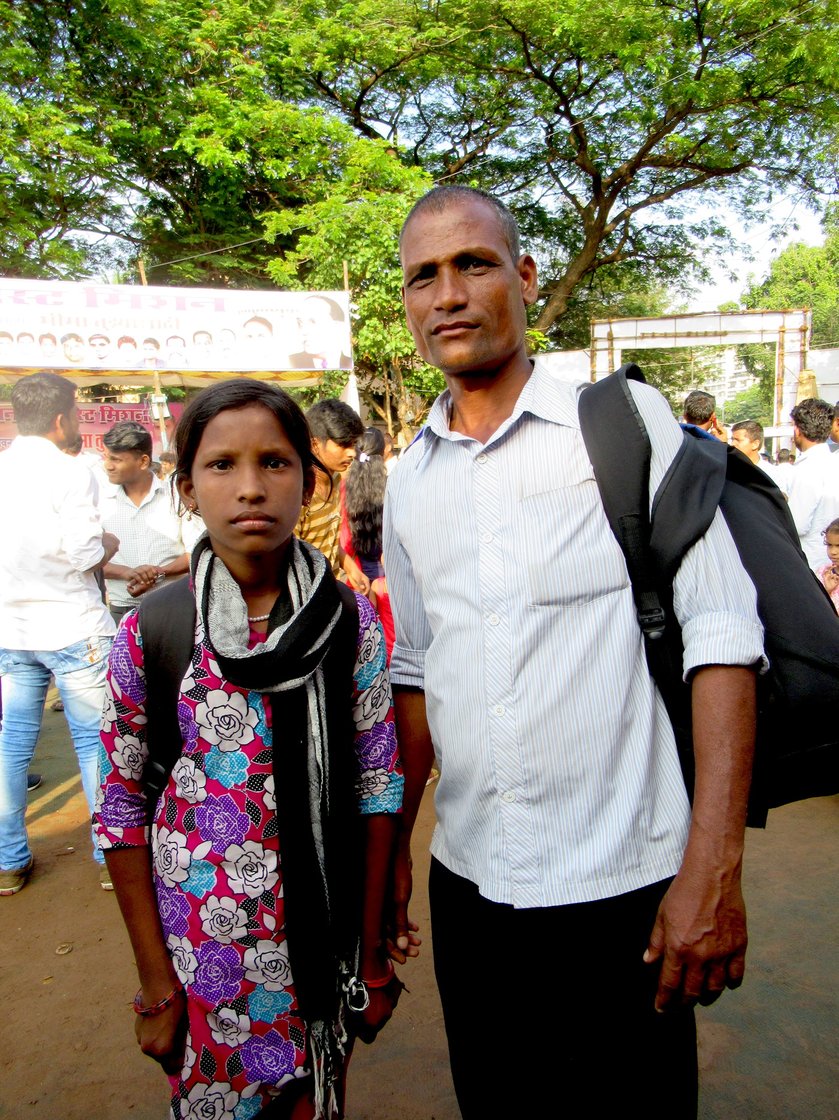 PHOTO • Sharmila Joshi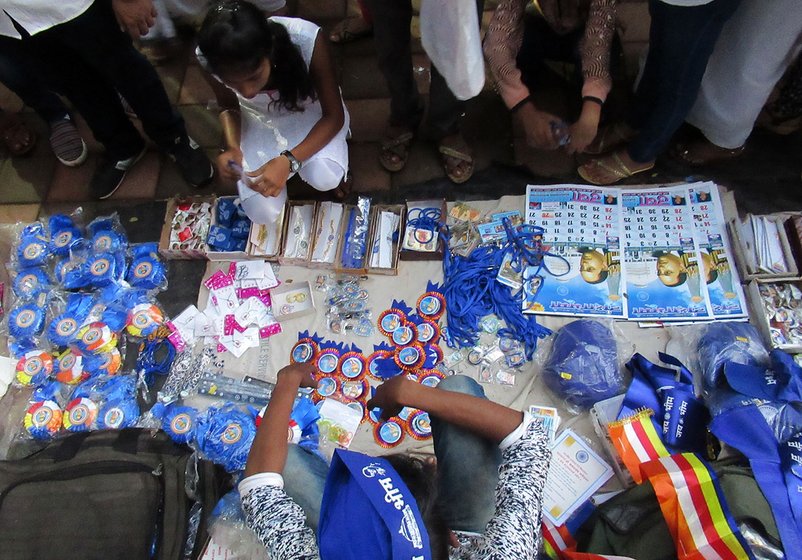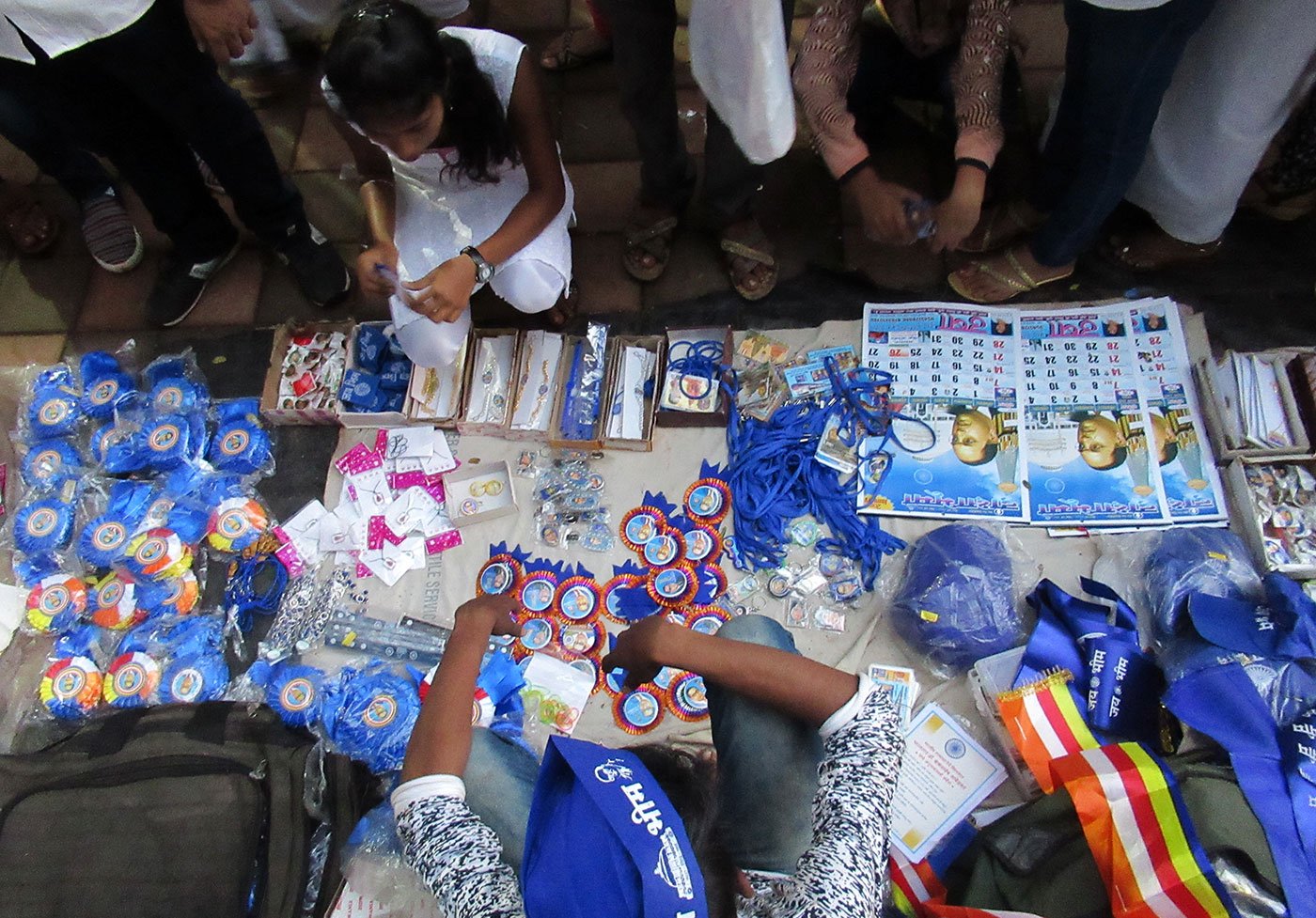 PHOTO • Sharmila Joshi
The few stalls with items for sale inside the park are not doing good business because of the damp. M.M. Shaikh has set up two long tables with books, most of them on social and caste issues. He has come from Beed town in Marathwada, where he does the same work. "I come every year," he says, "But today there's hardly been any sales. I will wind up soon and go back tonight."

Not far from his stall is a tent offering free health services. It's headed by Dr. Ulhas Wagh, who says he brings a team of 12-15 doctors here every year to address the complaints of around 4,000 people in the course of the day – headaches, skin rashes, stomach upsets. "The class that comes here is very poor, from villages and slums with few healthcare facilities," he says. Many approach the tent complaining of just weakness from the days of travel and hunger.
Walking by, looking in with curiosity, are two young farmers from Kanha village in Jintur taluka of Parbhani district. Nitin, 28, and Rahul Dawande, 25, are brothers, also Nav Bauddha Dalits, who cultivate cotton, soyabean, tur and urad on three acres. They have managed to find accommodation for the night in a college through some volunteers. "We come here as shraddhanjali [homage]," Nitin says. "We feel if we keep coming, our children too will and this tradition will continue."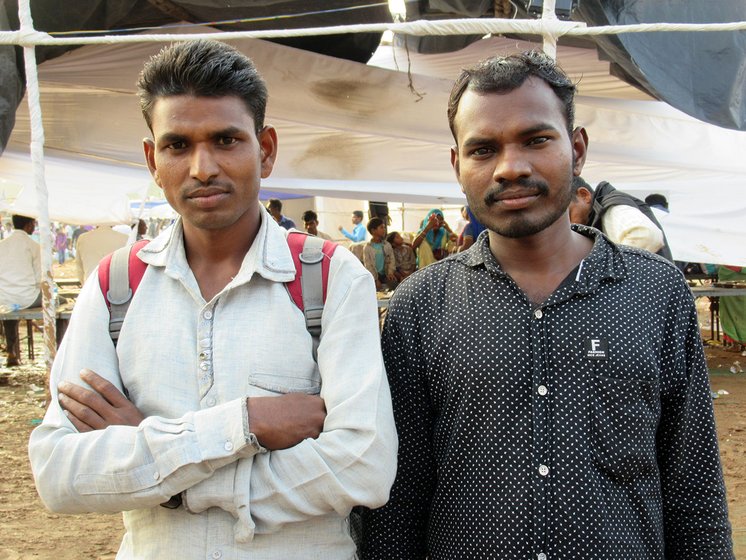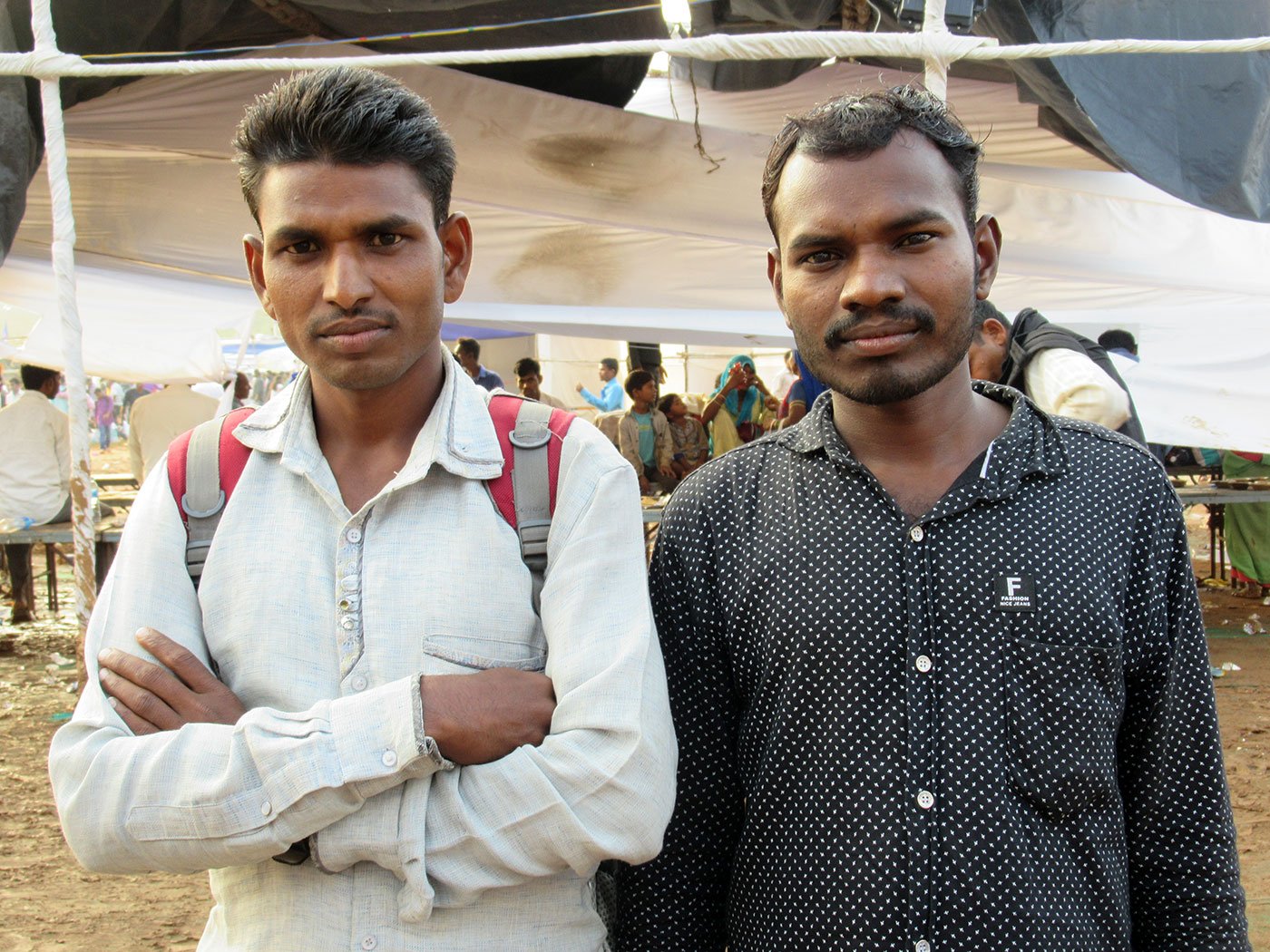 PHOTO • Sharmila Joshi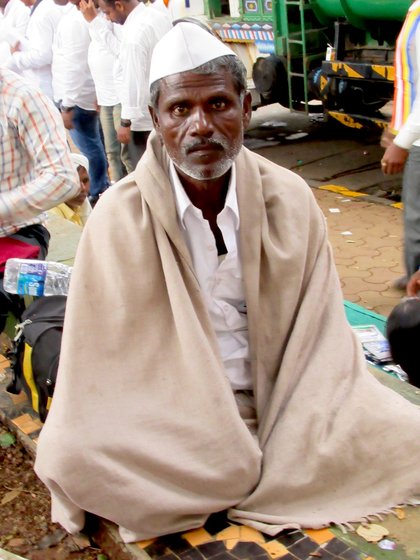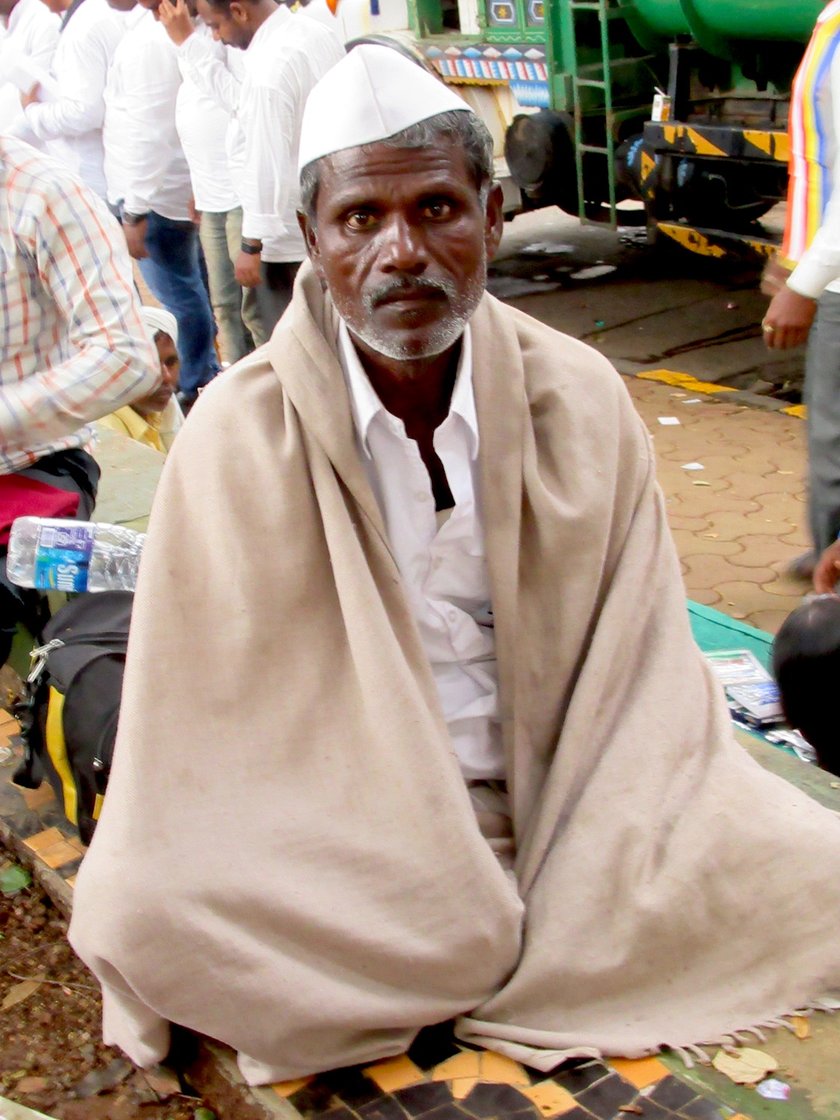 PHOTO • Sharmila Joshi
By the time it is dusk, the numbers of people walking towards Chaitya Bhoomi have vastly increased, and it's a nearly impenetrable surge. Unable to make his way through, Sandeepan Kamble from Uti village in Ausa taluka of Latur district has decided to wait it out, and is taking a nap under a tree. 'This is my first time here," says the agricultural labourer. "My wife and children are with me too. I thought, this year let me show them December 6."

Back in the park, near Shaikh's bookstall, a little girl is lost and running back and forth, wailing loudly for her mother. A clutch of people gather around her, gently coaxing her to talk; she speaks only Kannada, but manages to give a mobile number. A young policeman comes along and takes over. The concern with which her anxiety is handled is evident everywhere – not once in this huge gathering is there a sense of chaos, any harassment of women, any acrimony. And not so far from the bookstall, another little girl runs into a tent and stands for a long while with head bowed, hands folded, before a garlanded portrait of Dr. Ambedkar.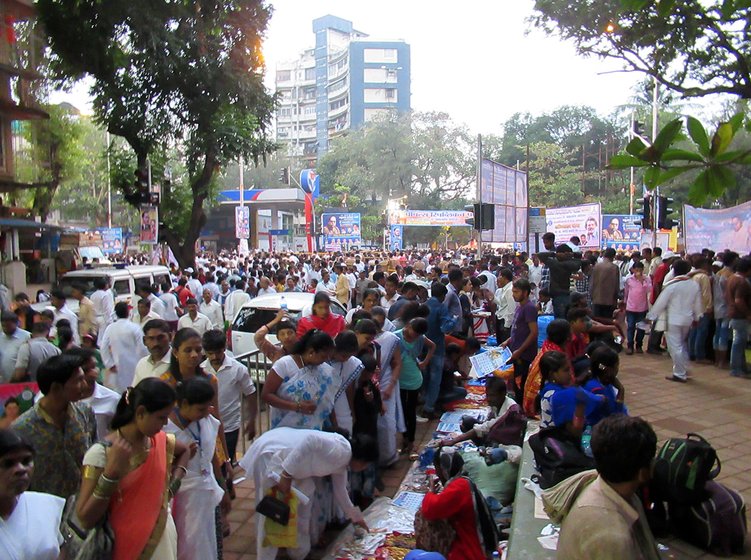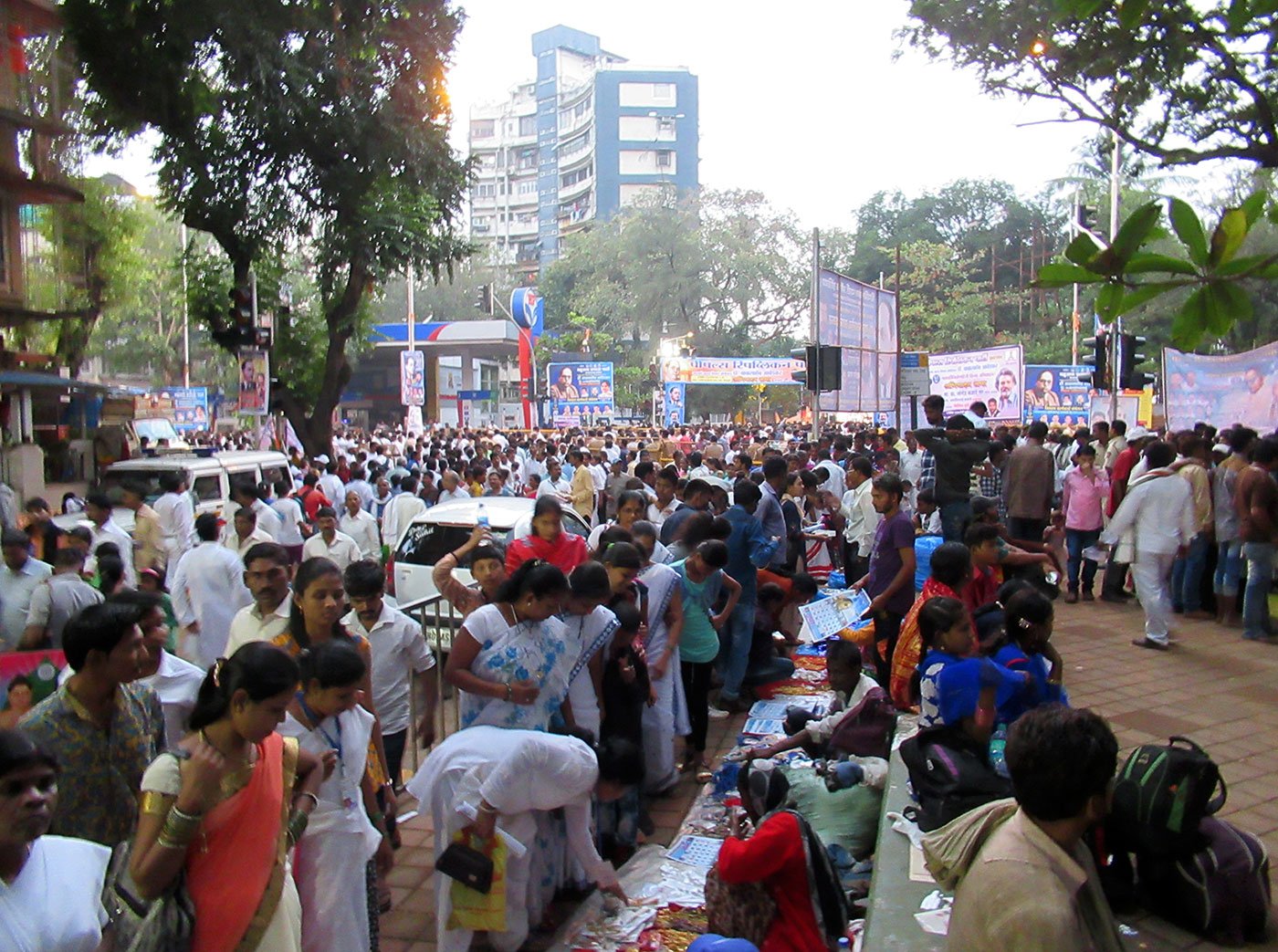 PHOTO • Sharmila Joshi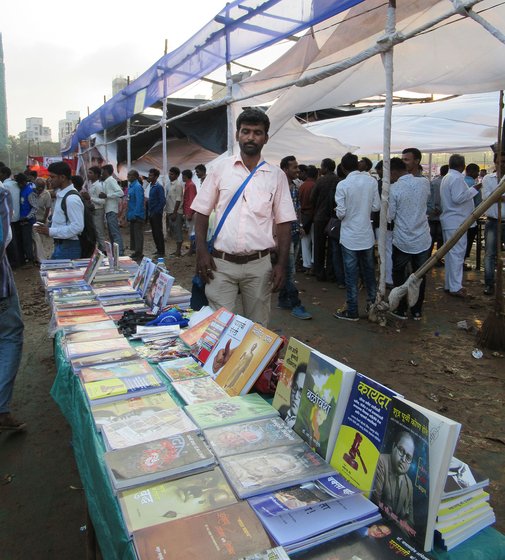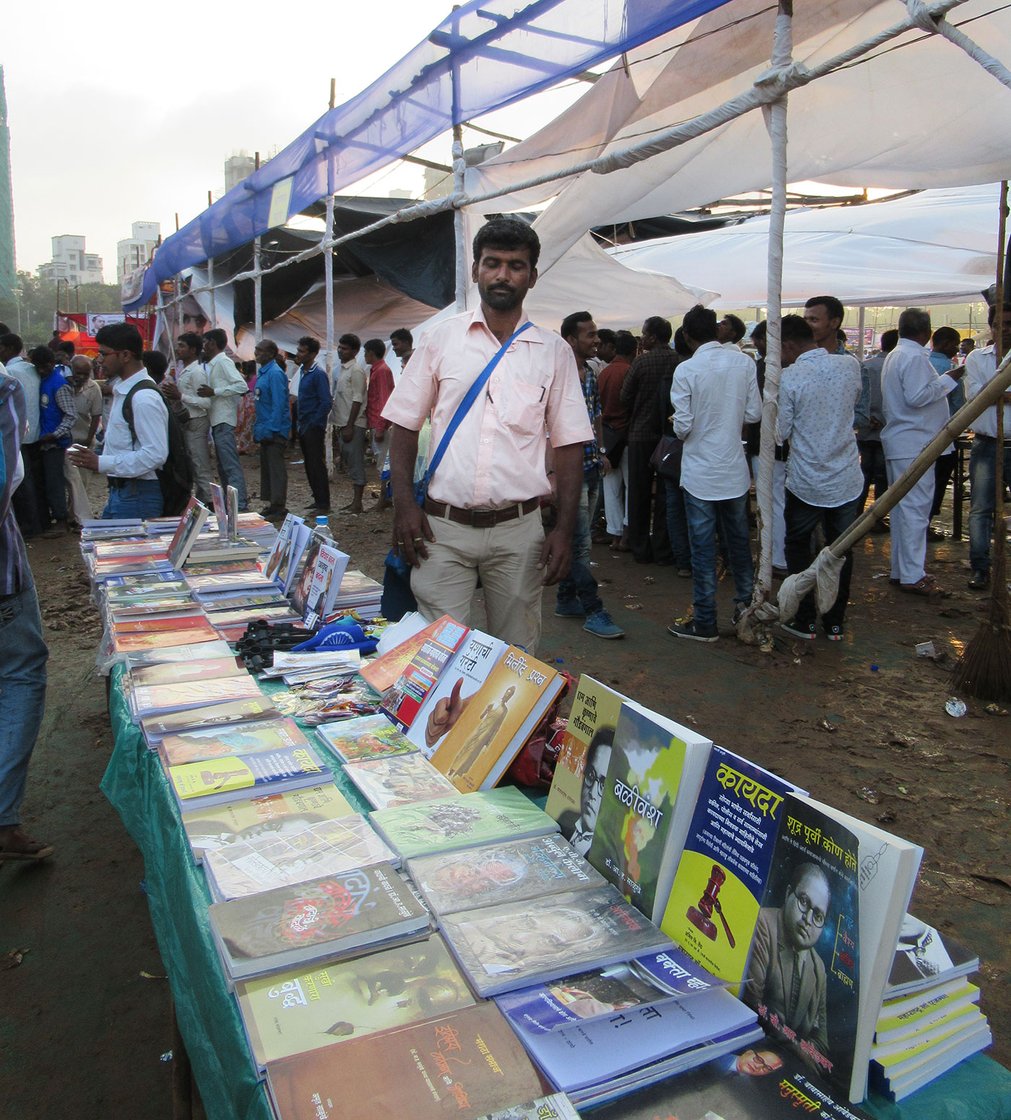 PHOTO • Sharmila Joshi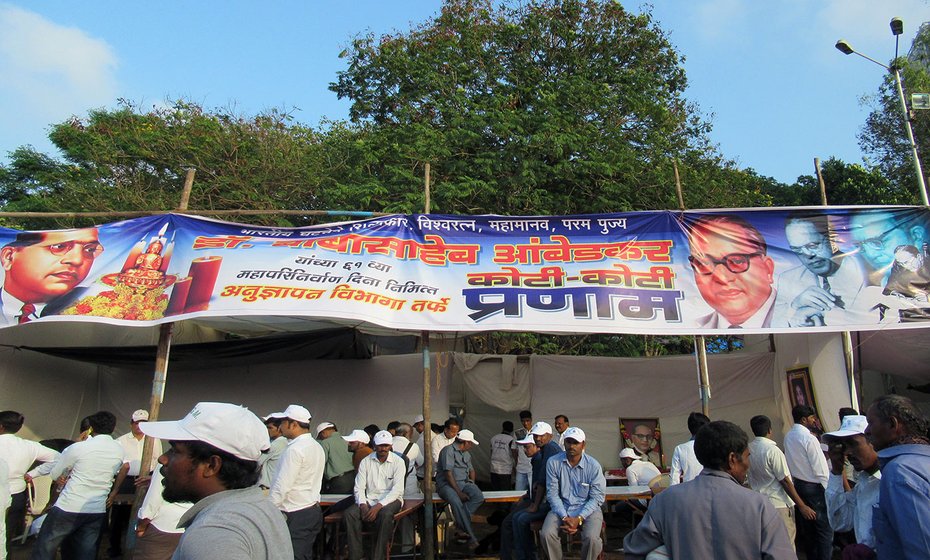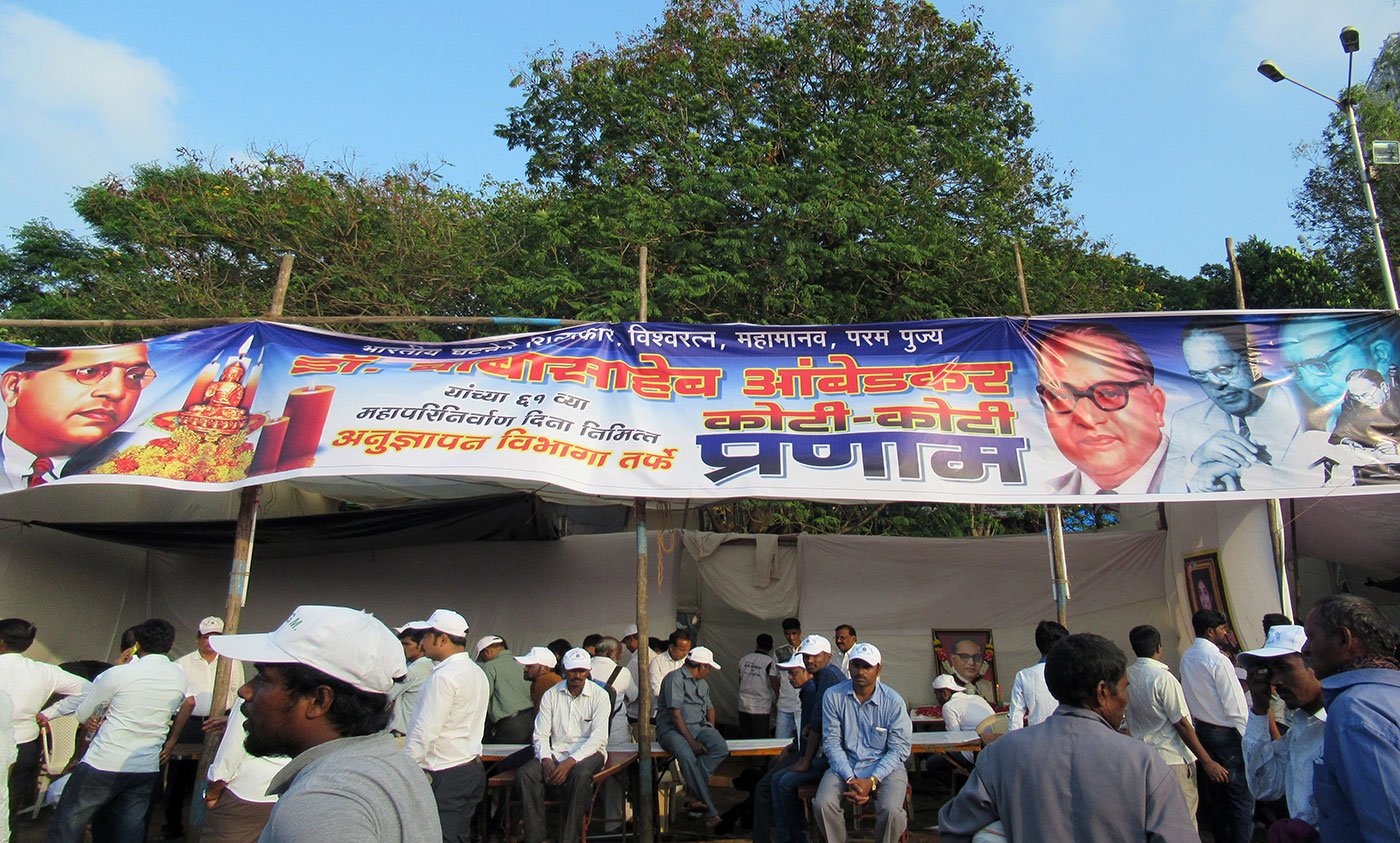 PHOTO • Sharmila Joshi