On August 11 this year, 21-year-old Wajid Ahmed Ahangar of Zugo-Kharien in Central Kashmir's Budgam district, set out with other youths for a unique three-day festival at Tosamaidan. An unexploded shell lying in the grass of this beautiful meadow triggered a blast. Wajid, who had stepped out of his home wearing new clothes, "like a prince riding a horse," his father later described to the local media, was brought home dead. Three others also suffered major injuries.
The celebrations turned to mourning. It was another reminder of how the past continues to haunt Kashmir.
A year ago, also in the month of August, Mohammed Akram Sheikh, of Shunglipora village in Khag block of Budgam, had talked to me about the significance of the festival or Jashn-e-Tosa, associated with this meadow since 2015.  The Jammu & Kashmir government also promotes the Jashn as part of a tourist festival.
He explained that the event celebrates the return of open spaces to the community. The army had occupied the maidan for five decades, using it as a firing range, and  vacated it in 2014 after a long struggle.
The villagers celebrated their freedom to wander without fear of death, injury or intimidation and, as pastoral communities, to practise their livelihoods. He had eloquently described the vacating of the meadow as a raahat ki saas (a sigh of relief).

But the August 2018 incident shows how illusory this freedom can be, how militarisation can morph landscapes, drastically impacting the lives and livelihoods of people who are deeply dependent on the land.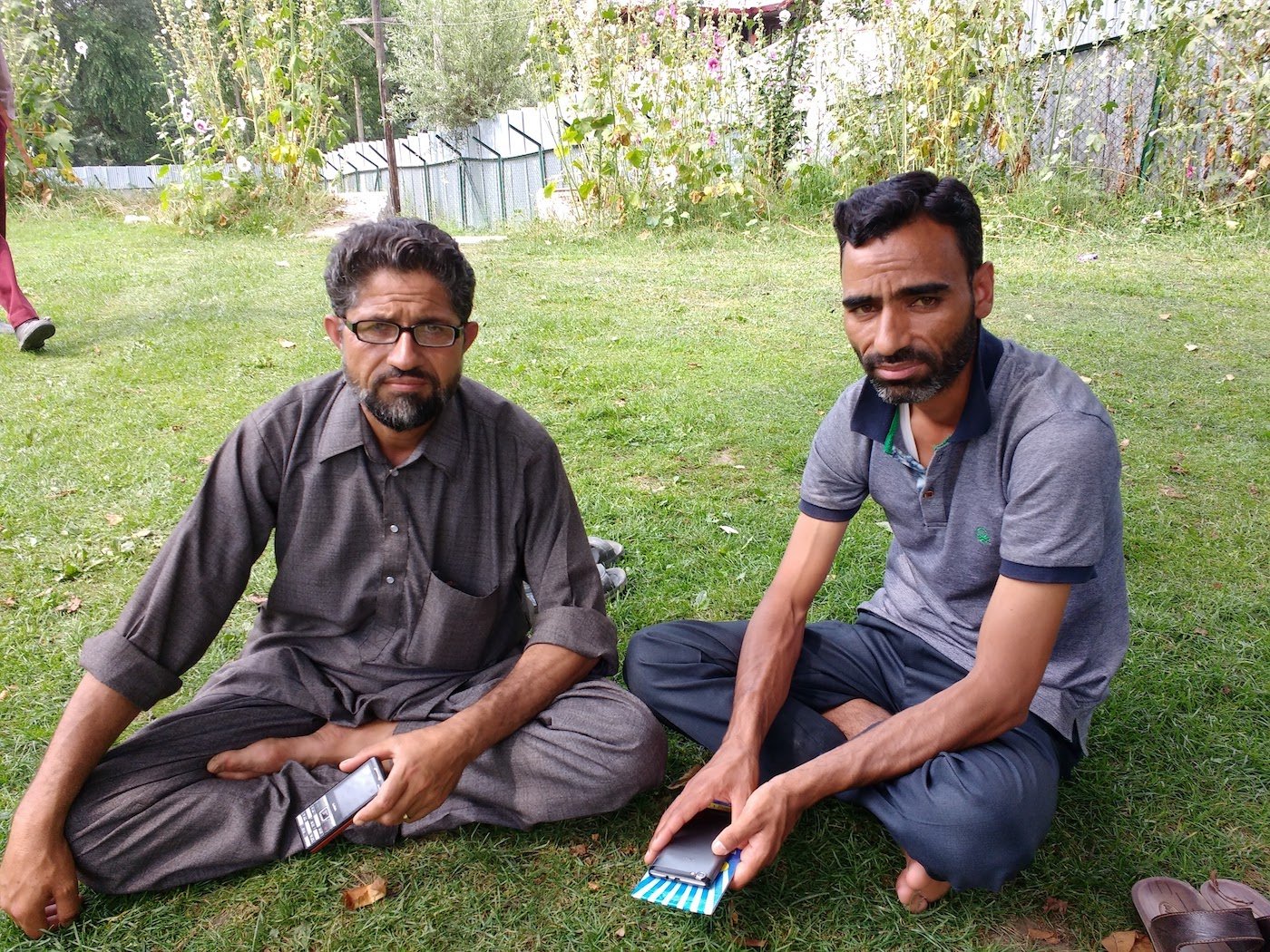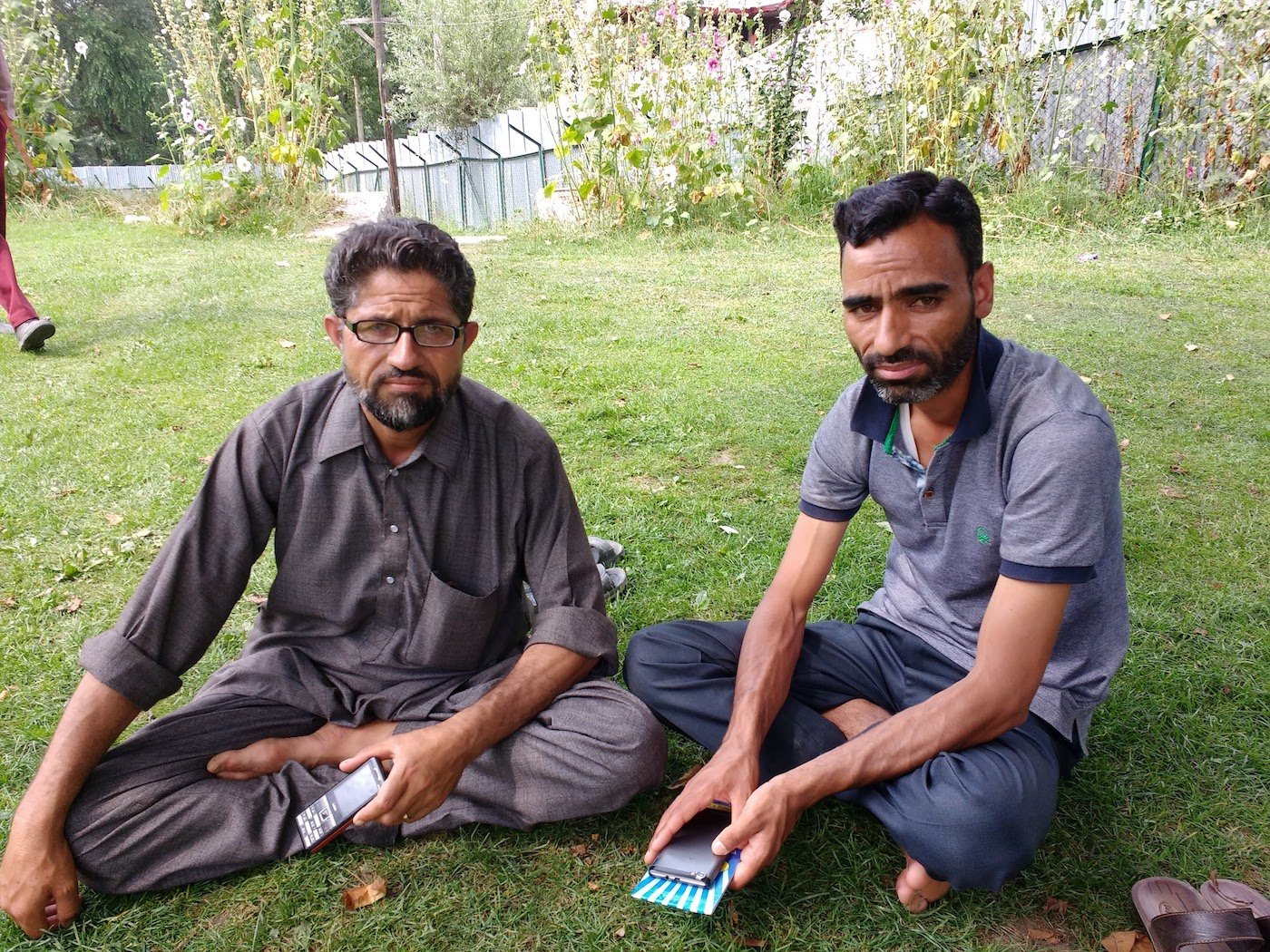 PHOTO • Freny Manecksha
Tosamaidan is a magnificent alpine meadow at around 10,000 feet, surrounded by the Pir Panjal range of mountains and bound by dense forests. It was long used as a pasture in the summer months by nomadic and pastoral communities such as the Gujjars, Bakarwals and Chopans. Even the Moghuls, folklore says, would traverse this meadow to cross over to the valley of Poonch through the 13,000 feet Basmai Galli pass.
In 1964, the J&K government signed a lease allowing the army to use 69 square kilometres of the meadow as a firing range and for conducting artillery drills. It disregarded what this would mean for the people and the environment.

The annual melting of the snow around March-April that signals spring and movement of the pastoral communities towards the meadow's grazing slopes coincided with the beginning of the army's artillery exercises for the year. Rocket launchers, grenades and mortar guns were used for practice firing from one mountain slope to another. Leaving the meadow littered with hundreds of unexploded devices.
In the picturesque village of Sita Haran, also in Khag block, which faces the mountain slopes and the verdant meadows, people speak of the many ways in which their communities bore the brunt of the state's decision. The sarpanch , Ghulam Mohiddun Sheikh, whose wife was camping in their dhok (earth and wood dwelling), in the meadow, told me over lunch of how he and the other villagers grew up on the sidelines of death and restricted movement. "We would be stopped by the army and checked and frisked whilst taking our cattle for grazing, or if our women were collecting firewood, even though we were not the outsiders."
Totally dependent upon the meadow for their livelihood, people died there because of misfired shells that missed targets, he said. At other times they came into contact with unexploded devices and were blown up or maimed. A wood-cutter lost his hand because his axe hit a shell while chopping. Another lost his fingers when he was digging for herbs. Shelling also took a heavy toll on the cattle. Sheikh, recalled how a shepherd had to witness the horrifying sight of his 60 sheep being blown away in a blast.
"We had four killings from this village itself – two women whose dead bodies were found in the forests probably because they came in contact with unexploded shells, and two youths who died in the firing exercises," Sheikh said.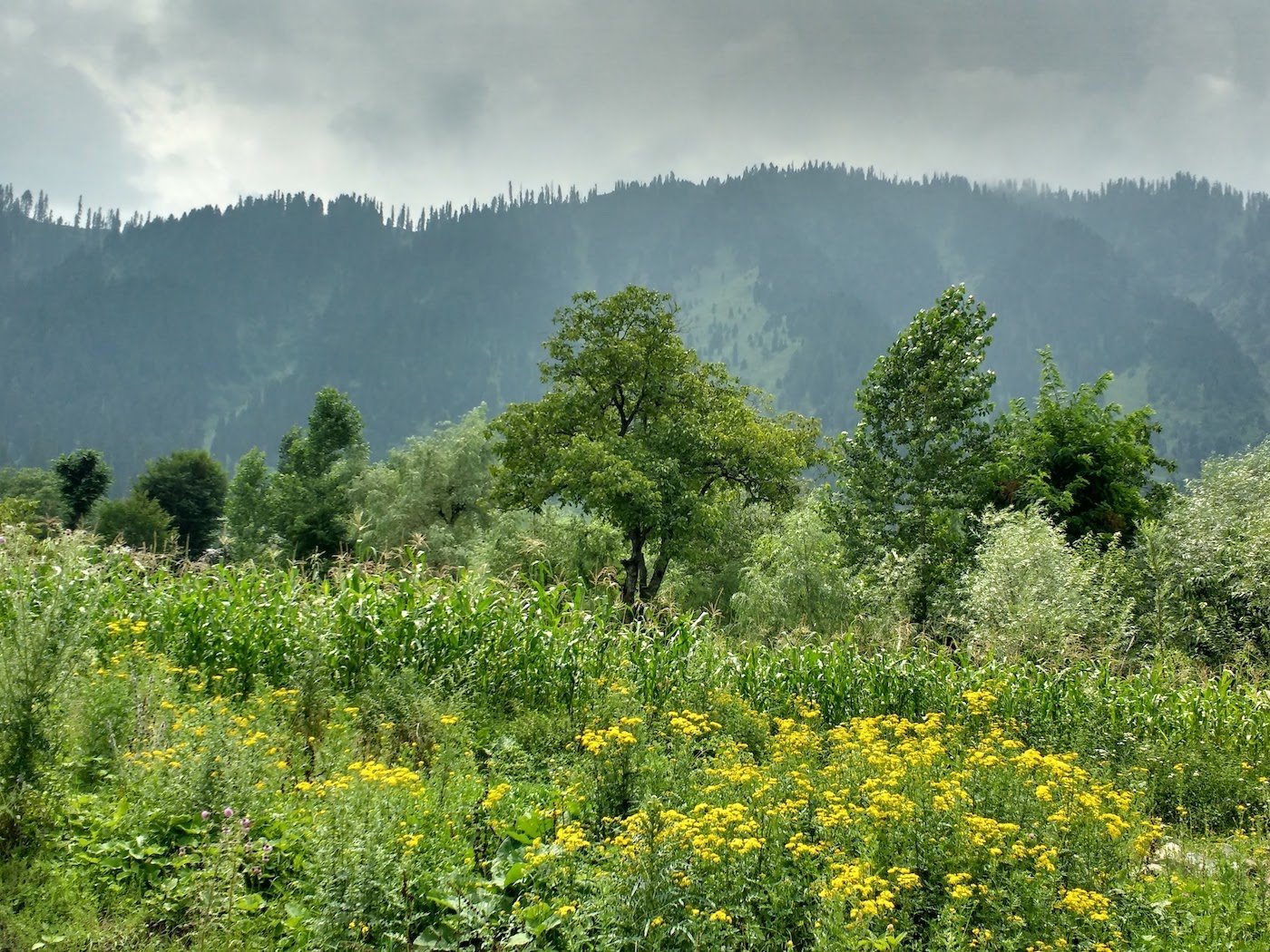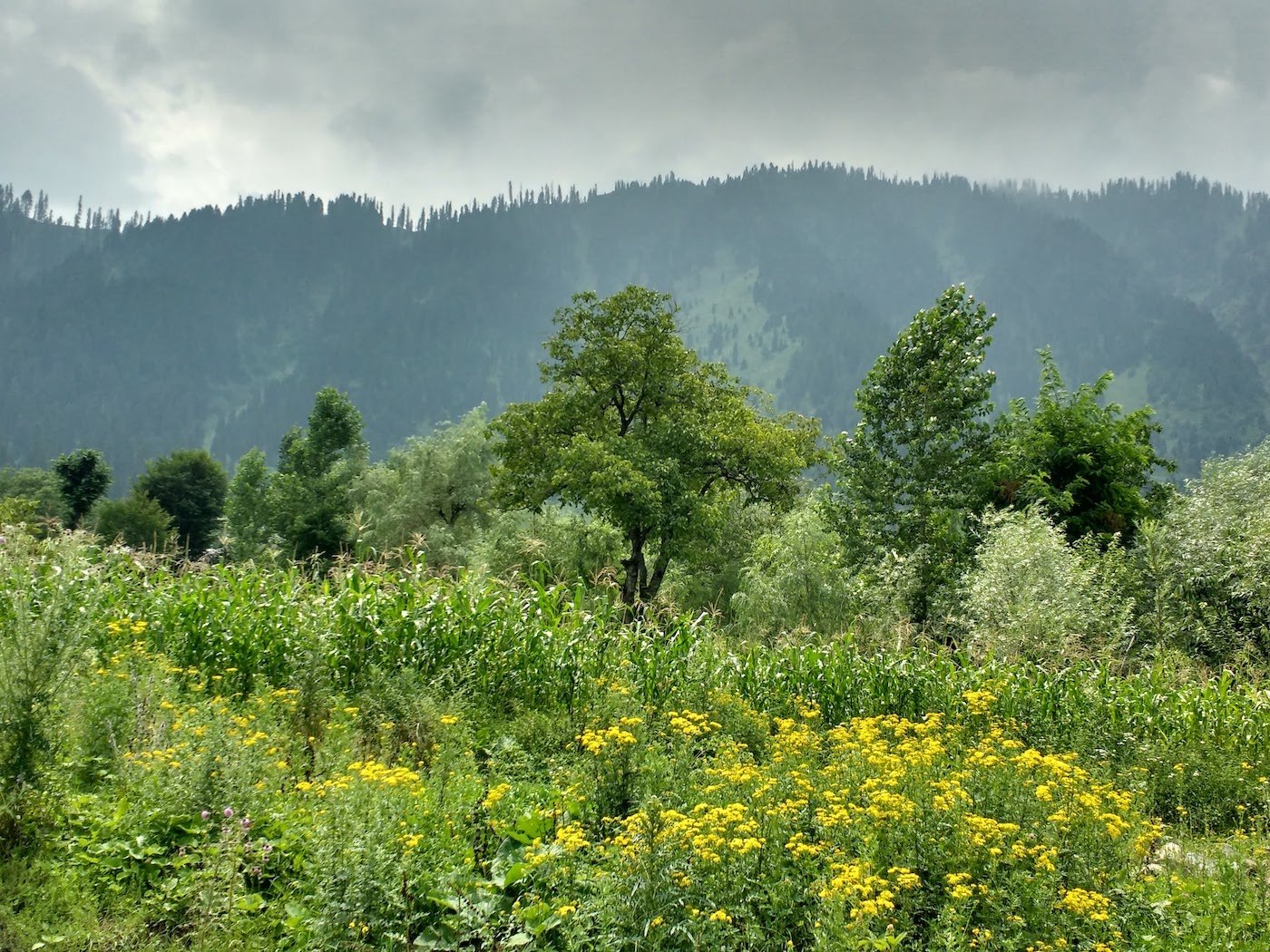 PHOTO • Freny Manecksha
Data obtained under the Right to Information law show that at least 68 people were killed and 43 disabled over the years  at Tosamaidan. The highest number – over 37 – was reported from  Shungli Pora, a village of around 4,800 people.

This includes children. On May 19, 2014, seven-year-old Simran Parray came home excitedly and began playing with a bag she had found in the meadow. It contained unexploded shells. The blast blew her body into pieces and tore away the leg of her five-year-old brother Fayaz.
Mohammed Akram Sheikh, a carpenter by profession, the former sarpanch of Shungli Pora and vice president of the Tosamaidan Bachav Front, a movement that sprang up to oppose the firing range, also  told me of his own emotional and physical scars: "I was a young boy when I lost my older brother Abdul Karim in 1990. He was 23 and just engaged. I was in Tosamaidan as it was our summer break and he had brought me my school books and then gone to tend to the cattle."
A sudden outburst of firing killed Karim on the spot. The Khag police station refused to file the first information report (FIR), saying that the killing took place in a firing range. "We were the victims. A member of our family was dead, but we had no right to question this killing. Such was the pressure exerted on us [by the police and army]."
On July 15, 2003, Mohammed Akram, now around 40 years old, himself suffered an injury. He rolls up his trouser to reveal a long scar along his calf. "I was newly-married and had gone to the meadow. A headmaster and others had come visiting us and we were drinking tea when a contingent from the Indo-Tibetan Border Police camp of Magam began firing exercises without any intimation. A shell exploded near us…" Mohammed Akram was fortunate to get timely medical aid, otherwise his leg would have been amputated.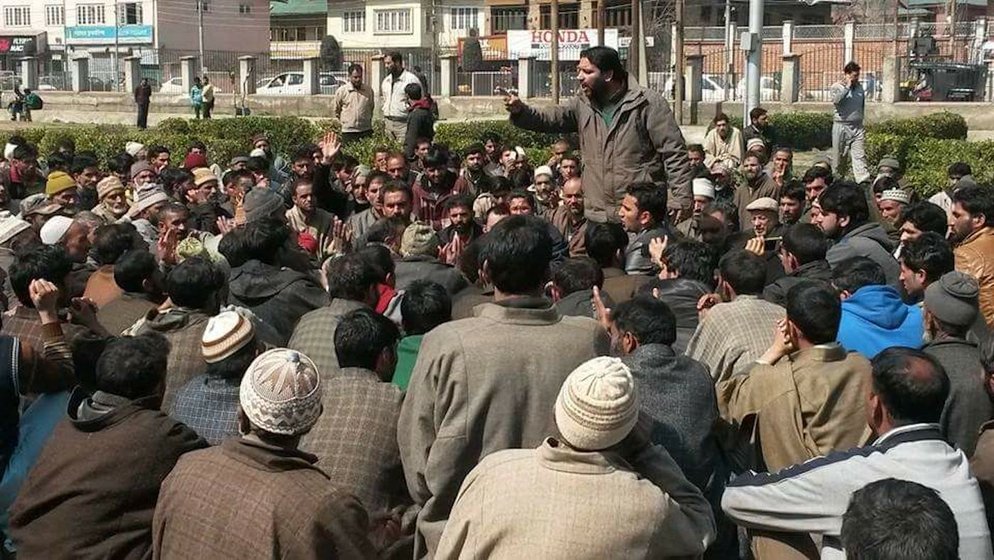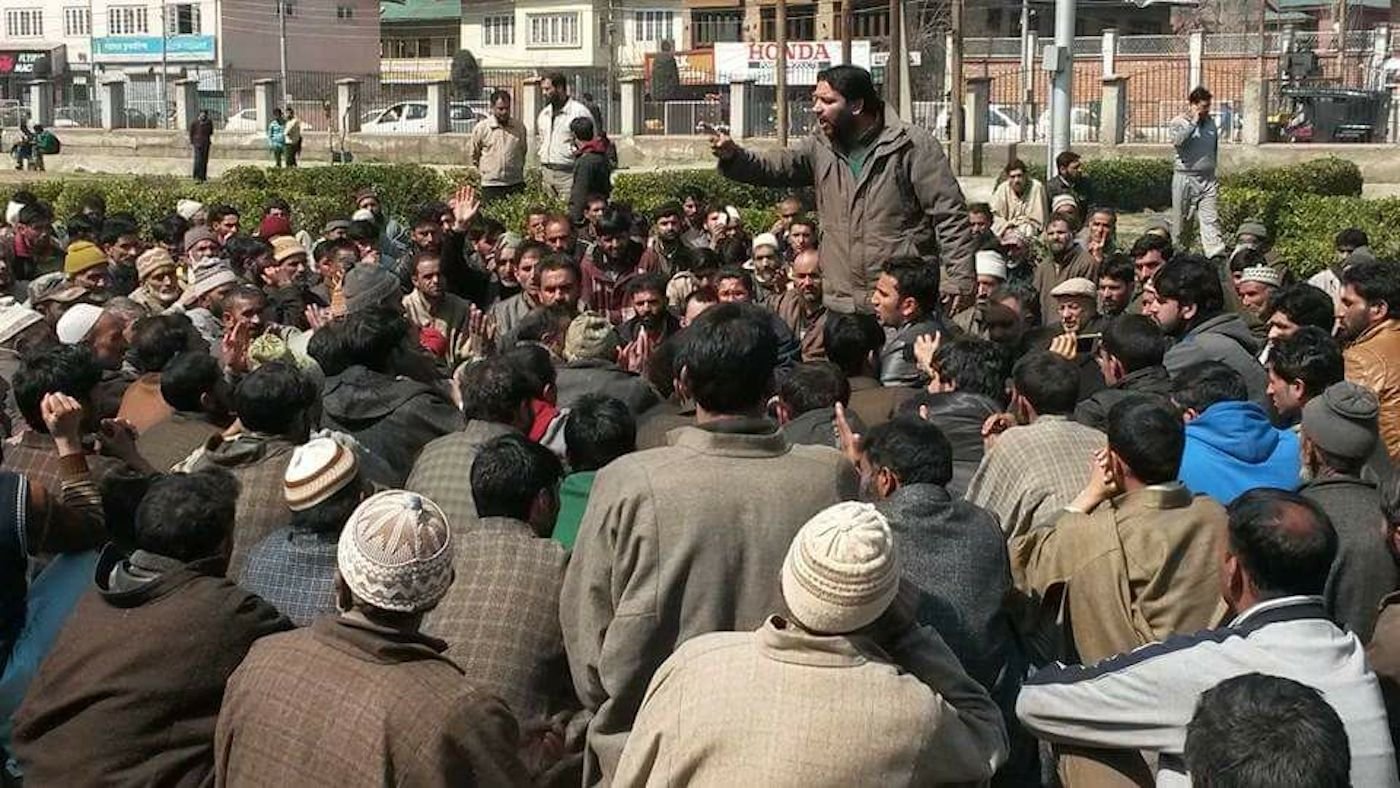 PHOTO • Tosamaidan Bachav Front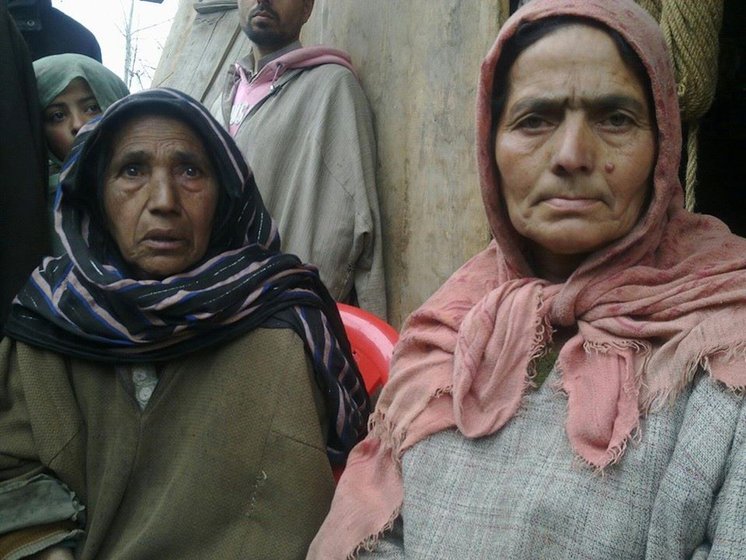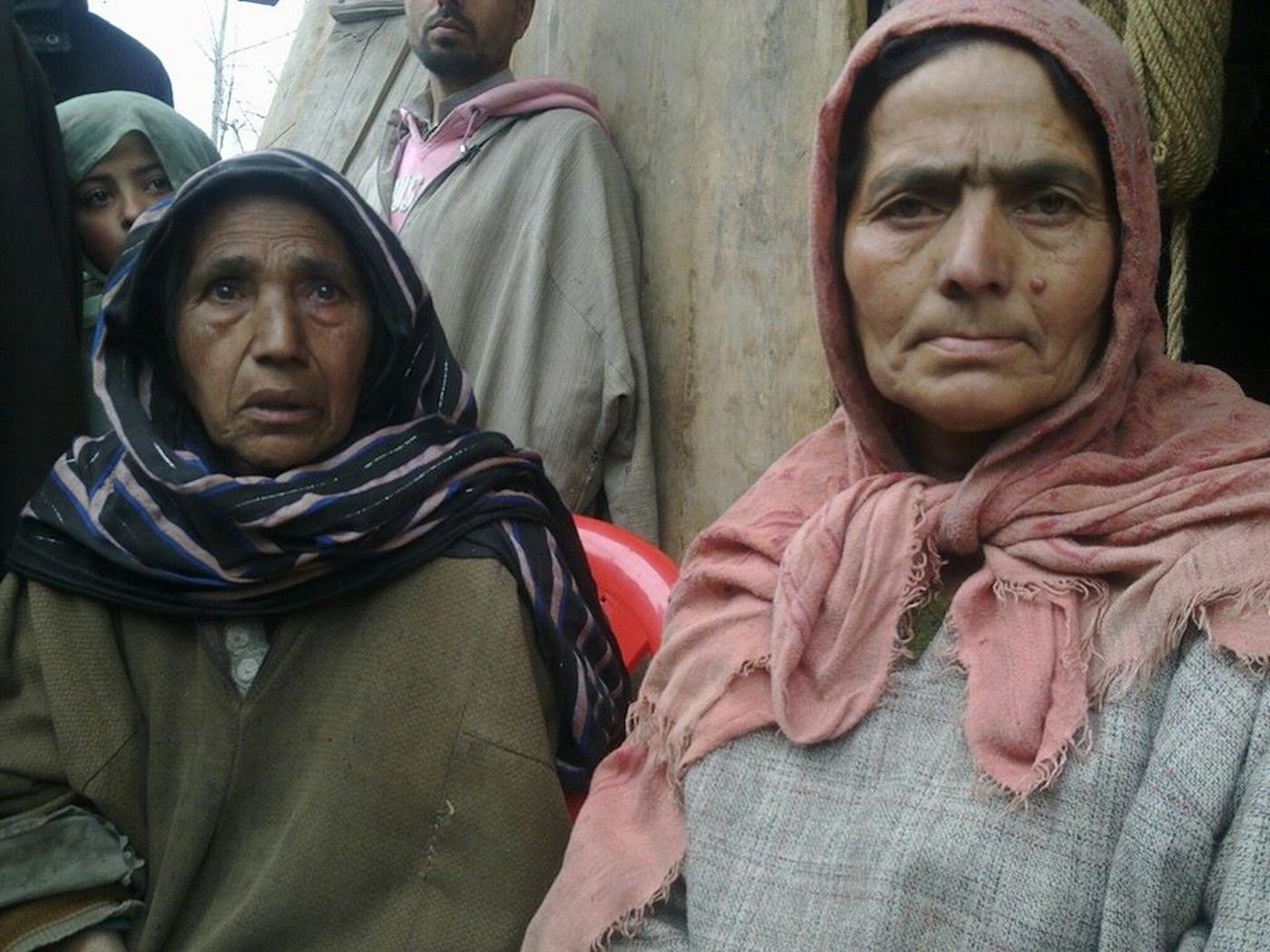 PHOTO • Tosamaidan Bachav Front
Ghulam Ahmed, a herder from Shungli Pora, told me that besides the killings and maiming, children and the elderly suffered a lot during these drills. " Taalim (education) was severely impacted. School timings coincided with the firing timings. Boom boom boom...  Guns would roar and shells whizzed by from 10 a.m. to 4 p.m. The school buildings rattled and shook under heavy mortar firing. Children cowered in distress. Some suffered hearing impairment. Once a shell did not reach its target and landed near a school building in Chil-Bras. Houses in the villages of Drang, Khag, Sita Haran developed cracks or shattered window panes."

There was also widespread environmental damage. With the melting of the snow or during heavy rains, shells would get swept into the nullahs or glacial streams that are the primary source of water for Budgam. Bushes caught fire and huge craters formed in the fields.
Ghulam Ahmed laments another loss, which he attributes to the chemicals in the explosives: "There used to be so many species of birds – herons, jungle fowls, cranes – that have disappeared because of the damage to the environment. So many medicinal herbs too seem to have vanished."
For years, the villagers accepted the killing fields as an unavoidable hazard and the outside world remained inured to their plight. There was  ambiguity about whether they could apply for compensation for damage caused to livestock and crops due to a firing range. The absence of any guidelines under the Manoeuvres Field Firing and Artillery Practice Act of 1938 meant that no FIRs were filed for several years nor could action be taken for compensation.
It was only in 2013 that the villagers came together to form the Tosamaidan Bachav Front to fight collectively. The movement was initiated by Ghulam Rasool Shaikh, a doctor by profession. I met him in Srinagar, where he told me that he first learnt of the presence of a firing range in Budgam when he went trekking in the region as a young man "I saw many trees had been felled and I asked the people to stop cutting them and turn to eco-based tourism. I was disturbed to learn that in this region of unsurpassed beauty there could be no question of that because of the firing range."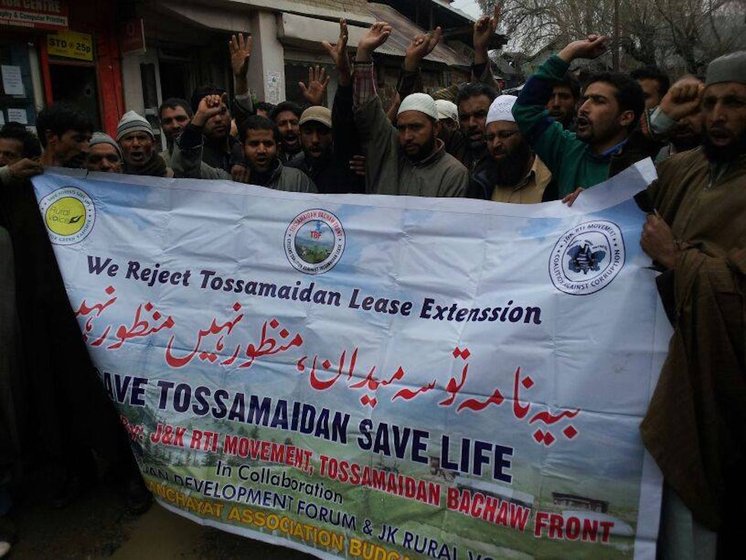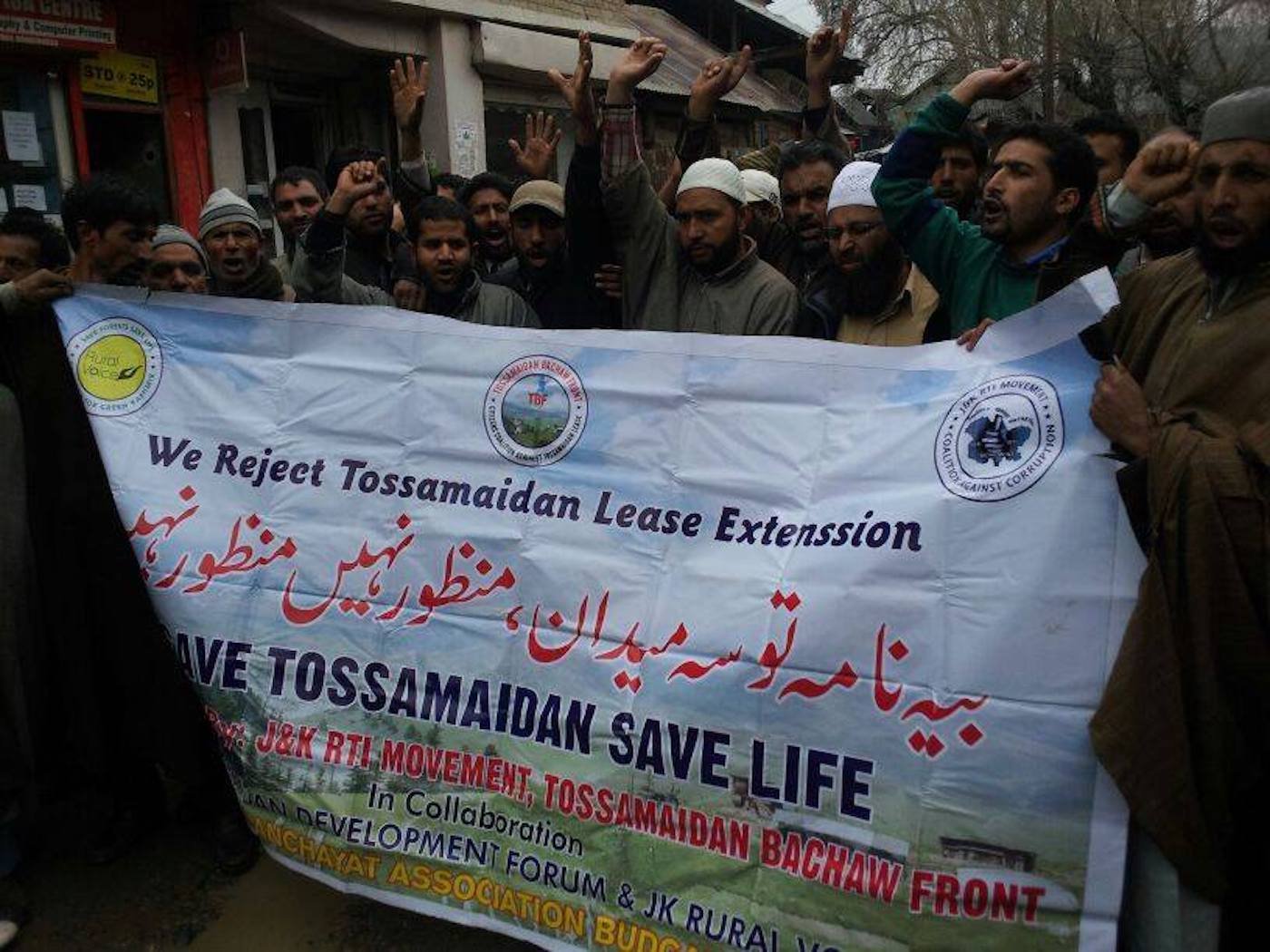 PHOTO • Tosamaidan Bachav Front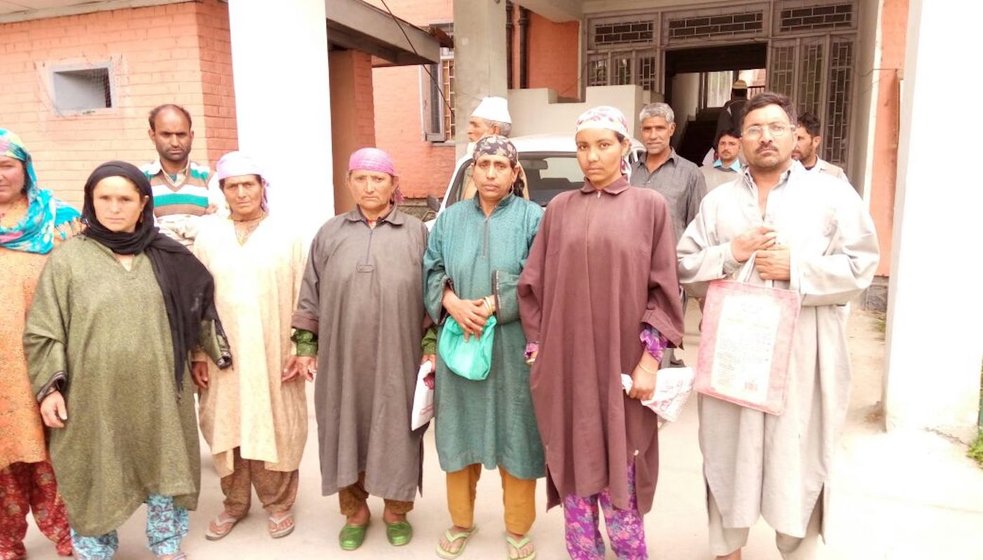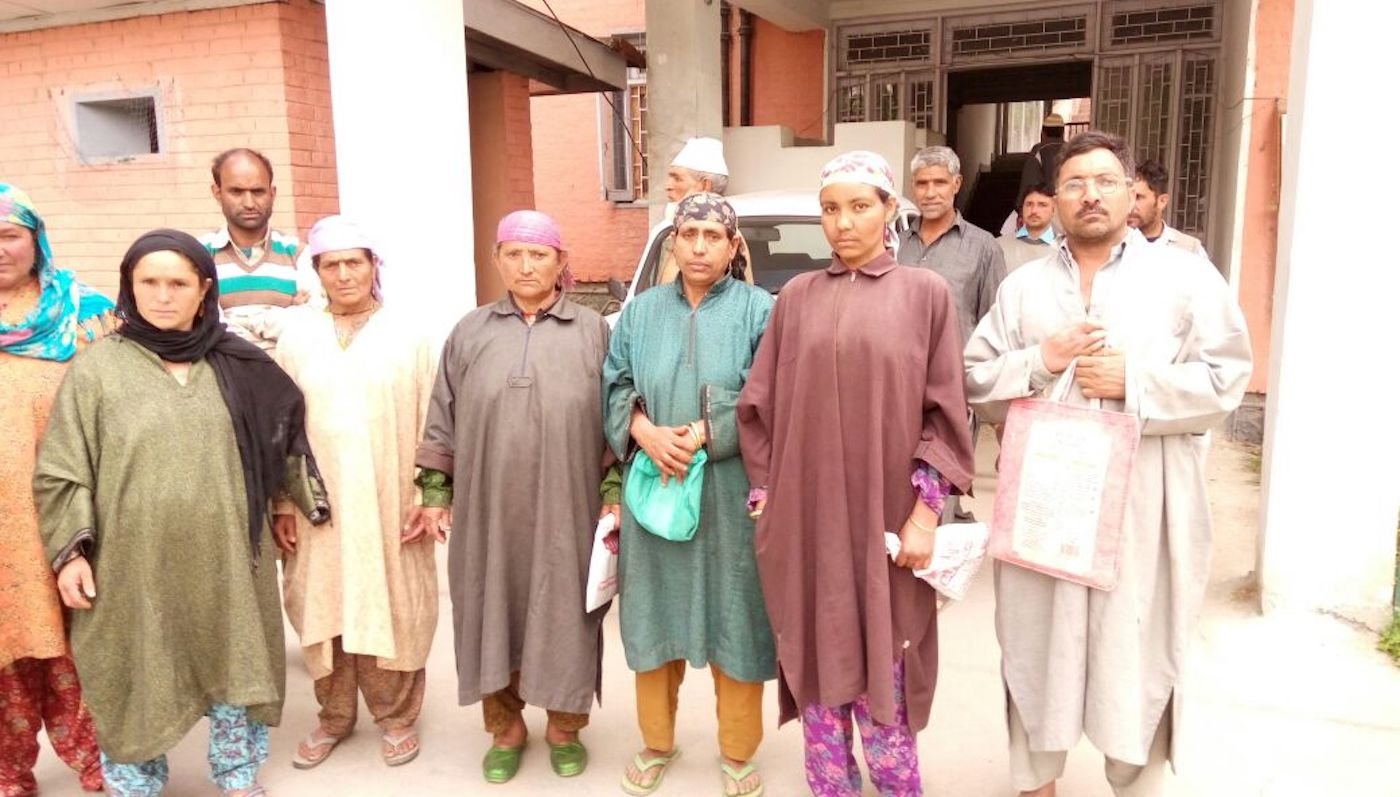 PHOTO • Tosamaidan Bachav Front
Later, as a government medical officer in the mobile health services, Dr. Rasool was shocked to learn about the number of widows in Shungli Pora, whose husbands had died due to the firing range. He came across a single household where three male members had died over the years as a result of the firing range and this affected him deeply.

Dr. Rasool, who has also pioneered the right to information campaign in Kashmir, then used RTI networks to assess the effects of the firing range since 1969, to obtain data on deaths and disabilities, and details of the land lease given to the army.
People were afraid initially to articulate their opposition, fearing the army and state. A new strategy was formed when the panchayat elections across Kashmir of 2010-2011 were announced. Those who were strongly opposed to the firing range and wanted the meadow to be vacated were urged to stand for these elections. Later, the panchayats helped create awareness on issues related to Tosamaidan.
"There were so many widows whose husbands had died because of the firing range and they had to single-handedly bring up their children amid tough conditions. They would supplement their income by seeking alms and sit outside the mosques as is the customary practice here. But they were inherently strong and we persuaded many of them to stand for panchayat elections. They are articulate and argue forcefully on many decisions that have to be taken," says Lubna Sayed Qadri, the executive director of the School for Rural Development and Environment (SRDE), Srinagar, which is implementing community-based tourism in Tosamaidan. She has worked for years with the Bakarwal and Gujjar communities.
Once the Tosamaidan village committees were formed, over time, 52 sarpanches representing 64 villages signed a resolution against the firing range, and came together to form the Tosamiadan Bachav Front.
This local governance was strengthened by bringing various environmentalists, members of the Kashmir bar council, and various trade associations into the movement. A crucial discovery through the RTI was that the lease for the meadow came up for renewal every 10 years and not 90 years, as the villagers had mistakenly believed. The year for fresh renewal was 2014. A vigorous campaign was launched to put pressure on the then National Conference government to not renew the lease. Protests were held at least twice a month in Srinagar and the local and national media too picked up the issue.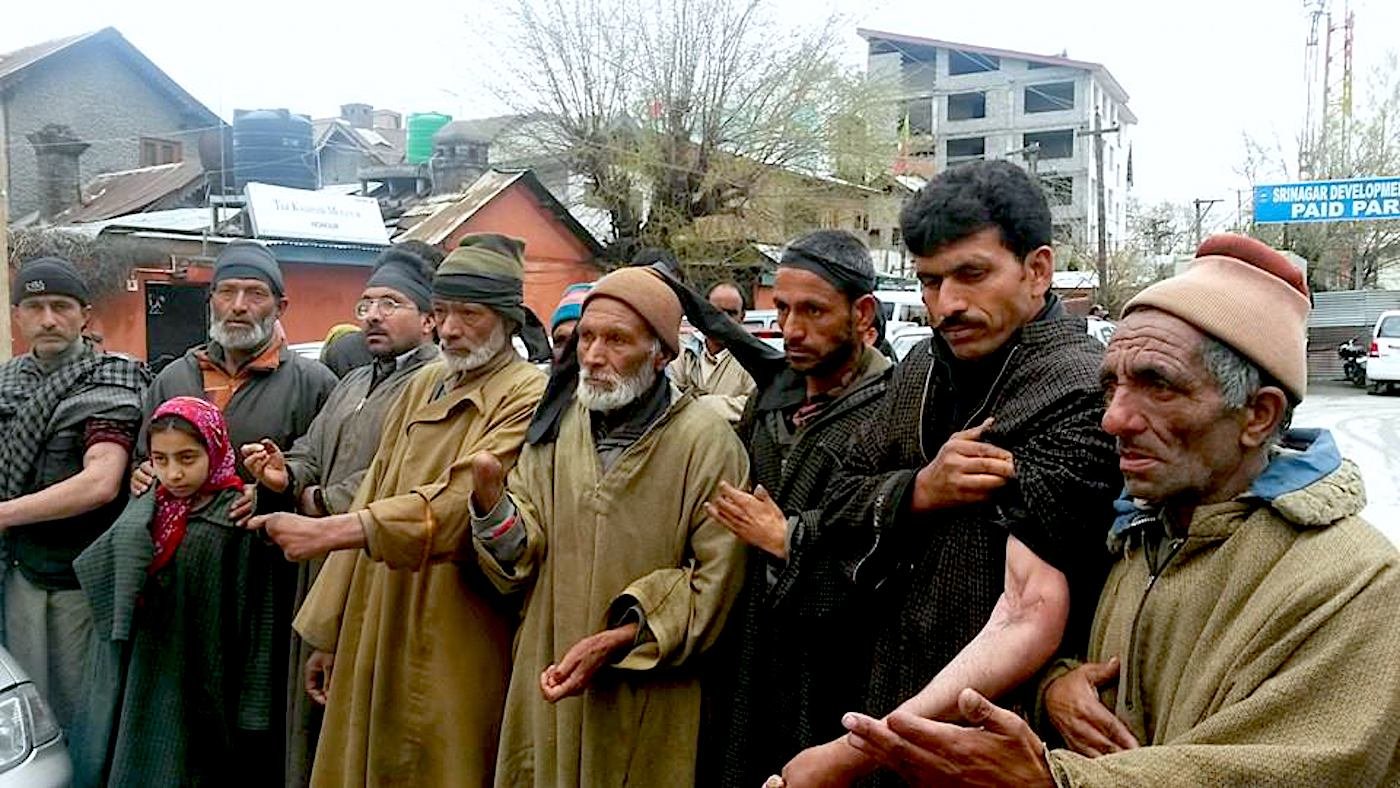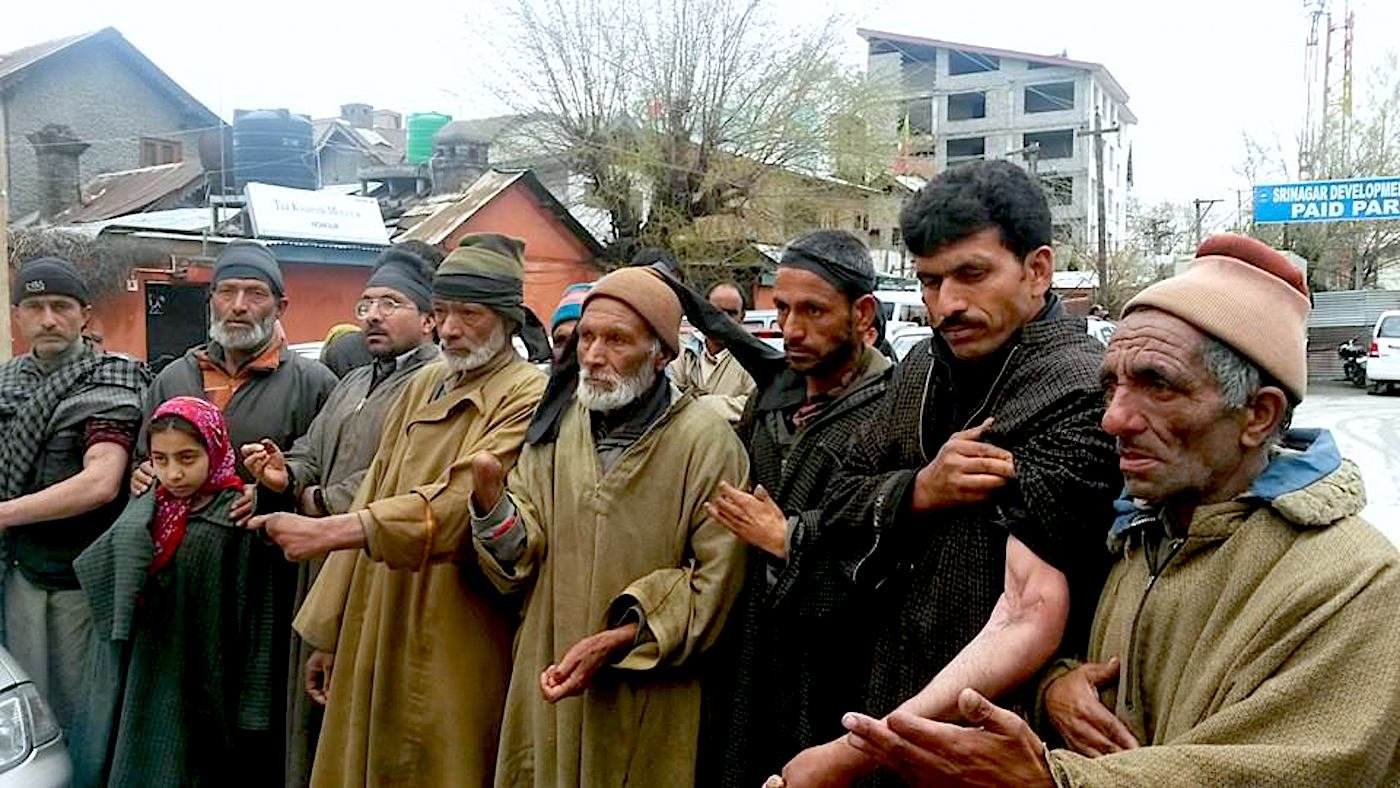 PHOTO • Tosamaidan Bachav Front
Eventually, on 18 April 2014, the army vacated the meadow and began an 83-day mopping up drive to remove the unexploded shells and sanitise the place. Highly lauded in the media at that time, the exercise seems to be less successful than its claims and a fresh drive has had to be undertaken after the death of Wajid Ahmed Ahangar in August this year .

Among the issues that still need to be resolved are adequate compensation for loss of lives and for environmental damage, and state support for rural-based tourism in the villages around Tosamaidan.
A public interest litigation for compensation was filed by  the Tosamaidan Bachav Front and SRDE in the High Court in Srinagar in March 2017. Subsequently, compensation amounts (it is not clear what these amounts are) were fixed by the state government, but the money has not been disbursed.
A blueprint for rural tourism has been drawn up, and Qadri says it incorporates new livelihood opportunities for women within the traditional beliefs of Kashmir's society. "Women cannot become ponywallahs (horsemen) so we are exploring possibilities of them being able to sell handicrafts or local food items and so on."
Mohammed Akram says that the villagers don't believe in the tourism pattern that is rampant in places like Gulmarg and Pahalgam, where big tour operators lease the land, build huge hotels and gobble profits. "These models will leave us villagers with nothing to do except work as labourers washing utensils and so on, besides causing environmental damage."
But the overall grim situation in the Valley has impacted tourism severely and recent fears that the meadow could have lurking dangers is a reminder of the challenges still to be met in this highly militarised zone.
At a small eatery in Khag, the owner urges me to go upstairs to see the beautiful view of the mountains and the meadow. "I built this extension and specially spruced up the place hoping I would get lots of tourists," he says. "But the largest contingent of visitors has been army troops who came by during cordon- and- search operations…"