Limbaji Lokhande has spent more than Rs. 1,000 in pursuit of 10,000. "The autorickshaw takes 20 rupees for a one-way trip," the 42-year-old farmer explains, to go from his village Borwand to the Agriculture Produce Marketing Committee (APMC) in Parbhani town, 15 kilometres away. "That makes it 40 rupees a day. Plus, you spend on tea and lunch. I have been coming here for 15 days. It has been a struggle."
The Rs. 10,000 is a stopgap outcome of a state-wide farm strike that began on June 1 in Maharashtra. Chief minister Devendra Fadnavis announced this measure on June 14. While the modalities of a loan waiver were being worked out, he said, farmers would get Rs. 10,000 as immediate relief to cover inputs costs for the kharif sowing season.
During the June strike, the farmers' most important demand was the enforcement of the Swaminathan Commission's recommendations that they must get a minimum support price that covers the cost of production, plus 50 per cent, along with a blanket loan waiver. The detailed report of the Commission – headed by M.S. Swaminathan to study agrarian distress – has been lying with the central government since 2007.
The strike was suspended when Fadnavis eventually met farm representatives and assured them of a loan waiver, and said he will consider the cost of production demand by speaking to the prime minister. The state came up with Rs. 10,000 as temporary assistance because banks had been rejecting applications for new loans by farmers who had not cleared previous debts.
But in August, Lokhande was still scrambling for the Rs. 10,000 that was supposed to help him and others for the sowing season that begins by mid-June. "It has been chaotic," he says, standing at the APMC complex in Parbhani, where farmers have been asked to collect and submit forms to be able to get the money. "I have not even got a form yet. I will have to spend more time to submit it as well."

Balasaheb Tarawate is facing a different problem. He got hold of a form after four days in the queue and then submitted it. "It has been 11 days," the 40-year-old farmer says. "The money has not been deposited in my [bank] account. I live 35 kilometres away. It takes 1.5 hours to get here from my village, Wadi Damai. Today, I have been told it will take another 10 days. This scheme has done more harm than good. Filling up that complicated form and spending so much time has not been worth it."
The form – available at the APMC centre in each district and at banks – runs into six pages. It includes an undertaking the farmers must submit, that states: "According to the conditions mentioned in the form, I am eligible [to avail the scheme]… I am not transgressing any conditions. If found otherwise, I will be liable to repay the Rs. 10,000 immediately, plus penalty or interest, and be liable to legal action…"

At the APMC complex in Parbhani in Marathwada, many farmers sitting on the ground with their form are perplexed about what to do with it. They ask each other when they run into a doubt, but the answers from other farmers carry little conviction. And they cannot afford to make a mistake – even a tiny error will send them back to standing in line for the form.
Lokhande, who has 3.5 acres on which he grows soyabean and cotton, says he had to leave his farmland behind to run after Rs. 10,000. "If I had known it was going to be so time consuming and complicated, I would not have applied," he says, regretfully. "But now that I have spent 1,000 rupees on it, I feel obliged to complete the task. In any case, who can manage sowing in 10,000 rupees? [An acre of land requires around Rs. 10-12,000 for sowing inputs, including labour.] And it is not a subsidy either. The state is going to recover the 10,000 from us."

PHOTO • Parth M.N.
Farmers who have not been able to repay their loans and have become 'non-performing assets' (in the banks' records) by June 30, 2016, are eligible for the state's loan waiver. They can claim Rs. 10,000 as immediate assistance. But the waiver plan has a caveat: while the entire loan of farmers with up to Rs. 1.5 lakhs debt will be waived, a farmer with a higher loan will have to pay the sum that exceeds Rs. 1.5 lakhs.

So Lokhande, who has a bank loan of Rs. 2.5 lakhs, will have to pay Rs. 1 lakh to get a clean slate. "If I had one lakh rupees," he asks, "Would I be running after 10,000?" Besides, when settling the bank loan, the Rs. 10,000 will be included in the amount owed. This means a waiver of Rs. 1.5 lakhs will actually be Rs. 1.4 lakhs.
The six-page form to get hold of Rs. 10,000 is not the only form farmers have had to fill this sowing season. This year, the state government made it mandatory for farmers to submit crop insurance forms online (See Crying all the way back from the bank on PARI). This new rule created chaos, with a lack of trained bank officials and servers unable to handle the traffic. The overload compelled banks to focus on crop insurance, and farmers in Marathwada too prioritised paying their premiums on time in July, rather than getting the Rs. 10,000. Others, cautious of the lengthy application process, stayed away entirely from the assistance scheme.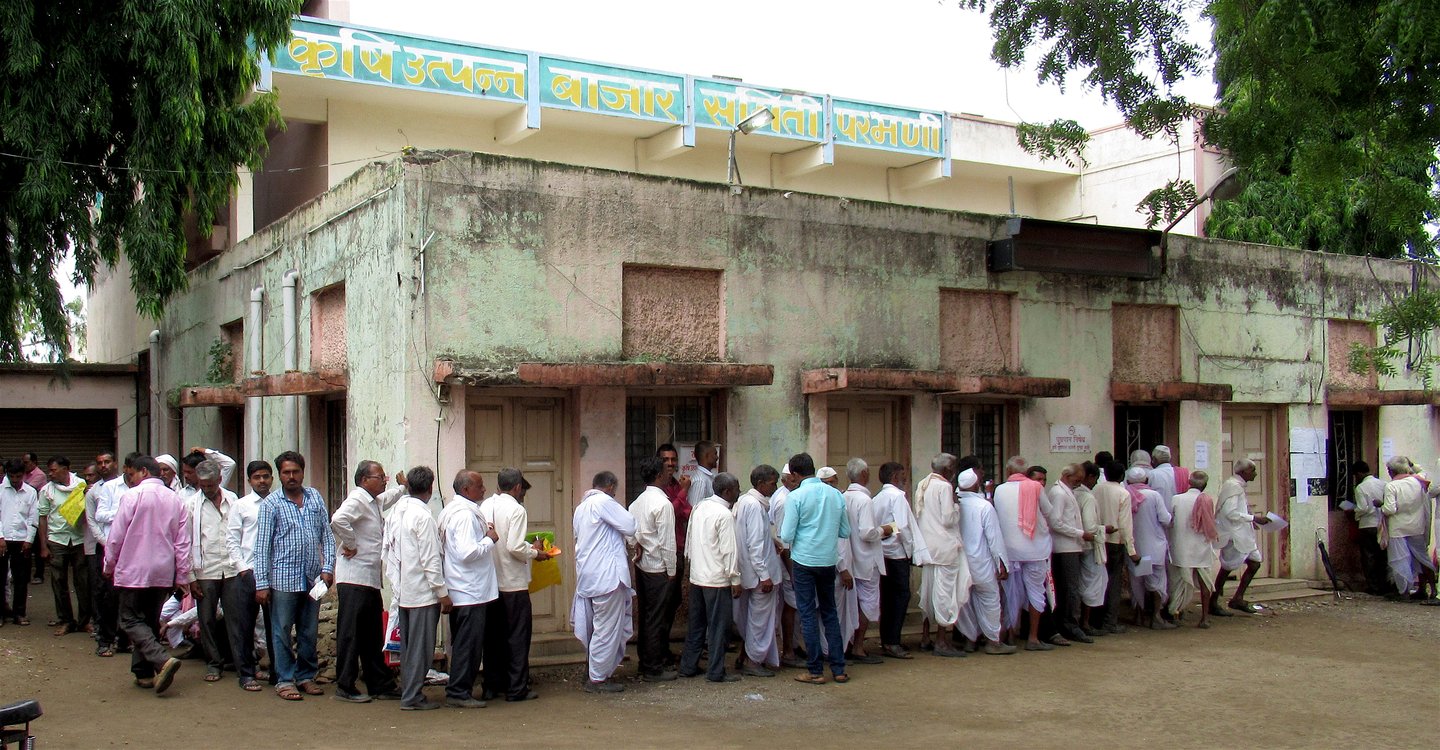 PHOTO • Parth M.N.
Data accessed from the State Level Bankers' Committee (SLBC) by farm activist Kishor Tiwari shows that of the over 3.7 million farmers in Maharashtra whose loans were classified as 'non-performing assets', only 43,018 had applied for the 10,000 rupees till August 14, and just 34,410 were deemed eligible.

In Latur district for example, till the first week of August, not a single farmer had availed of the Rs. 10,000 scheme through his bank, said Hanumant Jadhav, managing director of Latur District Cooperative Bank. And the number who applied at other banks in Latur, some said, is miniscule.
Tiwari, chairman of the Vasantrao Naik Shetkari Swavalamban Mission, a government entity, said the banks have been lax about implementing the scheme. "Banks didn't even issue orders till July 15 for disbursing loans" [that is, the 10,000 rupees], he told the Asian Age newspaper on July 25.
Nationalised banks are reluctant to disburse the assistance because they already have unpaid farm loans. And district cooperative banks, which are supposed to disburse the largest share of the scheme, are unwilling because widespread corruption and an inability to take on influential defaulters have made the banks nearly defunct.
So those who opted to get hold of the Rs. 10,000 continue to stand in long queues. "The government promises several schemes only to implement them poorly," says Lokhande. "Why get our hopes up if you cannot live up to the promise? The state is merely adding salt to our wounds."